Bridal showers are one of the first events to kick of a couple's flow of wedding events.
Regardless, attending a bridal shower is another special occasion with a whole other set of style rules. Cue the overwhelm. Before you get too worried about what you're going to wear, keep reading because I'm dishing on a few of my must-know tips on knowing what to wear to a bridal shower.
The Dress Code
While most bridal showers are fairly informal, the first step to help you with what you should wear as a guest to a bridal shower has to be understanding the expected dress code.
More than likely the bridal shower invitation will state the dress code, or at least the location/theme of the occasion. Once you know the dress code you can move on to deciding the best attire to a bridal shower from there.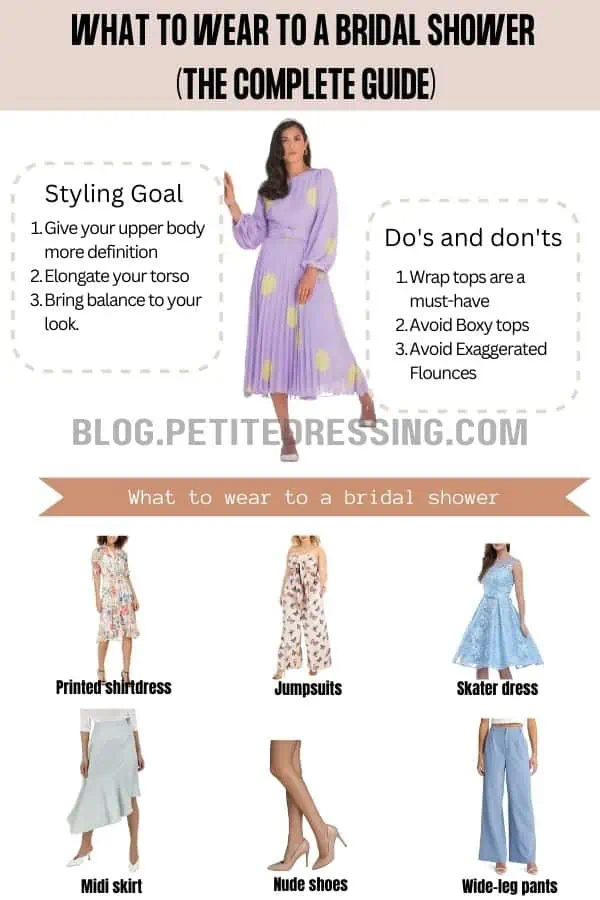 Here's my hot tip on the dress code front: even if it's a casual dress code, don't go too casual! It's a special occasion, So, you should dress up a bit for the bride to honor her first pre-wedding event. Skip your everyday clothes and step it up a notch for the bride-to-be.
Choose Something Feminine
Bridal showers are all about the bride and the women in her life. It's the perfect opportunity to tap into your ultra-feminine style side.
Most of the time you're going to be surrounded by women at the bridal shower and enjoying a lot of woman-focused games and activities so dress to the theme!
Think soft colors, fabrics and silhouettes to really get into the bridal shower aesthetic for your outfit. Light and bright colors are amazing choices for a bridal shower.
Wear a dress
Dresses are one of the best things to wear to a bridal shower.
They're one of the easiest style staples to go to when you need something that's feminine, flattering and in a silhouette that isn't too revealing.
Of course not all dresses are created equally, but chances are you're going to have a much easier time finding a dress that works for the bridal shower you're attending than trying to find separates that work.
Do yourself a favor, avoid the hassle and get yourself a dress to wear to the bridal shower.
Dresses
Printed shirtdress
A shirtdress in most cases looks smart and will usually be more suitable for the office or a business type of gathering. However, you can wear a shirtdress to an event as fun as a bridal shower too if you pick the right one. Instead of going for a plain or dark-colored shirt dress, pick a bright one with a fun print for the day.
You can style a retro-style printed shirtdress with a pair of strappy heels. This gave her a fun look, one that can easily be worn to a casual event. Pick a bright printed one and remember to keep your accessories minimal so that the print stands out better.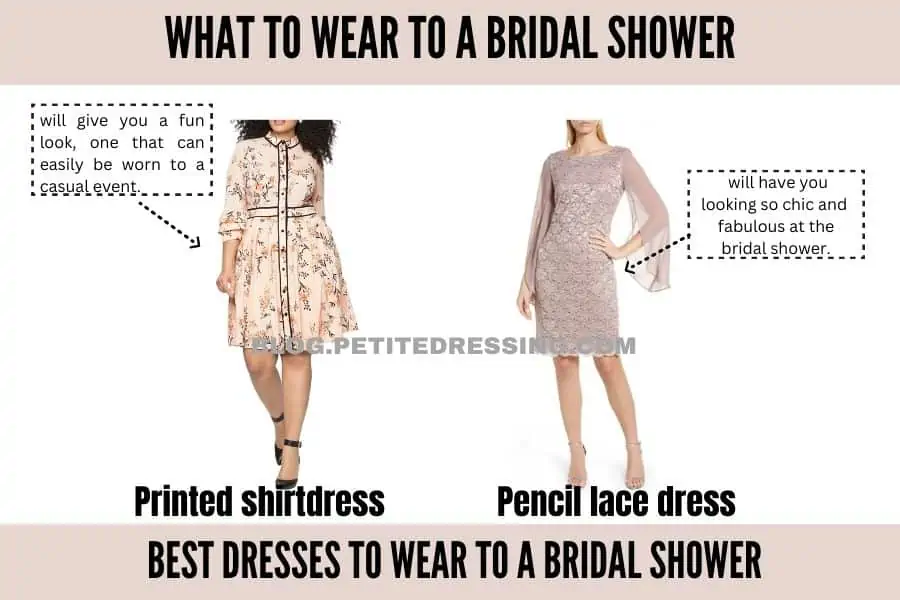 Pencil lace dress
One of the easiest ways to dress up for a bridal shower and many other events is by wearing a lace dress. Whether you pick a sleeveless, short-sleeved or long-sleeved style, a pencil style lace dress will have you looking so chic and most definitely fabulous at the bridal shower.
You can wear a purple lace dress and accessorized with a belt. Lace is one of those fabrics that can definitely do without too much accessories as the fabric is beautiful and stands out. Bright colors are great for bridal showers especially in springy and summery weather but you can pick darker ones for bridal showers in colder months.
Cami dress
Cami dresses are great for bridal showers as they are super feminine. The top part of the dress allows you to show off your clavicles and shoulders. They also come in a simple neckline and allow you to layer a pretty coat or jacket over them in case it gets a bit colder at the bridal shower,
You can wear a cami slip dress with a pair of simple heels. Colors such as gold and satin fabrics are great for this You can also wear your cami dress in different lengths.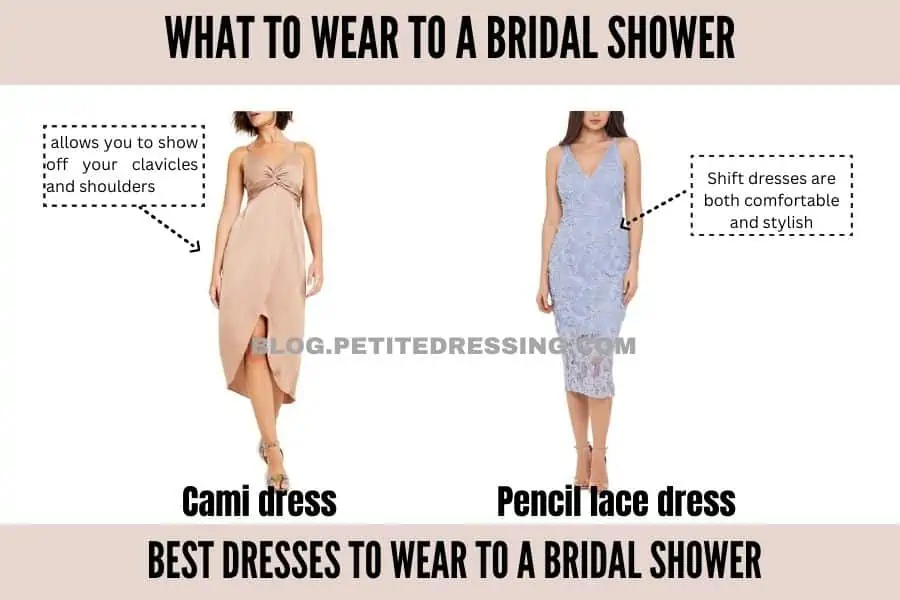 Shift dress
A shift dress is another silhouette great for bridal showers just as long as you pick one in the right fabric and print. Shift dresses are both comfortable and stylish considering they are supposed to be worn loose. As such, you have more freedom and confidence even if you end up eating a bit more than usual at the party. No food babies showing at the shower which is great, right?
You can wear a pink lace shift dress with some studded shoes and a subtly printed bag. A lace shift dress looks dressier but you could also opt for one with girlie prints such as florals for the event. Bright colors are also a plus, especially in warm weather.
Skater dress
A skater dress is one of the most flattering dress styles you could go for if you're headed to a bridal shower. These are usually so fun and girly and you'll love how they cinch your waist then flare out downwards. They can be worn with every shoe style you're a fan of.
You can style your skater dress with a pair of closed heels. Regardless of the length you pick for your skater dress, your bridal shower look will be amazing. You can choose plain ones or printed ones and these dresses also work for bridal showers during colder months as you can easily wear them with beautiful coats.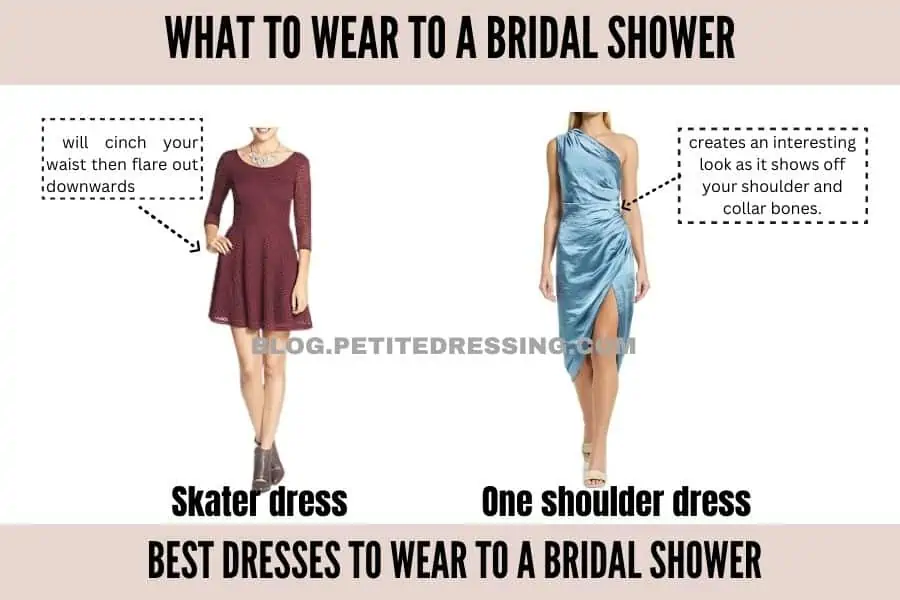 One shoulder dress
One-shoulder dresses are also a great choice for bridal showers as they often look great for events or parties. You can wear longer ones or shorter ones for the event. The asymmetrical top creates an interesting look while it allows you to show off your shoulder and collar bones.
You can style a printed one-shoulder dress with a pair of open heels. While colorful ones are great, you can also pick a more muted one for your outfit.
Jumpsuit
Jumpsuits are easy to wear because they are a one-piece.
This means, no need to worry too much about whether the top matches with the bottom so you only have to pick some amazing shoes to go with one.
Since you'll be headed to a bridal shower, feel free to pick jumpsuits with fun designs and prints such as florals and polka dots.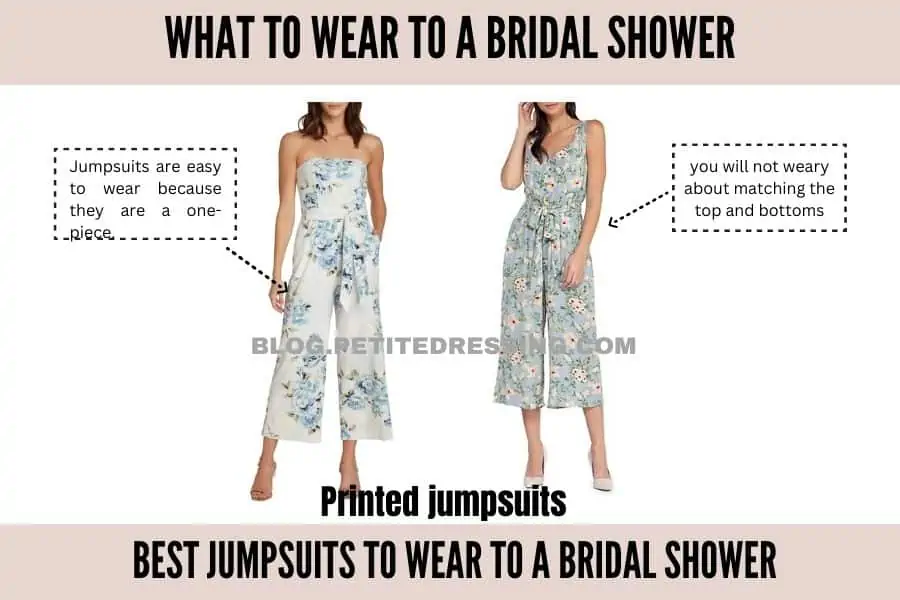 You can wear a floral jumpsuit simply with some sandals and some sunglasses.
You can dress your jumpsuit further by picking a pair of heels instead of flat shoes.
Jumpsuits are also available in different cuts, for example, you could pick a cropped one if you want your shoes to be seen more and you can choose a more figure-hugging one to show off your curves.
SKIRTS
Lace skirt
Lace is such a delicate fabric that always looks beautiful and is perfect for a girlie event such as a bridal shower. A lace skirt in particular allows you to wear a variety of tops such as a tank, a blouse, a button-down shirt, a cute sweater and so much more to the event. While lace skirts are available in different colors, softer colors are the best for bridal showers so pick whites and pastel colors for this.
You can style a lace skirt with a red top and a pair of strappy shoes. While you can get a pencil style lace skirt for this, you might want to pick an A-line silhouette as it's a lot prettier for a bridal shower and certainly more party-friendly.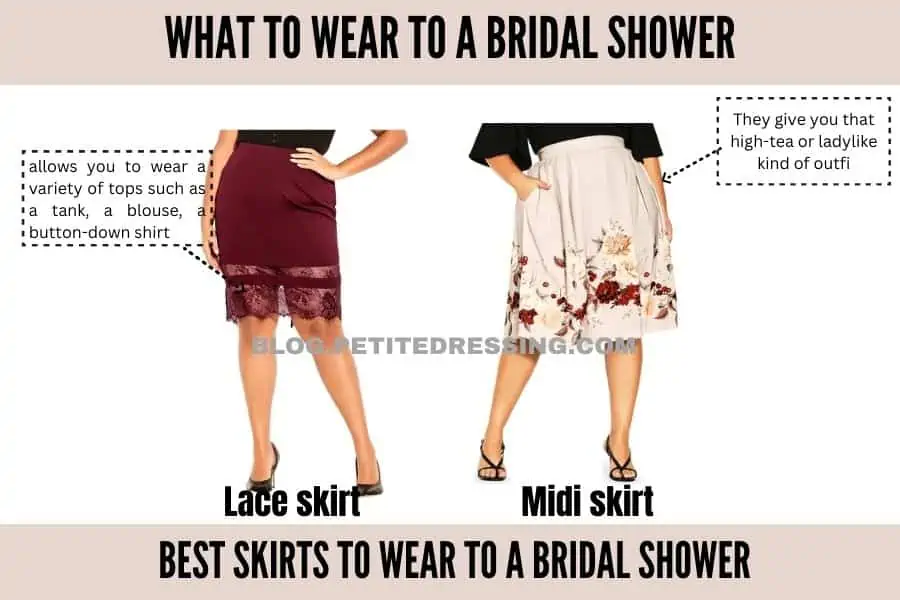 Midi skirt
Midi skirts are ever so classy considering their length and a great way to make them work for a bridal shower is to wear them with a simple top, especially if the skirt is printed. They give you that high-tea or ladylike kind of outfit. You can also pick these in different styles such as pleated ones, frilled ones or even asymmetrical style midi skirts.
You can style your midi skirt with a long-sleeved stylish top and a clutch bag. Colors such as gold and pastel ones are great for a bridal shower skirt.
Pants
Pastel dress pants
If you are not a dress or skirt kind of girl, you can definitely wear pants to a bridal shower.
Since this is an occasion to celebrate, it is key to go with something dressier, which means well-tailored dress pants are one of your best options.
Pastel colors go perfectly with the ambiance of a bridal shower, and will easily make your outfit a statement piece tos tand out.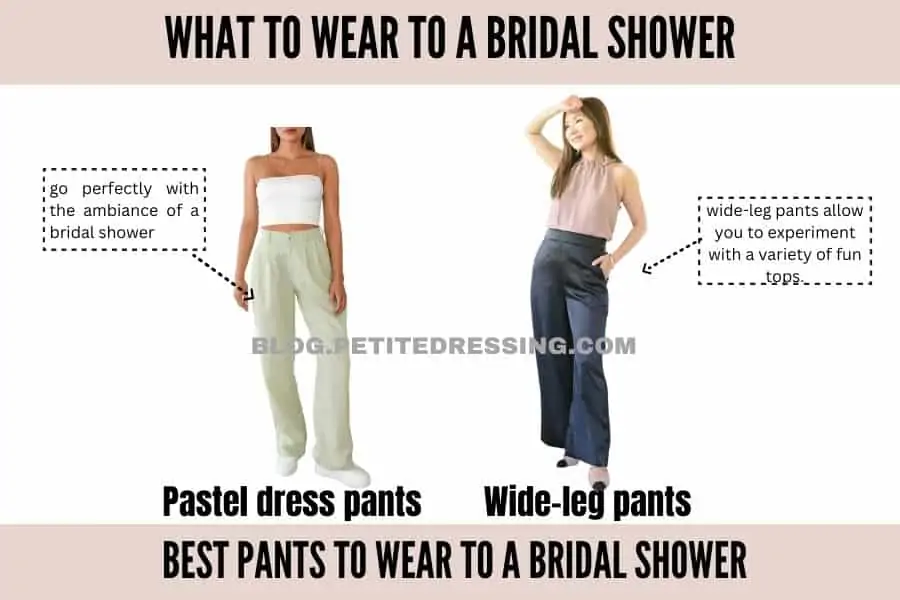 Wide-leg pants
If you're a girl who loves comfort, especially when going for events, then you could consider wearing a pair of wide-leg pants to the bridal shower. Pastel colors are great for such events and the wide-leg pants allow you to experiment with a variety of fun tops.
This is a look that would easily work for a bridal shower and you have the option of picking cropped wide-leg pants or longer ones. You can also pick different kinds of shoes for your look.
What to Avoid
White outfits
While we're on the topic of dressing to embrace the feminine nature of the bridal shower, let's talk about color a little more.
I know that black and white are easy go-to colors to wear.
They're classics but when it comes to what to wear to a bridal shower I suggest opting out of anything white.
White is the bride's color.
I know it's not the official wedding but the bride MAY want to wear white to her bridal shower and that color should be reserved for her on her day.
Black outfits
Now you may be wondering what exactly is wrong with black.
Well, bridal showers are happy occasions, and traditionally black is a color of mourning…sadness. Feelings that you don't want to bring into the bridal shower.
So for that reason, I suggest finding another color you feel good wear – sorry ladies who live in black!
Pro tip: wear the colors of the season! Here is why. It's very likely the theme of the shower is designed with the seasonal hues in mind. If the bridal shower is in the spring or summer, you can't go wrong with pastel or floral prints. If it is in the fall or winter, then metallic or jewel tone are hot hues of the season.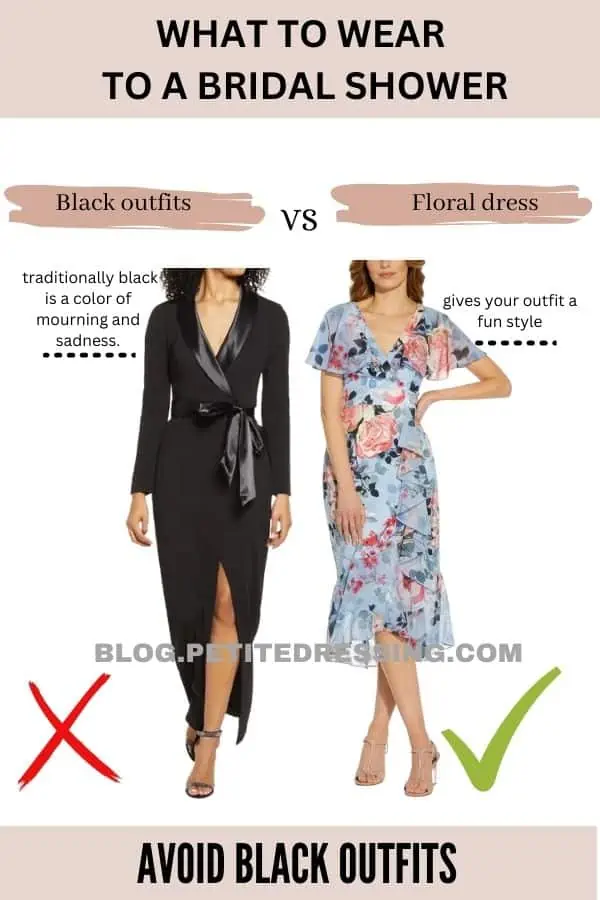 Revealing outfits
Bridal showers are where family members gather for the bride and her day.
That being said, air on the side of caution when it comes to showing skin to the bridal shower.
In general, I say stick to something more modest.
Even if you're not a particularly modest woman, let the bride have her moment at her bridal shower and stay covered.
This isn't to say you have to be in a sheet. In essence skip any dress or skirt that's VERY short, any tops or dresses that are too low cut…you get the point.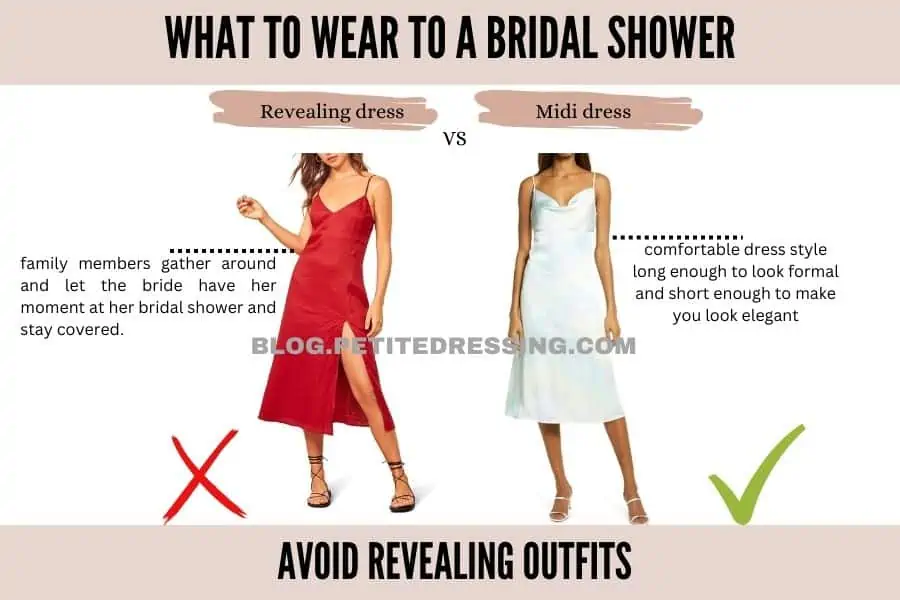 SHOES
The shoes can make or break your entire outfit. Make sure you aren't ruining your bridal shower outfit with your shoes. Since you're going to be choosing a pretty, feminine dress that's bridal shower ready carry that theme into the shoes that you wear. Now it will depend on when and where the bridal shower is taking place, but more often than not you should stick with a light (or bright) color shoe.
Yep, leave the black shoes for another time just like the dress you wear. Black shoes tend to feel really heavy when paired with a light/bright color dress – especially when you are a petite woman. Think colors like beige, nude, pale pink, pastels….I could go on and on but you get the point. To learn more about how to pick your shoes, read our post on "The Best and Worst Shoes for Petite Women".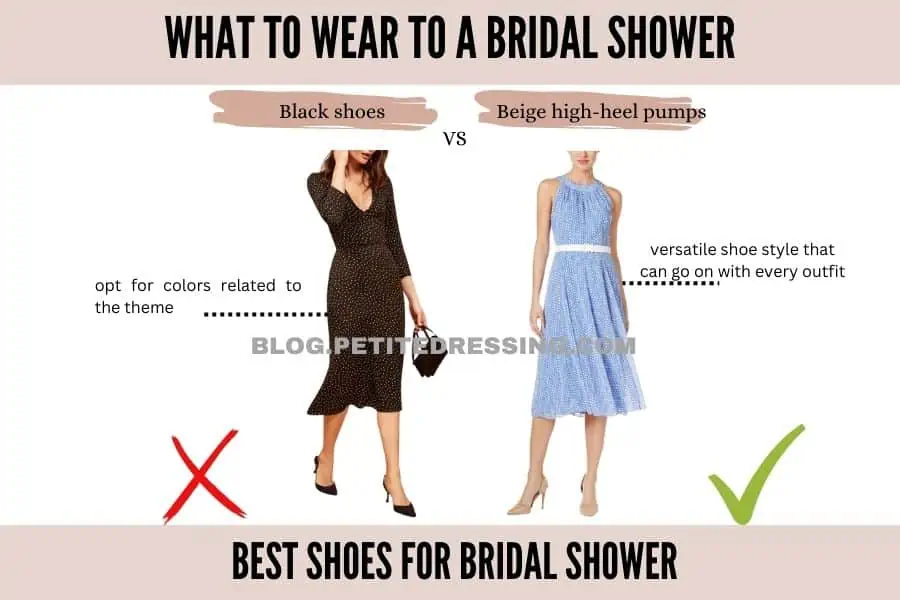 Accessories
Similar to the shoes, you should keep the delicate, feminine vibe going with the accessories you wear with your bridal shower outfit.
The thing I suggest keeping is mind is that you avoid any accessories that feel fussy.
You're going to be socializing and enjoying the bridal shower, you're not going to want to feel like you're constantly dealing with the accessories you're wearing.
If you're wearing a dress (well…you will be) to the bridal shower, a cute pair of gold hoops or delicately layered gold necklaces are great compliments to the dress.
You should still use accessories to complete your outfit, just avoid anything that's too overpowering.
Hand Bags
This is an area a lot of women tend to forget about or just use their everyday bag.
When you're going to a bridal shower you want to create a complete, cohesive outfit. This includes your handbag!
I suggest swapping your everyday, bulky handbag for a cute clutch or crossbody handbag.
Either of these options will feel much more appropriate for the bridal shower setting and they will go with your outfit in a much more systematic manner.
Play into that light + bright color theme with your handbag!
Those are the key do's and don't s to keep in mind as you figure out what to wear to a bridal shower. Now all that's left to do is apply them the next time you get an invitation to a bridal shower. You will be a pro and knowing exactly what to wear to a bridal shower from now on.