Do you have apple figure? If so, this article is for you to better understand your body type and how to look slimmer
How do you know if you have apple shape
First of all, let's take a close look at the characters of apple figure. See how many of below applies to you.
You have a full chest, upper back with no or little waist definition.
You shoulders are about as wide as your hips.
You're top heavy, and smaller from the waist down.
Your bust and mid-riff might appear bigger than your hips.
You do not have a defined waistline.
Your hips and buttock might be wide and full along with your waist
Overall you come across as fleshy instead of bony.
When you gain weight the fat gets easily stored around your upper half — especially around your midsection.
A waist to hip ratio of greater than 0.8 means you're an apple.
How many of the above facts are you? If your answer is more than half, then you probably have a petite apple figure. If you are still not sure, take our petite body type quiz to find out.
If you are an apple body shape, you are generally well-proportioned. Your silhouette is round usually due to overweight or childbirth. Fat is mainly distributed in the abdomen, chest, and face. You tend to gain weight around your mid section, which to most apple shaped women is the area that they want to camouflage. Apple shape tend to have slender arms and legs, which are your assets you want to emphasize.
Amongst the petite celebrities in Hollywood, Eva Longoria has a typical apple shape.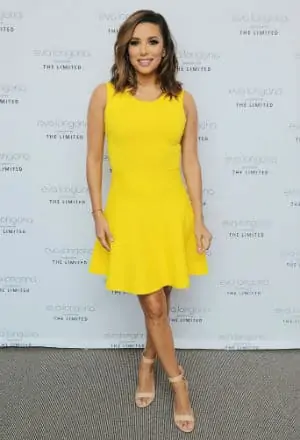 Apple figure and hourglass figure are very similar in terms of having the feminine curves (full bust and full hips) and a well proportioned body. The main difference for our apple figure is that they do not have a defined waist. Therefore, the goal of your styling should be to create the illusion of waist and make your mid section look less obvious. (Read How to Dress Petite Apple Shape, Best Swimwear for Petite Apple Body Shape, Best Wedding Dresses for Petite Apple Shape).
Wear shapewear
One easy way to create a trimmer waist is to wear high quality spanx shapewear, which will instantly trim down your upper body. Waist cinchers or body shapers that slim down your mid section are your best bets.
The apple shaped beauties have lean legs, which are your assets that can be best shown off by wearing dresses or skirts. Since you lack waist definition, the best petite skirts for you are those that can create the illusion of a waistline or draw people's attention away from your mid section. Length wise, you should show off your thin legs in a classic mini skirt.
Structured skirts
One of the best petite skirts to our apple shapes is structured skirts, which are flattering to a smaller bottom-half. Your skirt should skim your body rather than cling to it; clingy skirt styles can highlight the different proportions of your upper- and lower-body. Pair your structured skirt with a wrap-style top to lend definition to your middle.If you're an apple, you look fantastic in high-waisted flouncy skirts. The waistband will hit at the smallest part of the torso and flare out over the stomach, masking the mid-section. Lastly, the short hemline will show off your slender legs.
If you opt for a pencil skirt for more formal situations, a structured pencil skirts work well to deemphasize your mid section, but keep them at slightly above knee length. Make sure to add the focus to the top with the tips above. We basically want to make your mid-section looking narrower by adding volume and width to your hips with a patterned pencil skirt or floral patterns that add more width to your hips and legs.
Side zipper
To distract people's attention from your midriff, you can choose skirts that have their zippers at the side instead of in the middle to highlight your belly.
Because of your petite figure, you should also focus on elongating your waist. It will help make your waist look longer and leaner by wearing solid, dark colors around your waistline, especially black, dark blue navy, dark brown and dark grey which goes with almost any colors.
High rise denim
Many apple shaped petite women have their biggest concern about their midsection. If that is the case for you, the best petite jeans for your body type is high-rise, stretch denim or boot-cut style that covers and smooths at the same time. (Read more about Best Petite Jeans for Your Body Type)
Avoid tucking
Since petite apple shaped woman has little or no waist definition, many stylists advise against tucking in as it might make it more obvious that you do not have a waist.
However, every fashion rule can be broken, if you know how to work around it. If you are wearing dark wash high waisted flare jeans, which has a sliming effect around your waistline, it works just fine if you tuck your shirt in.
Avoid low rise jeans
If you happen to have muffin top, you should avoid low-rise jeans, as that will have you spilling all over the place. You may even find high-waisted jeans not able to hide the muffin top enough. In that case, the best style to hide that is mid-rise black jeans. They will suck it all in where you want it and look flattering on you.
Avoid pleats
Pleated pants will only add inches to your waist. Likewise, make sure that any pleats of skirts start below the belly to avoid adding extra volume.
Pants that taper in towards your ankle should be avoided as they only make your top half look larger.
Wear heels whenever possible
Apple figure are best advised to pair skirts or pants with heels whenever possible, which will extend your bottom half and elongate your petite frame. When you create a long line in your body through styling, that will improve your overall round silhouette.
If you are wearing pants, make sure to wear pants long enough to cover part of your heels. Avoid ankle length wide leg pants, which is generally not recommended to petite women and especially not flattering to apple figure because of its widening effect.