As an apple shaped woman myself, I have gone through the journey of looking for the best wedding gown and I have a lot I want to share with you in this post.
When we talk about apple body type, a lot of people first picture the plus size. That is not always the case. You can really be either thin or curvy as an apple shaped woman. Even though I am overall thin, I carry weight in my tummy, a very typical feature of the apple.
I am a big believer that understanding our body type is the very first step of developing our best style. It's especially true when it comes to finding the best wedding gown.
I want to share with you what I went through to find the flattering wedding dress for apple shape, so that your journey of "say yes to the wedding gown" will be easier and smoother.
What to look for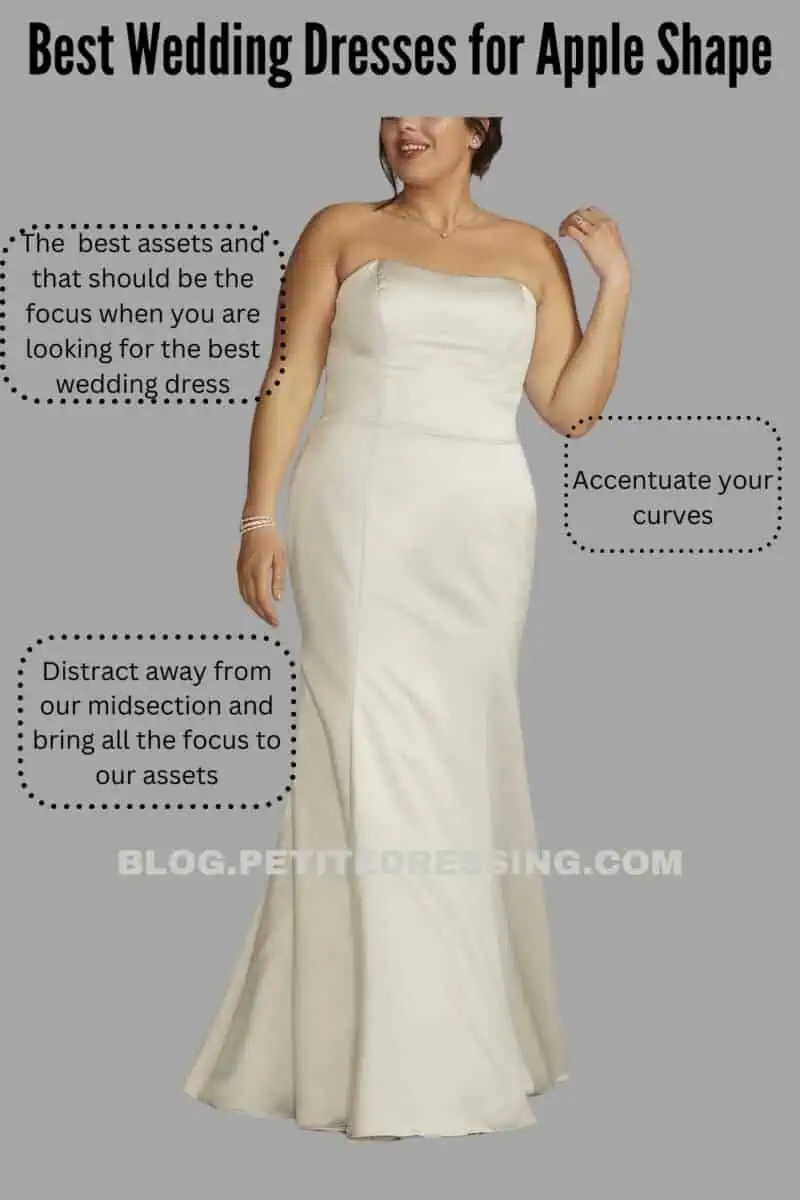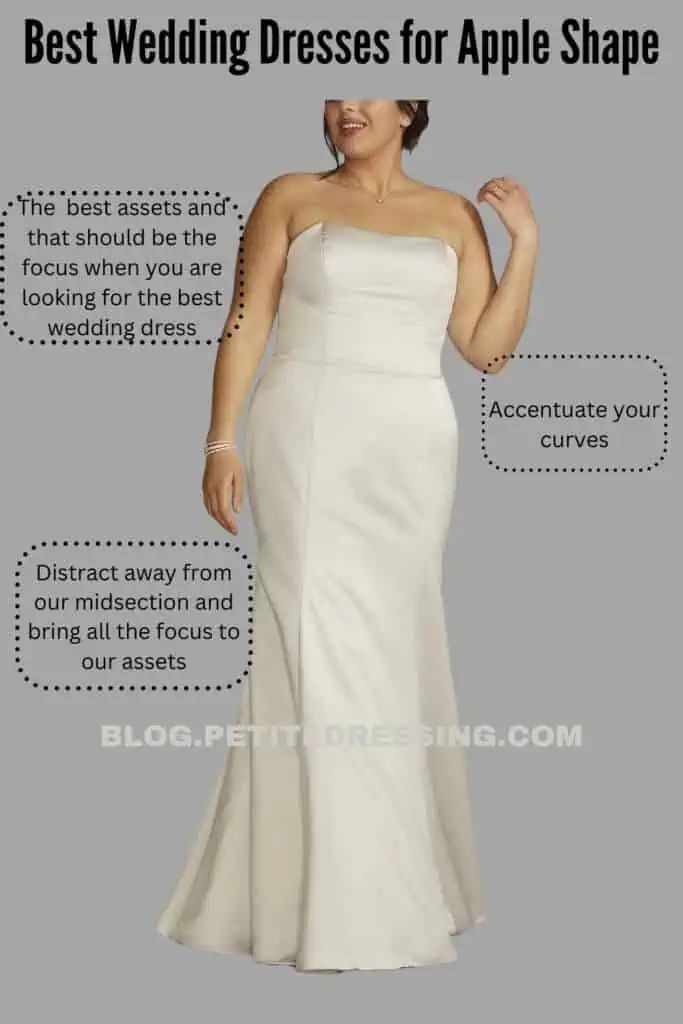 The apple body type is a full-figured woman, with a slight hourglass figure.
Learning about what to look for thw what works and what doesn't will definitely help you make the right decision for your big day.
Accentuate your curves, i.e., full breasts and round hips. That is our best assets and that should be the focus when you are looking for the best wedding dress for the apple shaped body!
Apple-shaped body, even when it's thin, still lacks natural waist definition. In general, you should choose from styles that accentuate the waist at its smallest point. So, great waist construction is essential.
Apples carry weight in the midsection, so it is key to distract away from our midsection and bring all the focus to our assets (nice chests, slender arms and legs).
Plunging neckline wedding gown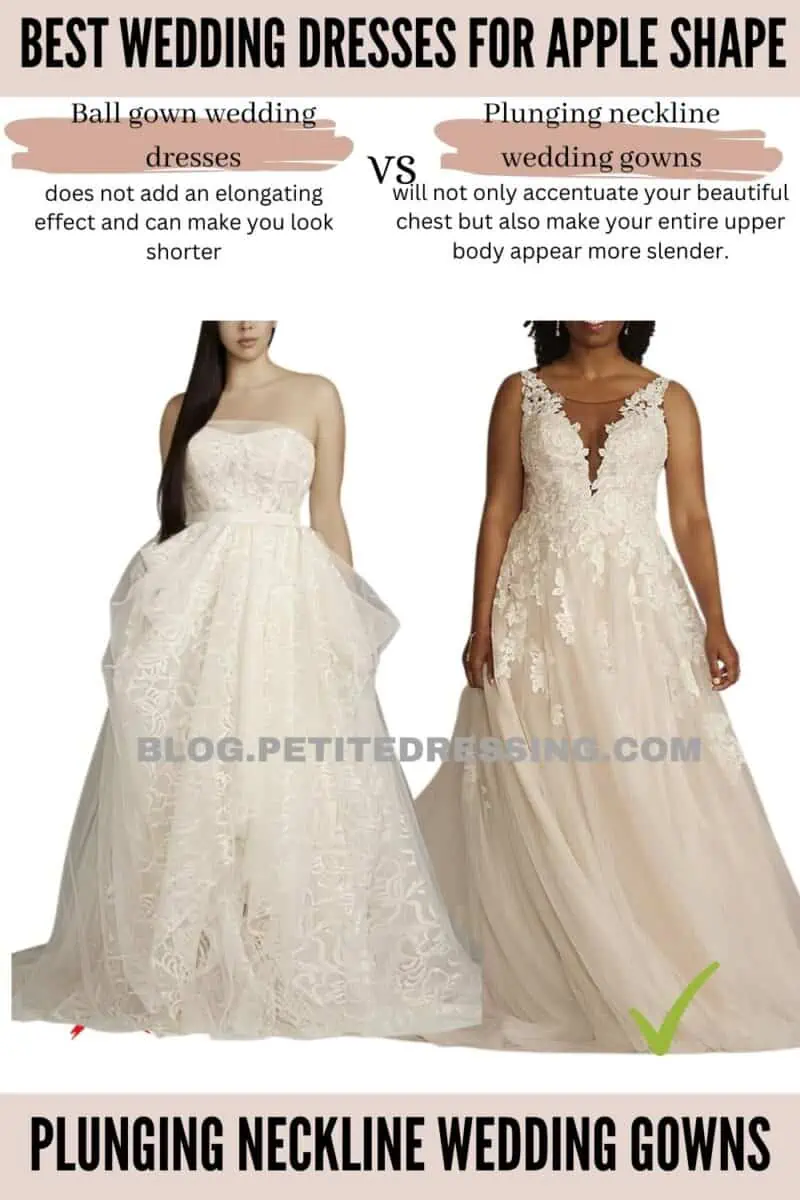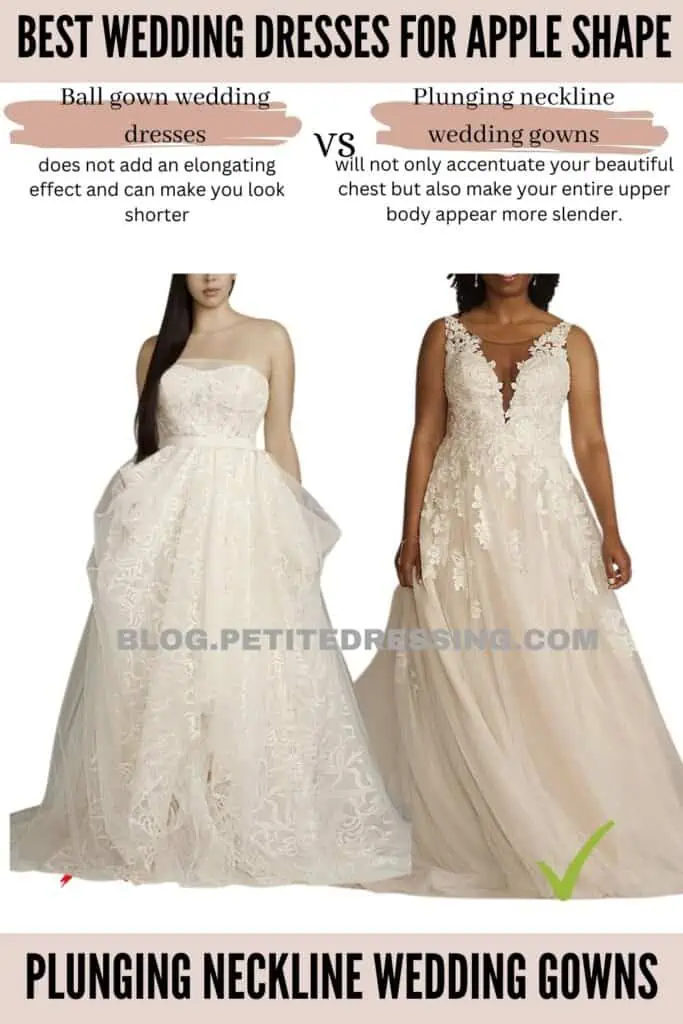 Necklines make big difference in your wedding dress, and they are especially key for the apple shaped brides.
In general, you look the best with necklines that will draw attention upward while flattering your bustline.
V neck, and plunging are great options.
When your necklines are low, they will not only accentuate your beautiful chest, but also make your entire upper body appear more slender.
Mermaid Wedding Gown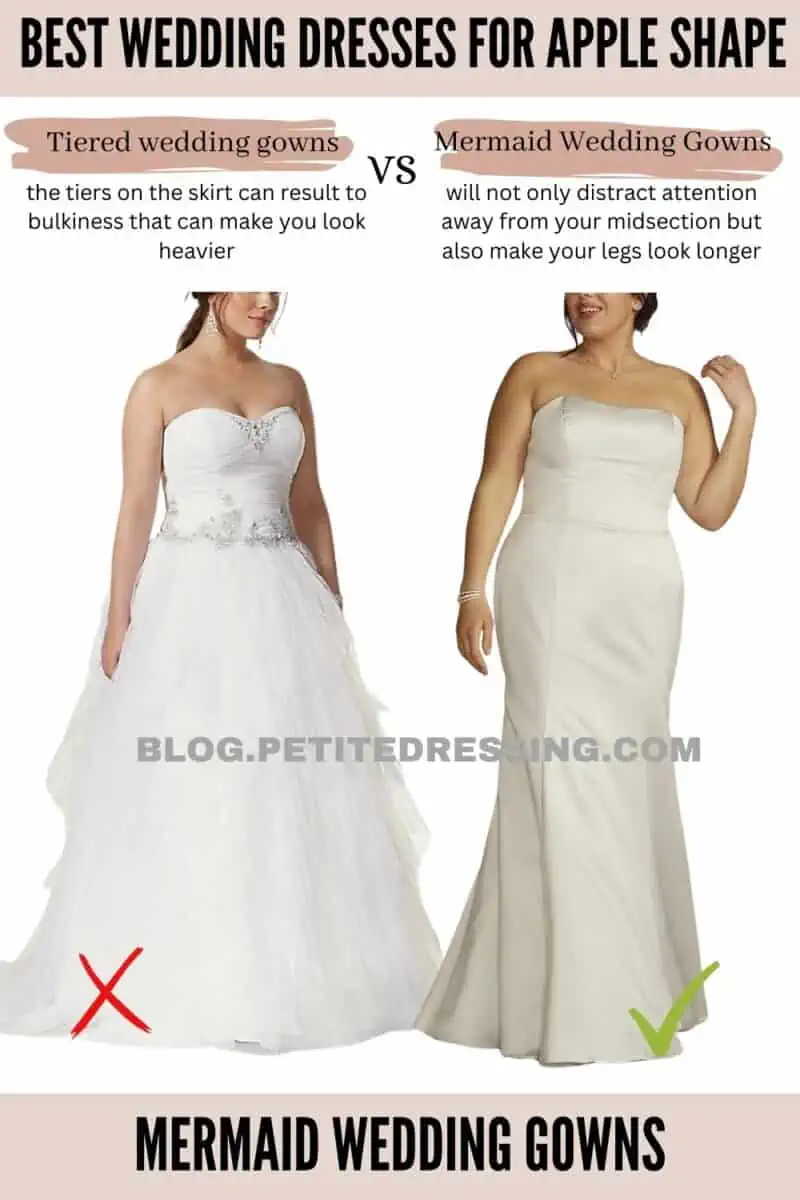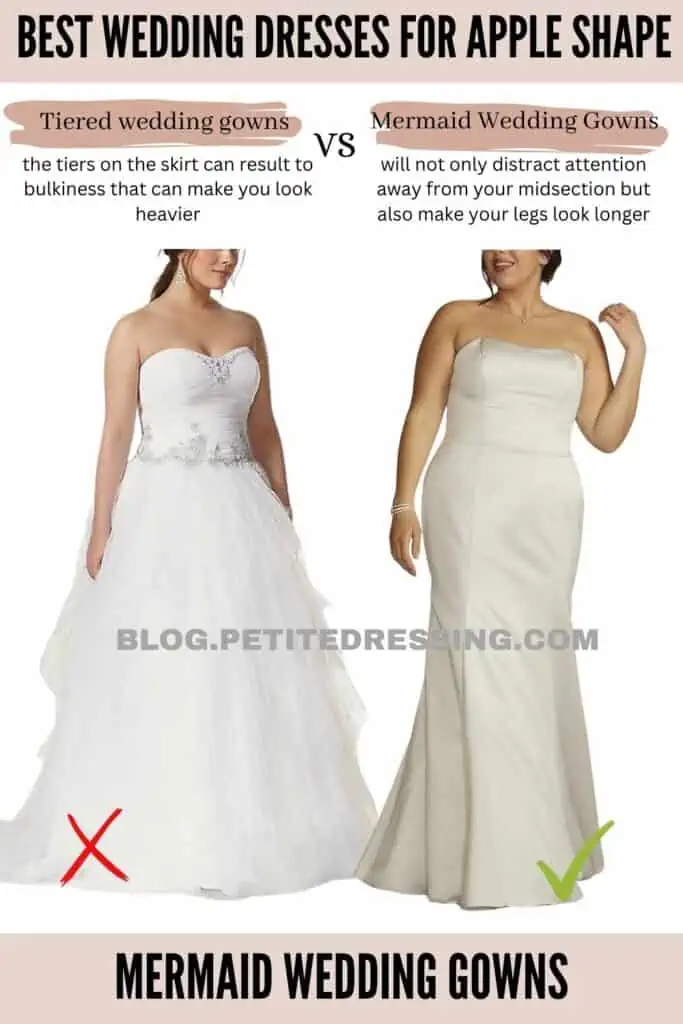 Since apple shape have some characteristics similar to hourglass (full bust and round buttocks), we can smartly create the illusion of an hourglass in a mermaid wedding gown!
The critical part of this is to make sure the waistline of the gown is higher than your natural waistline, which will not only distract attention away from your midsection but also make your legs look longer.
Trumpet Wedding Gown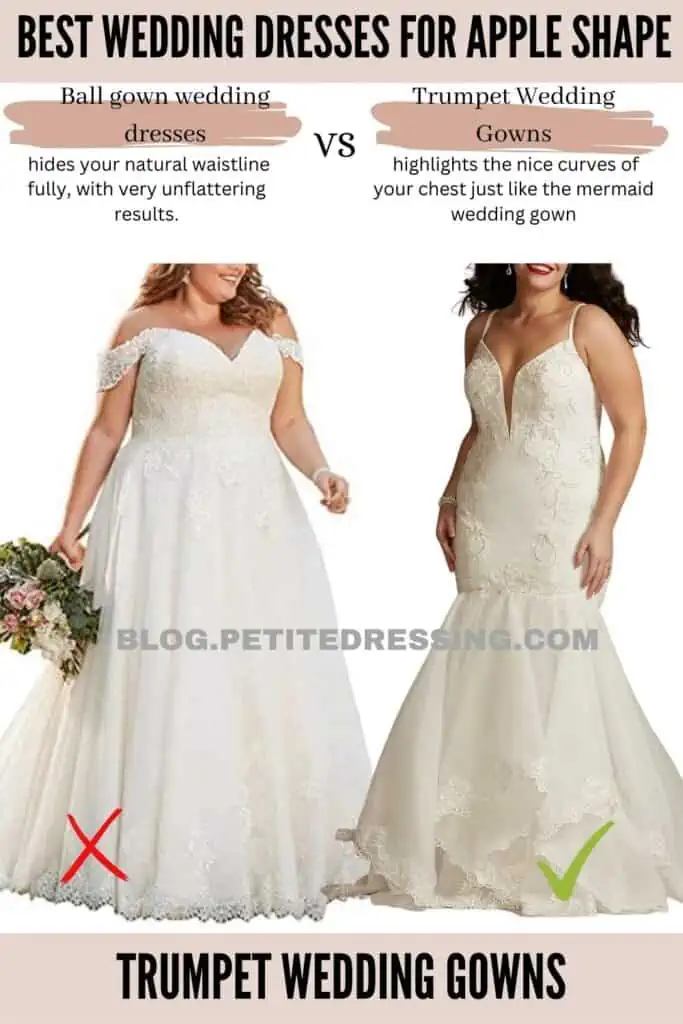 The trumpet wedding gown is a close cousin of the mermaid shape. The trumpet highlights the nice curves of your chest just like the mermaid wedding gown, but it is not as tight as the mermaid shape at the hips.
So, the trumpet gown is flattering wedding dress for the apple shaped as well.
Sheath Wedding Dress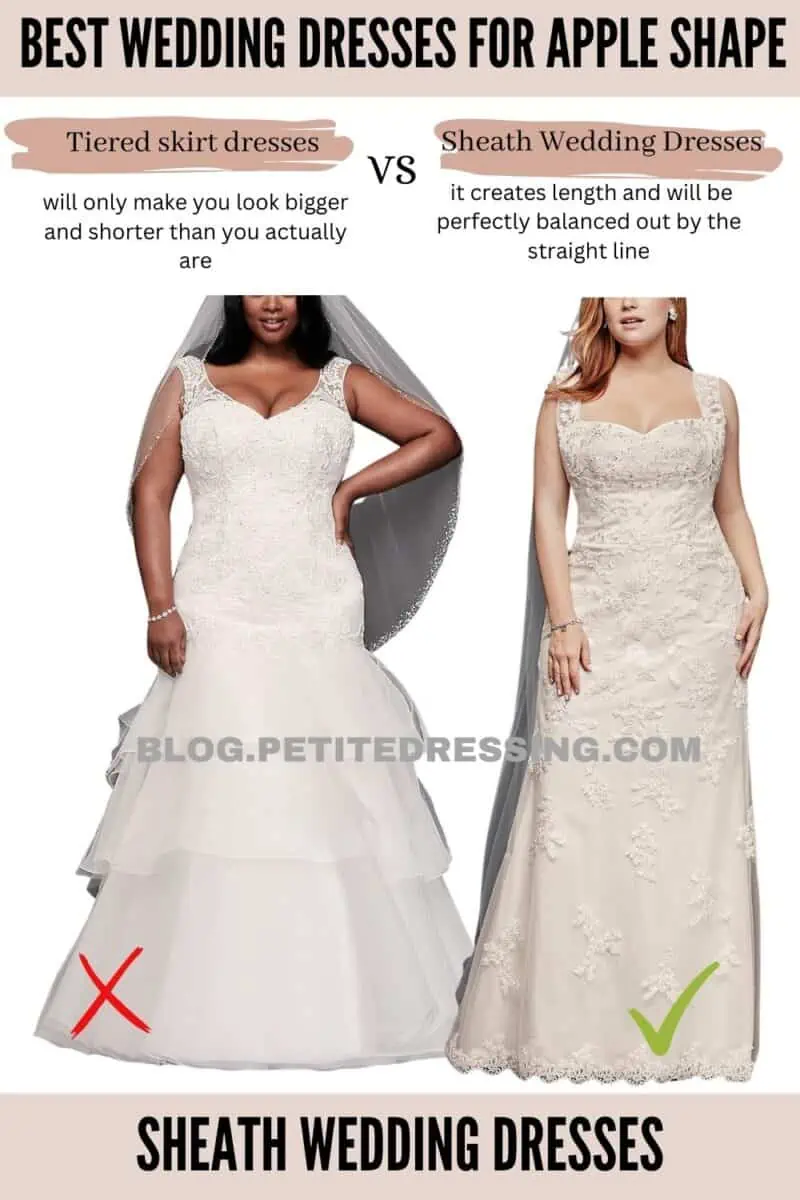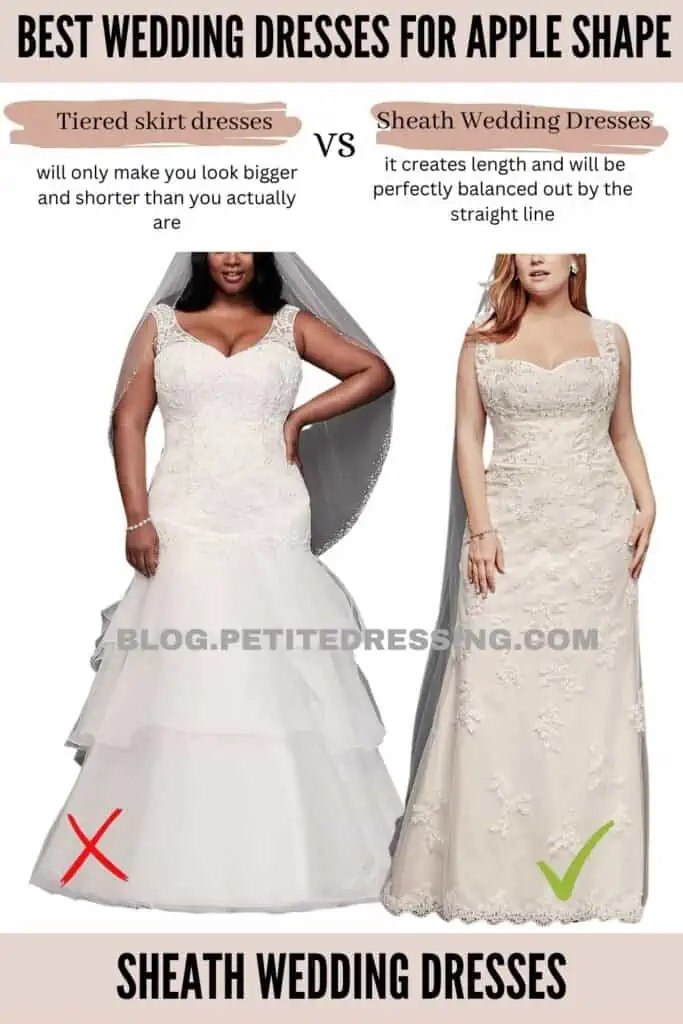 A sheath is a simple and sleek cut that seems to be straight up and down when it's on the hanger. However, once you put it on, your natural curves are going to bring the dress to life! That is why it is such a wonderful choice for apple-shaped brides.
Another reason I recommend this silhouette to apple-shaped brides is that it creates length. Whether you are petite or tall, an apple-shaped woman always comes across as round, which will be perfectly balanced out by the straight line of the sheath wedding dress!
Later in this post, I will talk about the petite celebrity that wore a sheath wedding dress on her wedding.
Fit & Flare Wedding Dress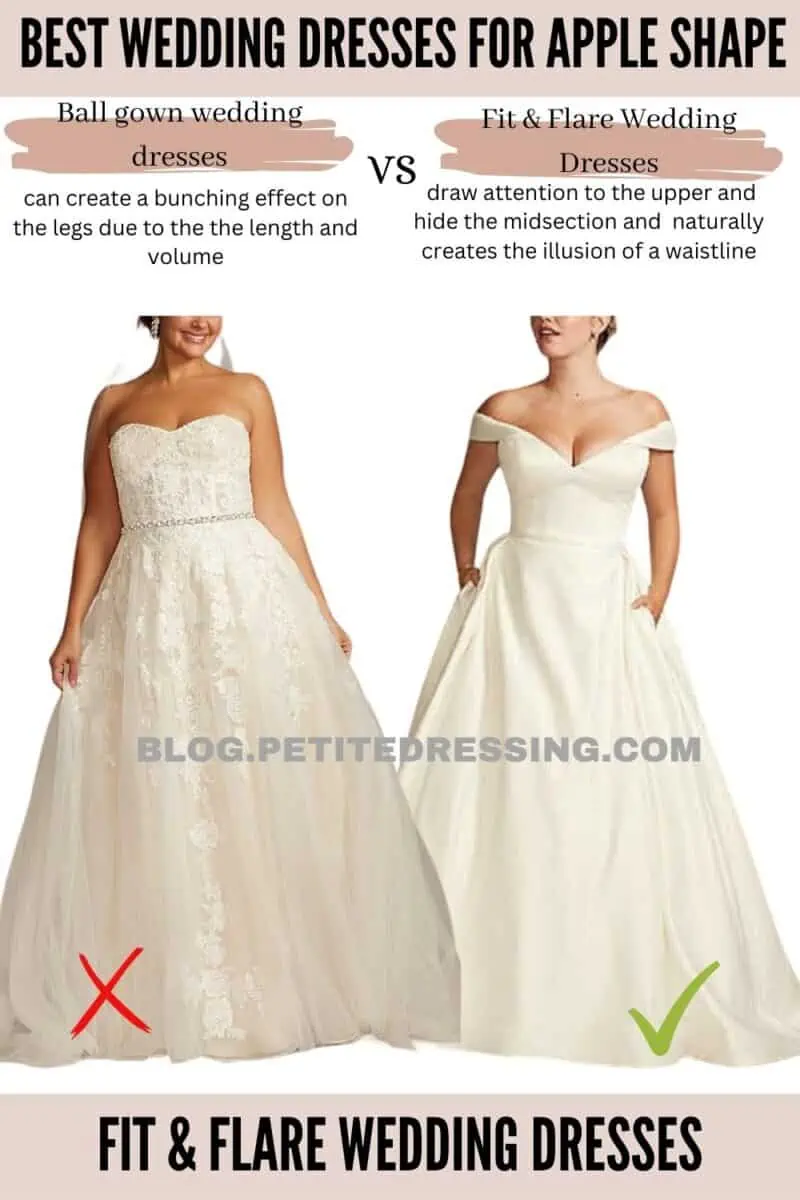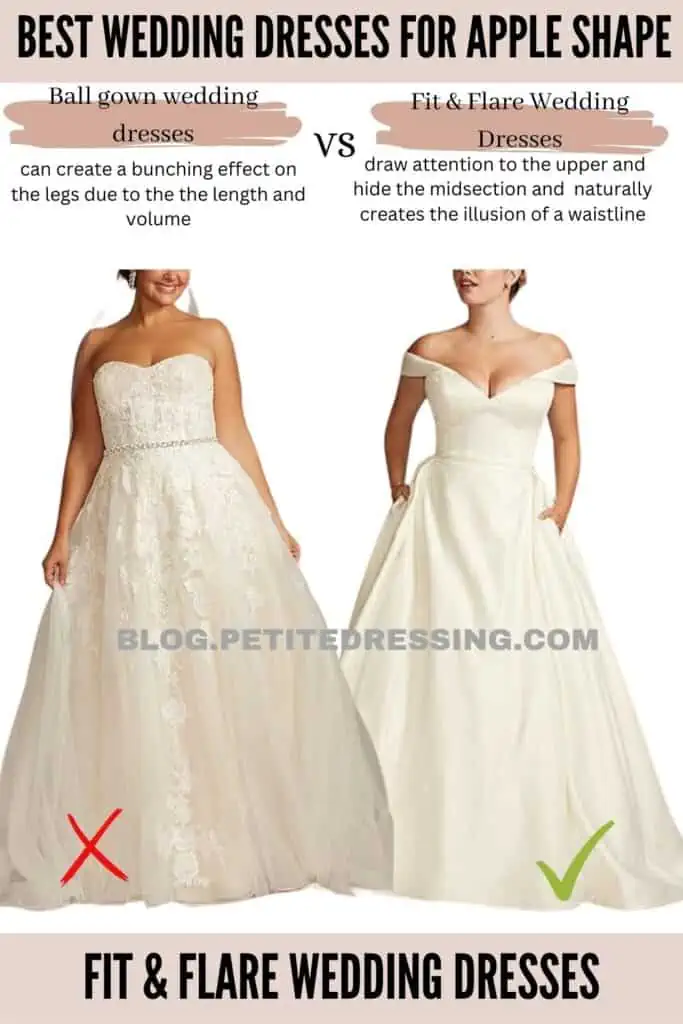 Fit and flare is a generally flattering silhouette to almost any body type. It hugs your upper body nicely, and it flares out under your hips, so, it creates a fine balance for apple-shaped brides who want to draw attention to the upper and hide the mid section.
The flare shape just naturally creates the illusion of a waistline in a very subtle way!
Belted Wedding Gown
Now, listen very carefully about this one, because I want to make sure you do it the right way.
Adding a belt will add a nice visual "slice" of the figure, cutting the silhouette in two parts visually. In addition to accentuating the waist, a belt can add just the right touch of "bling" to your dress.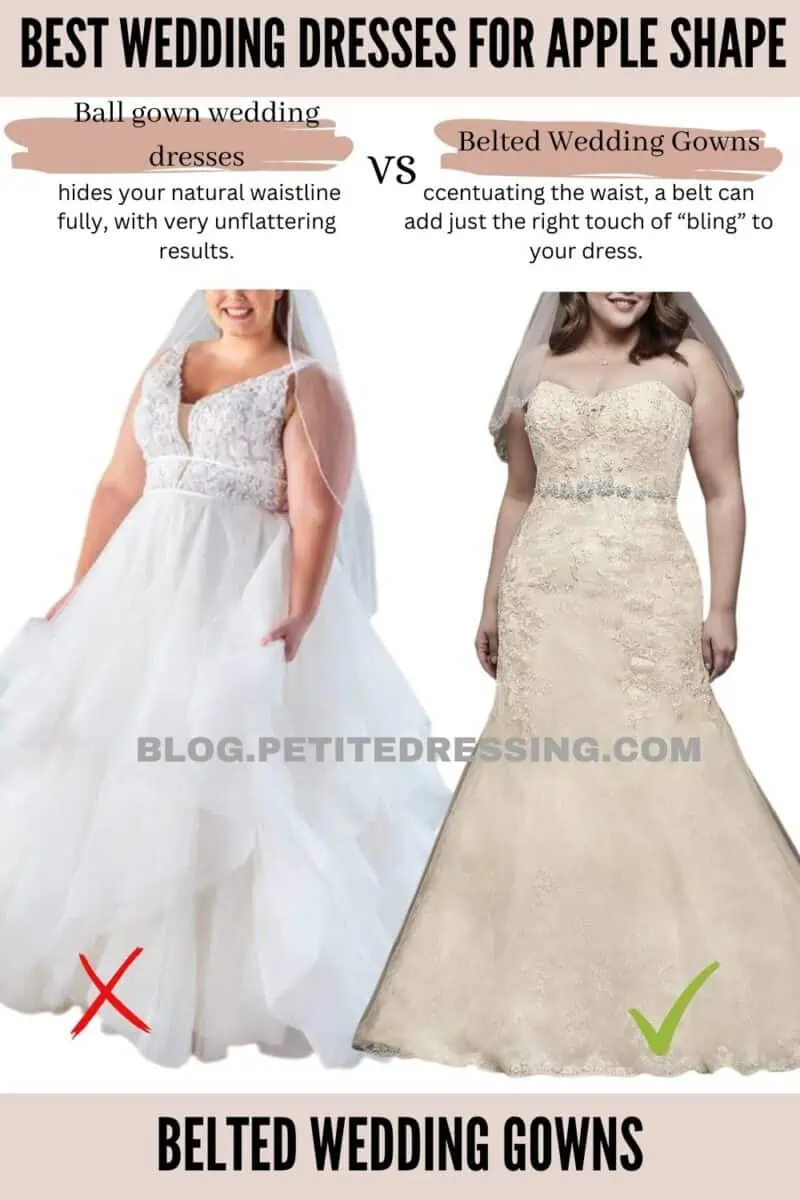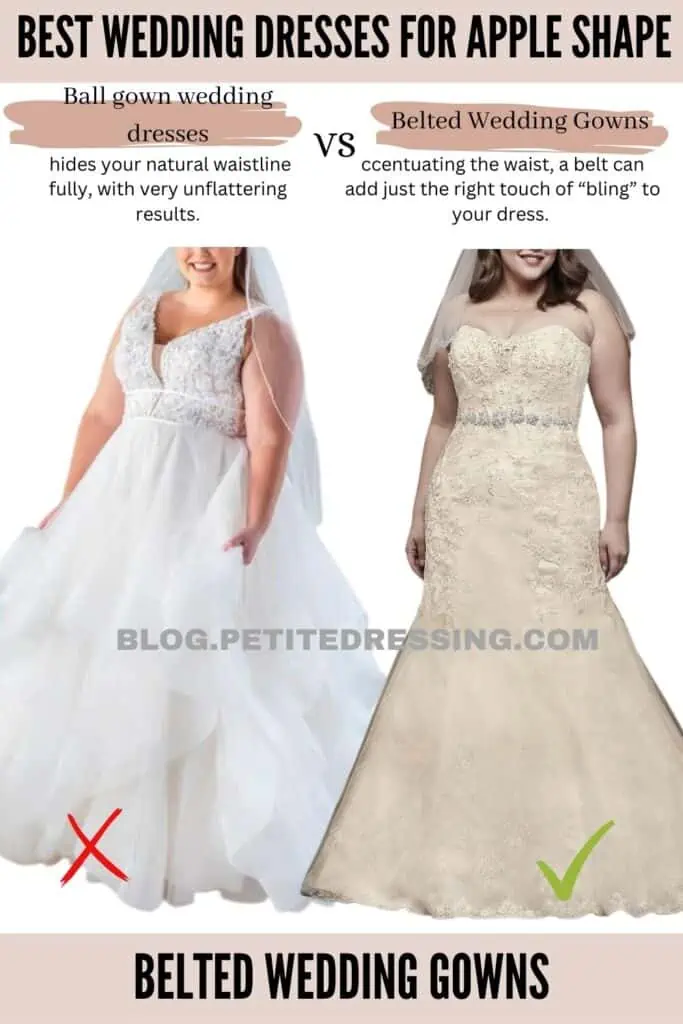 What I want you to pay attention to is you must make sure the belt is HIGHER than your natural waist!
You never want the belt to be right at your natural waist, which is the midriff you are concerned about and don't want others to pay attention to!
Now, if you are a curvy girl, then the wedding dresses for apple shaped plus size could be even more of a challenge to find. However, I got some tips for you that will definitely help!
I also highly recommend you read my other post on "Best Dresses for Apple Shaped Plus Size", which talks about how you should choose any dress.
Empire waist wedding dress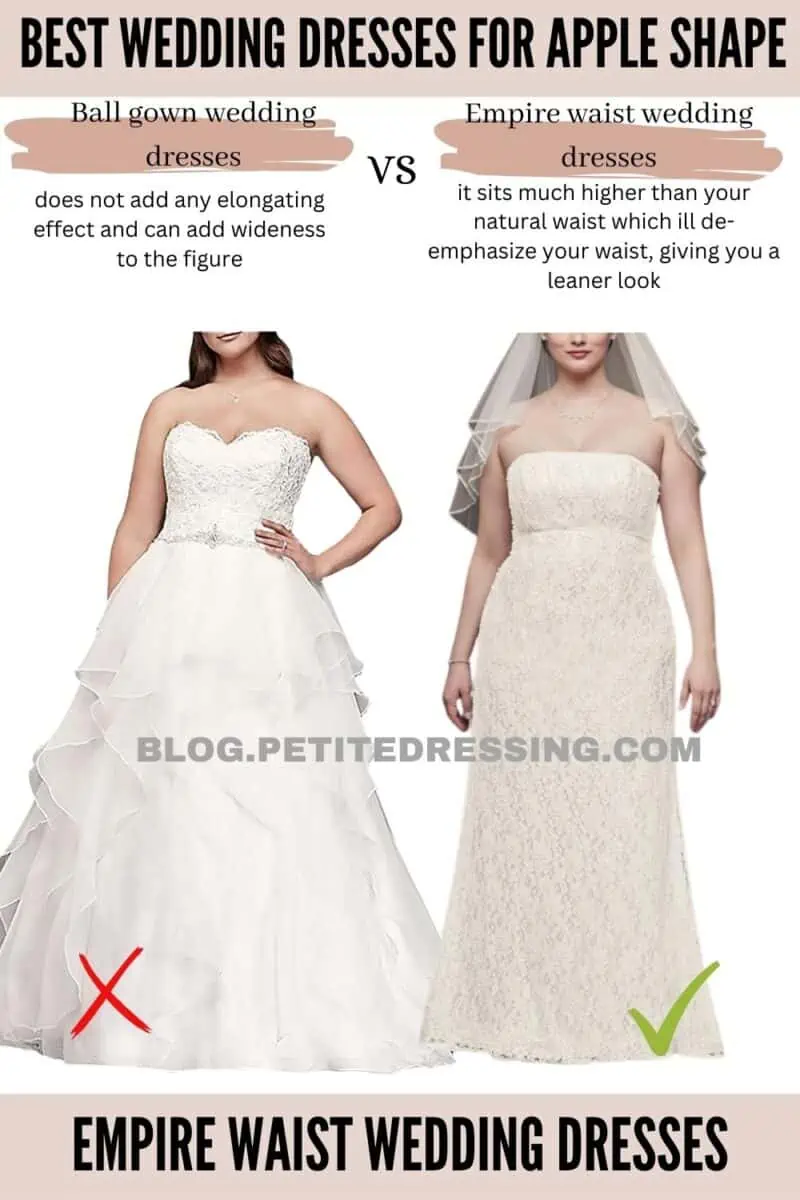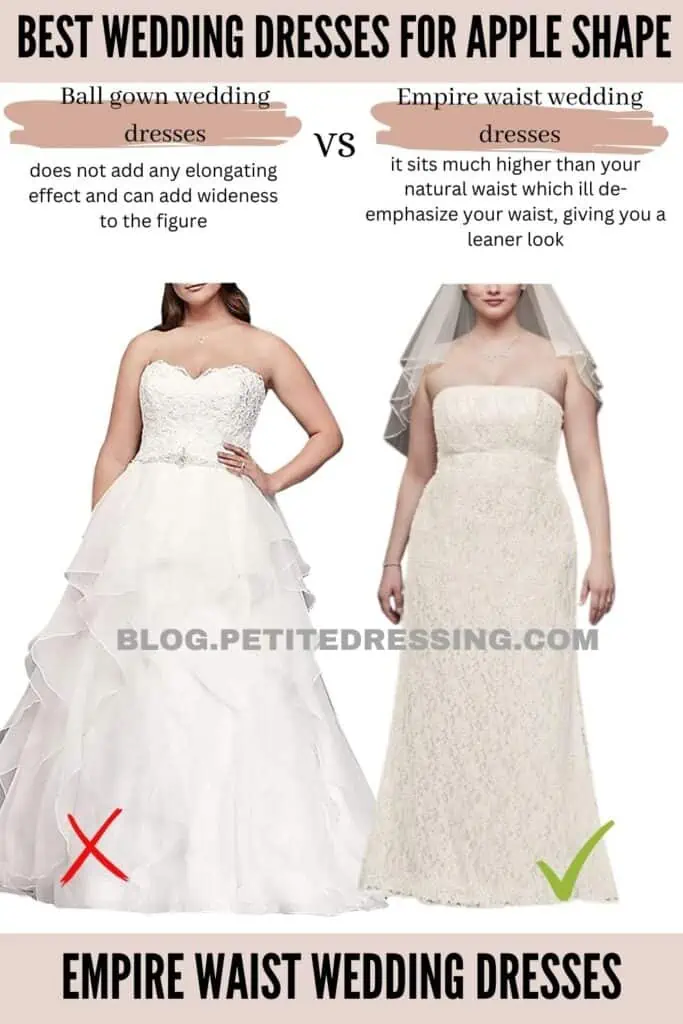 An empire-line dress will de-emphasize your waist, giving you a leaner look. It is a flattering wedding dress for apple-shaped plus size because it sits much higher than your natural waist (which is likely the widest part of your body).
Not all empire waist dresses are created equally! I'm saying this because some of them could make you look pregnant. So you really need to try a lot and choose carefully .
Modest A Line
A line style is fitted at the bodice and flows out to the ground with an unbroken line (resembling the outline of an 'A'!)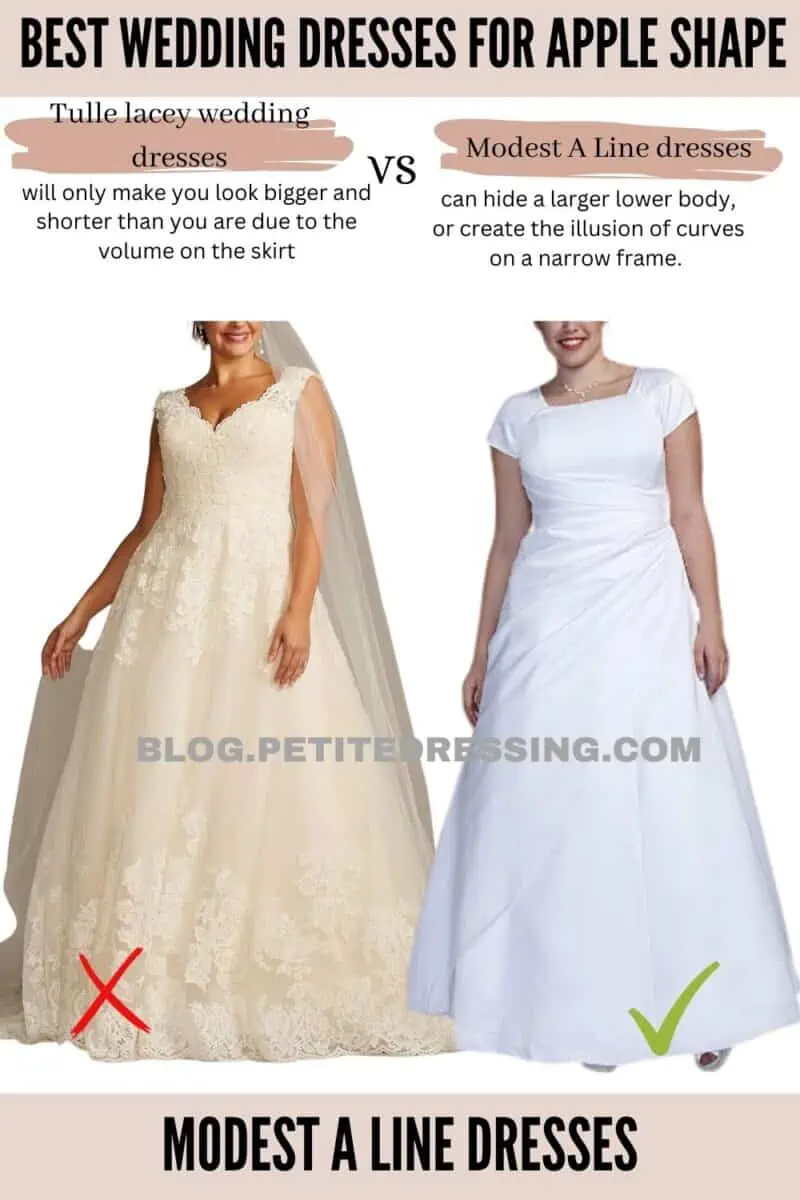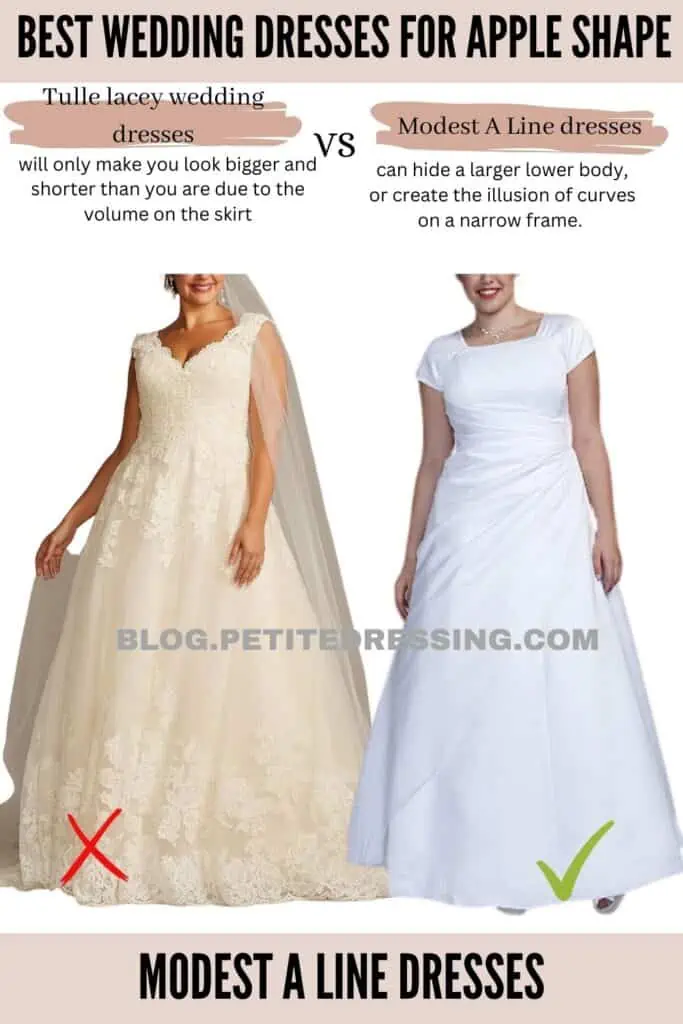 An A-line or full skirted gown will give you the illusion of a waist making a triangle from the ground up. Due to its classic and simple style, the A-line dress is appropriate for any occasion, from a quiet backyard gathering, to a traditional church ceremony.
A great shape for all figures, in particular apple shaped plus size women, who often have a larger bust. The full skirt of the A-line can also hide a larger lower body, or create the illusion of curves on a narrow frame.
Caution with high necklines
High neckline wedding gowns can look quite stylish, and they have a vintage flare which can appeal to many brides.
However, for the apple shaped brides, they are not the best option.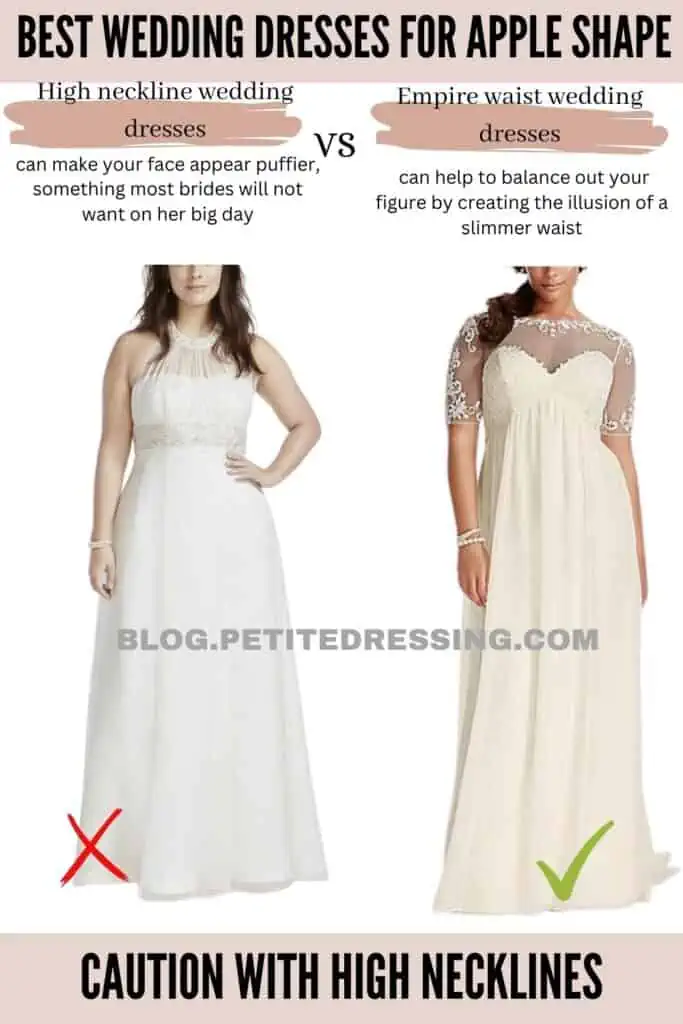 The reason is whenever you fully cover up your neck and chest area, they will make your upper body appear heavier.
Since apple is the body shape that already carries the most weight in the upper body, wearing a high neckline will make you look bigger than you actually are.
Besides, a higher neckline can also make your face appear puffier, something most brides will not want on her big day!
Corset design
Corset is a great design that can add structure to your wedding dress and therefore make you appear more slender.
Make sure you get a quality gown with really good boning so that it will give definition to your waist. Opt for a corset or lace-up back which does an excellent job to create definition around your waist.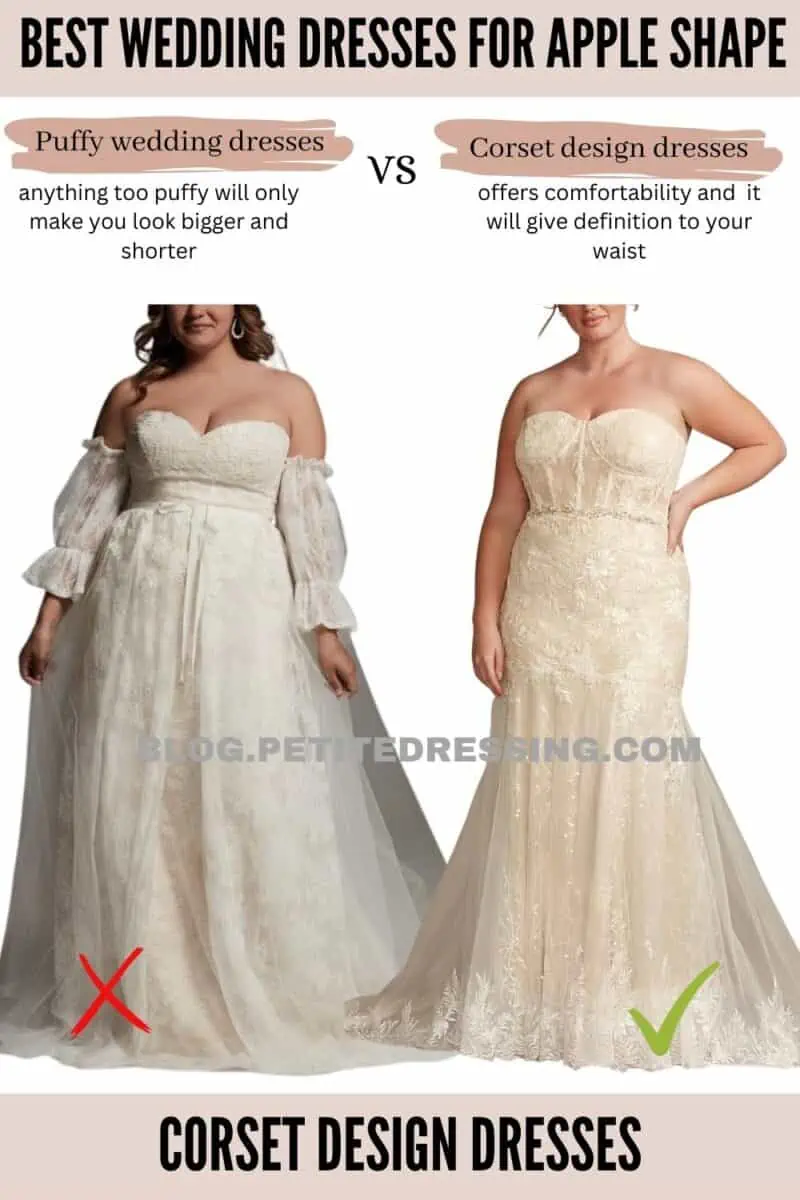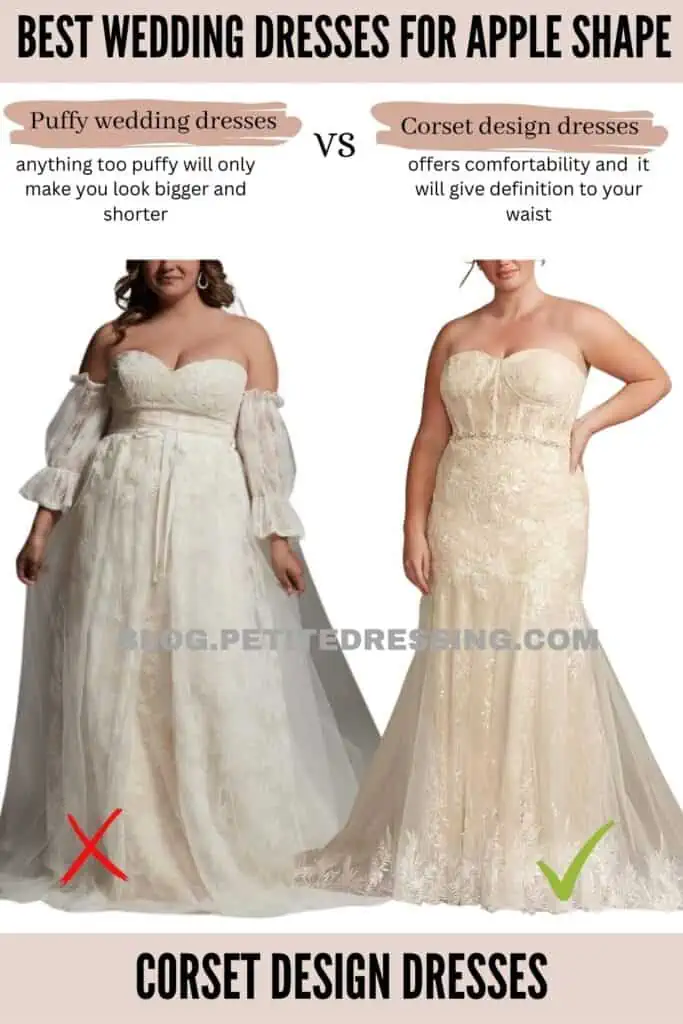 In terms of fabrics, choose a sturdier fabric that is rouched for the most support like satin or taffeta.
Do make sure the corset design is stretchy enough so that you will comfortable to wear them for a long time on your wedding day.
Avoid puffy ball gown
You should avoid big puffy ball gowns!
Simple is the best. Clean, unbroken contours without too much fabric will elongate your figure.
A big, elaborate dress can look as if it's wearing you.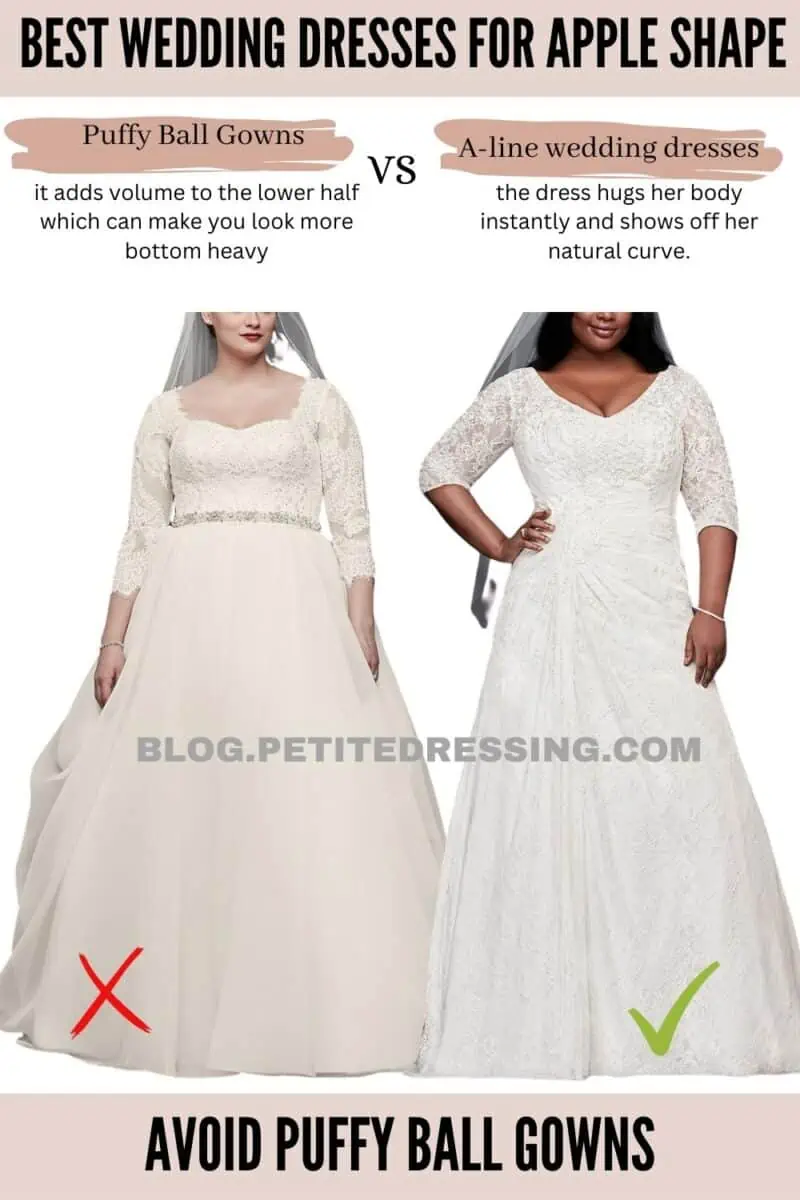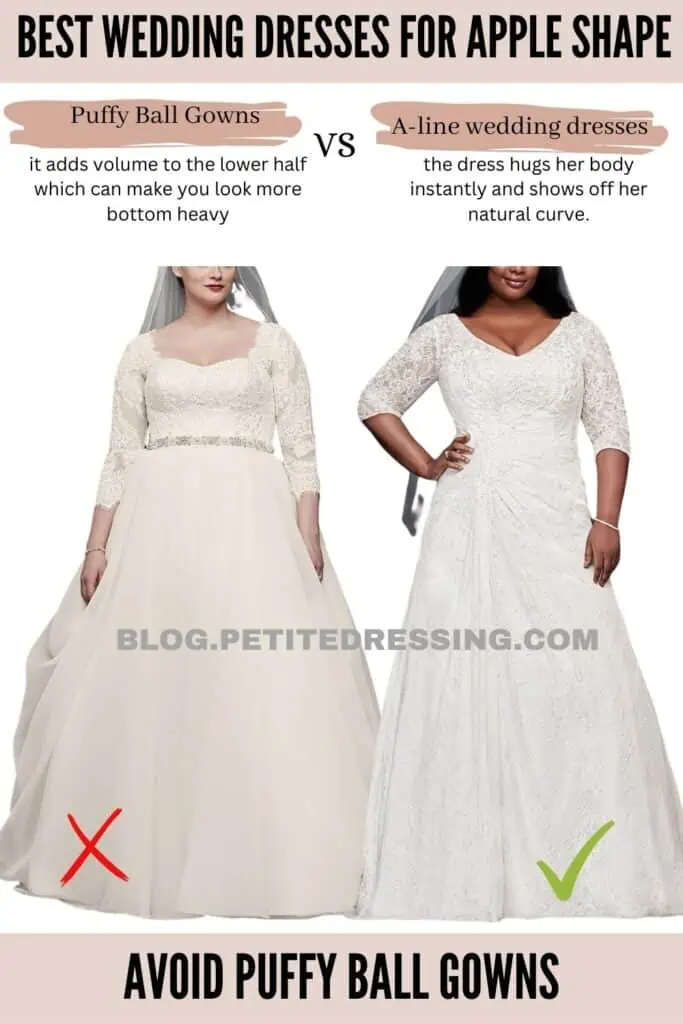 Many designers offer hollow-to-hem options so that the hem and proportion of dress, especially those with lace or special embellishments on the skirt, ars- the dress hugs her body instantly and shows off her natural curve.