Shopping for the right clothing is never an easy task for petite women.  When it comes to finding that ideal wedding dress for the most important day in your life, it is not as easy or glamorous as sipping on a glass of bubbly with your best girlfriends and waiting for the bridal shop assistants to bring that perfect dress in front of you.  Well, it could be stressful and even difficult. It's almost (kind of) like, finding your Mr. Right. When you find it, you know you have found it.  The moment you try it on, you will know if it is for you or not.  It is that intuitive.  But, before that, you have to go through a ton of gowns, or even numerous bridal shops, in order to find the one.  Are you a petite girl with apple body type?  If you are not sure, take the quiz to find out what is your petite body type.  Learning about what to look for that is specifically flattering for your body type when you are going to the bridal shops will save you a ton of time.  Understanding your body shape and know what works and what doesn't will definitely help you make the right decision for your big day. (Read more about How to Dress Petite Apple Shape, Best Wedding Dresses for Petite Brides, Best Petite Jeans for Your Body Type).
If you have an apple body type, your body generally have the following characteristics: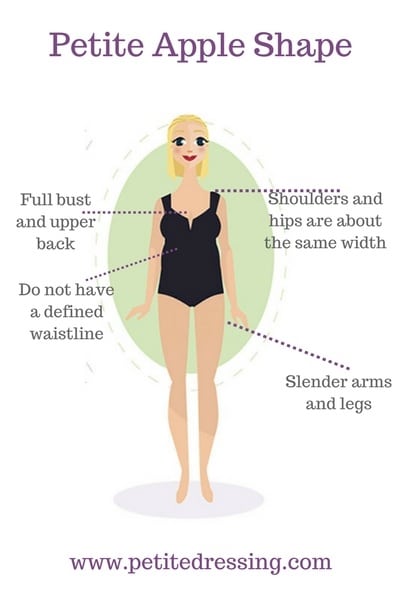 Your hips and shoulders are well balanced, i.e. they are roughly about the same width. That is, your shoulder and hip measurements are within 5 % of each other. Many petite women with apple shape have round and sloping shoulders that align nicely with the hips.
You do not have a defined waistline. Your waistline has the same width as or is wider than your shoulders and hips.
You have a full bust, waist and upper back
Your hips are round shaped and Your high hip is wider than your lower hip.
Your bust and/or midriff are larger than your hips. If you gain weight, you tend to gain weight mainly around the waist, at least in proportion to the other parts of your body.
You probably have slender lower legs and arms.
You might be short waisted
Your thighs or hips are probably the narrowest part of your body.
Petite girls in general should choose from dresses that have a waistline slightly above your natural waist to make the bottom of the gown appear longer. Avoid big puffy ball gowns. Always check with your bridal consultant on ordering a custom cut gown that matches your proportions. The average wedding dress length is around 58 inches, so getting a custom cut will help the dress details fit you better. Plus it can save you money on alterations.  Since you are under 5'4" and you've got a tiny frame compared with your tall girlfriends, simple is best.  Clean, unbroken contours without too much fabric will elongate your figure.  A big, elaborate dress can look as if it's wearing you. Generally speaking, narrow silhouette such as A-line or sheath dresses works well for petite brides.  If you are petite but have balanced proportions, you can still wear almost anything.  Many designers offer hollow-to-hem options so that the hem and proportion of dress, especially those with lace or special embellishments on the skirt, are scaled proportionately to the bride.
Define Your Waist
The apple body type is a full-figured woman, with a slight hourglass figure.   In general, choose from styles that accentuate the waist at its smallest point. This can be accomplished by added a belt to an a-line or sheath cut dress.   Great waist construction is essential.  Choose a gown that will give definition to your waist. A style that cinches in your waist will create a more balanced proportion. A wide ribbon at the waist, or a slightly dropped waisted style are great options. Try a style with asymmetrical pleating or rushing, it does wonders for creating a defined waist.
Opt for a corset or lace-up back which does an excellent job to create definition around your waist.  Choose a sturdier fabric that is rouched for the most support like satin or taffeta.  Make sure you get a quality gown with really good boning.
Adding a belt will add a nice visual "slice" of the figure, cutting the silhouette in two parts visually. In addition to accentuating the waist, a belt can add just the right touch of "bling" to your dress. Ruching or lace and beaded detail on the bodice, coupled with a snug fit, will draw the eye vertically. Look for a deep v-neck or plunging neckline.
Petite women with apple body type should think about necklines that will draw attention upward while flattering your bustline. V neck, and plunging are great options. However if you already have broad shoulders you may want to steer away from necklines that will make you look wider, like off the shoulder designs.
More voluptuous than most, petite women with apple body type have full breasts, a bit of a tummy and a rounder bum and hips. An empire-line dress will de-emphasise your waist, giving you a leaner look. Stay away from Princess-line and basque dresses they draw too much attention to your middle as well as sheath dresses, spaghetti straps may cut into your shoulders. An A-line dress with a dropped waist looks great on an apple body type.  A line style is fitted at the bodice and flows out to the ground with an unbroken line (resembling the outline of an 'A'!) An A-line or full skirted gown will give you the illusion of a waist making a triangle from the ground up.  Due to its classic and simple style, the A-line dress is appropriate for any occasion, from a quiet backyard gathering, to a traditional church ceremony.  A great shape for all figures, in particular apple shaped petite women, who often have a larger bust. The full skirt of the A-line can also hide a larger lower body, or create the illusion of curves on a narrow frame. Since the A-line dress is so versatile, simple modifications to the neckline, waistline, or fabric can accentuate your best features and hide those your not so fond of!
Will a mermaid suit a petite bride with apple body type?  That is debatable.  Some says petite apple shaped women should avoid trumpet, mermaid and fit & flare styles.   The reason is although most silhouettes flatter your figure, mermaid dress tend to overwhelm. Others think though a sheath may be ideal to create the column of length, being petite doesn't mean you can't wear a mermaid.    Since apple shape have some characteristics similar to hourglass (full bust and round buttocks), we can smartly create the illusion of an hourglass in a mermaid wedding gown through tying a belt at the waistline (ideally higher than your natural waistline to elongate your legs).
The perfect example of petite bride of apple body type is Eva Longoria.  Eva Longoria tied the knot with Jose Baston at a  wedding ceremony held in Valle de Bravo, Mexico in May 2016.  Eva Longoria walked down the isle in a white sheath wedding dress of simple silhouette with a sweat heart neckline. This style is designed in such a way that the seam runs vertically from the shoulders down to the hips.  They are meant to be one of the best wedding dresses for petite brides who love simple and minimalist design.  Many petite brides  love sheath dresses as they help butter up the figure and give that long and lean silhouette needed by short brides.  Standing at 5'2", Eva Longoria looks sensational in this sheath dress- the dress hugs her body instantly and shows off her natural curve.