Finding the right formal dresses for petites is hard, but it is not impossible.  Even if your style might be mainly casual, you still need a couple of formal dresses for occasions like a black-tie party or wedding guest.  It is a wardrobe must for every petite woman.  In my Petite Dressing boutique, one of the most popular search items from customers are gowns and mother-of-the bride dresses.  I also constantly get customers inquiries on "I am short, how should I wear formal dresses?"
Today I will share with you 5 tips on how to style formal dresses if you are short like me.
If you are looking for mother-of-the bride dresses specifically, I have another post "'11 Best Tips for Mother of the Bride Dresses for Petites" and you should read as well.
1. Silhouette is foundation
Silhouette is the foundation.  Have you always heard of the word but not sure what it means?
When you look at the Eiffel Tower or the Pyramid, what do you notice first? It is the outer shape.  You may not remember the color or the construction material of architecture, but you won't forget the shape of it, i.e, the silhouette.
That is how important silhouette is in fashion, especially in petite fashion.  Why? Because our short statue depends on what we wear to lengthen and elongate, thus silhouette of the petite clothing could make it or break it for us.
Since you have shorter frame and less to work with, the most flattering formal dresses for petite women are those with simple and sleek silhouette to complement your natural figure.
If you go with something overly complicated, you will easily get overwhelmed and it may look like the dress is wearing you. Stay away from loads of stiff fabrics and tons of beading.
In terms of formal dresses, there are many different silhouette, i.e. the trumpet, ballgown, mermaid, A line, princess, etc.  Each silhouette creates different shape and suits different body types, but there are several that generally look better on short women than others.
The universally flattering silhouettes in formal dresses for petites are these:
Mermaid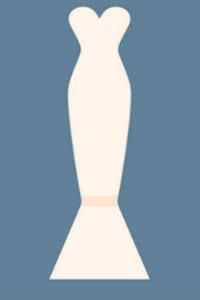 This is the most feminine style that flatters many different body shapes, and works perfectly for petite women.  It hugs at the midsection and flares at the skirt like a fish tail. Mermaid/Trumpet style emphasizes bust and hip, so they are the best formal dresses for petite women who want to show off their feminine curves.  The flare skirt has moderate volume and will not overwhelm the petite frame of short girls.
2. Sheath: Also known as column style.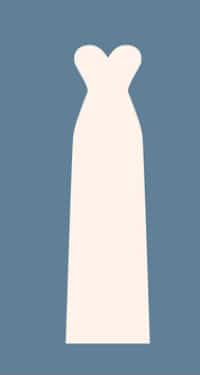 This style is designed in such a way that the seam runs vertically from the shoulders down to the hips.  They are meant to be one of the best formal dresses for petite ladies who love simple and minimalist design.  Sheath dresses made from chiffon material are especially flattering because the drape of the fabrics really accentuate your figure.
3. Fit and flare
If you like shorter length, a fit and flare dress will never disappoint you.
4. Modest A line: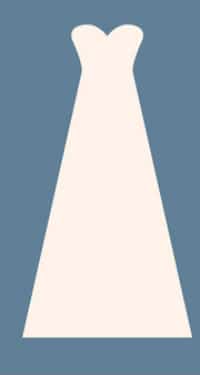 A line dresses are ideal for petite women because they hug at your hips to accentuate your waist line of your body.  Like the letter A, this style has the look of a tightened hip line that gradually broadens all through the ankle.
3. The neckline can make a big difference
For petite ladies, formal dresses with V neck or sweetheart necklines are your best friends.  Don't underestimate the power of neckline.  They can totally change the shape of your face and even the look of the whole dress.
Both V neck and sweetheart necklines create ample space around your face.  What that does is to make your face appear more slender, even without the help of make up. Who doesn't want that!
Most petite women have shorter necks.  A deep V neck elongate your neck and make you appear longer.
V neck also draws eyes up and down, creating the most flattering shape for shorter ladies.
If you are a petite pear shape, off the shoulder formal dresses will be most flattering on you.  Why?  off the shoulder neckline creates a horizontal line across to balance out with your heavier bottom half.
4. View this as an Investment
Buying a formal petite dress is not cheap.  A good quality brand on the market could cost anywhere from 200 dollars to up to 500 dollars, depending on the designer, fabrics and the details.  Since formal dress can be such a high ticketed item, buying it should be treated like an investment decision. Even if you are not ready to throw 500 dollars on a formal dress, you should still have the mindset of investment vs expense.  What is the difference?  The mindset of investment means you buy what is the best value from the long term perspective, whereas the mindset of expense will lead you to jump on the lowest price for what is trendy this season.
Ask yourself these questions before you decide your budget:
How many times will I be wearing this dress?
Can I wear this again in two years for a different occasion?
Is this going to be out of style next year?
You will need more than one formal dress in your wardrobe for different events. Most of us have our preference of certain color, style and even length, and we tend to be shopping for similar style in our closet.  For formal dresses, the smart way to shop is to get different style and color so that you can wear to multiple events without always looking the same.
Of course if you are shopping for mother of the bride dress, that is the special day of your daughter and you might be ok to just wear the dress once and then put it in your closet as a memory.  Otherwise, if you are shopping for a wedding guest dress or a dress for a black-tie gala,  you are better off looking for something you can wear more than once.
5. Pick your Jewelry Wisely
When we talk about styling formal dresses for short women, jewelry is a must.
For petite women, the key to style your jewelry is to draw attention above, not down.  That means wearing anything higher up such as hair accessories, earrings and necklaces will draw attention to your face, thus is more flattering.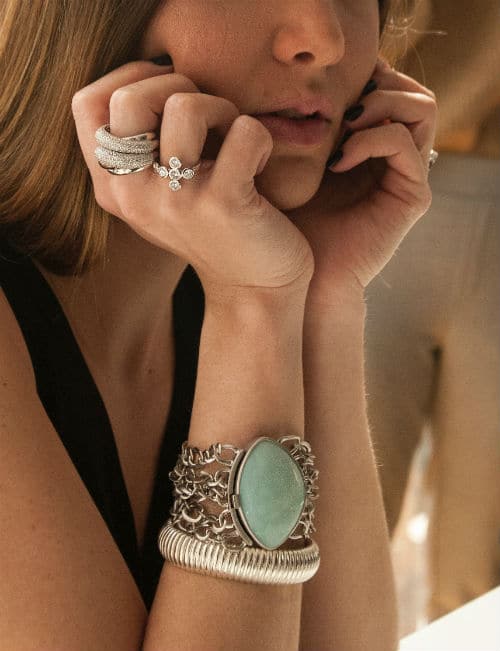 Photo: Unsplash.com
Many women of petite height have shorter necks. A necklace with a long pendant is a great choice to elongate your short neck. The reason is long pendant draws the eye up and down, thus making your neck look longer than they are. If you are petite height, you also do not want the necklace to be too long as to be hanging below your chest and look unsuitable for a short person. A universally flattering length is a necklace that hits 2 to 3 inches above the chest, which will draw more attention to your face and can be worn with any neckline.
Despite the current trend of wearing a bold and chunky statement necklace, women of petite height should be aware they are not the best accessory for a short person.  Petite women can look overwhelmed by a giant necklace, unless you are petite and plus size.  If you are petite and curvy, then a delicate chain may look lost on you and you are better off with a medium sized necklace (still, it should not overwhelm your petite height).  If you love the bib-shaped statement necklaces, which is trending right now, opt for one designed to hit lower on your frame which has a medium to small airy design.  Always avoid enormous statement necklaces that sit high on your clavicle.
6. What you need to know about the Shoes
Matching your heels with your formal petite dress will make you appear taller.  Typically, nude pumps are the most flattering shoes to petite ladies, because they look like extension of your legs.  If you are a petite woman of color, any shoes that are closest to you skin color are most flattering to you.
The best pumps are those with pointy toe, low vamp and no straps.
Pointy toe pumps are the most flattering to short women, period.  It may be just half an inch of the difference compared with round toe or square toe, but that slight change makes a whole world of difference in how your legs will look in them.
The lower the vamp, the longer your legs will look. If you don't know what vamp is, think about those pumps that show a little bit of your toe cleavage.  Those are low vamp pumps I am referring to.
Straps make your legs look cut-off, so avoid them if you can.  For more tips, read my post on "The Best and Worst Shoes if you have Petite Feet".
Now, if you know you might be standing or walking quite a bit. Make sure your heels are comfortable enough.  I am sharing with you my tips of standing and walking all day in heels on my wedding day on post on "7 Tips on How to Wear Comfortable Heels All Day".
7. The Bag Makes the Outfit
Picking out the right bag to match your petite formal dress is an important step to complete the outfit.
When it comes to picking the best handbags for petite women, size plays a big role in whether or not they are suitable for a shorter person. They key idea here is that a petite woman should carry bags proportional to their sizes, i.e. small to medium size bags.  Big bags can dwarf the person that carries them.  If a petite woman is carrying a gigantic tote bag, it may look as though she is struggling.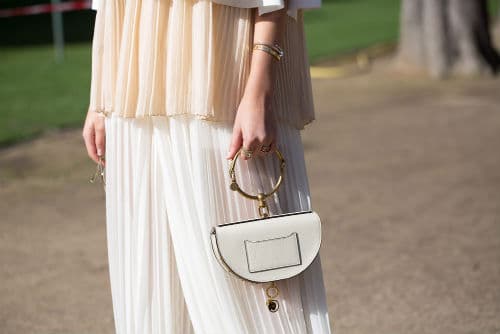 Photo: Shutterstock
On the other hand, it doesn't mean smaller is always better, since short girls are not all tiny and skinny. If you are a curvy petite woman, carrying a tiny clutch may actually make you even bigger and out of proportion.  So, the key is the size of the bag should be in balance with the overall body size of a petite woman.
Given the formal occasion, we highly recommend clutches or crossbody bags on a chain.
Now let's talk about the chain. It is critical for you to choose the right length for your height.
Why is the chain so important?
If the chain is too long and the shoulder bag hits below your hip, it will drag people's attention down and make you look shorter than you are.
Majority of designers make 22″ full length chain for their shoulder bags or cross body bags, which is likely too long for a girl under 5'4″. Petite women look the best with 17-19″ inches.
Opt for bags with adjustable straps, or take them to a shoe repair store who can adjust the chain for you (if you are really in love with the bag).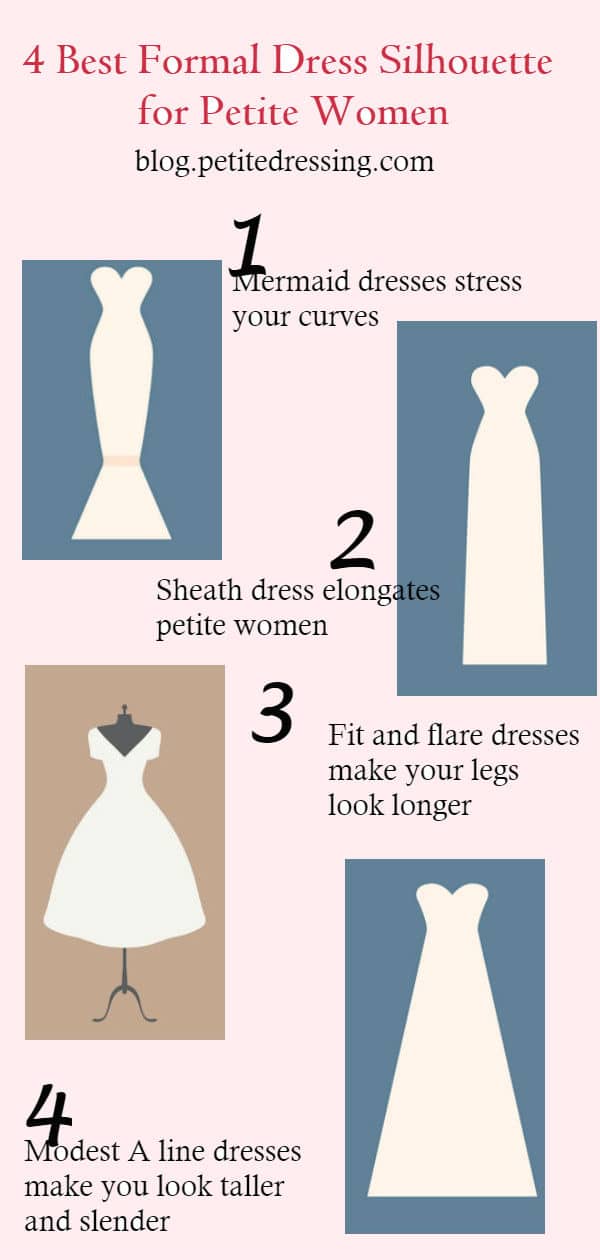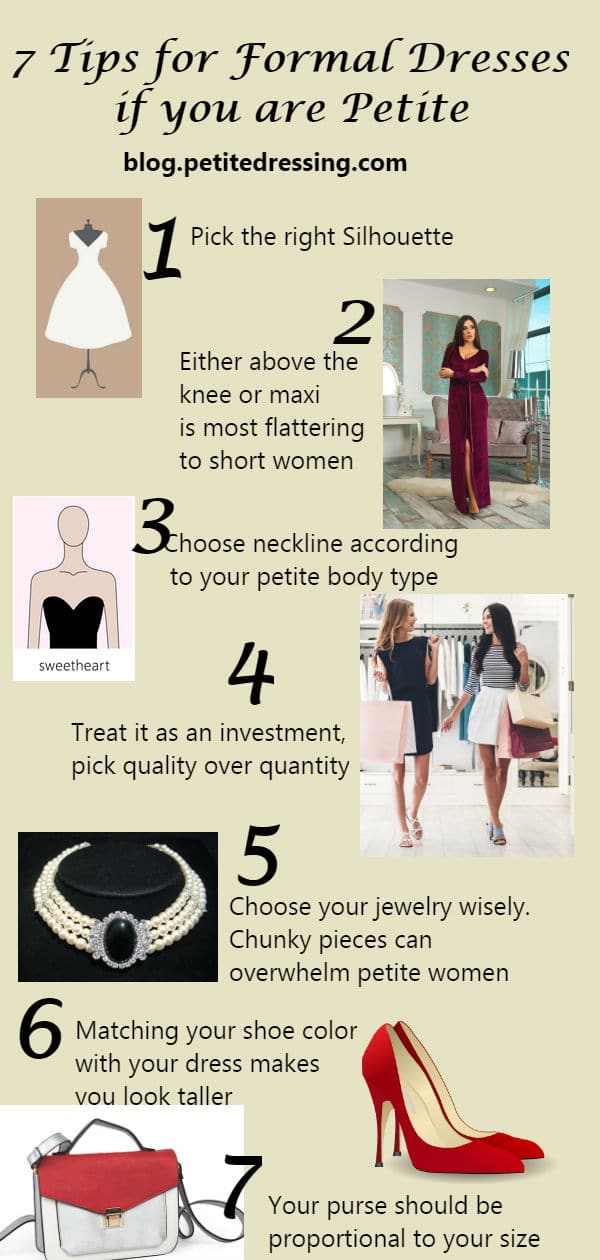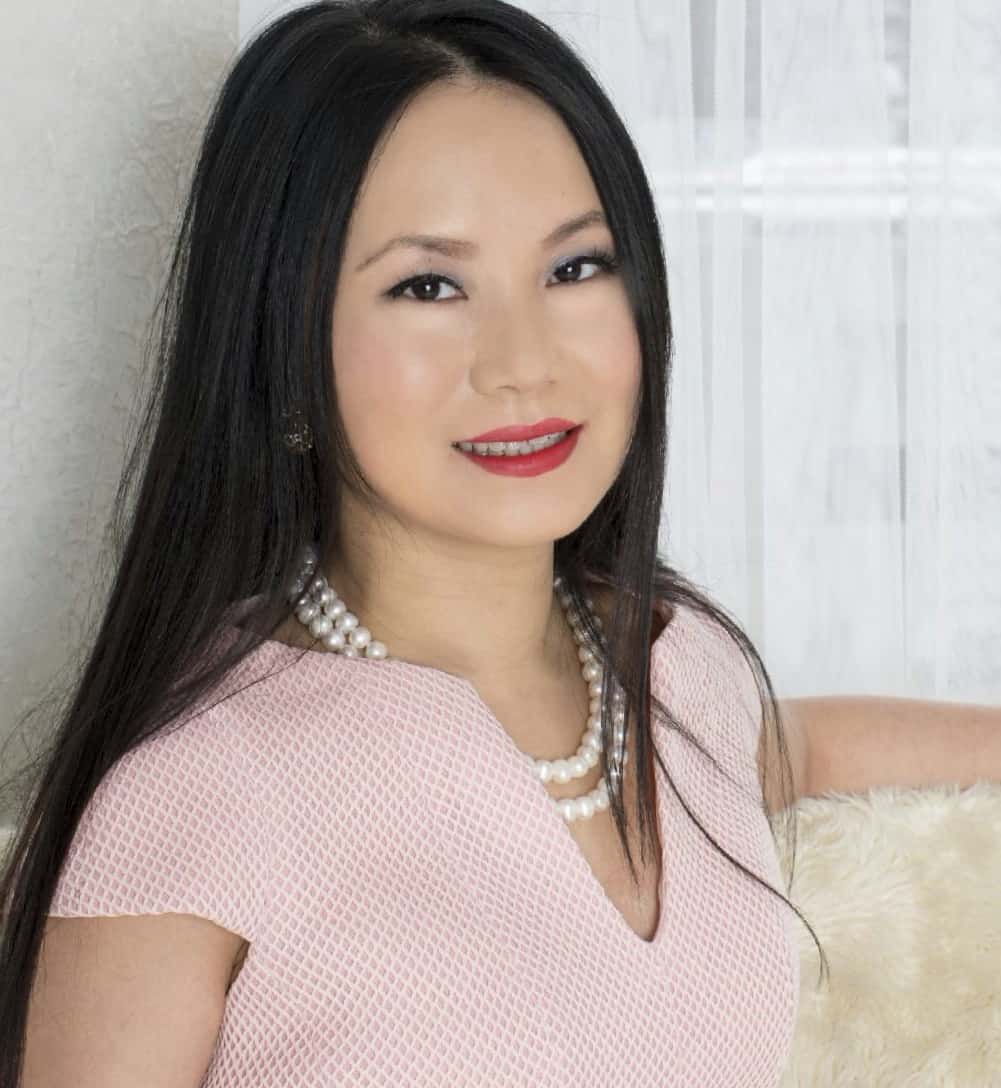 Chi is 5'2″ founder of Petite Dressing, an online petite clothing store dedicated to women under 5'4″.  Petite Dressing blog is here to help you understand yourself, such as your petite body type, and look your best ever.  If you are new, start here. Comment below and share your thoughts about this post!