I am 5'2″, and I have a clothing line for petite women. I also work with petite models of different body shapes (like Wendy, 5'2″ with a typical hourglass shape) for our fitting and photography, and that's why I understand how to dress for the petite hourglass body type.
This wedding dress guide for short hourglass figure contains some amazing bridal gown styles that will flatter petite women.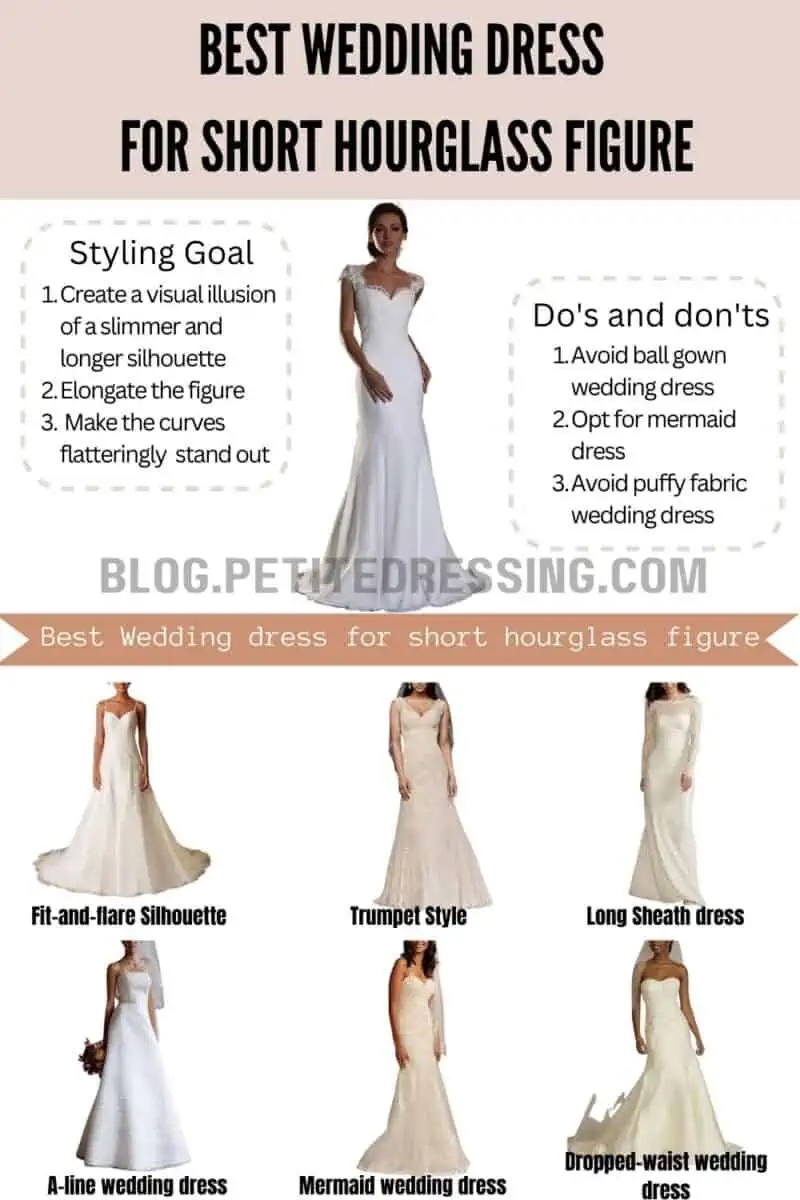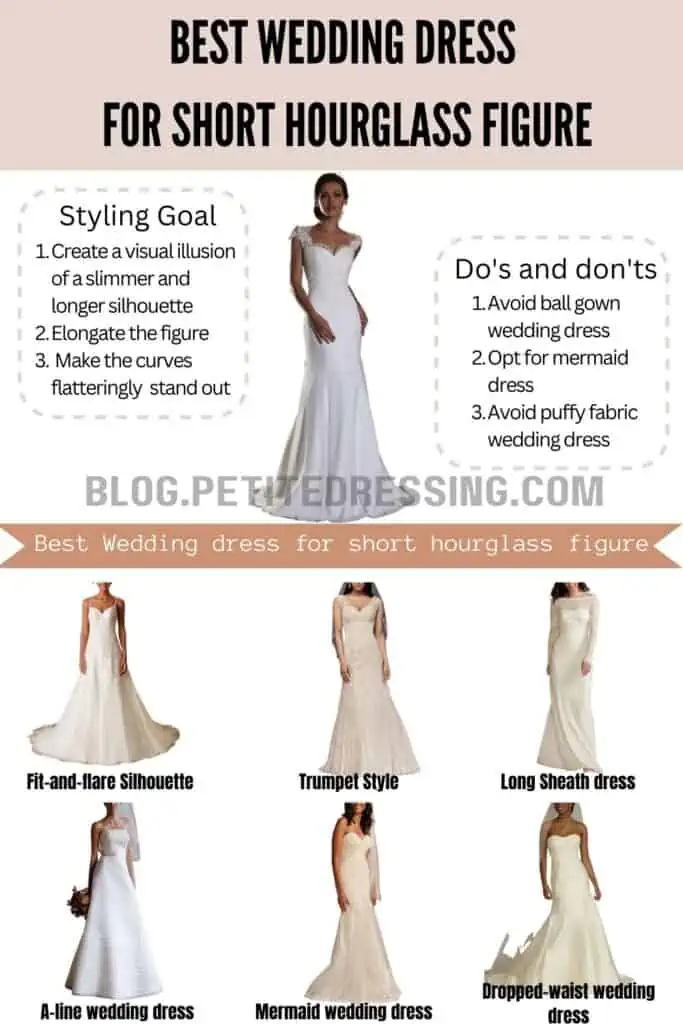 Fit-and-flare Silhouette
The fit-and-flare wedding dress style is one of the best wedding dresses for petite women with hourglass figure. This style is not body hugging but it's just enough to show off your natural curves on your special day.
Whether your wedding venue is a formal ballroom or a less formal outdoor wedding, the fit-and-flare wedding dress will leave you looking elegant and sophisticated all day long. So, how exactly does this work?
Usually, this dress sits above your natural waistline and this is great for making your legs look elongated. Not many dresses give women with a short hourglass figure that visual illusion of a slimmer and longer silhouette, but the fit-and-flare is one of them that does this effectively.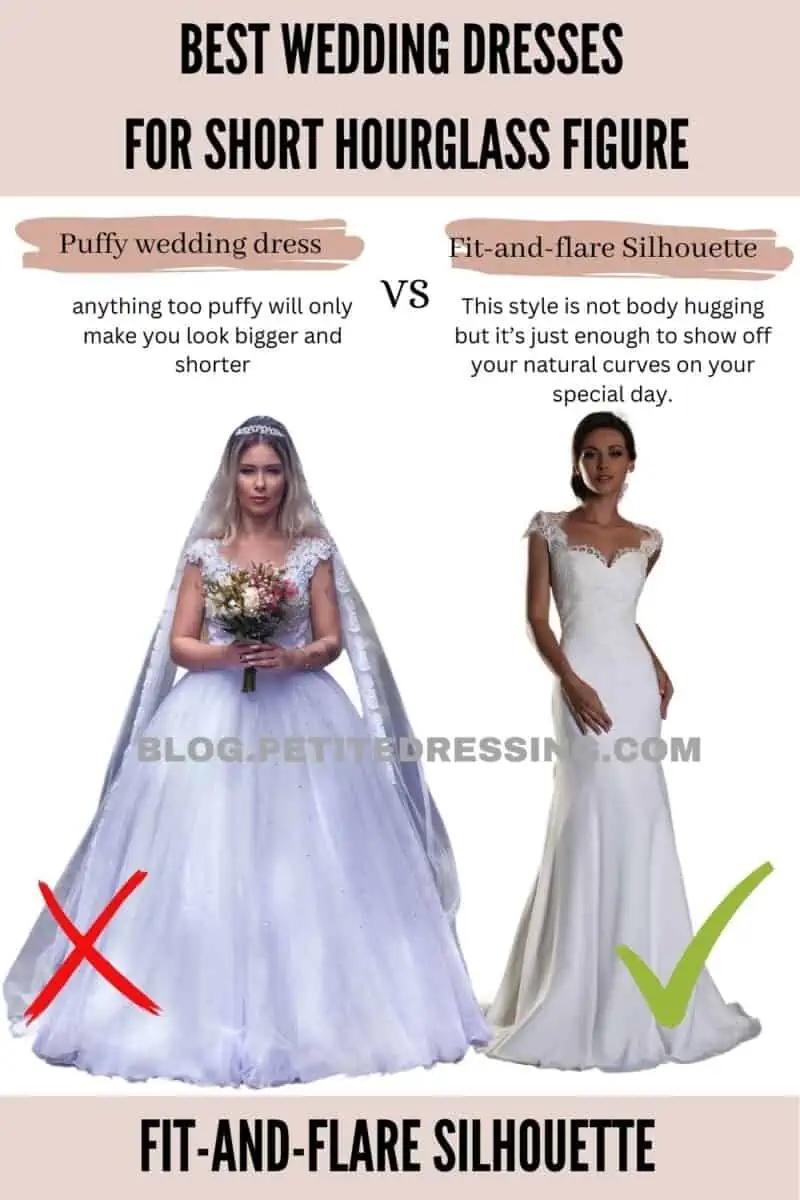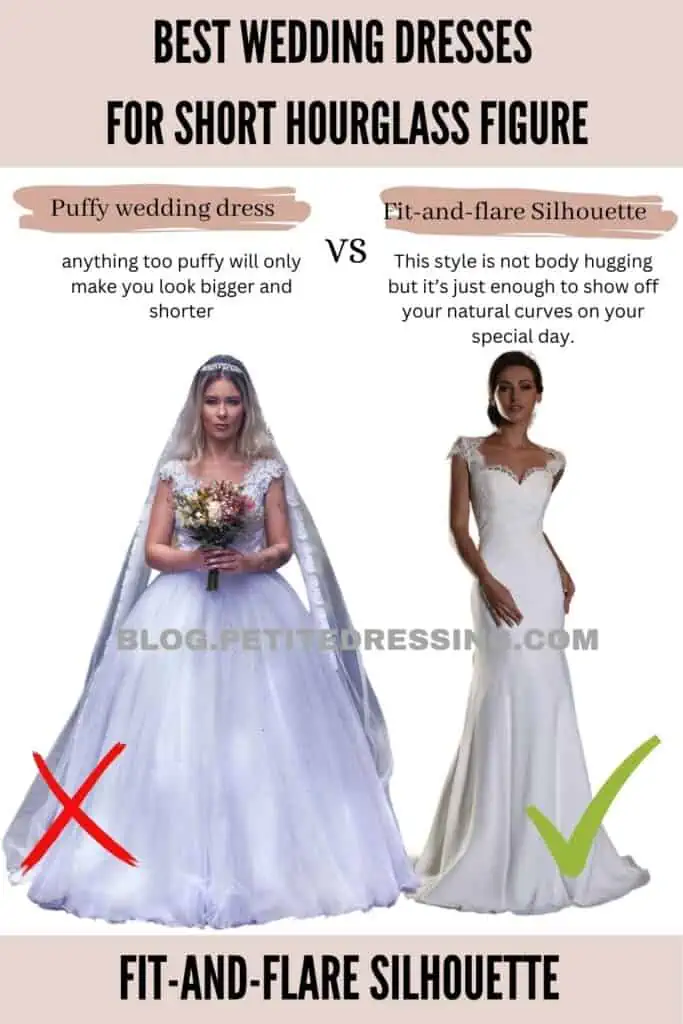 However, I believe petite women should go for a fit-and-flare wedding dress that is of moderate length as a longer one could overwhelm your petite body frame. Moderate flare volumes will make you stand out without shrinking your body frame.
Trumpet Style
The trumpet style wedding dress is not so different from a mermaid shape gown but it has a few distinct features. Regardless, you'll definitely love the amazingly beautiful silhouette it creates on the body of petite women with an hourglass figure.
If you don't mind putting on a more form-fitting design on your bridal gown, the trumpet wedding dress fitted through your bodice and hips is a great choice. The gradual flare below your mid-thigh is designed to provide a subtle yet elegant finish that emphasizes your natural waistline.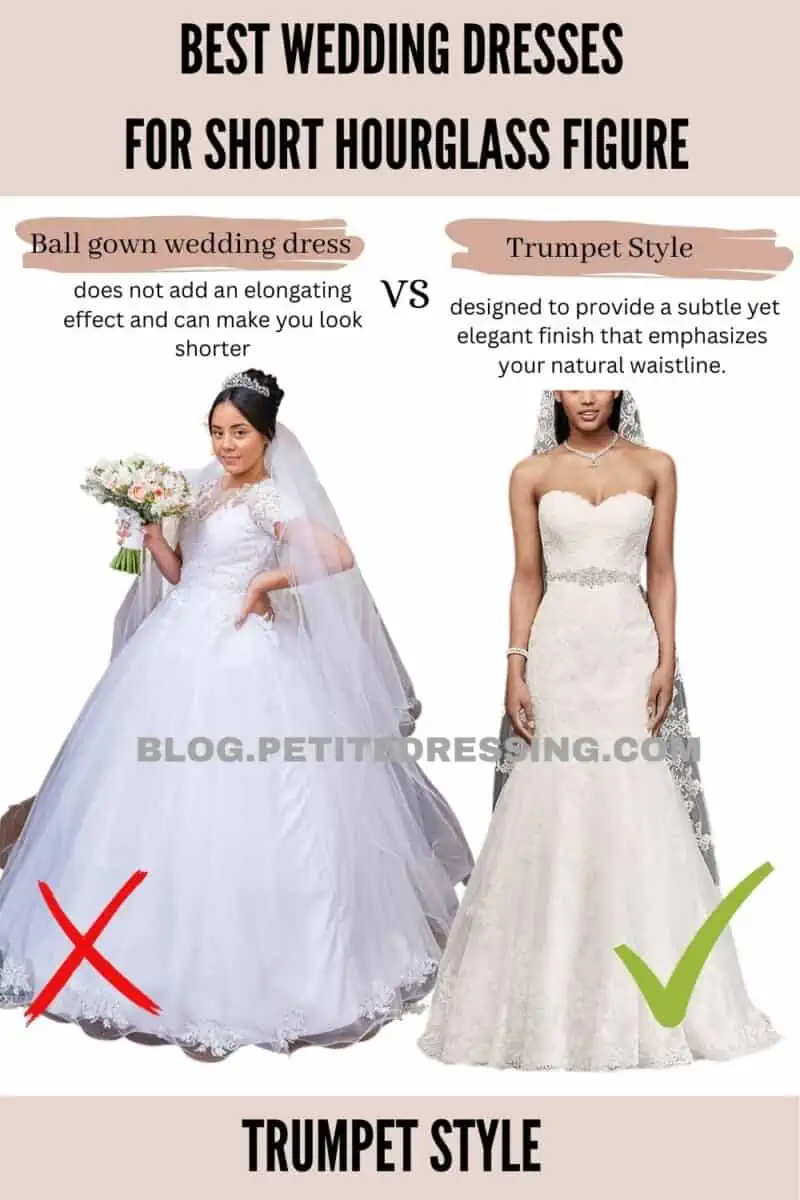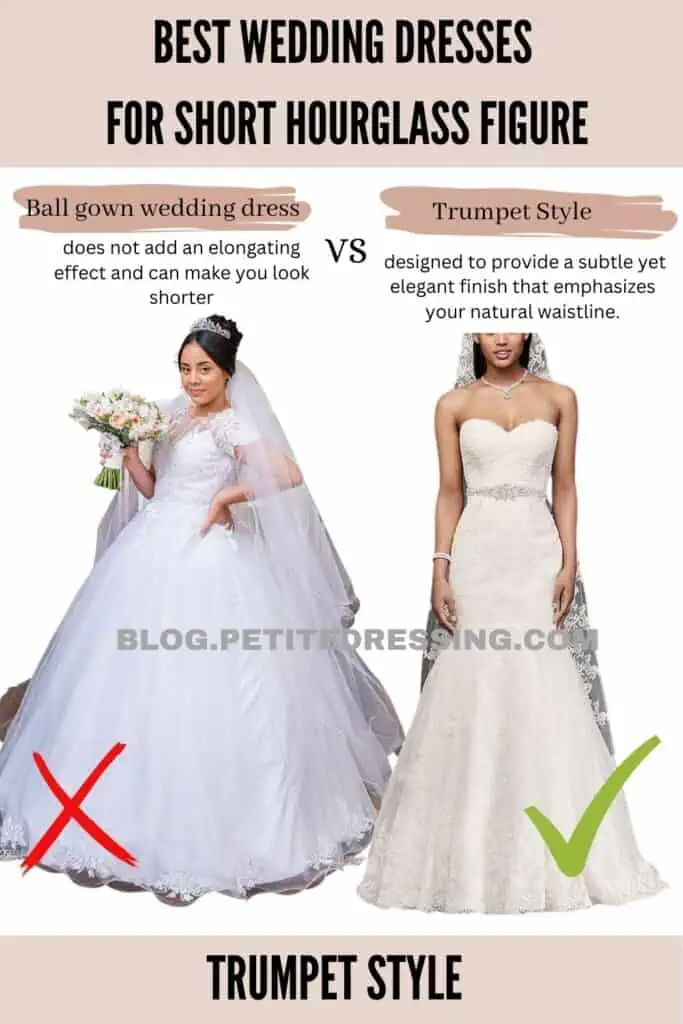 This bridal gown style also creates the illusion of a longer and leaner body, which is great for petite women that want to appear more elongated. Since there are lots of trumpet style dresses to choose from, I recommend trying out different ones to find the one that suits your personal style and preferences.
The trumpet-style wedding dress is a head-turning style that gives your legs enough room, so you can walk around comfortably.
Long Sheath dress
A long-sheath wedding dress is your go-to when you need a bridal gown that follows the natural curves of your body and emphasizes your beautiful hourglass shape. This is a form-fitting style of dress and I've seen how good styles like this work on the hourglass shape.
It's perfect for creating a stunning yet feminine silhouette that accentuates your curves. Meanwhile, this also helps with the illusion of a slimmer body which makes you appear taller. The long-sheath wedding dress has a simple and streamlined silhouette.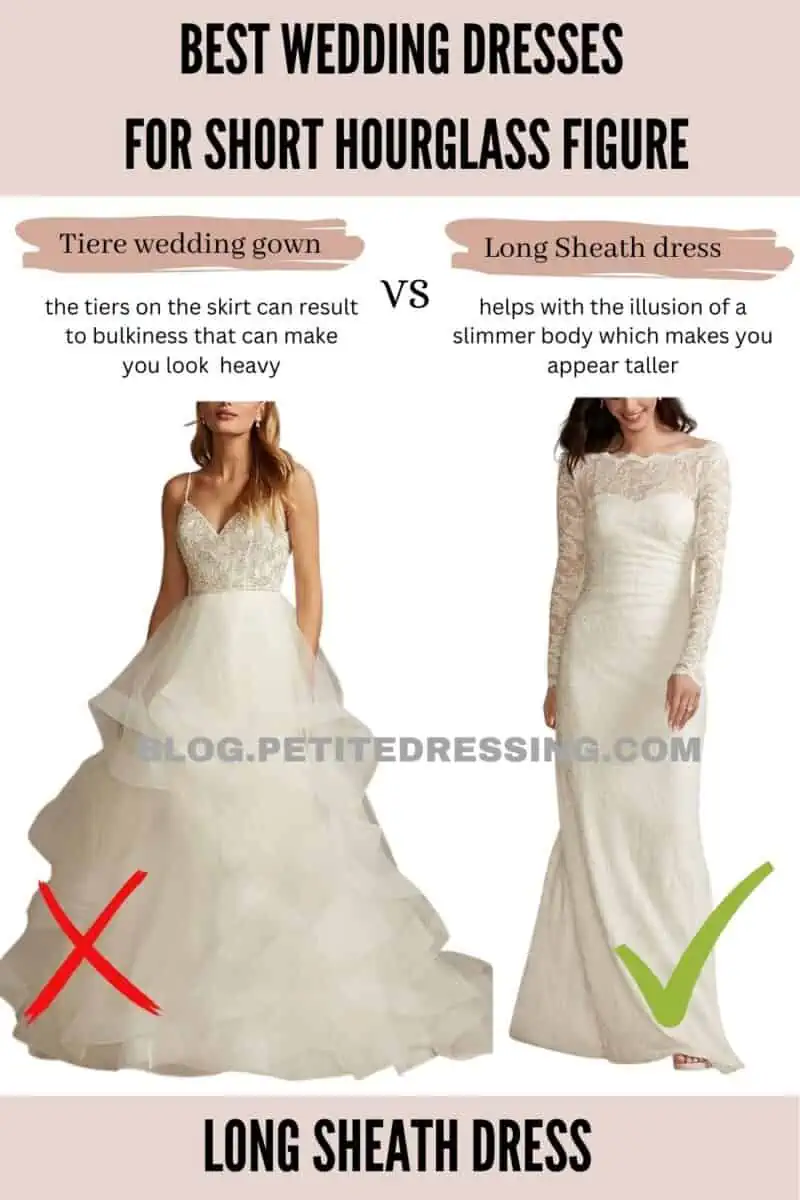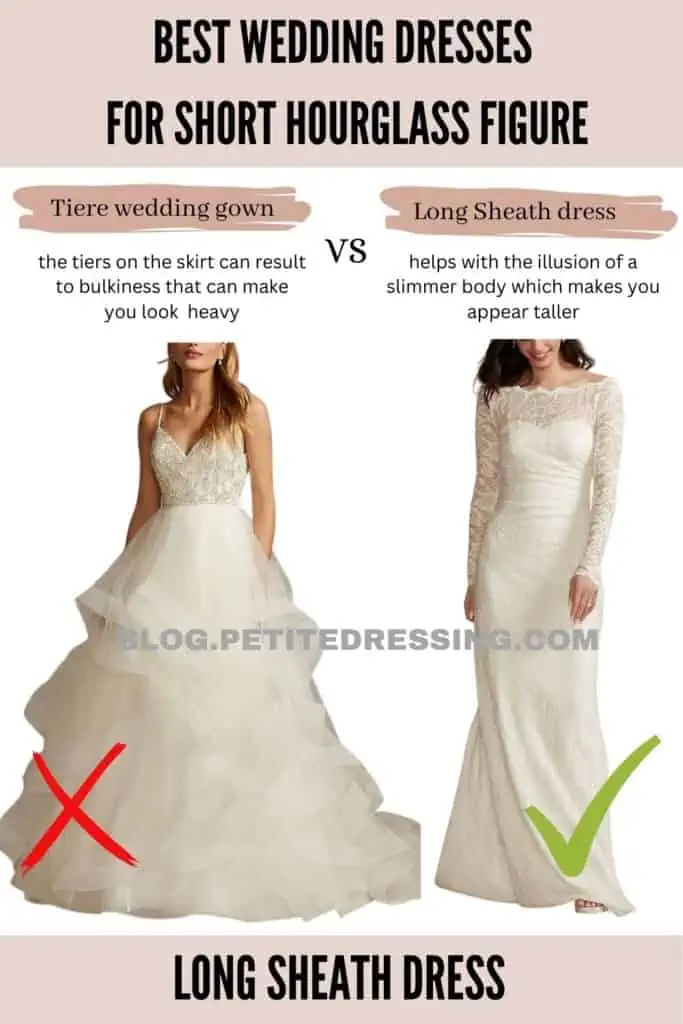 Want to look sleek? Don't mind looking sophisticated? The sheath dress is an amazing choice. Overall, I believe this is a very flattering style for the petite hourglass shape, especially as it doesn't overwhelm the petite body frame.
If you prefer to have your bridal gown in white, the long sheath wedding dress will produce amazing results. However, you can also shake things up a bit by going for a style in a different color such as blue or cream.
A-line wedding dress
The A-line clothing style has always been an instant hit with the petite hourglass body type. Whether it is skirts or dresses, A-line styles work perfectly. This is no different with bridal gowns as I present to you one of the best choices for your special day: the A-line wedding dress.
This style of clothing has a fitted bodice which creates a gentle A shape as it flares out gradually from your waistline. Although it provides a lot of volume at the bottom of your dress, this doesn't overwhelm the petite body frame.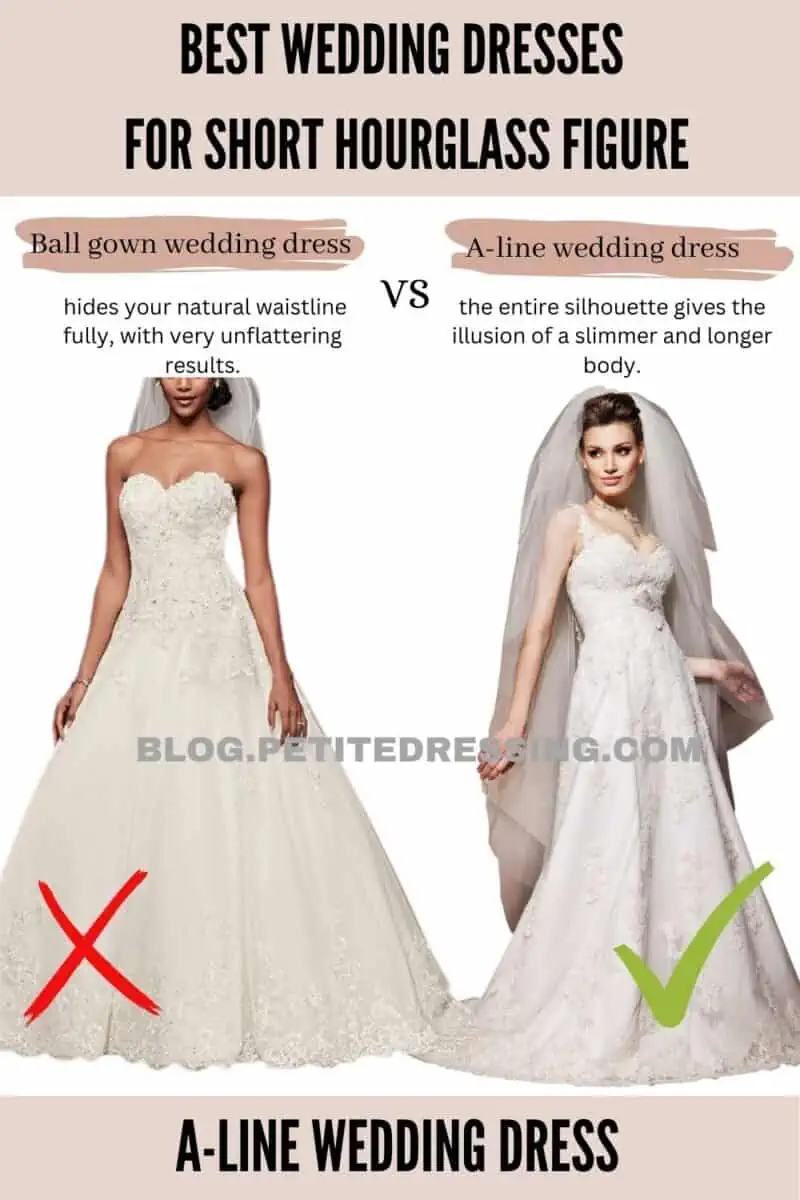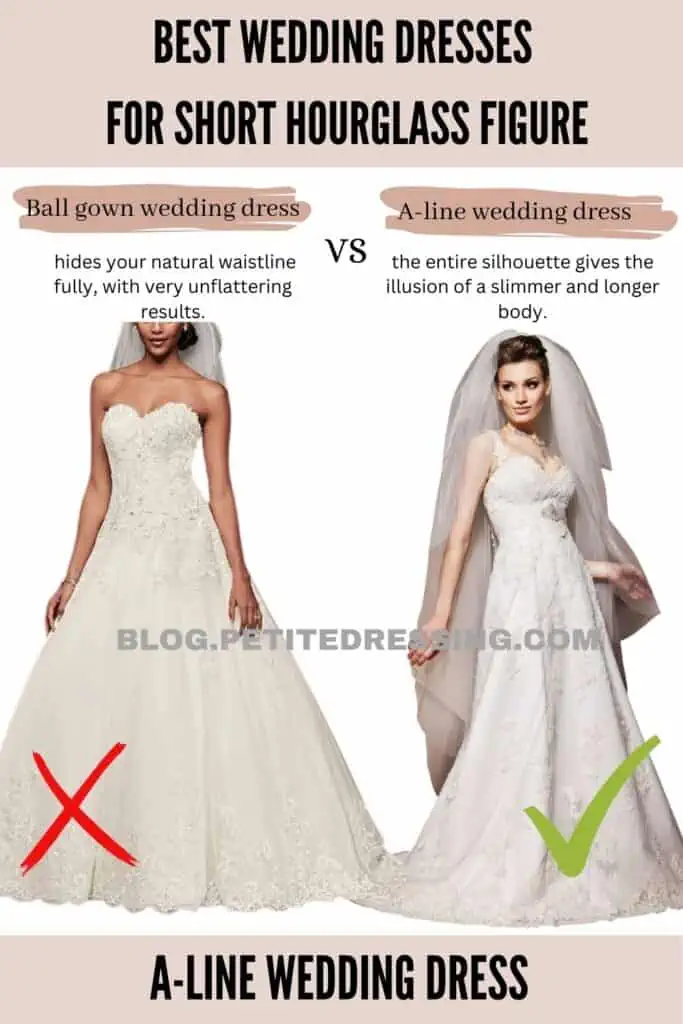 Instead, it serves as a way to balance out your body proportions while still emphasizing your natural waistline. Apart from the streamlined look that's possible thanks to the gradual flare of the A-line skirt, the entire silhouette gives the illusion of a slimmer and longer body.
You can choose a style with some ruffles on the midsection area to serve as a natural means to conceal any tummy bulge. However, leaving this plain works great too.
So, why should you consider an A-line wedding dress? For petite women, it lengthens the body, balances out body proportions and is incredibly versatile as you can style it to suit your preferences. How great is that?
Mermaid wedding dress
Walk down the aisle in a beautiful mermaid wedding dress if you're a fan of a dramatic and glamorous look to make a huge statement on your special day. This is one of the most feminine clothing styles out there and brides with hourglass shape will stand out perfectly in a mermaid wedding dress.
The mermaid wedding dress is specifically designed to be figure-hugging from the bust to the knee, which means it creates a streamlined and sleek silhouette. It's a curvaceous style for any bride that wants to own the moment.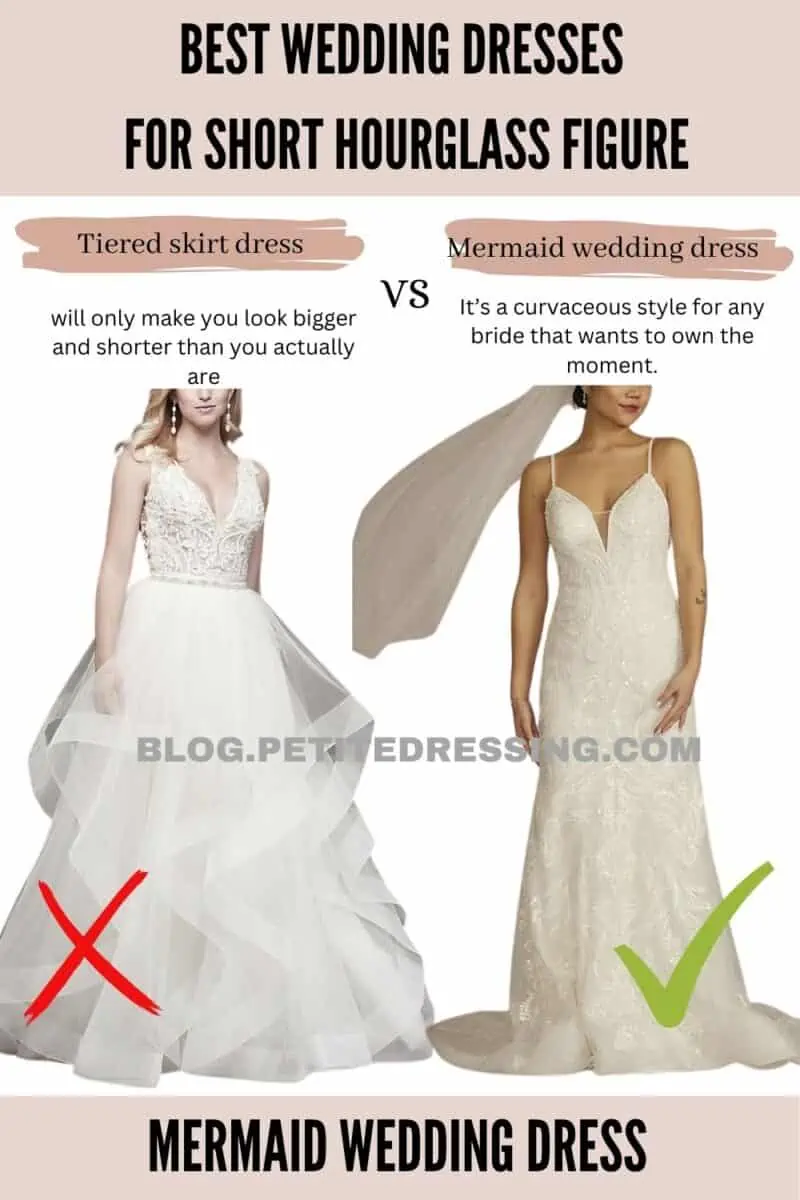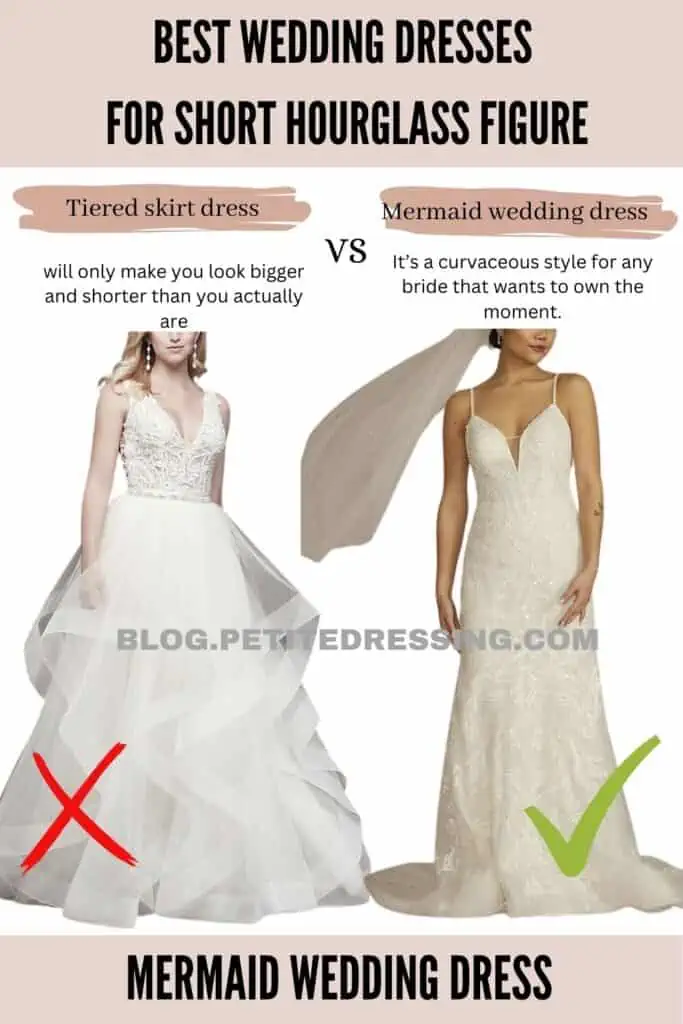 The style flares at the skirt region, similar to a fish tail and is the perfect replacement for a ball gown wedding dress. As a petite woman in a mermaid wedding dress, you'll appear visually taller which perfectly complements the few inches you'll be getting from the right pair of heels on your feet.
This dress is already designed to be form-fitting, so I will advise you to pay attention to the size and fit to ensure that there's still room for you to move around easily and comfortably.
Dropped-waist wedding dress
This chic style has a slight flare below the waistline and you can choose from a wide variety of designs, from simple to detailed. However, regardless of your choice, the dropped-waist wedding dress style has always looked awesome on petite women and it won't be any different with you.
It's a seamless way to show off your hourglass shape as this wedding dress style creates a feminine silhouette naturally that enhances your curves. So, feel free to flaunt your unique body shape, especially as this dress has tons of other benefits.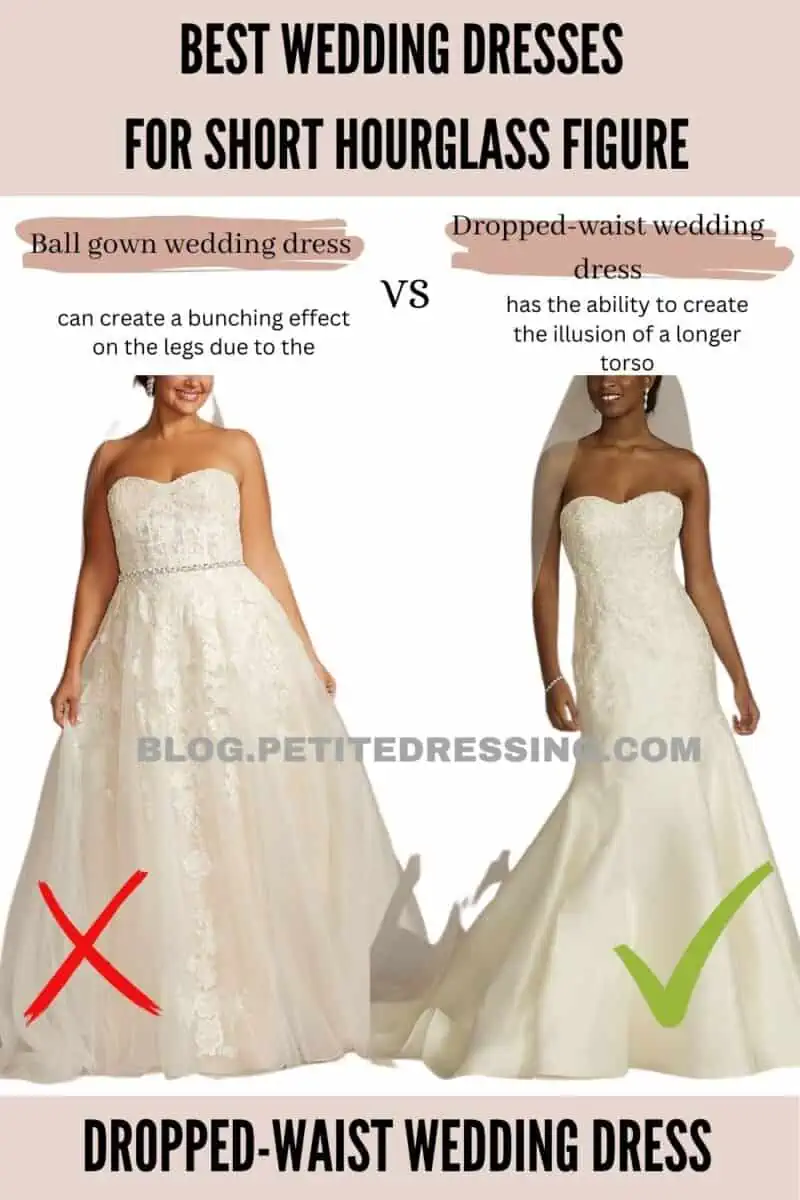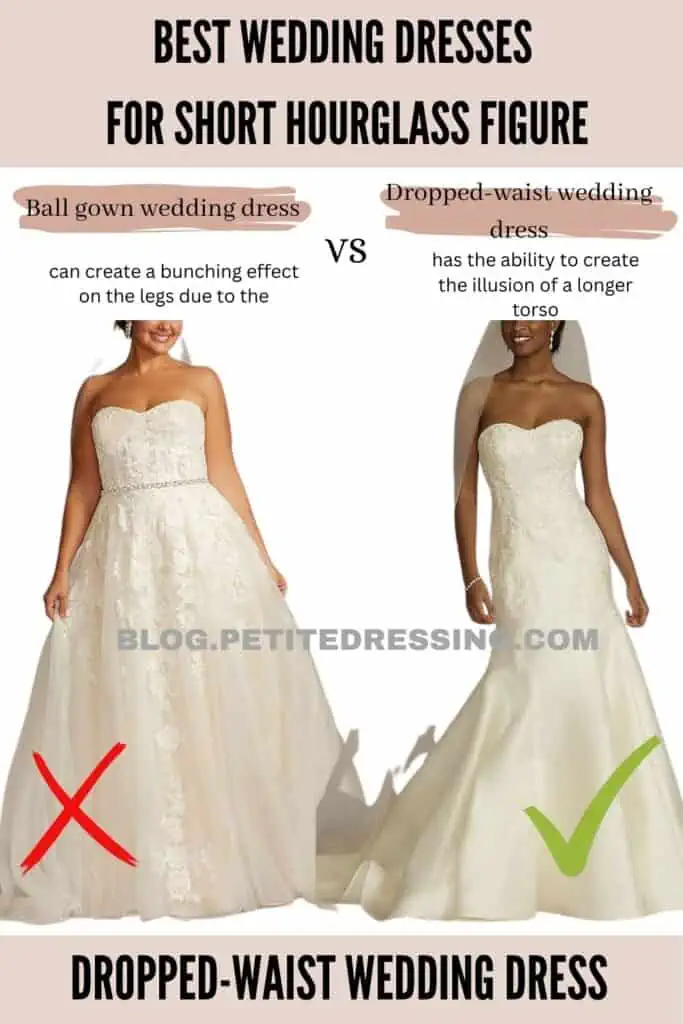 One of them is the ability to create the illusion of a longer torso. This is very flattering for petite women as it has an elongation effect on your body frame. I love to describe the dropped-waist wedding dress style as sleek and elegant.
If you must include a few embellishments, make sure that this does not conceal your hourglass body shape but add to the overall enhancing effect.
Avoid ball gown wedding dress
It's lovely to imagine putting on a wedding dress that's similar to styles in most fairy tales but those are ball gown dresses that can overwhelm a petite frame. So, if you're a petite woman with an hourglass figure, you may have to shelf that idea.
Ball gown wedding dresses have a full skirt that can be overwhelming on petite women, making them appear smaller and shorter. This wedding dress style also hides your natural waistline fully, with very unflattering results.
I'm a huge fan of petite women showing off their best asset, which is the hourglass figure. However, ball gowns hide rather than emphasize this. This bridal gown can also be quite uncomfortable to wear all day as the full skirt limits movement.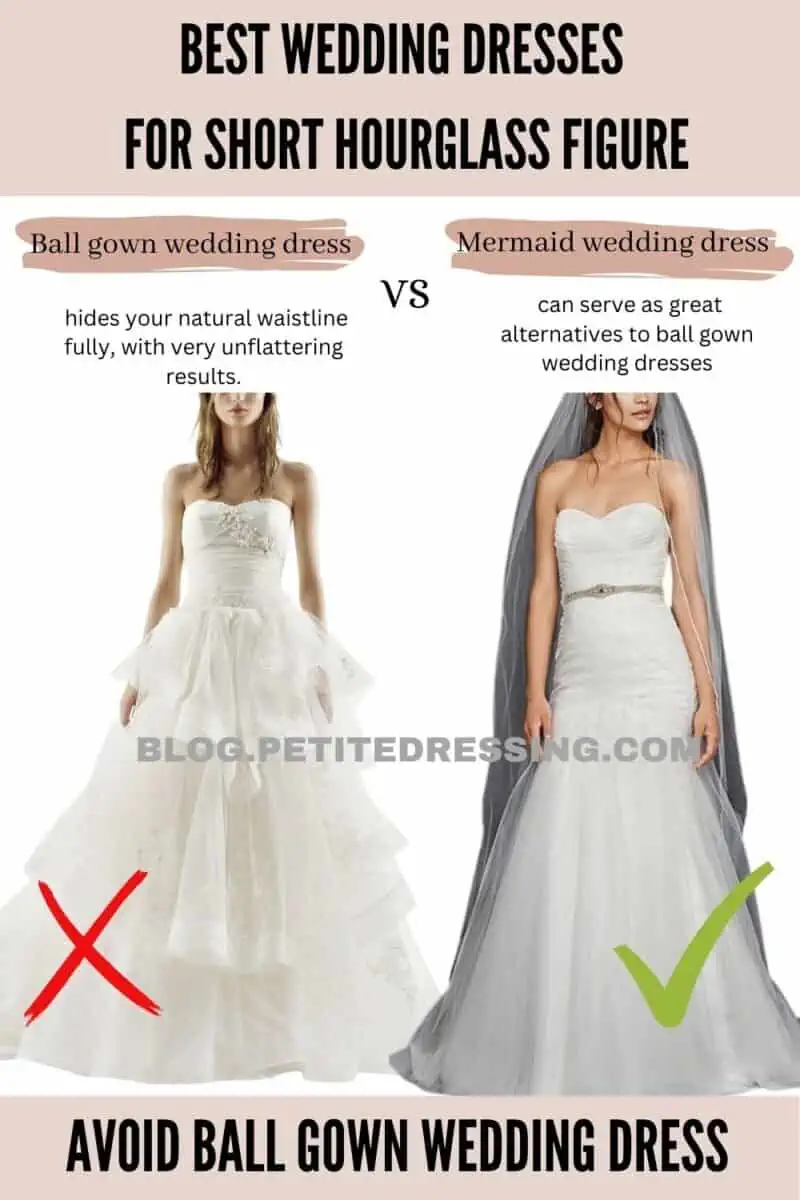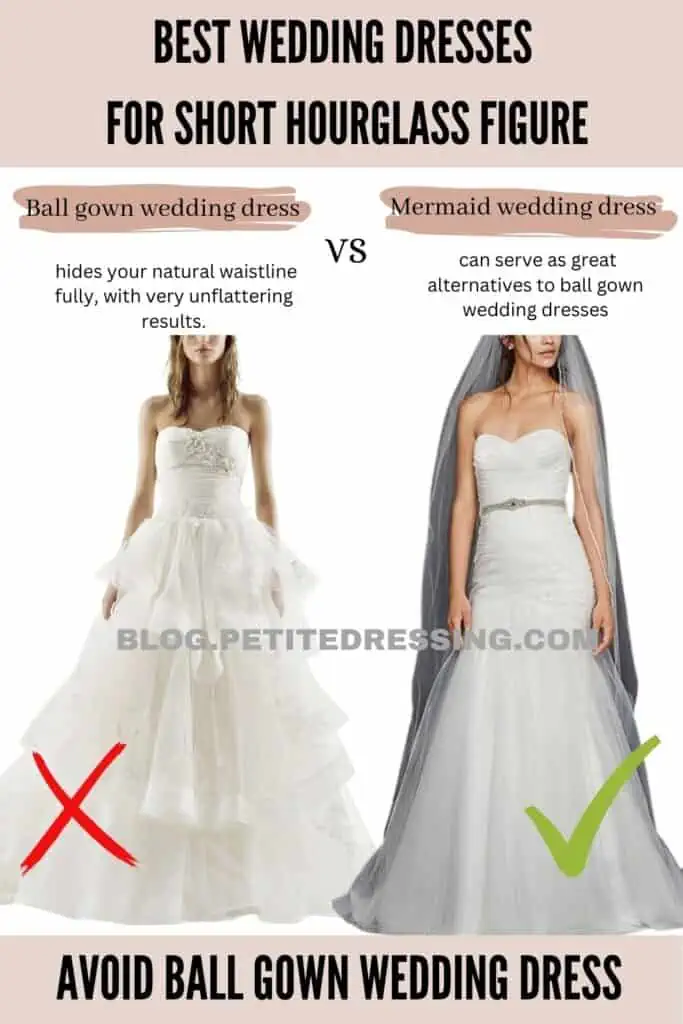 The last thing you want is a dress that stops you from dancing happily or moving around comfortably on your special day. The mermaid dress and fit-and-flare dress are two styles that can serve as great alternatives to ball gown wedding dresses.
Make your day as amazing as possible with the right wedding dress!