Nothing is ever more nerve-wracking than picking the dress of your life – your wedding dress. There seem to be hundreds of different wedding gown designs out there for more common body types but little is known about wedding dresses for petite women with large bust.
Being a petite woman is already a struggle on its own. So being short and having a large bust at the same time can be quite a struggle when it comes to picking the best wedding dress for you.
Styling Goal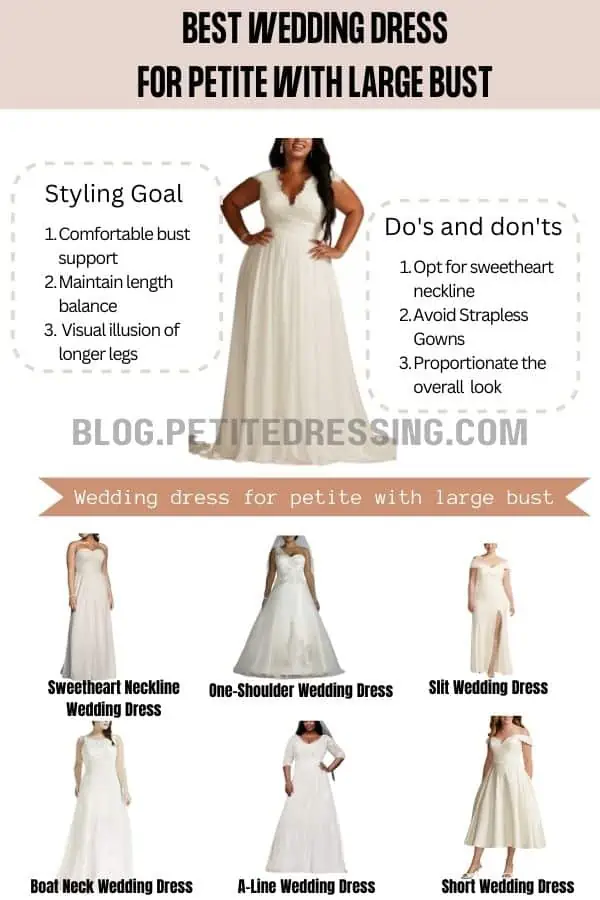 We know how important it is to look the most beautiful on your big day! But along with looking your best, your wedding dress should also give you superior comfort so you can enjoy your wedding day to the fullest.
A wedding dress would be comfortable if you consider the type of fabric, the design, and most of all, the proper fit.
Being busty means you would need extra support on your large bust so you wouldn't worry about getting too much attention in this area.
Wedding dresses are usually very long and so the length can also be a concern to you as a short girl with a large bust. This is where you have to play with your proportions by choosing a flattering style that brings balance to your figure.
Sweetheart Neckline Wedding Dress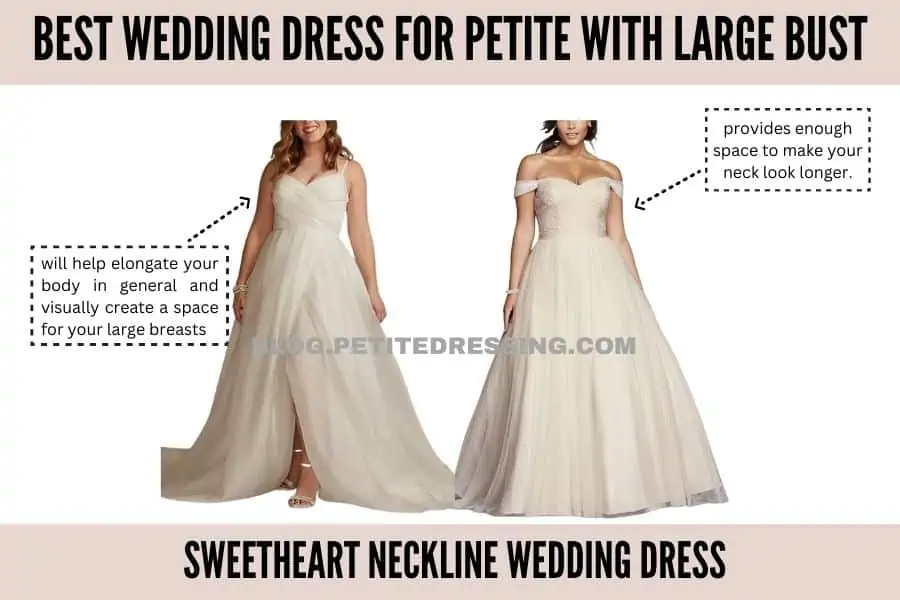 An open neckline will help elongate your body in general and visually create a space for your large breasts to fit in. A wedding dress with a sweetheart-style neckline offers this effect while also letting you channel a very feminine look with its romantic design.
In addition, this neckline also neutralizes the attention you usually get from your large bust as it draws the eyes to the neckline cut just right above your cleavage. It's up to you to choose how low your sweetheart neckline should be but we suggest you choose the one that provides enough space to make your neck look longer.
One-Shoulder Wedding Dress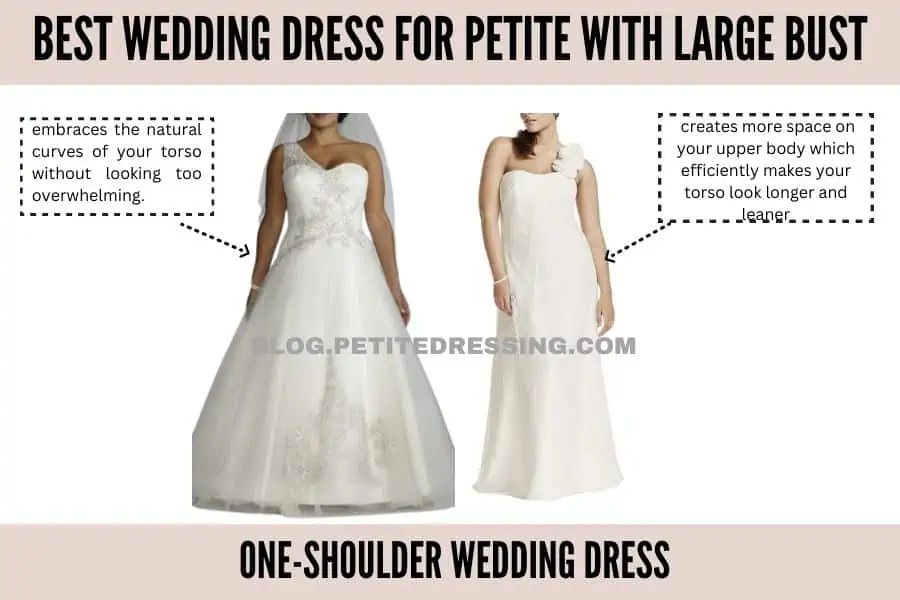 With just one strap clinging onto one side of the shoulder, this dress silhouette creates more space on your upper body which efficiently makes your torso look longer and leaner. This style also gives your large breasts a snug fit to keep them shaped and secure them in place.
If you're going for a one-shoulder wedding dress, it's important to opt for a snug fit on your upper body so you won't have to worry about the strap falling out of place. The bodice needs to be fitted so it embraces the natural curves of your torso without looking too overwhelming.
Slit Wedding Dress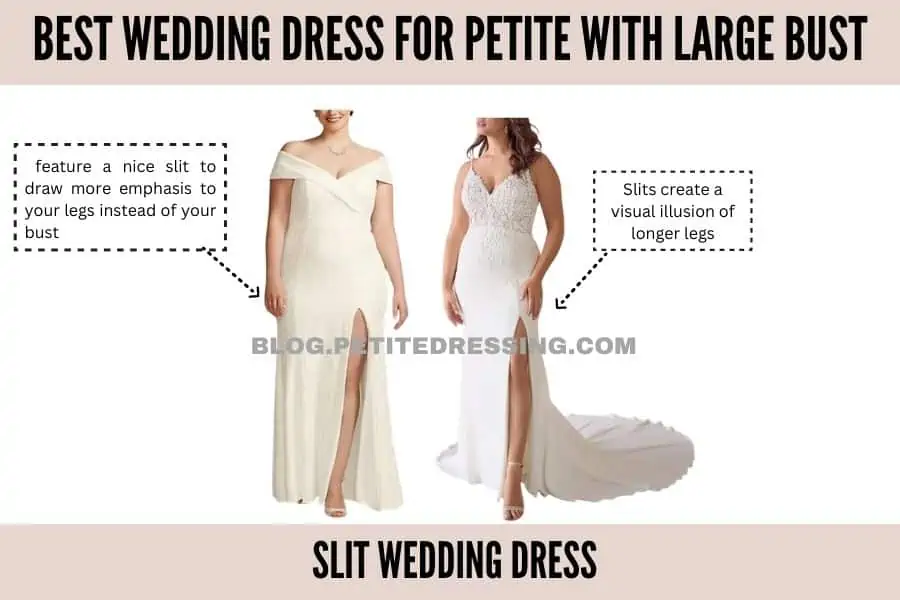 If you prefer veering attention away from your large bust, you can opt for wedding dresses that feature a nice slit to draw more emphasis to your legs instead of your bust. Slits create a visual illusion of longer legs due to their straight-cut vertical opening that helps draw the eyes up and down.
If you're very petite (below 5'2") and are also quite top-heavy, a nice slit dress prioritizes lengthening your frame to make you look taller and therefore bringing balance to your overall figure. You can choose a slit that goes a bit above the knee as long as it's comfortable enough for you to walk in.
Boat Neck Wedding Dress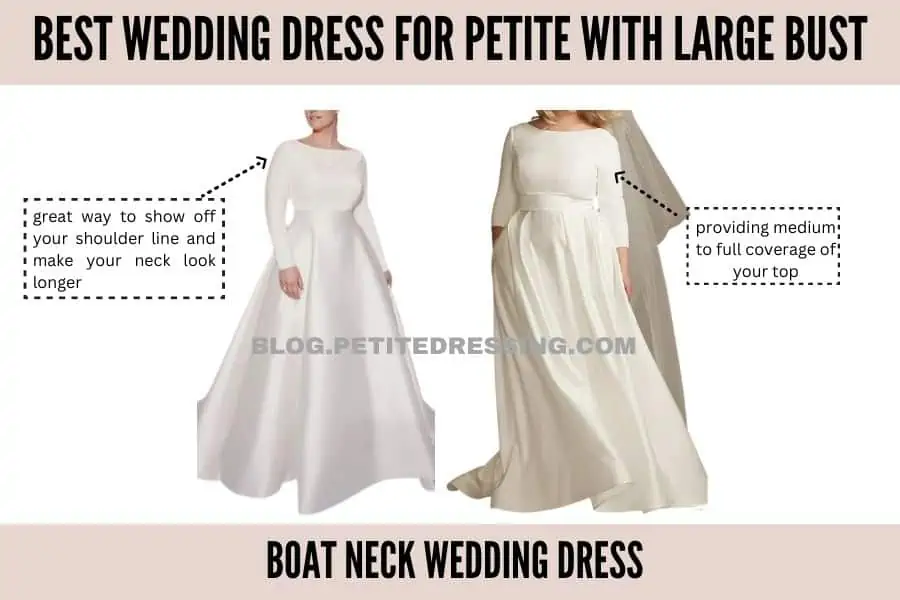 A Sabrina neckline is a great way to show off your shoulder line and make your neck look longer while also providing medium to full coverage of your top. Petite and busty ladies tend to look shorter when going for clothes that have too much coverage but a Sabrina neckline would neutralize that.
If you'd like the top part of your wedding dress to have modest coverage, a Sabrina neckline won't compromise your figure as it keeps enough space open on the front and back from the shoulder points.
A-Line Wedding Dress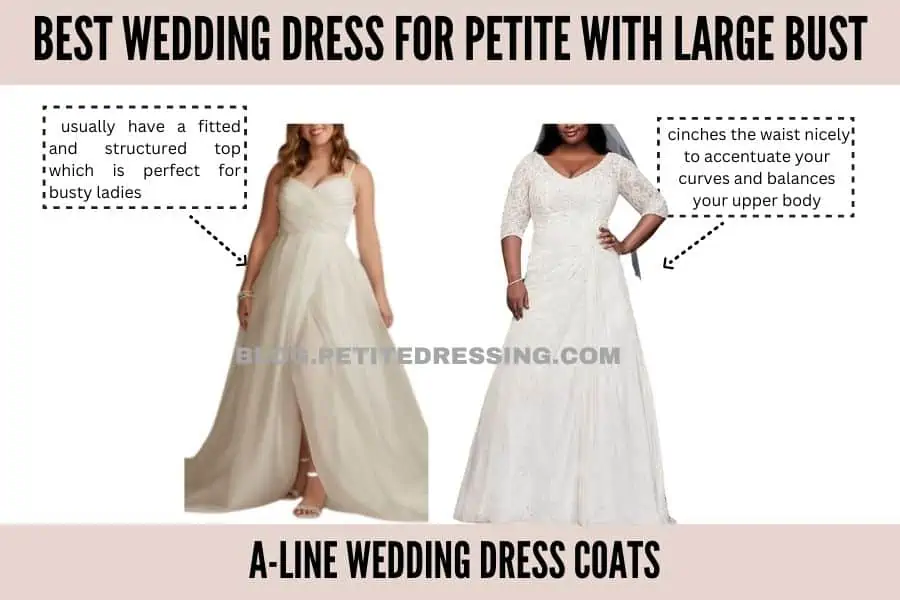 You can never go wrong with A-line silhouettes when you're a petite woman with a large bust because this type of cut universally flatters most body types. It cinches the waist nicely to accentuate your curves and balances your upper body to your lower body.
A-Line dresses usually have a fitted and structured top which is perfect for busty ladies because such a snug fit provides proper support while also enhancing your body's natural shape. While the subtle flare that goes slightly after the hips is a nice trick to make you look taller.
Short Wedding Dress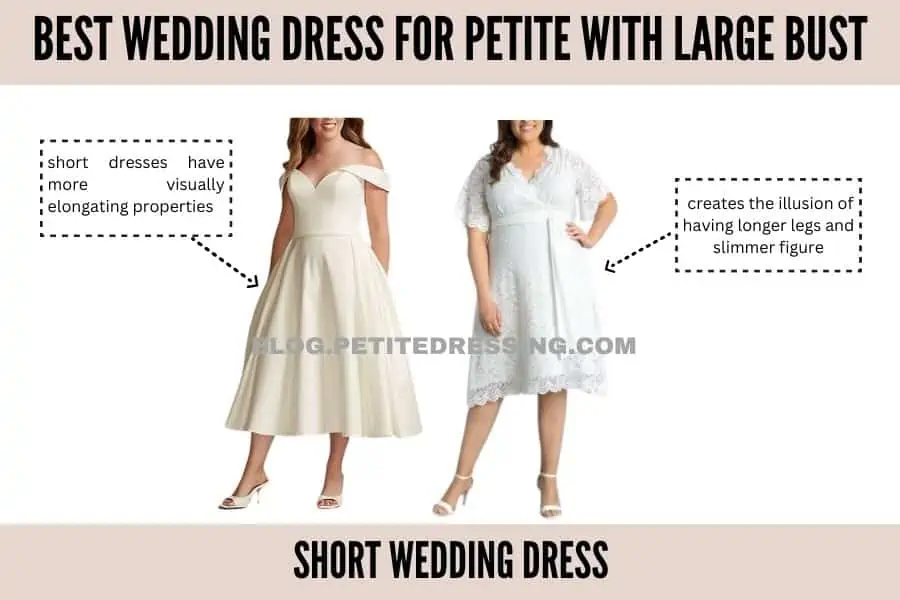 Short-length wedding dresses are quite trendy these days too! So nothing should really stop you from going for short wedding dresses to flatter your petite frame better.
Generally, short dresses have more visually elongating properties because it gives the legs more exposure. This creates the illusion of having longer legs and slimmer figures which also helps proportionate the look especially if you're top-heavy.
Sheath Wedding Dress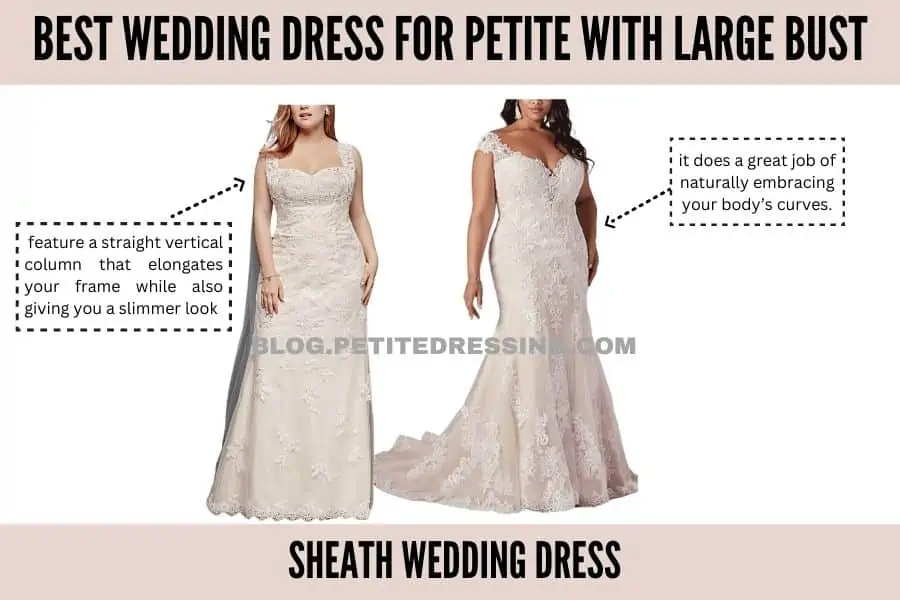 Sheath wedding dresses feature a straight vertical column that elongates your frame while also giving you a slimmer look. Since it has seams and cuts that aim to give a tailored fit, it does a great job of naturally embracing your body's curves.
You can opt for sheath dresses that are off-the-shoulder or have cap sleeves to open up some space on your upper body and flatter your large bust.
Avoid Strapless Gowns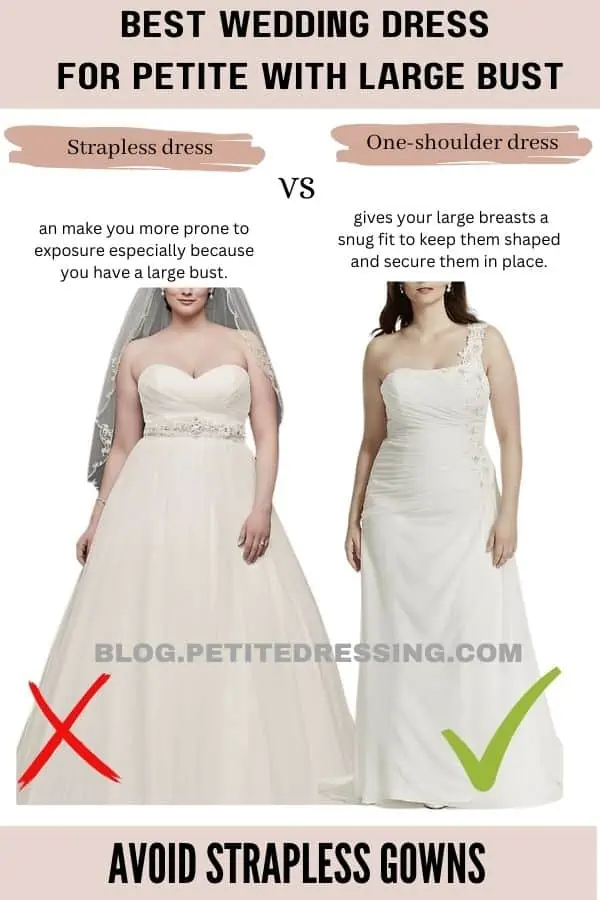 Strapless wedding gowns can make you more prone to exposure especially because you have a large bust. Considering that you may potentially wear your wedding dress for long hours, you would want enough support on your bust area despite doing lots of movements.
Some strapless wedding dresses offer a very tight fit however, simple movements of gestures like raising your arms can loosen it up.
Avoid Deep-Plunging Necklines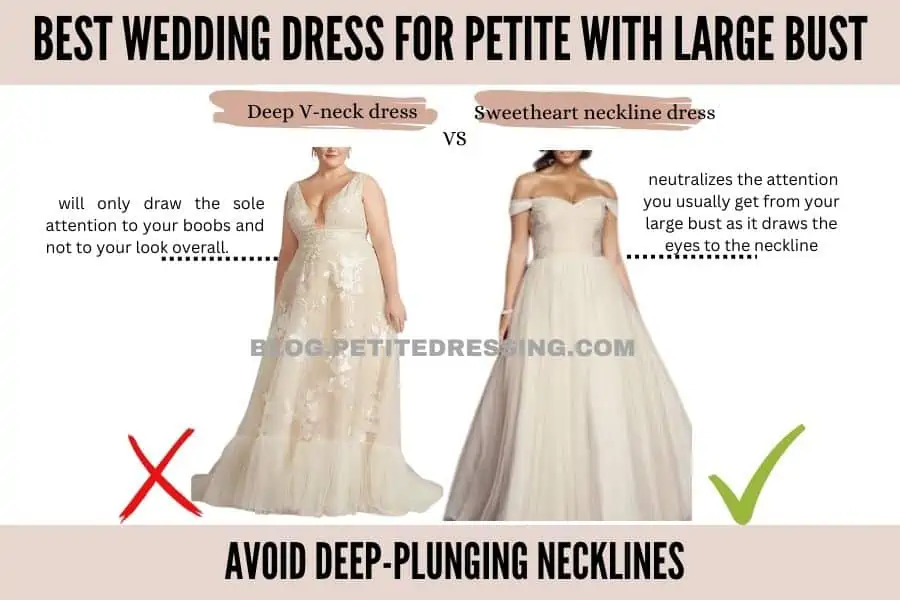 You definitely have the freedom to go for a sexy wedding dress if you want to! But if you've got large breasts, you may want to stay away from deep-plunging necklines because this will only draw the sole attention to your boobs and not to your look overall.
Additionally, just like strapless dresses, deep-plunging necklines can make you more prone to exposure and constrict your movements.
Avoid an Extremely Long Train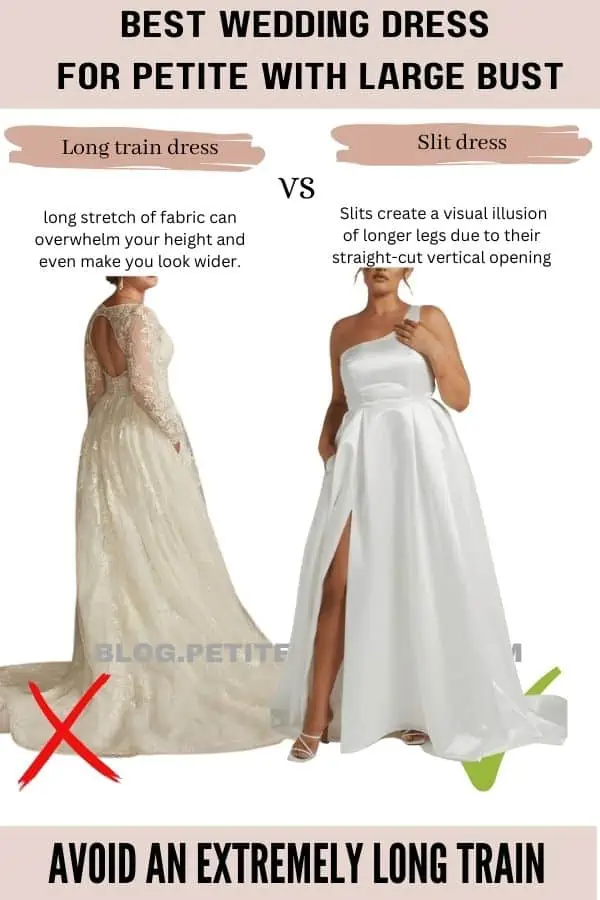 Long dresses can drown a petite woman's figure and that's what you would like to avoid with long wedding gown trains. This long stretch of fabric can overwhelm your height and even make you look wider.
This can also take too much attention and therefore become too distracting especially because your large bust is already quite prominent.
Keep Embellishments Minimal
Embellishments like crystals, beads, and lace attachments are always very dainty to look at. This is also why seeing them on wedding dresses is pretty common.
You shouldn't be scared of such embellishments but you have to be a bit more mindful of the amount and their placement. As a busty girl, you'd like to avoid any other types of bulky embellishments around your upper body because this will only add more volume to your already heavy top.
Bespoke Wedding Dress
We live in a very fashion-forward world wherein even ready-to-wear wedding dresses can be easily purchased. There's nothing wrong about getting a ready-made dress although the risks of a fit are higher.
If you're willing to lend more of your wedding budget to your dress, then it's always best to consider getting a bespoke wedding dress to make sure it's intricately tailored to your body. This way, you can be sure that the dress is exactly your fit, style, and personality.