When it comes to shoes, comfort and style are both crucial. Women in their 50s want versatile, fashionable, and comfortable shoes. Therefore, we have compiled a complete shoe guide for women over 50.
You will find multiple options here for different occasions so you can rock a stylish pair of shoes every time. Shoes speak a lot about someone's personality and they can be a make-or-break element of your outfit. So, let's check out our footwear guide!
Guide for Comfortable Shoes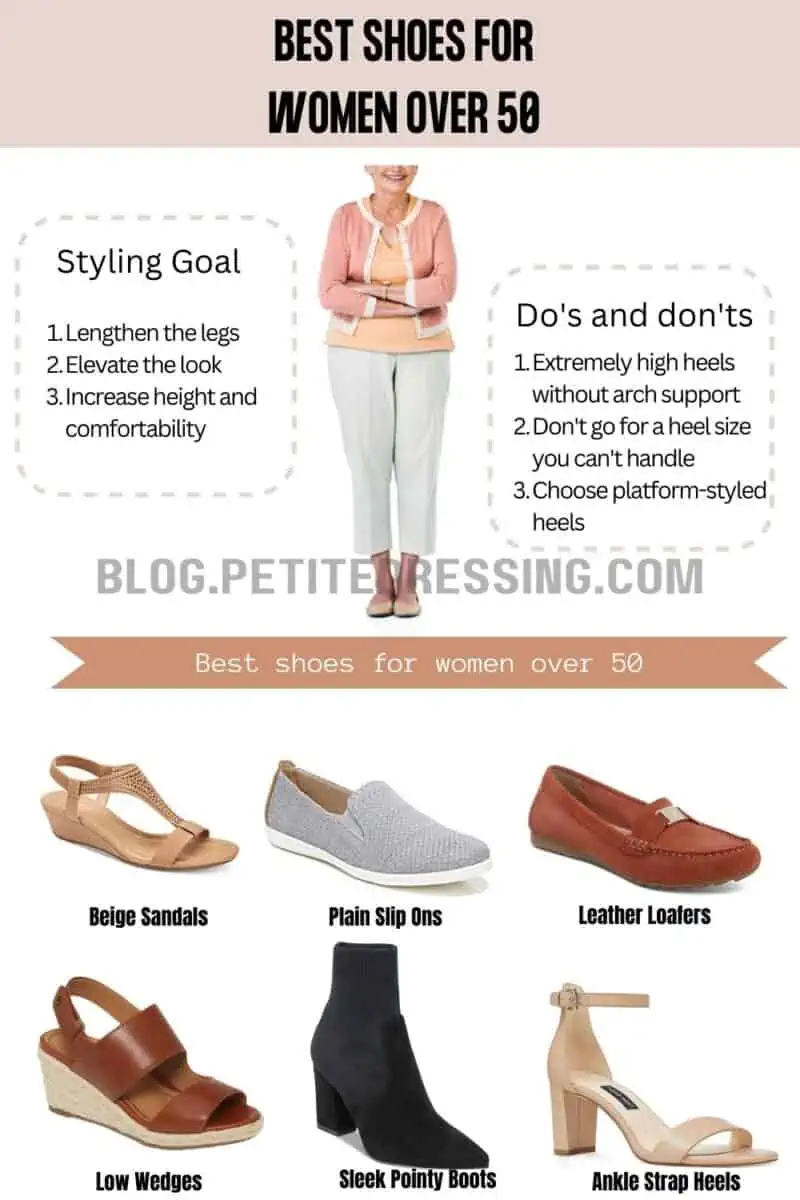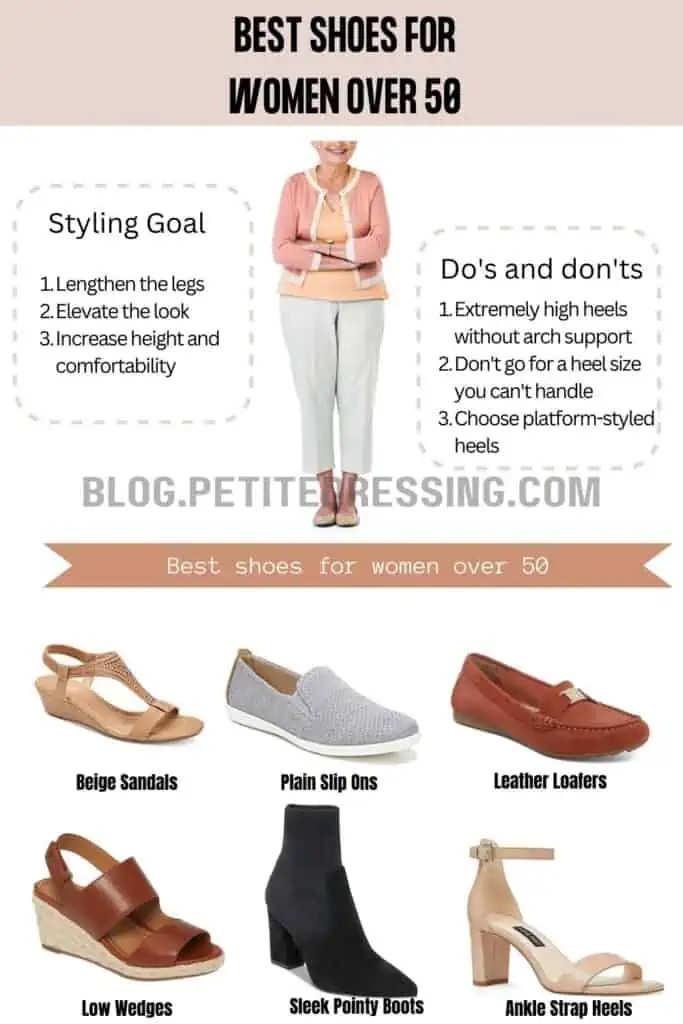 Comfort is the number priority once you are in your 50s. You don't want to spend the entire week with painful feet after wearing heels for a few hours. Follow these guidelines to find comfortable shoes.
Extremely high heels without arch support are also damaging to your feet and backbone. Therefore, you should steer clear of any such shoes.
Don't go for a heel size you can't handle. A mid-length heel is easy to walk and looks good with both casual and formal outfits.
Shoes that are too tight are a no-go because they can cause blisters and hurt your feet.
Choose platform-styled heels as they provide balance to your feet. Unlike regular heels, they don't bend your feet completely, making it hurt at the end of the day.
Your feet can increase in size with age. Therefore, always measure your size before buying a footwear. This will prevent getting tight and uncomfortable shoes.
Buy soft flip-flops and sandals for everyday use. Something that feels relaxing in your feet is preferred to prevent discomfit.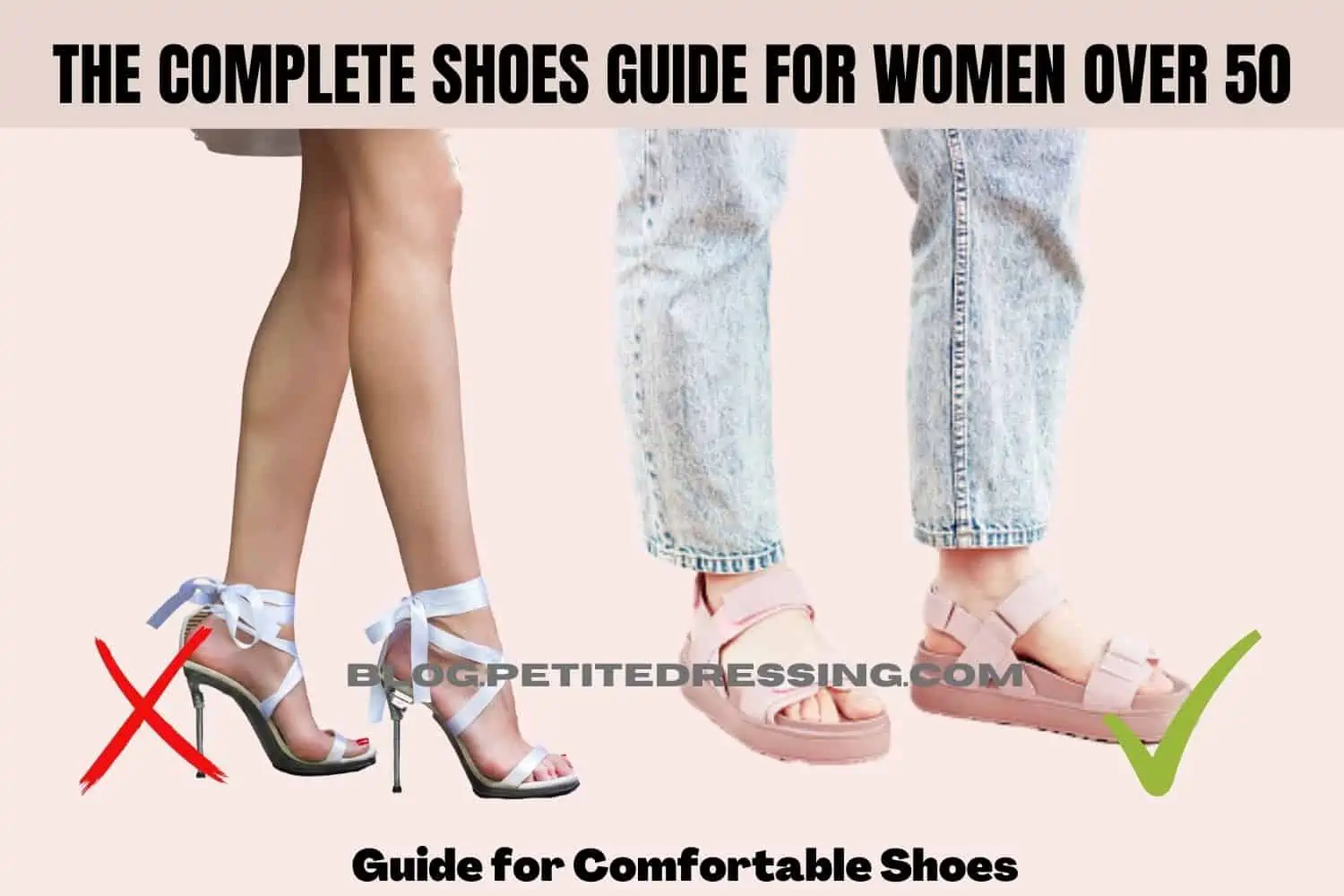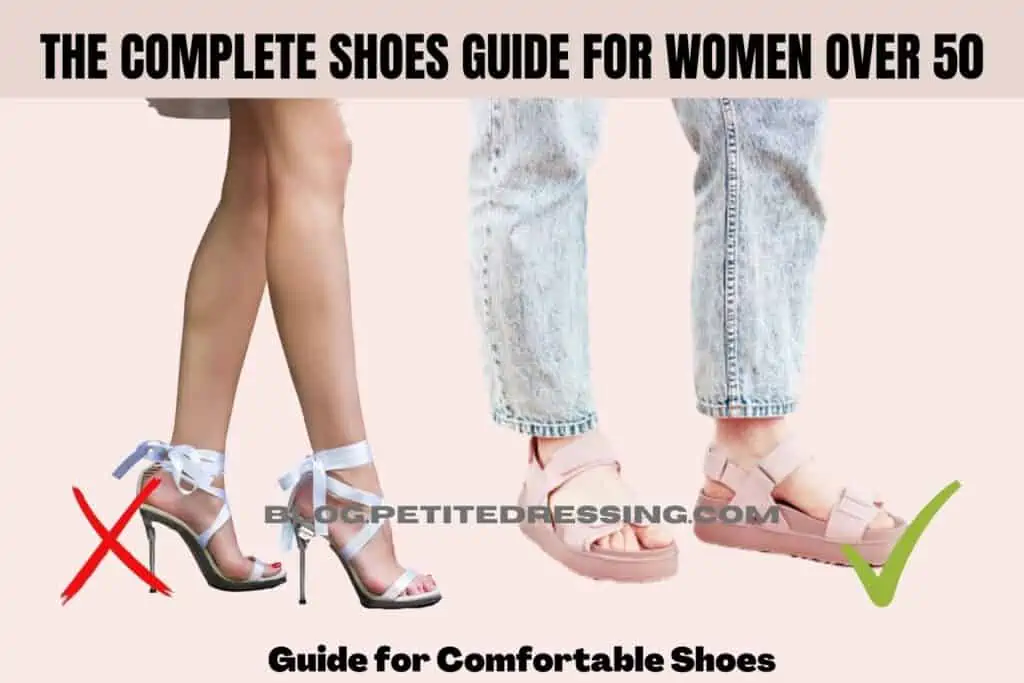 Why hurt your feet in the name of fashion when you can look fashionable in comfortable shoes as well?
Beige Sandals
After 50, one major wardrobe rule is quality over quantity. A versatile pair of sandals is a must-have in your wardrobe. If there is only one pair you could have, that has to be a pair of skin color sandals like beige.
Skin color shoes are easy to style, look good with multiple outfits, and will never go out of style.
Depending on your skin tone, you can go with a lighter or darker shade, but the key is to match the color of your skin so that it will serve the purpose of elongating your legs effortlessly.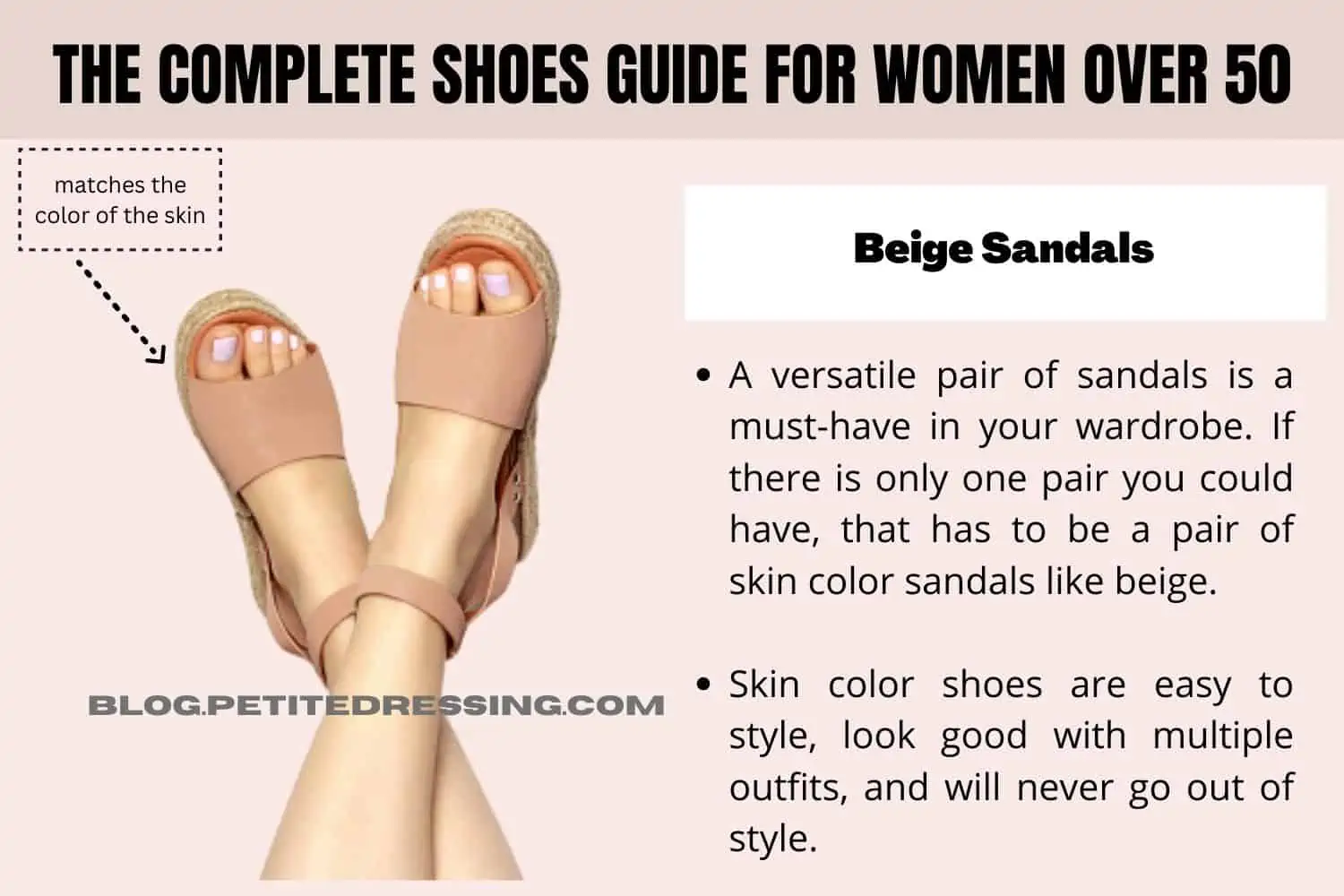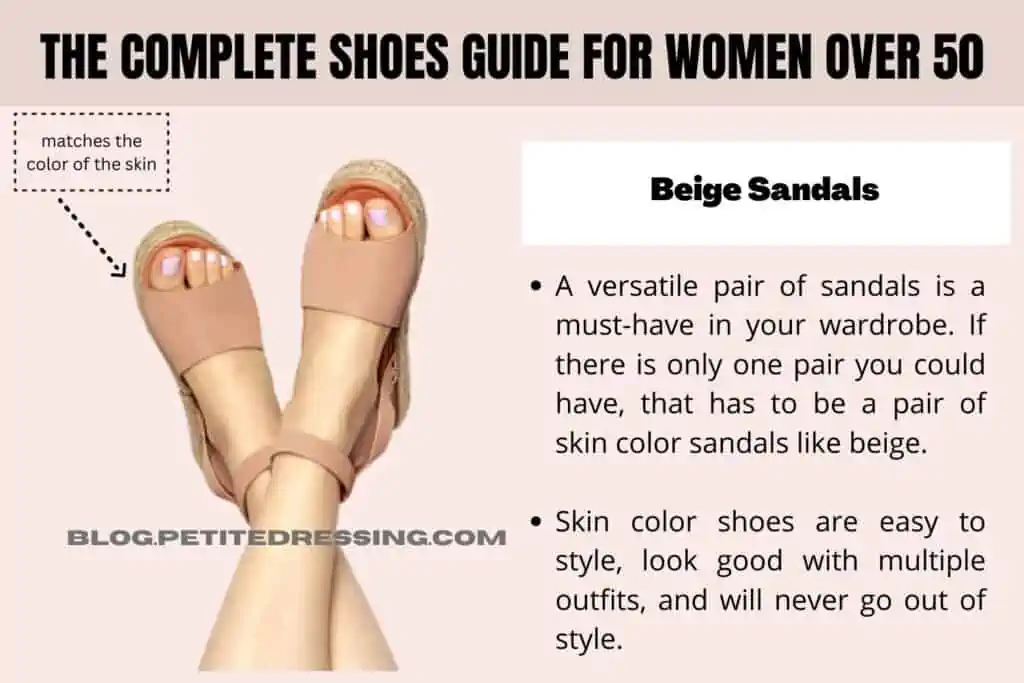 Plain Slip Ons
When we hear the word "comfort", slip-on comes to mind. They are the coziest pair of shoes you will ever own.
As far as style is concerned, a simple slip-on looks a lot more stylish than any other sneaker style. You can style them every season, all around the year. They look best with casual summer dresses, jeans, and skirts.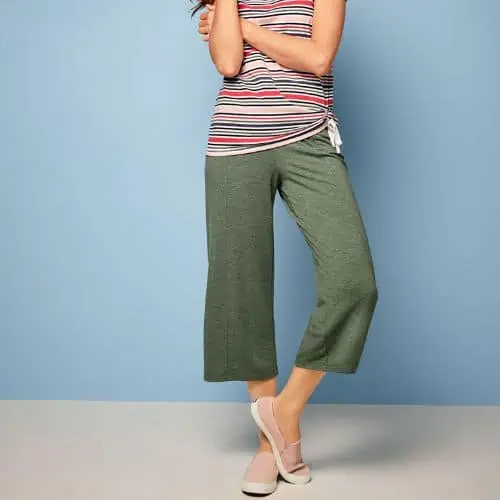 Why opt for Slip-on shoes?
Slip-on shoes are the safest option for women in their 50s.
You can wear them for grocery, hangouts with your friends, and even for work. Even after a long day, your feet won't hurt.
Leather Loafers
Want to look like a fashion diva? Then try out leather loafers!
Gucci leather loafers are among the most worn pair of shoes as seen on many celebrities. It's because they look luxurious, and chic, and are also comfortable. Jennifer Aniston and Nicole Kidman rock leather loafers in multiple ways.
Wear leather loafers with socks if you are wearing something that reveals your legs. Otherwise, skip the socks if you are wearing loafers with jeans.
For a more rocking look, go for black chunky loafers. These are perfect for women in their 50s. It's a perfect alternative for heels on days you want to look tall but don't want to wear uncomfortable heels.
They look good with casual outfits, especially jeans. Wear a blazer or trench coat over your top with leather loafers to look alluring.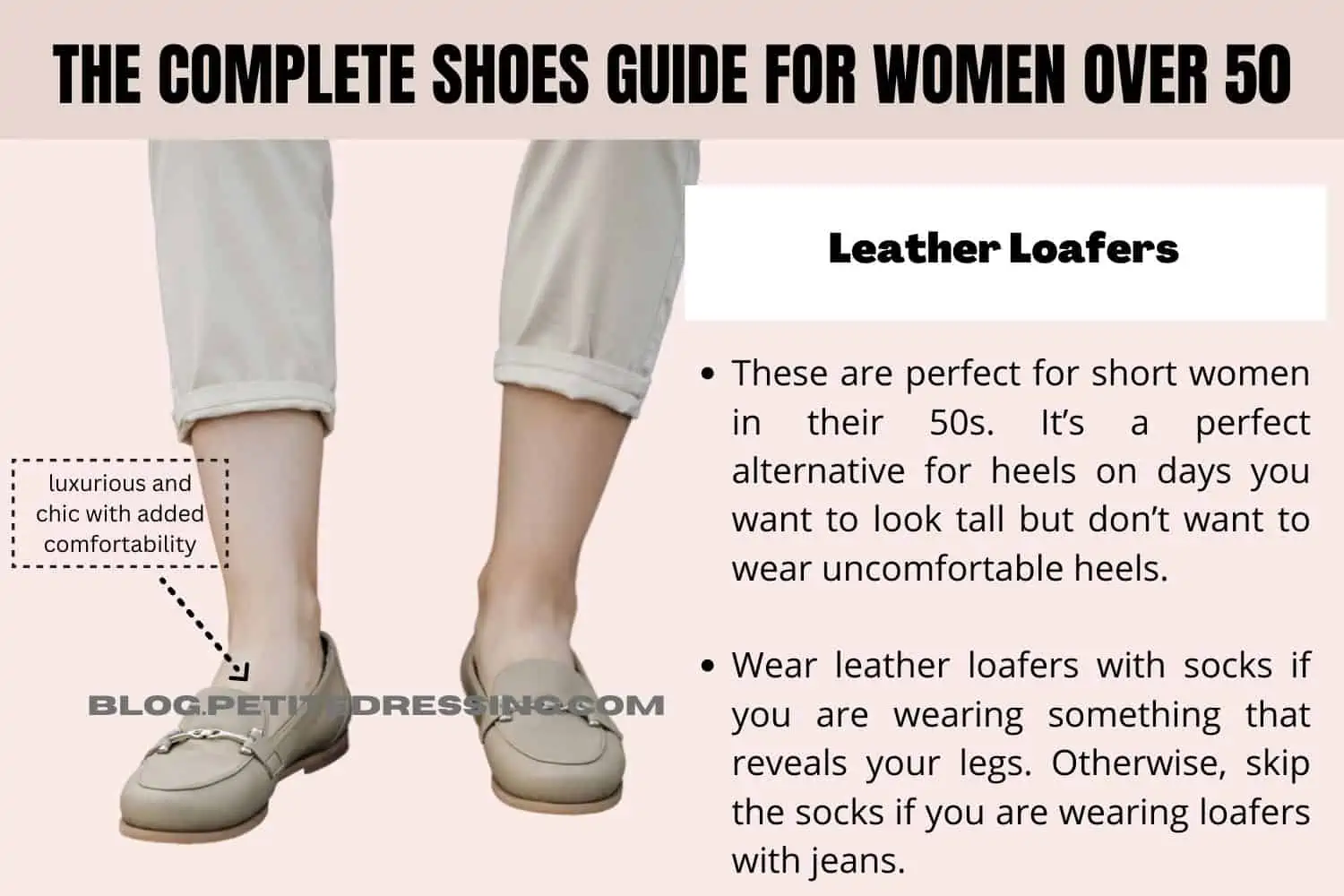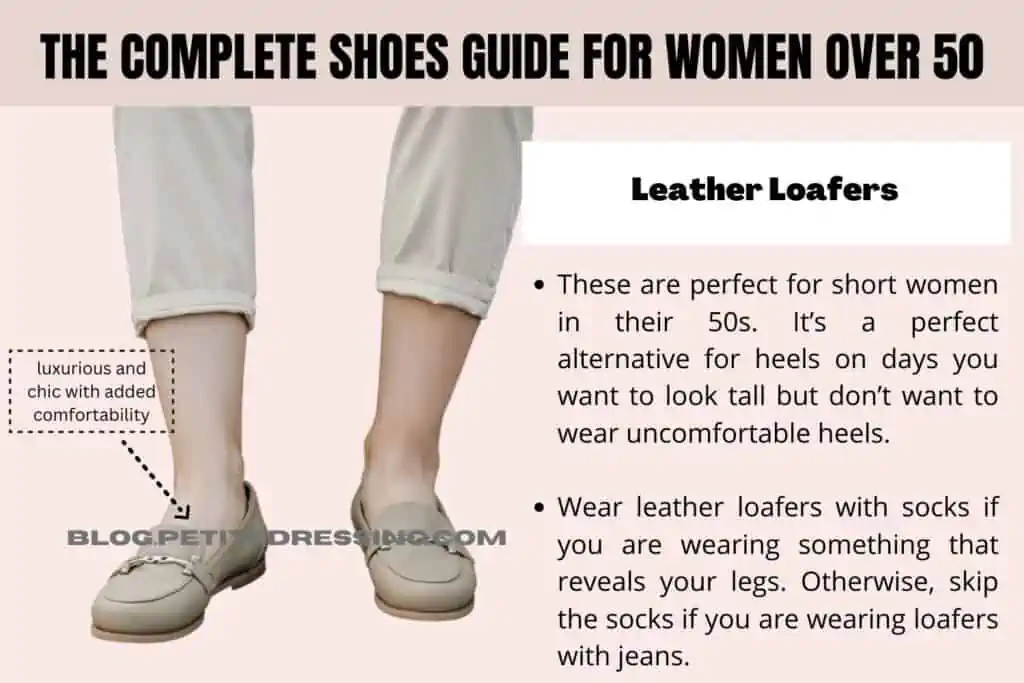 Low Wedges
Low wedges are the easiest to walk in.
You can style wedges with a lot of your outfits including jeans, dresses, skirts, shorts, etc. Choose a mid-length wedge so you can style it up and down.
Strapped low wedges in black color would be a perfect choice and they will go with everything.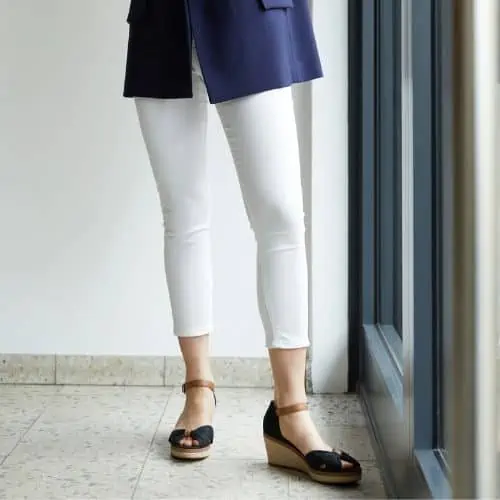 Love to wear heels but stilettos make you feel uncomfortable?
No worries, you can still look stylish while wearing comfortable heels.
Low wedges with straps provide full support to your feet from all sides. They are perfect for women over 50 looking for a chic pair of heels.
Sleek Pointy Boots
Sleek pointy boots are much better than regular boots or chunky boots. The pointed shape makes your feet look thin and puts more attention on your shoes than the rest of your outfit. It is a statement wear and a must-have in your wardrobe for winter and fall.
Sleek pointy boots provide a minimal style and make you look chic. These boots are perfect for women in their 50s that want to amaze onlookers while considering the comfort factor.
Styling boots can be hard as they don't look good with all kinds of outfits. However, they look good with mid-length skirts, bodycon dresses, and skinny jeans.
The length of the boots is also an important factor to consider. Ankle length is the best as it looks good with different outfits. Thigh-high boots complement only a handful of outfits so you can skip those.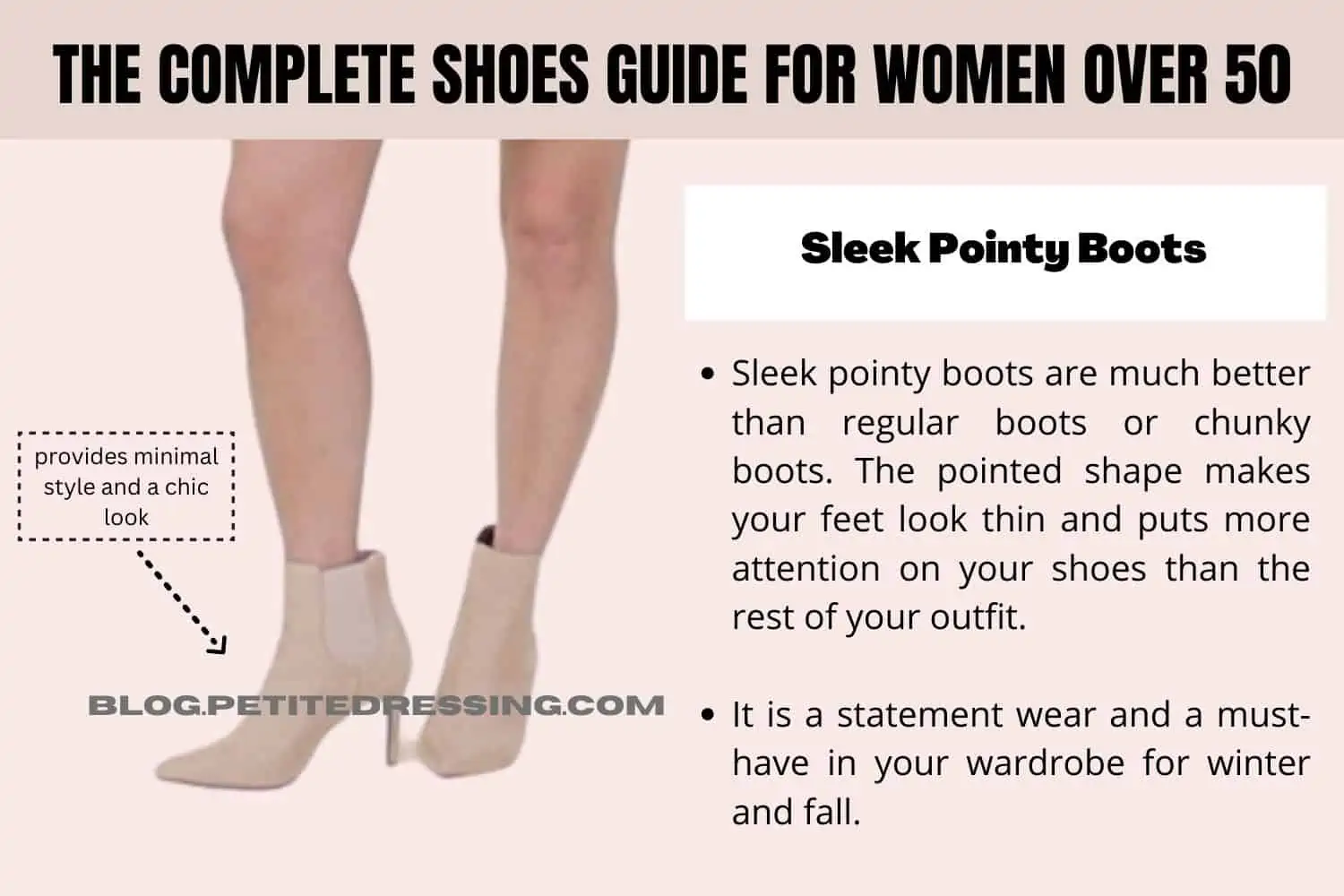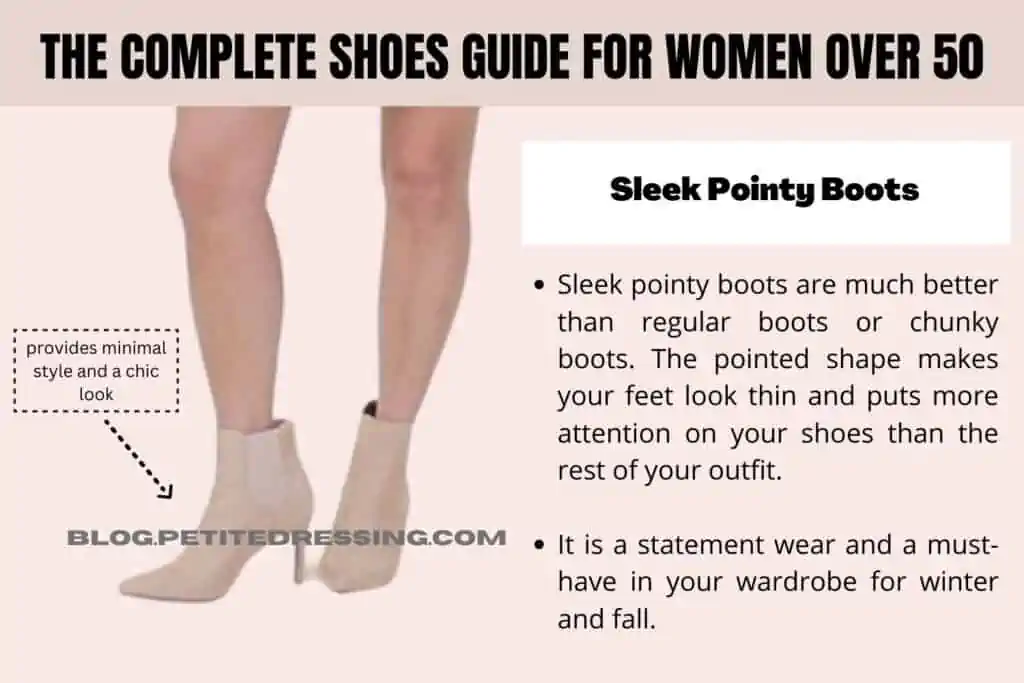 Ankle Strap Heels
Heels are the most feminine footwear one can own. No matter our age, we women can't stay away from heels. And you don't have to skip heels too in your 50s.
At least one pair of black ankle strap heels and one pair of beige ankle strap heels must be available in your wardrobe. They enhance any fancy outfit instantly.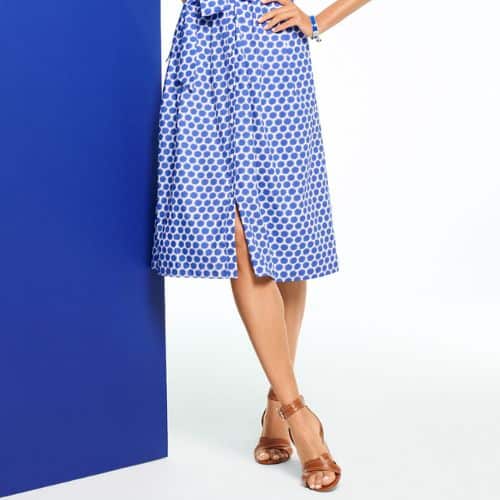 You don't have to skip heels when you're 50.
Rather go for a style that feels comfortable, easy to carry, and looks classy.
Ankle strap heels provide good support to your feet and reduce the chances of hurting your feet.
Block Heels
If you don't feel comfortable in stilettos, opt for block heels. Block heels look classy, and fashionable, and are convenient to walk in as well.
The size of the heel depends upon your handling skills. If you can handle a long heel, go for it. But if you don't like to wear long heels, a mid-length or even short one will work.
A simple pair of block-heeled pumps in a neutral color is a must-have for women in their 50s. They are extremely age-appropriate and look amazing in different outfits. Choose a mid-length heel for comfort.
The best thing about heeled pumps is you can dress them up or down. You can wear them on casual days as well as for work. They look equally good with casual outfits or even business formal outfits.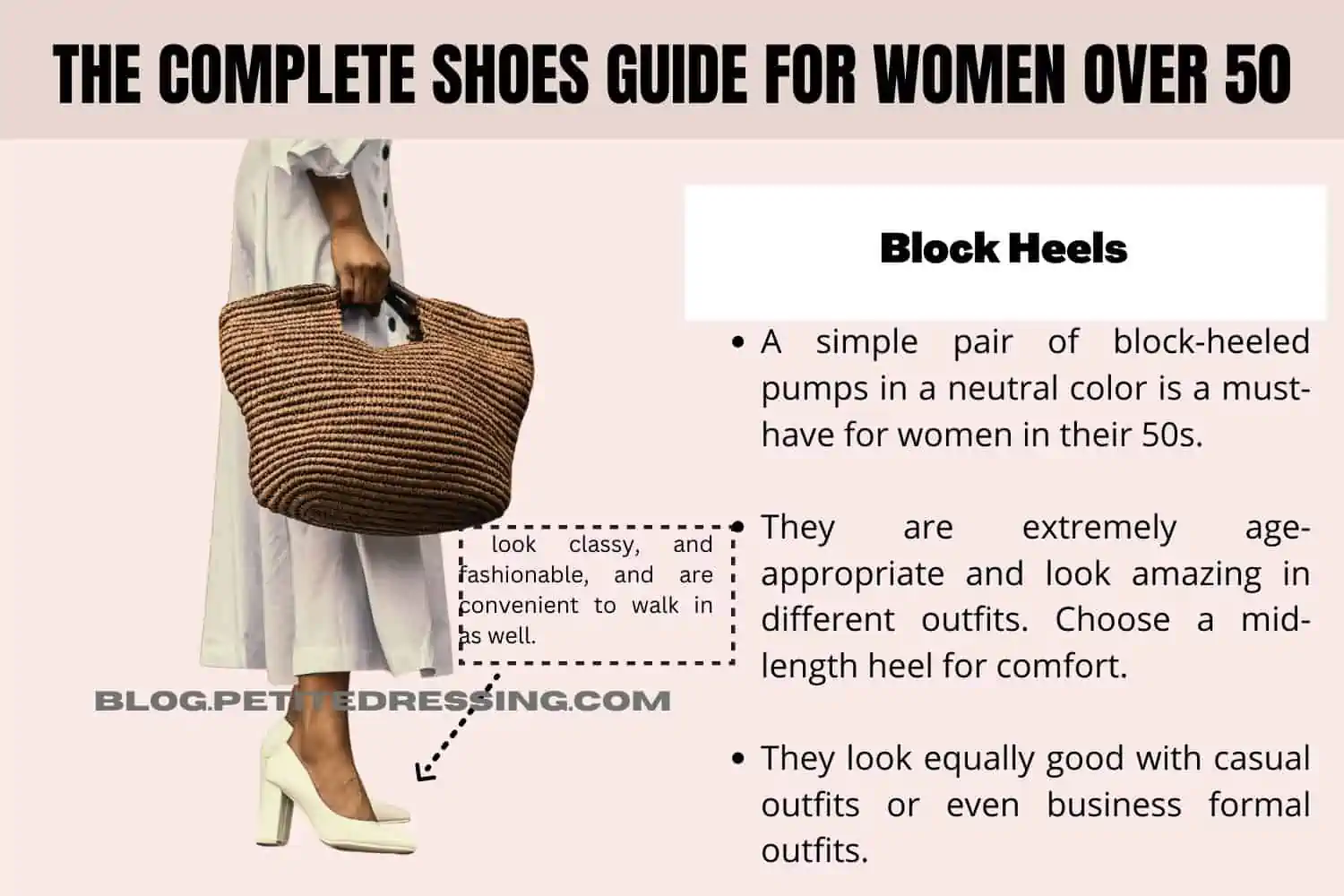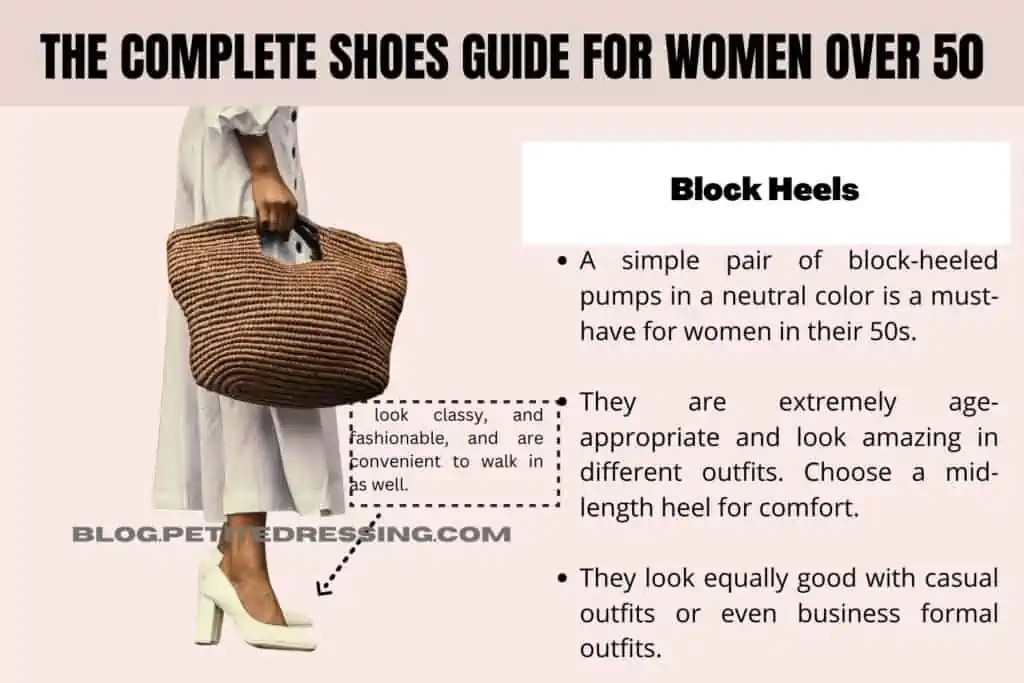 White Sneakers
Your wardrobe is incomplete without white sneakers. White sneakers work with every outfit no matter what color or style it is. They will be your best friend.
Once you find a suitable pair of white sneakers, you would never want to give up on them. All women in their 50s must have a pair of white sneakers.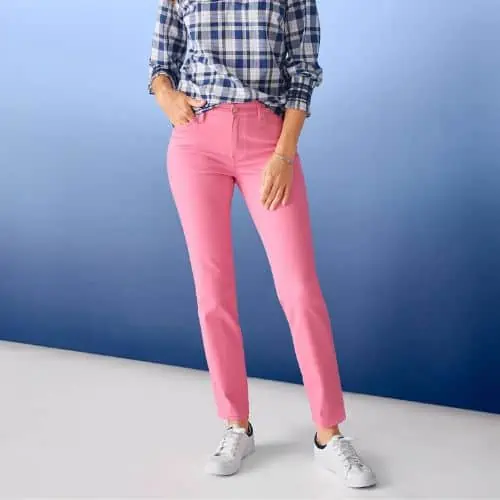 Choices for sneakers
You can get Adidas Air Force 1 or similar sneakers from another brand.
Those are the easiest to style and with the highest comfort level.
Caution with Flip Flops
Wearing flip-flops can be really comfortable in the summer, but after 50, be careful with the style you choose to make sure they do not make you look "too casual".
It is totally understandable if you love flip-flops by the pool or on the beach.
However, other than the most casual occasions like family gatherings or vacations, flip-flops can risk making you look "underdressed".
The good thing is there are different flip-flop styles that you can choose from.
If you indeed love flip-flops and want to wear them and look more polished in them, go with metallic colors to add a touch of elegance.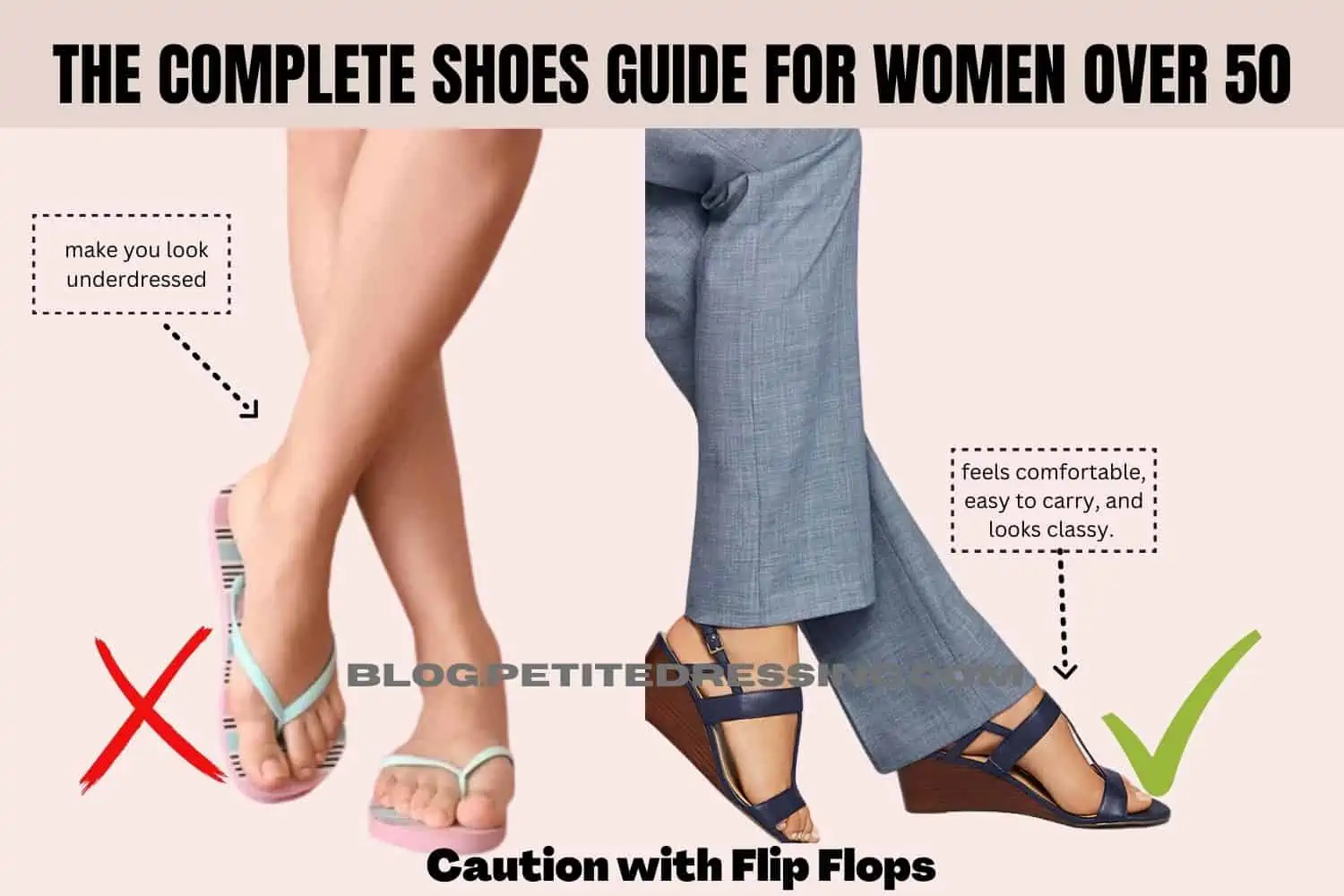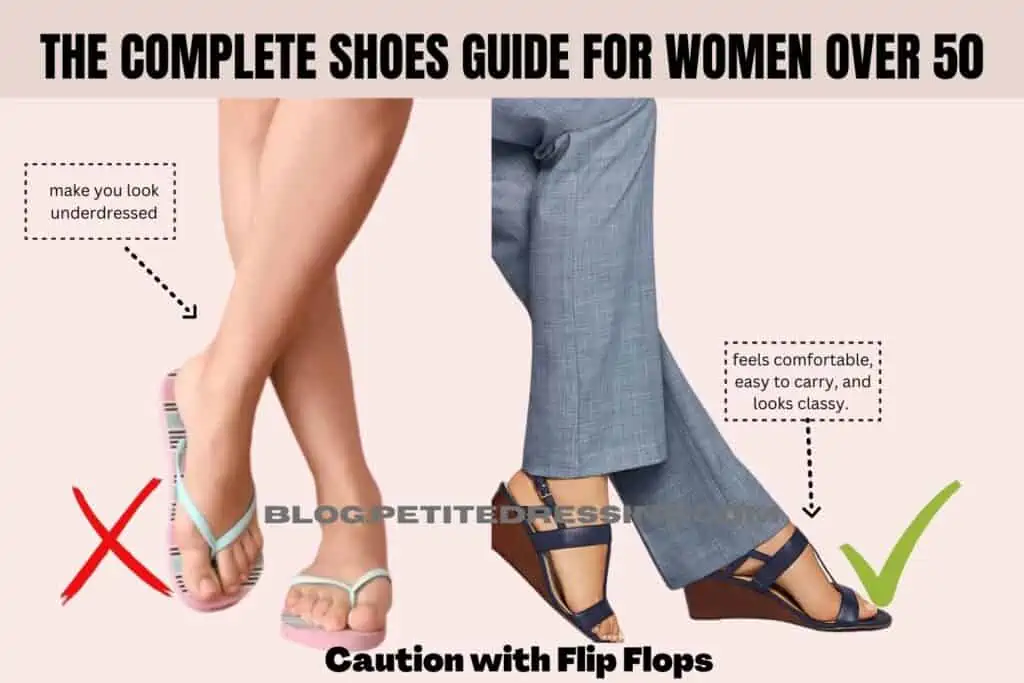 Avoid Chunky Sneakers
Chunky sandals are a yes for women in their 50s but chunky sneakers are a big no. They won't look elegant and classic on women over 50. So, you should leave this style to teenagers and younger women.
Chunky sneakers are heavy and hard to walk in. They will hardly complement any outfit that you own. Instead of chunky sneakers, go for loafers, slip-on, or simple sneakers.
They look too extra on women with skinny legs. They don't complement chubby legs too.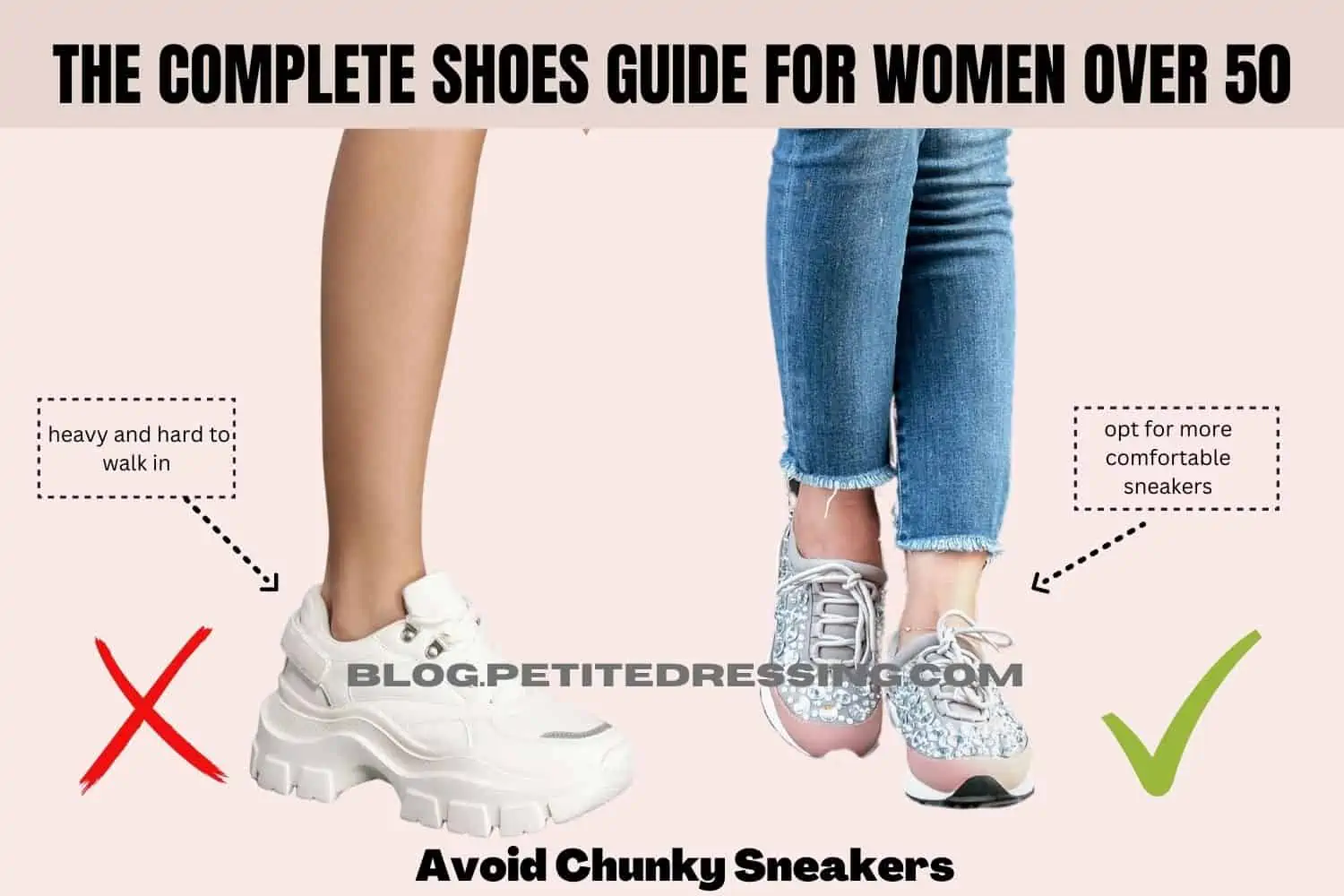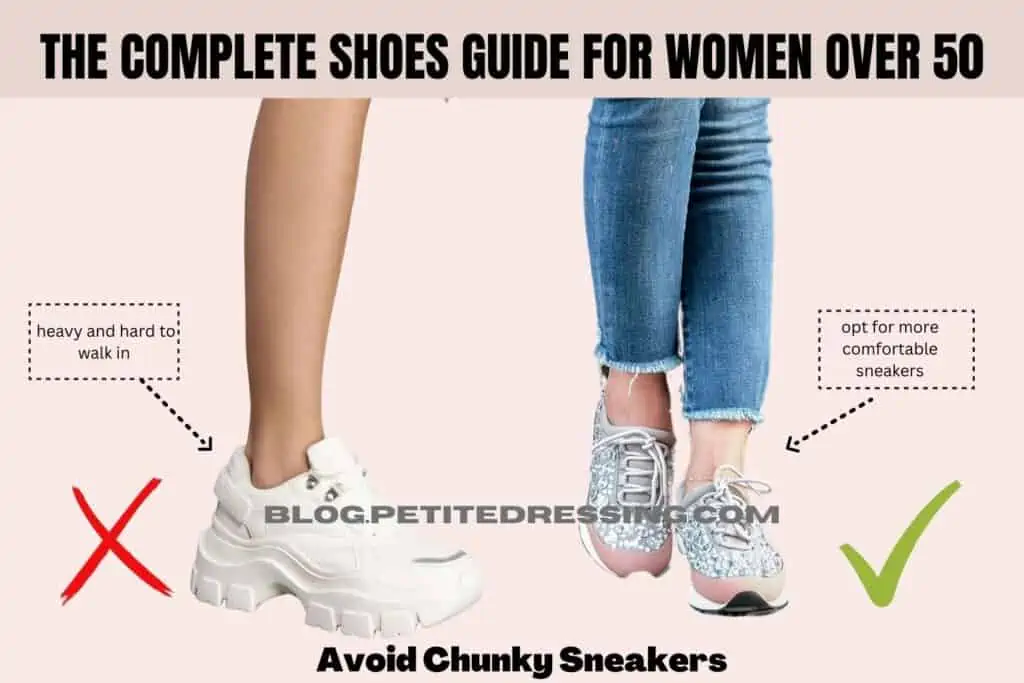 Avoid Transparent Cinderella Heels
You must have come across those transparent Cinderella heels that everyone is wearing nowadays. Are they worth it?
Well, they don't look good in many outfits. Transparent heels are good but the Cinderella style isn't suitable for women in their 50s.
Cinderella heels are quite fancy and only look good for a fancy day. They won't come in handy often therefore spending on Cinderella heels isn't worth it.
They are trendy but it is better to avoid this trend. Go for decent and versatile designs instead.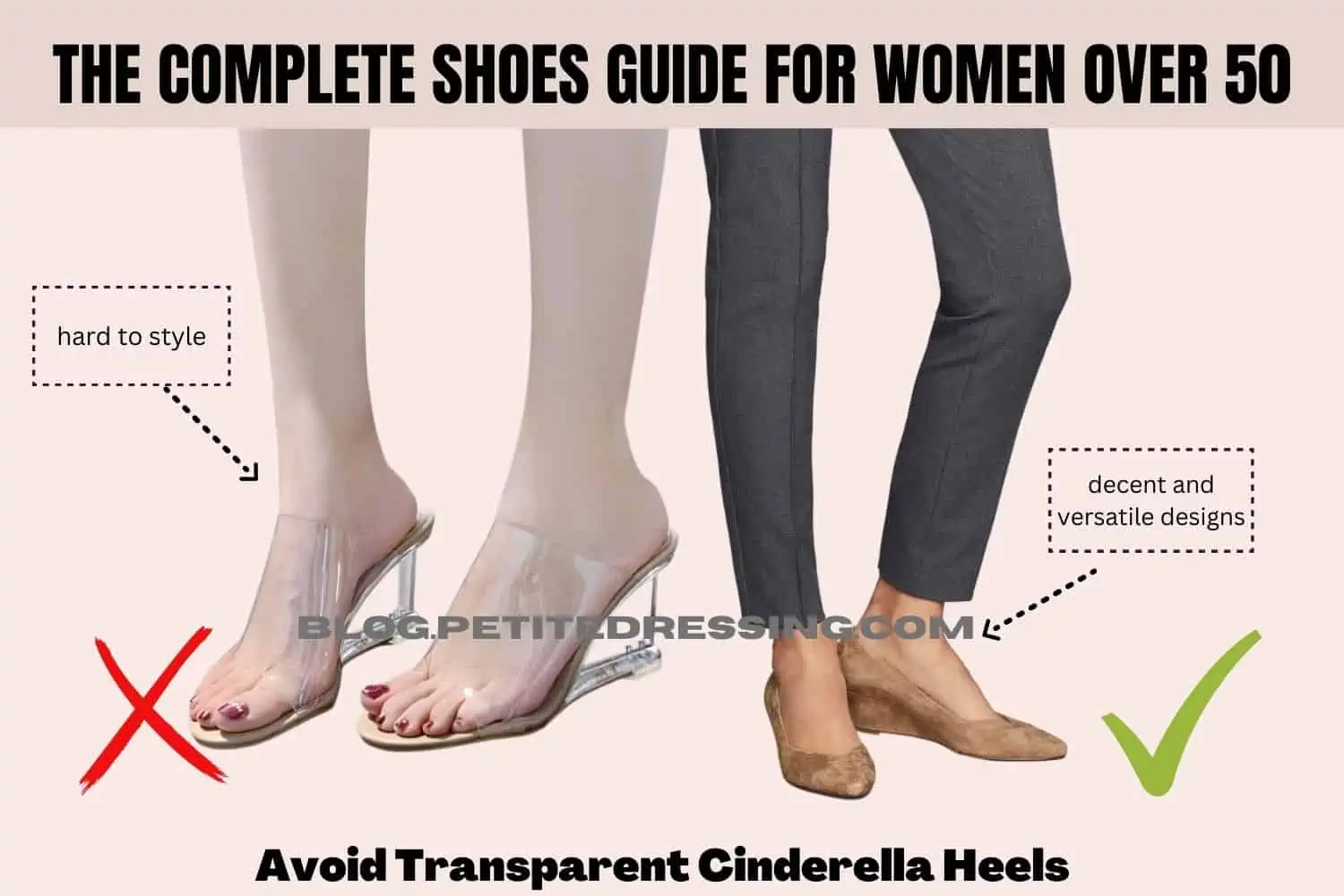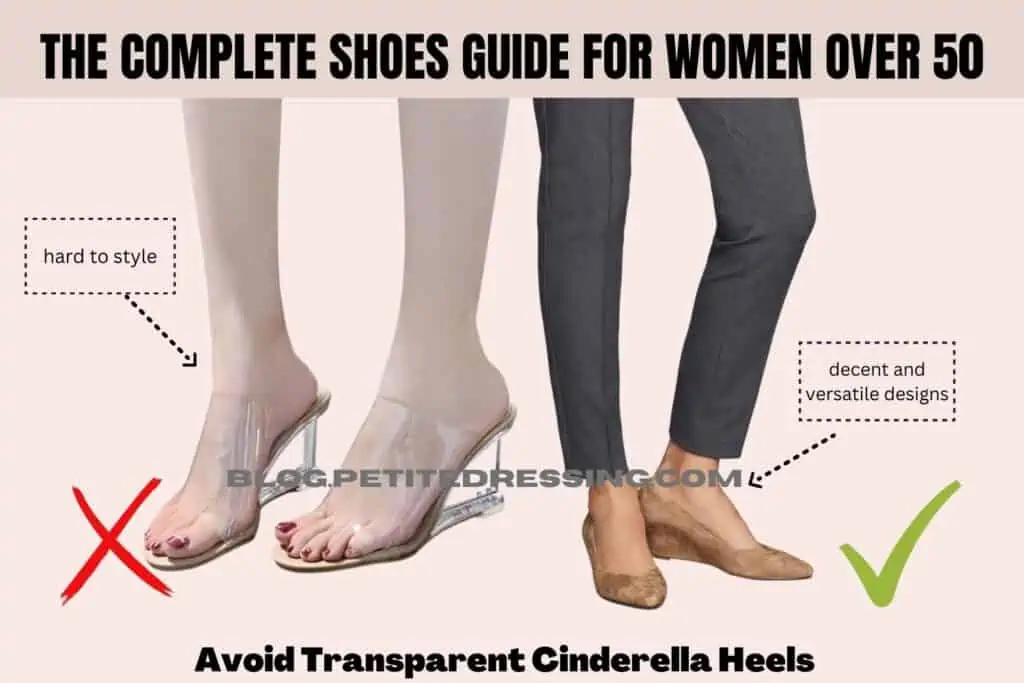 In Conclusion…
Now you know what shoes are stylish and comfortable for women in their 50s. You can style various shoes with different outfits. Make sure you choose comfort over trends. Uncomfortable shoes reduce your confidence as well.
Only go for those trends that are convenient for you to handle. Prefer versatile shoes so you can use them often. Invest in good sneakers as those will come in handy more often than other shoes.