As a woman over 50, the goal is to look as youthful and stylish as ever without going over the top or sacrificing your comfort. So, if you need some ideas on the best figure-flattering tops with colours that pop, you're about to discover some amazing ideas we've put together.
Check out our complete tops guide, which includes six tops you should definitely have in your closet and the six don'ts of tops for women over 50.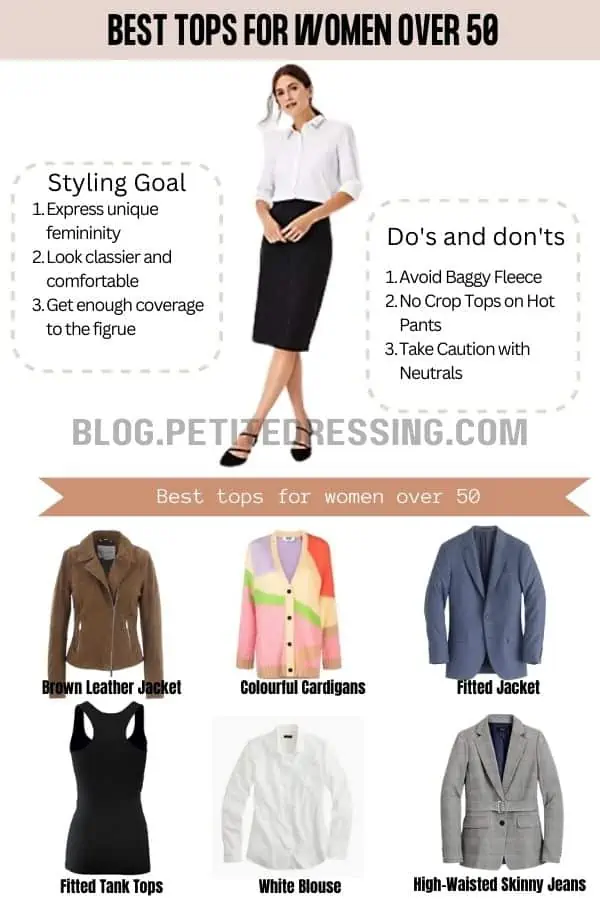 Brown Leather Jacket
Younger women are not the only ones that can pull off a leather jacket as a massive fashion statement. Women over 50 can too. So, if you've heard that a leather or suede jacket is too young for your age, we're here to tell you it's not.
You would look absolutely amazing in a camel leather jacket over every pair of jeans you own. Whether straight-leg jeans or bootcut jeans, you can't go wrong with this black jacket.
Pairing this jacket with white jeans is also highly recommended. The best part is that you can wear this jacket with dresses and skirts too.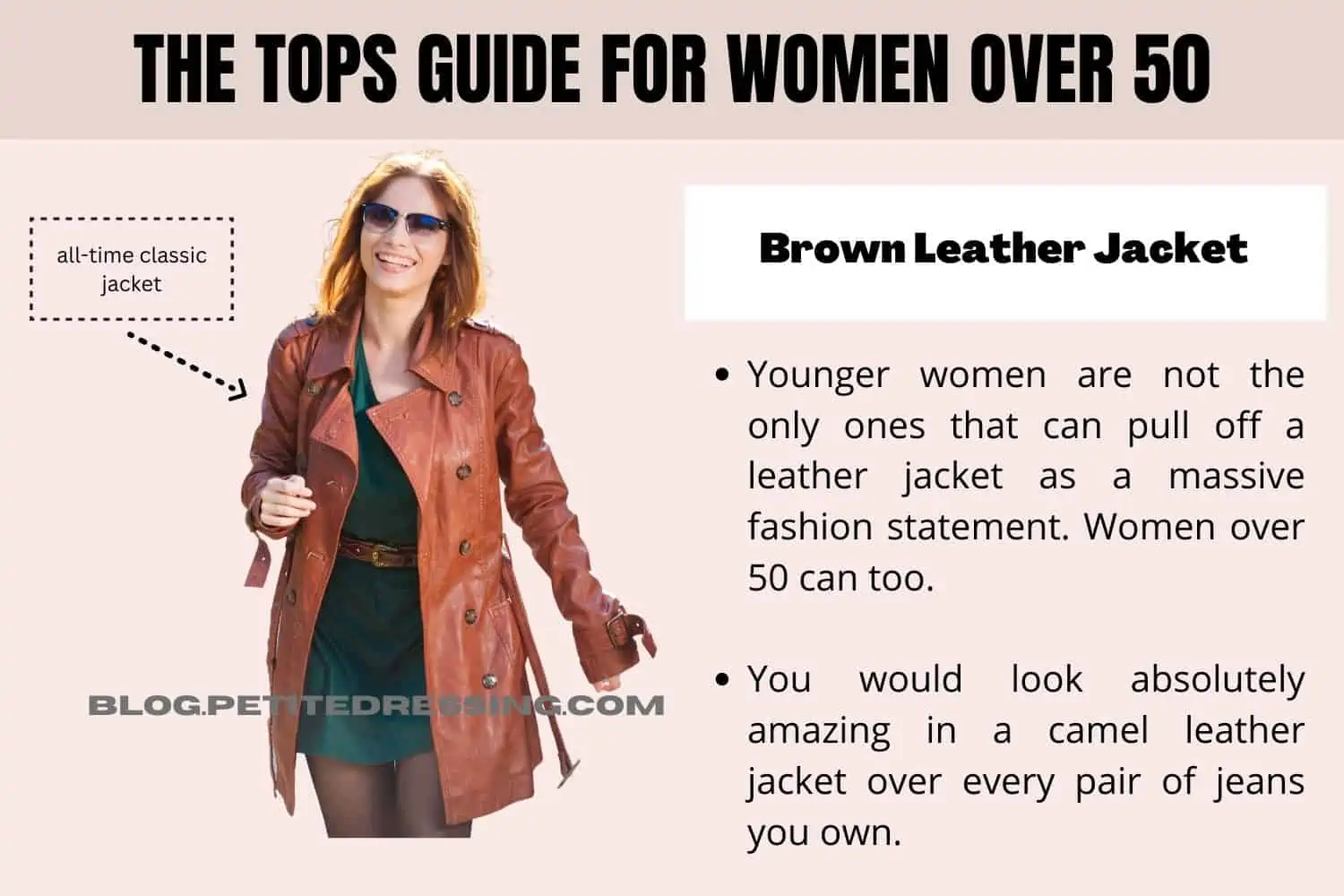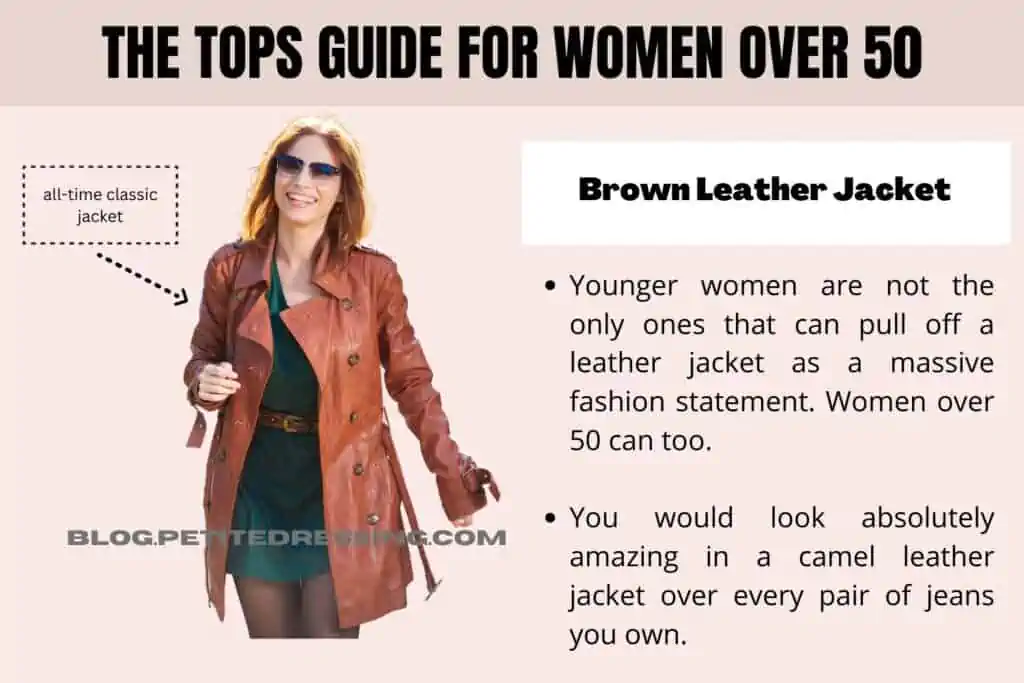 Colourful Cardigans
Stay fashionable all year with cardigans. We absolutely love cardigans because they are classy in all seasons and a great way to cover up your arms that are not as toned as you would like.
The goal is to make your outfit more colourful and cover your arms, not to have you all wrapped up in a weird way. You can also go for longer cardigans that stop right at or below the knee, but these work best with straight-leg jeans.
It's not a good idea to pair longer cardigans with skirts. We highly recommend getting smaller sweaters that have a snug fit.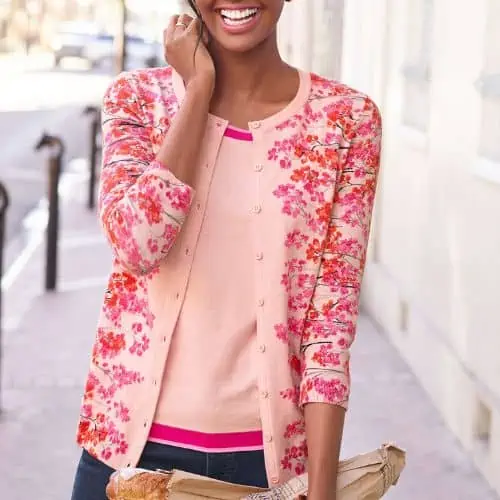 How to choose a cardigan
So, go for three-quarter or long sleeves to your wrist, while the cardigan should hit you right at the hip.
You can wear this with jeans or skirts, but be sure not to wear it closed.
Fitted Jacket
Like cropped jackets, fitted jackets that hit the hips will make you look amazing. You can also wear this jacket with pretty much everything, including pants, dresses, skirts and of course jeans.
With skinny jeans, you can go for a longer and less-fitted jacket, which makes you look a lot classier. Black is the most versatile choice because you won't have to worry about pairing them with different colours.
However, you can spice things up with cream or navy-coloured fitted jackets. So, what tops work underneath a fitted jacket? You have tons of options.
Start with some tank tops and tees in solid colours. Floral tops also work great, especially on high-waist jeans and minimal jewellery.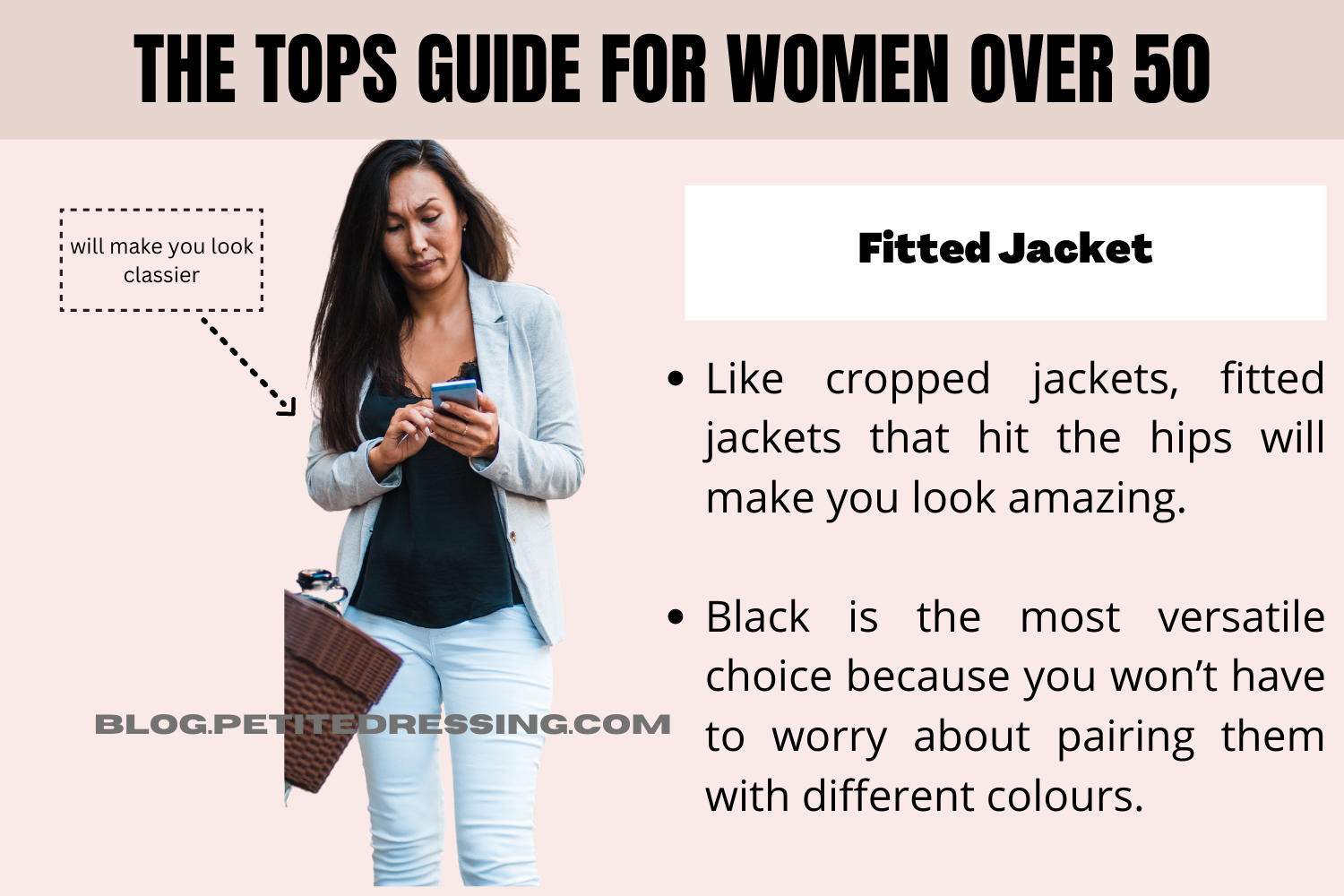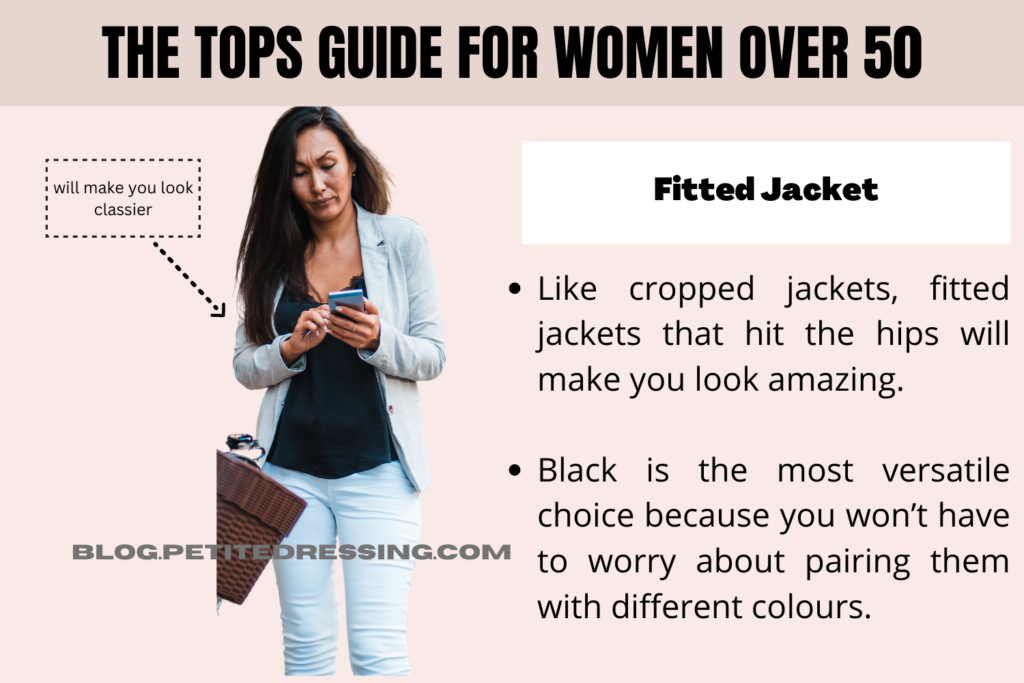 Fitted Tank Tops
Tank tops are a must-have in the wardrobe of every woman over 50. As soon as you find the one you love, buying them in bulk is always a great idea. There's no limit to the number of colours you can get, so go crazy.
You can have them in blue, cream, black, white and even red. These tank tops are perfect to wear underneath sweaters, blouses, jackets and cardigans.
However, remember not to choose baggy tank tops but go for those with a snug fit. Also, they should be long enough to stay tucked into your pants.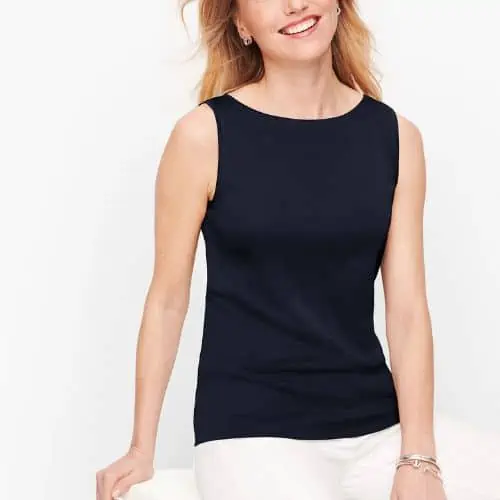 Why opt for tank tops?
The best part about having tank tops is that you won't find yourself spending so much time deciding what to wear for the day.
With jackets, you can wear them for a casual outing with friends or even to a meeting.
White Blouse
One of the many things anyone will think when they see you in a perfect-fitting button-down white blouse is that you look crisp and clean. White button-down blouses on skinny jeans are an instant hit.
You can also buy a few in different colours and look amazing with them on tennis shoes. The goal of this fit is to have you look as youthful as possible without completely erasing your beautiful aged look.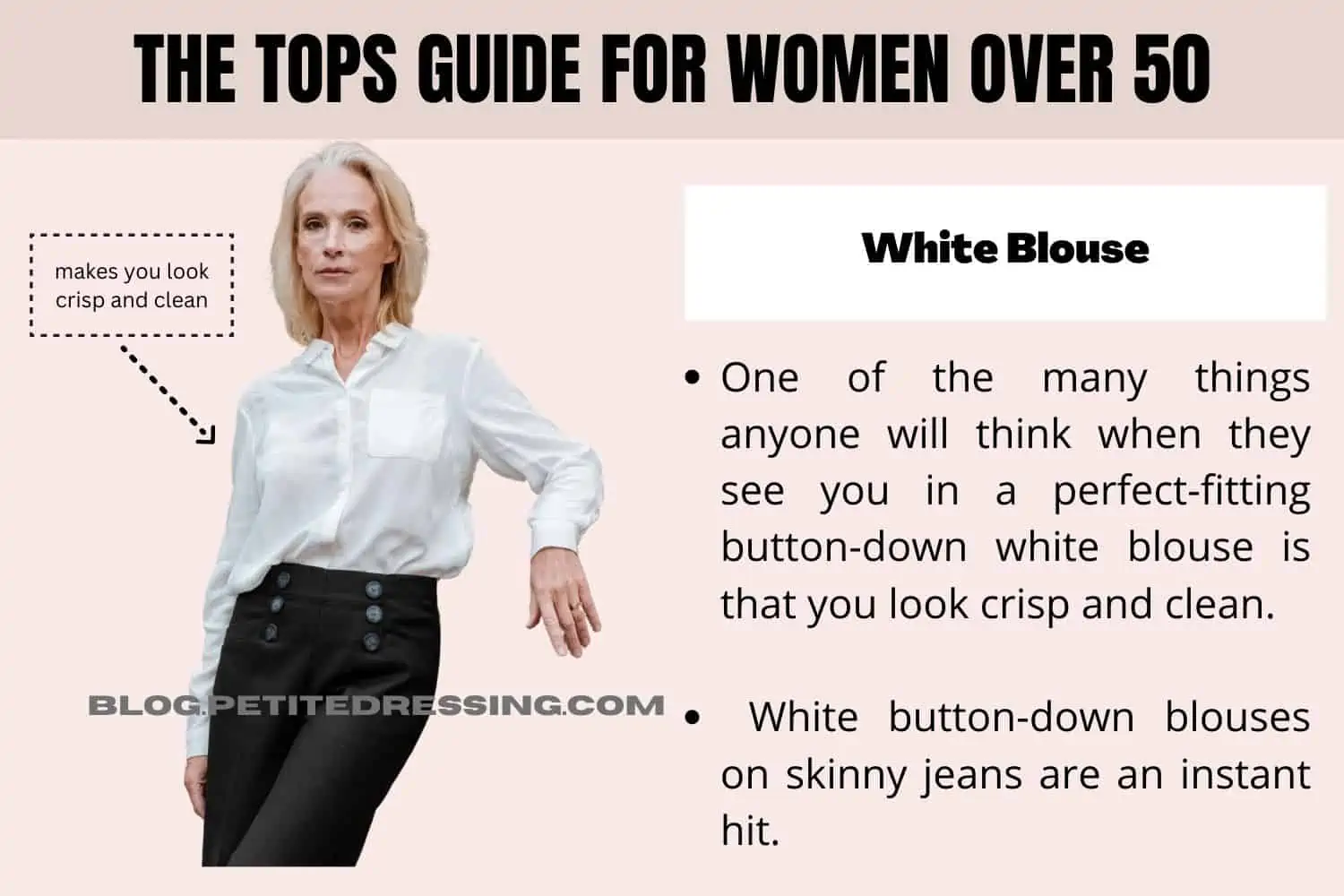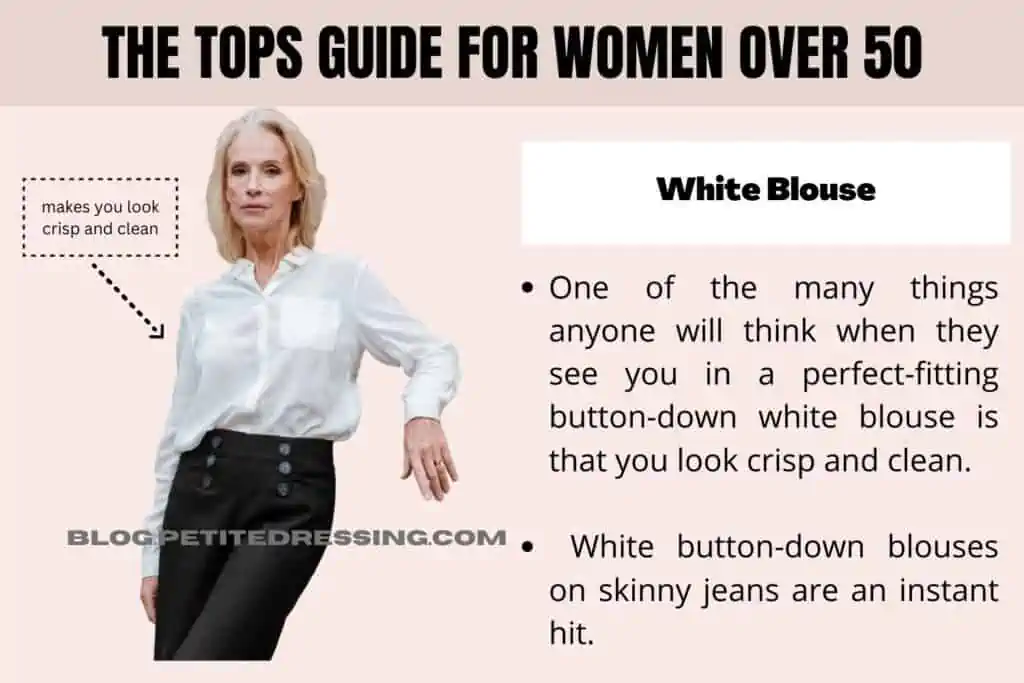 Belted Blazer
Having a blazer is non-negotiable, and there's really nothing like "too many blazers." If you're looking for that decent level of chic to make you look flawlessly unique, a blazer can get it done.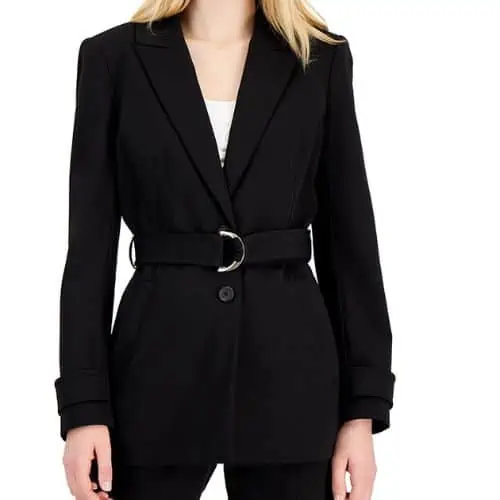 How to style a belted blazer
An amazing choice is a black belted blazer paired with a denim skirt.
You can also pair this with jeans and a white tee, and you're ready for an amazing day.
Avoid Too Low Cut
While showing more skin may make you feel sexually liberated and mature, it doesn't look so great on women over 50. Instead, you may come off as unattractive and desperate.
So, with cleavage, your best bet is to get rid of tops with plunging necklines, as these will not give you the confidence you need to express your unique femininity. Instead, opt for deep colours of tops made of cashmere, satin or silk.
You'll come off as classy with your natural sensuality shining through.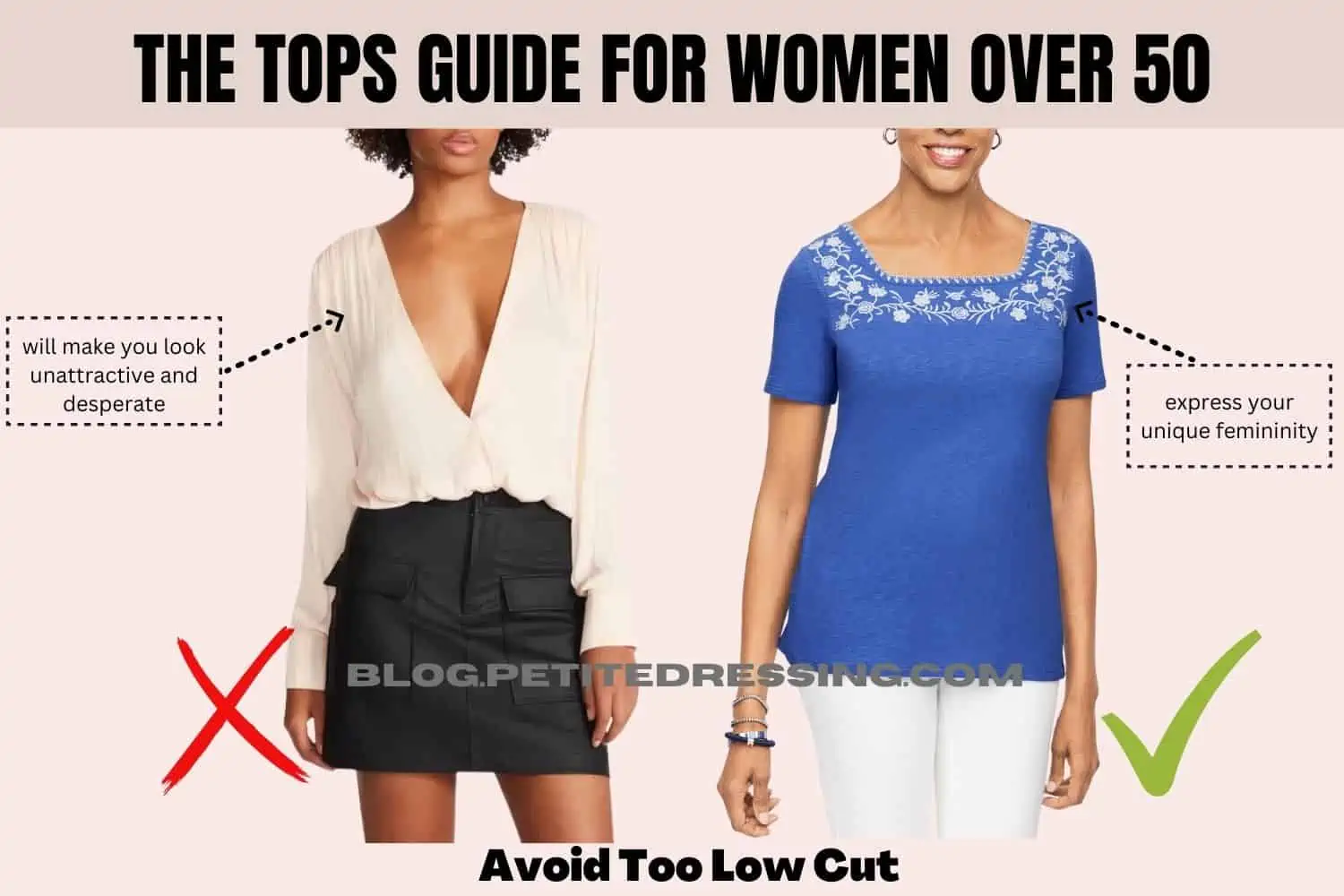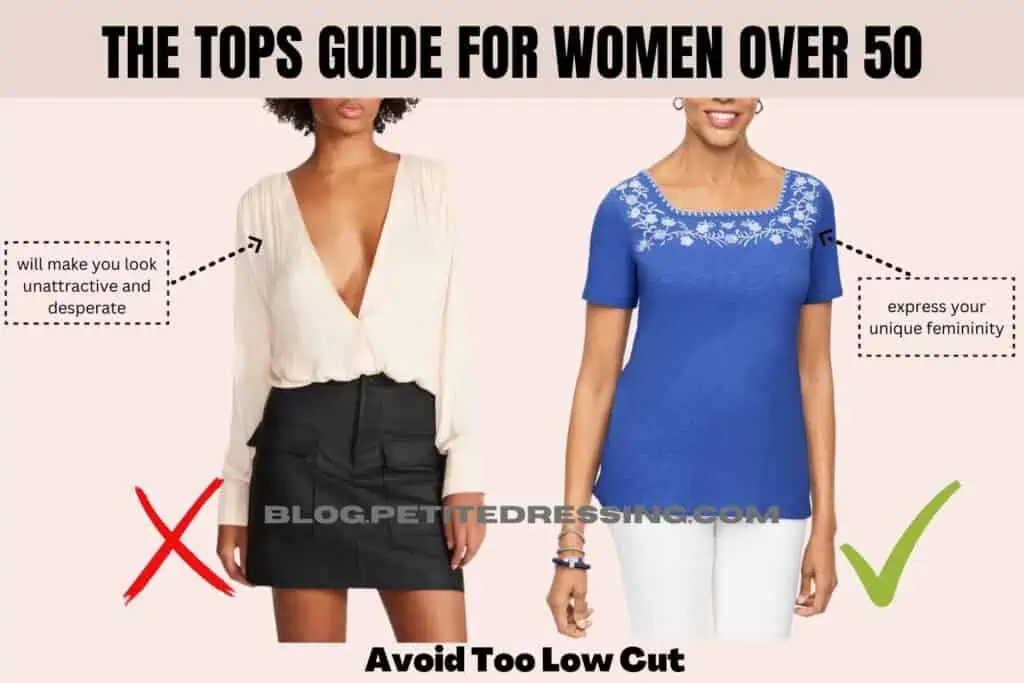 No Baggy Clothes
Baggy or oversized clothes are a trend we see in many young women, especially large sweaters and baggy pants. You may think wearing baggy clothes will help you hide your bodily imperfections or take attention away from all that extra weight under your clothes.
However, it's exactly the opposite that happens. When you put on baggy tops and bottoms, they make you look much bigger and emphasise the features you're trying to hide. So, you don't get the good results you were expecting.
The better choice is to wear baggy bottoms on a fitted blazer or top. Mix it up instead of wearing baggy clothing on every inch of your body.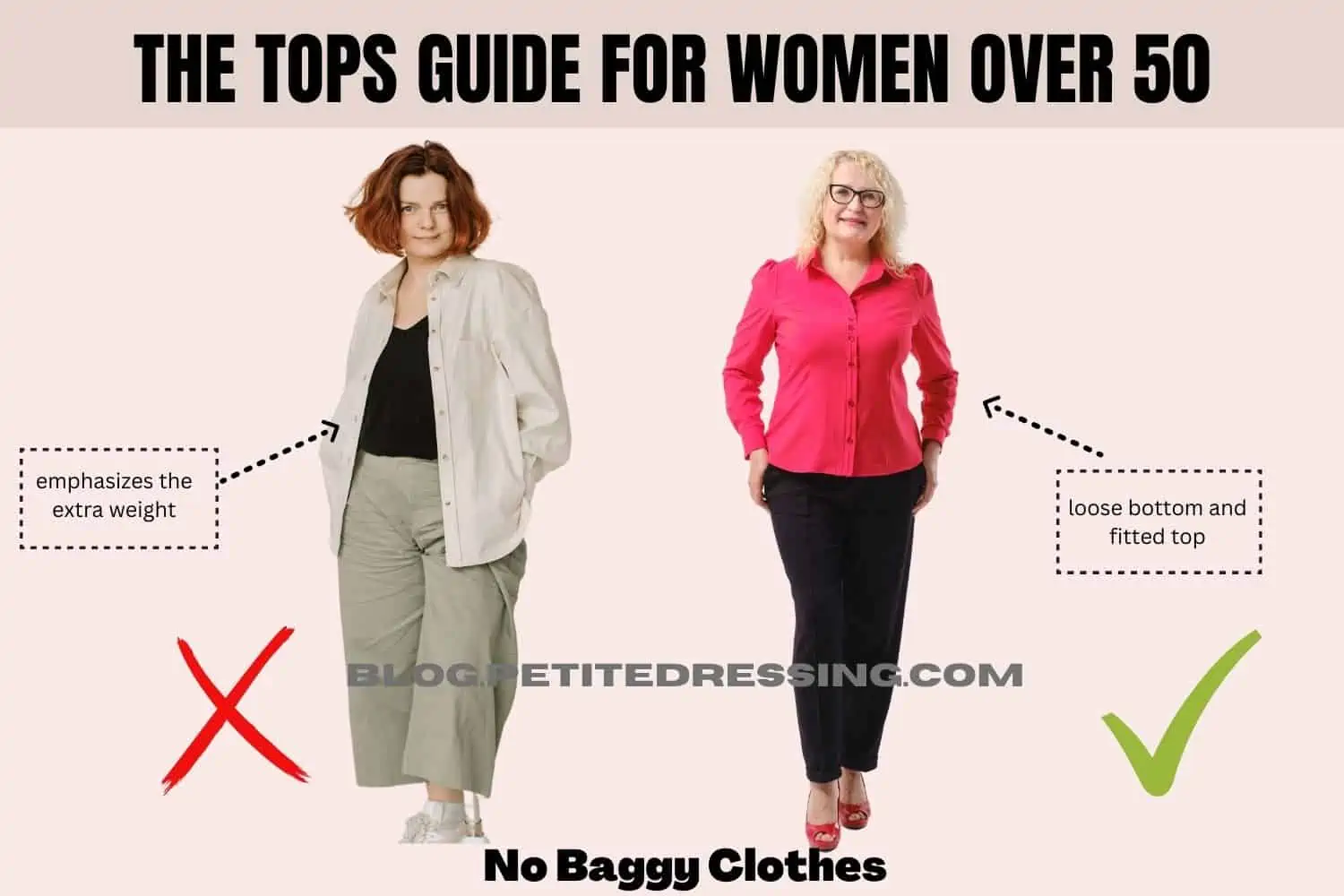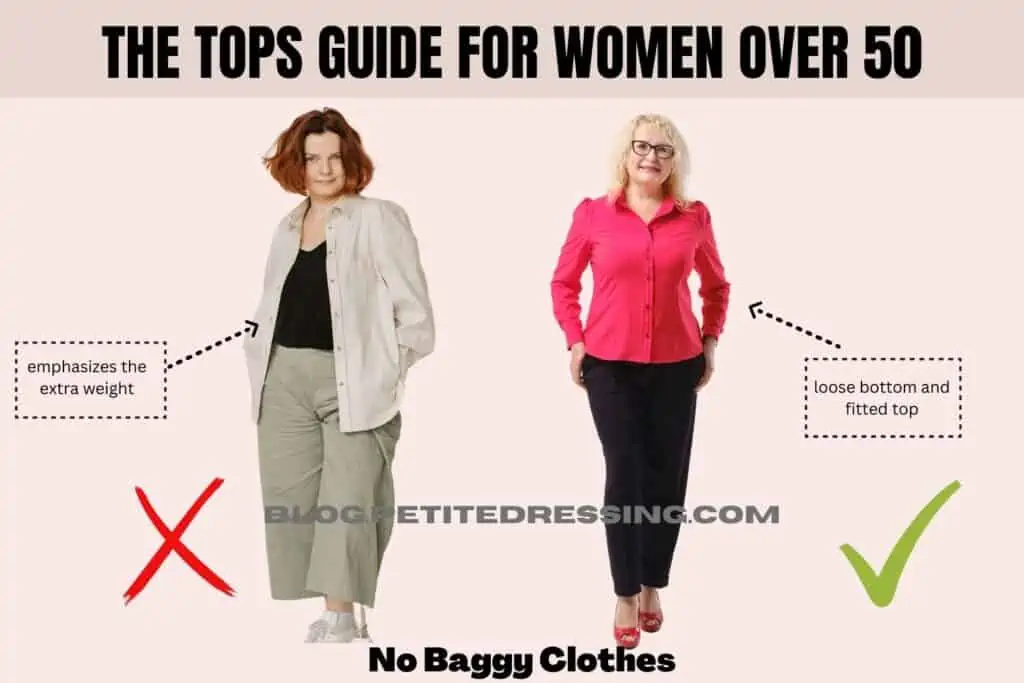 Caution with Neutrals
Of course, we're not saying you should eliminate any outfit with neutral colours. Neutral colours are great, but when you make your entire outfit, including your accessories, in a similar light colour, the result is usually very harsh on the skin of older women.
So, rather than putting all-black colours in your outfit, mix it up a little with bold and bright colours. It could be a bright jacket with earrings that pop. Mixing this up will give your outfit more personality and make you stand out in a good way.
The key here is to always mix your neutral colours with some bold ones, and you'll feel more confident about your body and style.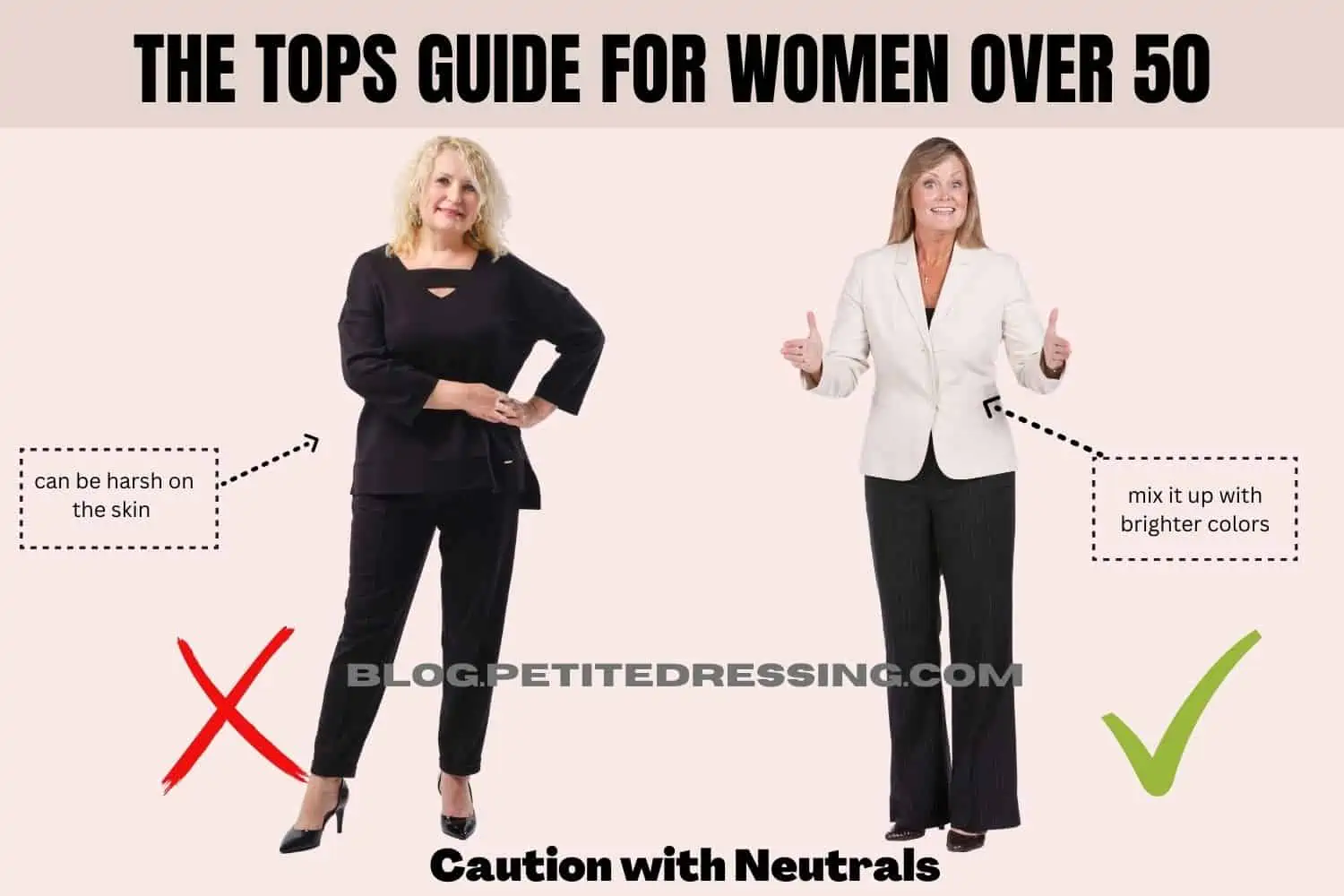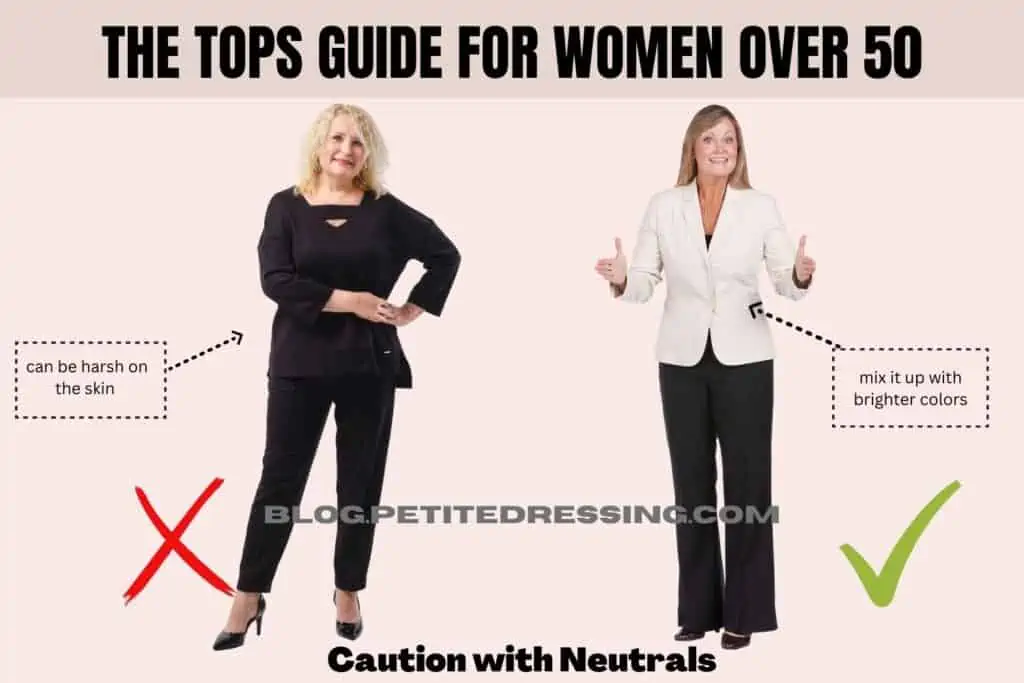 No Crop Tops on Hot Pants
If you were considering this combo at any point, this is an early warning. Teenagers and young women can get away with this trendy style, but as a woman over 50, it's a hard sell.
While it's not difficult to see many fashion bloggers and influencers pull this off effortlessly, you should strive for clothes that make you sexy without revealing too much skin. This combo will only make you age dramatically.
A better choice is a combination of form-fitting shirts on Burmuda shorts that stop at the top of your knees. With this, you'll be able to stay comfortable and active without worrying about your shirt riding up and revealing the goods.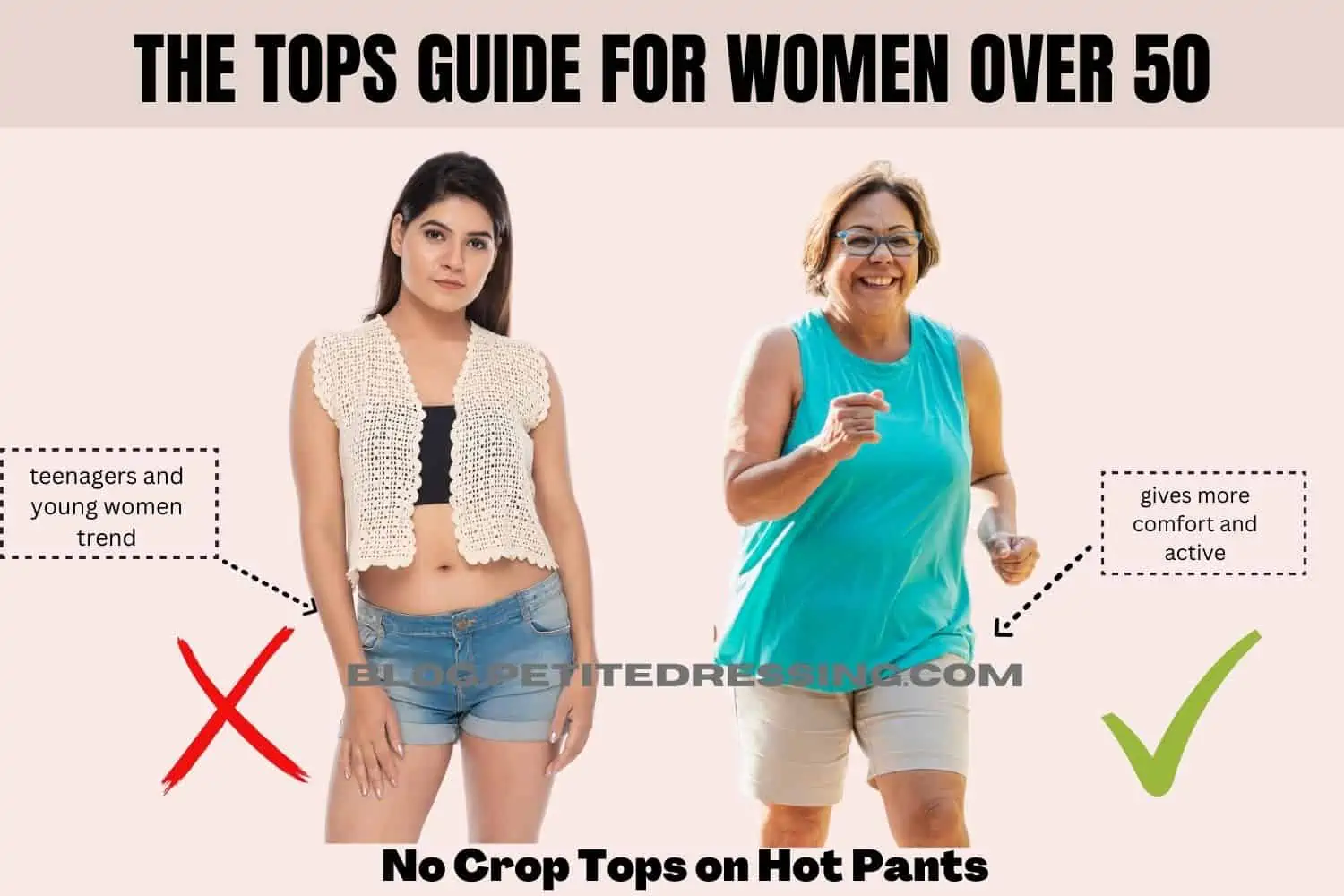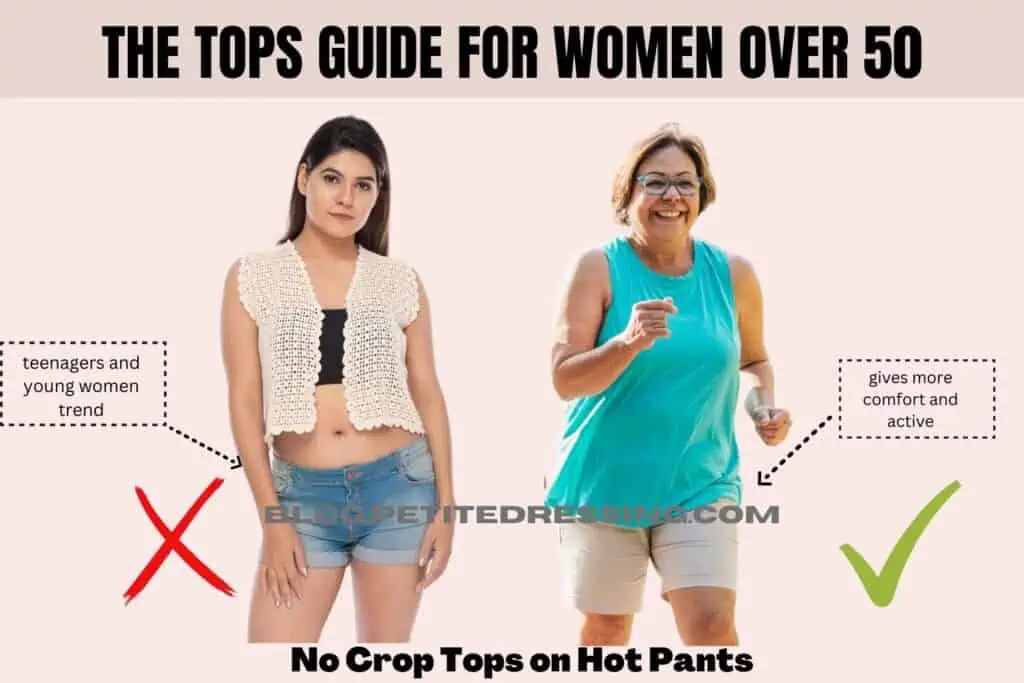 Always wear shirts and shorts that cover enough while making you feel as comfortable as possible.
Avoid Capri Pants
Capri pants usually stop below the knee or around the ankle. They are not a great idea for women over 50 as this length makes you look way older than you should.
The goal is to wear clothes that create the most proportional and flattering look for older women, regardless of your body type or style. However, this can't be achieved with capri pants.
One reason for this is that they cut at an awkward length on the leg, which is right through the middle of the calf. The results are legs that look stumpy and a behind that's not flattering at all.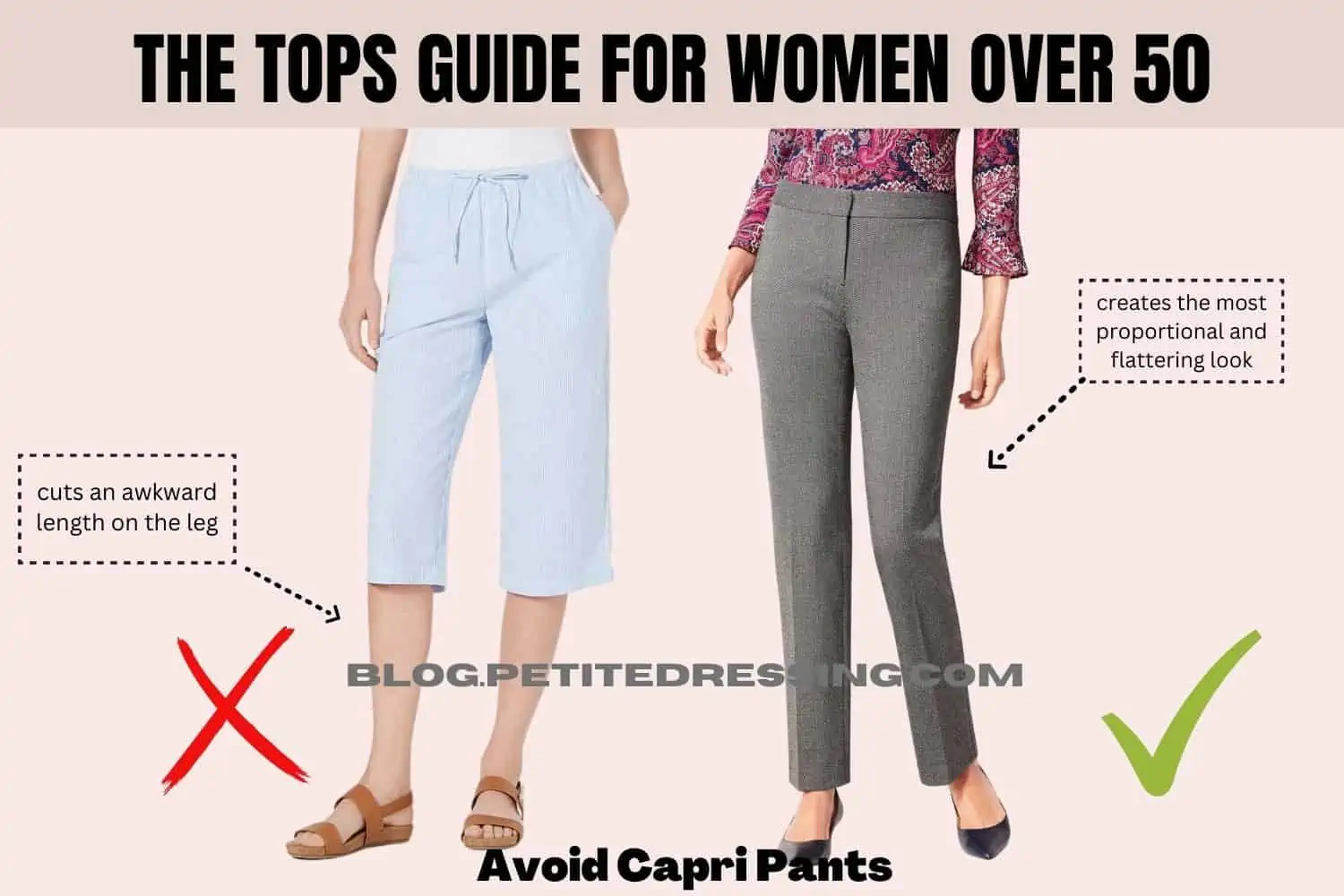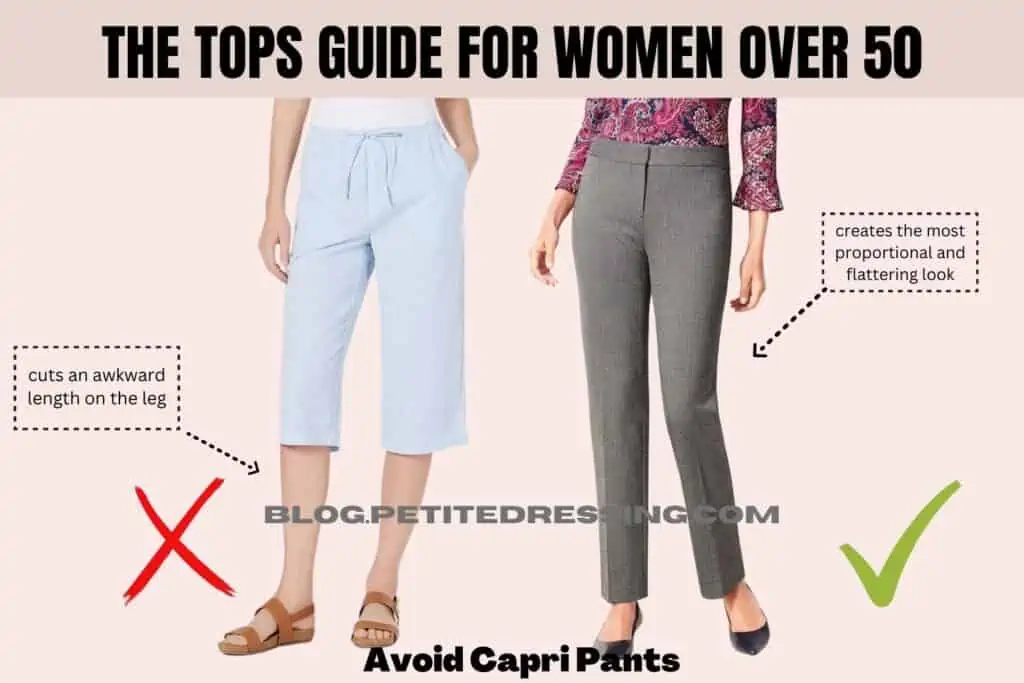 Even worse, capri pants can make you look shorter than you actually are. So, for petite women, this can be a disaster when one item of clothing makes you look older and shorter.
Avoid Baggy Fleece
It's tempting to grab a fleece zip-up sweater while shopping or even taking a walk. However, this is not a fashionable item that should make its way into your wardrobe.
These fleece sweaters don't flatter the bodies of women over 50 but will make you feel frumpy instead. A better alternative is warm cardigans that are a bit longer to feel fashionably oversized or the ones that fall right around your hips.
The beauty of this clothing choice is that they give just the right amount of casual without screaming a lot of negative things about your style. So, if you must have fleece for outdoor occasions, be sure to splurge a little on the high-quality ones that are more flattering to your body shape.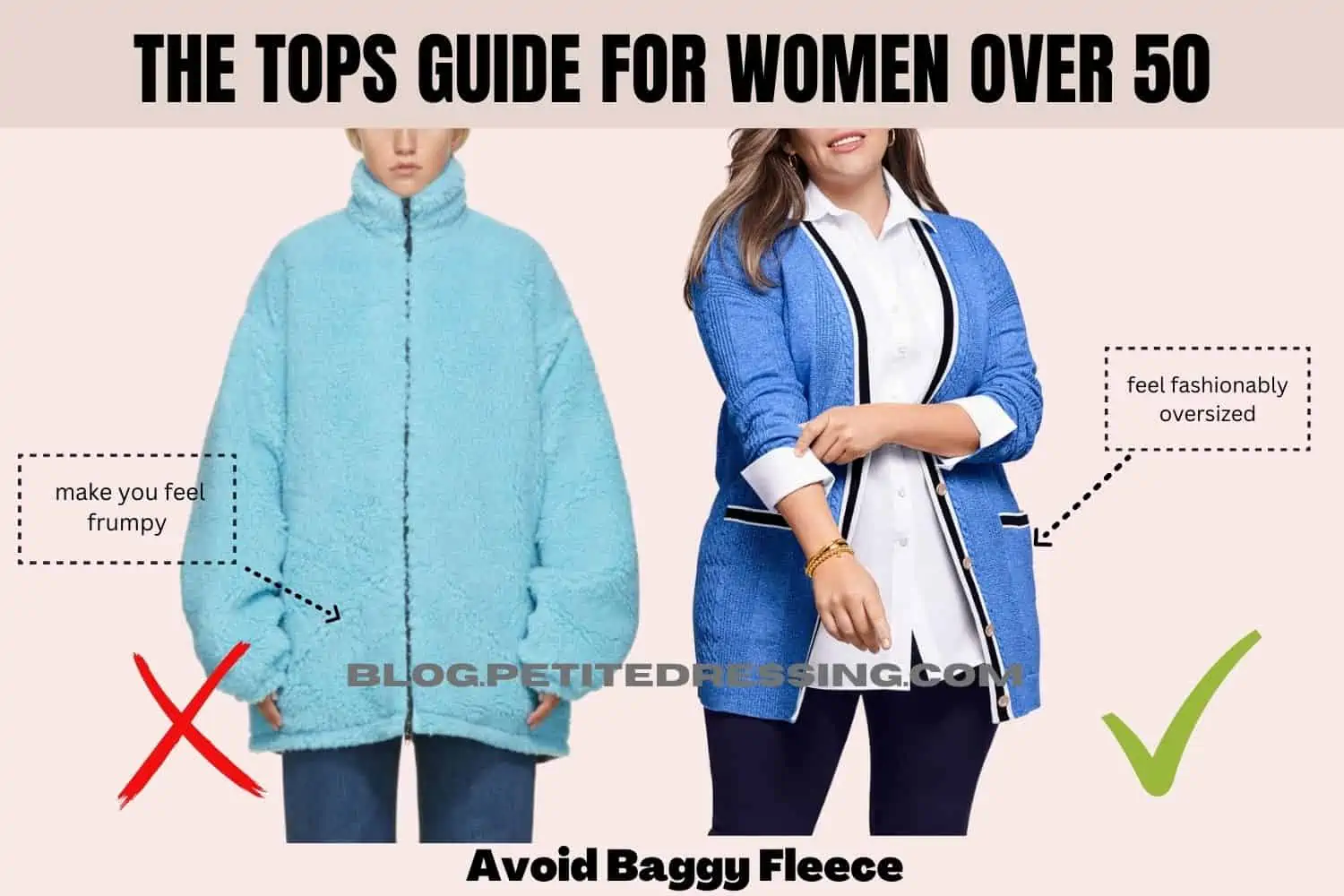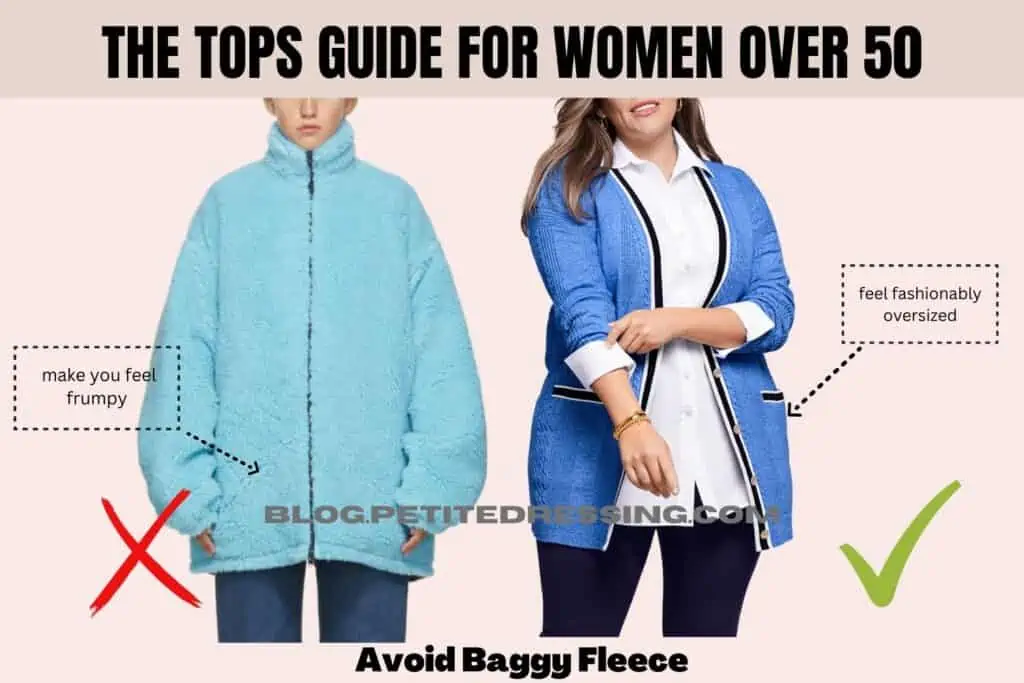 And here's our ultimate tip: simple doesn't always mean boring. You can't go wrong with the tops on our list, so get out there and rock your world.