On a broad scale, every woman, irrespective of their age bracket, wants to look smart and classy. However, to achieve this objective, women over 50 must be open to various fashion styles to accommodate the new realities of their ever-changing bodies.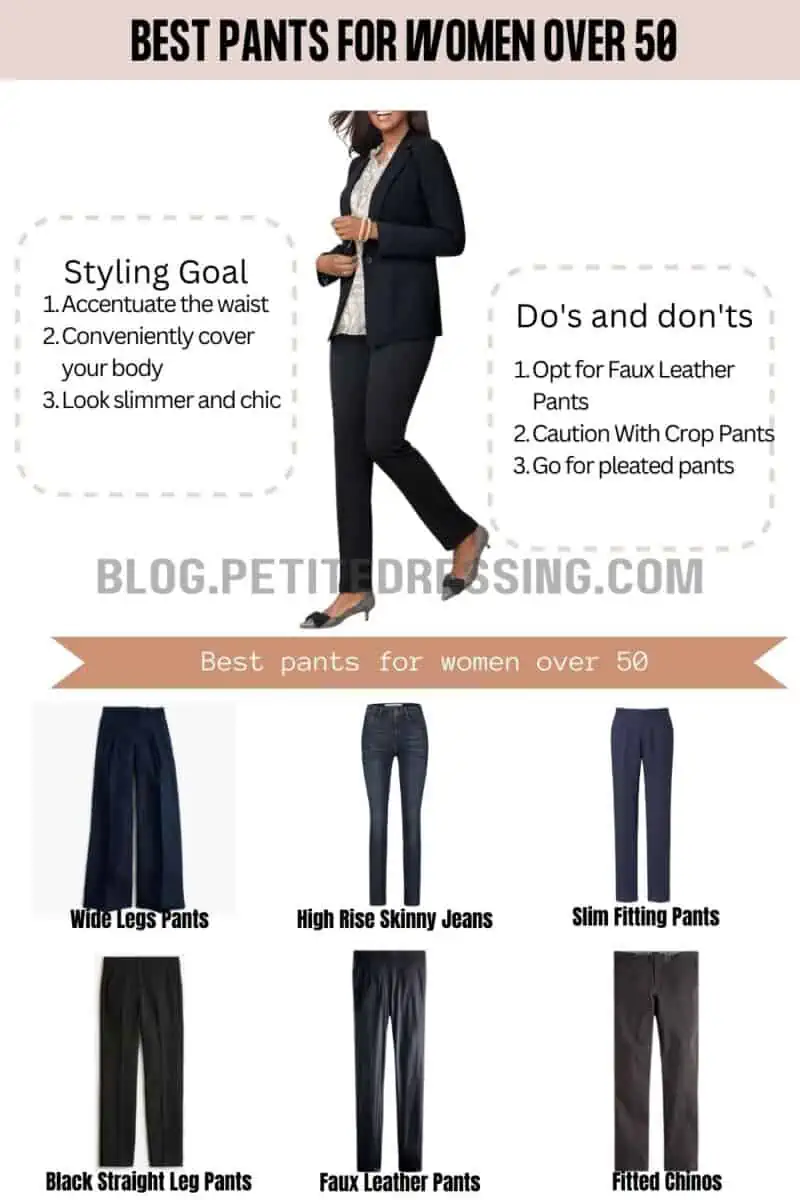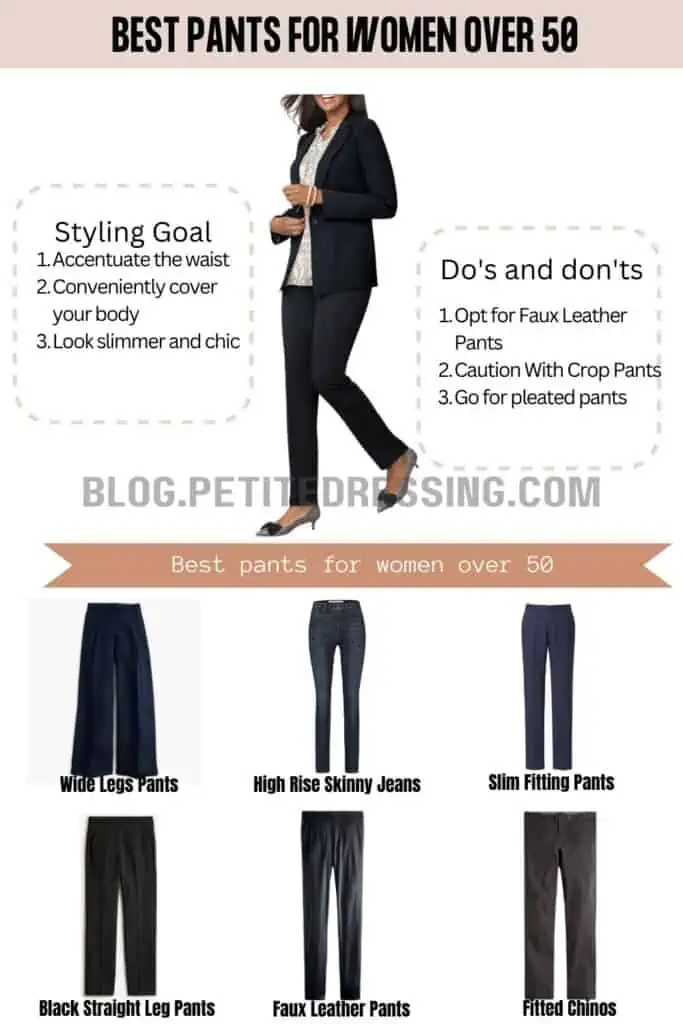 While plenty of pant styles are specifically designed for women over 50, finding a comfy set for your personality can be sometimes challenging.
This guide is designed to provide women over 50 with the necessary information about different pant styles and how to rock them to have a dashing look.
Wide Legs Pants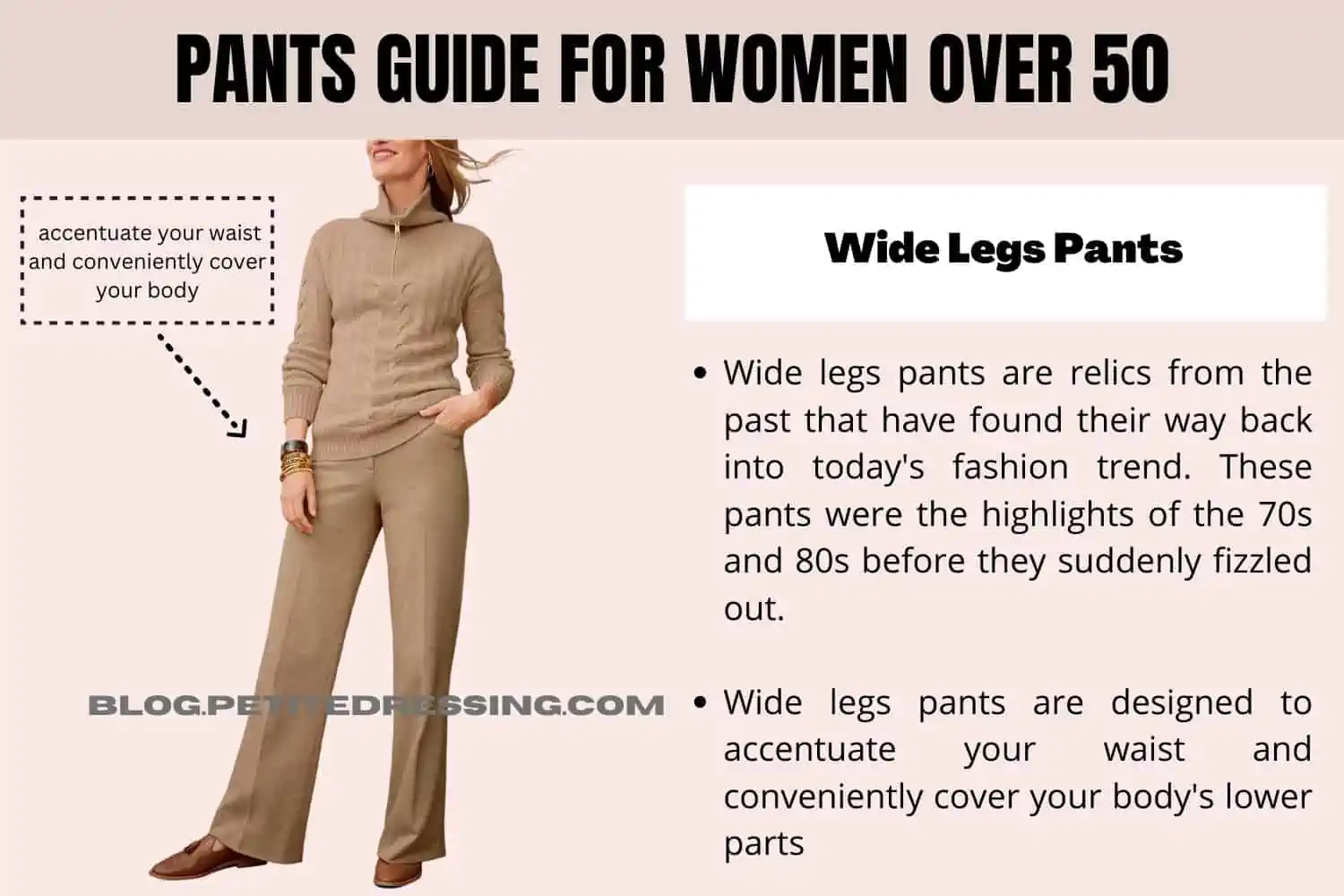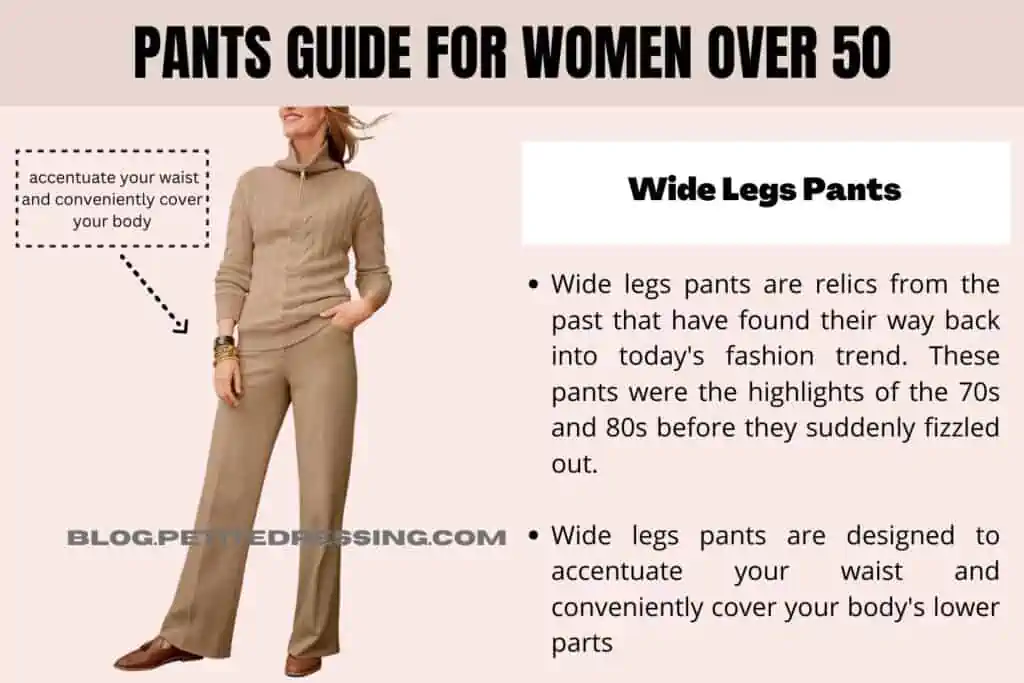 Wide legs pants are relics from the past that have found their way back into today's fashion trend. These pants were the highlights of the 70s and 80s before they suddenly fizzled out. But like an old wine in a new bottle, these pants are back at the top of the fashion wall, especially among women above 50, although different age groups can rock them.
Wide legs pants are designed to accentuate your waist and conveniently cover your body's lower parts. While a younger woman may take the liberty to alter the pants' basic layout, women above 50 should stick to the rule of allowing the pants to skim the ground, except if the pant has a cropped design.
Another major highlight of wide legs pants is their versatility. It can pair with different types of tops like crop tops and short jackets, and if you have confidence, you can add high heels to the list.
High Rise Skinny Jeans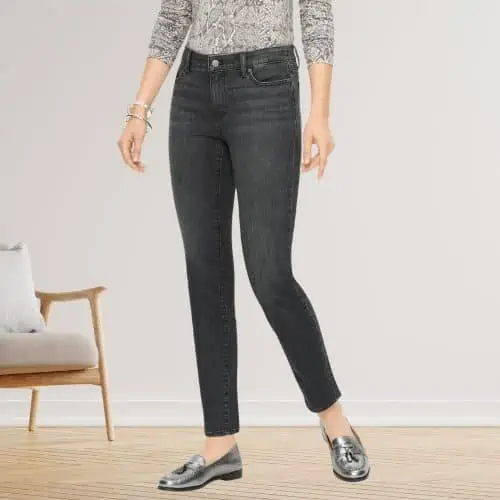 Are you a bit smaller on the bottom?
Then, you'll look amazing in skinny jeans and it'll also make your tummy look flatter
However, it's important to choose high-rise skinny jeans so that you'll feel comfortable when moving around. It's no secret that high-rise pants sit better on the waist and that's one of the impressive benefits you'll get out of rocking this wear.
For women over 50, it's best to buy high-rise skinny jeans with darker colors. The dark navy color is one color on jeans that blends well with women with gray hair. Finish up this look with a brightly colored tee, and you're ready to step out in your fashionable clothing.
Slim Fitting Pants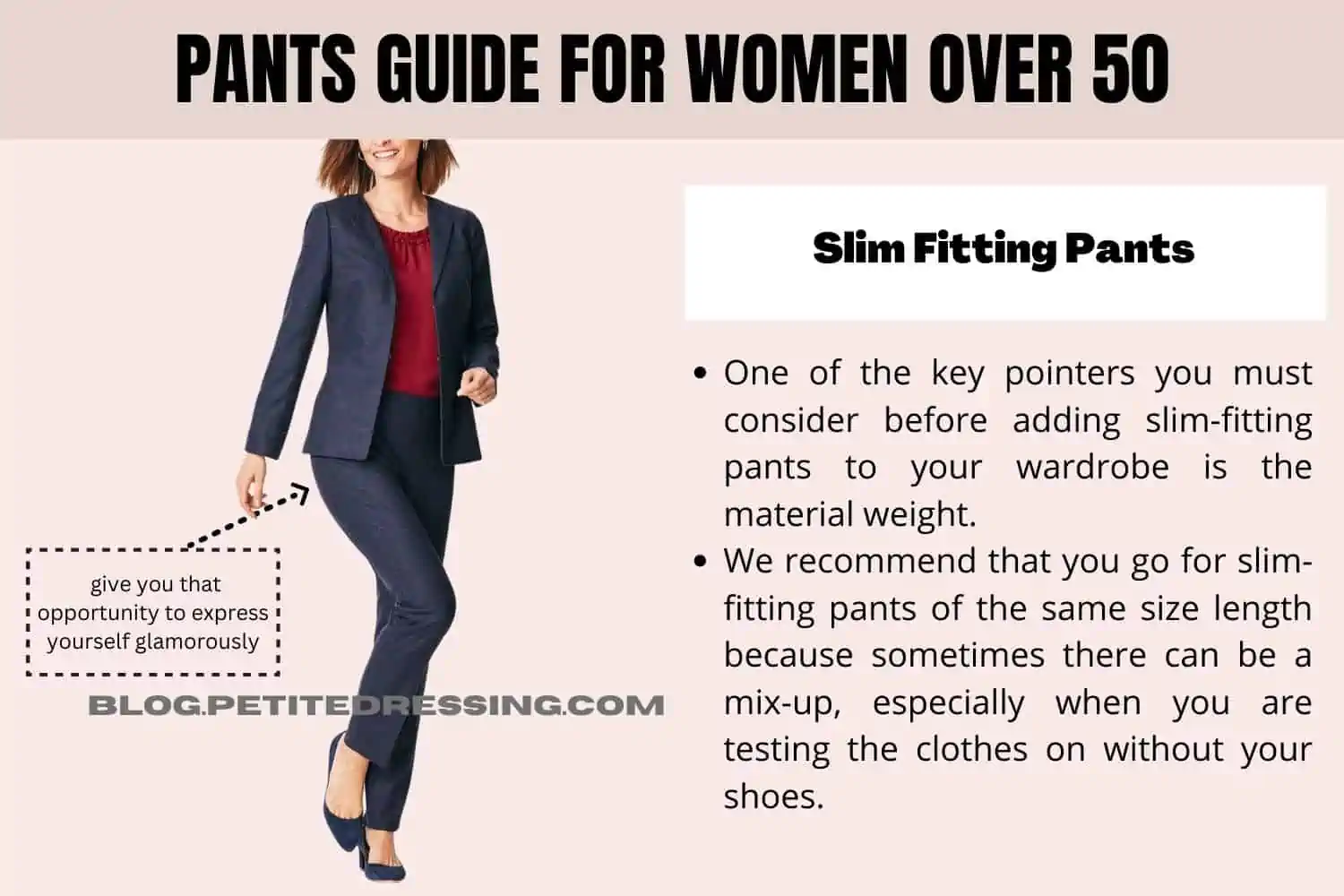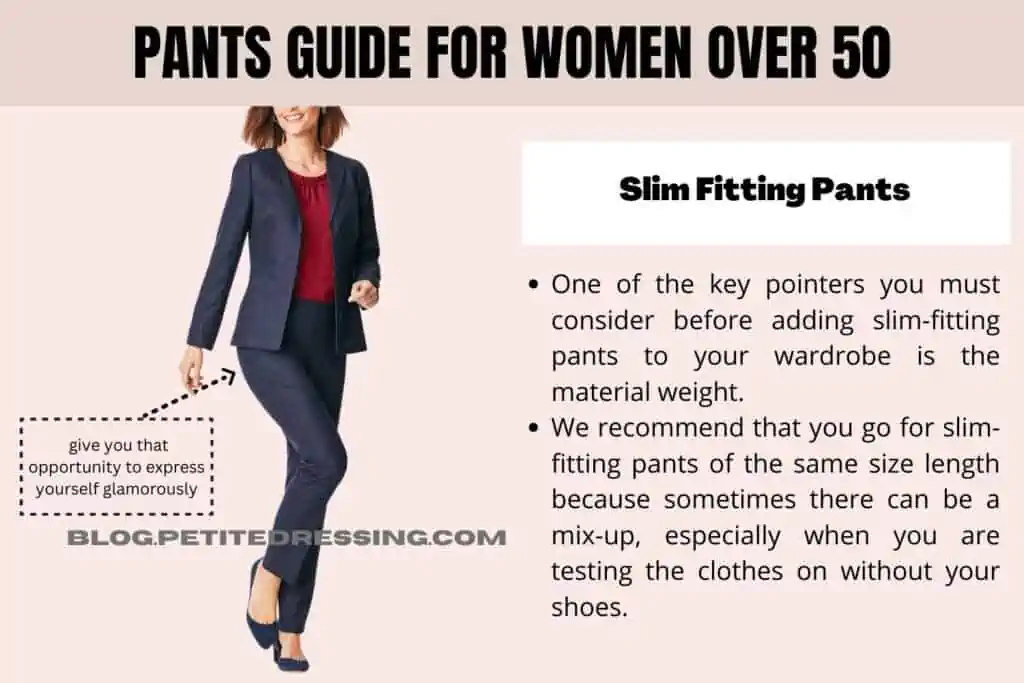 One of the key pointers you must consider before adding slim-fitting pants to your wardrobe is the material weight. We recommend choosing lightweight wool with cool colors like navy blue, black, or charcoal. Now, having spelled out the material importance and colors, the next aspect to consider is the sewing pattern.
We recommend that you go for slim-fitting pants of the same size length because sometimes there can be a mix-up, especially when you are testing the clothes on without your shoes. So, to avoid getting into this rabbit hole, you should wear your shoes while visiting your seamstress or store to get a perfect fit.
You can perfectly blend slim-fitting pants with a cardigan, silky blouse, or T-shirt and if you are the type that likes flaunting your jackets, slim-fitting pants give you that opportunity to express yourself glamorously to the fullest.
Black Straight Leg Pants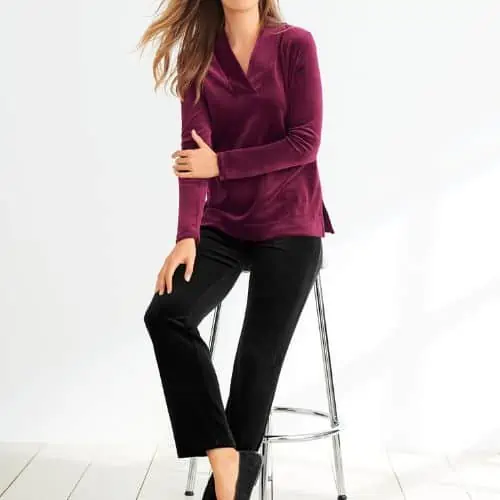 Why opt for Black and not other colors?
We recommend black because this is a universally acceptable color that doesn't select tops.
You can pair this with any color of top, and round things up nicely with a pair of sneakers of low-heeled boots..
Jeans are a must-have in your wardrobe, and we're not talking about those low-rise ones that make you age faster. Instead, your best bet is a lovely pair of straight-leg jeans that are known to always look fabulous on women over 50.
This is great for casual outings where you don't want to overdress. So, if you're not so large on the bottom, try on black straight-leg jeans that are at least 2% spandex too. This will ensure that the jean stretches to fit your legs and mid-section area perfectly.
Faux Leather Pants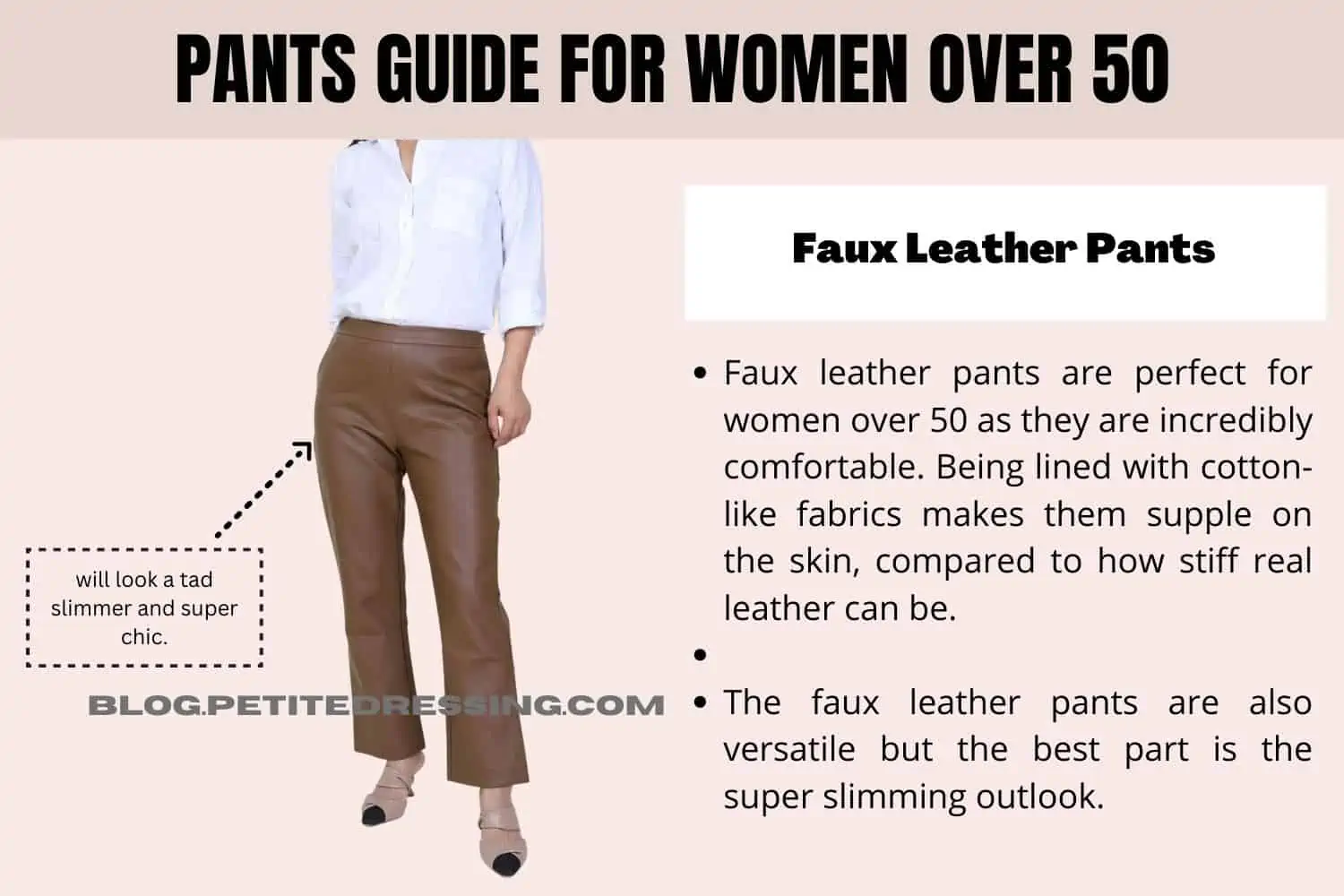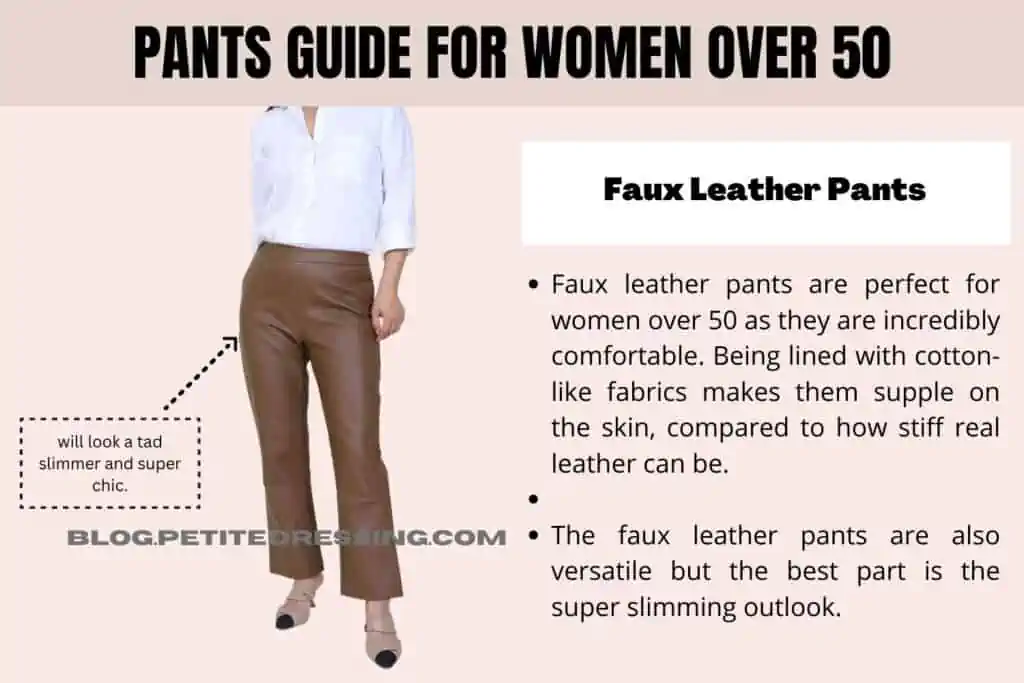 Faux leather pants are perfect for women over 50 as they are incredibly comfortable. Being lined with cotton-like fabrics makes them supple on the skin, compared to how stiff real leather can be. Even better, faux leather pants emit a more casual outlook, especially when paired with leather jackets.
The faux leather pants are also versatile but the best part is the super slimming outlook. While on this outfit, women over 50 will look a tad slimmer and super chic. You'll definitely love the sleek silhouette from this faux leather, and that's why they can never go out of style for older women.
Fitted Chinos
How do you know the type of pant fabric to go for? Well, the truth is different fabrics work for different occasions and finding a good pants material can often be a tough choice to make.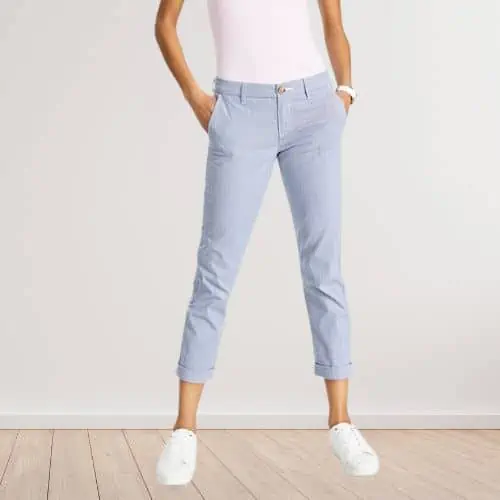 Chinos are a must-have, here's why
Chinos are amazing pats because they are simple and lightweight, making them perfect for both formal and informal occasions.
So, it's easy to fall in love with the versatility of chinos, especially as they are usually made with breathable cotton.
Nevertheless, if you are not a fan of heavy materials, your best decision is to go for something light. For instance, in place of khaki material, you can opt for fitted chinos pants instead.
Pleated Pants
How would you love to feel beautiful, confident and comfortable all day long? Think pleated pants. They can hide tummy and are accommodating for your shape if you carry weight in mid-section after 50.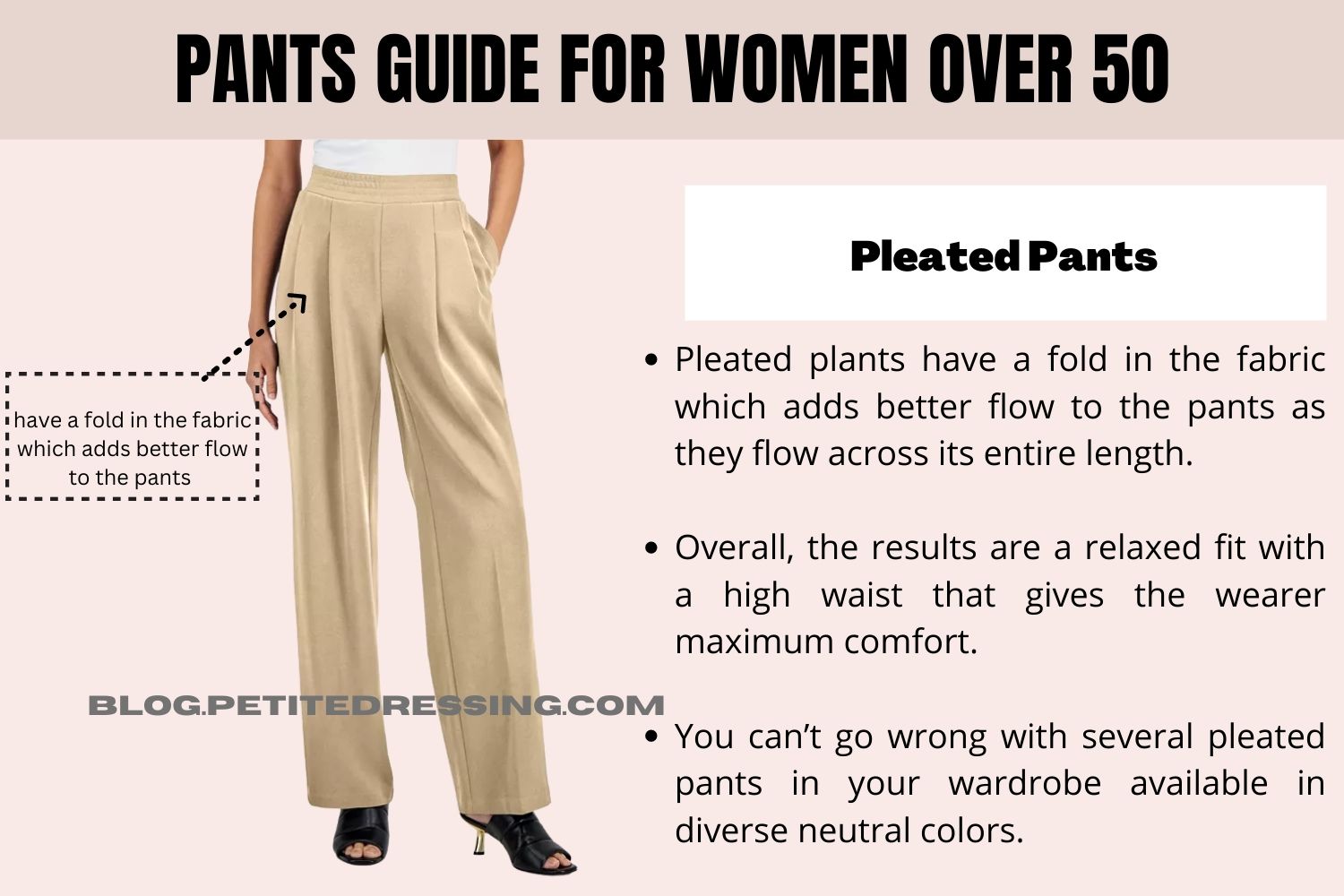 Pleated plants have a fold in the fabric which adds better flow to the pants as they flow across its entire length. Overall, the results are a relaxed fit with high waist that gives the wearer maximum comfort.
Since these are not so fitted, they have enough leg room which makes them perfect for wearing around the house as loungewear or to formal outings when paired with loafers. To add more color to your work look, throw on a colorful blazer.
If you would love to pull off a workout look, you can pair your pleated pants with a white tee and a pair of lace-up boots. There's a lot of attention on how clothes drape on our body and accentuate certain areas. You can't go wrong with several pleated pants in your wardrobe available in diverse neutral colors. It's what you need for a completely versatile outfit.
Leggings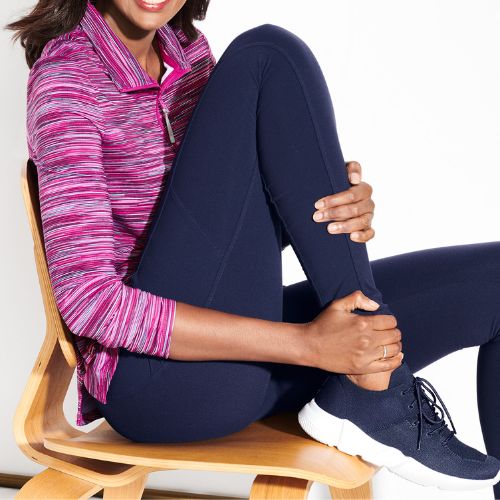 The beauty of owning a leggings
Now, the beauty of leggings is that they are adaptable to all women's age groups, which means even when you are above 50 years old, you can adorn yourself with one.
Leggings pants are a masterpiece because you can rock in during winter, summer or other times of the year.
According to recent data, the purchase of leggings is fast displacing denim as the top pant for women over 50 in more than a few countries, and there is a high chance that this may become a global phenomenon as time goes on.
During winter, any body shape can wear leggings and still look astonishing. For instance, during winter, you can complement it with boots or any smart footwear of your choice. Also, you can pair your leggings with sneakers or sandals during summer or spring and still achieve a great outlook.
Since leggings are designed to cover your entire leg from the waist down, you have plenty of options to rock with them. You can style it with a long tunic or free-flowing blouses of any material. While the tops cover your body, especially your tummy flaws, your leggings will help you protect your beautiful legs.
Now that we have looked into some coolest pants you can easily adapt to as you advance in age. It's time to talk about some important tips that will help you choose the best pants.
Caution With Crop Pants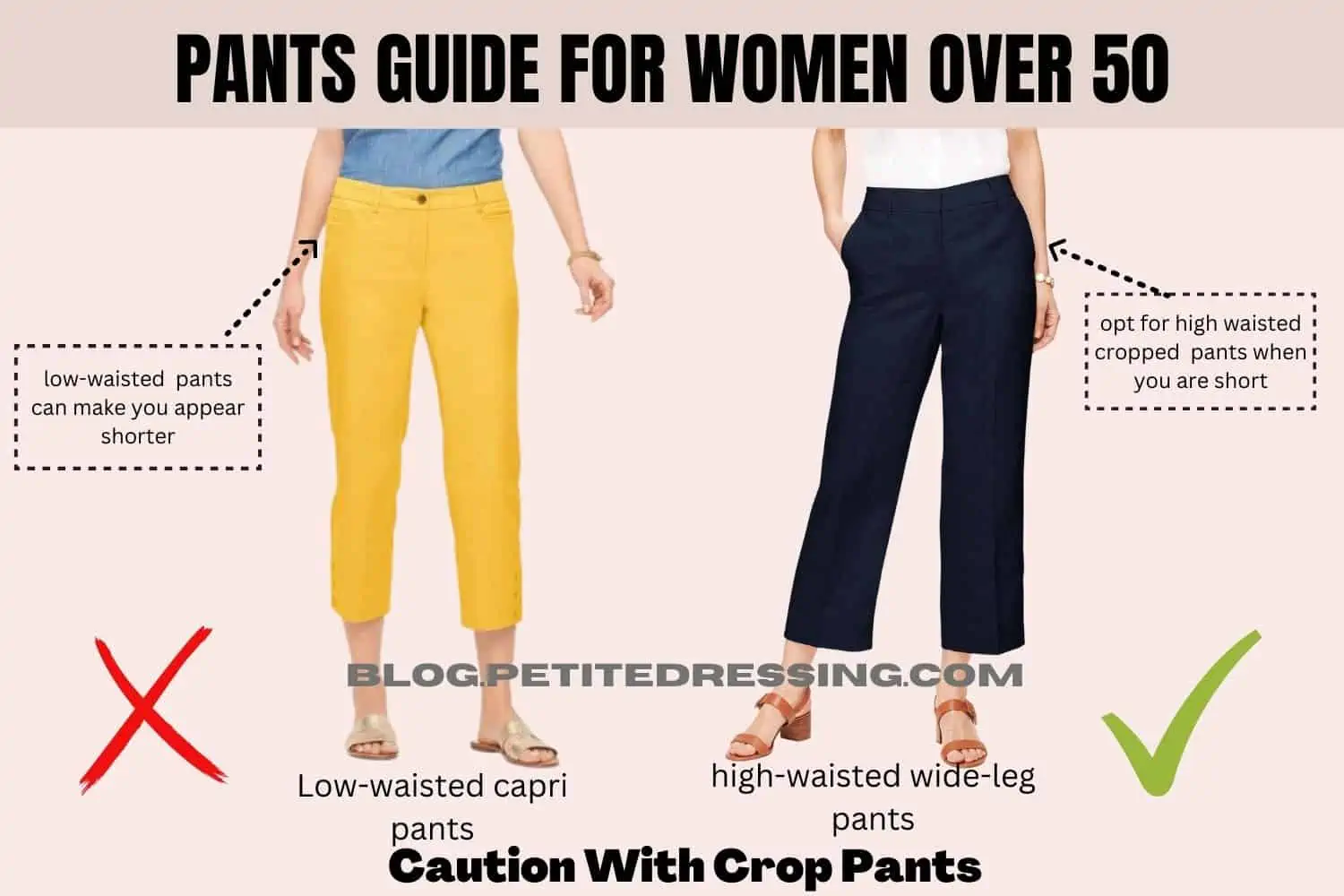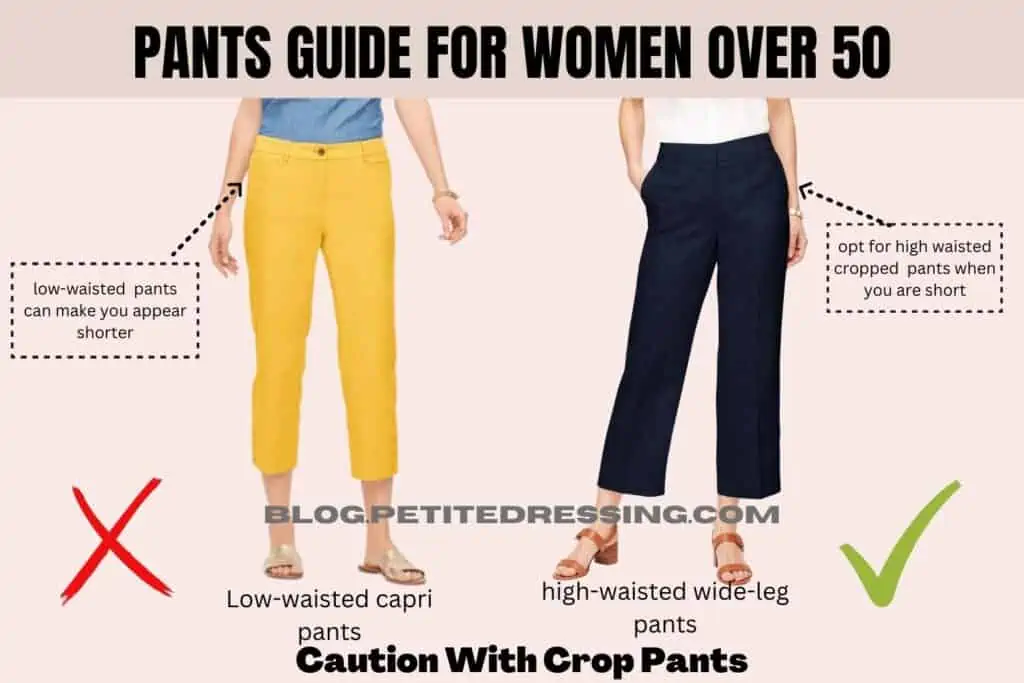 Crop pants are also known as Capris pants, so don't be surprised when the two terms are used interchangeably. The uniqueness of the crop pant is in the length, which is way shorter than most pants out there. Nonetheless, the short length is not a dismissal.
There is a huge difference in how crop pants look on taller women than shorter women. However, if you can find the perfect length, you are good to go.
The secret to getting the best out of crop pants is to select the perfect length for your body type. We recommend wearing capris with a higher waist if you have short legs.
The reason is that the high waist will help project the image that your legs look longer. On the other hand, be selective how you style cropped-length pants, as they can make you look older if you pair them with loosely fitted tops.