Finding the best jeans only gets more difficult as we mature. Having a clothing line for women under 5'4″, I have many customers who are over 50.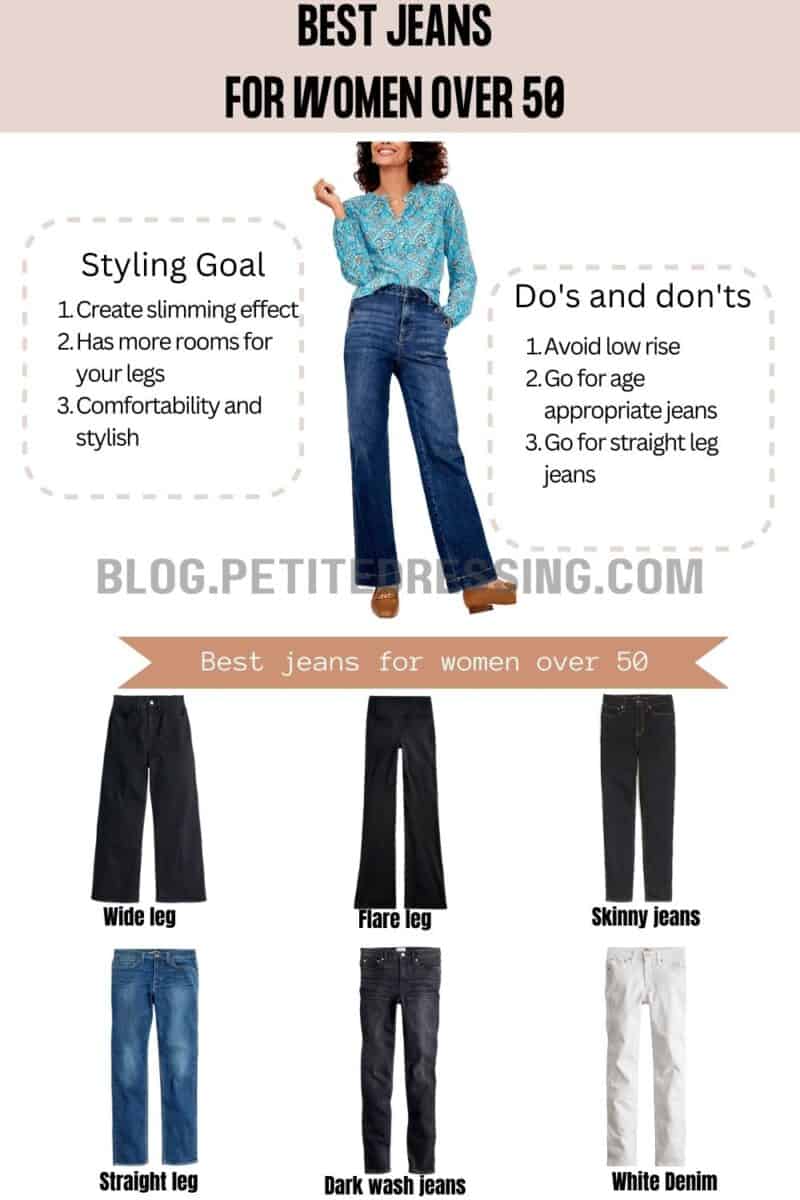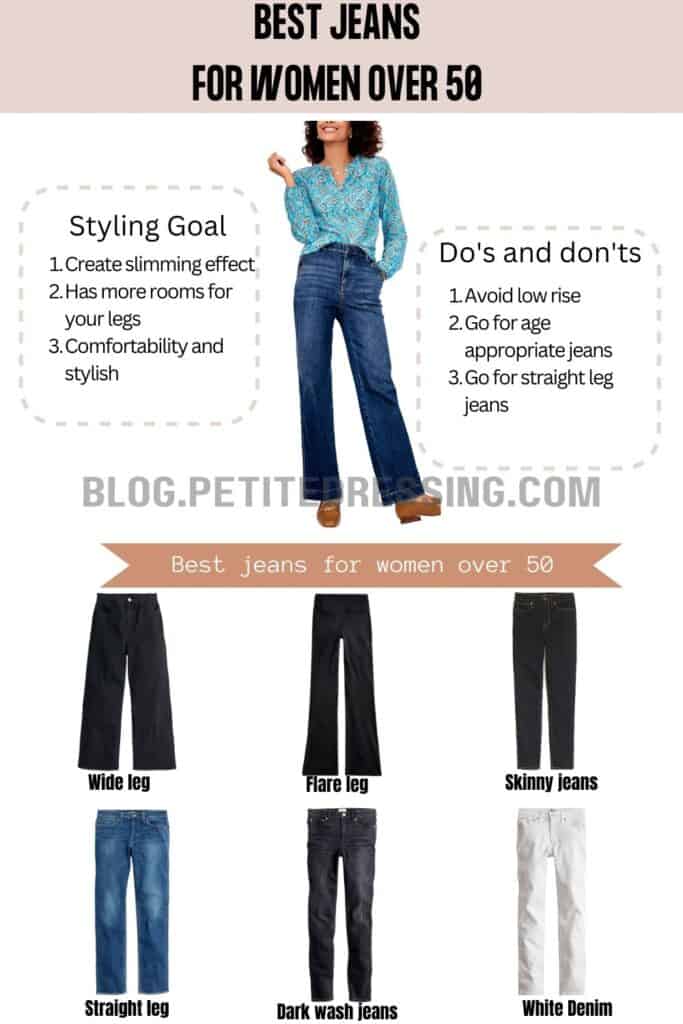 I've put together this guide to help make your jeans shopping experience a more positive one and in order to do that, I'm going to share some key tips to consider along your journey of looking for that perfect pair of denim.
Best Jeans Rise Over 50
Before I get into the best jean rise for women over 50, I want to clarify what rise actually means.
I'm sure you've heard about the 'rise' of a jean throughout your jean shopping experiences, but I know a lot of women don't REALLY understand it.
Rise is the distance from the middle of the crotch seam (right between your legs) to the top of the waistband. It usually ranges from 7 inches to 12 inches. There are three types of pants rise: regular rise, low rise and high rise.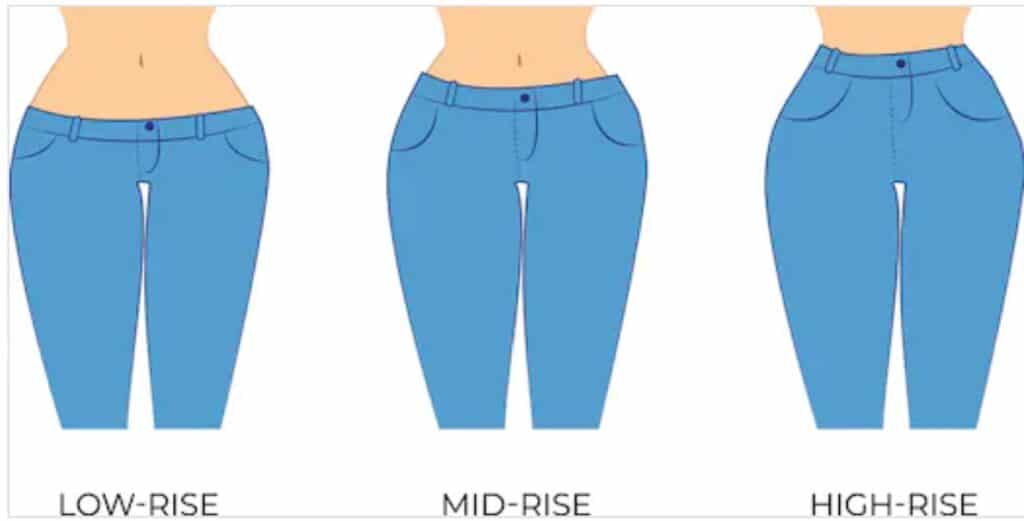 Ok, so now that we've established what exactly the rise of denim refers to, there are two rises that are best suited for women over 50.
Mid-rise or high rise
Mid-rise and high-rise are the winners!
These two rises help to flatter your midsection or to create a more defined waistline if you don't have a natural definition. Another reason mid + high rise is best for mature women is that the higher the rise the more of a slimming effect it has on your legs and waist.
Let me explain.
When you wear pants that have a higher rise, like a mid or high rise, it creates the illusion of a longer leg line. That illusion helps to elongate your entire shape which aids it in helping create that slimming effect I mentioned.
Avoid low rise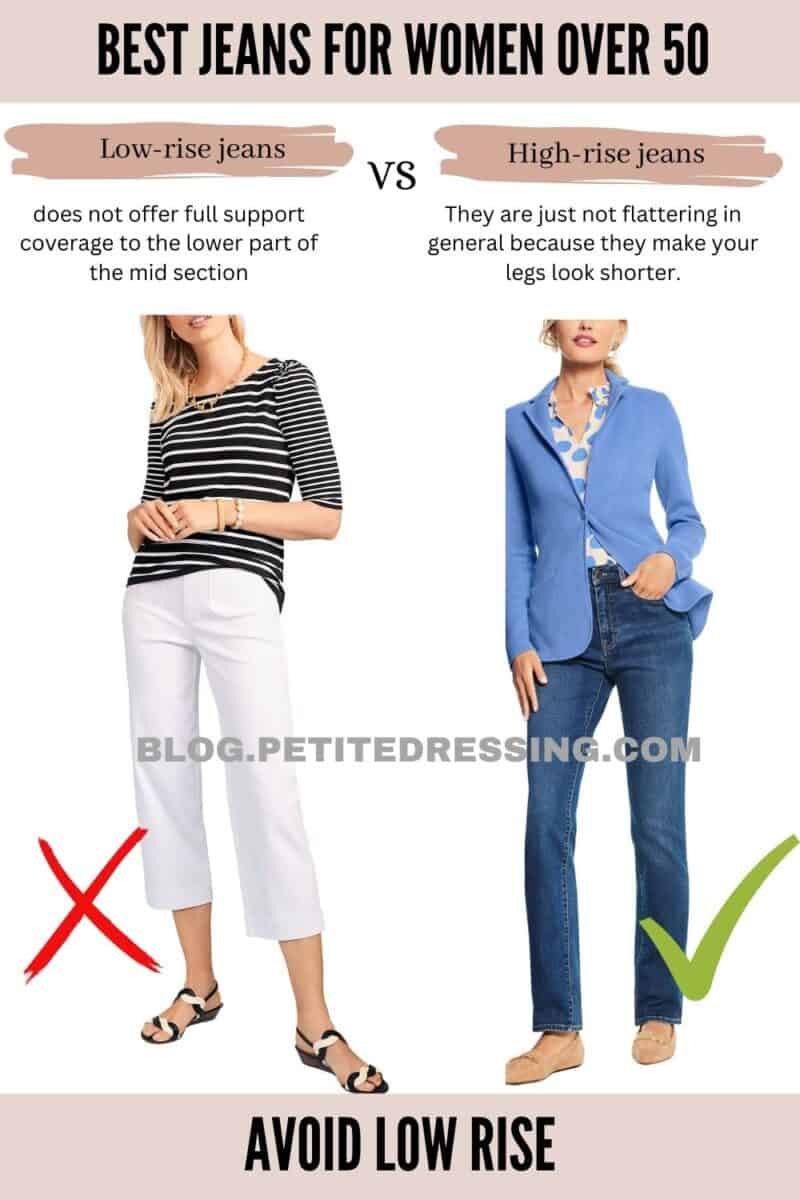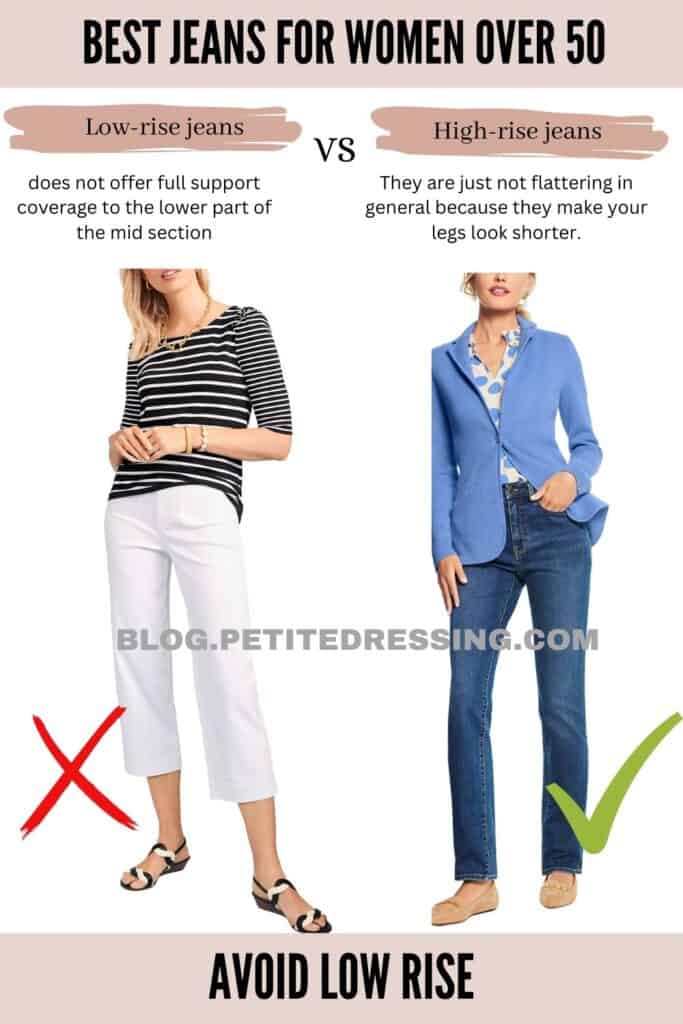 Even though low-rise jeans is making a comeback this year, I do not recommend anyone over 30 to wear it.
They are just not flattering in general because they make your legs look shorter. In addition, when you sit down, you have to worry if your undies are properly covered.
Best Length over 50
The key to selecting the length of the most flattering jeans is to focus on creating a long and lean silhouette for your bottom half.
This applies to women of all age, but when you are over 50, this can be critical.
The reason is at this age most of us would carry some weight in our midsection, or perhaps on our hips, or thighs.
Therefore, choosing the right length can be important to balance out our otherwise might be "bottom heavy" shape.
Since jeans length has a lot to do with the leg shape, here's how you can find the idea length for each of these types of jeans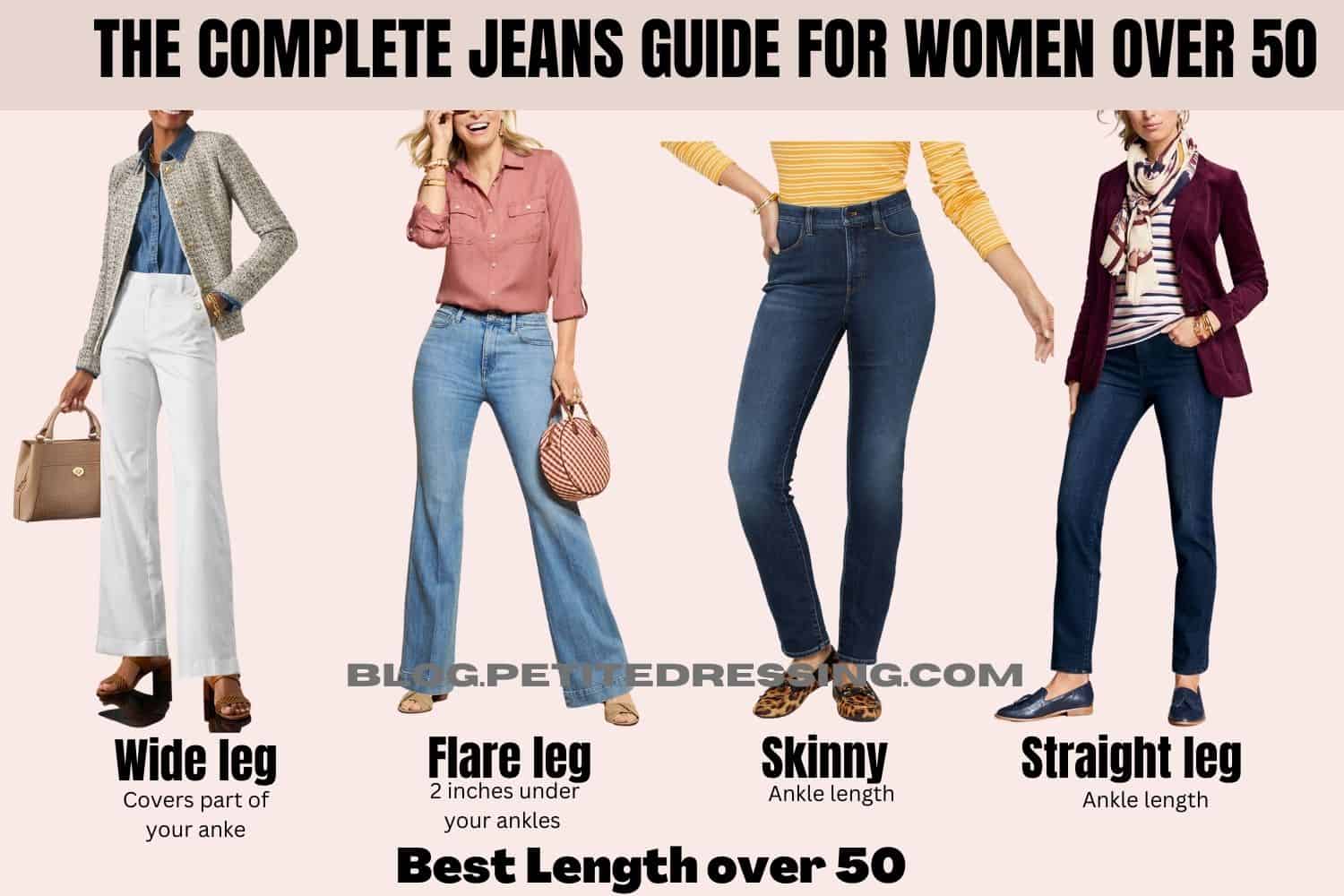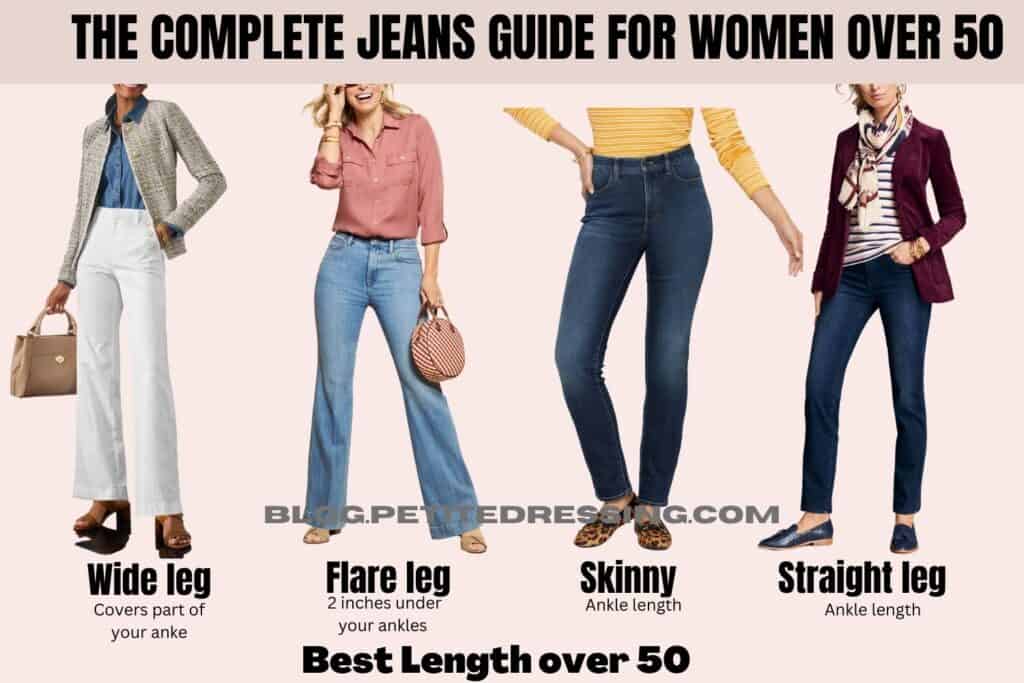 Wide leg
Go as long as you can handle it. The longer they are, the longer they can balance out the with of. the leg shape.
When you are wearing heels, make sure your jeans cover part of your heels but do not bunch up in the front of the shoes.
Flare leg
The ideal length is 2 inches under your ankles
Wear with low heels to maximize the leg elongating effect of the flare jeans.
Skinny
Avoid skinny jeans bunching up on your booties. If you notice that, it is a sign your jeans is too long.
In that case, cuff your jeans, or hem them.
Ankle length is the best
This will make sure you can either wear them with flats or pair them with boots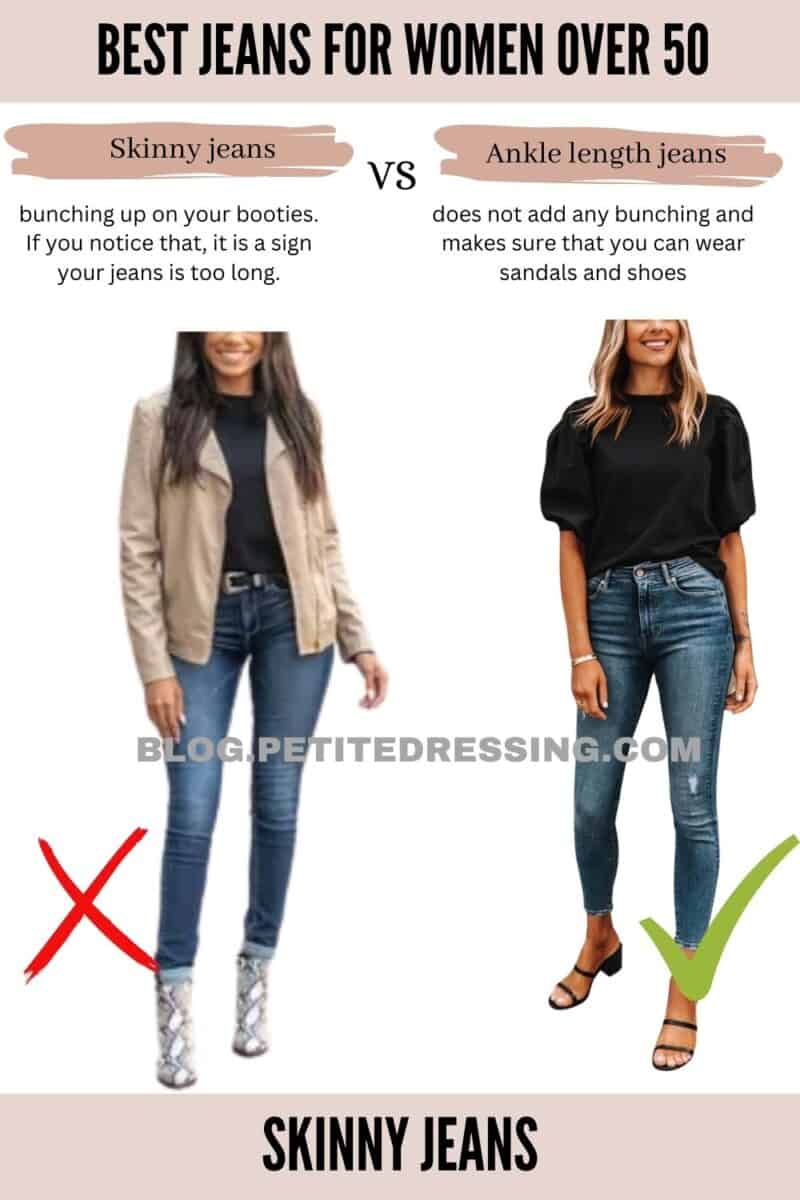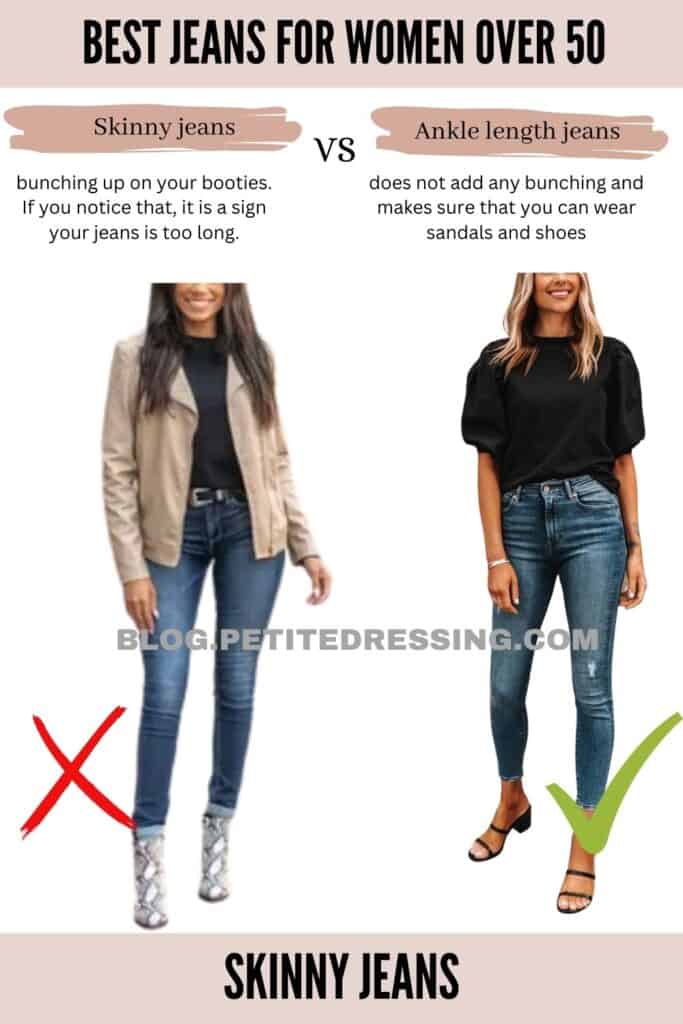 Straight leg
Length recommendation with straight-leg jeans
Ankle length is ideal, as it makes sure you can wear it with sneakers, flats or booties
If you intend to wear them with heels, choose a length 2-3 inches longer than your ankle length
Best Jeans Wash over 50
Yes, there are certain denim washes that are going to be more flattering when you're a woman over 50.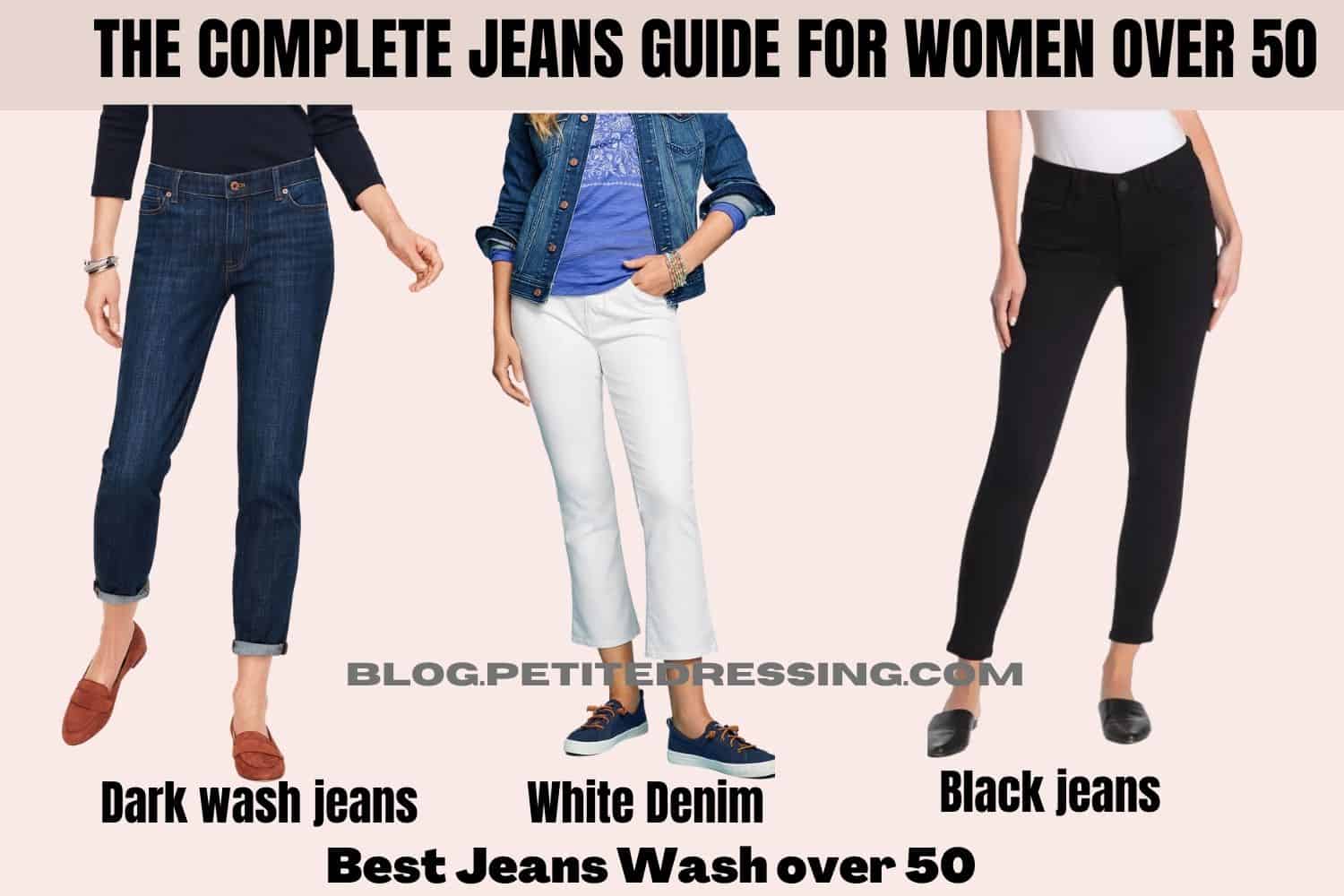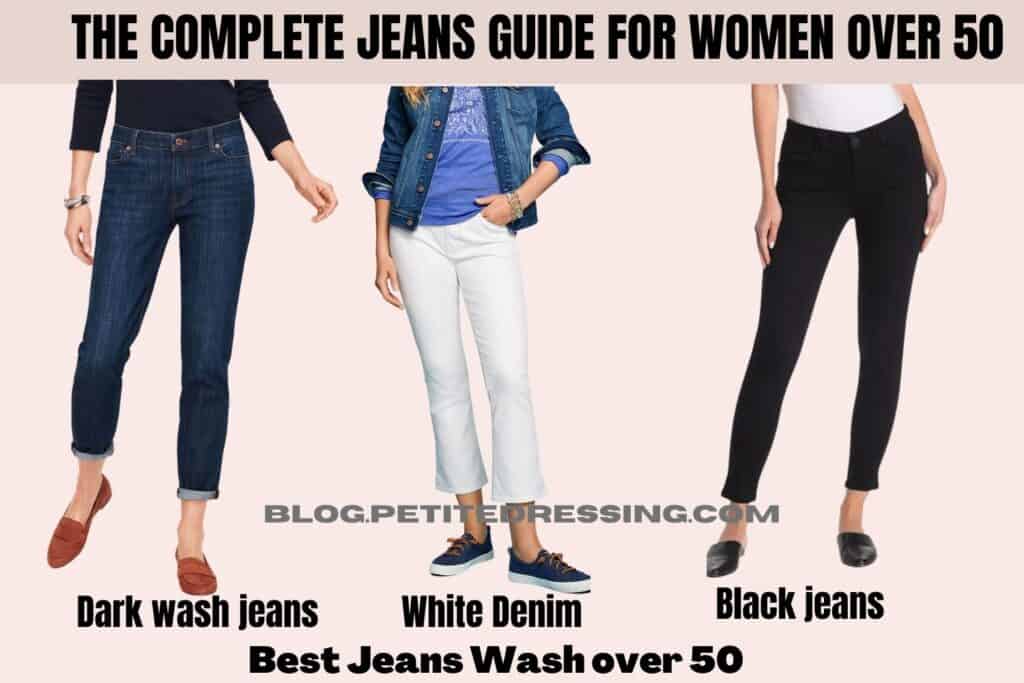 Dark wash jeans
While there are exceptions to things, in general, darker-wash jeans are best for mature women.
The reason? There are a couple reasons!
First, a darker wash of jeans tends to be much more figure flattering.
Do you know how black is known as a 'slimming' color? Well, dark-wash jeans have a similar effect.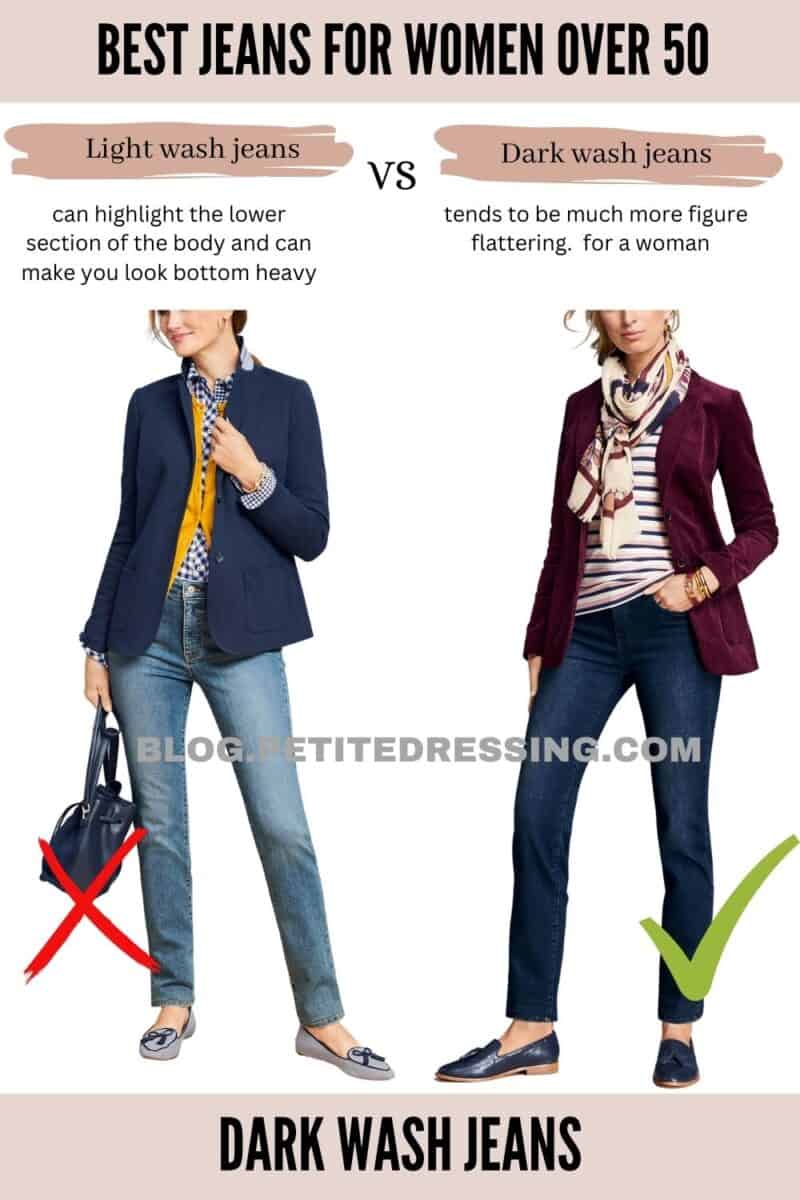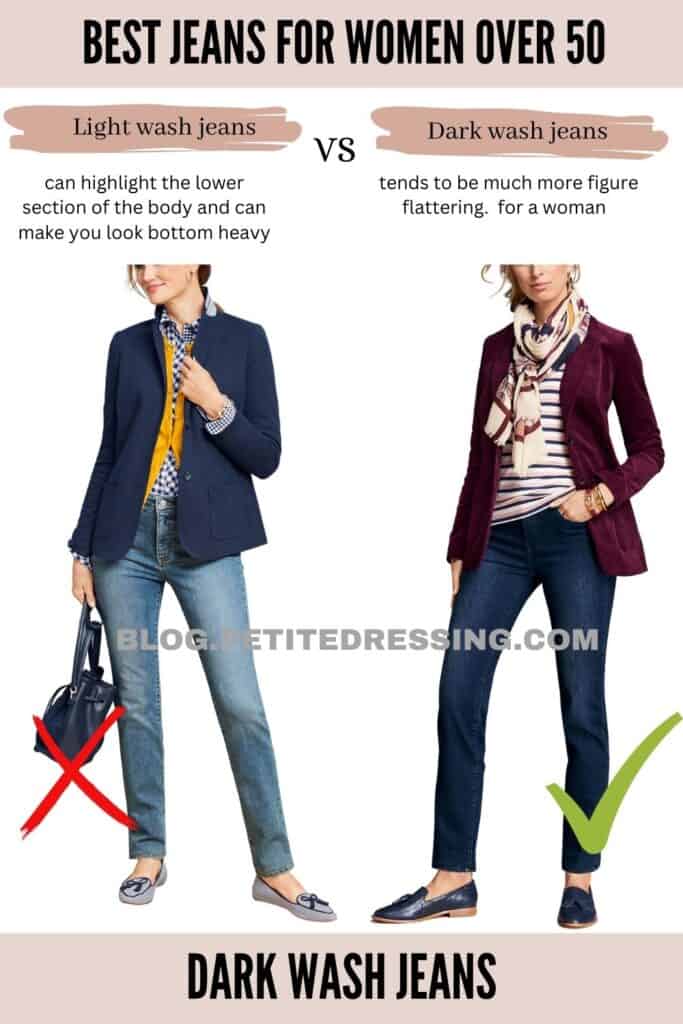 In addition to the figure-flattering aspect, dark wash denim also lends to a more age-appropriate wash. Light, distressed denim is fun but it often leans toward a more youthful vibe that doesn't always flatter a mature woman. Stick to the classic jeans in a darker wash to give you a modern, updated appeal that's also age appropriate.
White Denim
I don't want to confuse you, but I do want to give you another jean wash that can be a great choice for women over 50. You may be surprised but WHITE denim is another great choice for you.
White is different from light-wash denim because it's a crisp, fresh, modern aesthetic denim.
The reason they are a great choice for women over 50 is that they look really youthful and they go pretty much with anything in your summer closet!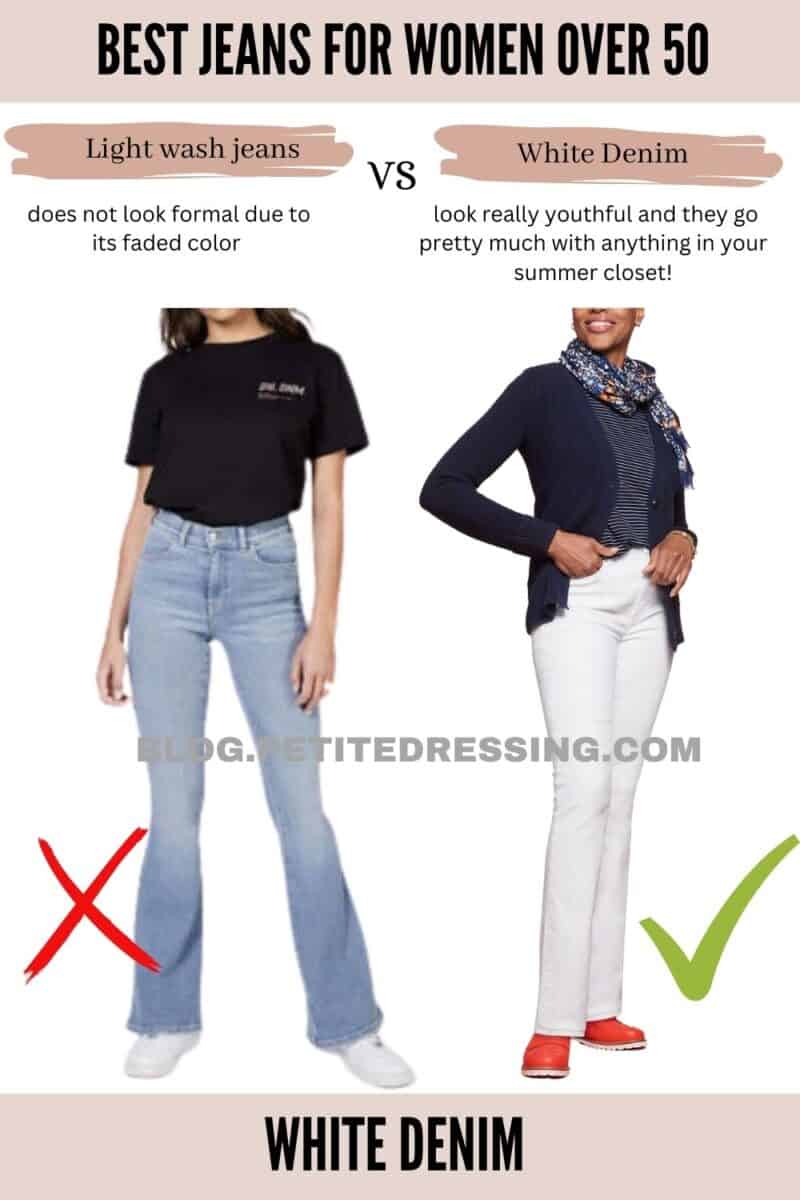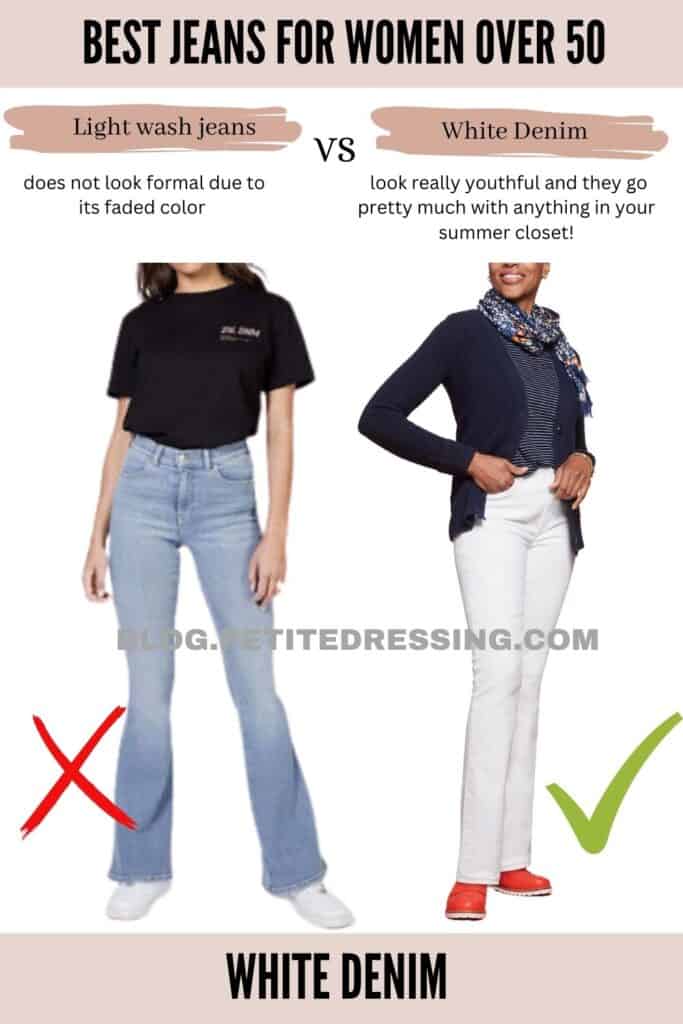 White is different from light-wash denim because it's a crisp, fresh, modern aesthetic denim. The reason they are a great choice for women over 50 is that they look really youthful and they go pretty much with anything in your summer closet!
Black jeans
Ok, ok so the last denim wash to consider: is black.
This one may go without saying because, well…black is black and it's always a great choice. But I wanted to mention it because sometimes it's an overlooked wash in regard to jeans!
Caution with Distress
While we're on the topic of jean washes, I'll address the elephant in the room: distressing. I know this is an area woman over 50 struggle with when selecting denim jeans. Especially since it can often feel like ALL denim has to distress on it.
I generally suggest staying away from a lot of distressing on your denim jeans when you're a woman over 50. Similar to the way light wash jeans can look too young, a lot of distressing on jeans can have the same effect.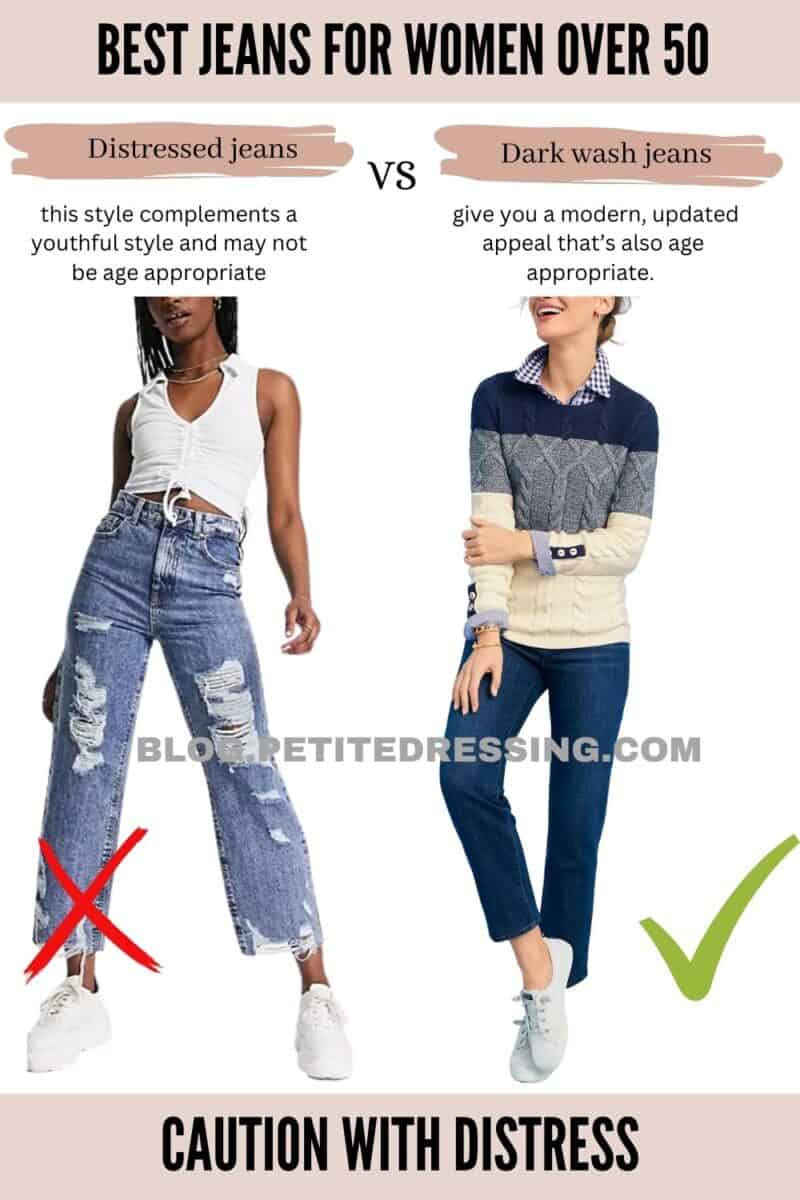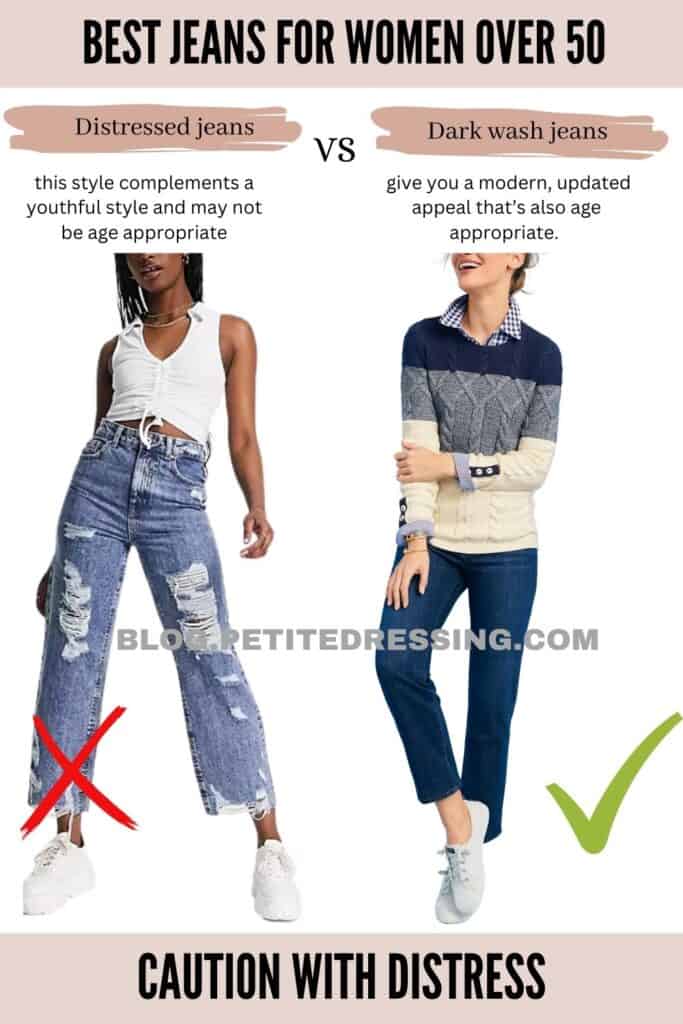 As a mature woman, stick to a more classic style/wash of denim jeans. The less distressing and 'stuff' on denim the more classic it looks and classic style choices are a woman over 50's best friend.
Best Leg Shape Over 50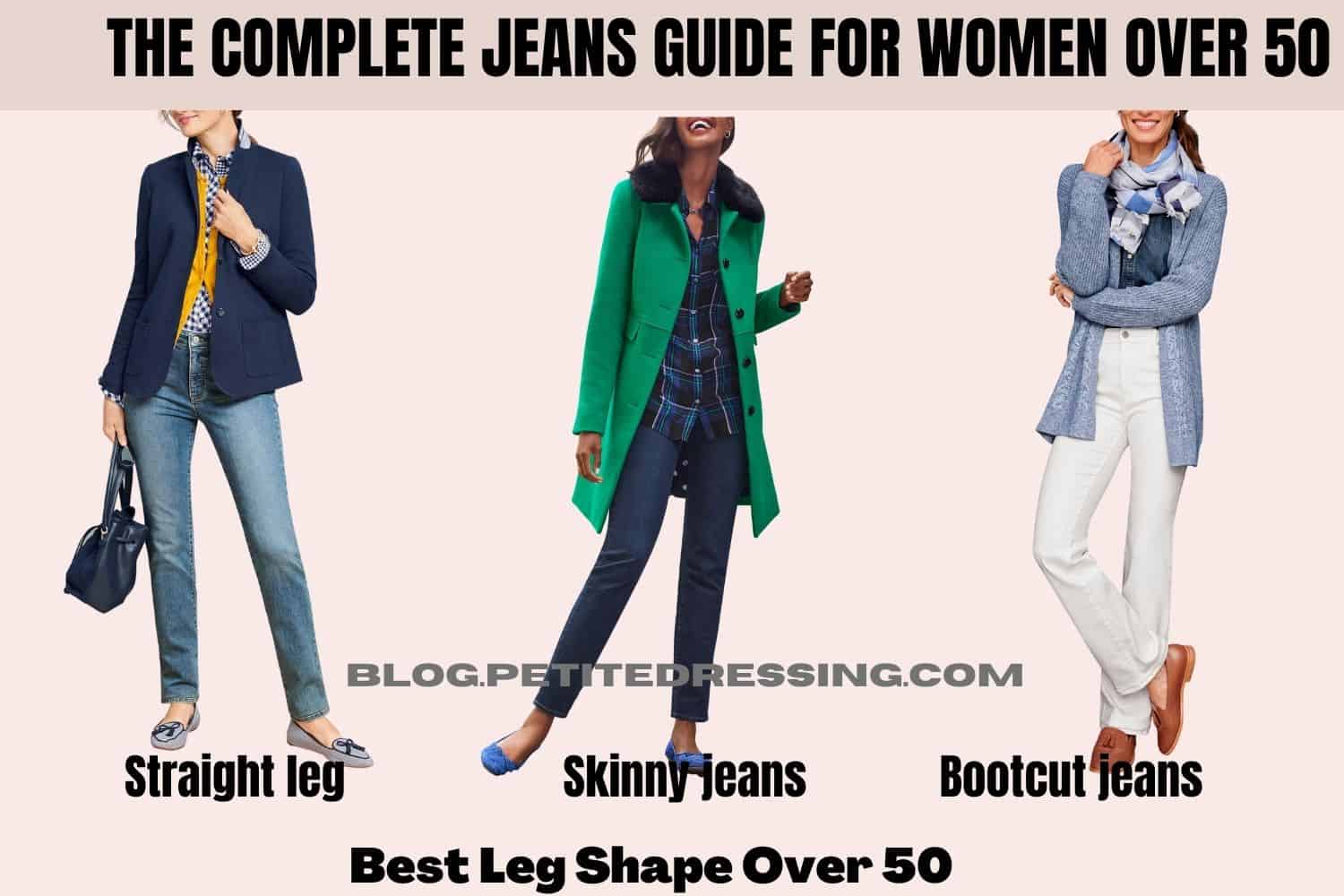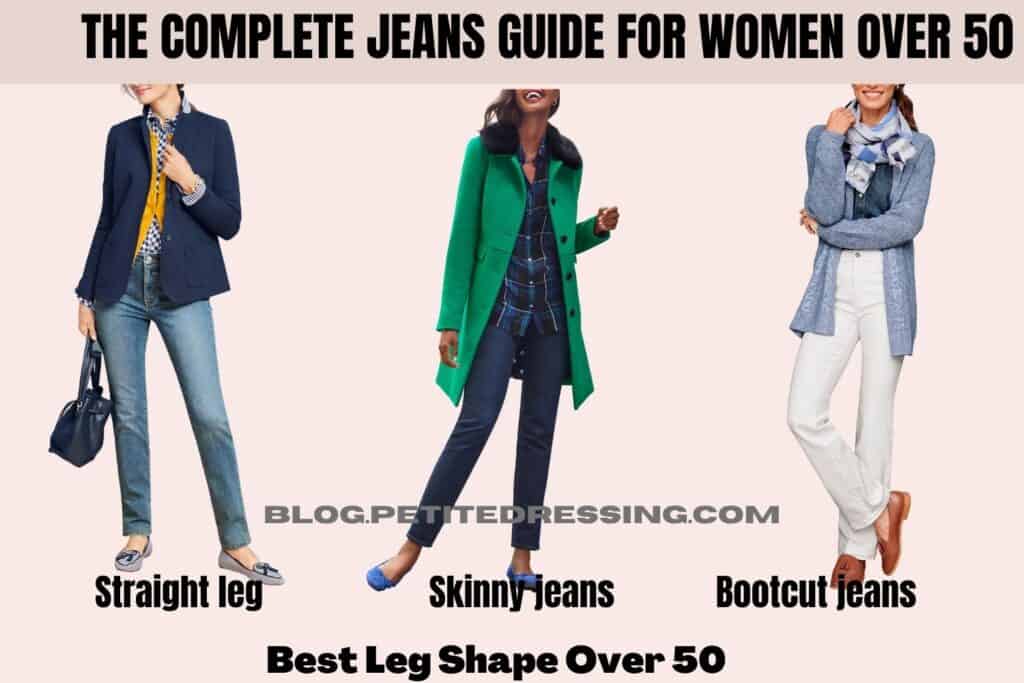 Now that we've established some of the basics you need to look for when choosing the best jeans, let's get into one of the biggest factors to consider: the silhouette of your jeans. I'm sure I don't have to tell you the actual fit, or silhouette, of your jeans is really the focal point of the jeans as a whole. Unfortunately, not all jeans fits are flattering for everyone.
Straight leg
First up, one of the best jean silhouettes for women over 50 is a classic straight-leg denim fit. Straight-leg jeans have maintained their classic denim appeal for YEARS now, and with good reason!
One of the main reasons is that it's a jean style that's universally figure-flattering. Yes, straight-leg jeans look good on every body type.
More than just being figure flattering, the classic aesthetic of straight-leg jeans is also flattering on a mature woman aesthetically.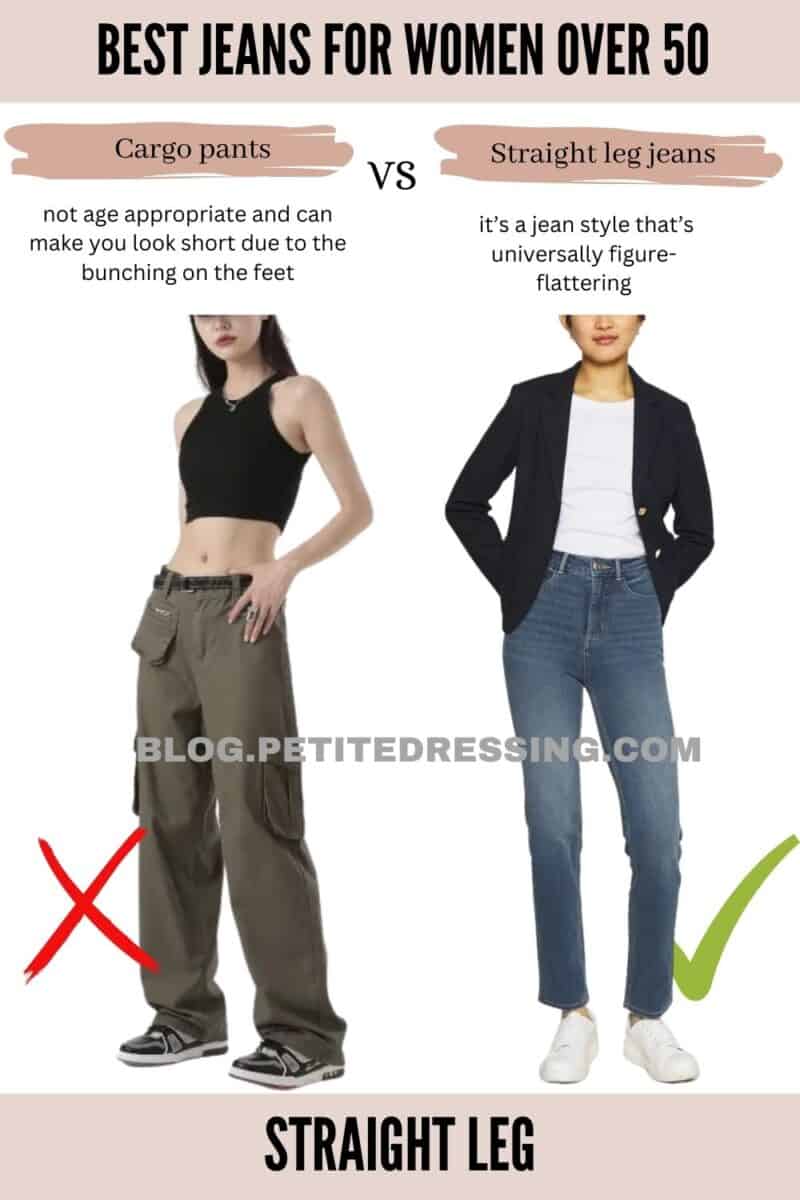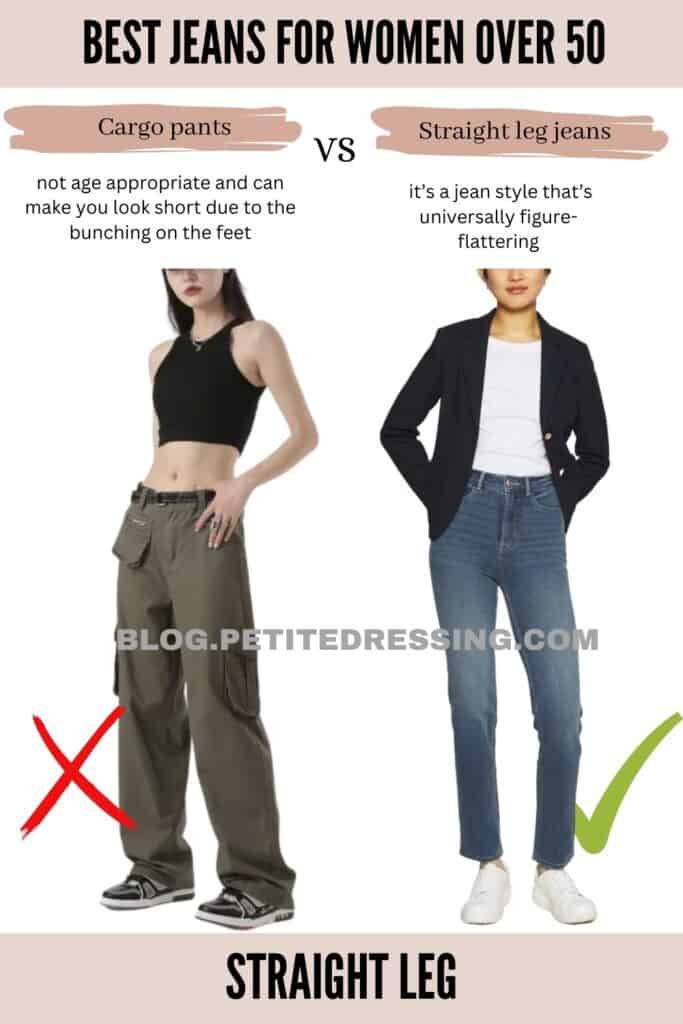 Skinny jeans
Another great jean silhouette for women over 50? Skinny jeans!
This one may come as a surprise, especially because skinny jeans can feel intimidating for a lot of women. However, skinny jeans are incredibly flattering for women over 50 because it's a simple silhouette that fits close to the body to enhance your natural shape.
I get those skinny jeans are meant to fit close but you want a happy medium on the fit. Skinny jeans that are too tight have the reverse effect and end up NOT being flattering at all.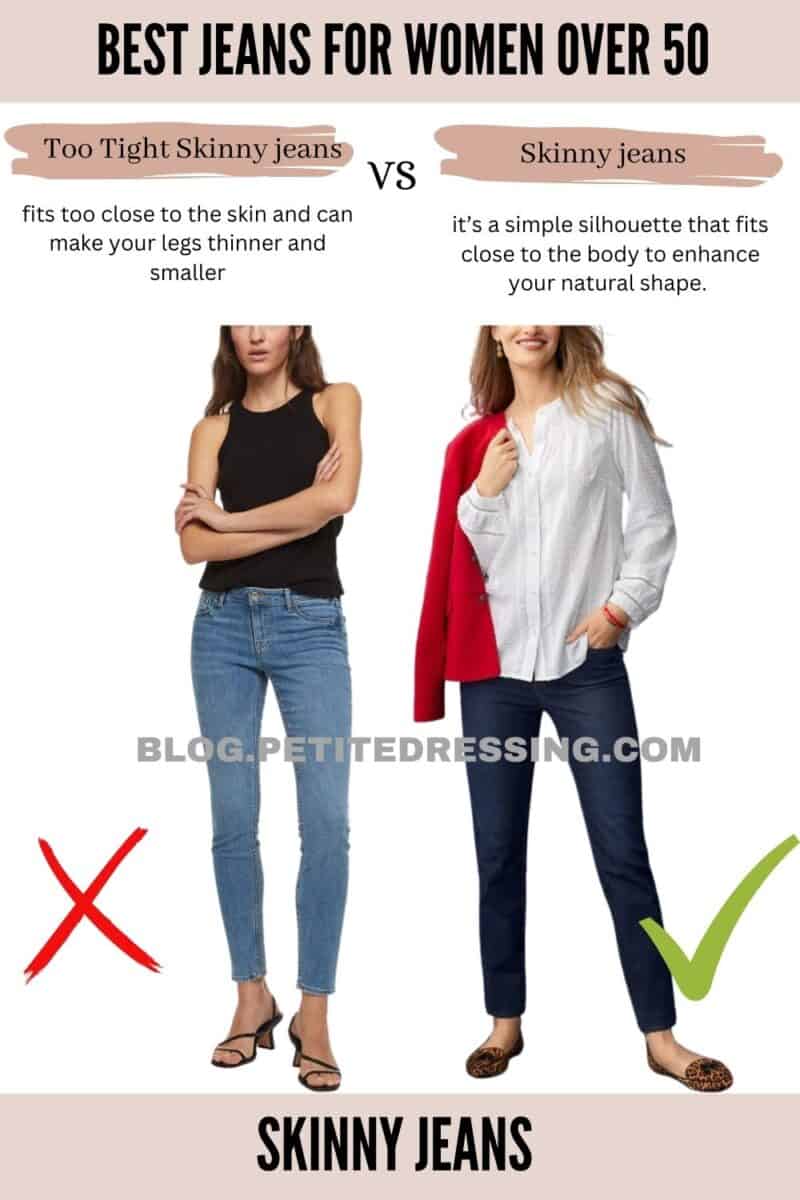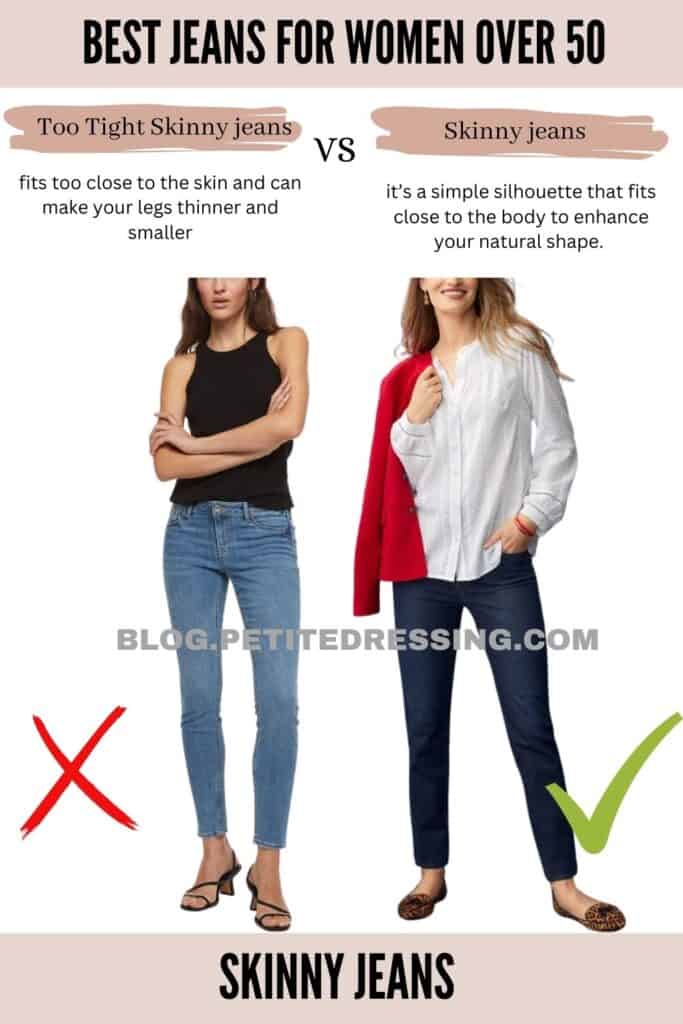 I will say when choosing skinny jeans for a mature woman, it's essential that you stay away from skinny jeans that are TOO tight.
You also need to wear skinny jeans with the right shoes to create the look for different outfits.
Bootcut jeans
Last but certainly not least, another one of the best jean silhouettes to try is a boot cut. You may notice a theme by now: the best silhouettes for mature women are the classic options.
Since the boot cut just has a slight flare at the bottom, the silhouette isn't too voluminous or bold – making it a great choice for women 50+.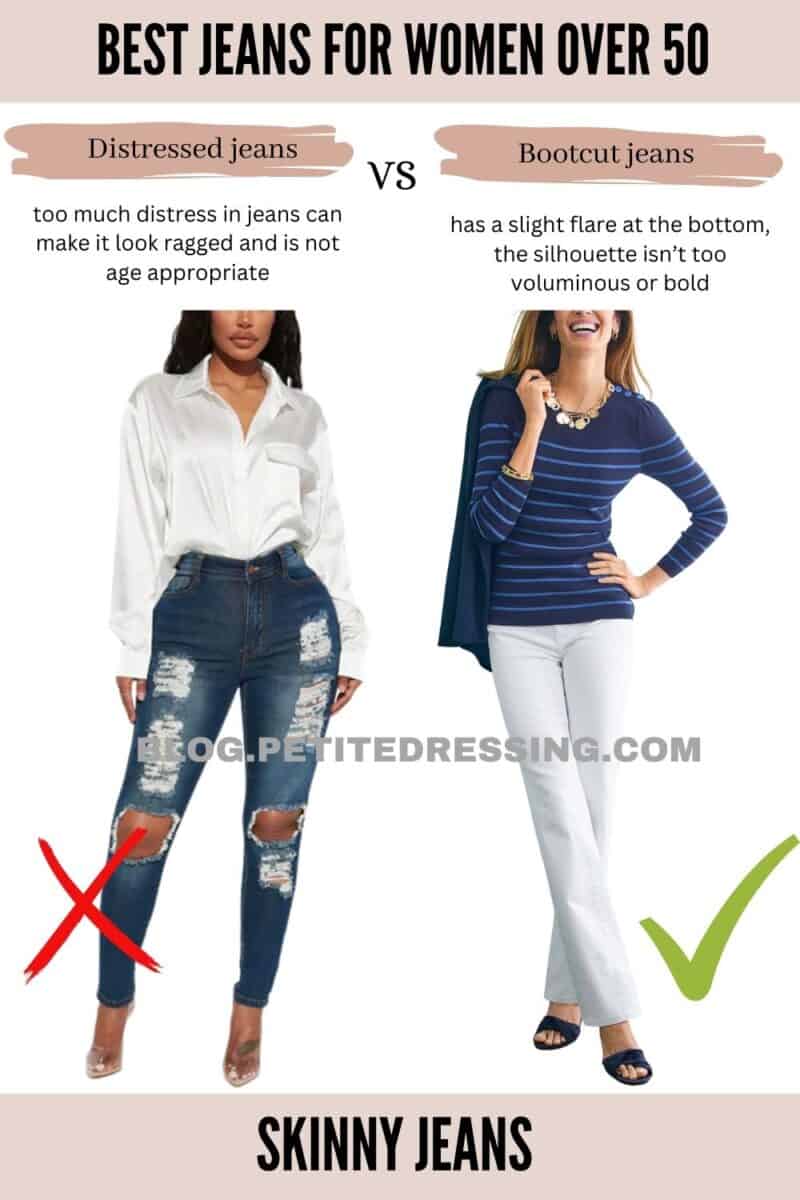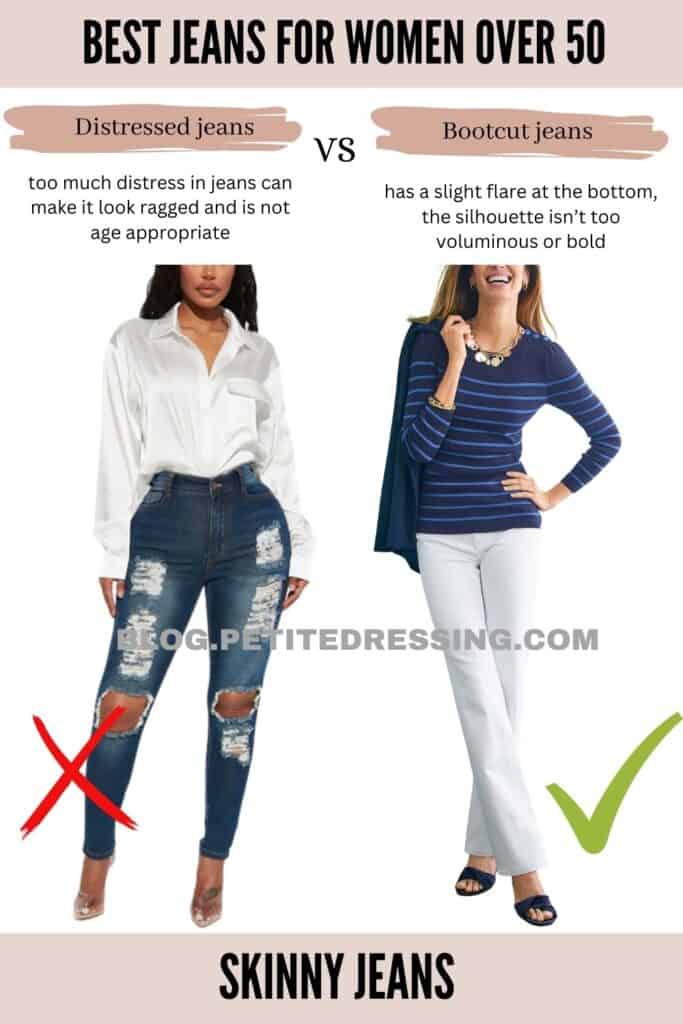 Fabrics
You've likely tried jeans on that are made of different materials throughout your life. The great thing about jeans today is all the variety available.
Stretchy fabrics
When denim has stretch they're more likely to fit to the body in a more natural manner, giving you fit AND comfort.
Major focal points when you're a woman over 50 – gone are the days of sacrificing comfort for style.
Generally, I find jeans that offer some stretch are the best for mature women.
When you have denim with natural stretch or spandex, they're SO much more comfortable to wear. In addition to the comfort factor, stretch denim tends to be more flattering.
Jeggings
I'm always about finding jeans that are a mix between a legging and a jean – these options give you ALL the comfort and style you'll feel great wearing all day long.
The best way to make jeggings look flattering is to wear them with a pair of tall boots.