Skirts look ever so beautiful on women of all age groups. But wearing skirts in your 50s can be tricky. You have to choose the right length, design, and print and pair it with the right top for a perfect look.
We have got a complete skirt guide for women over 50s. You'll learn what sort of skirts are the best in this age group and how you can style them up in a different way. So, let's get started!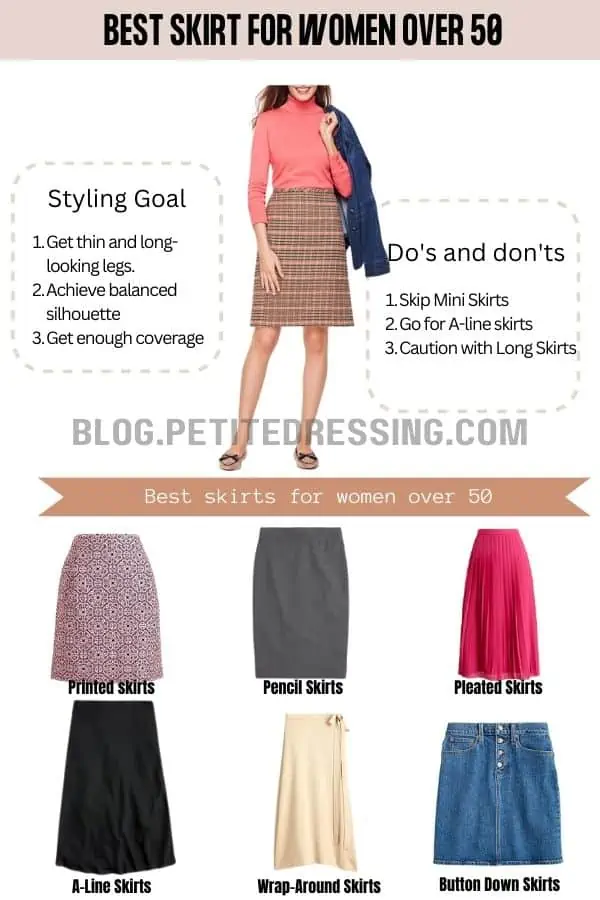 How to Choose the Best Length
You are never too old to wear a skirt. You can wear it as long as you feel comfortable in it.
For a 100% comfort level, you have to find a suitable length for you.
Skirts come in various lengths from full-length, mid-length, and short skirts. You can find a variety of sizes in these lengths as well.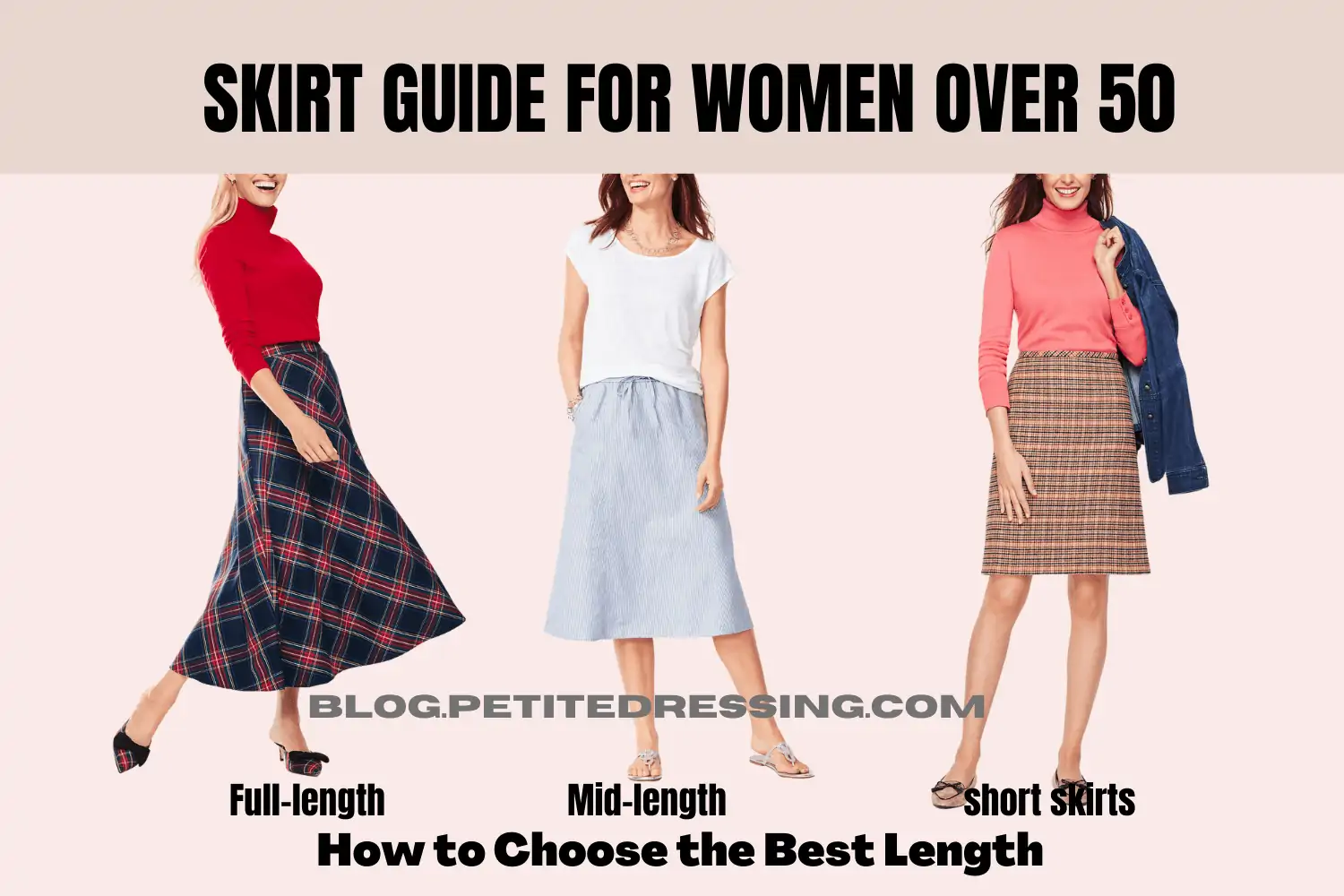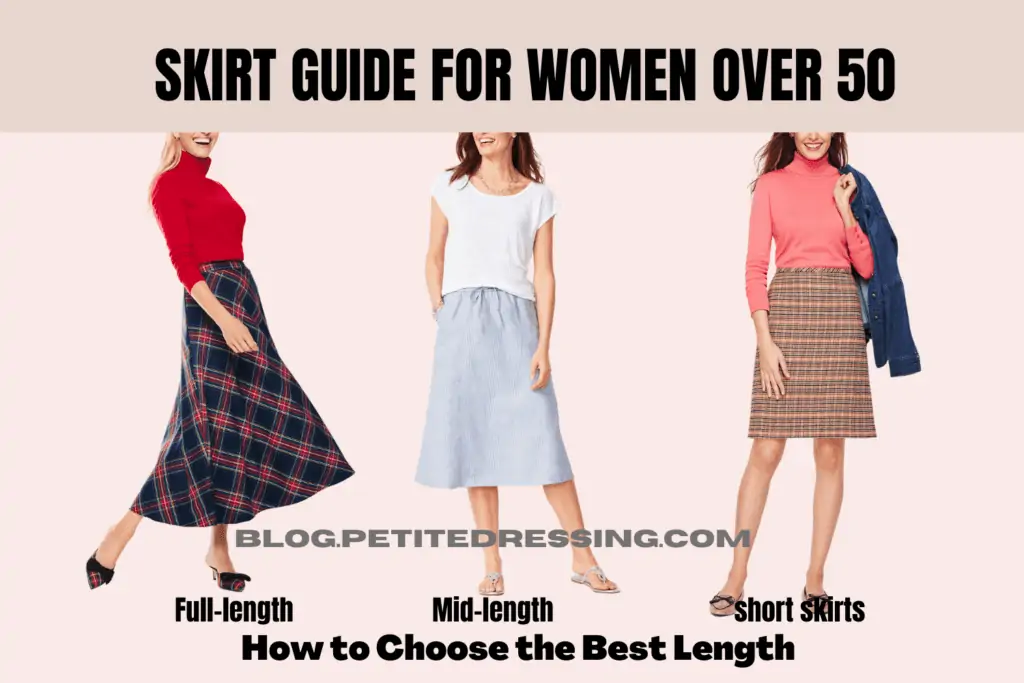 Many women in their 50s might not prefer mini skirts. So, they can go for a skirt that comes above their knees. This length of the skirt is suitable for different occasions and provides a put-together look.
Long flowy skirts look good in the summertime. Mid-length skirts are the most common as they look elegant on every occasion.
The best part about skirts is you can dress them up and down no matter which length you choose. So, it depends on your taste and preference to choose a suitable length.
Women with long torsos can go for high-rise skirts. They will make your legs and torso length look balanced.
If your legs are short, wearing mid and short-length skirts is suitable. Wearing skirts that come above your ankle but below your knees also fit well here.
Choose the Right Skirt for Each Occasion
While skirts do look gorgeous and provide a feminine look, you must consider the occasion you are wearing them on. Understanding the theme of the occasion before choosing your outfit will always help you to dress amazingly.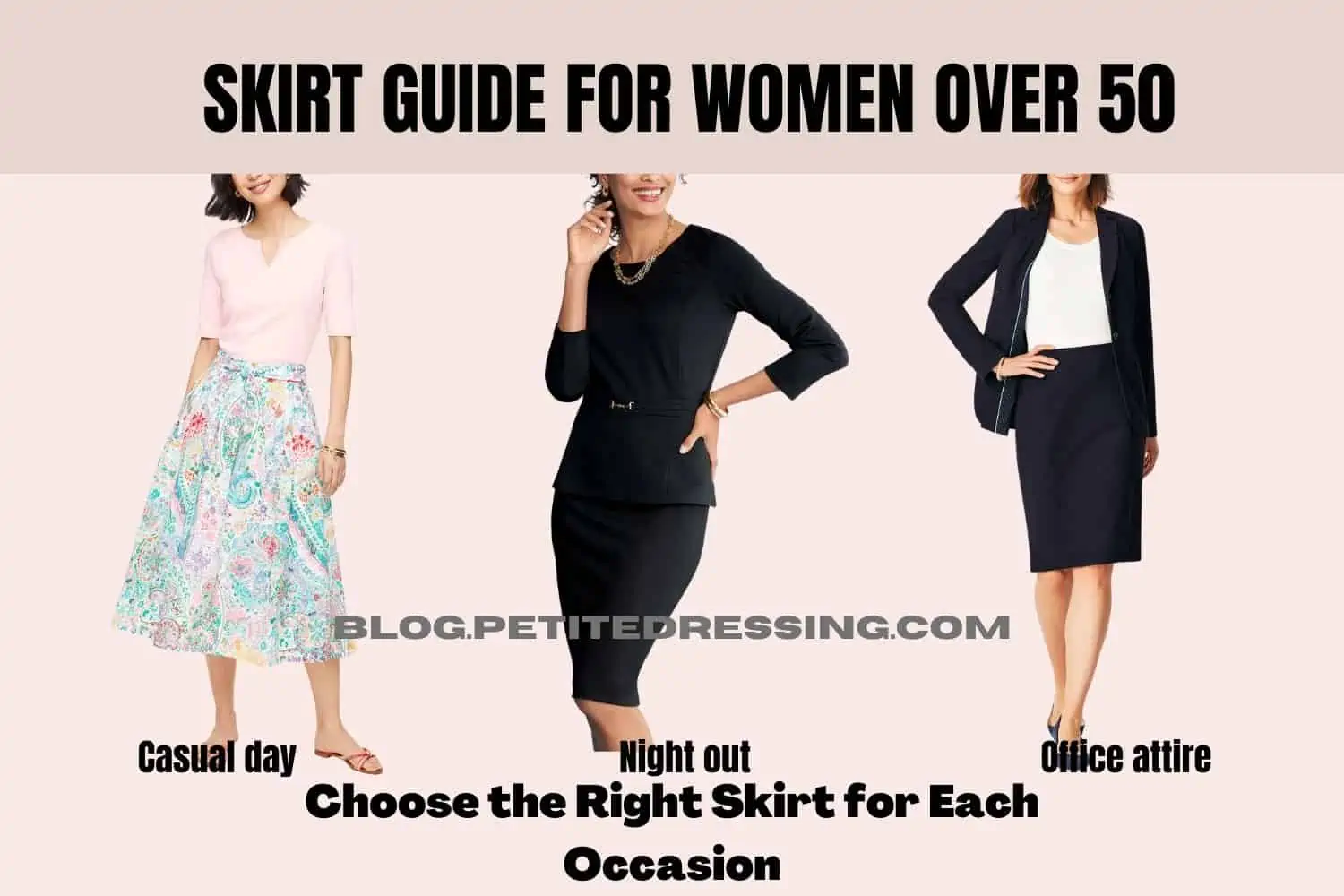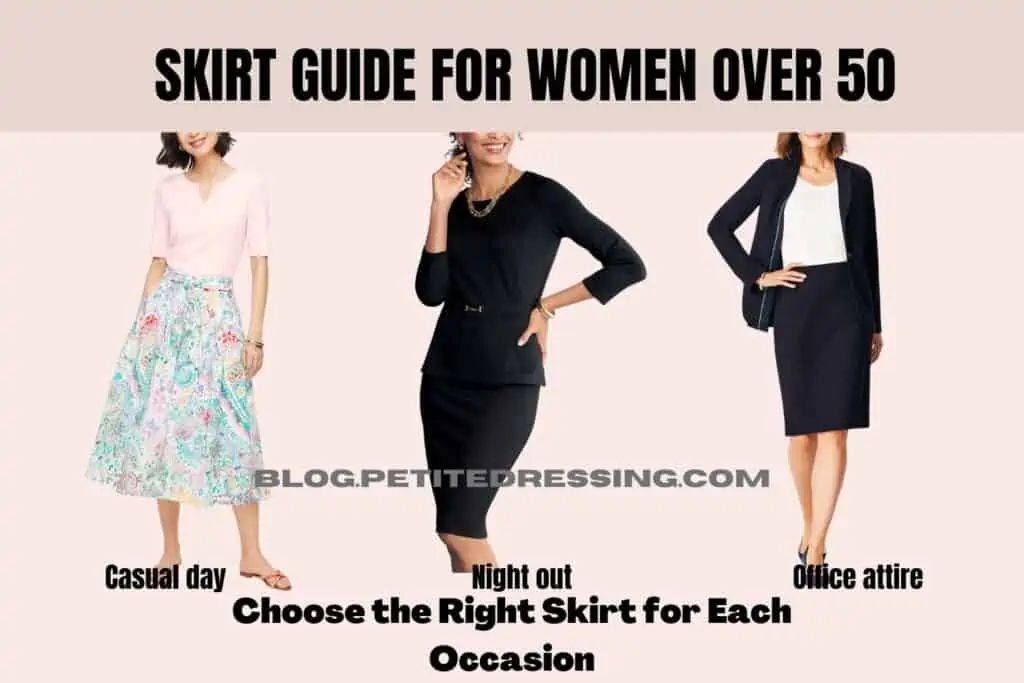 If it is a casual day out in the summer, flowy printed skirts or pleated skirts are a good option.
For a little formal look, mid-length skirts are better. But skirts with tulles won't be suitable for such a day.
For a night out, pencil skirts paired with shirts or peplum tops are a good option.
For your office look, avoid wearing flowy and long skirts. Mid-length skirts in pencil or A-line style are suitable for office attire.
Make your office attire more professional by going for a formal skirt with a matching blazer. It will make you look classy, age-appropriate, and stylish.
Keep printed, draped and wrap-around skirts for casual hangouts, vacations or beach days.
Printed skirts
Printed skirts with plain tops or matching printed tops look chic. For summer, floral designs are always in trend. They are easy to carry and make you look lively.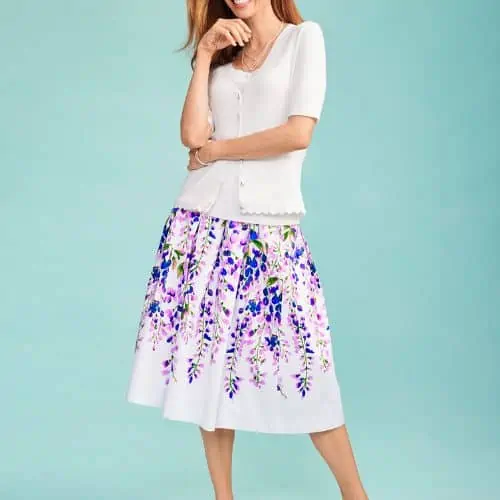 You can find a wide range of prints for skirts. Some good prints for women over 50 include:
Animal Prints
Polka Dots
Plaid Prints
Floral Prints
If you go for a printed skirt, you have to choose your top very carefully. Too many different prints in your outfit can look unsatisfactory.
Printed skirts look best with plain neutral-colored tops.
Pencil Skirts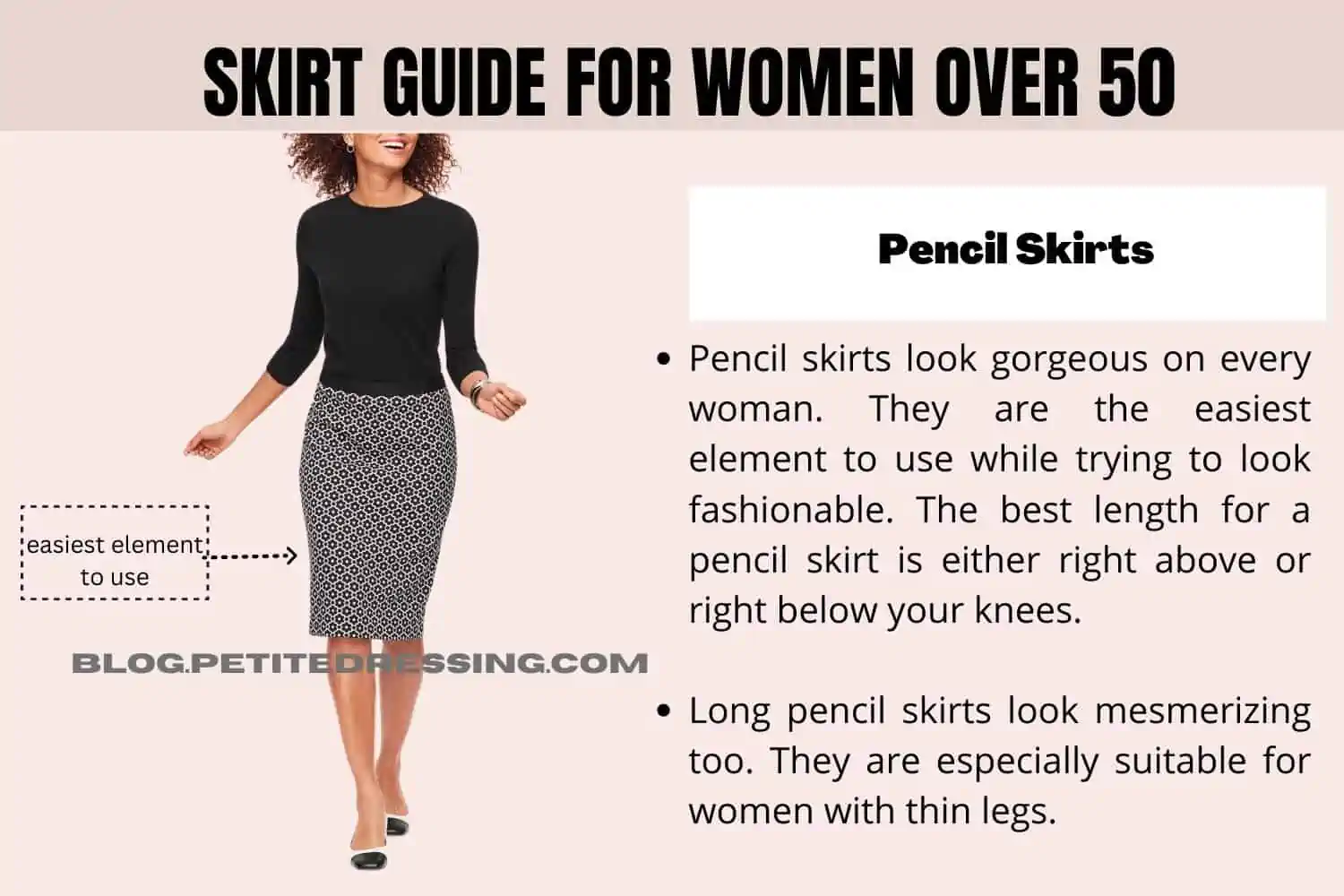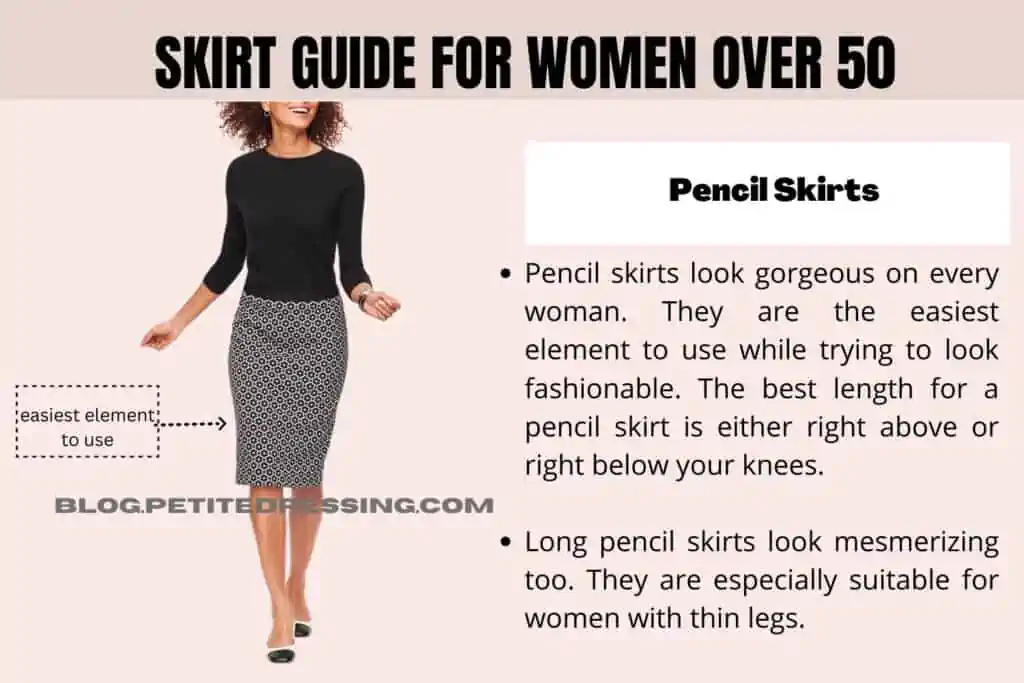 Pencil skirts look gorgeous on every woman. They are the easiest element to use while trying to look fashionable. The best length for a pencil skirt is either right above or right below your knees.
You can style pencil skirts in various ways. Get a pencil skirt that goes below your knees, and pair it up with a plain blouse and blazer for a formal look.
Long pencil skirts look mesmerizing too. They are especially suitable for women with thin legs.
You can tuck your top in the skirt if your torso is long. It will give an illusion of longer legs.
Pleated Skirts
Pleated skirts look modern, stylish, and subtle. They are suitable for all body types and allow free movement.
You can choose any length of a pleated skirt and pair it with a casual t-shirt. As pleated skirts are themselves quite roomy, don't go for flowy blouses.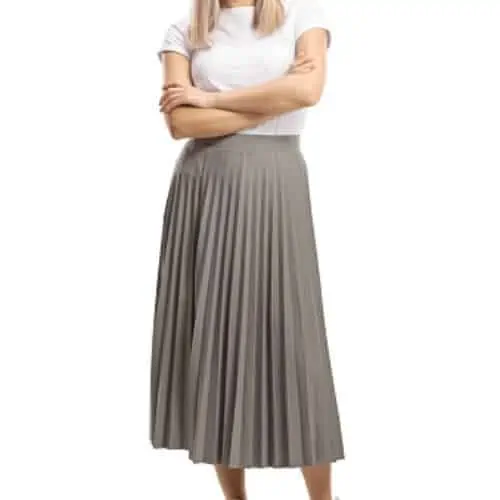 Pleated skirts are the best
Pleated skirts are the best if you don't want to flaunt your thigh fat. Get a length that comes below your knees.
You will get thin and long-looking legs.
A-Line Skirts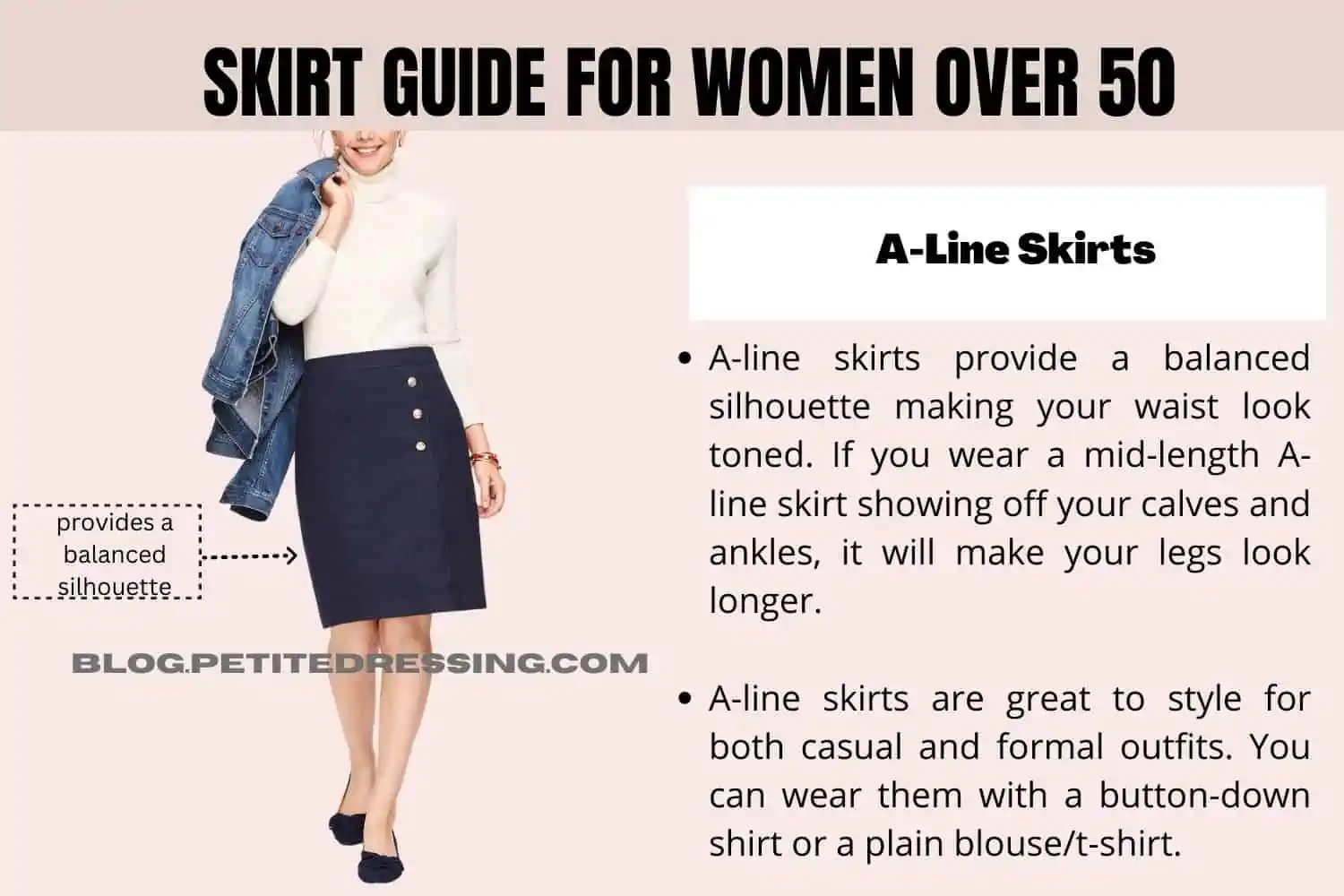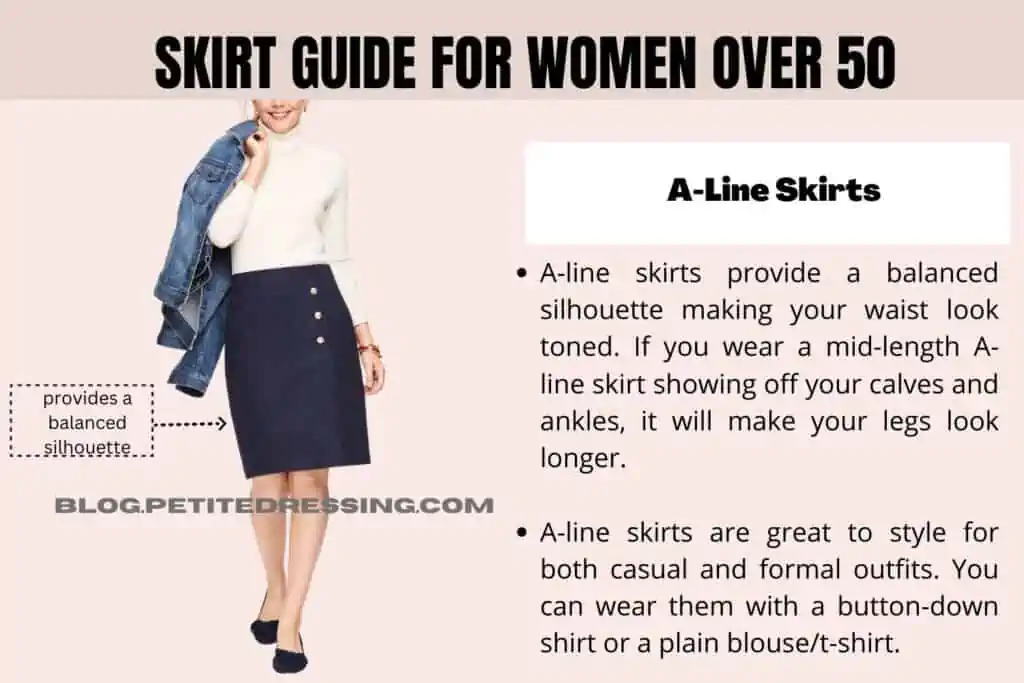 A-line skirts are the most common skirt style due to their versatility and ease of styling them up. They are age appropriate for women over 50 as they come in different sizes.
A-line skirts are neither too poofy to make you look chubby and not too small to accentuate areas you don't want to highlight. They are your best bet and a must have staple for women over 50.
A-line skirts provide a balanced silhouette making your waist look toned. If you wear a mid-length A-line skirt showing off your calves and ankles, it will make your legs look longer.
A-line skirts are great to style for both casual and formal outfits. You can wear them with a button-down shirt or a plain blouse/t-shirt.
Wrap-Around Skirts
Wrap-around skirts look good on a few occasions such as on the beach or on a sunny day out. They are comfortable to wear and also look modish.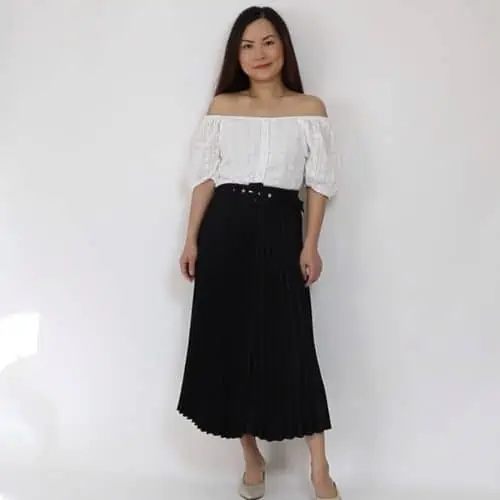 Why opt for wrap-around skirts
Wrap-around skirts make you look effortlessly good because of their design.
Pair such skirts with a plain mock neck t-shirt. Use a good pair of sandals to spice up the look.
Button Down Skirts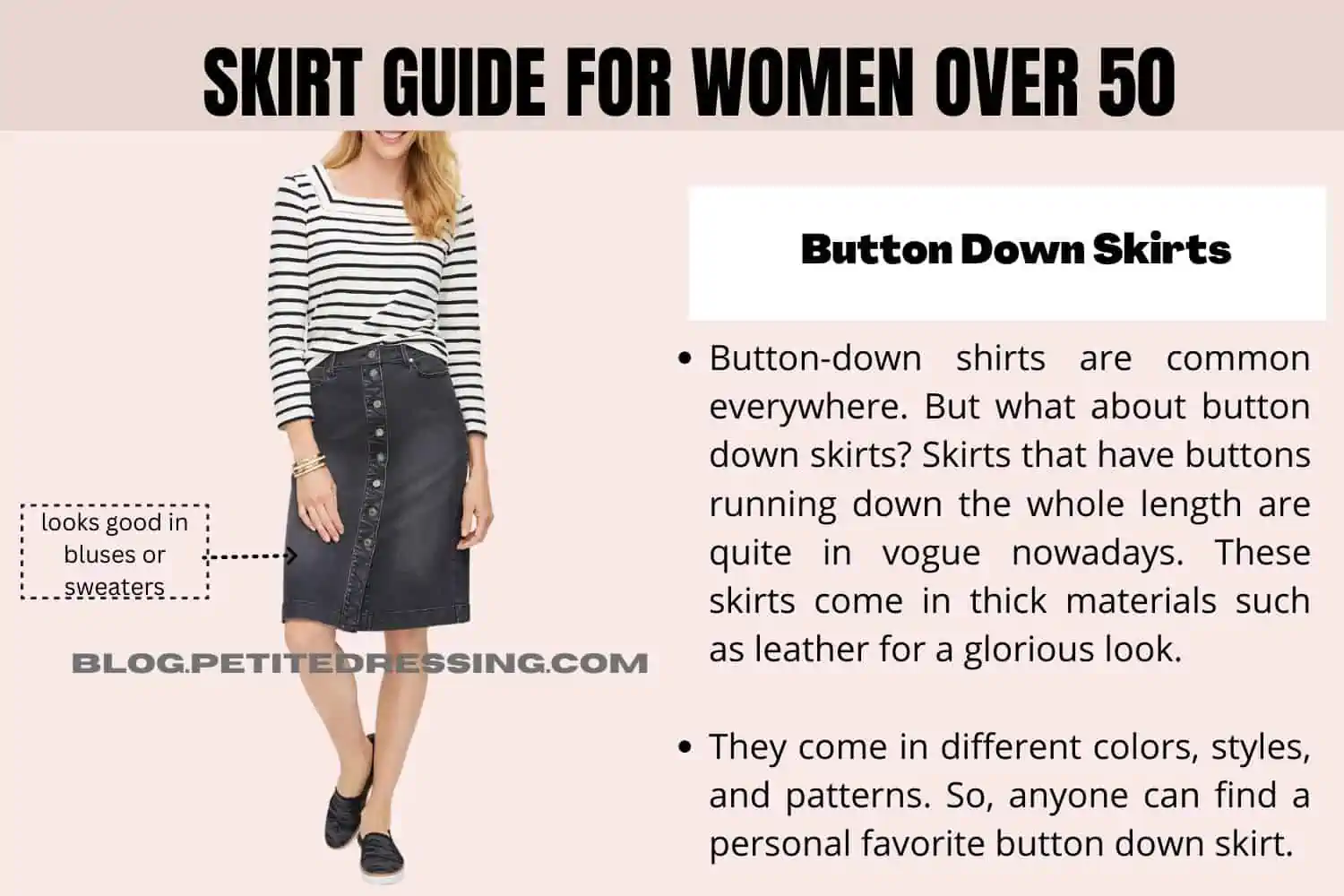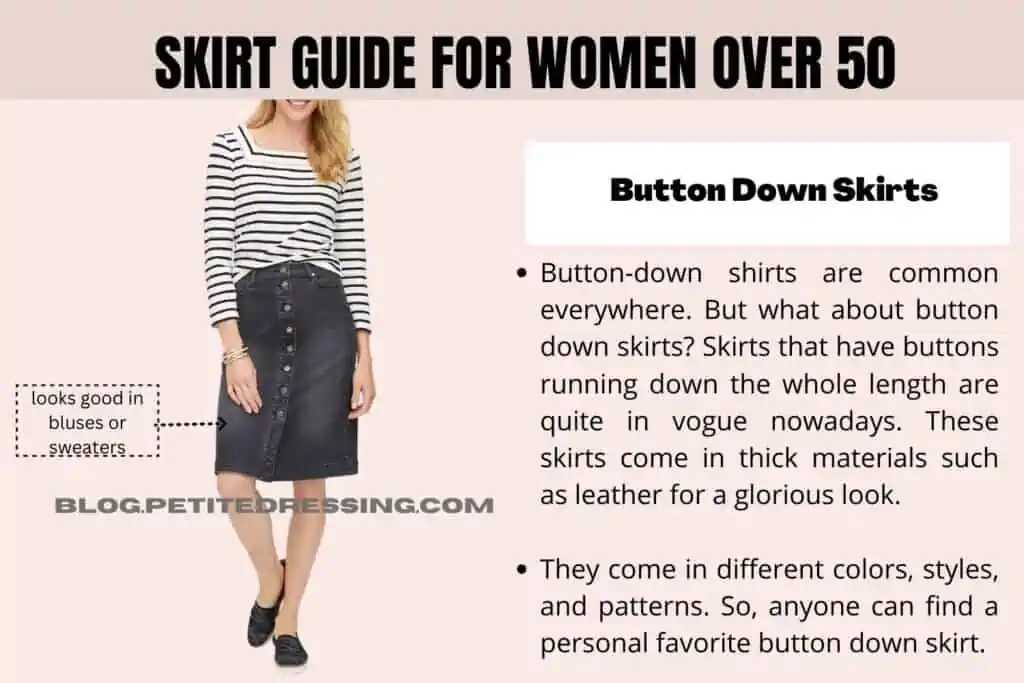 Button down shirts are common everywhere. But what about button down skirts? Skirts that have buttons running down the whole length are quite in vogue nowadays. These skirts come in thick materials such as leather for a glorious look.
Button-down pencil skirts look good with loose blouses or sweaters. They come in different colors, styles, and patterns. So, anyone can find a personal favorite button down skirt.
Slit Skirts
Skirts with a slit on the front or either side are like that one piece of clothing that looks ravishing without trying.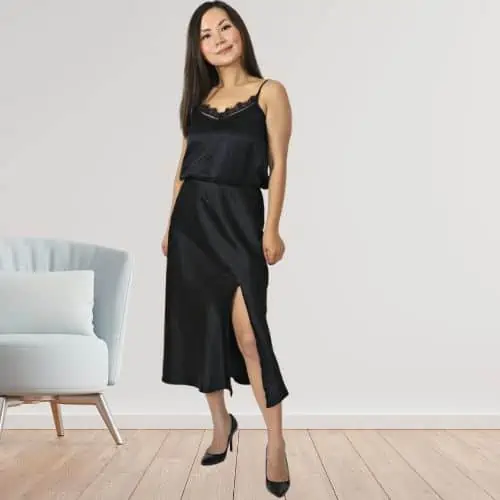 Good things about skirts with slits
They are perfectly airy for summer and look beautiful on everyone.
Whether you have thin legs or chubbier ones, you can flaunt a slit skirt.
Denim Skirts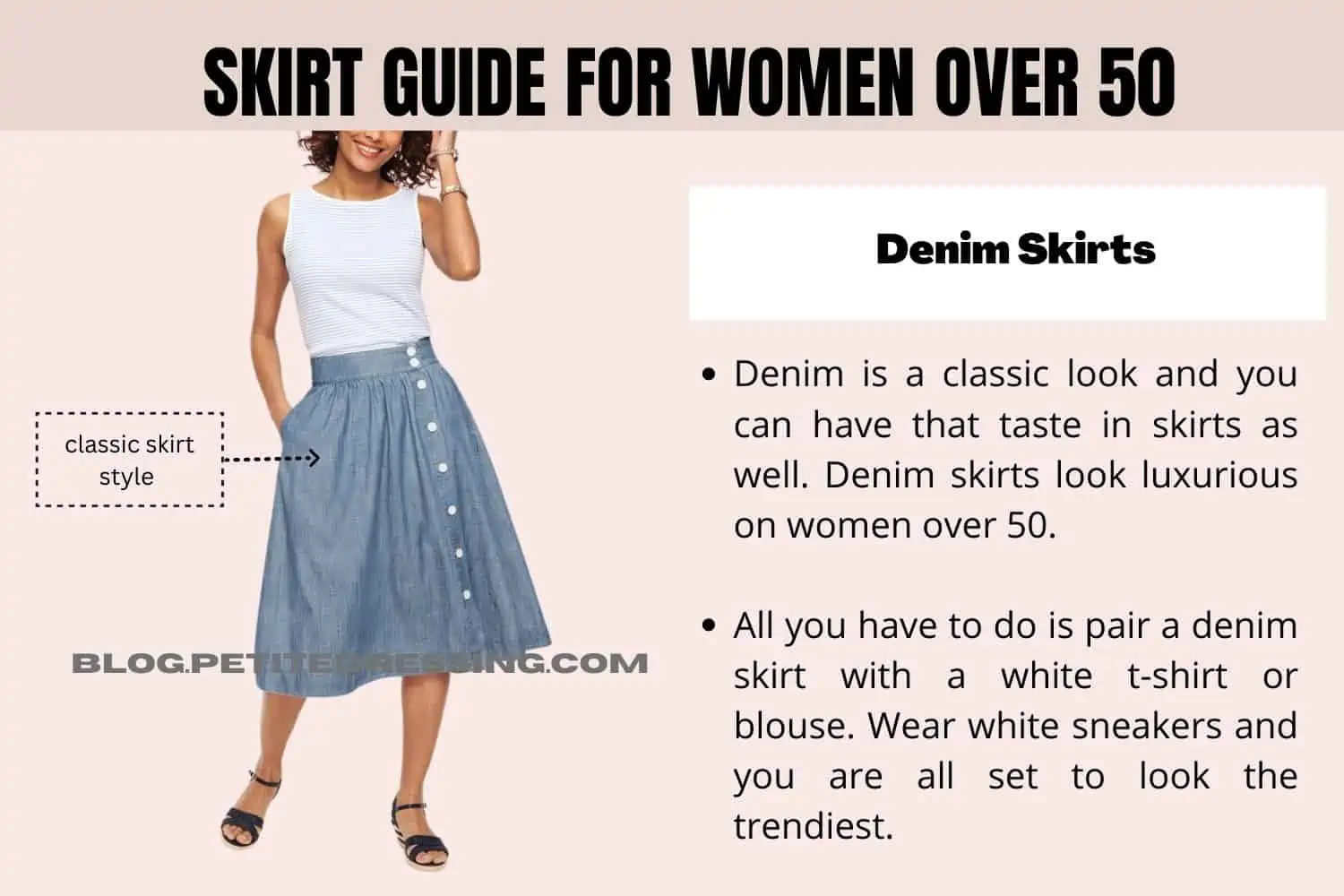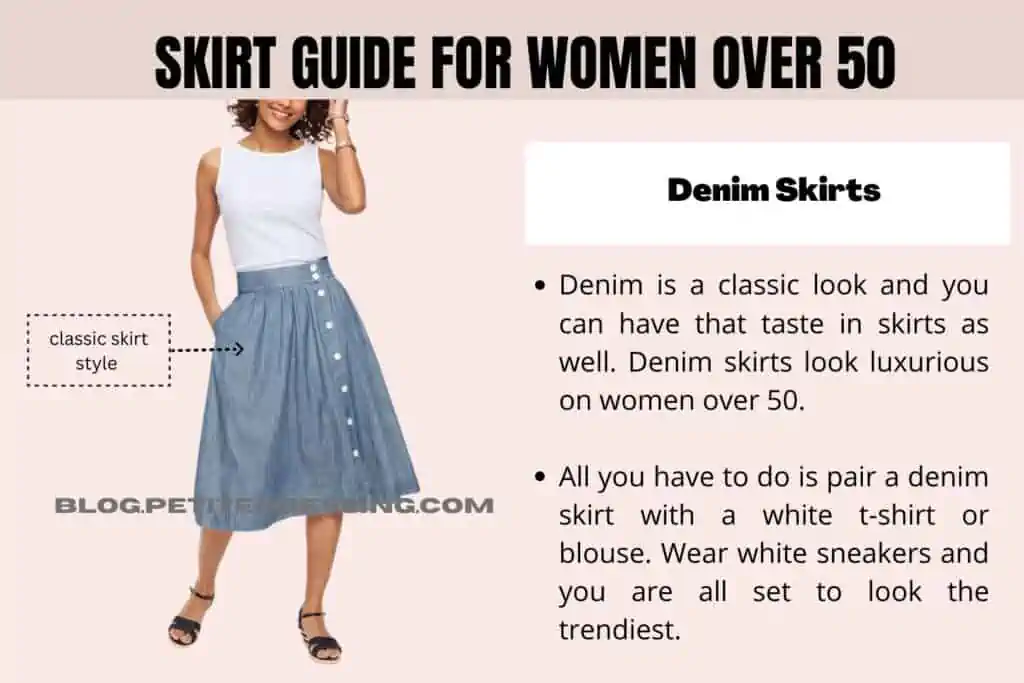 Denim is a classic look and you can have that taste in skirts as well. Denim skirts look luxurious on women over 50.
All you have to do is pair a denim skirt with a white t-shirt or blouse. Wear white sneakers and you are all set to look the trendiest.
Balance Skirts and Tops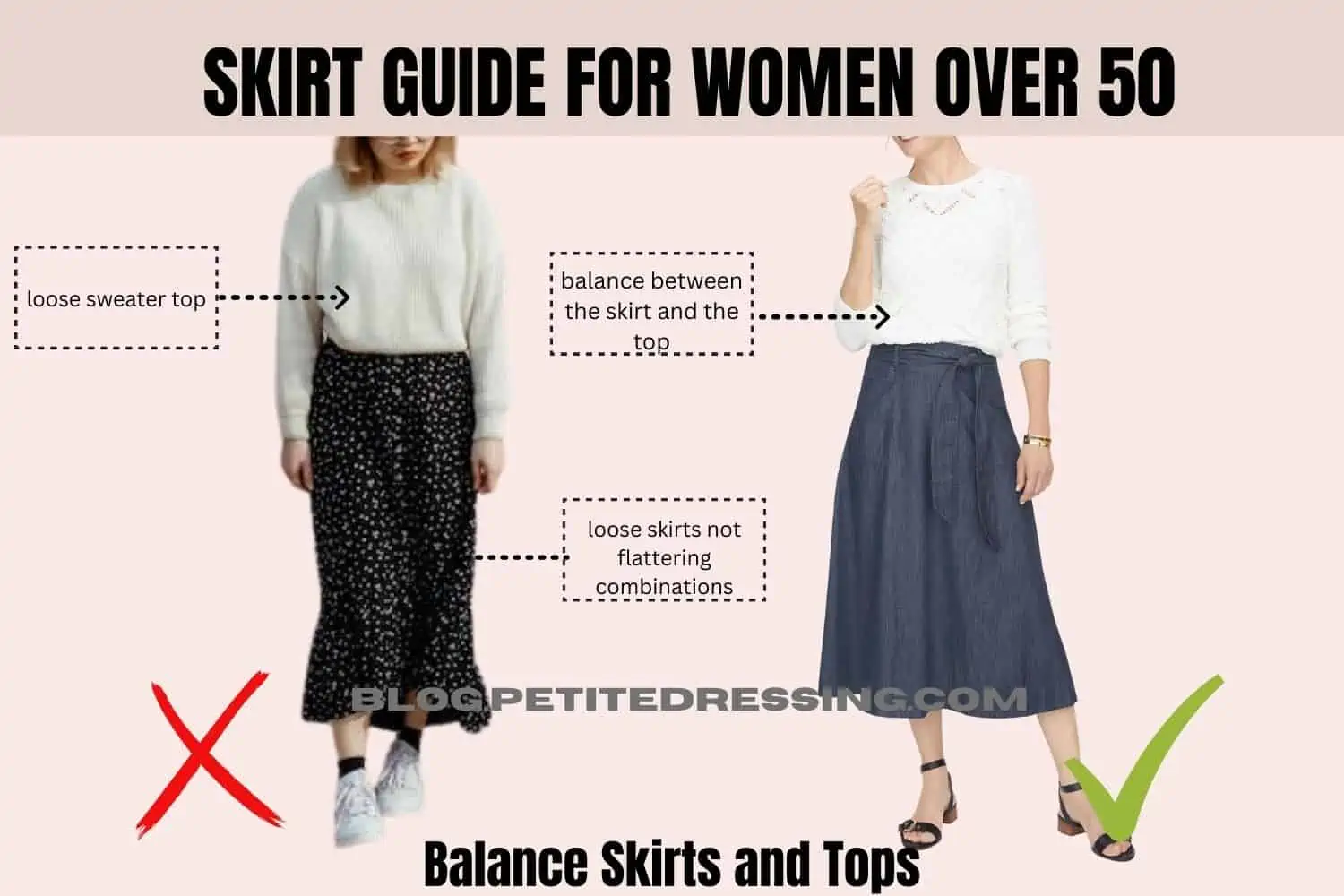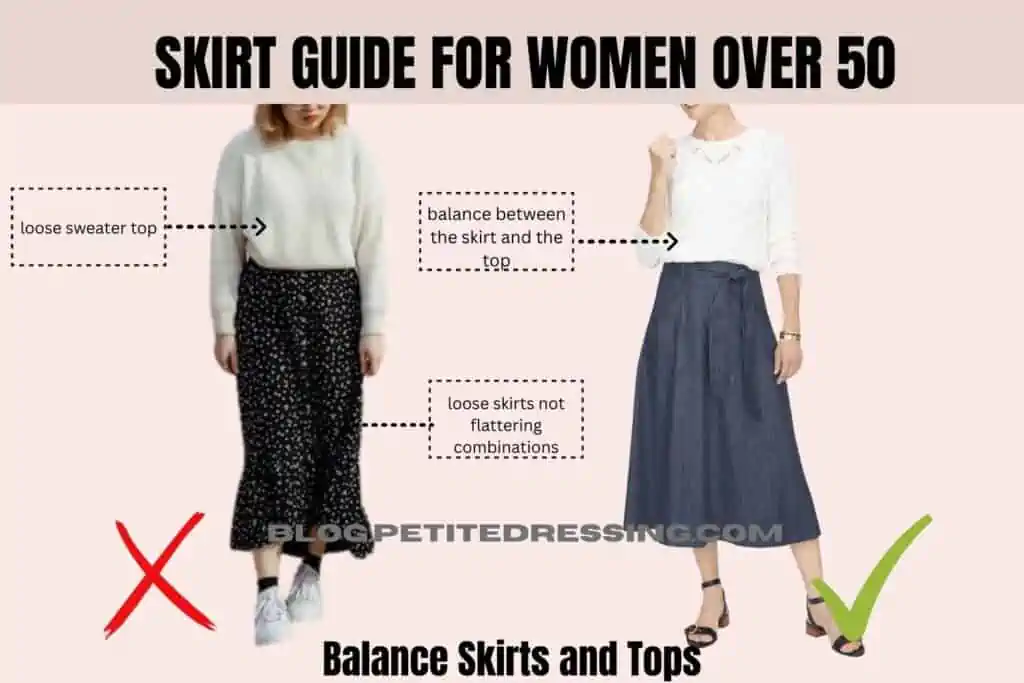 The top you choose for your skirt is essential to style it the right way. A gorgeous skirt that suits you a lot can look basic and lame if you don't pair it up with a suitable top.
Long flowy skirts don't look good with loose blouses. Usually, they look better if you tuck the top inside the skirt.
Similarly, don't go for circle skirts with flowy blouses. There should be a balance between your skirt and top.
Skip Mini Skirts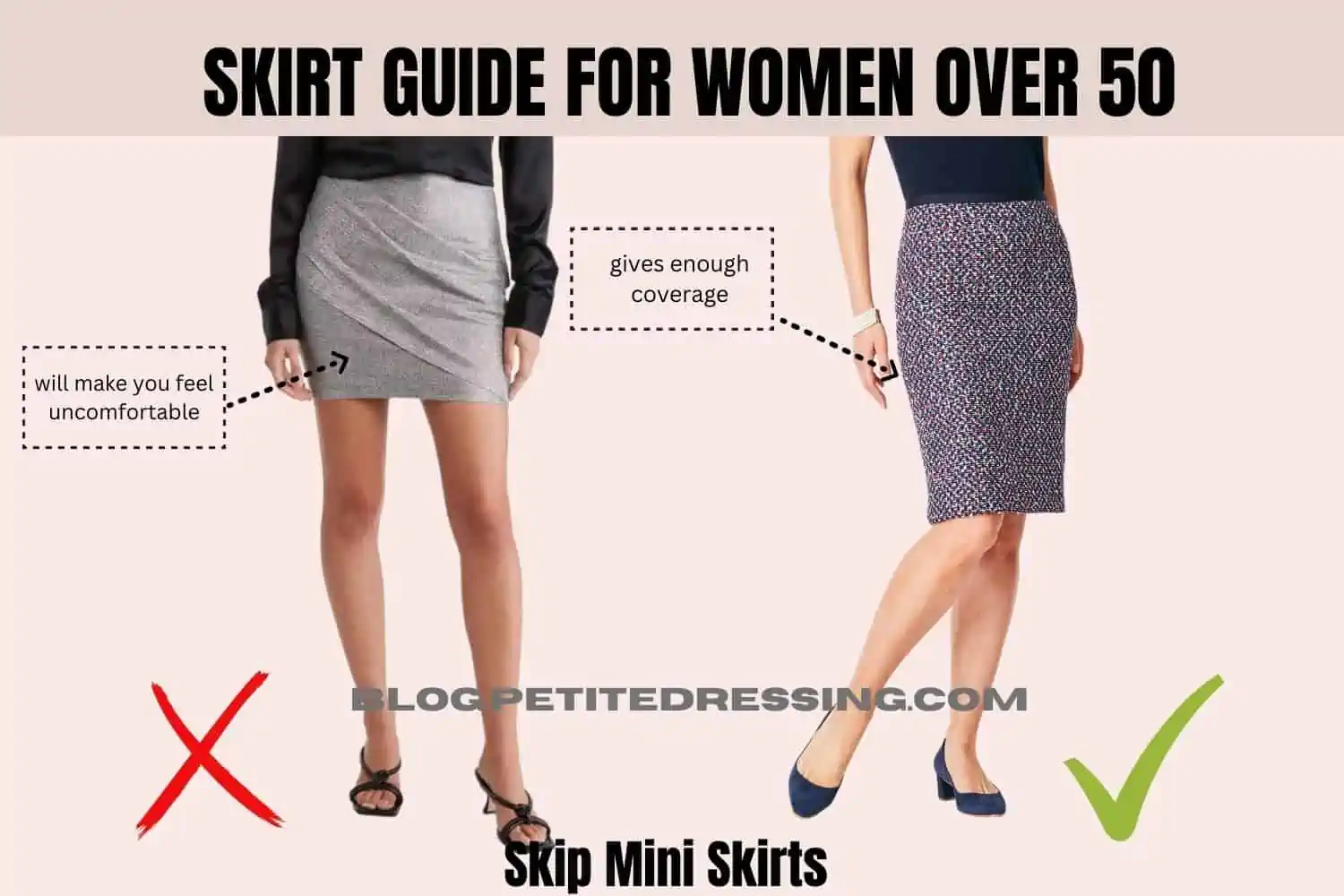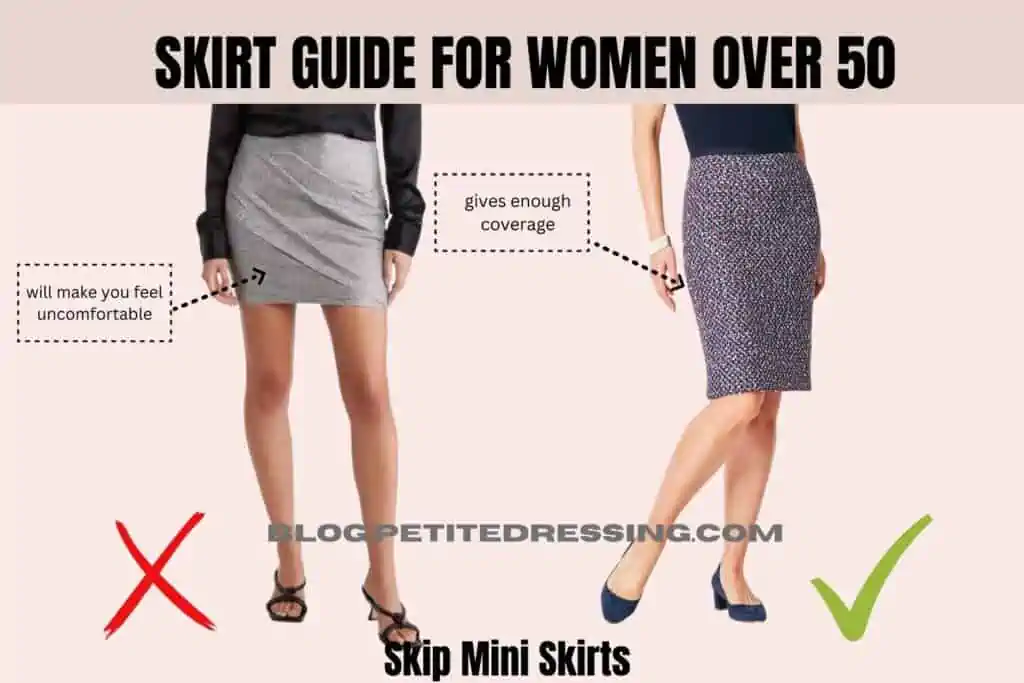 Most women in their 50s don't prefer mini skirts as they are not age-appropriate. Skipping this skirt length is a better option if you want to look modern and elegant.
Mini skirts can make you feel uncomfortable. They don't have enough coverage for the thigh area. They bring attention to every part of your legs such as thighs, calves, etc. You won't have control to cover areas that you don't want to put out there with mini skirts.
Caution with Long Skirts
Love wearing long skirts but want to make your legs look taller? The perfect solution to this problem is to wear a mid-length skirt.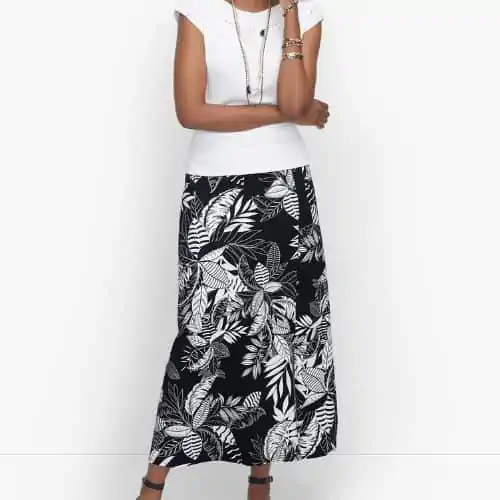 Caution when choosing longer skirts
Something that sits above your ankles and shows a little bit of your calves is a perfect length.
Pair the skirts with heels for making your legs look longer.
Avoid Tulle Skirts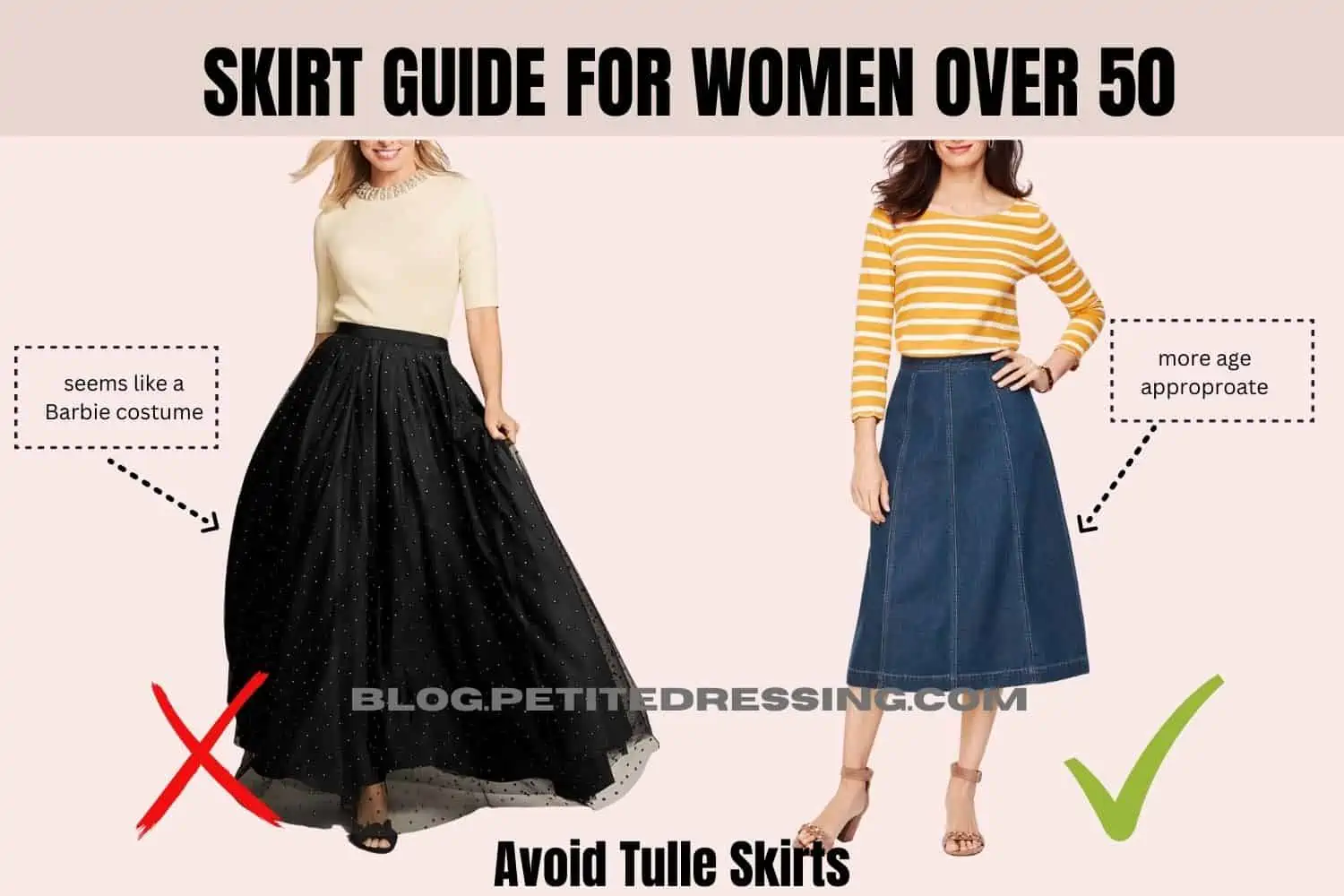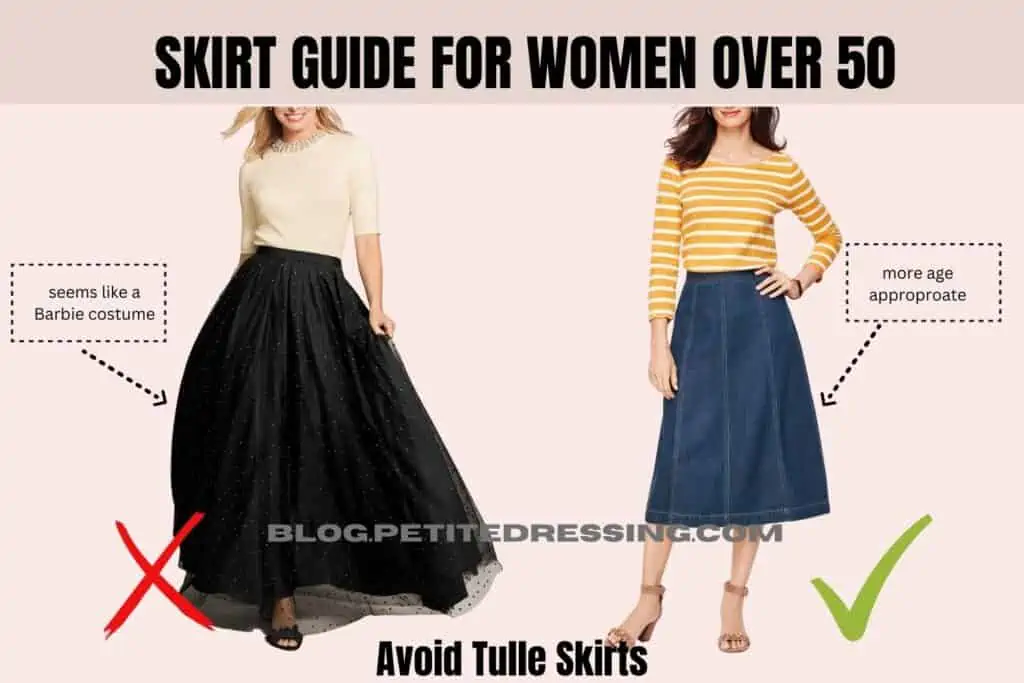 Tulle skirts can look childish and don't suit women over 50s. Short tulle skirts seem like a Barbie costume and aren't trendy at all.
Tulle skirts are also hard to style. They only look good with certain tops and suits only on a few special occasions. Therefore, consider leaving this style of skirt for teenagers.
In Conclusion…
After reading our skirt guide for women over 50, you can rock skirts on different occasions. All you have to do is to choose the right length, style, print, and color for your skirt. Pair the skirt with a complementing top and a pair of shoes.
Consider your body type, your dressing goal, and your comfort level while going for any skirt length and style. Keep a balance between your top and skirt and make sure your whole outfit is appropriate for the occasion. Avoid fashion trends like tulle skirts and asymmetrical designs for a decent look.