What is Kibbe Natural Body Type
Natural is one of the original 13 Kibbe body types. Take the Kibbe test to find out your body type. The Kibbe types have three natural body types, soft natural, natural and flamboyant natural type.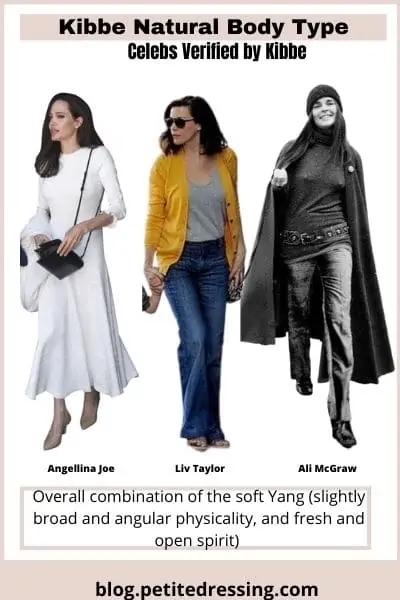 Height:
Moderate to slightly tall, up to 5 feet 8 inches
Bone Structure:
Slightly straight. Slightly angular with blunt edges (as opposed to sharp). Slightly squarish. Broad shoulders. Blunt angular facial contours (nose, jawline, cheekbones). Hands and feet are moderate to slightly large and squarish.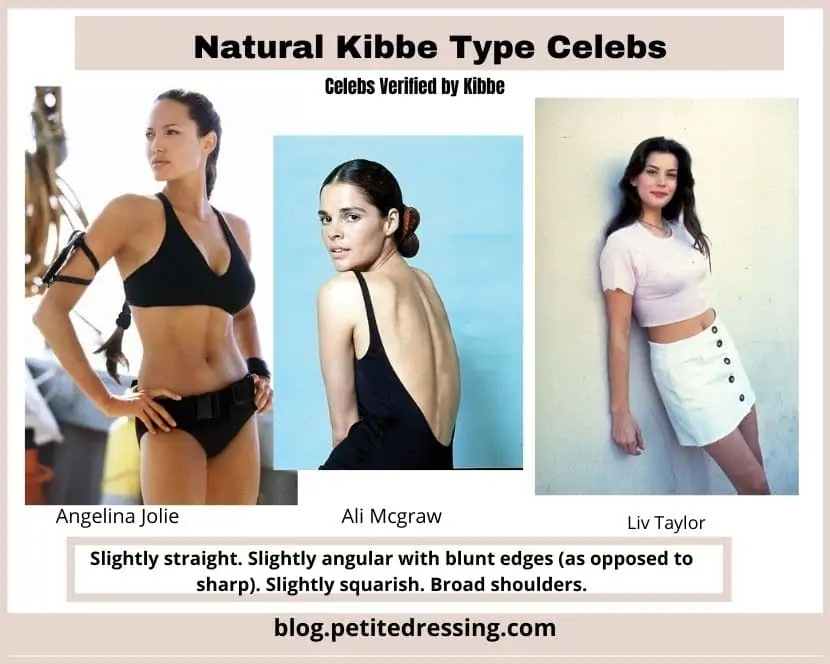 Body type:
Straight and muscular. Lean and slightly lithe. Flat hips ans slightly flat bustline. Slightly long arms and legs. Possibly long-waisted.
Facial Features:
Slightly broads, blunt, or irregular. Moderate to small eyes. Taut cheeks. Slightly wide features (open). Straight, slightly thin lips.
Hair:
Any texture is possible, but hair is frequently moderate to thick. It also tends to have a slightly matte finish as opposed to silky sheen.
Coloring:
Any coloring is possible (warm or cool), although Naturals frequently have low-contrast or blended coloring with skin that tends to suntan easily.
If overweight:
The body tends to remain straight (as opposed to becoming curvy). Excess weight tends to make you a little square in shape as it broadens the midsection. Extreme excess weight gives a very stocky appearance.
A Natural will not
Have an hourglass figure
Be extremely petite or extremely tall
Have overly exotic or prominent features
Be symmetrical with evenly spaced features
Have extremely sharp features
Have a boyishly thin figure with a lack of musculature in the arms and legs
Character of the Kibbe Natural
The more moderate Yang side of the Yin/Yang scale, falling between the extreme, sharp Yang of the Dramatic and the balance of the Classic, is the Natural, characterized by straight and slightly muscular body type; and angular, but slightly broad bone structure; and angular, slightly wide facial features that tend to be blunt-edged (wide-spaced eyes; strong, straight lips; a blunt or slightly wide nose and jawline; and moderately angular cheekbones that tend toward width.)
IMPORTANT: this post is primarily based on the original book of "David Kibbe's Metamorphosis" published in 1987. Visit David's website here.
You can also take this body type test and find out if your body shape is hourglass, pear, apple, rectangle, or inverted triangle.
Kibbe Natural Body Type Celebrities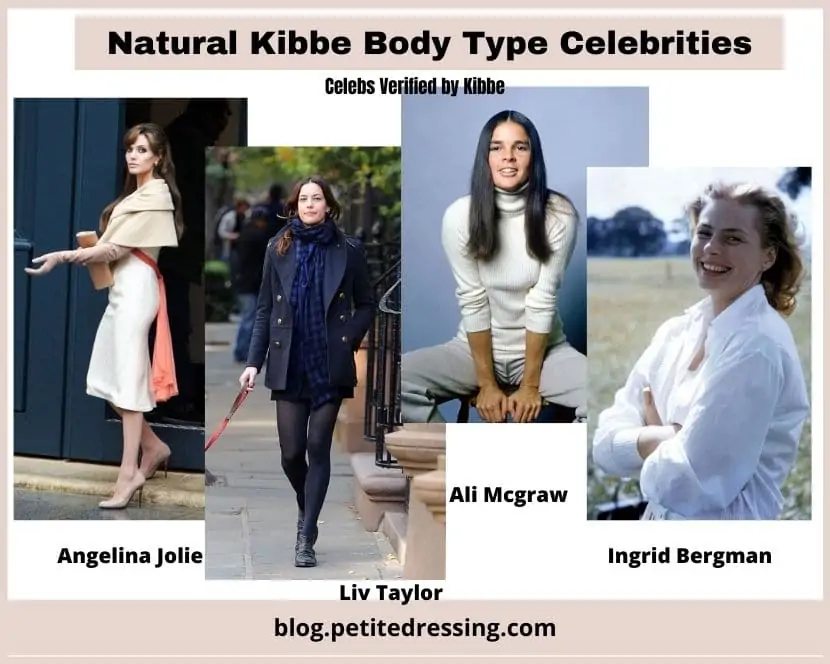 Kibbe's prime Natural celebrity- Ingrid Bergman
These are the celebrities with Natural Kibbe body type either mentioned in the Kibbe body type book or verified by Kibbe himself later on.
Ingrid Bergman*
Jane Fonda
Carol Burnett
Karen Allen
Christie Brinkley
Ally Sheedy
Ali McGraw
Chis Evert Lloyd.
How to Dress Kibbe Natural Type
Styling Strategy
Physically your softly angular bone structure, asymmetrical features with blunt edges, and slightly muscular body type reiterate your inner freedom and great sense of fun in an outer way. This is the soft edge of Yang-bold and direct, but never sharp, cool, or aloof.
To express your soft Yang total essence, we want to develop an appearance that could best be described as: Girl Next Door Chic. To do this effectively, we want to utilize your soft Yang to create a look that is vibrantly alive and freshly appealing, with nothing overly fussy, fitted, or structured spoiling the effect or obscuring your healthy appetite for life!
A loose hairstyle, layered for a slightly tousled effect; relaxed and unconstructed clothing in soft-edged geometric shapes (rounded rectangles, squares, and the like); and a minimal-looking makeup emphasizing a "fresh-faced glow" all combine to create an appearance that clearly relates your free-wheeling sense of adventure and buoyantly high spirits!
We certainly don't want to weigh you down with excess touches. A simple approach to accessories and jewelry is best, with a tendency toward earthy materials-such as copper, leather, and silver-paired with slightly oversized, unstructured shapes. Any unusual piece that has been crafted or created by an artist would be highly effective for a bit of extra spice. However, always remember that less is definitely more for you! We never want to obscure your fresh appeal.
The result? Your warmth and charisma are clearly expressed in the most natural, seamless manner possible. Not only have you become the most stunning and striking woman you can be, you have also expressed your heart and should in your appearance.
And indeed, my dear, open, radiant, glowing, bold Natural friend, that is the very point of your metamorphosis! You are as charmingly all-American as apple pie, as refreshing as the girl next door, as alluring as a juicy piece of watermelon on a sweltering August day.
When you are on display in all your Natural glory, the world finds you totally and utterly endearing, for we respond to you as the rejuvenating breath of fresh air you truly are!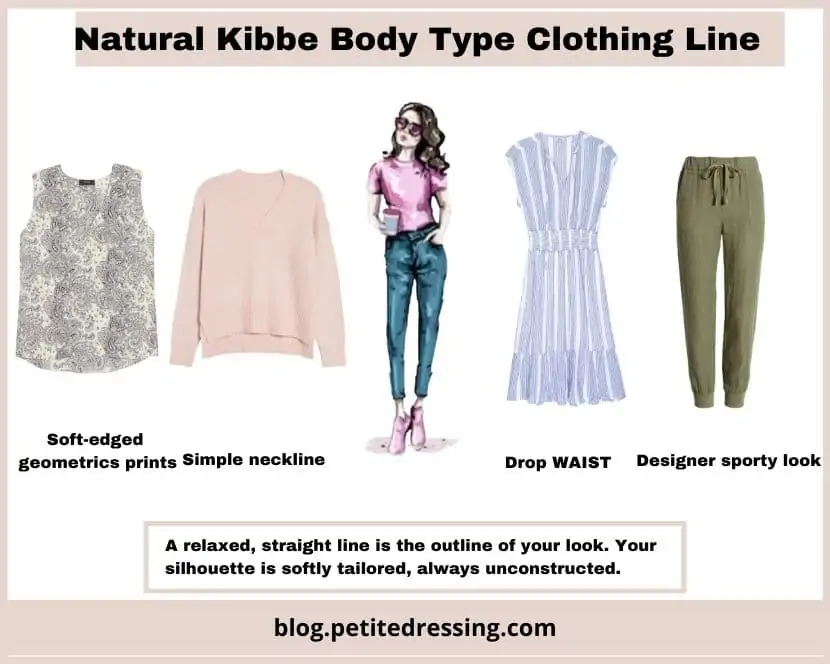 Shape
Geometric shapes with soft or rounded edges are the key. Rounded-edged rectangles. Soft oblongs, rounded-edged squares, irregular shapes, and soft asymmetrics.
Avoid: Sharp geometrics. Circles and swirls. Ornate shapes.
Line and Silhouette
A relaxed, straight line is the outline of your look. Your silhouette is softly tailored, always unconstructed. Your outline should be fairly narrow and slim, in a loose and easy way.
Avoid: Sharply angular lines. Severely straight lines. Extremely tailored or constructed silhouettes. Oversized, shapeless silhouettes. Ornate, intricate lines. Flowing, swirling lines.
Fabrics
All soft textures are excellent for you, as is any fabric with a rough or nubby surface. Any wrinkly fabric works well for you, as do all woven fabrics. Knits are excellent in nearly any weight and thickness, from very finely woven to very heavy and rough. Moderate weights are best, although textures can easily be lighter (raw silks, linens, etc.). Plush velours, suede, and soft leather are perfect, and drapable fabrics are best kept to heavier weight jerseys. A matte finish is far superior to sheen for daytime (even your best silks are crisp orientals, etc.). In the evening, you can go very glitzy with hard-finished sheens (especially metallics, lame, thick brocades, etc.).
Avoid: Sheer fabrics. Clingy fabrics (except for knits). Flimsy fabrics.
Details
Detail should be kept minimal. Plain and simple is best for you. Any unconstructed or loosely tailored detail works well. Simple necklines (soft horizontals, boat-necks, clean slashes, deep V's, loose cowls, notched collars) are best, and you should concentrate on open necklines for your air of casual chic. Soft-edged shoulder pads are very good, and lapels should be tailored, notched, or clean (lapel-less). Cuffs should be very plain. Pleats should be soft and deep, and gathers should be minimal. Dropped waist detail (loose sashes, over-bloused tops, ties, etc.) is excellent, as are slightly dropped shoulders. You can use small touches of hand embroidery or rough lace and eyelet for very simple trim. Fabrics
Avoid: Extremely tailored detail. Extremely sharp or angular detail. Extremely oversized detail. Ornate or intricate detail. Any frilly detail. Any closed or restrictive detail.
Separates
Separates are extremely exciting on you, and should make up the bulk of your wardrobe. Even in very conservative suited looks, you'll do better with an artful mixing of patterns, textures, and colors than you will with an overly matched look, which tends to be extraordinarily dull on you! The type of articles that are usually described as "Designer Sportswear" (but aren't actually sporty at all) are an excellent hunting ground for you! Your look is definitely mix 'n match in the most sophisticated sense of the word, and you should expend most of your creative energy in this area!
Jackets
Unconstructed. Relaxed shapes. Elongated (ending from the upper thigh on down). Relaxed and easy fit. Soft-edged shoulder pads. Textured surfaces. Patch pockets. Tailored, notched lapels, or lapel-less. Long cardigan styles with shoulder pads. Unconstructed double-breasted (left open). Long blouson with dropped waists.
Avoid: Severely tailored styles. Constructed styles. Flouncy styles (peplums and nipped-in waists). Cropped styles.
Skirts
Simple straight skirts, Softly tailored styles. Culottes, gauchos. Simple tailored detail (plackets, pockets, trouser pleats, slits, low kick pleats, inverted pleats, button-front). Moderate length (one inch below knee). Very short skirts for fun/funky looks. Very slightly flared hemlines (kept flat through the hip area-these will have a longer hemline, mid-calf).
Avoid: Full, gathered skirts. Flouncy skirts. Accordian pleats. Severely straight skirts. Long, pencil-slim skirts.
Pants
Nearly all styles are excellent, from very casual to very dressy. Simple tailored styles with minimal detail. Elasticized or drawstring. Unconstructed styles. Sweats. Jeans. Short, cropped, or long. Cuffed or cuffless. Shiny, silky, or satiny evening styles, including pajama styles.
Avoid: Draped, tapered leg styles with gathered waists.
Blouses
Simple tailored styles with open necklines. Unconstructed styles. Smooth surfaced, or light weaves and textures.
Avoid: Severely tailored blouses. Frilly blouses.
Sweaters
Nearly any sweater style works well for you. Thick knits, ribbed, nubbies, cable stitching, shaggy mohairs. Any and all lengths. Soft shoulder pads are also a good touch. Solids and wild prints.
Avoid: Overly delicate and overly fluffy knits with trim.
Dresses
Dresses should e simple and unconstructed, with a narrow shape and a relaxed outline. Softly tailored styles work well, as do dropped and loose-waisted styles. A softly tailored coatdress with an open neckline or a narrow chemise in a beautifully textured raw silk or linen would be another choice. Nearly all knits are perfect, as are wrap styles, safari styles, T-shirt styles, and blouson or two-piece styles.
Avoid: Severely tailored styles. Flouncy styles. Ornate styles. Extremely wide, shapless styles.
Colors

Color is an area in which you should have lots of fun! Strive for zip, verve, and lots of pizzazz with bolds, brights, pastels, vivids, and wild color combinations-anything imaginative. Neutrals work well when they are used in beautifully textured fabric (raw silks, linens, luscious weaves, etc.), but you will feel a little dull without a few bright accents, either in accessories or jewelry. Break all the rules when it comes to color! Mix 'n match with ease.
Avoid: Monochromatic color schemes-they are very dull and boring on you, unless the fabric is exquisitely textured beyond belief!
Prints
Your use of prints can include casual styles that are soft-edged geometrics (plaids, stripes, paisleys, etc.) and funky prints in irregular shapes (abstract asymmetrics, leaves, animal prints, etc.). They should be of moderate scale to slightly large and will generally have a softly blended edge. Colors can be very wild and unusual if you wish, or more muted and earthy-looking.
Avoid: Small prints. Symmetrical prints. Extremely angular geometrics. Watercolor florals. Ornate and intricate prints. Extremely oversized prints.
Accessories
Accessories should be kept minimal; plain and simple is your best look here. Unconstructed styles with soft or rounded edged geometric shapes are most effective. You can use bold colors to add spark if you wish, although neutrals are also fine.
Shoes
Simple tailored styles. Low to moderate heel. High heels should be very angular and straight, not tapered. Stacked heel, wedged, and all flats. Evening sandals should be very bare, not strappy. Tapered toe, open (plain), or closed.
Avoid: Overly delicate or strappy styles. Ornamentation and trim.
BAGS Moderate-sized, unconstructed pouches. Shoulder bags. Simple geometrics in supple leather (envelopes, clutches, etc.). Box-shaped bags for evening.
Avoid: Overly delicate or ornate styles.
BELTS Leather belts should be simple and softly geometric. Textured or carved surfaces are excellent. Fabric sashes, ties, and dropped waist detail are also good.
Avoid: Severe, wild belts. Ornate, cinched-waist styles.
HATS Unconstructed styles. Large, loose, and floppy. Shaggy-haired fur.
Avoid: Extremely tailored, crisp styles. Ornate and delicate styles.
HOSIERY A flesh-toned stocking is best for business. Funky stockings that are brightly colored or printed can be fun for you, and geometric textures can sometimes be effective.
Avoid: One long line of dark color. Dark stockings for daytime. Lacy or ornate stockings.
Jewelry
Jewelry should be kept on the chunky side, with soft or rounded-edged geometrics the shapes you use. Your jewelry can either be pieces of "wearable art" (handcrafted and museum quality) made by an artist or taken from another culture, or it can be bright and funky costume pieces that add pizzazz!
Earthy materials are very elegant and sophisticated on you (copper, silver, amber, turquoise, etc.). Hard-finished enamels and glass are fun, especially when used in bold colors for vivid accents (big bright beads, chunky earrings, irregularly shaped pins, etc.).
It is possible to get away with very minimal chains, tiny diamond studs, etc., but chances are you won't be satisfied with this once you experiment with a zippier look
Avoid: Ornate and intricate styles.
Antique, rococo, and baroque. Dangly and delicate styles. Severe or sharply angular styles. Small jewelry. Symmetrical and classic styles.
Evening wear
Simple shapes with easy fits. Minimal detail. Bare necklines and shoulders. Smooth to slightly plush fabrics. Glitzy fabrics. Metallics.
Bare Sheaths Strapless gowns with stoles and flings Jersey cocktail dresses Evening sweater-dresses with glitz Evening sarongs Evening separates (blouses, skirts, pants) Evening pants
Makeup for Kibbe Natural Type
Your makeup should be created to achieve a fresh-faced glow, radiant and healthy. Matte-finished products are best, with just a touch of sparkle added for evening. Smoky eyes with glowing cheeks and shining lips come from a preponderance of neutral color choices, with just a hint or soft color on top.
NOTE: A minimal makeup look is not the same thing as wearing no makeup! The most careful blending of products is crucial for you; otherwise you'll appear faded and tired, hardly the picture of health you want to project!

Avoid:
Overly colorful makeup. Overly sparkly makeup. Overly angular or severe makeup. High-contrast makeup (pale skin, vivid eyes, lips mouth). Wearing absolutely no makeup, or only eye makeup.
Hair for Kibbe Natural Type
Hair Style
Hair should be tousled, loose, and free-a soft geometric shape with a feathered outline. Layering is essential. Perms and body waves are fine, and your hair can definitely lean to the "wild animal-mane look" for fun or evening wear!
Hair Color
Haircolor should always look natural with realistic color and shining, subtle highlights. Be very careful with complete color changes. Artificial colors or lights are very unsophisticated on your. Over high-lighting the hair is particularly matronly on you.
Avoid: Smooth, sleek styles. Blunt-edged cuts. Severe geometrics. Boyishly cropped cuts. Overly groomed styles (too stuffy and matronly on you). Ornate or set styles. Overly teased and coiffed styles.