If you are over 50, you might feel like clothing options are getting less and less, as most of fashion brands seem to cater to women in their 20s and 30s. Meanwhile, it's common for women over 50 to notice what used to look good no longer look the same on you, since your body may have changed over the years.
Since I have a petite clothing line for women 5'4″ and under, I constantly receive feedback from thousands of my customers, many of whom are over 50.
However, you CAN totally look fabulous and classy when you are over 50! The key is to really know your body and know what works and what doesn't on your particular shape, and avoid clothing that ages you.
While there are no "rules" that dictate what we should or should not wear at each age, these are the 12 things that generally do not look flattering on women over 50, therefore you are better off to stay away from them.
Based on the feedback from many of my over 50 customers, I've put together this guide.
Trends that don't suit your Shape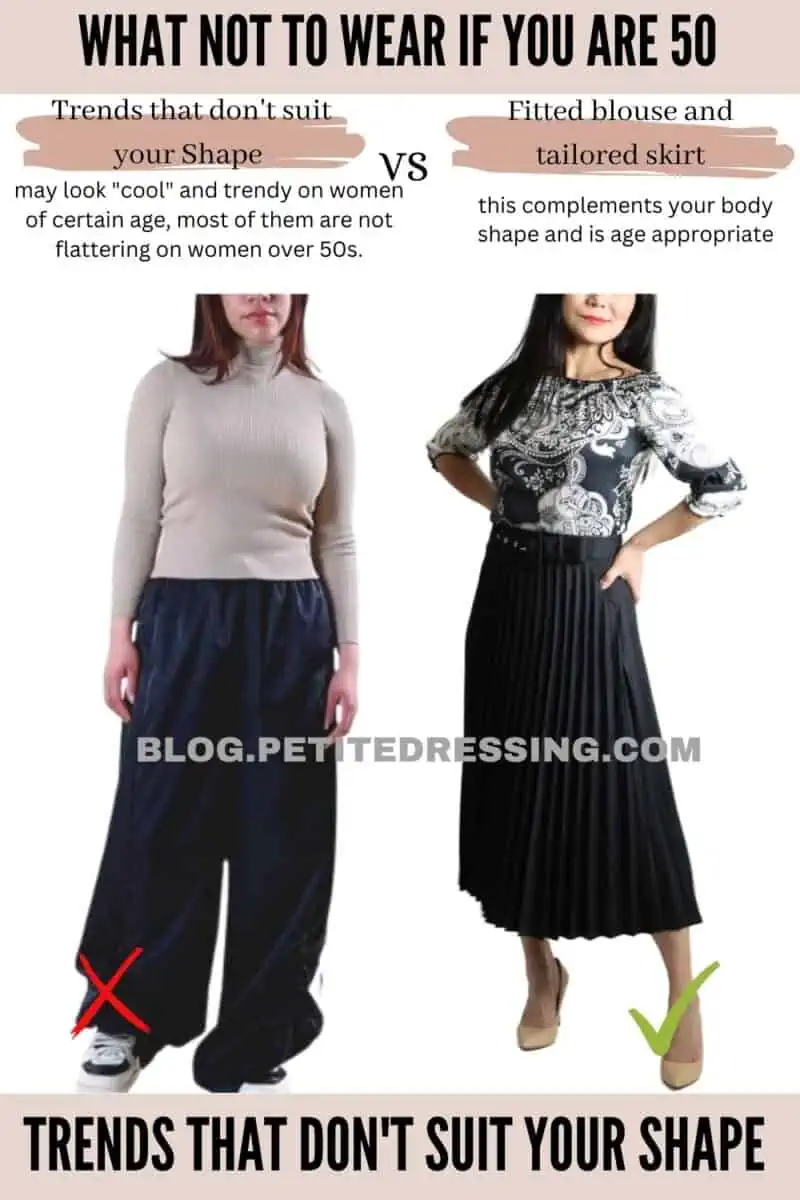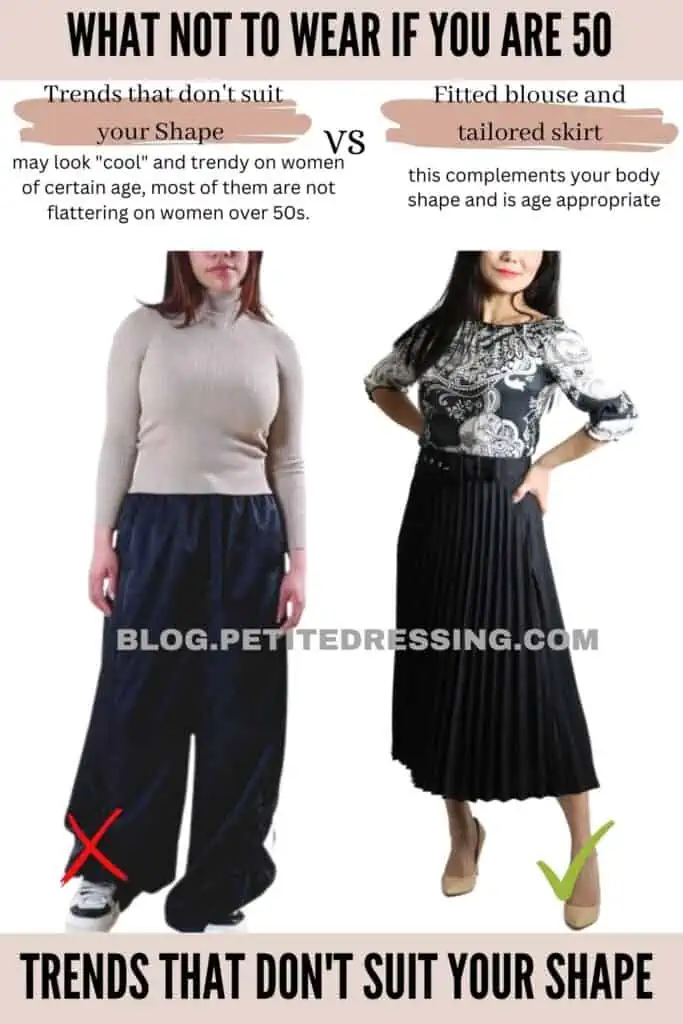 Believe it or not, when you are over 50, you CAN look even more stylish than your 20s and 30s, because this is the age when you have a much better understanding of your body shape and make a conscious decision to seek out what works best on YOU instead of following what is trending.
For example, the "neutral gender" fashion trend has been going on for quite a while, which features baggy shirts and pants to de-emphasize our curves. While this may look "cool" and trendy on women of certain age (especially those who are thin and have little curves), most of them are not flattering on women over 50s.
Instead, what looks much better on you is something that is feminine and does emphasize your womanly shape (i.e. your assets), such as a fitted blouse or a well tailored skirt!
Jeans with Too Many Holes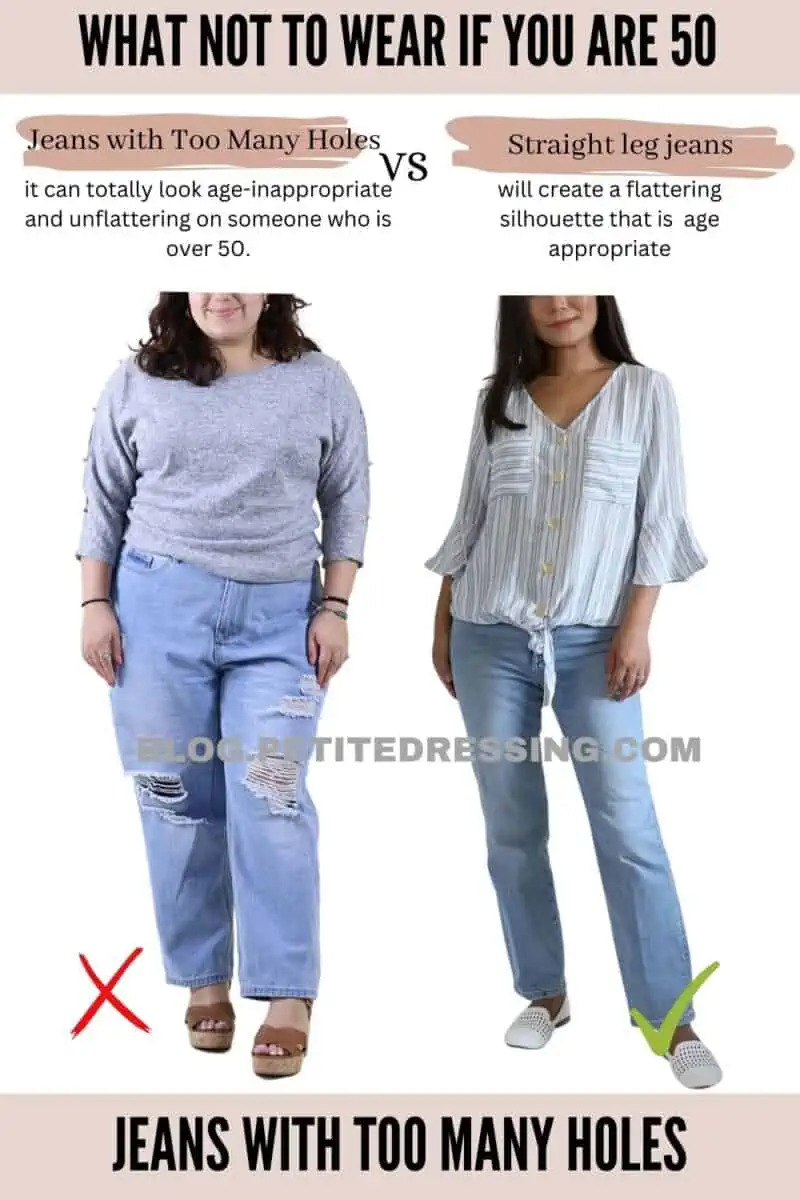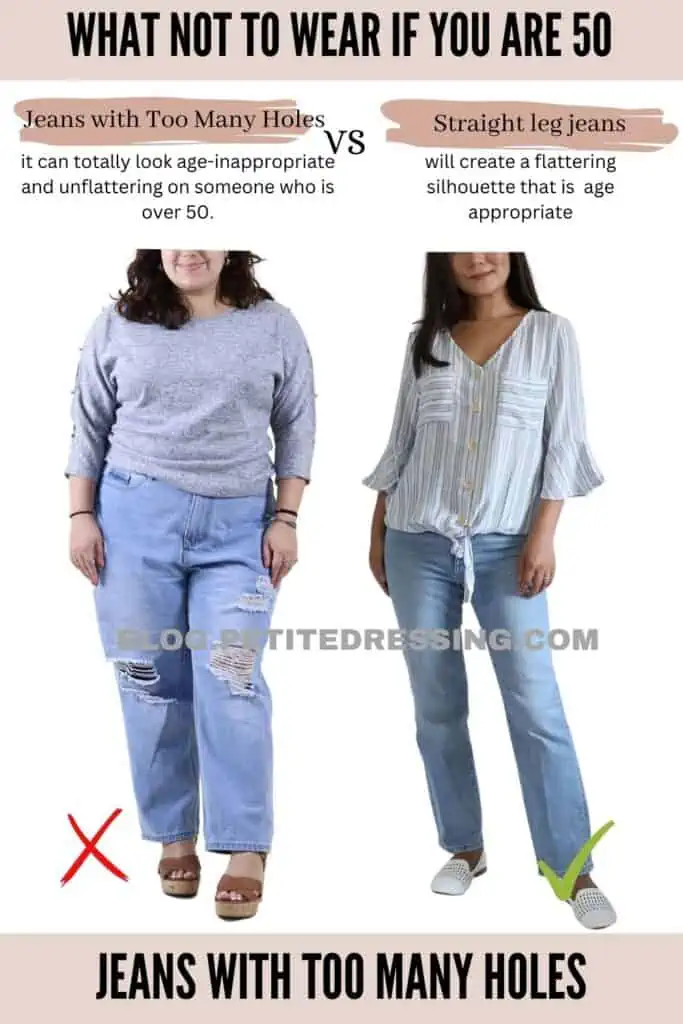 When you are over 50, you CAN certainly wear distressed jeans, but you want to avoid too many holes, especially if they are too big.
Don't get me wrong, I think women over 50 can totally rock a pair of distressed denim, which can give you an "edgy" look when you do it right.
If the jeans have exaggerated distressing, instead of the "rebel" look that most of us have tried when we were younger, it can totally look age-inappropriate and unflattering on someone who is over 50.
If distressed denim is your thing, opt for those with slight distress, such as jeans with a raw hem instead. Those are fun to wear, and they can look good on women of any age
Ill-Fitted Clothing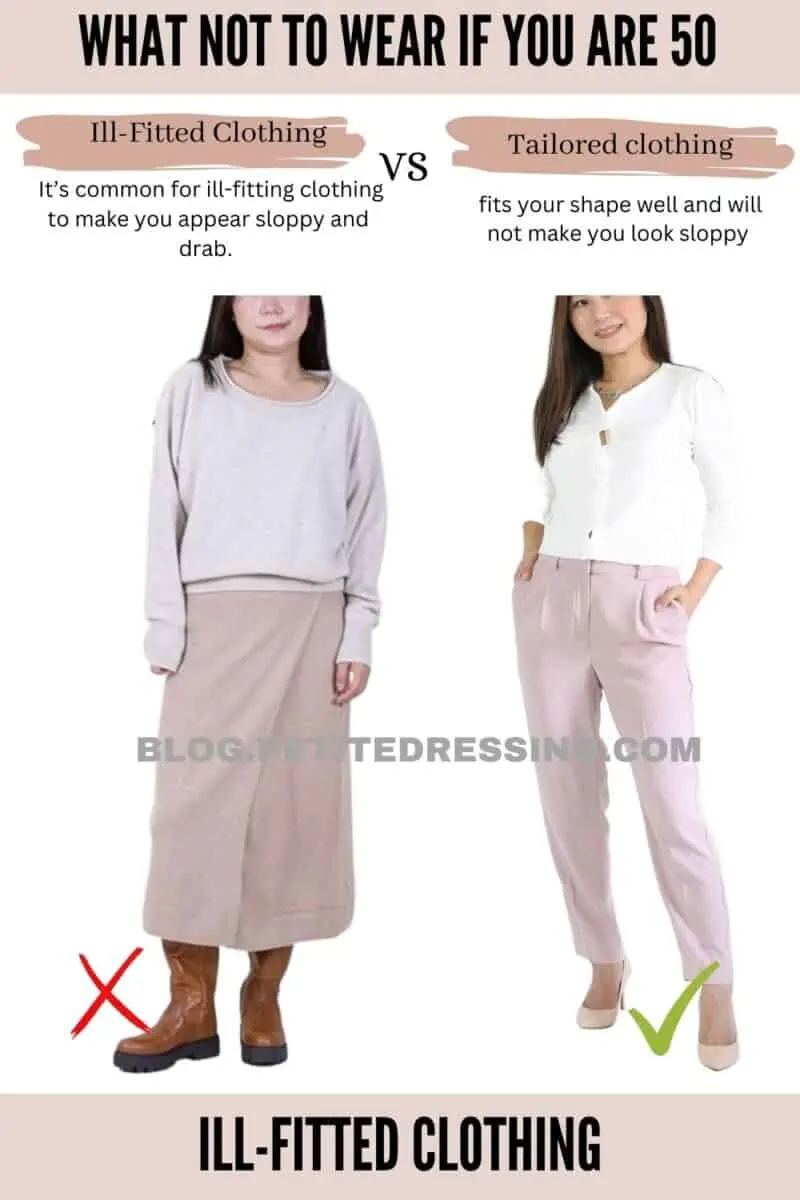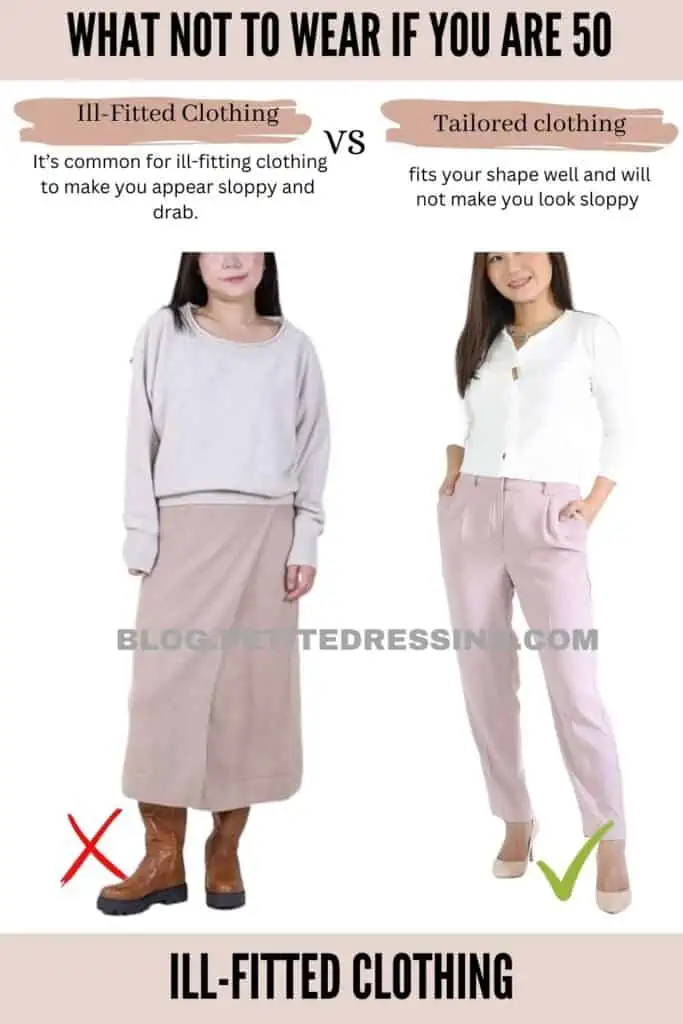 While ill fitting clothing is something to avoid regardless of age, it's even more important to pay attention to when you're over 50. It's common for ill-fitting clothing to make you appear sloppy and drab.
It is important to pay close attention to the way clothes are fitting to your body.
As we age, our bodies change and can cause clothing to begin to fit differently. If fit changes occur you may need to have some alterations done, or invest in some updated pieces for your wardrobe.
On the top of ill fitting clothing, this is the time in your life to get rid of all those clothes you've been hanging on to in case you fit into them again. Of course, our bodies change over time but at this point in your life you owe it to yourself to make room for clothes that fit your body as it is now – not the way it was in the past.
Outdated Styles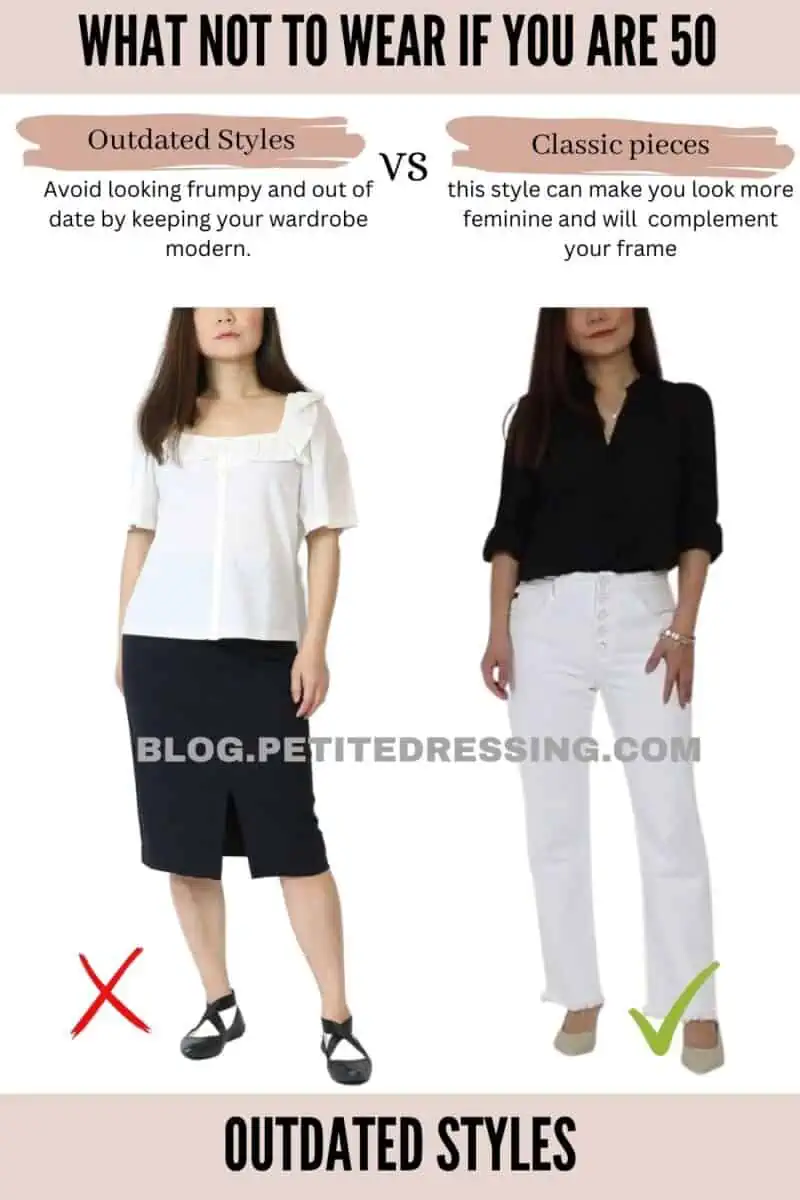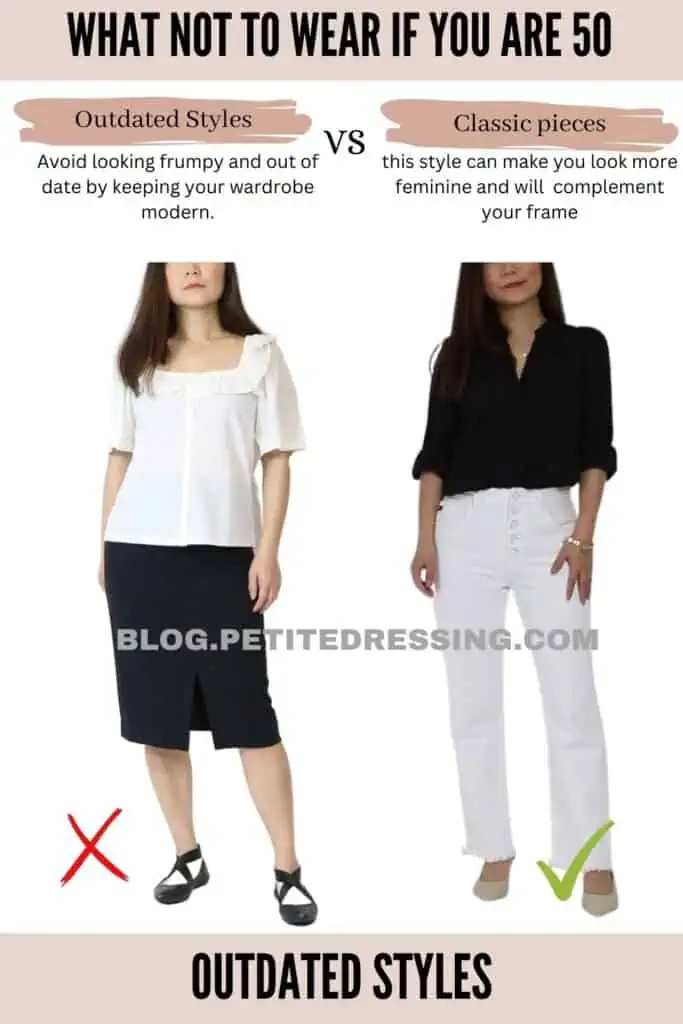 This may seem obvious but it's important when you are over 50 that your clothing isn't outdated.
Wearing outdated clothing, as a woman over 50, can make you look older than you are – and no one wants that.Any clothes that you've had for decades (and looks like it's from another decade) are best to move on from – unless they're timeless pieces of course. Avoid looking frumpy and out of date by keeping your wardrobe modern.
Dressing too Matchy-Matchy
Believe it or not, everything in your outfit doesn't have to match perfectly in order to look great. In fact, wearing pieces that are TOO matchy can look out of date.
This commonly happens with accessories. Instead of wearing the same color jewelry, shoes, belt, etc. switch it up a bit by adding different colors, textures and/or patterns.
Not only will this give your outfits more of an updated aesthetic but it's also an opportunity to stand out and really express yourself with fashion.
All Black All the Time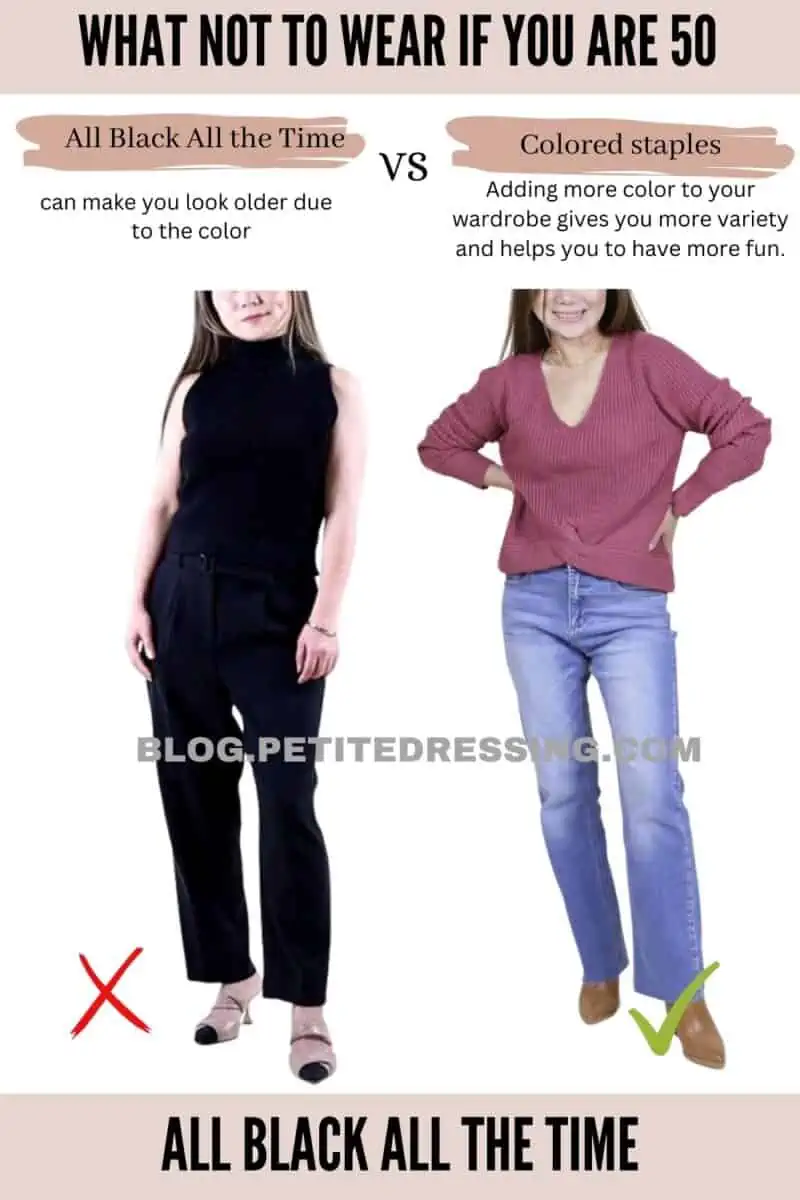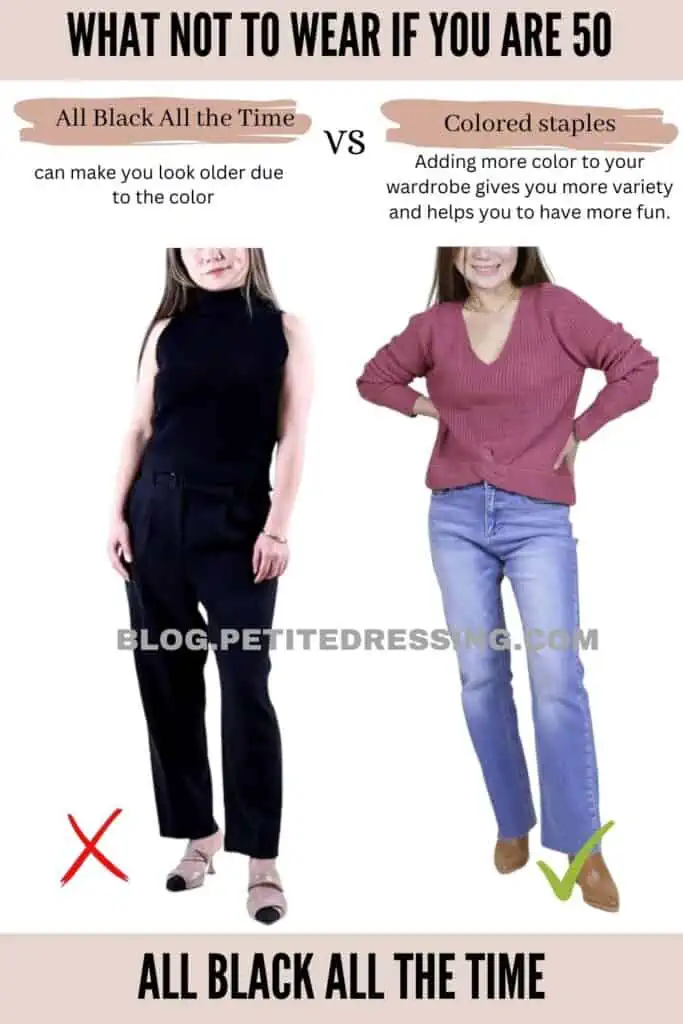 Wearing head-to-toe black can be an easy way to get dressed, but it's not the only way for women over 50.Many women over 50 feel as though black, and sometimes gray, are the only acceptable colors to wear but that's simply not the case.
In fact, embracing more color is something style experts recommend doing. Adding more color to your wardrobe gives you more variety and helps you to have more fun.
Anything That Shows Too Much Skin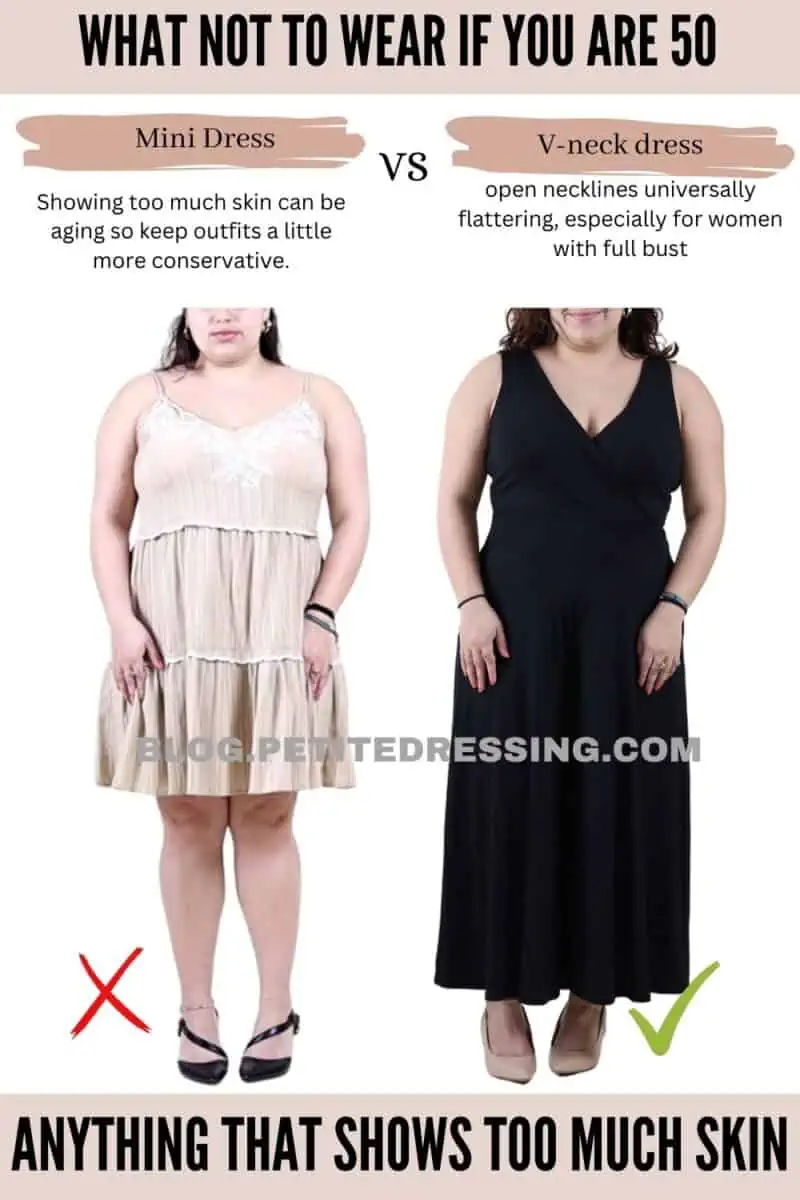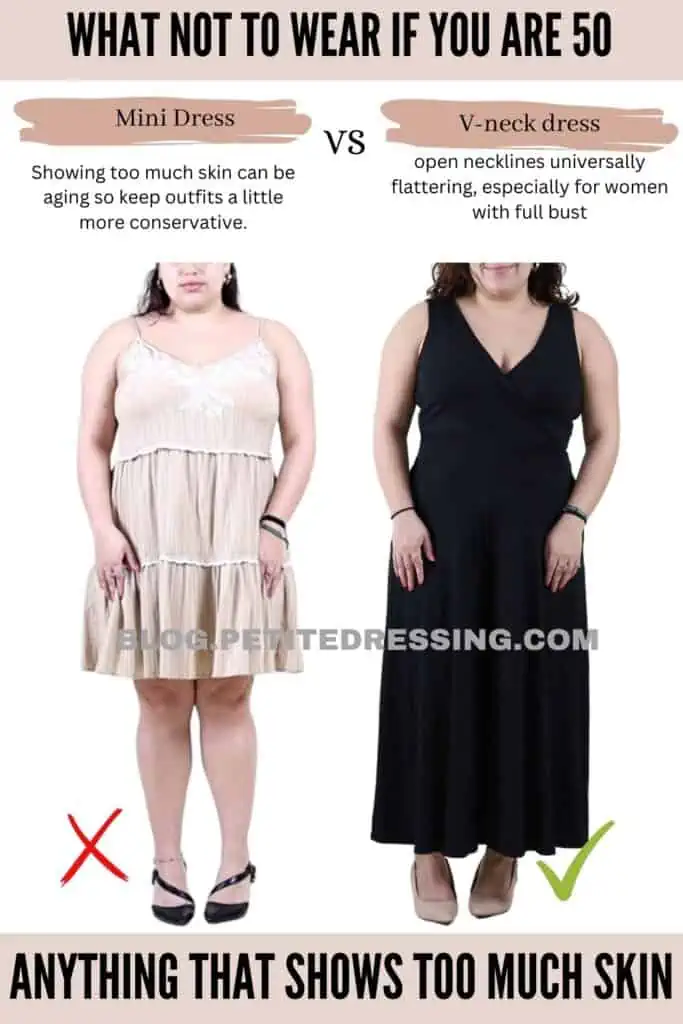 Being over 50 doesn't mean you can't wear clothing that you feel confident in and show a little skin every now and then. But you're going to want to keep it to a minimum.
Showing too much skin can be aging so keep outfits a little more conservative.
This doesn't mean you can't have any fun, though. Of course you can still show your figure and femininity, use form fitting clothing, silhouettes and textures to achieve this without showing a lot of skin.
Too Much Makeup
Heavy makeup can be extremely difficult to wear and wear well, as women begin to age. This is primarily because heavy makeup looks even heavier at this age.
Learn to streamline your makeup routine and keep makeup application more on the minimal side.Keep in mind that makeup can settle into lines and wrinkles – which is another reason why it can age.
Choose makeup colors that are more neutral in their colors and tones to give your skin a youthful radiance.
Clothes From the Junior Section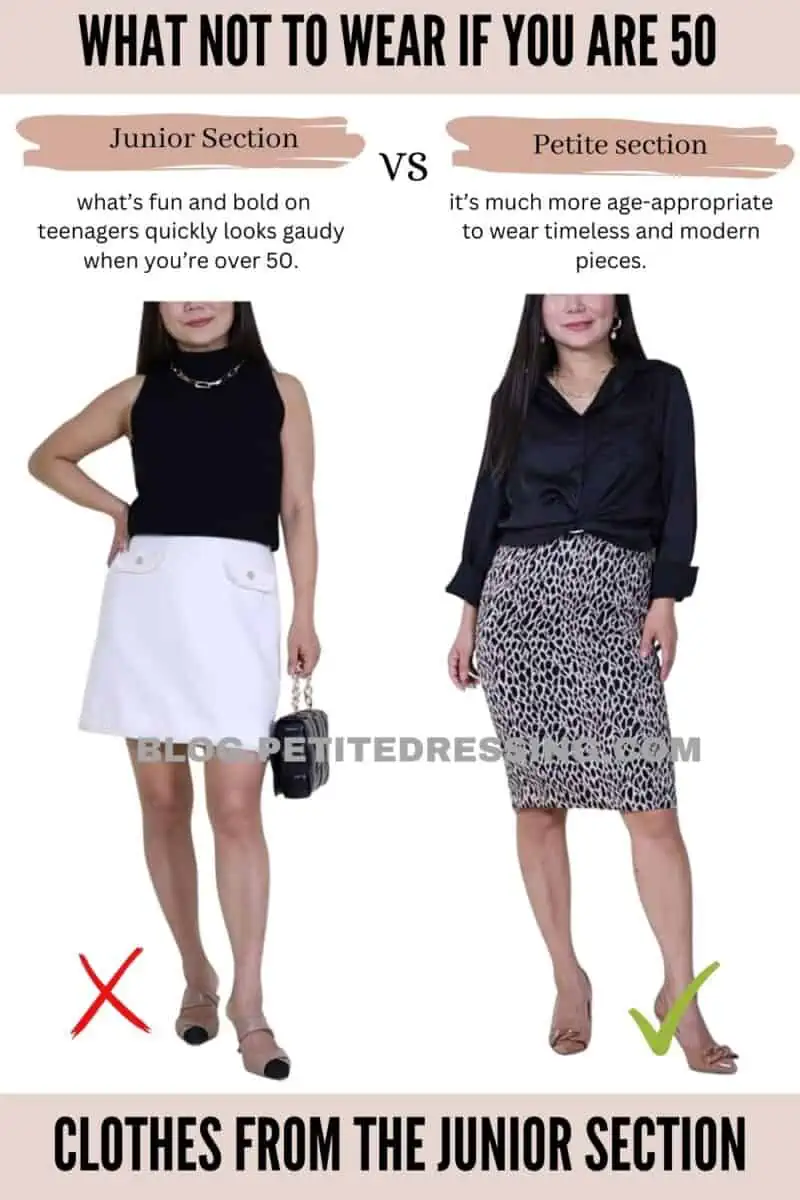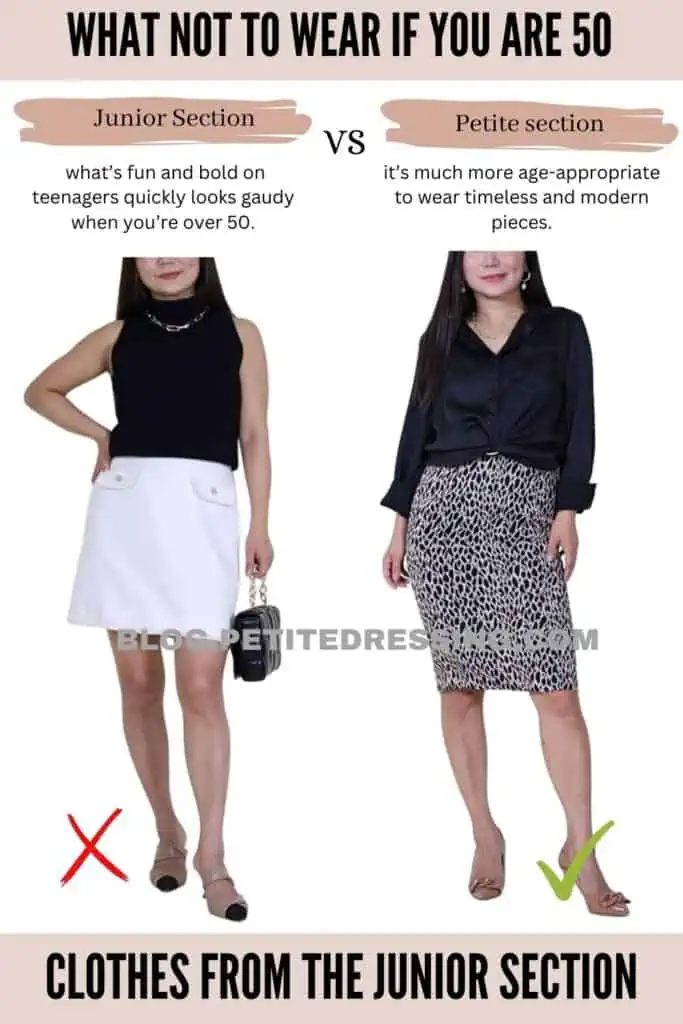 Even if you're a petite woman and can fit into the junior section sizing, it's best to avoid the clothing from that department for a couple of reasons. The main reason is that what's fun and bold on teenagers quickly looks gaudy when you're over 50. Instead, it's much more age-appropriate to wear timeless and modern pieces.
Uncomfortable Shoes
By the time you're over 50, comfort is more important than ever. Gone are the days of sacrificing comfort for style – why be in pain all day long? Keep your footwear comfortable over anything.
This isn't to say that you can't wear shoes that are cute and stylish, there are certainly options that will still give you all the comfort you need.Just don't feel like you have to squeeze your feet in uncomfortable shoes all day long.
If you're petite and tend to always wear high heels, now that you're over 50 it's not the only way to add height to your shape. Fortunately, there are plenty of other tricks to adding length without the need for high heels so you can still feel comfortable.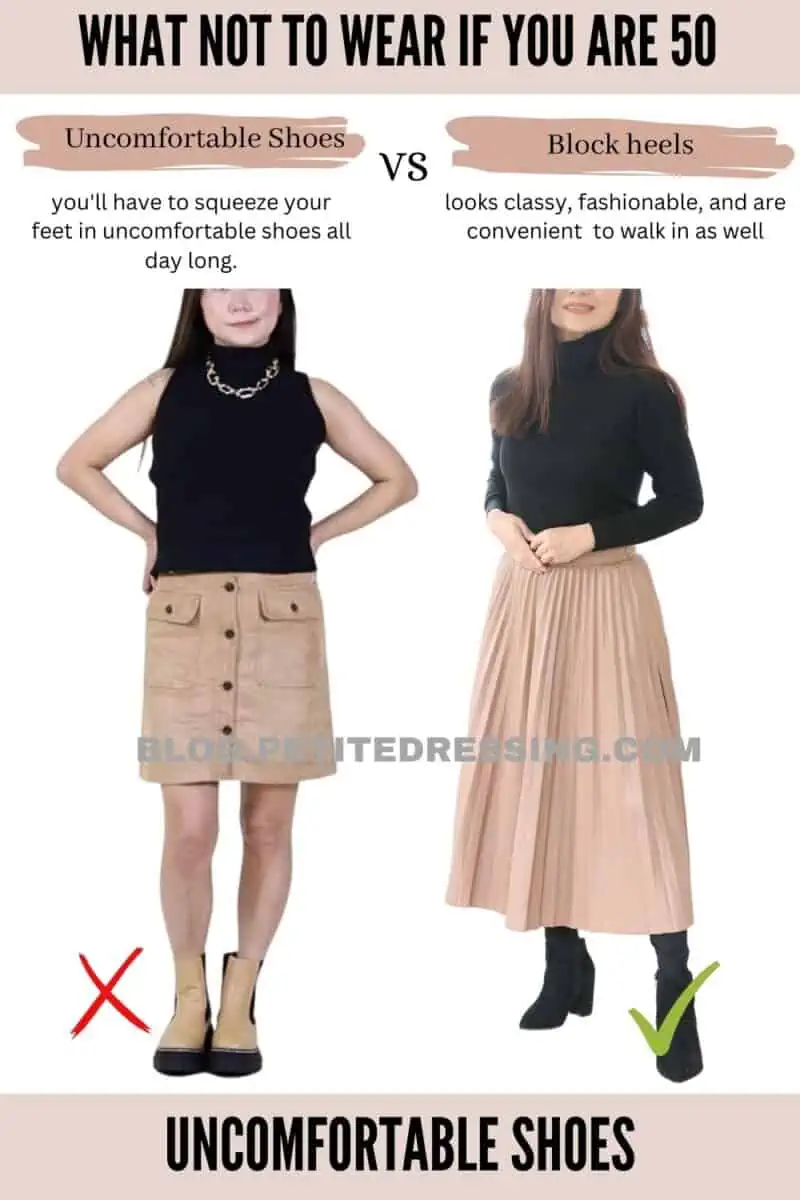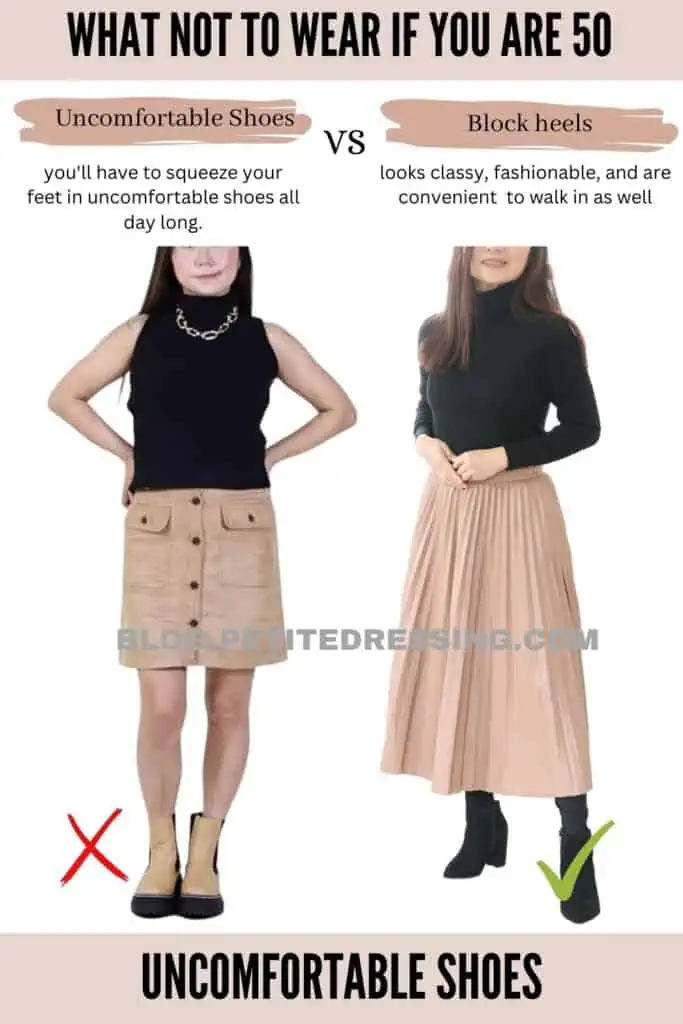 Cheap Looking Jewelry
Jewelry is one of the best, and easiest, ways to instantly transform an outfit and make it your own. When you're over 50 it's time to let go of any jewelry pieces that look cheap.
Why now? Well to put it simply, cheap jewelry tends to only look cheap and overly young on women over 50.
This isn't to say that all of your jewelry has to be 'real' and very expensive, just begin paying closer attention to the way it looks and feels.
Does it LOOK like something a teenager might wear? Does it feel like it might break if you make a wrong move?
Get rid of those pieces and replace them with higher quality options that make you look like a million bucks wearing them, and honor your current age.
Clothes That Hide Your Body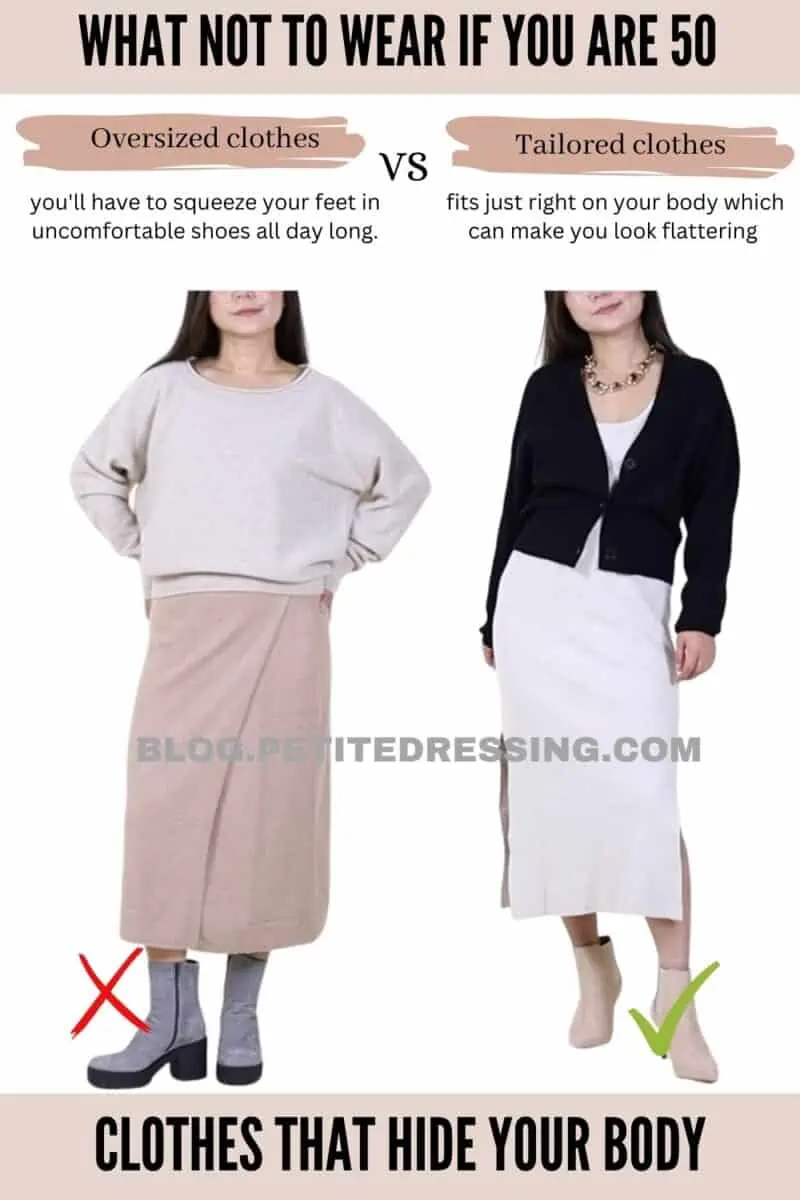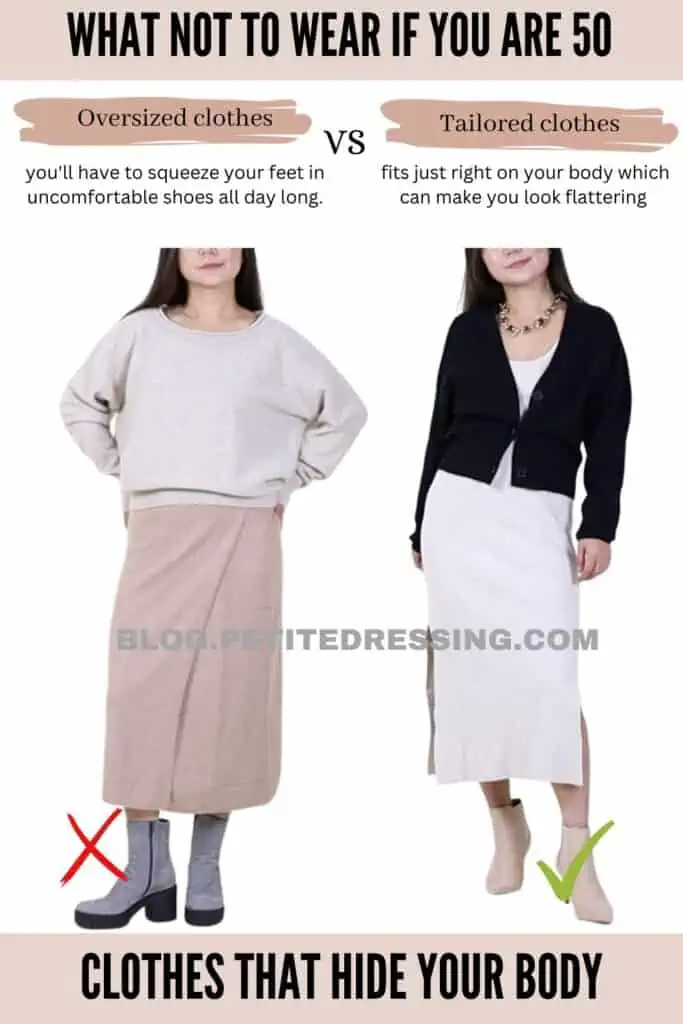 Another common mistake women over 50 make in terms of fit is wearing clothing that completely hides their body. Even as we get older, there is no shame in embracing and celebrating your body.In fact, hiding behind baggy and loose-fitting clothing will only cause you to look bigger and frumpy.
Consider wearing clothing that fits to your body, cinches in at the waist (whether you have a naturally defined waist or not), and flatters your height and body type. Not only will you look thinner but dressing in figure flattering clothing is timeless.