If you are over 40, you might be wondering what to wear when you are going out. Whether you are going out on a date or just having a girls night out, the best outfits for women over 40 should be both elegant and fun. Over 40s is when you have grown out of the 20 something clubbing type outfits such as extremely short skirts or showing too much cleavage. You always want to look classy, whether you are going to a fine dining restaurant or just a small bistro on the town.
Color Blocking Outfits
Add a pop of fun, with color, to a night out look by using color blocking. If you want to keep it slightly casual with jeans, throw on a solid color top and complimentary solid color shoes and a bag. This adds that fun color pop to the look that's modern, minimal and will look incredible for a night out. Color blocking is a simple way of dressing that can be applied to just about any outfit. The key element is sticking to solid color pieces in colors that coordinate and/or compliment one another.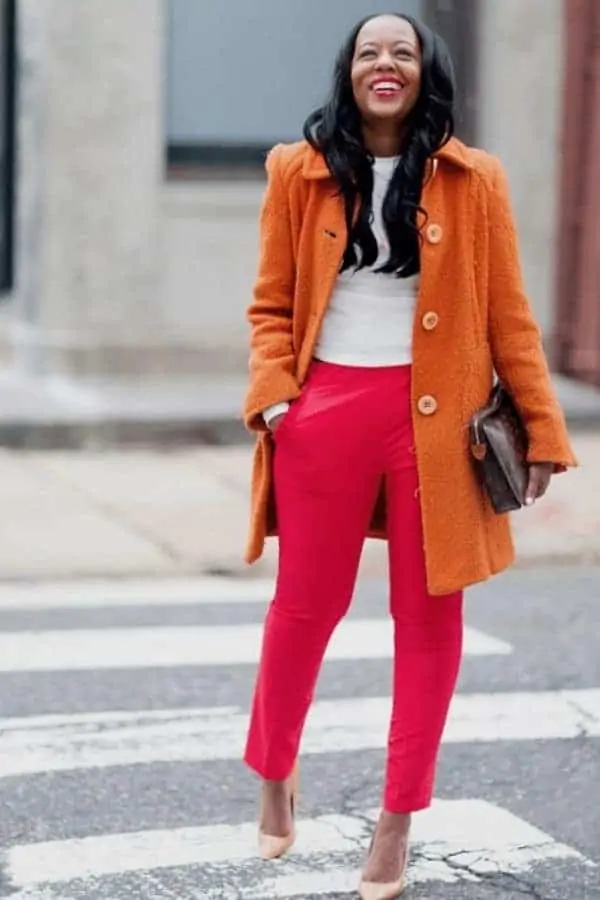 Theclosetconsultant shows us an easy to recreate color blocking outfit, so chic for a night out.
Style Neutrals with a Metallic Shirt
A night out is an opportunity to have a little more fun with your outfit. Of course, when you're over 40 you want to have fun but in a way that's age appropriate. One really stylish way to accomplish this is by wearing a metallic shirt styled with simple neutrals. This can be denim, black pants, a black blazer…the list goes on. When pairing a metallic shirt with neutral pieces it allows the shirt to be the focal point and really emphasize that 'night out' aesthetic. Make sure to complete the look with earrings and accessories in the same neutral shade.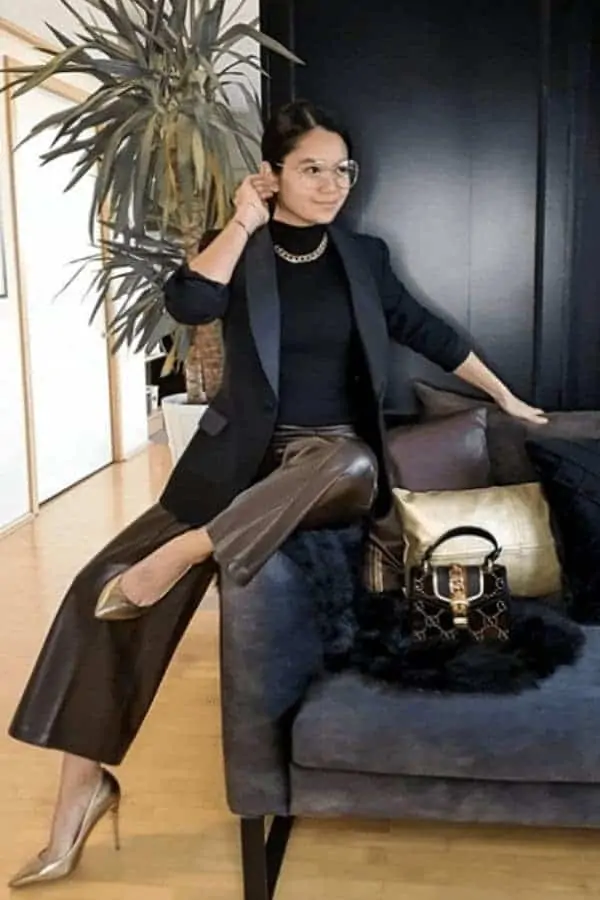 Neutrals with a pop of metallic have never looked so chic. Aiya created an epic night out outfit.
Try Animal Print
Animal print is one of those prints that manages to be classic and trendy at the same time. Making it a great choice for a woman over 40 to incorporate into a night out look. Animal print can be worn in a few different ways for a night out, it really depends on just how bold you want your look for the evening.
Looking for something that will make a statement? Try a snakeskin or leopard print dress styled with pumps and large earrings. On the other side, if you want a look that's night out worthy but doesn't feel as dressed up a dress opt for a blouse in an animal print. Style the blouse with black trousers or jeans and finish the look with fun heels and a clutch.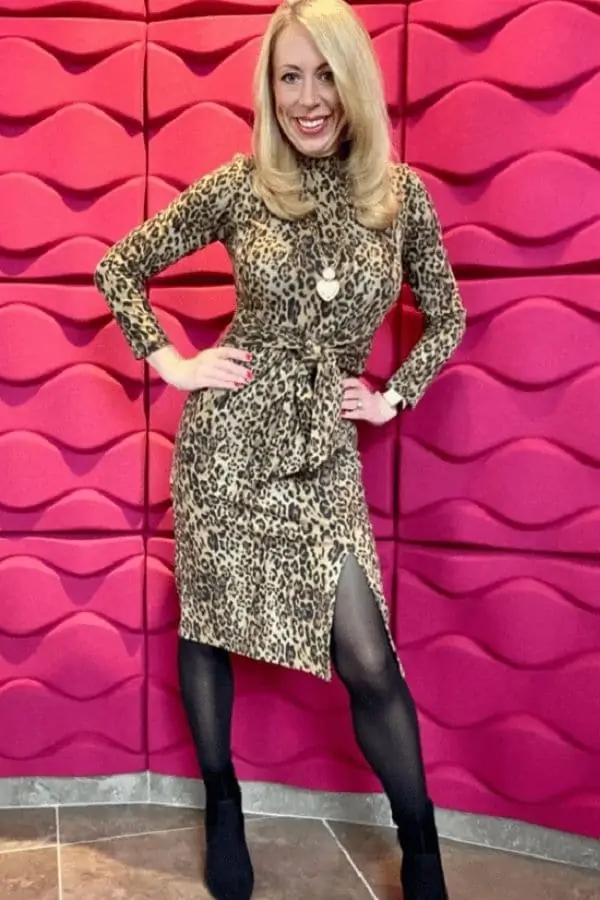 Ejkstyleconsultancy looks fierce and stylish in animal print for a night out.
Wear one asymmetrical necklines
Necklines play a critical role in how the outfit look, but it is often an overlooked detail by most women. When you choose the asymmetrical neckline, whether it's for your top or for your dress, you will look immediately dressy.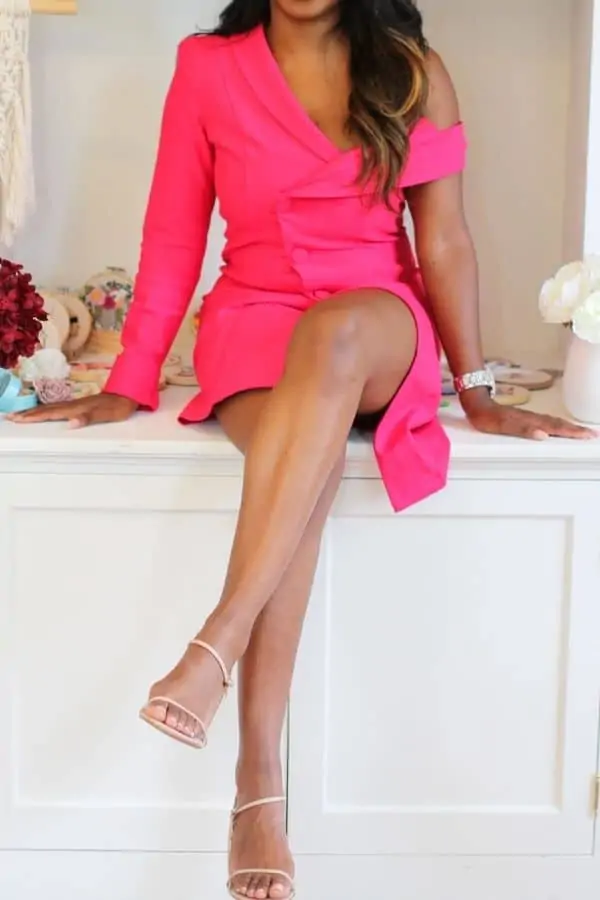 This can be one shoulder, or shoulders with cut-outs, you name it. When you are over 40, playing with asymmetrical neckline is one of the best ways to look sexy without going overboard. The reason is you are only showing very limited amount of skin, so, it will always look subtle but at the same time attractive.
Faux Leather Leggings Styled Right
(Faux) leather leggings offer the versatility we all love. Not only are they stylish and easy to wear with a lot of different looks, they're comfortable! Which, let's face it, is a major win when you're getting dressed for a night out as an over 40 woman. Don't hesitate to reach for faux leather leggings when styling a nighttime look. Pair them with a flowy blouse, this adds to the comfort factor of your outfit, and a pair of booties. If you need to add a layer for warmth (or style), you can add a black blazer over the top to really dress up the leggings.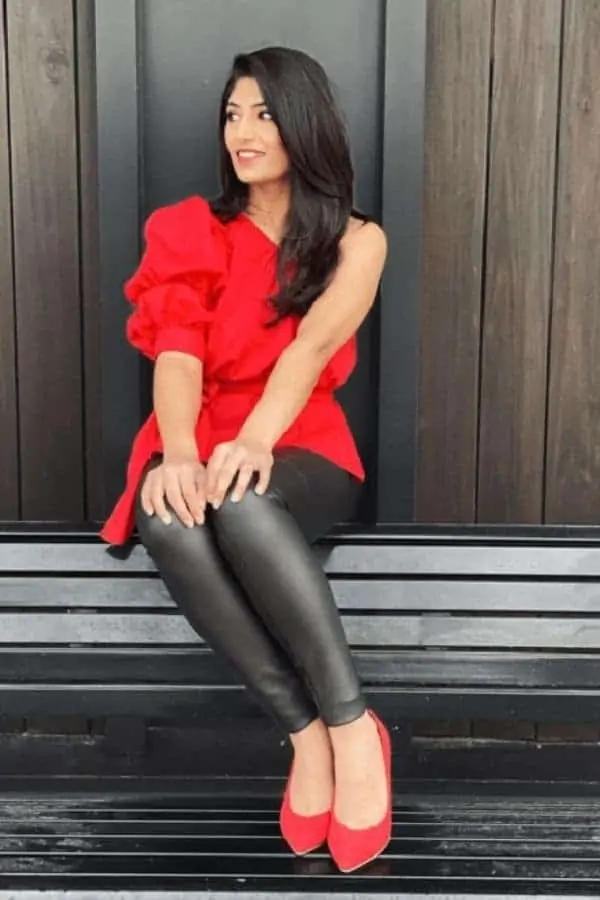 Faux leather leggings look so stylish and edgy for a night out. Lashes_n_looks looks incredible in this look.
Wear Lace
There is something about lace that, no matter your age, is perfection for a night out outfit. In this case, a small touch of lace with a blouse or skirt is just the right amount. Yes, lace can be over done! So just keep it to small doses to achieve the sexy, grown up feel. Keep the rest of the look feminine to keep the aesthetic consistent throughout the outfit. Pearls are always a really fun accessory option for lace!
Stylist tip: when wearing lace make sure you're aware of any layering that may be necessary to complete the look. Is the lace see through? If so, you will want to wear a camisole or slip underneath so it's not a completely see-through look.
Wear a Pant Suit
One might typically think of pant suit as an appropriate outfit for the office setting or an important client meeting, but you can definitely wear a pantsuit for a night out, especially if you are over 40s. This is not the black or navy color pant suit we are talking about here, which you normally would expect in a corporate office. We are referring to the pantsuits in feminine colors such as pastel, cream or off white.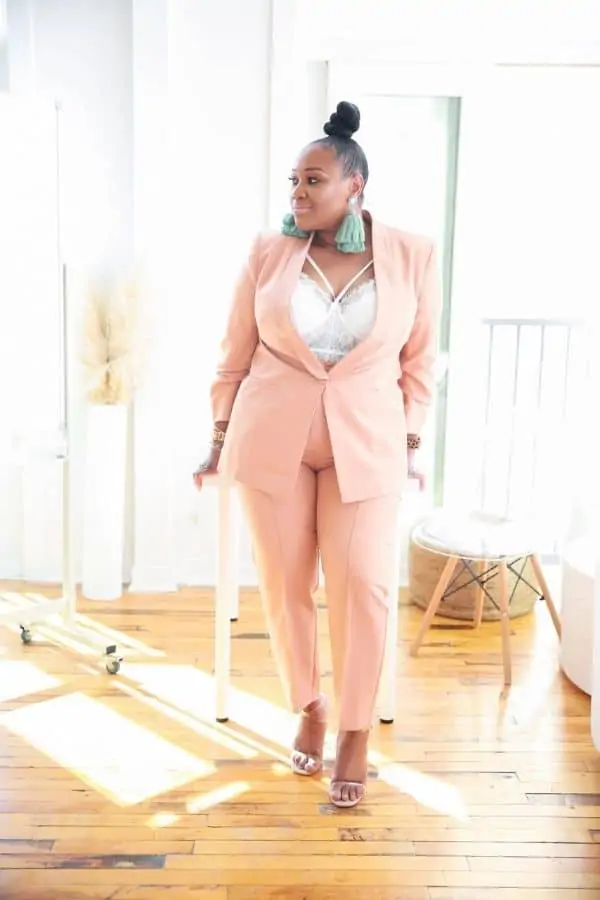 Pant suits are typically well tailored and made of higher quality fabrics such as wool or wool blend. This will add a more classy touch to your night out outfit, especially when you are in your 40s and above. Wearing a pantsuit to a nice restaurant not only is appropriate, but also looks quite expensive automatically without having to spend too much on the outfit.
The best way to go for this look is to add bold jewelry to make the outfit look more feminine. In the mean time, a pair of strappy sandals or any high heels will make the pantsuit look quite edgy and trendy.
Play with Texture
One of the best ways to style an outfit that looks unique and nighttime ready is by the use of texture. Think of fabrics like silk, sequins, velvet, etc. The reason these types of fabrics are so great is because it adds dimension and style to an outfit without the need to show a lot of skin – something that's extra important as a woman over 40. When styling a night out look, reach for various textures in blouses, handbags and even shoes – texture isn't limited to just shirts!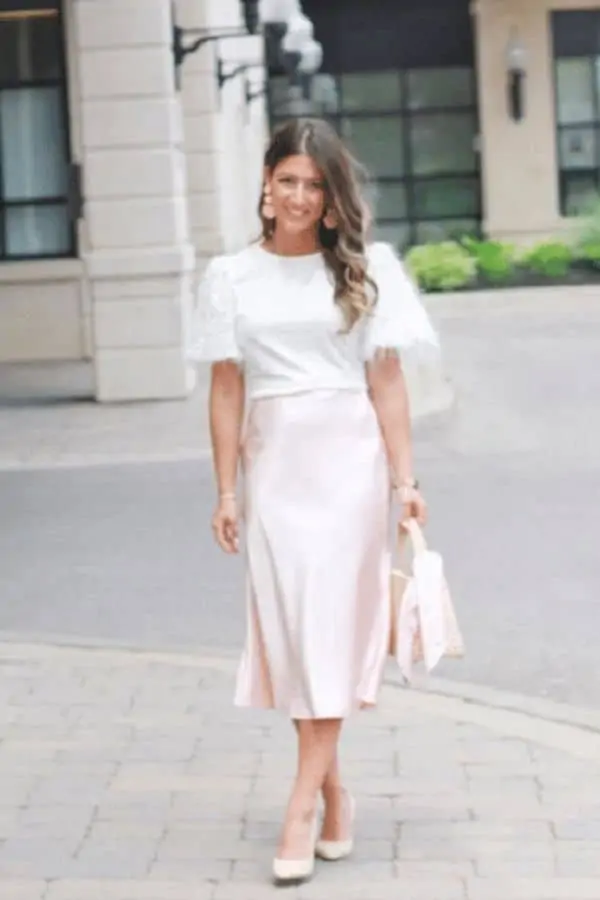 Stylenotbrand styled the most stunning outfit using texture here. Combining satin, feathers and cotton.
Wear Statement Accessories
It's no secret accessories have the ability amp up (and complete) an outfit, whether it's for the day or evening. That being said, nighttime looks require a little extra consideration when accessorizing. To make sure your night out look is complete throw on a couple of fun accessories. It's an opportunity to add a little more glam than you probably do in your everyday life, so play it up. Add a pair of dangly earrings, a cocktail ring, and/or an embellished clutch. The point is – have fun with your accessories and don't be afraid to be a little 'extra.'
Wear Dark Denim
Denim is a go-to choice for a night out, when you don't need (or want) to be too dressed up. Wearing denim is easy, too. One major point to consider when wearing denim for the evening it to choose a pair of jeans that's in a darker wash, like the black jeans. This will give you a little more of a dressed up aesthetic, without being over dressed. Light wash denim tends to feel quite casual so keep it to your darker washes.
You can choose dark denim of all leg shapes, but the black wide leg jeans and the black skinny jeans are some of the most dressy type of jeans. The reason is wide leg naturally look dressier, and when you choose black color it will add even more polished vibe to it. Meanwhile, the skinny jeans show off your curves, so they are some of the most feminine jeans for the night out on the town.
Even though denim is easy, just like with your high heels it's important to choose a pair of jeans that is actually comfortable. Gone are the days of being uncomfortable for a night out, those times are for your 20's. Do the sit test before heading out so you know you can sit comfortably.
Wear Bold Shoes
Heading out for the night is a fun occasion, and the perfect opportunity to throw on an extra fun pair of shoes. Generally, a night out calls for a pair of high heels. Regardless of your height, wearing a pair of heels will make you feel more confident and also improve your gesture when you stand and walk.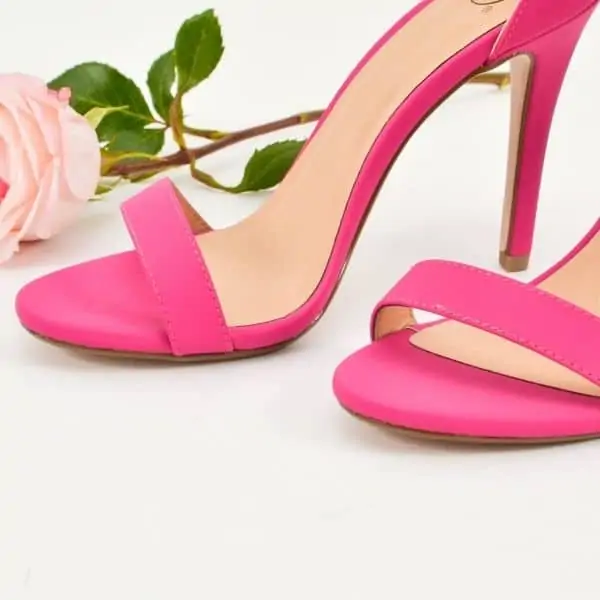 So, grab your favorite pair of sexy heels to wear for the evening, just make sure they're comfortable enough to stand/walk in a bit. No one wants to be in utter pain by the end of the evening.