If you have no hips, it is important to choose the right styles that complement your shape. I know that as I have a clothing line for petite women, which gives me the opportunity to style models of different sizes and shapes in our product fitting and photo sessions every week.
Below are the 16 tried and true hacks to instantly enhance your curves in your hips without having to exercise!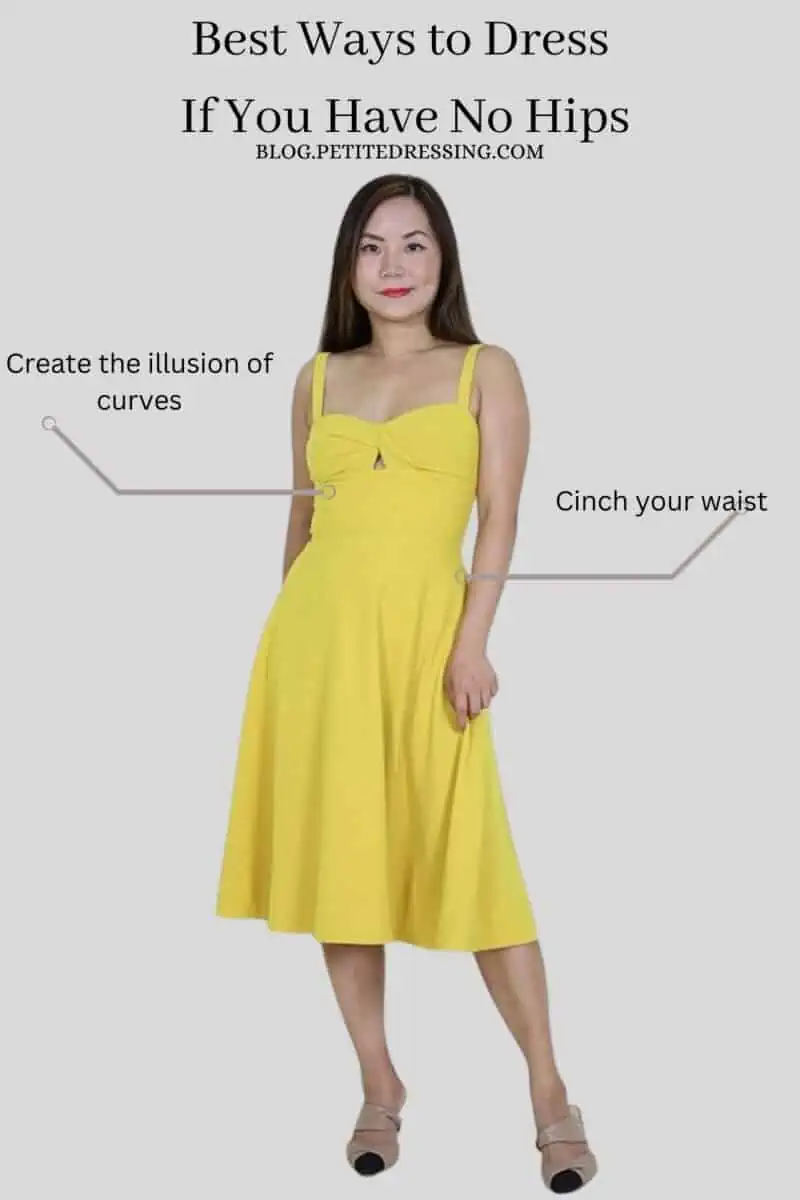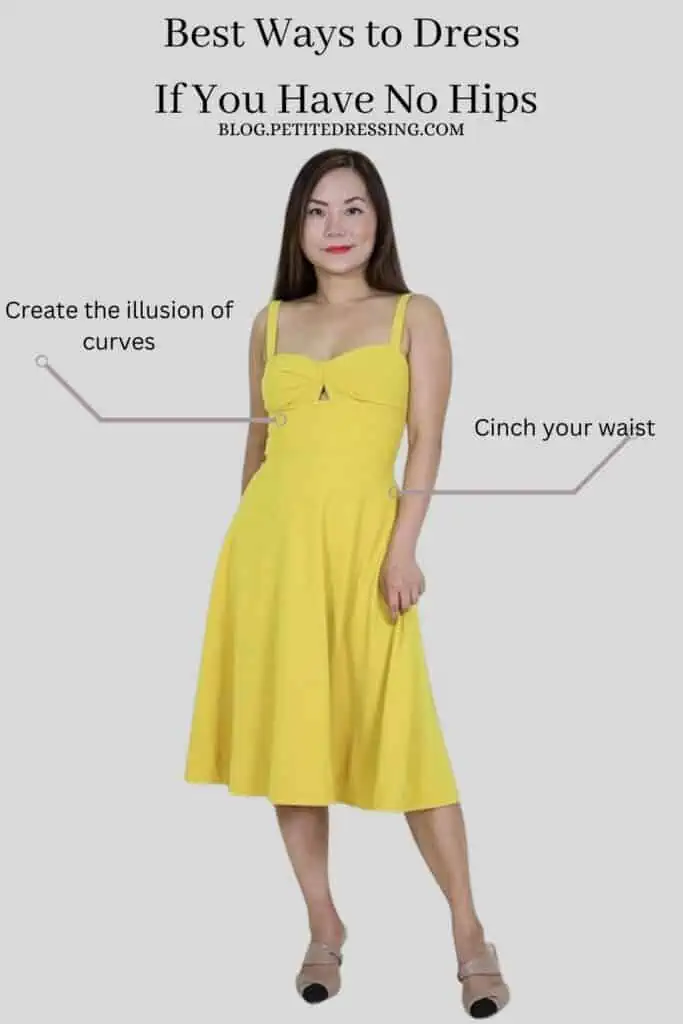 Highlight your top half
Draw the focus on the upper body by having the attention upwards through highlighting your shoulders, neck, and bust area. This is a great way to bring out the best features of your upper body which are most likely your body shape's strength.
Apart from having the visual focus on your top half, this is also an efficient way to work around your visual proportions. This is also to minimize unwanted focus on your undefined hips.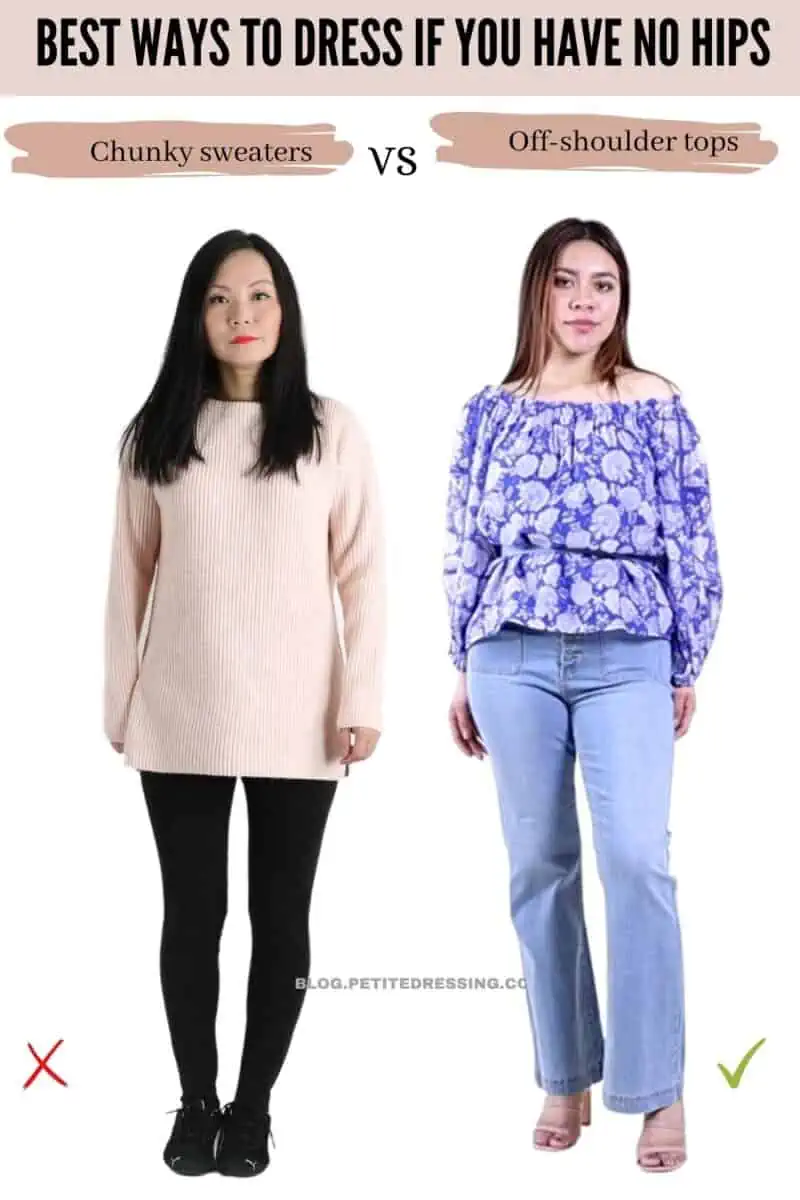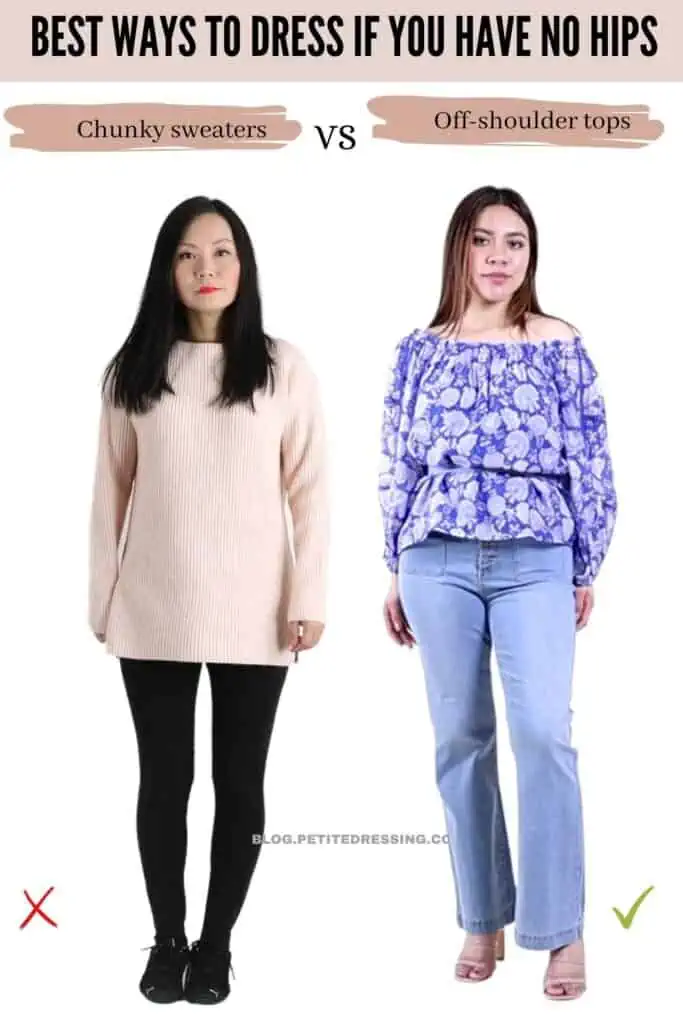 Incorporate Bold Patterns
Bold patterns and textures can visually create the illusion of curves, specifically on your lower body. Horizontal stripes, bold prints, and textured fabrics like ruffles or pleats placed on the hip area can help create the appearance of volume.
While bold patterns help create the perception of curvier hips, just remember to be extra mindful of how much detail your clothing piece features. These patterns should be enough to add volume but not too much in a way that it overwhelms your natural figure.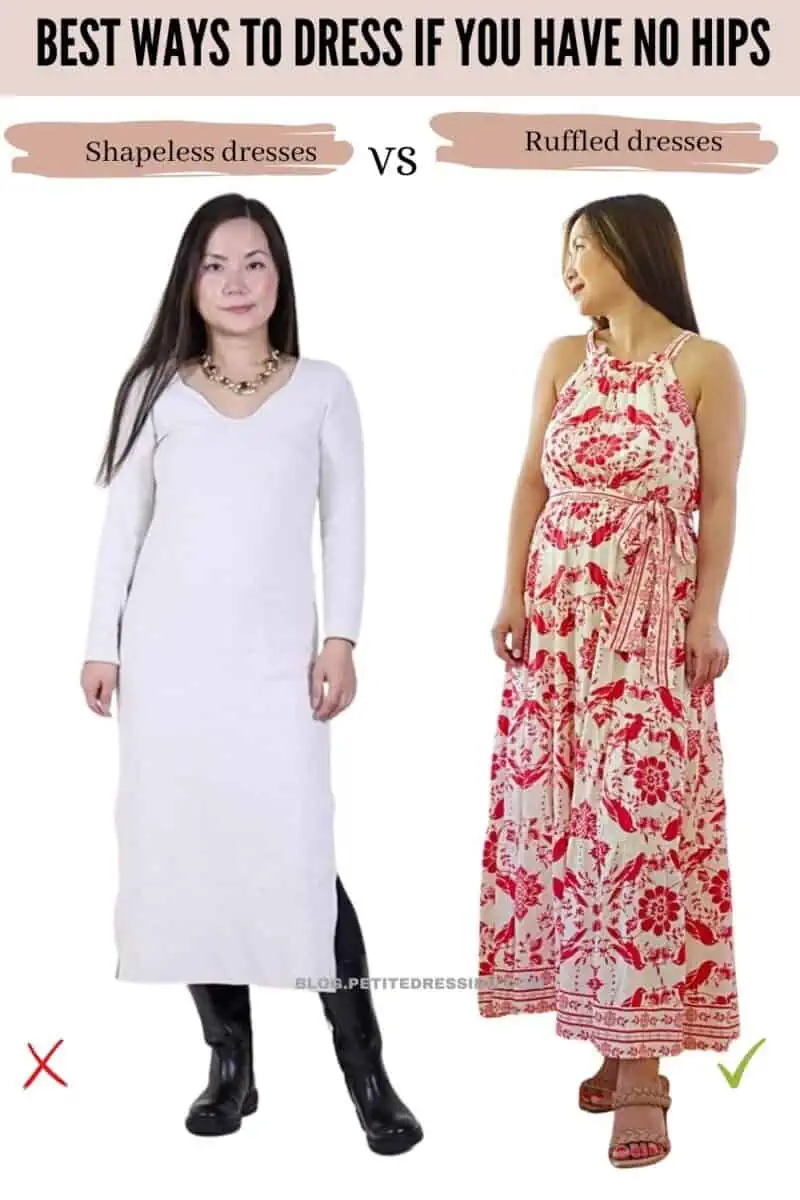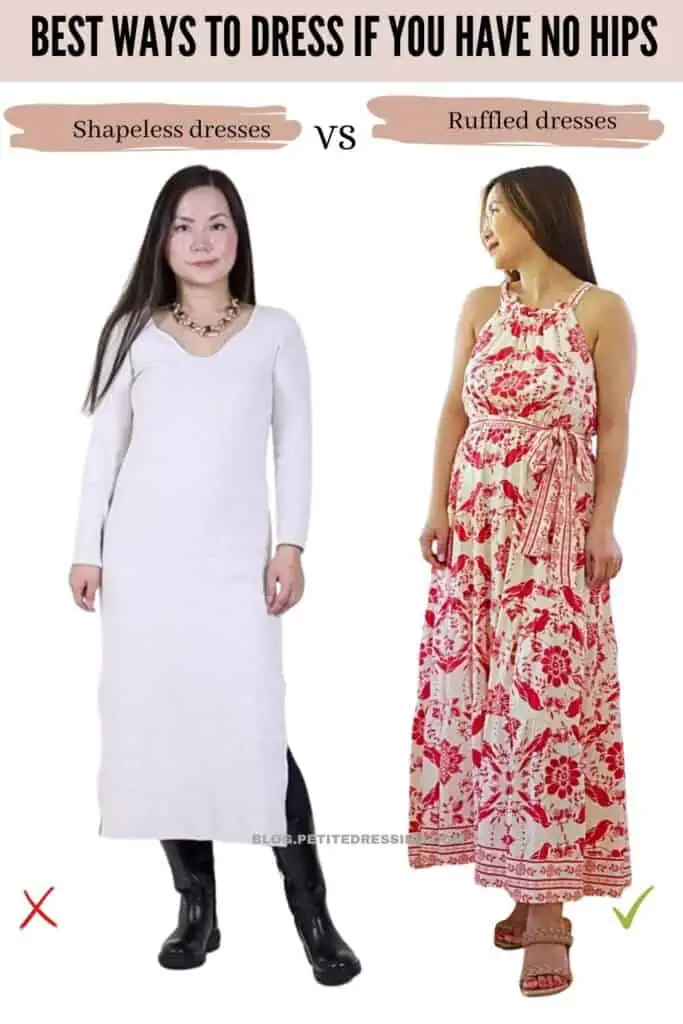 Cinch your waist
Define your waist by going for belts or waist-cinching clothing structures such as A-Line dresses or Peplum tops. This is an instant and foolproof solution if you're looking to enhance the definition of your hips without having too much details on your bottoms.
Cinching your waist not only accentuates your body but also creates a subtle flare that gives a soft volume boost to your hips and gives you the illusion of an hourglass figure.
When it comes to layering, wear cardigans, jackets, or blazers that nip in at the waist or have peplum details to create the appearance of curves. The goal of layering should be to add shape and proper dimension to your figure, not to create unnecessary bulk in your frame.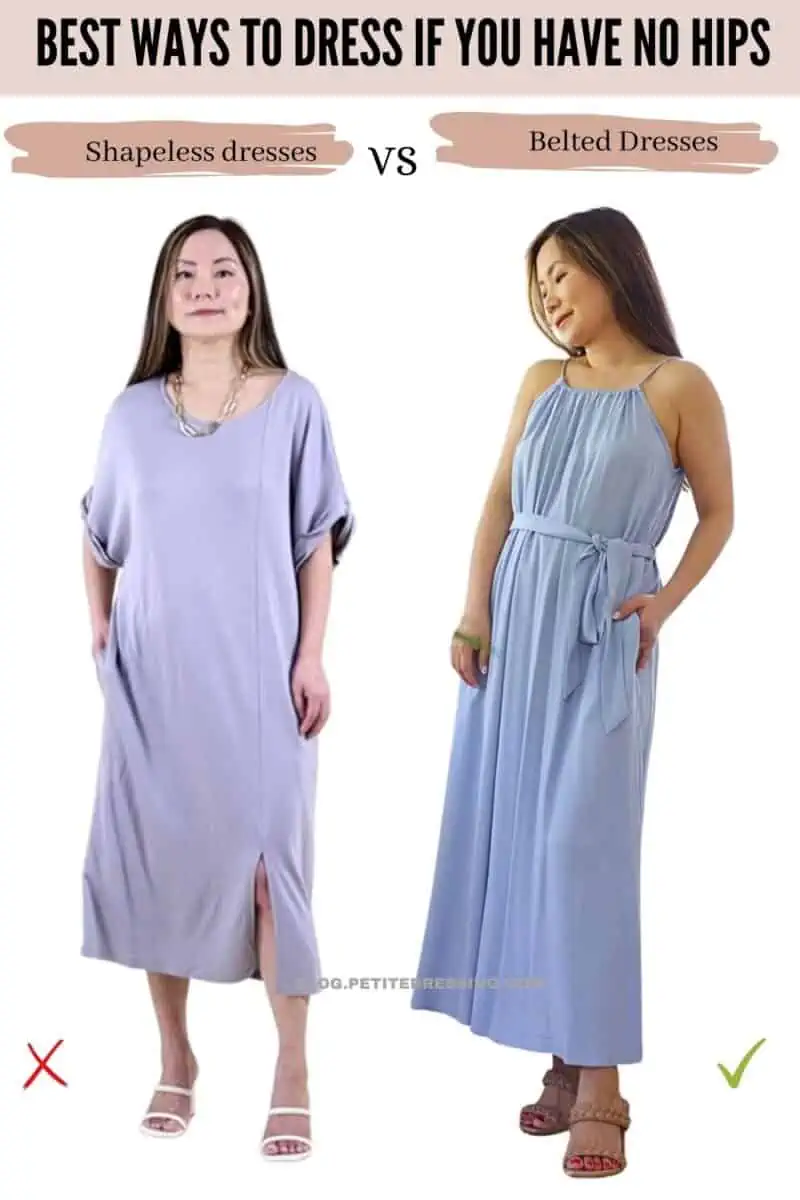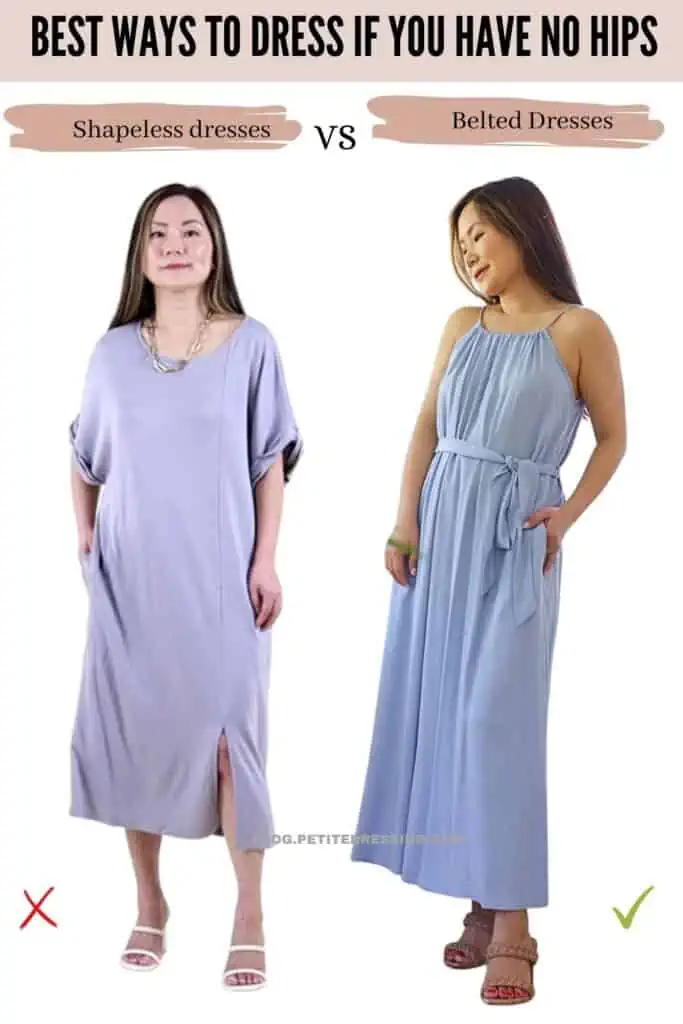 Add Structure to your Bottom
Be extra mindful of the structure of your bottoms. The shape, cut, and length of your bottom can have a significant visual impact on your overall frame.
Since you have no hips and lack natural definition, you need to opt for skirts, pants, jeans, or shorts that add volume and structure to your hips for a pleasing balance between your upper and lower body.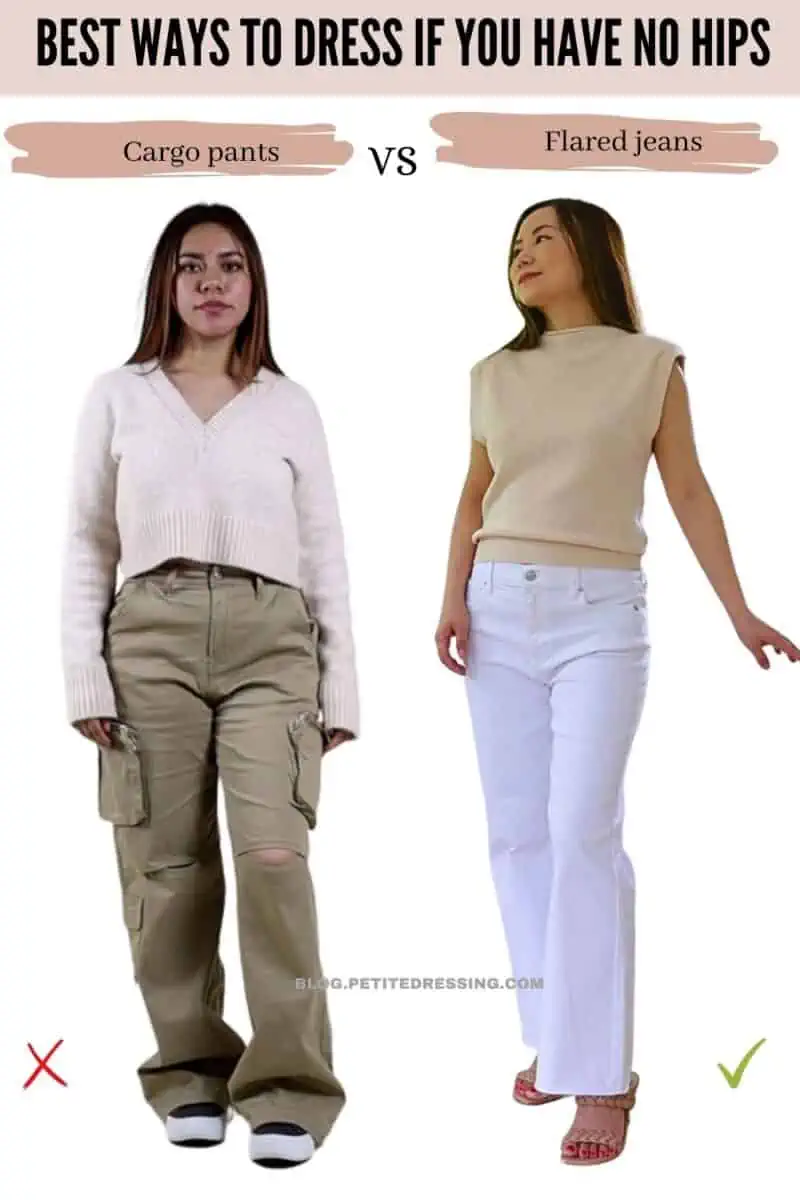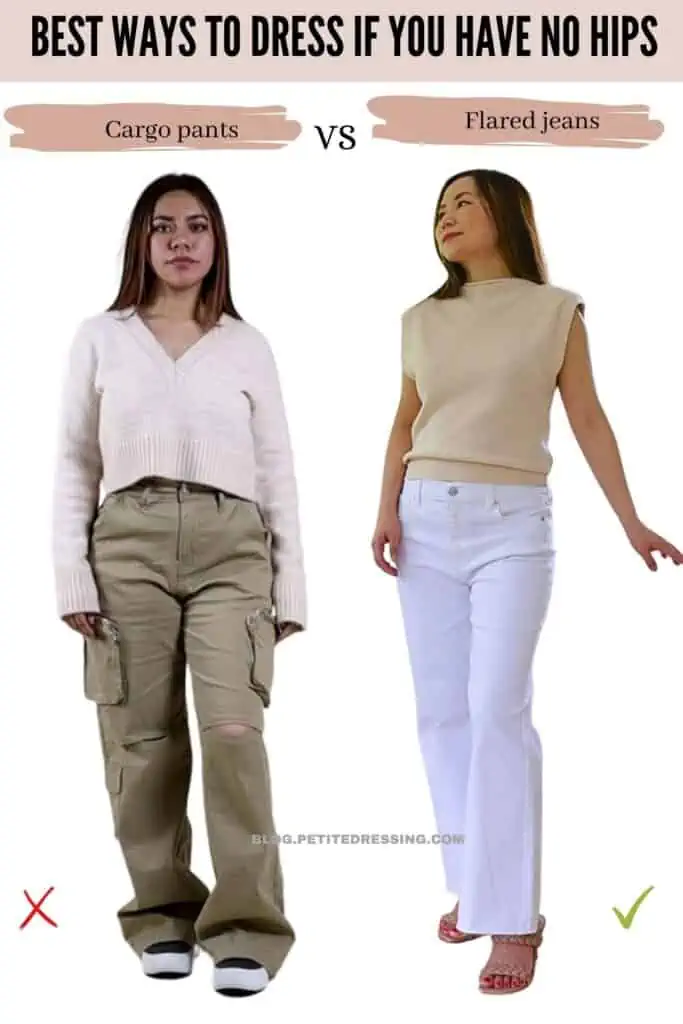 Wear A-Line Skirts
Now let's move to bottoms, which can definitely make a huge difference in terms of enhancing the curves of your hips. The first one that's generally very flattering for women with no hips is structured A-Line skirts.
A-line skirts feature a structure that gradually flares out from the waist to the hem resulting in a gentle, A-shaped silhouette. The shape of the skirt instantly adds volume to the hip area to help visually enhance the curves and accentuate the hips.
They also help balance out the proportions of the body and this is very helpful for women with narrower or less pronounced hips. The flared shape of the skirt adds width to the hips and therefore evens out the size difference between your torso and lower body.
The length and fabric of the A-line skirt can also influence the overall visual effect of your ensemble so it's always ideal to choose the right one that compliments your style and shape.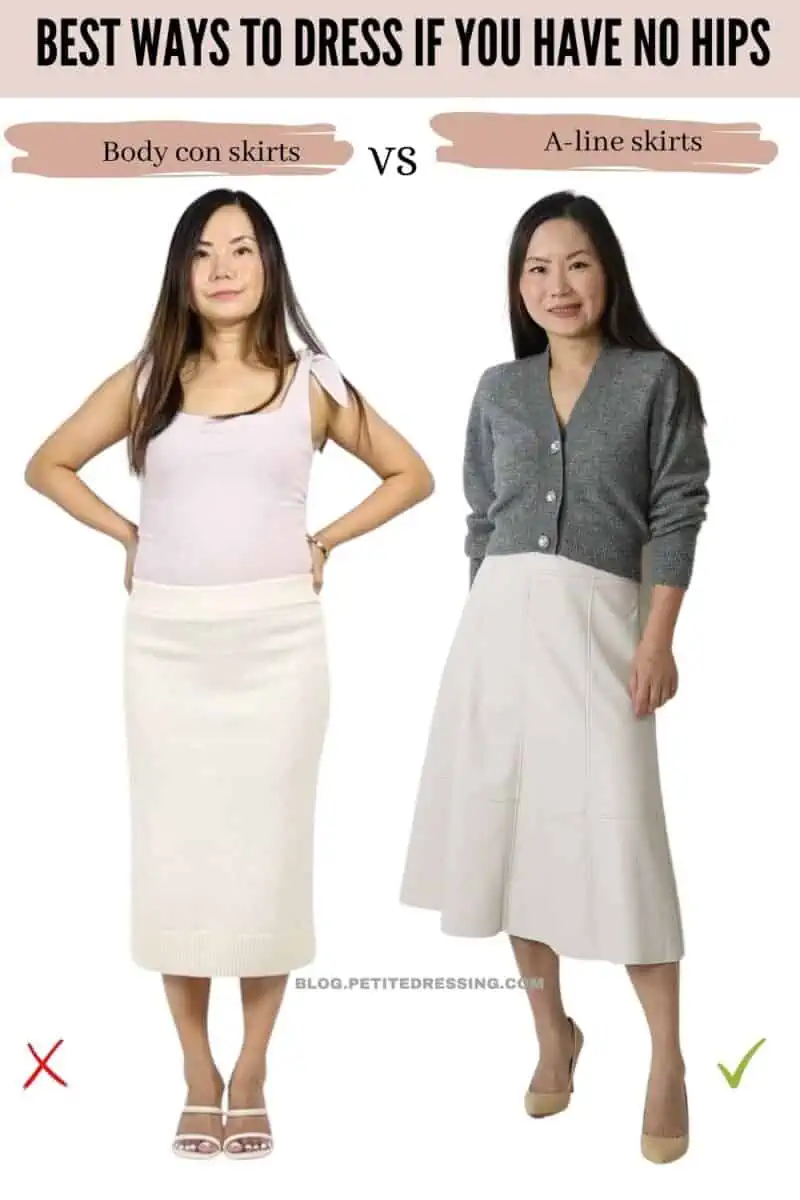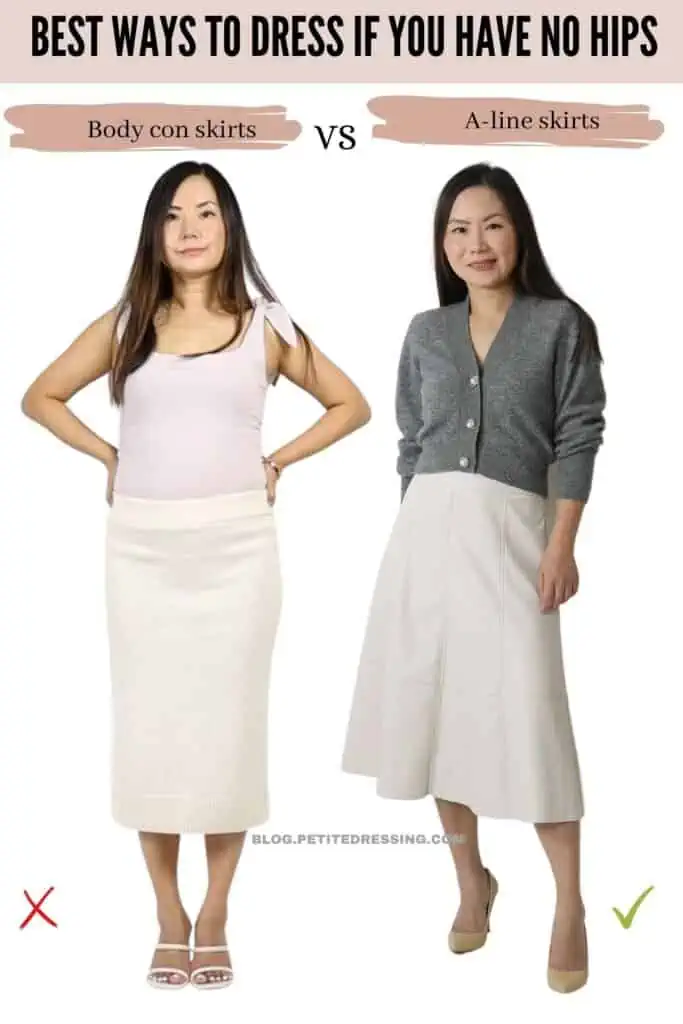 Wear Skirts with Ruffles
Just like how the ruffles on your tops add volume and draw attention, the same style principle applies to skirts as well. Since your hips are lacking shape and definition, choosing a skirt that has ruffle details around the hip area can be immensely helpful in enhancing your figure.
The flouncy and layered nature of the ruffles draws attention to the hip area without looking too overwhelming. By adding extra fabric and depth, skirts with ruffles can create the illusion of curves, making the hips appear more pronounced.
Skirts with ruffles can be styled in many different ways which offers versatility in your wardrobe. To prevent looking too bulky, pair your ruffled skirts with fitted tops or blouses to balance out the proportions, creating a flattering and fashionable ensemble.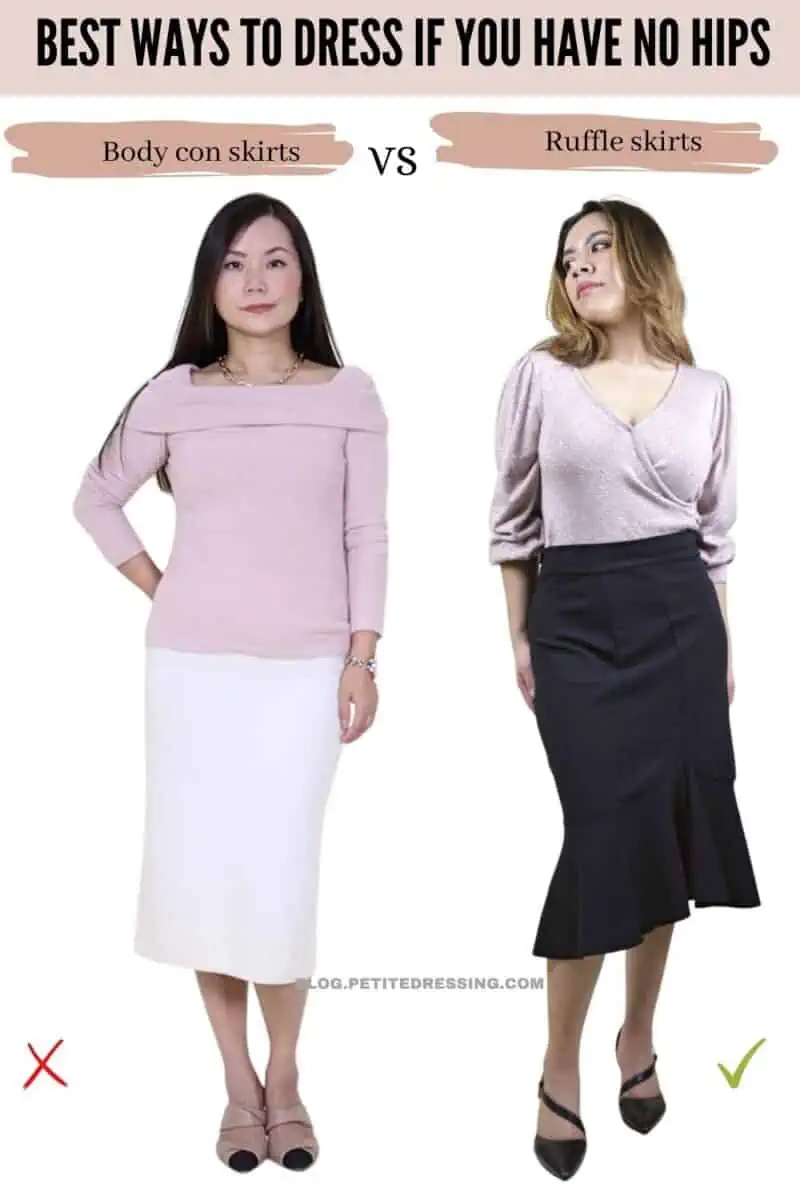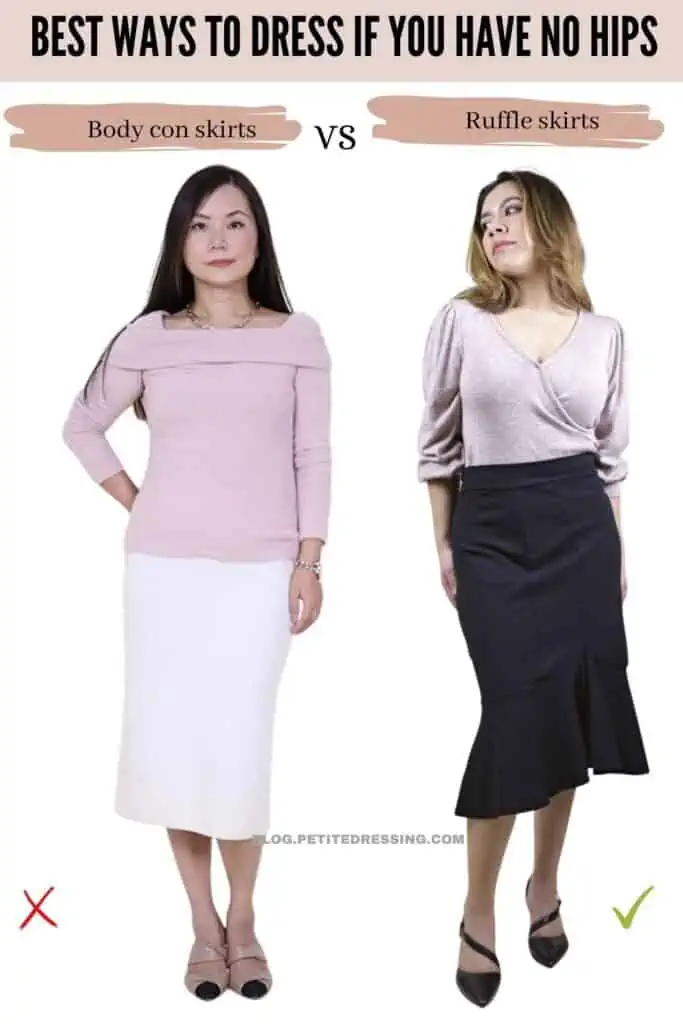 Opt for High-Waisted Flare Jeans
High-waisted flare jeans feature a waistband that sits slightly above the natural waistline, which is a great way to get attention to the narrowest part of your torso. Accentuating the waistline efficiently creates a defined and cinched-in look which draws emphasis on the waist to help create the illusion of curvier hips to make them appear more shapely.
One of your key goals should be to create the appearance of fuller hips to achieve a more hourglass-like figure. The perfect combination of a fitted waist and flared leg structure helps visually exaggerate the curve between the waist and hips.
The flared shape of the jeans also contributes to elongating your legs and therefore draws attention away from the hip area. As it gives your frame a sense of length, it also helps bring balance to your silhouette to make your ensemble look fit and flattering.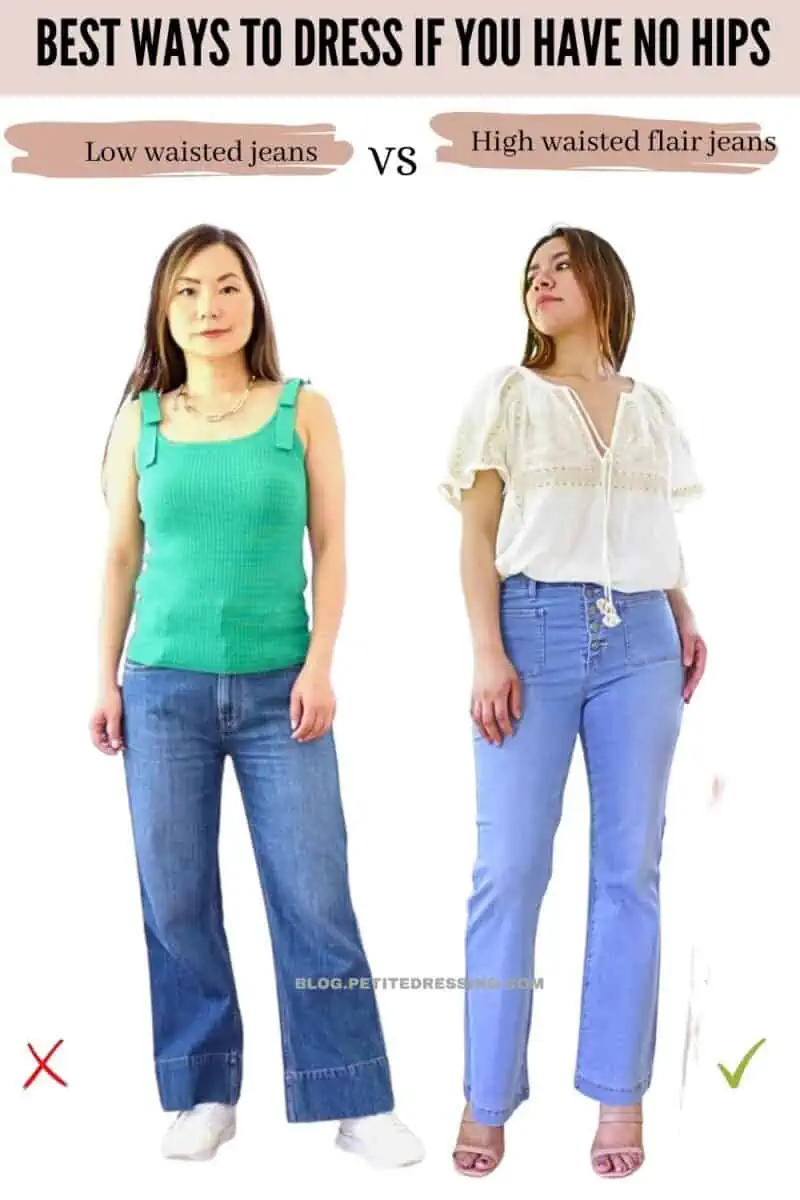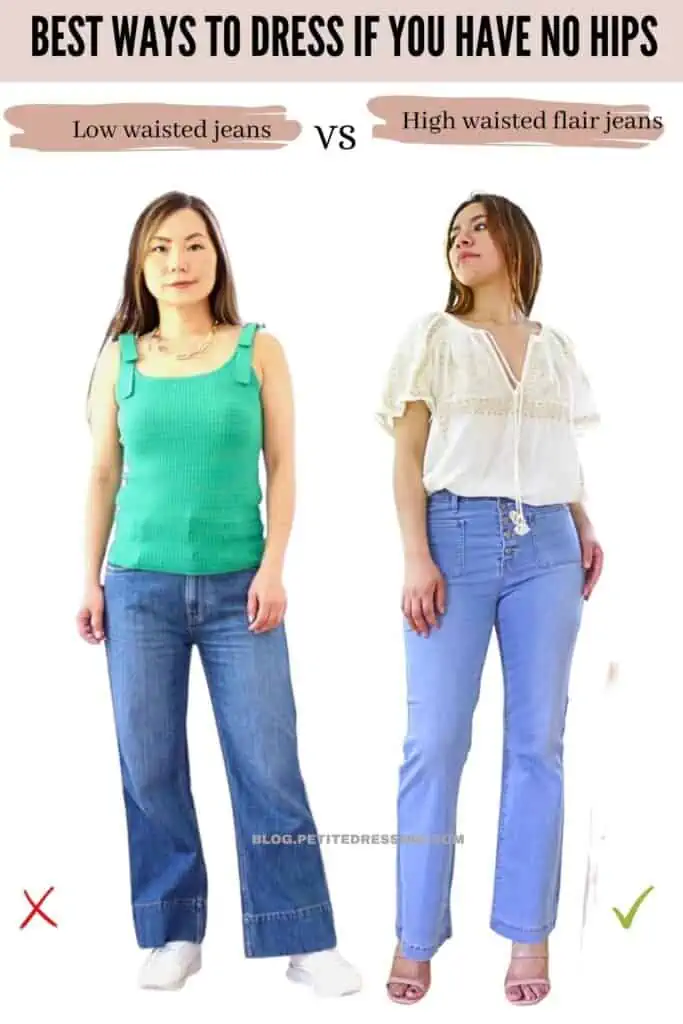 Favor Palazzo Pants
Flowy palazzo pants are wide-legged trousers that feature a very loose and relaxed fit from the waist to the ankles. They are usually made from lightweight and flowy fabrics that drape beautifully which is why they make a great style option for those who have no hips.
The wide and flowing silhouette of palazzo pants visibly adds shape and volume to the lower body which results in the enhancement of curves. The extra fabric and movement around the hips give the illusion of fuller and more defined hips to resolve the lack of shape and definition in this region.
The flowy nature of palazzo pants creates soft lines and drapes gracefully around the hips. This softening effect can help minimize any angularity in the hip area and make your figure look more relaxed, curvy, and elongated.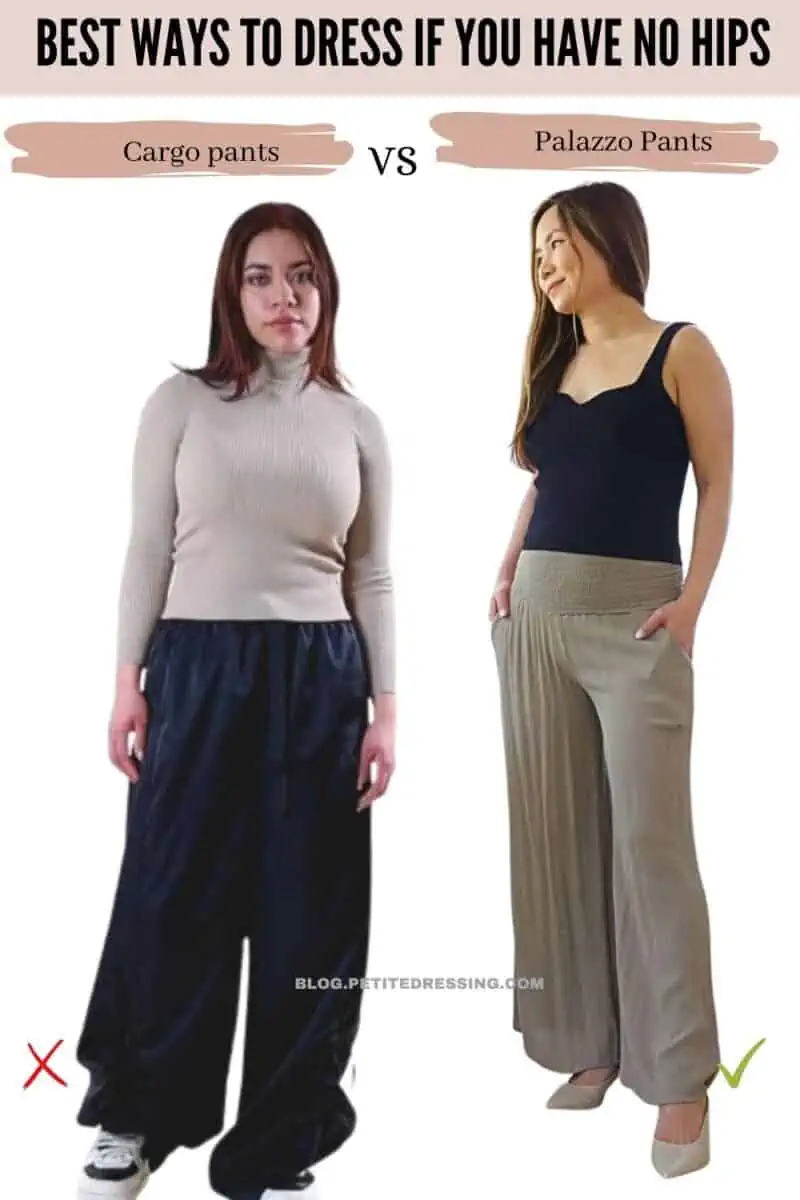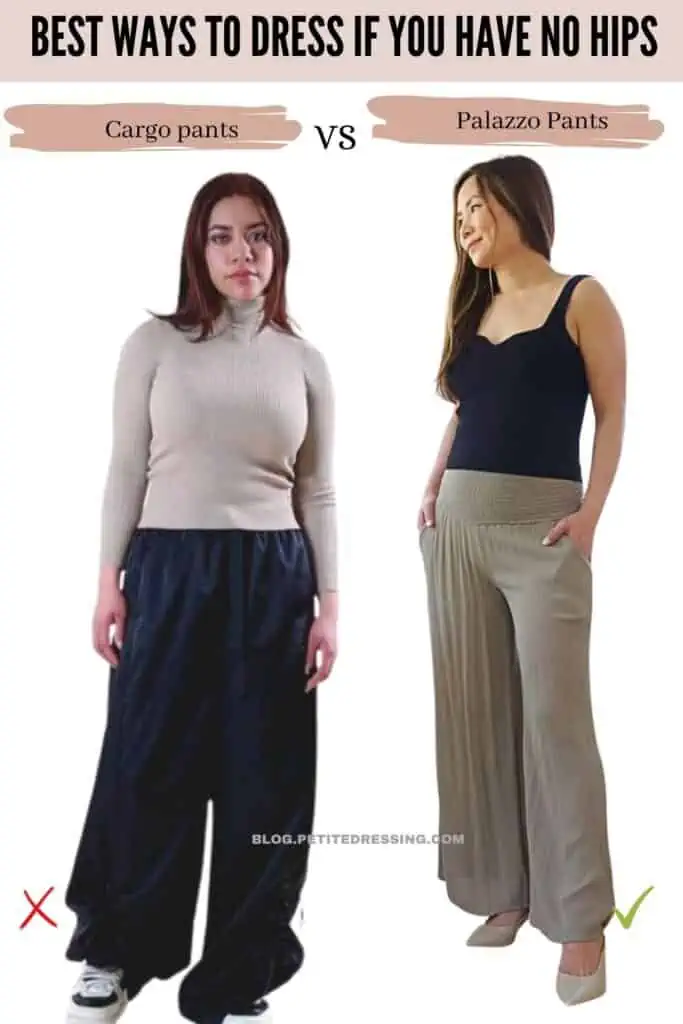 Color Blocking
Utilizing color-blocking in your choice of dress can be a very effective way to make those curves pop! When putting together an eye-catching ensemble, the right color-blocking dress can help neutralize your areas of concern and add more dimension to your less-pronounced hips.
By separating pieces out into distinct, separate sections of clothing, you'll visually define each area and create the illusion of curves thanks to how your body's been sculpted. For this to work, choose a dress that features lighter colors around the hip area as this will help add depth that your hips naturally lack.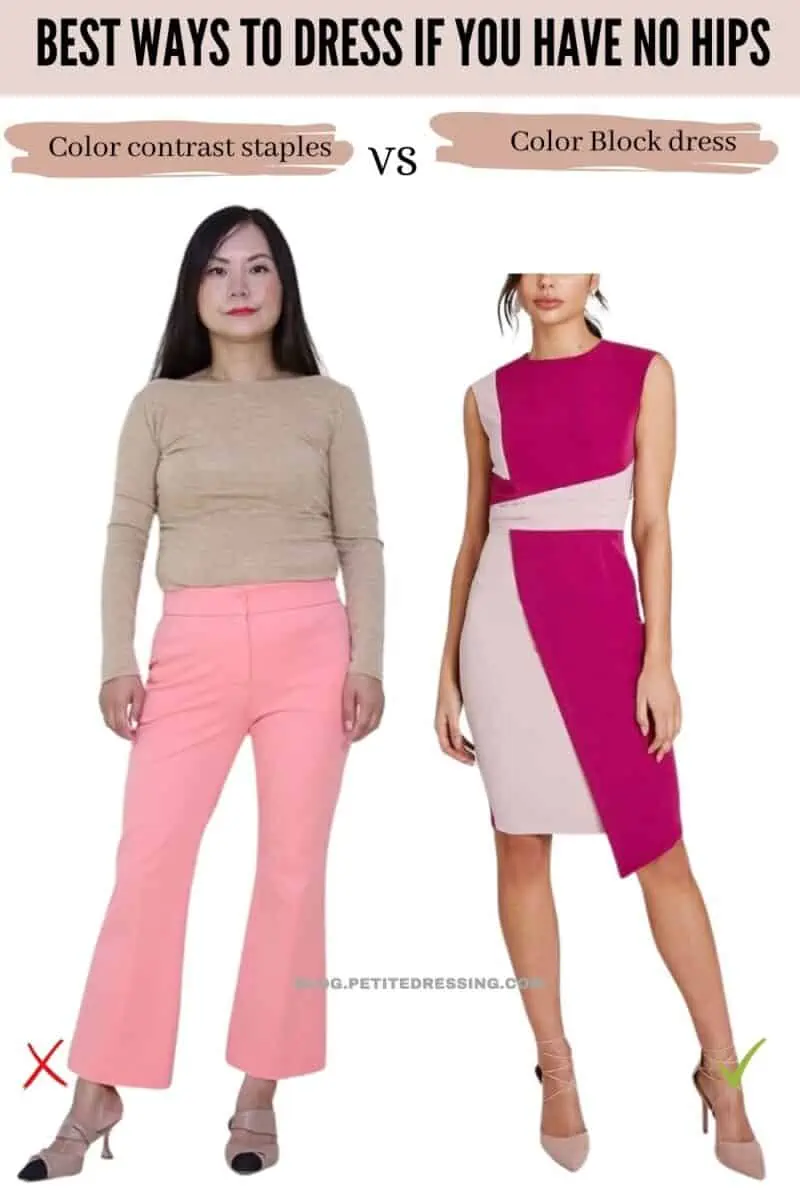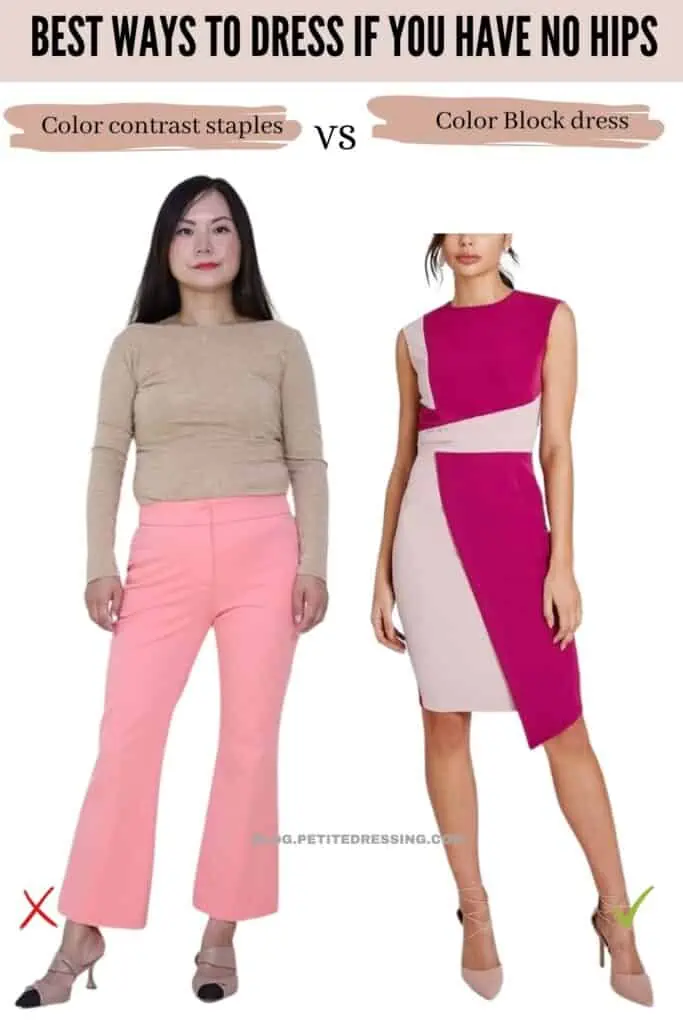 Wear Asymmetrical Hemlines
Not only do skirts with asymmetrical hemlines look very stylish, but their unique point also makes it good for steering the attention away from your area of concern – your hips. Instead, the focal point of your ensemble becomes your legs as the asymmetrical hemline draws the eyes downwards.
The asymmetrical hemline adds an element of movement and visual dynamics to your dress. The uneven or angled hemline also gives a sense of length to your look which makes you appear taller and leaner.
In addition to this, the variation in length and shape creates an illusion of added volume and width in the lower body. By visually extending the hemline on one side, the asymmetry helps create the appearance of fuller hips, contributing to a more balanced figure.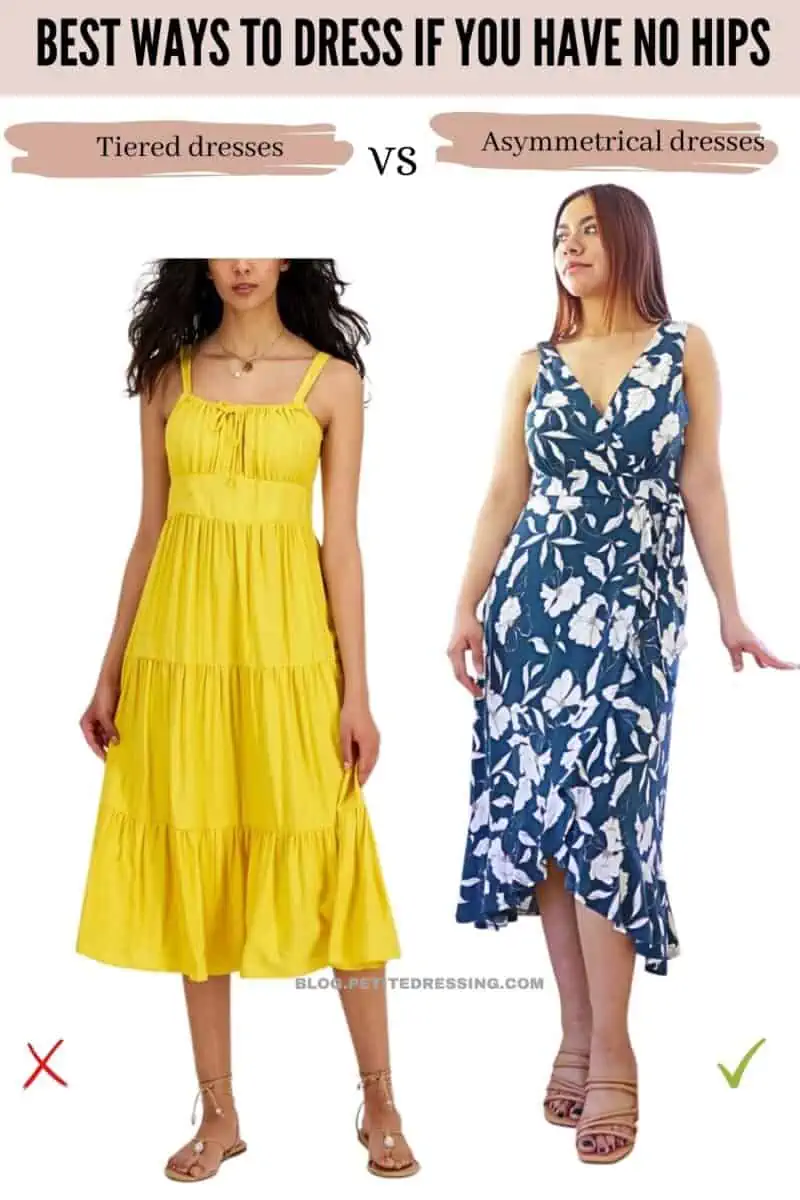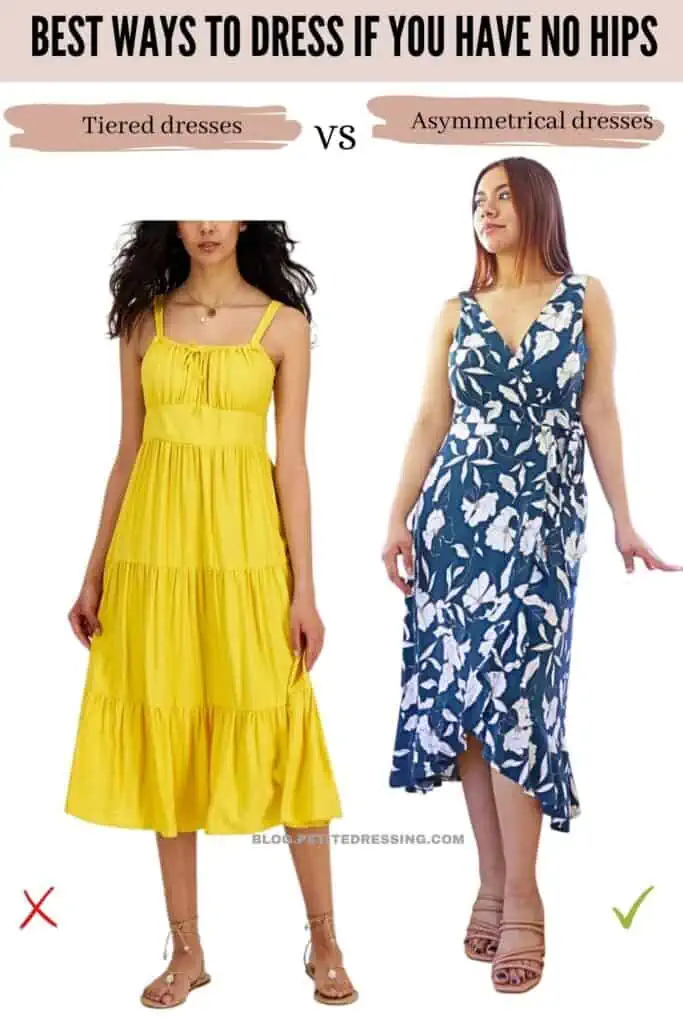 Wear Wrap Dresses
Wrap dresses will always be one of my top choices when it comes to most types of body shapes because of their universally flattering structure. Generally, wrap dresses are known for their ability to enhance the appearance of your natural curves, most particularly at the waist and hips.
The adjustable wrap design allows you to have full control of the waist-cinching, enough to define and give the illusion of a more pronounced hip area. The gentle drape of soft cotton fabric material of the dress adds a subtle softness to the curves which further enhances your feminine shape.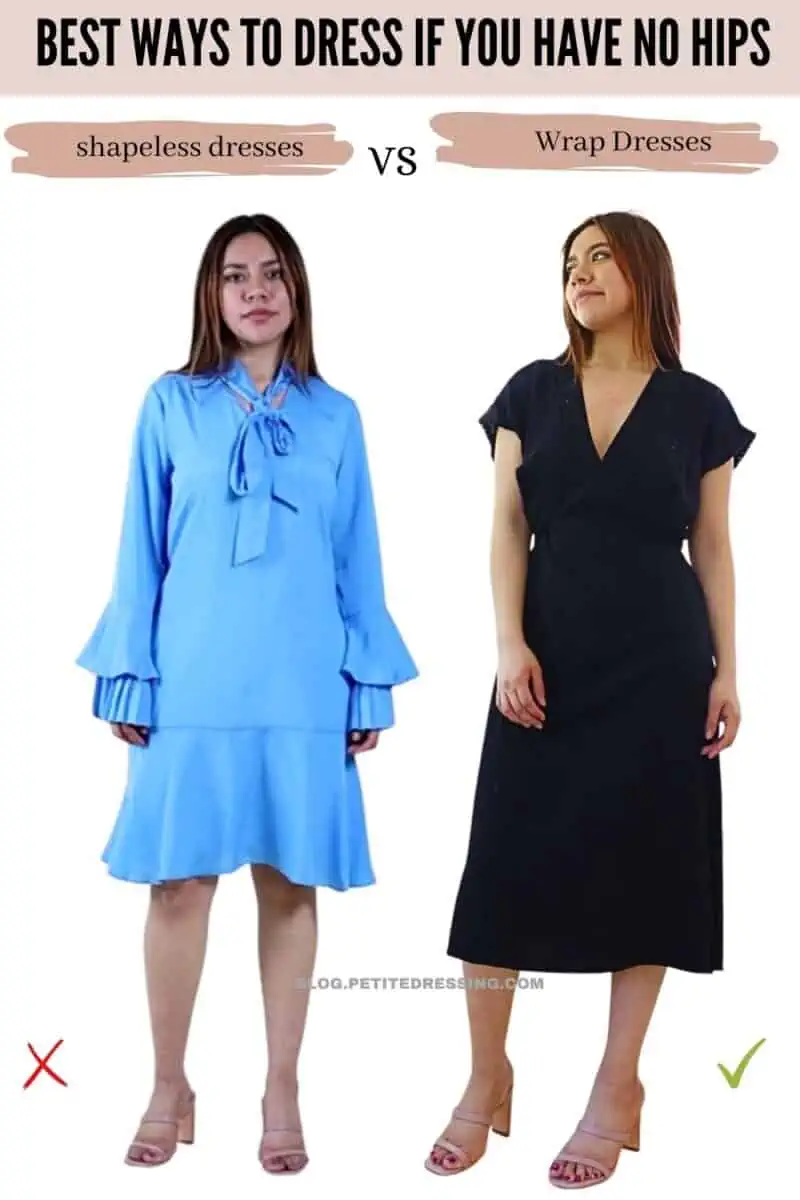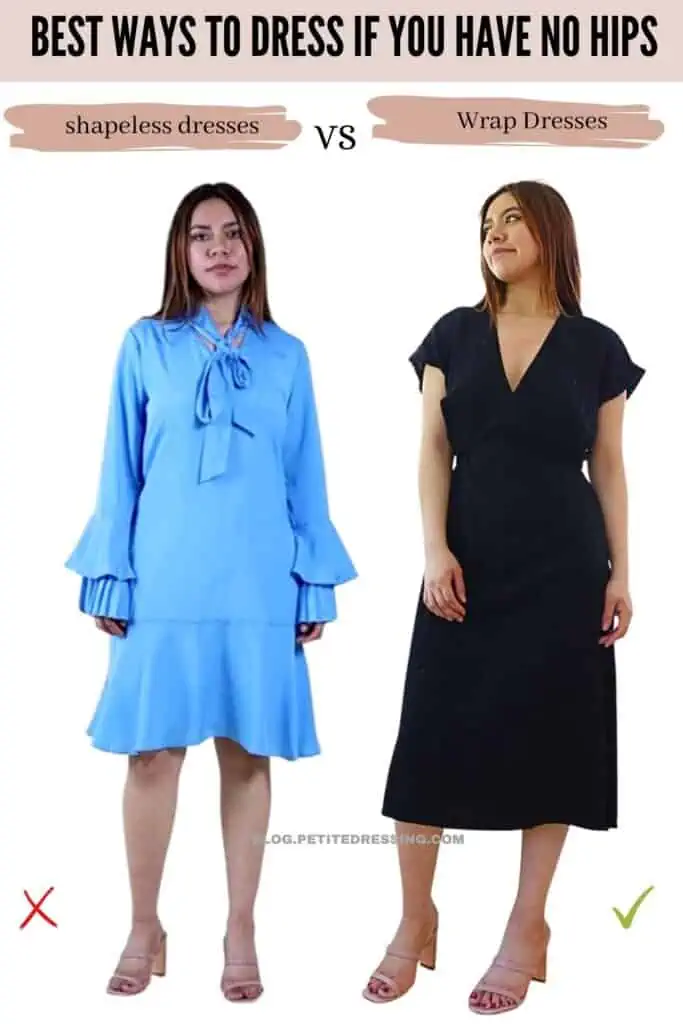 Wear Off-the-Shoulder Rompers
Unlike oversized and shapeless dresses, rompers feature more structure thanks to the fact that they cinch the waist. In addition to this distinct feature of rompers, having them in an off-the-shoulder style can be stylishly beneficial for women with no hips.
This is because off-the-shoulder rompers help create the appearance of curves despite the fact that your hips are less pronounced. The emphasis on the waist gives you an hourglass-like silhouette, resulting in the illusion of more defined hips and a more balanced figure.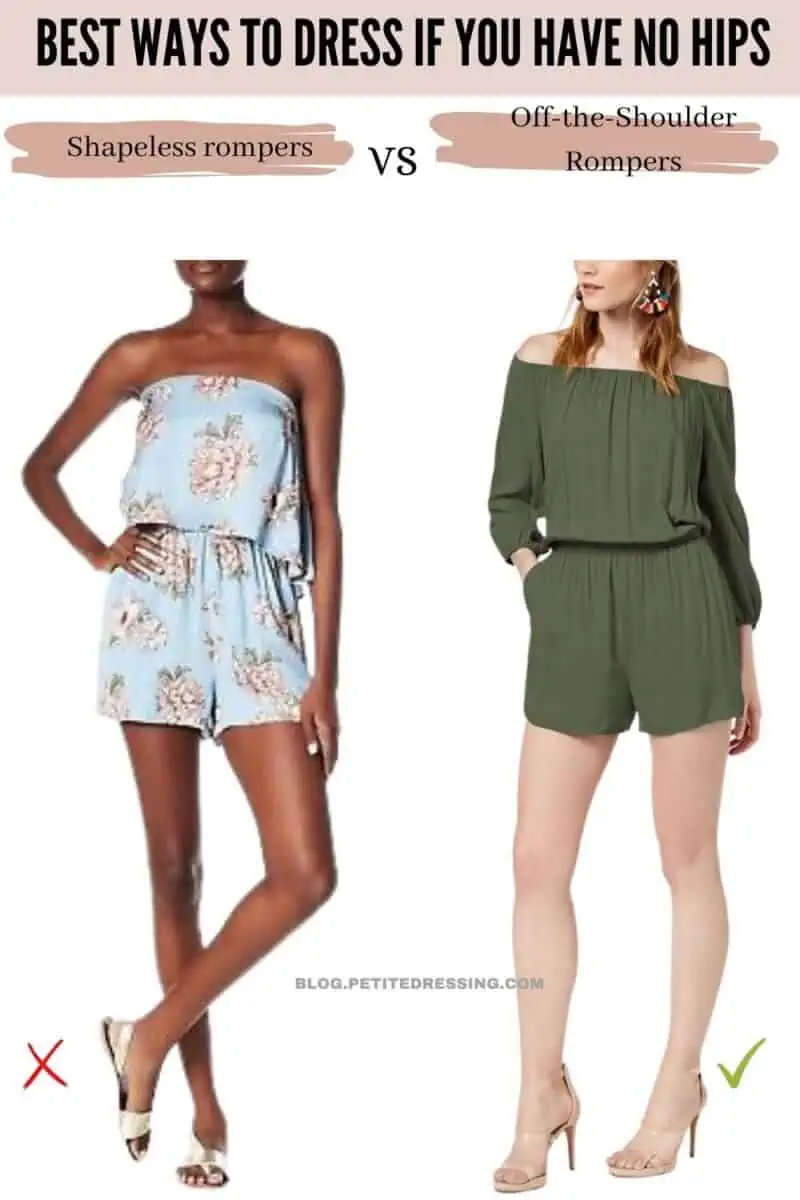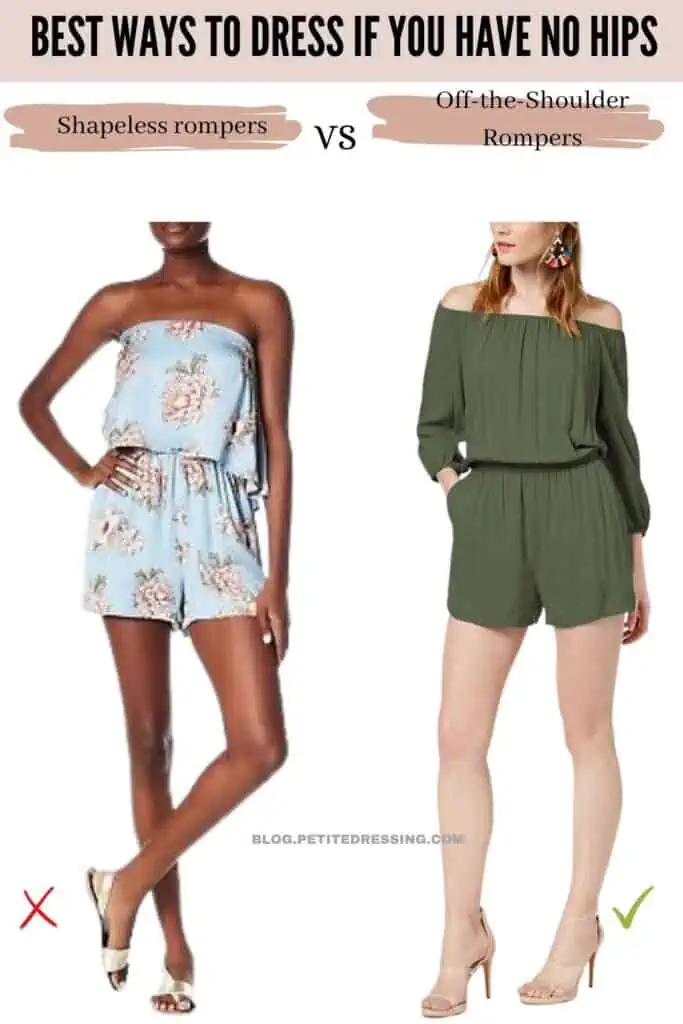 Wear Tailored Jumpsuits
Tailored jumpsuits have the potential to create the illusion of curves and add definition to the hip area.
One of the best features of tailored jumpsuits is their defined waistline, which adds more shape and definition to the body. Through the use of strategically placed darts, seams, or belts that cinch in at the waist, the hips also get more enhanced to achieve the illusion of an hourglass figure.
When choosing the right jumpsuit to help you get your hips to look more pronounced, try to look for close-fitting silhouettes as they have the ability to add structure and create a streamlined appearance. This can help make your curves more apparent, even in areas where they are less present, and provide a more shapely overall figure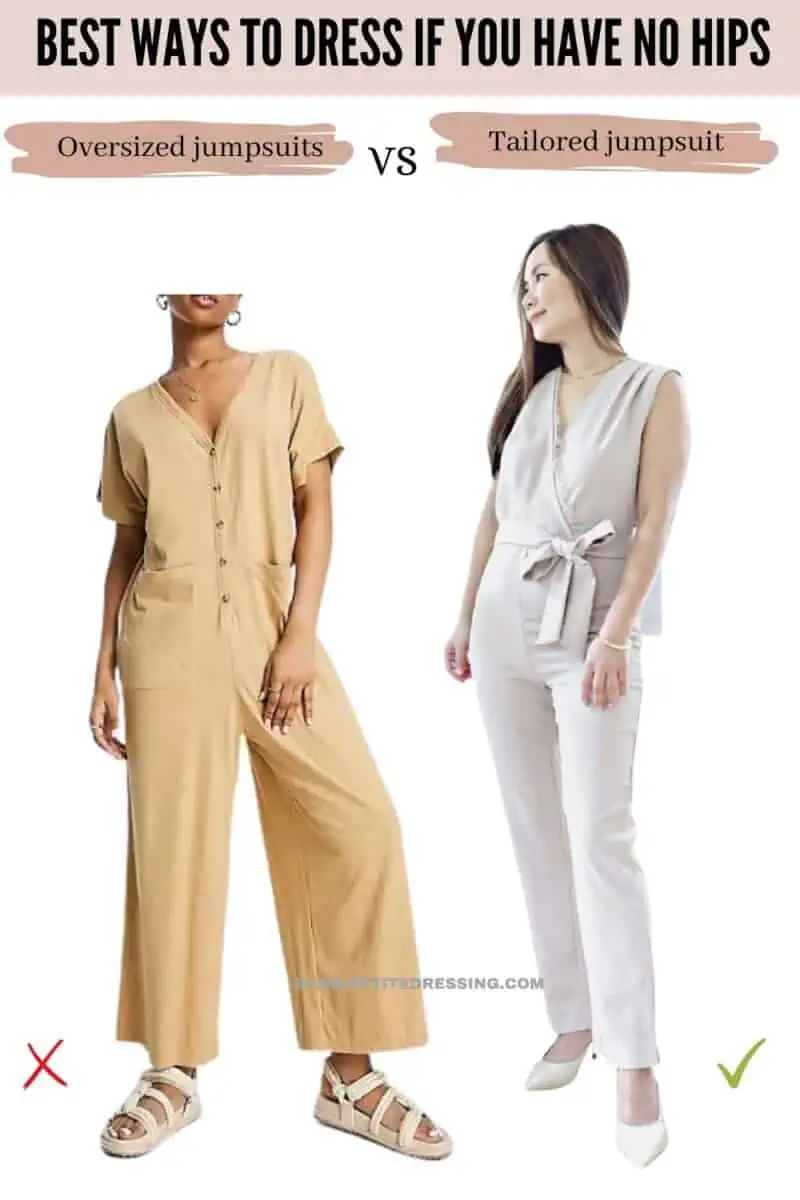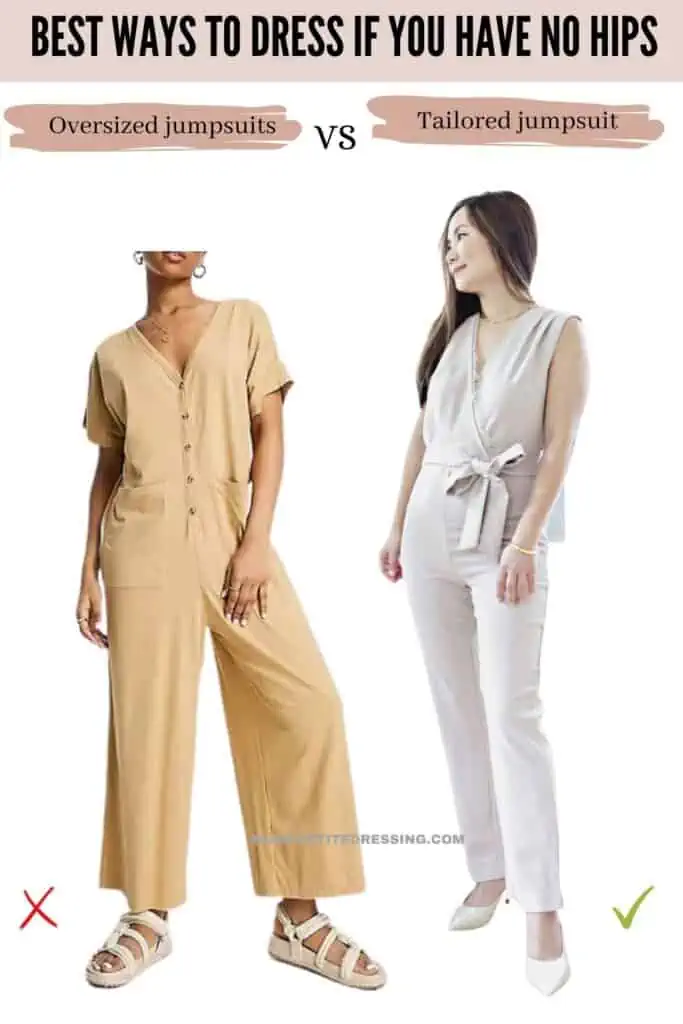 Opt for Wide-Leg Dress Pants
Wide-leg dress pants efficiently promote volume and proportion on the get-go so it's no surprise how you can instantly achieve the appearance of fuller hips upon wearing one. The extra fabric from the wide legs creates a fuller silhouette, making the hips appear more prominent in comparison despite lacking natural definition.
When choosing a pair of wide-leg dress pants, make sure to look for those that feature a structured high rise. Opting for high-waisted or high-rise wide-leg pants can further enhance the appearance of your hips by creating a defined separation between the waist and hips.
Styling dress pants can offer so much versatility as they make a great piece both for casual and semi-formal occasions. To tone your hips up, pair your wide-leg dress pants with a fitted top and a sleek blazer suit!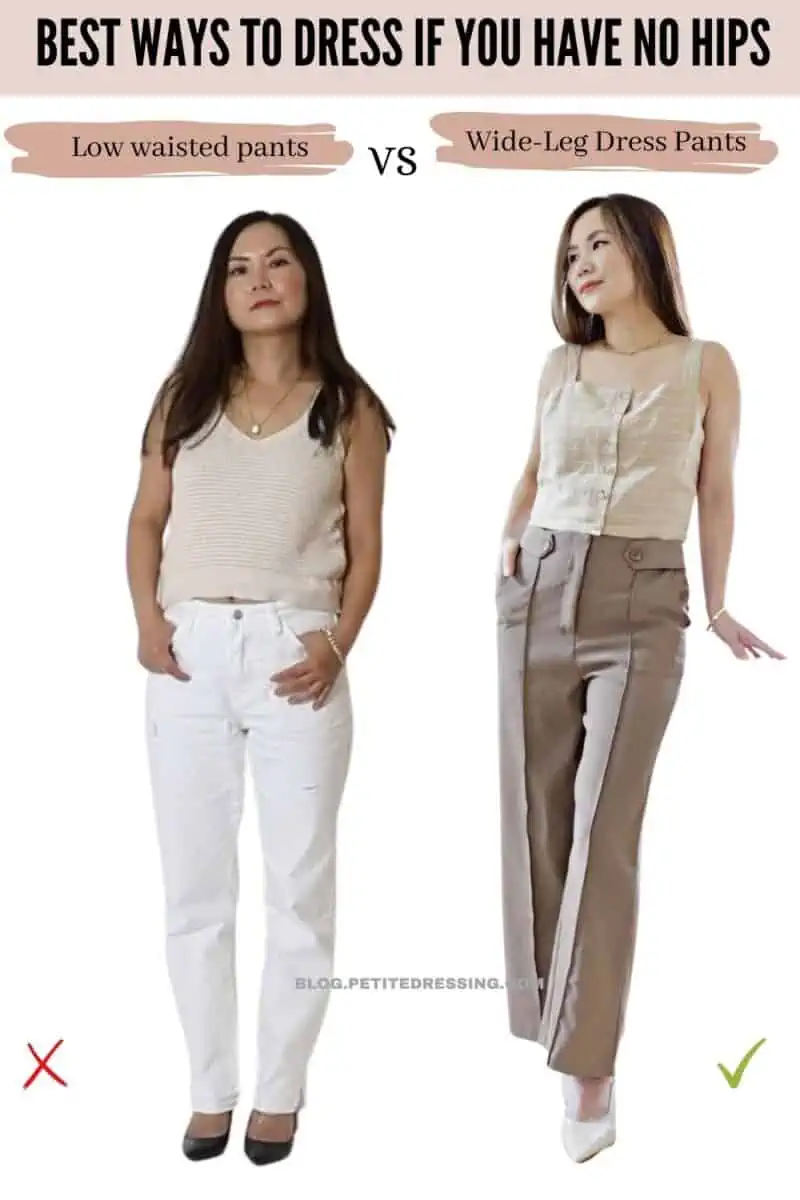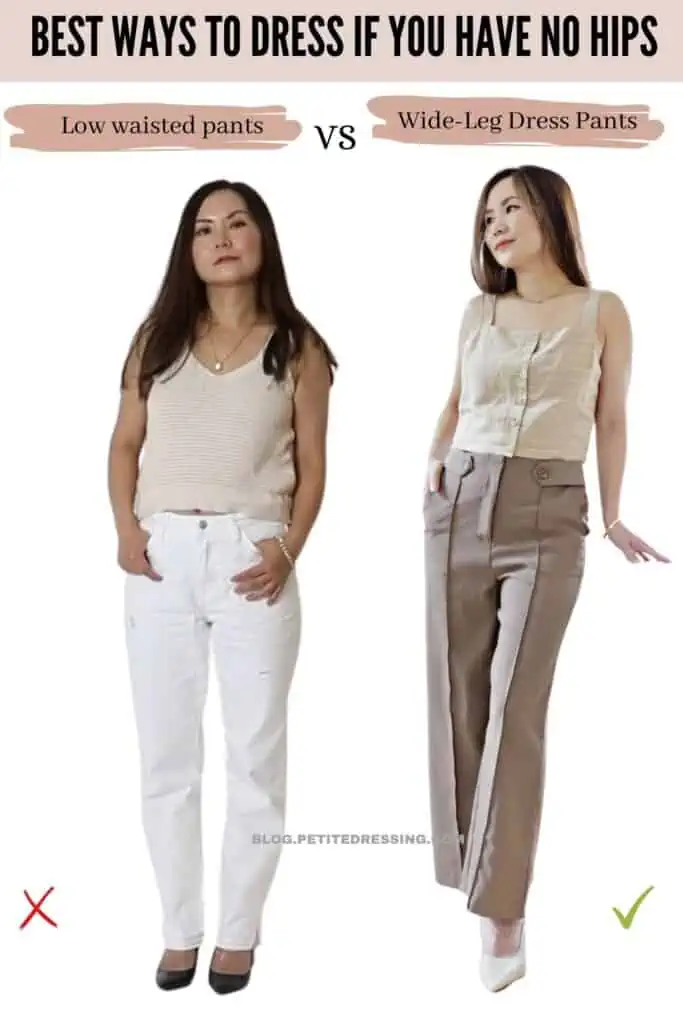 Wear Paperbag Pants
Paperbag waist pants are characterized by a high, gathered waistline that is cinched with a belt or a fabric tie that creates a gathered or "puffed" effect. They typically have a relaxed fit in the hips and thighs which is why they make a great style option for those with no hips.
The cinched waistline of paper bag pants pays more regard to your waist definition which results in the illusion of a more defined and curvier shape. When you don't have pronounced hips, this is very helpful because it adds emphasis to the waist by making it appear smaller and creating a more hourglass-like silhouette.
Additionally, paper bag waist pants often have a relaxed fit in the hip and thigh area, providing a comfortable and forgiving silhouette. This is quite advantageous for women with no pronounced hips, as the pants drape loosely over the hip area, which significantly minimizes any lack of curvature.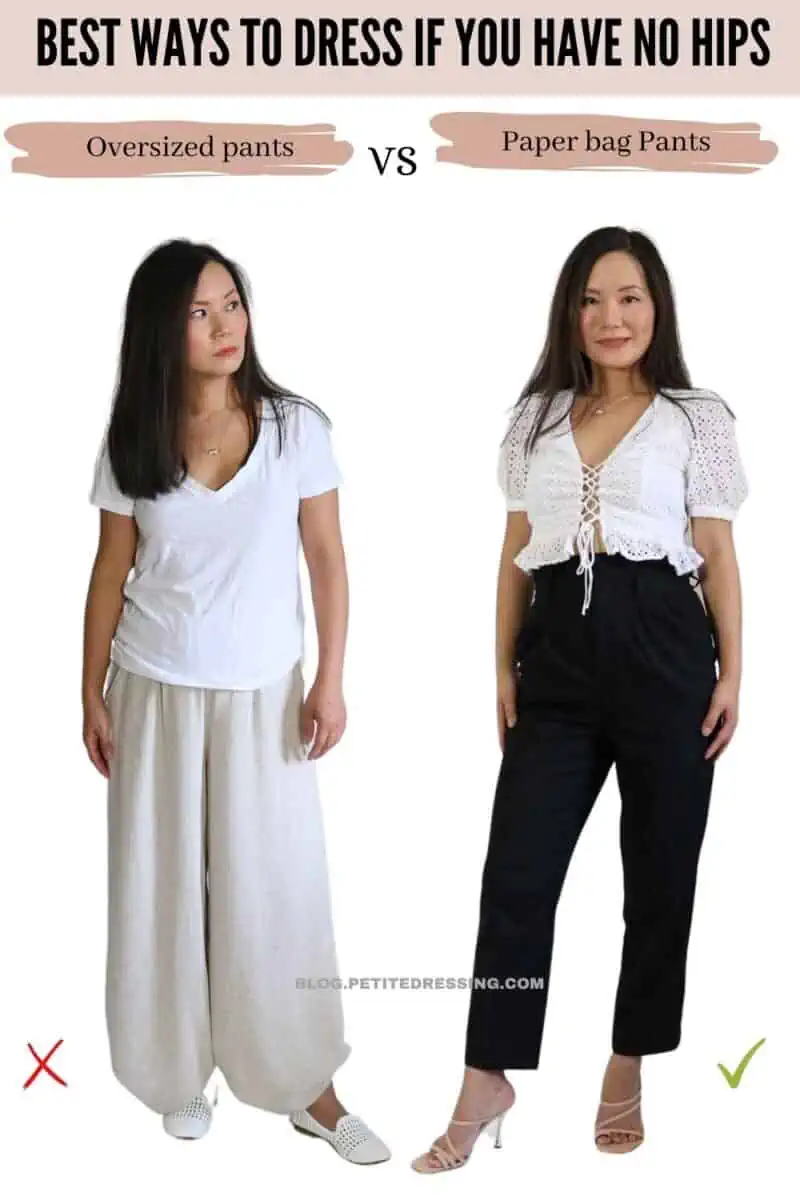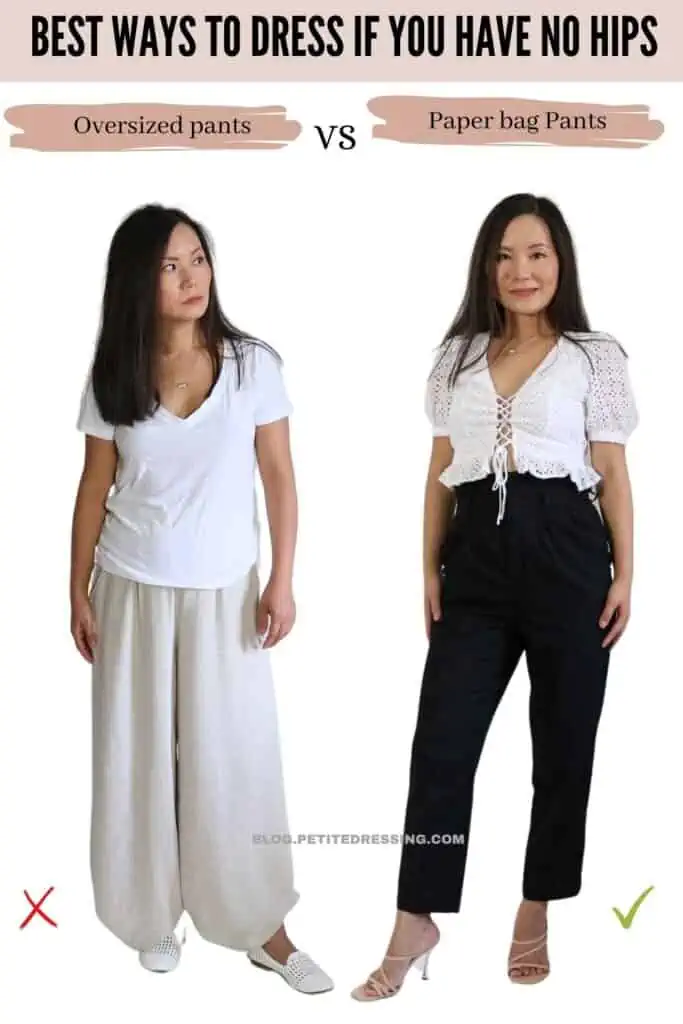 Wear Pencil Skirts
Some may think that pencil skirts are intimidating for those with no hips. On the contrary, pencil skirts can actually be very helpful in terms of giving your lower body more shape and definition.
Pencil skirts are best known for their contoured fit as they are designed to have a slim, form-fitting silhouette that follows the natural curves of the body. If you have no pronounced hips, the skirt can mold to the shape of the body and create the illusion of curves in an instant.
When choosing the right pencil skirt for your body shape, your choice of fabric and details can also play a role in enhancing the figure. Fabrics with a bit of stretch, such as a blend of cotton and spandex, can provide a comfortable and flattering fit, contouring the body's shape.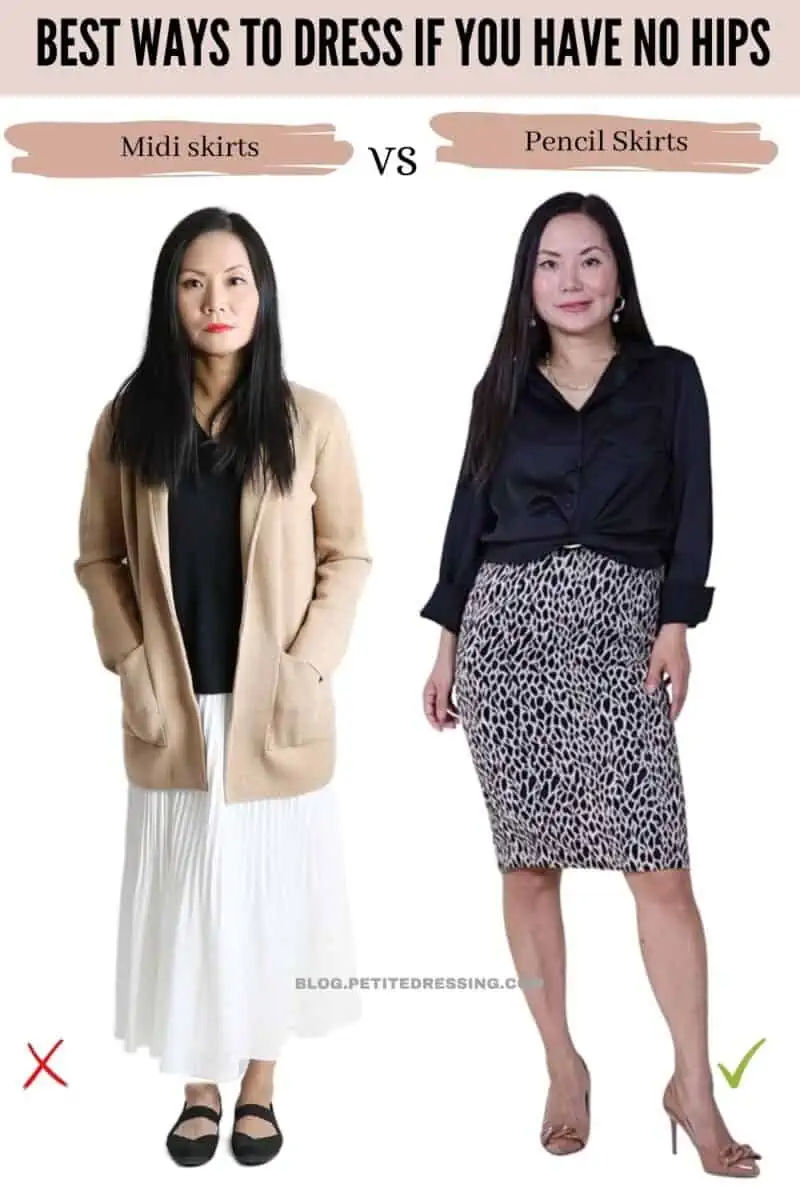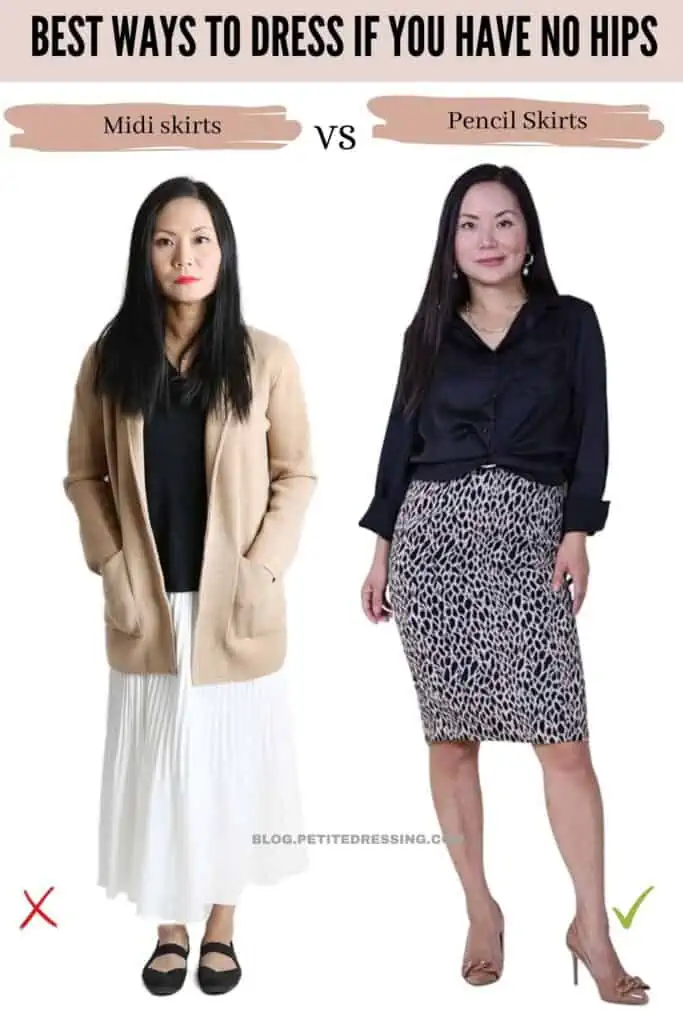 The Key Takeaway
Having little to no hip definition shouldn't discourage you from choosing stylish pieces for yourself. In fact, you have a lot more options than you think!
It's really just all about working around your best features by making them stand out while giving your areas of concern visual enhancement. By going for these styling options, you can flaunt a more proportionate and visually flattering figure!