What is Kibbe Classic Body Type
Classic is one of the original 13 Kibbe body types. Take the Kibbe test to find out your body type. The Kibbe types have three classic body types, the classic, soft classic and the dramatic classic type.
Height:
Moderate, usually between 5 feet 4 inches and 5 feet 7 inches.
Bone Structure:
Symmetrical, with a tendency towards slight sharpness. Slightly angular. Slightly straight. Tapered shoulders. Moderately sized hands and feet.
Body type:
Evenly proportioned bust, waist, and hips. Slightly lithe and sinewy musculature. Moderate to slightly long limbs.
Facial features:
Chiseled, symmetrical and evenly spaced.
Hair:
Smooth and even surface texture. May be straight, wavy or slightly curly. Moderate thickness.
Coloring:
Any coloring is possible (warm or cool), although Classics are usually of blended or low-contrast coloring. High-contrast or vivid coloring is quite rare among Classics.
If overweight:
The body remains symmetrical, and the weight is usually evenly distributed.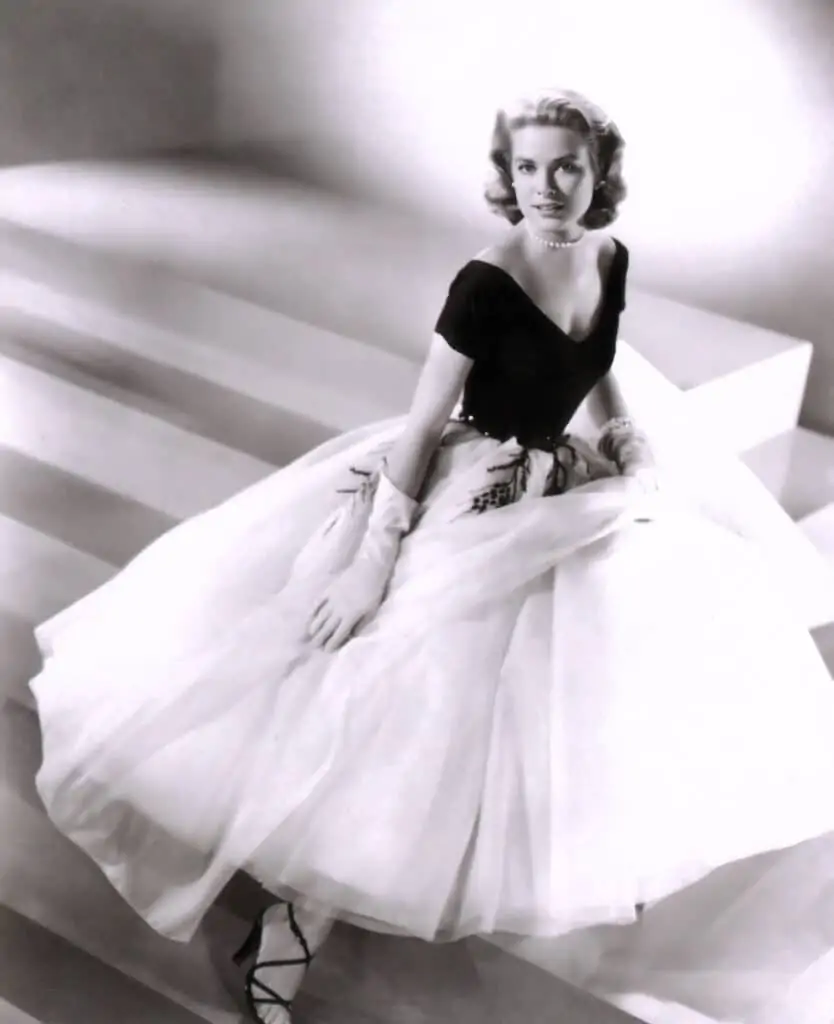 A Classic will not
Be extremely tall. Have large bone structure, or large hands and feet.
Have prominent or exotic facial features.
Be extremely petite with extremely delicate features.
Have an hourglass figure.
Have full, lush facial features (extremely round eyes, full lips, fleshy cheeks).
IMPORTANT: this post is primarily based on the original book of "David Kibbe's Metamorphosis" published in 1987. Visit David's website here.
You can also take this body type test and find out if your body shape is hourglass, pear, apple, rectangle, or inverted triangle.
Kibbe Classic Body Type Celebrities
Kibbe's prime classic type celebrity-Grace Kelley.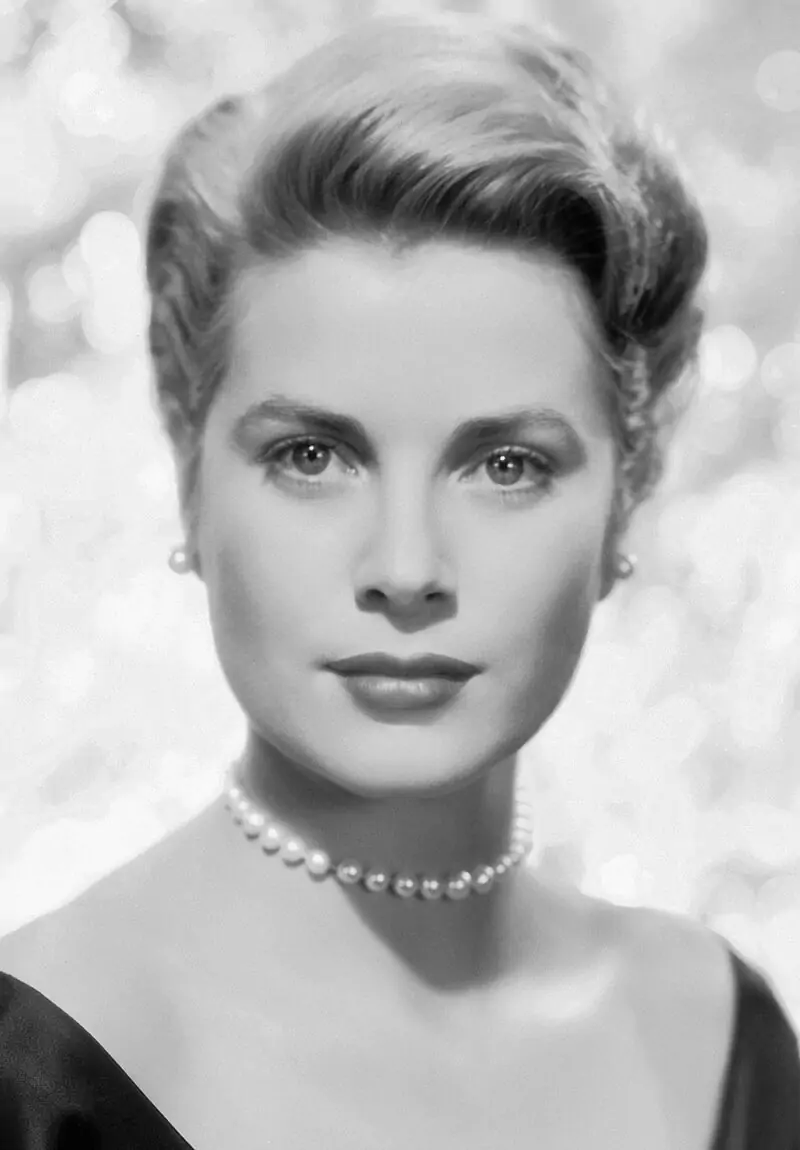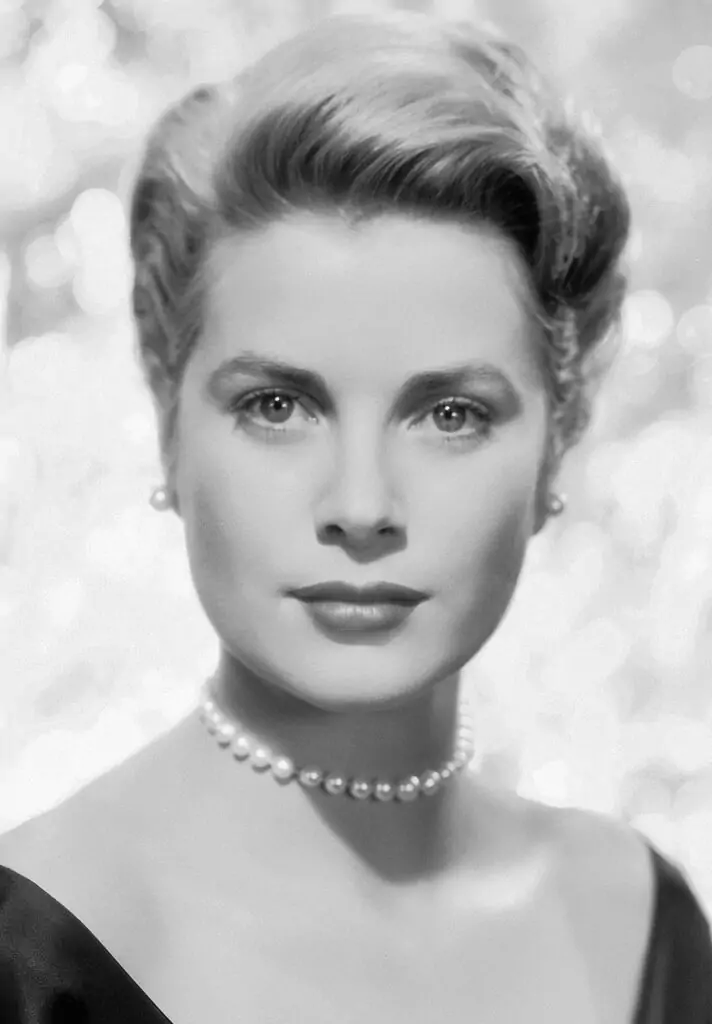 How to Dress Kibbe Classic Type
Best clothing
Your position on the Yin/Yang scale is: balanced between the extremes. You are a woman of elegance and tradition, refined.
Physically, your perfectly symmetrical bone structure and even, regular eatures capture your inner refinement and natural efficiency most effectively.
To express the Yin/Yang perfect balance of your total essence, we want to develop an appearance that could be best described as: Sophisticated Lady.
The key, then, is maintaining the smooth and controlled shapes and outlines of everything we create, from head-to-toe. A sleek hairstyle, bluntly cut and smoothly styled; symmetrical and even lines and silhouettes to your clothing; a perfectly blended makeup in soft neutral shades; and beautifully understated jewelry and accessories express your aristocratic elegance with grace and ease.
Your overall outlines can be ever-so-slightly tailored or ever-so-slightly flowing; just as long as all your shapes and outlines correspond and coordinate in a perfectly matched fashion. Nothing must ever upset your symmetry! That is your cardinal rule. The oversized, the superfluous, the outrageous are never witty or frothy on you; they merely upset your projected dignity and make you appear foolish.
Always remember the classy lady you are, and mountains will move and rivers will part as you stroll calmly and effortlessly through life! (Kibbe loves flowery descriptions and let's hope he's right here.)
The result? Your sophisticated elegance is clearly expressed in the most natural, seamless manner possible. Not only have you become the most stunning and striking woman you can be, you have also expressed your heart and soul in your appearance.
And indeed, my dear, gracious, aristocratic, pragmatic, Classic friend, that is the very point of your metamorphosis! You are like a flawless diamond, brilliant and sparkling in your absolute perfection. We don't need any gaudy baguettes clouding your symmetrically dazzling beauty. Your stunning elegance is like the solitaire, set off most effectively by a simple band of purest platinum!
Shape
Symmetry is the key to all your shapes. Whether slightly geometric or slightly curved, always blend the same shapes together in your look.
AVOID: Extreme geometrics, extreme round shapes, extreme ornate shapes, extreme unconstructed shapes.
Line and Silhouette
Your use of line goes hand-in-hand with your use of shape. Keep your outlines smooth and symmetrical with the emphasis on controlled and even edges, soft, straight lines or smoothly curved lines-softly tailored or slightly flowing. A clean, unbroken silhouette is your most elegant statement. Think "head-to-toe," and blend everything accordingly.
AVOID: Overly flouncy silhouettes. Overly sharp silhouettes. Overly unconstructed silhouettes (wide).
Fabrics
Beautiful, luscious fabrics are an important element in your understated look, which stress your love of quality. Spend your money on the most expensive fabrics-here's where it will show on you!
Moderate weights. Lightweights in very constructed and tailored garments. Matte finish or slight sheen. Very slight draping in constructed garments. Luxurious to the touch (French silks, Italian gabardines, etc.). Lightweight textures (raw silk, shantung, linen). Smooth knits (cashmere, softly ribbed, heavy jersey). Smooth chiffon and elegantly beaded fabrics for evening.
AVOID: Heavy fabrics. Rough textures. Sheer or clingy fabrics. Stiff metallics, and extremely shiny fabrics (unless lightweight).
Detail
Your use of detail should be clean, simple, and minimal-just enough to add an elegantly understated touch. It should never all attention to itself; it should only add to the smooth visual line of your garments.
Include: Slight, crisp shoulder padding. Clean, tailored necklines (man-tailored, notched, jewel, slashed, small V's, turtlenecks, and narrow cowls). Crisp and finished cuffs. Elegant scarves in symmetrical ties (jabots, ascots, self-ties). Symmetrical lapels (notched, smooth shawls, or clean, piped styles). Tailored pants. Crisp gathers.
AVOID: Overly sharp, geometric, or angular detail. Unconstructed detail. Overly ornate detail and fussy trim. Overly animated or "cutesy" detail.
Separates
Use carefully and sparingly. An obvious use of separates is counterproductive to your elegance. Make sure colors, textures, and prints blend together to maintain your smooth visual lines.
Jackets
Should always be narrow and tailored with a smooth outline. Standard length is best (just below break of hip). Lightweight unconstructed jackets are find when they are kept sleek and narrow. Blazers, cardigan-style, elongated Chanel (not cropped) are all good choices. Slightly longer jackets are possible when the corresponding skirt is also elongated to match.
AVOID: Overly angular jackets. Oversized jackets. Boxy jackets. Cropped jackets. Flouncy jackets (peplums and nipped waist styles).
Skirts
Should be kept smooth and simple. Clean lines. Soft and straight or slightly flared. Minimal detail. Moderate length to match jacket length (standard straight: one inch below knee; slightly flared, mid calf; paired with a long jacket). Softly pleated skirts.
AVOID: Long, pencil-slim styles. Full, flouncy styles. Overdetailed touches (pockets, gathers, trim).
Pants
Clean, tailored styles with a minimum of detail. Plain front or trouser-pleated. Slim, narrow shapes.
Avoid: Extreme man-tailored pants (deep pleats, cuffs, etc.). Oversized, unconstructed or baggy shapes. Draped, clingy, tapered shapes.
Blouses
Smooth tailored styles (elegant silks and soft cottons).
AVOID: Flouncy or frilly styles. Unconstructed styles.
Sweaters
Smooth knits. Moderate weight. Ribbed or softly textured.
AVOID: Oversized and baggy sweaters. Clingy knits. Nubby or roughly textured knits.
Dresses
Should always be elegant, with smooth shapes, softly tailored styling, and slim widths. Waist emphasis should be understated (narrow, elegant belts or ties). Shirtwaists, tailored wraps, soft sheaths, smooth knits, and belted coatdresses are all good.
AVOID: Sharply tailored styles. Flouncy styles with ornate detail. Oversized and wide styles.
Color
Your use of color should accentuate your smoothly blended visual outline. This means that a mixture of colors in an outfit should blend together in intensity so as not to disrupt your clean and smooth silhouette. Monochromatic schemes are excellent, although you do not need to be limited to just one or two colors. The key is to make sure the tones (intensities) blend, instead of contrasting. Neutrals in exquisite fabrics are also quite rich-looking on you.
AVOID: Sharp color contrast. Multicolor splashes. Mix 'n match color combos.
PRINTS Should be symmetrical, evenly spaced and regular or realistic patters. Understated prints (pin dots, pinstripes, checks, blended plaids, herringbones, symmetrical paisleys, etc.).
AVOID: Oversized prints. Sharp and angular geometrics. Contemporary, avant-garde prints. Splashy watercolors or abstract florals. Ornate prints. Animated prints.
Accessories
Should be simple, clean, and elegant. Here is another place to invest substantially. The quality will definitely show!
Shoes: Slender pumps. Sling backs. Tapered toes. Narrow heels. Elegant leather. Softly tailored flats.
AVOID: Chunky or heavy styles. Overly tailored styles. Overly delicate and strappy styles. Ornamentation.
Bags: Crisply tailored. Moderate size. Supple leather. Clutch. Envelope. Tailored briefcase (slim and elegant).
Belts: Keep elegant, slim, and narrow with small smooth buckles.
AVOID: Overly wide, angular belts. Overly ornate belts.
Hats: Tailored, symmetrical shapes. Small and crisp with even brims.
AVOID: Oversized, ornate, or sharply angular hats.
Hosiery: Blend with hemline and shoe for one long line (one or two shades lighter than hemline) for a "light leg" look. Keep sheet or lightly textured.
AVOID: Opaque stockings. Contrasting the stocking with the hemline and the shoe (too choppy for you).
Jewelry:
Keep your jewelry elegant, smooth, and symmetrical. Small, slightly geometric shapes are good, as are smoothly curved swirls. Be careful not to overdo! Go "elegant" instead of extreme.
AVOID: Extremely severe, angular pieces. Extremely ornate or intricate pieces. Overly dangly styles. Chunky and heavy pieces. Funky costume jewelry. A "no jewelry" look.
Evening Wear
WEAR Symmetrical shapes with clean and elegant detail. Smooth fabric. Beaded fabric. Understated trim.
Smooth chiffon gowns Jacketed gowns Tailored dinner suits Beaded jackets and bodices Simple little cocktail dress
Makeup for Kibbe Natural Type
Makeup Concept:
The Symmetrical Face: Muted colors, elegantly blended without a strongly defined shape (neither angular or rounded).
Application Keys:
Eyes: Muted shades that blend together seamlessly. Matte products. Smudgy eyeliner (soft).
Blush: Moderate to soft color that outlines the bottom ridge of the cheekbone and is extremely blended.
Lips: Moderate color that is very cleanly applied for a neat and crisp mouth.
Avoid: an overly ornate makeup. An overly dark or heavily contoured makeup. A "no makeup" look.
Hair for Kibbe Natural Type
Hair Style
Your hair should always be smooth, sleek, and well-groomed. Blunt-edged cuts work best to achieve the even control necessary to complete your look. If your hair is extremely curly, you will need some layering with the curl so it falls in controlled waves. Moderate length is best.
AVOID: Severe cuts. Cropped, boyish cuts. Overly layered cuts. Wild hair. Trendy hair. Ornate or lavish hair. Stiff, teased hair.
MAKEUP Should be moderate and well-blended with an emphasis on soft colors and neutrals. A matte finish is best. Eyes should be slightly smoky, with just a hint of color. Lips and cheeks will match the eyes in intensity.
AVOID: Severe or sharp angles. High-contrast makeup (pale skin, vivid colors). A "no makeup" look. Overly colorful makeup. Glitzy products (even for evening-just a touch of sparkle is all you need.
Hair Color
Your should strive for a natural and rich haircolor. Be very subtle in color changes so the effect is realistic. Use low-lights and soft sprays of color instead of highlights and dramatic streaking. Avoid overly theatrical haircolors (blue-black, platinum, fiery red), unless that is your original color.