Having broad shoulders can give you the look of super models, but they may also bring challenges for your everyday outfits. Outerwear, in particular, can be hard, as you may find many coats feel restrictive in your shoulders.
I've put together this complete coat guide with 8 best coat styles for women with broad shoulders, and 5 styles you need to stay away from or use caution.
Maxi length coats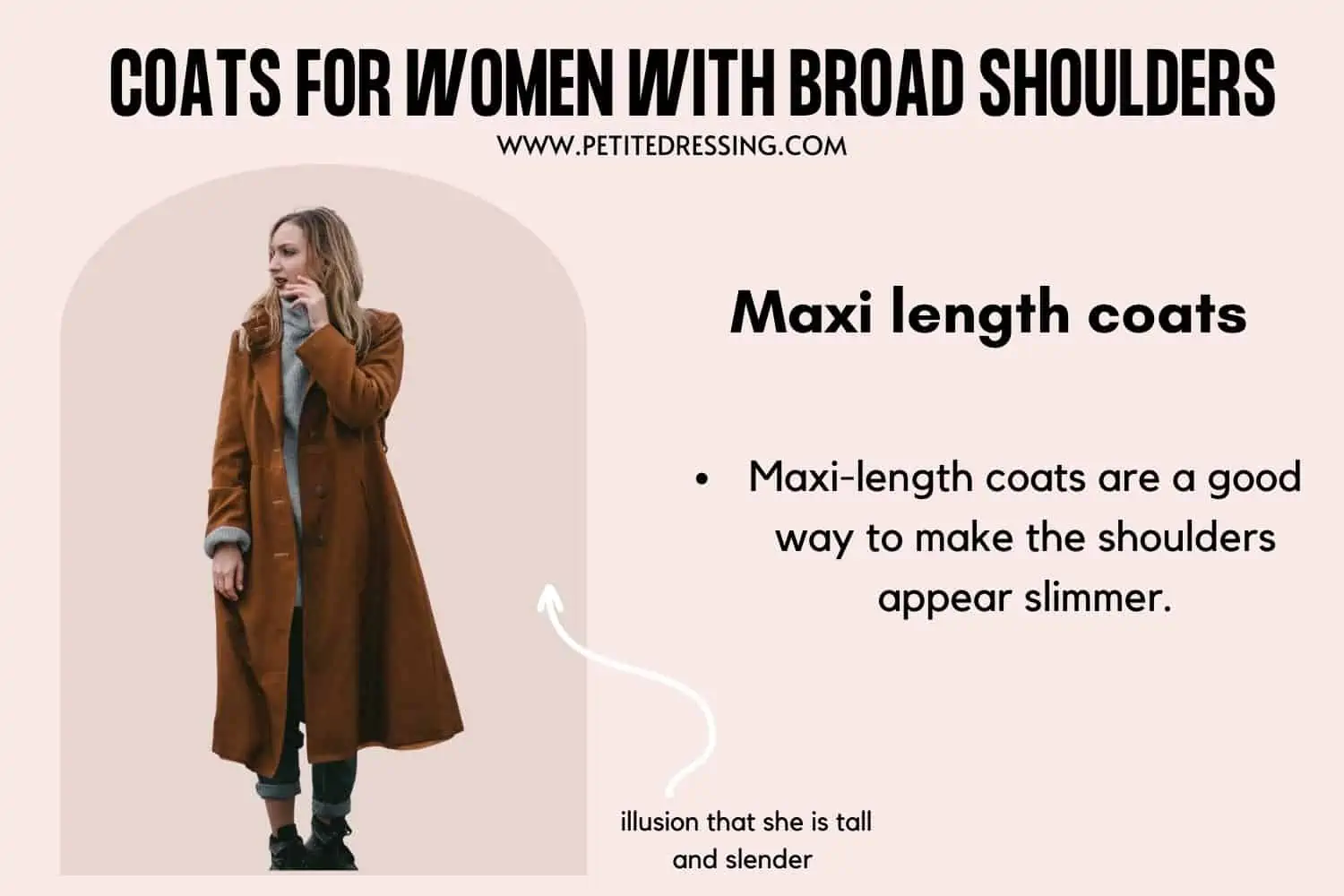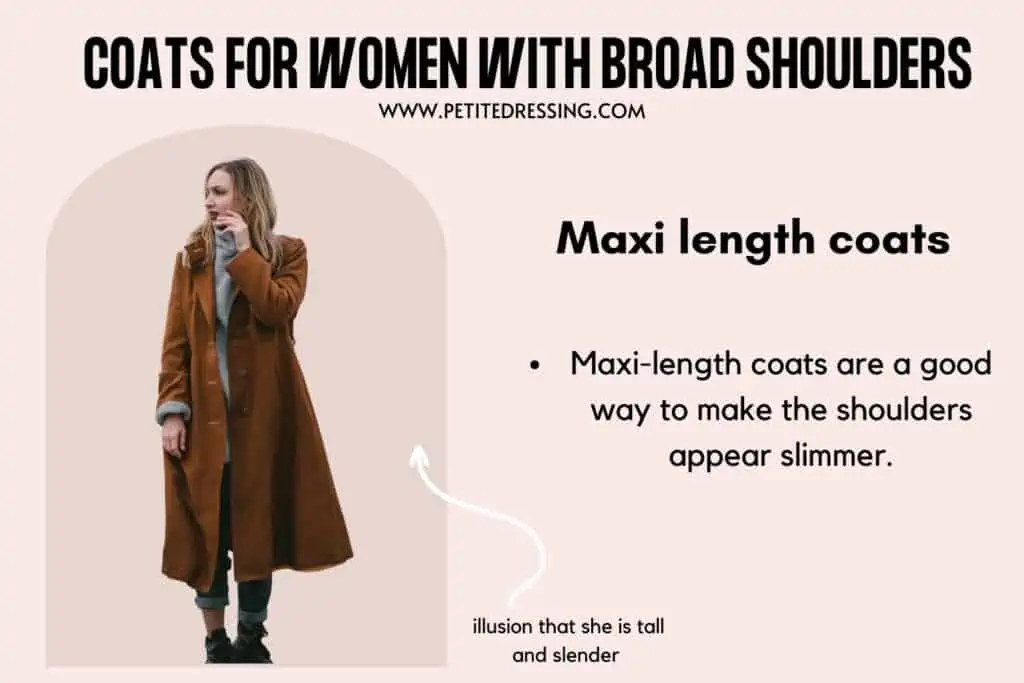 With the maxi-length coat, a woman with broad shoulders would feel a lot of confidence because the eyes are given the illusion that she is tall and slender. Opting for maxi-length coats that have belts around them is an exclusive way to stand out and highlight your waist.
The belts allow you to feel more comfortable because the eyes are more focused on the waistline than the shoulder neckline as intended. Maxi-length coats are a good way to make the shoulders appear slimmer.
Though the maxi-length coats are a classic wardrobe staple, do not choose lengths that would overwhelm your frame. Make sure that the shoulder seams lay well on your figure and the belts should sit above your natural waistline.
A-line coats
This coat is an easy and simple silhouette that takes a shape that rightly accommodates your broad shoulders without causing an imbalance in your figure. Choose designs with a v-neckline that would attract the eyes inwardly to break up the width of your body.
This way there won't be any added volume to the upper half of your body. The A-line coat is fitted through the waist and that's an added advantage for it while still flaring out into a skirt from the waist.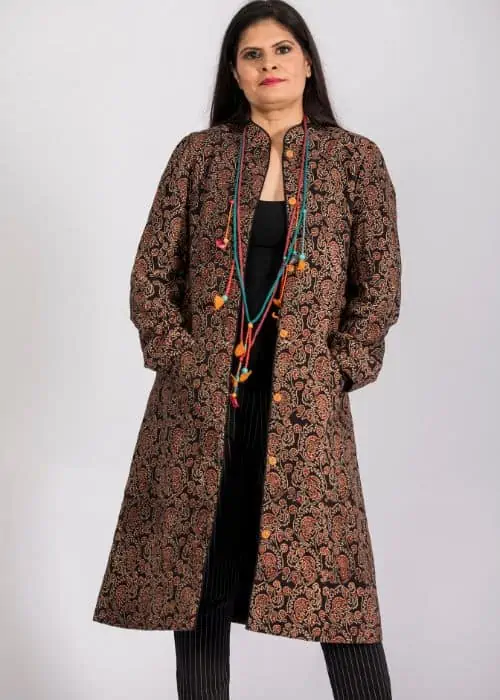 Why A-line coats is a must-have
A-line coats are very stylish coat patterns that are uniquely designed to flatter your shape and your figure.
They are one of the most recommended coat styles for broad shoulders because the overall silhouette of the coat forms the shape of a letter A.
That means the top part is narrower and bottom is wider, which reduces the focus of the eyes on the upper half.
Peplum coats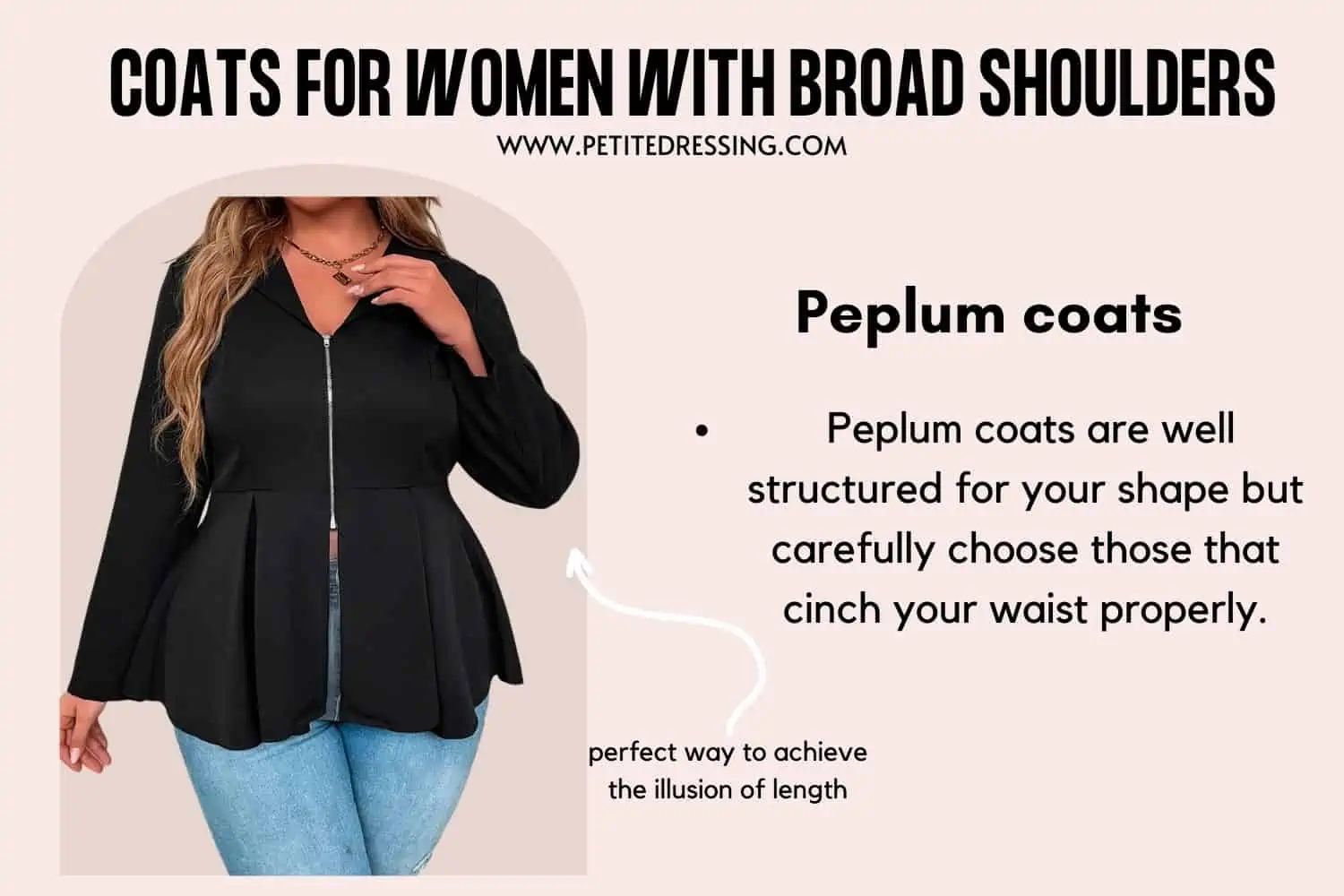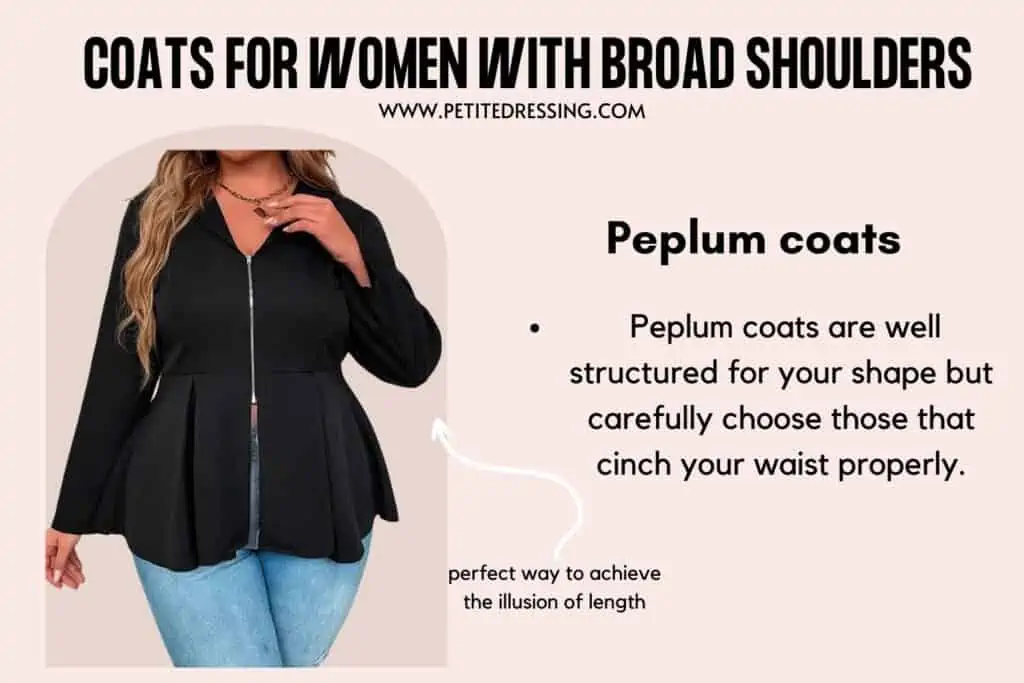 Peplum coats are designed to add volume to your lower half and reduce the width of the shoulders. They are tailored to add a great amount of balance necessary for your upper half.
Peplum coats add more attention to your lower half and make your broad shoulders appear less noticeable. They are a perfect way to achieve the illusion of length in a woman with broad shoulders.
Make peplum coats a must-have if you have broad shoulders because they are definitely one of the best coats fitted to suit your figure. Peplum coats are well structured for your shape but carefully choose those that cinch your waist properly.
Single breasted coats
Since double-breasted coats add width to your figure, then opt for the more stylish pattern than gives you a slender appearance. Single-breasted coats have a narrow overlap of fabric and a single column of buttons that are classy and elegant on a woman with broad shoulders.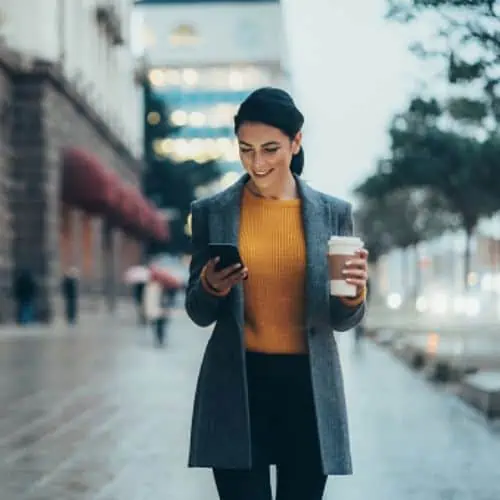 Why choose a Single breasted coats
Single-breasted are very beautiful designs that are cool on a woman with broad shoulders.
They have a vertical effect that draws more focus to the series of buttons lined up on the coat.
They minimize the width of your shoulders and give you a sleek and contemporary look.
Purchase more single-breasted coats and add them as a major wardrobe essential for your figure.
Coats with darker colors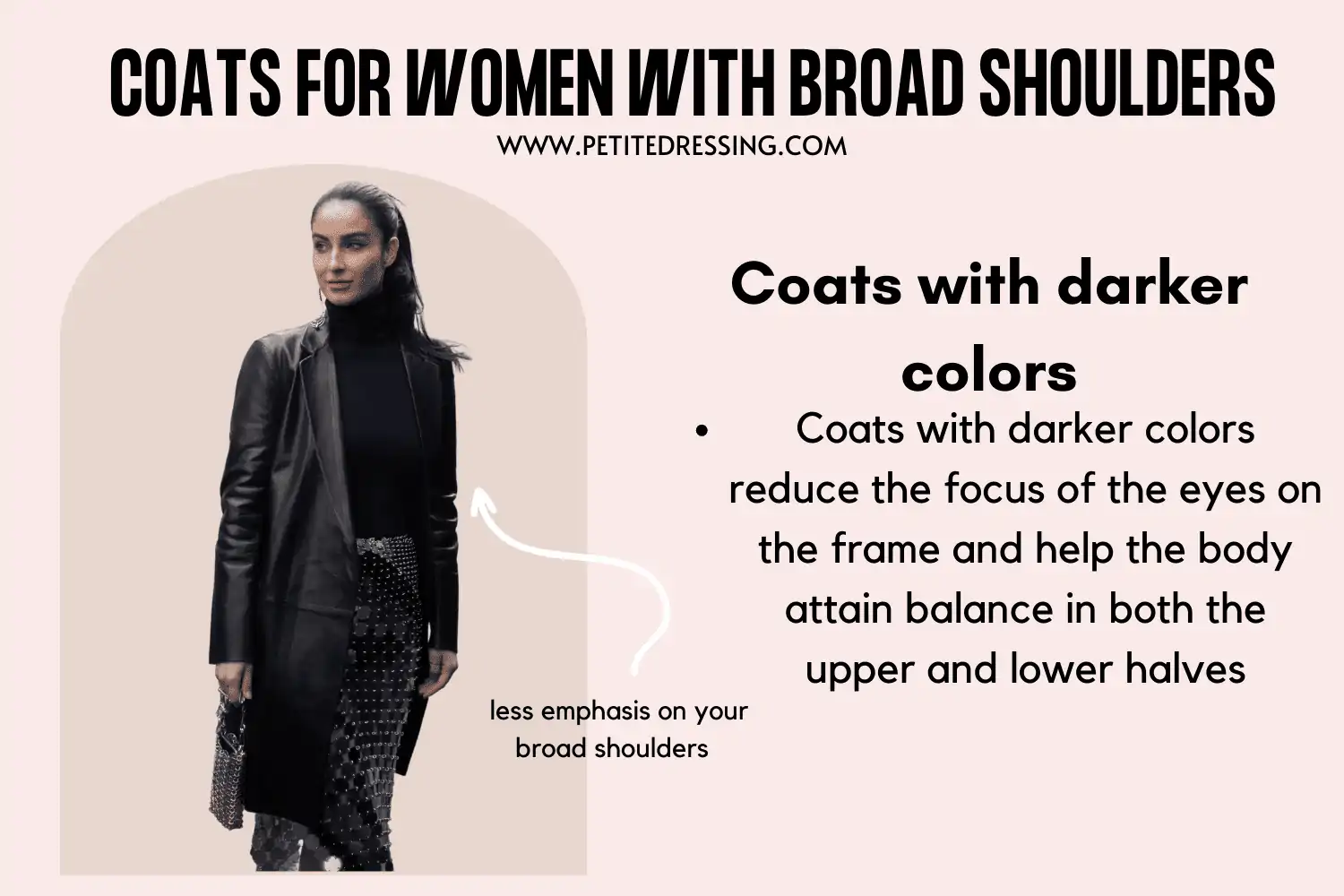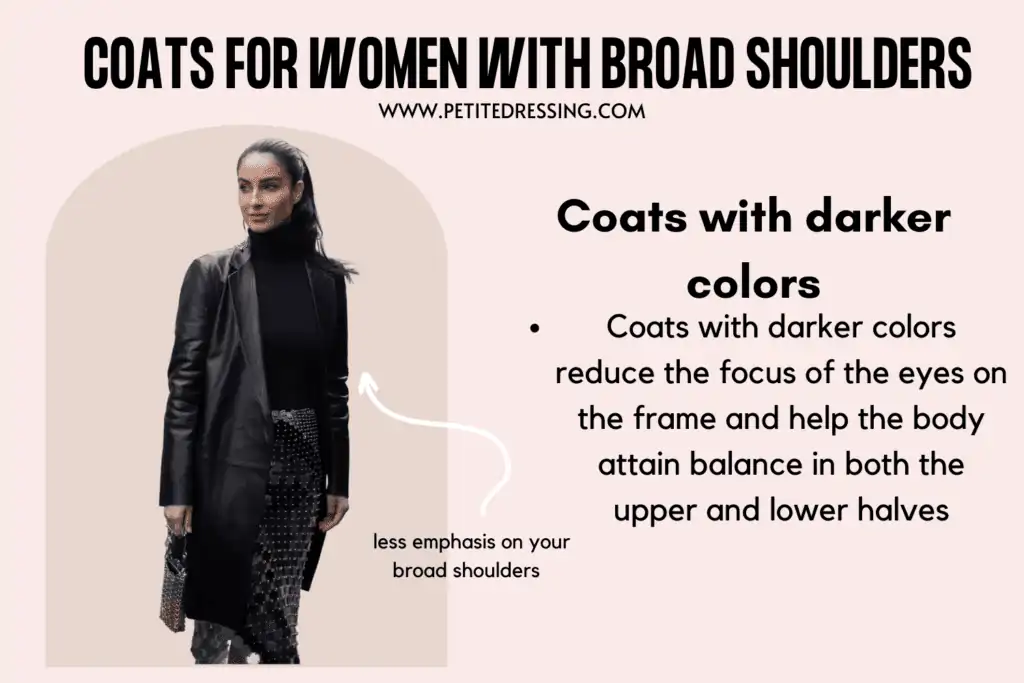 Darker colors on coats work well for women with broad shoulders as that's a unique way to reduce the width of the shoulders. They also have a slimming effect that naturally elongates the feminine frame.
Coats with darker colors reduce the focus of the eyes on the frame and help the body attain balance in both the upper and lower halves. They are effortlessly stylish and would lay less emphasis on your broad shoulders while still uplifting your general appearance.
Brighter colors on coats would make your shoulders more noticeable and this would reduce the confidence your body desires. They don't flatter your shape and are not a better option for a woman with broad shoulders to appear edgy and stylish.
Wrap coat
Another way to divert attention from your broad shoulders is by opting for coats that cinches your waist. This way the eyes are automatically drawn to the waist and gives it the illusion that you have a slender figure and not a broad shoulder.
Wrap coats are an excellent concealer style pattern for a woman with broad shoulders because it slims down the shoulders and defines the waistline. It is a versatile coat design that works well with practically any body shape.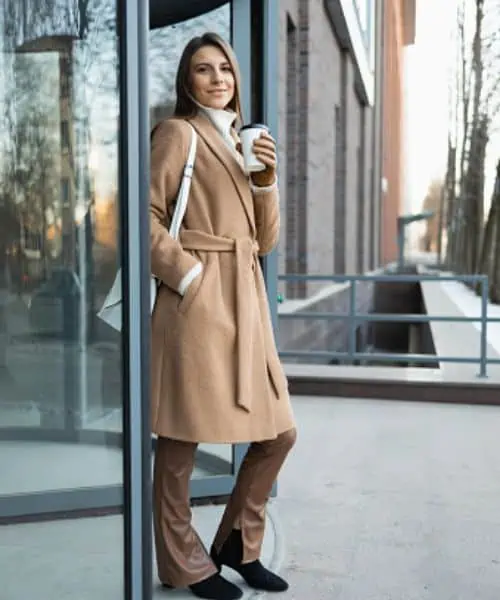 Wrap coats are the best
This coat style is universally flattering for women of any body shapes and height.
They would elongate your body frame and give the comfort you need to slay in winter.
Go for a wrap coat with undefined shoulders as they will be most accommodating for your shape.
Fitted coats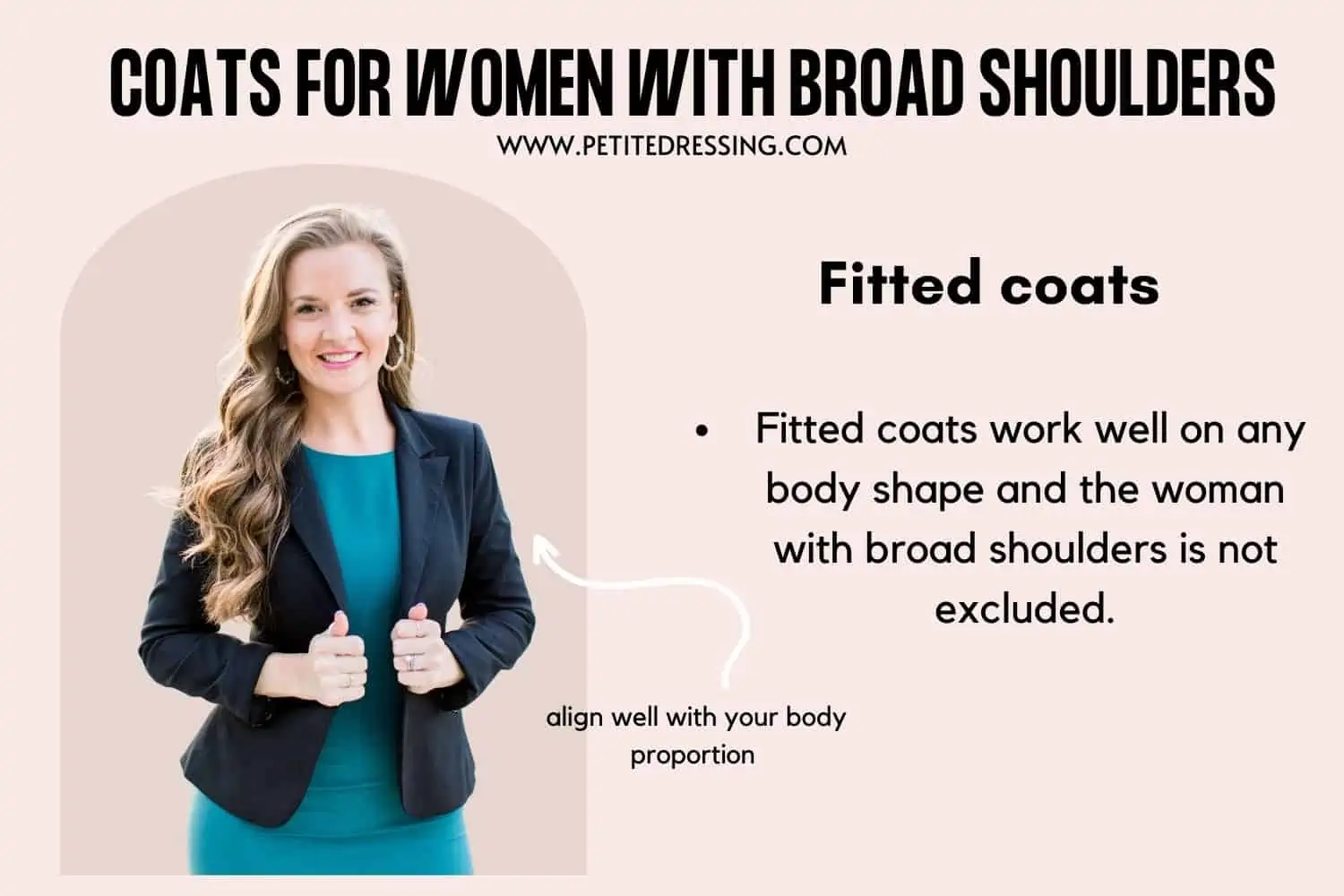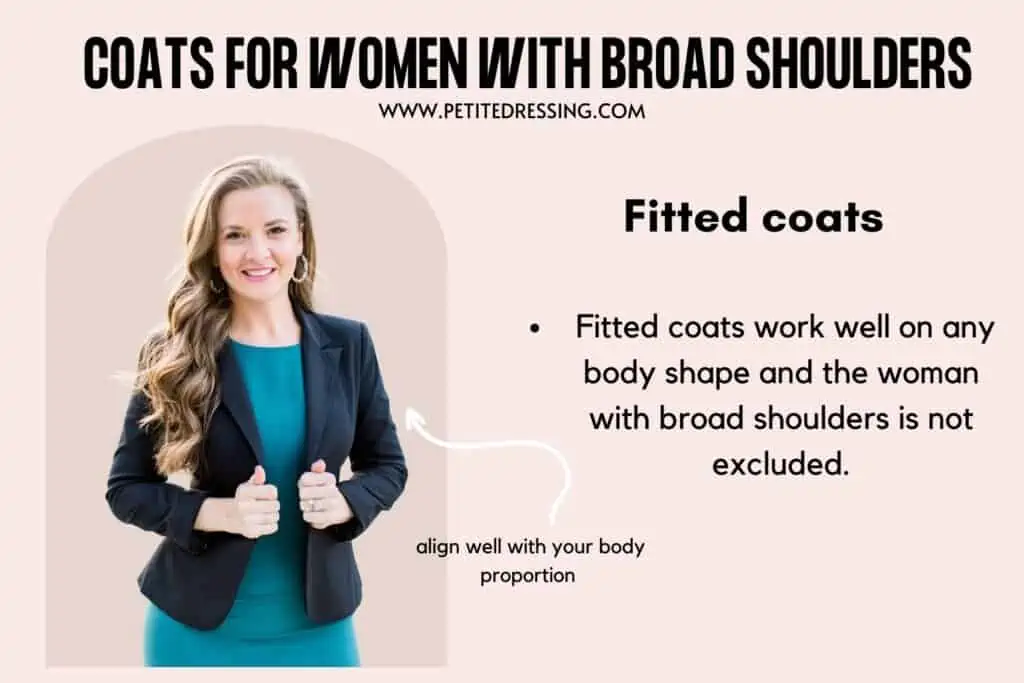 The best way to style your broad shoulders is to make sure that they are designed and tailored to fit your figure. The coats should sit comfortably on your figure as that is a better way to boost your confidence.
The shoulders should not be too wide and the sleeves should also not be longer than your arms for a better and more elegant fit. Fitted coats work well on any body shape and the woman with broad shoulders is not excluded.
Fitted coats align well with your body proportion and divert attention away from your broad shoulders. You would look more sophisticated and slender in coats that are fitted to suit your feminine shape so make them your best option.
Avoid double-breasted coats
A woman with broad shoulders should not wear double-breasted coats because they would only maximize the size of her shoulders. The overlap in the coats would add weight to your upper half and draw the focus of the eyes to your concerned region.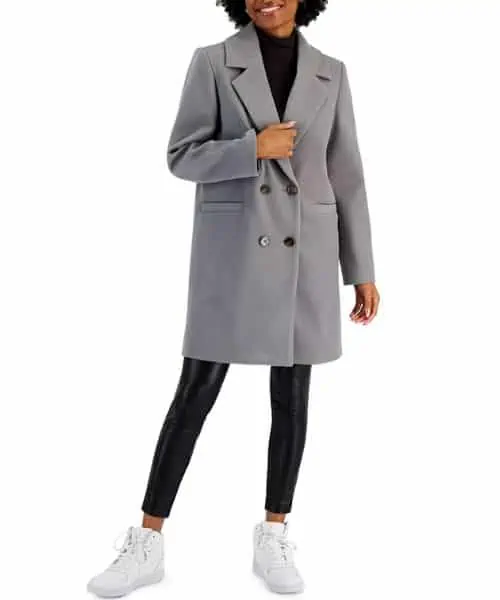 Why avoid a double-breasted coats?
The double-breasted coat is designed to emphasize the shoulders.
If you do not want to add extra volume to the shoulders, then avoid wearing them.
They would not flatter your feminine figure and would only appear cumbersome on your figure.
Avoid padded coats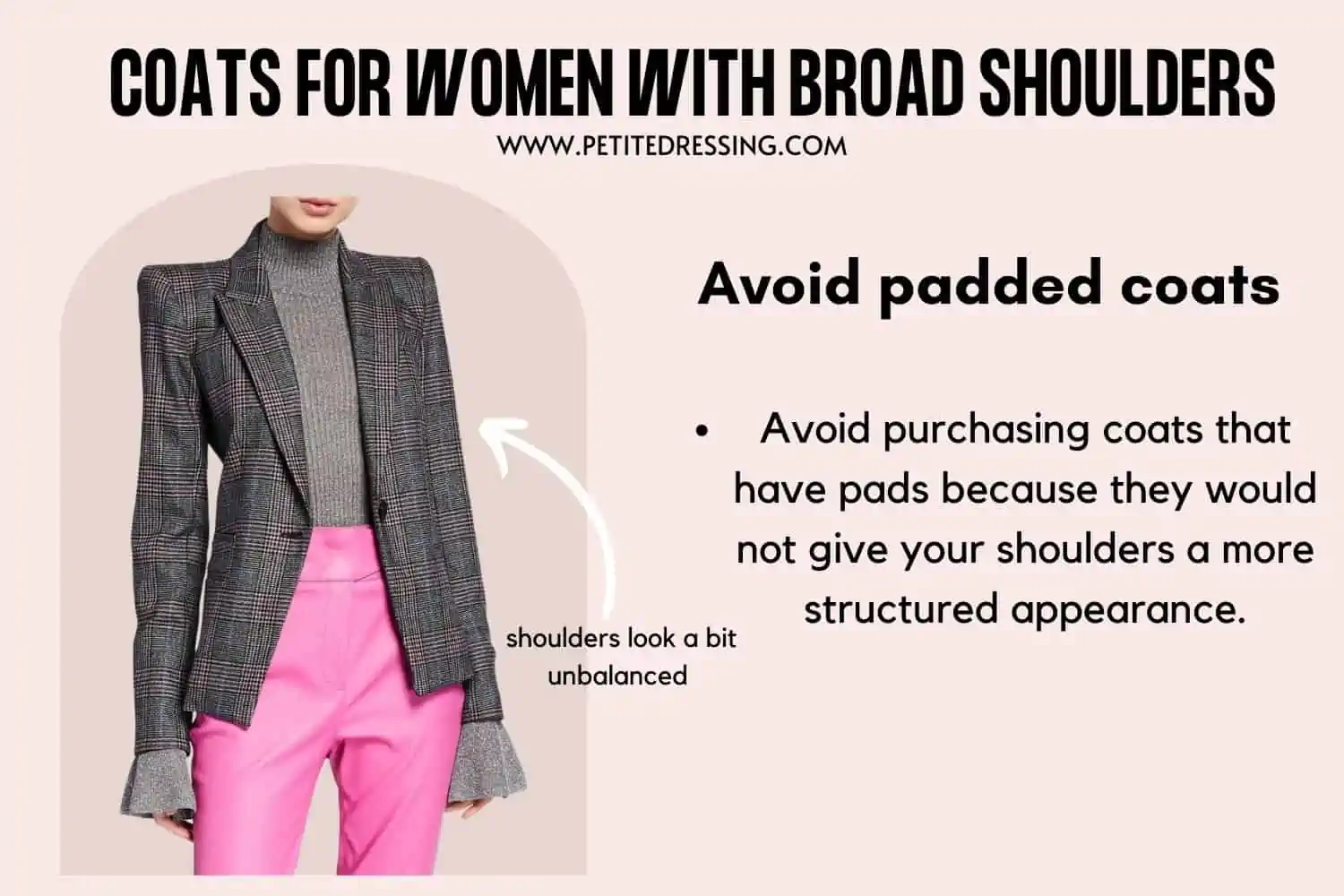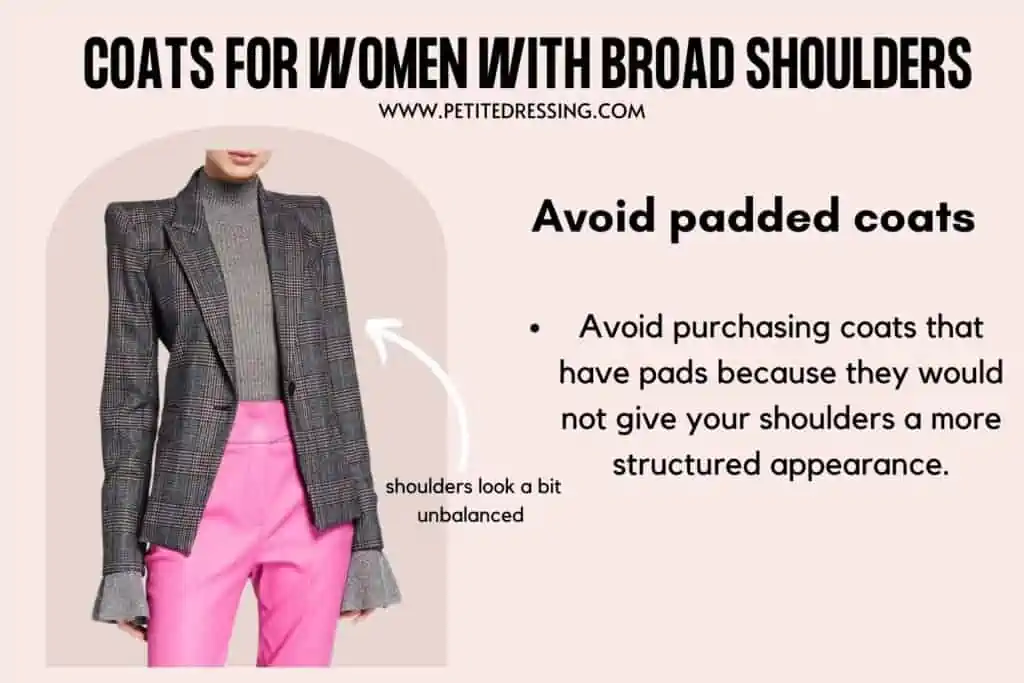 Broad shoulders already have so much width in them so exaggerating them with a padded coat is off the track. They would add so much definition to your shoulders and make them appear too wide.
Coats with padded shoulders are not flattering on broad shoulders so keep them away from your wardrobe. Pads in coats are excessive statements and could make the shoulders look a bit unbalanced.
Your coats should be designed to not have paddings as that is a preferred way to achieve a visual balance and keep a proportioned figure. Avoid purchasing coats that have pads because they would not give your shoulders a more structured appearance.
Avoid coats with wide lapels
One thing you would not want to do especially if you have broad shoulders is to wear coats with wide lapels. They would only turn out to be attention seekers and they would exaggerate your shoulders so avoid them as much as possible.
Your shoulders are as important as other parts of your body so wear coats that would make you appreciate and embrace them effortlessly. Wide lapels are not just the most excellent choice of coats to conceal the broad shoulders.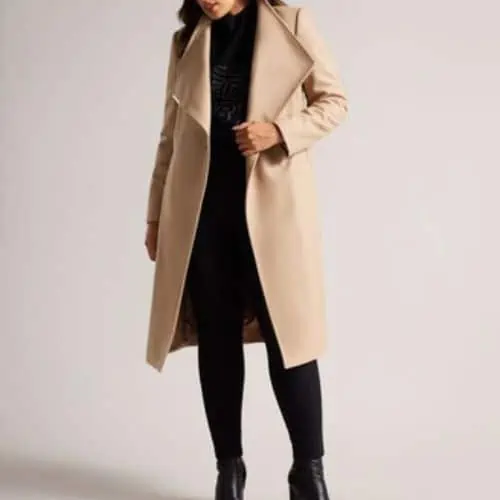 Why you should not opt for coats with wide lapel
Coats with wide lapels would create an imbalance in your upper half by adding extra width to your shoulders.
You can preferably opt for collarless coats instead of wearing coats with wide lapels on broad shoulders.
Avoid cropped puffer coats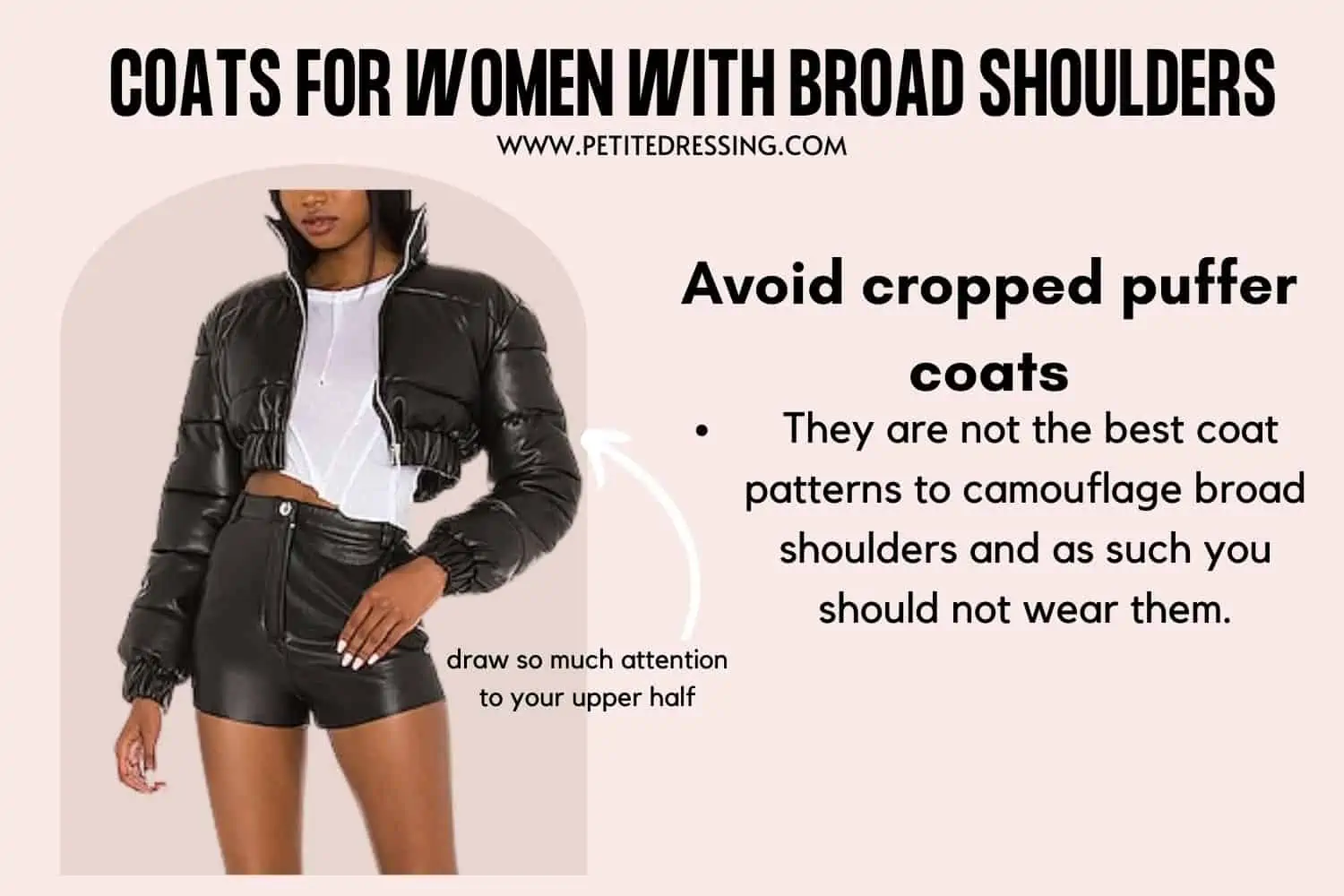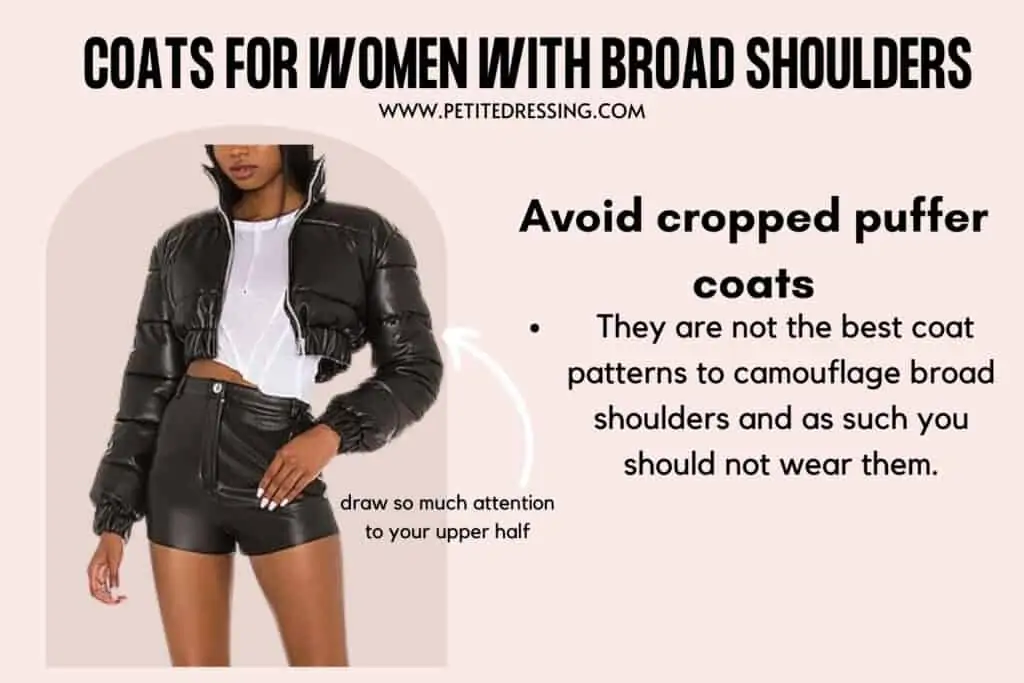 Puffer coats are quilted designs with sections that are puffy between the stitches in a bid to add volume to your figure. They are not the best coat patterns to camouflage broad shoulders and as such you should not wear them.
The cropped puffer coat would draw so much attention to your upper half and this way your body gets the illusion that your shoulders are very wide. Size reduction is a very important feature your coat must possess as that way your broad shoulders would be concealed.
Your body shape is amazing so give it all of the confidence it needs by simply avoiding cropped puffer coats. It would not balance your body proportion and keeping them in your wardrobe is a wrong idea.
Wear coats with raglan sleeves
Coats with raglan sleeves have structured shoulders that could make your upper body appear proportioned. They won't make your broad shoulders noticeable to the eyes and would make you comfortable.
Give your figure the best structure by wearing coats with raglan sleeves, they are most certainly a best fit for you. Raglan sleeves are designed to give space in the shoulders to create balance in your figure.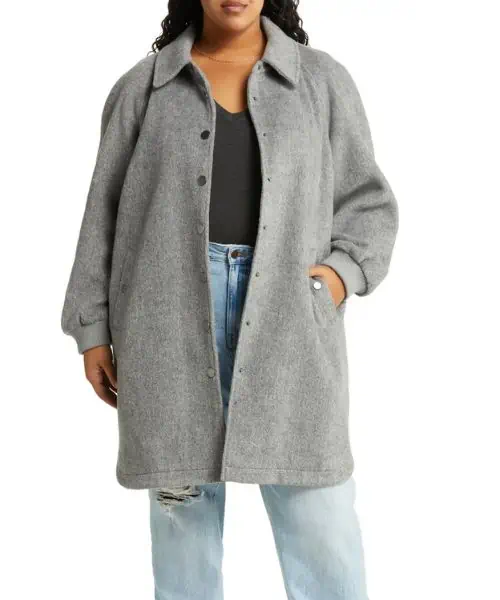 Raglan Sleeved coats are a must-have
A woman with broad shoulders can wear coats with raglan sleeves because the structure and size are a perfect design for your feminine figure.
It's advisable to purchase them if you have broad shoulders as they'd make you appear elegant.
Avoid peacoats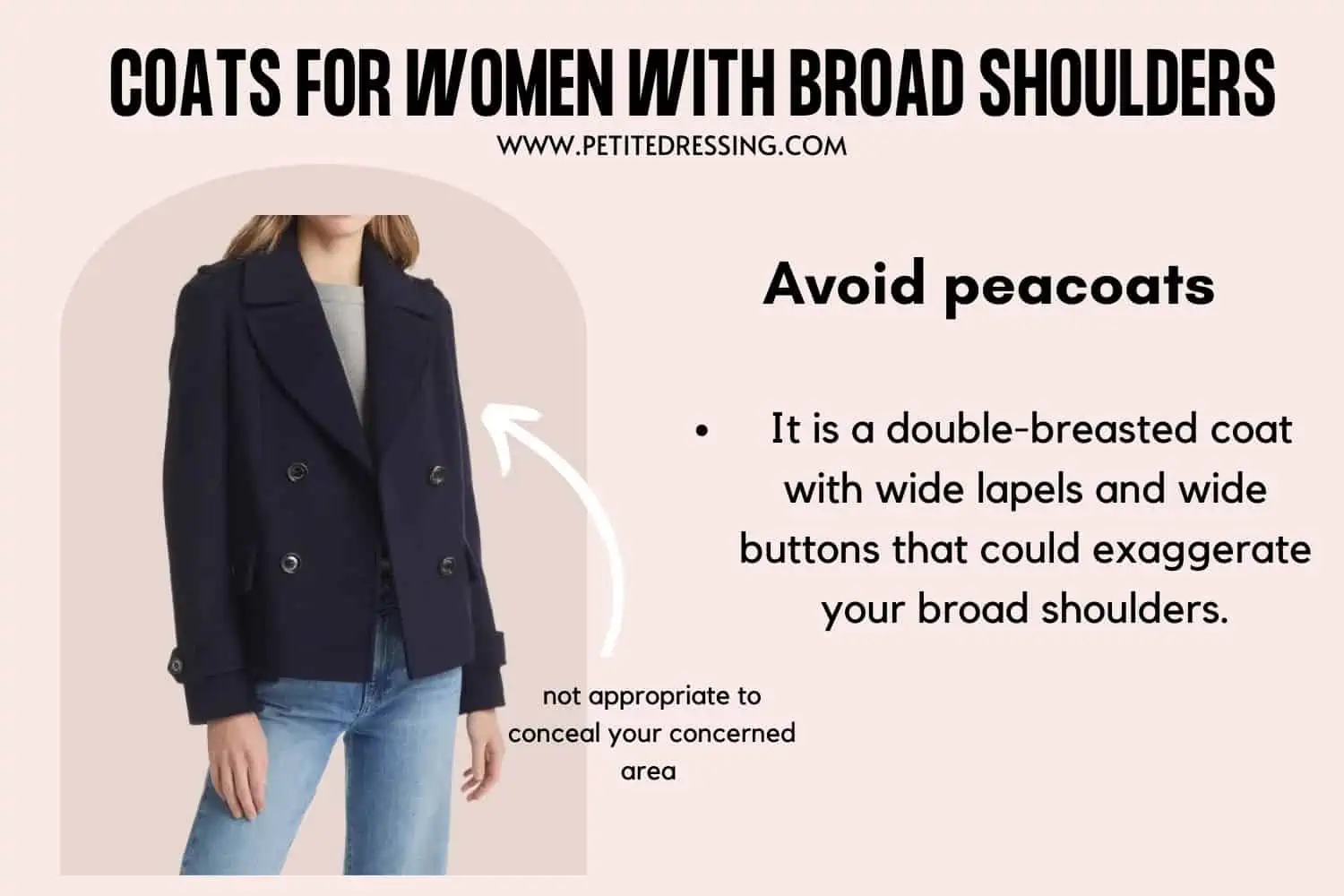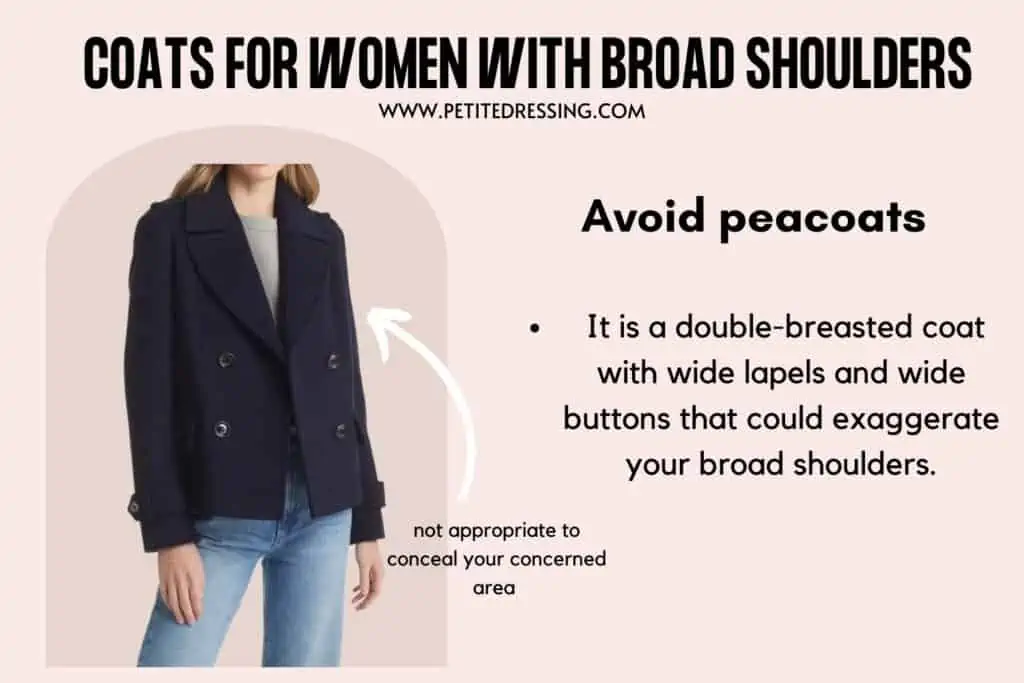 Peacoats are great attention seekers that keep a keen focus of the eyes on your upper body because of their structure and designs. It is a double-breasted coat with wide lapels and wide buttons that could exaggerate your broad shoulders.
The features in a pea coat are not appropriate to conceal your concerned area and would create excessive width around your upper half. Avoid peacoats if you're a woman with broad shoulders.