The key to flatter someone who is 5′ and under is to elongate, especially when you are wearing wide leg jeans. I know this because I'm 5'2″ myself, so any silhouette that makes me appear longer will immediately make me look taller and leaner.
Besides, I also have a petite clothing line for women 5'4″ and under, and many of my customers are 5′ and under. Based on my own experience as well as feedback from my customers, I've put together this detailed guide to help you find the most flattering wide leg jeans.
High-waisted
Here's one fact that will always be relevant for petite women: high-waisted styles are your best friend. It's so easy to fall in love with this style of clothing as they are super comfy and easy to pair with any elegant top of your choice.
So, if you're a bit confused about what type of wide leg jeans to wear as a woman who is five foot tall and under, an easy choice is high-waisted wide-leg jeans. This works great for short and curvy women as well.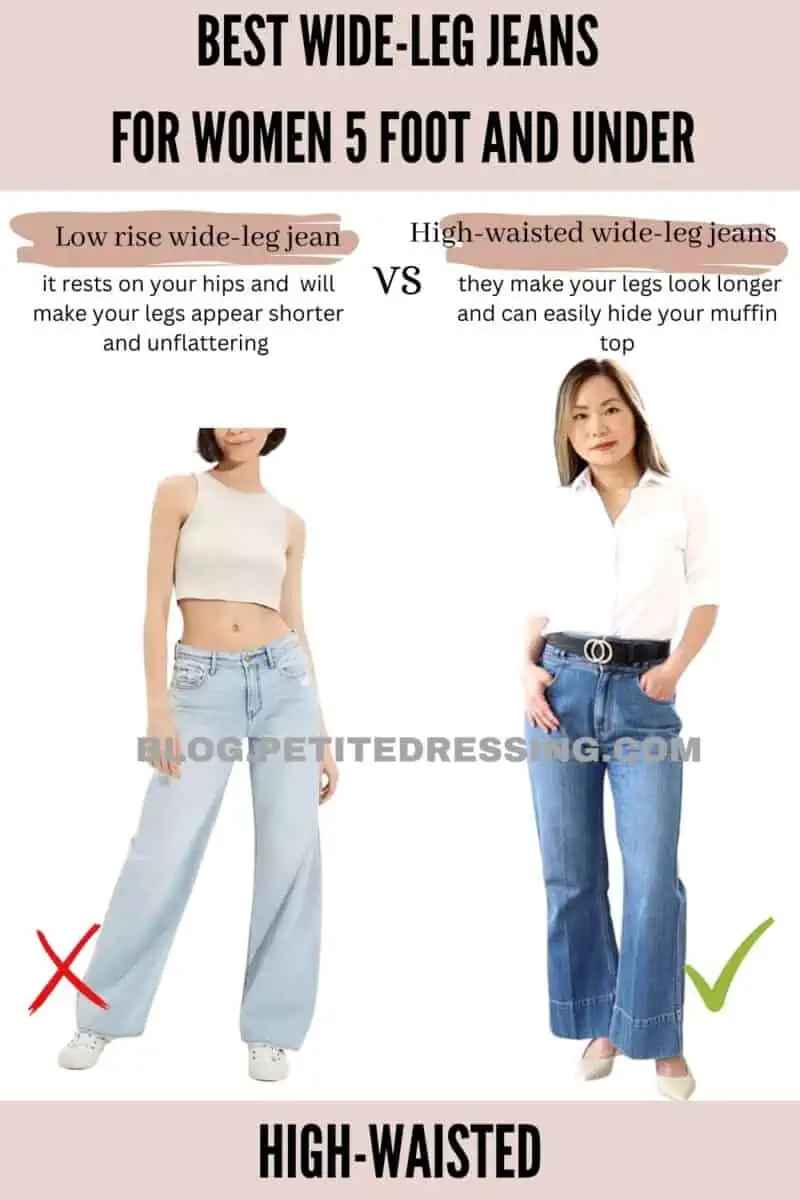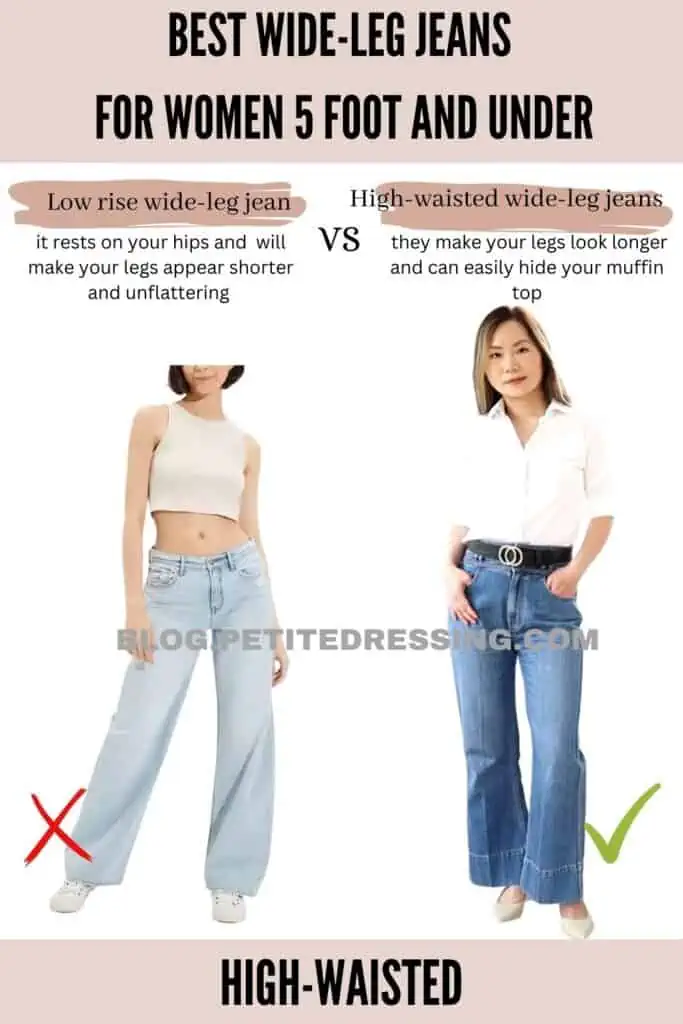 The advantage of high-waisted wide-leg jeans is that they make your legs look longer. It won't be so obvious at first glance that you're only five feet or even shorter. Another huge advantage is that you can easily use this style to camouflage your muffin top.
So, if you have a bit of tummy and want to conceal this without struggling into corsets, a high-waisted style is a suitable alternative. This sits right on top of your tummy area and makes it look flatter. It will, of course, make you look taller, especially if you have a long torso.
Dark wash
You really can't go wrong with a dark wash wide leg jeans in your wardrobe as a petite woman. This is a staple for the wardrobe of any woman that's 5 foot tall and under, and wants to stand out everywhere she goes.
So, if this describes you perfectly, a dark wash wide leg jeans is just what you need to highlight your curves and stay stylish even with a wide-legged style. The magic here is in the dark wash color.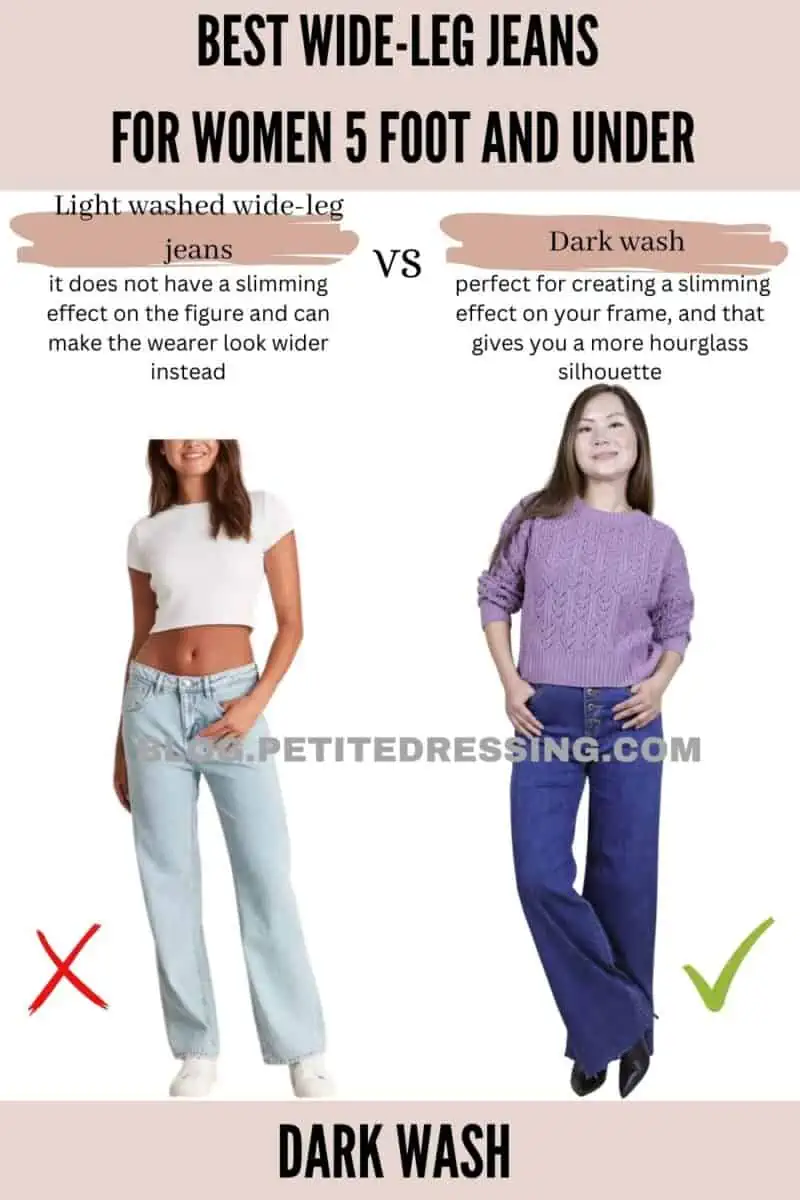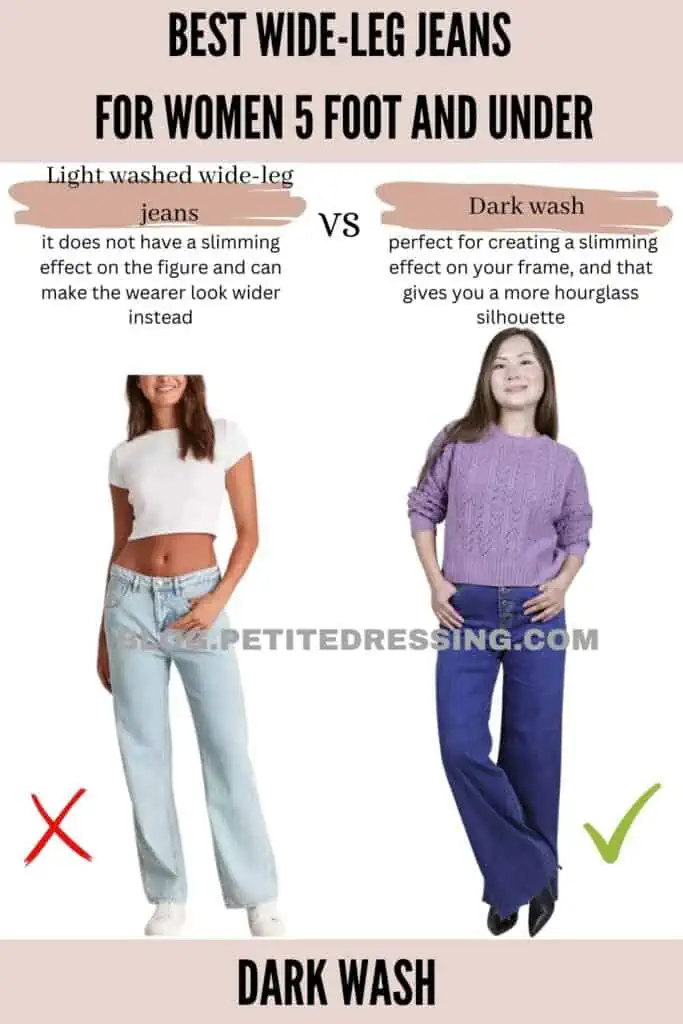 This dark color is perfect for creating a slimming effect on your frame, and that gives you a more hourglass silhouette, especially if you love the outlook of curves. This incredibly feminine silhouette will complement your height, and you'll look amazing.
The wide leg style works hand-in-hand to create the illusion of longer legs. So, what you have is dark wash jeans that really pop. Pair this with a fitted top that creates a cinched waist effect and this will create a balanced silhouette.
Full-length
Got short legs? Then you should absolutely consider wearing full-length wide-leg jeans to help you make the most of your body features. The goal is to wear jeans that won't make your legs appear shorter.
Therefore, you should start by paying attention to exactly where the jeans fall on your legs. It's a good idea to allow your wide-leg jeans to cover your legs to your ankles. This is a perfect choice if you have short legs, as it will have a more flattering outlook.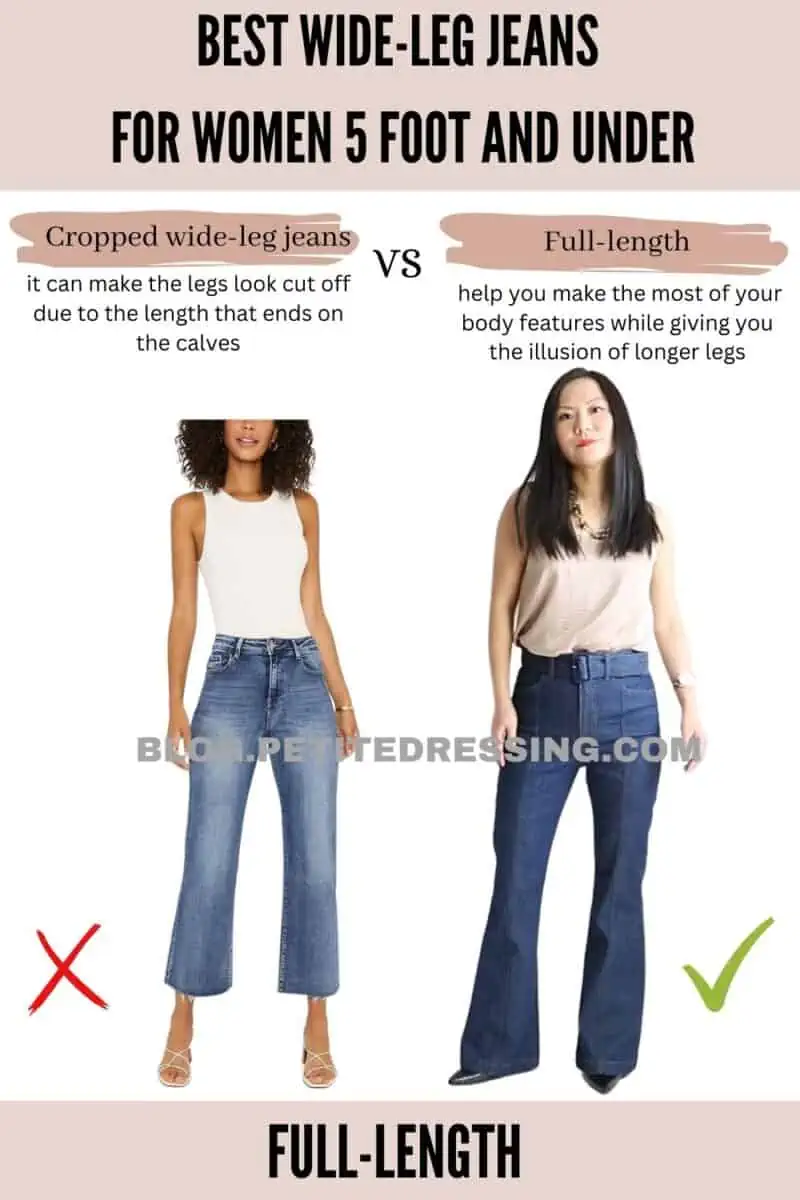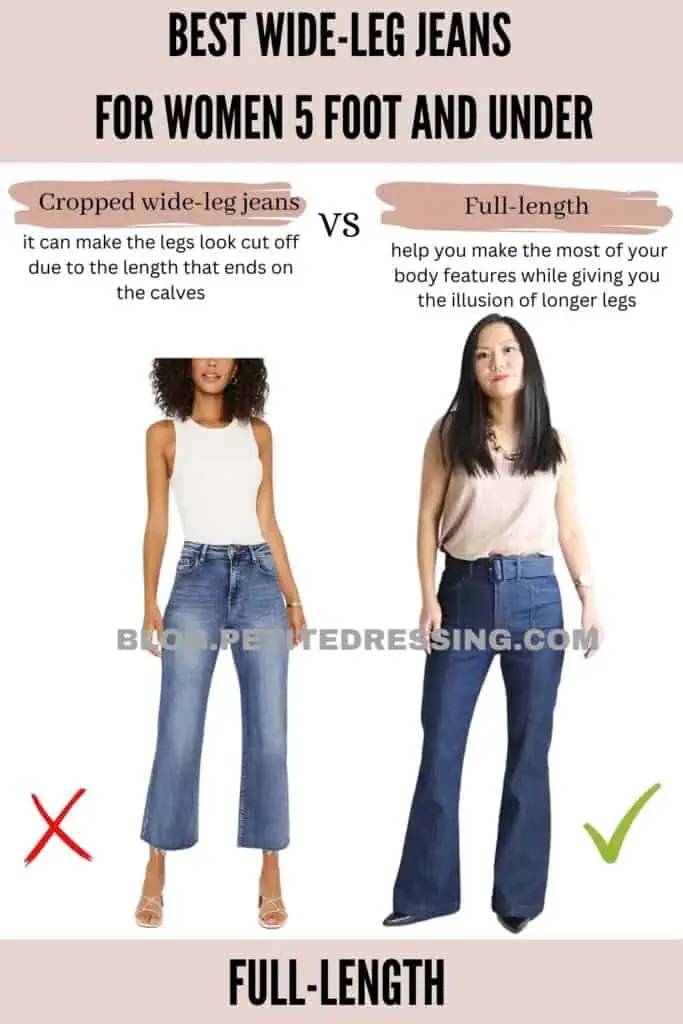 Going for this length helps with the illusion of longer legs, which means you'll look taller when you step out in this style of clothing. However, it's important to find the right balance when it comes to length.
Too-short wide-leg jeans will have the opposite effect. They will make you look shorter instead. So, avoid wide-leg jeans that are above your ankle as they would make you look wider horizontally.
Straight cut leg
Many petite women prefer a more streamlined look and if you're on this list, then an amazing option for you is the straight wide-leg jeans. It's so easy to think that straight means boring, but that's so far from the truth.
The straight-leg style of wide-leg jeans is just as fascinating as other styles for women that are five foot tall and under. So, what makes this so great for you? It all has to do with the straight cut from your waist down to your ankle.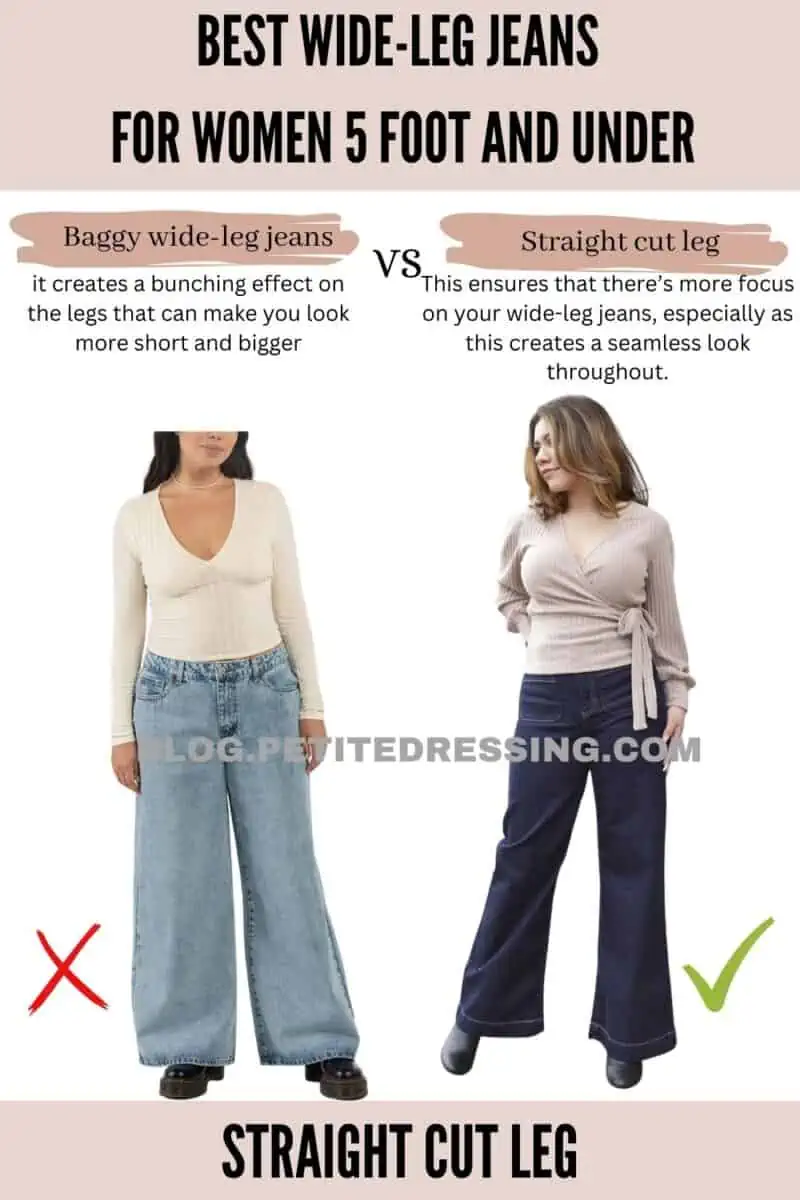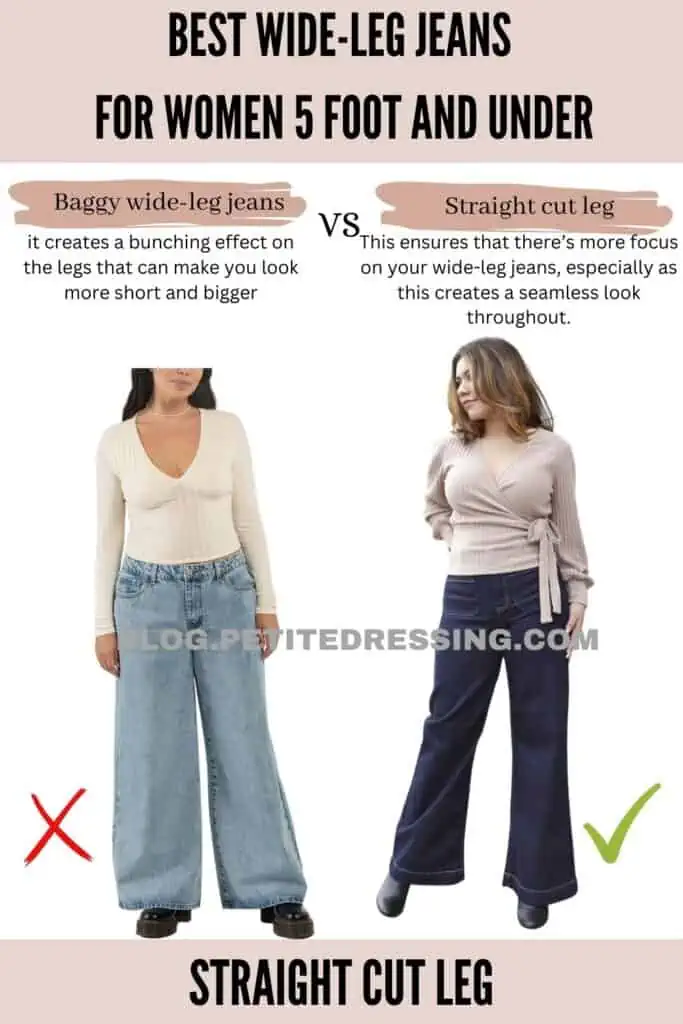 This is not flamboyant but exudes a subtle elegance that makes this perfect for both formal and semi-formal events. The straight cut gives a sleek and modern look that you just can't say no.
Make this even more perfect by pairing it with a simple yet fitted top. This ensures that there's more focus on your wide-leg jeans, especially as this creates a seamless look throughout.
Pair with fitted tops
How can you ensure that your wide-leg jeans make you look as amazing as possible? Your choice of top matters a lot. A key to rocking it the best possible way is to pair them with a fitted top.
Remember that there's a huge difference between a fitted top and a tight top. You want to choose a top that highlights your curvy silhouette without squeezing your body uncomfortably.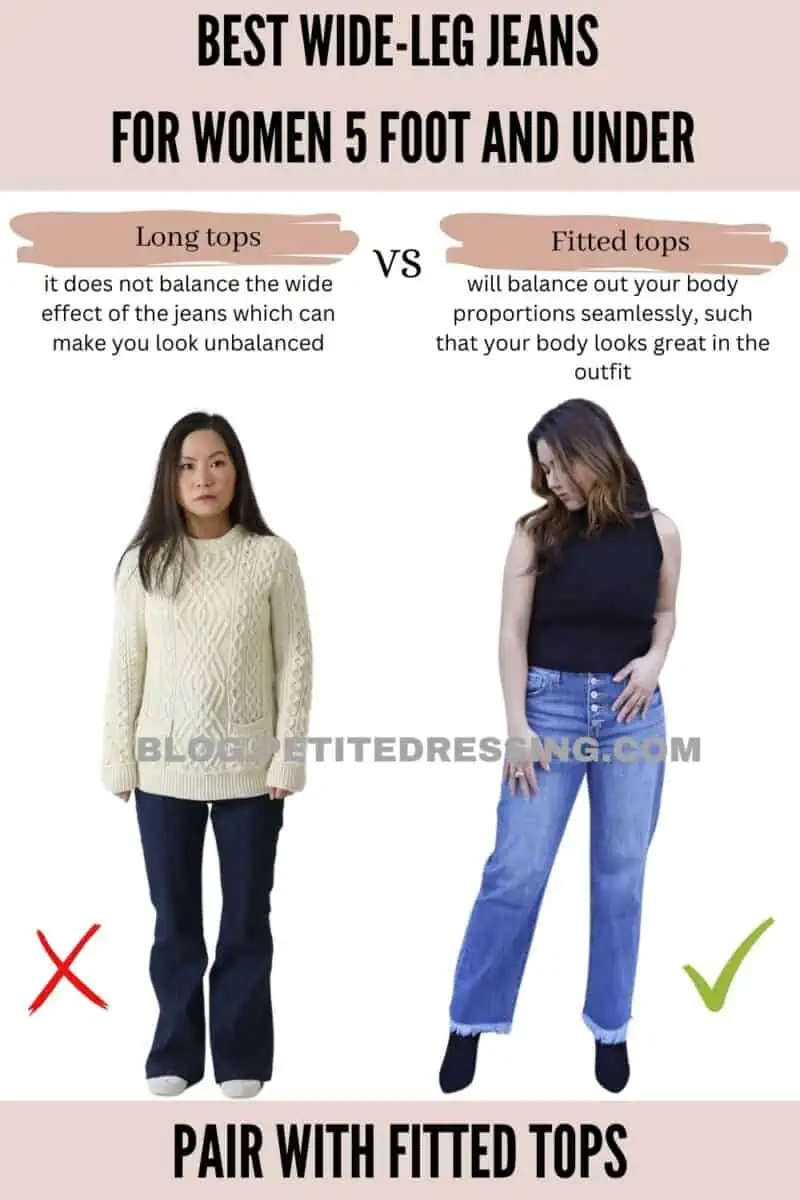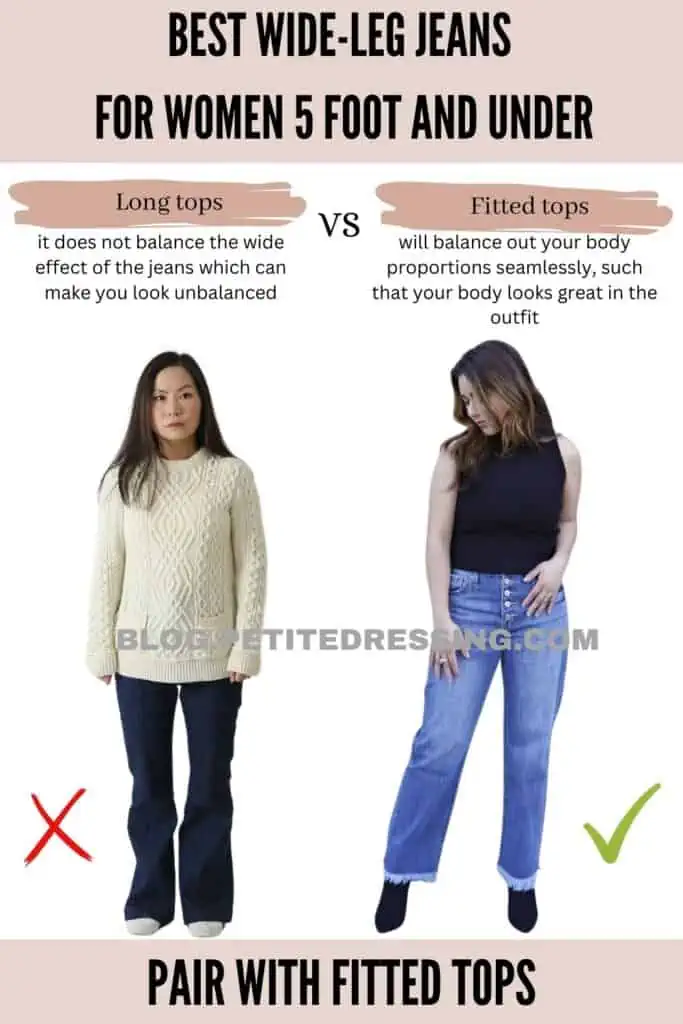 When you go for a fitted top, this will balance out your body proportions seamlessly, such that your body looks great in the outfit. With this, your petite body won't be overwhelmed by the fabric.
When it comes to fitted tops, you have numerous options. This could be a structured blouse or a simple tee. The common feature is that they cinch at the waist to create a balanced silhouette.
Pair with nude heels
How many nude heels do you have so far? If the answer to this question is zero, you need to remedy that as soon as possible. Nude heels are a fantastic way to create the illusion of longer legs.
Just as the name suggests, the nude style blends seamlessly with your legs such that it looks like an extension of your feet at first glance. So, pair this with wide leg jeans to streamline your outfit and create a more cohesive look.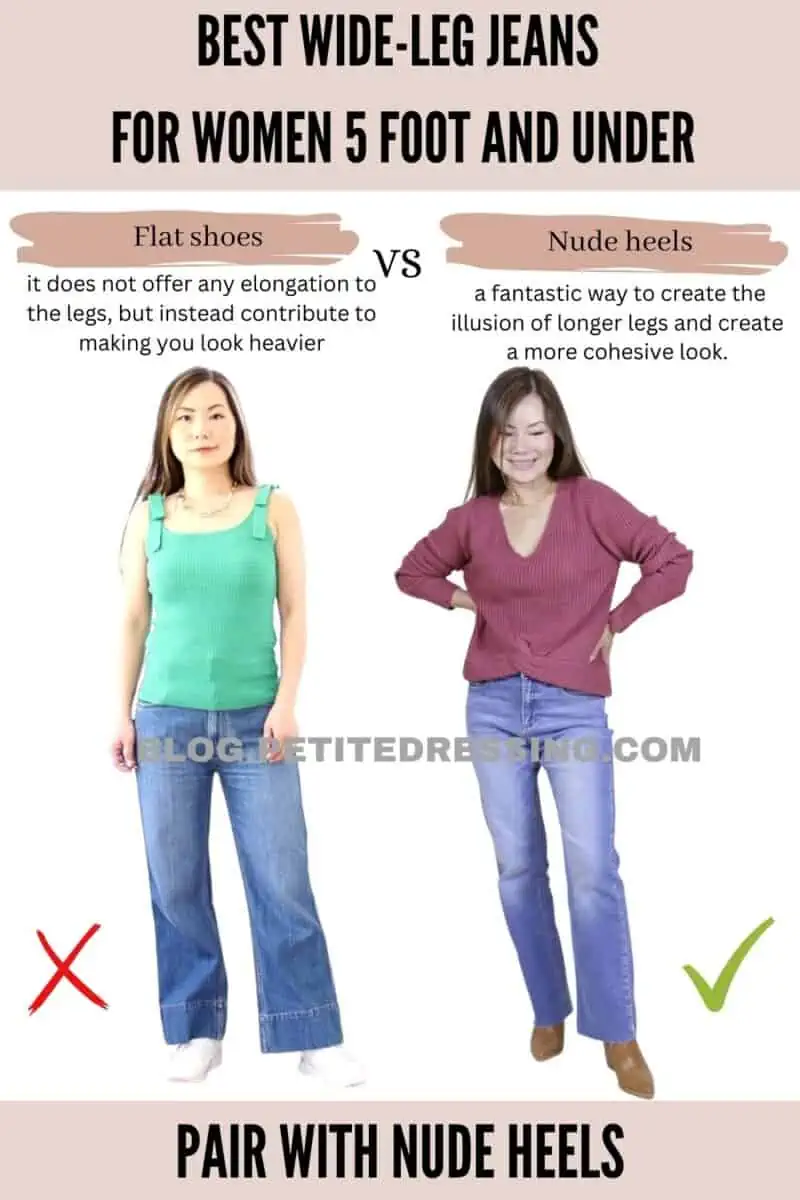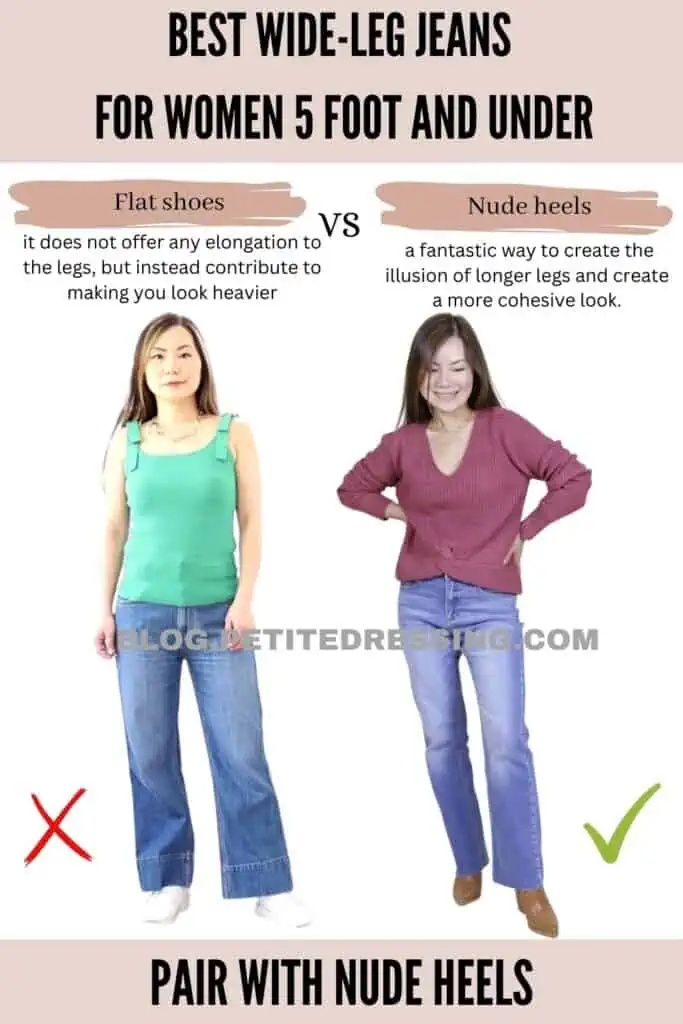 This works when you find a pair of nude heels that match your skin tone, so that it looks like your legs go on forever. Of course, you also enjoy the advantage of heels which is to add extra inches to your height.
Avoid low-rise
Just like high-waisted styles are great for women who are five foot tall and under, low-rise wide leg jeans are not that great of a choice for petite women. This can be incredibly tricky to style to your body type, so it's best not to go through this trouble at all.
Low-rise wide leg jeans are not exactly the most comfortable choice out there. Another huge disadvantage is how they cut off the legs visually, and this abrupt effect makes you look shorter than you actually are.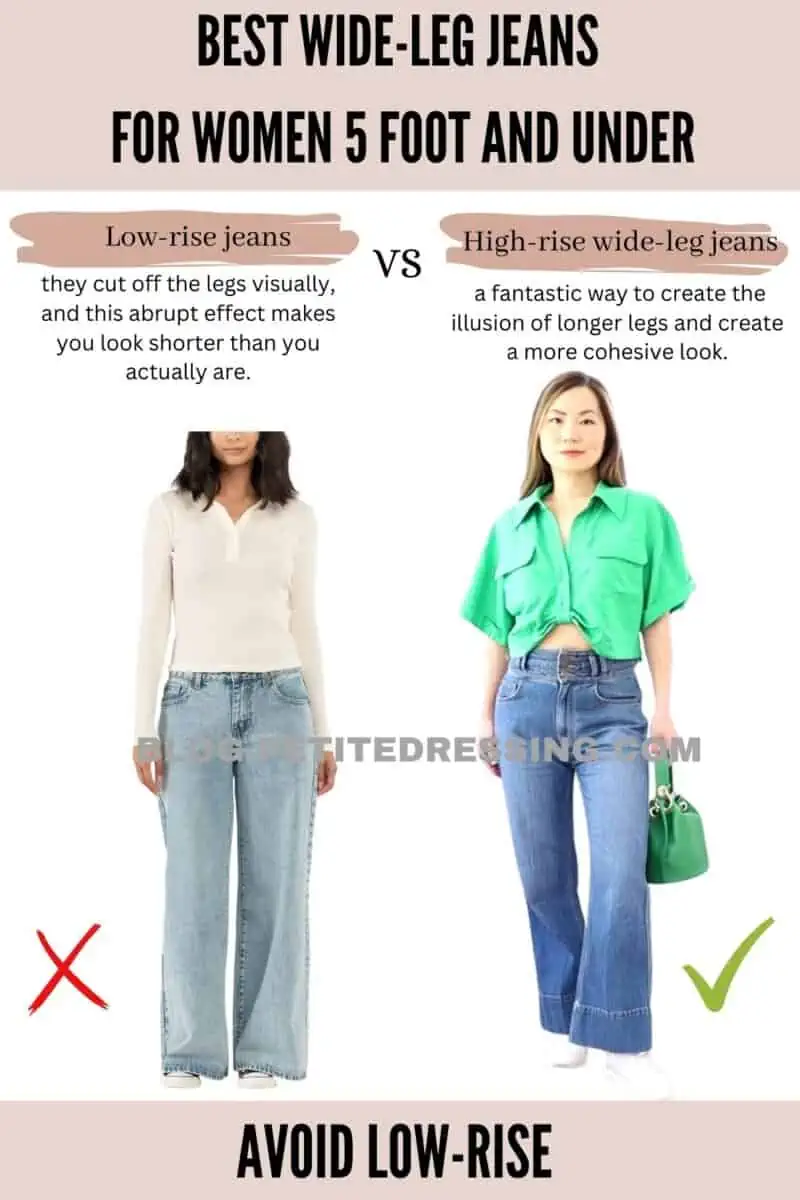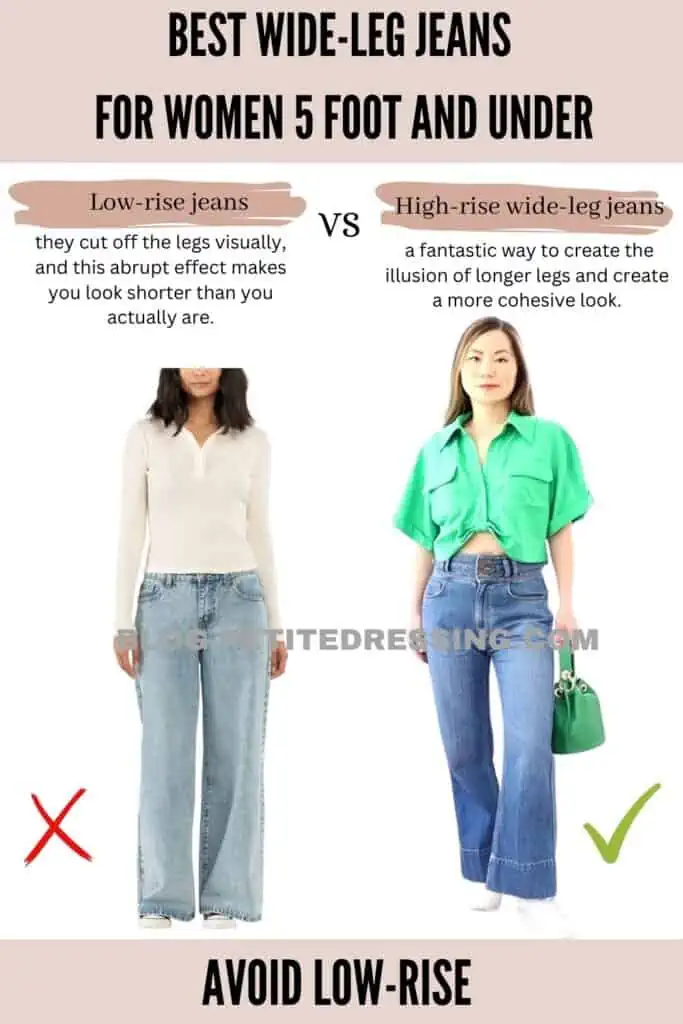 A better choice is the mid-rise wide leg jeans which double as a comfortable and sleek choice. This is the same with high-rise wide leg jeans. These styles sit at your natural waist, which offers a more flattering fit.
Of course, you also enjoy the elongation effect on your legs, making you appear much taller than you actually are.
Avoid bulky shoes
What qualifies as a bulky shoe? Anything from combat boots to chunky sneakers are bulky shoes that you should completely avoid as a petite woman who is five foot tall and under. These are all heavy styles that can overpower your outfit.
The resultant effect is that you look shorter than you actually are, not to mention the extra weight on your feet that you could totally do without. Choose sleek shoes like nude heels and ankle boots which are more flattering.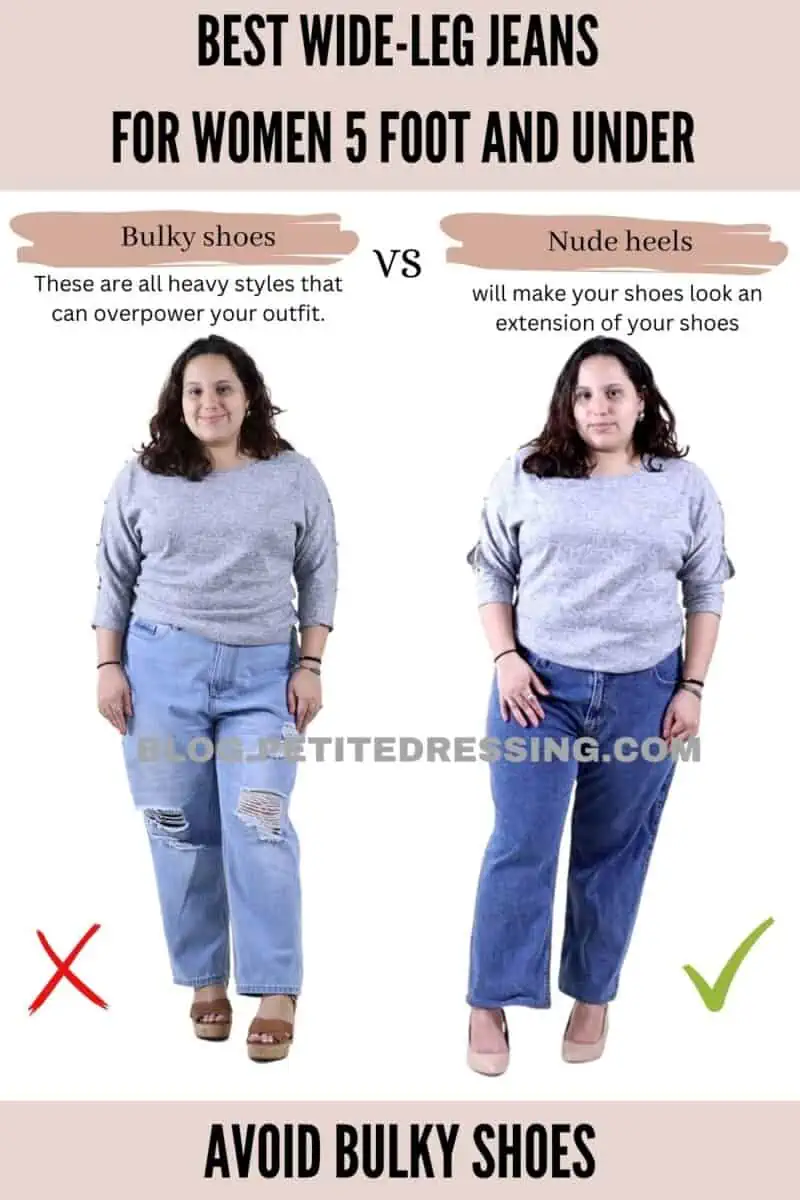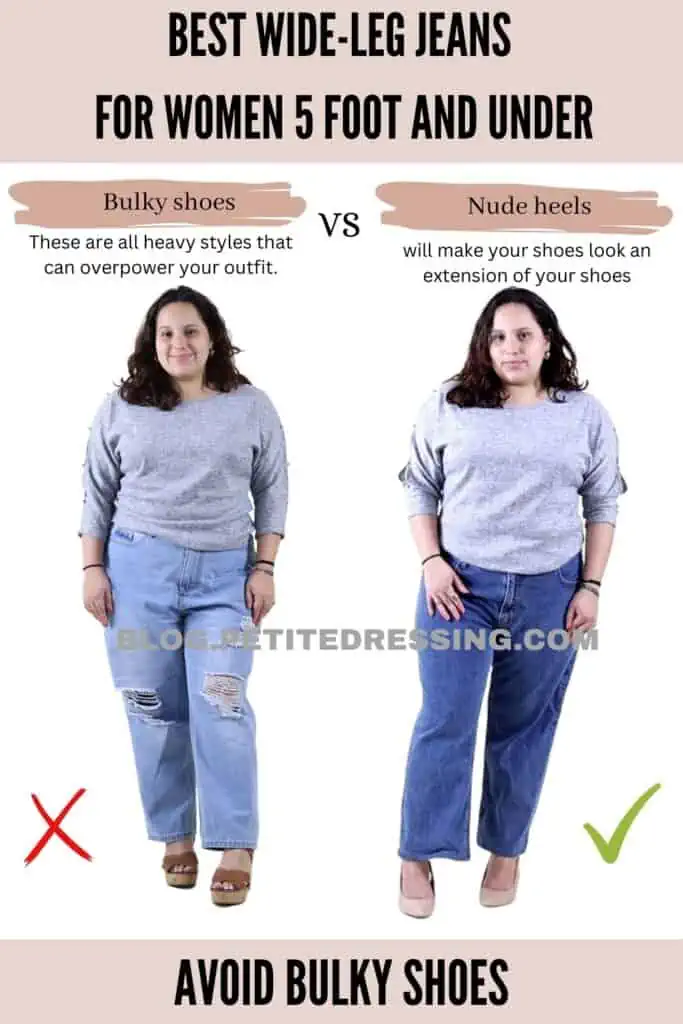 If you've been worried about wide leg jeans and the possibility that they will make you look bigger because of your petite body type, this article should allay your fears. With the comfortable and flattering options I've talked about, you can comfortably rock this style and look beautiful while at it.