Being 5'2 myself, I personally know which wardrobe pieces flatter a short height girl. Besides, owning a petite clothing line made me understand how to effectively style different body shapes.
Having a short hourglass body figure means you're petite in terms of height (5'4 and below) and your body shape consists of a full bust, full hips, and a very defined waistline. Having a very defined body shape, you should be able to choose the best tops that will enhance your best features even more!
Having an hourglass body when you're short is not always the easiest to work around because you need to be mindful of your body's visual proportions.
Since our model Wendy is 5'2″ with a typical hourglass figure, I know the ins and outs of what kind of tops work the best for a petite hourglass and what not so much. In this blog post, I'd be more than glad to guide you on how to pick the top styles for your short hourglass body shape.
Styling Goal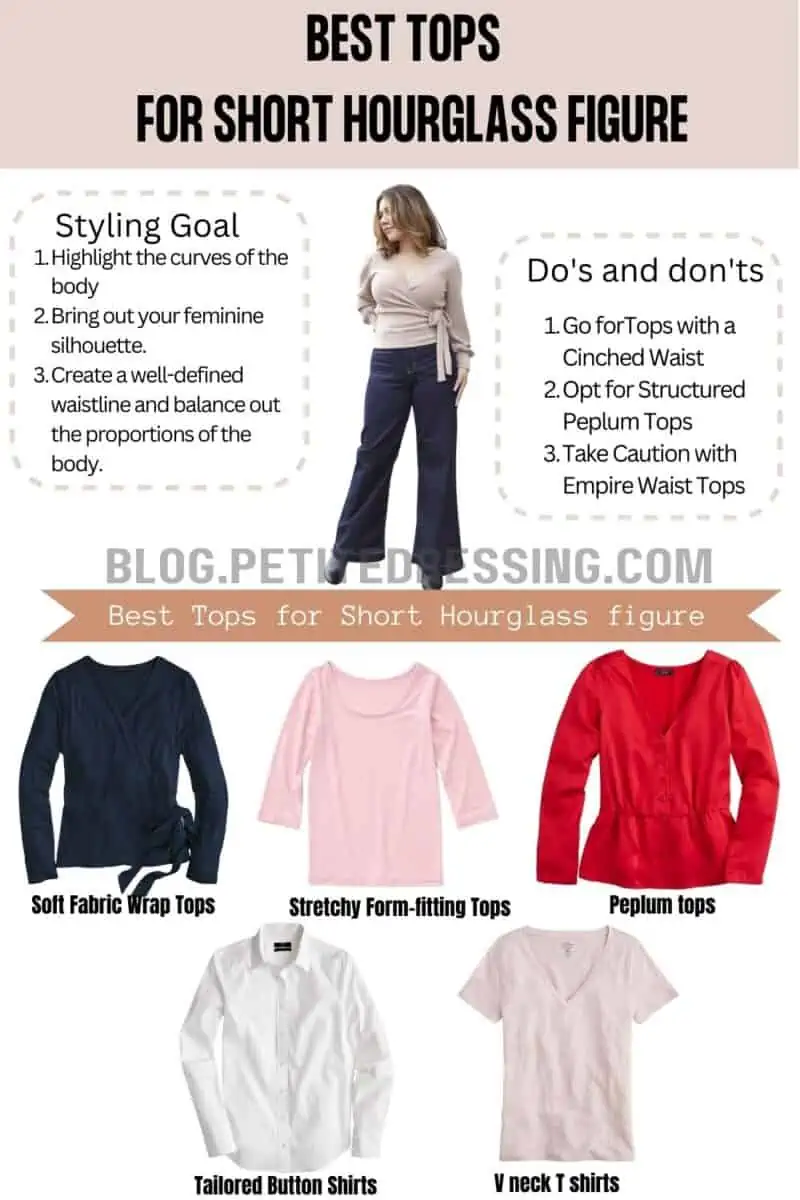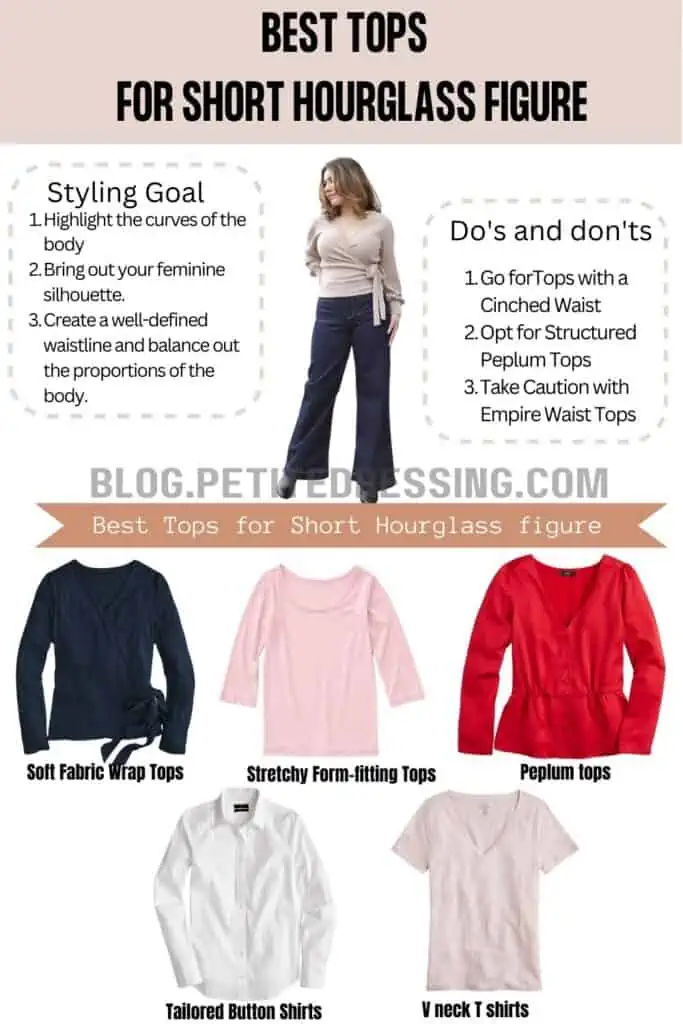 Look for tops that nicely cinch the waist to fully accentuate your hourglass figure. Your silhouette is your best feature so you have to take every chance you can get to flaunt it!
Choose elongating prints, patterns, and designs to make you appear taller. Girls who have a petite hourglass figure may tend to look a bit heavy because their full busts and hips can overwhelm their height so to make space for your curves, visually elevate your frame!
Say no to very loose fits because tops that are too baggy will conceal your beautiful hourglass curves and small waist. The right fit is the key to perfectly styling your tops to suit your short hourglass frame.
Ready to dive into our list of stylish tops to suit your figure? Let's get into the details of how to choose the right tops for your petite hourglass body figure.
Soft Fabric Wrap Tops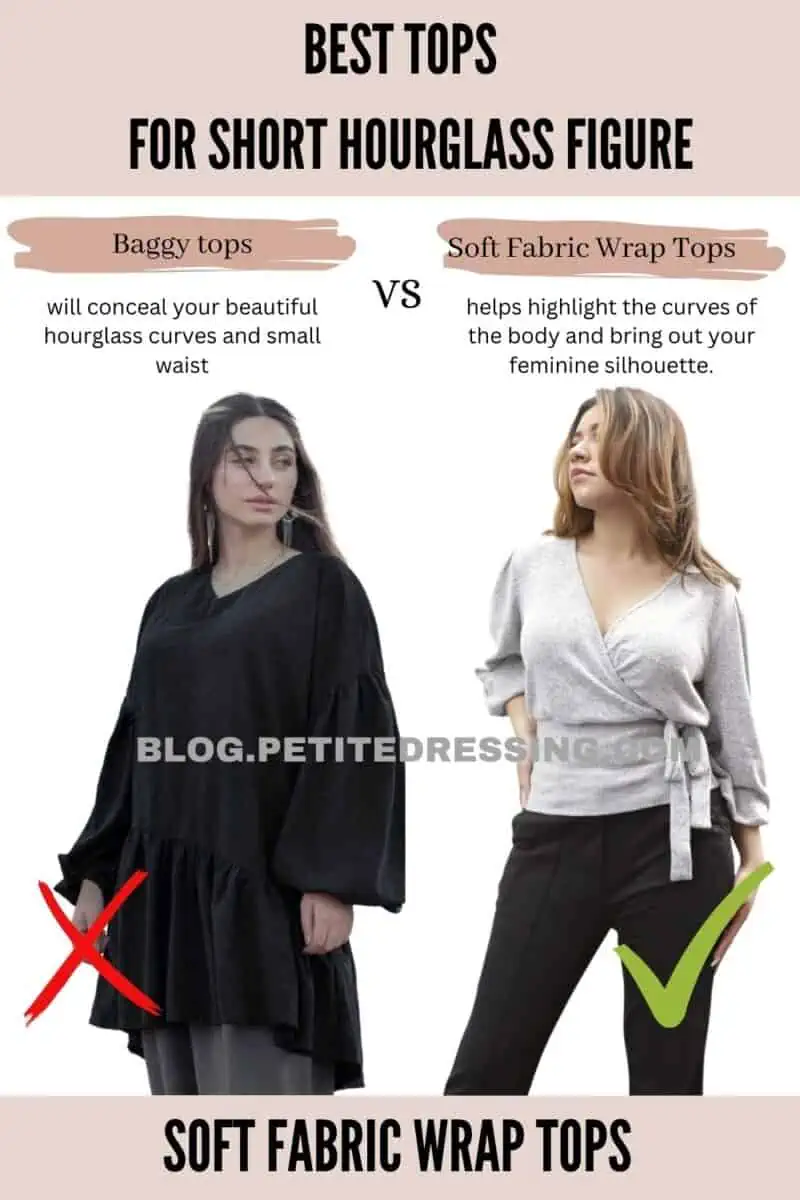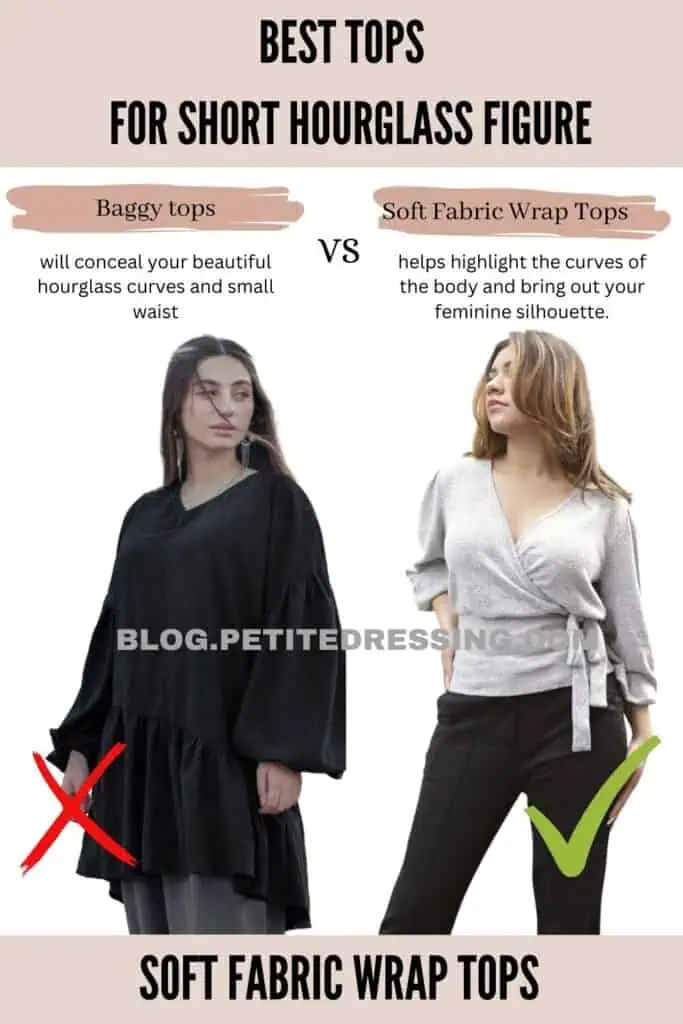 Starting with a classic, the almost foolproof choice for your short hourglass body is a wrap top. Wrap tops typically have a tie or knot at the waist, which accentuates the narrowest part of your hourglass figure and this helps highlight the curves of the body and bring out your feminine silhouette.
Its adjustable waist tie is also one of the best things about why wrap tops perfectly flatter short hourglass body shapes. You can easily adjust it accordingly to give your bust and waist a snug fit.
Additionally, wrap tops typically have a spacious neckline (usually V-necks) so they elongate the torso and create the illusion of a longer silhouette. This is particularly helpful for short women who want to appear taller and more proportionate.
Stretchy Form-fitting Tops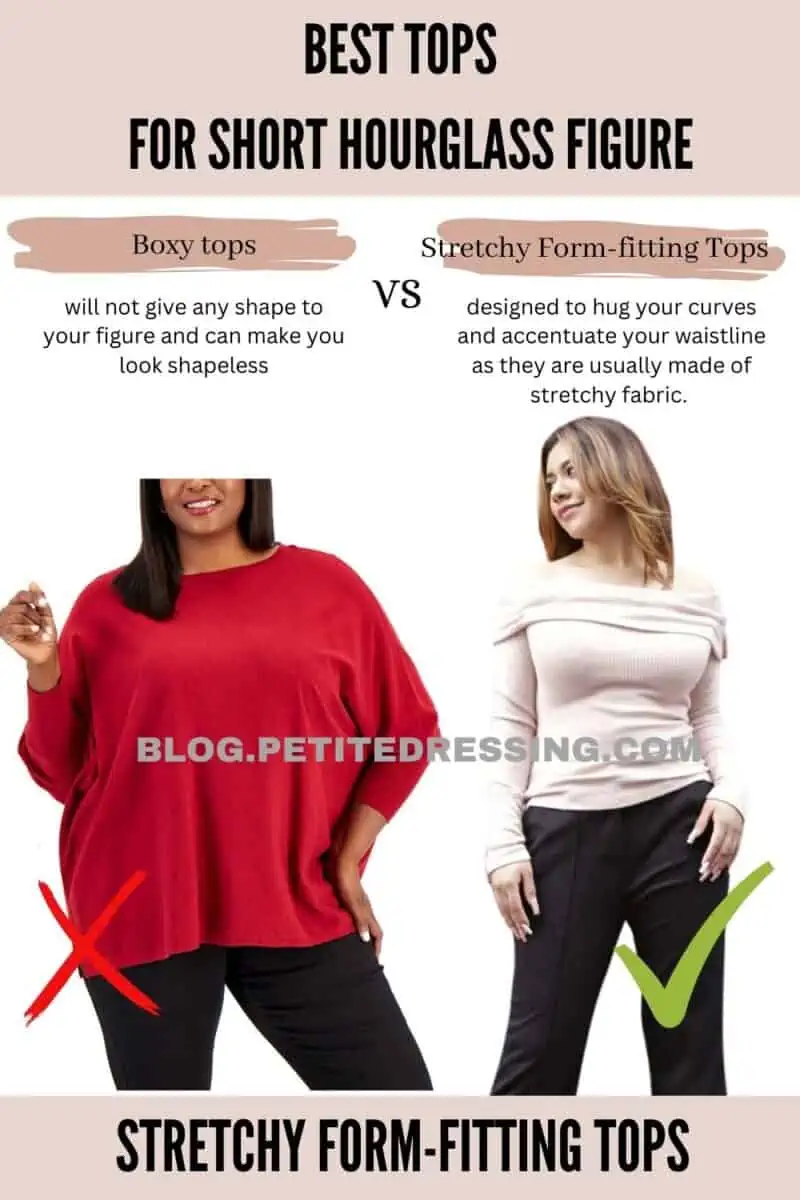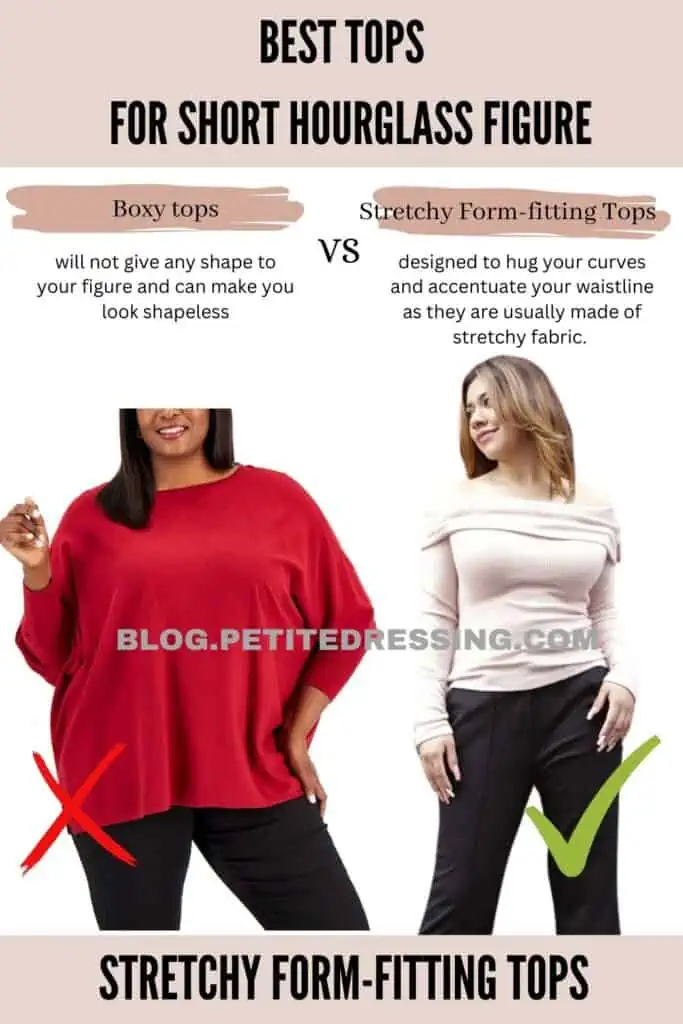 Form-fitting tops are a great way to show off your highly-coveted hourglass figure! They are designed to hug your curves and accentuate your waistline as they are usually made of stretchy fabric.
Since form-fitting tops are designed to feature a snug fit, they create a streamlined silhouette that can make you look taller and more visually proportionate. This is particularly helpful for short women who want to elongate their silhouette and create the illusion of height.
Just remember to be mindful of the right fit and avoid stretchy tops that are extremely tight. Tight-fitting tops may look unflattering as they can give the effect of a heavier and wider upper body.
Tops with a Cinched Waist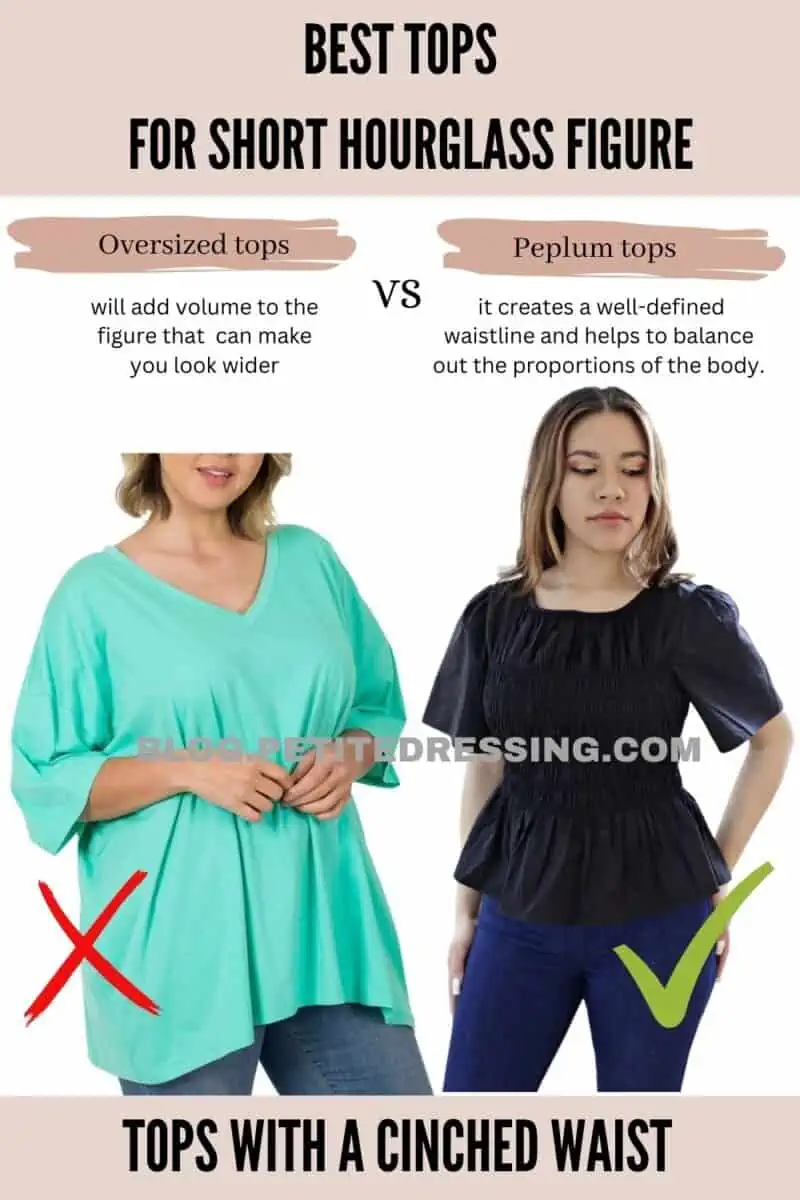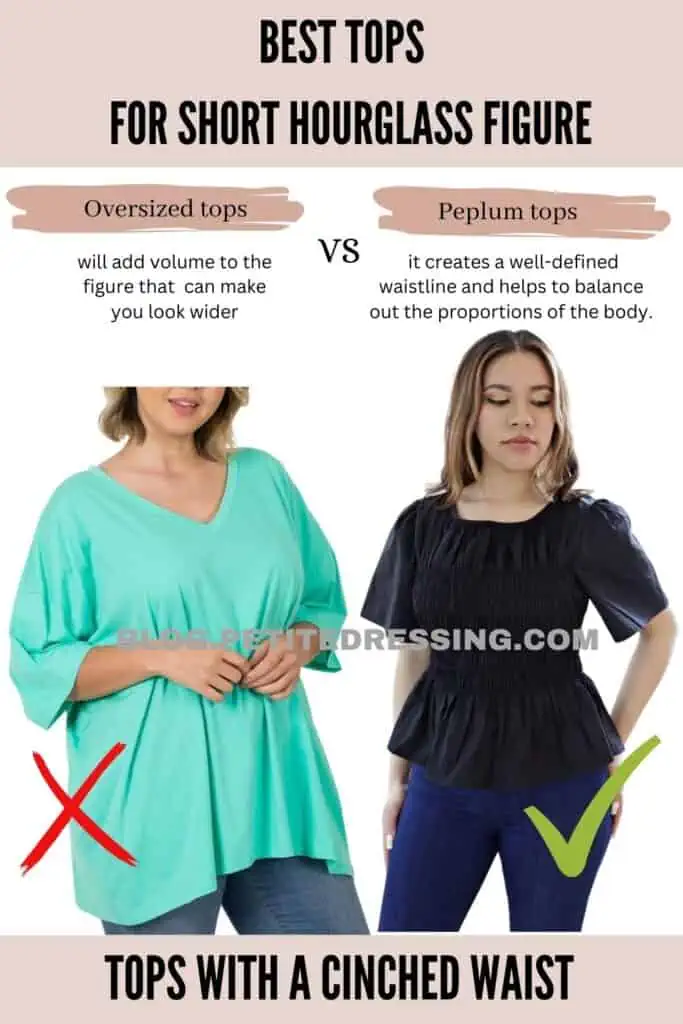 Tops with cinched waistlines such as belted tops are generally very flattering on short hourglass figures as long as you go for the right belt width. Having it too thick will make you look shorter so it's ideal to stick to belts that aren't thicker than 2 inches.
These types of tops are specifically designed to cinch in at the waistline, which helps to emphasize the curves of the hourglass figure. This can be particularly flattering for short women, as it creates a well-defined waistline and helps to balance out the proportions of the body.
Structured Peplum Tops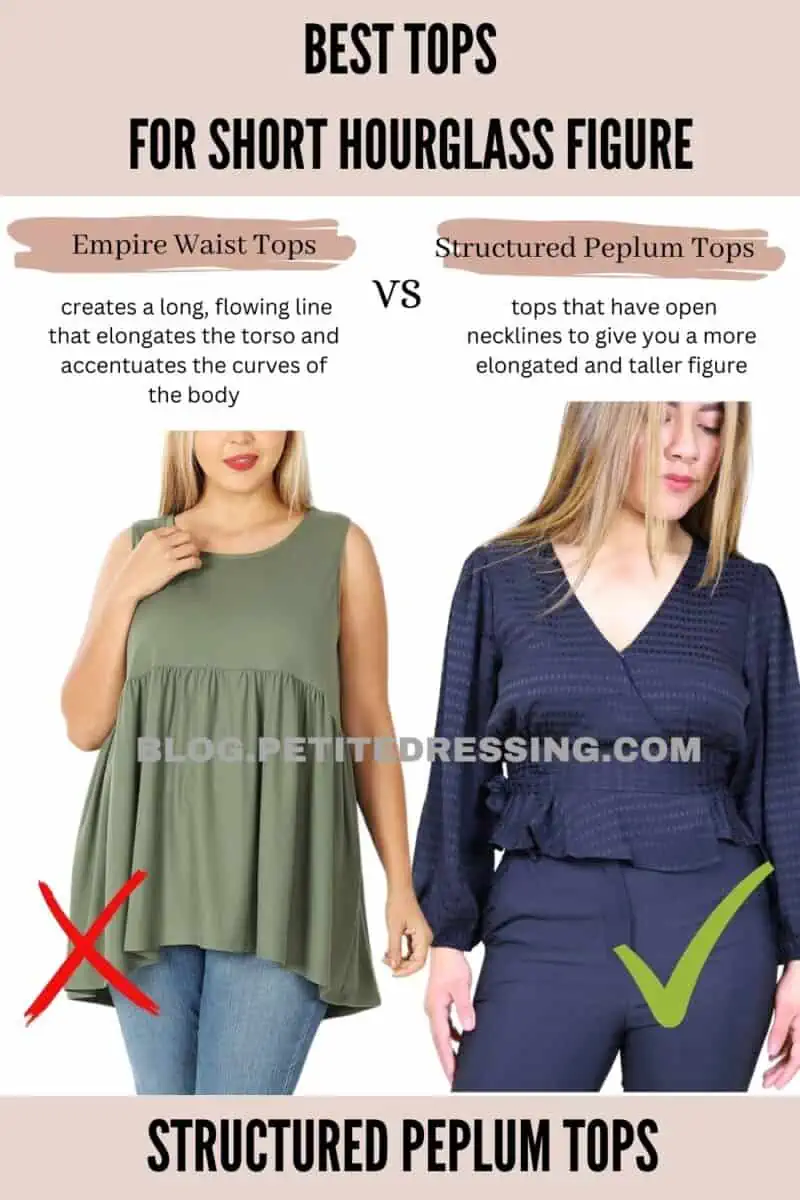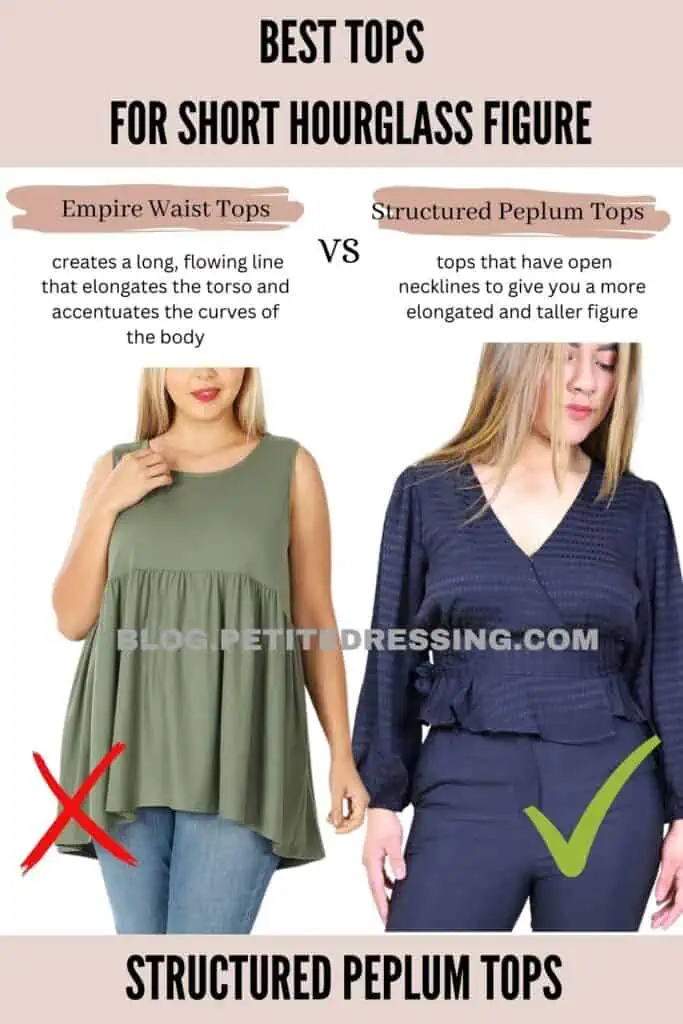 Fit and flare silhouettes look amazing on short hourglass bodies and one example of this is peplum tops. Peplum tops have a flared ruffle or skirt-like section attached to the waistline, creating a flared silhouette that fully enhances your voluptuous hourglass figure.
The flared ruffle or skirt-like section of the top draws attention to the waistline, which is often the narrowest part of the hourglass figure and creates the illusion of a more defined waist. You may opt for peplum tops that have open necklines to give you a more elongated and taller figure.
For your silhouette to have more depth, choose a fabric that has more structure rather than going for soft and flowy ones.
Tailored Button Shirts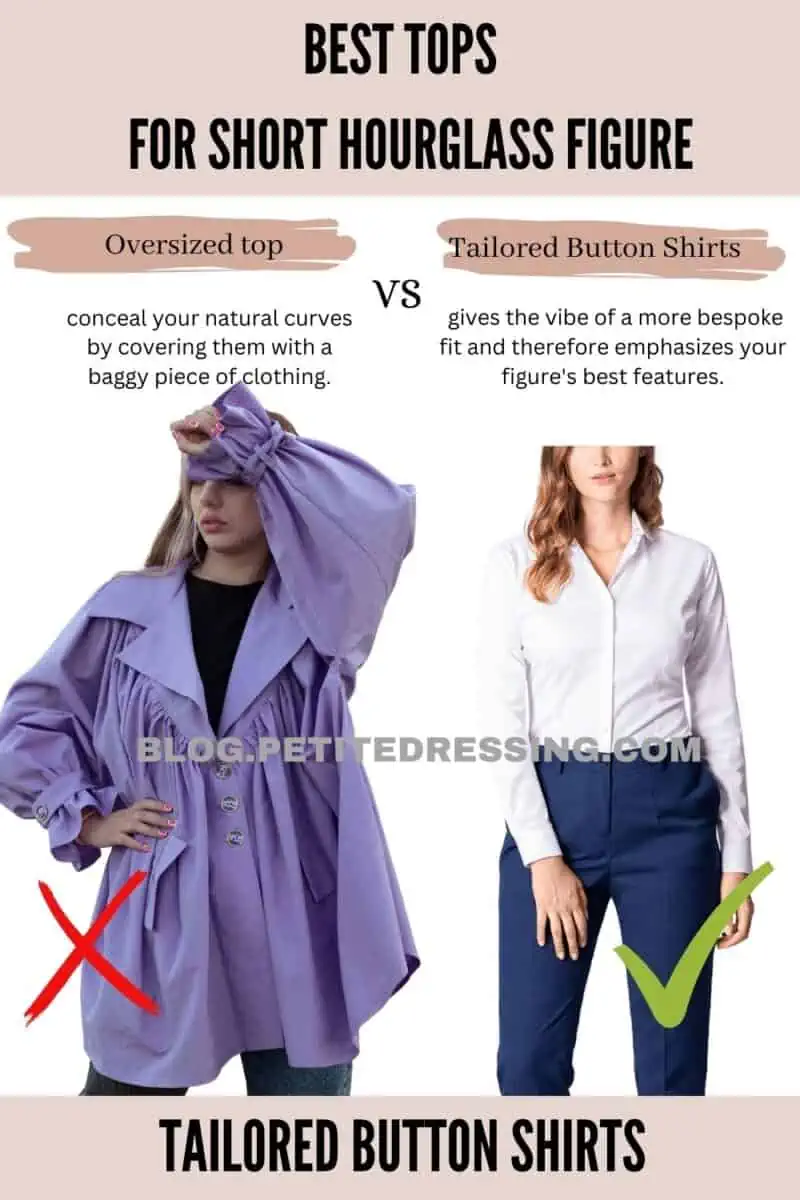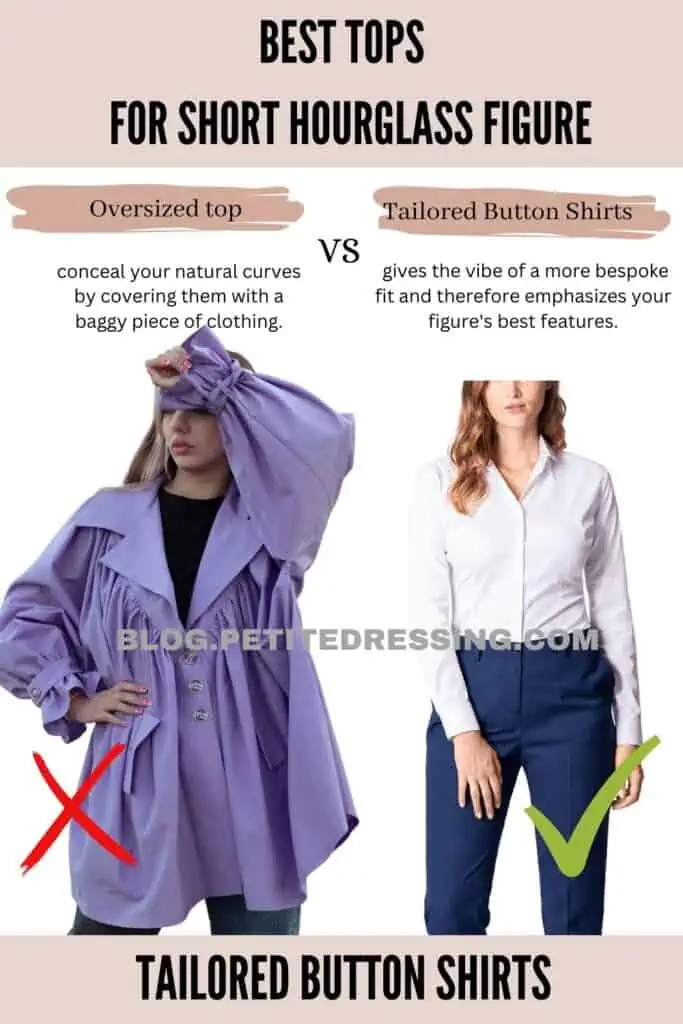 Button shirts are one of the best go-to casual wear for many women due to their versatility. They come in different styles and structures but if you're someone with a short hourglass body, you'd like your button shirts to feature tailored seams.
This most particularly refers to the seamline subtly nipping in the waist to have your hourglass curves stand out! A tailored cut gives the vibe of a more bespoke fit and therefore emphasizes your figure's best features.
Of course, the proper fit is also quite crucial for women with hourglass figures because of your full bust. It's important to choose a shirt that fits well and doesn't gap or pull at the buttons, as this can be unflattering.
V-Neck and Scoop Neck T-Shirts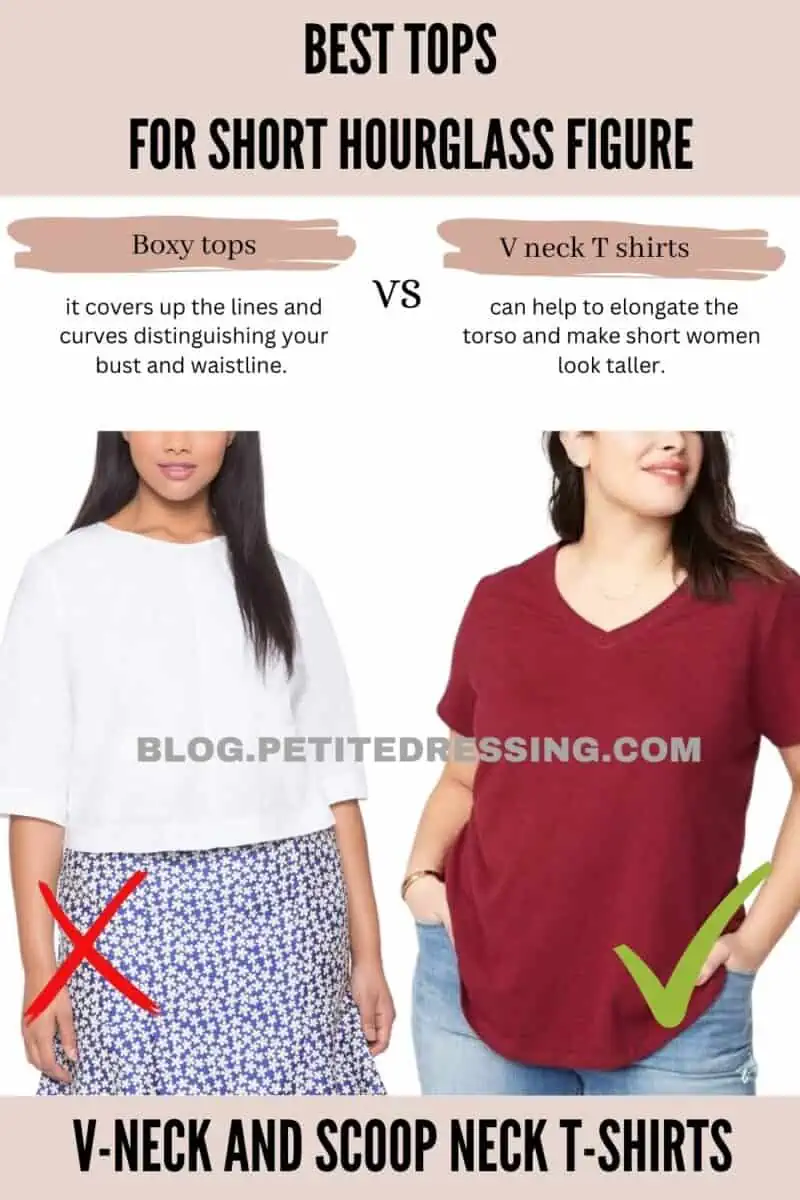 Just like what I previously mentioned under 'Styling Goal", you always have to look for ways to elevate your height to give more room for your natural hourglass curves. One of the best and easiest ways to do so is by going for tops that have open necklines such as scoop and V-necks.
These necklines elongate your frame by opening up space on the upper half of your body. V-neck and scoop neck tops create a vertical line down the center of the body, which can help to elongate the torso and make short women look taller.
As these necklines bare a significant area of your upper half, they also highlight the length of your neck and the prominence of your decolletage (collarbones). V-neck and scoop-neck tops draw attention to these areas, which can be flattering features for many women.
Caution with Empire Waist Tops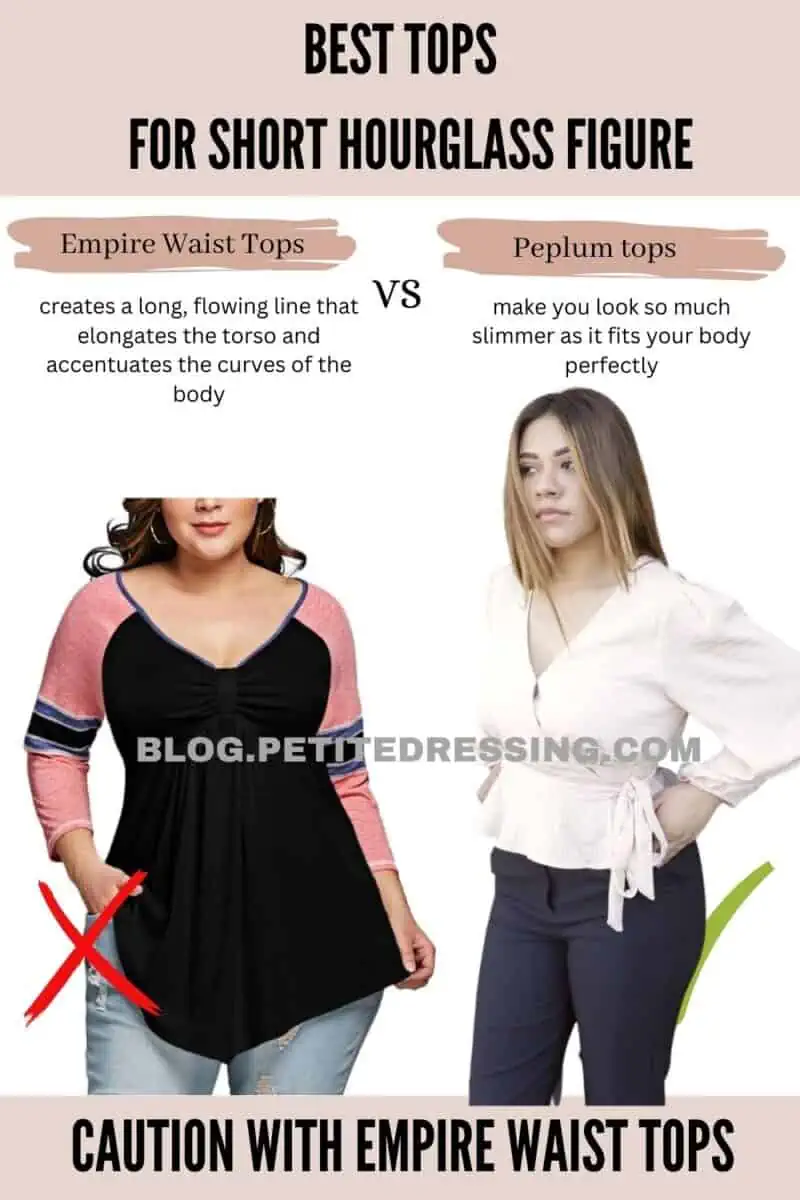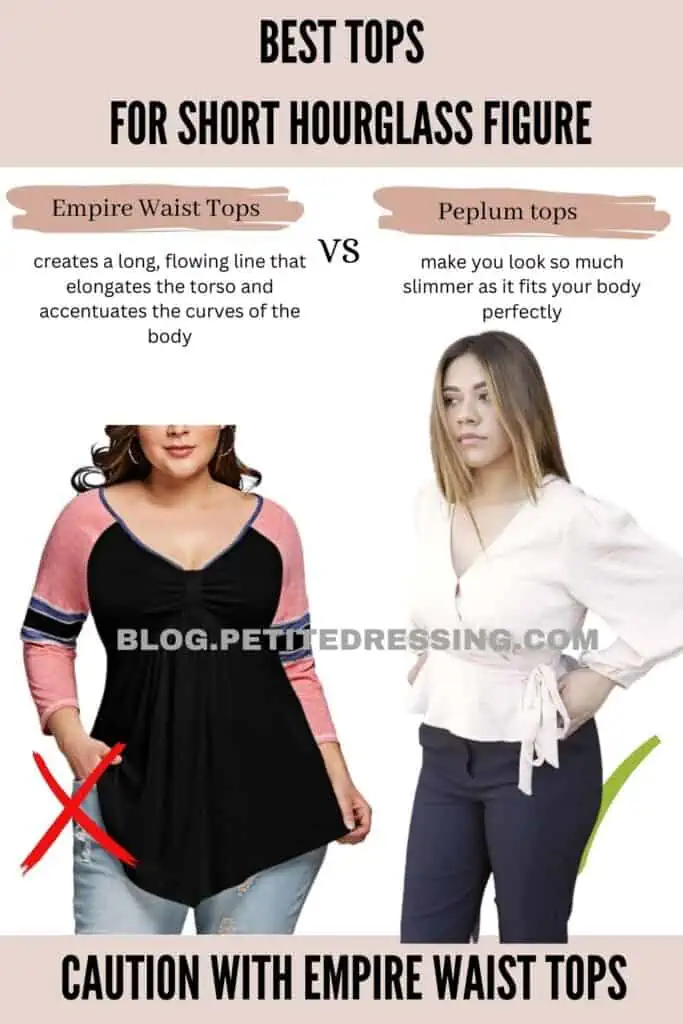 The empire waist style is characterized by a high waistline that sits just below the bust which creates a long, flowing line that elongates the torso and accentuates the curves of the body. These are definitely great characteristics to flatter short hourglass figures, right?
Empire waist tops can look great on petite hourglass figures when styled right. The wrong fit and fabric may end up concealing your natural hourglass body shape so you'd like to be more careful of the empire waist tops you'll choose.
When selecting an empire waist top, it's important to choose one that fits properly and is proportionate to your body size. Look for tops that are not too voluminous, as they can overwhelm a petite frame, but instead choose a style that is tailored to your body shape.
Avoid Boxy Tops
Silhouette plays a very significant role in terms of making your hourglass figure stand out. Boxy tops contradict this style principle as they conceal your natural curves by covering them with a squarish piece of clothing.
They often hang straight down from the shoulders, creating a square silhouette that can be unflattering on an hourglass figure. This will result in making you look shapeless and even shorter than you actually are!
The Key Takeaway
Having a petite hourglass figure is something you should proudly flaunt! To fully embrace it is to have a better understanding of which types of clothes should bring the best out of your figure.
By considering the fit, tailoring, and proportions of tops, short women with hourglass figures can create a flattering and stylish look that showcases their unique body shape.