If you have hip dips, sometimes you may feel self-conscious about them. I know this from first hand, as I also have hip dips.
Besides, I also have a petite clothing line, so I work with petite models of different shapes and sizes for our photo and product fitting every week. Believe it or not, having hip dips is actually quite common, and you can totally look fabulous.
If you want to make your hip dips look less obvious, the best ways to dress is to style your outfits to direct attention to the assets you want the eye to focus on, and therefore distract away from the hips.
These are the best ways to make your hip dips look less noticeable.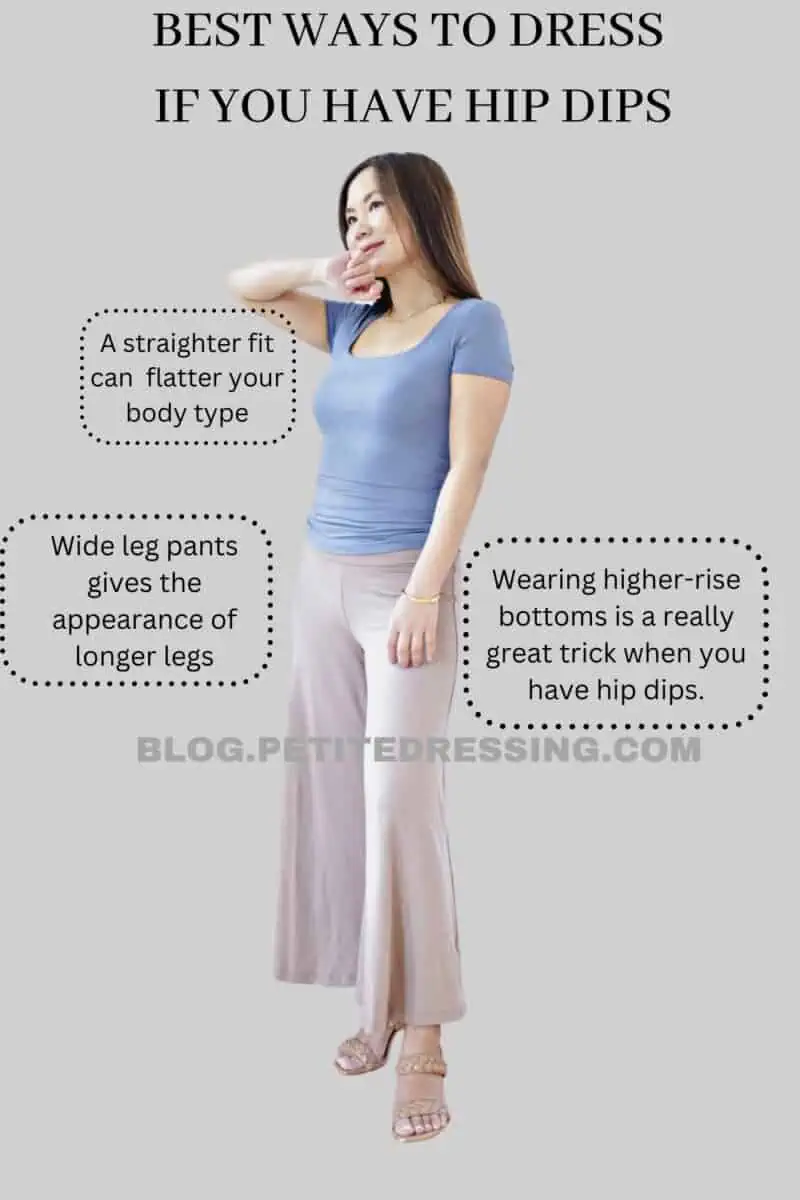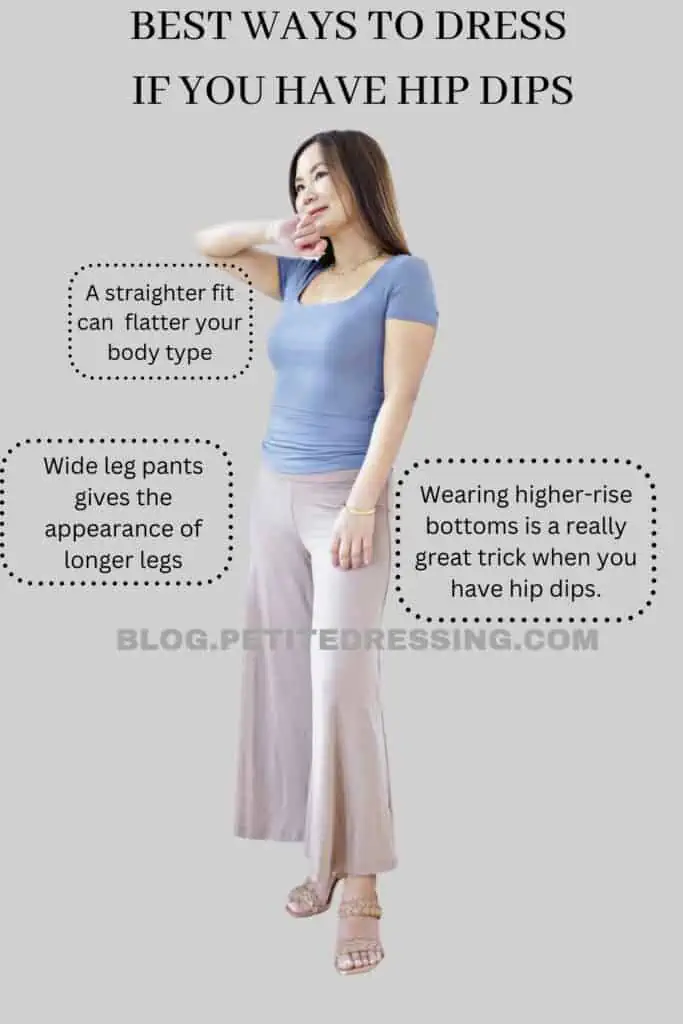 Favor Higher Rise Bottoms
Waist placement of skirts and pants can really change the way the body looks in clothing. In the case of hip dips, higher rise bottoms are the best option. When wearing a higher rise bottom it makes the waist, and hips, appear higher up on the body, which is a really great trick when you have hip dips.
Wearing low rise bottoms will often accentuate hip dips because the waistband of them generally lays right around the hip dip area of the body. If high rise isn't really your thing, mid rise is another option to give a try. Just keep in mind that with hip dip, high rise is going to provide the most flattering fit.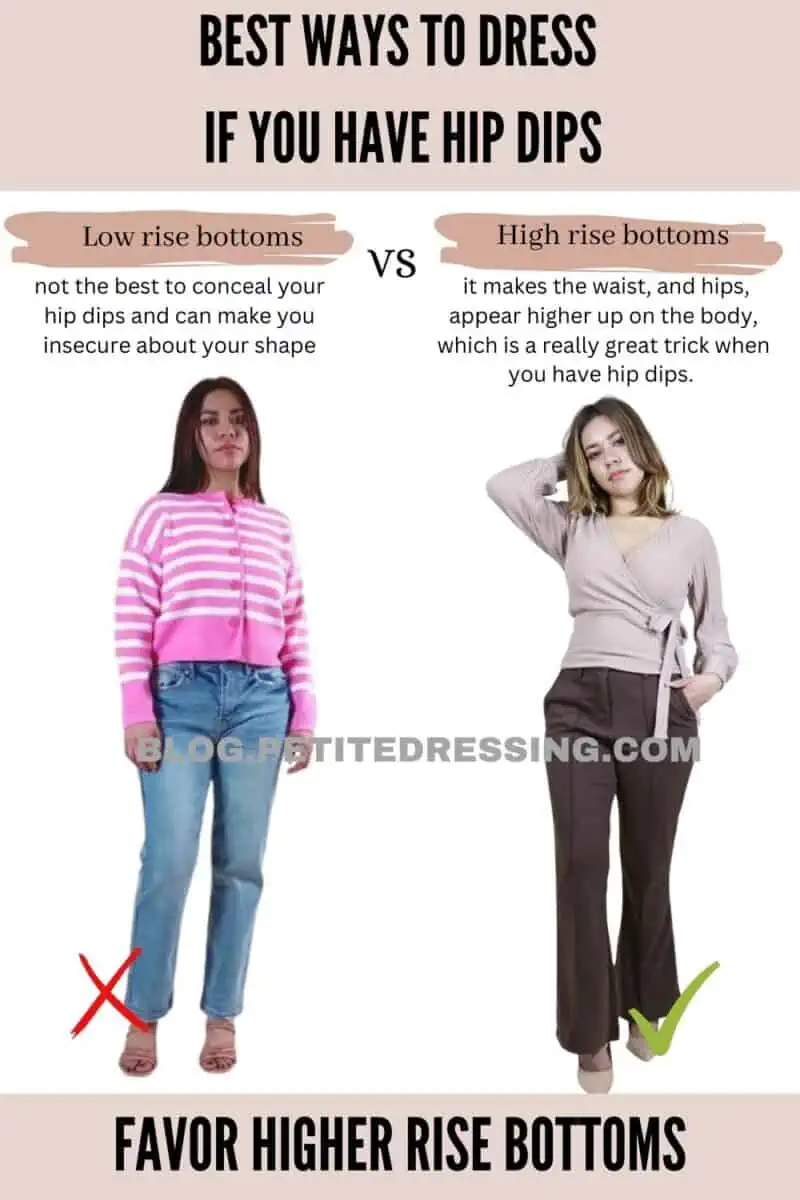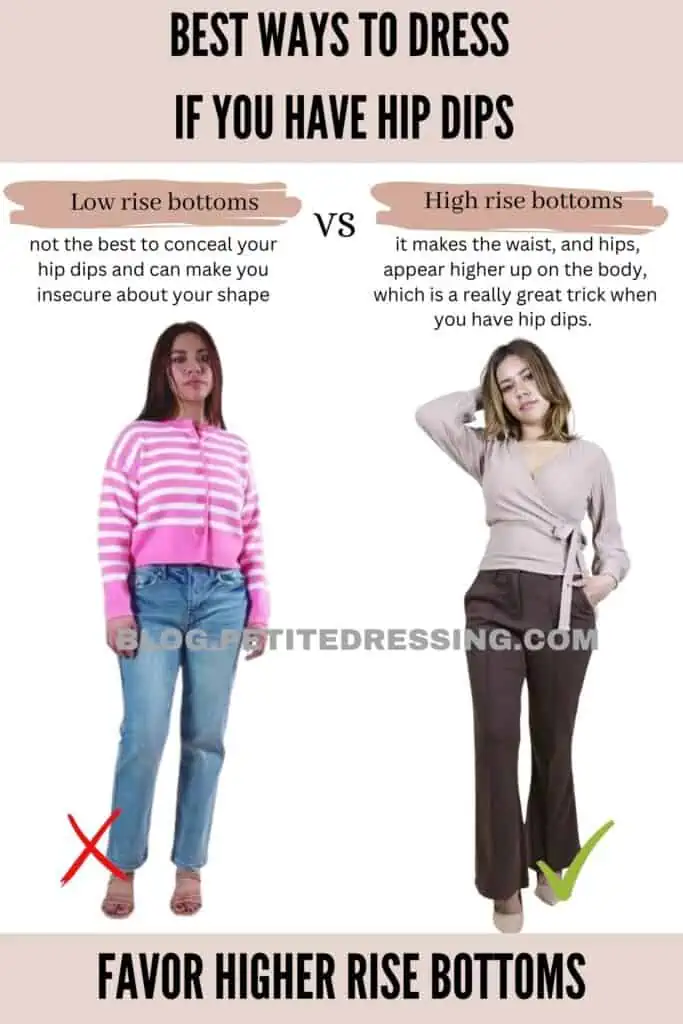 Wear Long Cardigans
Adding layers to an outfit, like a cardigan or blazer, is not just a great way to style for function but also add more personality and figure flattering element(s) to your look. With hip dips, one of the best layering piece tricks is to opt for longer length options when possible.
Wearing pieces with added length can 'mask' the look of hip dips. Just be sure these layering pieces aren't too bulky in the hip region as this can add weight, where the goal is really to just minimize the appearance of hip dips. Long, lightweight cardigans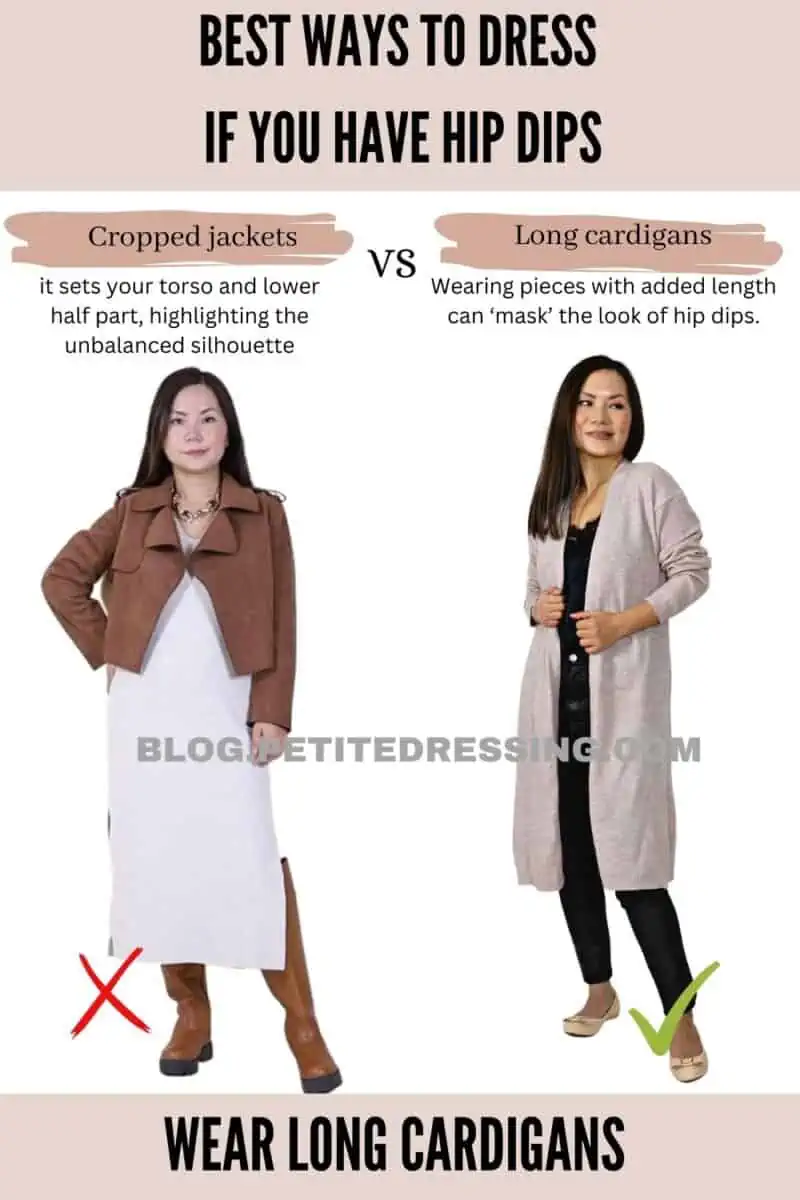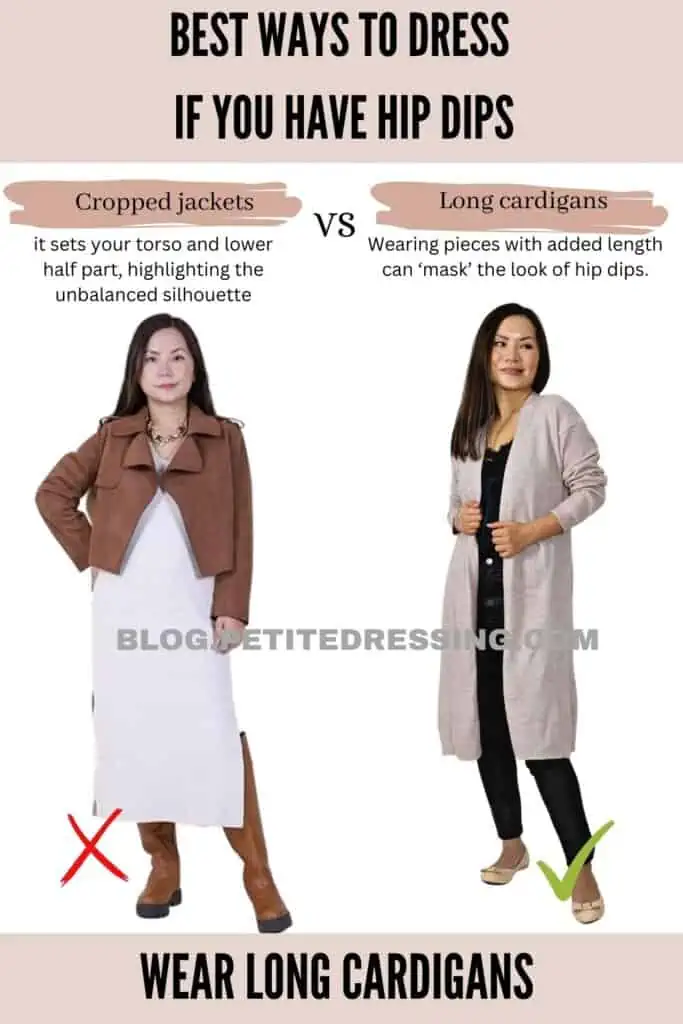 Wear Boyfriend Blazers
Similar to long cardigans, longer-length blazers are some really great options for women with hip dips. Boyfriend blazers are quite on trend, and they can also be styled so many different ways.
Since they are longer, you do want to make sure they are not too oversized. Especially if you are petite, your better option is to wear them open front with jeans that are fitted closer to your body to balance out the length of the blazer.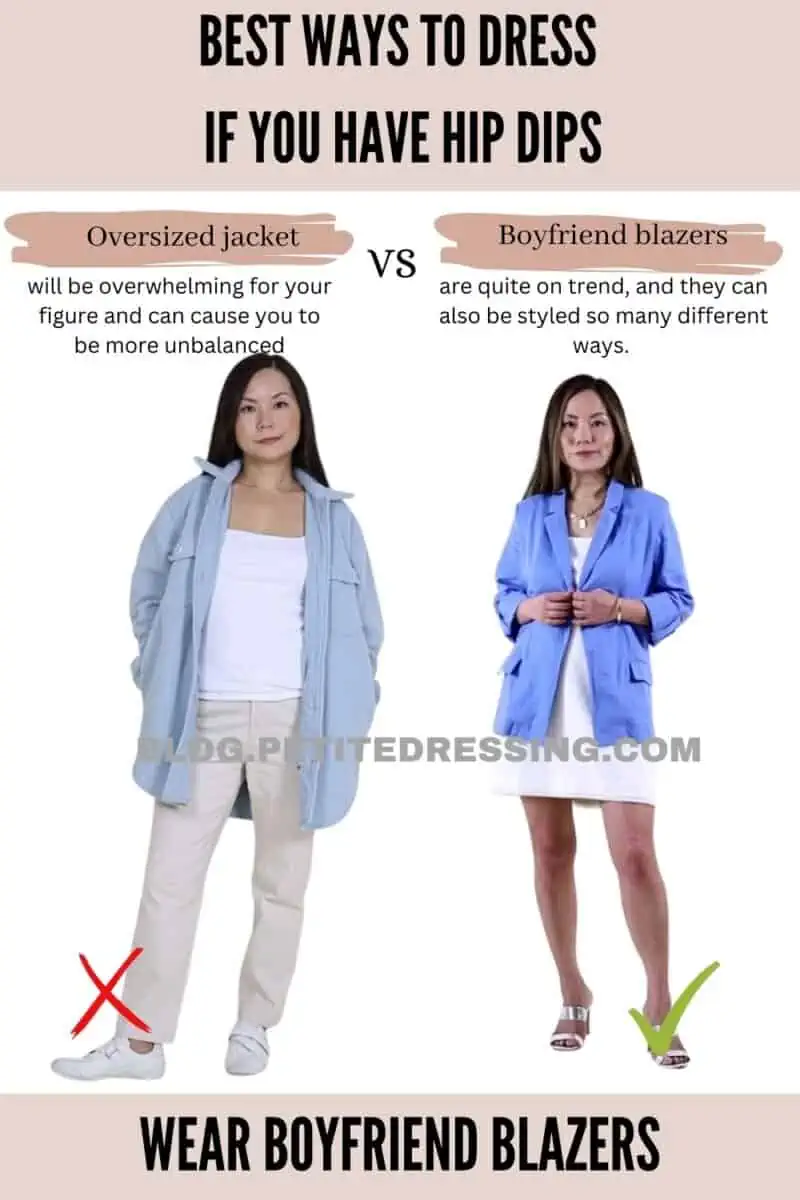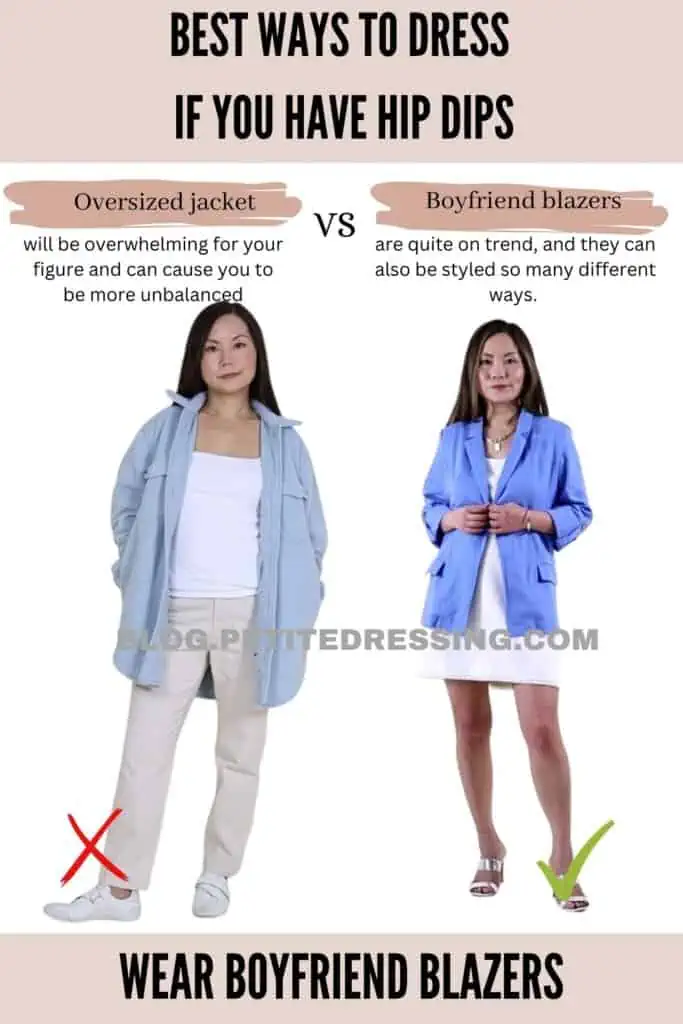 Wear Fit and Flare Dresses
Styling outfits with hip dips really comes down to focusing on ways to make the hip dip region appear less prominent, this can be done by choosing different silhouettes and shapes of garments. One really incredible silhouette with hip dips is fit and flare. Ok, a-line is great too, and gives a very similar effect to the body.
These flared out dress and skirt shapes are ideal with hip dips because they glide out, slightly away from the hip area which takes all the focus away from hip dips. The shapes offer a subtle way to mask hip dips, while adding more emphasis to the waistline and area below the hips where the skirt length ends.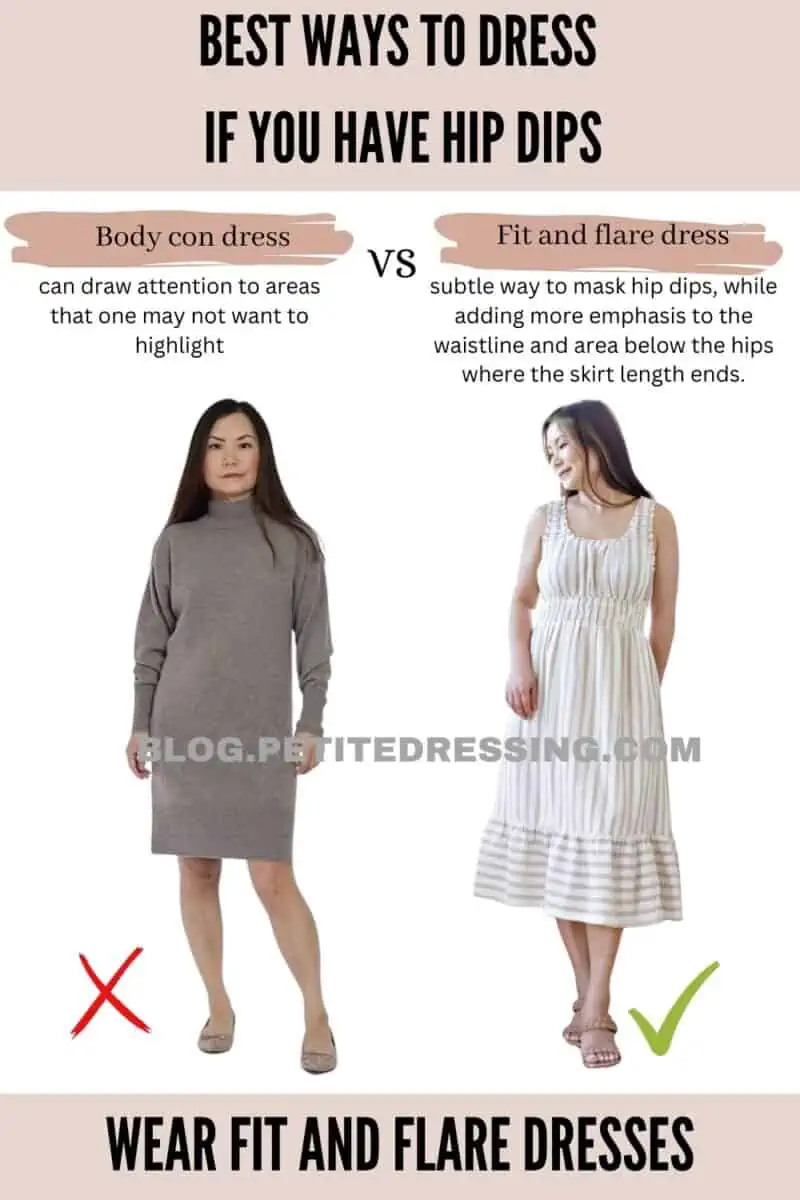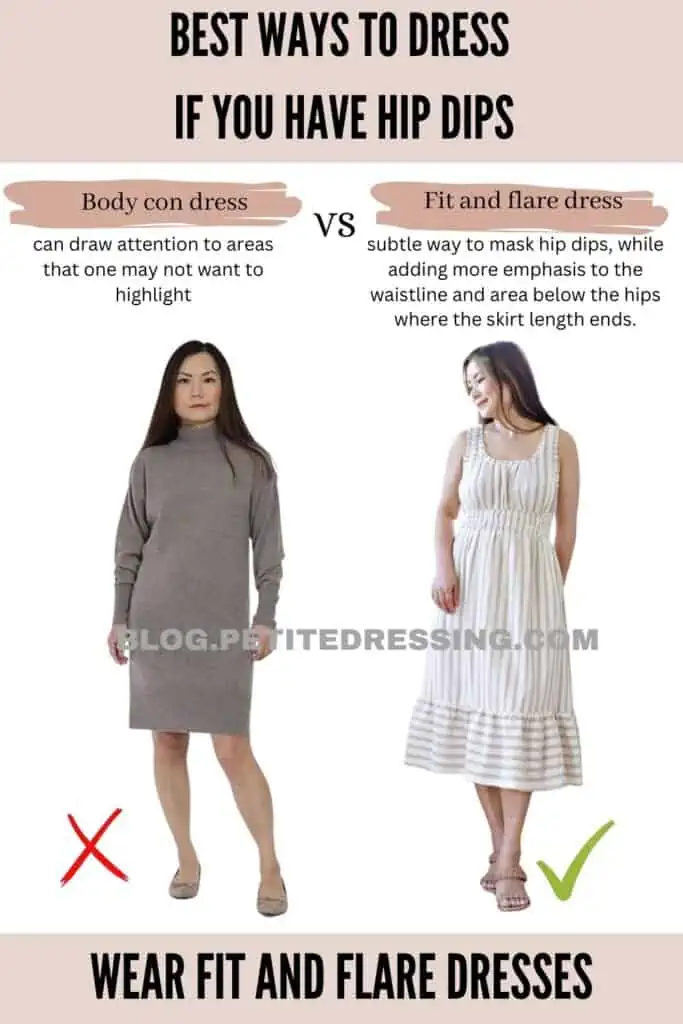 Wear Drapey, Effortless Fabrics
Anytime you are choosing a skirt, dress or even longer top option to suit your body a little trick is to favor pieces that offer drapey fabrics – especially the fabric that's right around the hip area of the body. This is important for the sake of the fabric not fitting too closely to the hips, which is something that will make hip dips appear more in focus.
Swapping out those tighter fabrics for options that are a little more drapey and are a bit looser is going to minimize hip dips without adding a lot of bulk to that area – which is something that can happen when opting for very thick and heavy fabrics.
This also means that if fit and flare or a-line silhouettes aren't your preference, you can still wear skirts and dresses that provide a straighter fit and also flatter your body type. Just as long as the fabrics don't cling to your body – particularly the hip area – and are more drapey or flowy.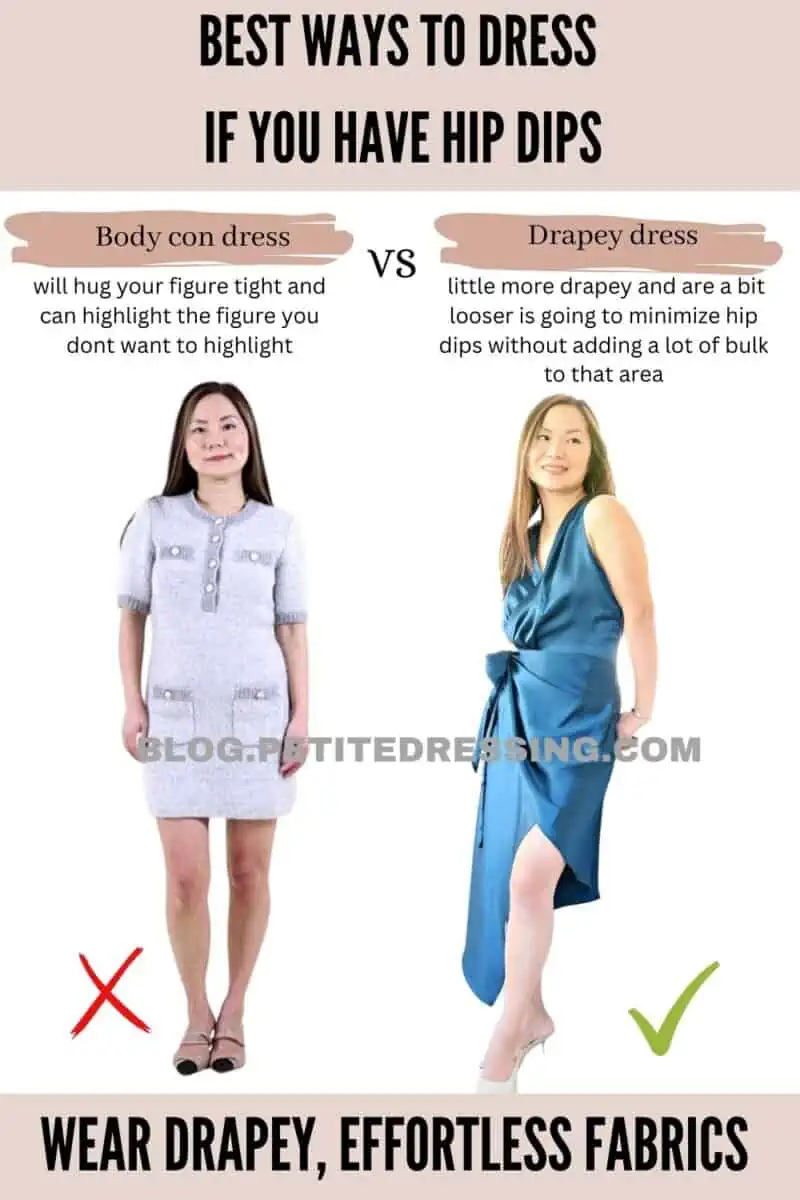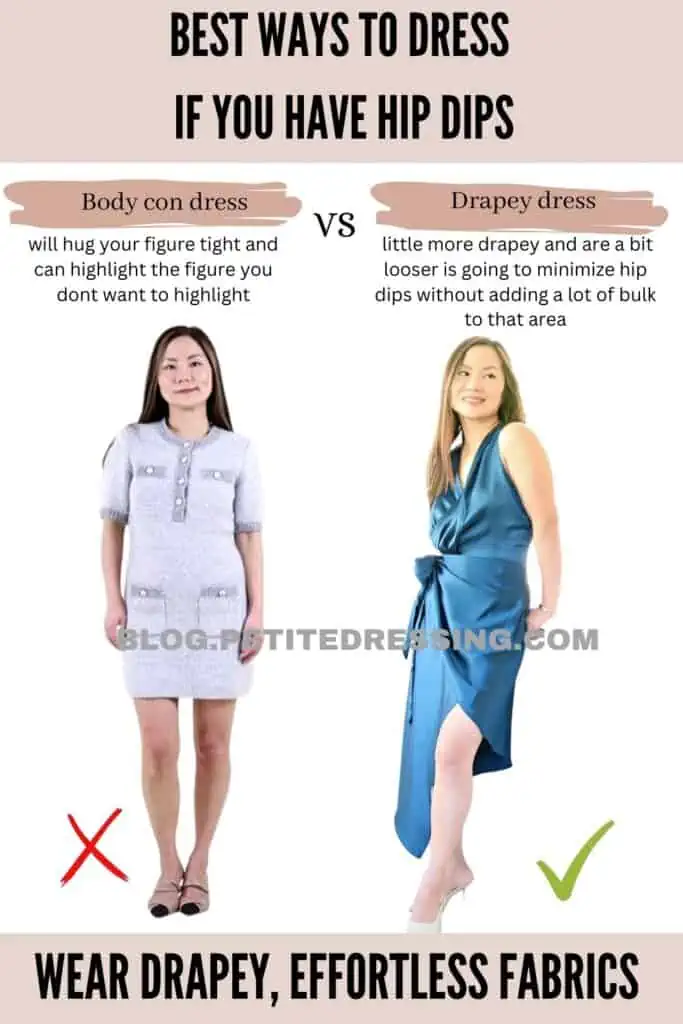 Wear Peplums
Peplum is another silhouette you may be surprised to learn is highly flattering with hip dips. To put it simply, it's a great choice because of the flared-out element of the silhouette that skims by the hips distracting from hip dips.
Of course, to really make the most of this silhouette it's important that the peplum detail rests on the right place of the body. If the peplum flare rests above the hips too high it can have a reverse figure flattering effect. Make sure it's either right at the hips or even slightly below for the best length.
Dresses and tops are the most common to find incorporating the peplum silhouette, but pay close attention to blazers and jackets as well. These layering pieces can be found with a more subtle peplum shape, but it's the figure flattering shape no less so it's a winning style choice.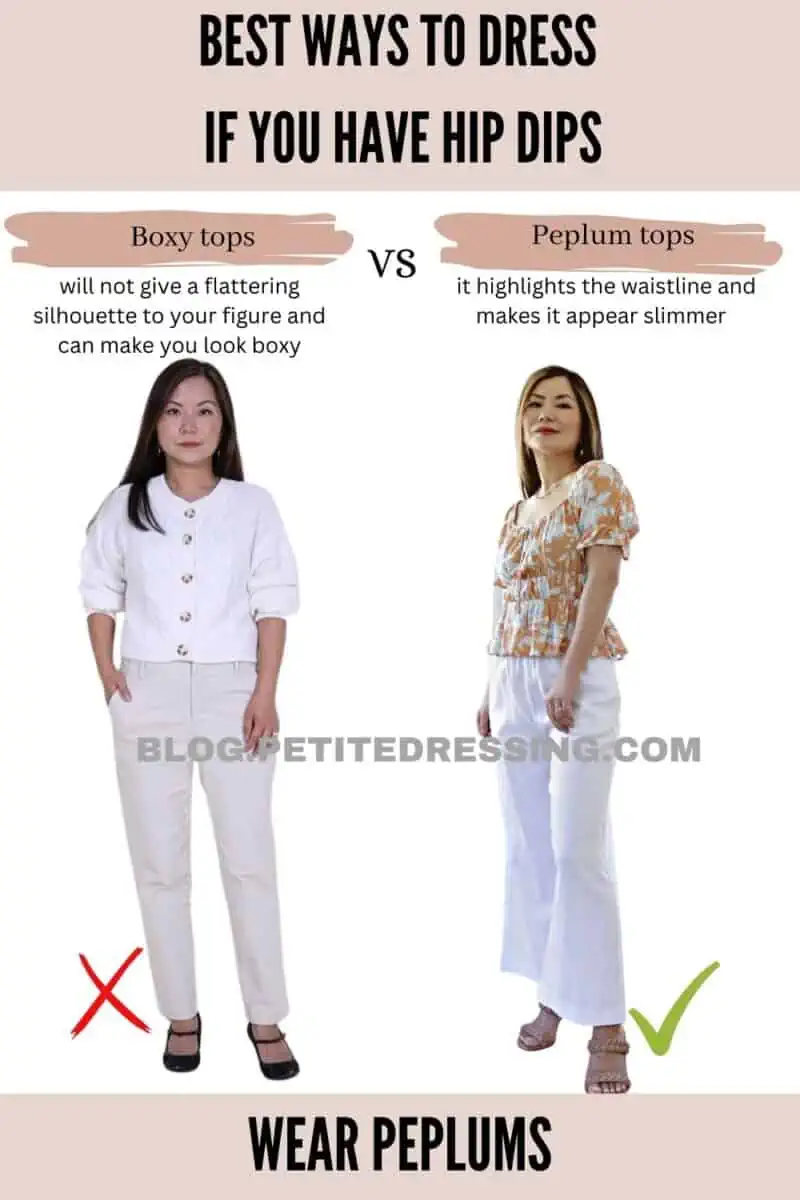 An added bonus of this silhouette is it highlights the waistline and makes it appear slimmer – as if minimizing hip dips wasn't reason enough to try it out.
Wear Darker Colors on Bottom
Silhouettes aren't the only way to work with hip dips in a figure flattering manner. You can also use color! Placement of colors, meaning where they rest on the body, can be a really cool way to minimize and highlight parts of the body you want. In the case of hip dips, wearing darker colors on the bottom half and bolder, lighter and/or brighter colors on top is the way to go.
Darker colors, as you're probably well aware of, will make the hip and bottom half area feel a bit more minimal and neutral. Bright and/or lighter colors on top bring all the focus to that part of the body, which means there's less focus on the hips which can offer a by product of hip dips being much less noticeable.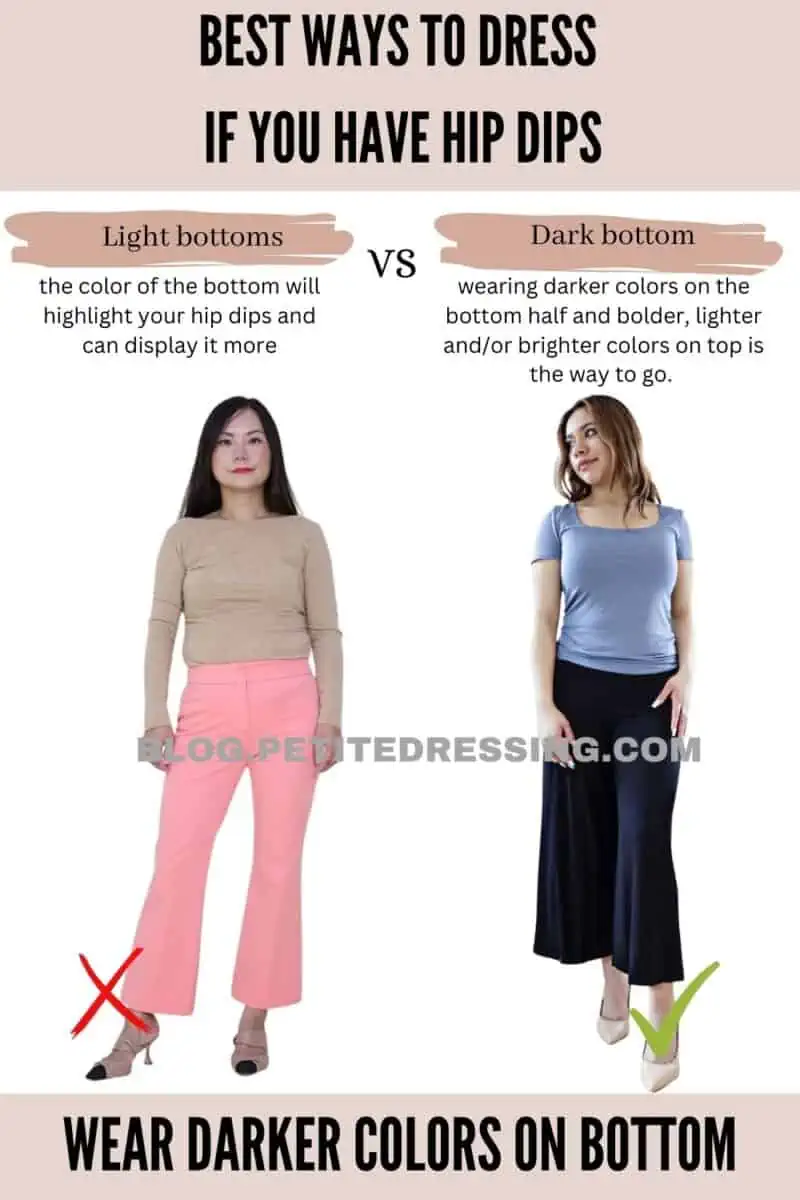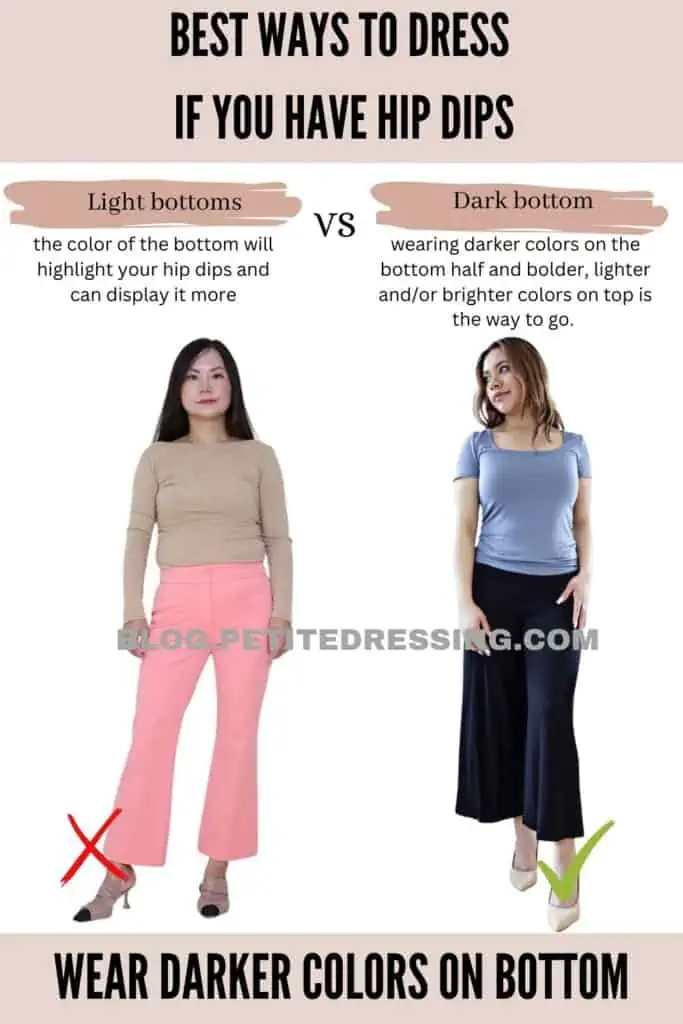 Wear Looser Fitting Pants
Wearing loose fitting clothes isn't always the most common styling tip, but wearing loose fitting clothing strategically CAN be a way to flatter hip dips. In the situation of hip dips wearing looser fitting pants can be a major styling hack.
The key here is that the pants aren't ill-fitting or TOO loose, balance is essential here. Think of something like a high waisted, wide leg pant – this is a looser fitting silhouette that can be incredibly flattering for hip dips. Aside from the high waist, which was mentioned previously, wide-leg pants flatter hip dips similar to the way fit and flare skirts do.
Because the material is looser around the hip area, and goes straight down with wide leg pants it skips by the hips making hip dips less pronounced and gives the appearance of longer legs.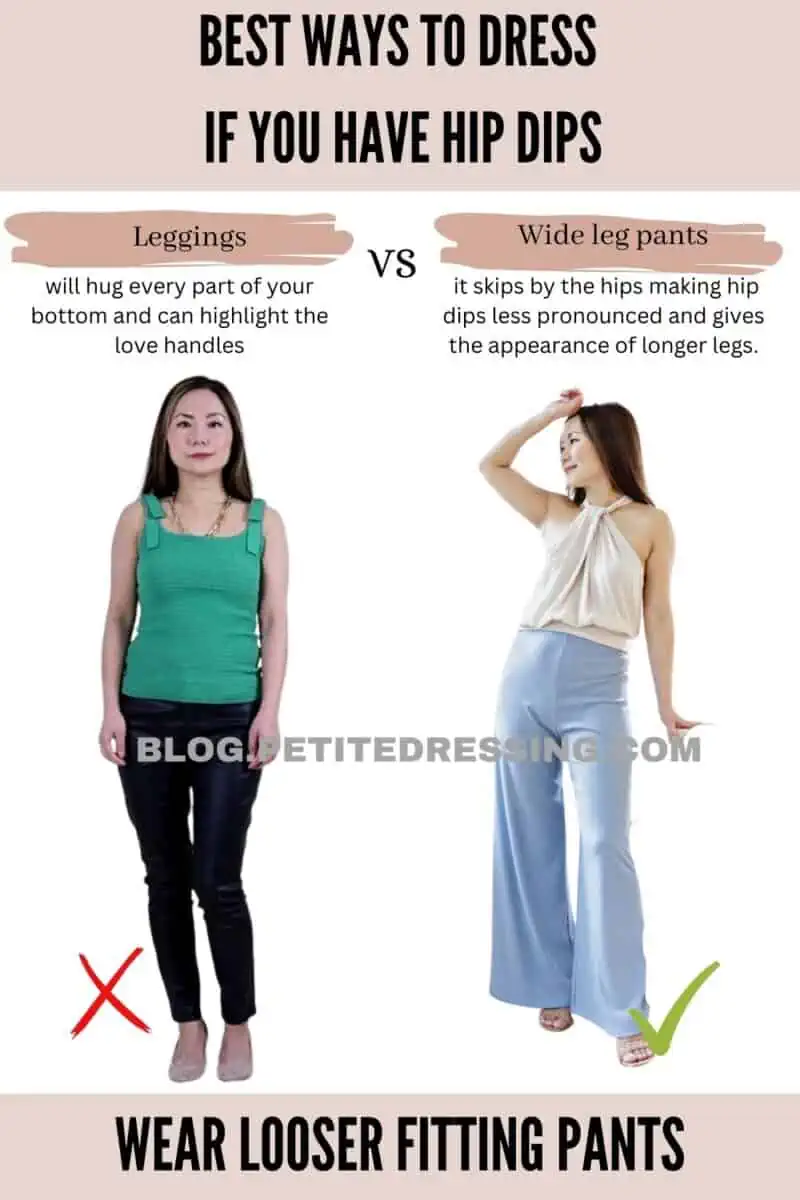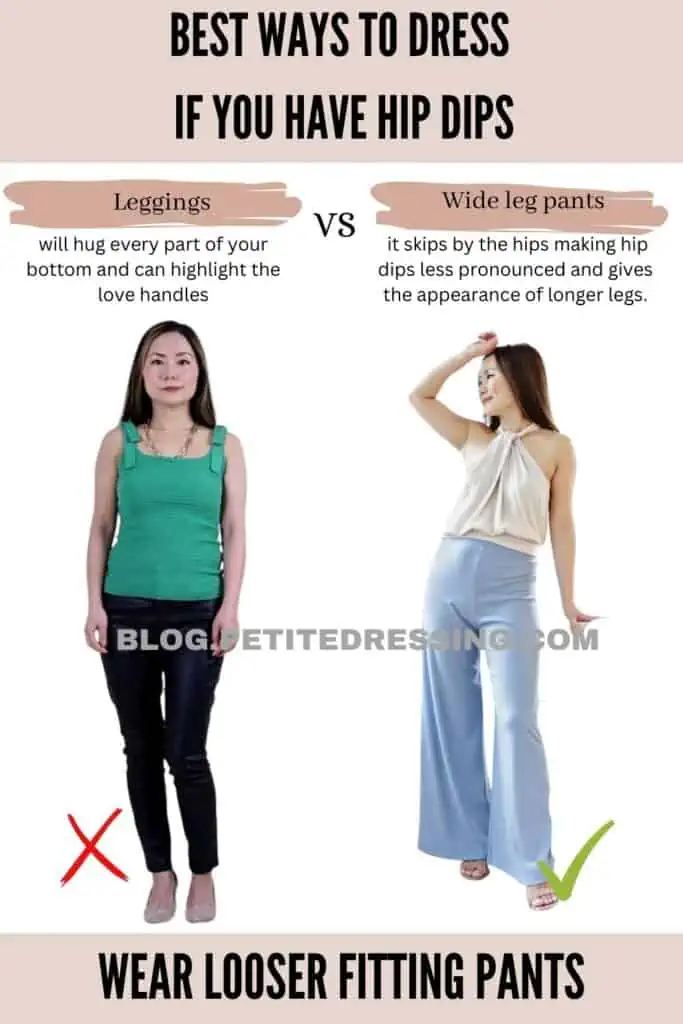 Avoid Body Con Silhouettes
This may go without saying at this point in the list, but it a major style tip. Body con dresses and skirts, while they can be fun to wear, are tricky with hip dips. Because of their tight fit it's not uncommon for hip dips to appear more exaggerated in these silhouettes.
However, this doesn't mean you can only wear loose-fitting clothes. In fact, it's the opposite – you can absolutely wear clothing that is more form-fitting if that's what you feel most confident wearing. If you want to cater to flattering hip dips, focus those form fitting pieces on the top half of your body.
Another option is if a dress is more of a body con style, but fits straighter around the hip and thigh area that's a way to wear body con and still mask hip dips a bit. If you're comfortable fully embracing hip dips – you can wear a full body con silhouette and have fu doing it.
Opt for Unique Sleeve Styles
A tip you may not have seen coming is related to sleeves. If you're someone who doesn't always want to wear the flared-out silhouettes that have been references throughout this list, there are other ways you can still distract from hip dips and look incredible. One of those ways is by opting for unique sleeves.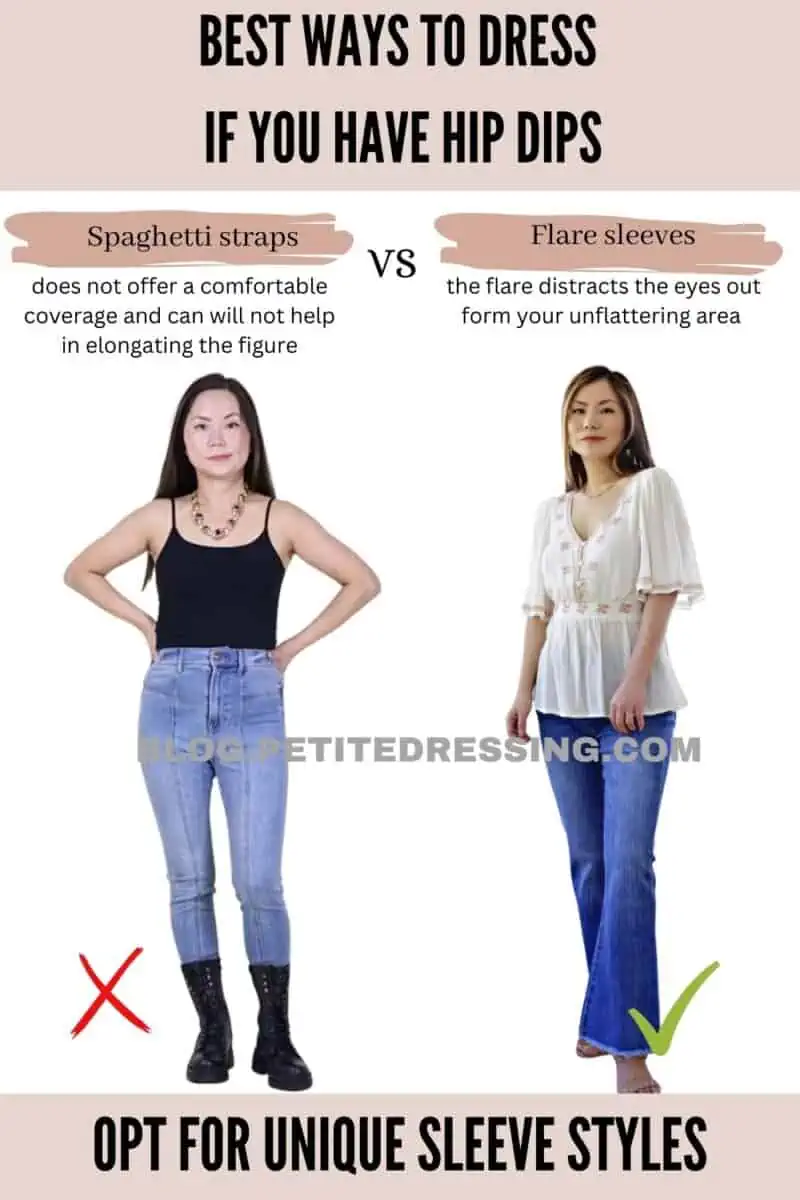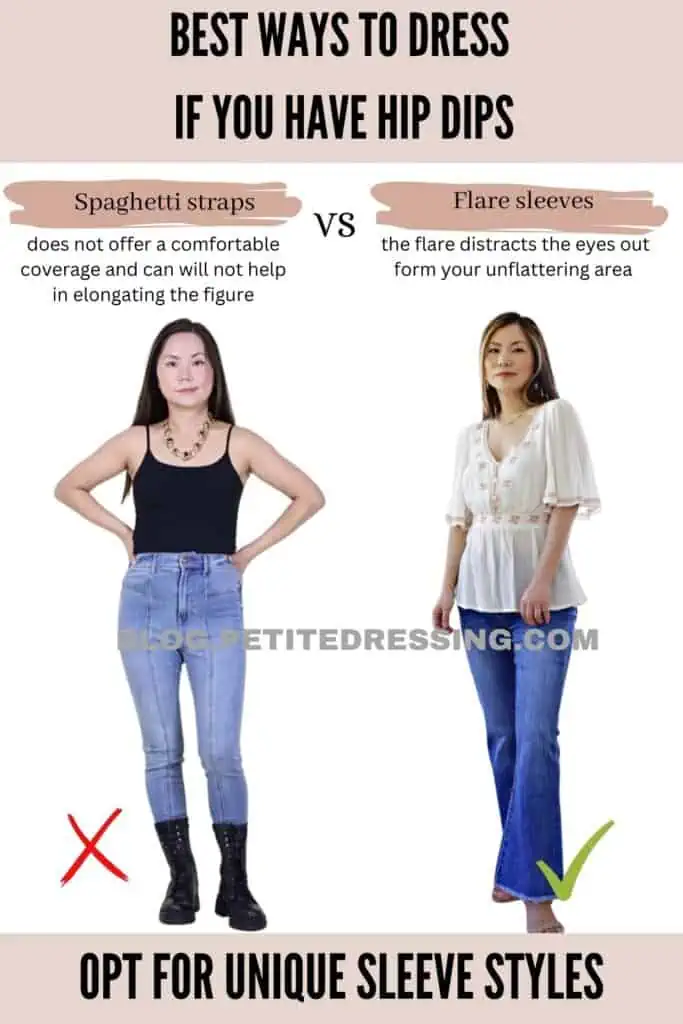 If you're thinking 'how do sleeves effect my hips?' let's explain. Wearing something that brings more attention to a different part of your body, in this case sleeves, it's natural for the hips to be less in focus which then makes that part of the body look more streamlined. Fortunately, unique sleeves are somewhat of a trend right now so if this is a trick that speaks to you and your personal style you're in luck.
Make Use of Shapewear
Shapewear has become something of the norm for women of all shapes and sizes. It's a reliable tool to help women feel more comfortable and confident in their clothes. Gone are the days of there being any sort of stigma around wearing shapewear – no shame in this shapewear game! When you have hip dips, shapewear is definitely a tool you can feel free making more use out of. If you're wearing a dress or something that does fit a bit closer to the body, try utilizing shapewear to smooth out the hip region. That's really what shapewear is best for, too, smoothing out a part of the body you would like to – in this case it's likely the hip dips.
Of course, shapewear is never a must and you certainly don't have to wear it if it's uncomfortable. Now, if shapewear is something new to you – try a few different fits and brands to find one you really like. There are a ton of options so it may take a little trial and error to find the best fit for you.