Boyfriend jeans are one of the most comfortable design of denim, considering they come in a loose fit and give you that feeling of freedom. They are also great for women of different body shapes, sizes and age.
Boyfriend jeans are also versatile, because they can be worn with different tops for casual outfits. Wearing boyfriend jeans with tighter tops can balance out the loose fit of the jeans. Boyfriend jeans also go with different outerwear pieces, which are mostly needed during cooler months.
Boyfriend jeans outfits allow you to try out different footwear from ankle boots to sneakers, kitten heels to stilettos, and even sandals. In case you've been looking for ideas on how to style them, here's what to wear with boyfriend jeans:
With a blazer
You can style your blazer with a pair of boyfriend jeans, if you want to give the jeans look an instant boost.
Blazers are a classy wardrobe staple. The key is to find a few blazers that fit you really well. You can wear a blazer to spruce up any outfit you plan on stepping out in, regardless of whether it's going to be casual or a dressy look. They come in a variety of designs and colors, so you can be sure that there's always one to suit your preferences.
Wearing a blazer with boyfriend jeans will work for a casual Friday at the office or for a nice brunch with your friends. It could even have you ready for a date, if you pick the right dressy shoes for it.
The key to coming up with a great boyfriend jeans outfit is to make sure you get a blazer that fits just right.
With this look, you could swap the t-shirt underneath for something more feminine such as a cami or go for a lace top to look dressier.
With a crop top
A crop top is very to style with a pair of boyfriend jeans.
Crop tops can give you chic, girly or even a dressed up look, depending on what you wear it with. Crop tops do not have to be plain, in fact, they come in plenty of amazing designs that will have you stand out, for example, embroidered ones.
Wearing a simple crop top with your boyfriend jeans gives you that nice look you can easily step out in for errands. For an easy off-the duty look, you can pick sneakers to go with the look. It's such a girl-next-door outfit that anyone can pull off particularly over the weekends.
It's a laid back look, but you can swap the t-shirt with a button-down and the sneakers with heels to dress it up.
With a cami
For a classy and feminine boyfriend jeans outfit, wear it with a cami. The cami, especially if it's in silk, dresses up your boyfriend jeans.
A cami is a very feminine clothing piece that always looks great, either worn as it is or layered under some outerwear so that it peeks just a bit. They come in silk, lace or other fabrics and dressing them up is very easy.
One of the bottoms you could wear with a cami is a pair of boyfriend jeans. This is a great combination, especially when it's hot outside.
You can wear a cami with some boyfriend jeans and a pair of closed heels.
This is such a simple combination and the heels just dress it up even more. You can swap the shoes for a pair of sandals when the weather gets hotter, and that will make a great summer outfit.
With a message t-shirt
A message t-shirt goes well with any pair of jeans including boyfriend jeans.
A message t-shirt, just like any other t-shirt out there, is easy to wear and gives you that comfortable look. As the name suggests, it also passes a message of things you believe in through a few words printed on it.
You can go for a message t-shirt of almost any color, just as long as you go for a black or simple blue color for your boyfriend jeans, as these are the most versatile.
Even though the top and the boyfriend jeans are both relaxed fit, you can still add a feminine touch to this outfit with a pair of pumps or heeled sandals. It's always a great idea to roll up your jeans, especially if you will be wearing heels. It just makes them stand out and makes your ankles look smaller.
You can style your message t-shirt with a pair of blue boyfriend jeans and a pair of clear heels.
With a duster
Wearing a duster over boyfriend jeans is a fashion forward look.
Dusters are a great piece of clothing that women should invest in, because they have a way of making even the simplest outfit look very nice and polished. Wearing one could make the difference between you stepping out for errands and you being ready for a classier place.
You can wear your duster with any denim, including of boyfriend jeans. You can wear that with a simple plain top, if your duster is prints. Vice versa, go for a printed or plain top, if your duster is plain.
You can also finished the outfit with a pair of booties.
You can always go for a floor length duster or go for one that hits you at the knee. You can also pick one with a collar or choose one that does not have one.
With a white t-shirt
One of the easiest everyday outfit for boyfriend jeans is to wear it with your white t-shirt.
A plain white t-shirt, just like a white button-down, is a wardrobe staple. It goes with everything you can think of in terms of outerwear or even bottoms. The fact that it's plain makes it the best canvas for any kind of look.
With a pair of sneakers, this is literally the easiest look you can pull off on any day. You will look great in this pairing, regardless of your body type or even age. All you have to do is make sure the t-shirt fits you well and the jeans too.
With a cardigan
Cardigan is a great piece of outerwear to style with your boyfriend jeans, a staple look for the transitioning weather in the spring and fall.
A cardigan, just like a pullover, is cozy and snuggly. Wearing boyfriend jeans with cardigan is not only warm, but it can also be stylish. You can get a long cardigan or go for the shorter option. While they are mostly cute, a cardigan can actually make your outfit more feminine especially if you're wearing jeans.
This outfit can have many variations, because you don't have to pick a plain sweater. Since cardigan come in many different designs and patterns, they will make your outfit more interesting.
You can play around with different colors too, since cardigans are available in a variety of colors. All you need to do is make sure the top underneath it coordinates well with the cardigan.
With a white button-down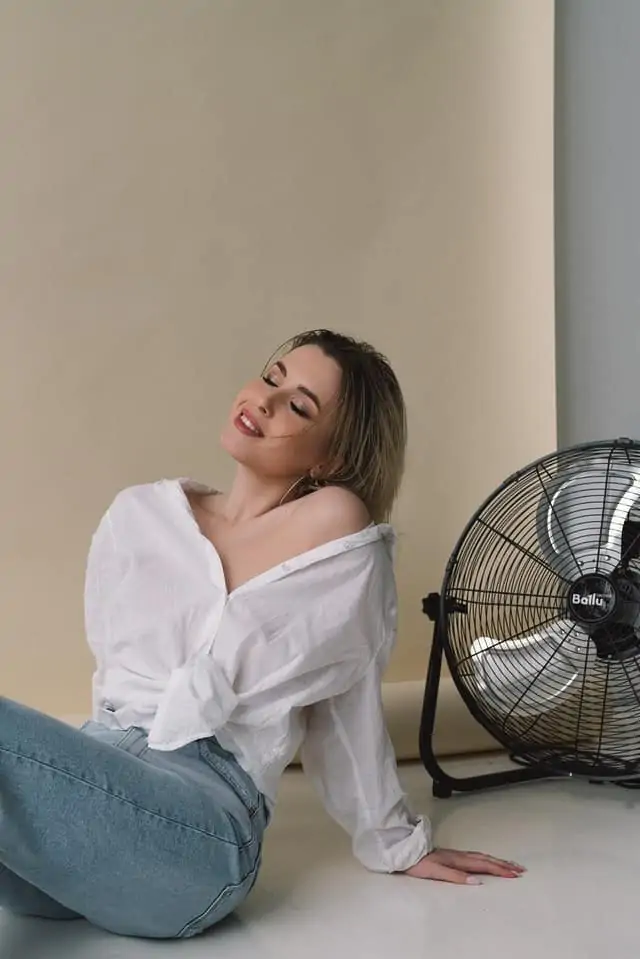 Wearing a button down shirt with your boyfriend jeans is an easy and classy outfit that never goes out of style.
A white button-down shirt is a wardrobe staple because it can go with literally everything you can think of wearing, from jumpsuits to dresses, pants to skirts and dresses. You actually can never go wrong with a white button-down, because it's plain and can go with any color too.
Among the bottoms you can pick for a button-down shirt look includes a pair of boyfriend jeans. Whether you tuck in your shirt or not, you will still look amazing. It's a minimalist pairing that just works by generally giving you that crisp, clean look.
You can always tuck it all in fully. You can switch the sandals for some sneakers or some ankle boots. Better yet, if you'd like to be all dressed up in this look, wear some stilettos or strappy heels.
With a turtleneck
Wearing a turtleneck top with boyfriend jeans is a nice way to to show off a great figure, while still covering yourself up.
Gone are the days that turtle neck seemed to be too basic, because today you can look fashionable and chic in them easily with the variety of designs and patterns you can choose from. Turtleneck is a versatile piece that can be worn with skirts and different pants, including boyfriend jeans.
You can go for a plain turtleneck top, which is the easiest to style. If you're great with prints, you can always try out a printed turtleneck top.
Besides turtleneck top in animal prints, there are many different types of prints you could go for. Should you choose to go for different prints, keep everything else simple and if possible, neutral.
With a tank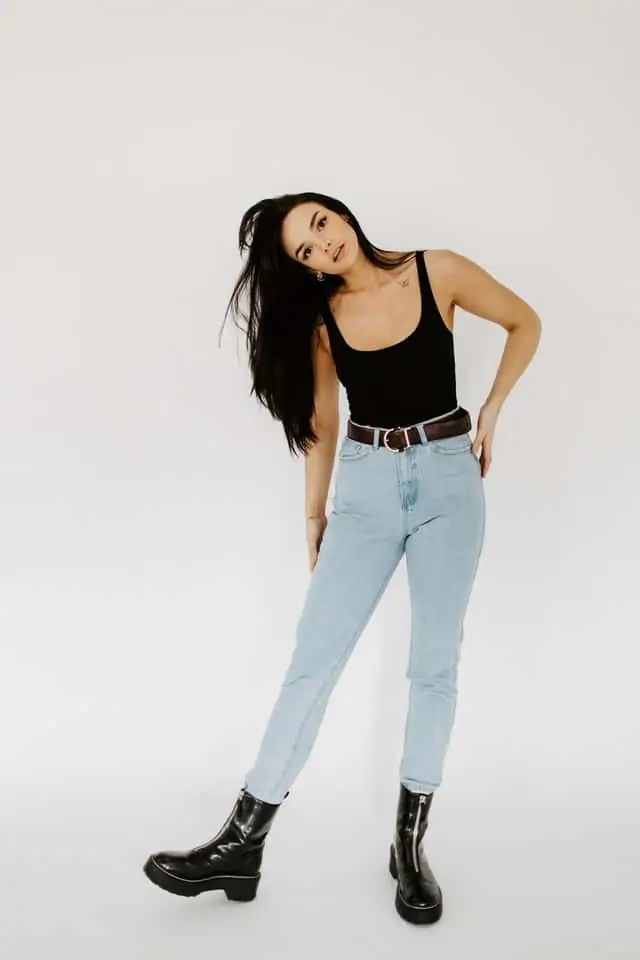 Tank tops also go great with jeans, including boyfriend jeans.
Just like a cami, a tank is also easy to wear and it can also be worn either by itself or underneath outerwear. Tank tops are also a comfortable alternative to t-shirts, especially when it's too hot outside.
All it takes for a clean look with the boyfriend jeans is a simple tuck and there you have it. Tucking in the tank is a great way to balance out the volume of the outfit, considering boyfriend jeans are on the baggier side.
The look may be simple, but certain accessories like a belt and some jewelry can enhance it. In case you're just looking for a laid back outfit, sneakers or sandals will do.
With a bomber jacket
For a preppy outfit, bomber jacket looks great when paired with a pair of boyfriend jeans.
Bomber jackets are young and fun, and look particularly great when worn as part of a casual outfit. They are great outerwear pieces, if you like a comfortable jacket that also looks chic. Preferred by many trend setters, you can wear a bomber jacket with boyfriend jeans while pushing the sleeves up, which is a popular instagram worthy look.
All you need to do is wear a t-shirt or a simple tank underneath, and you are good to go. The best part is, as casual as this look is, you can wear it with dressier shoes or even accessories.
Adding a clutch bag with such a look is a great way to complete the outfit. Of course you can also go for a cross body or a backpack, if you prefer an extra casual finish when it comes to accessories.
With a graphic t-shirt
You can wear your graphics t-shirt with a pair of boyfriend jeans, and then go with your favorite pair of sneakers, if you love to keep things fully casual.
Just like a message t-shirt, a graphic t-shirt communicates but in a bolder way. It's hard for someone to miss you if you're wearing one.
The best thing for this outfit is that graphics t-shirts are both stylish and comfortable. You can also go for heels if you love dressing up your jeans.
With a girlie top
A girly top is a great way to look feminine even if you choose to wear boyfriend jeans.
We've talked about t-shirts, camis and tank tops, but every lady should have a few great tops that are more feminine to step out in every once in a while if not every day. They could be floral tops, ruffled ones, asymmetrical tops, tops with puffy sleeves, you name it.
With boyfriend jeans though, it's safer going for a shorter top or one that can be tucked in. The reason is that boyfriend jeans are a bit baggy, but if you're good at playing around with your clothes and proportions, you can go for even fancier cuts and hemlines.
Patricia (above) styled her boyfriend jeans with a simple but girlie top tucked in. Since the top is printed and has some slightly puffy sleeves her simple flats were a great choice. With such tops, accessories kept in neutral colors and simple is the best way to go.
With a utility jacket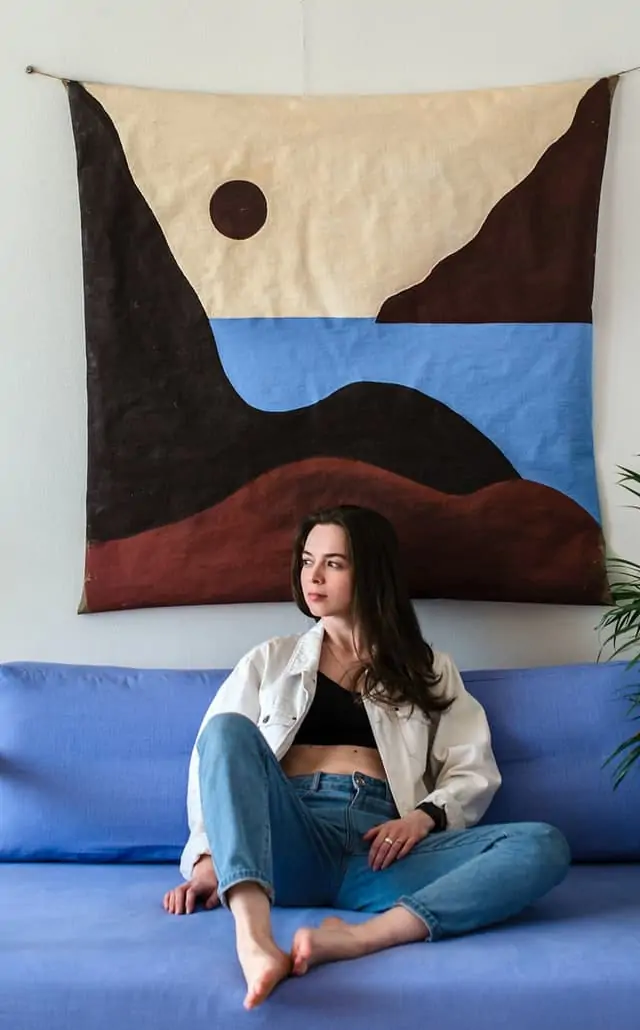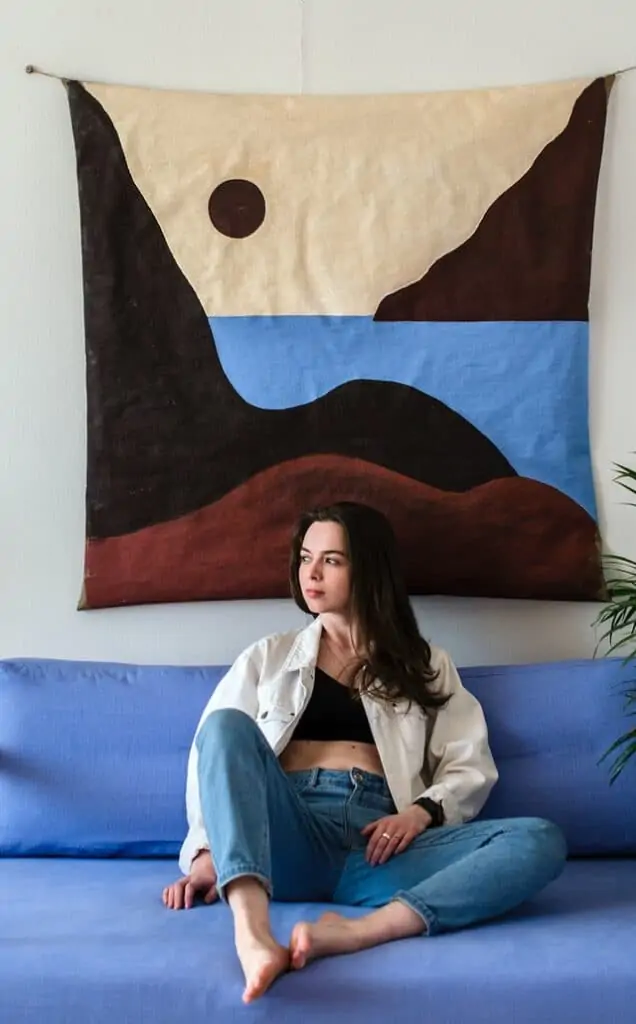 A utility jacket is a versatile fall piece that will go with a boyfriend style pair of jeans.
Utility jackets add a touch of power and authority to any casual outfit. They have become more popular recently, a great addition to your closet. Because of that military-style they come in, you can wear them with tough-looking pieces or more feminine ones.
These utility jackets mostly come in a green shade, which contrasts well with blue wash denim pants. You can also pick white or even black boyfriend jeans that will still go great with your utility jacket.
It's a simple pairing that's great particularly for those who are new to wearing utility jackets. You have plenty of options for what you want to wear underneath, such as going for tops in girly colors like a soft pink, one of the best ways to go with this.
With a leather jacket
Leather jackets do a great job dressing up your pairs of jeans including boyfriend jeans.
A leather jacket is a must-have, primarily because it's not only classic but it's also timeless. Besides that, it elevates any look that you can wear whether casual or formal.
It's simple to put this look together, as all that's needed is a pair of jeans, a t-shirt, tank, or cami and then there's the leather jacket to crown it all.
The best thing about wearing your boyfriend jeans with a leather jacket is that you're free to pick any footwear style from sneakers, to booties and even sandals.
With a trench coat
Throwing your trench coat over your boyfriend jeans outfit is another great way to elevate the look.
Trench coats are lifesavers especially in cooler months and even in rainy ones, and the best thing about them is that they are also stylish. You can go for a short trench coat or a longer one, depending on what you're wearing and generally your preference.
This is a signature look during fall, and the thing with trench coats is that there's one for everyone.
You can go for neutral colors or browns for your trench coat but if you love some color, it doesn't hurt to go a bit brighter with the outfit.
With a denim jacket
You can style your denim jacket with boyfriend jeans for that 'Canadian tuxedo" look.
A denim jacket is probably the easiest type of outerwear to style, understandably because it's suitable for all shapes and sizes. Besides, denim jackets can be worn throughout the year. They also work with your dresses, skirts and pants of different fabrics.
Since both your outerwear and the bottom are denim, this gives you the effortless monochromatic look. Although it may sound like the easiest is to go with a top and bottom in similar colors, you can choose a denim jacket and bottom in different shades of denim. The subtle difference can add more interest to this outfit and make it look more sophisticated and fun.
With a vest
If you're going all casual, you can wear a vest with a pair of boyfriend jeans.
Vests are great pieces of clothing to own, especially because if you feel like your outfit is a bit boring or too plain and want some change. You could always throw one over your top and you will instantly look like you put in the extra effort to look great.
They are available in different types and fabrics. Depending on the look you're going for, it's easy to find a flattering vest for it.
With this look, you could style a pullover underneath the vest, a t-shirt or a button-down and you can trust that the vest will look great with your entire outfit. Of course, there is need to pick colors that go well together.
The boots make this look edgier, and you can swap the boots for a pair of fun sneakers if it's not so cold outside. You can also go for a vest that has a collar, or one that doesn't so it's all a matter of preference.
With a statement blouse
A statement blouse as the name suggests is that one wardrobe piece that ensures you stand out regardless of where you're going to set foot. The blouse could be a statement one because of the sleeves, neckline, hem, collar, or even the pattern.
A statement blouse is easy to style with different jeans including boyfriend jeans. Tuck it into the jeans and you get a clean casual look that can be dressed down further with your pair of sneakers or dressed up with some strappy heels. Some ankle boots would give this look an edge if that's the kind of look you prefer.
When you're wearing a statement blouse, you should keep your accessories minimal and simple.
With a faux fur coat
Faux fur coats are undoubtedly chic which would explain why designers, stylists and trendsetters love them. They give you that classy look especially if you go for black.
You can also wear your boyfriend jeans outfit with a faux fur coat. This is a great way to elevate your jeans because without this coat, it would just be an ordinary t-shirt denim look.
With boyfriend jeans, you can also go full monochromatic. You could pick a black t-shirt with black boyfriend jeans, and a black faux fur coat, or go the same way with colors such as blue. Monochromatic looks are so modern and easy to pull off although you can still go for different colored pieces.
With a coat
A coat, aside from being functional by keeping you warm, is also chic. When worn over a boyfriend jeans, a well fitted coat can make the outfit look very put together, even if the outfit is casual.
Needless to say, wearing a coat over boyfriend outfit is a popular staple look in the fall and winter, when the temperature starts to get chilly.
You can wear your coat over a boyfriend jeans outfit. Since boyfriend jeans are casual, you can pick a more casual coat for this look. However, you are not limited to a casual-looking one. There are dressier options available.
Although blue boyfriend jeans are the most common, you have the options of other colors too. You can get them in other colors such as grey, or black for this combination.
With a sweatshirt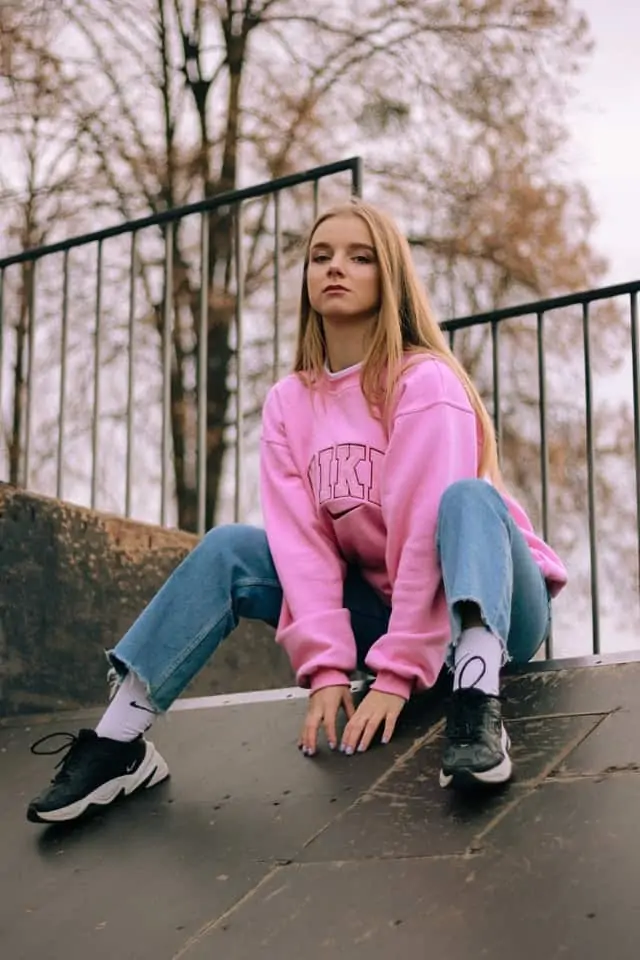 Sweatshirt with boyfriend jeans is a weekend staple, or can be a everyday outfit for those living on the campus.
A sweatshirt is great if you like to lounge around your house in something comfortable. You can also wear your sweatshirt outdoors when you pair it with denim.
It's a comfortable pairing considering both the jeans and the sweatshirt are not exactly fitting.
With a printed button-down
A pair of boyfriend jeans especially in blue allows you to wear different prints.
While a white button-down shirt is great if you're looking to go minimalist with your outfit, a printed button-down shirt works well if you want an outfit that's fun. There are different prints and patterns that you could pick and wear with plain pants so that your overall look is not overwhelming.
All you need to do is get a pair of shoes in a color that coordinates with the colors on your shirt and accessories that go well with the shirt too.
The best part about this look is that since the button-down already looks great, you don't even have to accessorize much.
If you want, simple earrings should do the trick so that your look is just enough for the eyes and not overwhelming.
With a plaid shirt
You can style your plaid shirt with a pair of boyfriend jeans for that cool, laid back look.
A plaid shirt is a common piece of clothing, understandably because the plaid pattern on it is nice and fun. Wearing one of these shirts also makes you look younger. They are a favorite for fall and for people who like to look grungy or who generally just love the 90s looks.
This boyfriend jeans outfit will easily take you from a day out running errands to hanging out with your friends at the movies or somewhere else fun.
It's an easy to pull off look that shows you don't have to go for the common red and black plaid shirts. These shirts also come in other colors such as black and blue, among others.
Puffer jacket
Wearing puffer jacket with boyfriend jeans is a great casual outfit for the fall and winter.
Puffer jackets might be a bit challenging to style, but they actually make for great fashion pieces when styled right. They have been featured on the most stylish fashion platforms, and you should consider getting one.
The easiest way to style a puffer jacket is with jeans, and a pair of boyfriend jeans does the trick so well. All you need to do is pick a simple pair of shoes and a simple top to get it right. You don't have to overthink it, mainly because the jacket already makes a statement.
As you can see, there are several different ways in which you can style your boyfriend jeans and these 25 different ideas will start you off right. So if you own a pair, try out any of the above looks. If you still have none, then it might just be the best time to step out for some retail therapy and get yourself a pair or more of these highly versatile boyfriend jeans. They will give you a different look every time you decide to wear them. The best part is that they are also easy to find in different clothing stores.