Many women with short legs worry that ankle boots will make their legs appear shorter, but there are tips and tricks to help you wear them stylishly. Regardless of your body type, some petite women can have a short torso.
Therefore, your shoes should help to add balance to your overall body frame while also elongating your legs. To achieve visual balance, pay attention to the style of your ankle boots, specifically those with low-cut vamps.
You also need to choose the right colors and combine them with the right fit of pants or jeans without sacrificing your comfort. Monochromatic looks are always the way to go, and here are some top ways to style your ankle boots.
Nude color ankle boots
Ankle boots look much more amazing on short legs when they are in a nude color that is similar to your skin tone. The goal is to create a continuous vertical line that makes your legs appear longer than they actually are.
Nude-colored ankle boots can help you achieve this seamlessly. Since this color is similar to your skin tone, it's hard to tell where your legs begin and end, making your legs look like they run on forever.
Achieve that infinitely long look for your legs when you pair your nude-colored ankle boots with a flared skirt style. This helps to draw more attention to your upper body and ultimately create the illusion of a longer bottom half.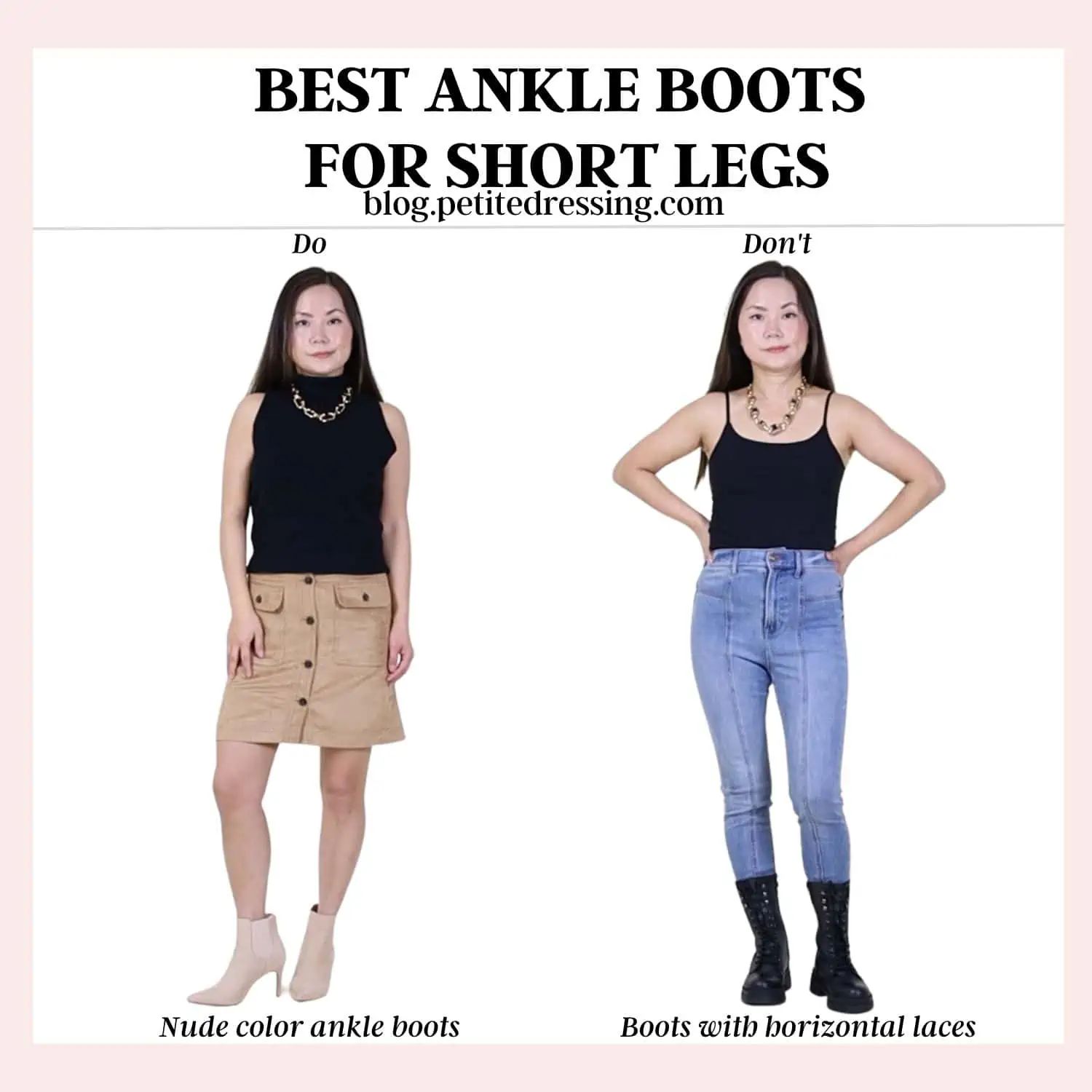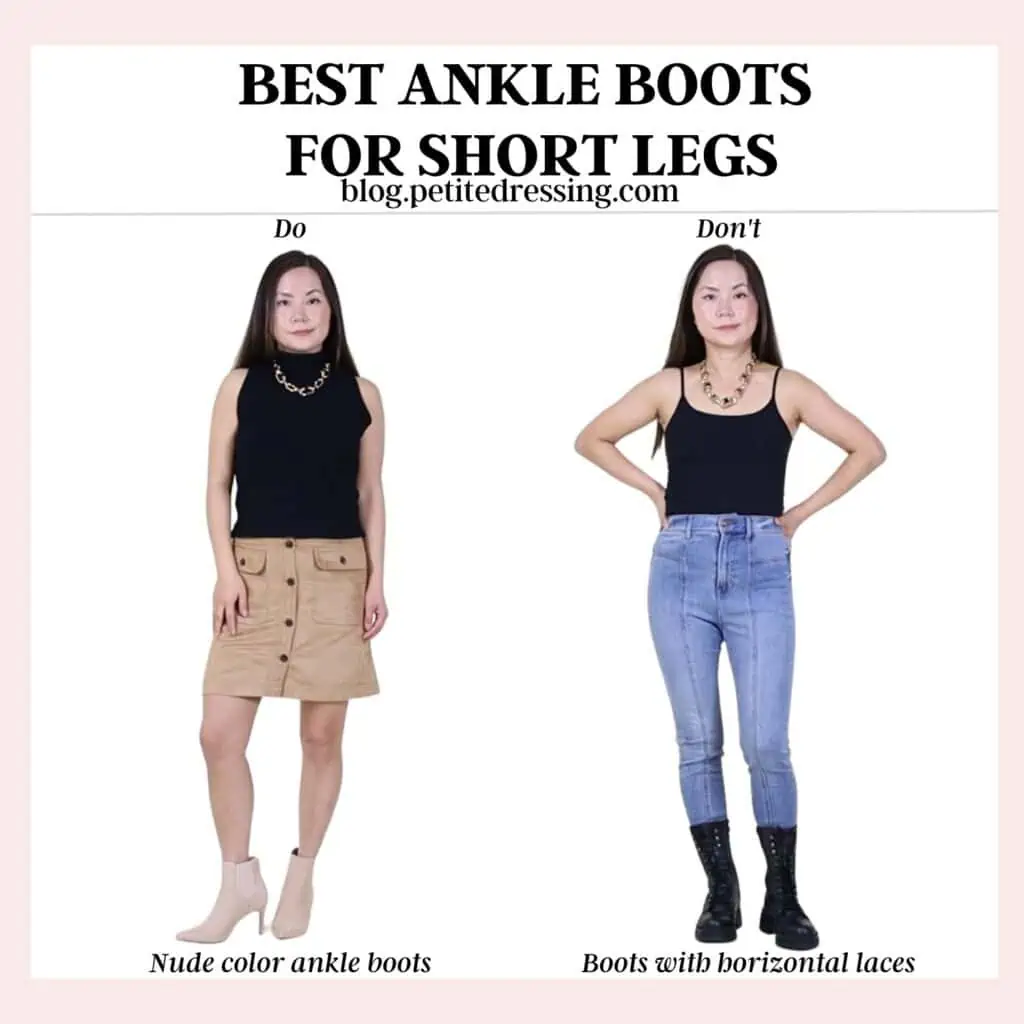 Also, this will make your bottom half not to appear bottom-heavy, which is ultimately great for achieving a more proportionate overall silhouette for your petite frame.
Avoid boots with horizontal laces
To avoid a bulky look on your feet that will make your bottom half appear heavier, it's best to completely avoid boots with horizontal laces. Overall, boots with details are a huge no for women with short legs.
This is because the extra details draw more attention downwards which is the opposite of what you would want to achieve with your ankle boots. It's always better to wear styles that draw attention upwards and form an unbroken vertical line across your body.
With this, you can create the illusion of longer legs and a curvier appearance. Horizontal laces makes your legs appear shorter than they actually are, so it's best to avoid them. Also, wouldn't you prefer to wear boots you can easily slip in and out of, rather than those with horizontal laces that are not exactly big on comfort? This extra bit of comfort is worth it.
Black ankle boots on black jeans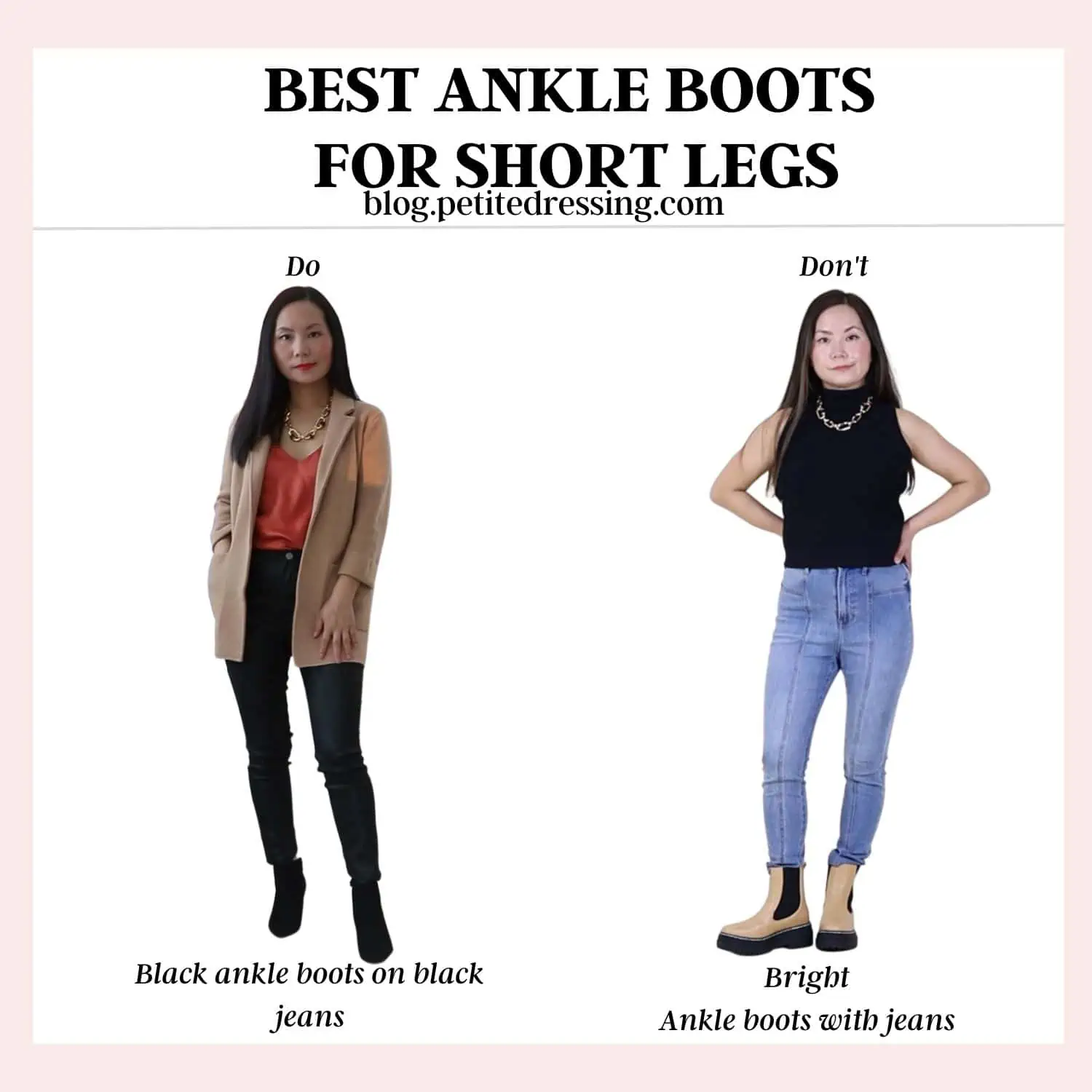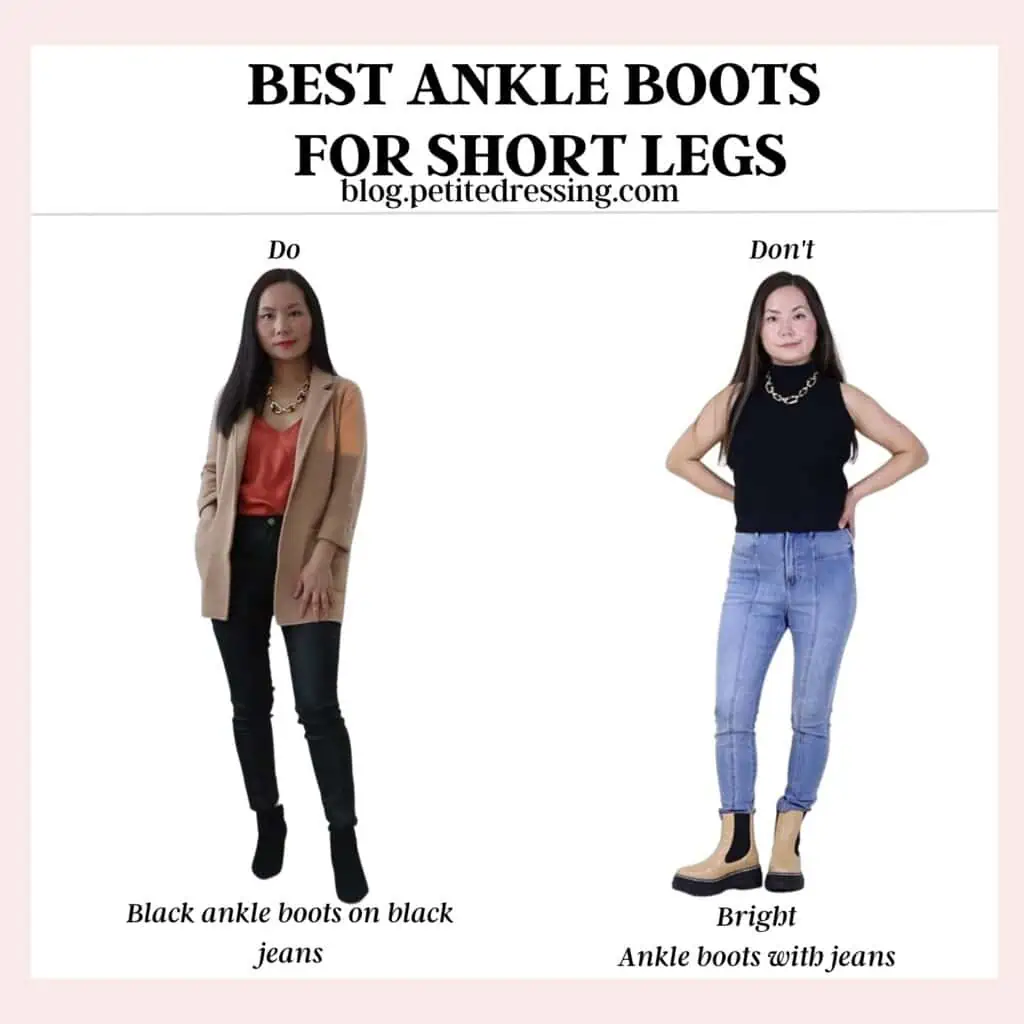 Another way to make your legs appear longer than they actually are is to ensure that your ankle boots are the same color as your pants or jeans. An easy look to pull off is the black ankle boots on black jeans combo.
Black is effortless to style and always gives off a sophisticated appearance, no matter your body type or height. Since this color pretty much works with any color of top, you'll spend only a few minutes deciding your outfit for the day.
Meanwhile, the black ankle boots on black jeans combo is great because it creates an unbroken vertical line that gives your legs a slimmer and elongated appearance. This means that you'll appear taller than you actually are, while also giving off a chic aura.
You can also try this out with white ankle boots on white pants or jeans. However, be sure to stick to skinny styles and those that are longer than your ankle to give off a flattering appearance.
Pointy-toe ankle boots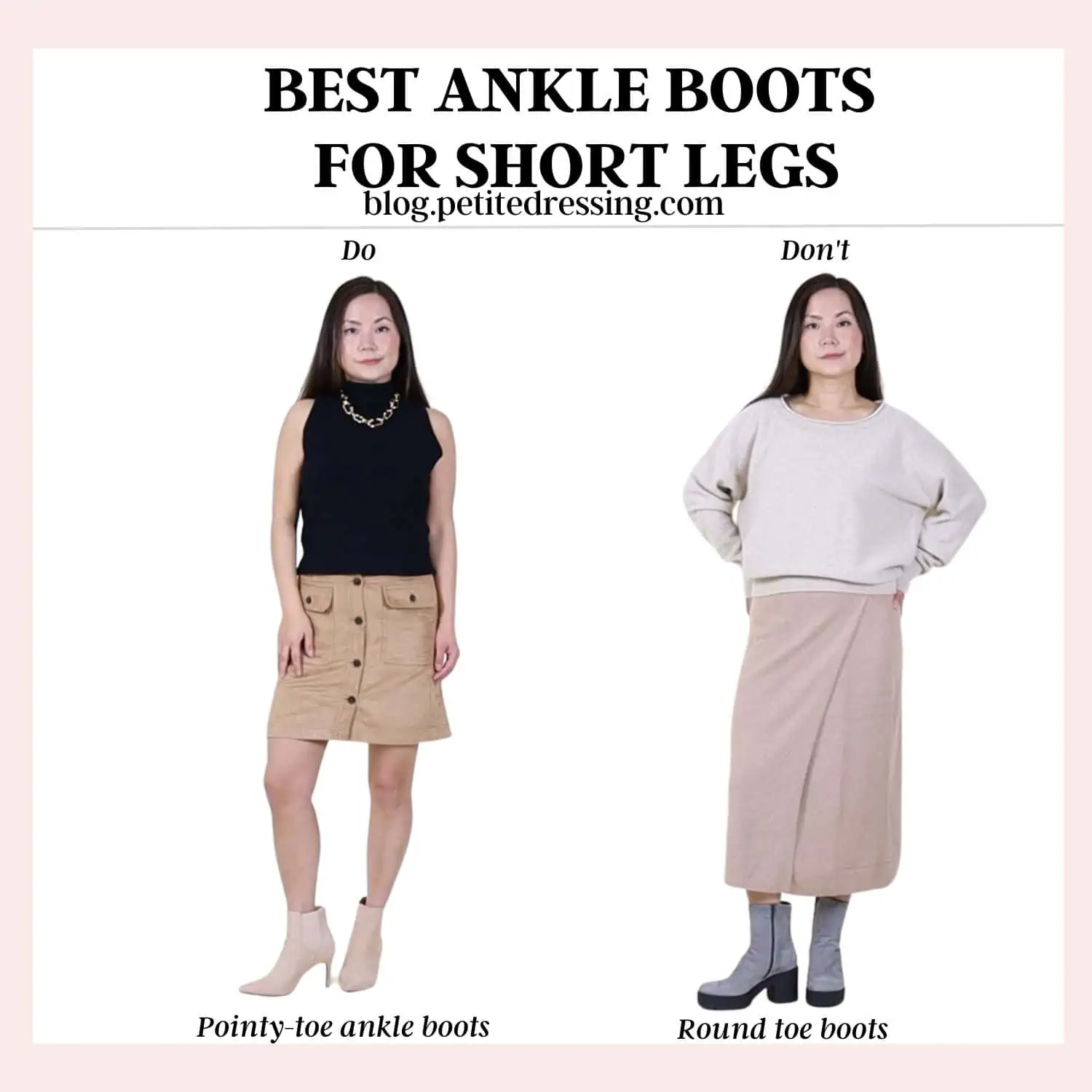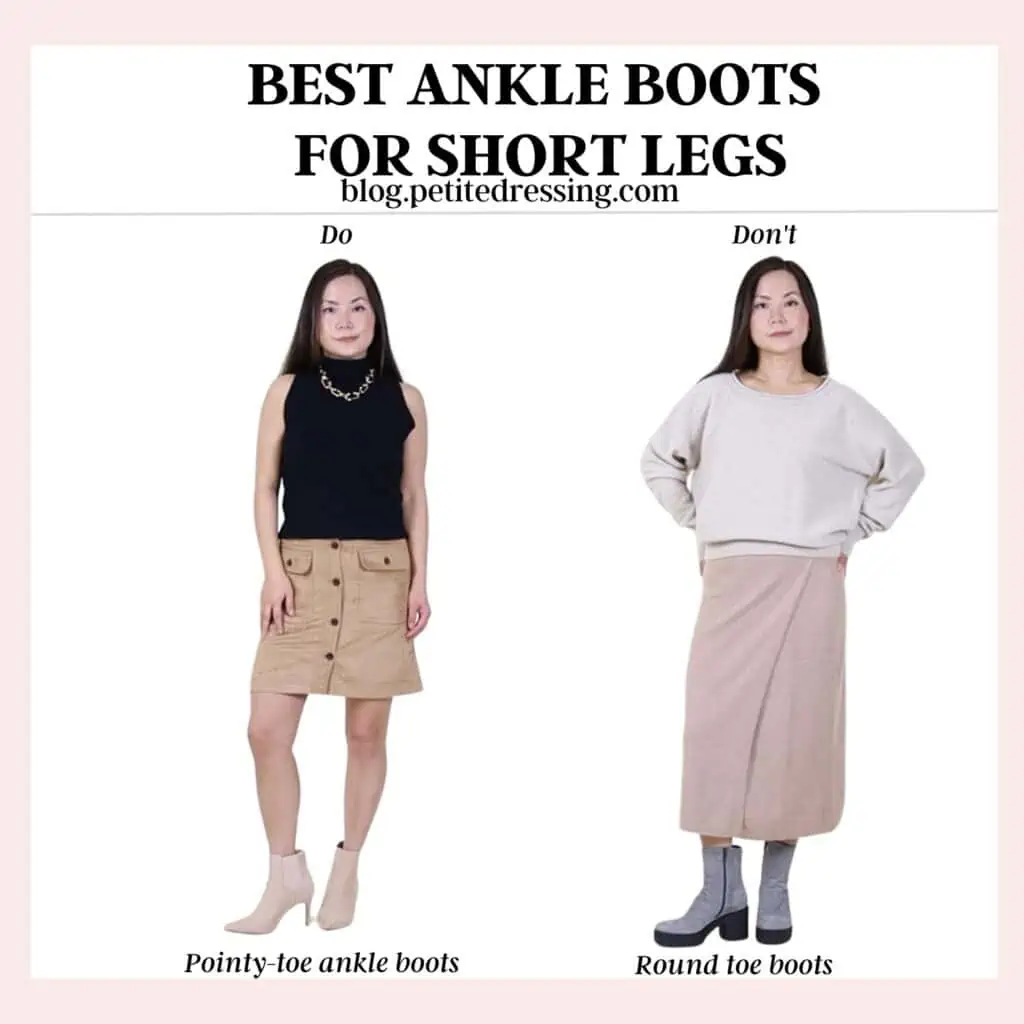 Wearing pointy-toe ankle boots is another surefire way to create a sleek and streamlined look that's flattering for women with short legs. Apart from how amazing they look on your feet, pointy-toe styles are perfect for elongating your legs visually.
Therefore, if you want to add a few extra inches to your overall height without putting on stilettos, this is a handy alternative. With pointy toe ankle boots, you can add an elegant touch to your clothing choices, regardless of the occasion.
Since these are incredibly versatile, you can wear this for a long day at the office or rock this to a casual hangout with friends for the weekend. You can wear this in neutral colors like black, taupe or brown, and you will look breathtakingly beautiful and of course taller.
For petite women, you can pair this with a flare skirt and v-neck top to further draw more focus upwards.
Block heel ankle boots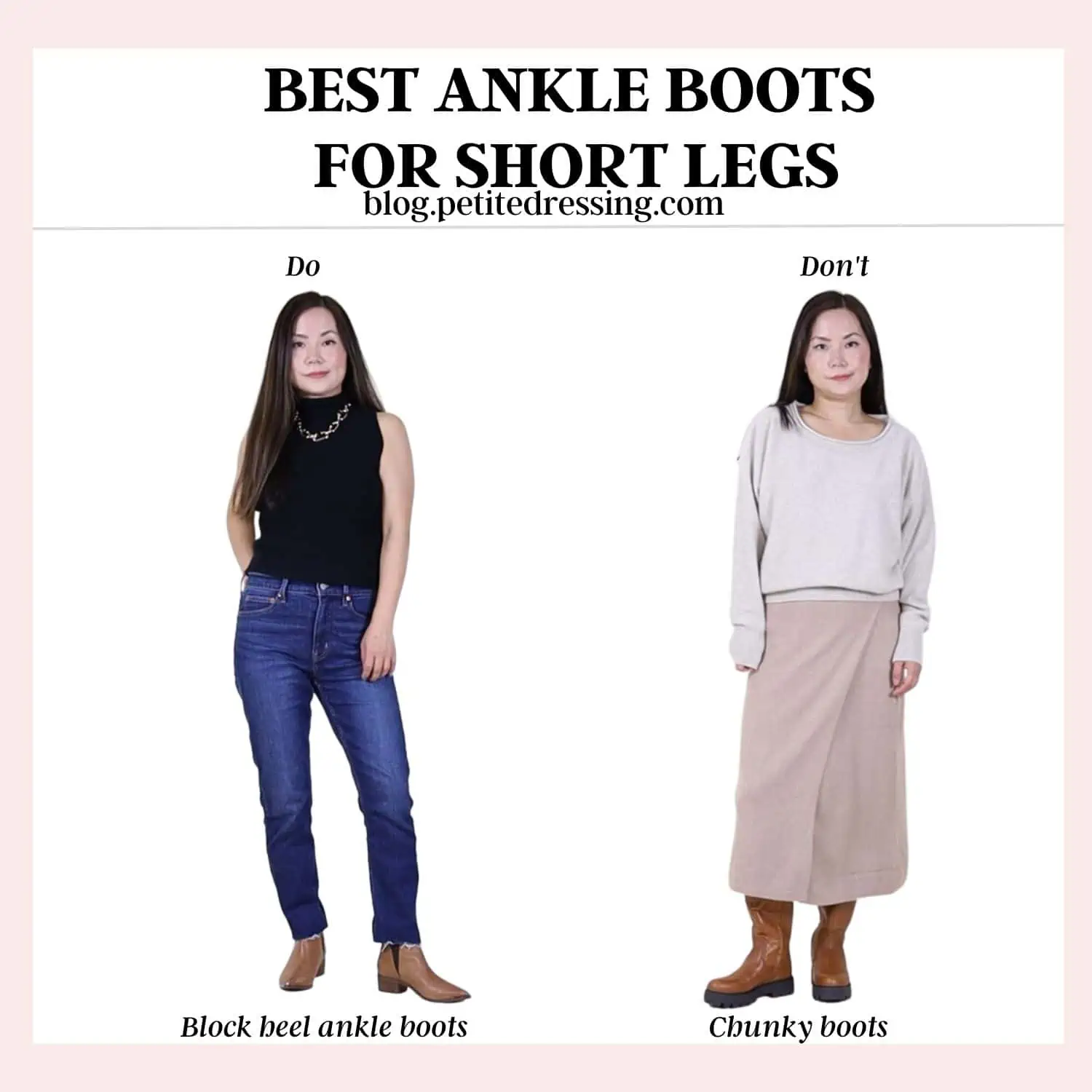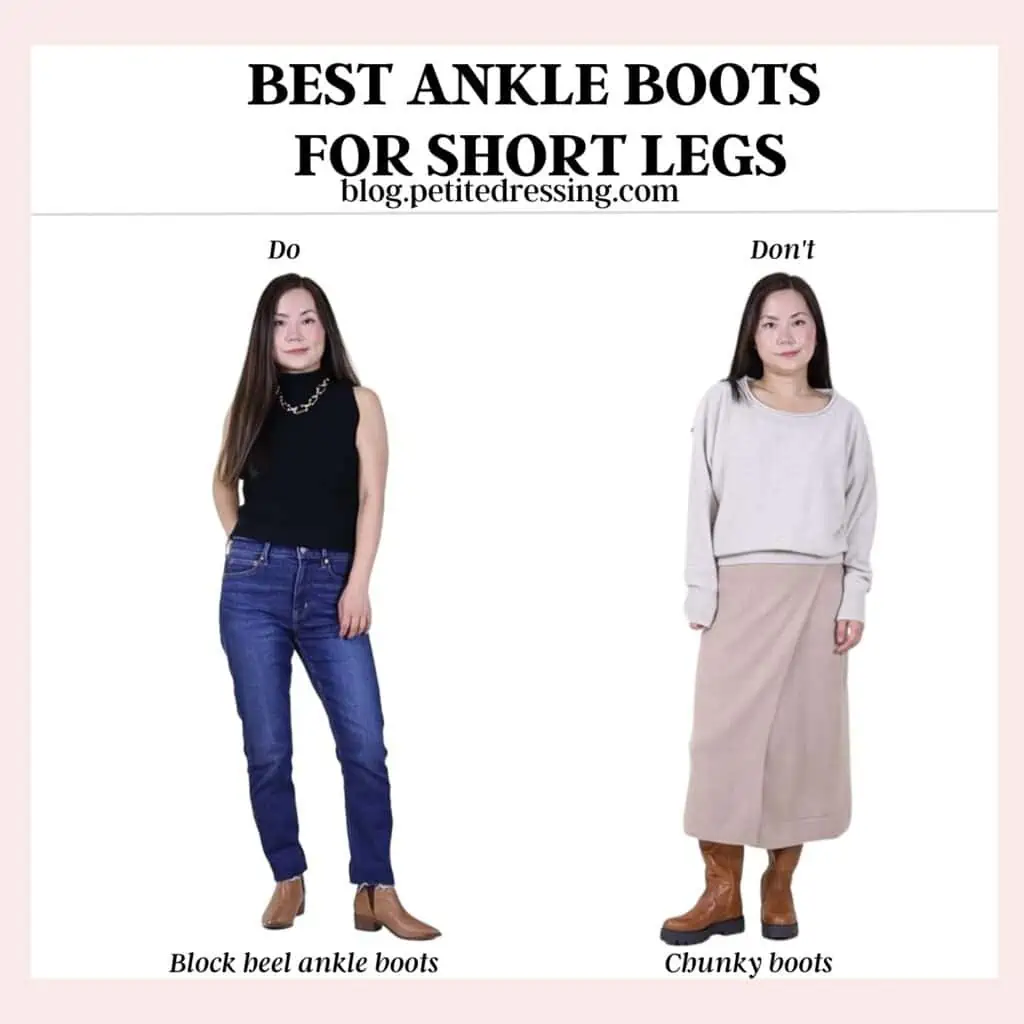 A little heel can make a massive difference in your appearance, especially if you're big on comfort. So, if you want to easily give your legs a height boost, invest in block heel ankle boots.
This chunky heel style can be as little as one inch but it's super effective in making your legs appear longer and more elegant. Also, if your typical daily activity involves moving around a lot, you should prioritize comfort.
Block heel ankle boots are super comfortable, and will not have any pinching effect on your feet even when you wear them all day. Get this in neutral, nude or black colors for a very flattering effect on your overall frame.
Another fact that will make you fall in love with block heel ankle boots more is that they are very versatile, so you can wear them to both casual and formal events. A huge tip with block heels is that you can have the ankle boot itself in a different color, but stick to strictly black for the heeled part.
Ankle boots on high waist bottoms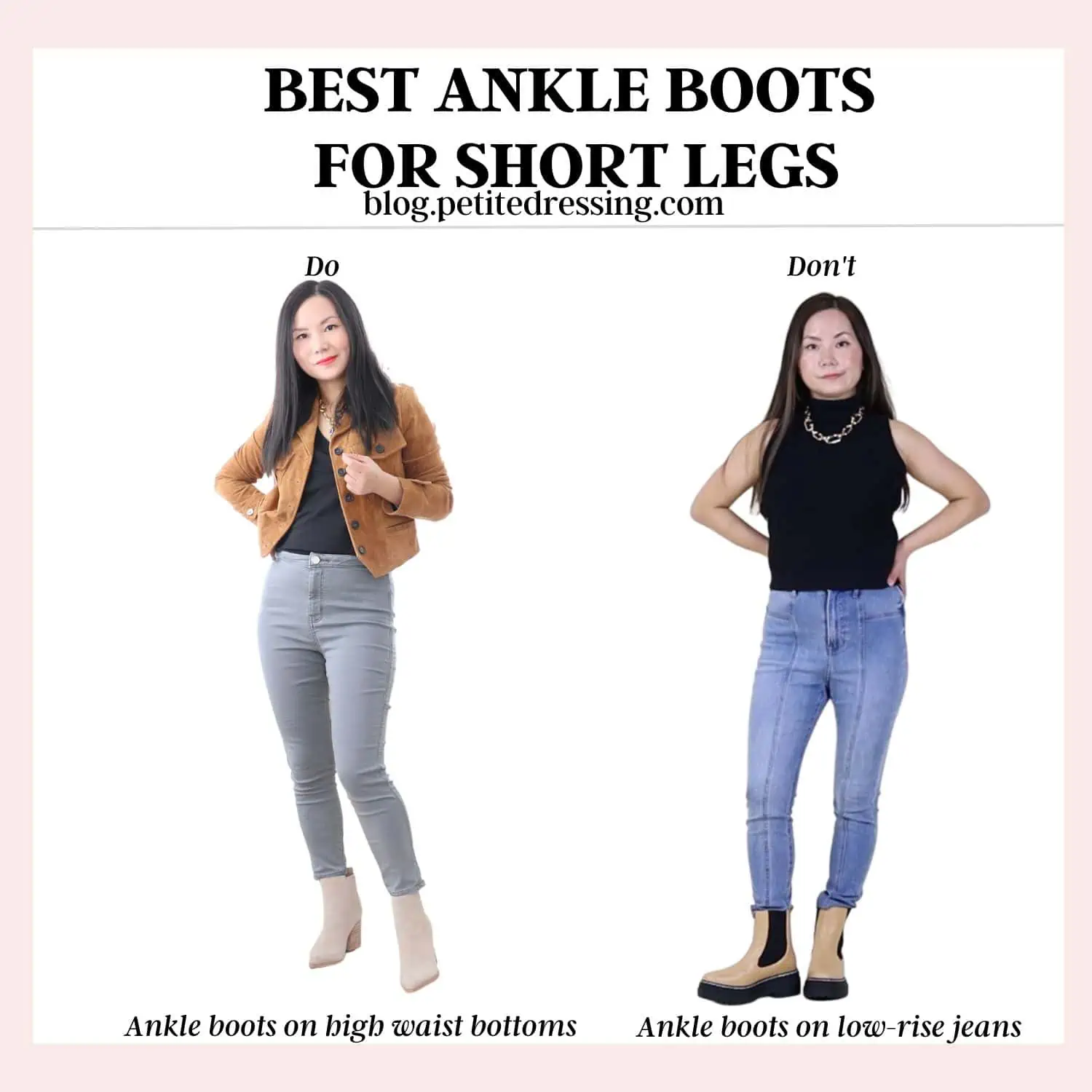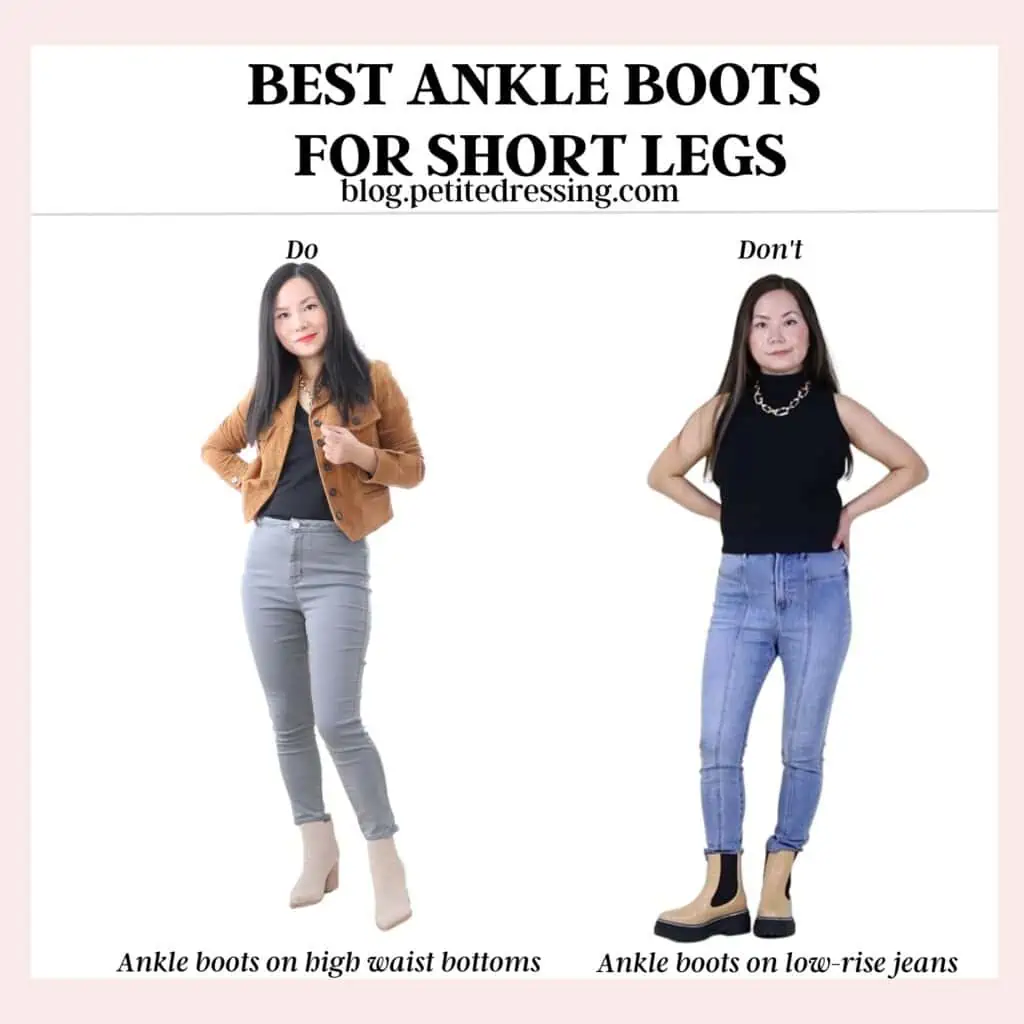 Your bottoms are just as important as the ankle boots you choose to wear, and you can create a more balanced look when you stick to high waist bottoms. This high waist style applies to skirts, trousers, pants and jeans.
Wearing high waist bottoms will help to elongate your legs as they draw the eyes upwards. Of course, this helps to create a more streamlined silhouette that has an overall flattering effect on all parts of your body.
There's no doubt that you will look elegant and sophisticated when you step out in the ankle boot and high waist combo. Meanwhile, high waist bottoms are super comfortable on petite women as they sit firmly above the natural waistline and help to create a curvier outlook.
This works even better with neutral colors that have a firm fit on your body frame. Be sure to avoid oversized ankle boots.
Suede ankle boots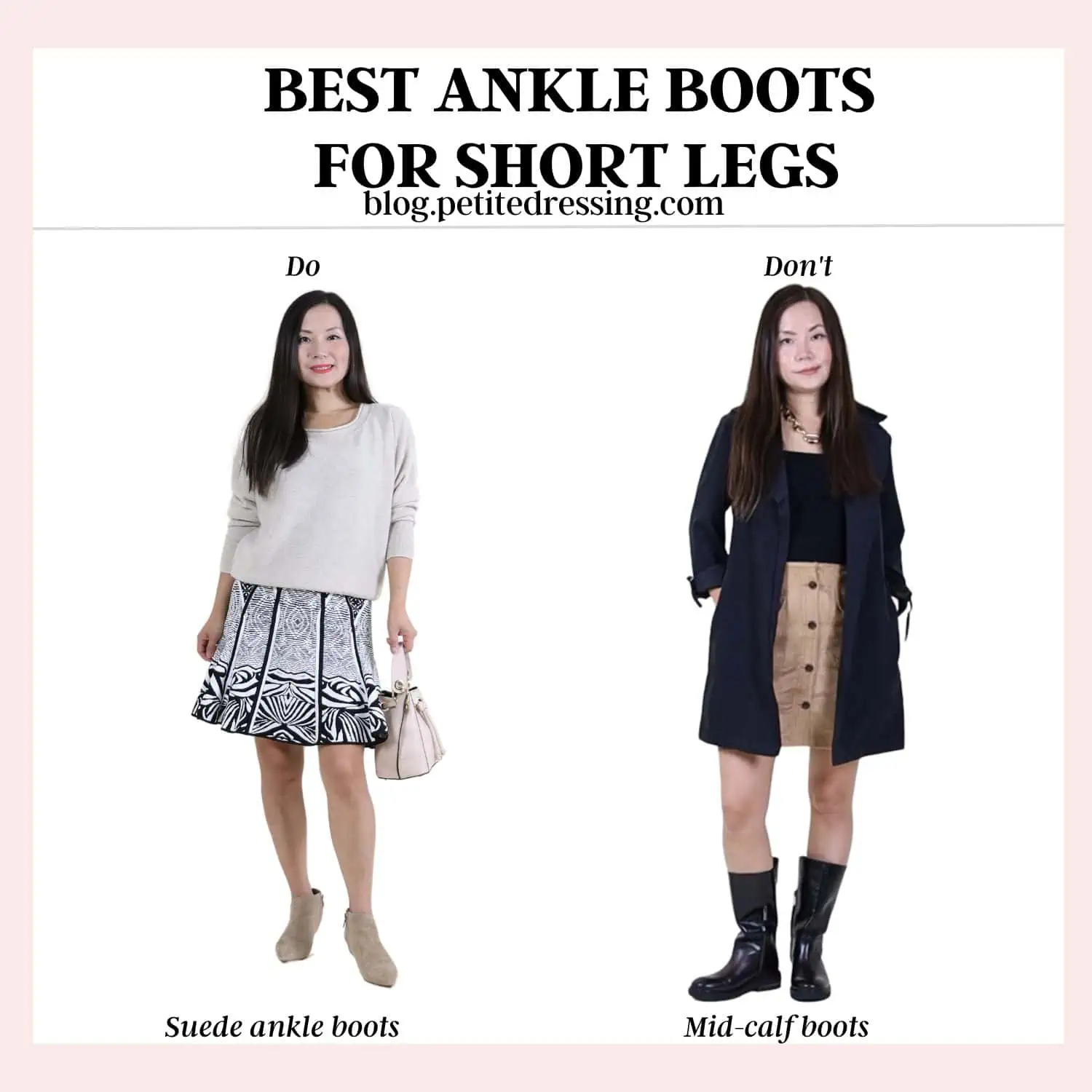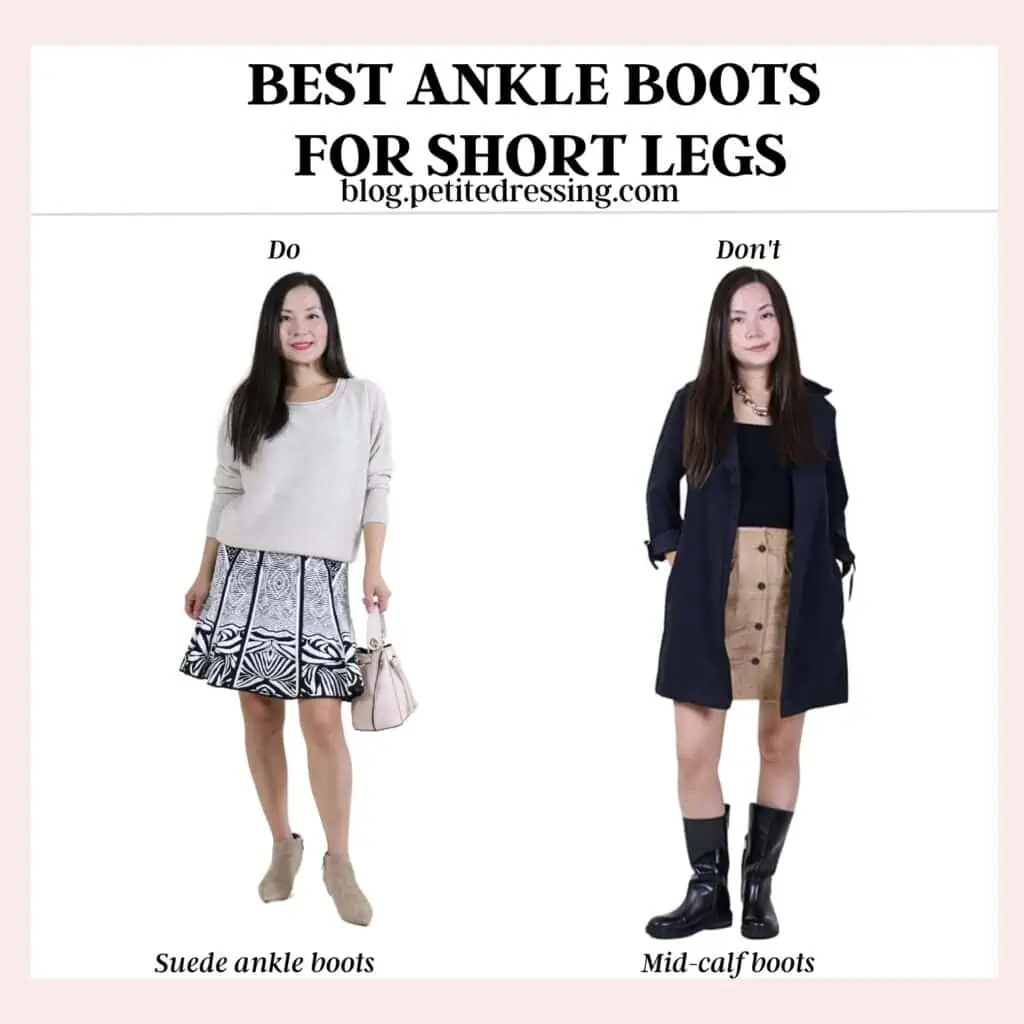 Elevate your look and embrace comfort with a touch of luxury when you wear suede ankle boots as a woman with short legs. This is an excellent choice for anyone who desires to wear comfortable shoes while also making their legs appear longer.
If you want to wear this for a casual or formal occasion, you're on the right track. There's no doubt that suede ankle boots add a decent level of sophistication to your clothing ensemble.
The color of your suede ankle boots matter a lot as you need soft colors that don't draw so much attention to the length of your legs. Avoid super bright colors like red or yellow that are attention-grabbing and not flattering for your silhouette.
Animal print ankle boots and tops
Animal prints have always given off a sleek and chic appearance when incorporated into clothes, and you can use this to your advantage as a woman with short legs. For example, you can lean more towards leopard prints as these are incredibly popular in the fashion world.
Rather than make this limited to your ankle boots, pair this with a leopard print top and watch how it makes your outfit come to life. A leopard print ankle boot and leopard print top combo is so powerful that it can give you a streamlined and sexy silhouette.
Of course, this also has an elongation effect on your legs, so you can easily add a few inches to your height visually by wearing this combo. Another way to combine this is to wear leopard print pants on your ankle boots, and then tone this down with a neutral-colored top.
This is great for also visually elongating your legs.
Avoid square-toe ankle boots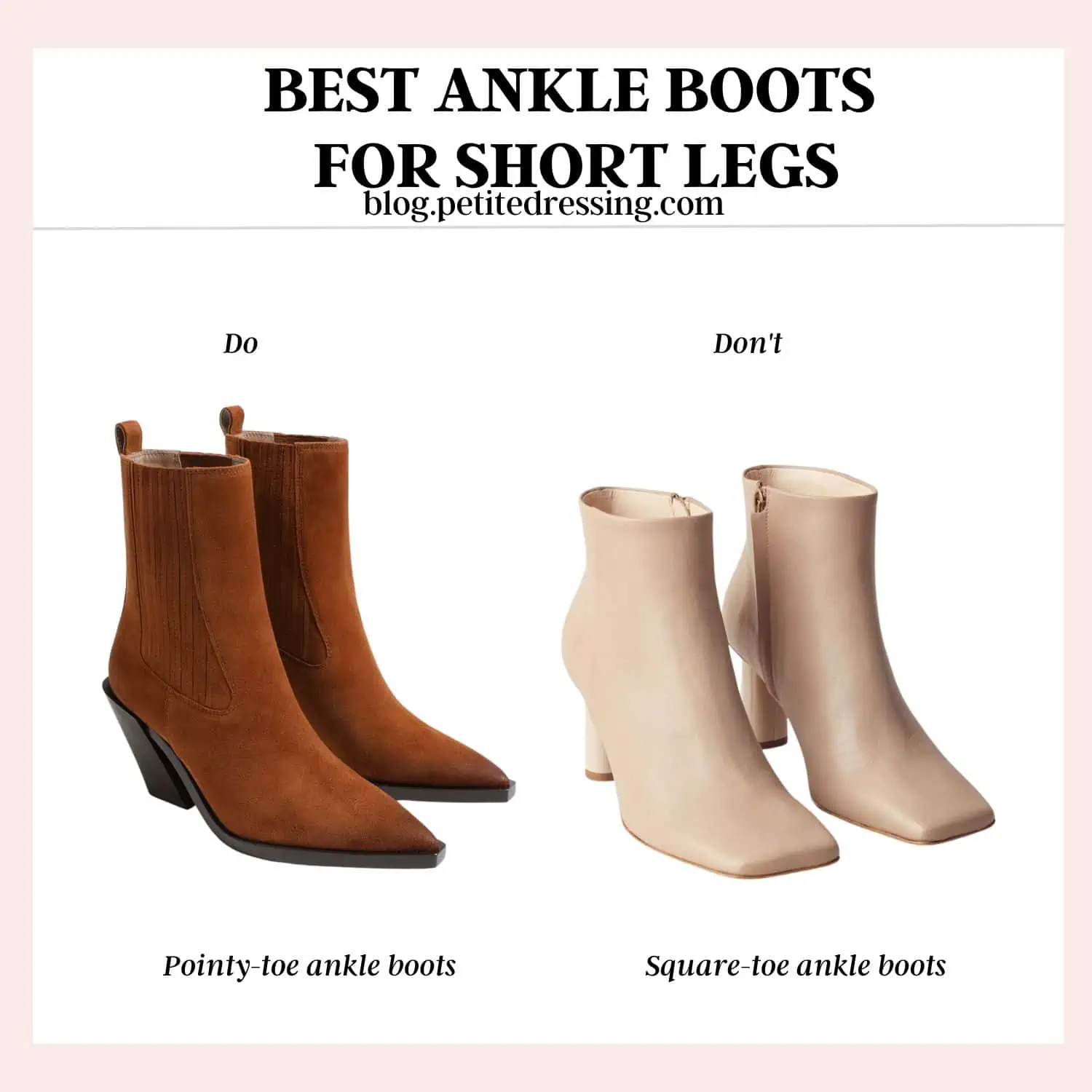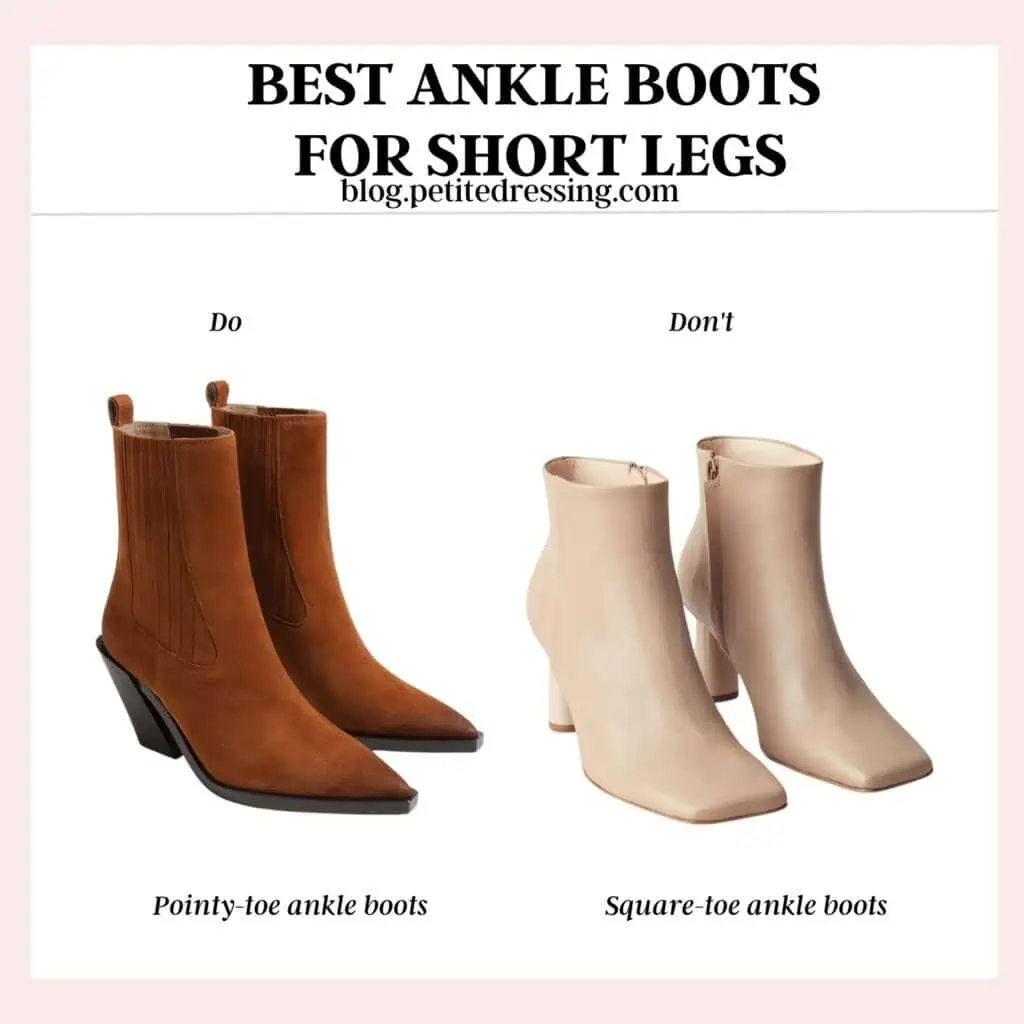 Even though ankle boots are a flattering option that hit at the right part of your legs, the positive effect of this can't be seen on all types of ankle boots, especially the square toe ankle boots.
This is a type of open-toe ankle boot that doesn't align with the style necessary to stand out beautifully as a petite woman with short legs. Therefore, if you must wear open-toe ankle boots, stick to the pointed style that visually elongates your legs and exudes a high level of sophistication.
Another impressive choice is the round toe ankle boot which gives your toes enough room to wiggle around comfortably, unlike the square toe ankle boots. Meanwhile, this style of ankle boot doesn't encourage an unbroken visually vertical line that makes your legs appear longer.
Therefore, it will give your legs a shrunk appearance and throw off your body silhouette.
Avoid ankle boots in contrasting colors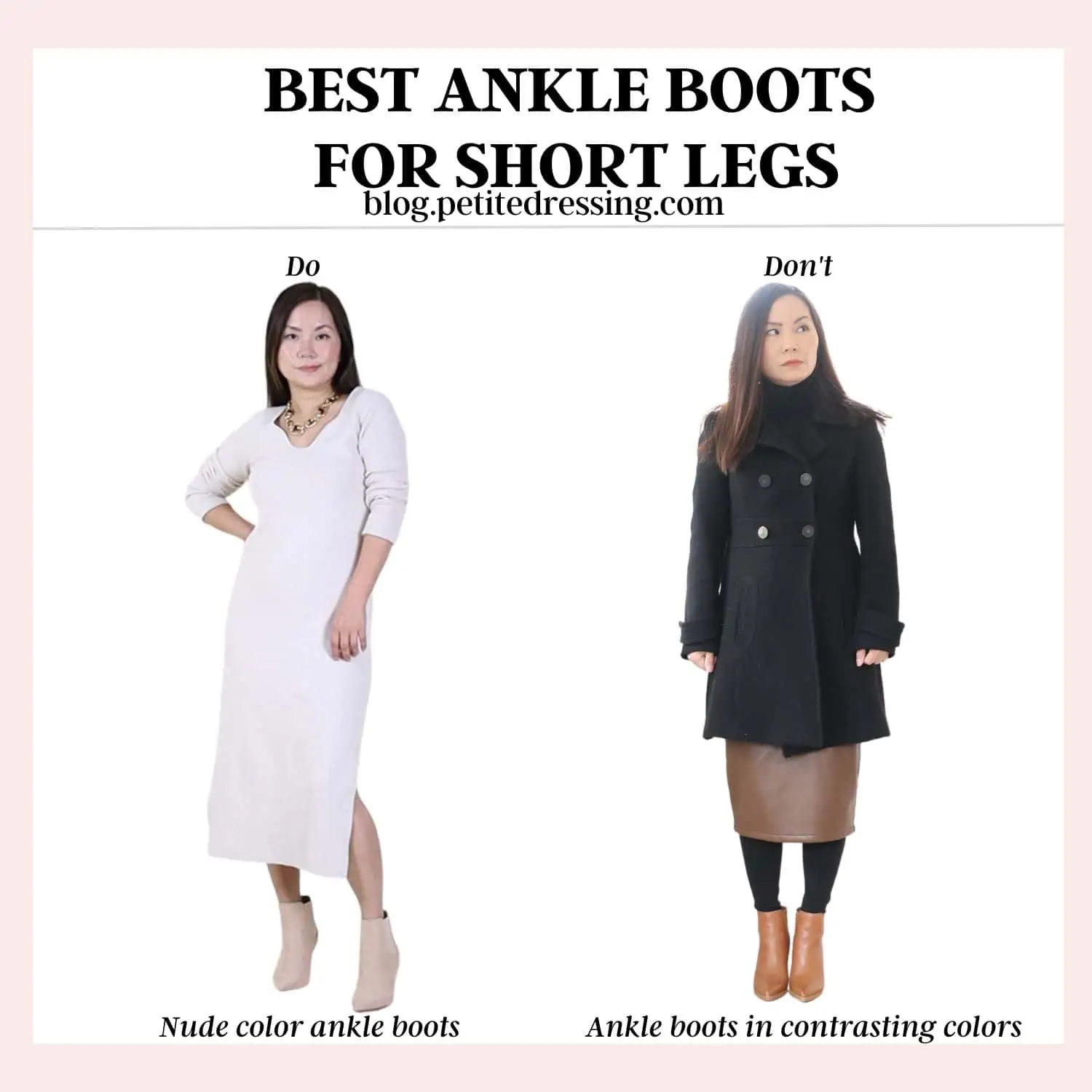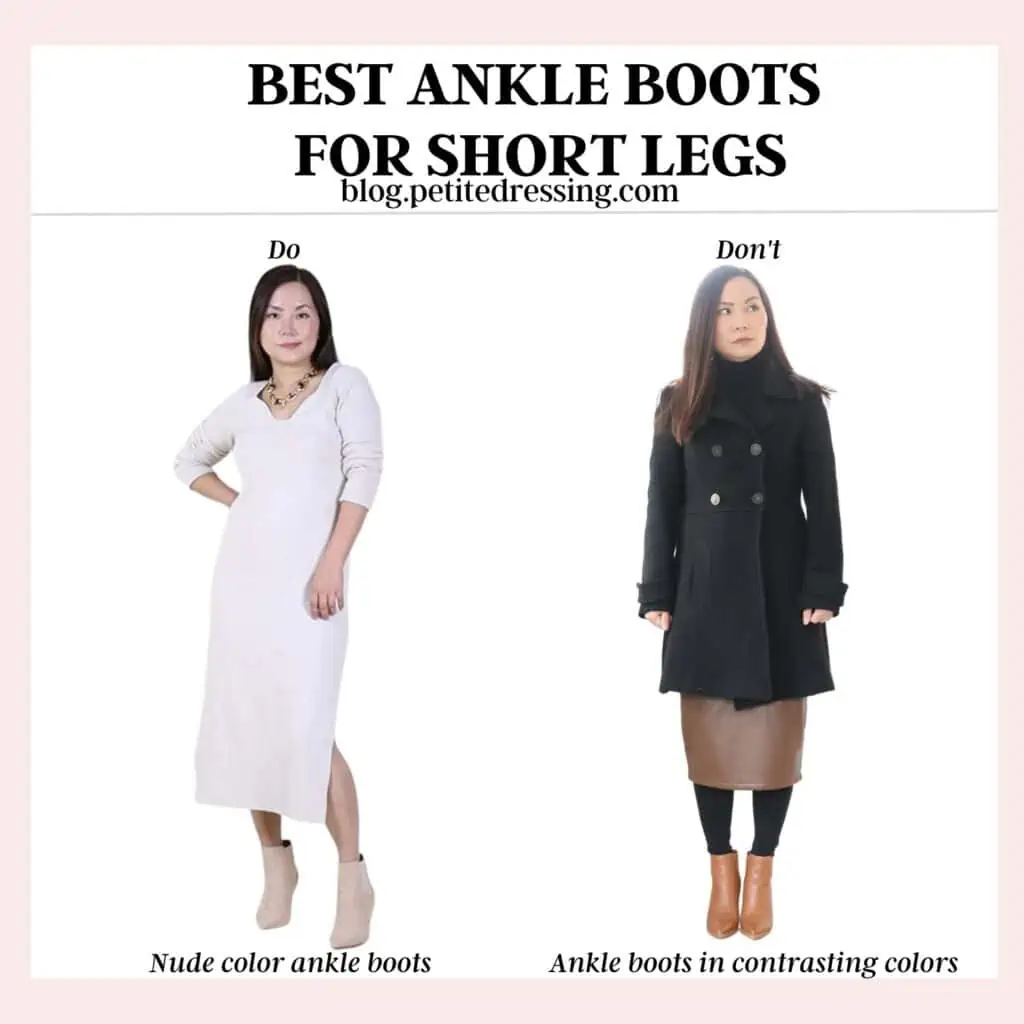 The color of your ankle boots is another crucial aspect of choosing the perfect wardrobe for your short legs, and they have to perfectly complement your choice of bottoms. Avoid wearing ankle boots that come in contrasting colors with your bottom wear.
Contrasting colors refer to those that are opposite themselves on the color wheel. A perfect example of this would be wearing an ankle boot in red and pairing this with blue pants or jeans.
Since red represents the warmer half of the color wheel and blue represents the cooler half of the color wheel, this contrasting effect will visually cut off the vertical line of your legs, making them appear shorter.
Rather than choose ankle boots in contrasting colors, stick to those that are in the same color family as your pants or jeans. You could wear black ankle boots on grey pants and the results will be amazing for your petite body frame.
Avoid ankle boots with straps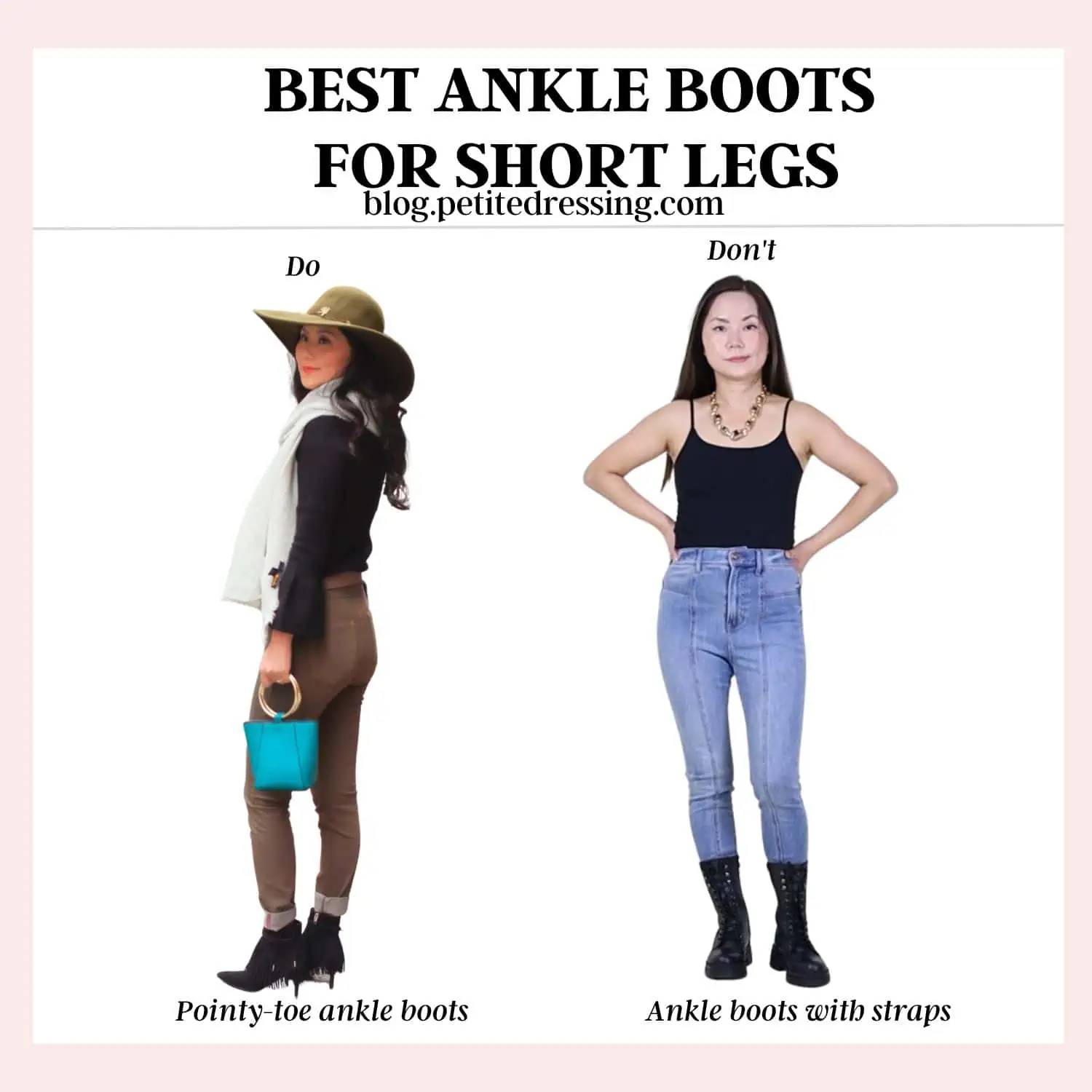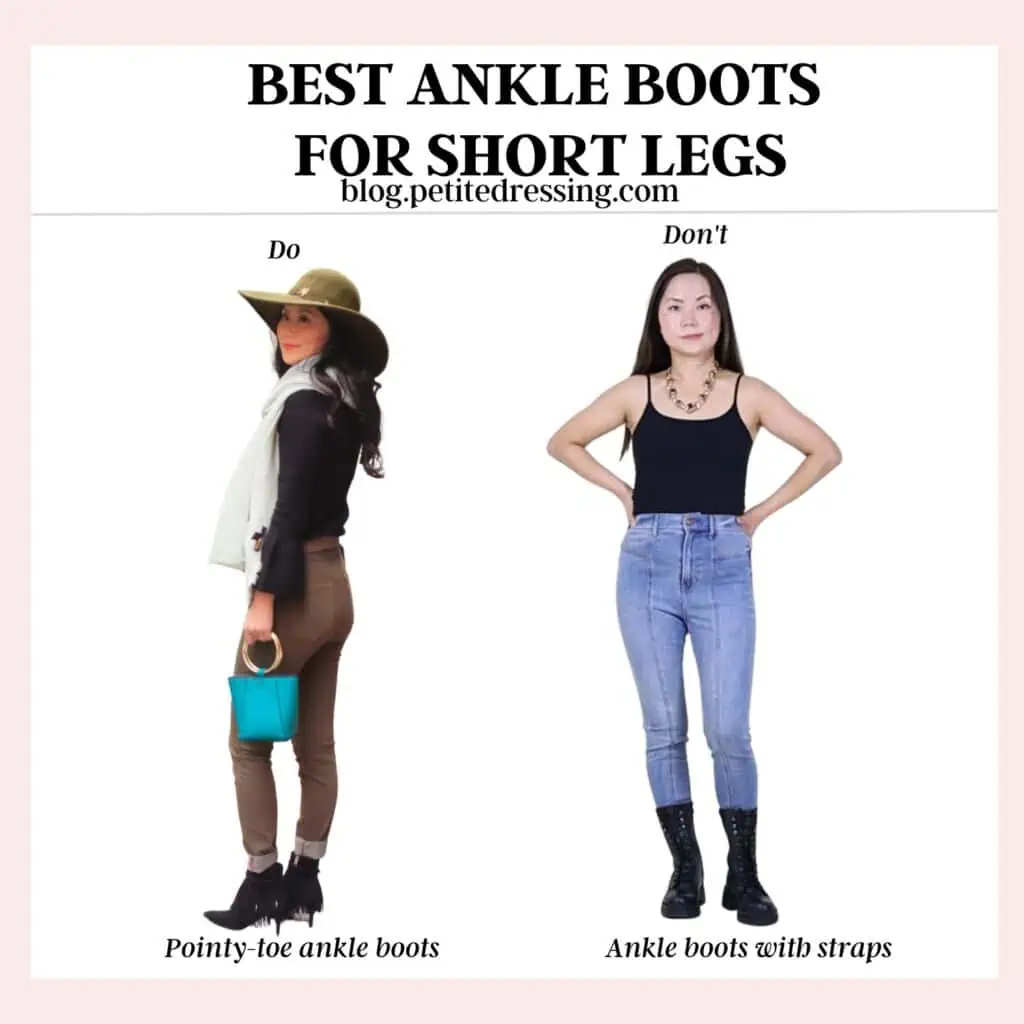 Ankle straps visually cut off the vertical line on your legs and that's one huge reason to completely avoid ankle boots with ankle straps. Ankle straps can be quite bulky and attention grabbing.
These straps add an element responsible for encouraging a bottom heavy appearance on women with short legs. Since you want to draw attention upwards and consequently create the illusion of longer legs, ankle boots with straps should not be on your list as they have the opposite effect.
Therefore, it's best to stick with those that have a subtle zip line at the sides or a simple slip on style that's comfortable on your feet. If you must wear those with straps, make sure that these are small and blend in with the color of your ankle boots.