Embracing the oversized fashion trend can be a game-changer, but it poses unique challenges for shorter individuals. I'm just 5'2", and I used to stick to fitted pieces, but when the fashion landscape shifted, I had to figure out how to make oversized fashion work for petite women like me.
Through some trial and error and a good deal of experimenting, I've uncovered some fantastic strategies that can truly work wonders for those of us who are vertically challenged. In this article, I'm excited to open the doors to my personal fashion playbook and share some tried-and-true tips and secrets for looking effortlessly stylish in oversized clothing, even if you happen to be on the shorter side!
Avoid long skirts
If you're on the shorter side like me, the oversized trend can be tricky to pull off. Oversized pieces often come with an abundance of volume and fabric, which can quickly overwhelm your petite frame.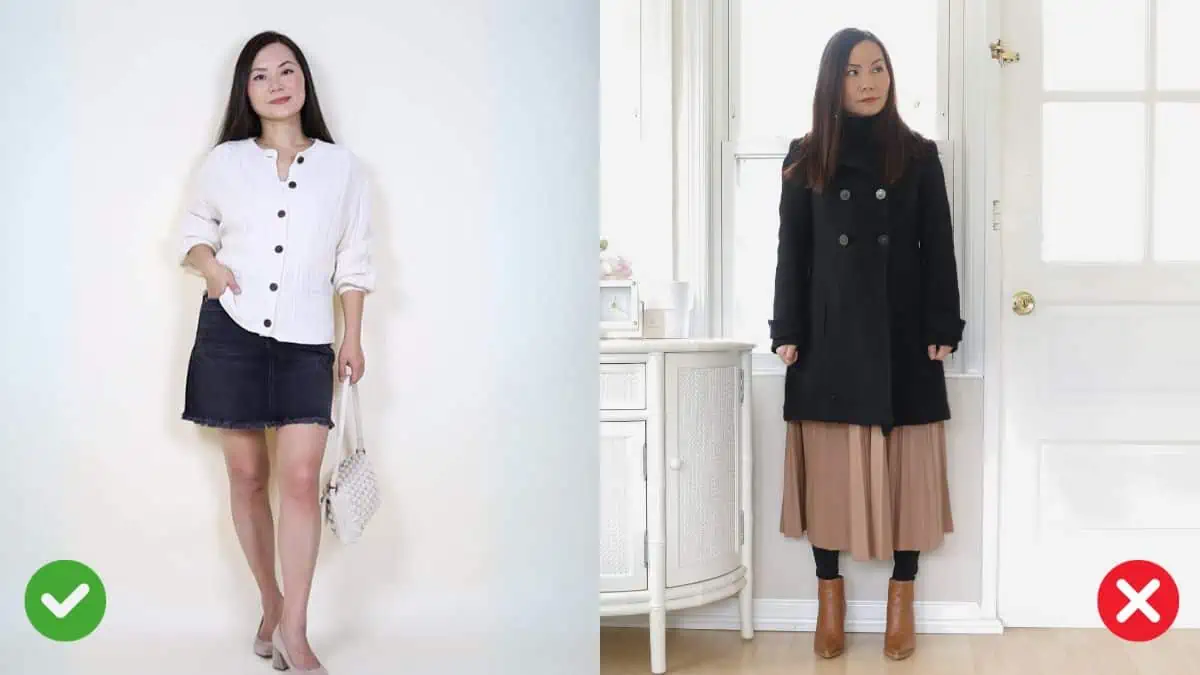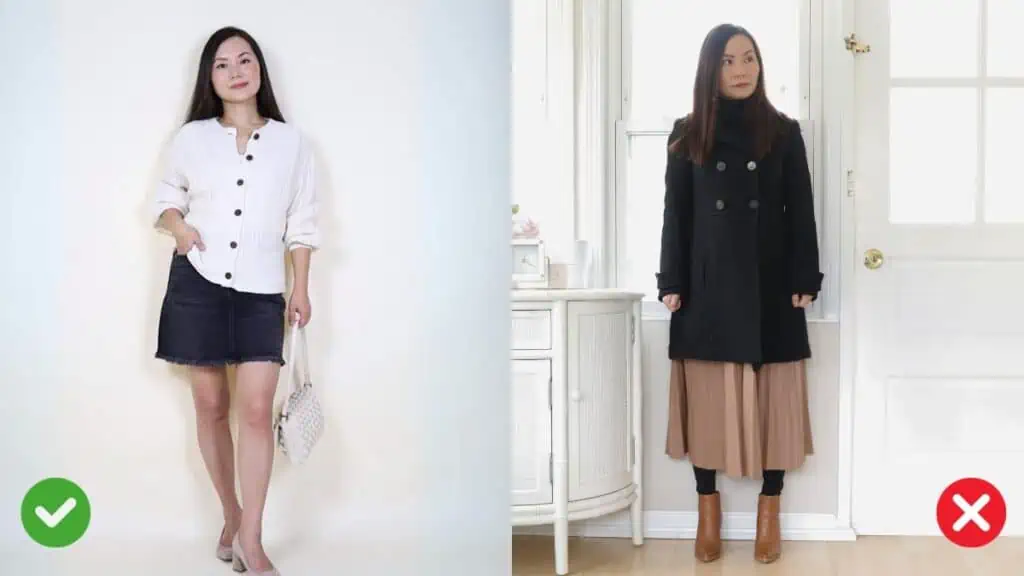 Nonetheless, in my fashion exploration, I've stumbled upon a remarkable secret weapon: mini skirts! The essential principle is to make sure the skirt sits above the knee; it's a simple yet effective strategy – less length means less bulk and a more flattering look.
Oversized clothing carries a substantial amount of volume, which can be overpowering for those of us on the shorter side. When you opt for a mini skirt, it immediately balances out the oversized top and produces a harmonious look.
Wear with Shorts
Oversized blazers, often referred to as boyfriend or dad blazers, have become a fashion staple. You might be wearing them with jeans or trousers, but here's a game-changing tip for shorter individuals: pair them with shorts.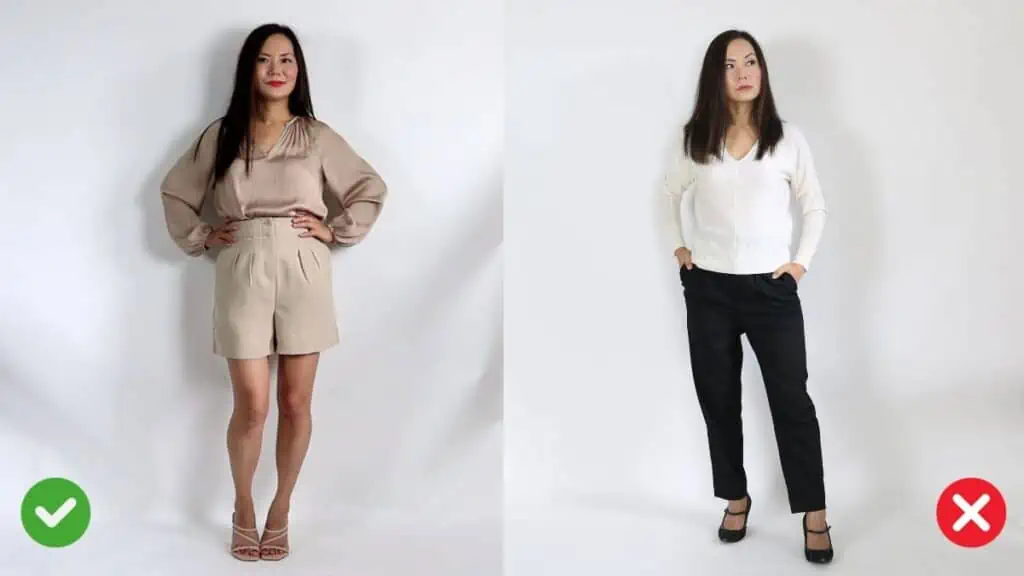 If you're petite just like me, long blazers can visually divide your body in half, making you appear even shorter, especially when you're wearing flats. But when you switch to shorts, the magic happens.
This styling choice not only oozes chic sophistication but also employs a visual illusion to elongate your legs, giving the appearance of added height and proportion. This means you can confidently embrace the trend and combine long blazers with shorts, creating one of the most stylish and effective ways to carry off oversized blazers.
Wear with Mini Skirts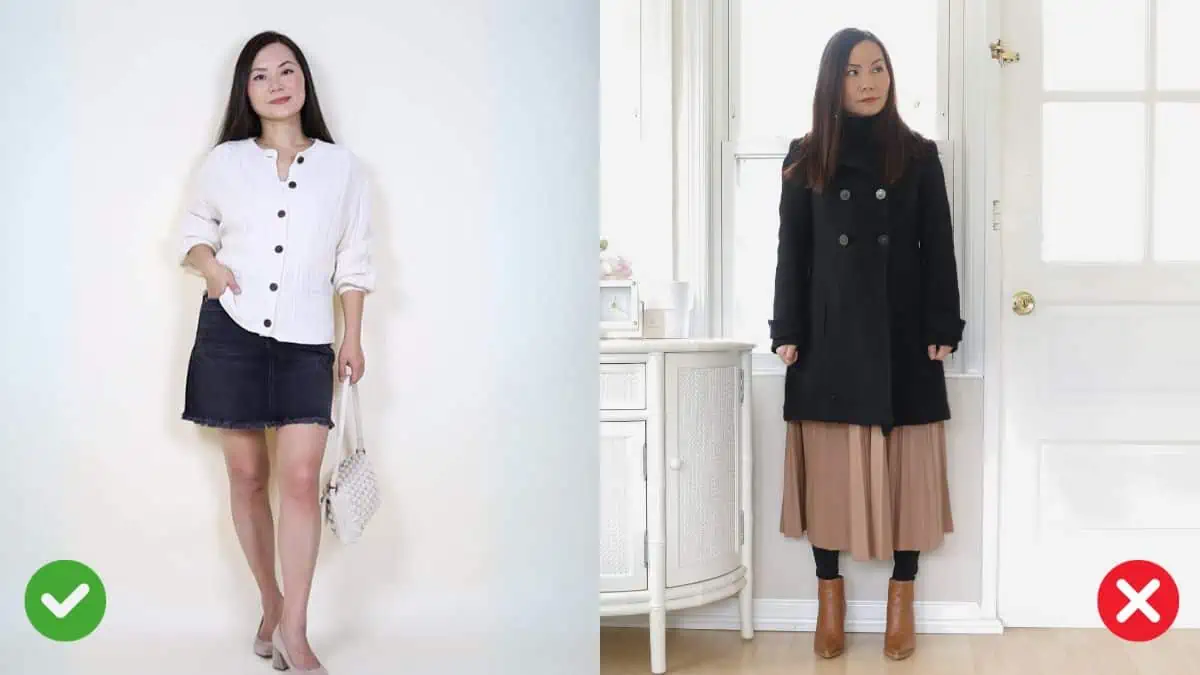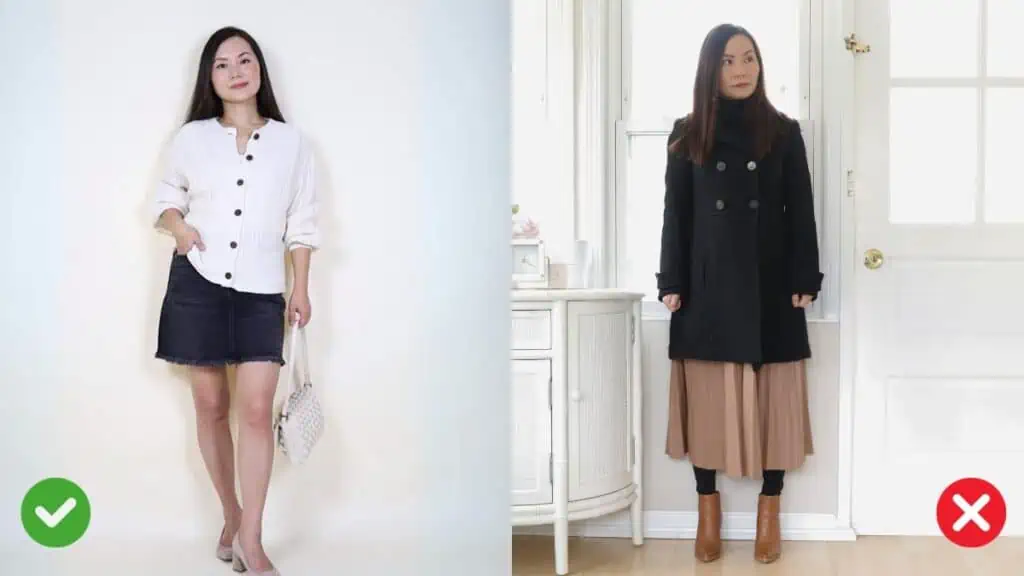 You've probably worn blazers with jeans or trousers, but what adds a more unique and sophisticated twist is pairing them with mini skirts. When oversized blazers, like boyfriend or dad blazers, meet these shorter bottom pieces, you'll witness a superb, eye-catching combination.
Wearing oversized blazers with mini skirts is an art that can elevate your fashion game while addressing the challenges of being shorter. Mini skirts can be your blazer's best buddy as their reduced length offsets the volume of oversized tops and highlights your legs.
Here are some tips when wearing mini skirts: Always ensure that your mini skirt falls above the knee. This length works wonders, and I'll show you why – oversized pieces, whether blazers or sweaters, come with significant volume, and this can be overwhelming, particularly if you're petite like me.
However, a shorter skirt, by virtue of its reduced length, balances out the oversized blazer. It's a simple yet effective technique that instantly harmonizes your ensemble.
Long blazers can visually split your body in half, but when you pair them with mini skirts, your outfit gets an instant upgrade. Not only does it exude chicness, but it also creates the illusion of longer legs, transforming your overall appearance.
Opt for Slender Fit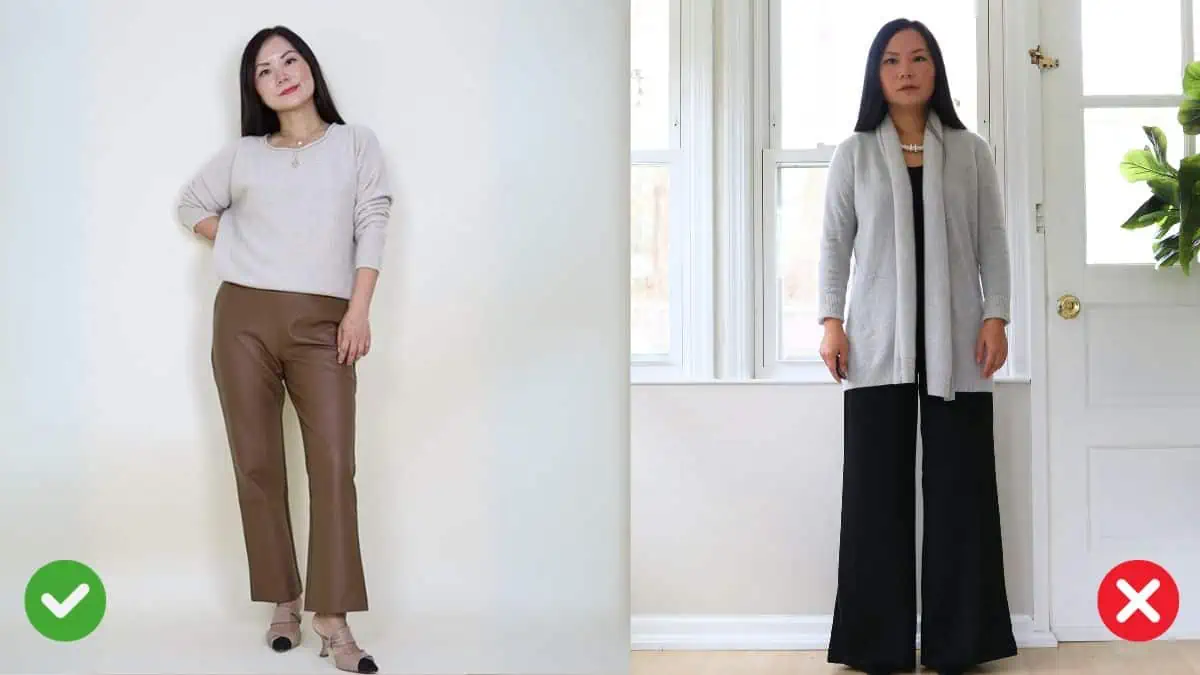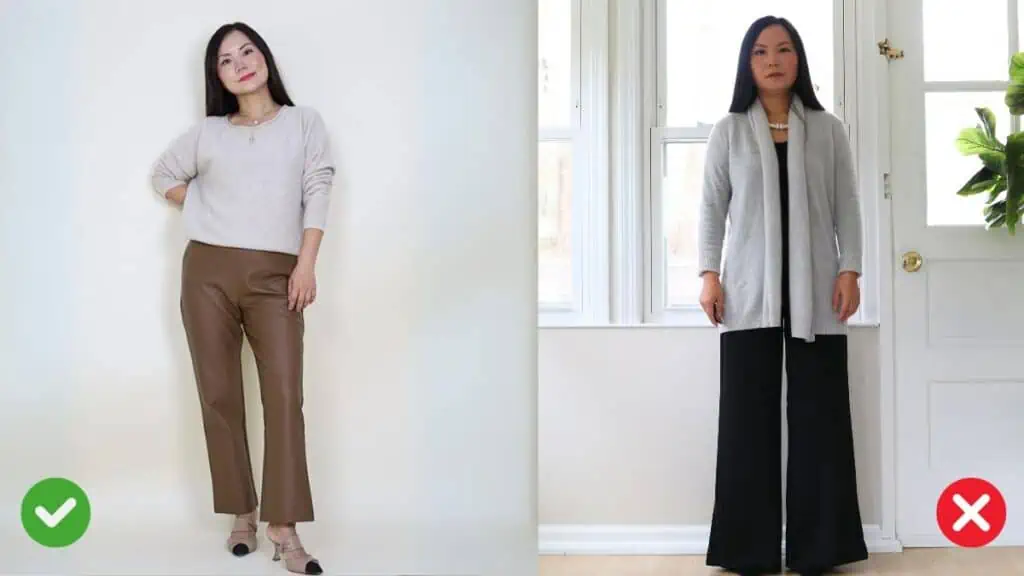 If you have an affinity for oversized fashion but wish to maintain a chic and well-proportioned look for your petite frame, slender fit long blazers can be a true style revelation. These blazers manage to capture the essence of the oversized trend while ensuring that you don't get lost in excess fabric.
When opting for longer blazers, I recommend choosing styles that are more slender and fitted. A slender fit in a longer blazer can create a polished and updated look without overpowering a petite figure.
What's wonderful about slender fit long blazers is that they offer the best of both worlds – you get that dramatic, elegant feel of a longline blazer while benefiting from a more tailored and slender fit. These blazers are designed to follow the curves of your body without overwhelming your figure.

Furthermore, the defining feature of these blazers is the slight tailoring at the waist, which gives you that desired waist definition. As a shorter individual, this is pure gold because it stops the blazer from swallowing your frame; instead, it enhances your shape, and suddenly, you've got the best of both style and fit.
Choose Cropped Length Jackets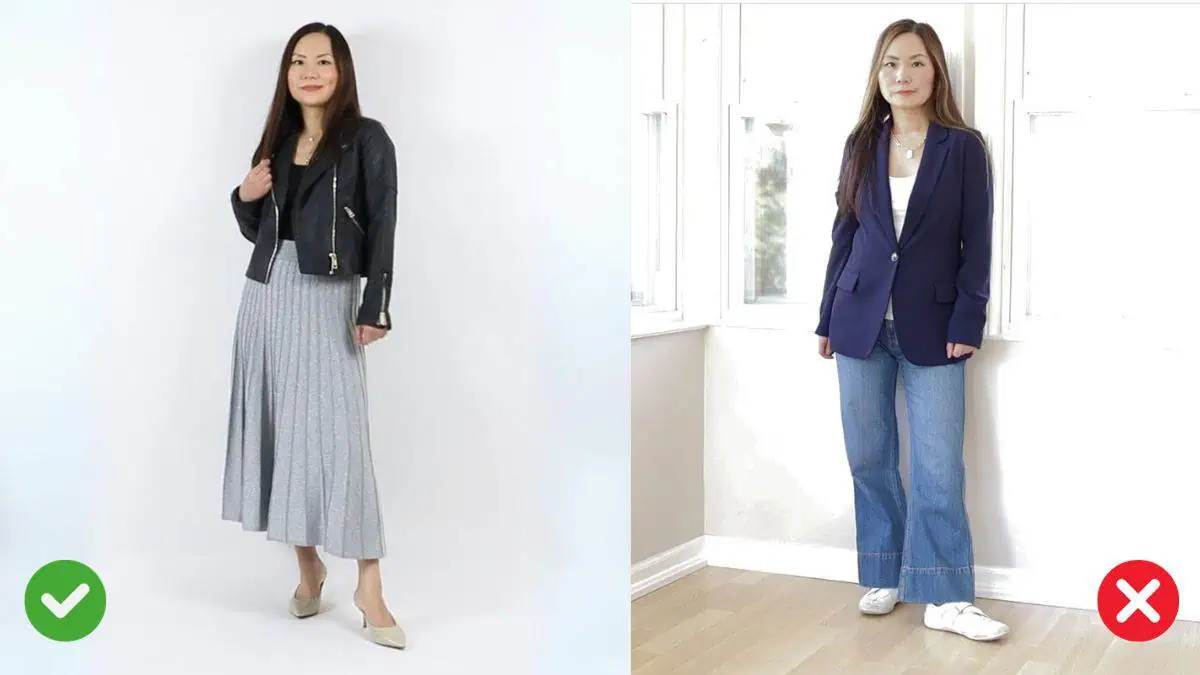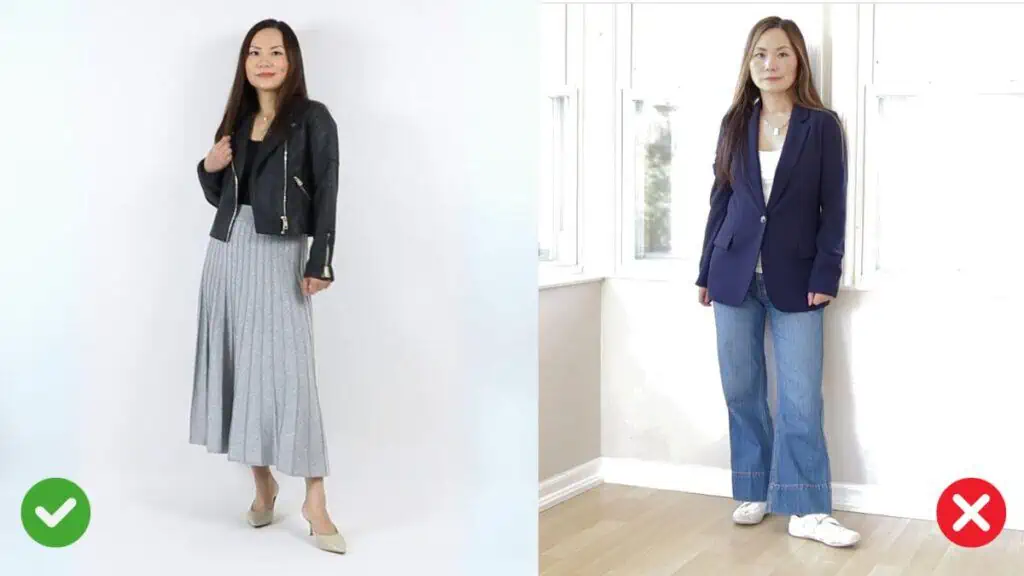 Another approach is to flip the script and choose wider blazers, but make sure they are cropped in length. This smart move balances the width of the blazer by keeping it shorter, making it more suitable for petite women.
Wide cropped length blazers are your ticket to looking effortlessly chic and well-proportioned as their cropped nature ensures that they accentuate your waistline and create an elongating effect on your legs. They're not as long as traditional blazers, so they don't overwhelm your frame.
Moreover, wide cropped length blazers provide a visual break in your outfit, creating a clear distinction between your top and bottom. This separation also adds structure and prevents the outfit from allowing you to drown in fabric, which can sometimes happen with longer, oversized blazers.
This style choice ensures that the volume of the blazer is evenly distributed, and the shorter length creates an extremely flattering look. Thus, while embracing the oversized trend, remember to be selective with the type of your blazer to maintain a well-proportioned and chic appearance.
Go for Ruched Sleeves
One of the challenges faced by petite women, especially when dealing with oversized pieces, is finding sleeves that aren't excessively long.
The sleeves on our blazers can either make or break an oversized outfit for us petite women. Although it is still quite effective to simply roll up the sleeves of our blazers, I have here an even more clever solution: blazers with ruched sleeves.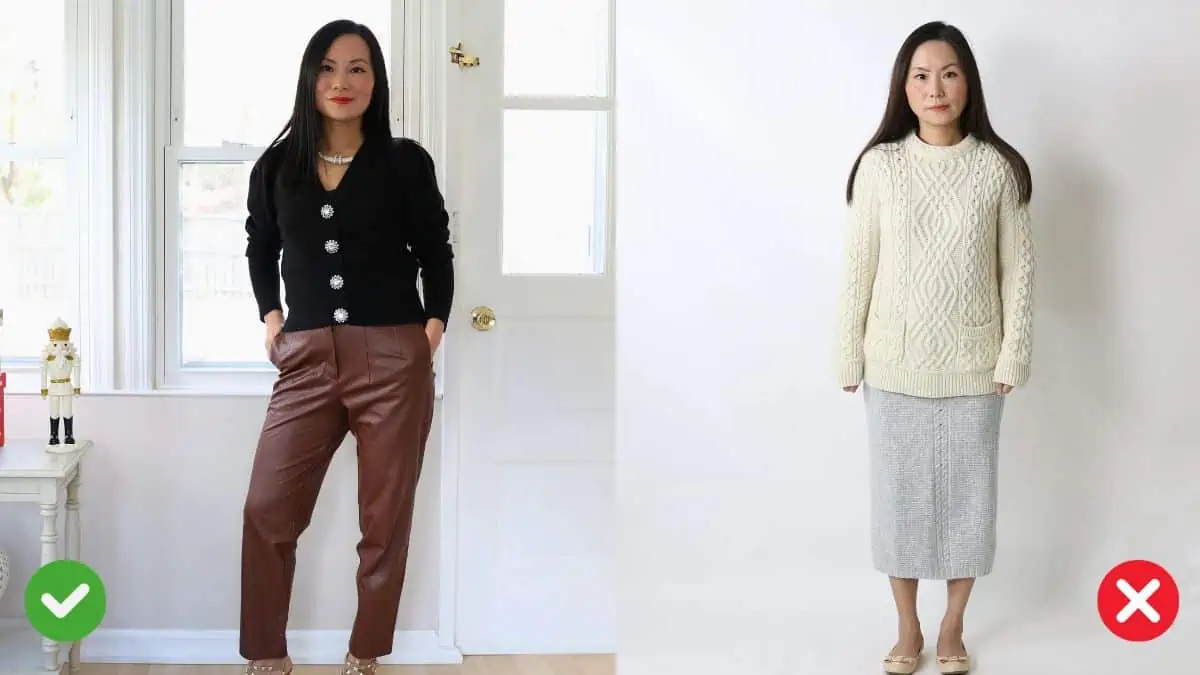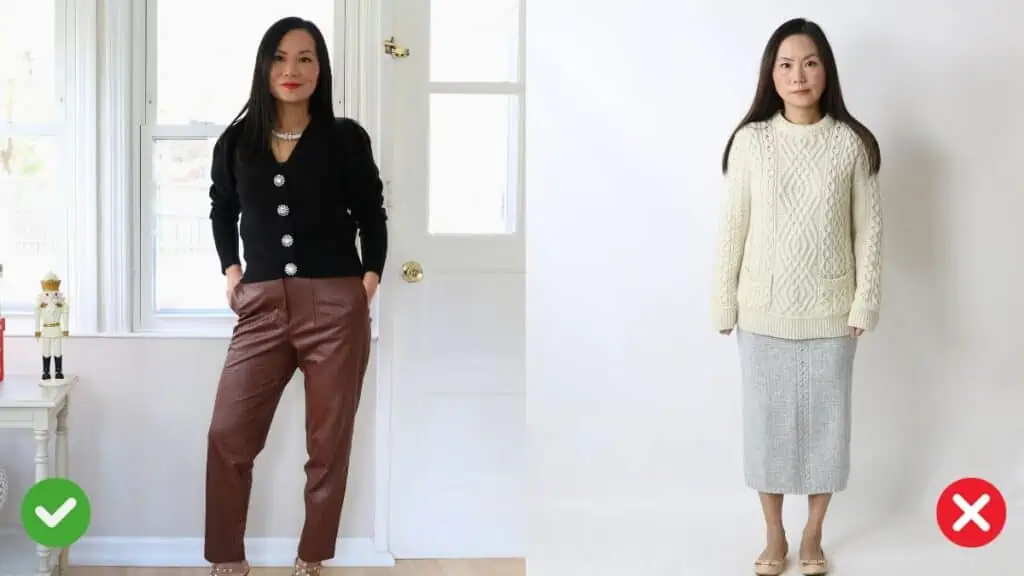 Ruched sleeves are heaven-sent for shorter individuals as they ensure that the sleeves aren't overwhelmingly long. Gone are the days of constantly rolling up your sleeves to achieve the right fit!
Aside from that, ruched sleeves are a petite woman's best friend when dealing with longer outerwear as they prevent your arms from disappearing beneath an oversized jacket. It's remarkable how such a simple detail can make a world of difference for shorter individuals!
Not only do ruched sleeves ensure that your outerwear fits just right but they also showcase your wrists, creating a more feminine and elongated appearance.
Avoid Oversized Tops and Oversized Bottoms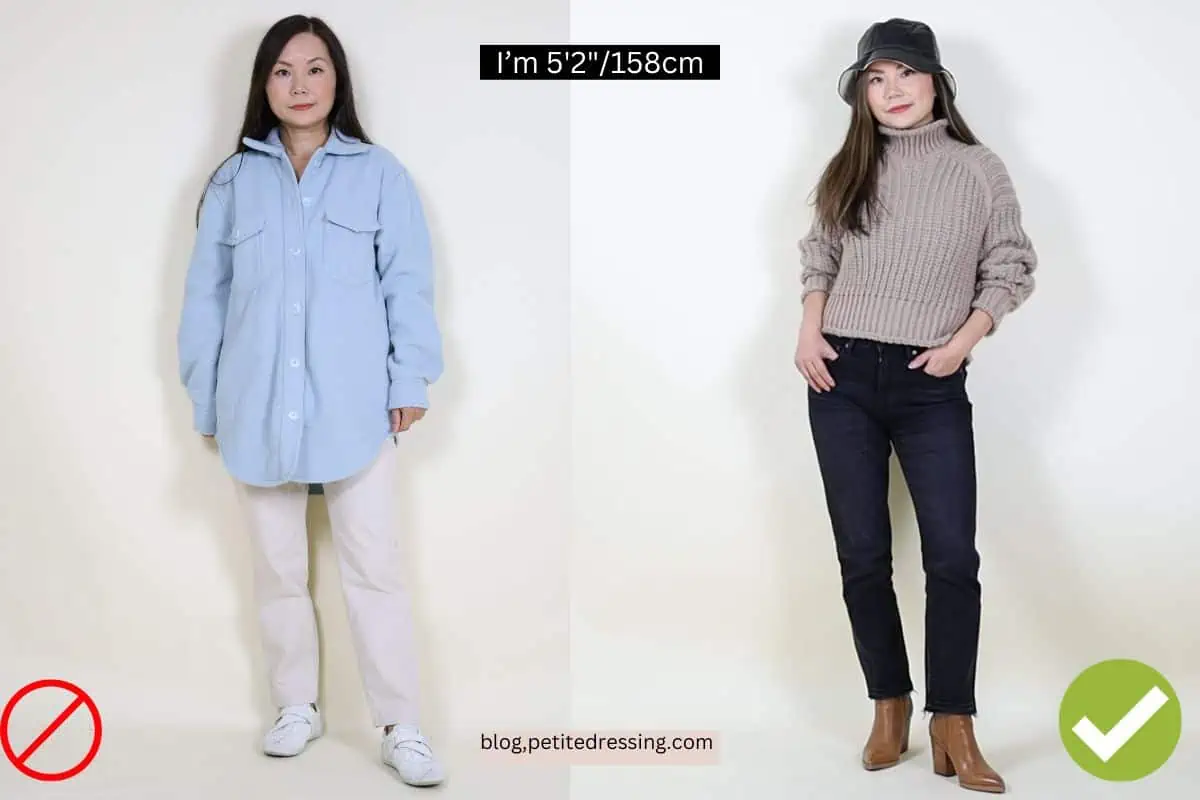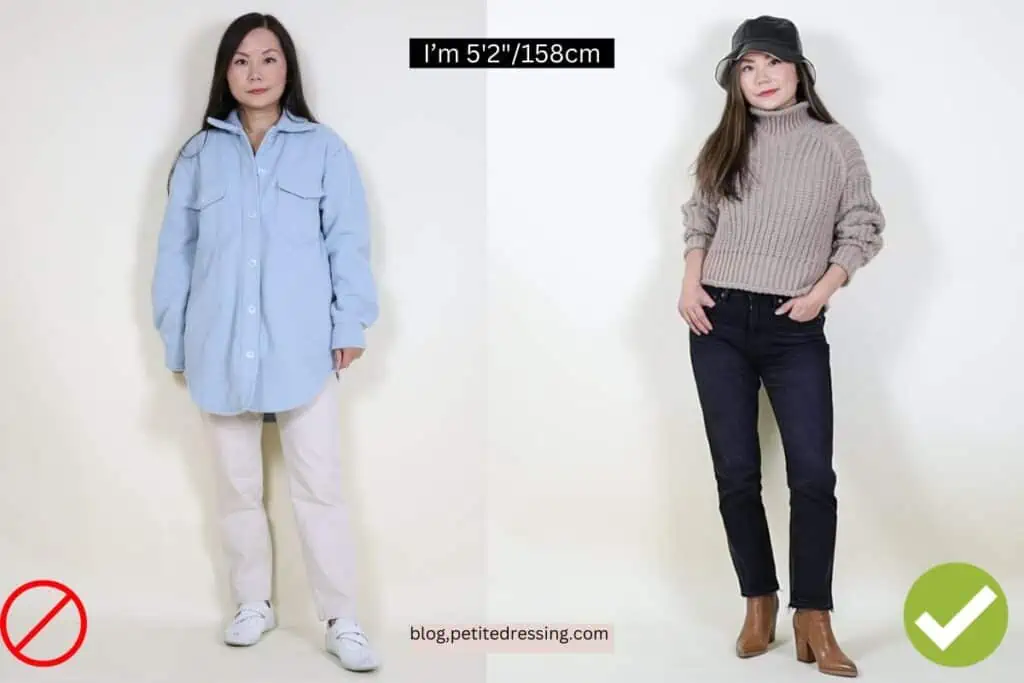 One common mistake I see many people, including myself, make is wearing oversized tops with oversized bottoms. This can result in a disproportionate and bulky appearance.
The combination of oversized tops with oversized bottoms is a no-no. While the oversized trend is all the rage, it's crucial to remember that too much of a good thing can sometimes be, well, too much, specifically for petite ladies.
Don't get me wrong; I adore oversized pieces because they're comfy, stylish, and make a statement. But when both your top and bottom are oversized, it can create an outfit that lacks balance.
Imagine you're rocking a loose-fitting, chunky knit sweater with a pair of baggy, wide-leg trousers. On their own, both pieces are fantastic, but when combined, you risk looking like you've been swallowed by your clothes.
The oversized top and bottom can make you appear smaller and shorter than you are, and we don't want that.
Avoid Skinny Bottoms
A common fashion faux pas I've seen many petite women make is wearing oversized tops with skinny bottoms. This typical yet unsightly combination can create an uneven and unflattering silhouette.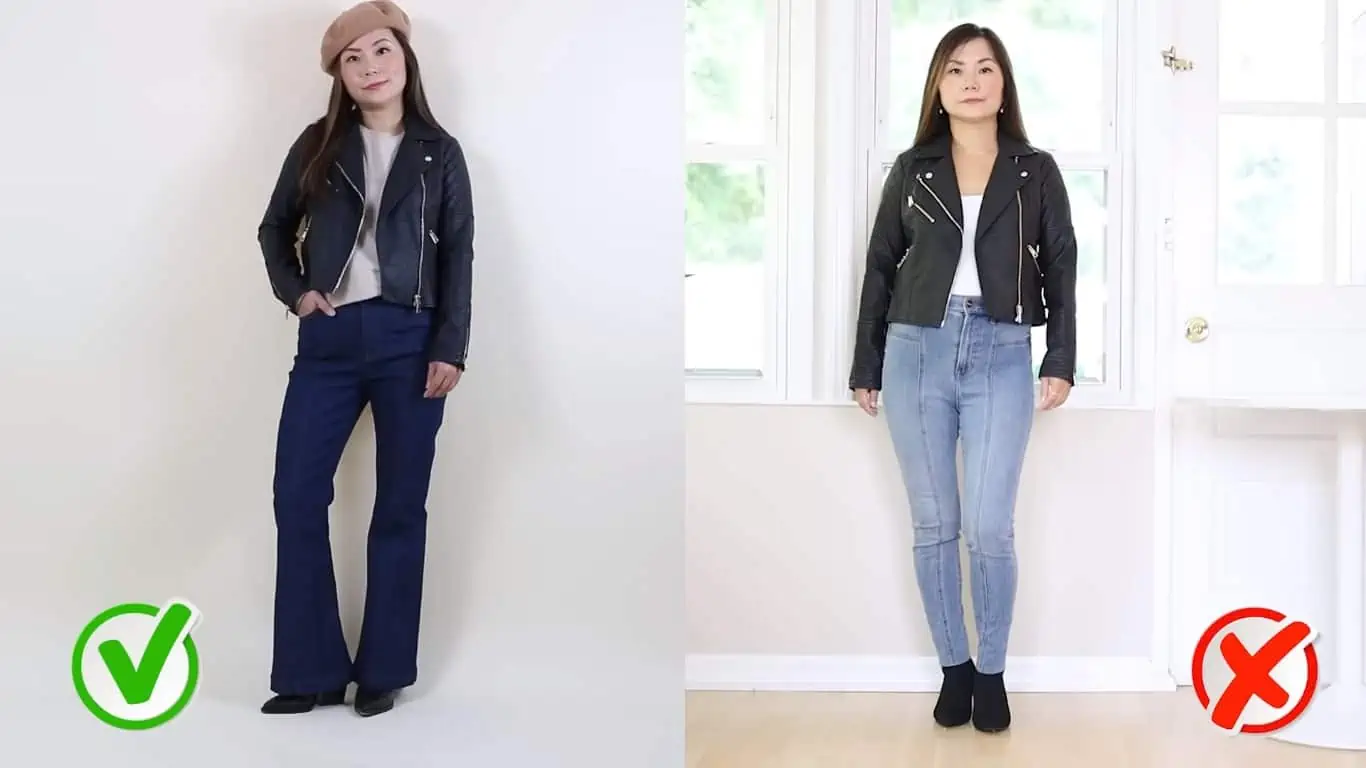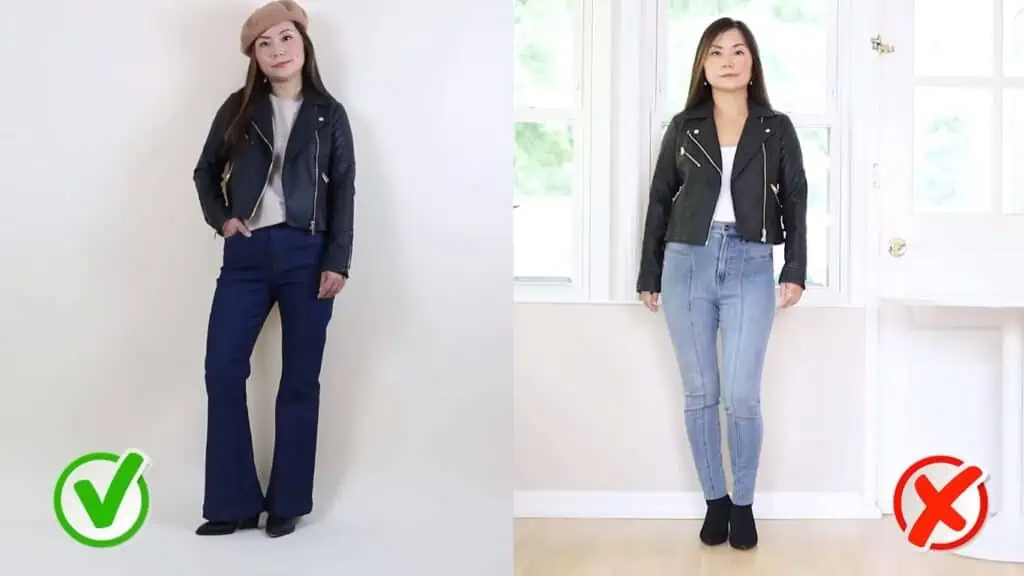 While it's crucial to maintain balance in your outfit, you should avoid going to the other extreme. Even though oversized tops pair beautifully with more fitted or tailored bottoms, skinny bottoms like leggings or skinny jeans can create a stark contrast with oversized tops, making your outfit appear disjointed.
Additionally, this can visually cut your body in half, making you look shorter than you are. So, when embracing oversized fashion, aim for a harmonious look by choosing perfectly tailored bottoms to complement your oversized tops.