If you are short and curvy, it can be a challenge to find the right pants for your shape. Since I'm 5'2″ myself, I understand how hard it is for anyone petite to find the perfect pants, which is the reason I launched my own petite clothing line in 2017.
The key is to choose the pants that elongate your legs and make you look taller and leaner. Based on the feedback from thousands of my customers, I've put together this detailed guide to help you.
Beside choosing the right styles I listed below, you should also pair them with the right shoes for petites to complement the look!
Styling Goal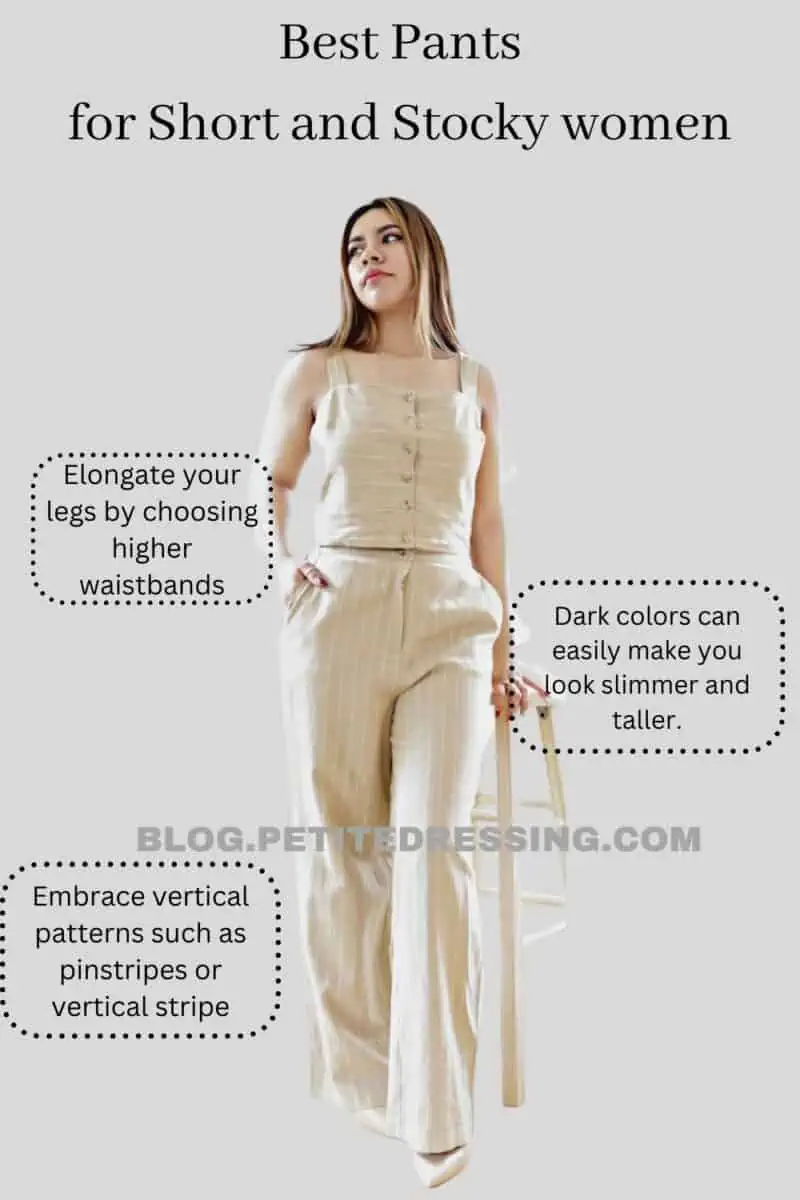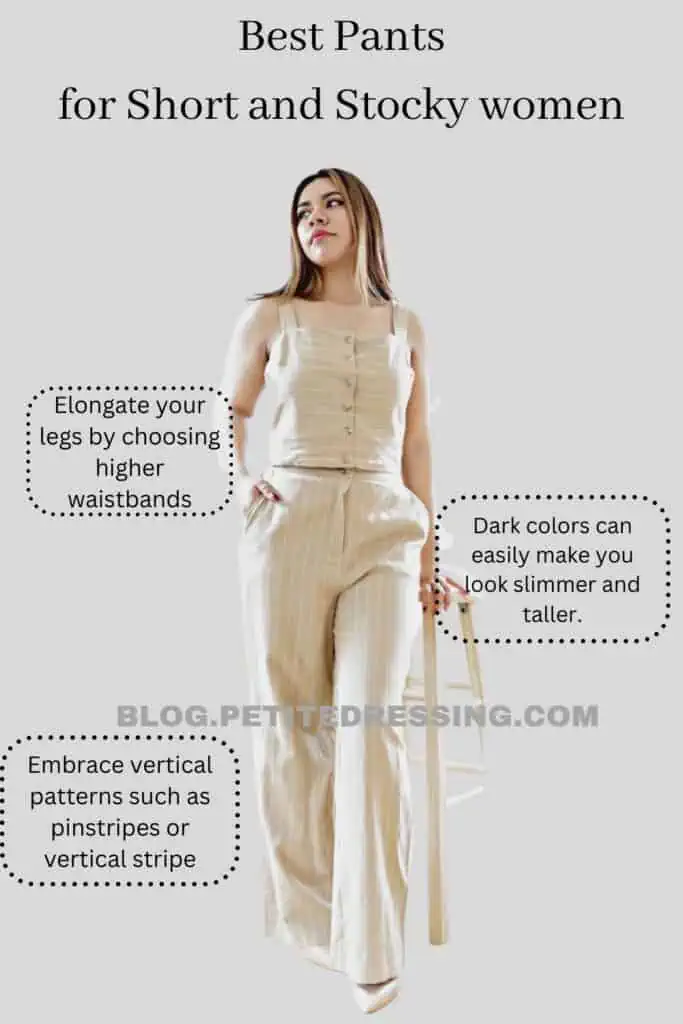 Elongate your legs by choosing higher waistbands. High-waisted pants can create the illusion of longer legs and a more elongated silhouette and they help define the waist and balance the proportions of a stocky figure.
Dark colors can easily make you look slimmer and taller. Dark-colored pants, such as black, navy, or deep charcoal, have a slimming effect and help create a more streamlined look as they can visually minimize the lower body and create a more balanced appearance.
Embrace vertical patterns such as pinstripes or vertical stripes, as these can elongate the body and create the illusion of height. The vertical lines draw the eye upward, creating a visually taller frame.
Consider different fabric options to find the right balance of structure and comfort. Mid-weight fabrics with a bit of stretch can provide a flattering fit without being too restrictive.
Now that we have briefly discussed our styling goals when it comes to choosing the right pair of pants, let's dive into the specific styles and structures to suit your short and stocky body shape.
Structured High-Waisted Pants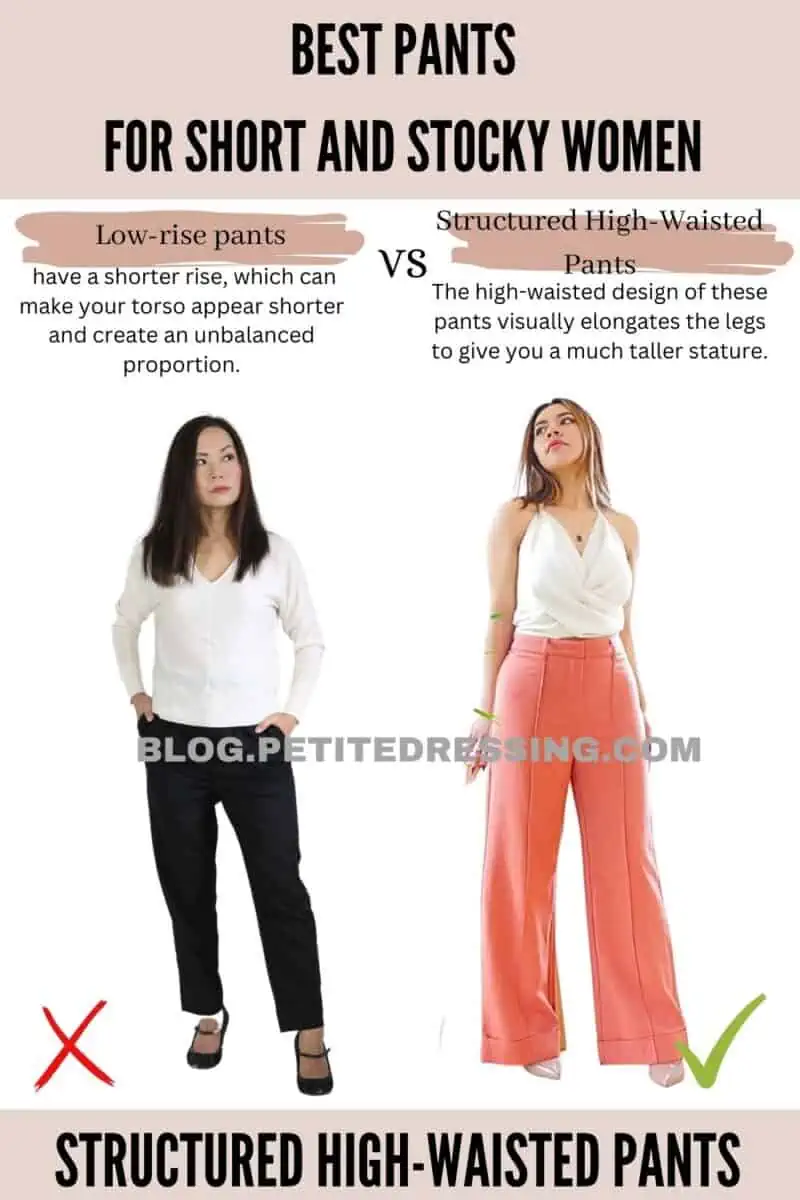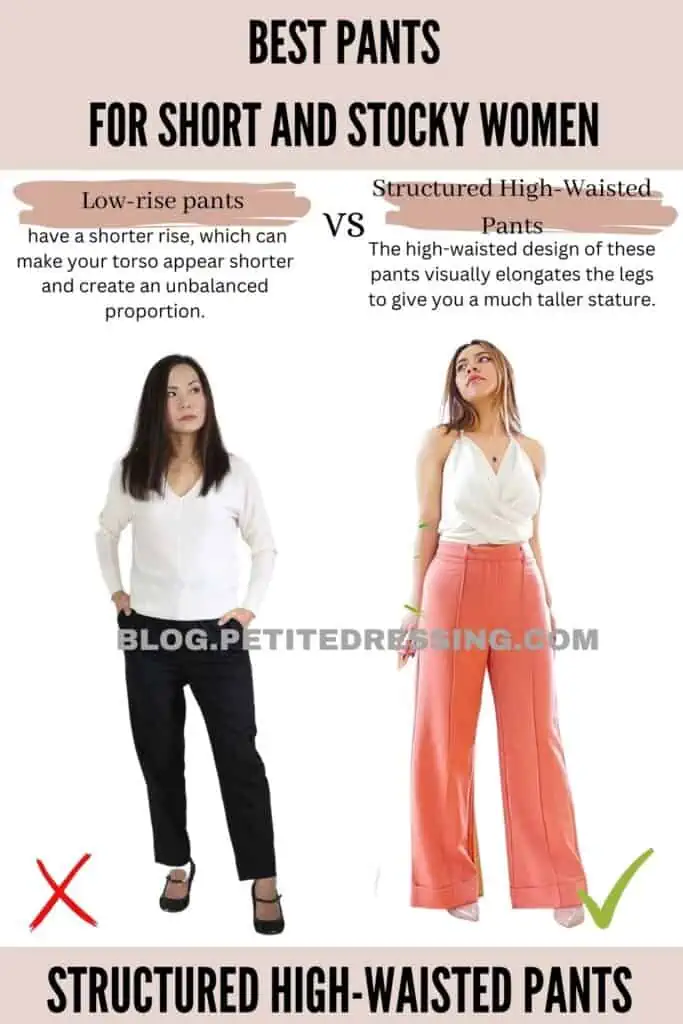 Structured high-waisted pants are a fantastic choice for short and stocky body shapes because the high-waisted design of these pants visually elongates the legs to give you a much taller stature. Raising the waistline shifts the focus upward and makes the legs appear longer, helping to balance the proportions of a shorter height.
High-waisted pants accentuate the waistline, creating a defined and cinched appearance. This helps to create an hourglass-like silhouette and adds a sense of curves and femininity to the overall look.
Structured high-waisted pants have a tailored and refined aesthetic. The clean lines and fitted silhouette create a streamlined and polished look, helping to create a more put-together appearance and this can contribute to an overall sense of sophistication and elegance.
Stretchy Form-fitting Pants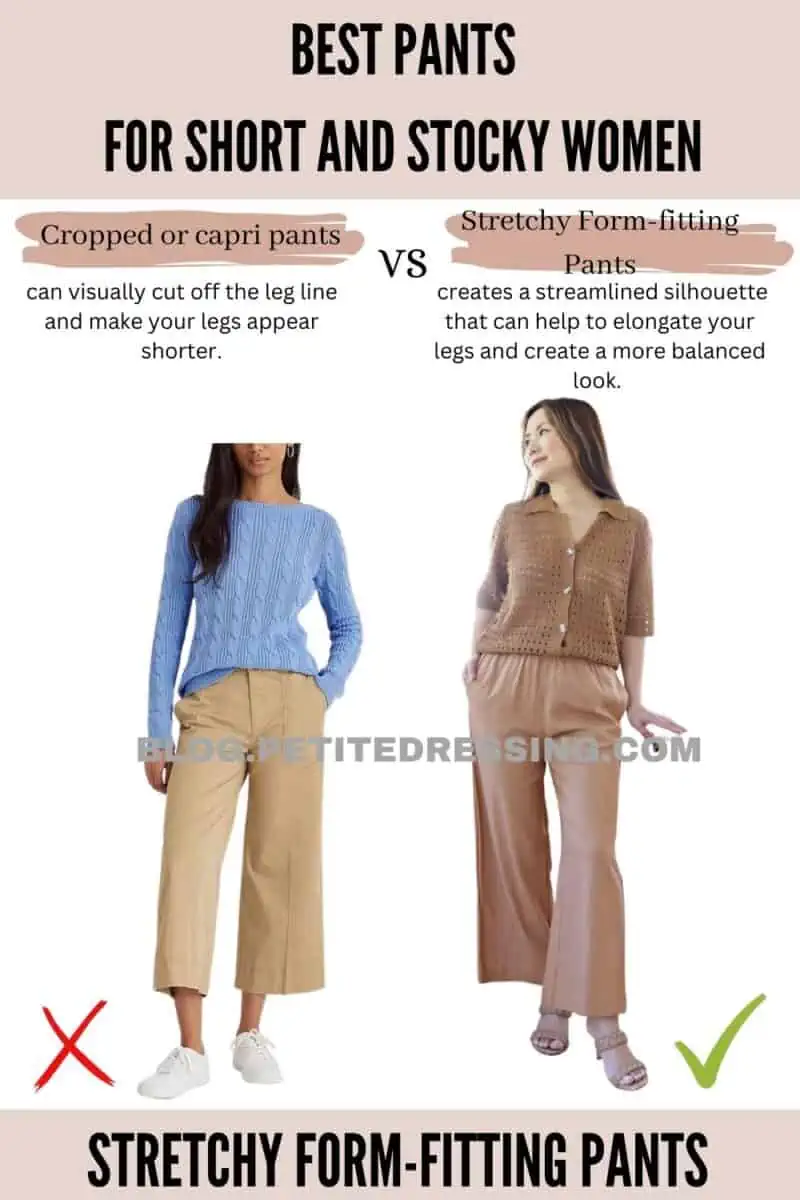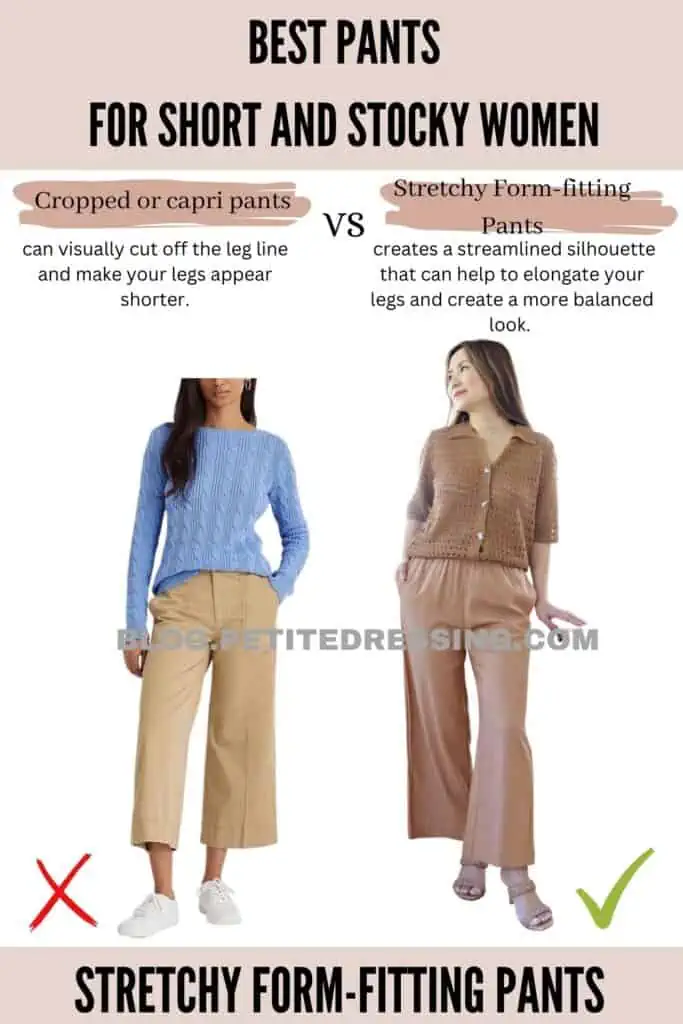 Form-fitting pants hug your curves and highlight your body's natural contours without looking too clingy and overwhelming. They create a streamlined silhouette that can help to elongate your legs and create a more balanced look.
By accentuating your figure, these pants styles can enhance your overall shape and highlight your body's best features. They can also create a sense of proportion in your overall look by providing a sleek base for your outfits, allowing other garments and accessories to stand out.
Additionally, the stretchy nature of form-fitting pants allows them to mold to your body shape. The fabric's elasticity ensures a comfortable yet sleek fit, allowing you to move with ease while still maintaining a polished appearance.
Tailored Suit Trousers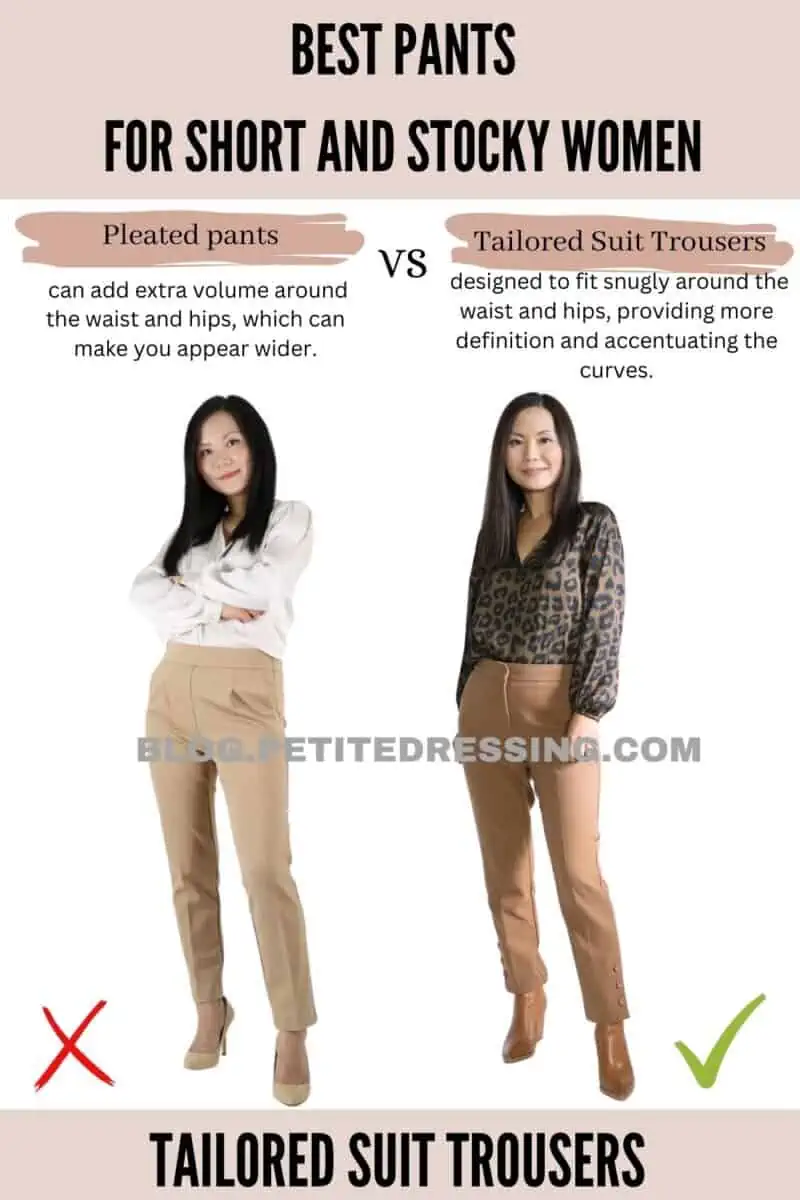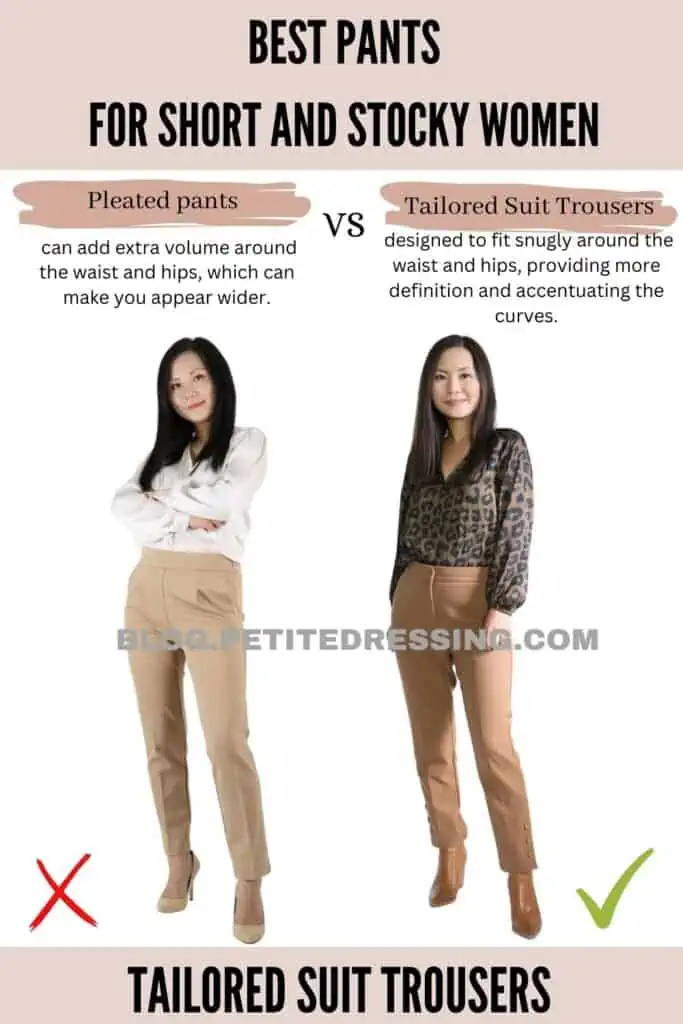 Tailored suit trousers are a type of pants that are specifically designed to have a more formal and structured look, often associated with business or professional attire. These trousers are carefully crafted with attention to detail, which makes them highly flattering for women who are on the heavier and shorter side.
The tailored nature of these trousers helps create a balanced and proportionate look which is often lacking for petite and stocky figures. They are designed to fit snugly around the waist and hips, providing more definition and accentuating the curves.
They also often have a higher waistline which helps you define the waist and create a more feminine shape. This higher placement of the waist visually elongates the torso and draws attention away from the midsection, resulting in a more streamlined and flattering appearance.
Full-Length Wide-Leg Pants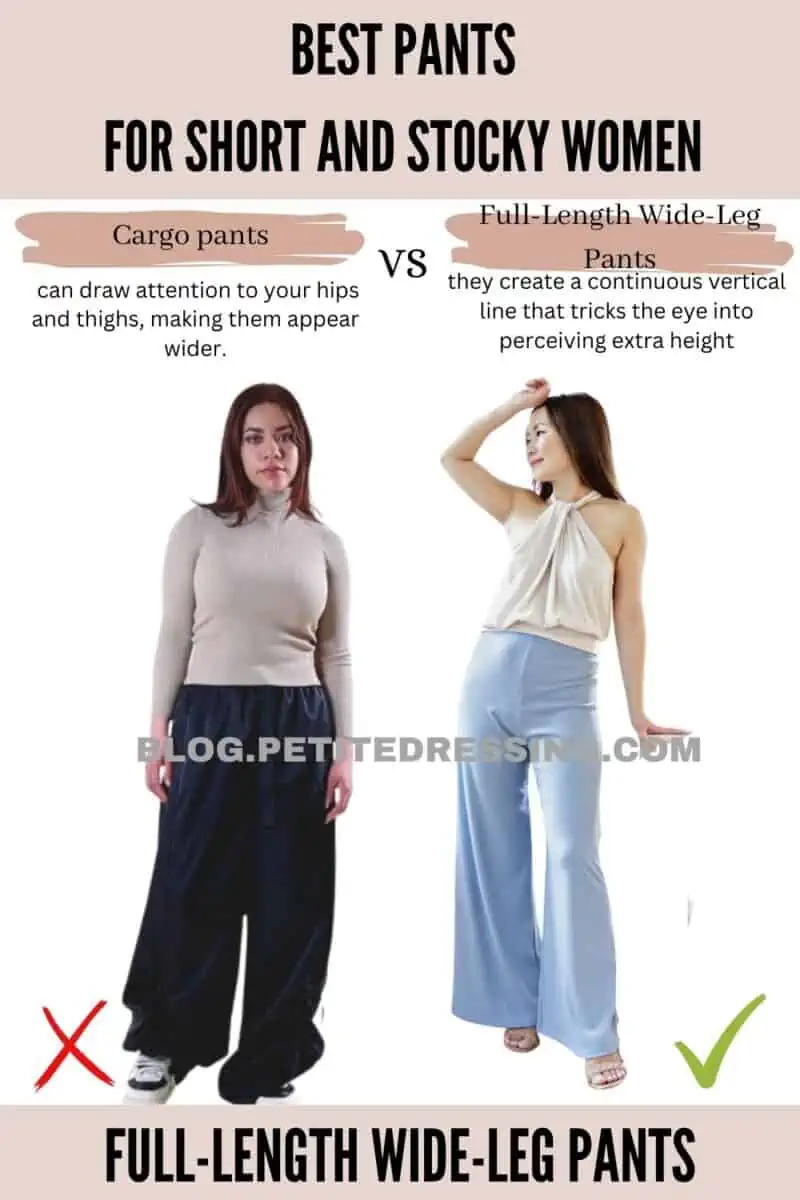 As someone who has a short and stocky body shape, wide-leg pants can be an instant style solution. The relaxed and loose fit of this style works wonders in minimizing the stubbiness of your legs and the wide leg provides extra fabric that gracefully cascades down, disguising any concerns and giving the appearance of a longer leg line. 
With the added benefit of comfort and freedom of movement, wide-leg pants become a stylish solution that flatters your body shape. These pants are very efficient in visually elongating your frame to create a beautifully balanced silhouette.
By covering the entire length of your legs, from waist to ankle, they create a continuous vertical line that tricks the eye into perceiving extra height. It's like an optical illusion that transforms your appearance and makes you appear taller and more statuesque.
Cotton Twill Straight-Leg Pants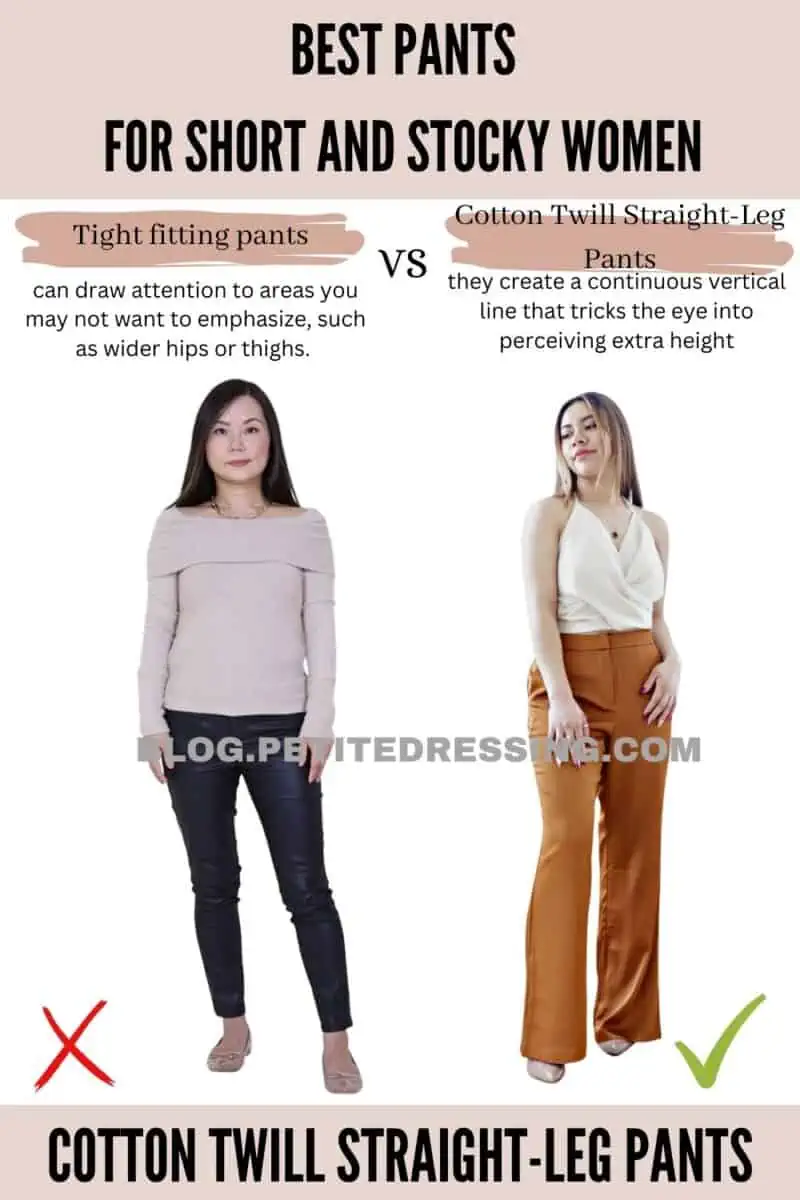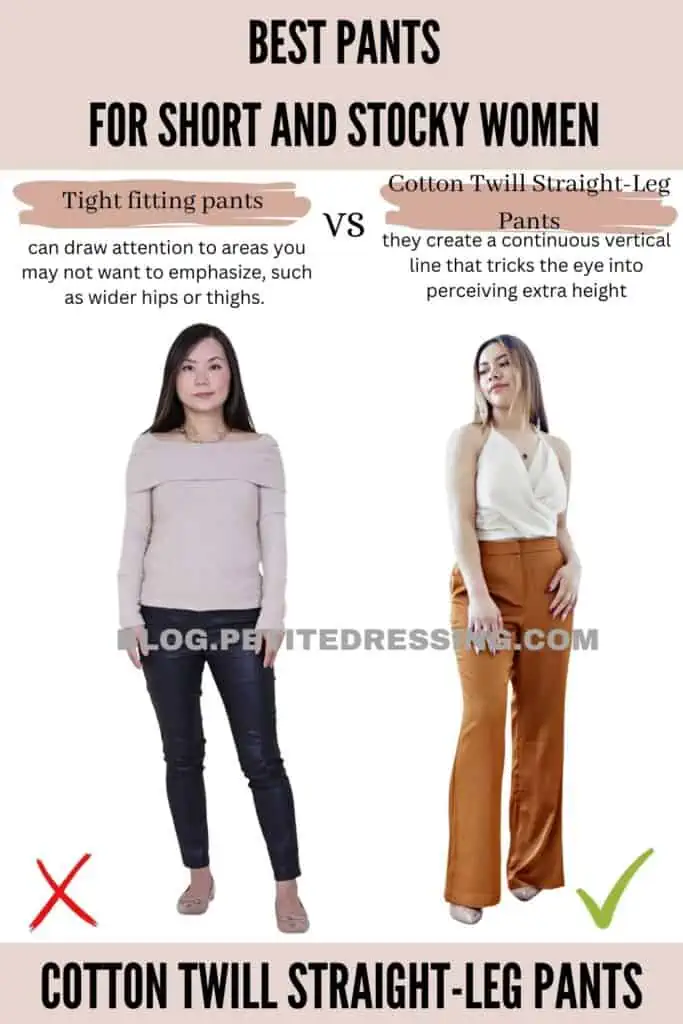 Wearing straight-leg pants can be a good way to create a balanced and proportionate look for short and stocky women because the straight cut from the hips to the ankles helps to elongate the legs for a more streamlined silhouette. This balanced proportion can visually lengthen the body and create a more flattering overall appearance.
In addition, cotton twill fabric has a structured and slightly thicker texture compared to other fabrics and so this characteristic helps smooth and contour the body, providing a slimming effect. The fabric's density holds its shape well, offering support and creating a streamlined look. The straight leg of the pants, combined with the cotton twill fabric, can help to create a more slender and elongated appearance.
And of course, straight-leg pants will always have that timeless and classic appeal. They are a wardrobe staple that transcends trends and can be worn year-round as the simplicity and versatility of this style make it a reliable choice for creating effortless and sophisticated outfits.
Flowy Pants with Vertical Details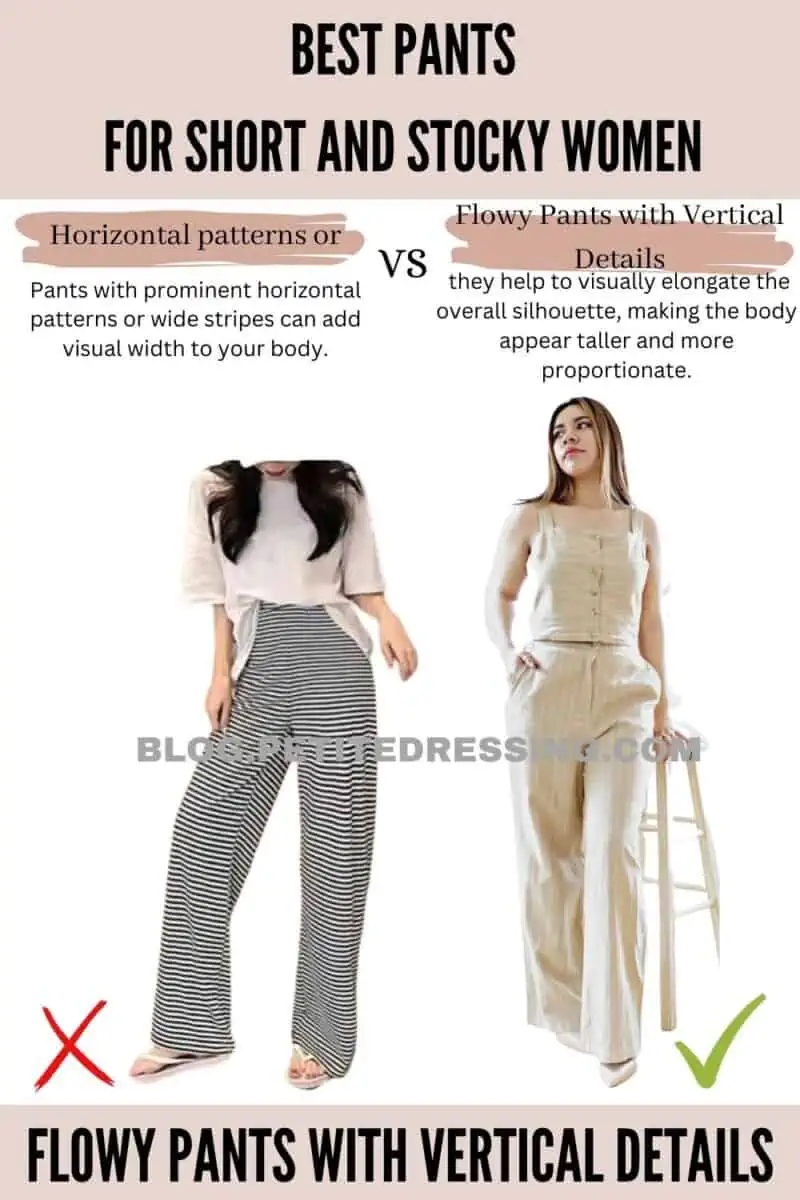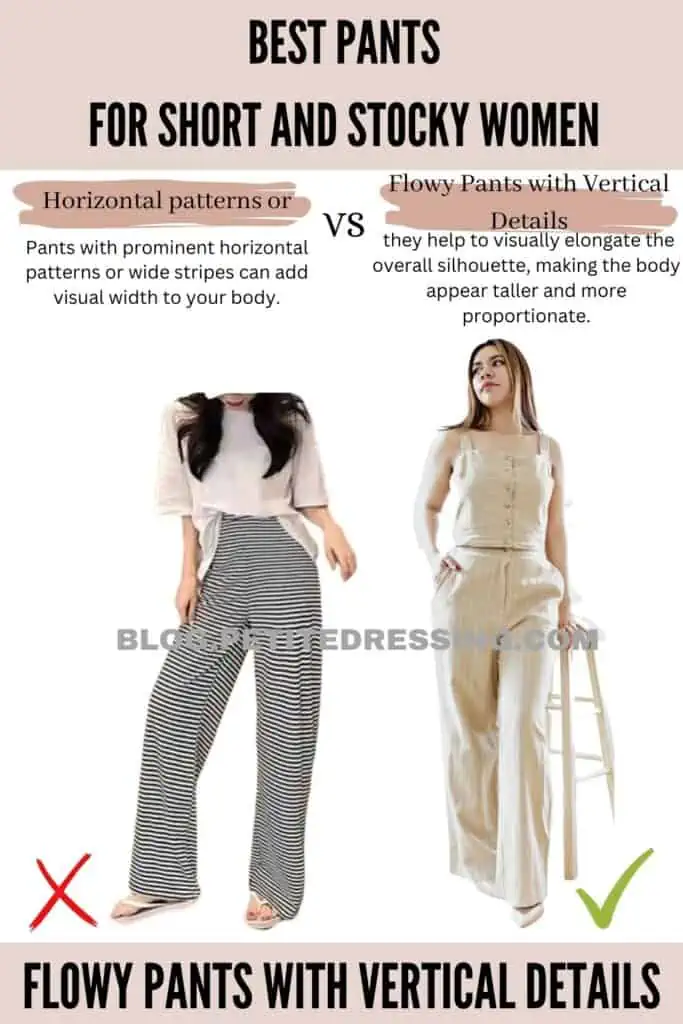 We all know that vertical lines draw the eye up and down, which is an efficient way to give the illusion of added height and length to your legs. As a result, they help to visually elongate the overall silhouette, making the body appear taller and more proportionate.
Flowy pants with vertical details also provide a streamlined silhouette as the loose and flowing nature of the pants, combined with the vertical design elements, helps create a continuous vertical line from the waist down to the ankles. This uninterrupted line gives a sense of fluidity and elongation, contributing to a more balanced and visually pleasing appearance.
Additionally, they are excellent at camouflaging areas of concern, such as wider hips or a fuller midsection. The flowing fabric gently skims over the curves without clinging, providing a flattering and forgiving fit.
Dark-colored Bootcut Pants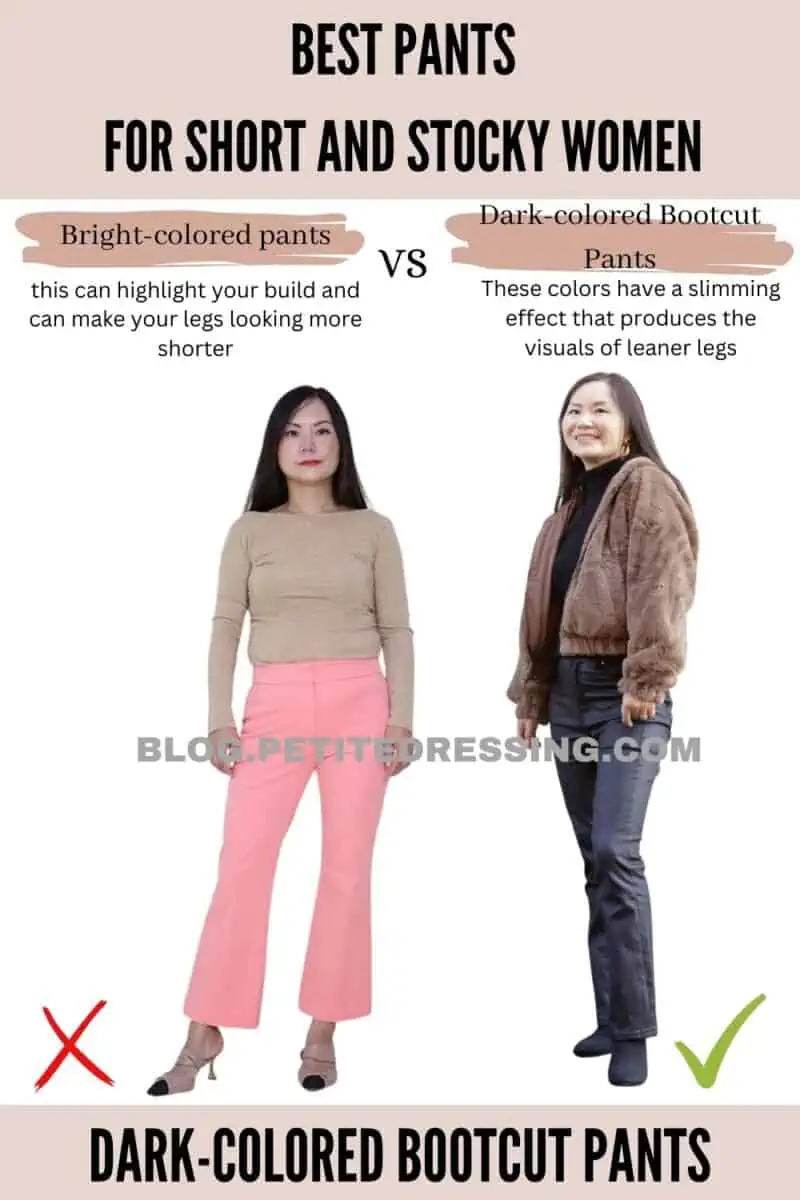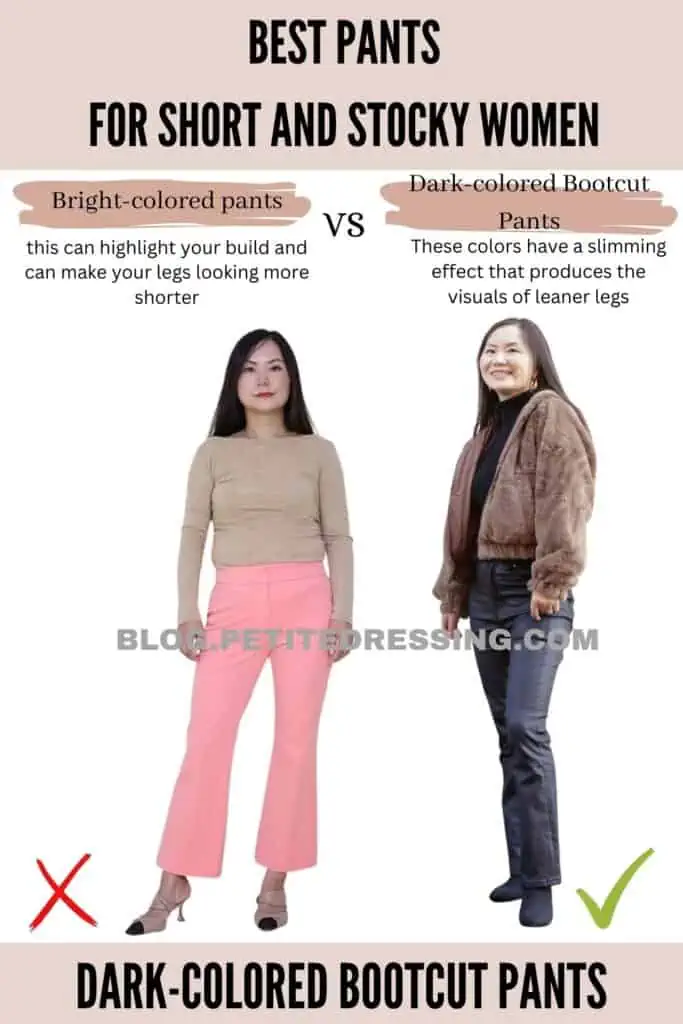 We all know by now that dark shades create an imposing illusion of height. These colors have a slimming effect that produces the visuals of leaner legs especially when gussied up in bootcut trousers! Who knew dark shades could do such marvelous wonders to make your legs appear longer?
Bootcut jeans are the perfect way to accentuate those long legs of yours: they hug your thighs, gracefully widen out at the knees and flow into a gentle flare down at the ankles. With their signature cut showcasing all your curves turning heads with every step you'll look longer and leaner in no time!
The dark color further enhances the streamlined effect by providing a continuous and unbroken line from the waist down to the floor, creating a sleek and elongated silhouette. Lastly, the versatility of these pants allows for effortless and stylish dressing, making them a practical and go-to choice for any occasion.
Ankle-length Crop Pants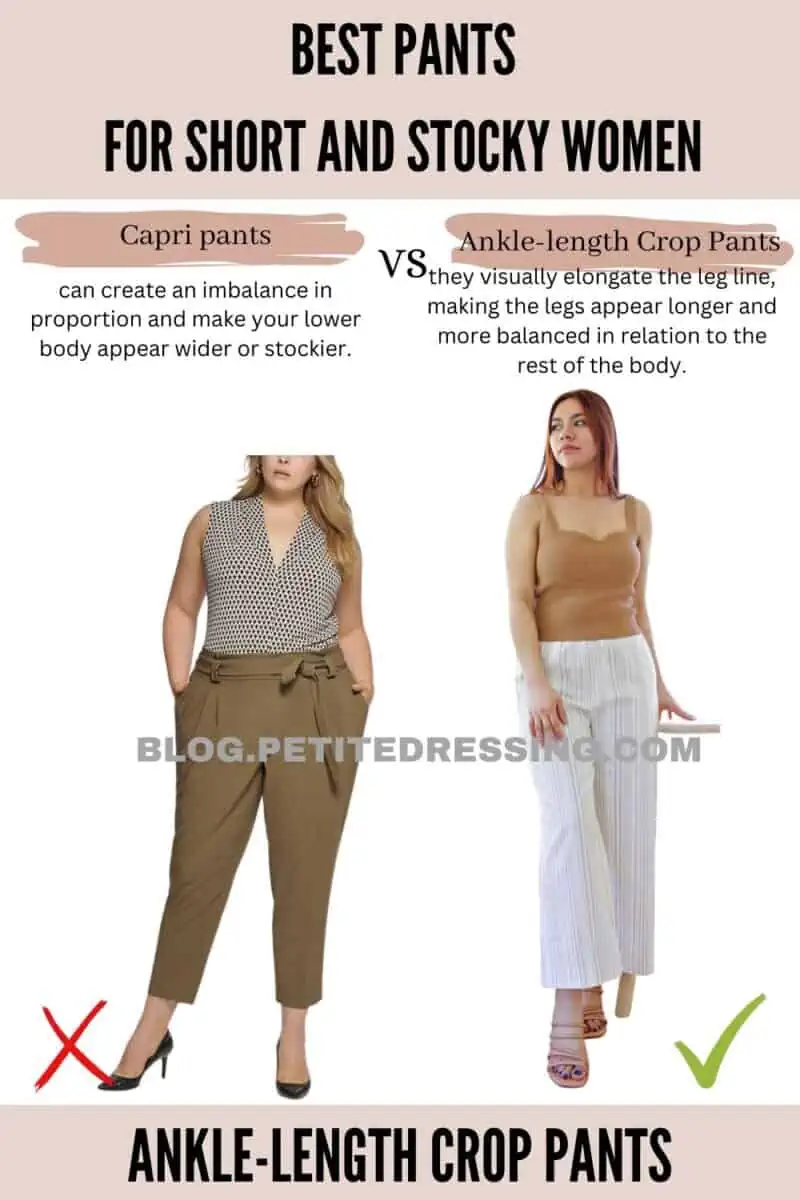 Ankle-length crop pants feature a hem that ends just above or at the ankle. They aren't too short nor too long so it's just the perfect length if you're a bit short in height.
The cropped length of these pants helps to create a sense of proportion for shorter legs. By exposing a portion of the ankle, they visually elongate the leg line, making the legs appear longer and more balanced in relation to the rest of the body.
The cropped length draws more emphasis to the ankles, which are often a slimmer part of the leg. By highlighting this area, ankle-length crop pants create a focal point that diverts attention away from the apparent stockiness in the upper leg so the contrast between the narrower ankles and the slightly wider upper leg can create the illusion of a more elongated and slender leg shape.
The Key Takeaway
Remember, these are general guidelines, and personal preference plays an essential role in finding the perfect pants for your body shape. A pair of pants may not always be the easiest to pull off but I hope by specifying which styles work best, you'll be able to find the best pairs to suit your figure.