Finding the best winter coats for petites is not an easy task. The number one reason is coats is a bulky item, which can easily overwhelm a petite woman. Instead of wearing the coat, the wrong style can make a petite girl look like she is being worn by the coat.
Secondly, fit is critical in dressing petite women. Finding a coat that fits a petite woman perfectly on the shoulders, sleeves and body could be a real challenge, even with brands who carry petite sizes.
Understanding your unique body type definitely helps to find the best petite winter coats for you. Before we get in to each petite body type, let's first understand the goal of dressing a petite girl. In general, that goal is to create a long and unbroken line through what you wear, and create the illusion of height.
I have summarized my tips in this video, but I highly recommend you also read the full article for all the details!
Therefore, let's first look at three winter coat styles for petites that meet our criteria, thus are generally flattering to petite women regardless their body types. I also suggest you read my post on how to wear a denim jacket with everything.
1.Well Fitted H Shape Wool Coat at Knee Length
This is a wardrobe classic staple that every petite girl should have. The clean cut silhouette creates the lean shape and vertical line that flatters every short girl. Get one made of wool or wool blend, which will look premium quality and speak for your fine taste. Even if it might cost more than those made of polyester, it is the investment worthy piece that will stay in your closet for years to come. Knee length is the safest for petite women, but of course you can go longer or shorter.
I was wearing a H shape wool coat from Banana Republic.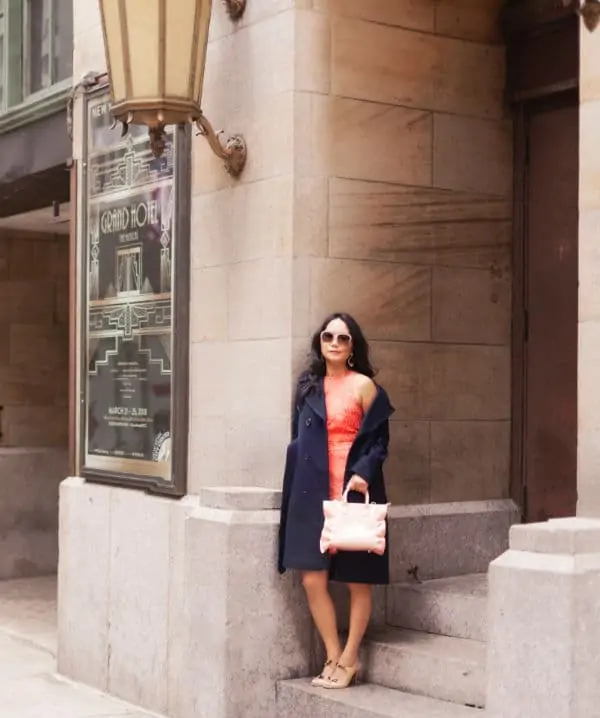 Wrap coat
From my observation, wrap coats are flattering to almost any body type. Since you can adjust the belt tight or loose, wrap coats are suitable for petite women of all sizes. They are especially flattering for petite girls who need to create defined waistline such as apple shaped petite women and rectangle shaped petite women. They are also the best coats for hourglass shaped petite girls because they accentuate the assets of slender waist as well as full bust.
Classic trench coat
Whatever your body type is and regardless of your height, you can hardly go wrong with a classic trench coat. There is a number of reasons that trench coats never go out of style. First, it is so versatile and it can be dressed up or down. I cannot think of any other coats as functional as trench coats.
It goes with anything in your closet, from sweaters and jeans to dresses and pants. You can also wear any shoes with them, heels, flats, sneakers, you name it. Second, the shape is clean and sleek, which is what exactly petite women need. Third, with the adjustable belt, they fit most body shapes quite well.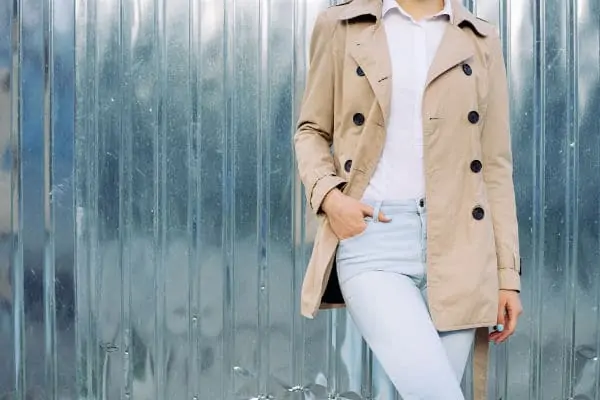 Well fitted maxi coat
Would you ever guess maxi coats can be very flattering to women under 5'4″? This is the opposite of the teaching of most stylists and petites fashion blogs, who almost always suggest short or cropped length to petite women. It is obvious that when the coat is short enough, your legs seem to be longer and that will make you look taller. However, if you are ditching long coats because of that, you are missing out big time.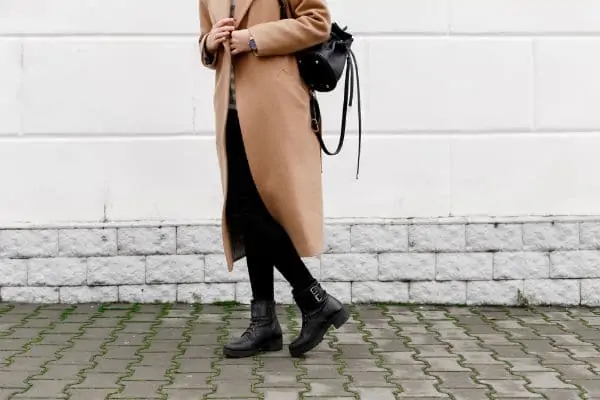 Have you seen the winter uniform of some Asian airlines? The stewardesses wear black or navy coats over their skirt suit, and the coats reach their mid-calf. From a distance, you cannot tell they are petite, because the H shape coat creates one column of color, the vertical line, which is most flattering to petite body frame.
Now, there is certain details you need to pay attention when wearing maxi coats. First, the maxi coats need to be well fitted. Second, they of course cannot be too long that they overwhelm your body frame. Last but not the least, they work best with heels at least 3 inches high. Generally, it is not recommended to wear long coats with flats or sneakers- that just does not look right and they will make you look shorter than you are.
My secret sauce of styling maxi coats without looking overwhelmed by them is to use a belt. With a belt slightly above your natural waist, not only will your proportion look better, but also it creates the illusion of waistline for girls who lacks it such as the petite apple shape or petite rectangle shape.
Best Winter Coats for Petite Pear Shape Women
Before we get into the best winter coats for petites, let's first take a look at what is a pear shape. If you have a pear shape, your body generally have the following characteristics:
Your hips are larger than your bust, and your hips are wider than your shoulders. In many cases, your hips are the widest point of your body
You have a nicely defined waist
You have an elegant neck and proportionately slim arms and shoulders
You first gain weight in your bottom and legs flowed by your tummy and upper body
You have round, sloping shoulders.
Your buttocks and thighs are full and round.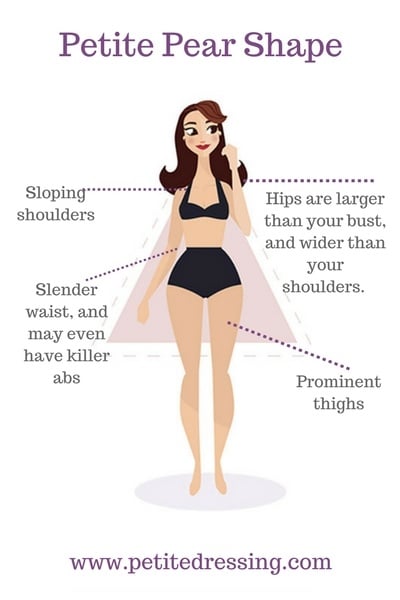 As far as pear shape is concerned, the most flattering winter coats for petites are the A shape coats, also known as the fit and flare coats.
Since pear shape women are wider in the hip area, the A shape coats flow very naturally with your curve, thus making it easy for you to move. Since pear shape women have amazingly slender waist, fit and flare coats with a belt tied at the waist place an emphasis on your slim waist and draw most attention to your best asset. Are you self conscious about the prominent thigh area? No problem, A shape coats flare out like a skirt and camouflage your thighs to perfection.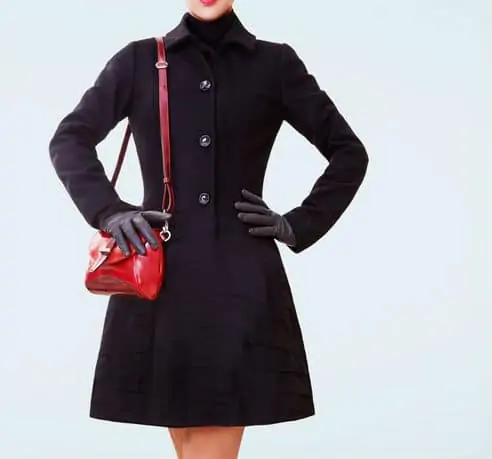 The best way to style fit and flare coats for petite women is to wear a fitted sweater with jeggings or skinny jeans and create a polished look. Pair them with knee high boots or over-the-knee boots will add extra glamorous flare to this look.
Best Winter Coats for Hourglass Shape Petite Women
As suggested by its name, hourglass figure looks just like an hourglass. If you are a petite hourglass figure, you generally have the following body treats:
Your hips and shoulders are well balanced, i.e. they are roughly about the same width. That is, your shoulder and hip measurements are within 5 % of each other. Many petite women with hourglass figure have round and sloping shoulders that align nicely with the hips.
You have full chests and hips. Typical hourglass figure means you are quite well-endowed, which is one of your best assets.
You have a well-defined waist line that is significantly smaller than your shoulders or hips. The rule of thumb here is 75%. That is, your waist is at least 25% smaller than your shoulder, hip and bust measurements. Normally, when translated into inches, that means your waist is 8 to 12 inches (or 25 to 30cm) smaller than the hip or bust measurement.
You have a rounded bottom.
You have a beautiful front and side profile. And, from top to bottom, your figure is in harmony and balance.
You may have full thighs, but they are narrower than your high hips. You gain weight above hips and through waist.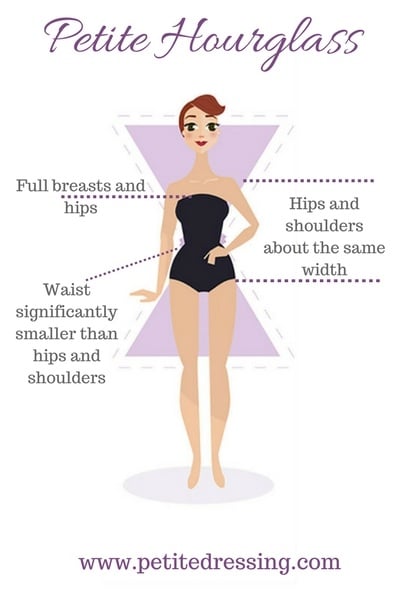 In my Petite Dressing boutique, I often get emails from hourglass shaped customers who have told me how difficult it is to find styles that actually fit their bust area (normally hourglass are very well endowed) and small waist at the same time. So grass is always greener on the other side-we have always heard hourglass is the ideal shape for women that everyone (men and women) loves, and I would not have known hourglass beauties have their own challenges.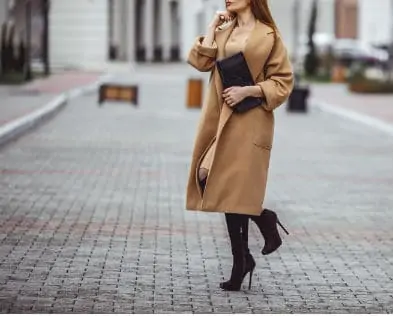 In order to accentuate your hourglass figure, the coats that clench the waist or have an adjustable belt are the best. Additionally, the open front coats will always give you plenty of space in the chest area. Like I mentioned earlier, wrap coats are universally flattering, and it works to perfection on an hourglass shaped petite woman.
Best Winter Coats for Petite Apple Shape Women
If you have an apple shape, you generally have the following body traits:






Your hips and shoulders are well balanced, i.e. they are roughly about the same width. That is, your shoulder and hip measurements are within 5 % of each other. Many petite women with apple shape have round and sloping shoulders that align nicely with the hips.
You do not have a defined waistline. Your waistline has the same width as or is wider than your shoulders and hips.
You have a full bust, waist and upper back
Your hips are round shaped and Your high hip is wider than your lower hip.
Your bust and/or midriff are larger than your hips. If you gain weight, you tend to gain weight mainly around the waist, at least in proportion to the other parts of your body.
You probably have slender lower legs and arms.
You might be short waisted
Your thighs or hips are probably the narrowest part of your body.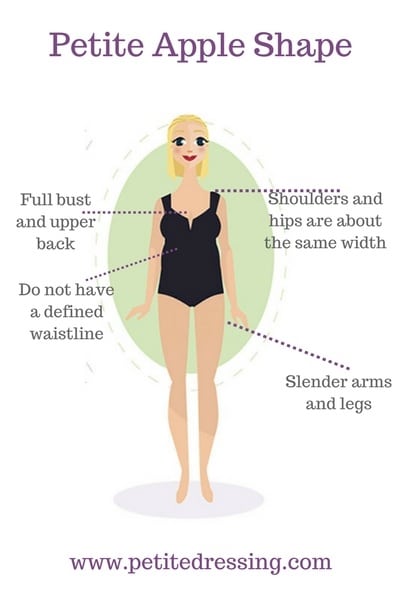 I am a slender apple shape, and I have recently read on a famous online fashion media that the best coats for apple shape is cocoon coat. I am not sure if the author herself is apple shape or not, but I can speak from my own experience that I do not find it flattering on me.
Apple shape women leave the impression of "round" overall, and the cocoon shape coats create an round/oval shape in general, which, to me, makes things worse. What is a better way to balance out the roundness of apple shape? I have found H shape coats work well. H shape creates vertical lines which changes the overall round shape of an apple, and it draws less attention to the midriff area, where most of the weight is distributed.
Best Winter Coats for Petite Rectangle Shaped Women
If you have a rectangle shape, you generally have the following body traits:






If you are petite rectangle shape, you have a very athletic frame.
Your hips, waistline and shoulders are pretty close in terms of width.
You have little to no waist definition.
You may feel like you look straight up and down.
You gain weight evenly, but may gain more weight through the upper back or neck.
On the other hand, you have small bust and your buttocks tend to be flat.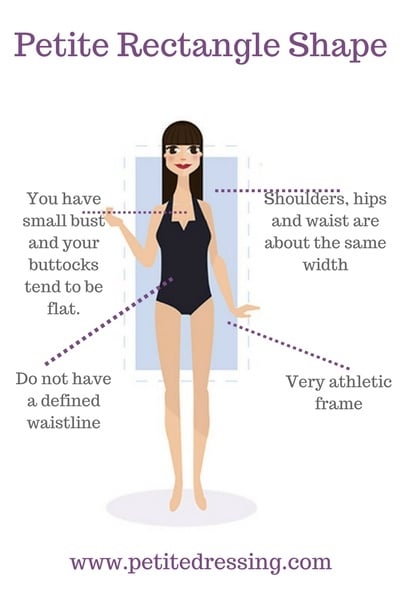 H shape coats go with the natural shape of your body, so they typically fit you quite well. On the other hand, because of your straight up and down "boyish" figure, it will be flattering to wear coats with details such as glossy buttons.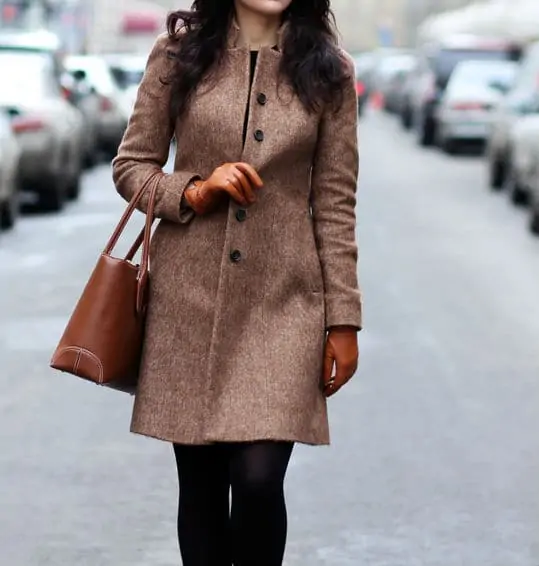 Fit and flare coat can also create the illusion of curves for you. Because they flare out at the bottom, fit and flare coats give the illusion of wider butt.
Best Winter Coats for Petite Inverted Triangle Shape Women
]If you have inverted triangle shape, most likely your body has some of these characteristics.
You have prominent and broad straight shoulders, which are wider than your waistline or your hips.
Like the rectangle shape, you are likely to have athletic build
You have ample bust and a wide back. Your chest may be larger and your back may be fuller than petite rectangles.
You have a proportionally larger upper body
You tend to have rather flat buttocks. Your hips are slim and your bottom may have a tendency towards the flat side
Your waist is subtle and you have a tendency to gain weight first in your belly and upper body, especially your back, when you gain weight.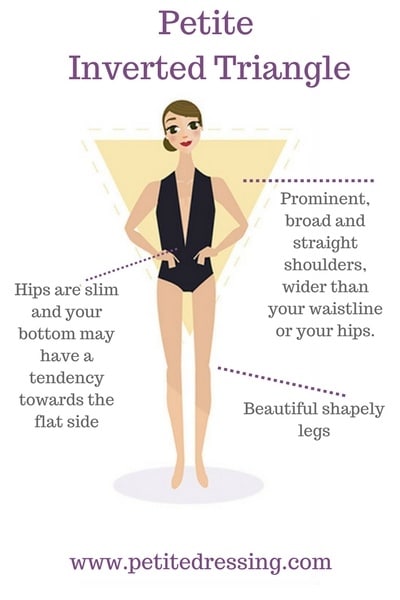 A lot of super models have inverted triangle shape, which normally means this is a very easy to dress body type. However, if you are petite (under 5'4″), that does throw a different challenge in the mix. The coats that work with your inverted triangle body type should draw attention away to your broad shoulders. A well fitted long coat is able to draw eyes up and down and thus distract people from your prominent shoulders.