Having a big tummy can make it challenging in the swimsuit season. I know this from first hand experience, as I have an apple body shape, which means I always gain weight first on my belly. Even when I am thin everywhere else, I still can have a noticeable tummy in a swimsuit. I have tried numerous swimsuits over the years and this is what I found out.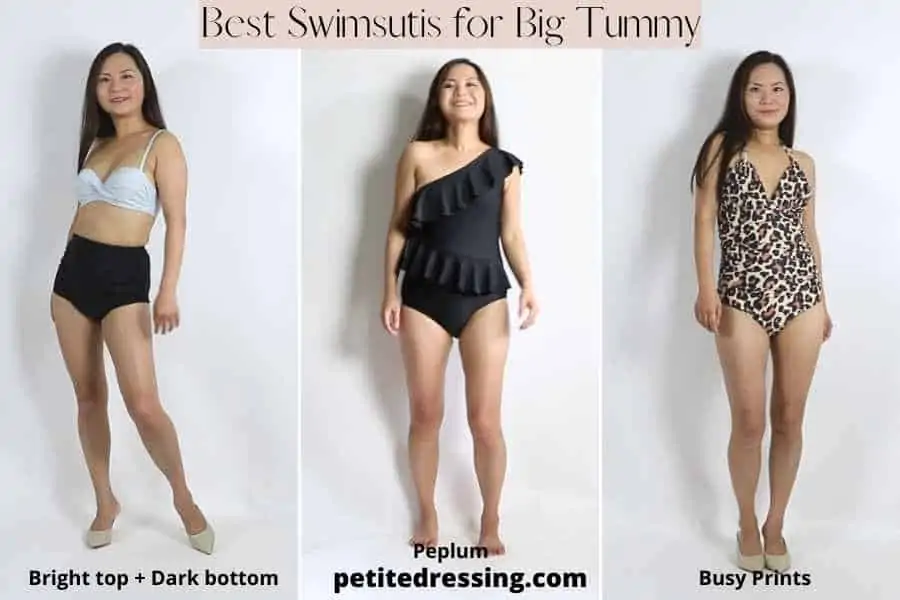 What to Look for
If you are concerned about your midsection, the key is to draw attention elsewhere and distract the eye from noticing your belly.
It is important to look for the swimsuit designs such as ruching or color blocking in order to create the illusion of a more slender waist.
Since most women with curves also have big bust, you should look for swimsuits with lower neckline or brighter color on top in order to direct the attention to your best assets.
Meanwhile, it is critical you should also avoid any swimsuits that draw more attention to your tummy.
Every year when swimsuit season comes around, these are my 8 favorite swimsuit styles that always work the best if you have a big tummy.
Ruched one piece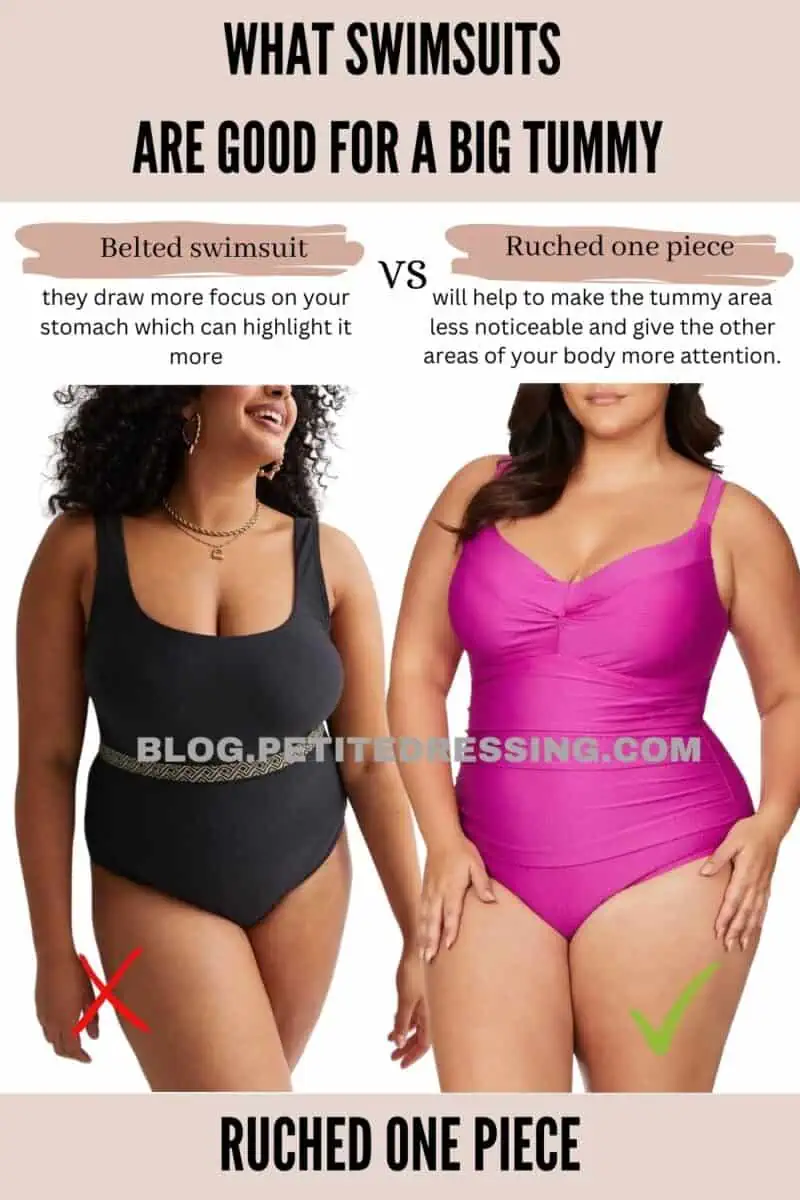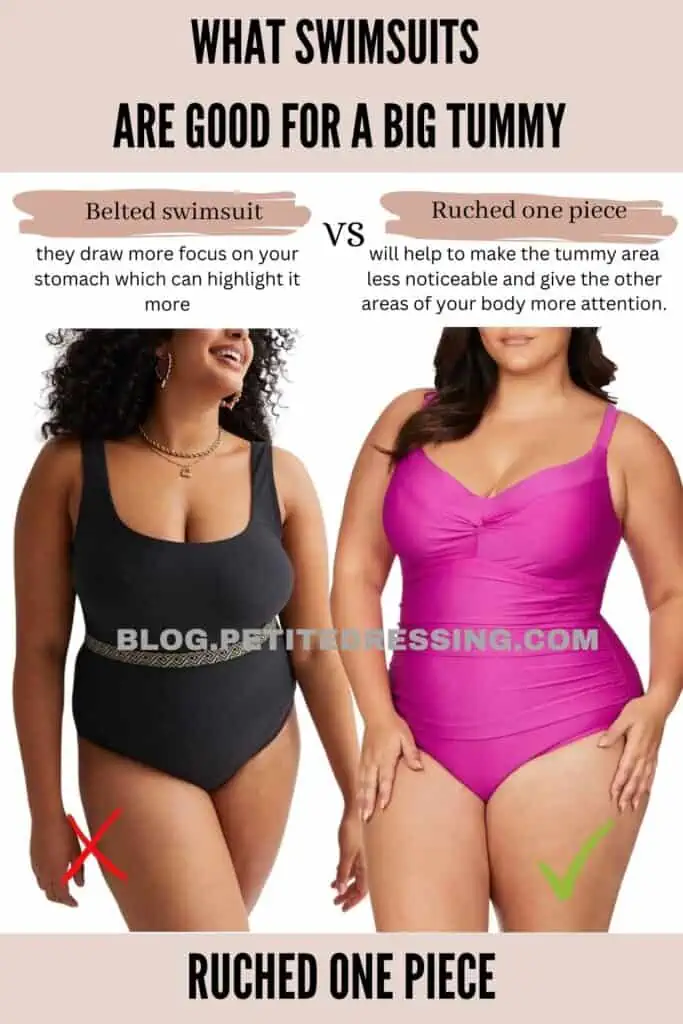 A common detail to look for in clothing when you're looking to mask your midsection is ruching. It's something that's common to find in dresses, tops and…swimsuits.
Whether it's a one-piece or a two-piece swimsuit look for an option with some ruching detail around the tummy area.
It doesn't have to be exaggerated, even subtle ruching will help to make the tummy area less noticeable and give the other areas of your body more attention.
Dark Bottom, Light or Bright On Top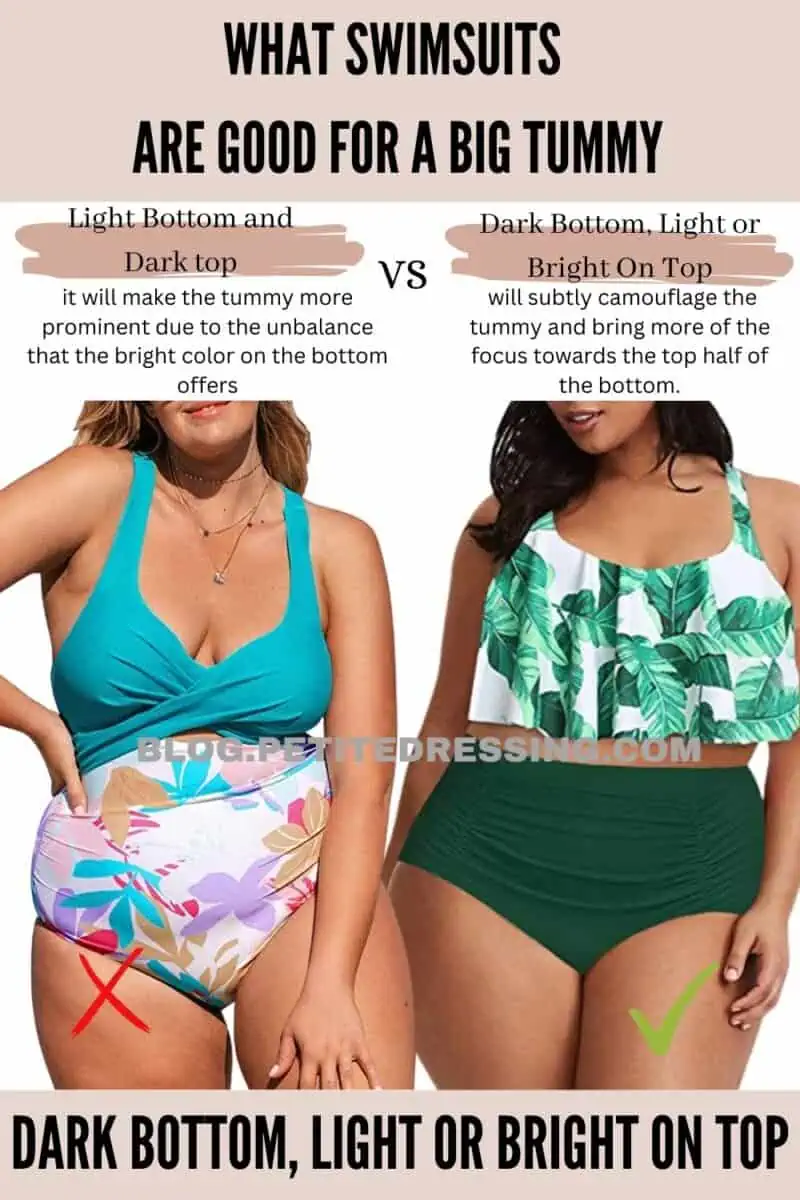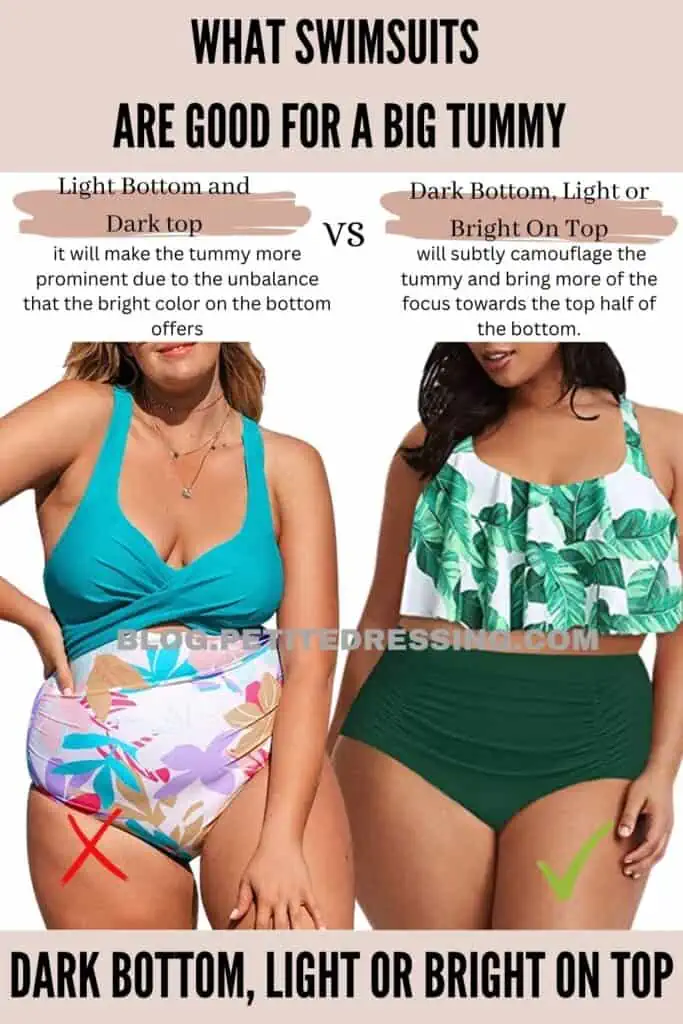 Building off of the previous tip, another really subtle way to add some figure flattery to your swimwear is by choosing options with colors used strategically. It's been established that darker colors minimize and lighter and brighter colors enhance areas.
So, if you like wearing solid color swimwear look for options that offer color placement where the dark colors are around the tummy and bottom piece with the light/bright color placement on the top half. This will subtly camouflage the tummy and bring more of the focus towards the top half of the bottom.
The best part about this particular styling trick is it can be applied with two pieces and one piece. Obviously, with one-piece suits, the color placement has been done for you, but you can definitely seek out options with strategically placed colors throughout the suit.
Color blocking has become quite a big trend in swimwear, so it's not uncommon to find swimsuits with clearly defined blocks of color. When it comes to two-piece swimsuits, more often than not, are mix and match because they're sold separately. Because of this you can purposely purchase a bottom piece in a darker hue to compliment the bikini top.
Ruffled Suits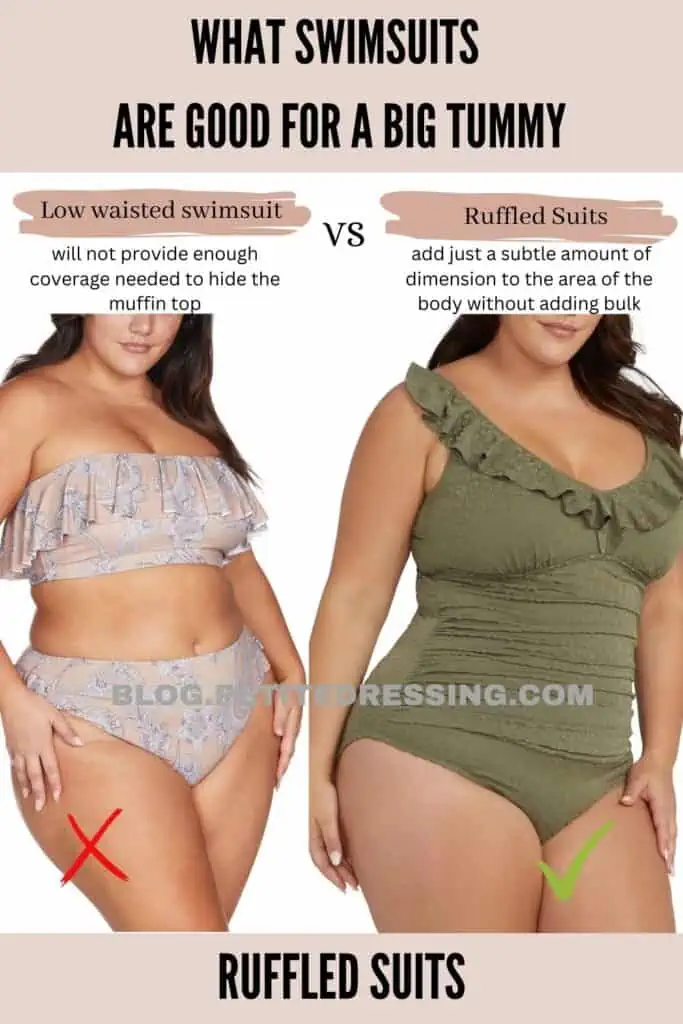 Ruffles are quite similar to ruching in the way they minimize the appearance of a big tummy. Because swimwear doesn't often include a lot of coverage, choosing pieces with figure-flattering details that have been added is one of the best ways to conceal problem areas.
I was wearing this ruffled swimsuit.
With the tummy, ruffles are a definite go-to choice. More specifically ruffles that are tiered. Ruffles around the midsection of a swimsuit add just a subtle amount of dimension to the area of the body without adding bulk, primarily because of the movement that comes from ruffles in swimwear.
High Waisted Bikinis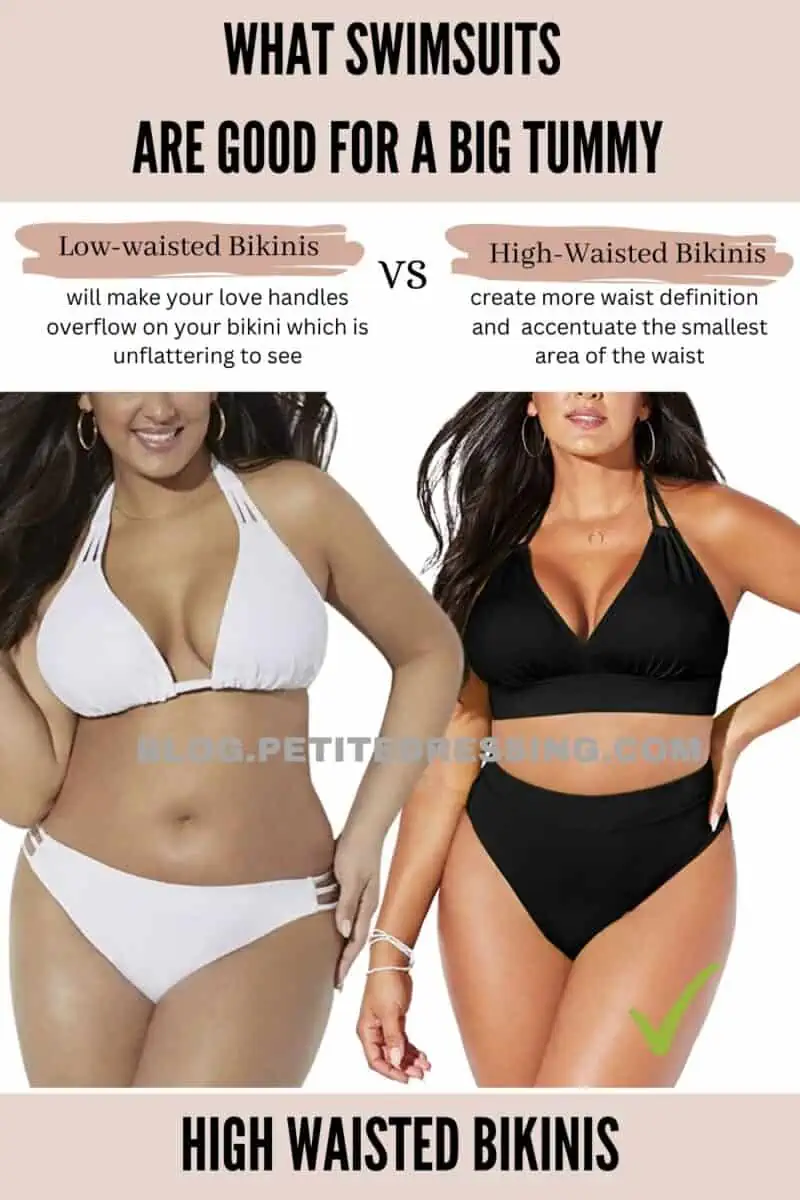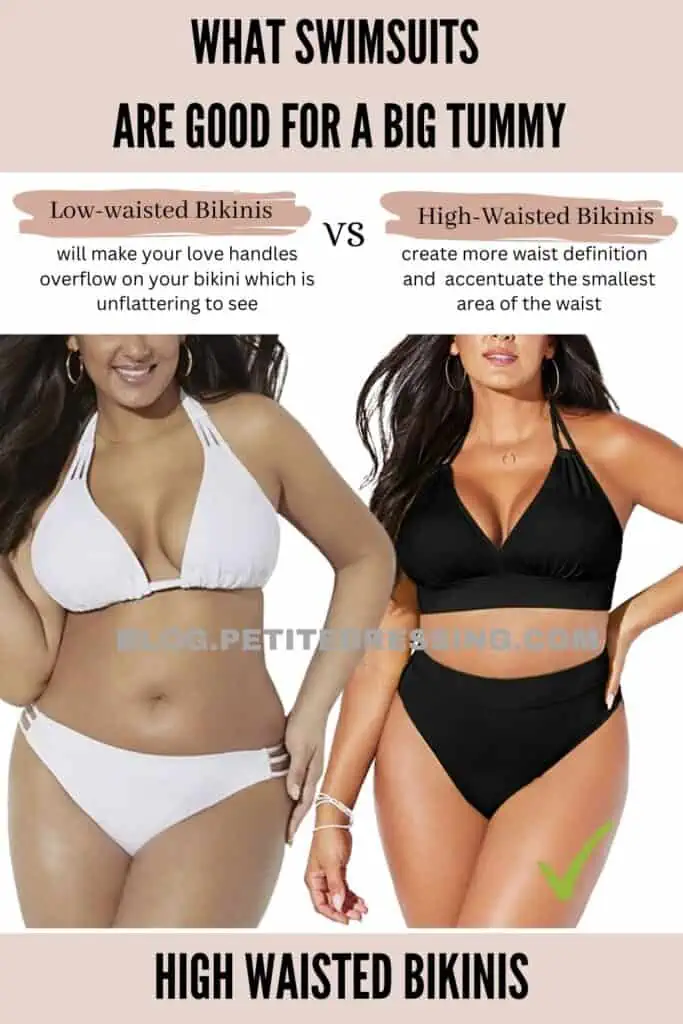 This may come as a surprise but high-waisted bikinis are a flattering choice for a big tummy. They're a winning swimsuit choice for a couple of reasons. First, they conceal the tummy area and really help to hold everything in place in the midsection.
Second, because of the placement of a high-waisted bikini bottom, helps to create more waist definition for the body. Similar to the way high-waisted pants accentuate the smallest area of the waist, high-waisted bikini bottoms do the same thing – which is a great benefit when you have a big tummy.
Another benefit that isn't talked about enough with high-waisted bikinis is the fact that they're much more functional when taking them on and off throughout the time you're wearing them.
This is where one-piece swimsuits can sometimes be a bit of a pain so if this is a pain point for you you're definitely going to want to try a high-waisted bikini option out.
Printed one piece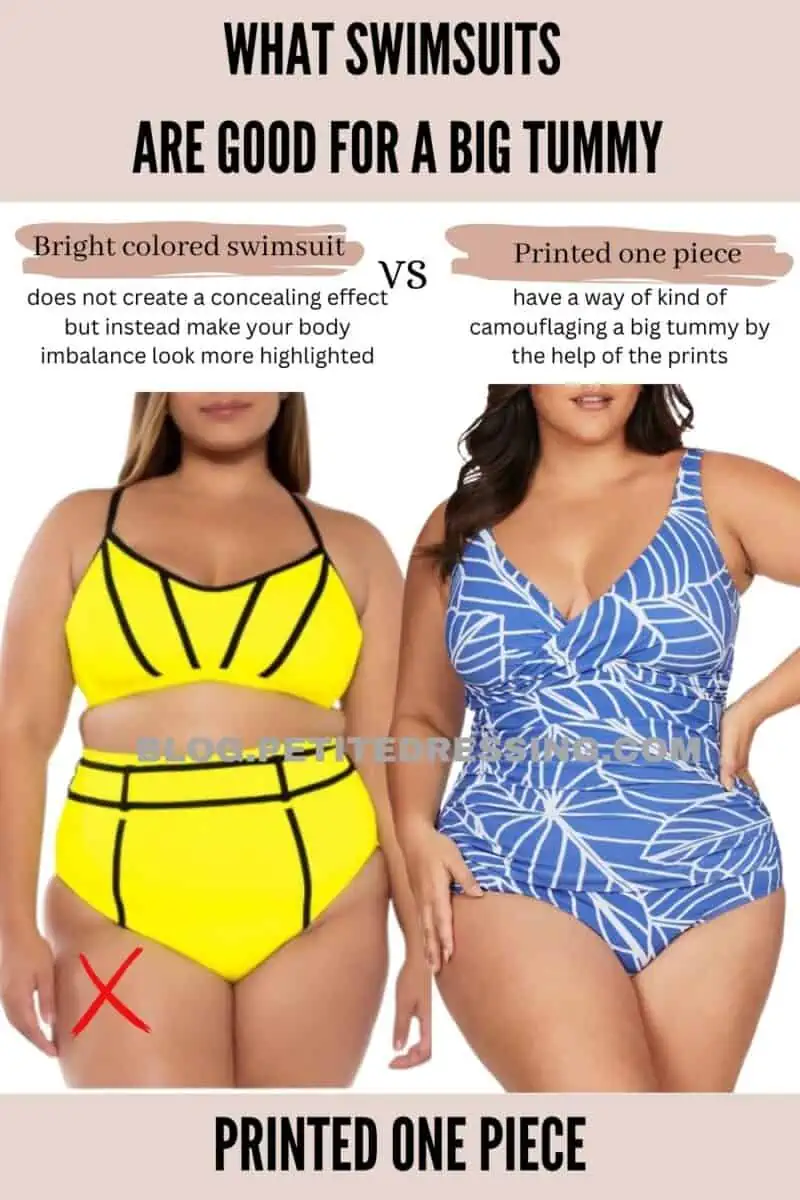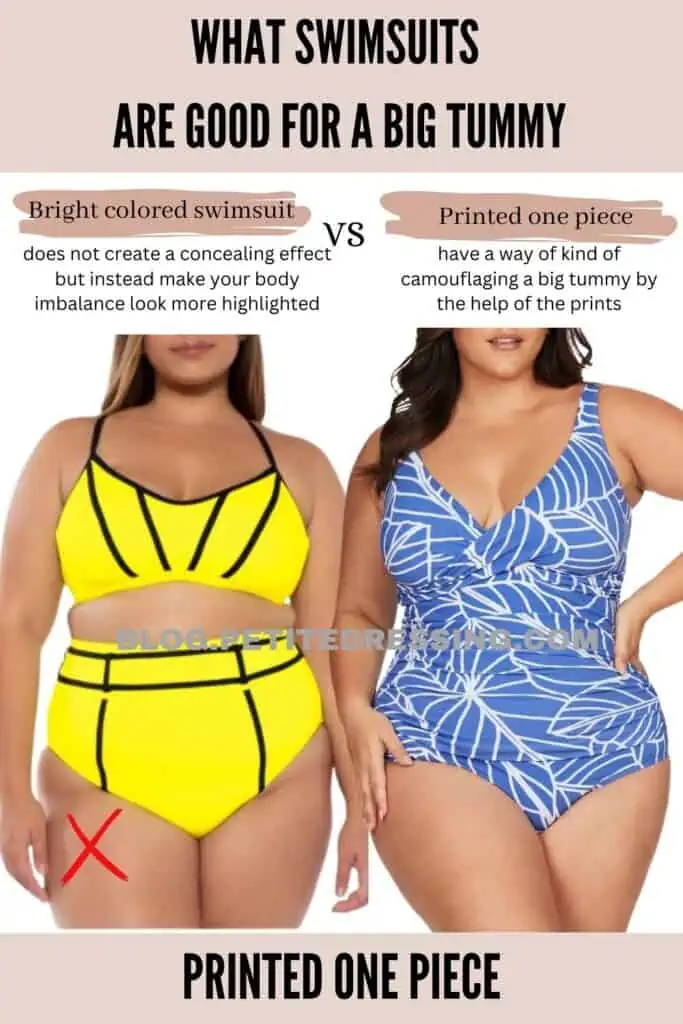 While black has always been the color to wear for its slimming effect, it's not the only way to make your tummy area less noticeable.
In fact, when it comes to swimwear opting for prints tends to be a better route to go. Because prints and patterns are statements, they have a way of kind of camouflaging a big tummy because there's more attention on the actual print instead of your midsection.
If you are comfortable wearing a two-piece swimsuit, try pairing a fun printed bottom with a solid color top piece. This adds some contrast between the two pieces and works its magic in minimizing the tummy area.
Of course, if a two-piece isn't for you there's nothing wrong with sticking with a one-piece. Try out options in unique and bold prints to make use of this styling trick.
One Piece with a Deep Neckline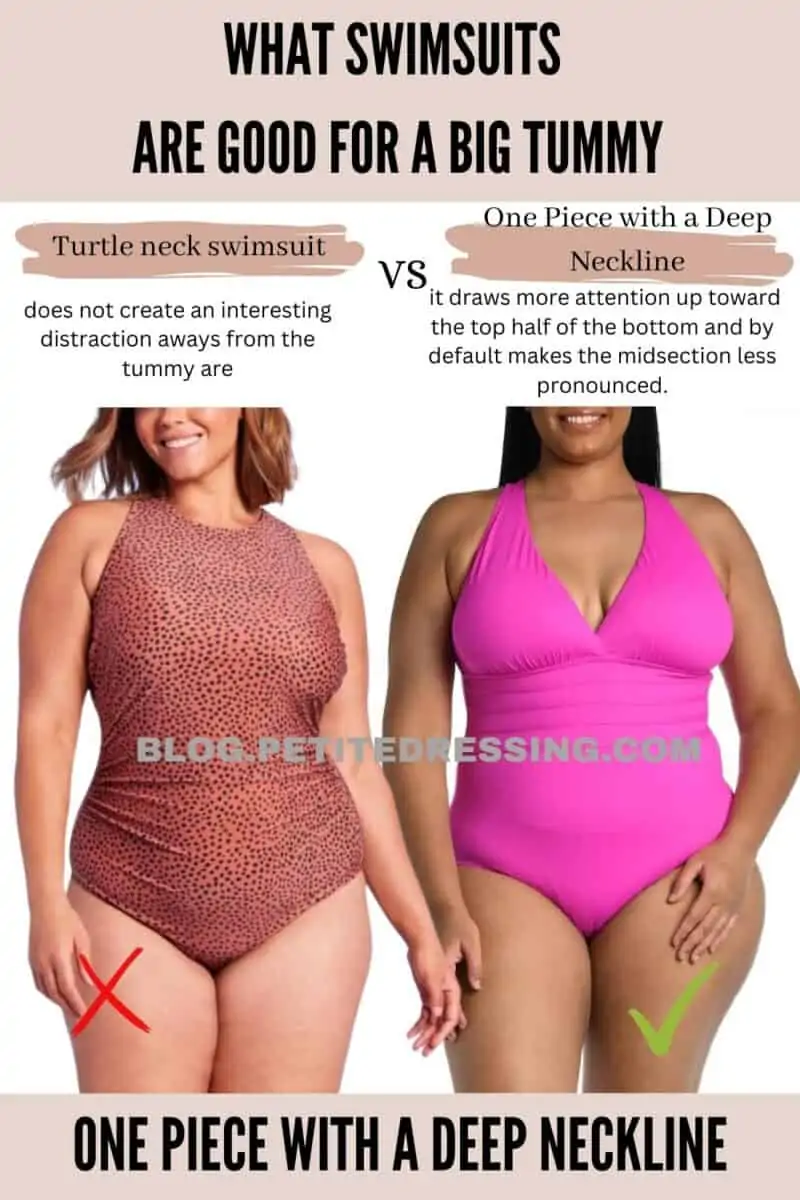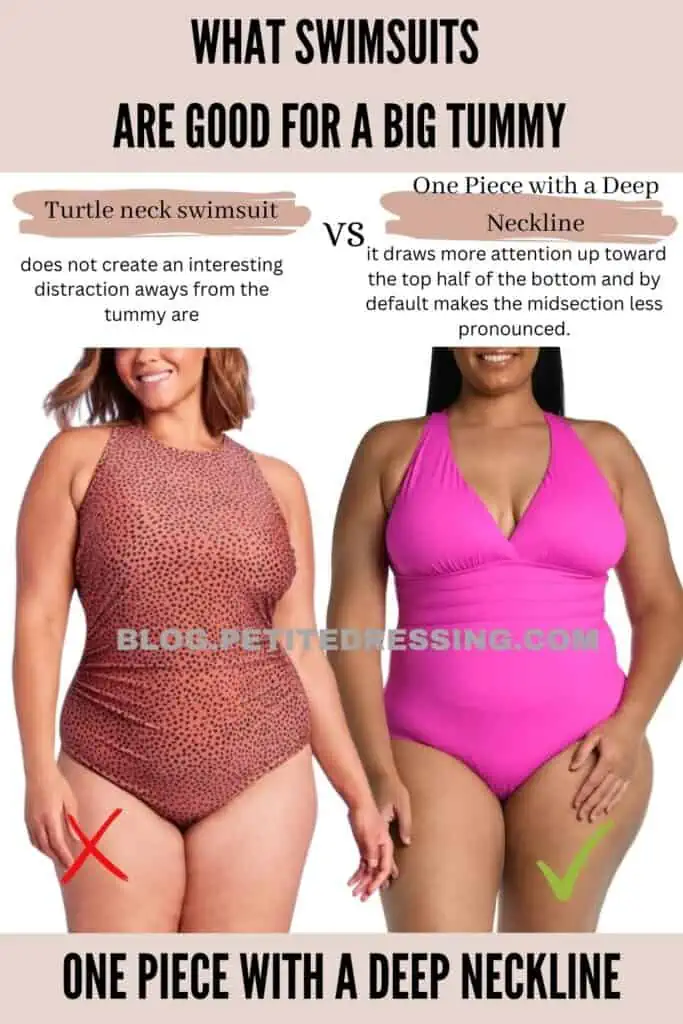 One-piece swimsuits have become trendy again, which is fortunate for those who like to have a bit more coverage from their swimwear. A really unique styling trick that's incredibly flattering with a big tummy is choosing a suit that has a plunging, or deep, neckline.
Surprised to hear this? Believe it not when you wear something that has a plunging neckline it draws more attention up toward the top half of the bottom and by default makes the midsection less pronounced.
Get a little extra figure flattery benefit from this style swimsuit by choosing a one-piece that either has a darker color or a fun print around the tummy area. This will give you figure flattery all around from the suit.
Solid Dark Color Suits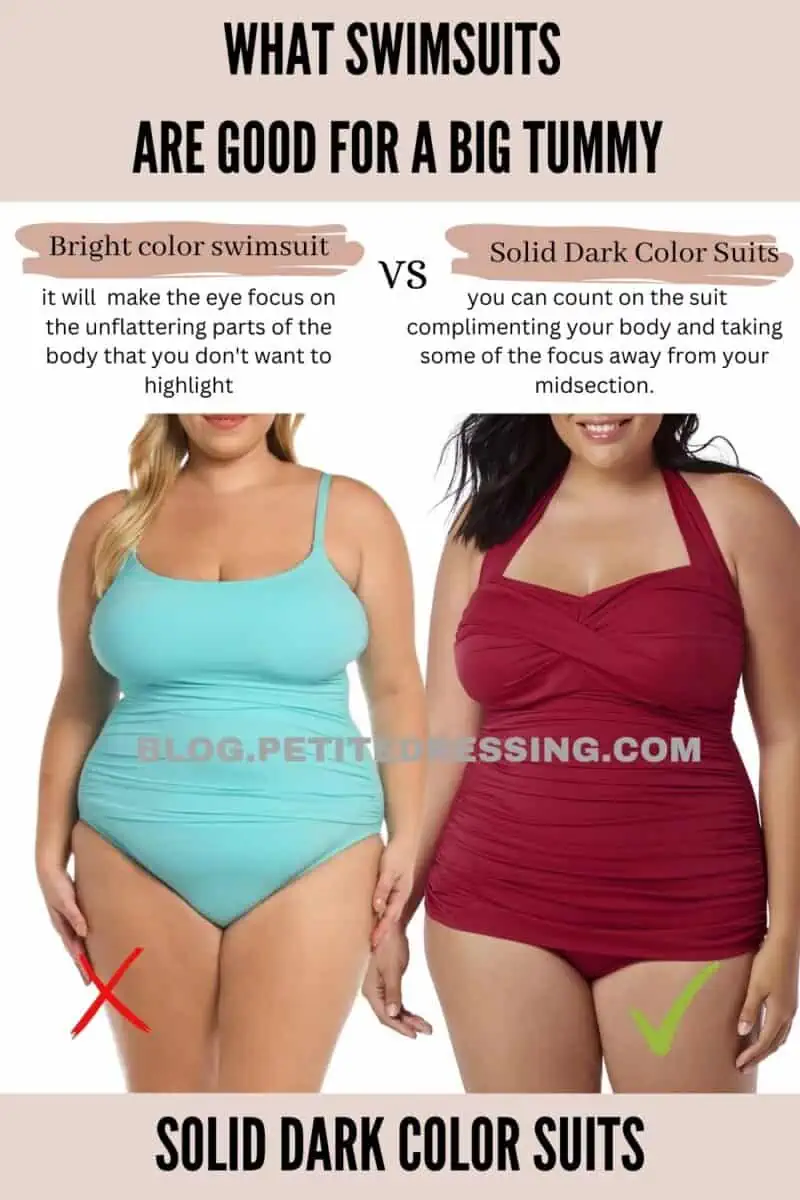 It's true, dark colors are an easy choice when you want to reduce the appearance of a particular area of the body. When it comes to swimwear and choosing something to flatter a big tummy, there's no shame in keeping it simple and easy with a dark solid color swimsuit.
Whether it's classic black, or something like navy or a dark red tone a darker hue is going to work it's magic in slimming the body – even the tummy! If you want to really reap some benefits to flatter your tummy area from the swimsuit, look for solid color options that also include some of the other attributes mentioned.
Think ruching, deep necklines, etc. The more of these subtle details you can adapt into your swimwear choice the more you can count on the suit complimenting your body and taking some of the focus away from your midsection.
Peplum Swim Top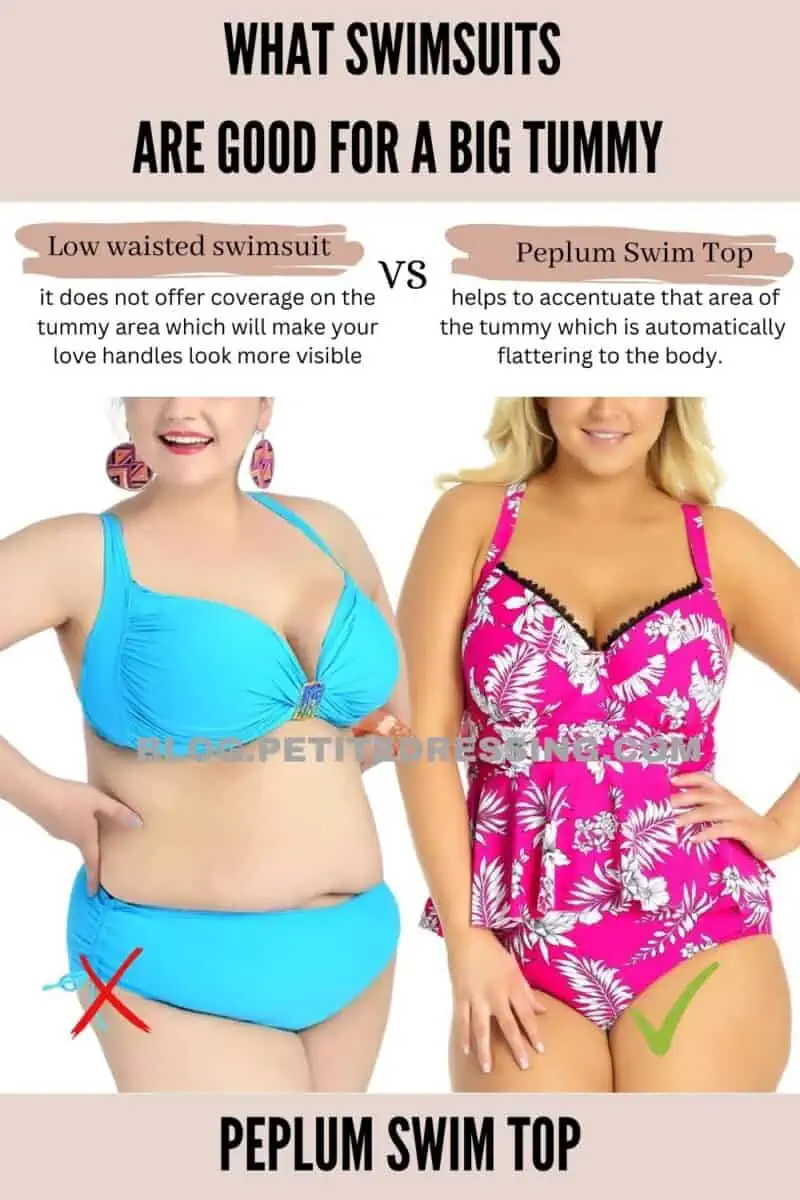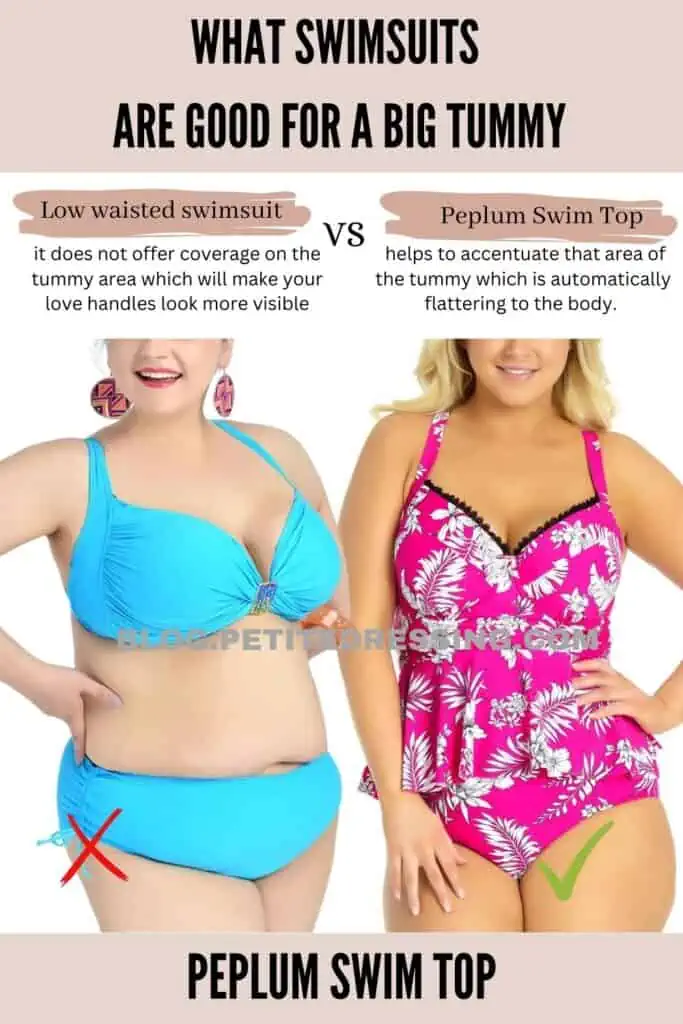 Peplum silhouettes are commonly seen in pieces like dresses and tops but believe it or not, this is something that can also be found in swimwear. Fortunately, it's a silhouette that's incredibly flattering for concealing a big tummy. Just like the way peplums flatter tummies in regular clothing, it does in swimwear.
Peplums are flattering for a couple of reasons. First for the way they create some waist definition, generally right around the slimmest part of the midsection. This helps to accentuate that area of the tummy which is automatically flattering to the body.
Another reason it's a great choice for a big tummy is because a peplum then grazes past the tummy area creating a subtle a-line shape that hides the problem area in a really strategic manner.
The only thing to keep in mind when selecting a peplum swimsuit silhouette is making sure the peplum doesn't flare out too far. You'll want something that gives just a slight a-line but doesn't add too much bulk or volume to the midsection. Peplum silhouettes are most commonly found in tankini options when it comes to swimwear.
Even though I'm a big believer that women should wear what makes them happy, I have to say not everything will look the same on you! In other words, certain styles will look better on your body shape than others.
I mentioned the above 8 types of swimsuits most flattering for women with a tummy concern, but there are also swimsuits which will be less flattering if you have a bit of stomach.
Caution with Light color bottoms
In general, anything that has lighter color round the tummy area tends to draw attention to that area, which is why they are not the best option if you goal is to deemphasize your tummy.
Caution with Belted Suit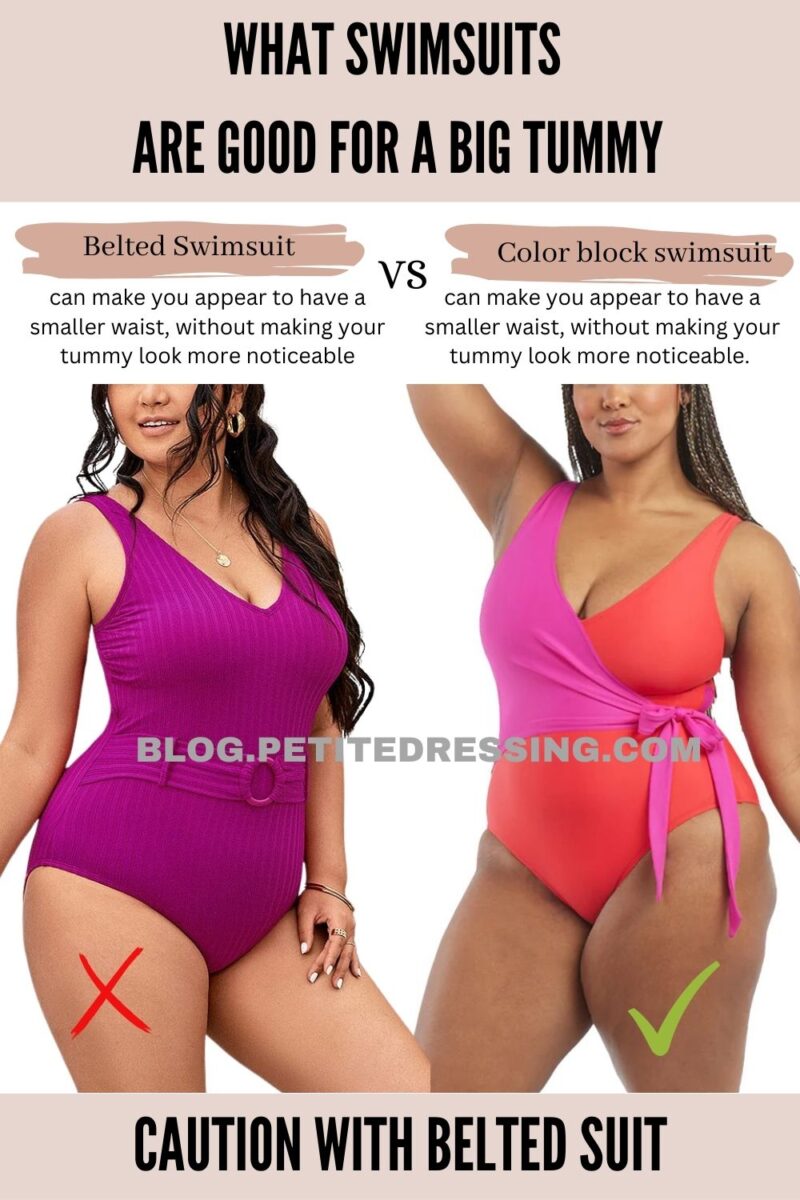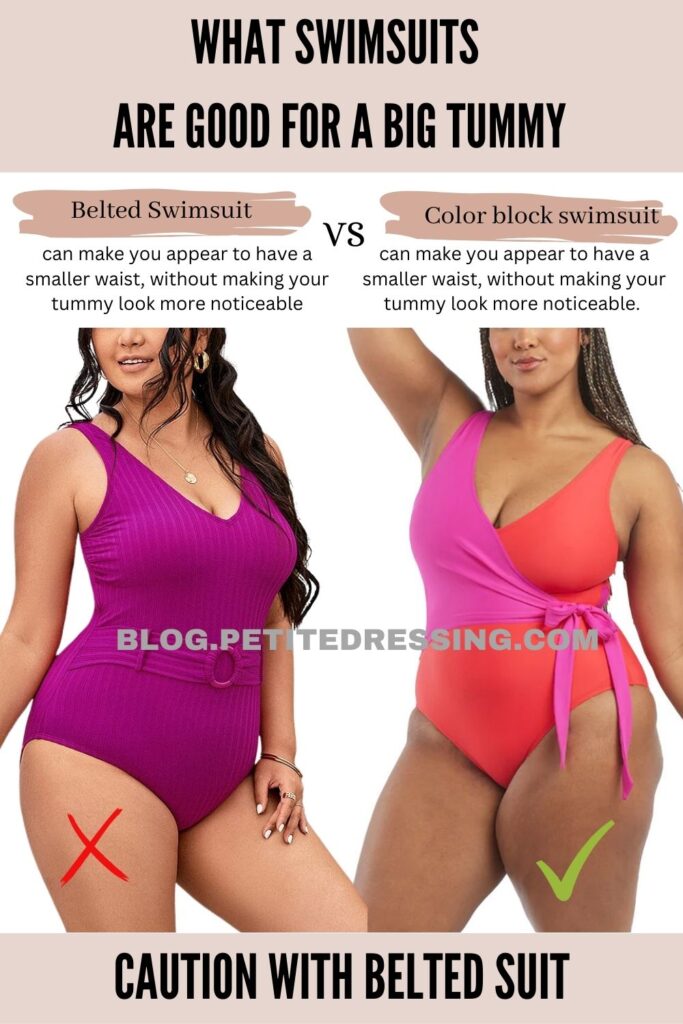 This one can be counterintuitive. Often times women with bigger tummy also do not have a natural waist definition, so we may be tempted to use a belt in an effort to make it look like we have a waist.
The issue with the belted swimsuit is they indeed draw more attention to your stomach!
So, if your goal is to create the illusion of a waist definition, then you can use the color blocking strategies I mentioned above, which can make you appear to have a smaller waist, without making your tummy look more noticeable.