Attention petite ladies on a budget! If you are looking for inexpensive petite clothes, this post is for you. Fashion is an area of many of our lives where it's easy to feel like you have to spend a lot of money on it in order to look great. I hear women always saying they feel limited in their style options due to budget.
The truth is you don't have to spend a lot in order to look great. It's SO true! Like anything, it's all in HOW you go about it. If you've been struggling with this in your own wardrobe you're in the right place. I'm going to share a few of my favorite tips on how to look expensive with inexpensive petite clothing.
Consider the Fabrics
Often times when purchasing cheap petite clothes, the fabrics can be what affects the look of them. Not surprisingly, sometimes the petite clothes are inexpensive because of the fabrics that are used. That being said, one of the ways to look expensive is to choose the fabrics wisely. Avoid any petite clothes that are made with fabrics that look flimsy, thin or see through. It's fairly easy to tell if the fabric looks inexpensive. Stick to fabrics that don't wrinkle too easily – this is a pretty good indication as to whether or not a fabric looks cheap.
There are also fabrics that just look expensive naturally, and you cannot go wrong with them. Silk is one example. Most of the time, silk garments could cost an arm and leg because it is such dedicate material that requires a lot of care in the manufacturing process. At Petite Dressing, we have silk suits, silk jackets and silk pants at an introductory prices for petites that you should not miss.
Another tip for this one is to look for expensive clothes when they are clearance sale. The best places to find them?
Read our post on "The Best Discounted Petite Clothing Stores Online". For starters, with the flash sale sites such as Ruelala, Nordstrom Rack and traditional designer discount stores like Century 21, it is very possible that you will find some nice petite dresses with name brands made of good quality fabrics.
Get Inexpensive Petite Clothing Altered
As a petite woman, I'm going to guess you're pretty familiar with getting clothes altered at this point. If you're not, you're going to want to now! One of the most crucial tips to look expensive with discounted petite clothes is to get them altered. Let me explain why.
Department stores have deepest discounts of the year normally during their end of season sales. That is great because you are getting the best and lowest price. The other side of the coin is the discounted petite dresses are probably already sold out of most sizes at that point, so you may end up with something not exactly your normal size. Still, because they are such irresistible prices, many of us would jump on the deal.
"I normally am a size 2, but perhaps a size 4 won't be too off anyways." or "Hmmm, I'm usually a size 8, but perhaps I'll lose a few pounds and fit in a size 6 next summer"?
Sound familiar? I know I have done that plenty of times myself! After all, we are all constantly on the hunt for a bargain, aren't we? "It's on sale" is the favorite three words for every woman- how many of you agree?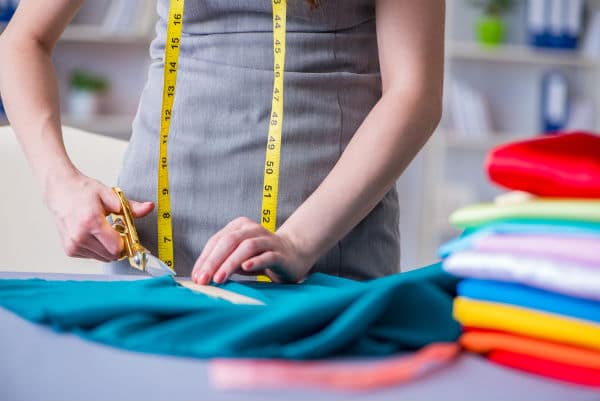 If you have done the same, then you need to understand it is important to get them altered for a proper fit. A lot of times people will avoid altering inexpensive clothes, thinking that it's not worth the investment on an item that didn't cost them much to begin with. However, when you get cheap petite clothes altered, they instantly look much more expensive. Ill-fitting clothes is a giveaway for clothes that are inexpensive.
I highly encourage investing in getting your inexpensive petite clothes altered to fit your body the way they are intended to fit. Not only will the clothes look more expensive but you will feel so much more comfortable wearing them when they fit your body the right way.
Choose One Statement Piece
The truth of the matter is most of the places that sell lower priced clothes are the so called "fast fashion" retailers, the H&M and Zara alike. It is typical that they will replicate trendy items fresh off of the runway from major designers in 2-3 weeks time, reflecting the hottest trends going on right at the moment.
Fast fashion exists for a reason. It allows us to quickly refresh our wardrobes without having to spending a fortune. I'm all about having fun with fashion – it should be fun! There is nothing wrong of wanting to try the most trendy petite clothes for the season. However, when wearing inexpensive petite dress or pants, overdoing it with trends and statement pieces often leads to the clothes LOOKING like they are inexpensive. This is why I encourage women to choose their statement pieces wisely. When putting together an outfit, instead of trying to wear a lot of trends or statement pieces in one outfit, choose one piece to pop and style around it.
For example, if you find a petite dress in a neon color (a huge trend this season), let that be the focal point of your outfit. Style the neon dress with a pair of nude color sandals, a white handbag and simple accessories.
Mix Textures Together
This is one of my secret styling tips when it comes to wearing inexpensive petite clothes. Mixing different textures together in one outfit creates a lot of depth in an outfit. When wearing head-to-toe in the same or very similar textures it tends to emphasize the look of inexpensive clothes…and not in a good way. Instead, when you mix and match varying textures it often leads to the inexpensive petite clothes appearing much more expensive. Depth = interest and expensive appearance.
Textures is a tricky area of fashion for many women, so let me explain a bit more to help you visualize what I mean by mixing textures together. Start with something like a faux leather skirt, something that's a staple in inexpensive petite clothing sections. Instead of wearing a matching jacket with the faux leather skirt mix up the texture and style it with a simple t-shirt and faux suede sandals. All of the pieces can be from the inexpensive petite clothing section but the texture mix adds so much more style and individuality to create an expensive looking outfit.
Wear the Right Undergarments
Ok so I will admit you should ALWAYS be wearing the right undergarments, ladies. But this is even more essential when you're wearing inexpensive petite clothes. Fit is generally one of factors that shows that something is cheap, when we wear the ill-fitting undergarments it further enhances the fact that the clothes may not be the best fit. More than that, when we wear the wrong undergarments it can lead to the inexpensive petite clothes to appearing even worse if there are panty lines or your bra showing through. Makes sense, right?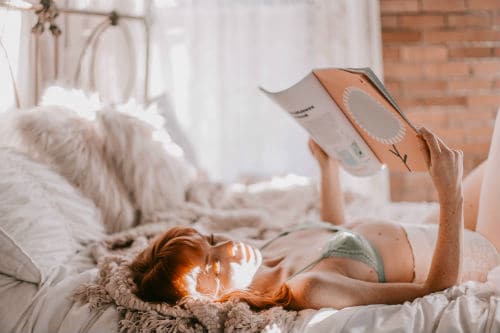 So what this means is the right undergarment fit is an absolute must. If you haven't gotten properly fitted in the last year, it's time to make a trip to get sized and make sure you're wearing the right undergarment sizes. As petite women (and women in general) our bodies change often and over time which is why it's something that we need to be getting fitted for on a fairly regular basis.
In addition to wearing the right size undergarments, obviously you need to be wearing the right type of undergarments. Don't try to just make something work and think it will be good enough. Since you are on a mission to look expensive in inexpensive petite clothes it's not something to skip or 'make do.' I always encourage women to make sure they are building a versatile undergarment wardrobe. You will likely need different types of bras and underwear for different types of garments.
Take Proper Care of the Clothes
I know this may seem obvious but I see so many women not taking proper care of their clothes, particularly if the clothes did not cost a lot. Even if you're not purchasing expensive clothes, you should still take proper care of them. When we don't care for our petite clothes in the right way, it leads to them looking worn and not lasting, in turn making them look inexpensive, in a very short period of time.
Not completely sure HOW to take proper care of your clothes? For starters, read the care instructions on the clothes. Most of the time the clothing will come with certain instructions to follow to ensure the right care is done. That being said, in general I often find that avoiding a lot of heat with inexpensive petite clothes is the safest route to go. When I say avoiding heat I mean in the washer AND drier, use the coolest settings. As much as heat is great to get your clothes dry faster, it wreaks havoc on inexpensive petite clothes. Since most inexpensive petite clothes are made of fabrics that include synthetic fibers when they are exposed to heat it leads to shrinking and clothes ending up misshaped.
Furthermore, wash/dry your clothes as little as possible. I know that sounds odd but the more you wash/dry your clothes the more wear and tear they are exposed to. Some garment types don't necessarily need to be washed and dried after every wear. Determine whether or not you can wear certain pieces a couple times before you put them through a wash cycle to prolong their lifetime.
Using these style hacks on how to look expensive in inexpensive petite clothes will help you shop on a budget without having to sacrifice style. Enjoy using these tips and styling inexpensive petite clothes!
Look for the best value vs lowest price
Finally, I wanted to share this with you. This is more like a shopping tip vs styling tip, but I think it is important when we talk about inexpensive petite clothes. When you are shopping on a budget (most of us are!), you should focus on the best value instead of looking for the lowest price. There's several ways to look at this, and there's quite a bit of misunderstanding regarding what is a good value.
When a piece of expensive designer clothes is on the clearance rack and marked 90% off, does that mean it's the best value? It could be, but not necessarily. Here is the key question you should ask: why is it discounted so deeply?
Is it because the color looks too loud? The design looks too exaggerating? The fit looks baggy and shapeless? If that's the case, you should avoid it even if it's given out for free! Please do not tell yourself "but it's a Versace!" The label means nothing if the garment doesn't look flattering on you.
On the other hand, if the clothes is on clearance because it is the last few piece left in that size, or because it is soon out of season, however it's a classic design made with high quality materials, then it's a no brainer! If you can wear it for at least a few years, then that's the best value you can find.
That is the difference of shopping for the value vs the price. If you shop for the best value, the inexpensive petite clothes you buy will never look cheap on you, because they are quality piece to begin with.