Styling jeans in your 60s can be fun if you know which jeans look good on you and which don't suit you. A good pair of jeans is an essential element in your wardrobe no matter how old you are.

A perfect pair of jeans for women over 60 is versatile and makes you feel confident, comfortable, and fashionable. Therefore, we have a comprehensive jeans guide for women over 60!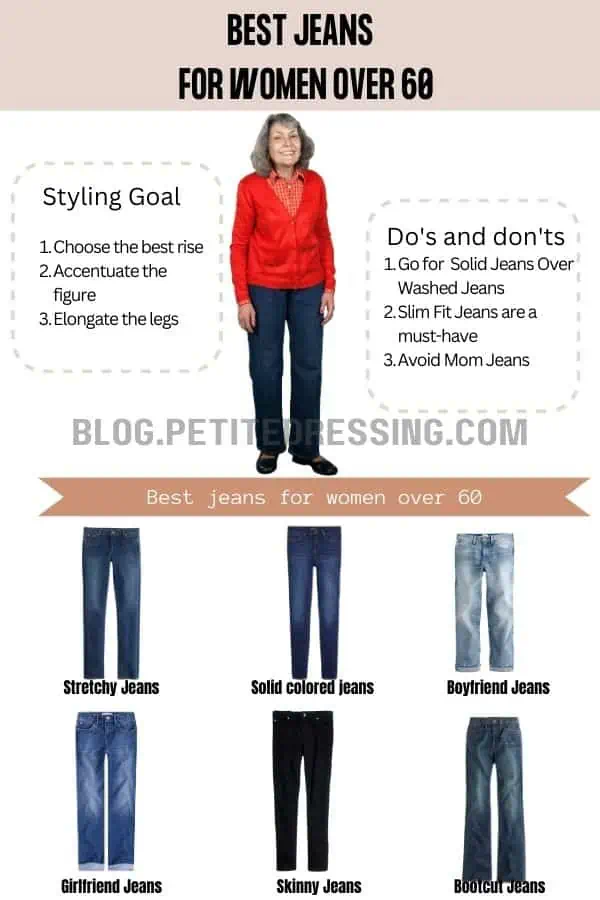 How to Choose the Rise
Jeans come in different rises such as high-rise, low-rise, and mid-rise. Even though high and mid-rise jeans are quite trendy nowadays, you don't have to go with them if it feels uncomfortable.

If you like short and cropped tops or prefer tucking them in, mid-rise and high-rise jeans are better. You can get away with low-rise jeans with long tops.
Find the best rise for yourself according to your body type and comfort zone. It also depends on what sort of tops you like to wear.
Wearing mid or high-rise jeans makes your legs look longer. It also hides shapewear in a camouflaged way.
Stretchy Jeans

Stretchy materials provide room for all your thigh and hip fat to accommodate perfectly. They hug your body like a dream and make you feel comfortable.
In an age like 60 where fashion should feel comfortable, stretchy material for jeans must be your go-to.
Solid Jeans Over Washed Jeans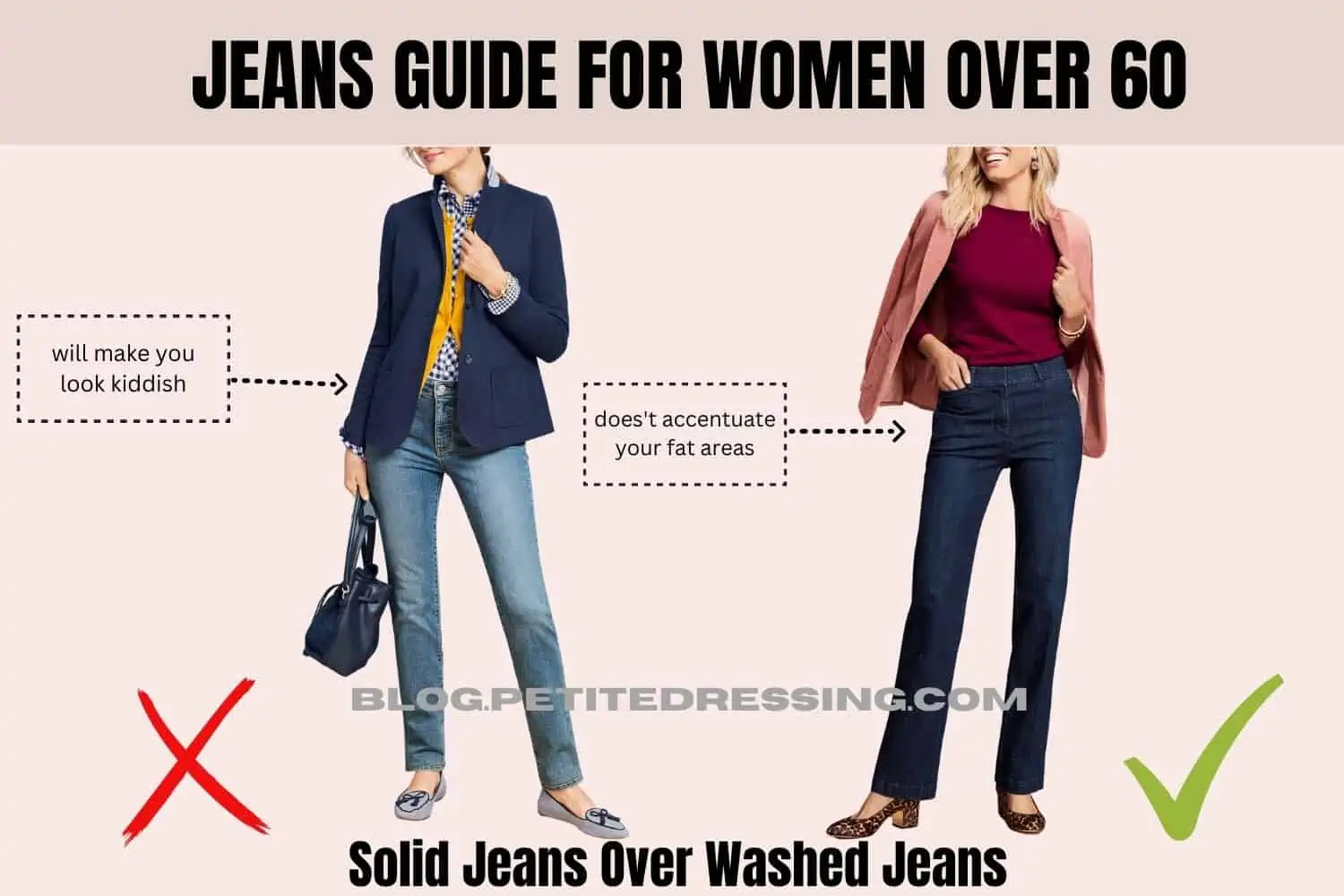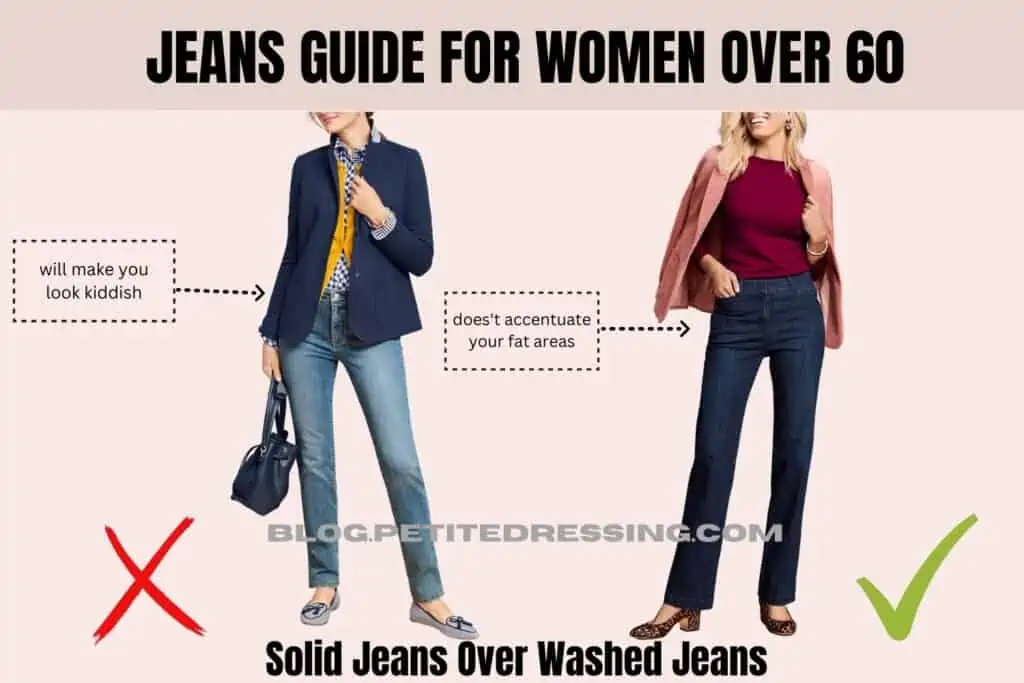 Washed jeans with fades in the center on the thigh area are just not chic enough for women over 60. They look kiddish and don't look modern in such an age.

Go for a solid wash in any color that you like. These jeans look flattering and don't accentuate your fat areas more than they should (thighs and calves).

Boyfriend Jeans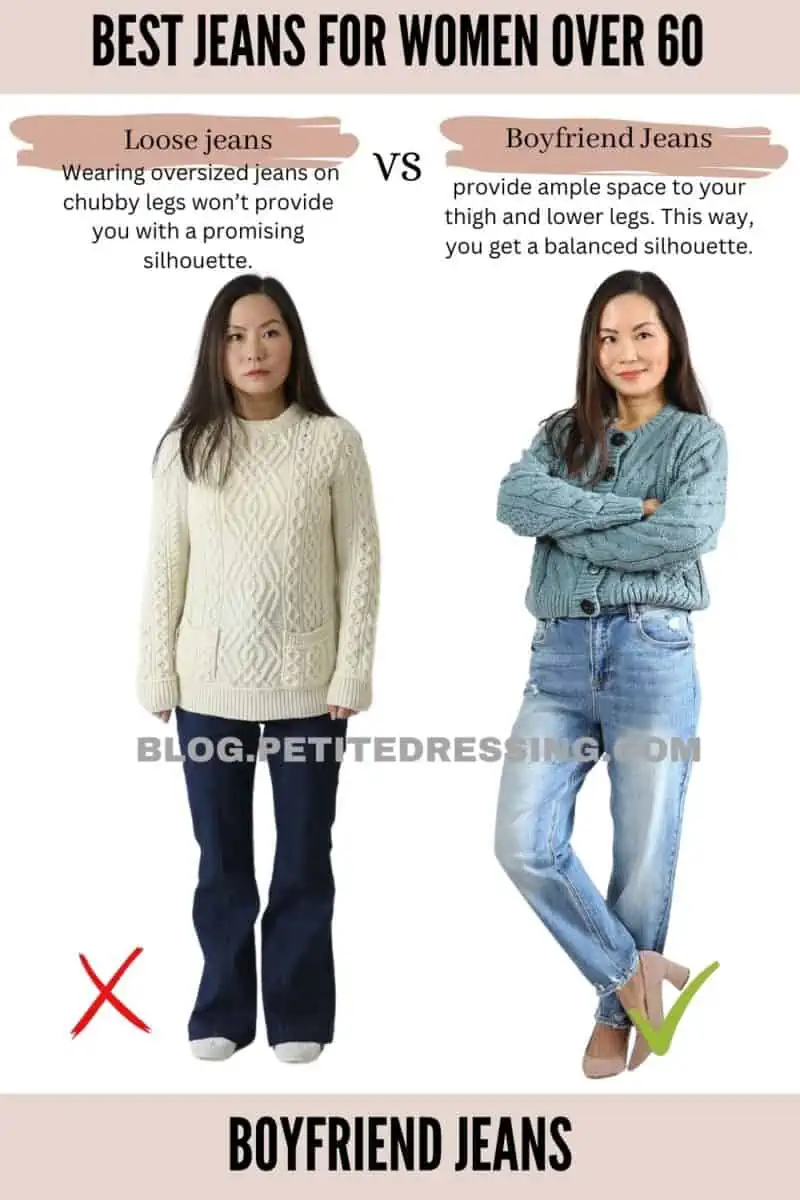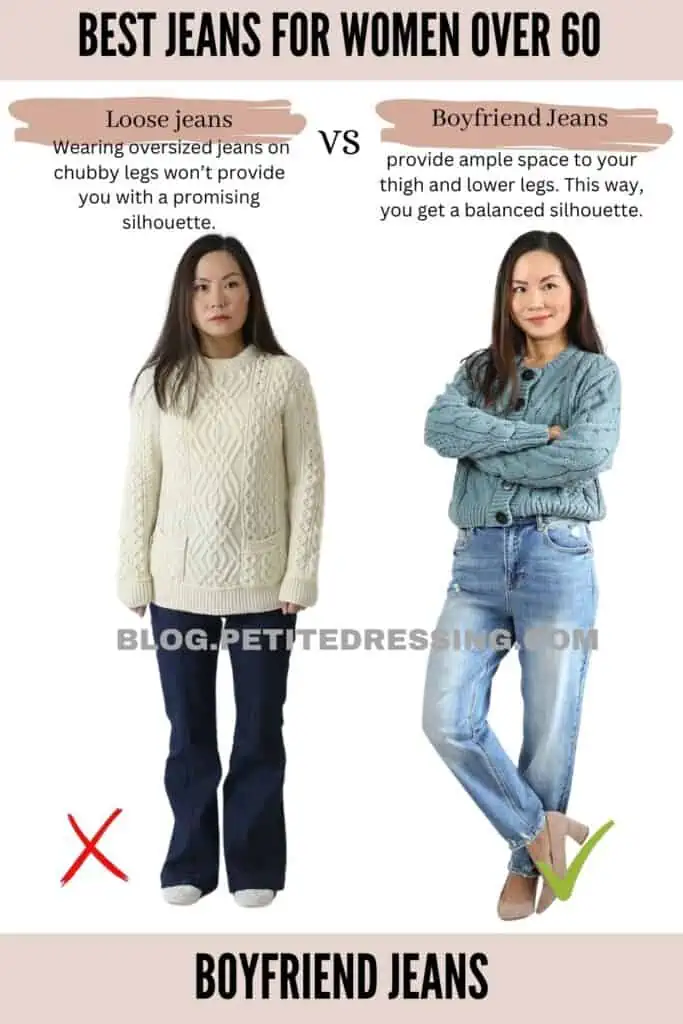 Now we'll discuss some styles of jeans that are appropriate and comfortable for women in their 60s. Boyfriend jeans come on the top. In both cases, they look promising on all body types.

Boyfriend jeans can be used for both formal and casual outfits. Boyfriend jeans have a relaxed fit but they hug your upper body and provide ample space to your thigh and lower legs. This way, you get a balanced silhouette.

You can pair up boyfriend jeans with bodysuits tucked in or simple t-shirts. Tucking in your tops in the boyfriend jeans will accentuate your balanced curves.You can pair them up with high heels for a vogue look or wear them with sneakers for a casual day out. Boyfriend jeans give the effect of a small waist, balanced curvy body, and long legs.
Girlfriend Jeans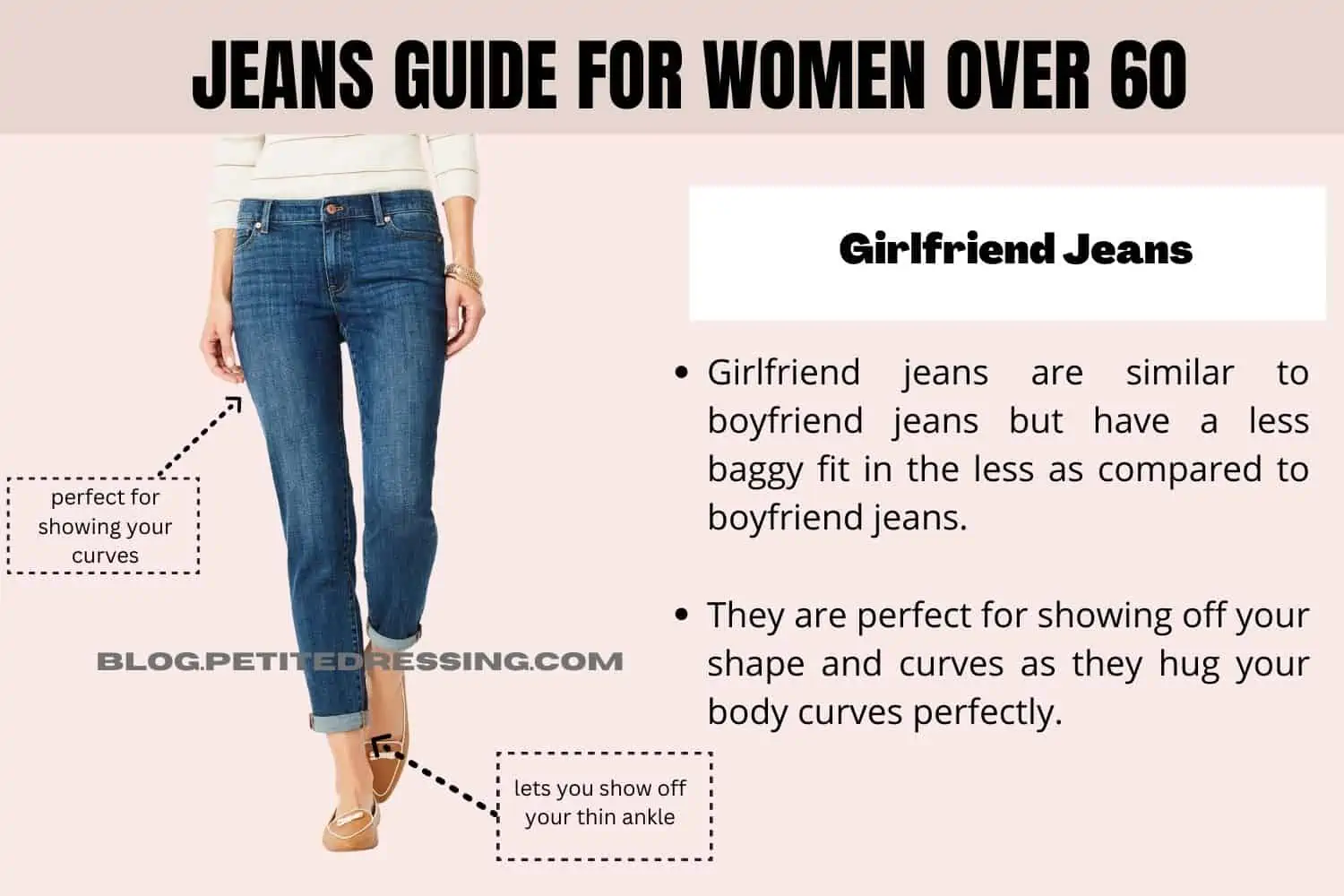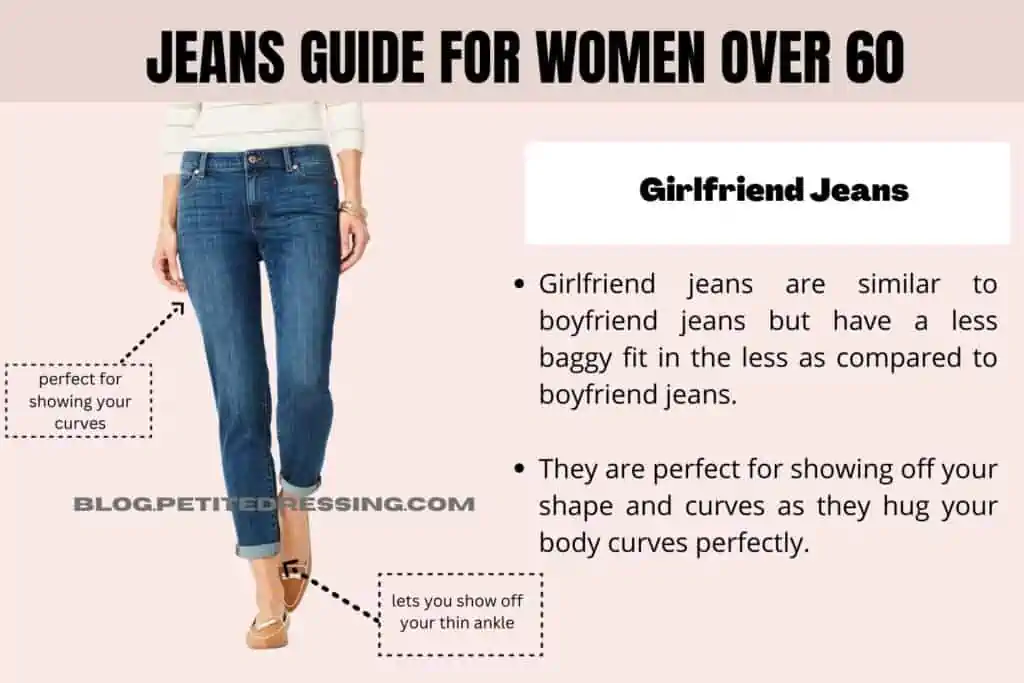 Girlfriend jeans are similar to boyfriend jeans but have a less baggy fit in the less as compared to boyfriend jeans. They are perfect for showing off your shape and curves as they hug your body curves perfectly.

You can pair up the same tops with girlfriend jeans by tucking them in. They are perfect for thin legs with sneakers or sandals. You can also fold the bottom of your girlfriend's jeans to show off your thin ankles.

Skinny Jeans
Find skinny jeans that are exactly your size. But it shouldn't be too tight that you can't sit in them properly.
Go for a high-rise if you have some belly fat and wear shapewear underneath. It will provide you with a slimmer silhouette.
For a balanced style, pair skinny jeans with loose blouses or flowy tops. Tops with long and flared sleeves look stylish with skinny jeans.
For an enhanced look, pair skinny jeans with high heels.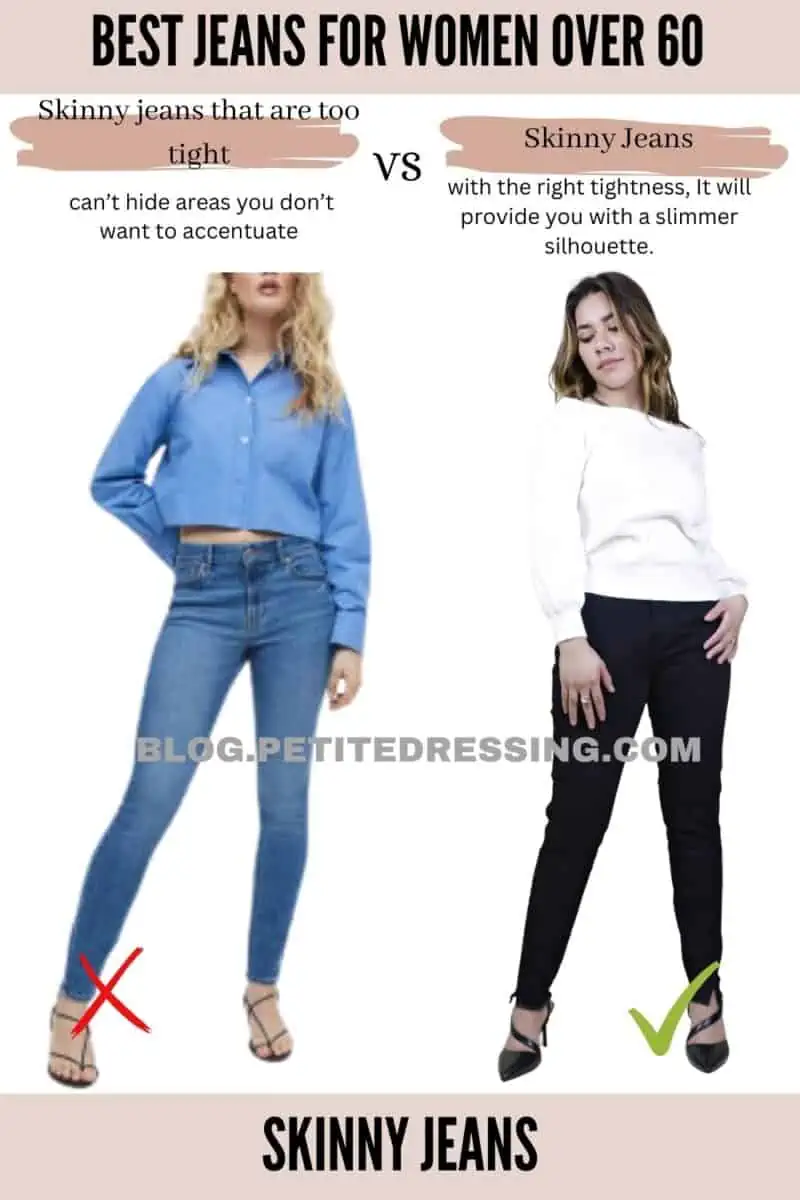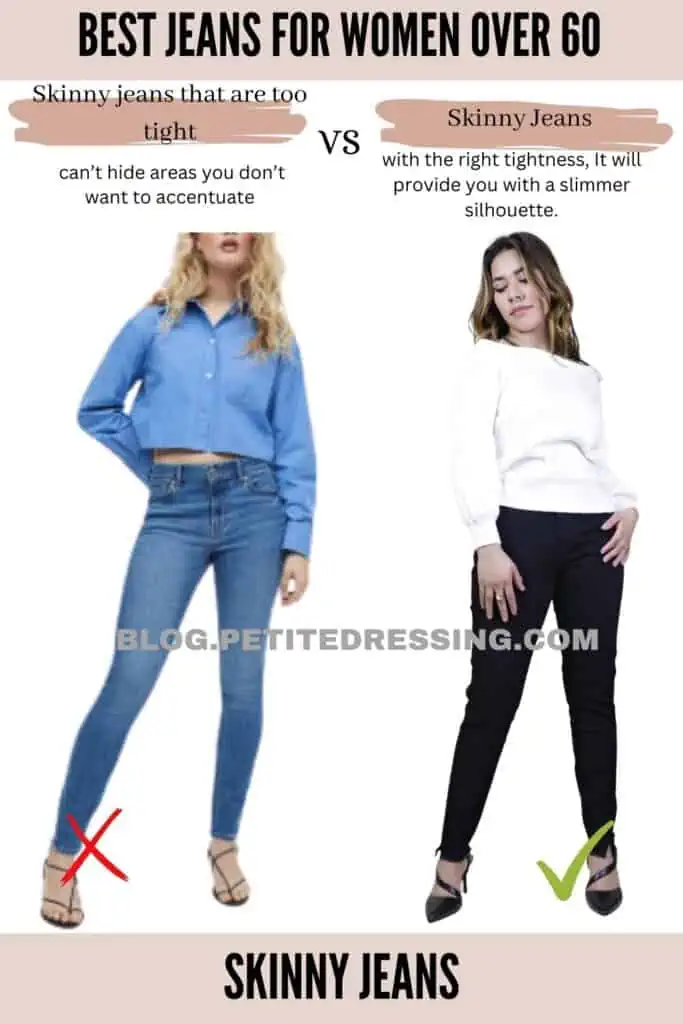 You can also wear cropped or short tops with skinny jeans with a denim jacket, blazer, or leather jacket. It's a classic yet modern look for women over 60.
A pair of skinny jeans that perfectly fits you is your best friend in your 60s. They are versatile, comfortable, make you feel confident, and suit most body types.
Bootcut Jeans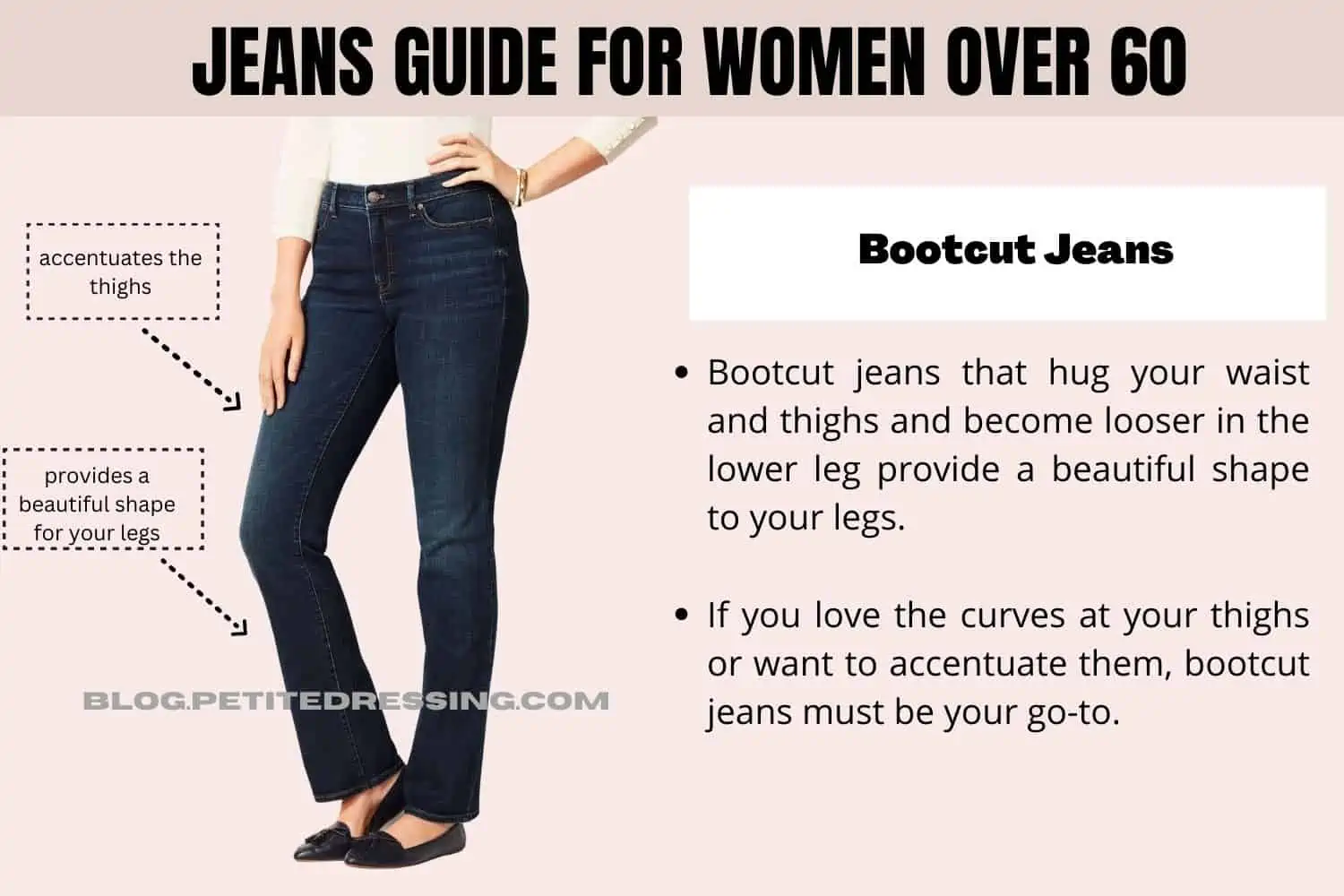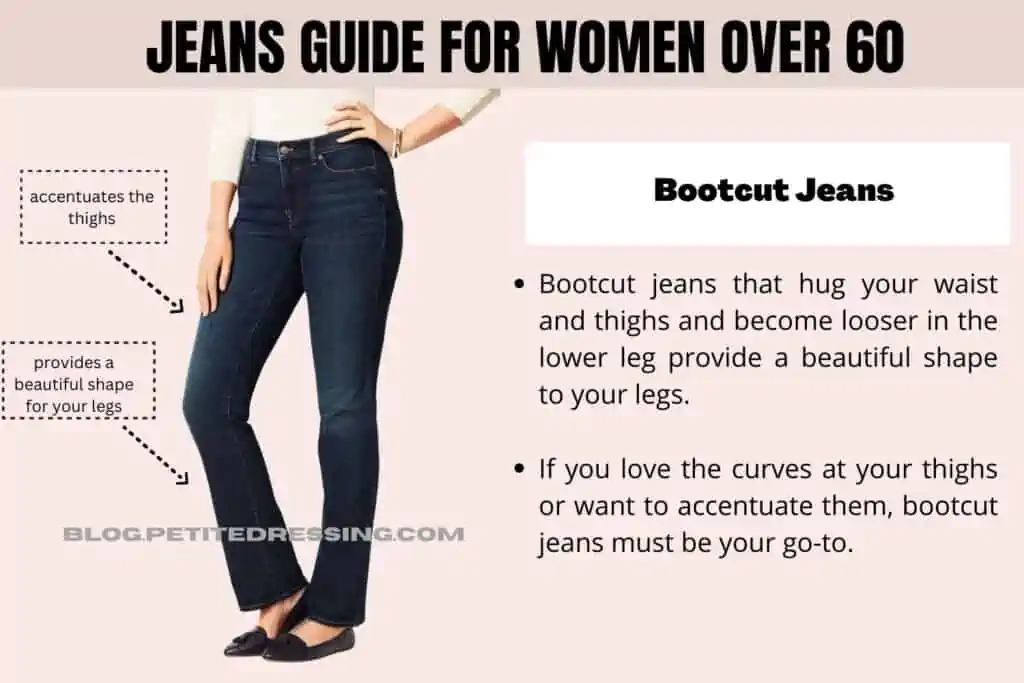 Bootcut jeans that hug your waist and thighs and become looser in the lower leg provide a beautiful shape to your legs. If you love the curves at your thighs or want to accentuate them, bootcut jeans must be your go-to.

Long bootcut jeans that come down to your foot paired with high heels and a simple top tucked in are the easiest way to amaze the onlookers.

You can go for low-rise bootcut jeans for a 90s vibe. If your legs are short, high-rise bootcut jeans are better.

Flared Jeans
Flared jeans are a little hard to style and aren't as versatile as other jeans styles mentioned above. Something short and tight on the torso looks good with flared jeans.
If you style long flowy tops with flared jeans, it will provide an overall baggy look.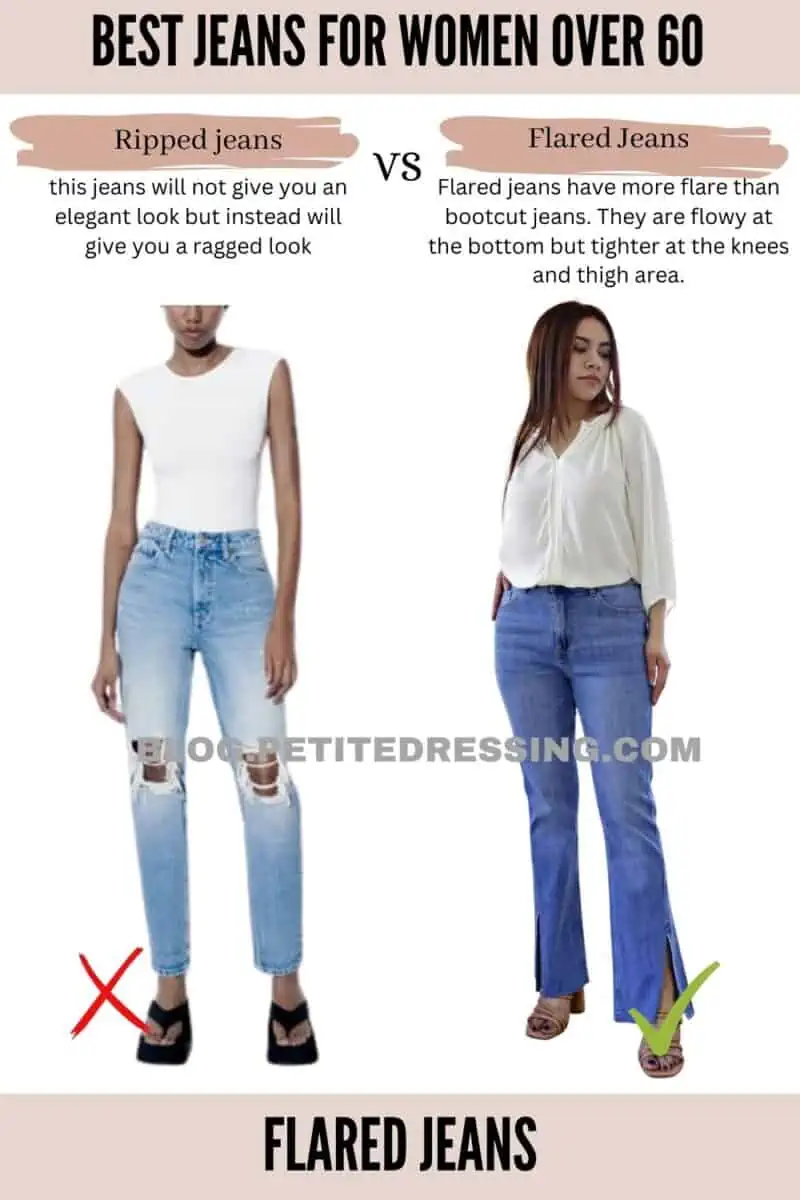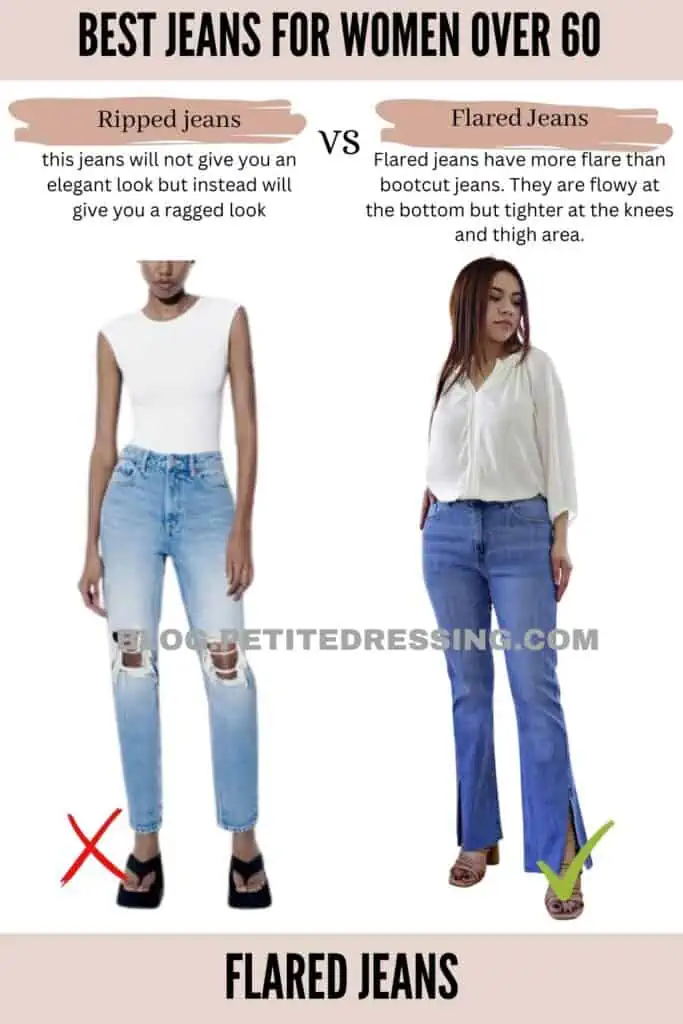 A good way is to wear a cardigan, blazer, or jacket over your short tops above flared jeans. Scarves also look good with these jeans.Flared jeans have more flare than bootcut jeans. They are flowy at the bottom but tighter at the knees and thigh area.
The only difference is that flared jeans make you look glamorous and out there.

Wide Leg Jeans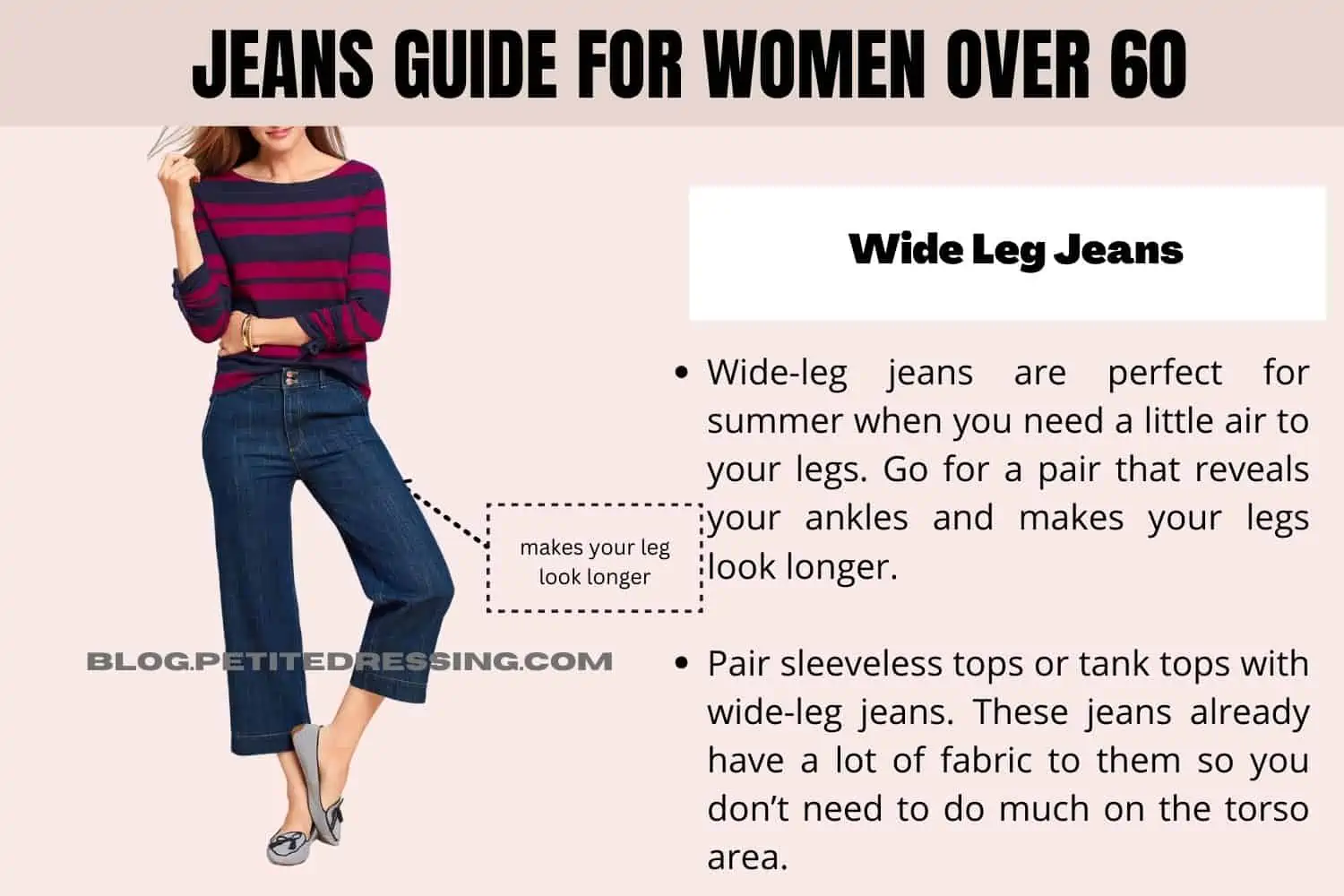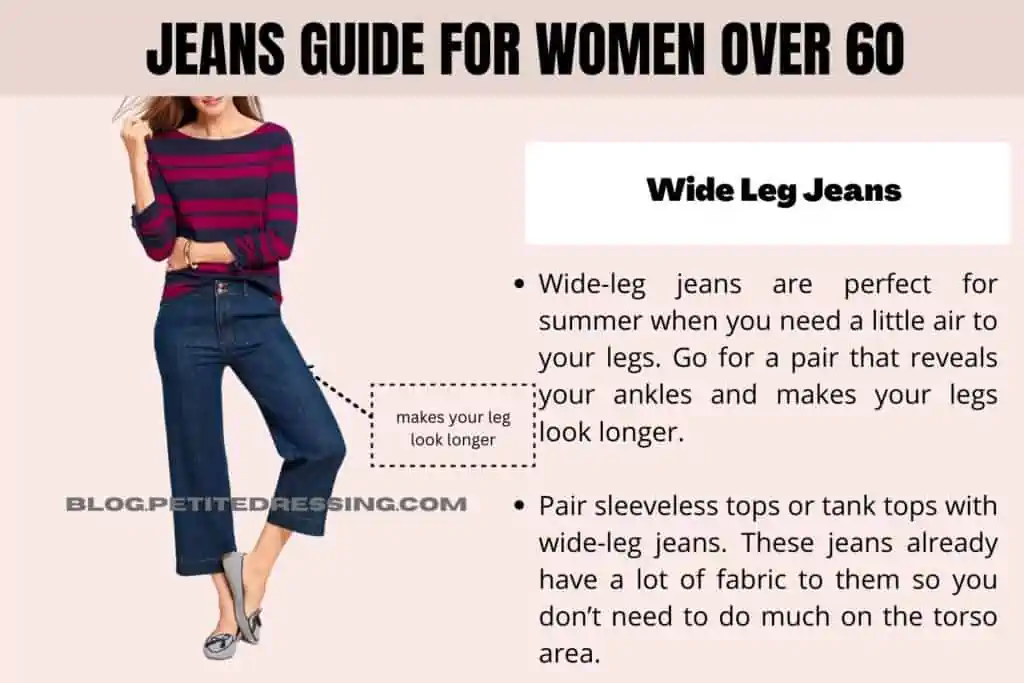 Want comfort and fashion in one go? Wide-leg jeans are your best bet!

Wide-leg jeans are perfect for summer when you need a little air to your legs. Go for a pair that reveals your ankles and makes your legs look longer.

Pair sleeveless tops or tank tops with wide-leg jeans. These jeans already have a lot of fabric to them so you don't need to do much on the torso area.

Slim Fit Jeans
If you don't like the way skinny jeans feel you can go for slim-fit ones. They fit like skinny jeans but don't make you feel comfortable. They also provide enough room for your thighs and hips to accommodate.
Slim-fit jeans are the easiest to style. You can pair them up with a button-down shirt, wrap-around blouse, short tops, tank tops, or anything you can come across.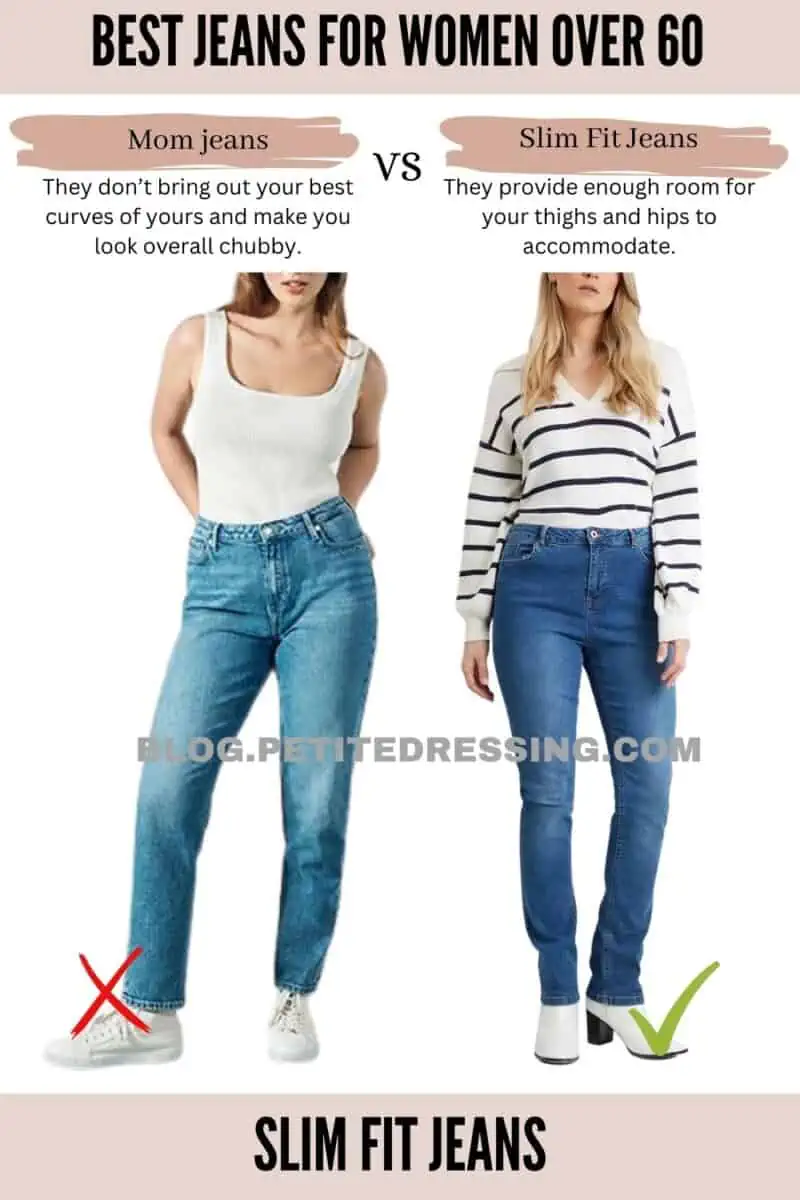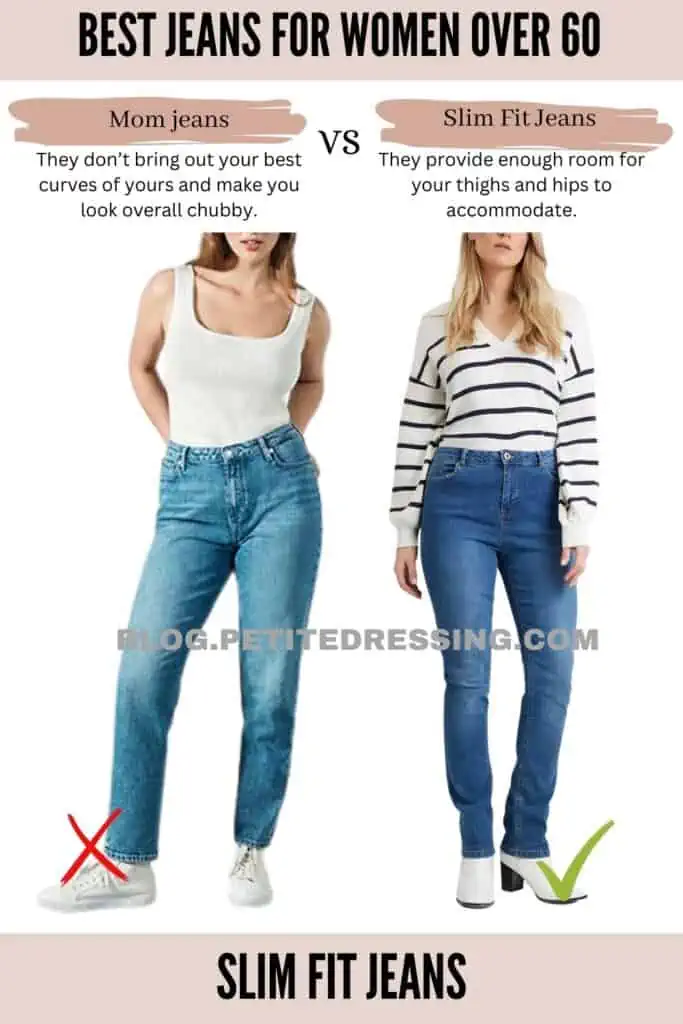 You can dress up or down with slim-fit jeans according to the occasion. A sequin cami top over slim-fit jeans and high heels is perfect for dressing up.
Avoid Ripped Jeans
Ripped jeans are better for young people as they don't look elegant on women over 60. If you like to wear ripped jeans, you can pair them up with minimal tops or choose ripped jeans with fewer rips.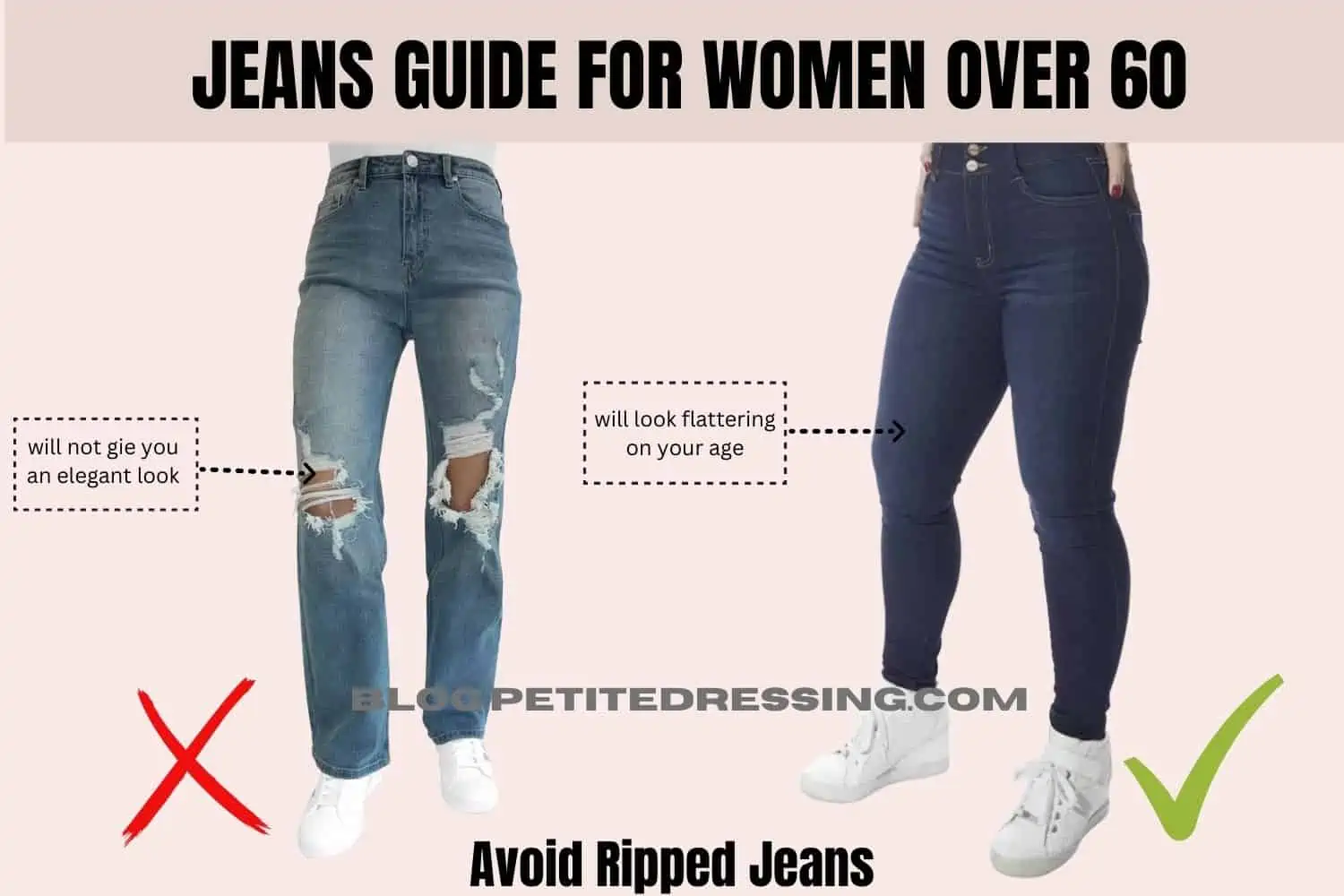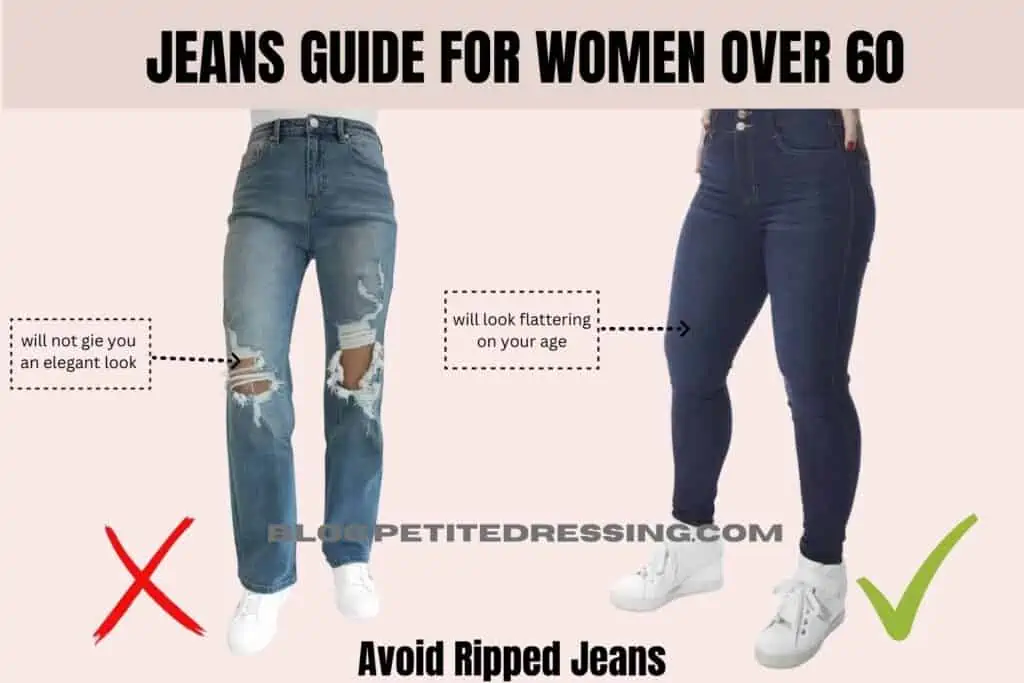 However, if you want a subtle, comfortable, and chic look at an age like 60, avoiding ripped jeans is a better option. You can find so many other options for jeans that will look flattering for your age.

Avoid Mom Jeans
If you are on the chubbier side, don't use mom jeans. Mom jeans are similar to boyfriend jeans but they have an overall baggy look. They don't bring out your best curves of yours and make you look overall chubby.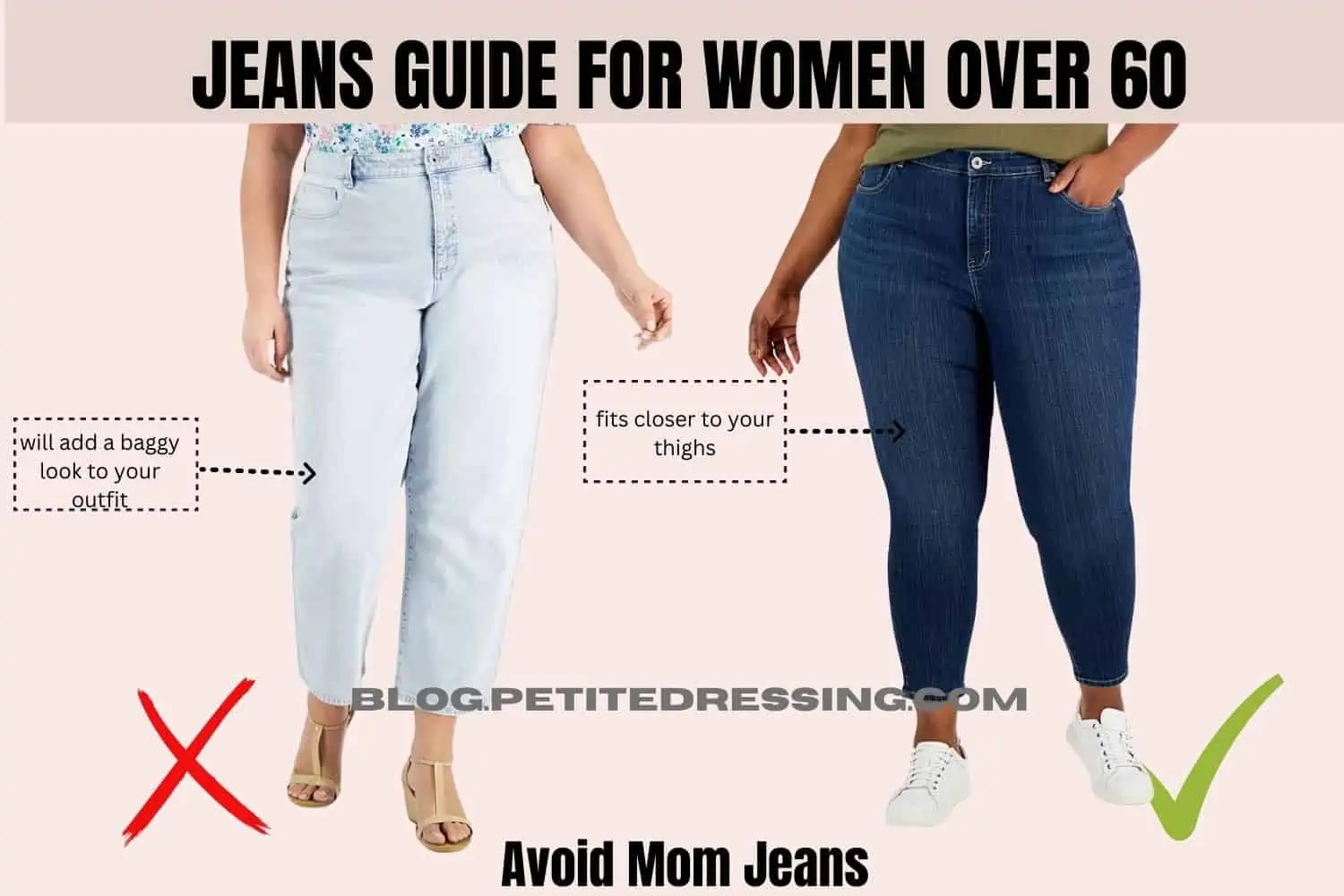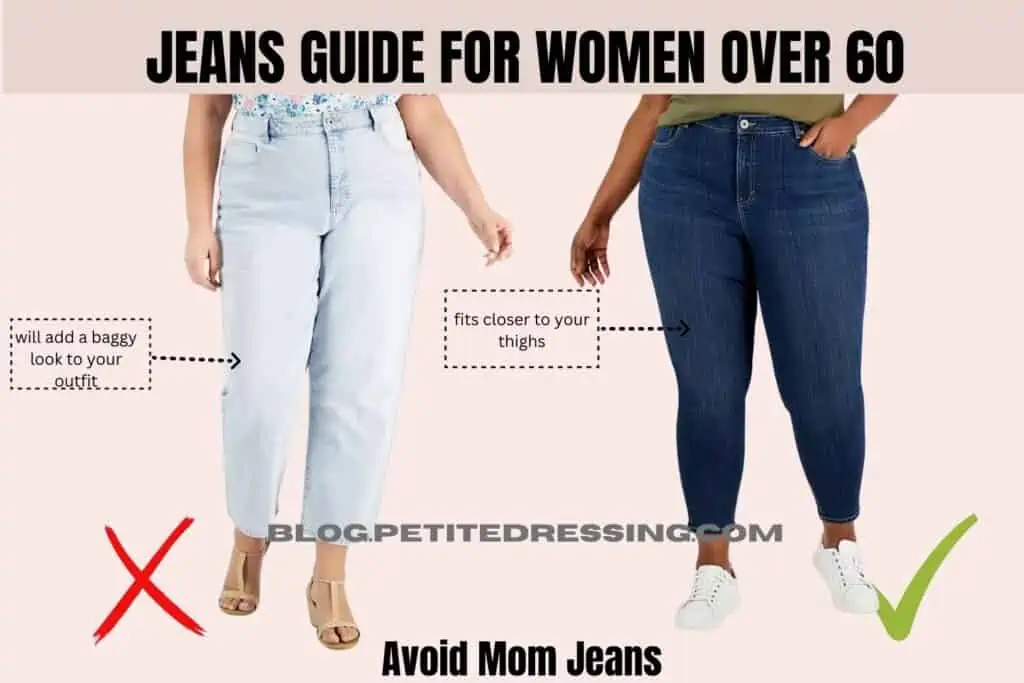 Caution with Skinny Jeans
While skinny jeans might be your safest option, they can sometimes look unflattering.
Try pairing them up with peplum tops or something on the looser side such as tunic tops for a balanced look.
You can't hide areas you don't want to accentuate with skinny jeans as they show off every part equally. Therefore, go for skinny jeans that look flattering on your legs in all areas.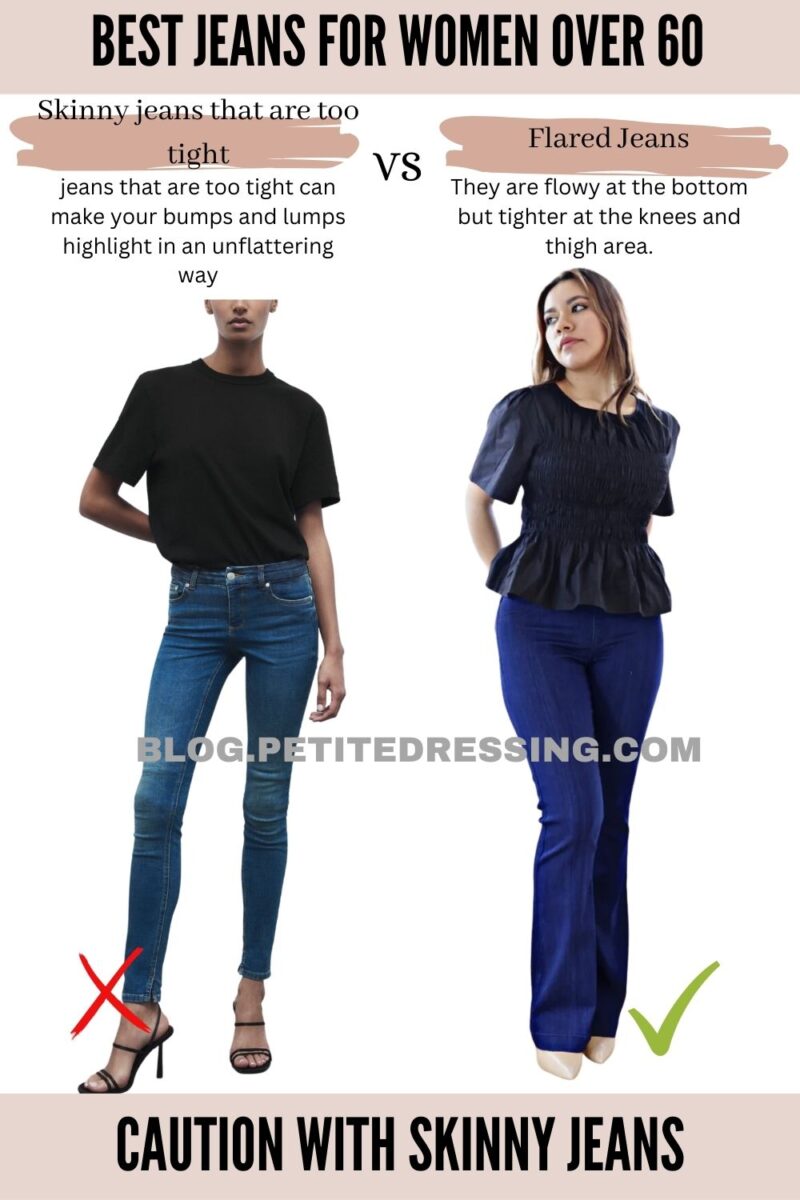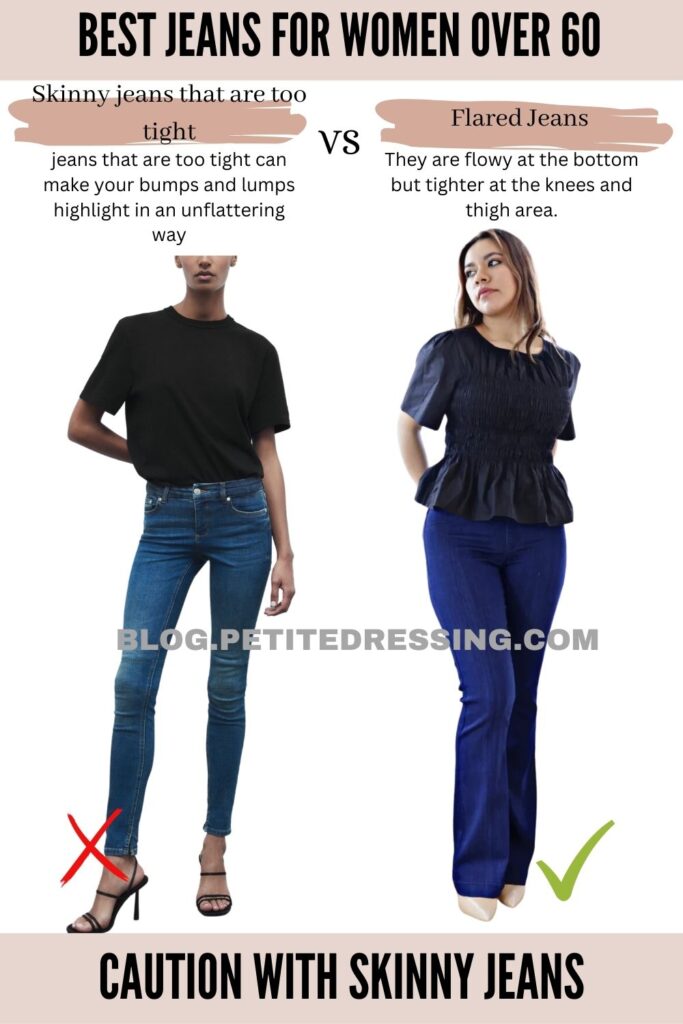 Selective with Colored Denim
Not everyone likes colored denim. But if you like to add some color to your wardrobe, you can get a good pair of colored jeans.

Cream, brown, and white colored jeans are popular nowadays. They are easy to pair up with different tops and are versatile.

However, colors like shocking pink, red, yellow, orange, etc, don't look good at an age like 60. If you want such colors, go for their light versions such as baby pink, pastel blue, etc.

Colored jeans aren't as versatile as blues, blacks, and whites. They are harder to style. So, go for a color that comes in handy a lot such as neutrals.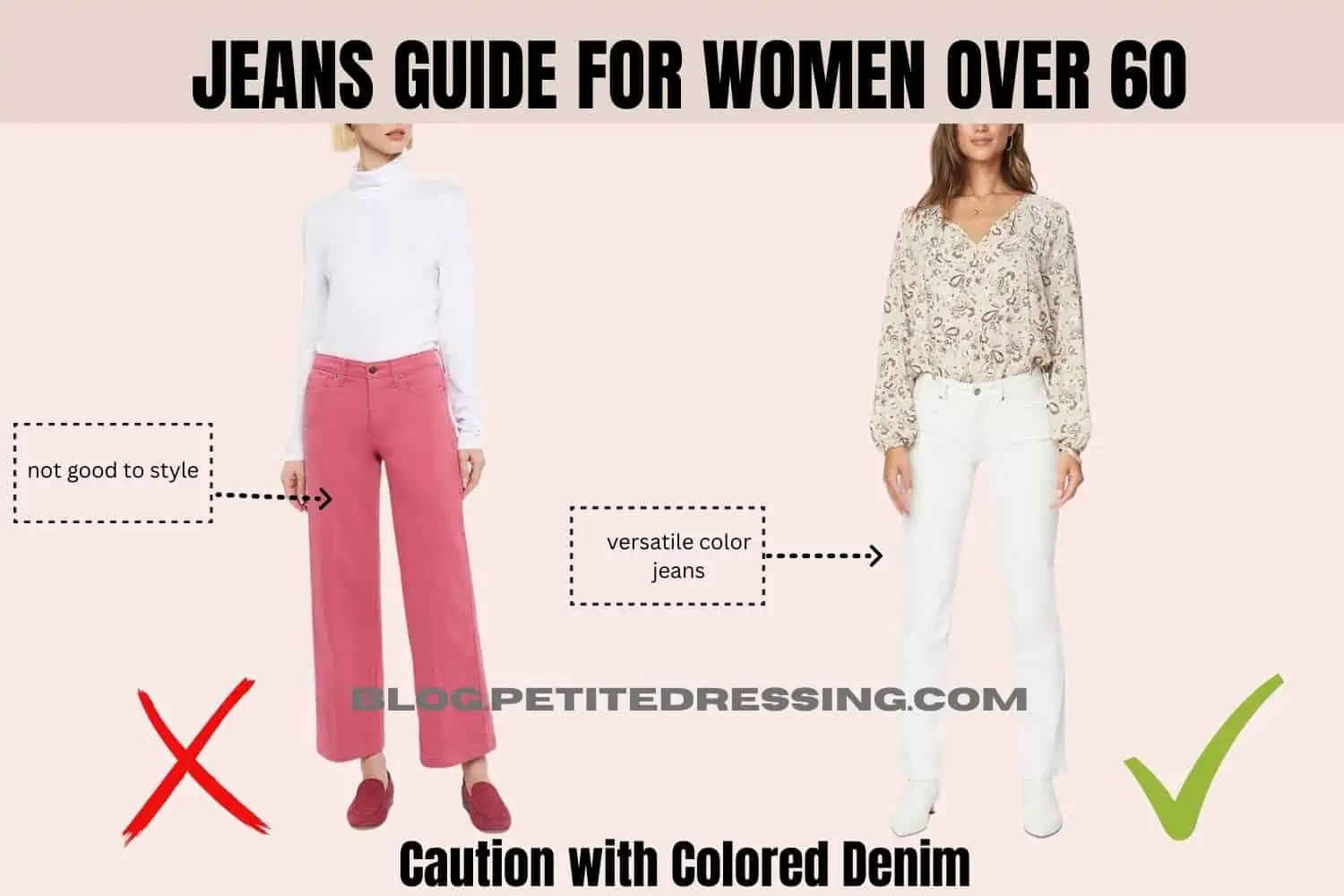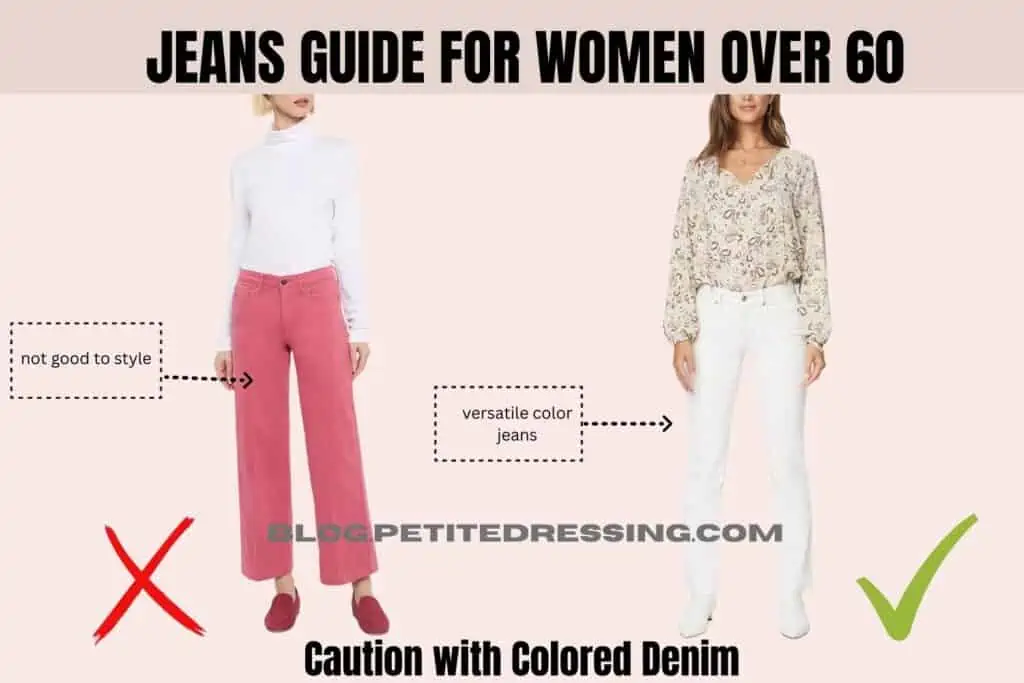 Avoid Loose Jeans
Chubby women in their 60s should wear jeans that make their legs look slim and long. Wearing oversized jeans on chubby legs won't provide you with a promising silhouette.

It is better to go for bootcut, boyfriend, girlfriend, or flared jeans instead of overall loose styles. Going for jeans that fit your upper body and go loose on the bottoms gives a streamlined look to your legs.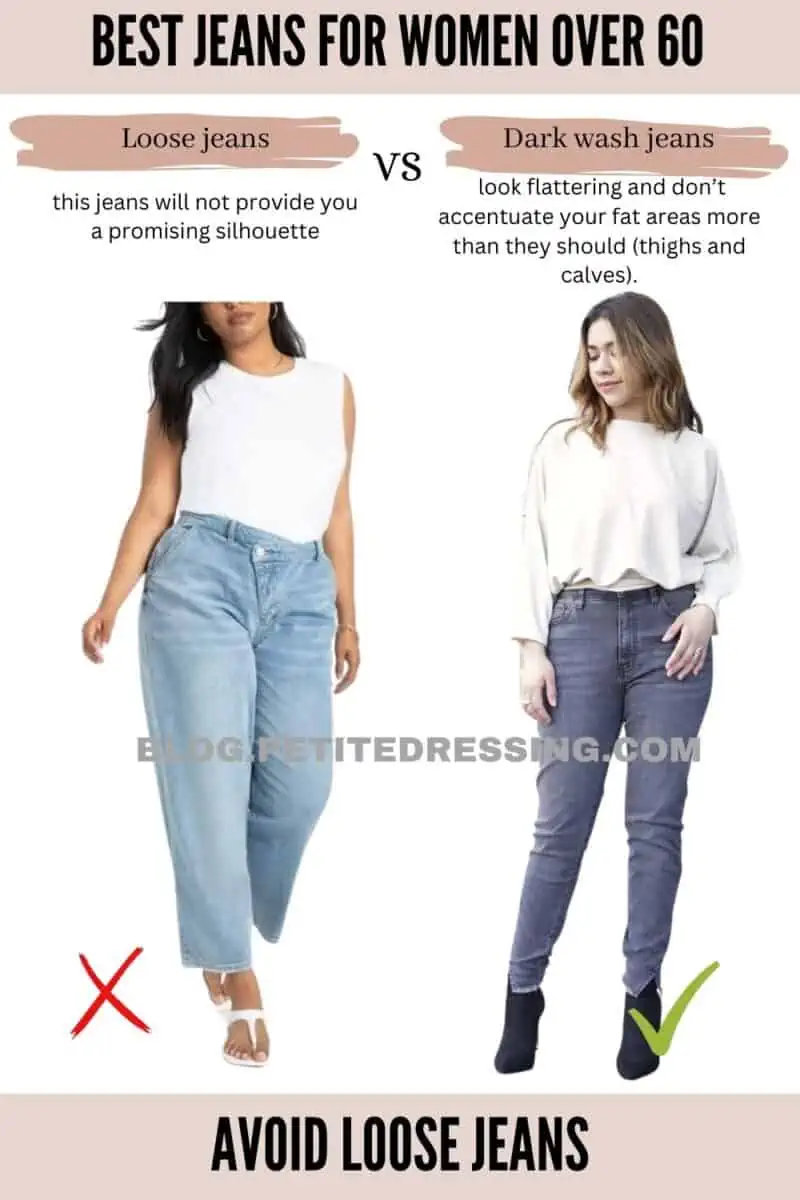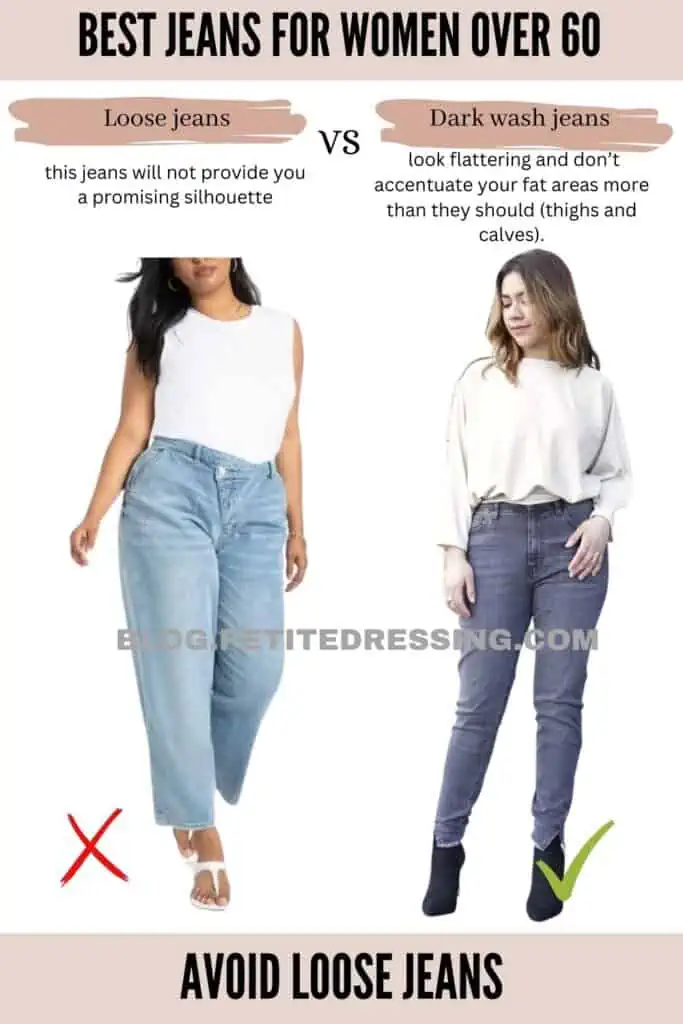 In Conclusion…
Now that you know everything about wearing jeans for women over 60, you can look fly in different pairs of denim. Always buy denim that makes you feel comfortable instead of running after trends.

The right denim is the one that is easy to style up and down, looks good with multiple tops, suits your body type, and doesn't make you feel irritated. Choosing the right top is also important for a put-together look. If you go for loose and long tops and wide-leg jeans, it won't make you look composed.