The assumption is that women in their sixties should always tone down their fashion taste, cancel some outfits from their wardrobes, and the dos and don'ts go on and on. You may be in your sixties, but that doesn't mean you should not be stylish.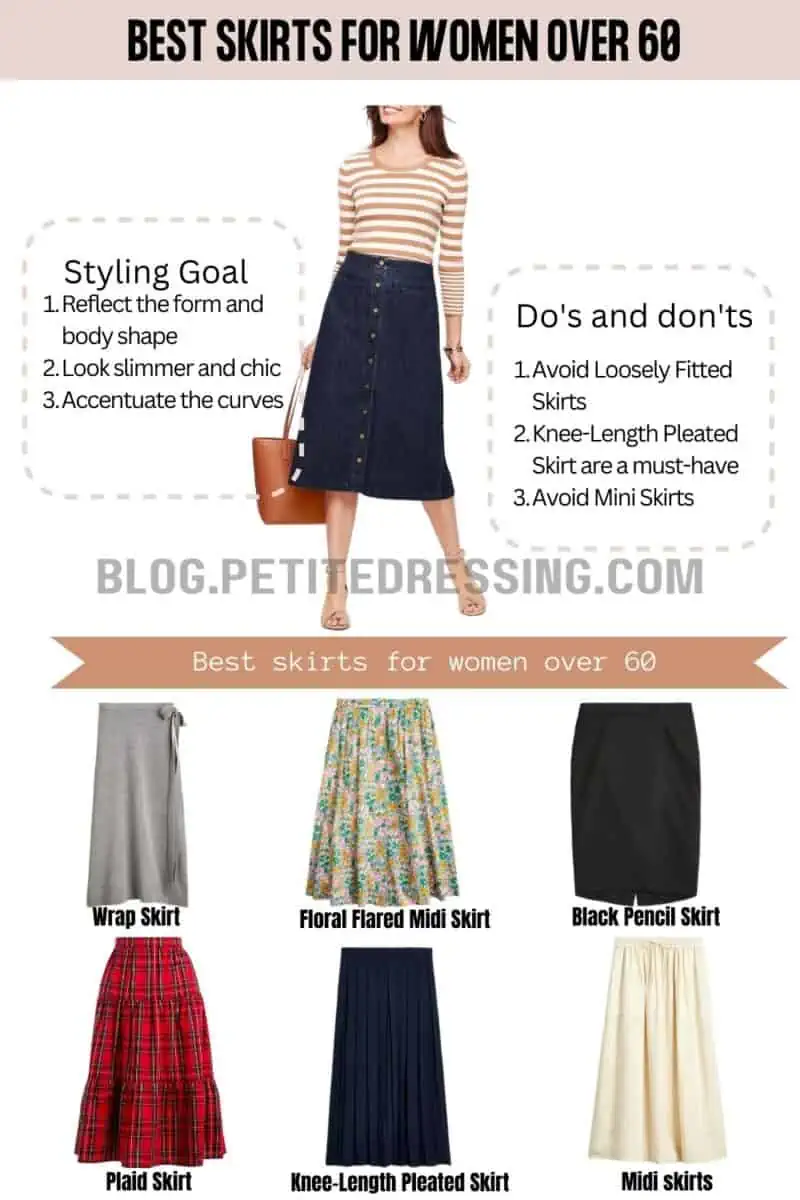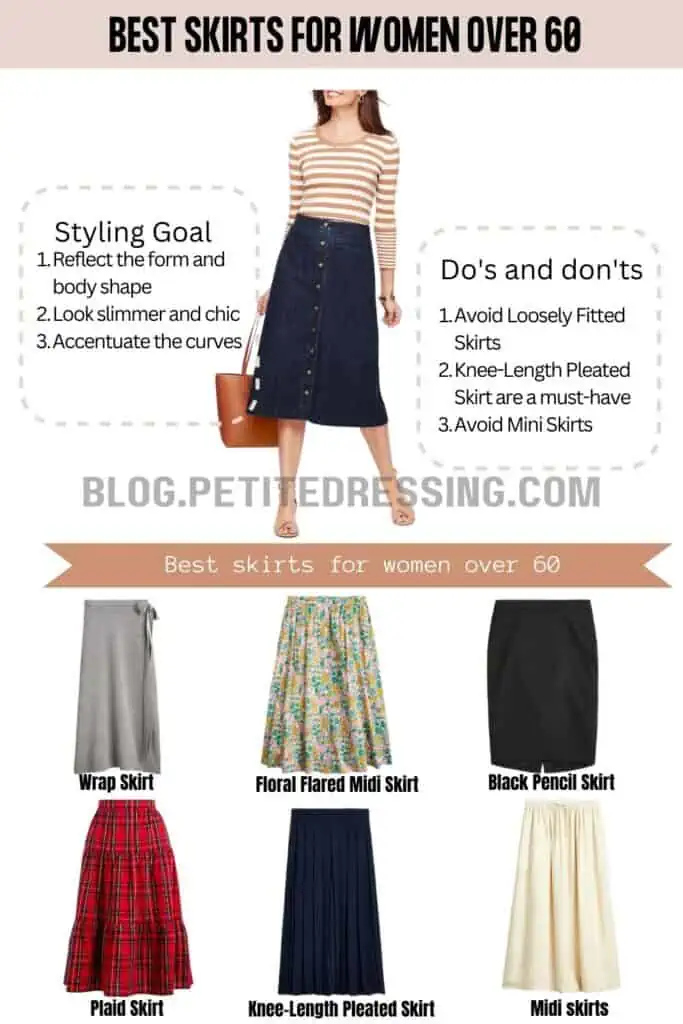 So, if you are worried about what people will say and that's why you choose to close the lid on anything skirts, then this guide is designed to change your impression. This guide will help you choose the best skirts for your closet, while also revealing top tips for styling as a woman over 60.
Wrap Skirt
Wrap skirts are wonderful works of art, especially when combined with a great top. The best ones for women over 60 are the neutral-colored variety, as they give off just the right tone and can be balanced with jewelry.
So, feel free to choose wrap skirts in black, white, or nude colors. Be sure to choose one with an elastic waistband, making it sit firm and comfortable around your waist.
The neutral-colored wrap skirts are versatile and not picky when it comes to footwear. It can be paired with flat shoes, high heels, or sandals, depending on your choice.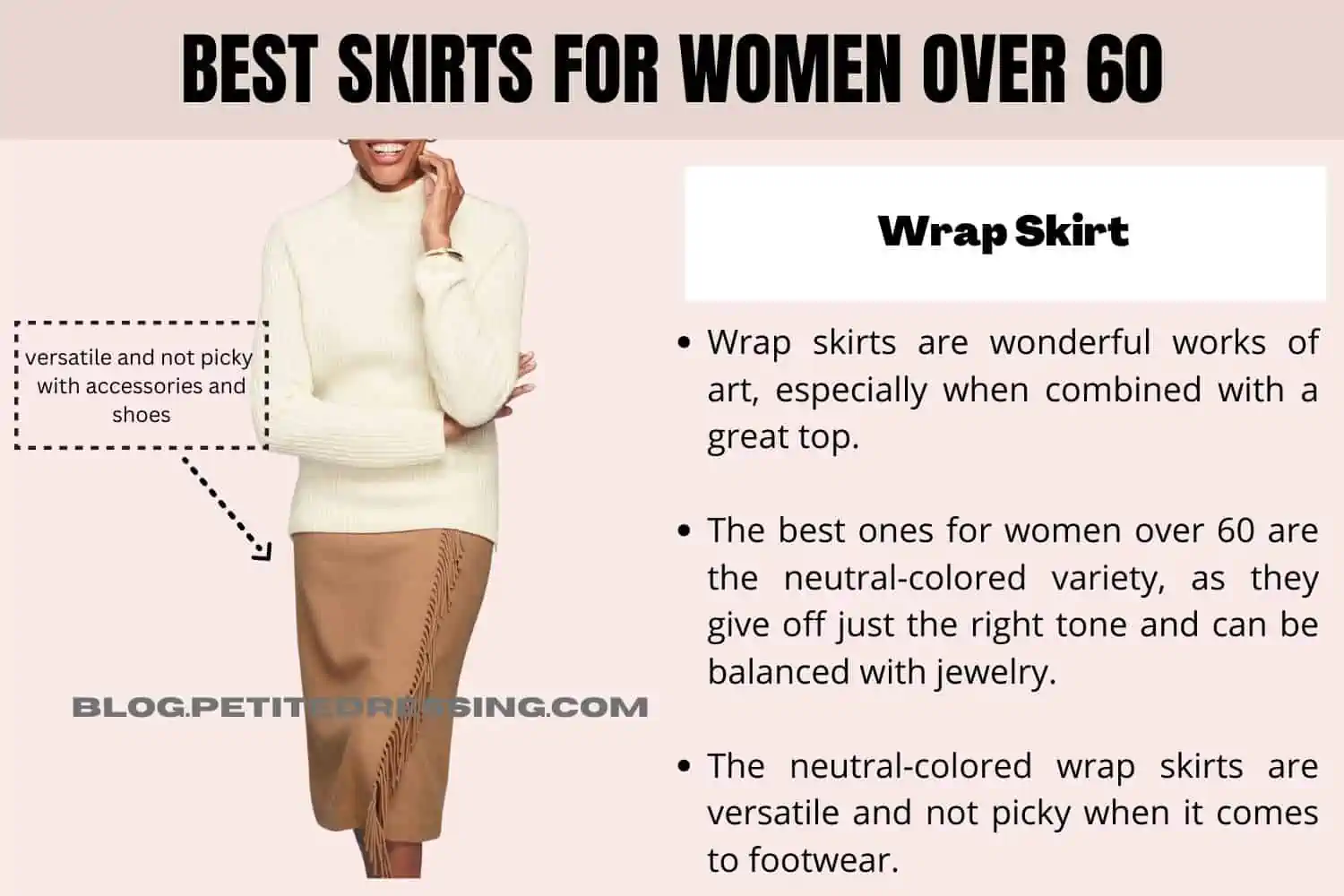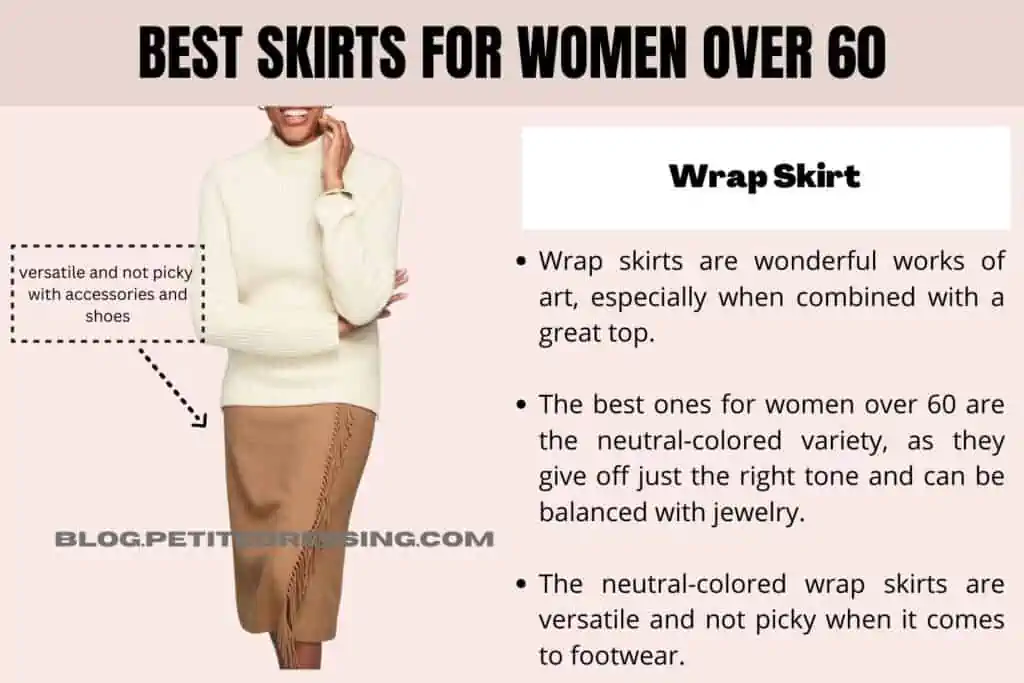 Floral Flared Midi Skirt
The floral flared midi skirt combines classic and contemporary, making it perfect for women over sixty. The idea behind the floral midi skirt is that it provides women above 60 an opportunity to have a skirt that reflects their taste without having to walk around in tight skirts.
The skirts are designed with an elastic waistband at the top, which makes them sit firmly on the waist. It can be used for formal and informal occasions and is not picky when paired with different tops.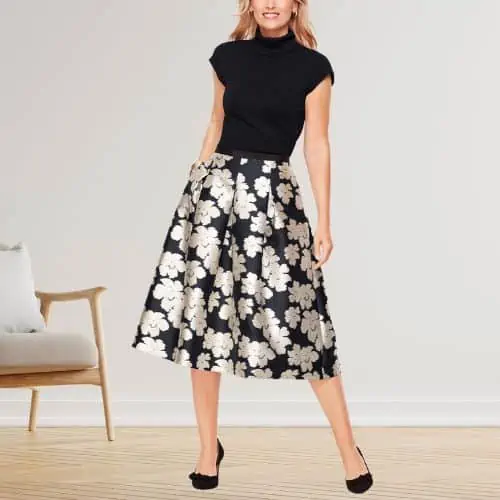 Why opt for floral-fared midi skirts ?
The beauty of the flared style of this midi skirt is that it works great with almost all body types, especially when paired with a nice top and either high heels or formal shoes.
Black Pencil Skirt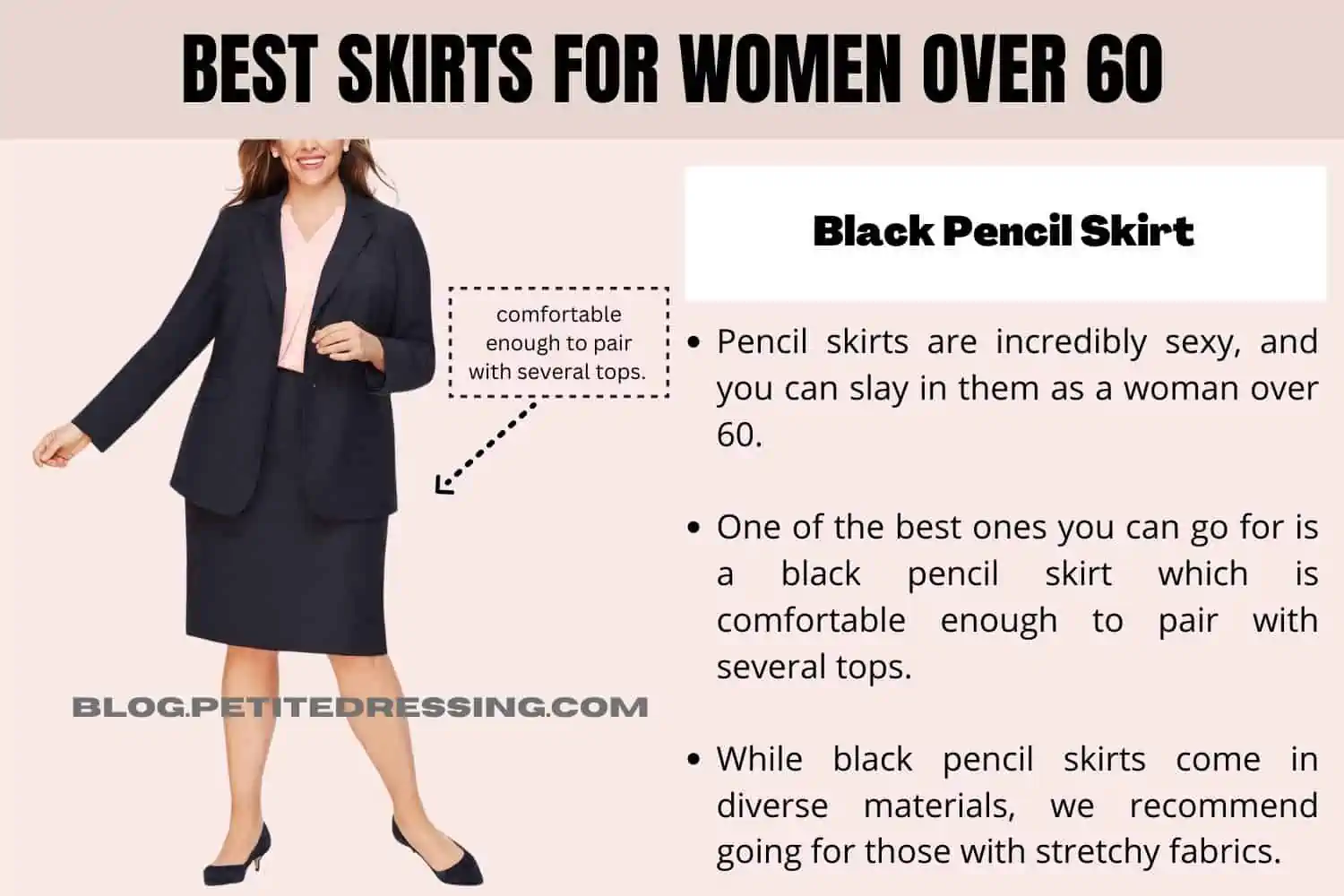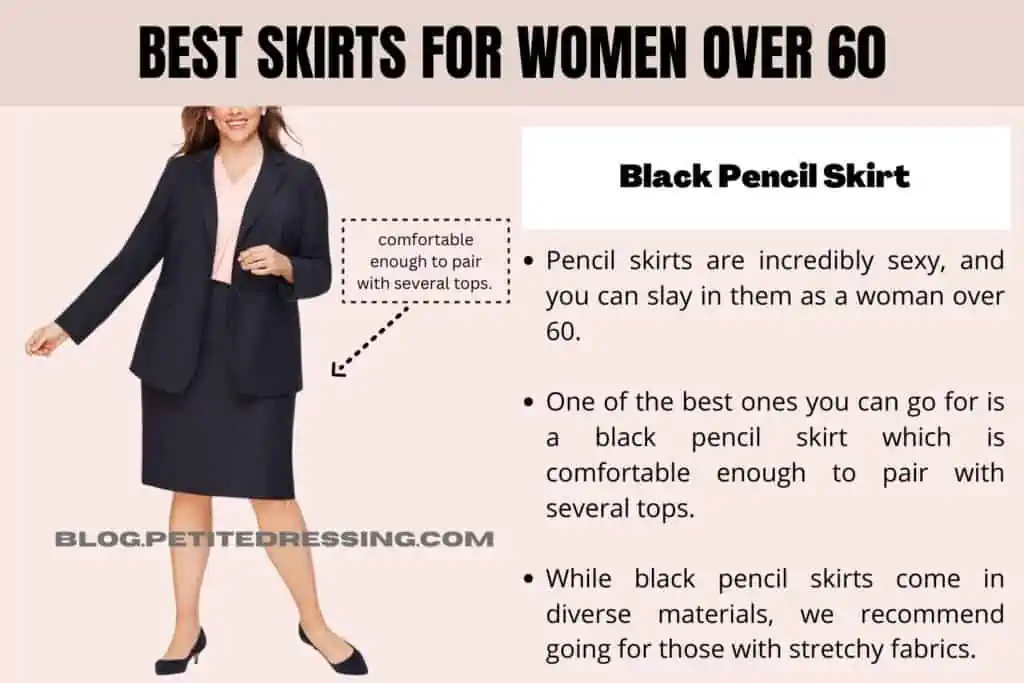 Pencil skirts are incredibly sexy, and you can slay in them as a woman over 60. One of the best ones you can go for is a black pencil skirt which is comfortable enough to pair with several tops.
Be sure to look out for a skirt with slits, so that you won't feel like your legs are squeezed into extremely slim skirts. Many women also love the fact that this design has no zip or buttons as closure, making it one of the easiest skirts to wear for women over 60.
Another amazing way to rock your black pencil skirt is with boots or wedges. Wear this over a long tank top and complete the look with a leather jacket.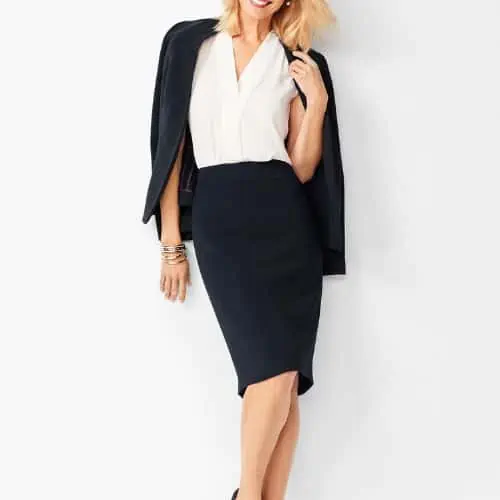 Styles with a black pencil skirt
The beauty of having a black pencil skirt is that it doesn't limit how much you can style with other clothing items in your closet.
You can accessorize with statement earrings and bracelets, especially silver jewelry.
While black pencil skirts come in diverse materials, we recommend going for those with stretchy fabrics. They also have a certain beautiful shine to them, making them stand out everywhere you go.
Plaid Skirt
Your fall wardrobe is incomplete without a flared plaid skirt in there. You can easily pair this with a thick turtle-neck sweater, which is a fantastic option for cold days. A simple round-neck sweater is a great choice for warmer evenings.
There are so many things to love about a flared plaid skirt, and one of them is the design that incorporates mature patterns. Women over 60 can wear this flared plaid skirt for different occasions, whether formal or informal.
They are also high-raised and can be easily tucked in when paired with shirts, and you would still look amazing. It's so easy to fall in love with the simplicity and elegance of the flared plaid skirt, starting from the elastic hold at the waist until it flows out toward the knee.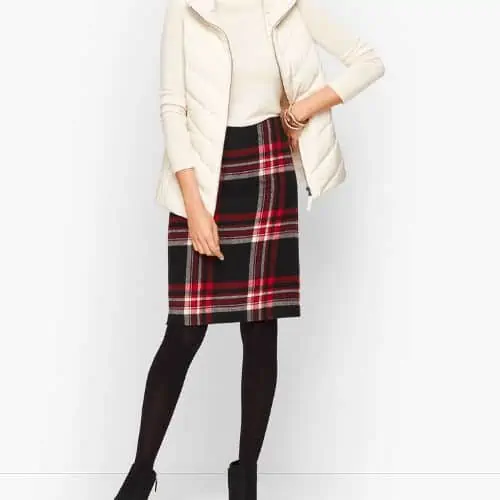 Color recommendations for plaid skirts
Some cool options are black, white, brown, and grey, depending on the pattern of your plaid skirt.
So, you don't look too old for your age. At the same time, you can maintain a classy look that makes you look younger. However, the key to rocking this outfit in the best possible way is to opt for sweaters in solid colors that blend easily with the pattern of the flared plaid skirt.
Finally, don't forget to adorn your feet with something spectacular like a pair of boots or sneakers.
Knee-Length Pleated Skirt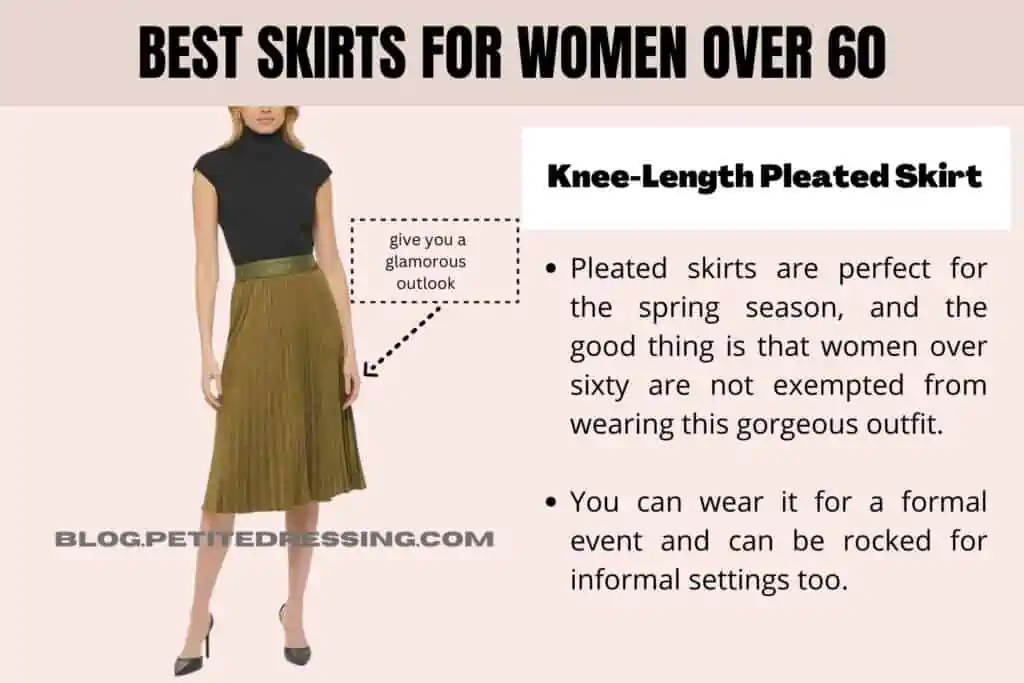 Pleated skirts are perfect for the spring season, and the good thing is that women over sixty are not exempted from wearing this gorgeous outfit. Although most women over sixty must have rocked pleated skirts at one point in their younger years, the good news is that pleated skirts are back, and better.
These skirts are available in different length sizes. While younger women may opt for mini-length, older women will look smarter in knee-length styles. You can pair the knee-length pleated skirt with a soft bomber, t-shirt or blouse.
Either of these tops will still give you a glamorous outlook. The pleated skirt also comes in handy for older women looking for alternative skirts to formal clothes. You can wear it for a formal event like an office function, and if you are the type that likes to tuck in, you have the liberty to do so.
Knee-length pleated skirts can be rocked for informal settings too, especially when paired with V-neck sweater tops. On the footwear, you can pair them with sandals, slippers or high heels, and of course, you can complement the whole outfit with a purse or stylish handbag.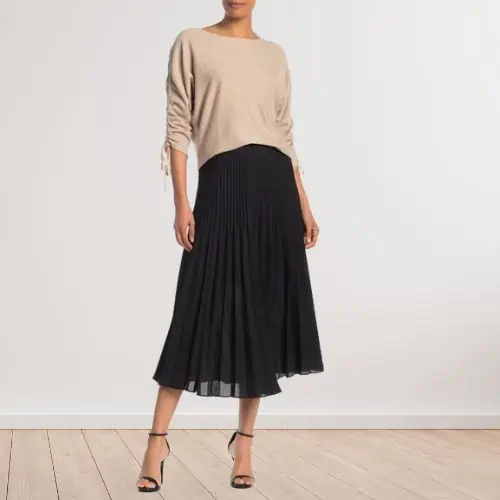 So, what should you consider before buying a skirt as a woman over 60?
This question may look like an easy lane to cross, but sincerely, it is not.
There are plenty of skirt styles, and picking the one that suits your preference can sometimes take time and effort.
Here are some criteria to consider before buying those skirts.
Avoid Mini Skirts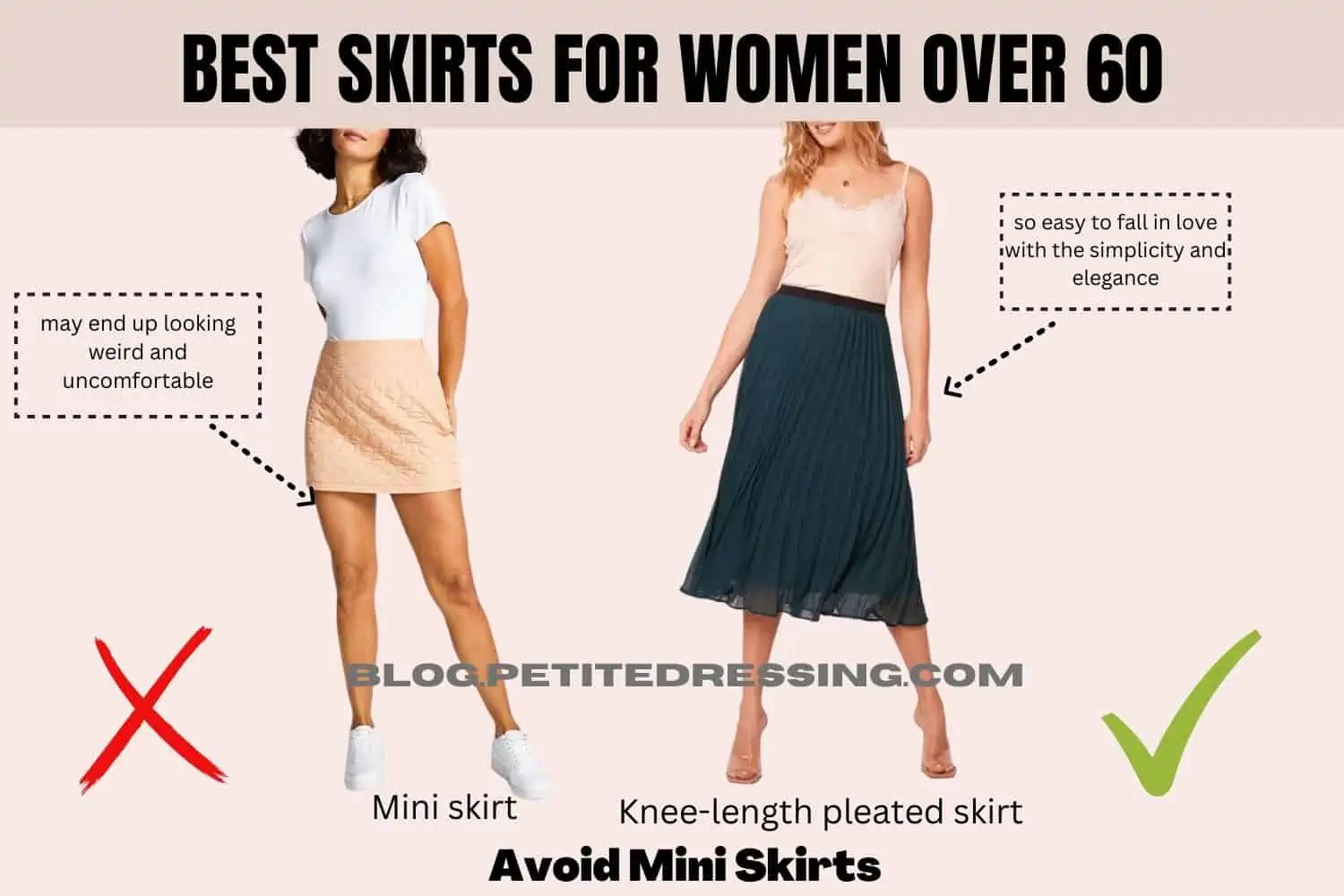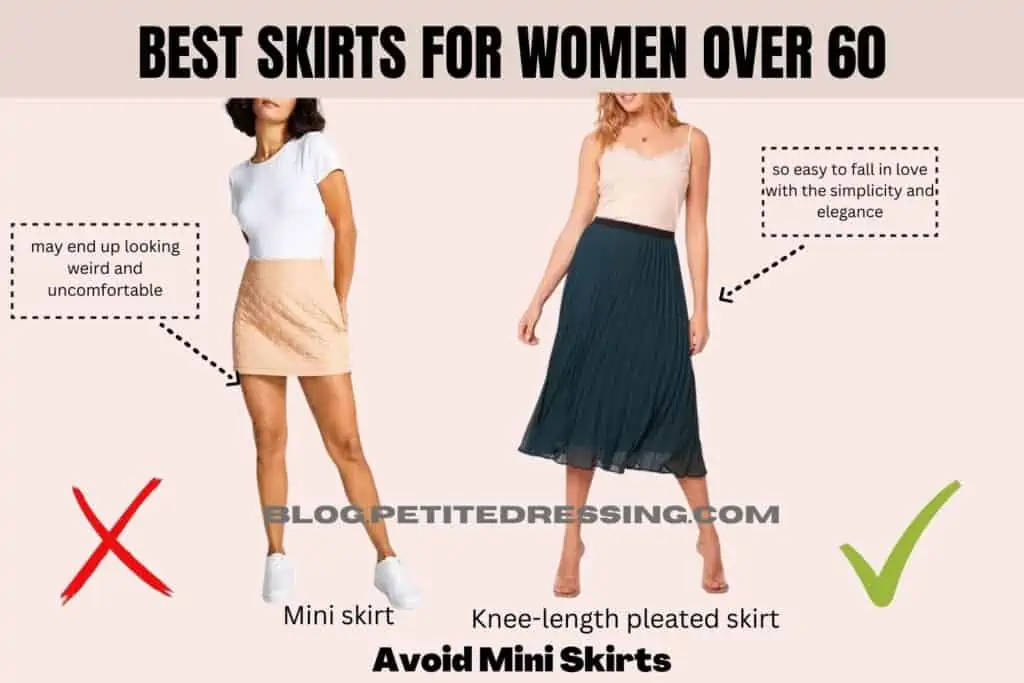 Nothing stops you from looking fashionable and classy when you are over sixty, although most women start toning down the idea of experimenting with new fashion styles as they grow older.
Younger women can experiment with miniskirts and even go over the top with their chosen colors. However, that may end up looking weird and uncomfortable to you. It's always a great idea to avoid skirts that are above the knee, especially if you don't believe that this is your style.
Avoid Loud Colors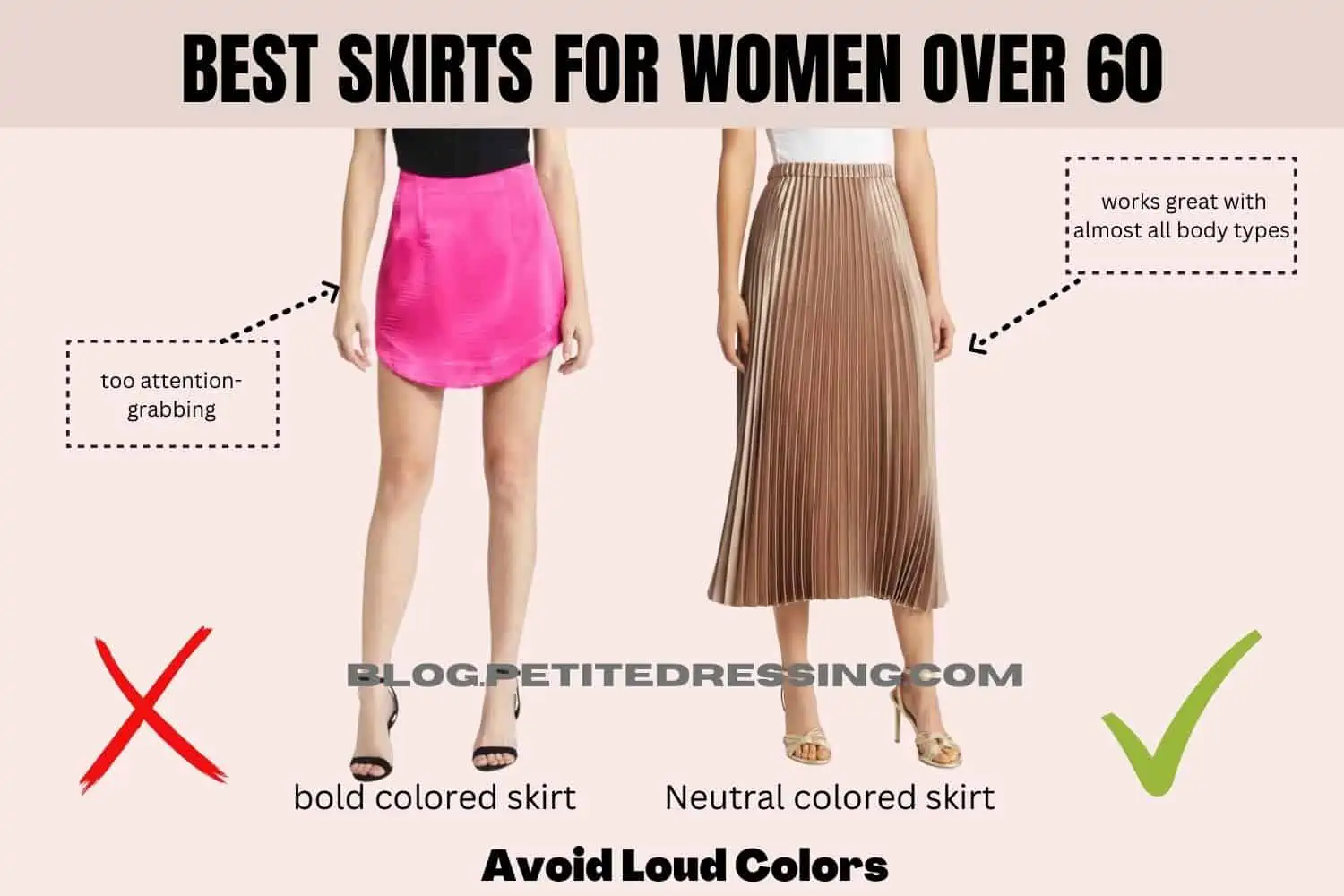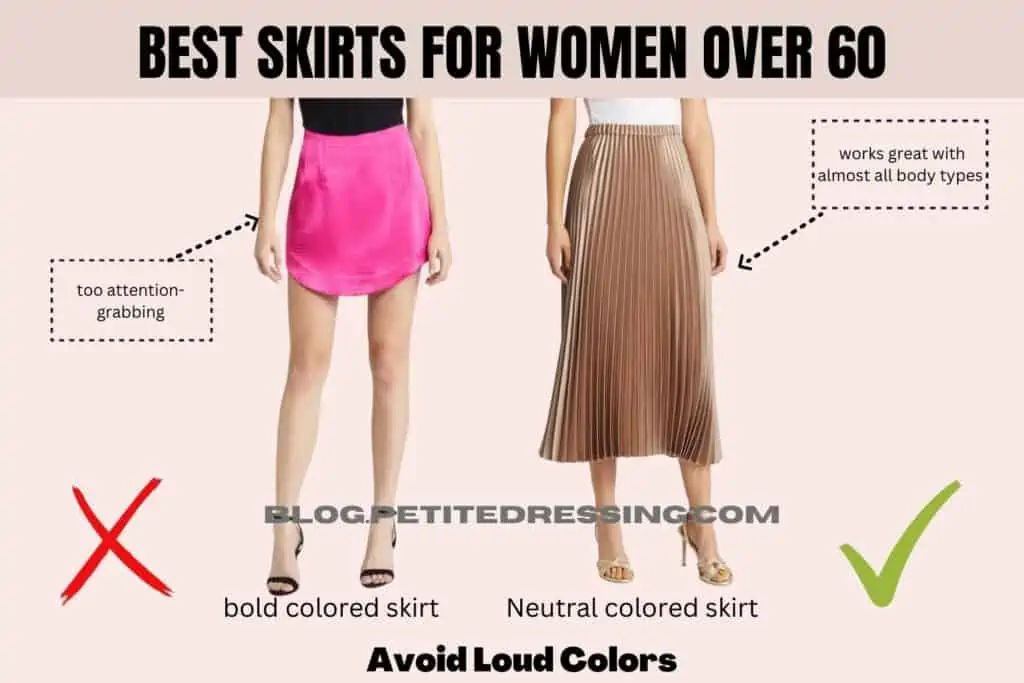 The skirt color is one unique thing you must pay attention to when buying a new skirt for a woman over 60. Will some color be appealing? Yes, but some will not. Nonetheless, as you age, there are some colors you can't go for even if they were your favorite.
As aging sets in, the skin color changes, and many of those colors that make you sparkle as a young woman may not do the magic when you are beyond sixty years old. Before choosing any skirt, we recommend you look at each item objectively to find out if the color matches your skin tone.
These are usually colors that are not loud or too attention-grabbing. If the color matches, that's great; if it doesn't, drop the item. There is no point in expending your scarce resources on a skirt that doesn't make you comfortable.
Avoid Loosely Fitted Skirts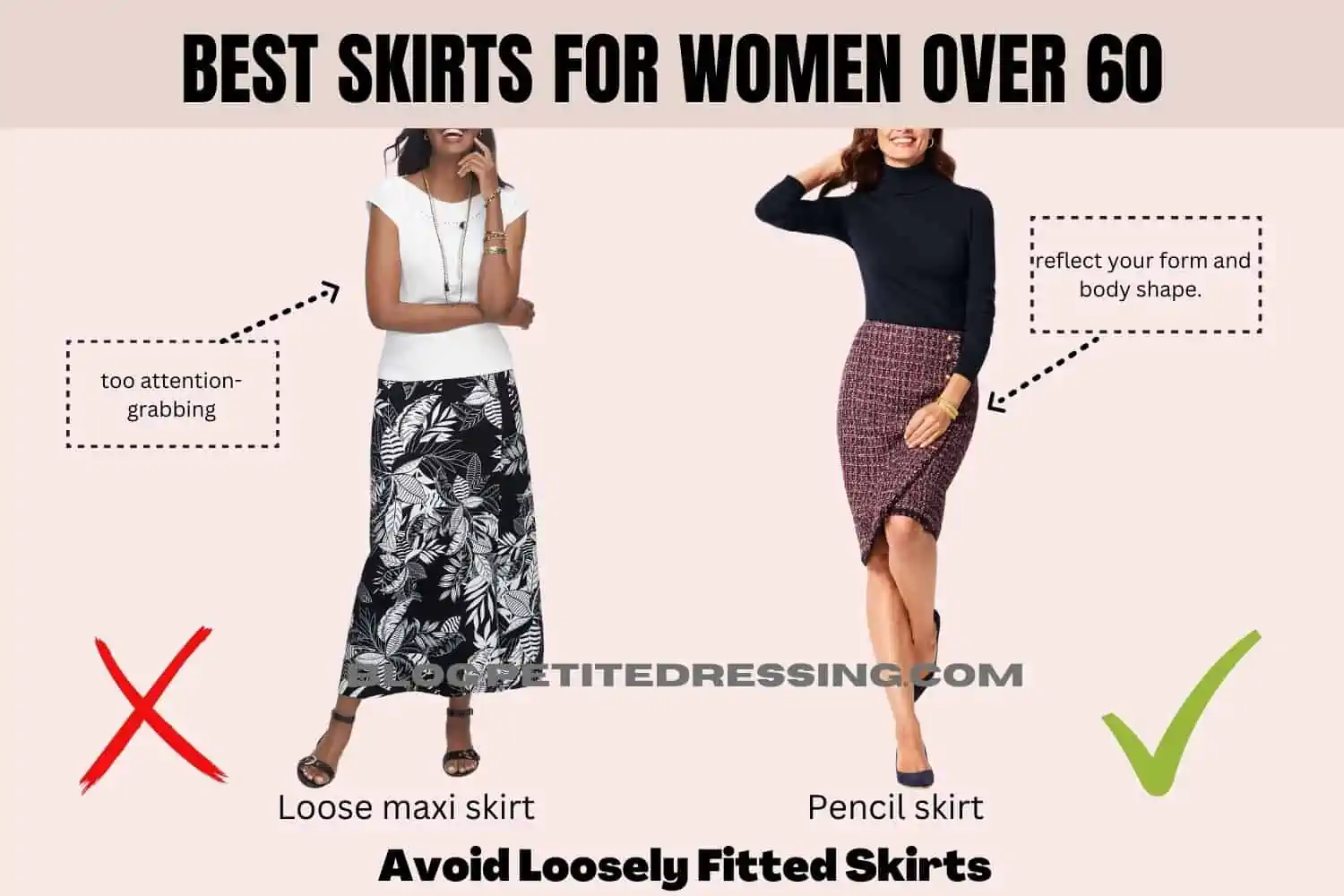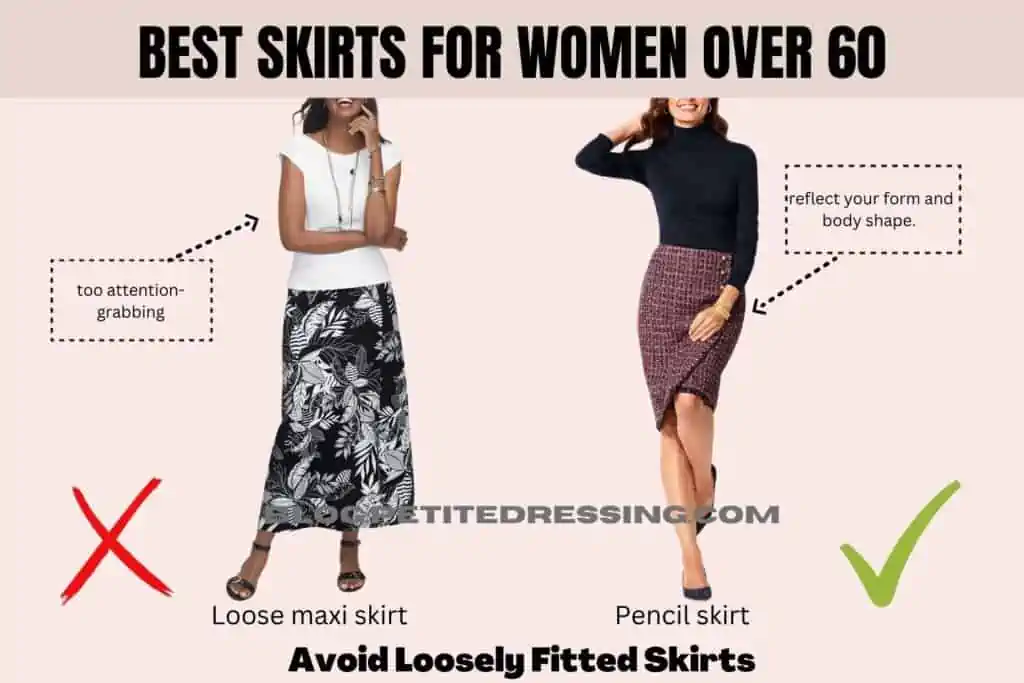 There are many over sixty women trying to hide their bodies by adopting loose skirts because they believe they no longer have the perfect body shape. So, instead of wearing skirts that make them look smart, they go for loose skirts, thinking they can safely hide changing body structures.
Our body changes as aging sets in and nothing can be done about that. If you are a petite woman, the best result is that a loosely-fitted dress will only make you look wider and shorter.
The best thing to do is never shy away from changes in your body structure. Instead, embrace the new reality by wearing skirts that reflect your form and body shape.
Wear with tights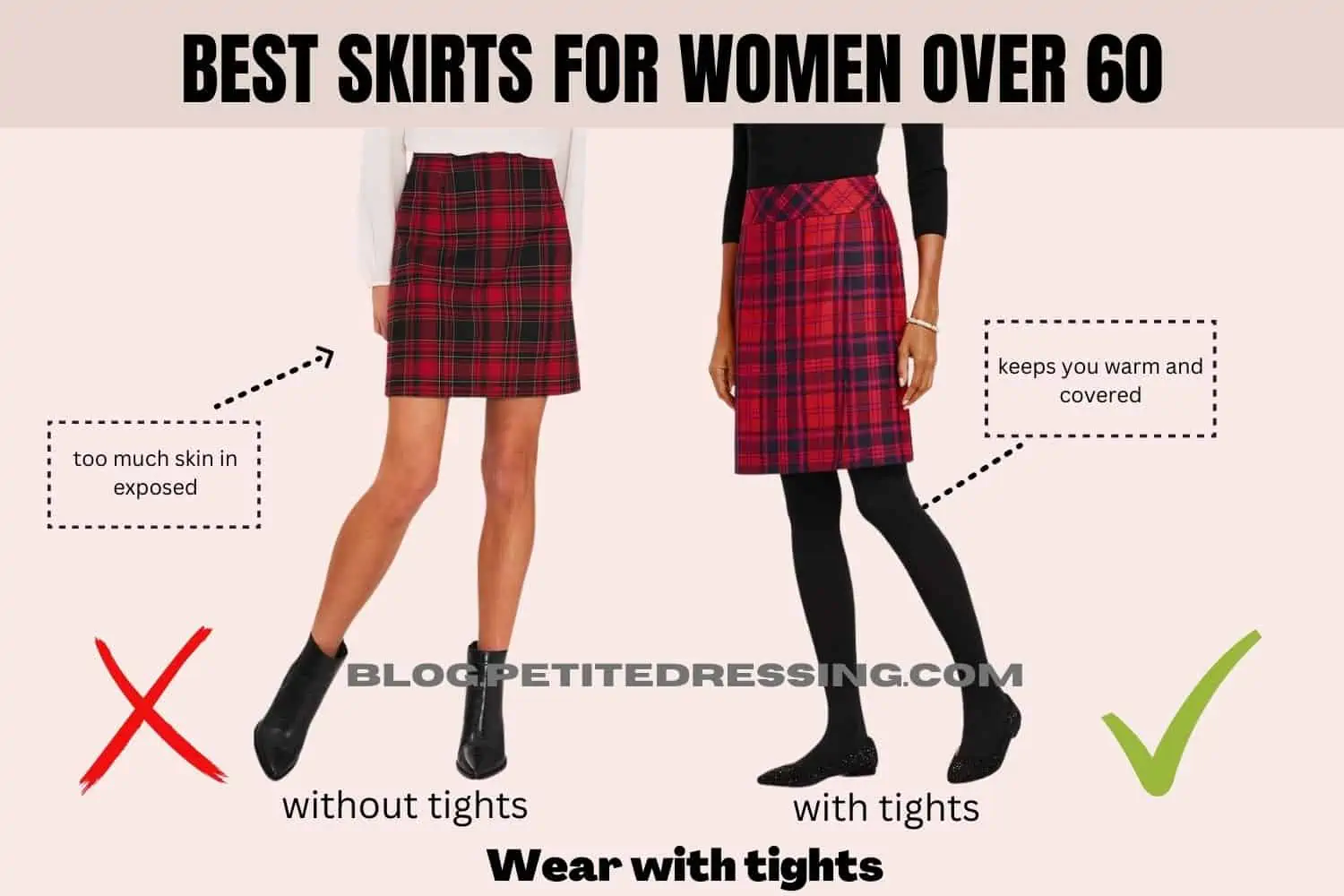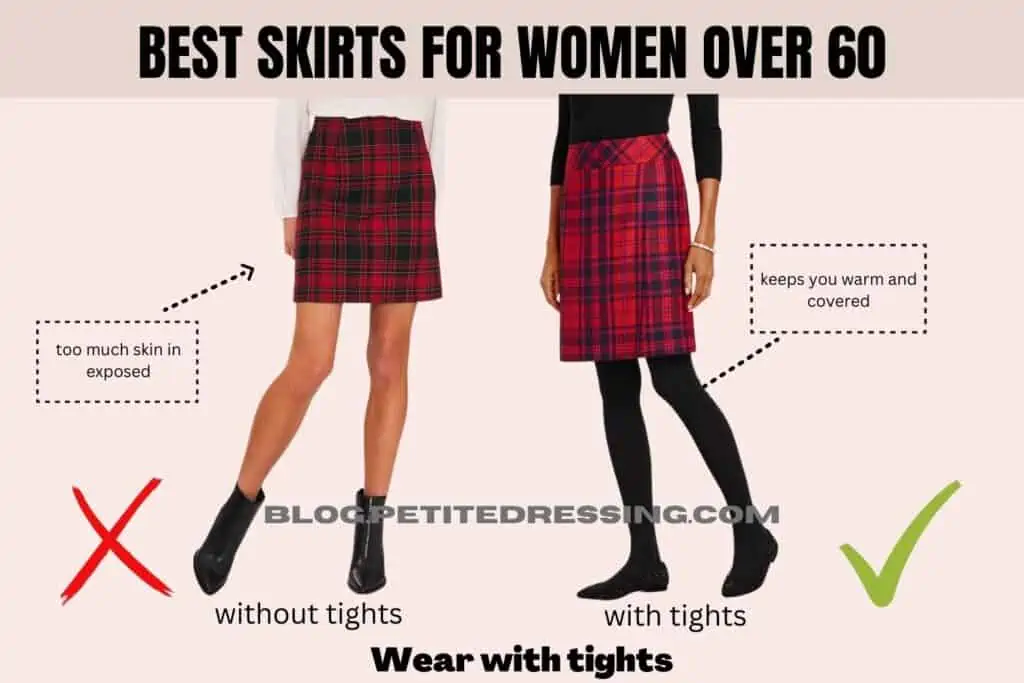 If you still want to rock shorter skirts but are worried about how much-exposed skin you're showing, tights make everything better. Go for a good pair of opaque black tights which not only keep you warm in colder weather, but also cover your legs up nicely.
Match your tights with boots or a pair of heels that match the color of your top. Tights are not so different from leggings as well, as the goal is to wear those that are thick enough to flatter your legs and let you slay in short skirts without feeling like you're showing too much skin.