If you are petite, it's never easy to find the wedding dress, because of your height. I know this from my own experience, as I am 5'2″ myself, so I went through a lot to find my wedding gown.
Having a pear shape means your shoulders are relatively narrower, compared with your hips thighs. In other words, you carry weight in the bottom half. Because of that, you want to be really selective with the types of wedding dress you should choose.
Since I have a petite clothing line for women 5'4″ and under, I style petite models of different body shape every week, including the petite pear. Based on my first hand experiences, as well as feedback from my thousands of customers, I've put together this guide to help you find that perfect gown for your big day.
Styling Goal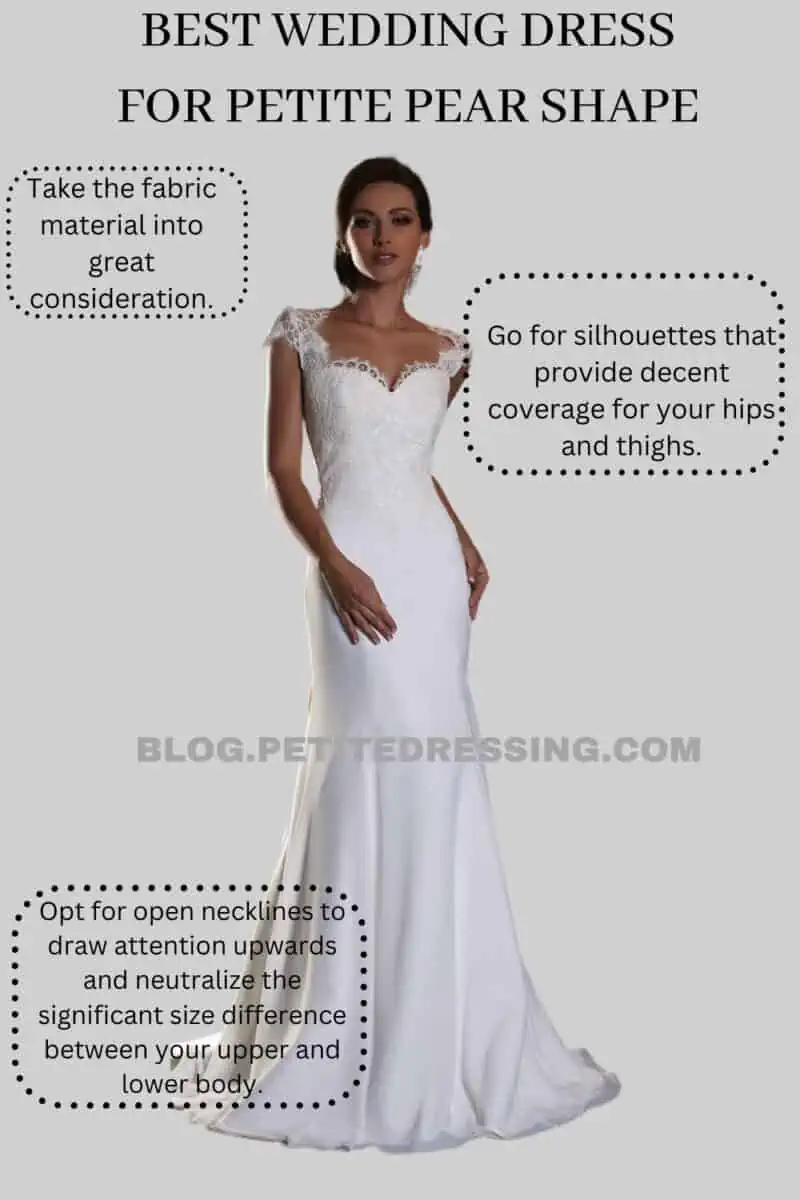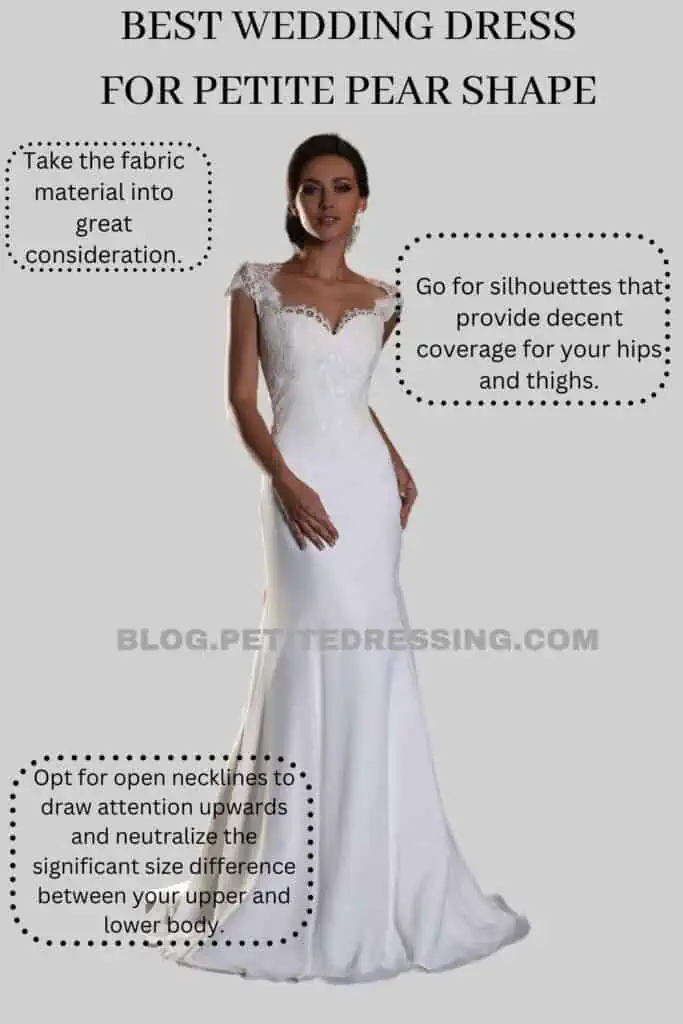 Go for silhouettes that provide decent coverage for your hips and thighs. This means going for fabrics that flawlessly skim through your wider bottom half to tone down its size and make it more proportionate with your smaller upper half.
Opt for open necklines to draw attention upwards and neutralize the significant size difference between your upper and lower body. Some of the best necklines for petite pear shapes are V-Neck, off-the-shoulder, square neck, and sweetheart neck.
Take the fabric material into great consideration. The way the fabric drapes on your body also contributes to the visual flow of your ensemble so go for the ones that are either structured or flowy.
The right fit is everything! The perfect wedding dress is all about the dress embracing your natural figure, and you can do so by going for the ones that aren't too loose or too tight.
Now let's dive into the specific wedding dress styles that will surely flatter your petite pear-shaped body type.
Flowy A-Line Wedding Dress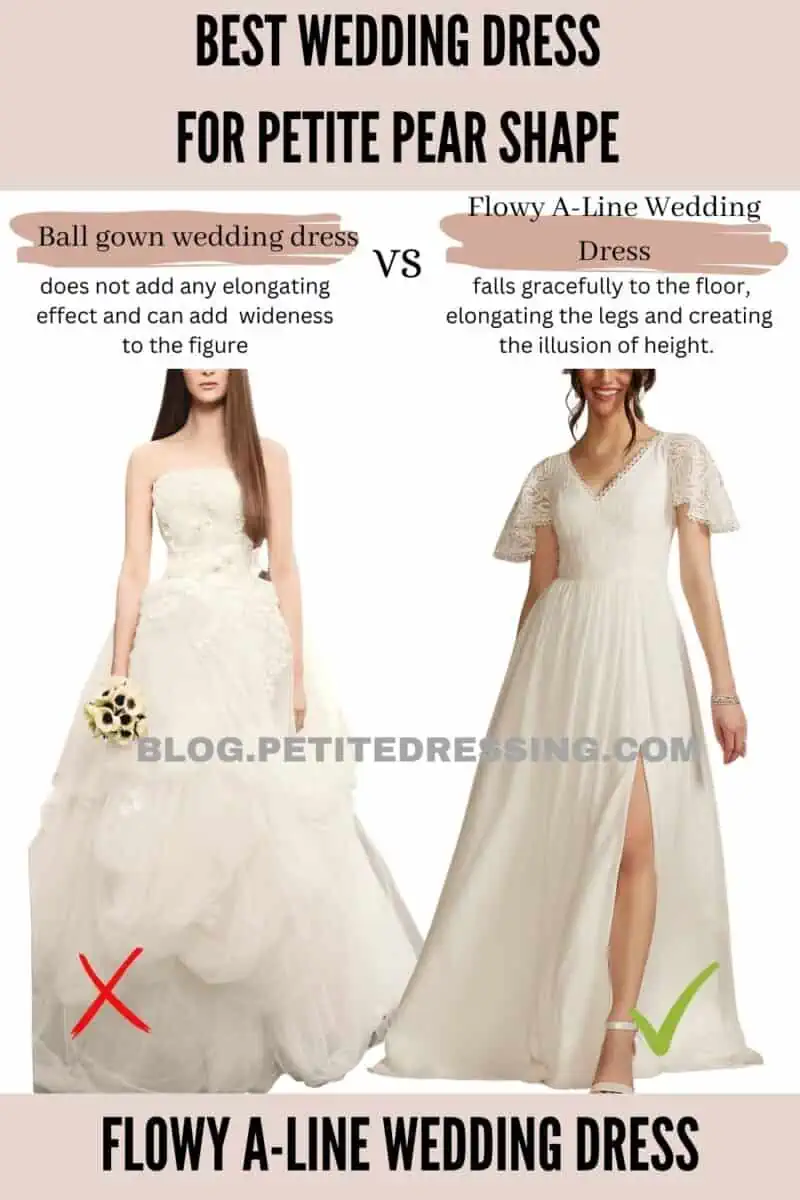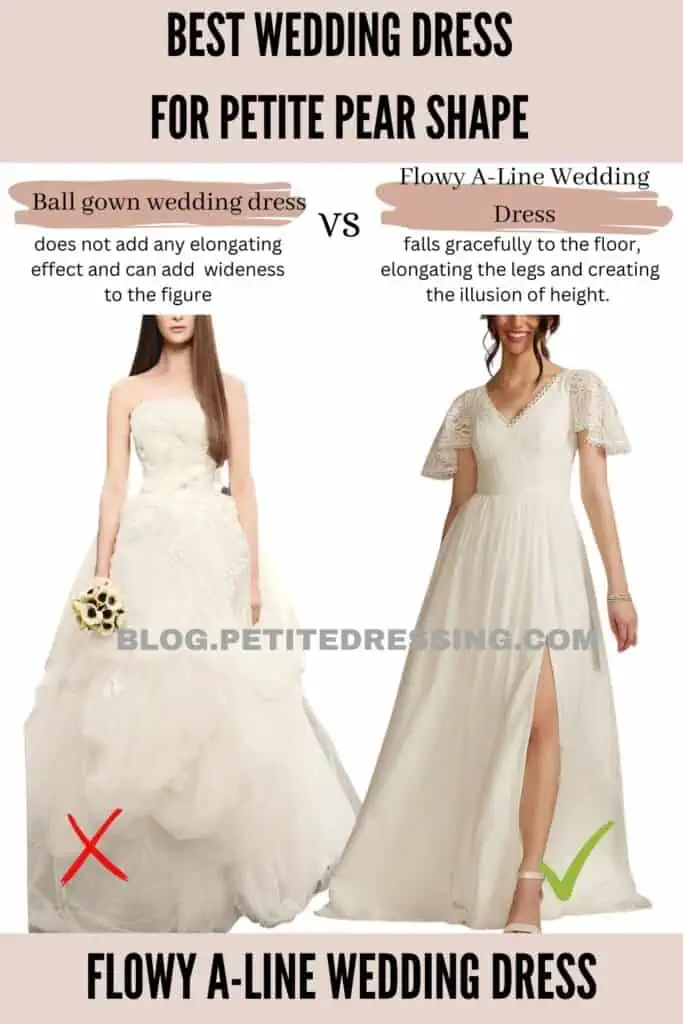 First on our list is a classic wedding dress silhouette that's quite universally flattering for most body shapes, including petite pear shapes. The A-line wedding dress, with its classic and timeless silhouette, is the perfect choice for petite women with pear-shaped figures.
The A-line shape flares out gently from the waist which creates the illusion of having a well-proportionate silhouette by accentuating the smallest part of the waist and skimming over the hips and thighs. This is ideal for pear-shaped women who may have a smaller waist but a curvier lower half.
But that's not all because A-Line wedding dresses also have a flowing skirt that falls gracefully to the floor, elongating the legs and creating the illusion of height. This is perfect for petite women who want to add some length to their frame and look taller on their special day.
V-Neck Wedding Dress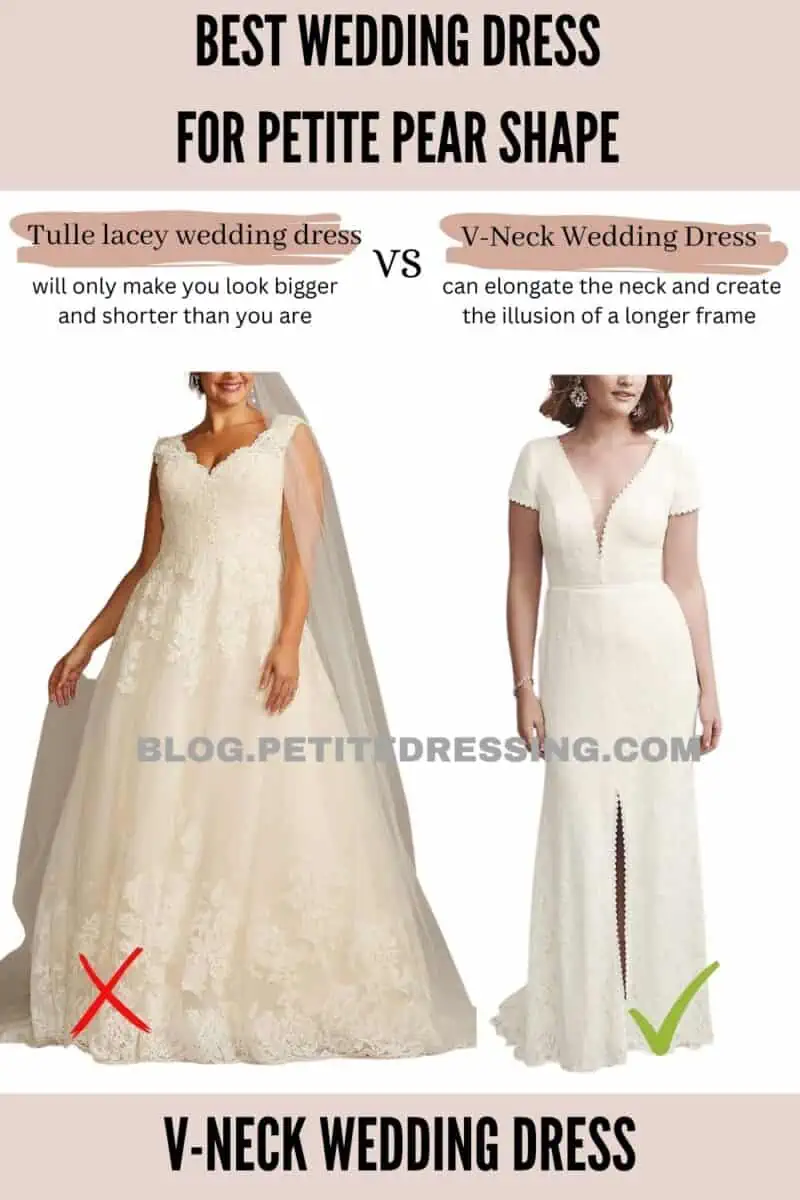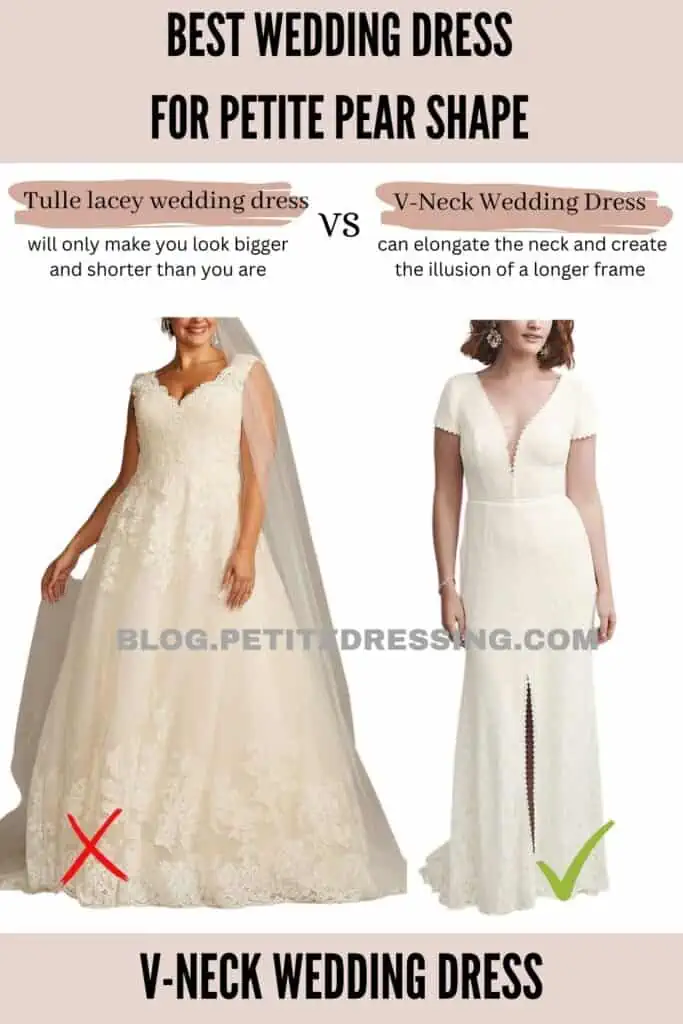 There are a number of different necklines that can flatter petite pear shapes, but one "foolproof" choice would be the V-neck. Now keep an eye on those wedding dresses with V-necklines!
The V-neckline can elongate the neck and create the illusion of a longer frame, which can balance out the pear shape. It also draws attention to the upper body, highlighting the décolletage and collarbones.
Another thing that V-necks do is that they can also create a slimming effect by drawing the eye upward and away from the hips and thighs, which are typically larger on pear-shaped women. Overall, V-neck wedding dresses can be a great choice for petite women with pear shapes as they can help to balance out your proportions to create a flattering, elegant silhouette on your very special day!
Off-the-Shoulder Wedding Dress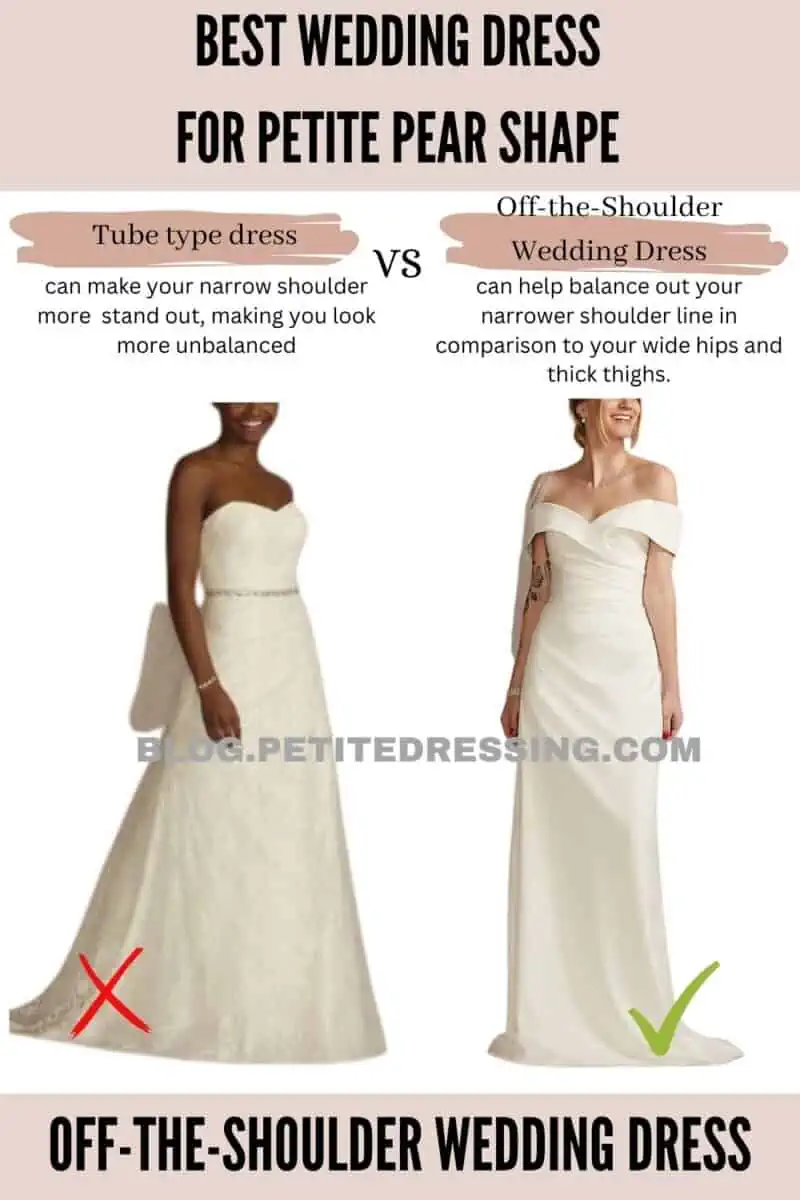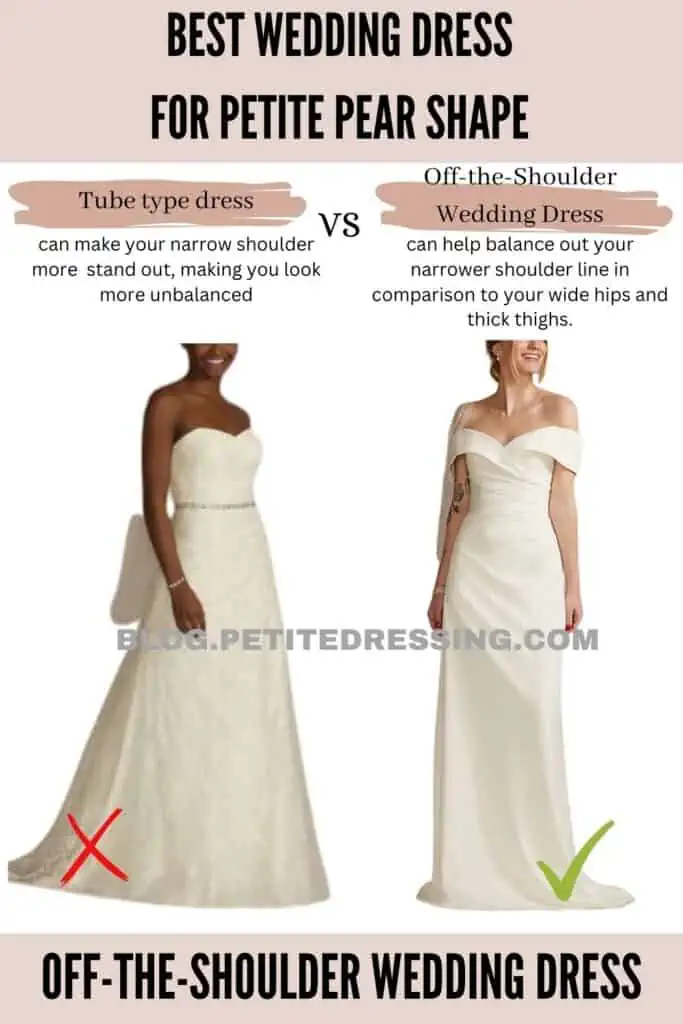 This also goes right under our styling goal of choosing the right neckline to bring your upper body to prominence. Off-the-shoulder dresses can create the illusion of wider shoulders, which can help balance out your narrower shoulder line in comparison to your wide hips and thick thighs.
Off-the-shoulder wedding dresses give emphasis on the upper body as they draw the eye upward, giving the upper body and neckline their much-deserving attention. This can help neutralize the attention from the hips and thighs, which are quite a common concern for pear-shaped women.
If you want to give your bust a bit of boost, you may also opt for off-the-shoulder dresses that feature nice fabric flounces that run along the bust line. This will subtly add volume to your upper half to match your hips and thighs, all while making your waist definition more apparent.
Empire Waist Wedding Dress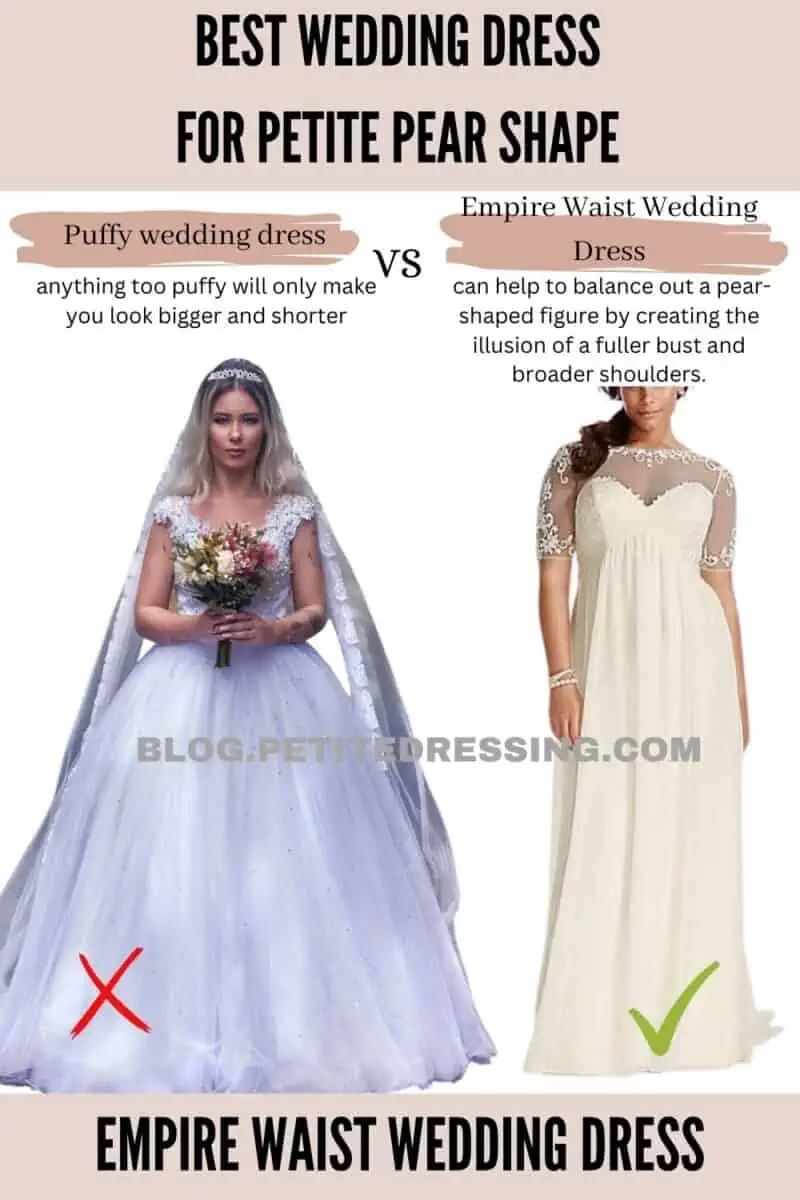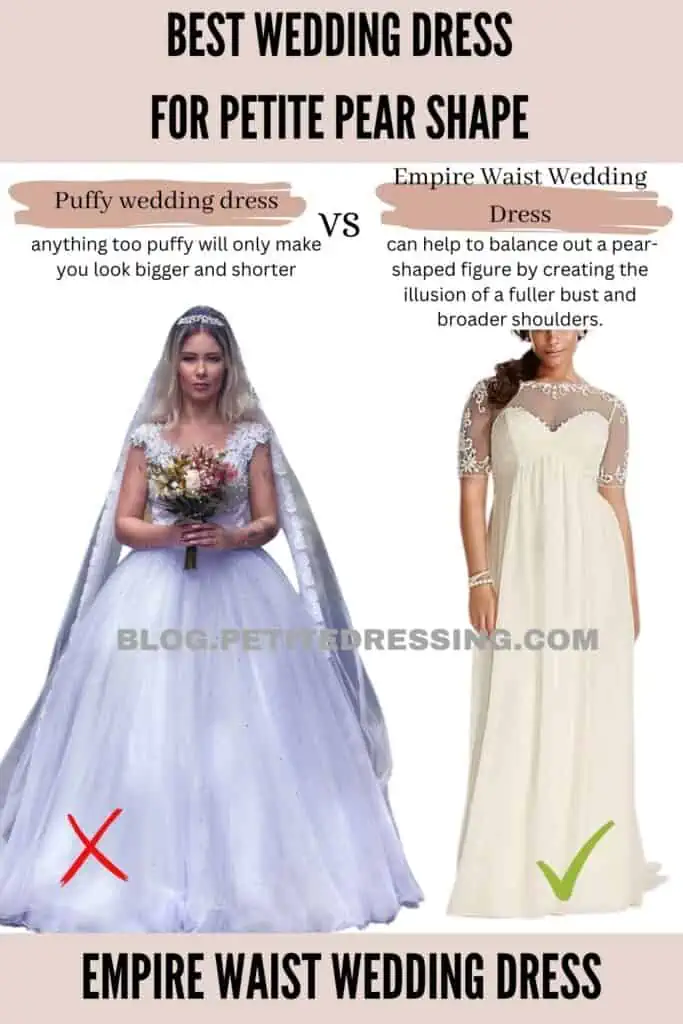 An empire waist wedding dress draws the eye upward, putting the focus on your upper body and décolletage. This can help to balance out a pear-shaped figure by creating the illusion of a fuller bust and broader shoulders.
By choosing a soft, flowy fabric for your empire waist wedding dress, it will be able to seamlessly skim through your curves and draw a vertical straight line that will make you look leaner.
In addition to this, the empire silhouette is a timeless and elegant choice that will never go out of style. With its flattering silhouette and romantic, feminine details, the empire waist wedding dress is the perfect choice for any petite pear-shaped bride looking to feel confident, beautiful, and effortlessly chic on your big day!
Tea-Length Wedding Dresses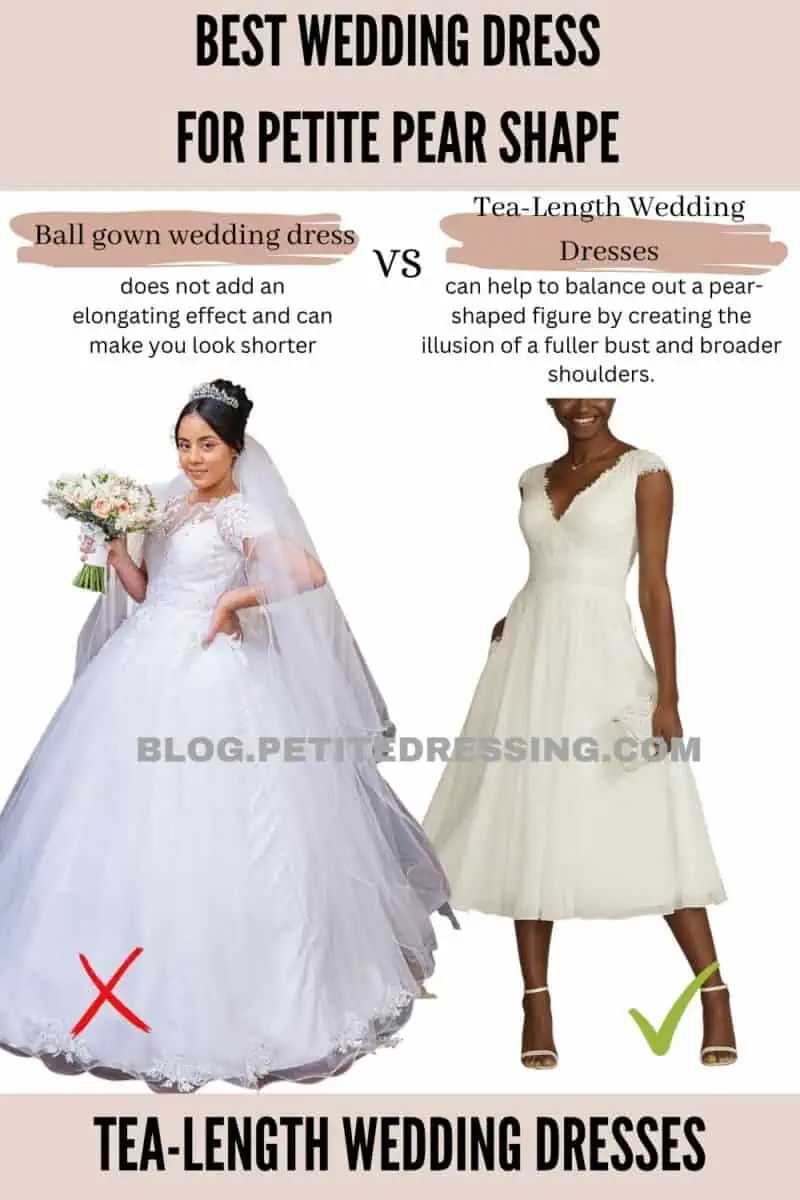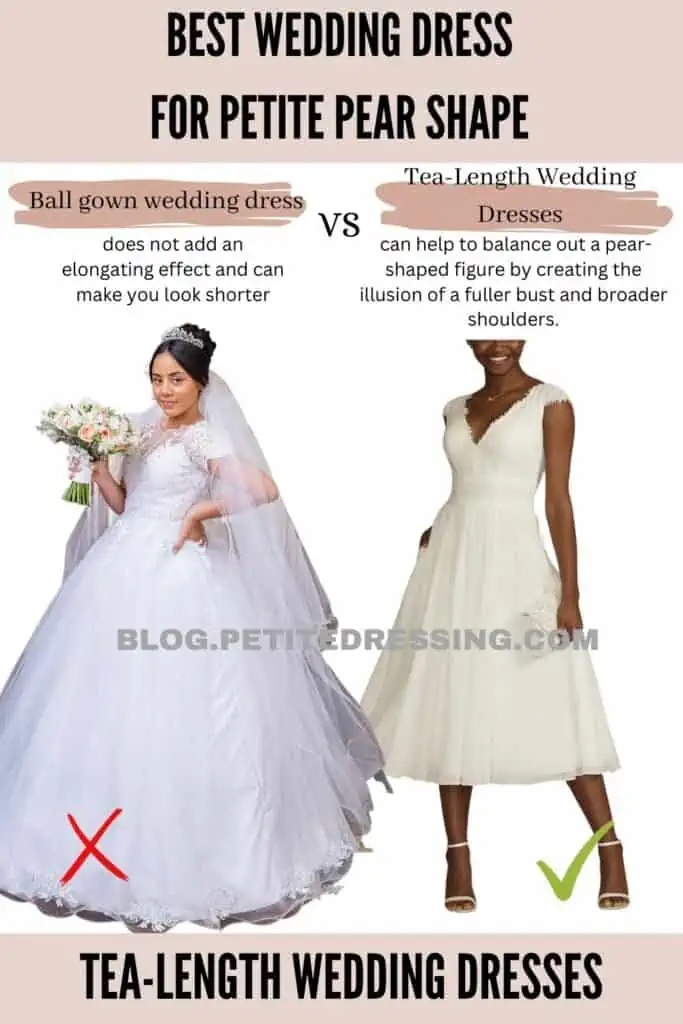 Tea-length wedding dresses are a popular dress style that falls between the knee and ankle, creating a playful and elegant look. They are perfect for petite women who want to show off their legs and add some height to their frame, while still maintaining a traditional bridal look.
They can also be a great option for pear-shaped women, as they draw attention to the slimmest part of the leg and create a balanced silhouette.
For petite pear-shaped women, tea-length wedding dresses can be particularly flattering because they emphasize the waist to pull the entire ensemble all together. The fitted bodice and full skirt of the dress can help to create an hourglass figure, accentuating the curves of the waist and hips.
Belted Satin Wedding Dress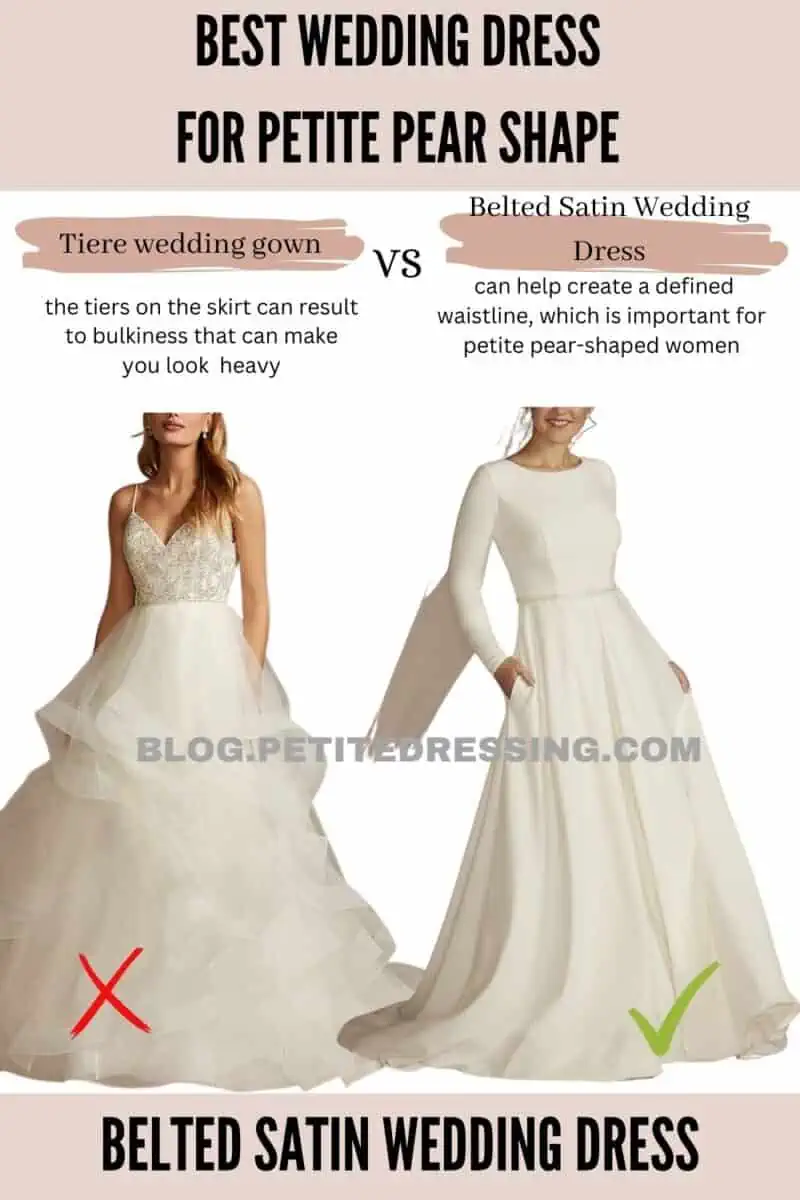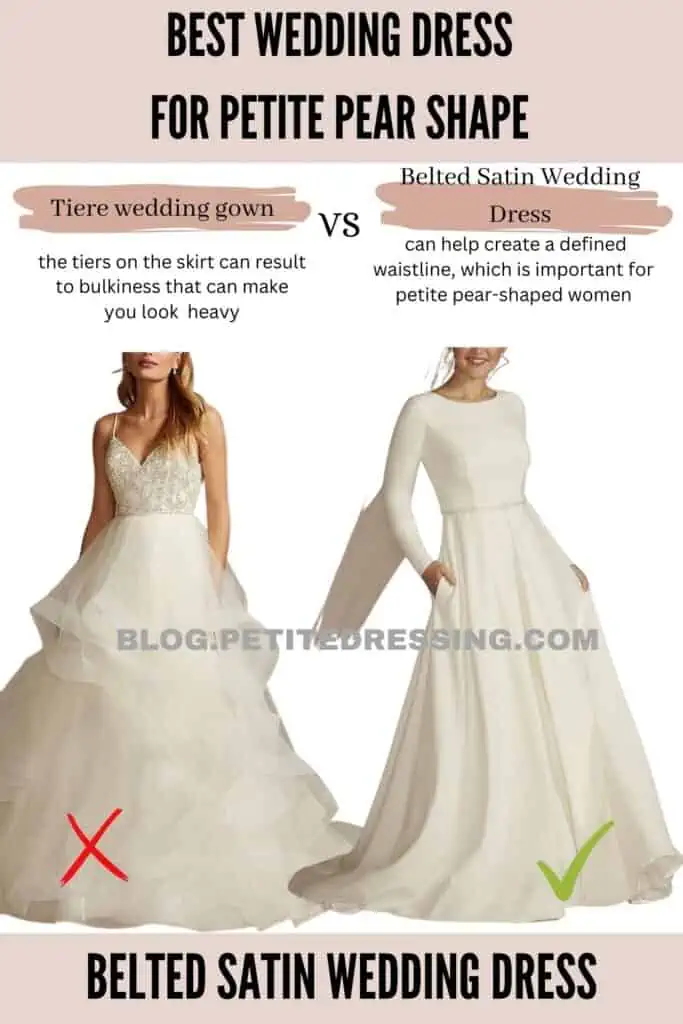 Cinching your waist is one of the most effective ways to bring balance between the upper and lower body of a petite pear shape. A belted dress can help create a defined waistline, which is important for petite pear-shaped women who tend to carry more weight in their hips and thighs.
In addition, satin is a lightweight, flowing fabric that drapes beautifully and can help elongate the silhouette. The fluidity of the fabric can create a continuous line from the waist down, which can help make the legs appear longer.
Fit and Flare Wedding Gown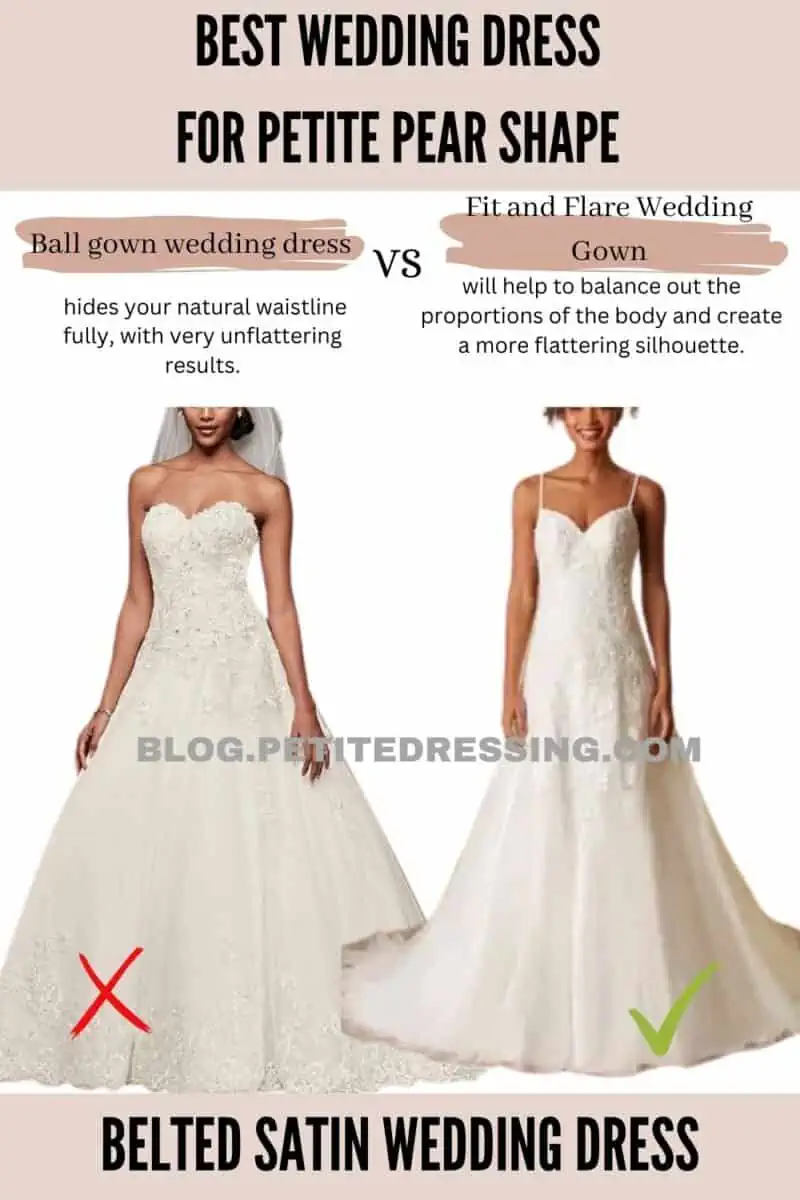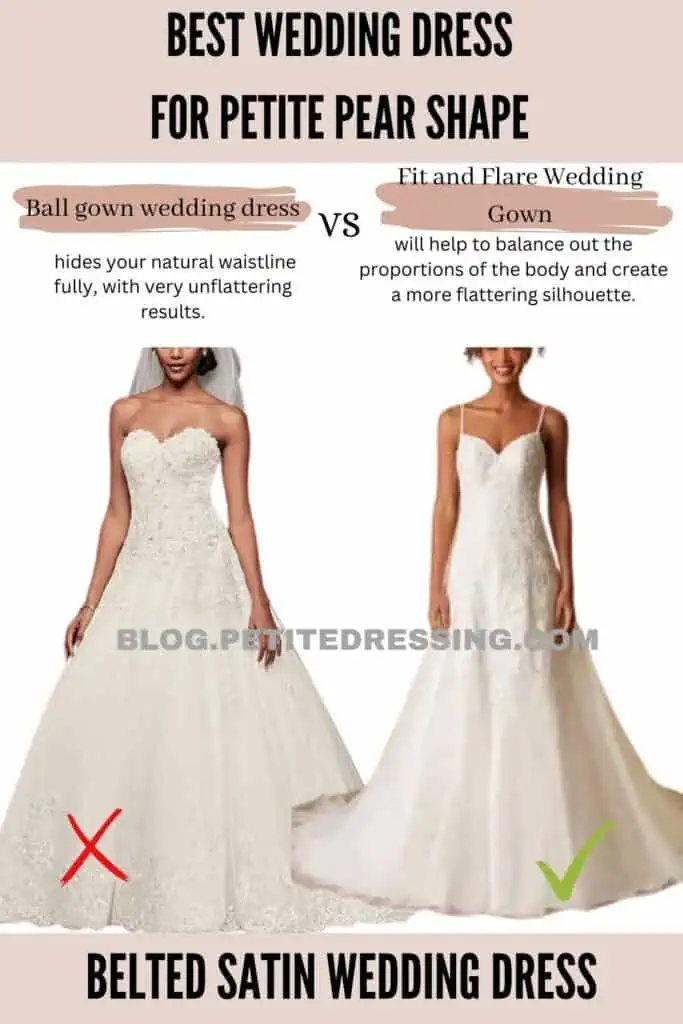 When it comes to wedding dresses, a fit, and flare ball gown can be an excellent choice for you pear-shaped beauties who typically have a smaller upper body and a fuller lower body with wider hips and thighs.
The fitted bodice of the dress will help to accentuate the waist and create the illusion of having an hourglass figure. This will help to balance out the proportions of the body and create a more flattering silhouette.
The gradual flare of the gown from the waist down creates a full skirt that will balance out the wider hips and thighs. Additionally, the fit and flare gowns are quite universally flattering due to its structure so it's immensely versatile in terms of style and detail.
Wedding Dress with Puff Sleeves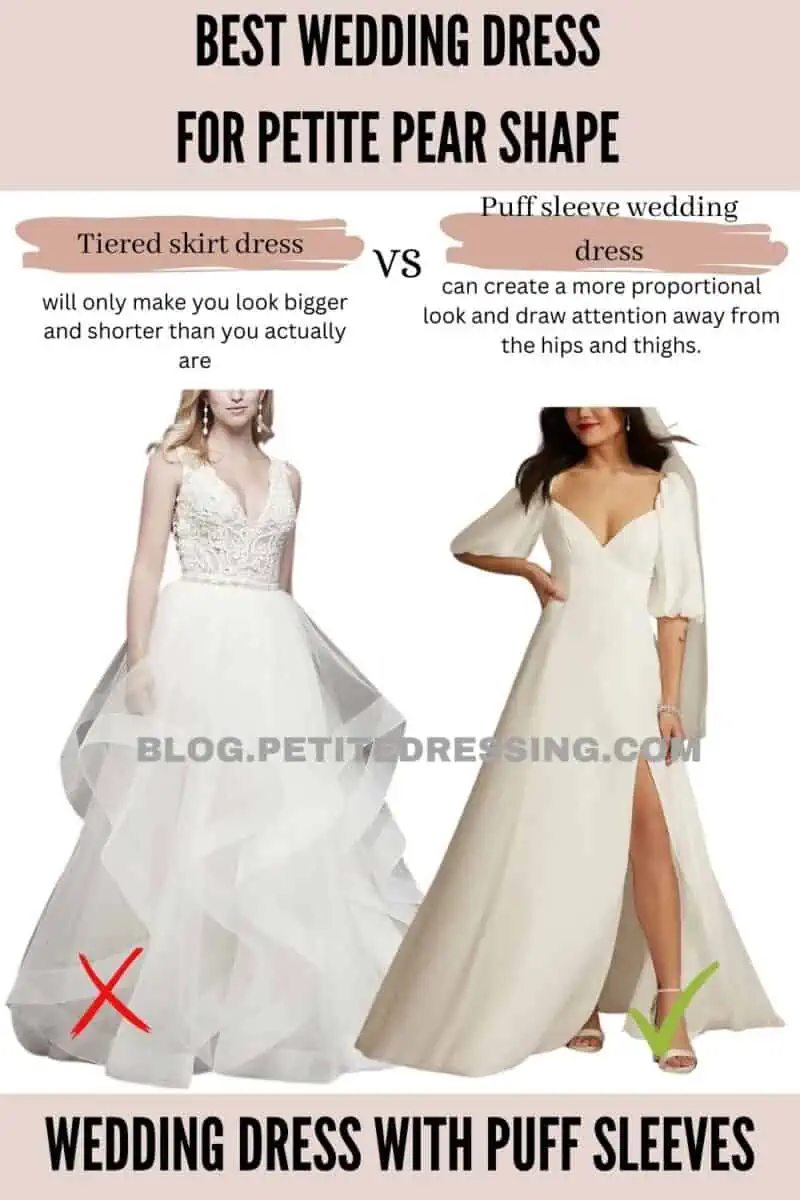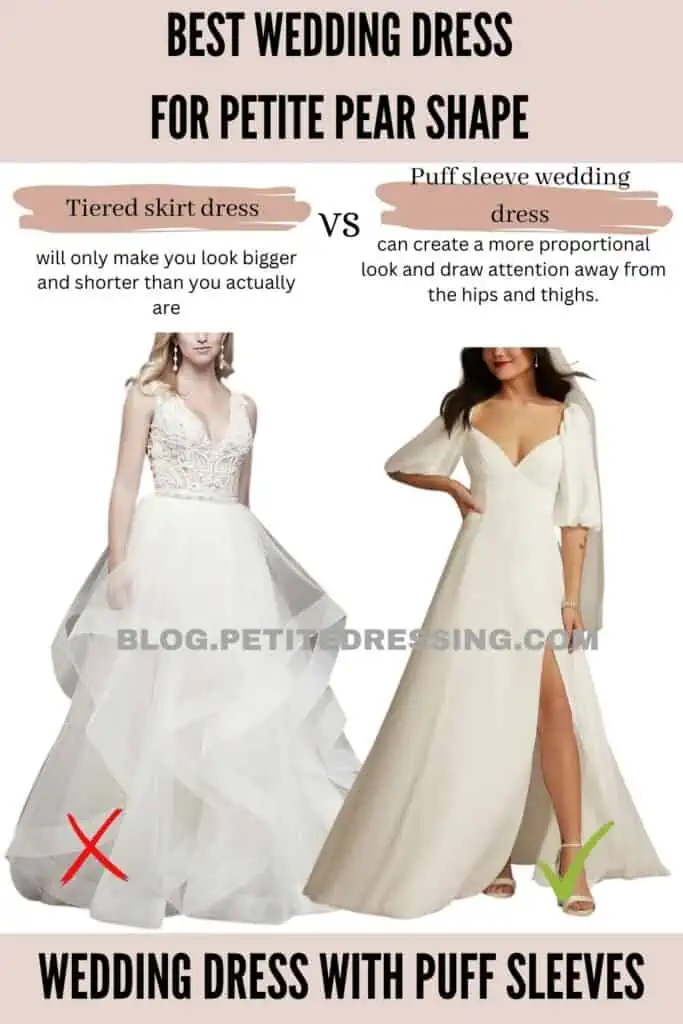 Some of the key concerns of petite pear shapes are narrow shoulders and the lack of bust definition. Since you have a less prominent upper half, adding some volume right in this area should help elevate your frame and one efficient way to do that is through puff sleeves.
Wedding dresses with puff sleeves feature their own sweet charm. But apart from its very feminine aura, they also create the illusion of broader shoulders, resulting to a nice balance between the shoulders and your wide hips. This can create a more proportional look and draw attention away from the hips and thighs.
Puff sleeves can add a touch of drama and elegance to a wedding dress, without overwhelming a smaller frame. So when choosing a wedding dress with puff sleeves, opt for those that aren't extremely bulky.
Bespoke Wedding Dress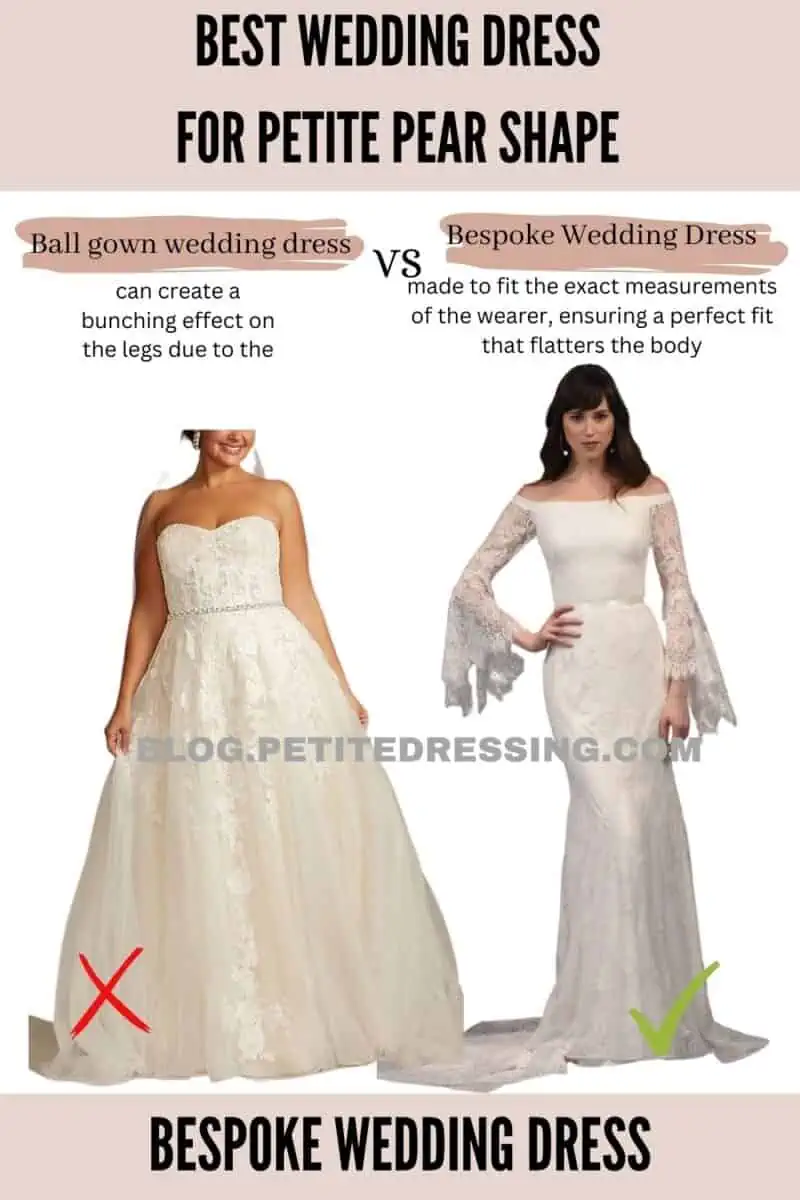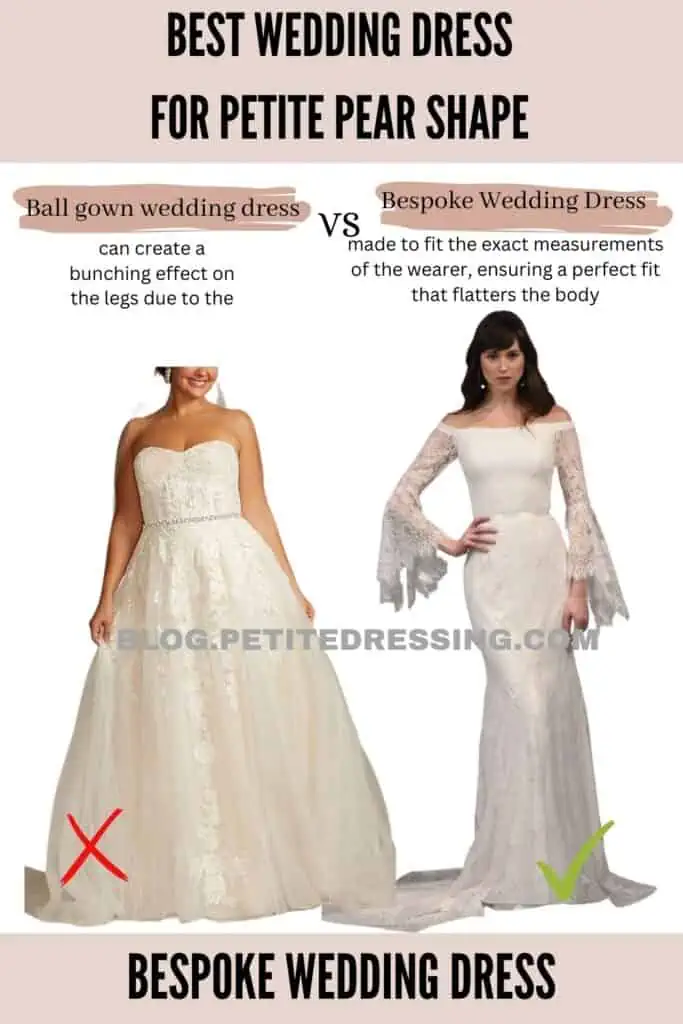 Nothing beats a perfectly bespoke wedding dress. If you feel like you can spare a bit more for your big day, this is the best option to ensure that your dress will fully embrace your figure.
A bespoke wedding dress is made to fit the exact measurements of the wearer, ensuring a perfect fit that flatters the body. This is especially important for petite pear-shaped women who may have a harder time finding off-the-rack dresses that fit well due to the natural imbalance of their figure.
The Key Takeaway
You deserve to look your best on your wedding day while being extremely confident in your own dress! You can definitely make the best out of your petite pear-shaped body by going for the right wedding dress that flatters you.
Your wedding dress shouldn't overwhelm your beautiful figure so make sure you tick all the boxes mentioned in our Styling Goal. I hope that going through this style guide will help you narrow down your wedding dress choices.