If you are short and have an apple shaped body, choosing the right shoe style is key to creating a balanced and flattering outfit, and can help to elongate your legs, balance out your proportions, and pull your entire look together. I'm quite petite at 5'2 and I have a clothing line for petite women. Even though I am overall thin, I do have a very typical apple feature, i.e. ALWAYS gain weight on my tummy!
I know how big of a change shoes can make in one's outfit. The right shoes for your specific body type are more important than you think.
So, let's dive in and explore how to choose the perfect pair of shoes for your petite apple-shaped body!
Styling Goal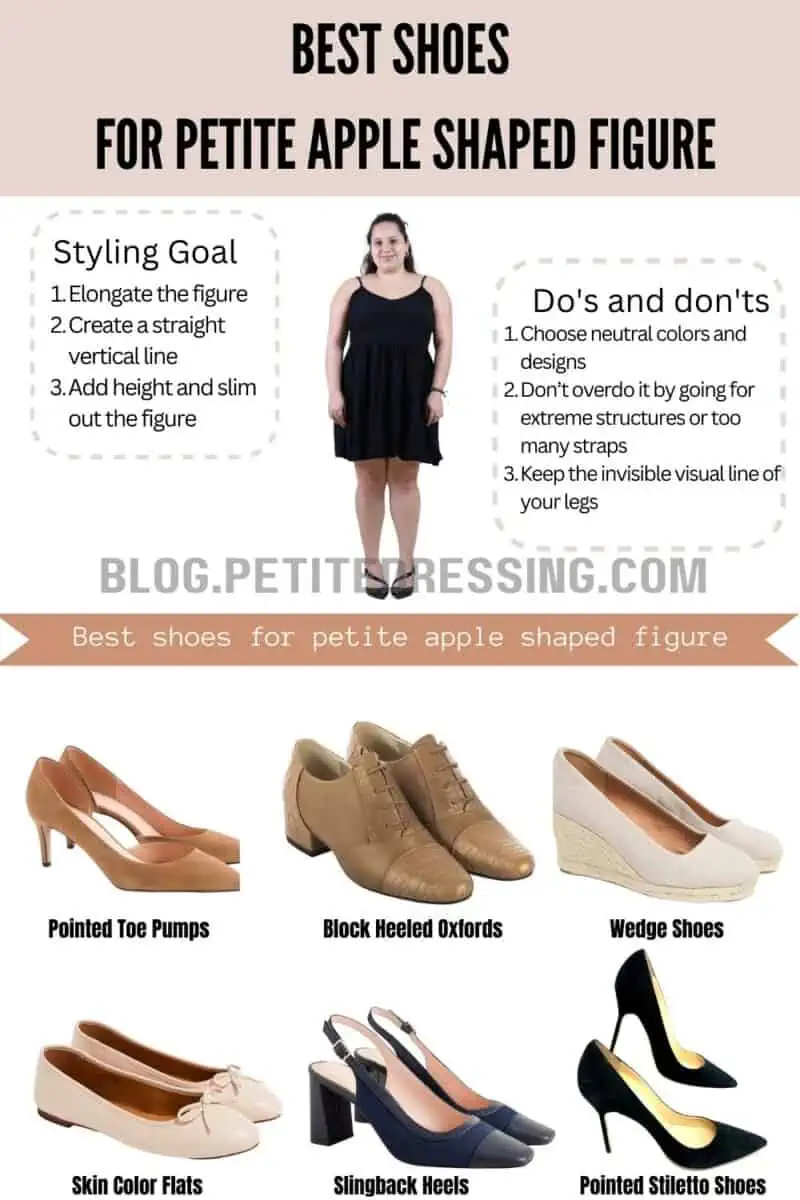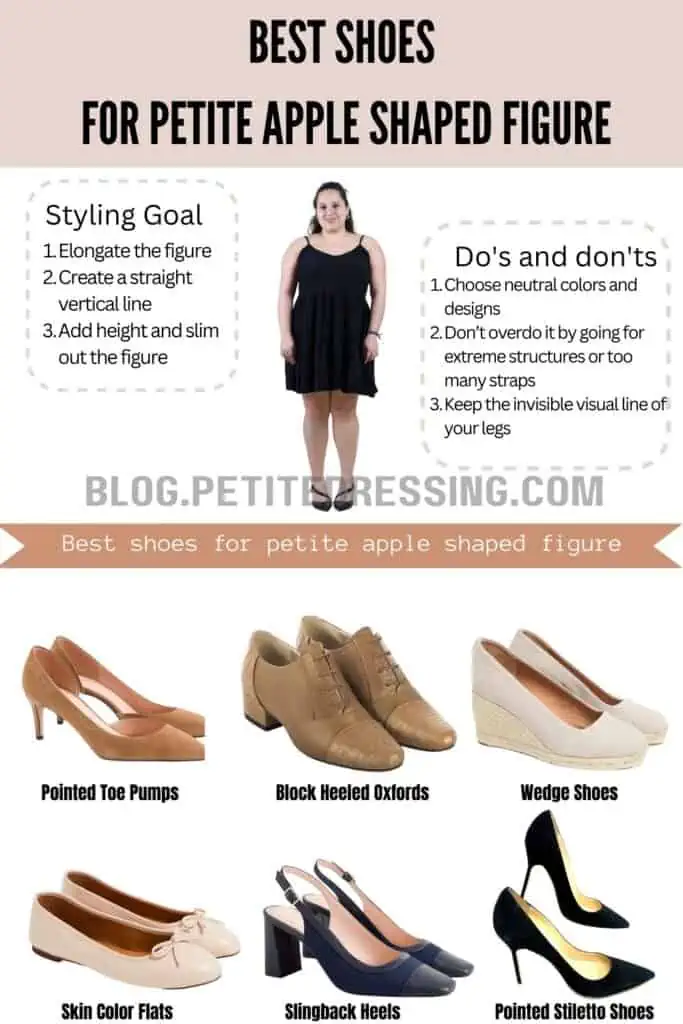 Choose neutral colors and designs. Shoes that come in neutral colors are generally more elongating for your frame and they are also quite easy to mix and match.
Don't overdo it by going for extreme structures or too many straps. Less is more when it comes to styling petite apple shapes!
Keep the invisible visual line of your legs continuous and streamlined. Avoid wearing shoes that cut your legs on an awkward area such as your mid-calf as this can make you look wider and shorter.
Pointed Toe Pumps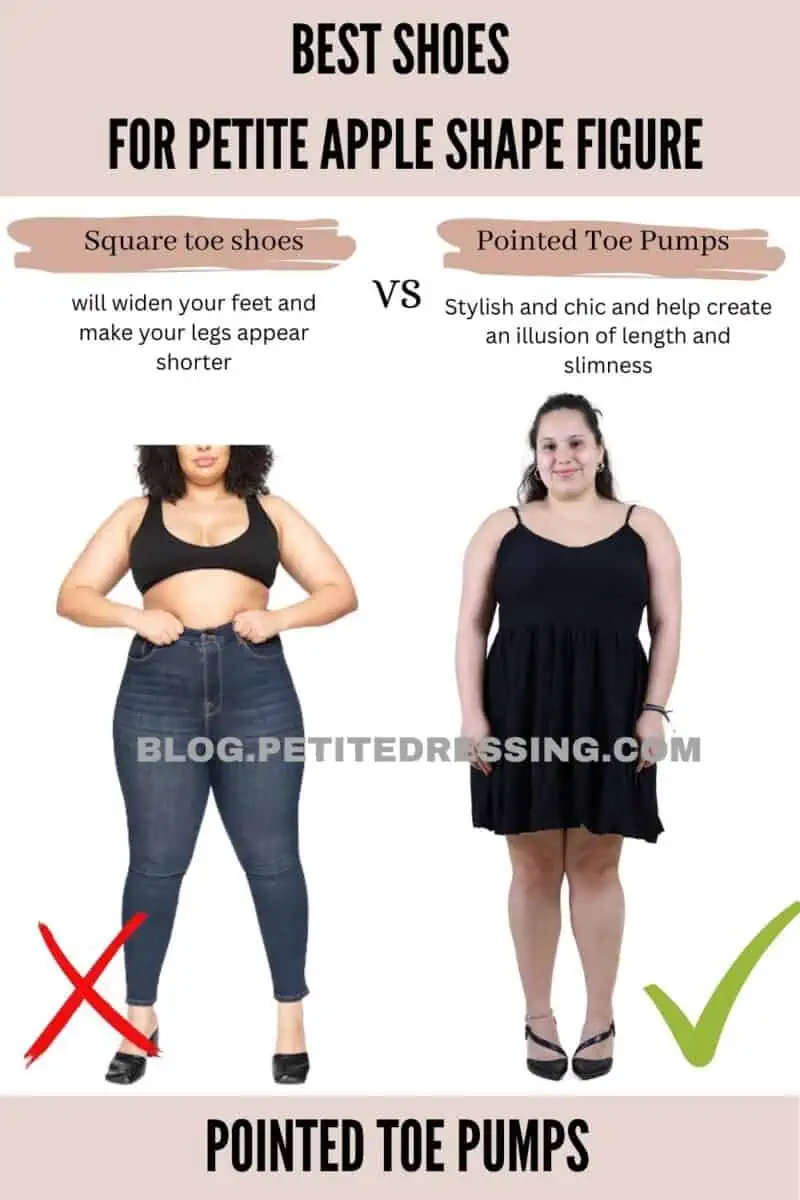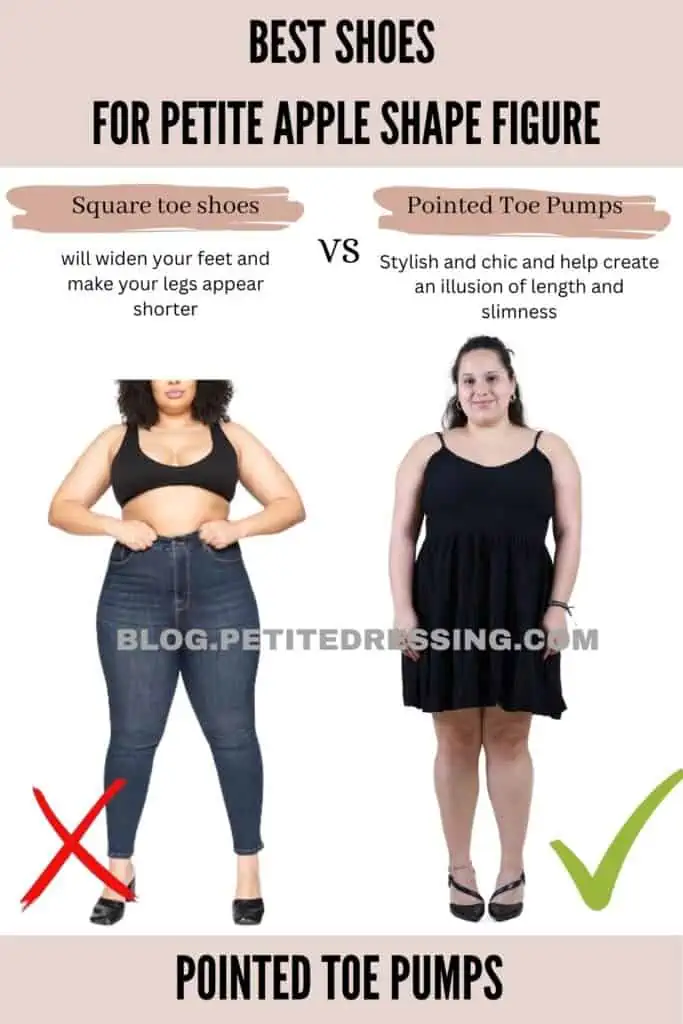 One thing I've heard over and over again from my thousands of petite customers is that pointed-toe pumps can be a short girl's best friend when it comes to footwear!
Not only are they stylish and chic, but they can also help create an illusion of length and slimness, two things that any petite apple-shaped body could appreciate.
They effectively elongate the legs by creating a visual line that draws the eye down toward the toes. This can create the illusion of length, making the legs appear longer and slimmer than they actually are.
And let's be honest, there's something undeniably sophisticated about a pair of pointed-toe pumps. Whether you're wearing them to the office, a night out with friends, or a special occasion, pointed-toe pumps can elevate any outfit and add a touch of sophistication and elegance.
Block Heeled Oxfords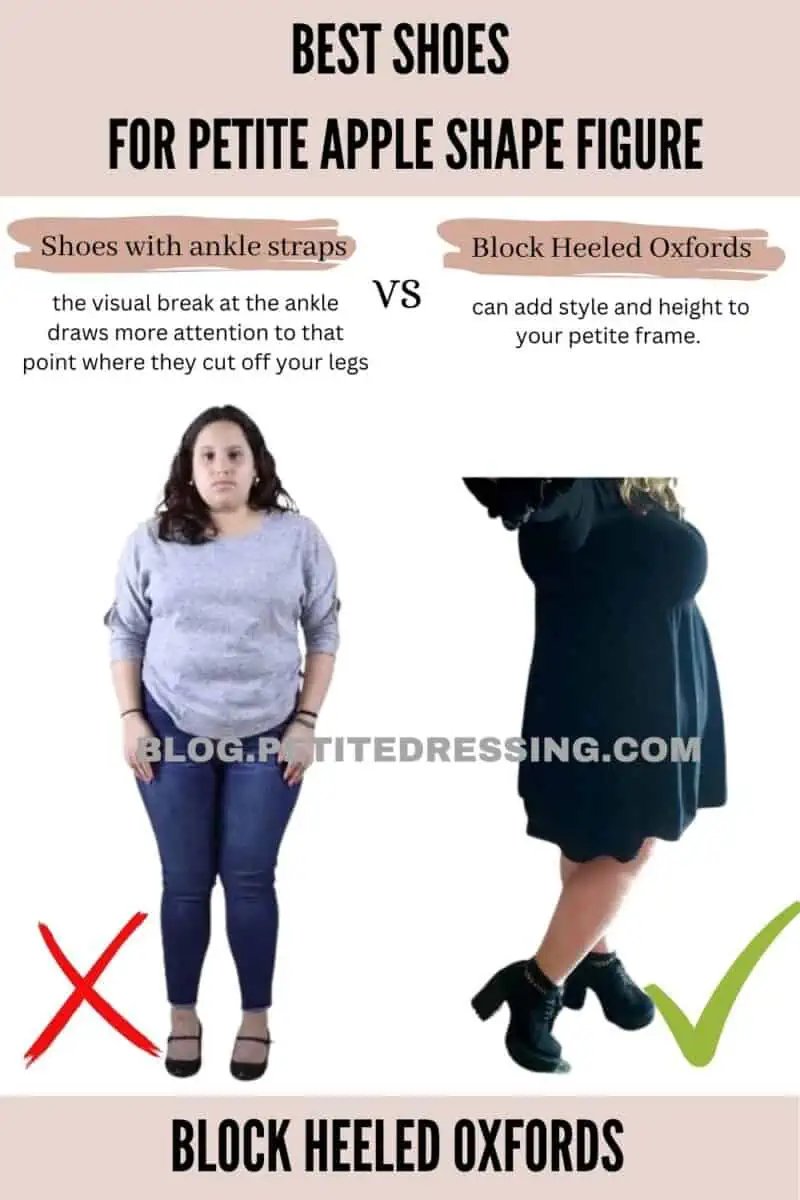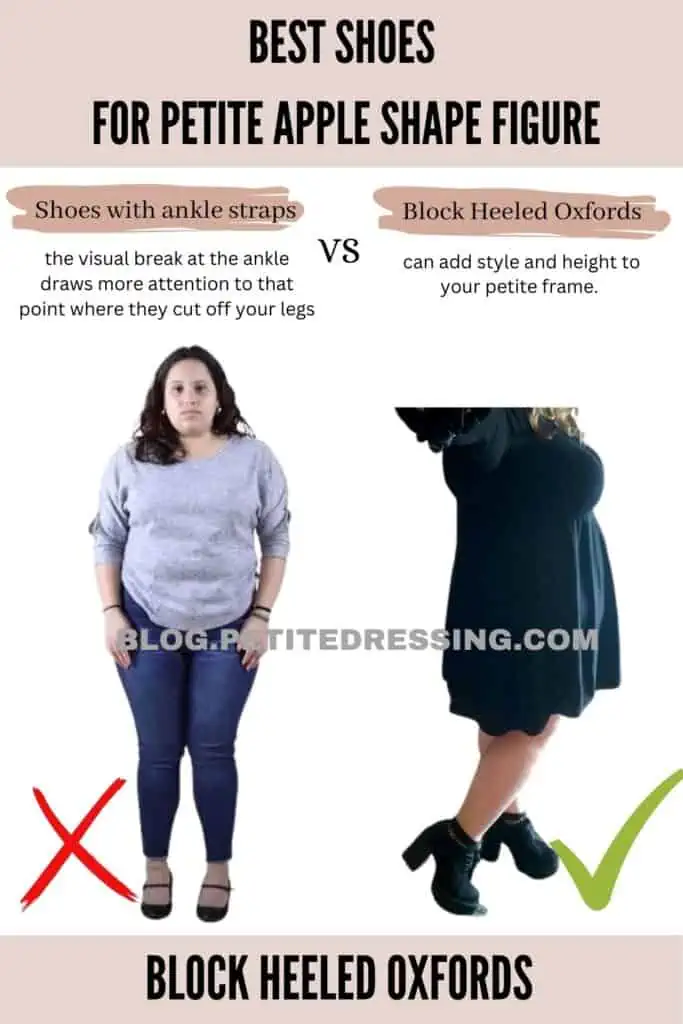 When it comes to footwear for your body shape, oxford shoes can be a surprising and stylish option. While they may not be the first shoe that comes to mind, oxfords with chunky heels can add style and height to your petite frame.
Oxford shoes have a unique design that can help balance out the proportions of the body because the lacing and structure of the shoe can draw the eye downwards, creating a visual line that helps elongate the legs and create apparent balance on your lower body The chunky heel can be especially helpful for petite apple-shaped bodies, which may have a shorter stature and a larger midsection.
Another thing to love about block-heeled oxfords is that they can be worn in any season, making them a great investment for any wardrobe. They can be paired with socks or tights in the cooler months and worn with bare feet in the warmer months, making them a versatile and practical choice for year-round wear!
Wedge Shoes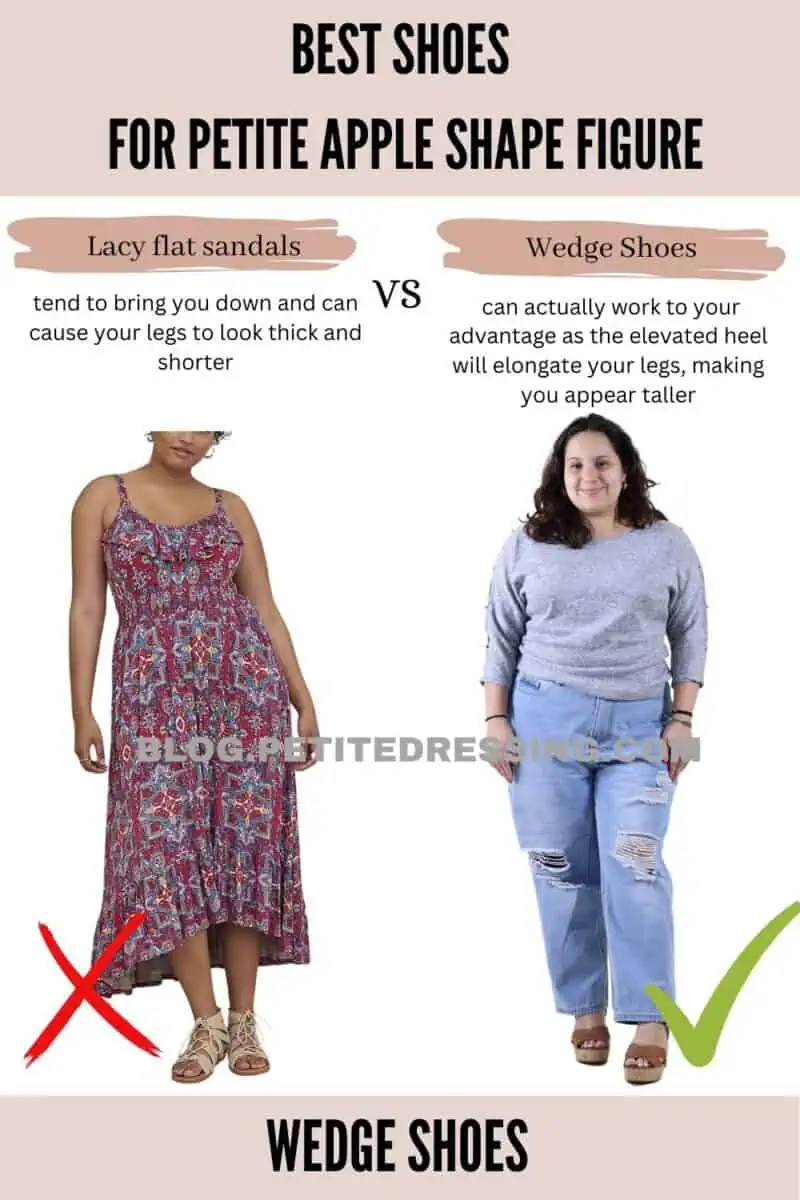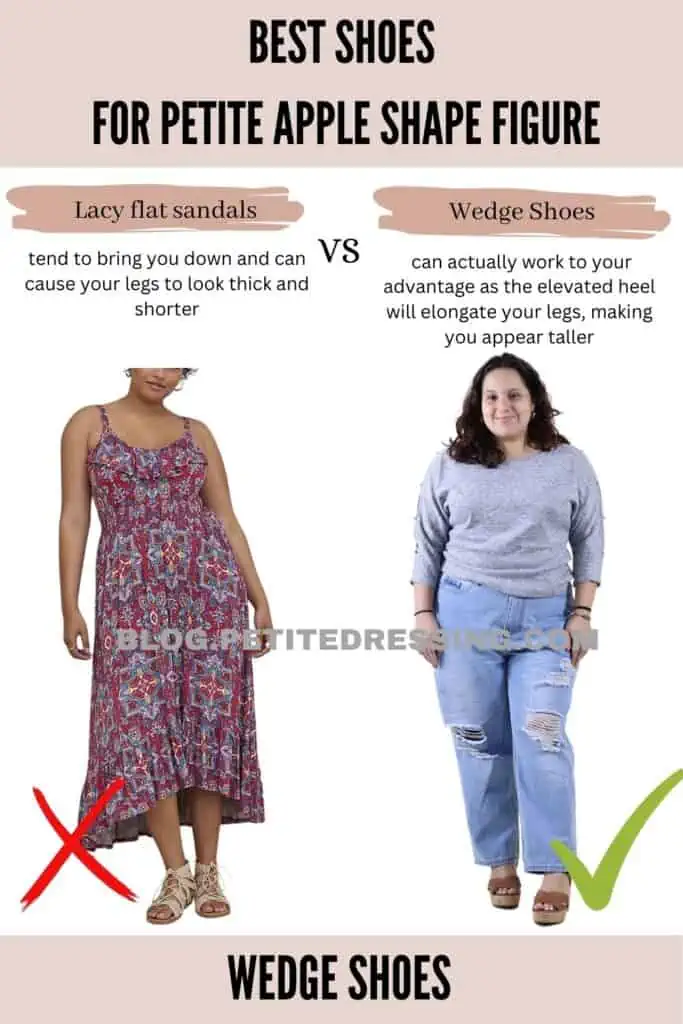 As a petite apple-shaped girl, you may feel self-conscious about your midsection, but wedge shoes can actually work to your advantage as the elevated heel will elongate your legs, making you appear taller and more slender. Plus, the wider base of the wedge will provide added stability and support, ensuring that you can strut your stuff with confidence.
More than that, wedge shoes come in a variety of styles, from casual to formal, and can be worn with a variety of your chosen ensembles. Whether you're rocking your favorite pair of jeans or a flowy sundress, wedge shoes will amp up your look and add a touch of sophistication.
Skin Color Flats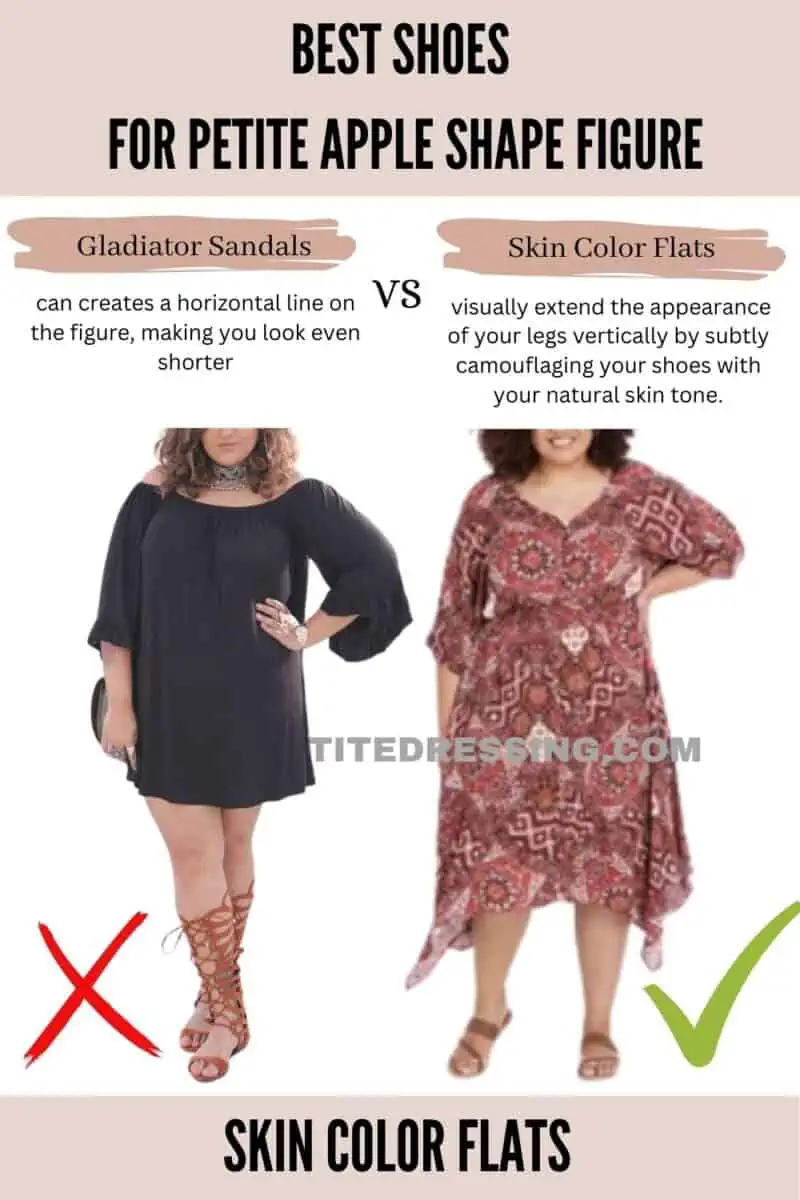 Who says petite girls can't wear flats? A lot of women find superior comfort in flat shoes but when you're around 5'2 like me, you may feel like you'll look too short in flats.
Fret not, because you can still make your legs appear longer despite wearing flats and the secret is in your chosen color! Skin-colored flats visually extend the appearance of your legs vertically by subtly camouflaging your shoes with your natural skin tone.
This will not just elongate your frame, but will also bring proper proportions between your leaner lower body and heavier upper body.
Slingback Heels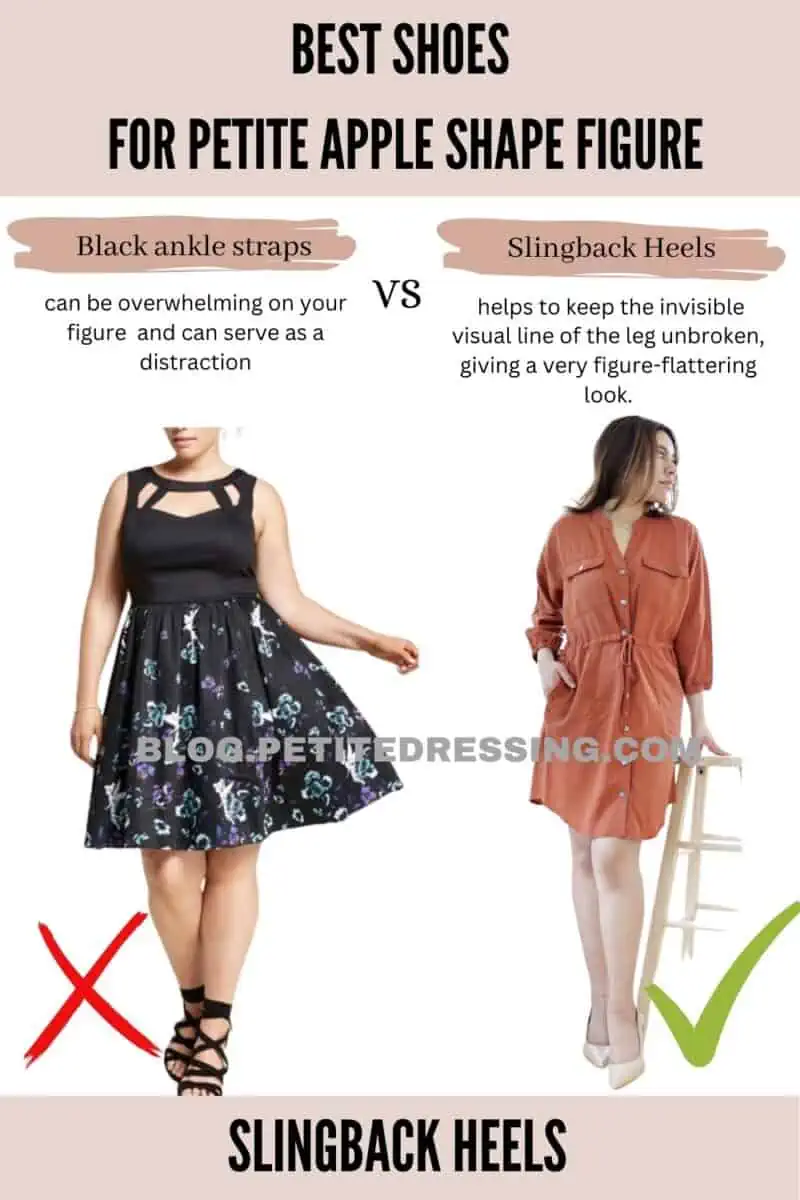 This one is also a nice alternative to ankle straps or any type of strappy heels. It's quite stylish but also very minimal, which is a great attribute when it comes to styling petite apple shapes.
Slingback heels are a classic style of women's shoe that features a strap around the back of the ankle, which helps to keep the shoe securely in place. The slingback design of these heels can also help to create the illusion of longer legs because the back strap helps to keep the invisible visual line of the leg unbroken, giving a very figure-flattering look.
Pointed Stiletto Shoes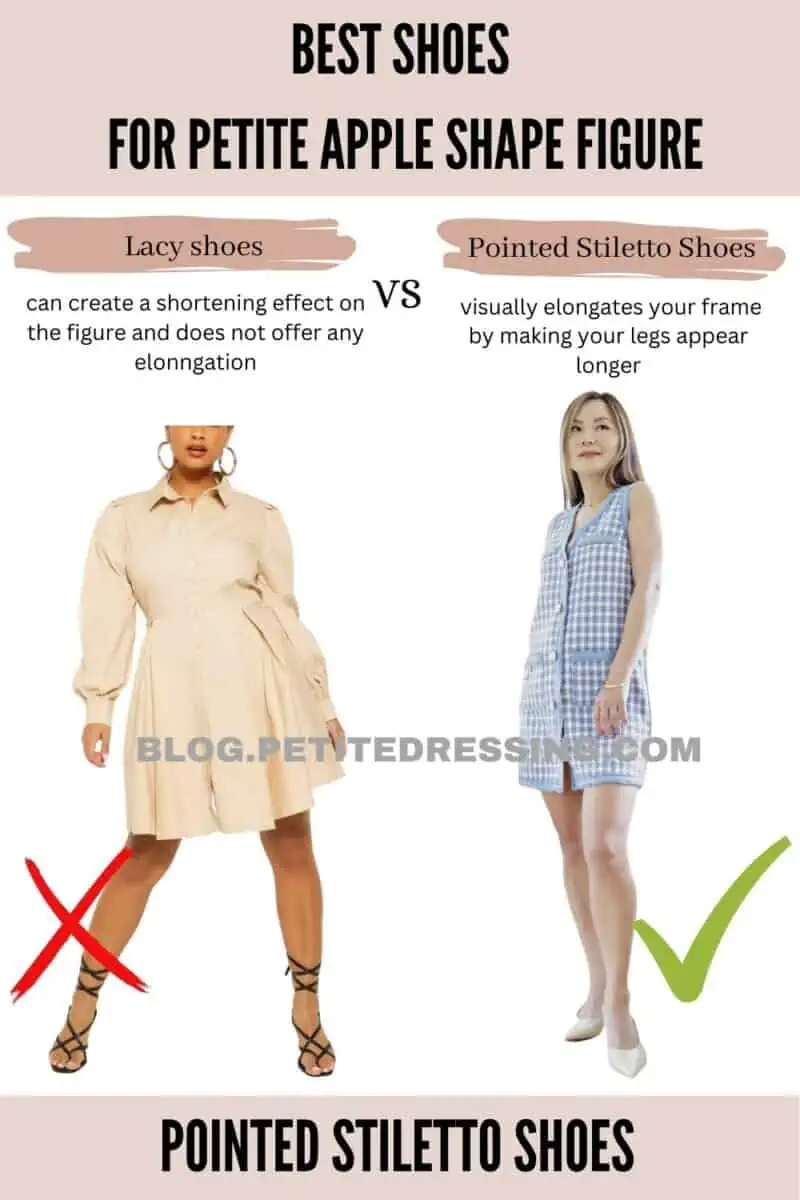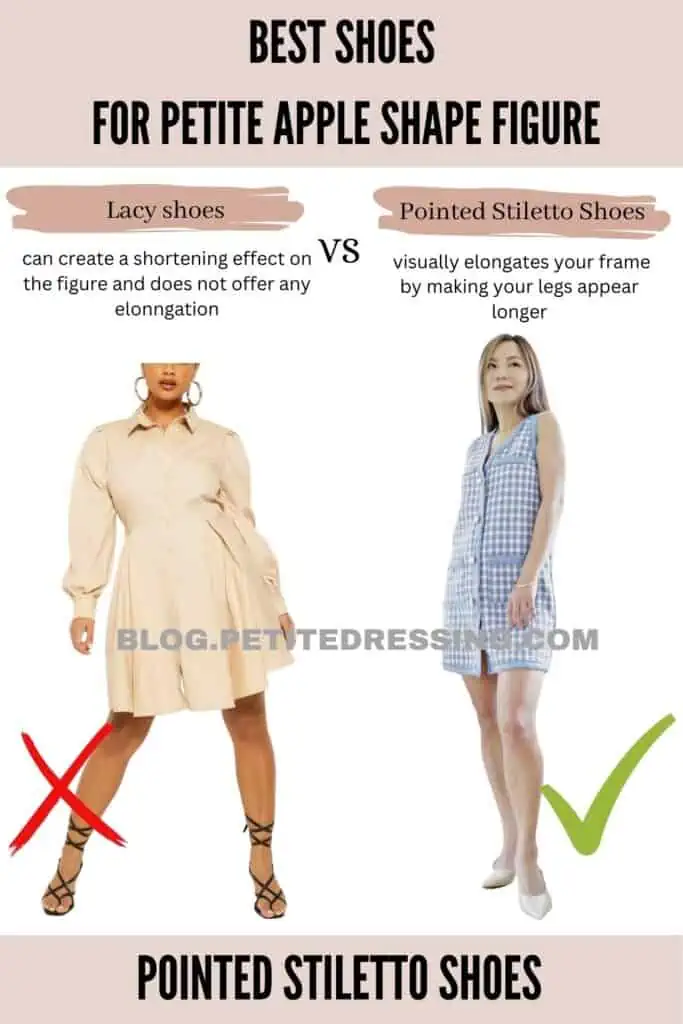 Well, here's something you can go for if you want to spice things up a little bit for your style ensemble! High heels are undoubtedly a petite girl's fashion go-to because they instantly add a couple of inches to your height.
For short apple frames that tend to look heavier on the upper body (particularly the midsection), pointed stilettos can be an efficient way for you to draw attention to your feet and legs rather than your less flattering areas. In addition to this, the pointedness of the shoes also visually elongates your frame by making your legs appear longer.
Apart from their visually flattering benefits for your body shape, pointed stilettos are just glamorous!
Black Over-the-Knee Boots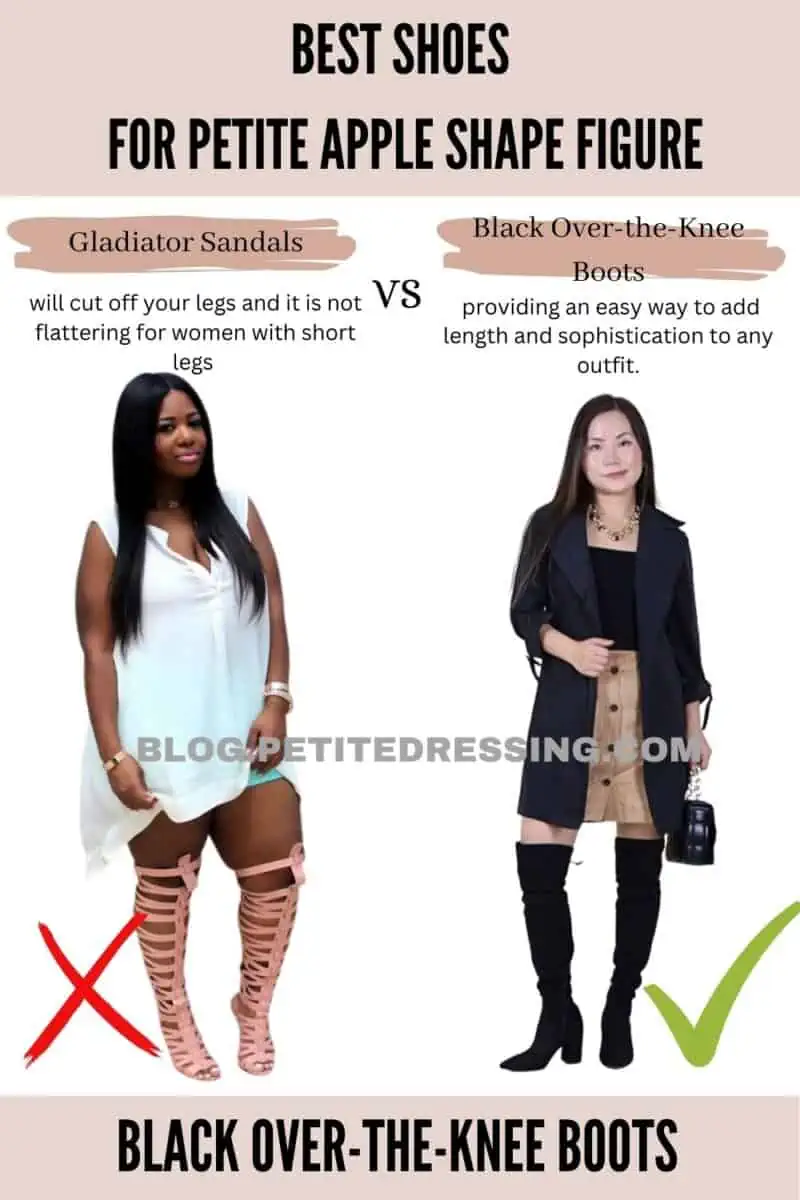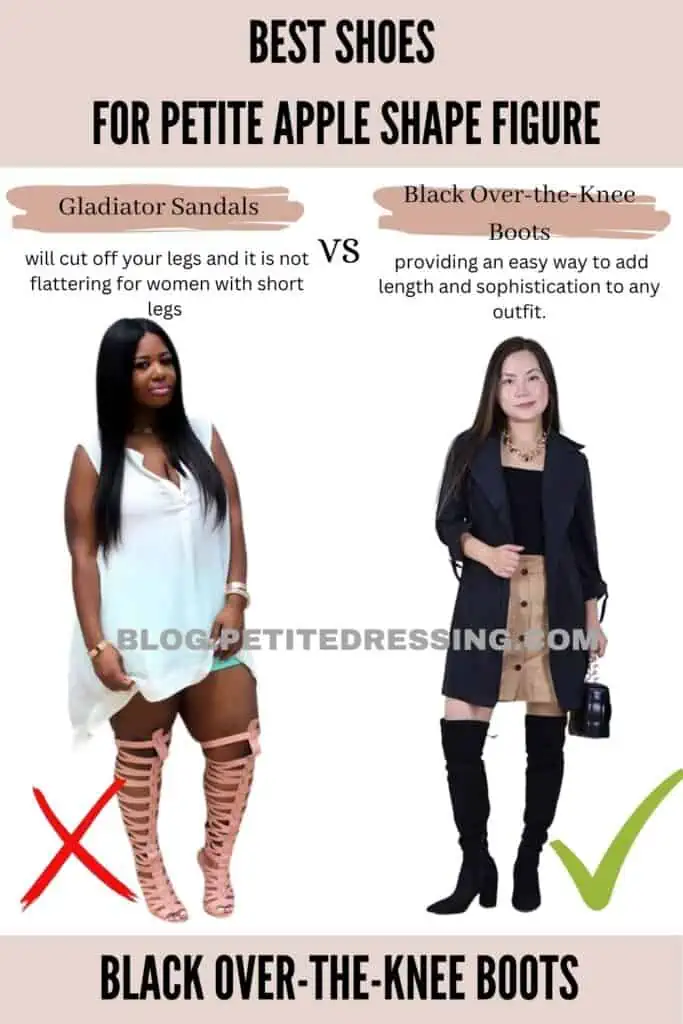 Now here's something for the colder seasons that will also flatter your petite apple body shape. Over-the-knee boots create the illusion of height by having the eyes pay more attention to your legs, most particularly the lower legs which are the slimmer part.
Creating the illusion of longer legs is a common styling goal for those with shorter legs. Over-the-knee boots can be an effective way to achieve this, as they maintain a continuous vertical line without breaking it up.
Having it in black is also a very classic choice because apart from the fact that it's much easier to pull off, black is also quite slim. It's important to keep in mind that the right pair of over-the-knee boots can be a versatile and fashionable addition to any wardrobe, providing an easy way to add length and sophistication to any outfit.
Neutral-colored Ankle Boots
Ankle boots in neutral colors will always be a timeless wardrobe staple that every woman should have. For petite apple shape women, it's a great choice for the flattering upper and lower body ratio it gives.
Ankle boots aren't too low nor too high, so they don't cut at an awkward part of the leg. This way, it keeps the vertical visual line of your silhouette unbroken and even extends your legs for added height!
The ones that fit well around the ankle can help to create a streamlined look, which can be flattering for a petite apple-shaped body. Look for boots that are snug around the ankle but not too tight.
The Key Takeaway
Choosing the right pair of shoes for your body shape is more important than you think! It's more than just looking stylish, but also feeling comfortable in your own fit.
Work with your proportions and don't hesitate to try different styles to fit your short apple frame. The right match will evidently transform your look to perfection!