As the weather gets warmer, we just can't help but be compelled to wear shorts both for the sake of comfort and style. It may seem like shorts only look flattering on tall girls because of how their long legs are accentuated, but as a girl with short and thick legs, you should be able to feel just as amazing in shorts!
It can be intimidating to wear shorts when you have short and thick legs because of the way they obviously expose this area of concern. But with the right shape, cut, and structure, you can actually make your legs look visually appealing.
It really just all goes down to properly choosing the types that flatter your figure overall (not just your legs) and also knowing how to work around your proportions. Worry not because we're here to guide you all throughout!
Styling Goal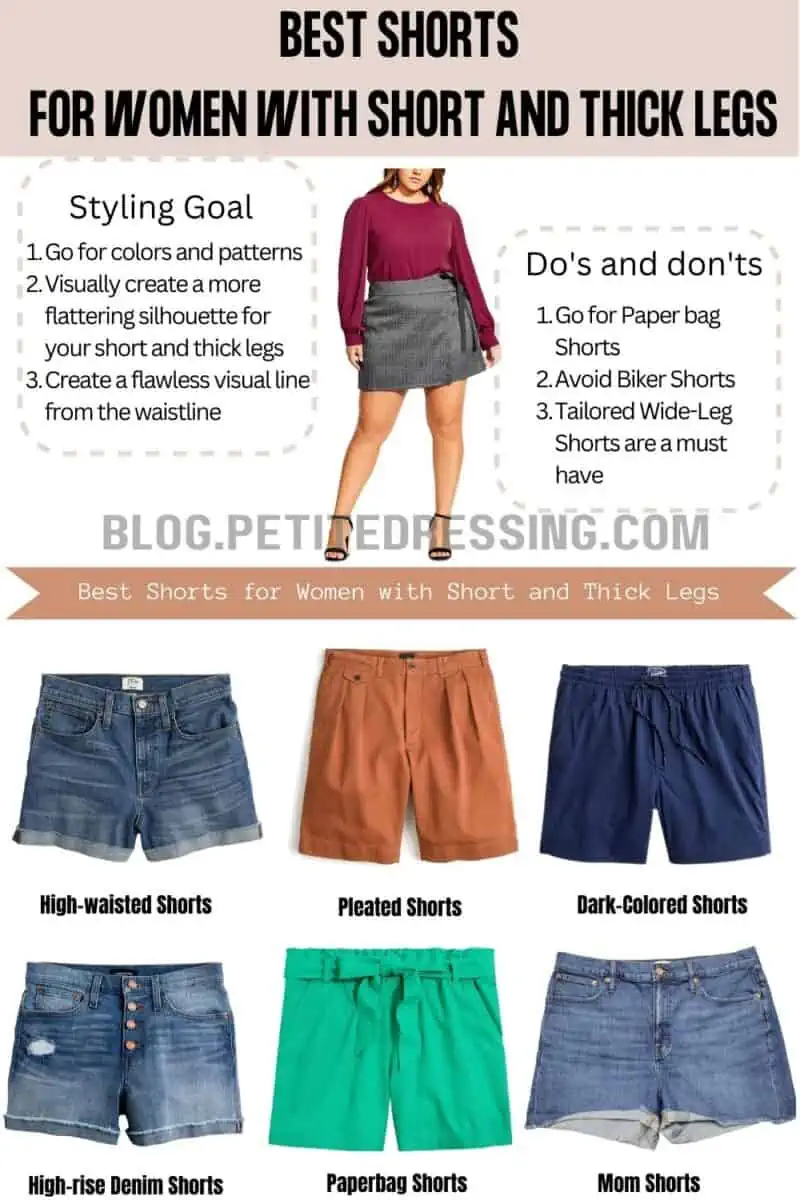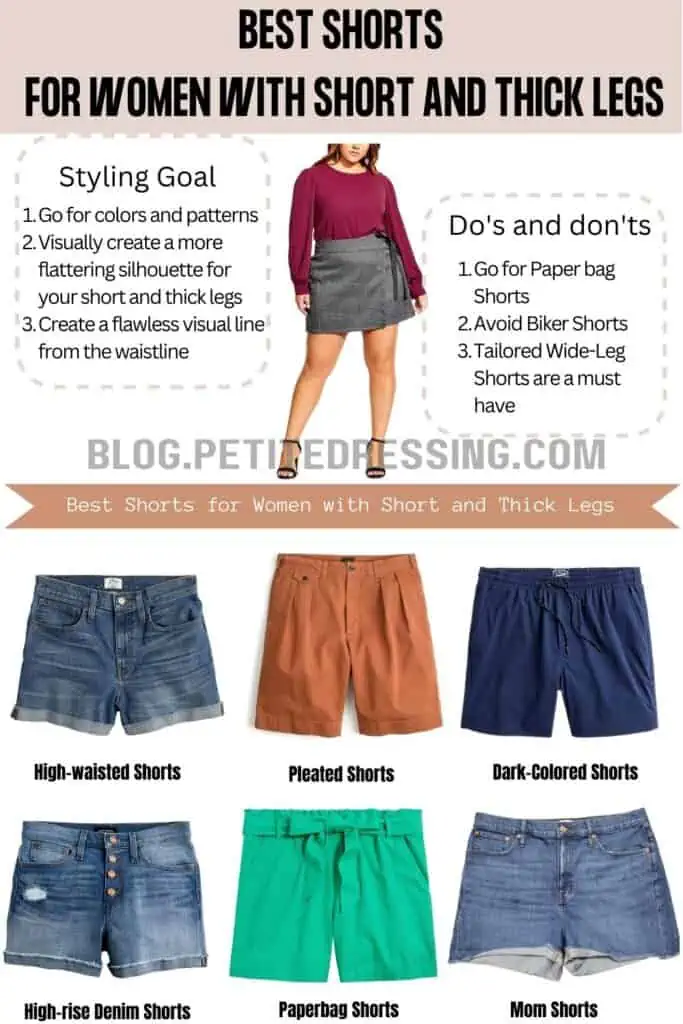 It's all about the proper length! The length of your shorts can either make or break your outfit ensemble because if you go for something that's too long or too short, it may shorten and widen your legs even more and therefore create an unbalanced look.
Consider the right fit of the leg opening of the shorts by going for wider ones. This is something girls with thick legs should greatly consider because if the fit is too tight, it will not just be uncomfortable but will also highlight your thick legs even more.
Go for colors and patterns that have elongating features such as dark colors and vertical patterns. These things will visually create a more flattering silhouette for your short and thick legs.
Now let's talk about certain styles of shorts that will surely flatter your figure. All of these can definitely be your easy go-to option when it comes to styling yourself with shorts!
High-waisted Shorts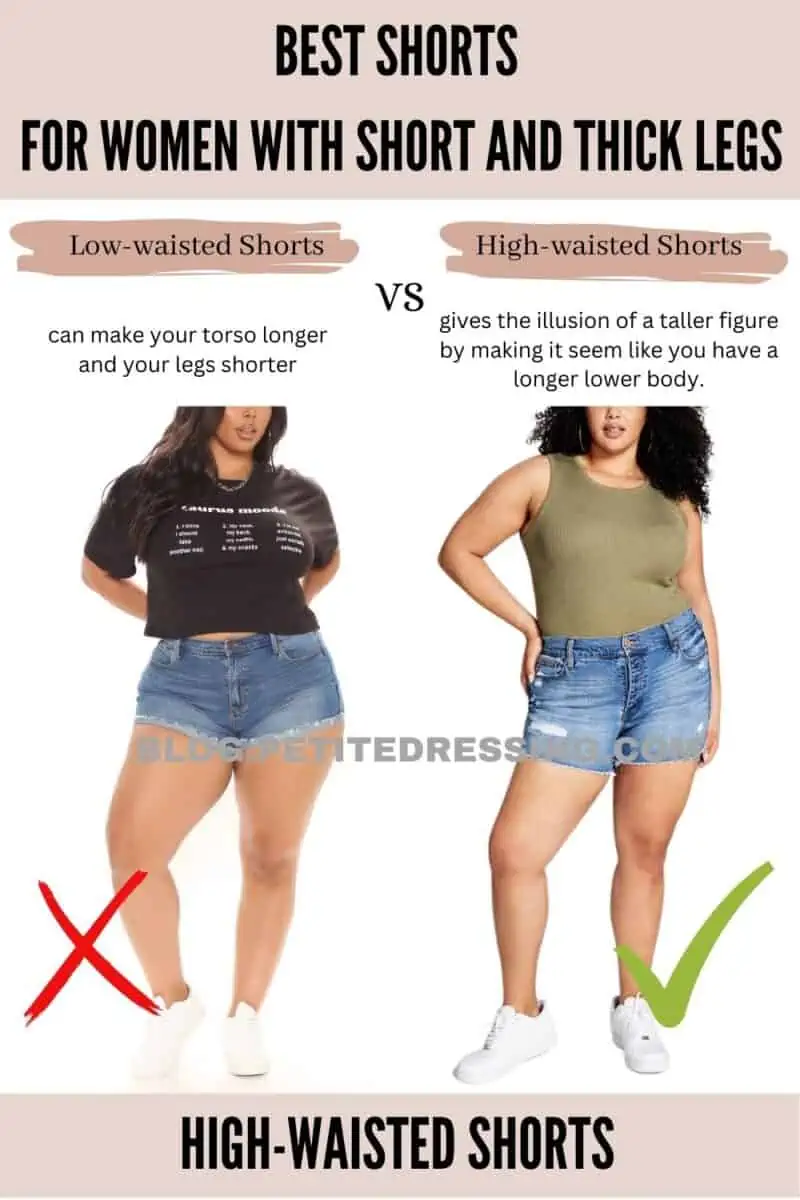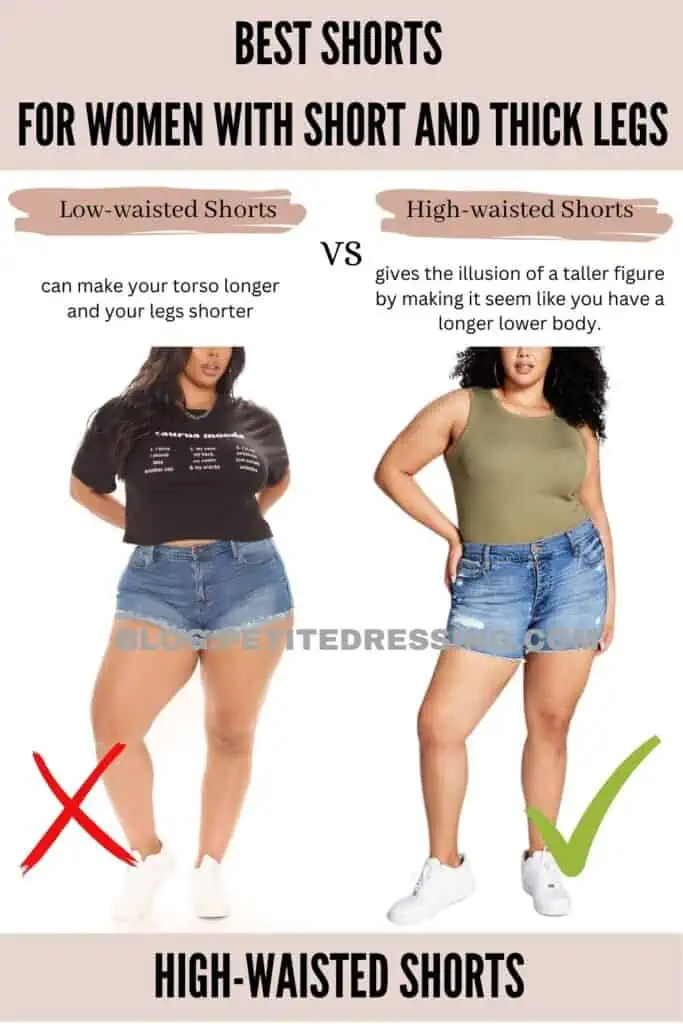 Yes, this one is quite an obvious recommendation because high-waisted fittings, may it be for skirts, pants, or shorts, have the ability to instantly make your lower body look longer and thinner. It's because the waistband that sits right above your natural waistline gives the illusion of a taller figure by making it seem like you have a longer lower body.
With the right choice of length, it will give emphasis to your legs while also giving your waist proper definition. High-waisted shorts are styled best with tucked tops so this way, you'll be able to elevate your waistline even further.
Pleated Shorts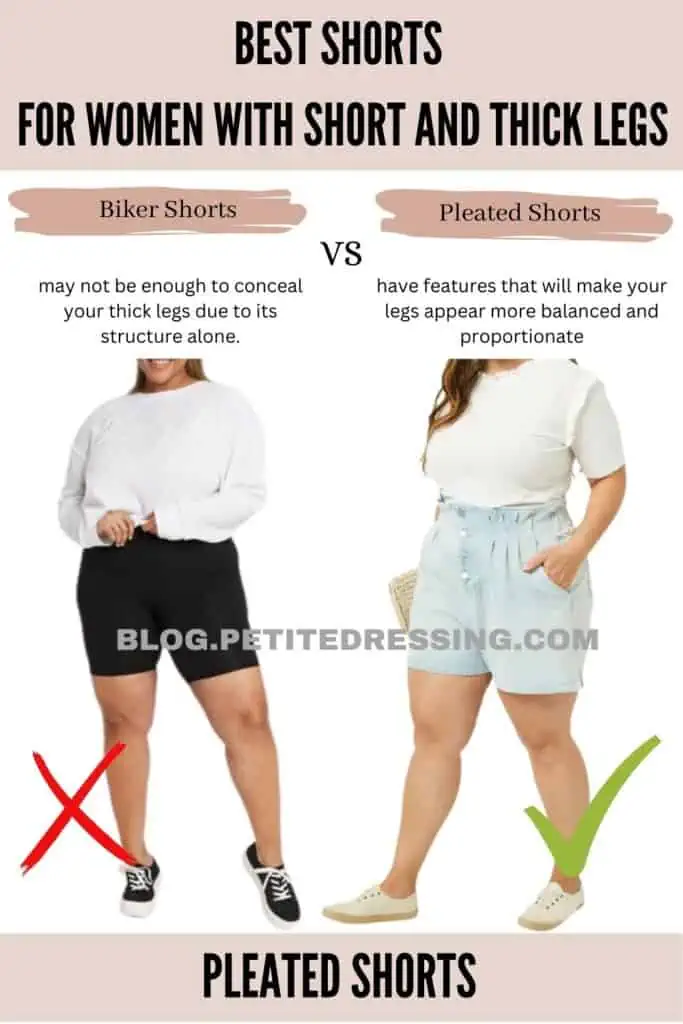 Most pleated shorts come in high-waist structures too, so apart from that flattering aspect, pleated shorts also have features that will make your legs appear more balanced and proportionate with your upper body.
Just as the name suggests, they feature subtle vertical folds on the front of the shorts which gives the lower body a slender look. These pleats or folds run vertically which means they draw the eyes up and down from the waistband to the hem to strategically add length to your legs.
It also looks more tailored so it's easier to style for a number of occasions. The ones that come with suit-type fabrics even look great with corporate-style blazers!
Dark-Colored Shorts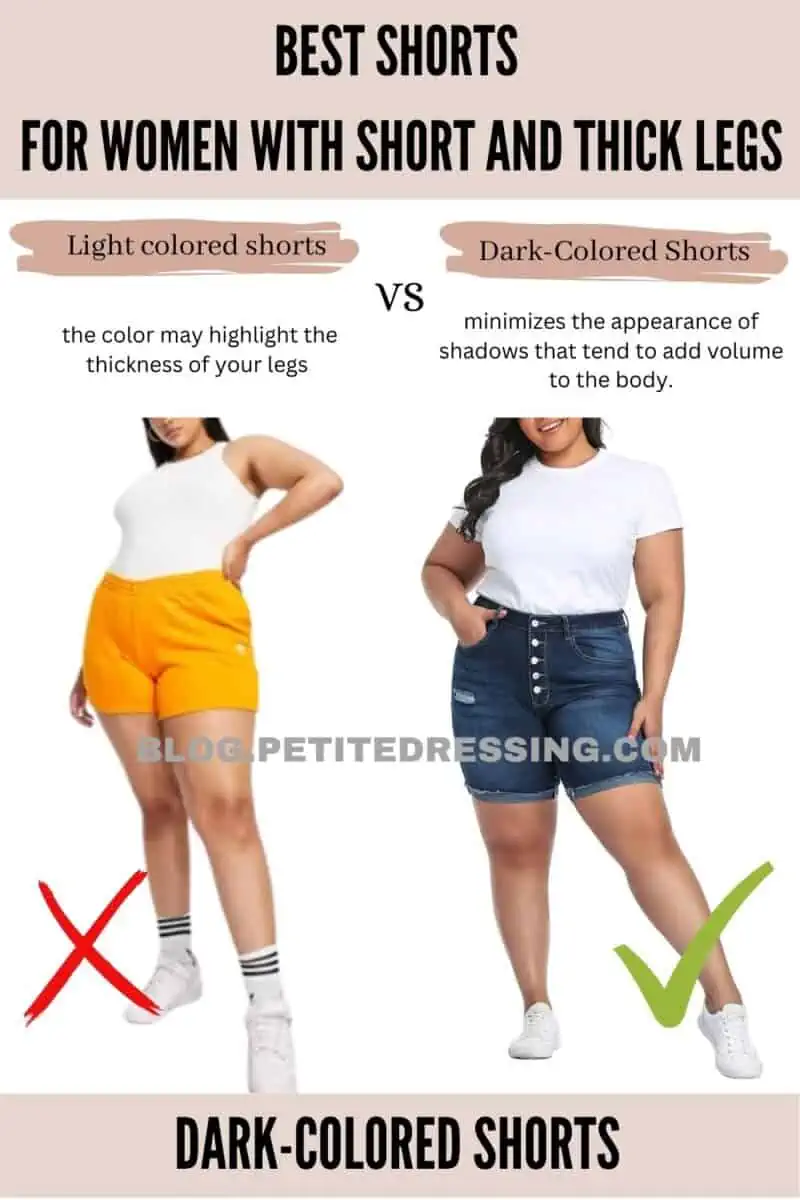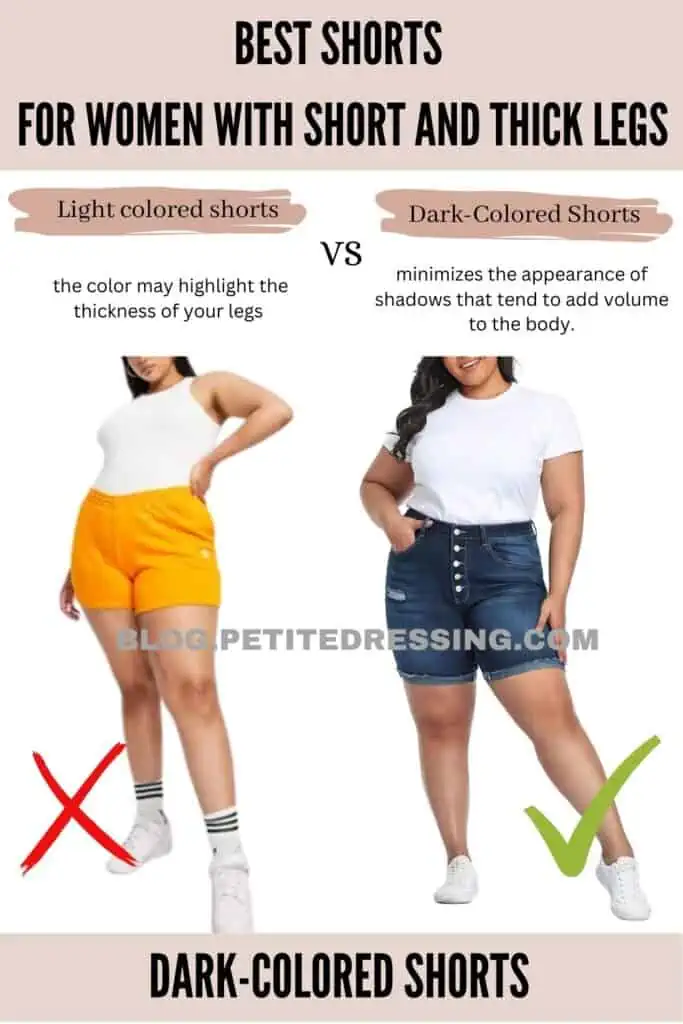 Dark colors are always a safe option if you want to benefit from their slimming effects. As dark hues absorb light, they minimize the appearance of shadows that tend to add volume to the body.
With that said, shorts in darker colors slim your legs down to make them appear leaner and longer. The elements of dark-colored shorts can instantly bring your legs into proportion to have a better-looking ratio with your upper body.
Of course, dark colors are also almost effortless to style as they can go with pretty much any style and color to match!
High-rise Denim Shorts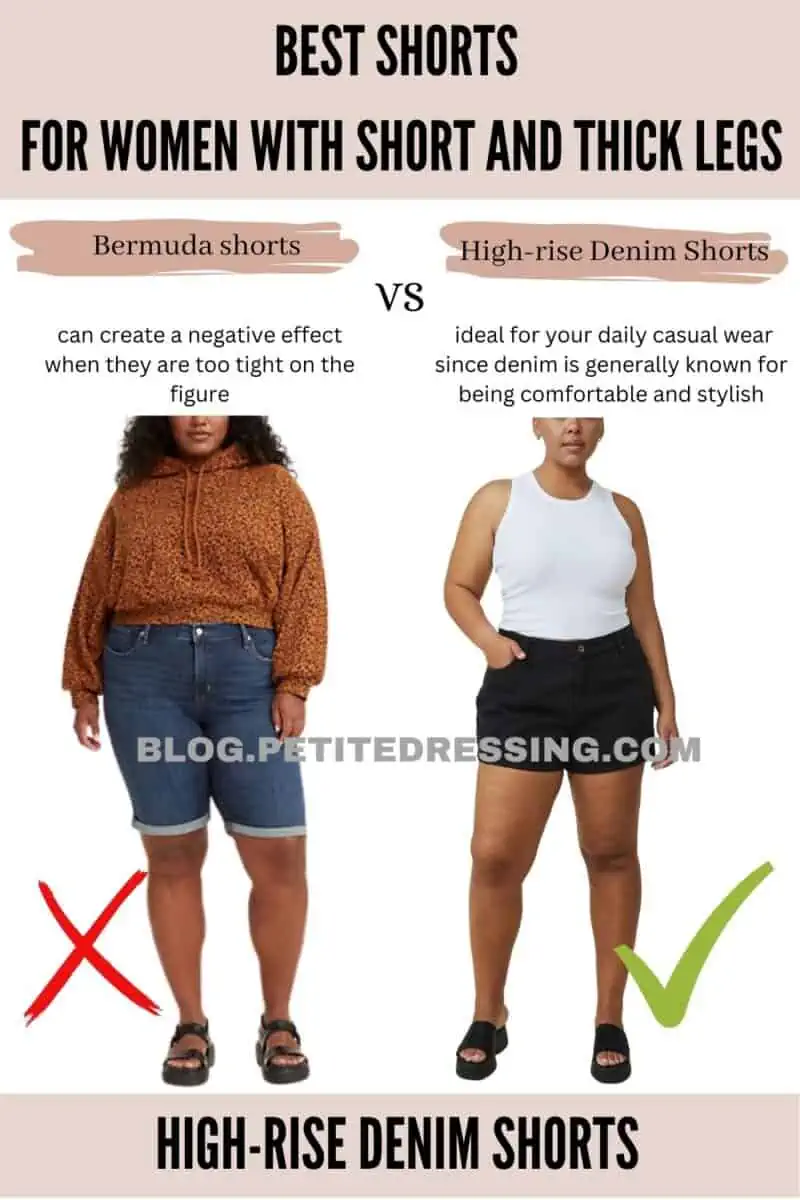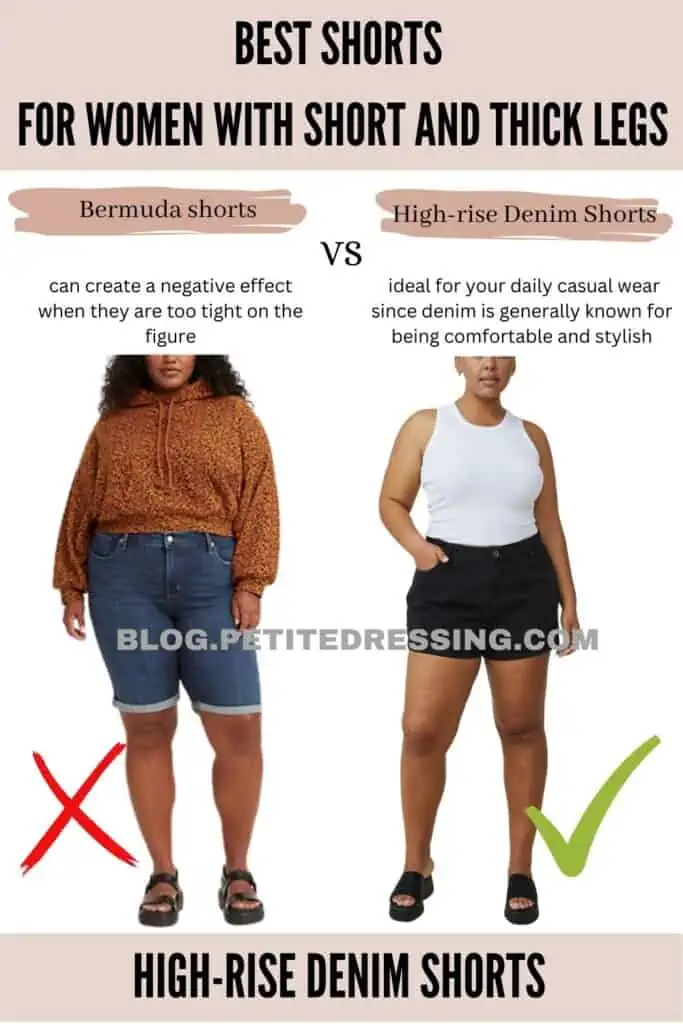 Earlier, we talked about high-waisted shorts in general which mean they can come in many different fabrics. This time, we'll specifically talk about how high-rise denim shorts in particular can also do wonders for your short and thick legs.
Since denim fabrics are stiffer, they offer a better shape that fully accommodates your legs. They are also quite ideal for your daily casual wear since denim is generally known for being comfortable and stylish.
Go for high-rise shorts in which the waistband rests just slightly above your natural waistline. If it's too high, then it may pique too much attention and therefore overwhelm your lower body.
Paperbag Shorts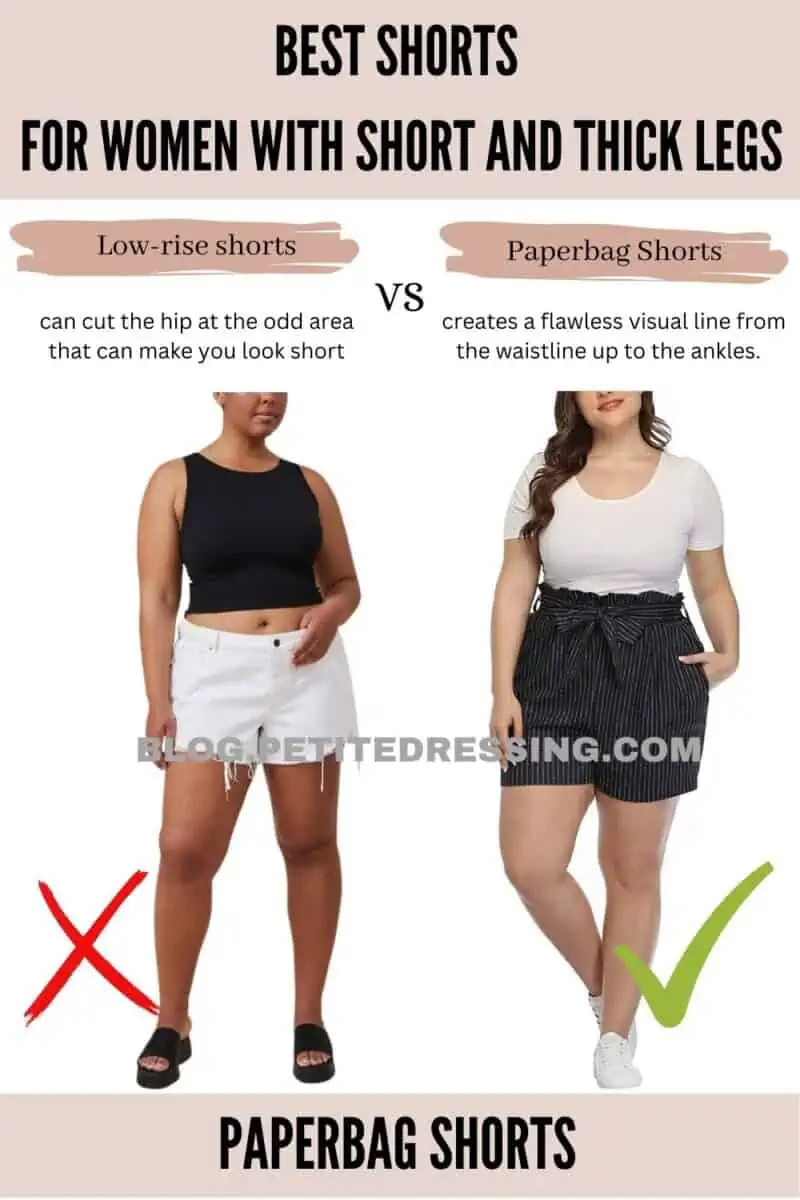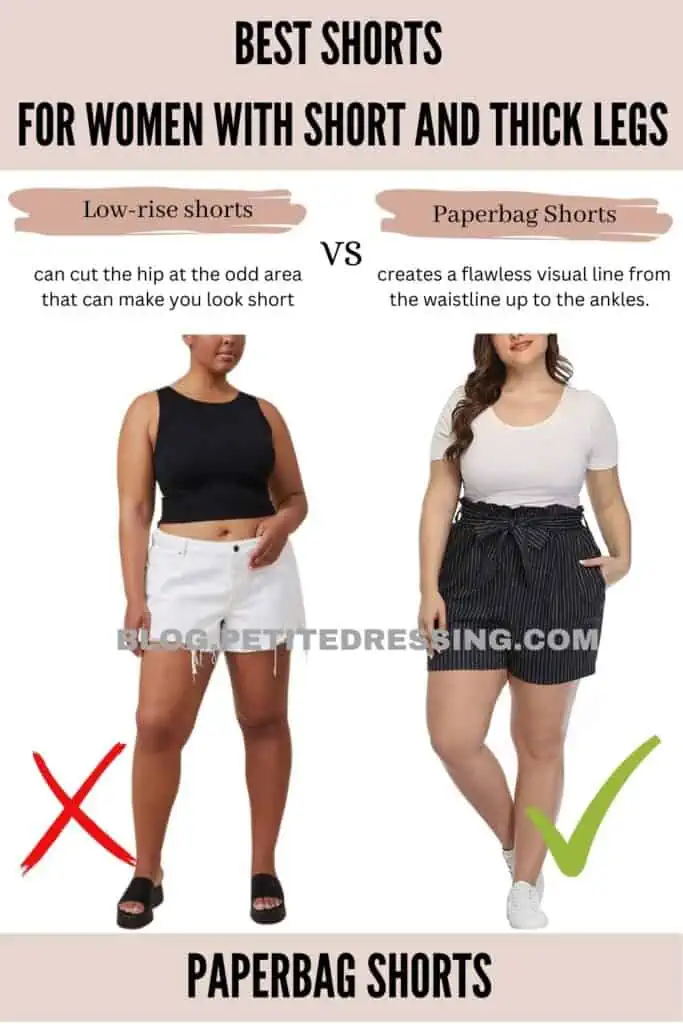 If you have short and thick legs, this will definitely be your instant favorite! Paperbag shorts feature a nicely cinched waist (mostly by a built-in belt) and a shape that gradually flares out to the hem.
So think of it as the typical A-Line skirt, but shorts! Just as how flattering A-Line skirts and dresses are to women with short and thick legs, A-Line paper bag shorts give the same effect of accentuating your waist and giving generous room to your legs.
Because of this wide leg opening, your thick thighs have more room to move while also creating a flawless visual line from the waistline up to the ankles.
Mom Shorts with a Longer Inseam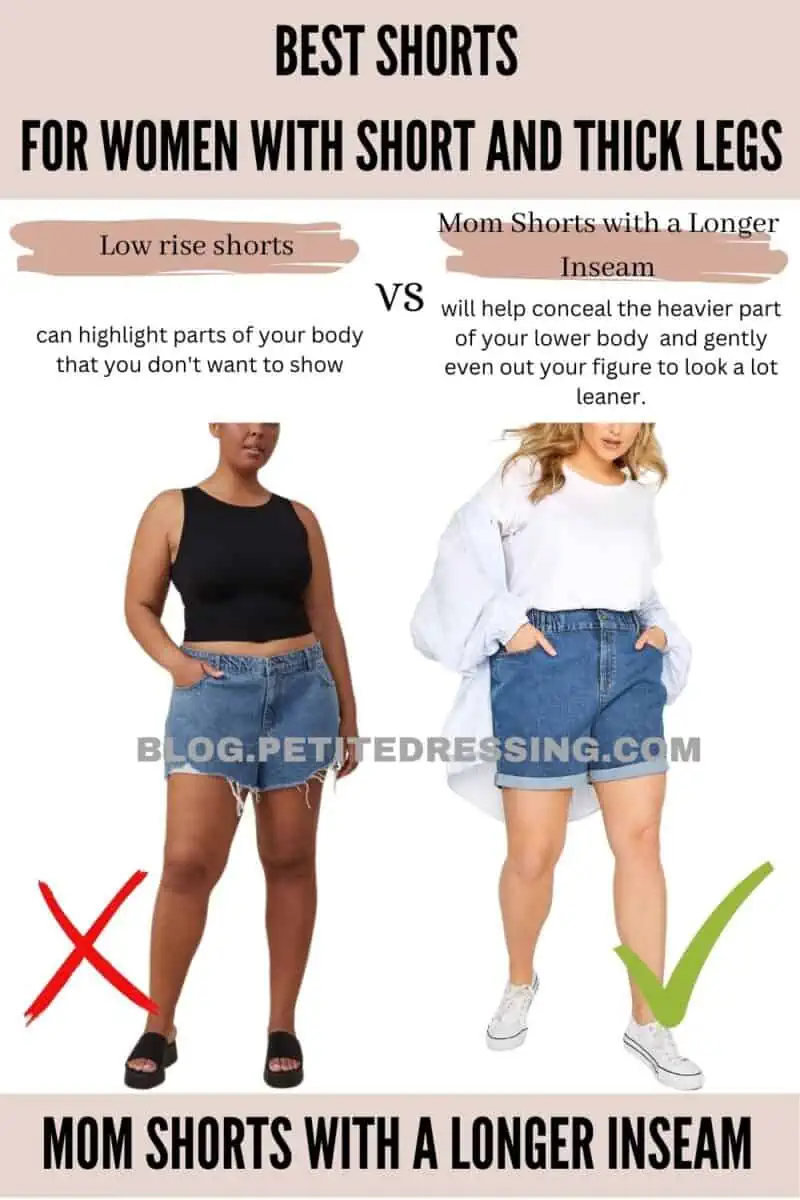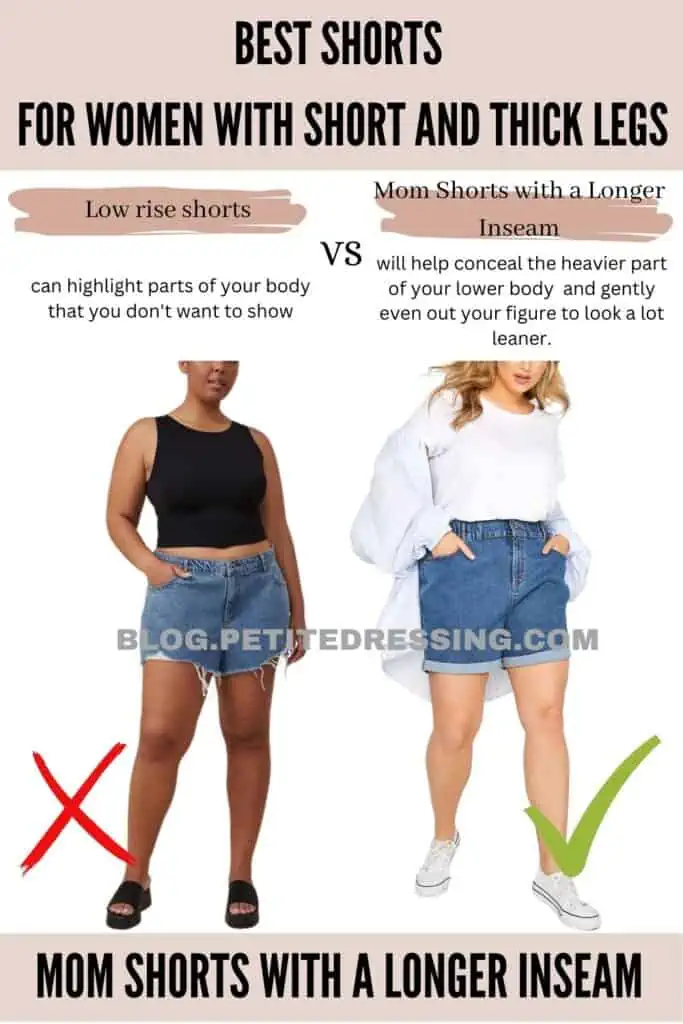 Just like what we have briefly discussed earlier under the heading "Styling Goal", the proper length is very crucial when it comes to choosing the right pair of shorts to flatter your short and thick legs. Mom shorts typically have longer inseams, practically ranging between 4 to 6 inches, so they provide more coverage to tone down thick legs.
With ones that come in longer lengths such as mom shorts, the hem would rest on the slimmest part of the leg and not on the thighs. This effect will help conceal the heavier part of your lower body which are most likely your thighs, and gently even out your figure to look a lot leaner.
Wrap Skorts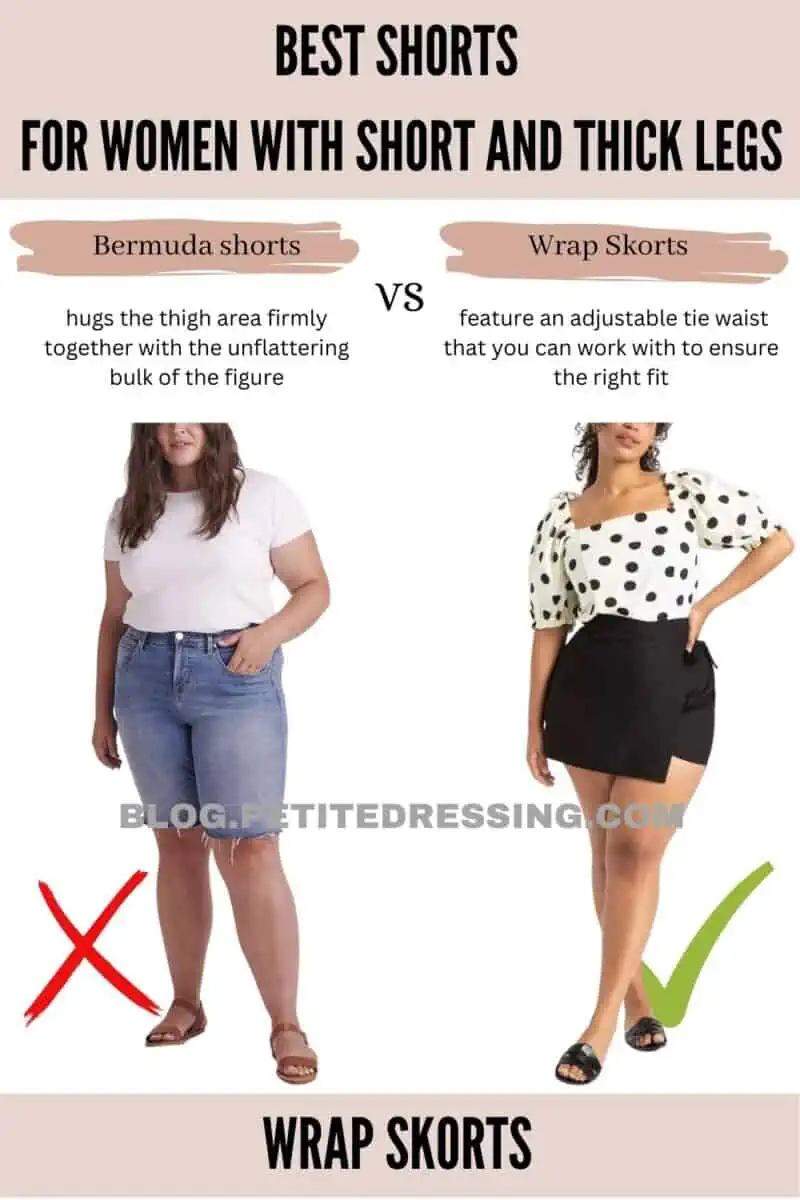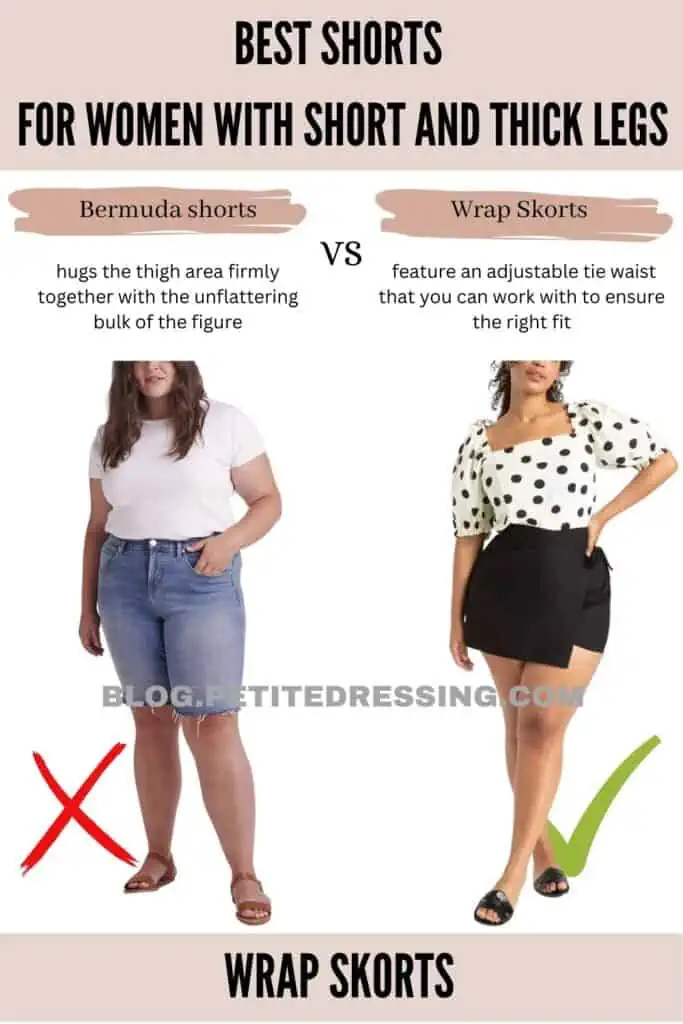 Skorts are basically shorts with a wrap of continuous fabric across the legs that resembles a skirt. If you've been wanting to wear mini skirts but don't like the discomfort of likely exposing yourself, then skorts are definitely your best option.
The risk of exposure is more prominent in women with thicker legs so it's sometimes difficult to get the elongating benefits of a mini skirt that most petites get. With a skirt, you can get the best of both worlds in comfort and style!
Skorts come in several designs but the one we find very ideal would be wrap skorts. It's because they feature an adjustable tie waist that you can work with to ensure the right fit. This wrap also serves as a "cover" to hide your thick thighs.
Tailored Wide-Leg Shorts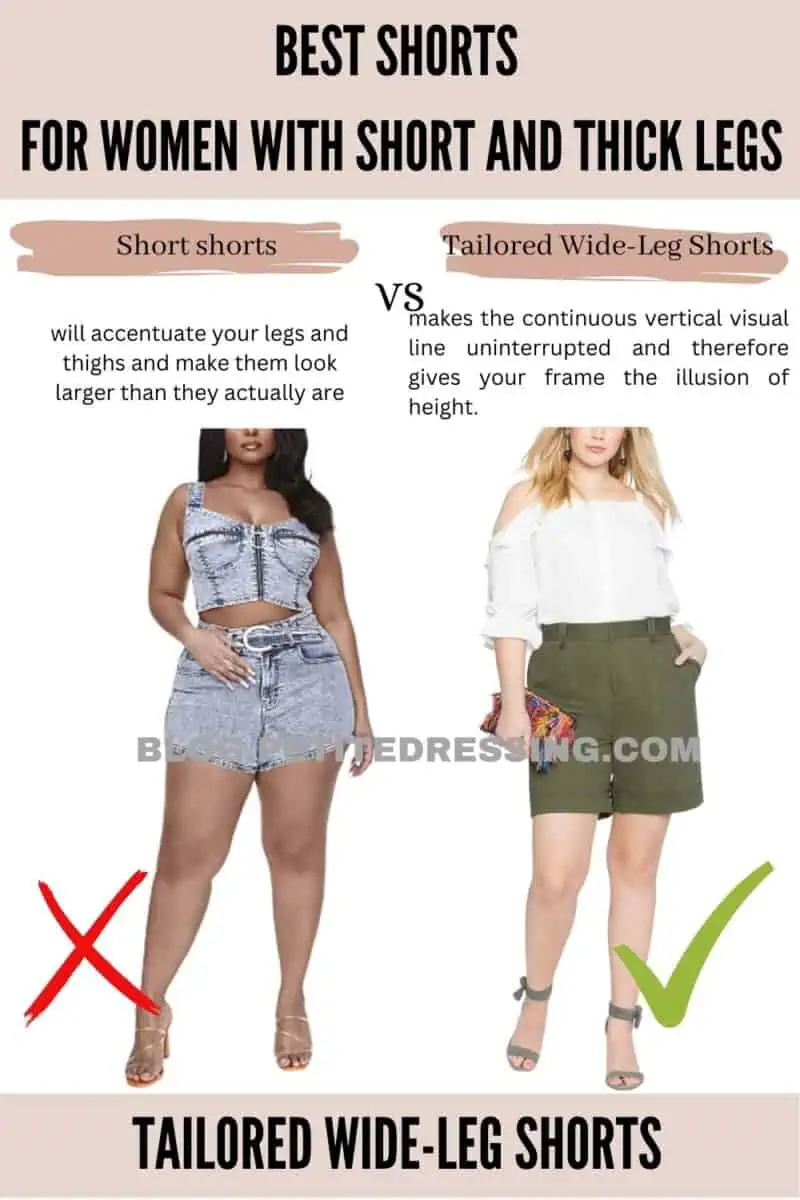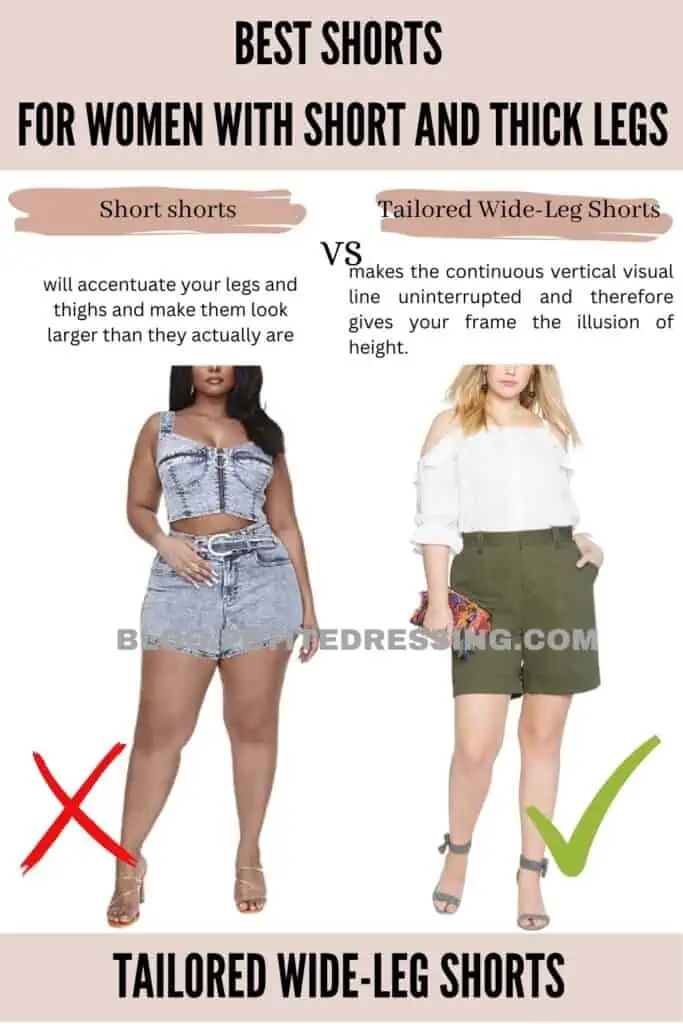 A wider leg opening is definitely important to make sure your thick legs are well accommodated. A leg opening that's too tight will constrict your legs and highlight its biggest part, that's why tailored wide-leg shorts should be one of your quick go-to wardrobe pieces to polish your ensemble.
The wide leg opening seamlessly flatters your legs by neutralizing the attention that thick thighs usually draw. This makes the continuous vertical visual line uninterrupted and therefore gives your frame the illusion of height.
Avoid Biker Shorts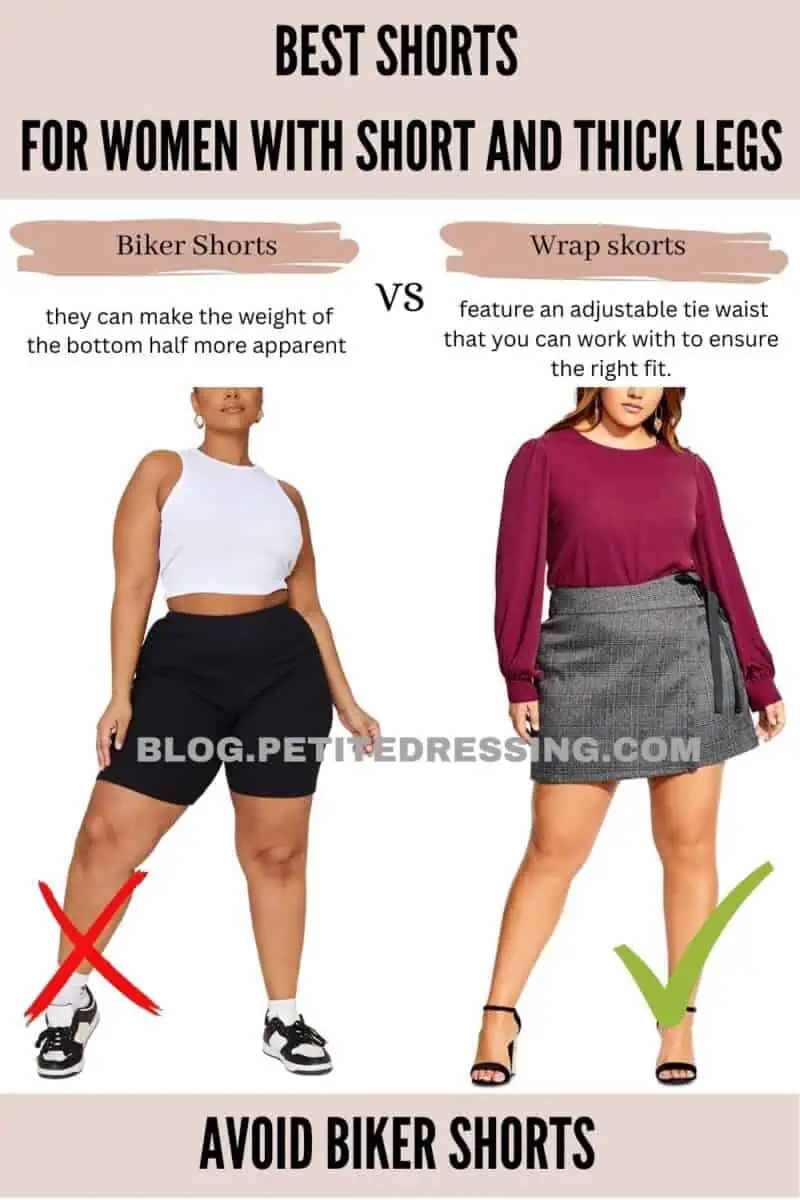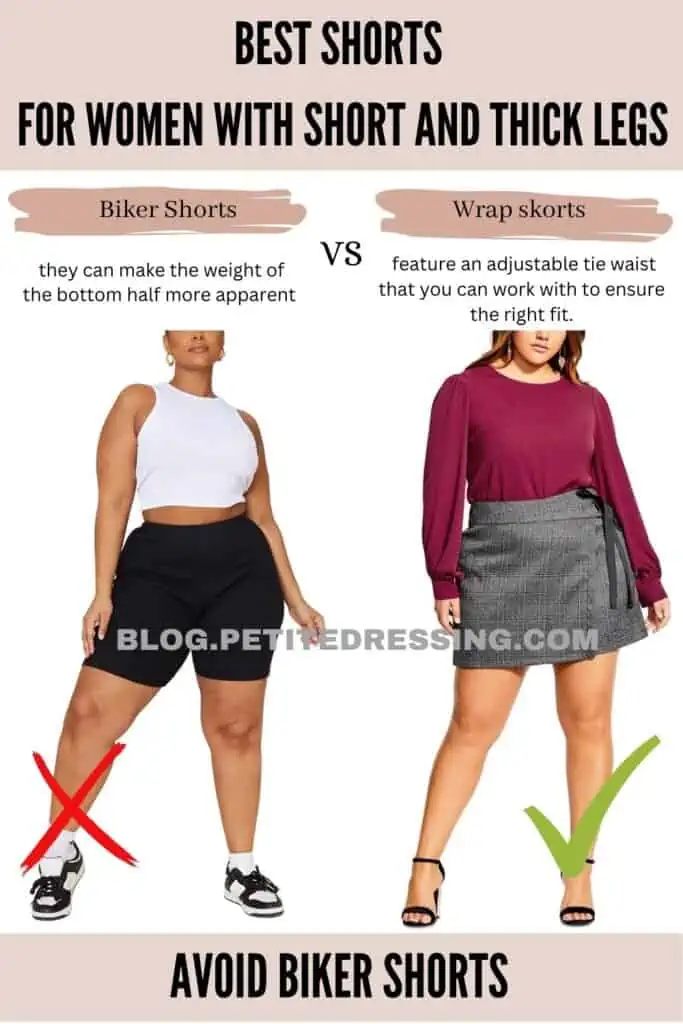 Biker shorts have been quite trendy in recent years as they have become more than just a sportswear staple. However, if you have thick and short legs, then this should be something that you should avoid at all costs.
Due to its very fitted fabric material, biker shorts can look extremely unflattering because they can make the weight of the bottom half more apparent. It may come in slimming dark colors such as black but this may not be enough to conceal your thick legs due to its structure alone.
The Key Takeaway
Shorts can be an amazing way to channel your style, especially during the summer and your short and thick legs shouldn't stop you from wearing them. Remember that no matter what your leg shape is or how your legs look like, you're free to flaunt them with the right pair of shorts!