Being short and chubby can make it a challenge to find the right clothing to wear. I am 5'2″ myself, so I understand the issue that most short girls face when it comes to styling. Besides, I also have a petite clothing line, so I'm constantly receiving feedback from thousands of my customers.
Not all styles will look equally good on you! Even though I encourage you to wear anything you love, the following are some items you should be cautious about or perhaps even skip altogether!
Styling Goal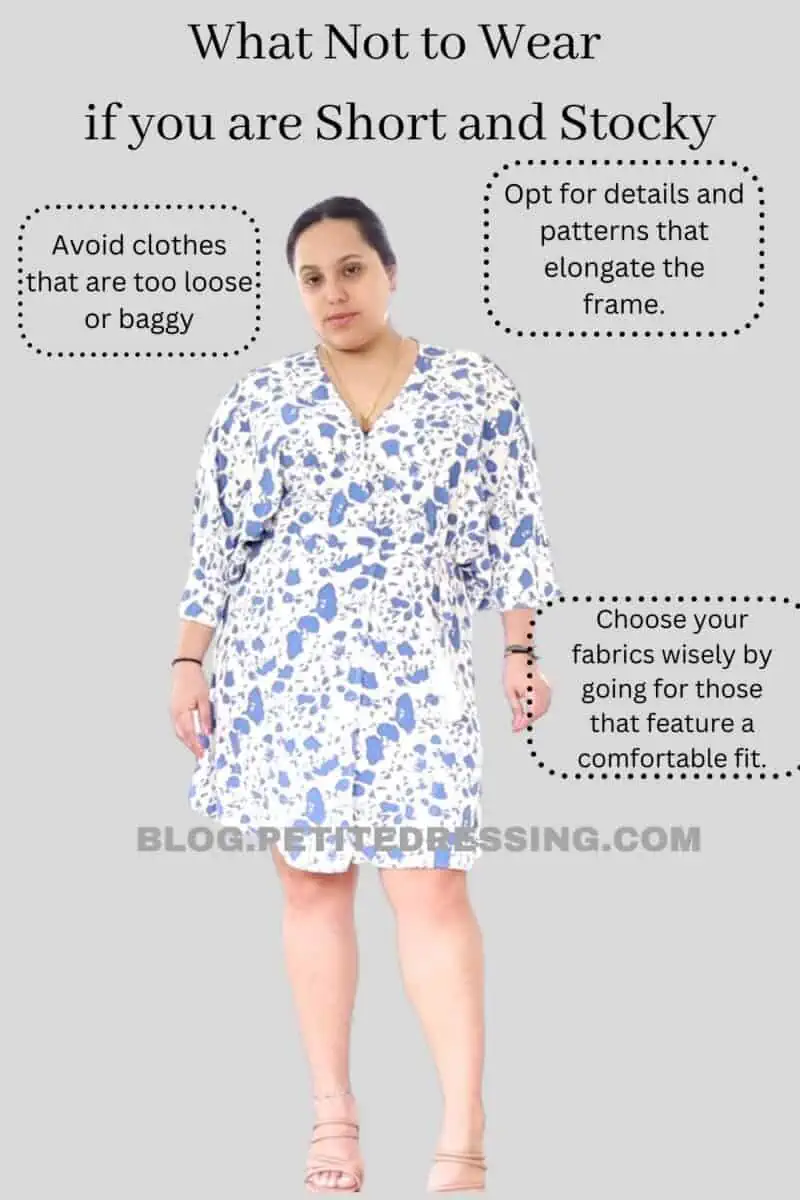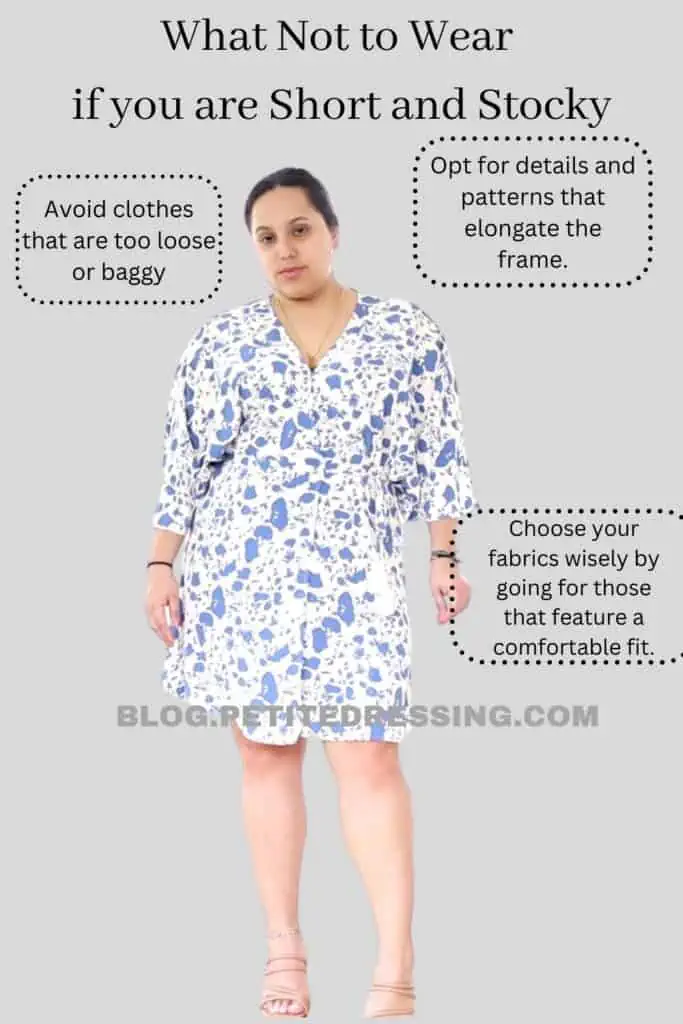 Opt for details and patterns that elongate the frame. Patterns such as vertical lines will help visually lengthen your figure for a taller and leaner appearance.
The right fit matters a lot! Avoid clothes that are too loose or baggy, as well as those that are too tight because this can highlight your short height and stocky figure even more.
Choose your fabrics wisely by going for those that feature a comfortable fit. As much as possible, avoid fabric materials that are too clingy and shiny because the sheen of the fabric can highlight areas where flabs or muffin tops are more apparent.
Steer away from high necklines. Necklines that are too enclosed tend to cramp your figure up and make you look stockier and shorter.
Styling short and stocky figures can be a bit of a challenge so as you choose your next clothing piece, here are the ones you need to avoid.
Clothes with Large Prints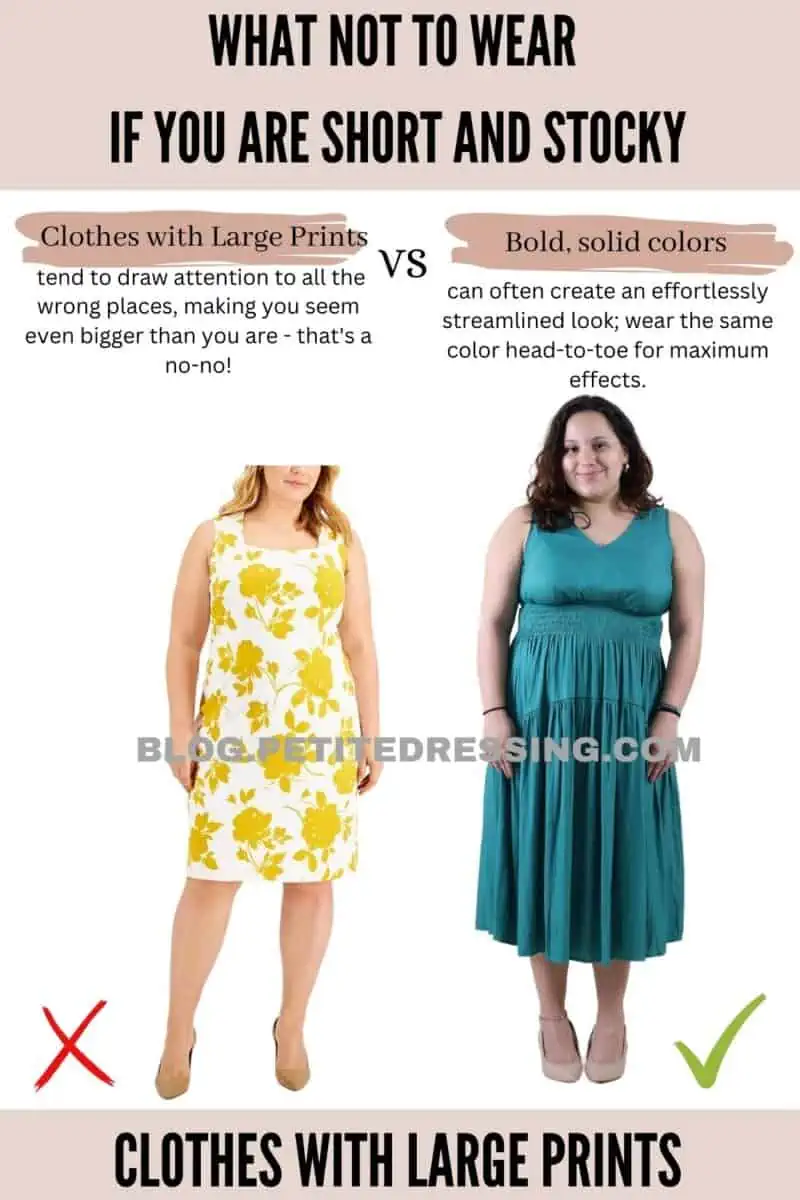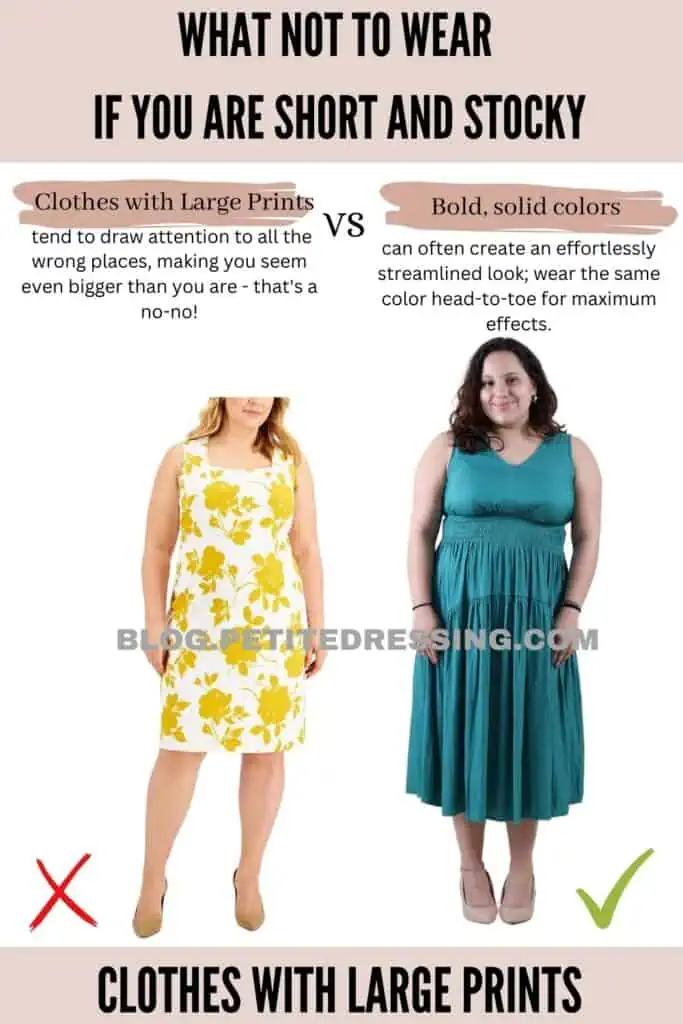 Donning a loud print when you have a shorter and stockier frame can be extremely overwhelming to the eye! Big prints tend to draw attention to all the wrong places, making you seem even bigger than you are – that's a no-no!
Oversized prints can be a major fashion faux pas as they might cut your body into sections, making it look shorter than it really is. Not to mention, these busy patterns will throw your body's natural proportions off balance and make it difficult for you to achieve that put-together and harmonious ensemble.
For the shorter and stockier among us, there are plenty of options for wearing stylish clothes. Consider sporting smaller-scale prints or just a solid hue – tiny florals or even subtle geometric patterns look great and won't dwarf your frame!
Choosing bold, solid colors can often create an effortlessly streamlined look; wear the same color head-to-toe for maximum effects. Remember too that details can make all the difference so opt for clothing with strategic design elements like vertical seams, elongating necklines, and asymmetrical cuts – they'll help you look comfy and tall!
Horizontal Prints and Details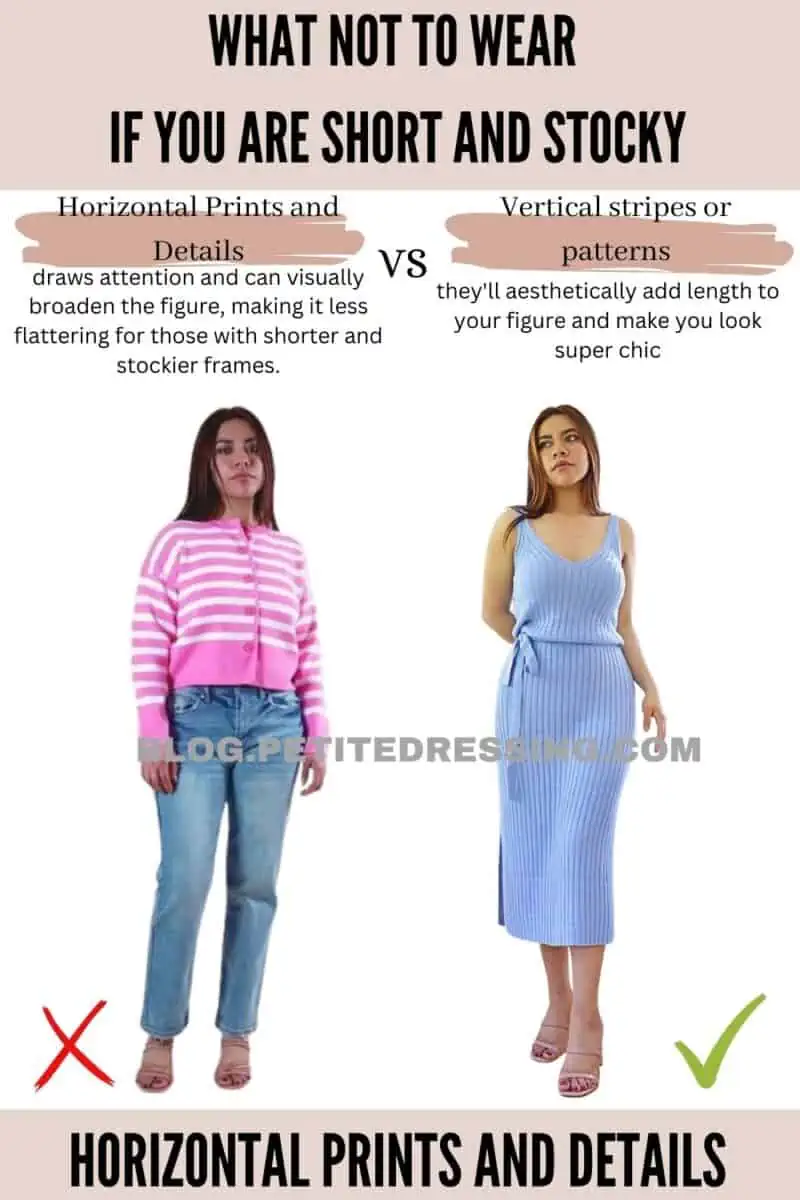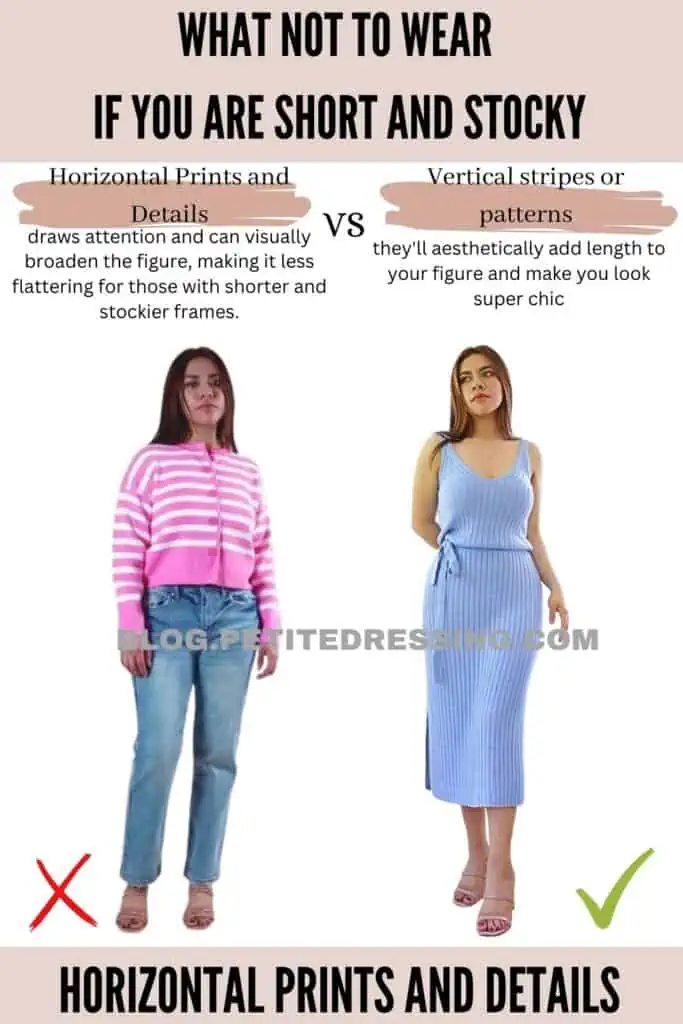 Short and stocky figures tend to have a more compact and wider appearance, so wearing tops with horizontal prints or details can accentuate the width of the body and create an overall widening effect. Horizontal lines draw attention and can visually broaden the figure, making it less flattering for those with shorter and stockier frames.
Well, it's really simple – horizontal prints and details just don't cut it for shorter or stockier figures. See, those horizontal lines break up the natural vertical lines of the body giving off a sort of widening-without-growing illusion that can mess with proportion and wreck any hopes of achieving a balanced look.
If you're on the shorter and stockier side, don't worry – you can still create a flattering silhouette! Go for tops with vertical stripes or patterns – they'll aesthetically add length to your figure and make you look super chic. Similarly, opting for tops with pleats or panels in a vertical design will give the same sleek effect. Hey, no need to hide those curves; show 'em off!
Baggy and Shapeless Clothes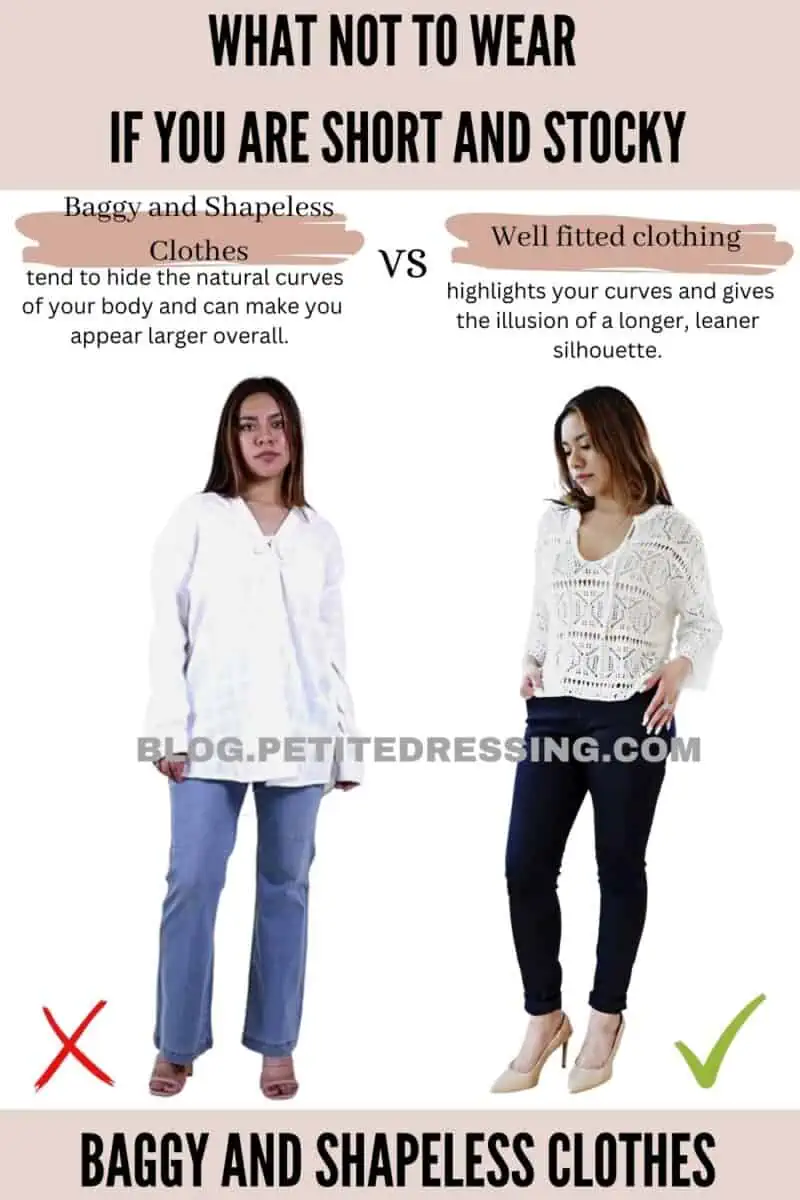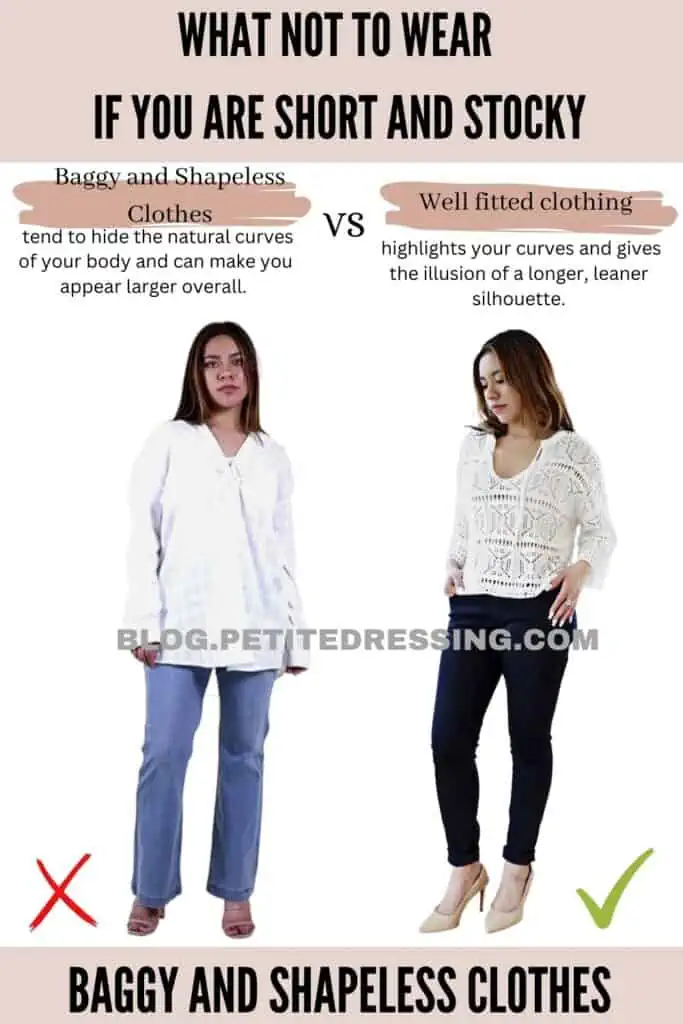 Wearing baggy and shapeless clothing when you have a shorter and stockier frame can create an unflattering and disproportionate look. Loose, oversized garments tend to hide the natural curves of your body and can make you appear larger overall.
Well, bulky fabrics are your worst enemy because they make it hard to achieve a balanced and well-proportioned silhouette! Loose clothing can give the illusion of a shorter frame, so make sure you opt for pieces that fit like a glove and highlight your natural curves for this will get you an elongated and streamlined look.
Styling alternatives for shorter and stockier figures involve choosing clothing that fits well and accentuates your assets. Look for pieces that provide structure and definition, such as tailored jackets, blazers, or dresses with defined waistlines as these garments can help create a more polished and flattering look by highlighting your curves and giving the illusion of a longer, leaner silhouette.
Cling Tops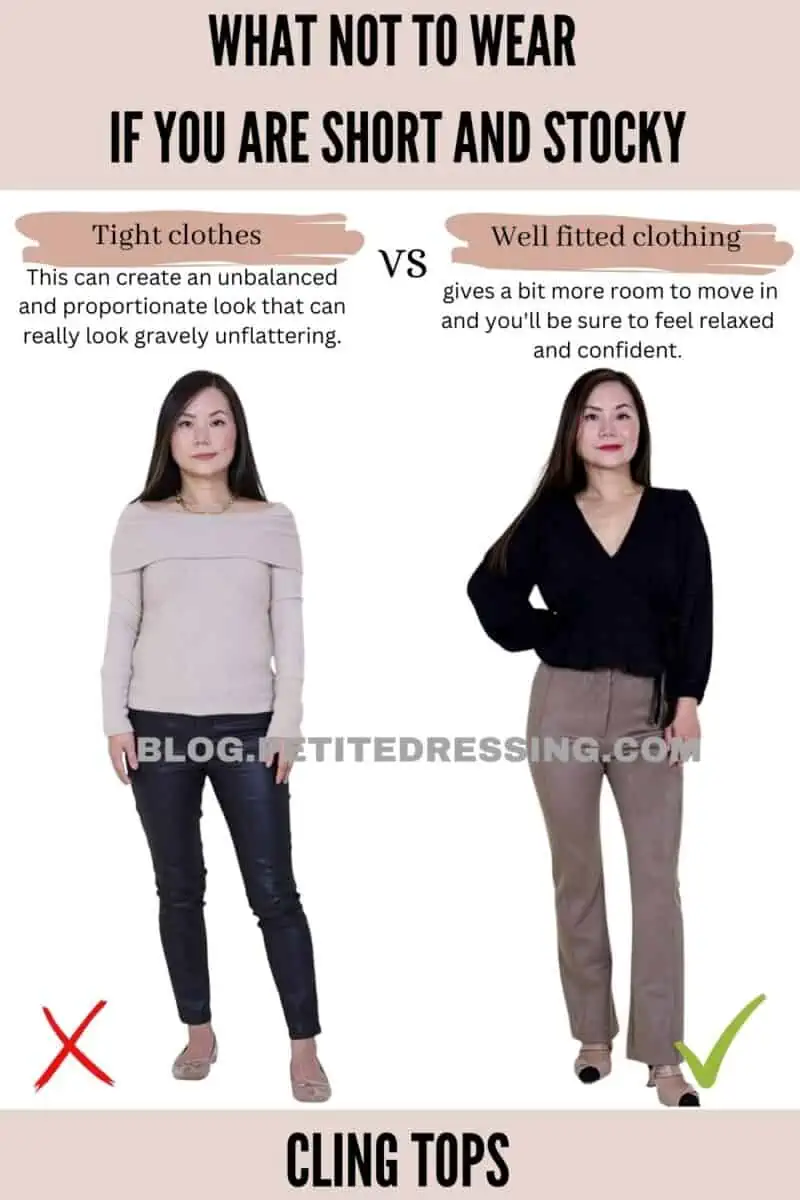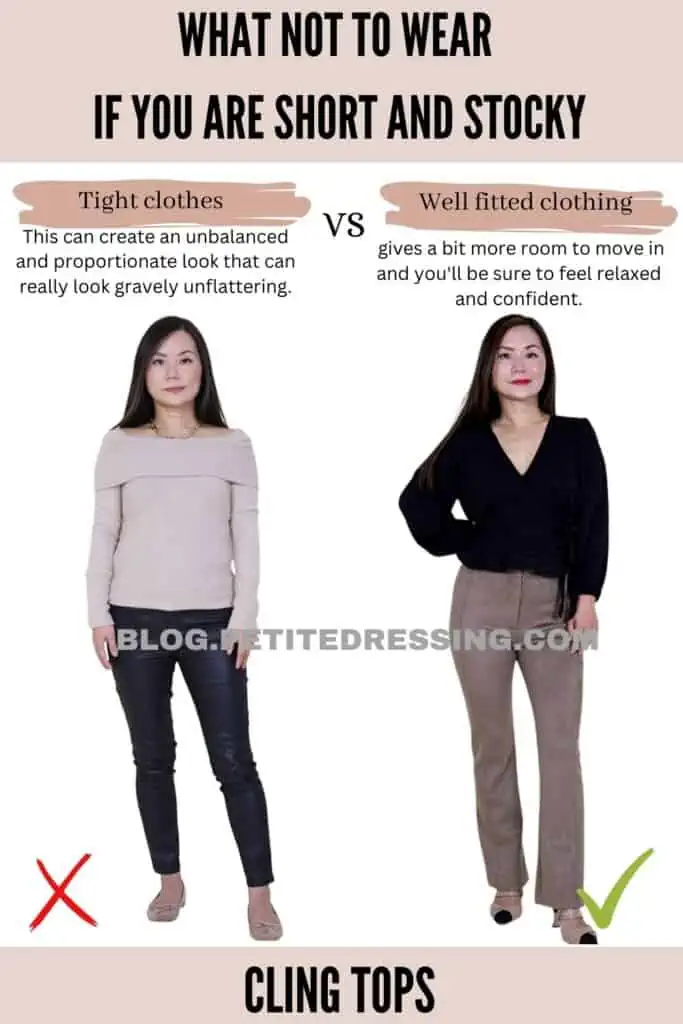 So we just talked about avoiding baggy clothes so you might think of going for the opposite – tight-fitting clothes! Well, I hate to break it to you but this is also something you should stay away from.
When clothing is too tight, it can draw unwanted attention to the trouble spots that you're self-conscious about like a chubby midsection or wide hips. This can create an unbalanced and proportionate look that can really look gravely unflattering.
Comfort is key when it comes to clothing and we all know how annoying it can feel when a top is too tight as it restricts your range of motion and can make you super self-conscious. If you're going for an easy-breezy vibe, then go for something with a bit more room to move in so that way, you'll be sure to feel relaxed and confident.
Of course, there's nothing worse than a top that fits too snugly; however, finding the right fit for your body is essential. Seek out clothing that shows off and flatters your shape without being too clingy.
Chunky Knit Turtleneck Tops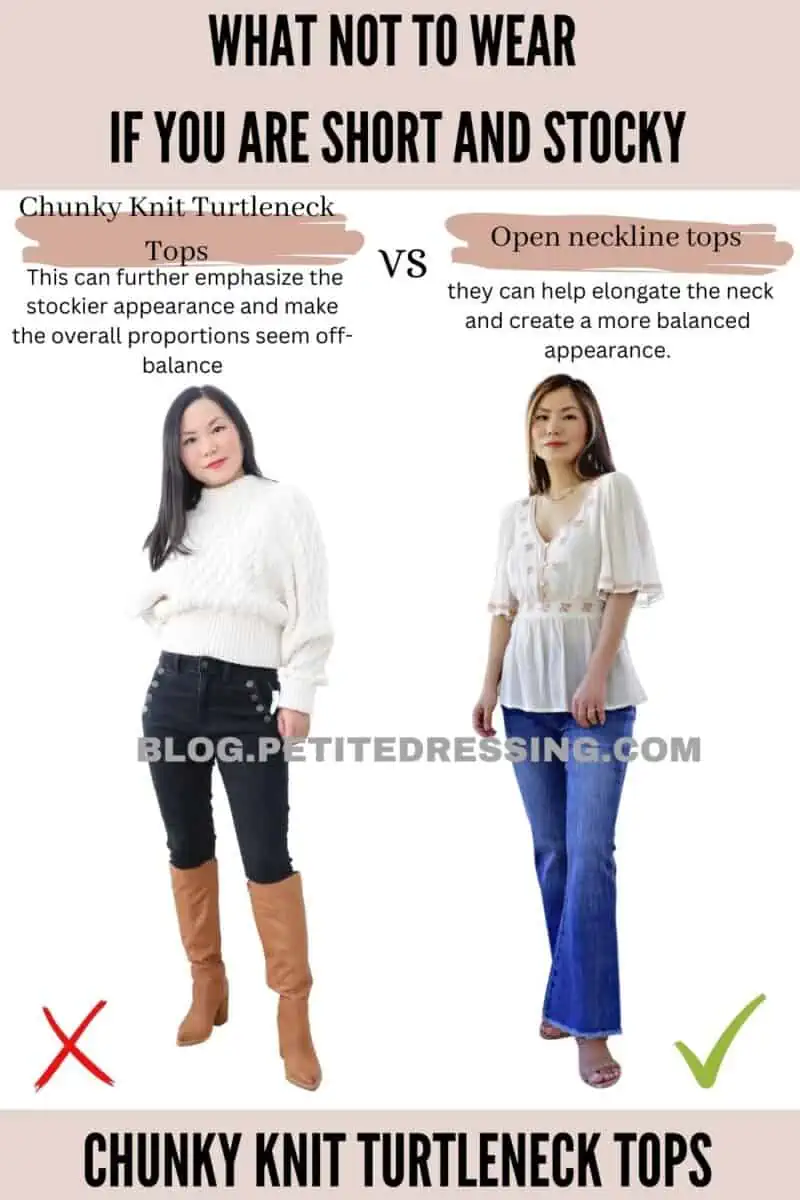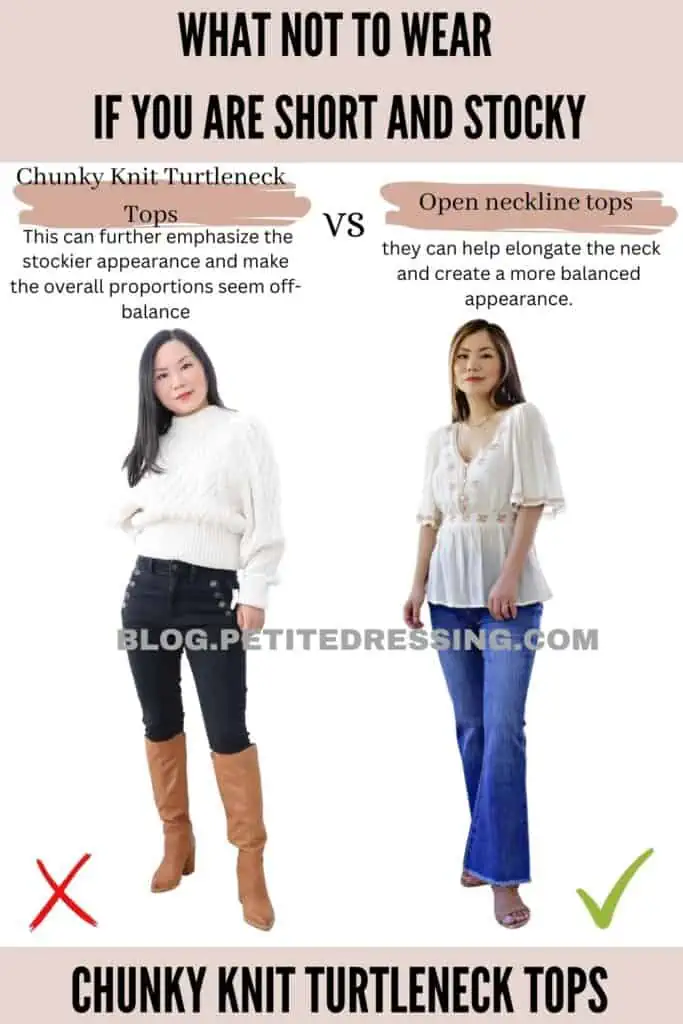 Turtlenecks can visually shorten the neck and create a boxy effect. This can further emphasize the stockier appearance and make the overall proportions seem off-balance so it's ideal to opt for tops with more open necklines, such as V-necks or scoop necks because, with these, you can create the illusion of a longer neck and a more elongated silhouette.
They can also add bulk to the upper body, particularly if they are made from thicker fabrics or have a tight fit so as a result, this can make the overall figure appear heavier and less streamlined. Instead, choose tops with lighter fabrics and a more relaxed fit that skim the body without clinging too tightly for a more balanced and flattering look.
Open necklines like scoop necks, V-necks, or boat necks, are better options for women who are short and stocky as they can help elongate the neck and create a more balanced appearance.
Midriff Crop Tops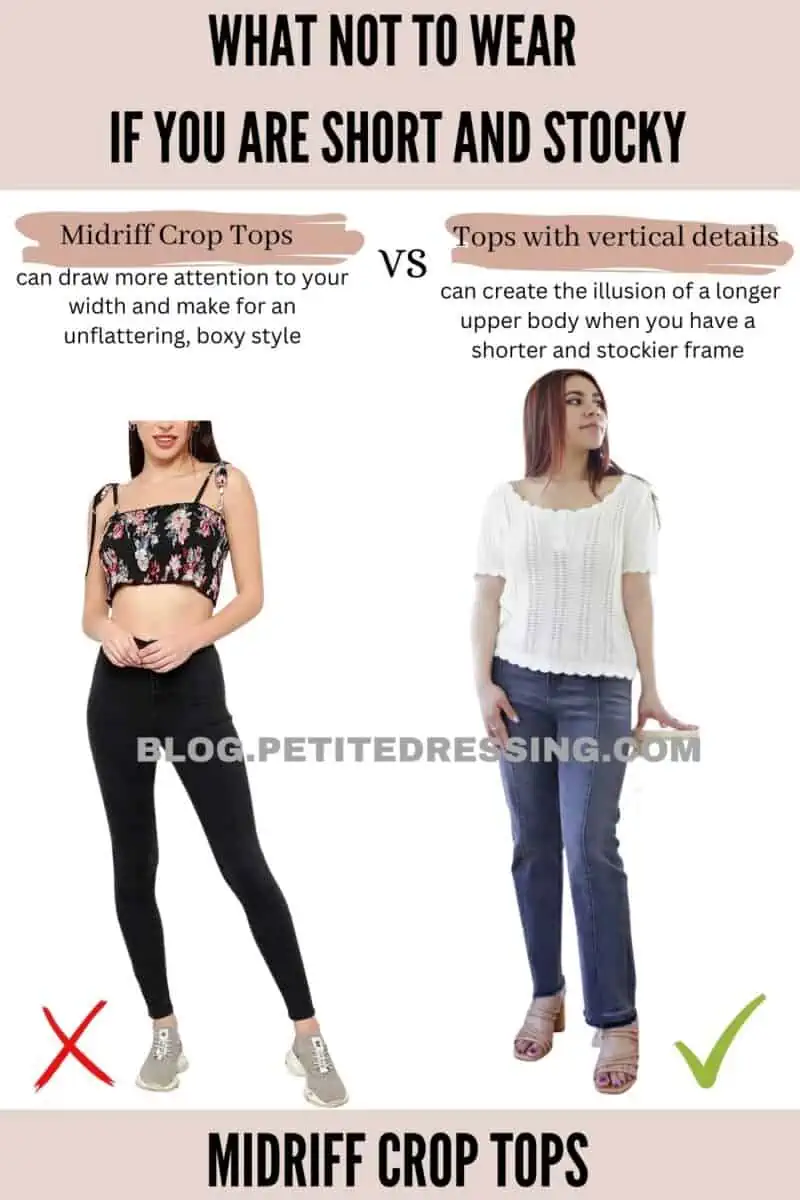 Midriff crop tops often boast a cute, trendy look, but they may not be the most flattering style for short and stocky figures. These types of tops generally stop at the belly button – revealing that relatively larger space between your chest and waist.
Don't get me wrong, midriff crop tops are definitely eye-catching, but if you're not totally confident about your midsection they might not be your best bet. After all, they can draw more attention to your width and make for an unflattering, boxy style so better proceed with caution!
To create the illusion of a longer upper body when you have a shorter and stockier frame, choose tops that elongate the torso – like those with longer lengths or vertical designs. This approach will help give you a more flattering overall look so you can rock your outfit with confidence!
Silky Bodycon Dresses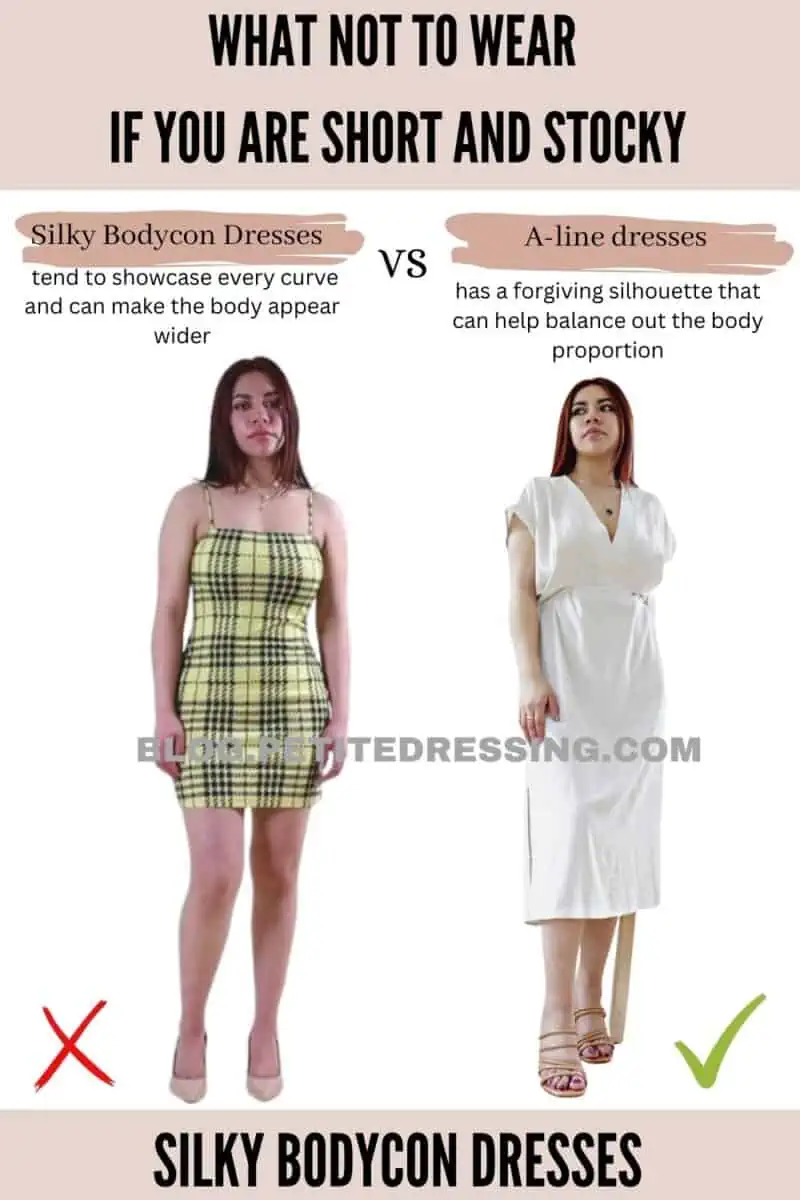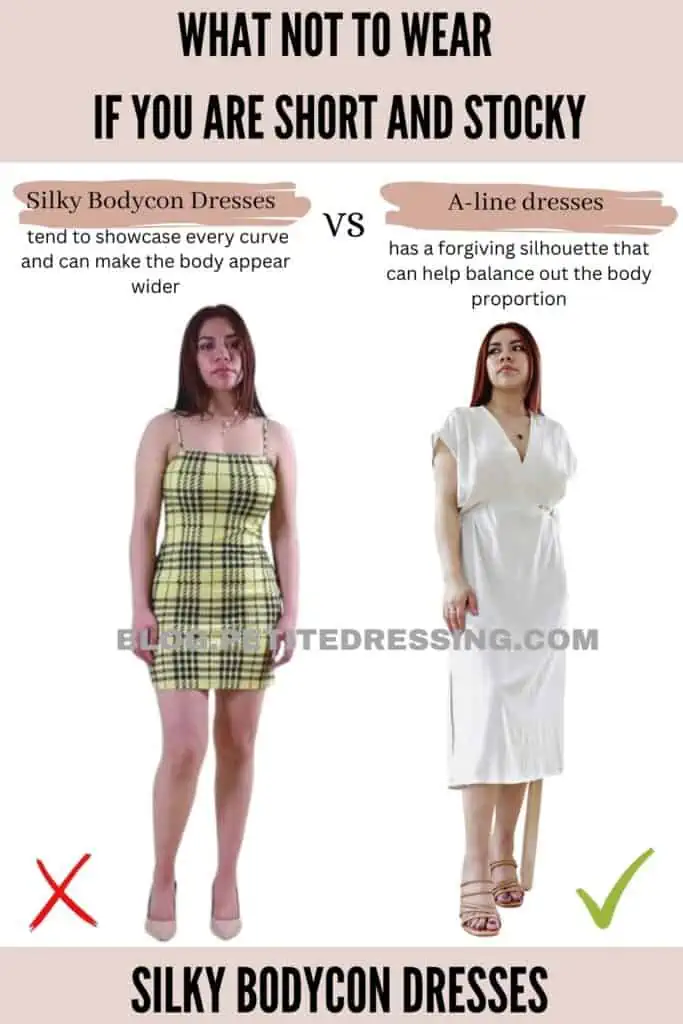 Bodycon dresses are designed to be tight and form-fitting, which means they cling to the body's contours. This can draw attention to areas that you may not want to emphasize, such as the midsection or hips.
In terms of the fabric, the sheen of silk fabric can highlight every curve and bump on the body. The reflective nature of silk can accentuate any unevenness in these areas, potentially making them more noticeable.
While this style can be flattering on certain body types, it may not be the most forgiving for shorter and stockier figures. Bodycon dresses tend to showcase every curve and can make the body appear wider so as a better style alternative, opting for dresses with a looser or more forgiving silhouette is a more ideal choice.
Wide or Thick Belts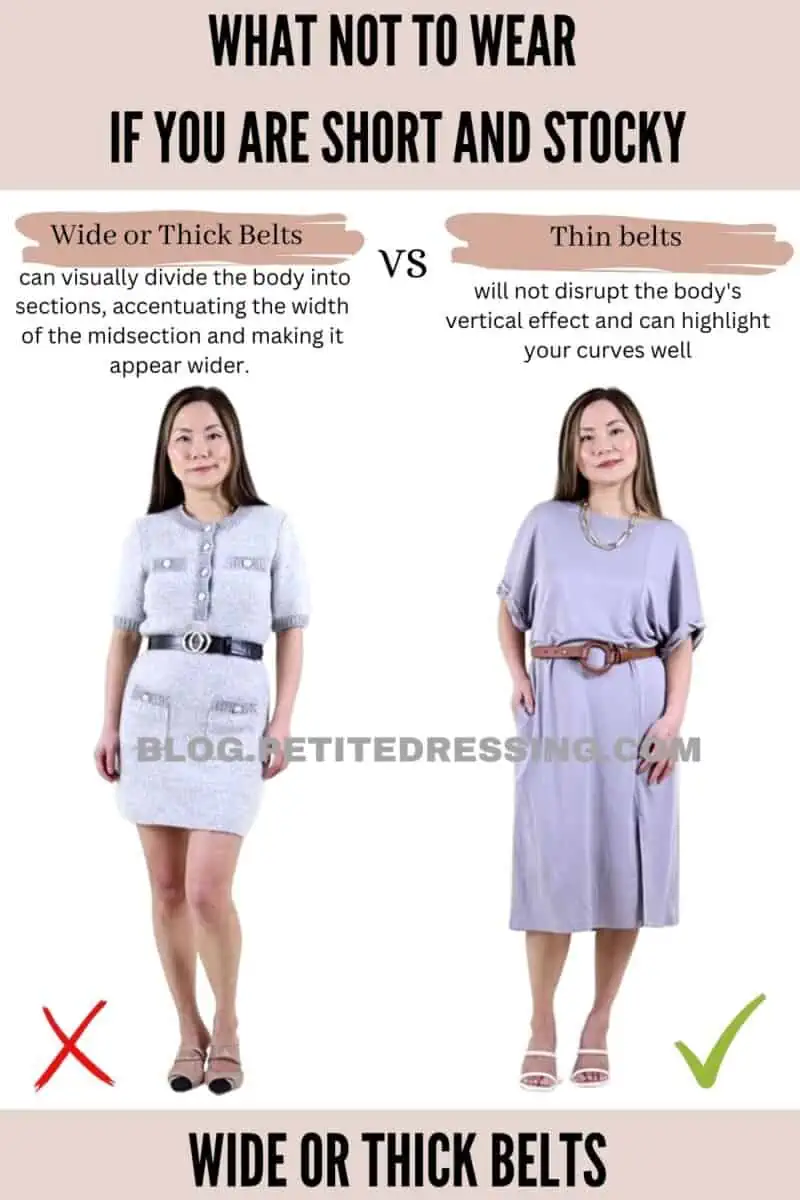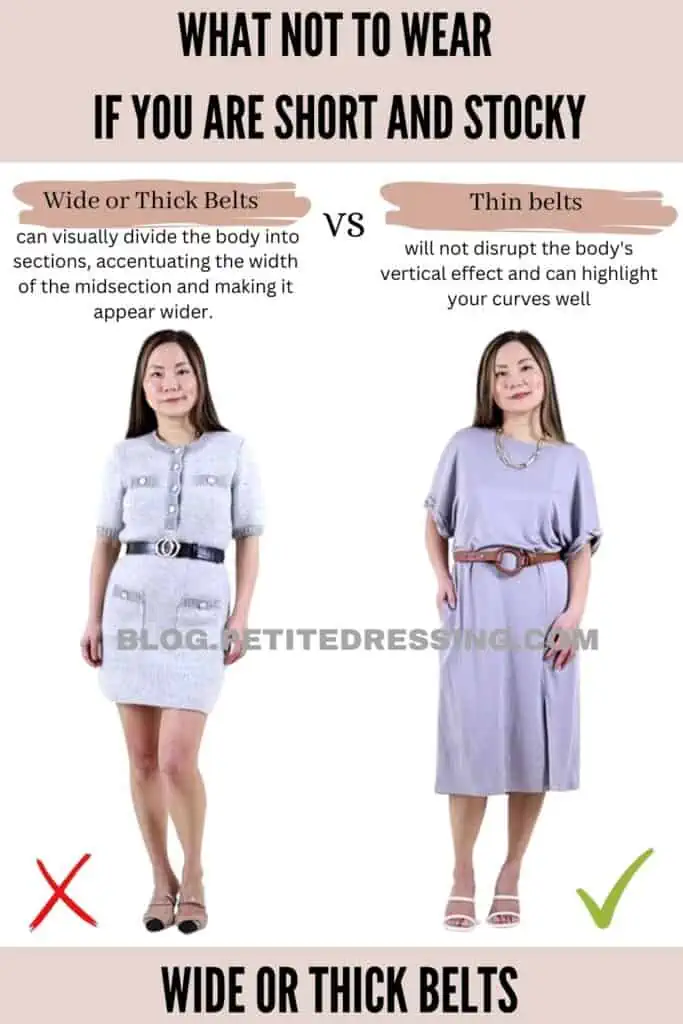 Wide or thick belts can draw attention to the waist area, which may not be ideal if you're looking to create a more balanced and proportionate look. These belts can visually divide the body into sections, accentuating the width of the midsection and making it appear wider.
This can disrupt the vertical flow of the body and create an unflattering effect, most particularly if the belt is thicker than 2 inches.
The Key Takeaway
Avoid the styling mistake of wearing clothes that don't flatter your short and stocky figure by understanding specific patterns and structures that simply won't work. Knowing which ones to avoid will make it easier for you to look for the ones that will look perfect on your figure!