Having a skinny pear shape means you have a smaller upper body and wider bottom half, even though you are overall thin. It is important to find the right dress styles to create a balanced silhouette. Since I have a petite clothing line, I work with models of all sizes and shapes, including the skinny pear.
Besides, I also receive feedback from thousands of my customers, some of whom have the skinny pear body type. I've put together this guide based on my first hand experience as well as their feedback to help you find the most flattering dresses!
Styling Goal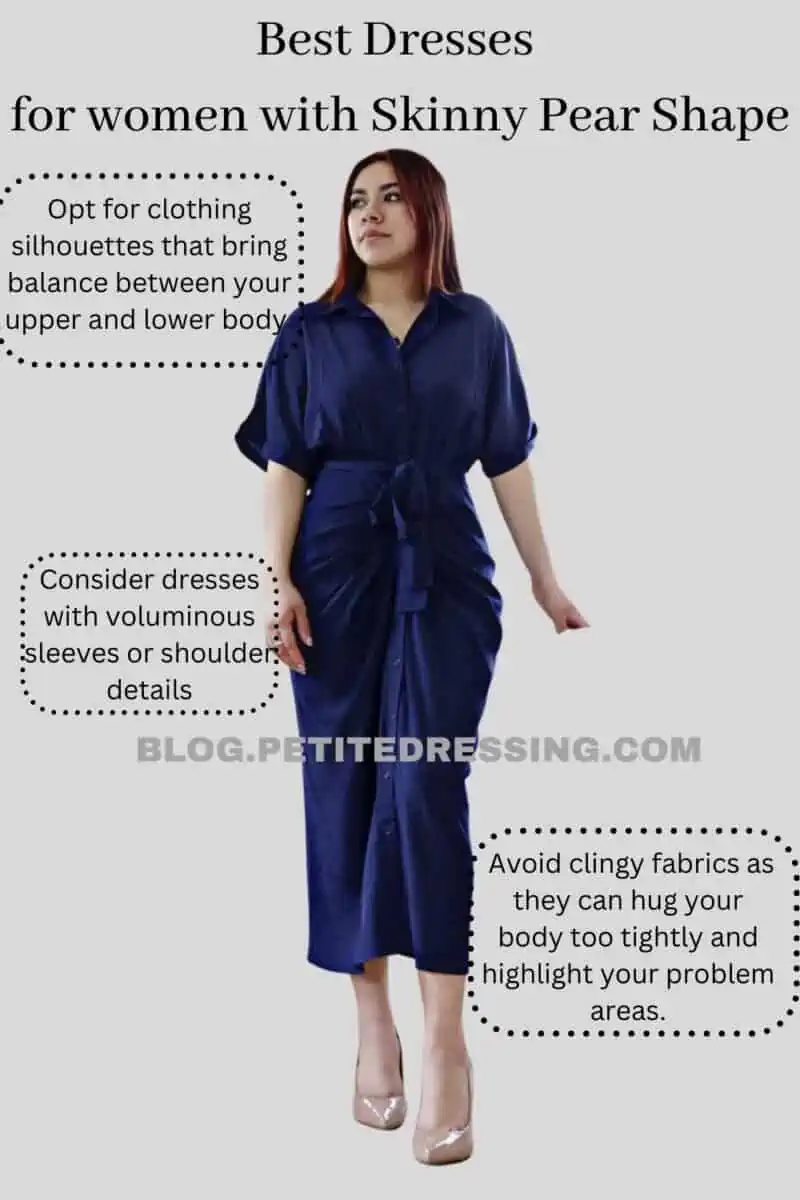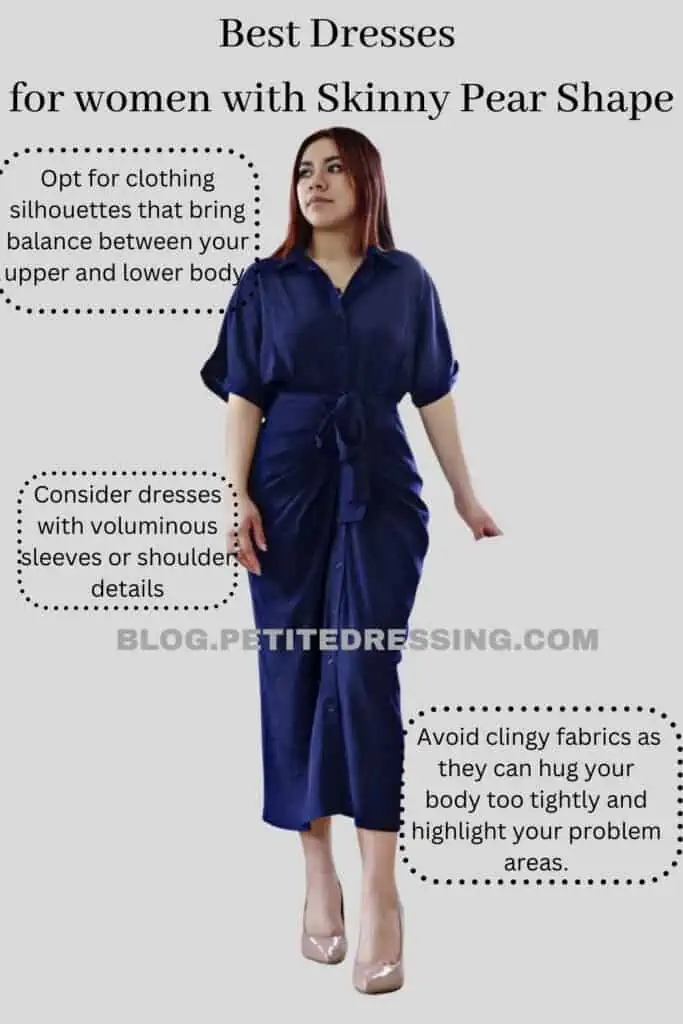 Opt for clothing silhouettes that bring balance between your upper and lower body. As a skinny pear shape, you struggle with the great size difference between your smaller upper half and wide hips so you need clothes to tweak this.
Consider dresses with voluminous sleeves or shoulder details. This will help elevate your narrow shoulders and smaller bust.
Opt for fabrics with some structure to give your shoulders and bust line more definition. Avoid clingy fabrics as they can hug your body too tightly and highlight your problem areas.
These styling goals will be the factors you need to have on your checklist when shopping for dresses. Now that we have briefly discussed them, let's go to the specific dress styles that will flatter your skinny pear-shaped body type.
A-Line Dress with Shoulder Details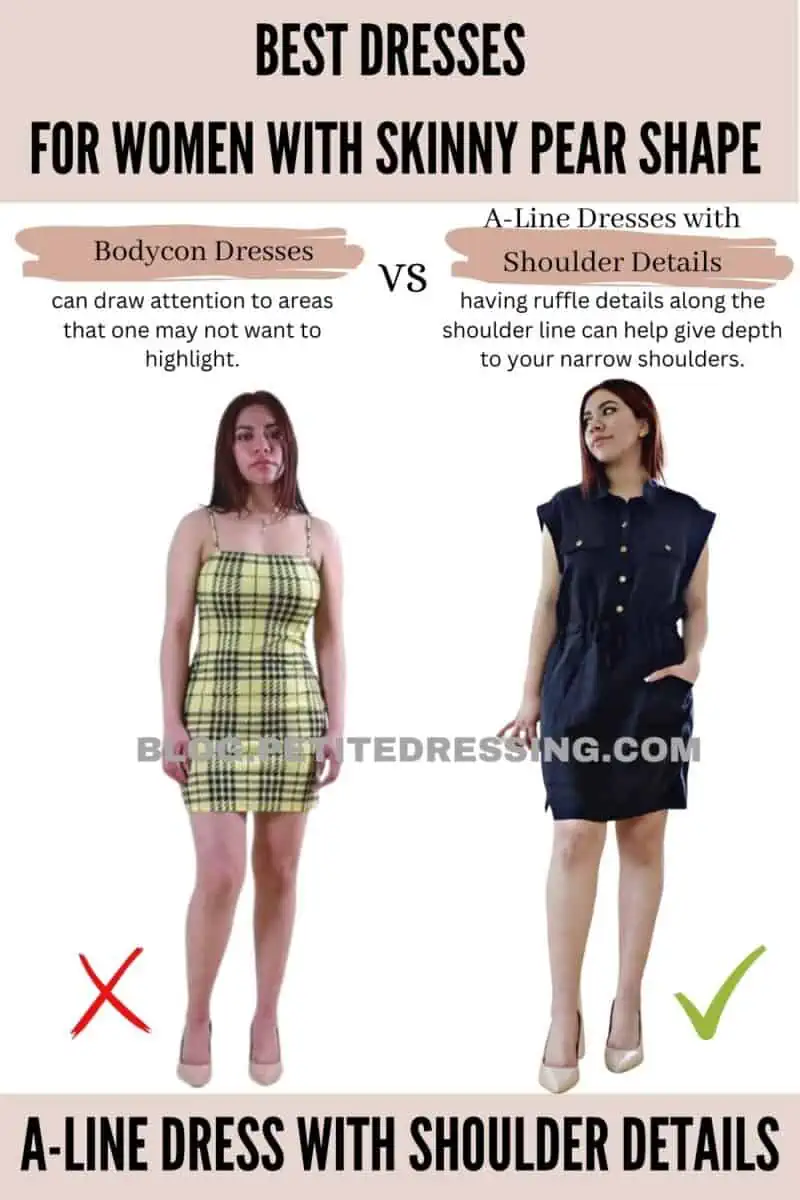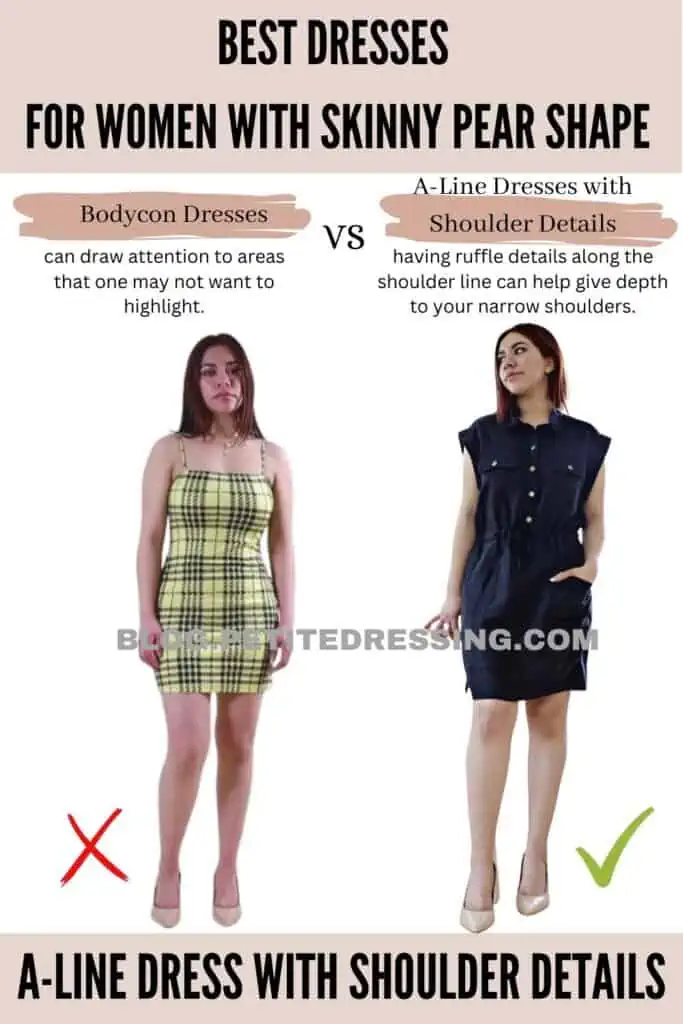 An A-line dress features a structured bodice that flares out gently from the waist to the hem in an A-line shape which helps add definition to your narrow waist. In addition, having ruffle details along the shoulder line can help give depth to your narrow shoulders.
The ruffled shoulder details can be in the form of delicate frills, dramatic tiers, or anything in between, and can add a touch of playfulness and femininity to the dress. Apart from its stylish visual effect, it's an efficient way to balance out your wide hips and thick thighs by drawing more attention to your shoulders.
Structured X-Line Dress
An X-Line dress features a fitted waist and then flares out gradually towards the hemline. It is characterized by its X-shaped silhouette, which is achieved by the use of seams and darts that create a fitted waist and a flared skirt.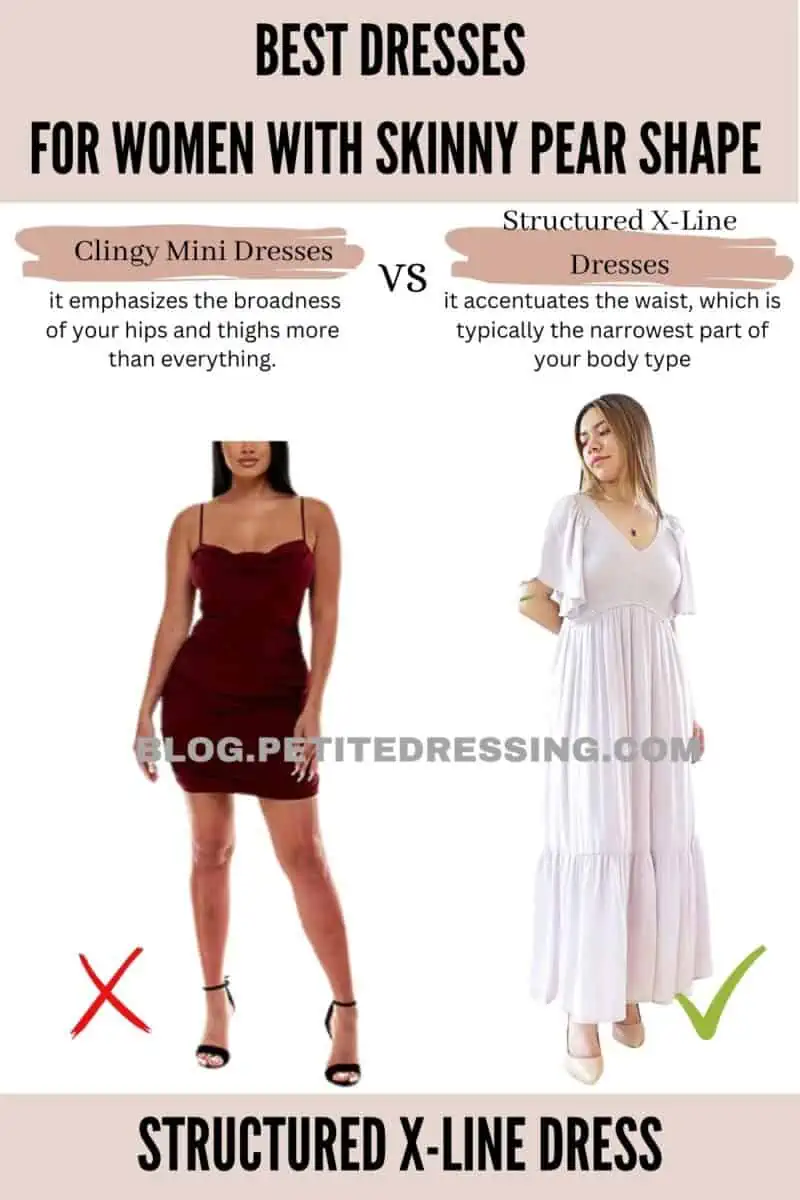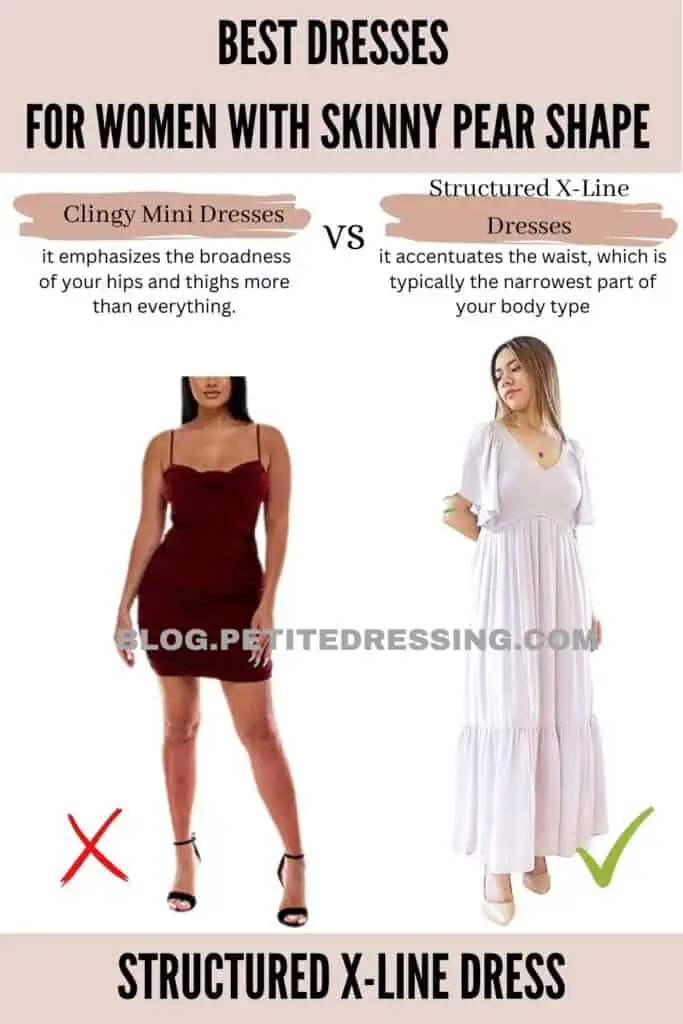 The beauty of this structure is that it focuses more on the shoulders, neckline, and waist – which are all a skinny pear shape's best assets. An X-Line dress can be particularly flattering because it accentuates the waist, which is typically the narrowest part of your body type, and diffuses the wide size of your hips and thighs.
Another reason why an X-Line dress is flattering for skinny pear-shaped women is that it can help to elongate the legs. Regardless of your height, your body type features a longer torso which makes your legs appear shorter and so the gradual flare of the skirt can create a lengthening effect, making the legs appear longer.
Cotton Wrap Dress
Soft cotton wrap dresses are a must-have for skinny pear-shaped women's wardrobes because of their comfort and structure. Since cotton is a flexible fabric material, you won't have to worry too much about the size discrepancy between your upper and lower body.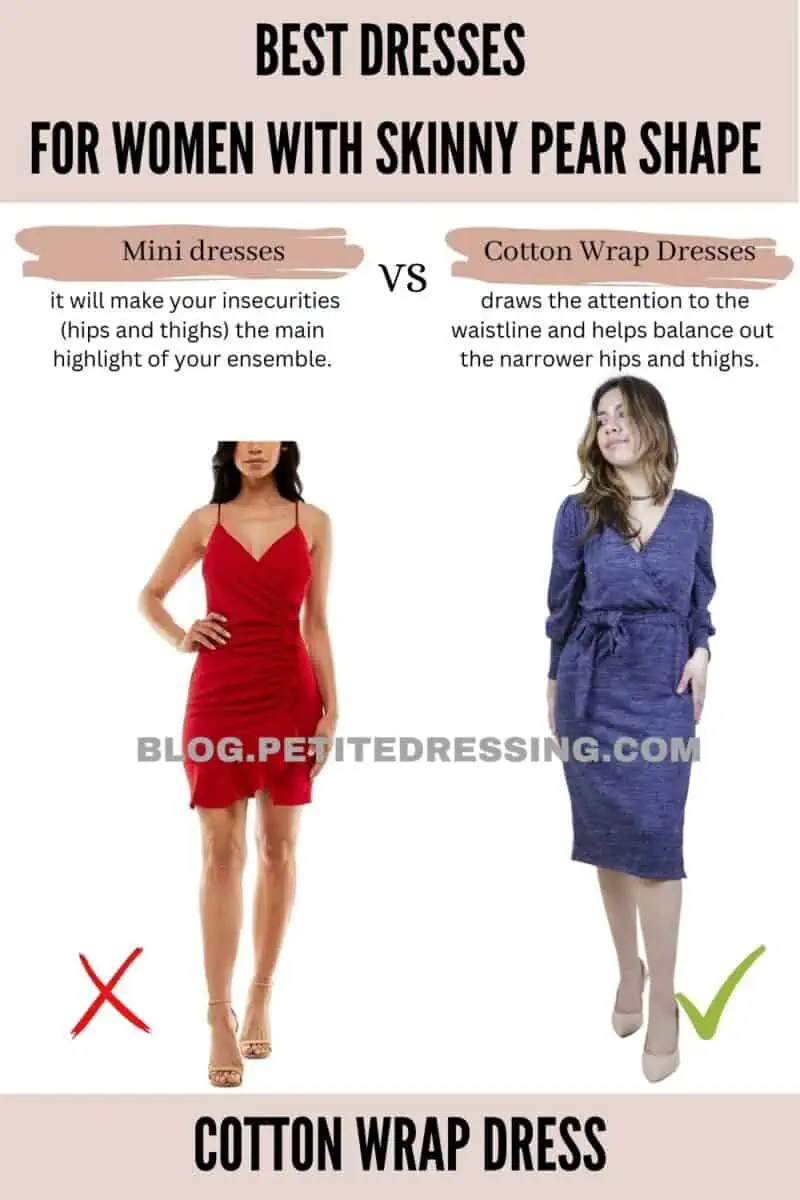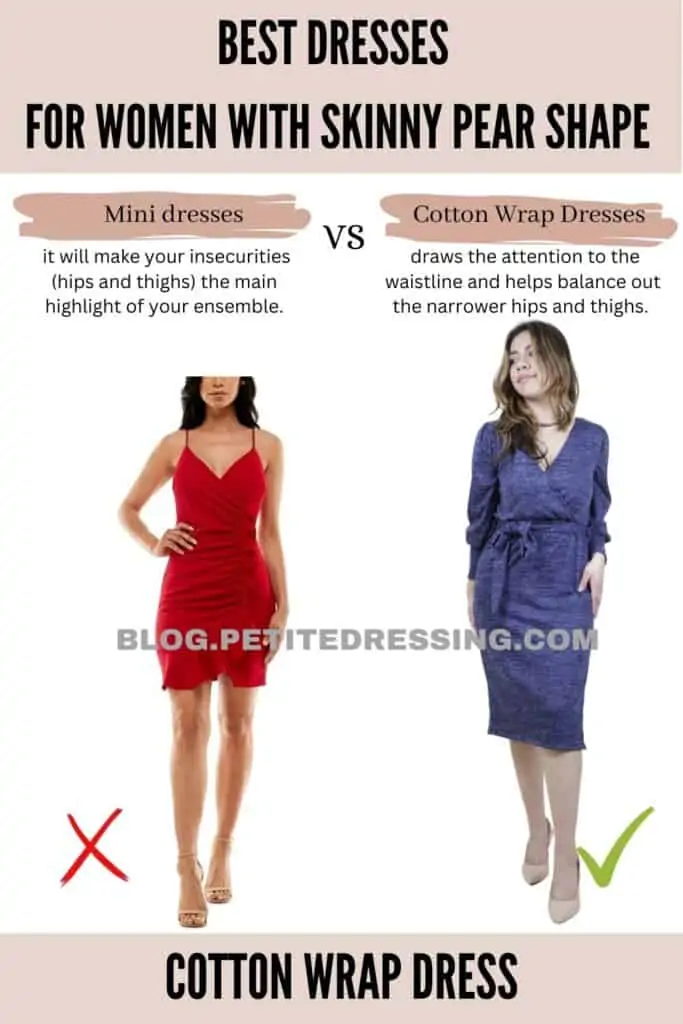 Cotton wrap dresses accentuate the waistline which creates the illusion of an hourglass shape. By drawing attention to the waistline, a cotton wrap dress can help balance out the narrower hips and thighs.
Plus, the wrap style allows for adjustability, so you can cinch it as tightly or as loosely as you want for a perfect fit. It'll be much easier to work around the fit on your upper half without making it too tight for your hips and thighs.
Vintage Dress with Shoulder Pads
Vintage dresses with shoulder pads can totally be a classy fashion option for everyone, especially women with skinny pear-shaped body types. They offer structure, specifically on the shoulders, to strategically balance your frame.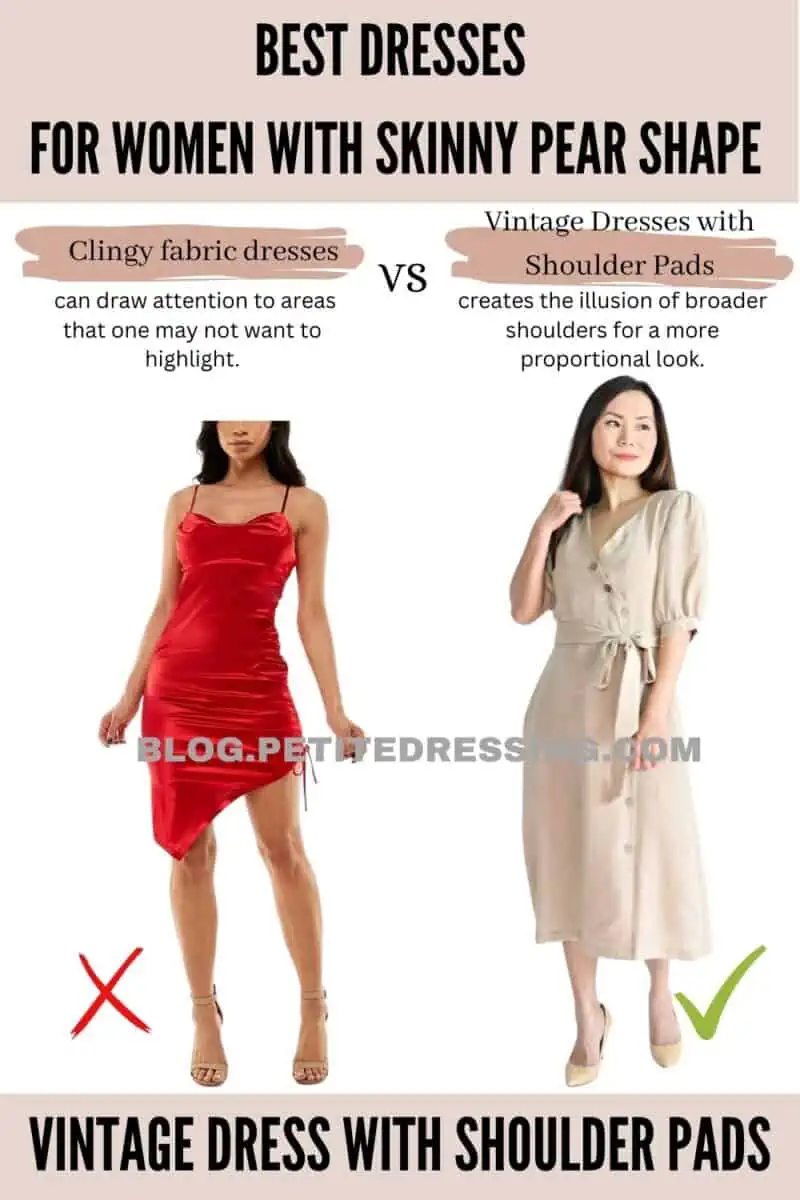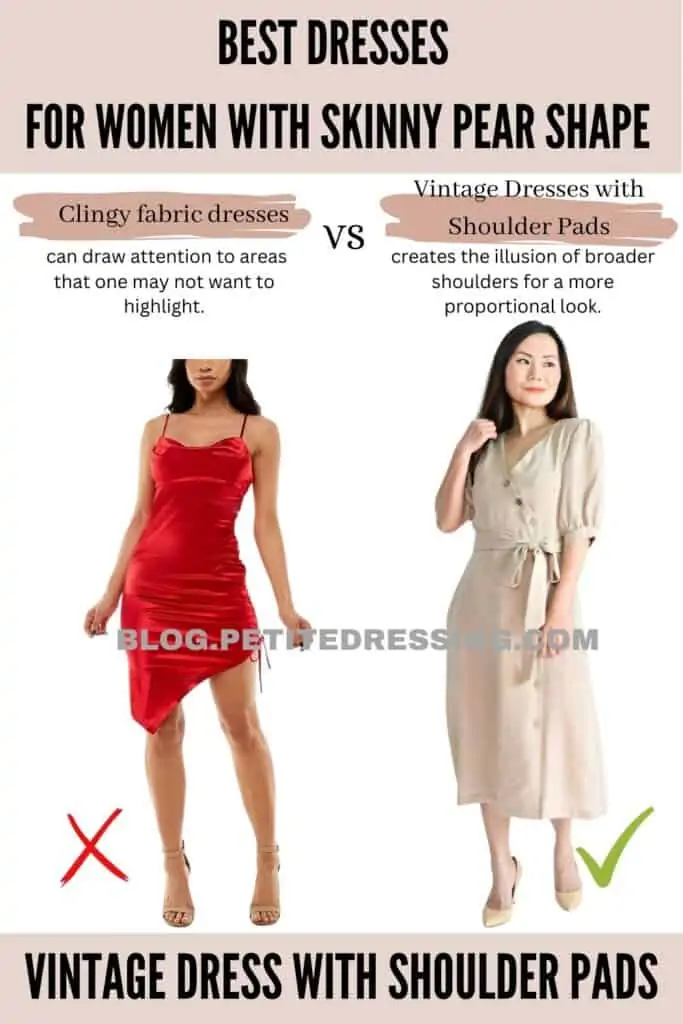 Often, women with skinny pear shape body types have narrower shoulders, making the hips and thighs look wider in comparison. The addition of shoulder pads can help create the illusion of broader shoulders, balancing out the hips and creating a more proportional look.
The shoulder pads give the dress structure and shape, making it look more put-together and polished. This can be especially helpful if you're looking into dressing up for a special occasion but don't want to sacrifice comfort or practicality.
Floral Off-the-Shoulder Dress
Floral off-the-shoulder dresses are a must-have for any fashion-forward woman's wardrobe because not only are they feminine and stylish, but they also offer several style advantages for women with skinny pear-shaped body types.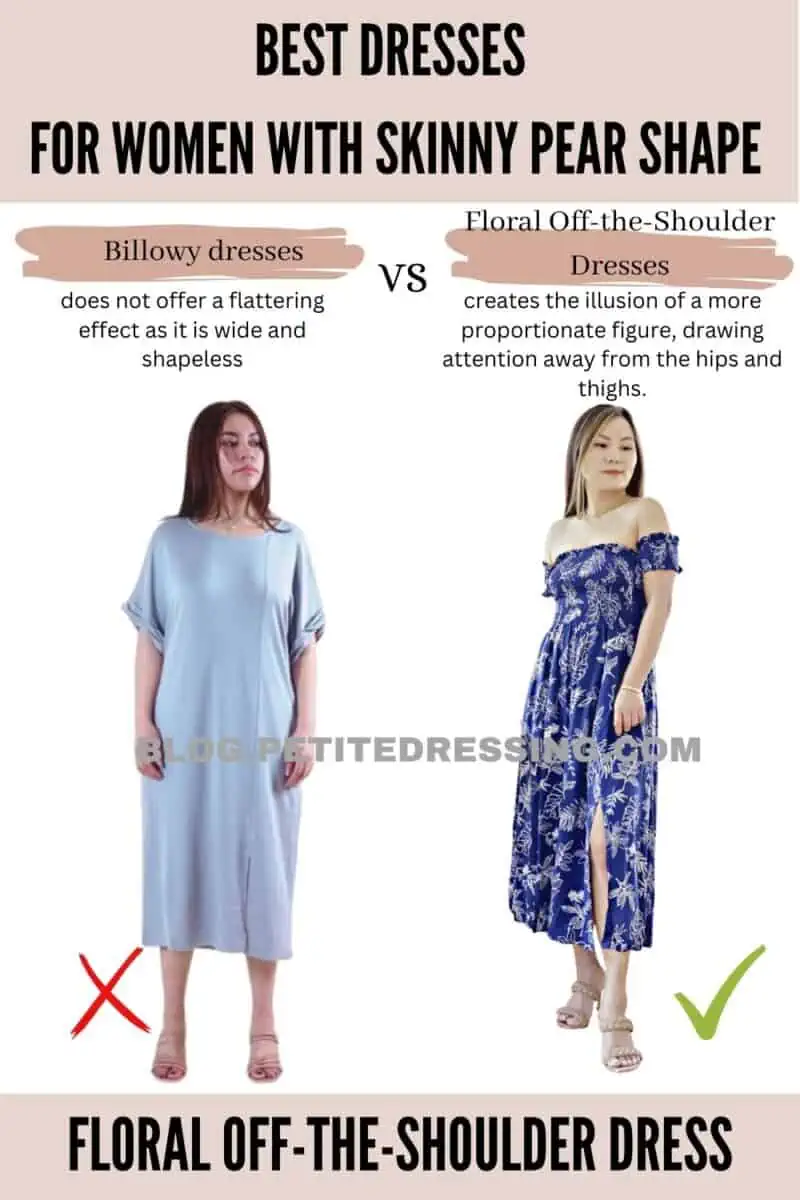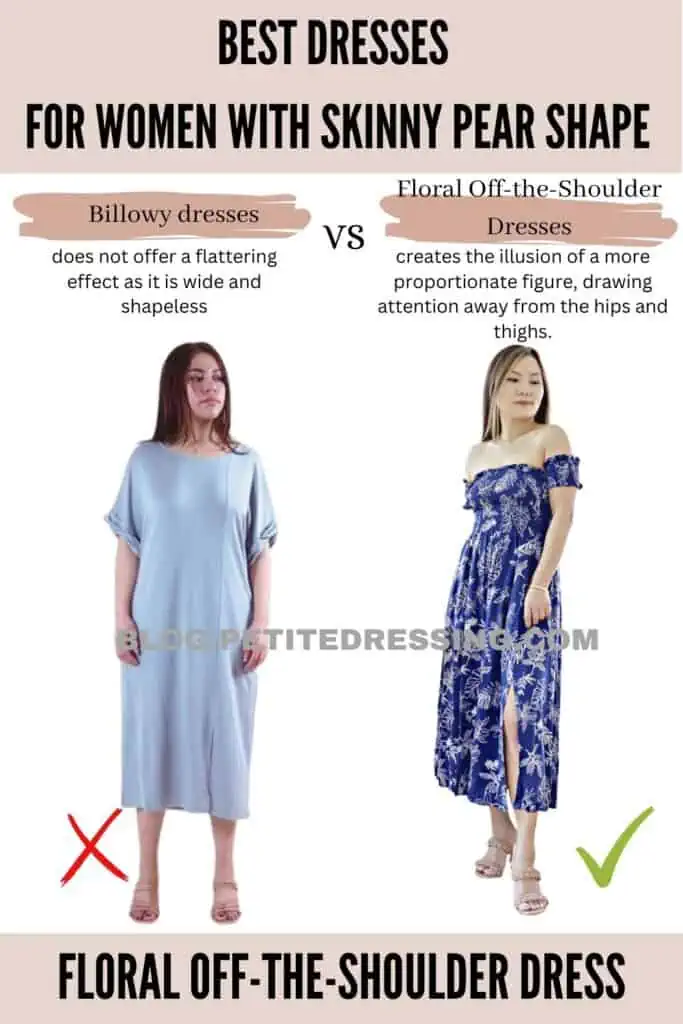 Ladies with a skinny pear-shaped body type tend to have narrower shoulders and a smaller upper body compared to their wider hips and thighs. By showing off the shoulders and upper chest, this dress style helps create the illusion of a more proportionate figure, drawing attention away from the hips and thighs.
In addition to this, the floral print evens out the attention from all throughout the dress and also subtly camouflages your problem areas. Of course, they also add a touch of femininity and romance to your outfit.
Plunging V-Neck Dress
A plunging V-neck dress draws attention to the upper body, particularly the chest area, which can be one of your best assets. Women with a skinny pear-shaped body type often have narrower shoulders but defined busts.
However, due to your prominent hips and thighs, your bust area and beautifully slim neckline tend to be overshadowed. So emphasizing the upper body through plunging V-shaped necklines can help create the illusion of a more proportionate figure.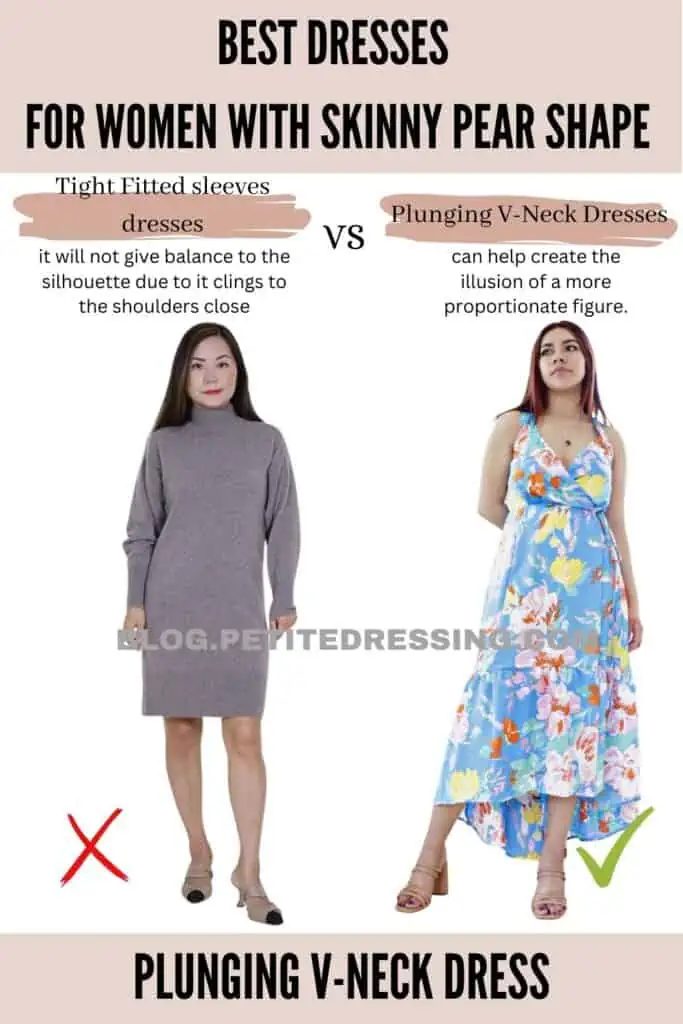 Additionally, a plunging V-neck dress can help elongate the neck and create a more streamlined look. This can be particularly beneficial if you feel self-conscious about your bottom half, as it draws the eye upward and away from the lower body.
Tailored Coat Dress
Tailored coat dresses feature a silhouette similar to a coat, with a structured silhouette and clean lines that exude sophistication and elegance. They are usually made from high-quality materials like wool or tweed as these types of fabric have great structure and also often feature subtle details like buttons or pockets that add to their timeless appeal.
The dress accentuates the shoulders and cinches in at the waist, creating the illusion of curves where they may not naturally exist. The result is a balanced and proportionate figure that makes you even more comfortable in your own frame.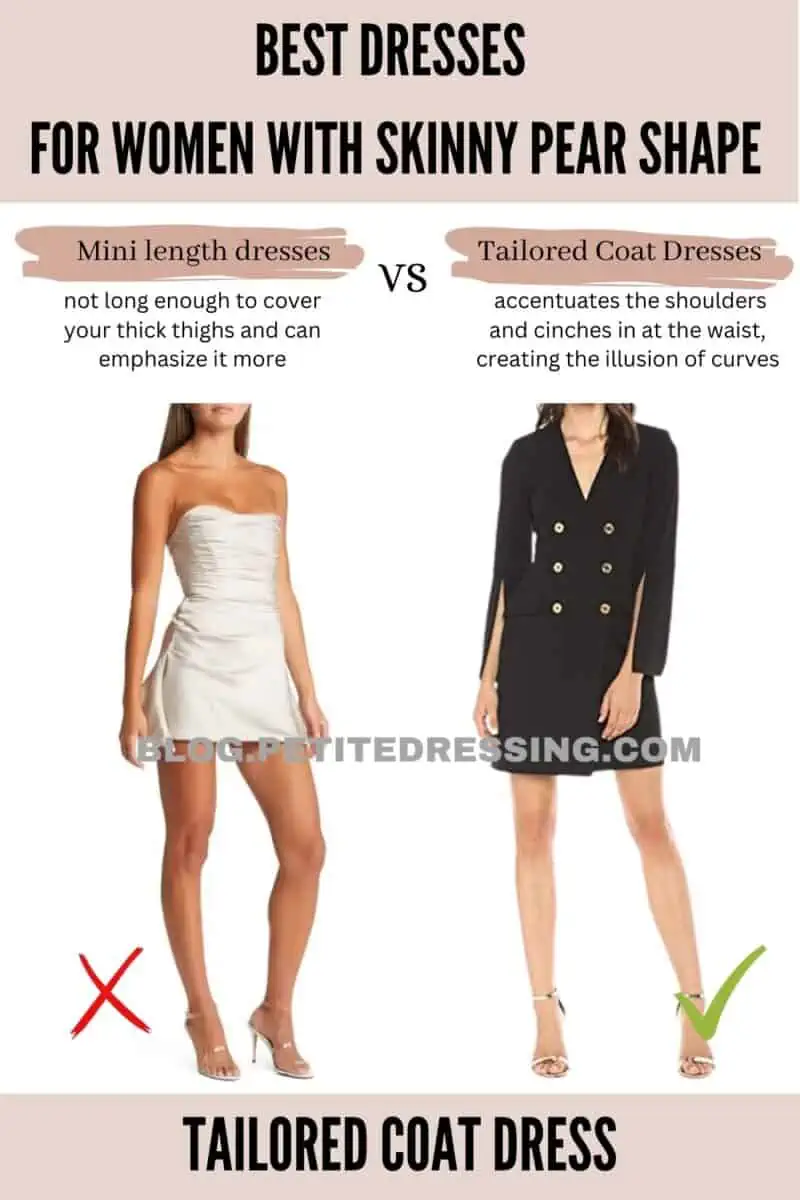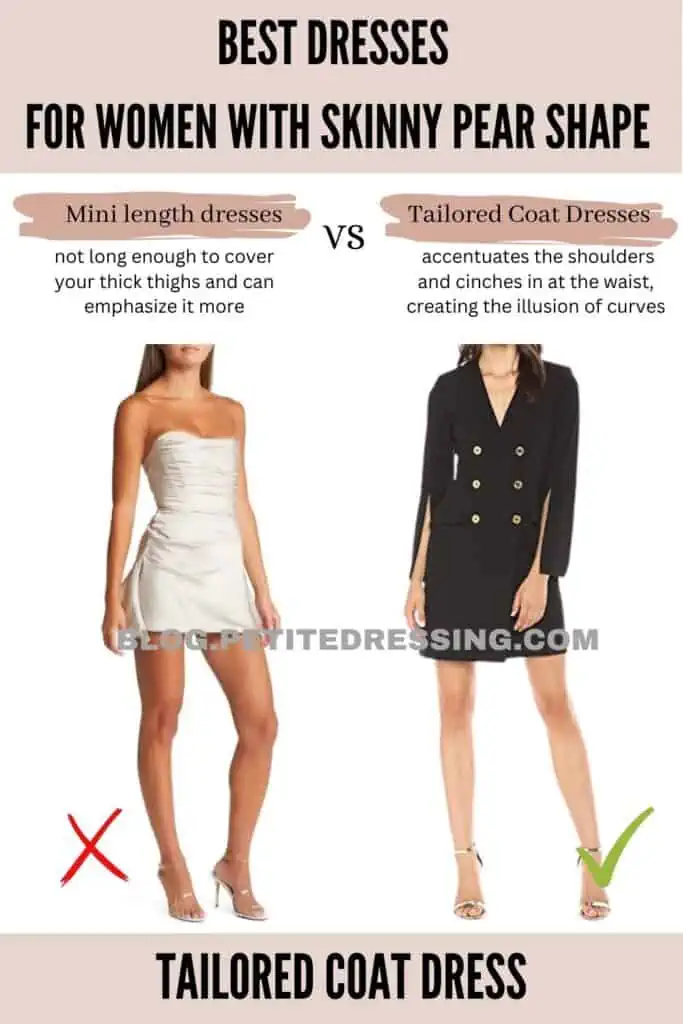 Due to its A-shaped skirt structure, it also effectively tones down the thickness of your hips and thighs. In terms of length, opt for the ones that hit just above or below the knee as it draws attention away from the wider hips and thighs that women with a skinny pear-shaped body type usually feel self-conscious about.
Puff Sleeve Dress
Puff sleeve dresses can be very flattering on skinny pear-shaped ladies because they can help create the illusion of a more balanced and proportionate silhouette by focusing on adding volume to your narrow shoulders. The volume in the sleeves can help create the illusion of broader shoulders, which can also help balance out your wide hips.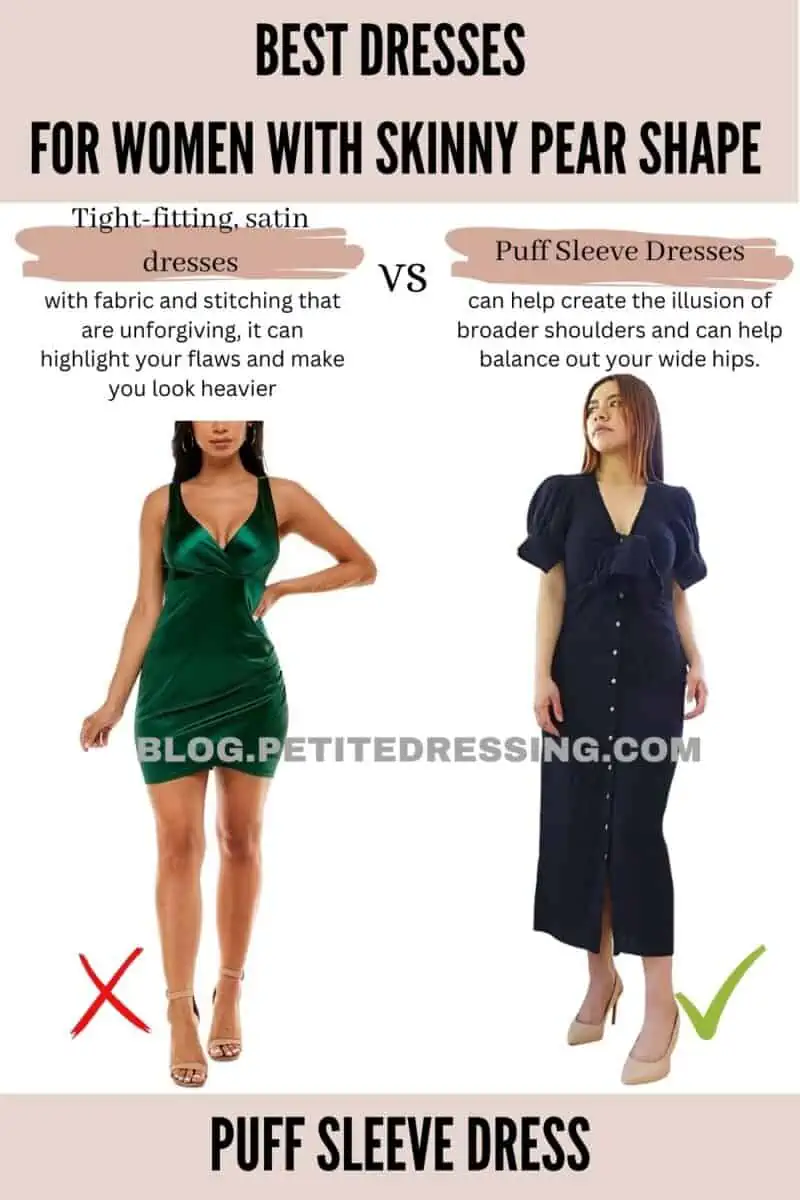 In addition to this, the sleeves also strategically draw the eye upward, away from your bottom half, which can help highlight your waistline and create a more flattering shape. If you're someone who wants to enhance your upper half without baring too much skin as how off-the-shoulder and plunging dresses would, this is a great style alternative.
Midi Dresses with Flounce Hem
A midi dress with a flounce hem is a feminine and stylish dress that falls at or below the knee and has a ruffled or flared hemline. The flounce hem adds a playful and flirty touch to the dress and creates movement which is a good tactic for drawing attention away from your areas of concern.
This dress style is particularly flattering for women with a skinny pear-shaped body because it accentuates your frame by adding volume to your skinny legs rather than your wide hips and thighs.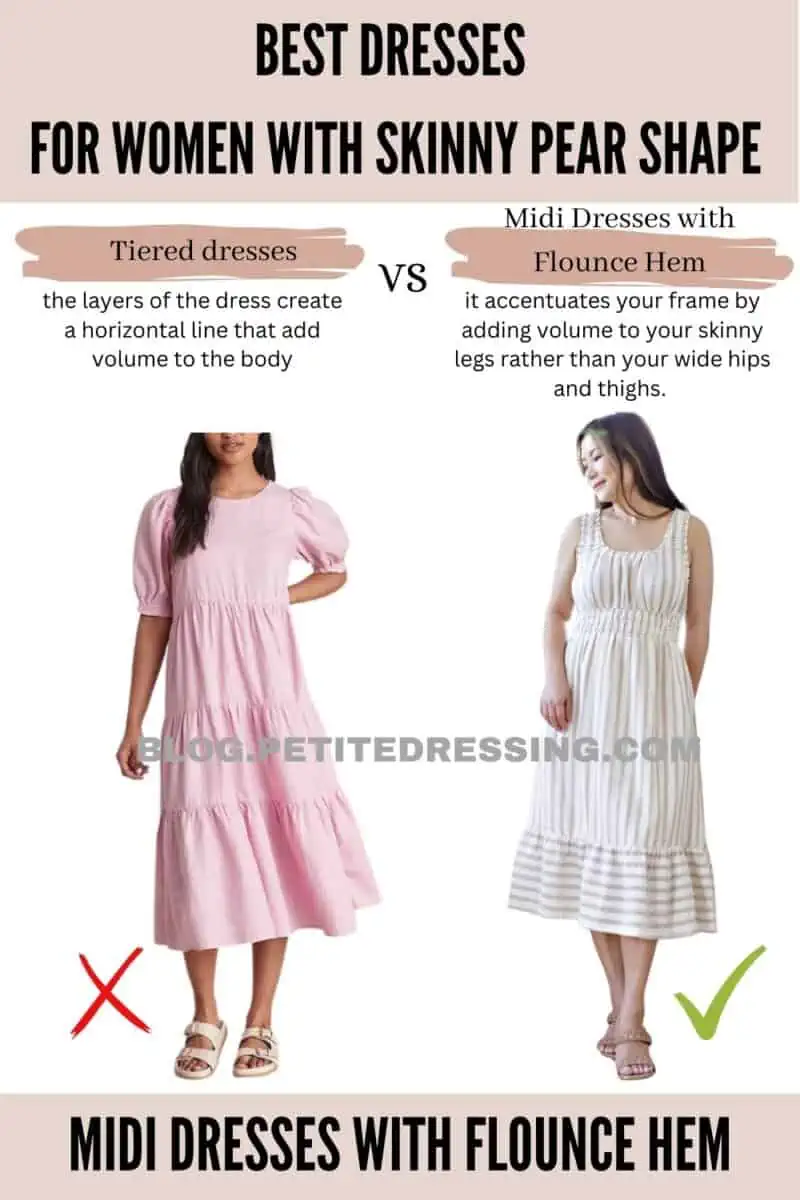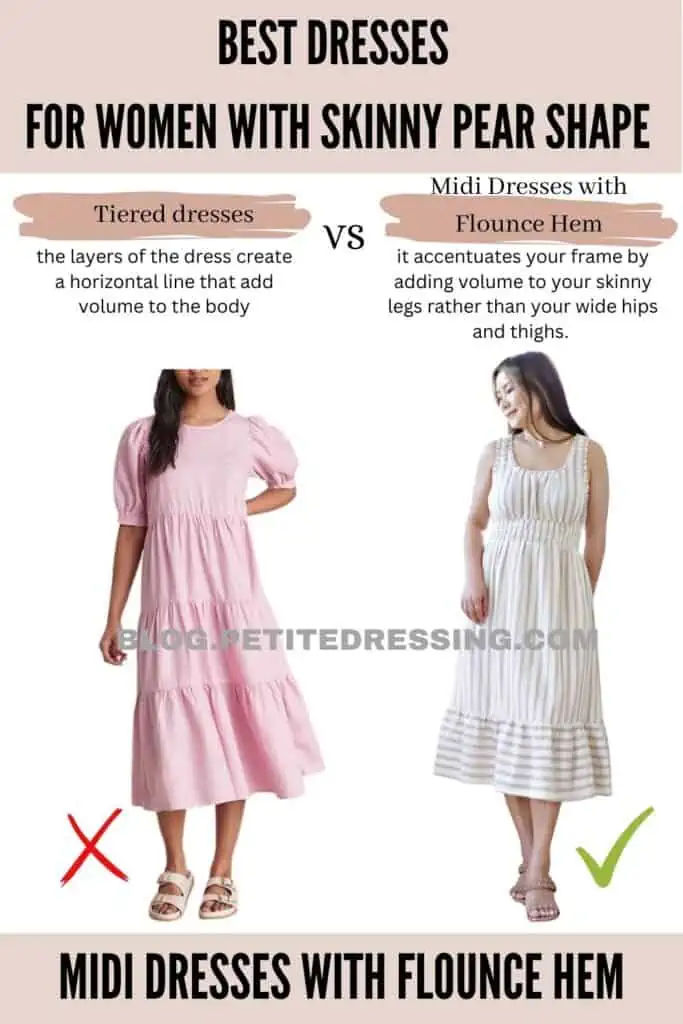 The Key Takeaway
Finding the right dress can be very challenging for girls who have skinny pear-shaped bodies due to sizing issues. Since you're dealing with a skinny figure, the rest of your body is relatively smaller in comparison with your wide hips, thick thighs, and prominent buttocks.
With this said, playing around with the details of your clothes can greatly influence your proportions. I hope the dress styles in this thorough guide will help you find the best ones to fit your beautiful figure.