Are you under 5'4"? Have you ever felt overlooked in social or professional occasions because of your height? If yes, you are not alone, as it is a common complaint of short girls that they wish they could look as powerful as their taller friends. Being 5'2" myself, these are the tried and true tricks that have worked for me in the past decade, so I want to share with all the short girls and they should work for you too.
Wear fitted clothes
Short girls have small body frame, and the best way to flatter the petite frame is to wear fitted clothes. This is especially true with outerwear. Always get your jackets, blazers or coats from the petite department or petite designers. They should not only be shortened for your height, more importantly, they should also be proportionally adjusted to fit short girls.
My own experiences is outerwear from regular size designers or stores 90% of the time do not fit. What bothers me the most is not really the length, but the shoulders and the sleeves. Most short girls have narrower shoulders. If the outwear shoulders do not fit, they will make the whole outfit look sloppy, no matter how expensive the garment actually is.
Another detail always overlooked by short girls is the sleeve length. It is so important that the sleeve length of the blazers or coats should end just where the wrist meets the arms. If the sleeves are too long, even if the rest of the outerwear fits, it will still appear like you are wearing a piece of garment borrowed from your Mom or big sister. One of my favorite stylists/personal shopper have mentioned in her article that sleeve length is the most common problem in short girls' wardrobe. So, fix that today. Check your jackets and coats and see if the sleeve length is right. If not, take it to the tailor, and that will change the look of your outerwear immediately.
Avoid low rise pants or jeans.
Low rise pants or jeans are not flattering to short girls. Period. The reason is simple, short girls normally (not absolutely) have shorter legs, so you want to make sure you are using every inch of your leg length. Low rise pants visually cut down the legs because they shorten the bottom half of your body. If you wear a belt with low rise pants, they will make your legs look even shorter. Additionally, if you have a thick mid-section, low rise bottoms will only expose your belly fat more. Don't get me wrong, low rise pants have been very trendy in recent years for its own reason- they are fashionable in a way and could be sexy if worn the right way by the right person. However, they are not recommend for short girls, since most of us are not Gigi Hadid.
For short girls, wear high rise, or at least mid-rise, pants or jeans is a much better choice. By extending the waistline upwards, high-rise pants visually increase the length of your legs. Plus, are they just more comfortable? You also don't ever have to worry about showing your panties while sitting down! 5'3" Kim Kardashian recently mentioned in an article of her 7 fashion secrets, and high rise pants are on her list. She is one of the petite celebrities who have adored high rise pants in their fashion choices, and they are super flattering on her.
Wear monochromatic outfits
For those of you not familiar with the term "monochromatic", here is the definition. According to Wiki, Monochromatic color schemes are derived from a single base hue and extended using its shades, tones and tints. Tints are achieved by adding white and shades and tones are achieved by adding a darker color, grey or black. In fashion, monochromatic outfits are most flattering to short girls because they create a column of colors, i.e. the length much needed by short girls.
Monochromatic does not necessarily mean short girls should be wearing one single color from head to toe. It just means if the colors you wear are all from the same color scheme with less contrast, you will appear to be taller. For example, if you wear a baby blue top, then pairing it with a navy skirt would be a monochromatic outfit.
My personal experience is to include the shoes in the game to get even better results of monochromatic outfit. And that extends to stockings in winter times. Wear stockings that match or are close to the color of your skirt and wear shoes or boots of the same color will make you look instantly taller.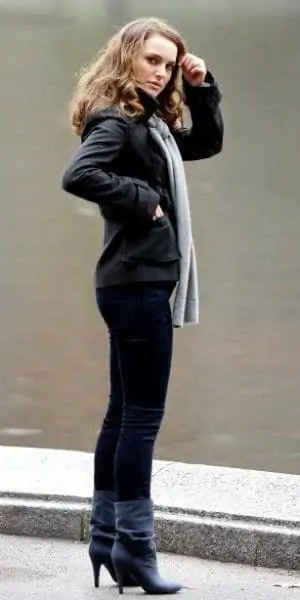 Simplify your accessories
Short girls do not have too much skin to cover, so one way to flatter is to draw people's attention to your face or upper body and away from your bottom. Try to simplify your accessories such as earrings and necklaces will help with that. In winter times, certain accessories like hats, scarves and gloves might be necessities in areas with cold weather. In that case, proportion is the key in choosing the right accessories. That is, choose the hats proportional to your head, and scarves proportional to your body frame.
Have you heard about how the fashion world call the models "9 headed ratio"? That is because if the model has smaller head, then their body appears to be longer than they are. Not everyone is blessed with a body frame as long as 9 heads. However, that should give us some inspiration in choosing the right hats, especially because short girls should pay even more attention about creating the right ratios.
Remember we just talked about the importance of monochromatic outfit? Now you should also consider getting your accessories of the same color scheme as your coats and your shoes. Many short girls have shorter arms. If you choose gloves of the same color as your coat, they will make your arms to appear longer
Wear dresses whenever you can
Over the years, I have noticed based on my own experiences that I always look better in dresses, but I did not understand why. I thought that is because I am a girly girl, thus I prefer to wear feminine outfit and dresses are always feminine. Then when I was doing a lot of research on petite dressing tips, almost all stylists mention dresses are the single most flattering wardrobe staple for short girls. Why? Remember how we talked about creating a column of colors in your outfit will elongate petite body frame? No other items do that better than dresses.
Another reason is dresses change the proportion of your body. Regardless of someone's actual height, some short girls do not look short, unless they are standing next to someone else. That is the magic of ratio. The parts covered vs not covered by fabrics actually plays a trick on the eye, in other words, it is the proportion, not the actual height that makes someone look tall or short. When you wear a dress, you are showing your legs, and sometimes your arms as well, which make the focus of your outfit shift to your upper body, or where the dress ends.
The most flattering length of dresses for short girls (which applies to skirts too) is 10 inches above your knee. That is why when in doubt, short girls should always wear a dress!
Wear shoes with pointed toes
Short girls look taller with heels, which goes without saying. However, do you know not all heels are created equally? Some are more flattering than others. If you do not know yet, pointed toe shoes are the most flattering style to short girls. For some reason, that 1 inch extension of pointed toes magically make your legs look longer like no other. Plus, they always look so polished yet not overly dressed. What if you do not like to wear heels? No problem, pointed toe flats are the pal sent from heaven to short girls. They have the same leg lengthening effect as high heels. Also, they make your outfit instantly look more dressy, even if you are wearing the most casual shirts and jeans.
Other favorable shoe style for short girls are pumps with low vamps (i.e. those showing a little bit of toe cleavage), which extend the length of your legs. Pumps without ankle stripes do not cut your legs off at the ankles, thus they elongate your legs more than those with ankle stripes.
Find a good tailor, or DIY at home tailoring
Short girls need a good tailor. I cannot stress enough the importance of a good tailor for us short girls. I am sure you have all been to a tailor to make the jeans shorter at some point. Remember the feeling of getting back from the tailor a pair of jeans that was dragging on the floor but now is shortened for your exact height? Even if that was just an old pair sitting in your close because it was too long, it is now given a completely new life!
We talked about earlier how important it is to wear fitted clothes. Even making some seemingly minor alterations such as chopping an inch or two off the sleeves sometimes can change the entire look. Also, there are many times, even if you have shopped from the petite department, the clothing may still needs a little bit revision. If you are 5'3" or 5'4", you may find most petite designers' size fit you all right. However, if you are 4'9" or 5 feet tall, you may still needs some alteration even if the clothes are tagged as petite.
That said, tailoring cost is not cheap, and they can add up over time. A petite girl friend recently took a pair of jeans she bought on sale from a fast fashion designer for only $25. She went to the tailor, only to be told the cheapest way of shortening the jeans would cost her $12. And, if she wanted to keep the original hem, then the cost would go up to $20! Have you had those moments when you feel like the tailor's charge just do not make sense? Well, we have put together a DIY guide on how to hem jeans at home, in case you want to try to do it yourself.
Pay attention to the fabrics.
Fabrics have a big impact on the overall look of an outfit. If fabrics are cheap and wrinkled, they will downgrade people's impression on you. When it comes to formal wear for the office or client meetings, always choose heavy weight natural fabrics such as wool or cashmere, especially in the winter times. Many of us do not need to wear formal suit most of the time, but investing in a suit made from fine merino wool is worth every penny. It will make your entire outfit look more expensive, thus give more presence and authority to short girls. Get them when they are on sale at end of the season. The classic style never really changes much over time anyways.
Be confident
Like everyone else, short girls sometimes may wish they were a little taller (just like tall girls may wish they are a little shorter), especially when you cannot reach the top shelf in the store, or when someone at work thinks you are not old enough when you actually are. Hey, whatever frustration you have experienced over the years- believe me, I have been there too. However, I still want to remind you the benefits and advantages of us short girl. Short girls look younger than their age. Short girls always have tall boyfriends or husbands. And, there's one thing that tall girls can never do- short girls can become petite bloggers! Does this make you smile?
Seriously, Audrey Hepburn once said "smiley girls are beautiful girls". Having a smile before you head out of the door might work better than any accessory you carry.