Depending on what graduation ceremony you are attending, the dress code can vary quite a bit, but you cannot go wrong if you follow the rule: modestly dressy. What that means is you want to look polished and celebrative for one of the most important days of the graduate's life, but at the same time you also want to look appropriate given it is in a school setting. Here are some of the best outfits we recommend:
A midi skirt outfit
A midi skirt may seem a bit difficult to style because of its length, but you can actually achieve a great look with one for the graduation just as long as you pick the right pieces to wear with it. Midi skirts are classy and automatically bring you that respect you need as the mother to the person graduating but will still have you looking stylish at the event.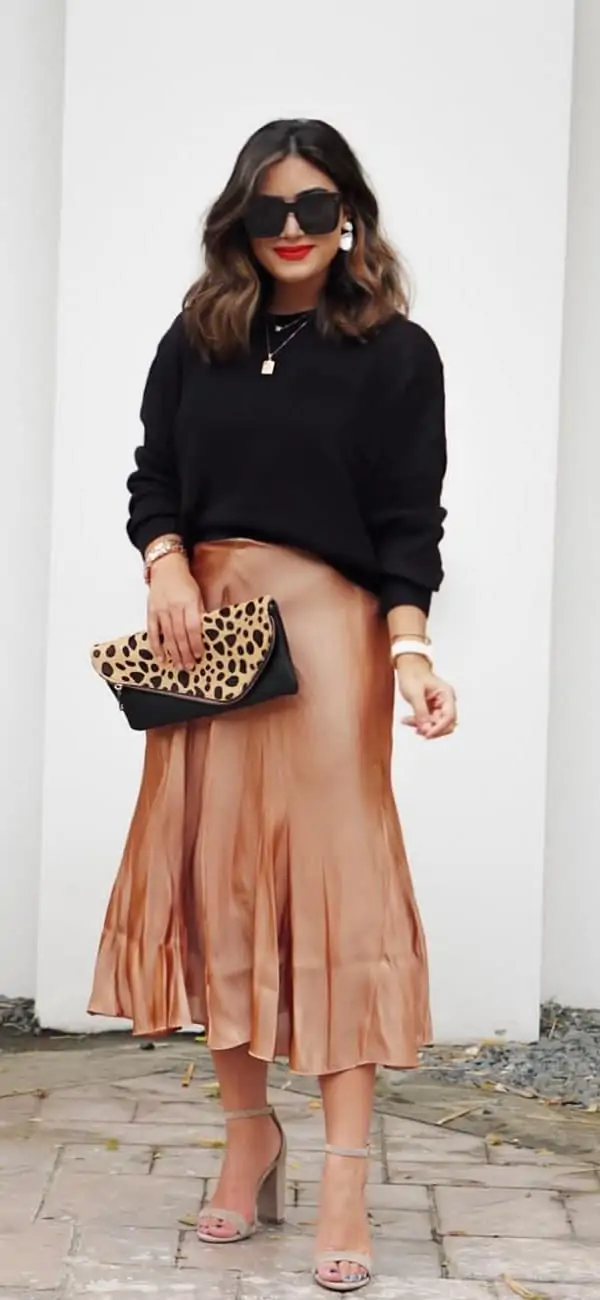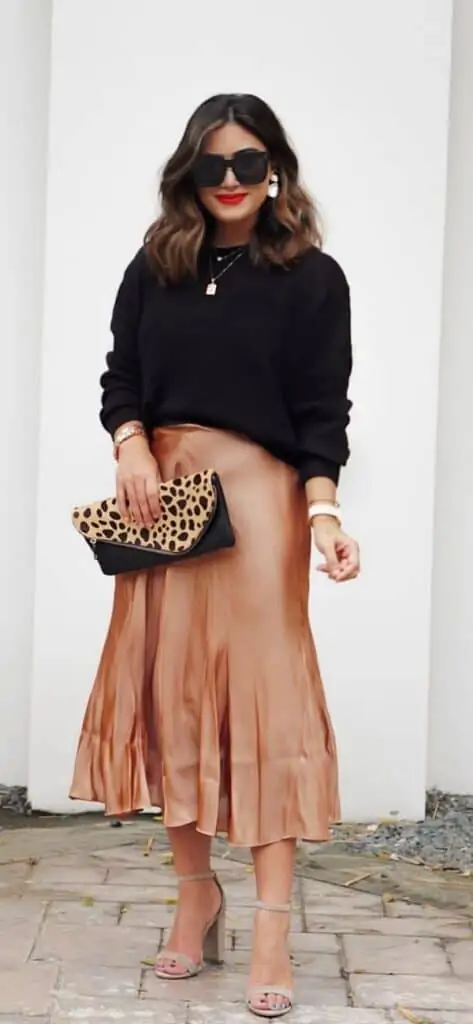 Krista (above) wore her midi skirt with a simple black sweater tucked into it and then finished off her outfit with a pair of open heeled shoes and a clutch bag. This is also a great way to dress up a plain sweater and you'll definitely be graduation ready. When tucking anything into your midi skirt, ensure that there are no awkward bulges.
An A-line skirt outfit
If you're attending your child's graduation, you want to be the classy mom and an easy way for you to achieve this kind of look is by going for an A-line skirt. An A-line shape is best as it's very forgiving. The A-line silhouette cinches your waist and then flares out making your hips look bigger. You will feel more confident in such at the graduation as it gives a very flattering look.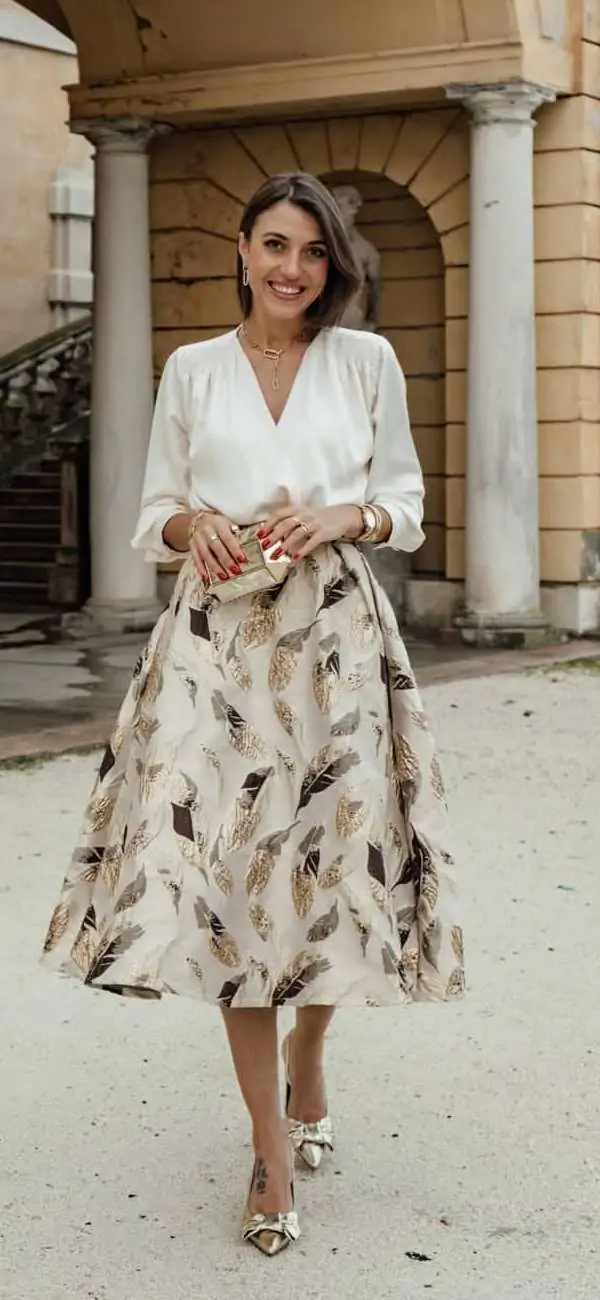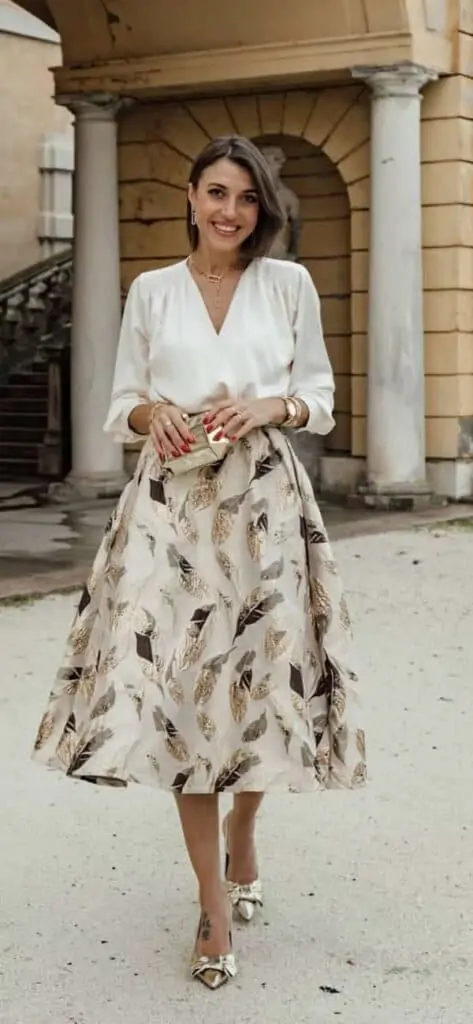 Cristina (above) styled her A-line skirt with a blouse and a pair of heels. She also went for a clutch bag that matches her shoes. Since this outfit is for a graduation, you want to keep the colors toned down and look more professional or classy as opposed to party ready in your skirt.
A blazer outfit
A blazer is always great when you're going to any kind of gathering, just as long as you pick the colors right for that specific event. You also need to get the fit right especially if you're going for the formal kind of look. It makes for a great graduation outfit for the mother because a blazer always adds structure and a touch of sophistication to any kind of outfit.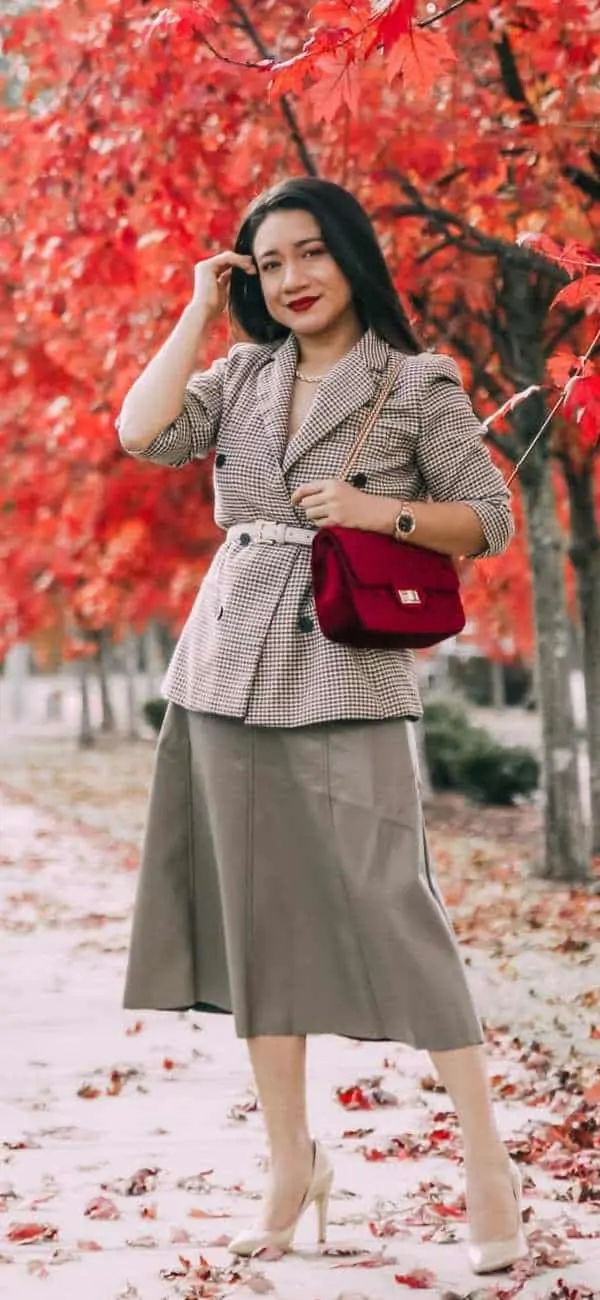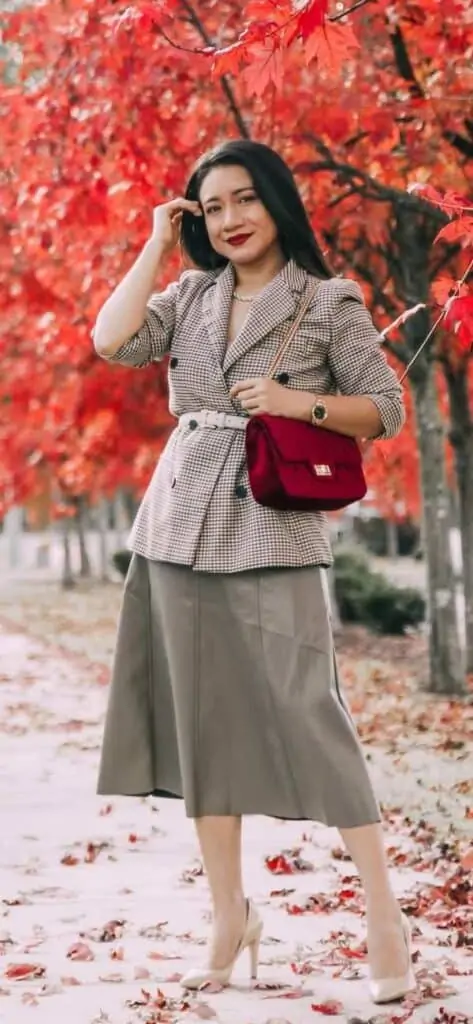 Jessica (above) wore a plaid blazer with a grey skirt and a pair of closed nude heels. She added a pop of color with her bag. You can style your blazer with any kind of bottoms as you can count on it to dress up any well fitted bottoms.
A pencil skirt outfit
A pencil skirt is yet another flattering silhouette to go for if you're going for a graduation. This is because a pencil skirt always looks smart and classy, which is what you want. They are also easy to style so you can wear one with a blouse, a shirt, a blazer and several other tops.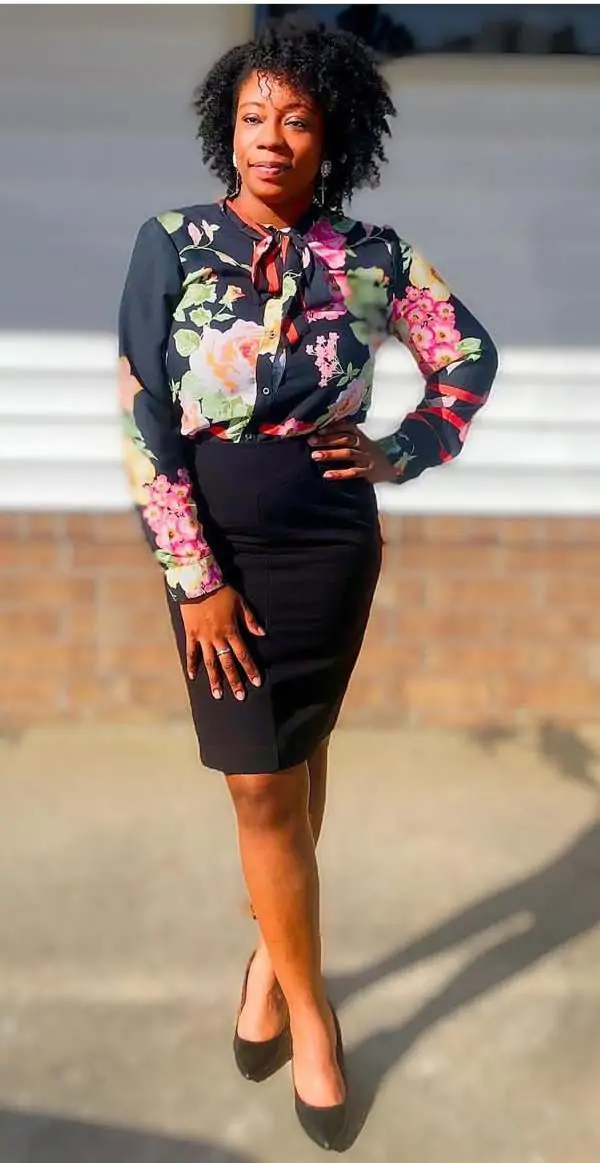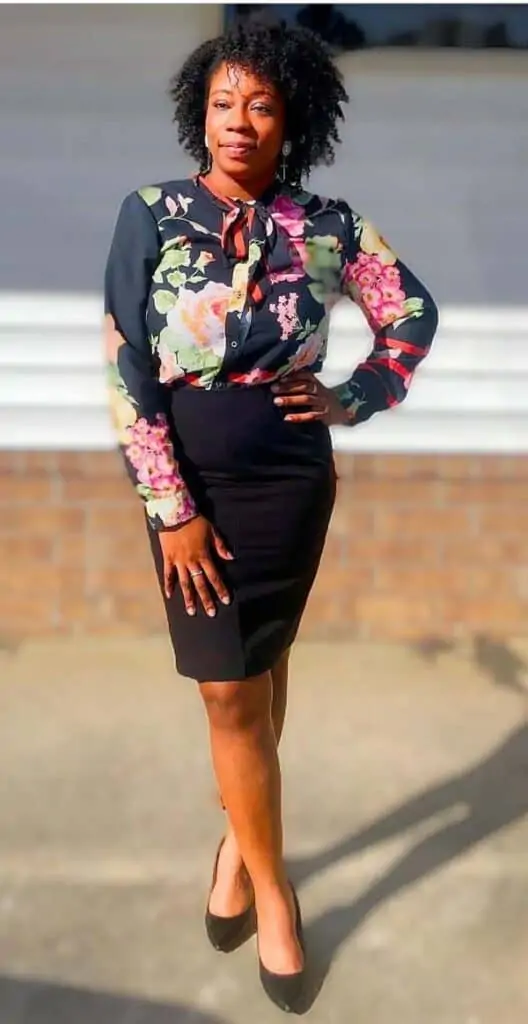 Rena (above) styled her pencil skirt with a floral blouse and a pair of closed heels. If you choose to wear a darker colored pencil skirt, you can go for a brighter blouse or top. Alternatively, you can wear something with a fun print as it will balance so well with the pencil skirt.
A skater dress outfit
A skater dress is also another great piece that highlights your best features, something that you want when going to your child's graduation. Such dresses are also very comfortable. They cinch you up just right around your waist then flare out in such a girlie way from the waist downwards. They come in different lengths and well, it's advisable to go for a knee-length or a midi skater dress if you're headed to graduation.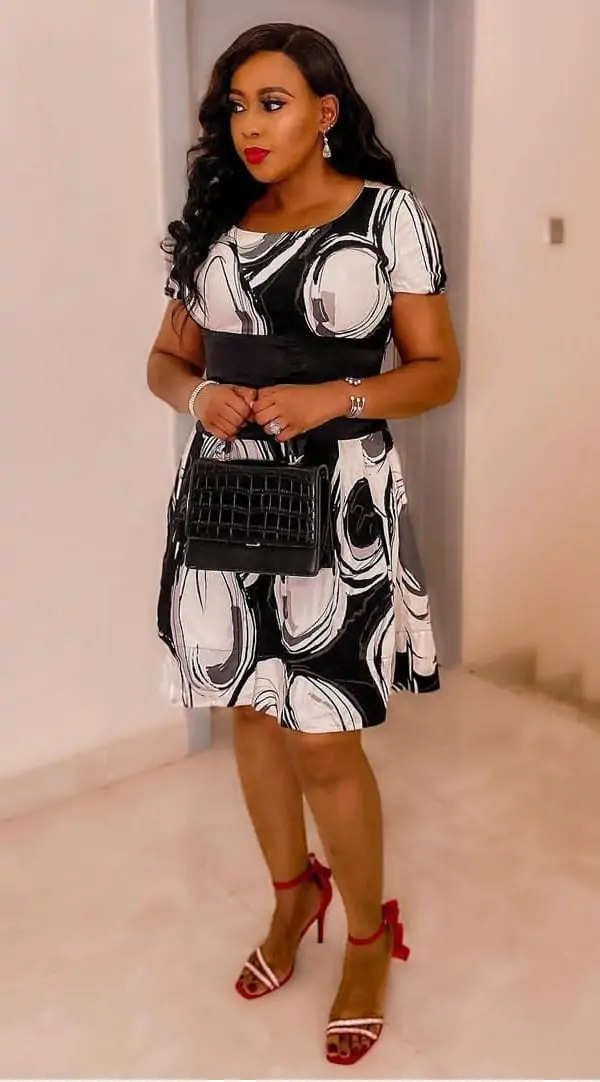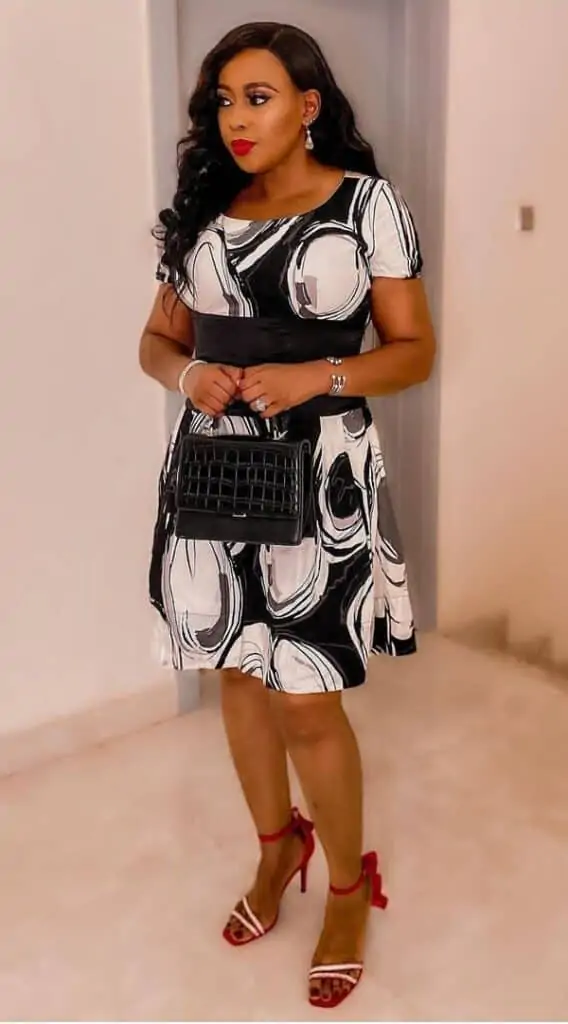 Doyin (above) styled her skater dress with a pair of strappy heels and a structured bag. With a skater dress, you can also go either sleeveless, for a short sleeved-one or a long-sleeved design. You can also layer a blazer or a stylish jacket over the look.
A pleated skirt outfit
A pleated skirt is a classic piece that will always have you looking like a lady, especially if you choose one that goes right below the knee. It's a great choice for a graduation outfit. They are generally easy to style since the skirt is the statement so just a simple top will do. You will always look so dressed up in one but in such an effortless way.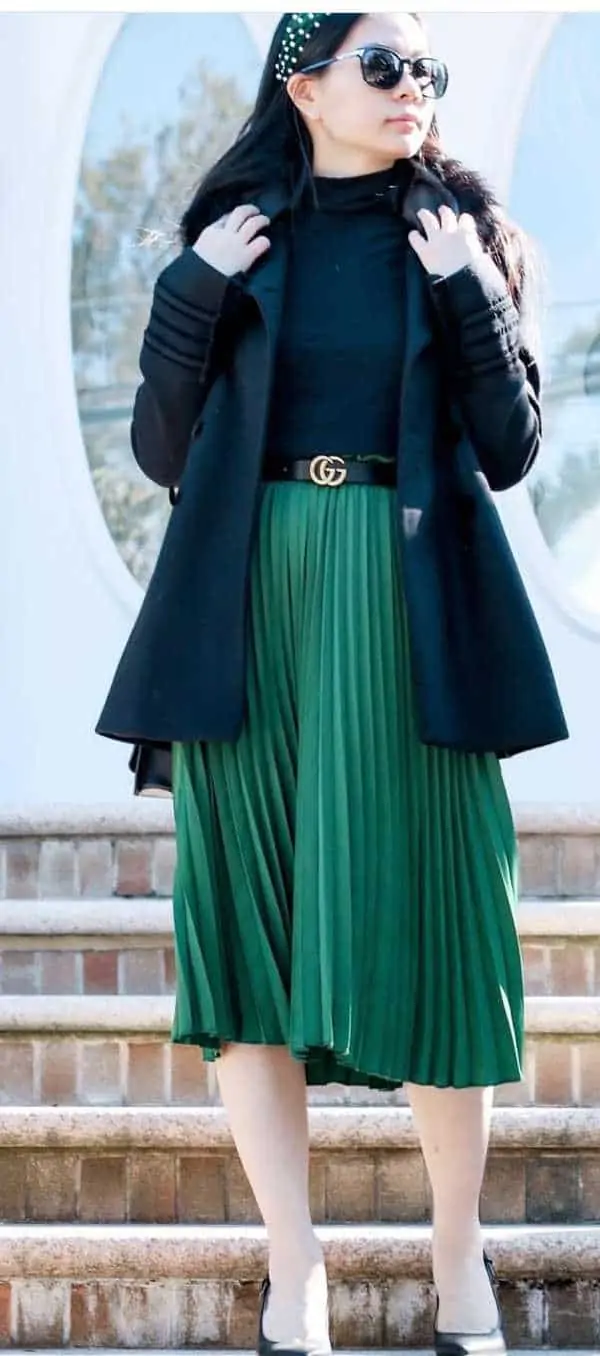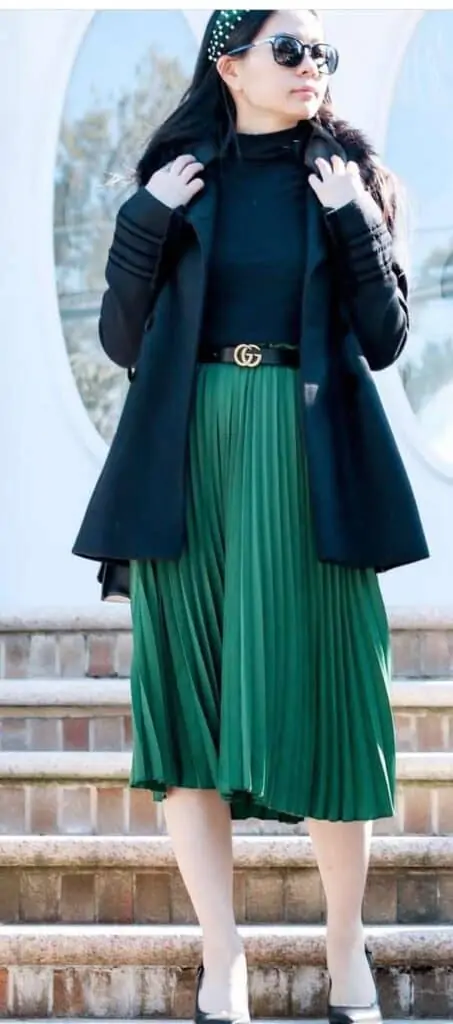 Jessica (above) wore her pleated skirt with a simple black top and coat and then finished the look off with some closed heels. All you ever have to do is ensure the colors you pick go well with each other. A darker colored skirt is best for graduation.
A pencil dress
Another easy piece to go for if you're heading to your child's graduation is a pencil dress. Just like a pencil skirt, a fitting pencil dress is a classic silhouette you cannot go wrong with. You can go for one that's subtly printed for the graduation although a plain one is the safest choice.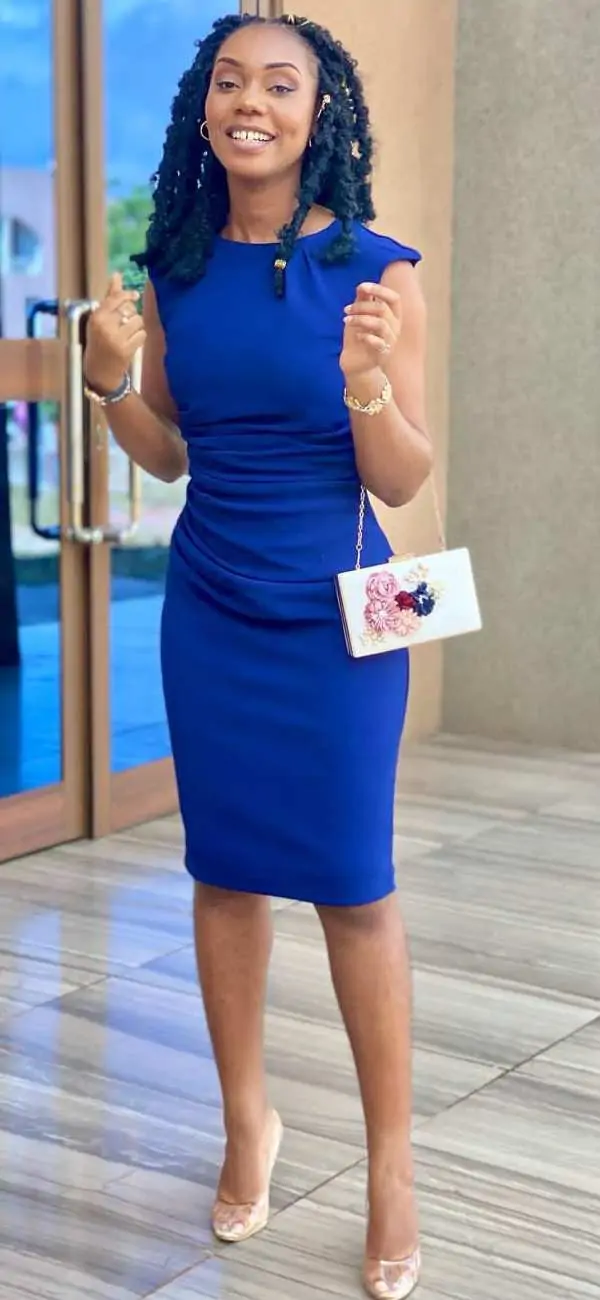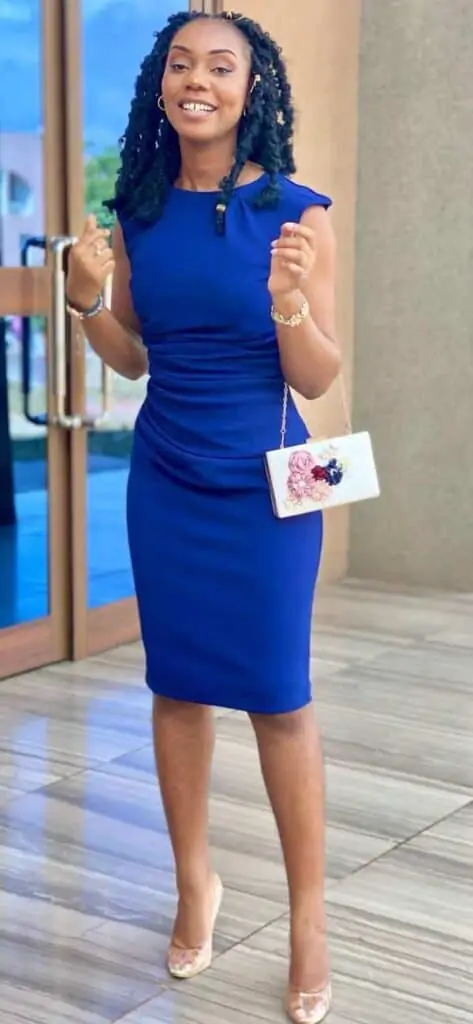 Helen (above) styled her blue pencil dress with some clear heels. She completed the look with a simple bag. Such a dress is usually so flattering and you will not need to accessorize too much. Keep it well-fitted and avoid going for a very tight one.
A culottes outfit
If you like something out of the ordinary you could consider skipping full-length pants and your normal skirts and wearing a pair of culottes instead. They are appropriate for women of different ages and are great for different events too. You could style one with a nice blouse for a graduation ceremony.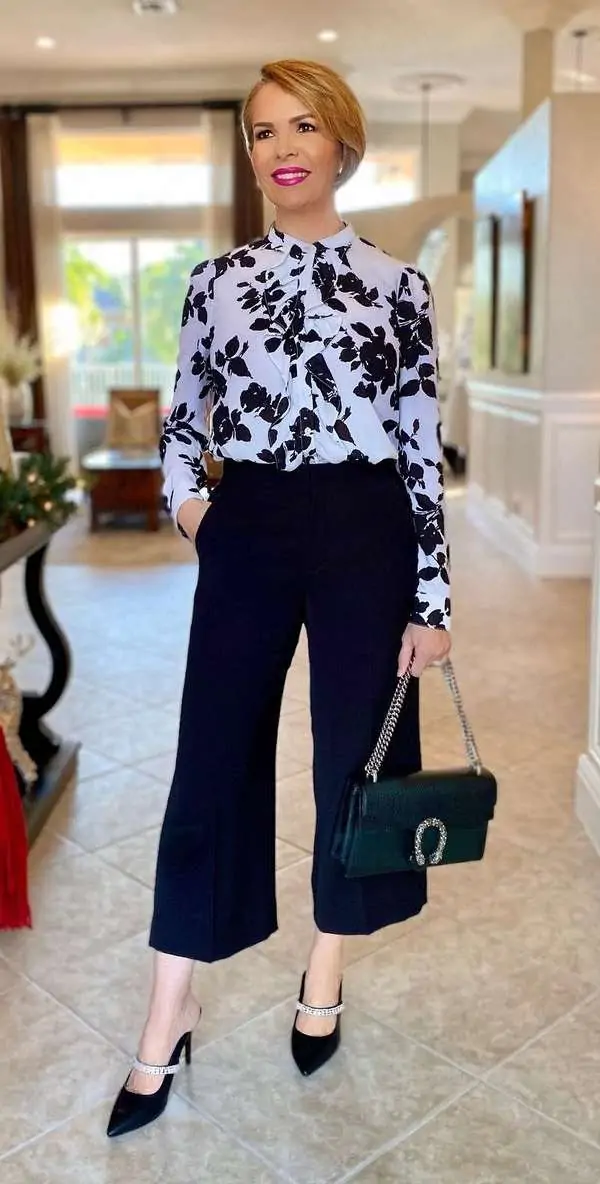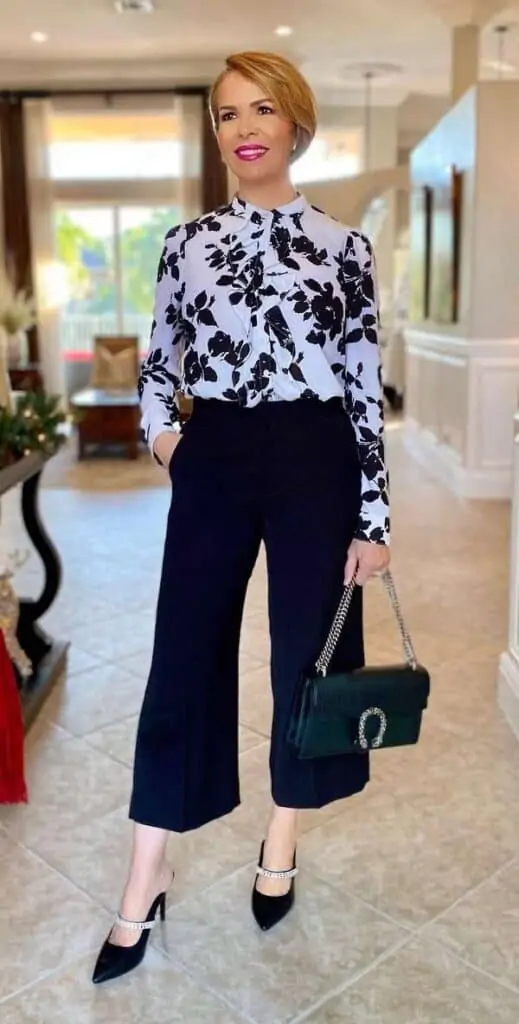 Rita (above) styled her black culottes with a white blouse. The blouse has a floral print and she finished the outfit off with a pair of classy slingback shoes and a small bag. Dark colors are the best when picking culottes for a graduation. They also allow you to wear different top styles.
A suit
A suit is undoubtedly the best outfit you can wear to any kind of event including a graduation ceremony. Suits make you look sophisticated and classy at the same time. It is simply an outfit that easily commands respect. Darker colors look more sophisticated and so high fashion compared to brighter ones. The best part is suits come in a variety of designs today so you won't look boring and uptight.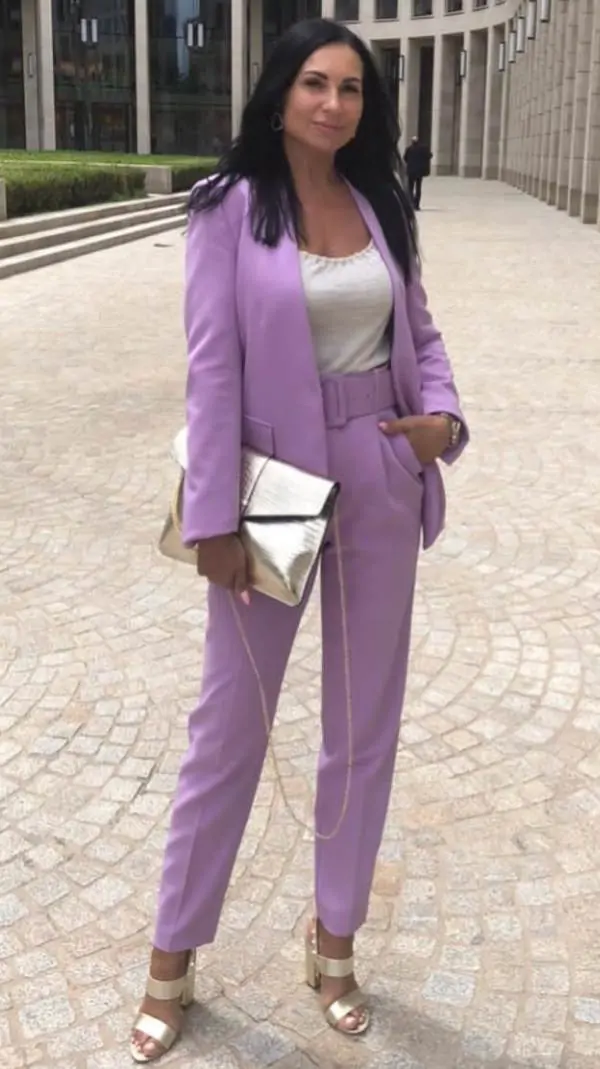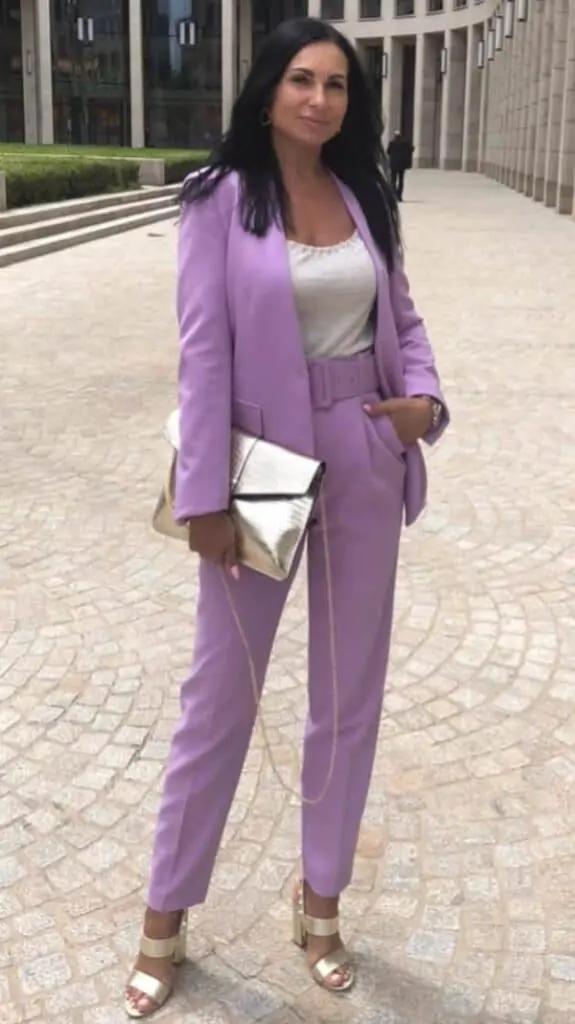 Ewa(above) wore a suit with a simple plain top and closed white pointed shoes. It's best to keep the top plain and you can leave the blazer unbuttoned or button it up.
A tailored pants outfit
Tailored pants also work great for graduation events since they look so formal and can be worn with other suitable pieces for graduation ceremonies. These pieces include classy jackets, blazers, and blouses just to mention a few.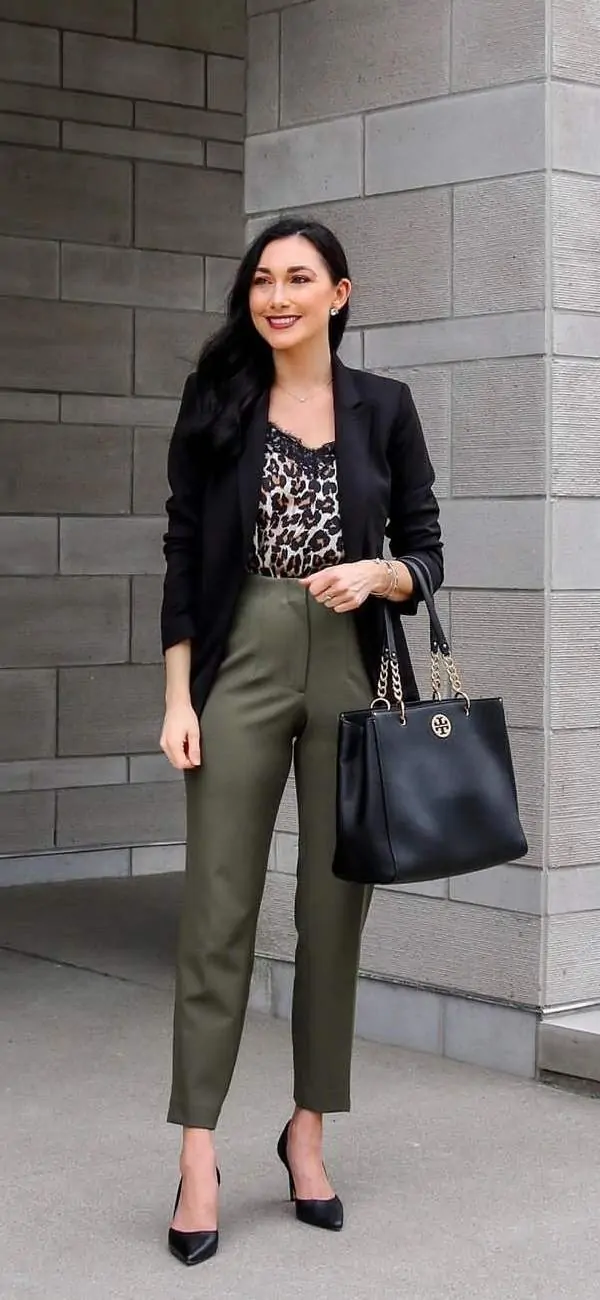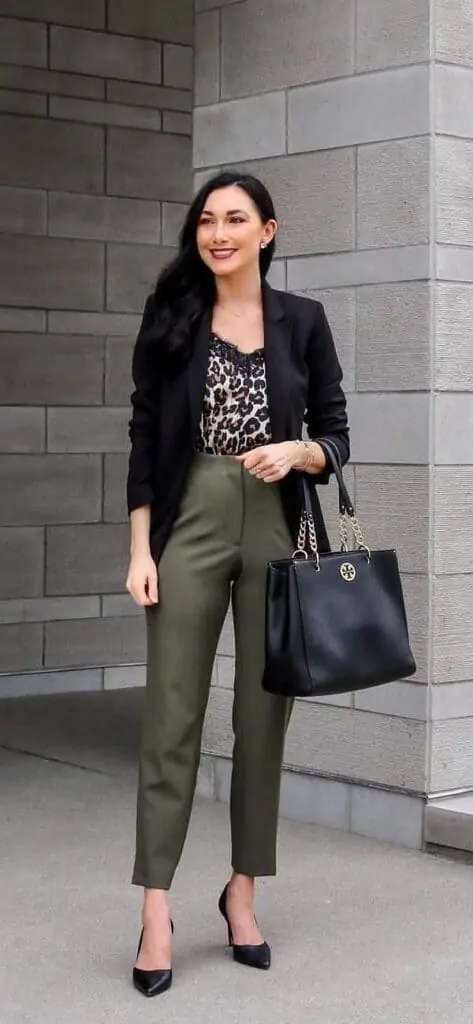 Taryn(above) styled her tailored pants with a tweed jacket and a pair of closed heels. A tweed jacket is ever so fabulous and if it's cold on graduation day, you could consider going for such as they are very stylish. If not, get a blazer that coordinates with your tailored pants.