If you're a petite woman with a rectangle shape, you need to know what dress styles work the best for your figure, and what doesn't look as flattering.
As a 5'2" woman, I know that this is easier said than done. Since I have a clothing line for petite women, I style petite models of different body types and shapes every week.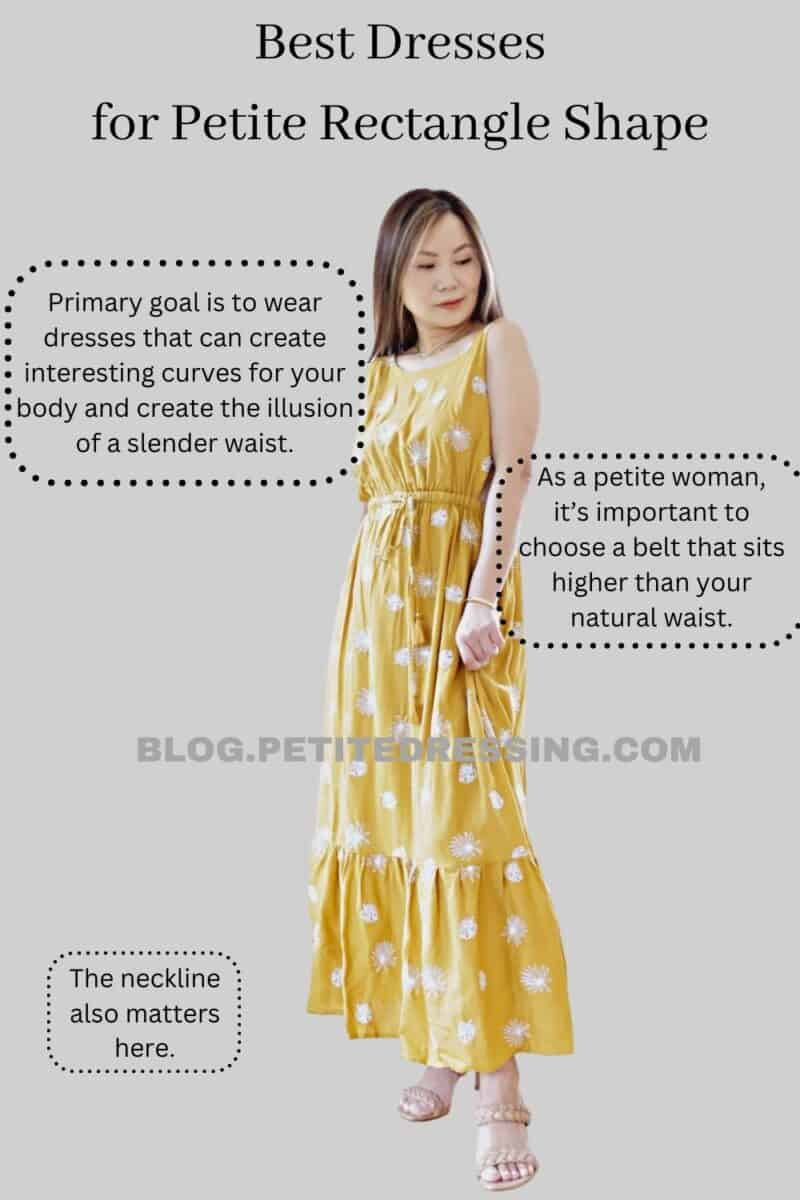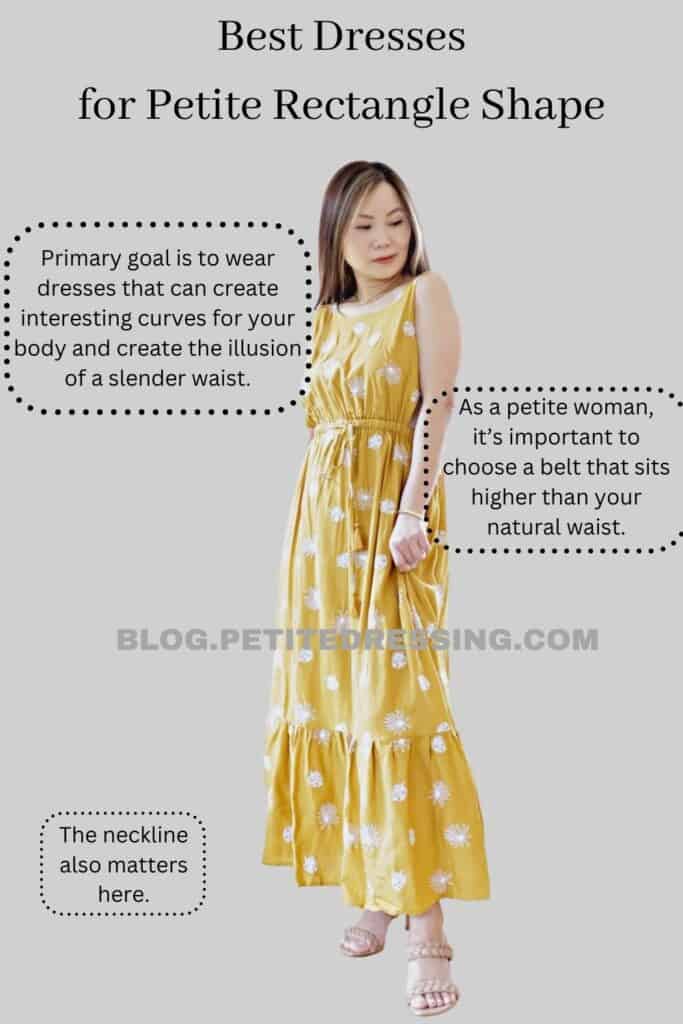 For a petite rectangle shape, the primary goal is to wear dresses that can create interesting curves for your body and create the illusion of a slender waist.
Based on feedback from thousands of my petite customers, I've put together this guide to help you make the best choices for your petite rectangle shape.
A-line dress
A-line dresses have gained a huge reputation as a universally flattering style, and it's not hard to see why. Not only does it work great for various body types, but I also find it fascinating that this dress style is extremely unique.
This is all thanks to the silhouette of an A, which is, of course, where the name A-line dress came from. This A-shape helps you create a defined waistline which is perfect for your rectangle shape body structure.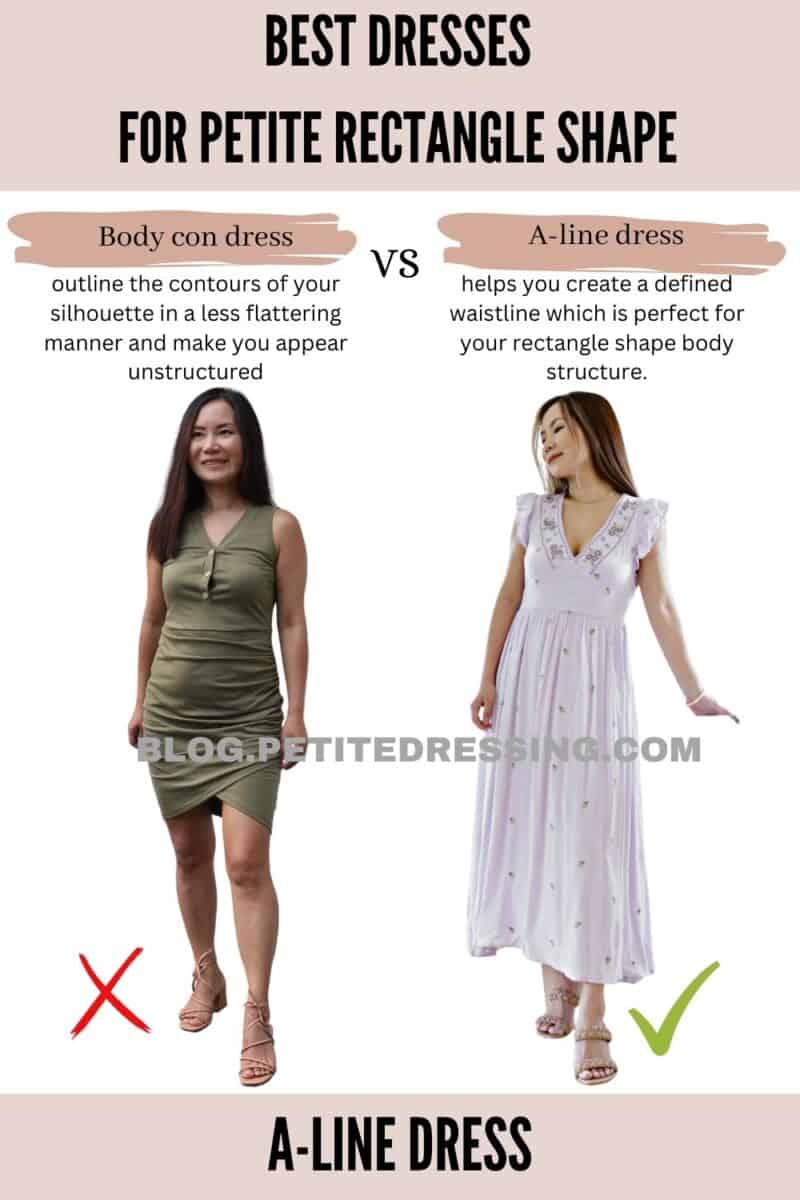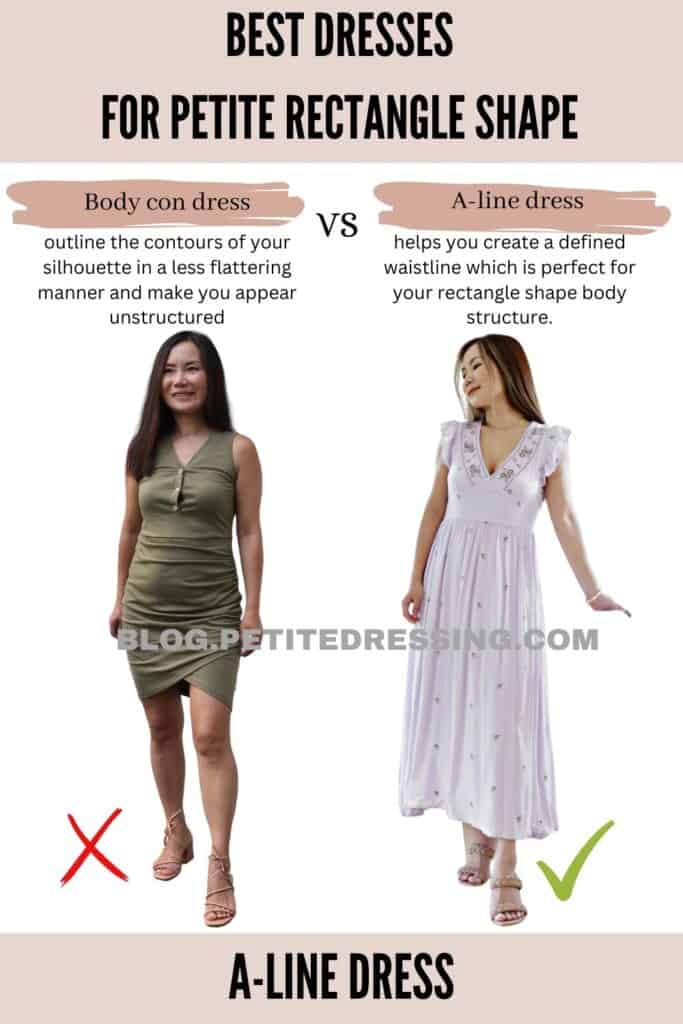 This style of dress does this without drawing attention to your midsection area. So, if you're a petite woman with a bit of a tummy bulge and you're worried about this being visible when you put on dresses, that will be the least of your worries in an A-line dress.
It minimizes attention on your tummy area, which has a flattering effect on your overall silhouette. A-line dresses should be one of the top choices for the petite rectangle shape.
Belted dress
How can you create a definite waistline and play up the illusion of curves on your silhouette as a petite woman with a rectangle body shape? The secret to this is to wear belted dresses. Belted dresses create a cinching effect on the waistline, which creates the illusion of a curvier hip.
As a petite woman, it's important to choose a belt that sits higher than your natural waist. The goal is to make your legs appear longer while your torso is much shorter. This is a balanced silhouette that flatters your body structure.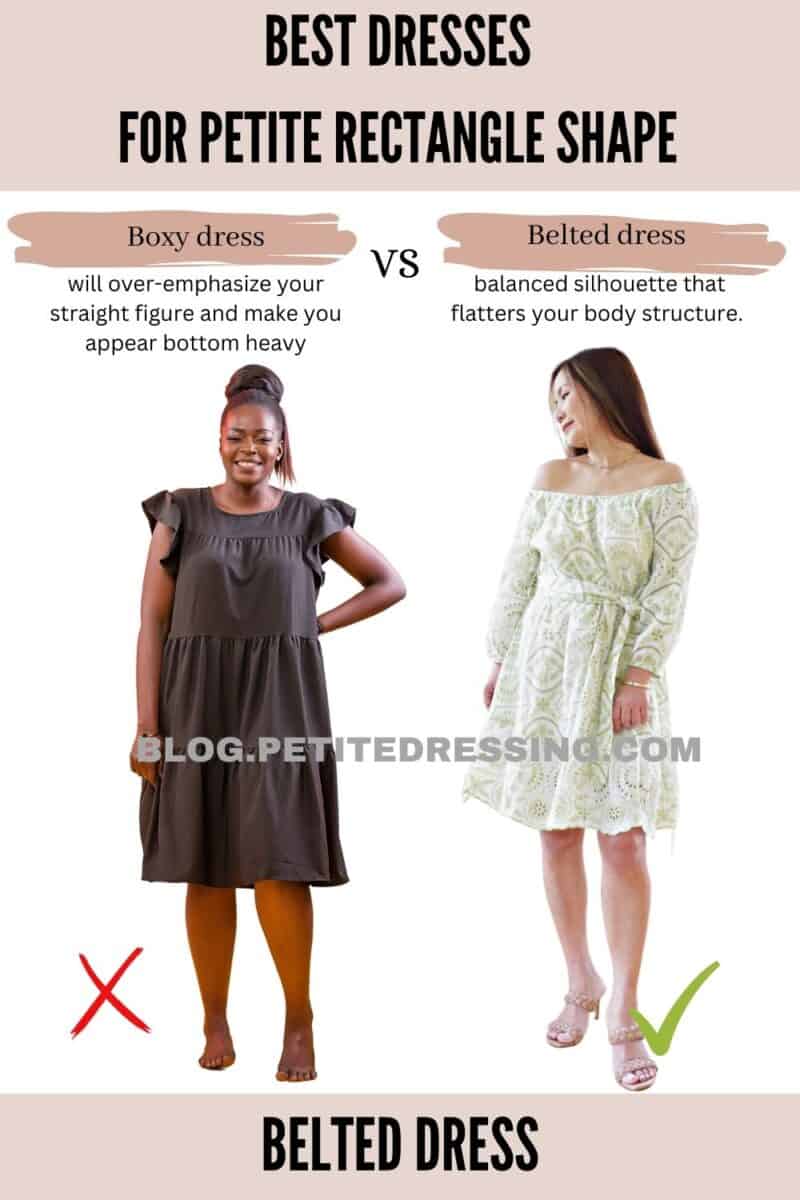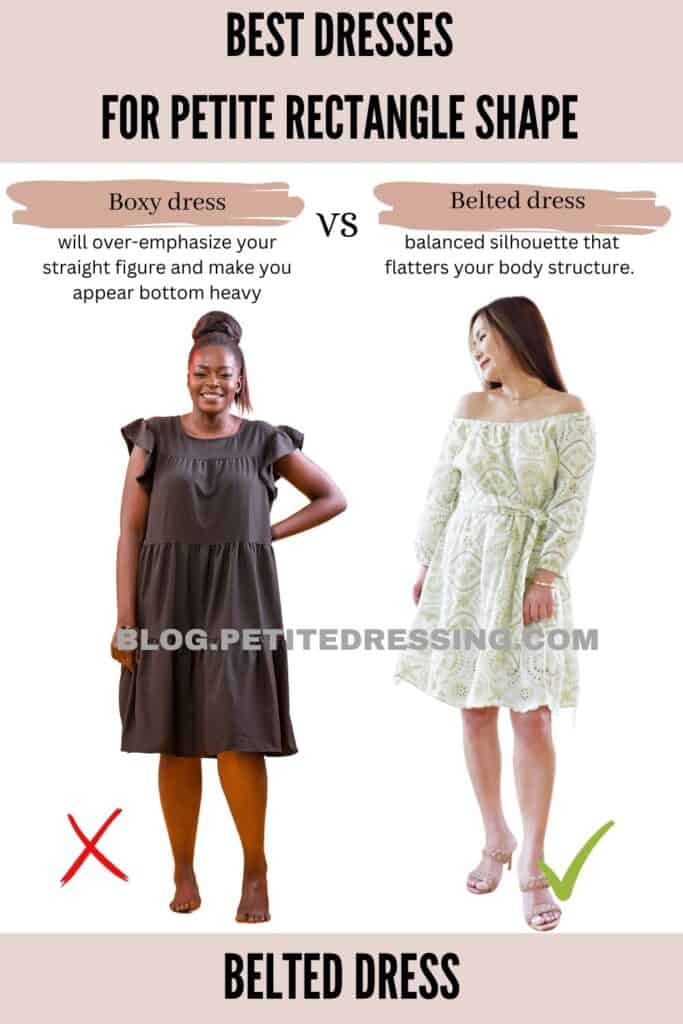 Some belted dresses have the belt design sewn into them, while others may involve using a belt with holes. Regardless of your choice, be sure not to choose a belt style that draws attention completely away from your waistline.
Your belt choice should be moderately sized and preferably in black, as this color adds a slimming effect to your waist, which encourages the illusion of slimmer and elongated legs.
Sheath dress
Sheath dresses add a lot more dimension to your body as this is a form-fitting style that hugs your body naturally. Therefore, it helps to create a more streamlined silhouette, which makes you appear slimmer and taller.
As a petite woman with a rectangular shape, it's a great idea to opt for sheath dresses that fall at the knee as this length is flattering for your body shape. This style of dress also has vertical lines that help the illusion of being taller.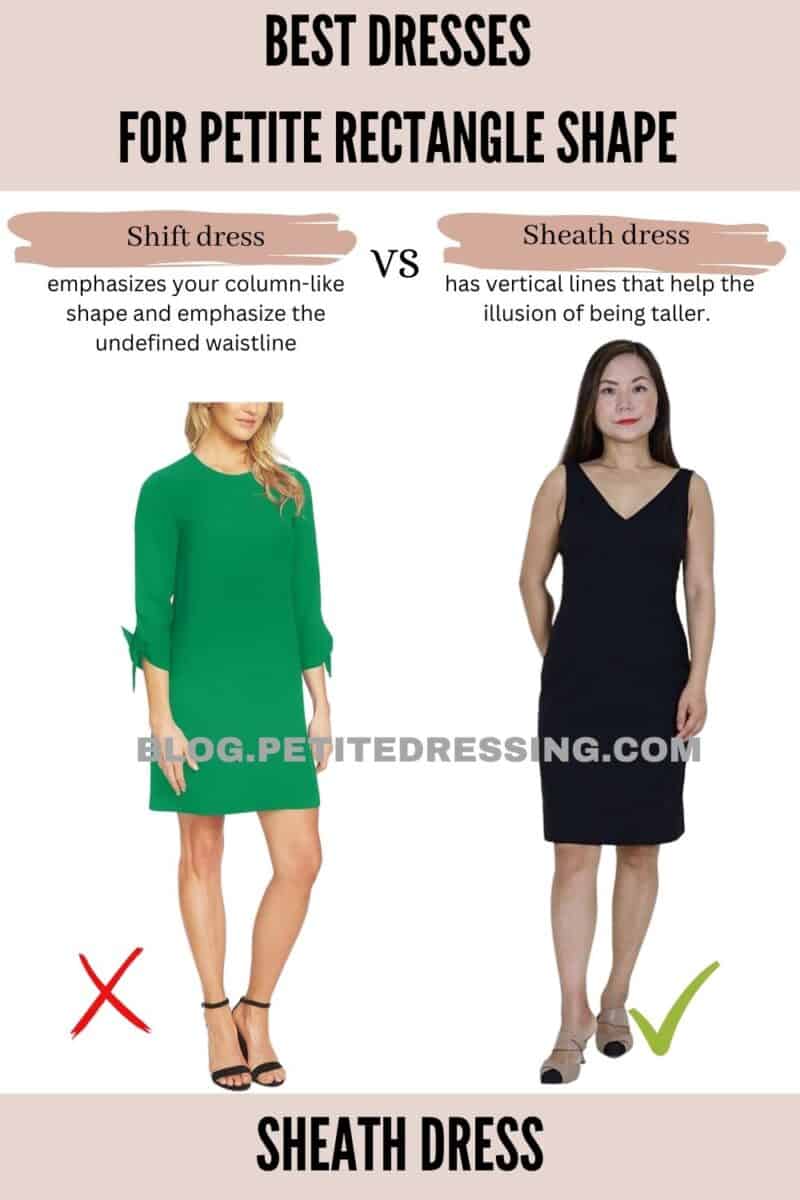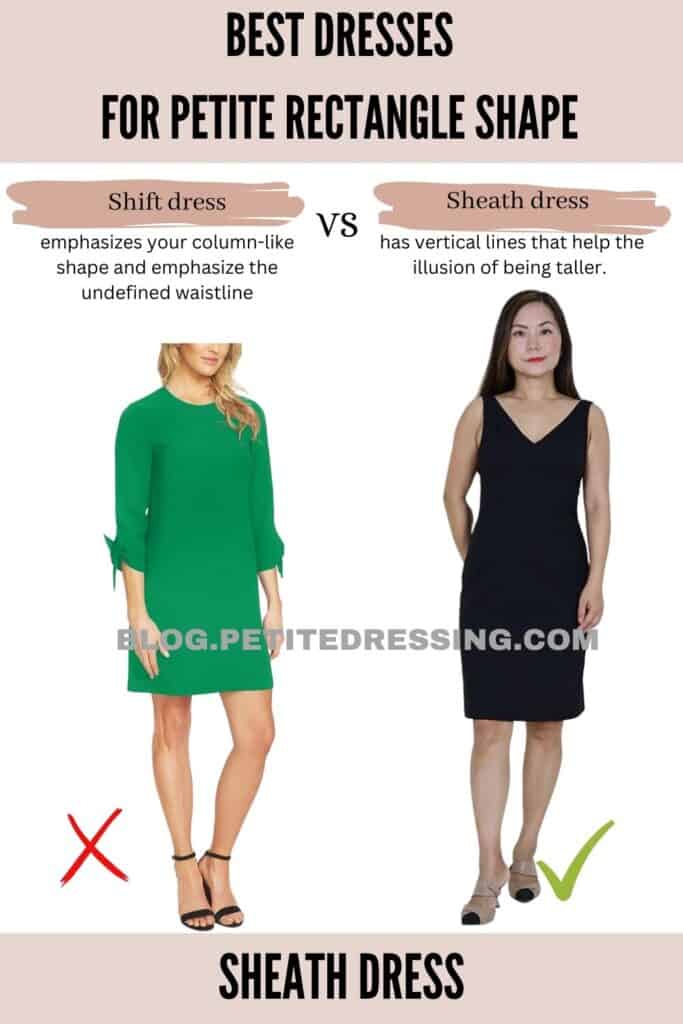 One of the biggest advantages of sheath dresses is their simple yet clean design that flows seamlessly with your body and highlights your body shape flatteringly.
Empire-waist dress
An empire waist dress is also great for creating the illusion of a defined waistline. Need to add some curves to your body without going over the top? An empire waist dress will work wonders on your rectangle body shape.
This has a high waistline that sits just below your bust area. This waistline enhances the illusion of longer legs and a shorter torso. So, if you want to look taller as a petite woman, an empire waist dress can help you achieve this flawlessly.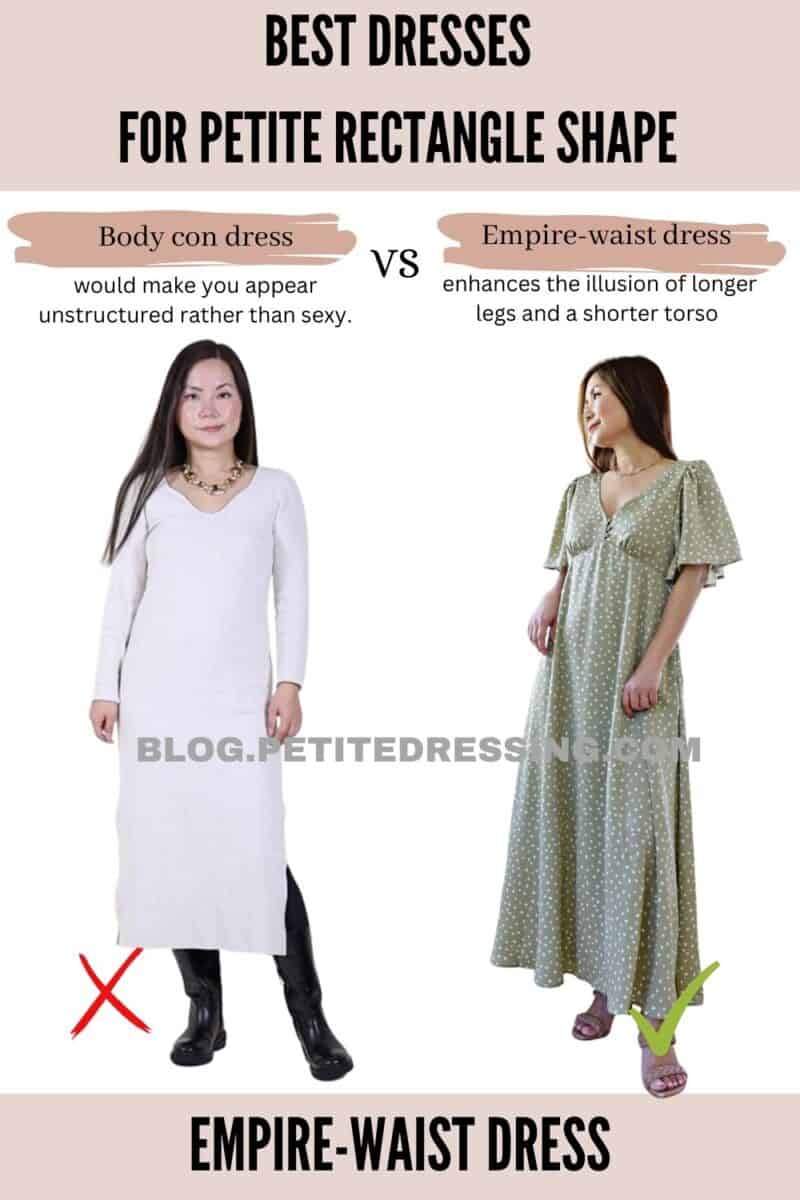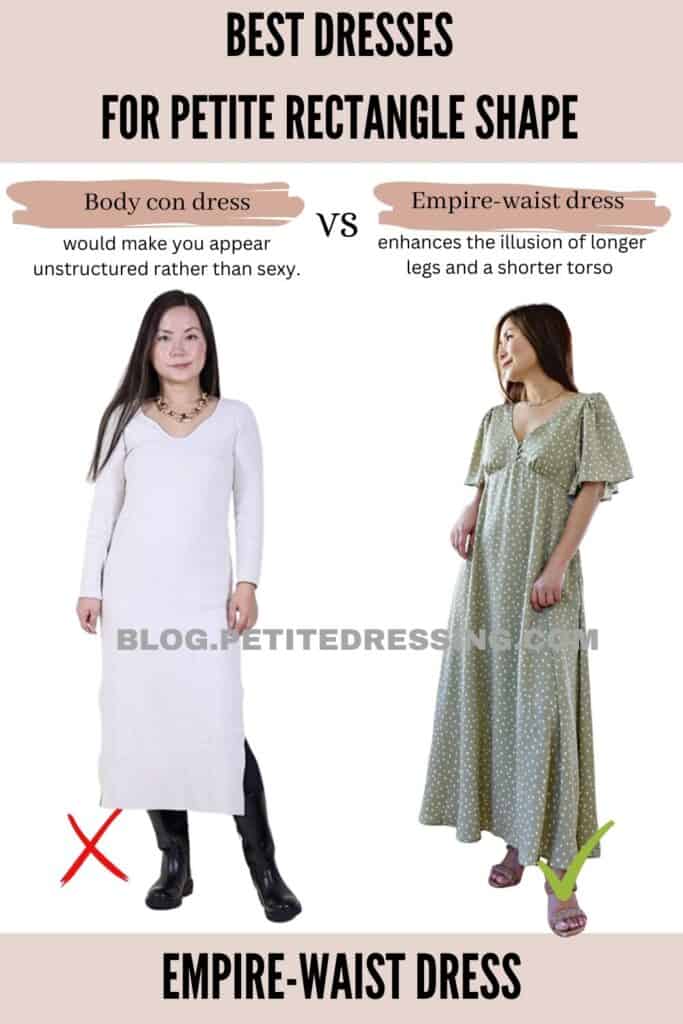 I also love how the fabric drapes over the body stylishly, starting with the loose and flowing style from the waist. This gives a feminine silhouette. You can opt for this in a scoop or v-neckline as this draws the eyes upward.
Scoop-neck Ruched dress
Ruched dresses are another great option for the petite rectangle shape. With the right ruched dress in your closet, you have the perfect ensemble for formal and informal events. A great feature of ruched designs on dresses is that they give the illusion of curves on your hips, which works great for rectangle-shaped women.
Since you have a squared shape, ruched dresses can add more femininity to your look. However, it's important to pick the right designs. Ruched design at the center of your torso will hide your flat tummy rather than show off this part as one of your best features.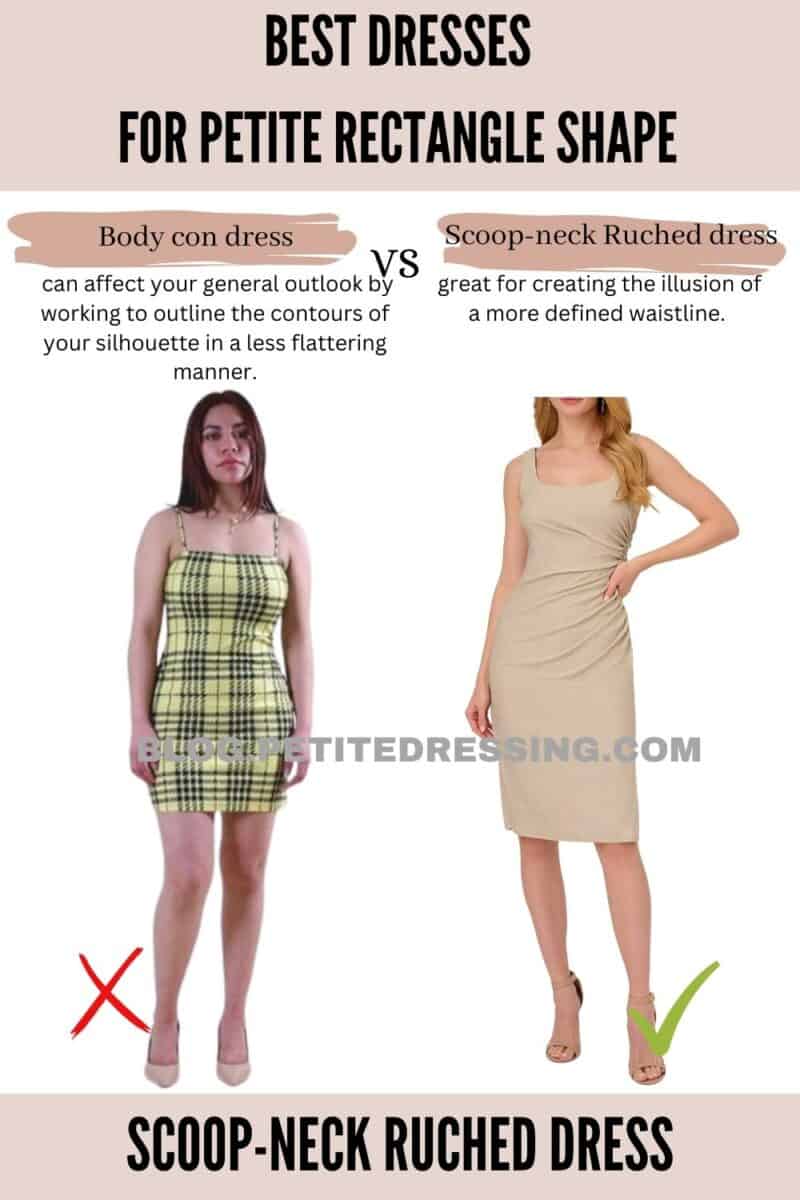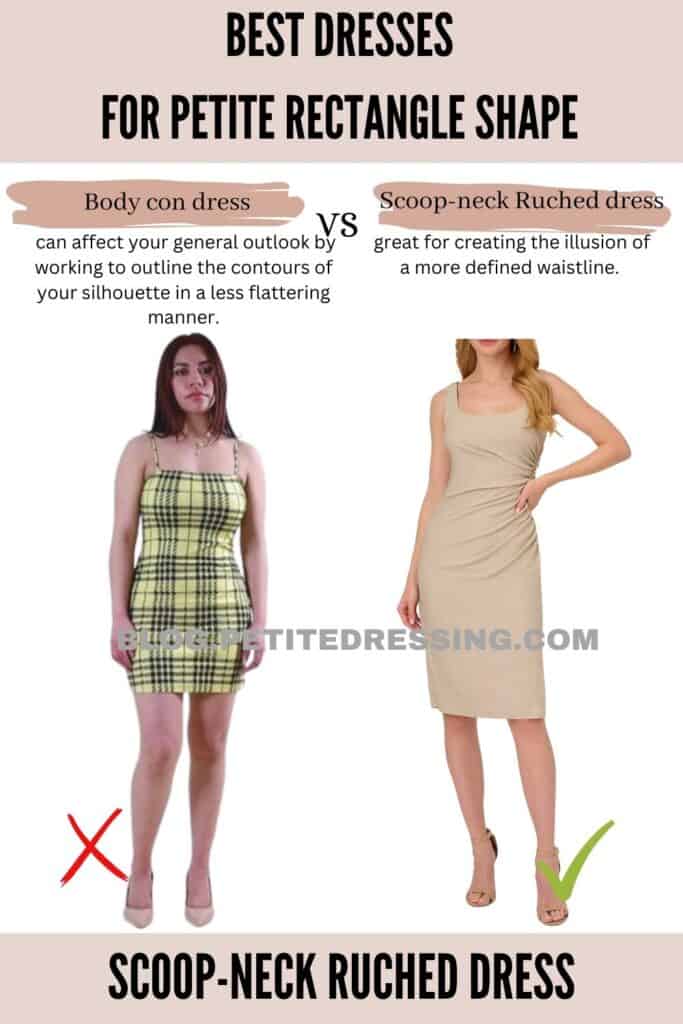 I would recommend going for ruched dresses with the seam running vertically on both sides of your waistline. Since these draw attention to your waist area, this is great for creating the illusion of a more defined waistline.
The neckline also matters here. I consider scoop necklines one of the best for petite rectangle shape as it helps you show off your collarbone and draw attention upwards in a flattering way.
Peplum dress
At first glance, peplum dresses may seem like a straight dress style but the flare at the waistline makes all the difference. This flare is what draws attention to your waistline and encourages a more balanced outlook.
You don't have limited choices when it comes to picking colors for your dresses. However, I've found that you shouldn't opt for too many bold colors on your outfit. You can opt for a monochromatic look or pick colors from the same family.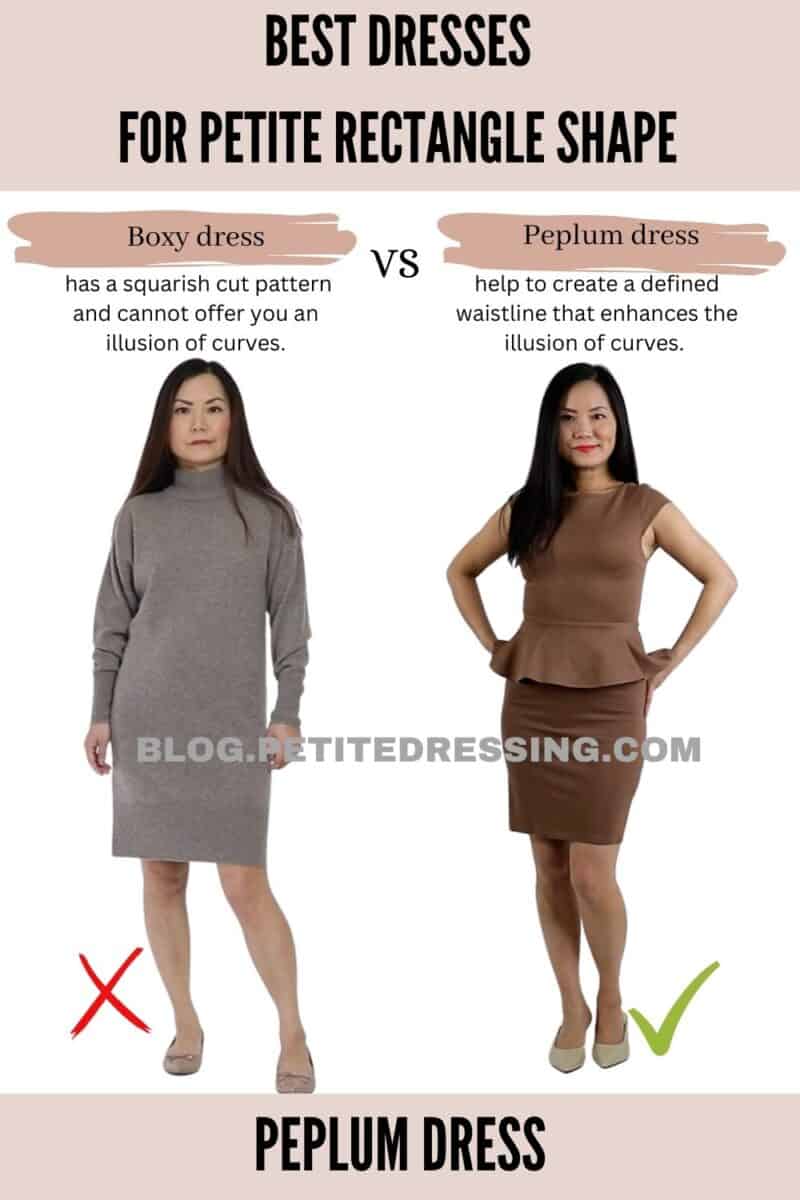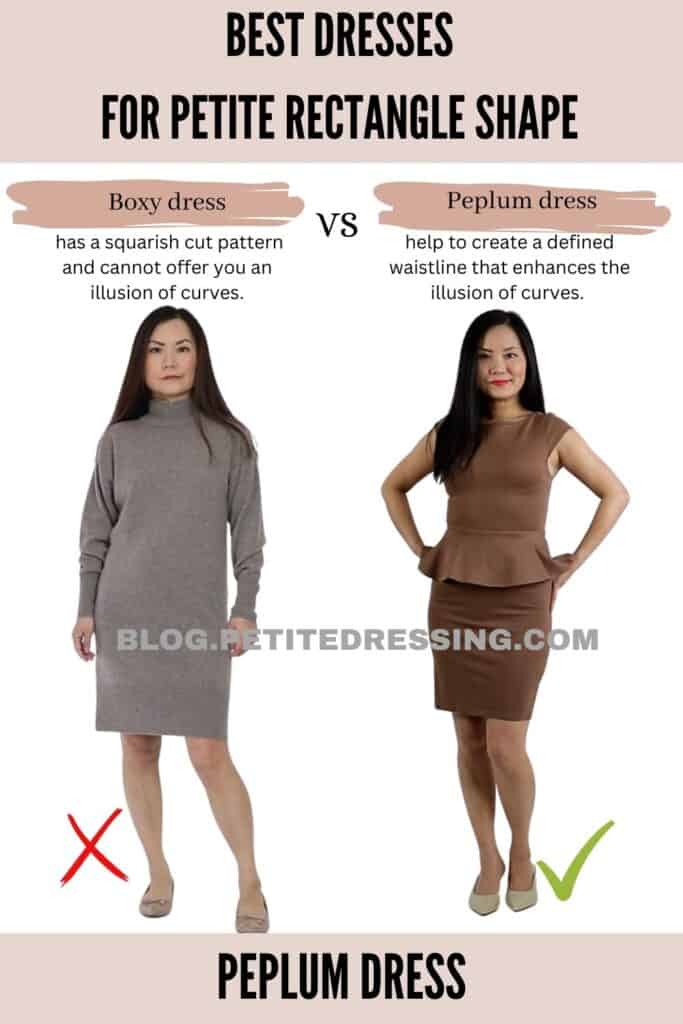 Peplum dresses help to create a defined waistline that enhances the illusion of curves. This ensures that your straight silhouette is replaced by a curvier and more feminine one.
Wrap dress
As a petite woman with a rectangle body shape, you should tilt more towards fitted rather than loose clothing. Loose clothing emphasizes your boxy silhouette and can overwhelm your petite body frame.
However, fitted clothing can help to accentuate your waistline and cleavage. You can make this happen with a wrap dress. This style of dress hugs your body in a way that creates a lovely feminine curve around your hip area.
Even better, wrap dresses can encourage the illusion of an elongated frame so you look taller and slimmer. So, if you want to visually add more curves to your overall look, I suggest you start shopping for an amazing wrap dress.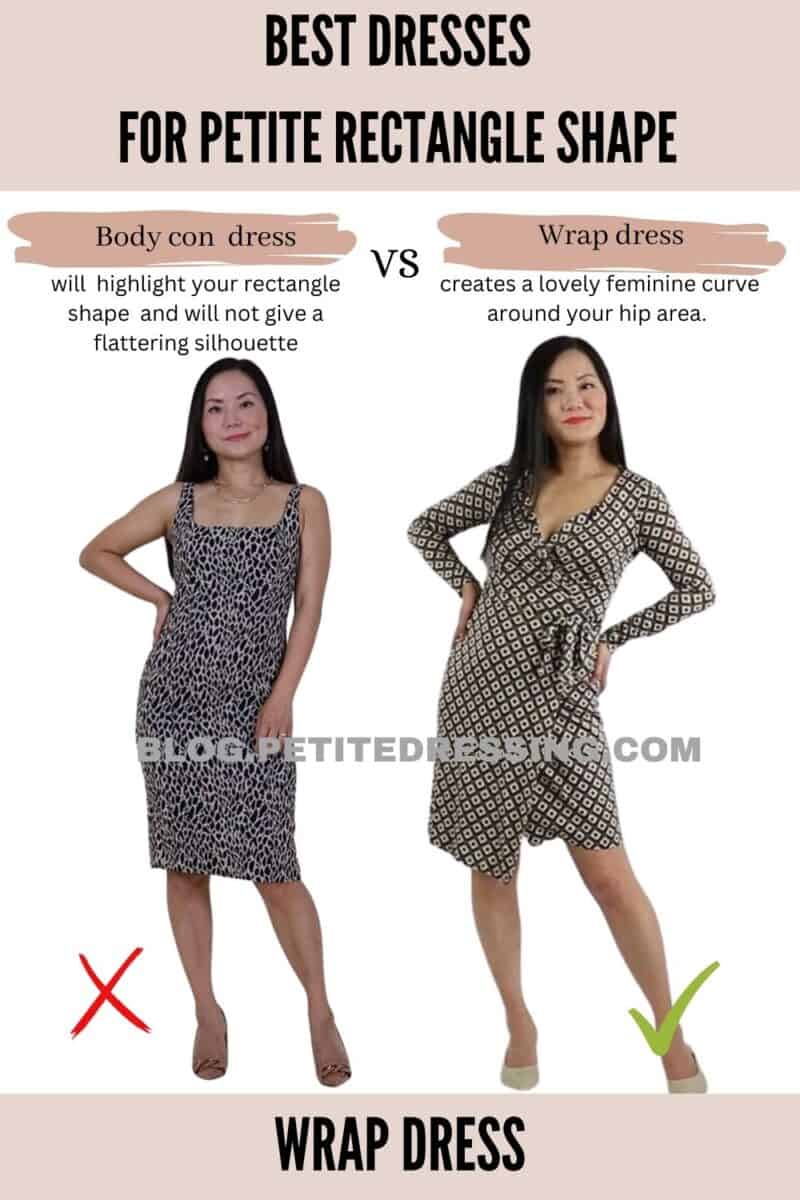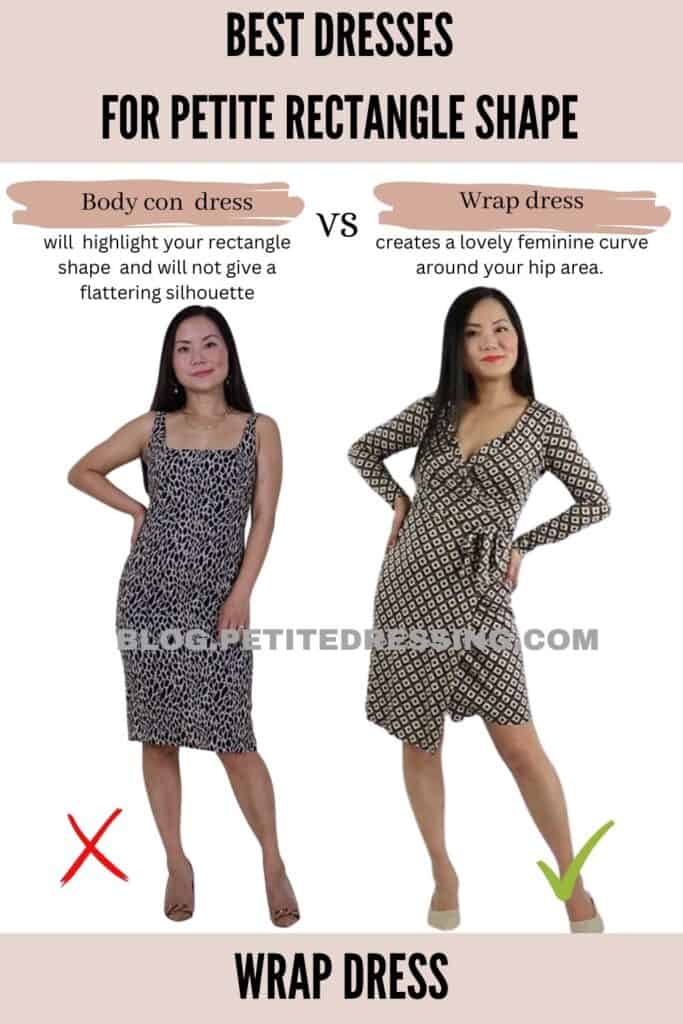 Here are some extra tips. Look out for wrap dresses with a v-neckline, as these are more flattering to the upper half of your body. Also, if you want to encourage the illusion of being voluptuous, consider getting wrap dresses with bold prints.
Avoid loose T-shirt dresses
Similar to what I may have mentioned earlier, loose-fitting clothes are not flattering for petite women with a rectangle shape. If you're looking out for comfy wear or something relaxed, loose T-shirt dresses are not the way to go.
Instead, they give you a rigid outlook as loose T-shirt dresses emphasize your boxy silhouette. Remember that it's important to play to your strengths and minimize attention on your straight body structure.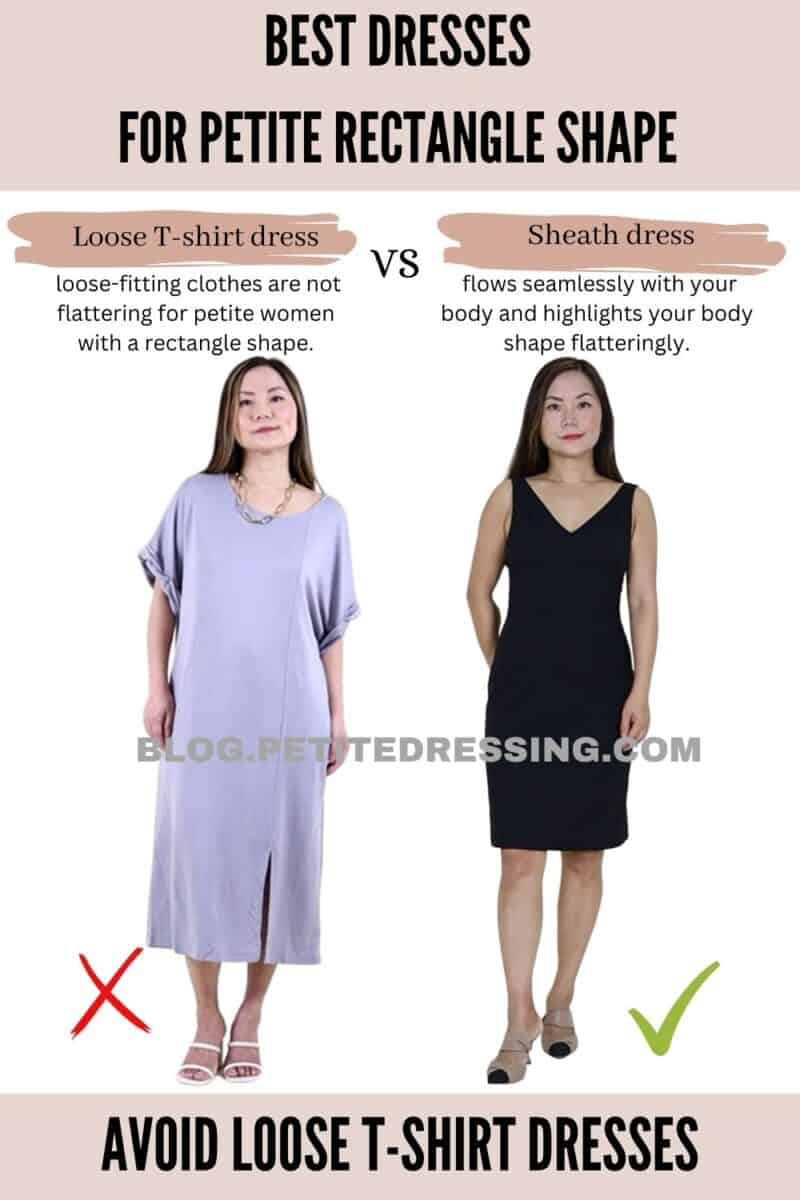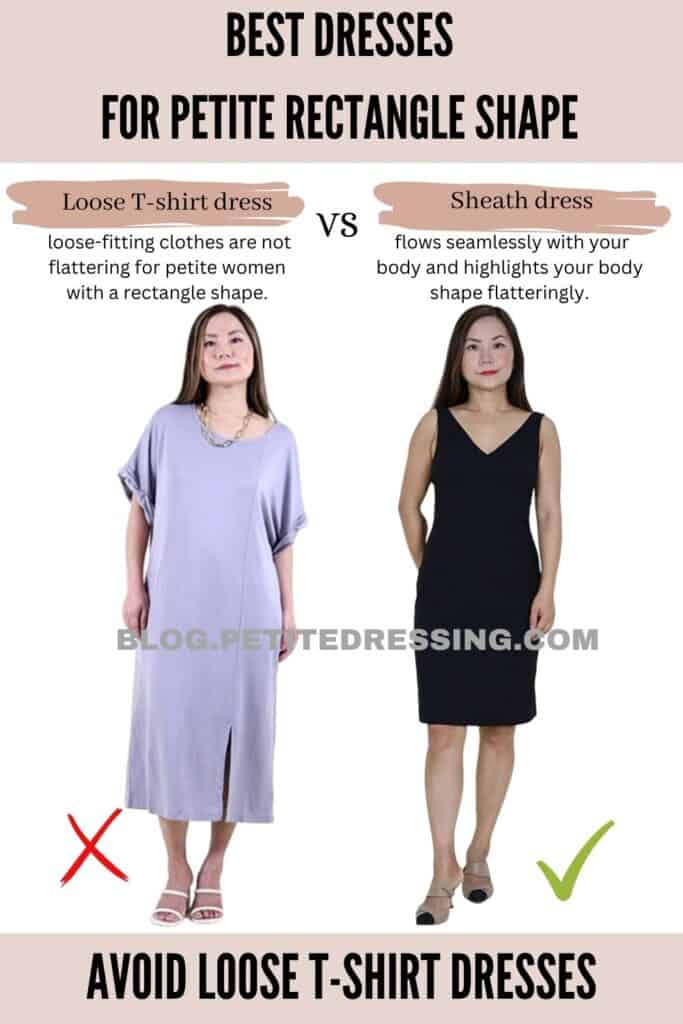 Loose T-shirt dresses will draw more attention to your body shape and overwhelm your petite frame since they are too baggy. As a rectangular-shaped woman, you don't have a defined waistline, and this style of dress won't create this.
Instead, loose dresses will do more to conceal rather than mold smoothly on your body. It's not an exaggeration to state that this style of dress will elicit a few awkward stares. So, your best bet is to avoid loose T-shirt dresses completely.