When you are over 60, you probably realize it is critical to be selective about what you wear. This is the age when you know that not everything looks the same on you, and therefore finding the right styles that truly suit you can really make a big difference.
Since I have a petite clothing line for women 5'4″ and under, I constantly receive feedback from my customers, many of whom are over 60. Based on their feedback on what works the best and what are less flattering, I've put together this detailed guide for you.
Styling Goal
Comfort should be your main priority. Choose clothing structures that allow you to move more freely and comfortably without overshadowing your natural figure.
Invest in high-quality and versatile basics. Your mix-and-match game will be composed of classy pieces so stick to basics that feature elegance and versatility.
Be more experimental with your dynamic colors. Don't stick to the misconception of wearing only neutral colors and add more life to your ensembles by going for vibrant hues.
Don't over-accessorize. Wearing too many accessories can create a cluttered and busy appearance that may be overwhelming and detract sophistication from your overall look.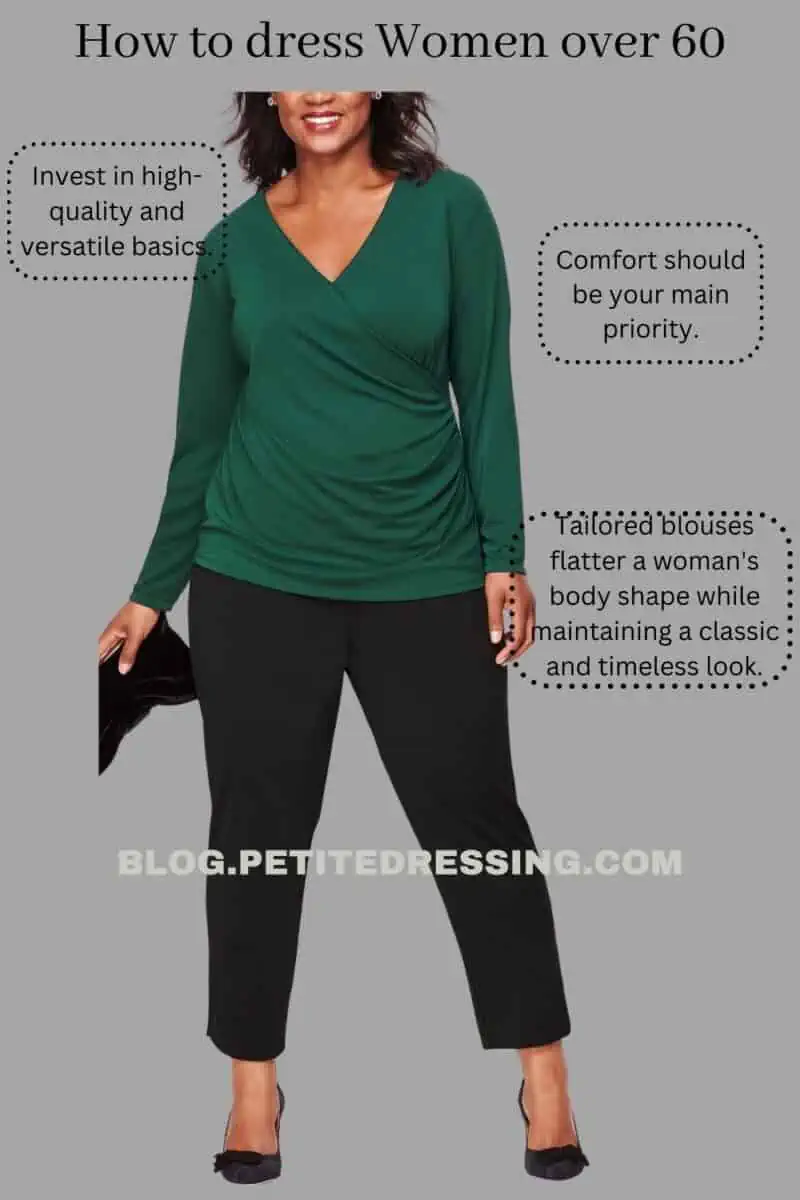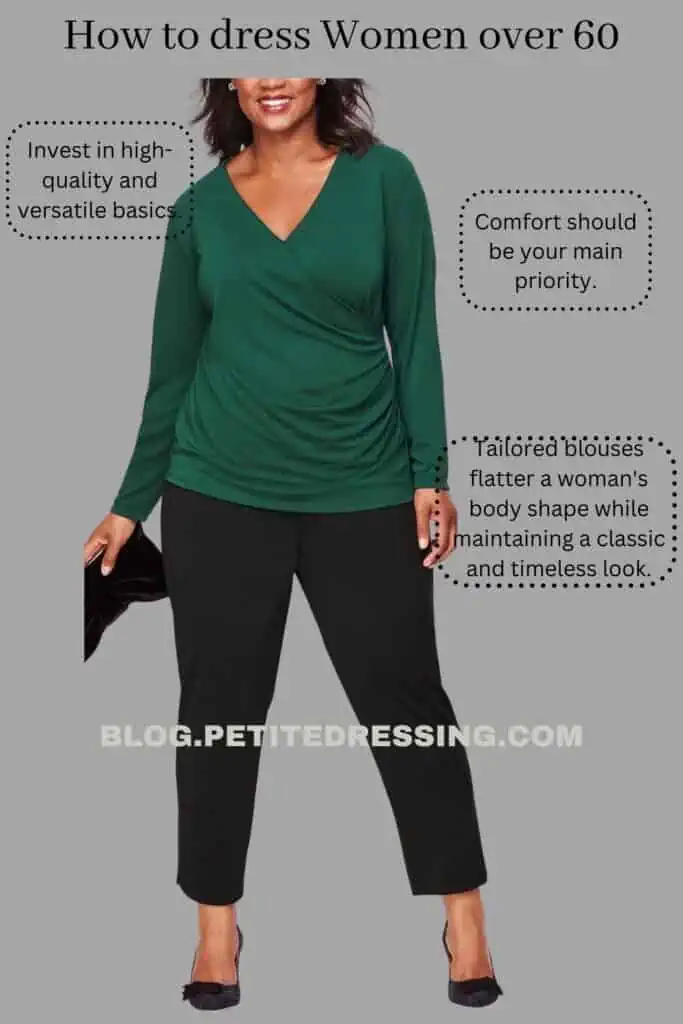 Styling is actually much simpler at 60 and over as you can probably tell from these styling goals I just listed. Now that we have briefly covered that, let's dive into the various clothing styles that will wonderfully embrace your beauty and grace.
TOPS
Neutral Cashmere Tops
The type of fabric material in your clothes can make a huge impact on your style. Among many different kinds of fabrics, cashmere stands out as an embodiment of sophistication and beauty for any fashion-conscious woman.
The supple material is gentle on the skin and its coziness provides unparalleled comfort. As a woman in your golden years, cashmere tops should undoubtedly find their way into your wardrobe due to the fact that they are comfortable, classy, and quite easy to style as well.
In addition to its fabric material, having it in neutral tones can make them look more classy. All you have to do is pair them with bottoms that feature a touch of vibrant color so that the entire ensemble would look more lively and defined.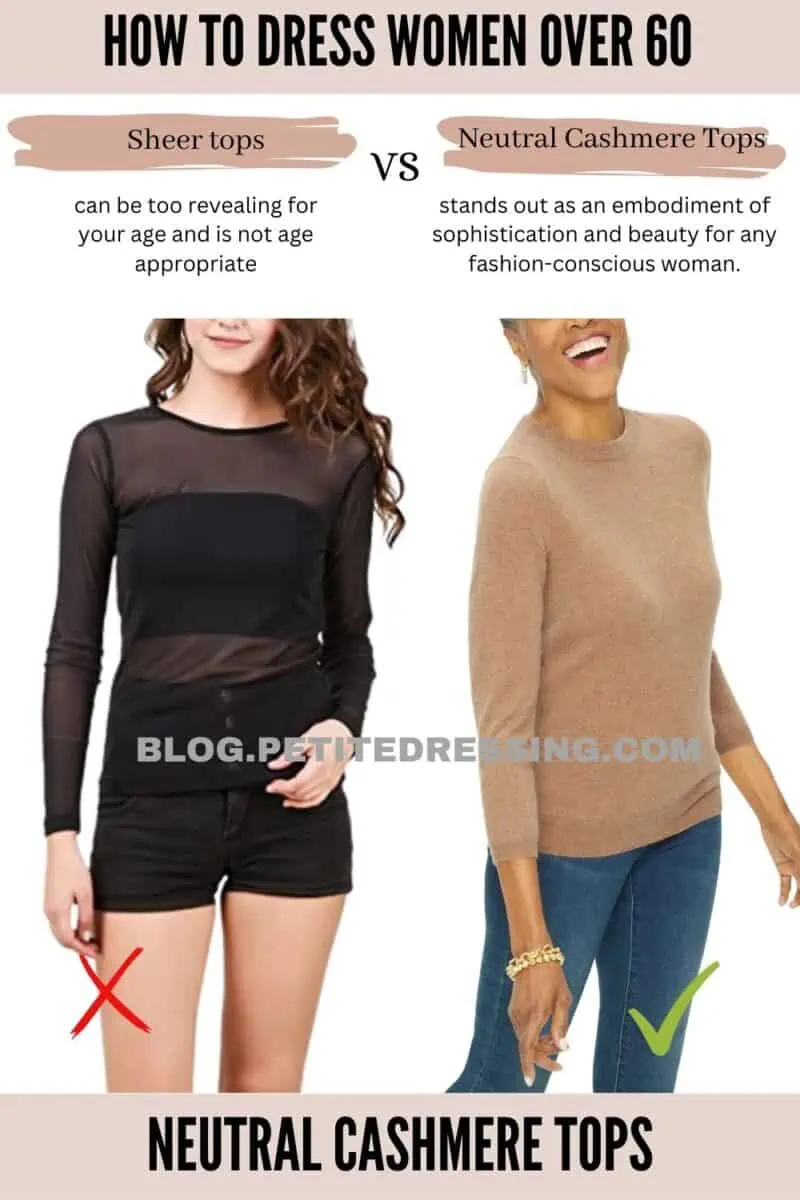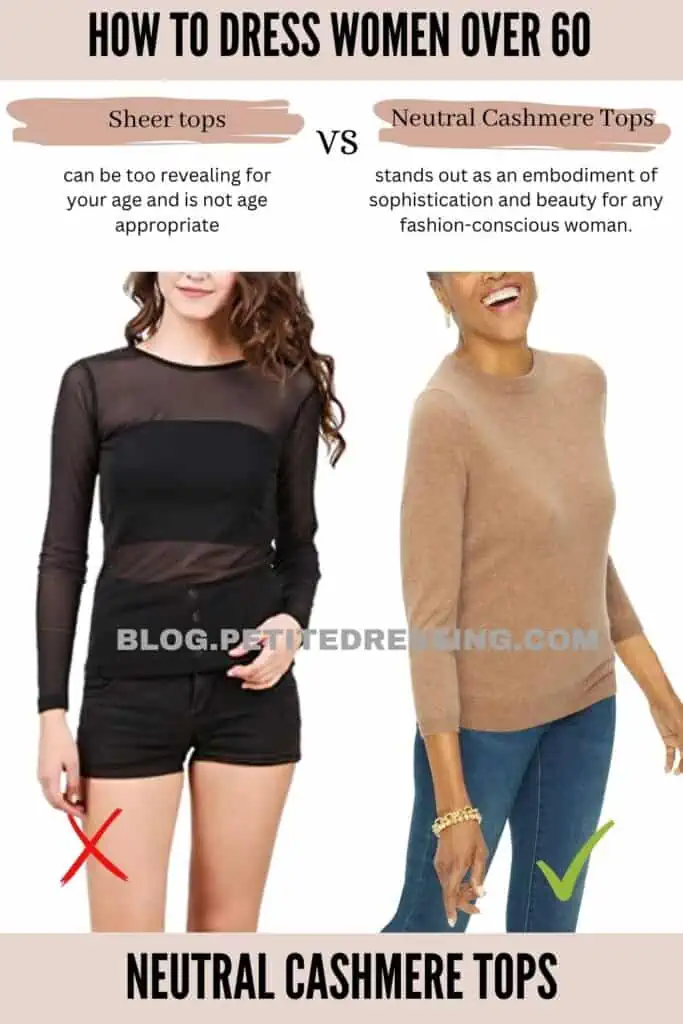 Tailored Blouses
One of the best ways for women over 60 to enhance their style and look more elegant is by incorporating tailored blouses into their wardrobes.
The beauty of tailored blouses lies in their ability to flatter a woman's body shape while maintaining a classic and timeless look. These blouses are designed to fit snugly on the shoulders, waist, and bustline resulting in a flattering silhouette that enhances curves while minimizing problem areas.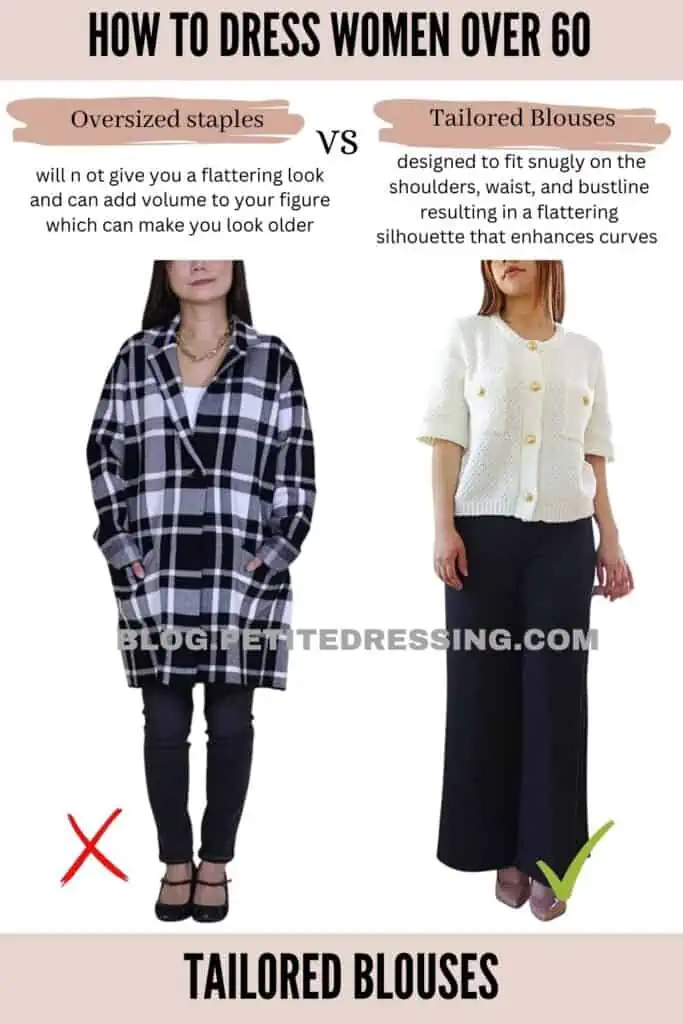 Tops with Vibrant Patterns
It's a common misconception that vibrant patterns are only meant for younger women and that women over 60 should stick to monotonous neutrals. However, that is absolutely not true and you'd be surprised how tops with vibrant patterns can look amazing on you!
Vibrant patterns add a touch of liveliness and energy to any outfit especially because our skin may lose some of its natural glow as we age, making us appear more tired and dull. Wearing a top with bright and bold patterns can help to bring some life back into your appearance and make you look more youthful and energetic.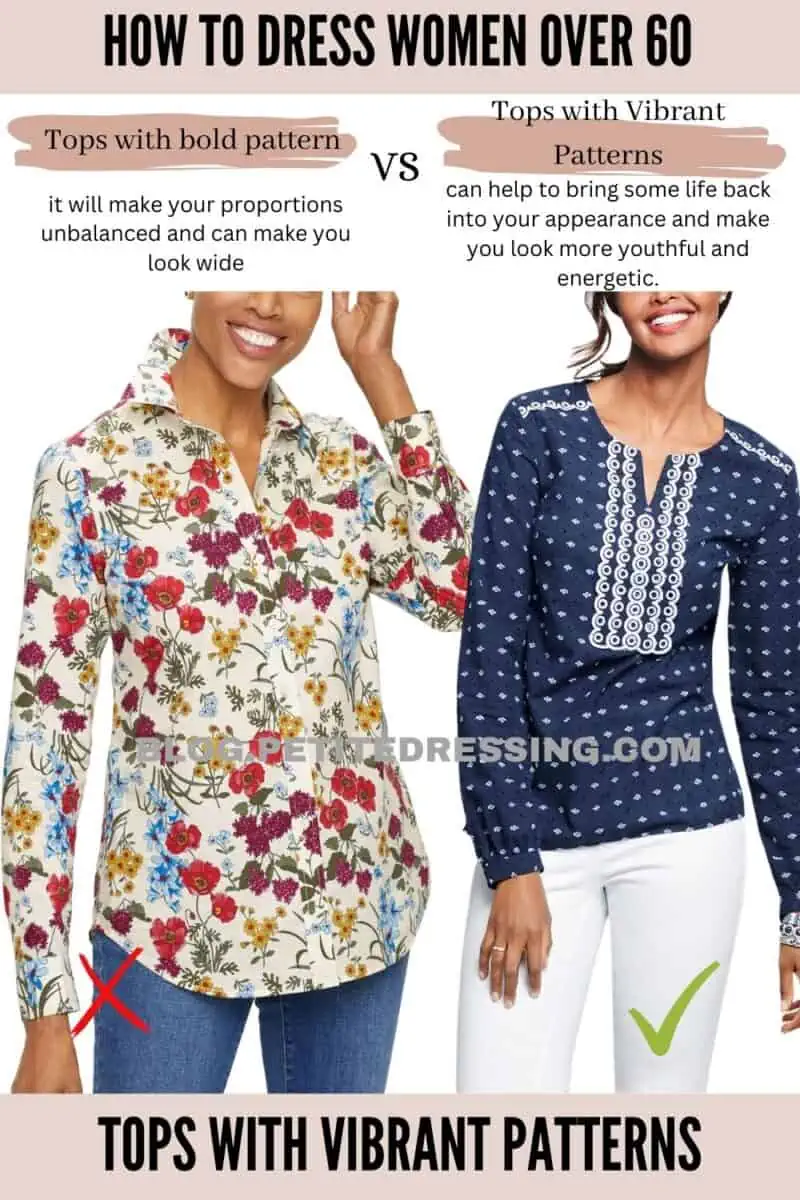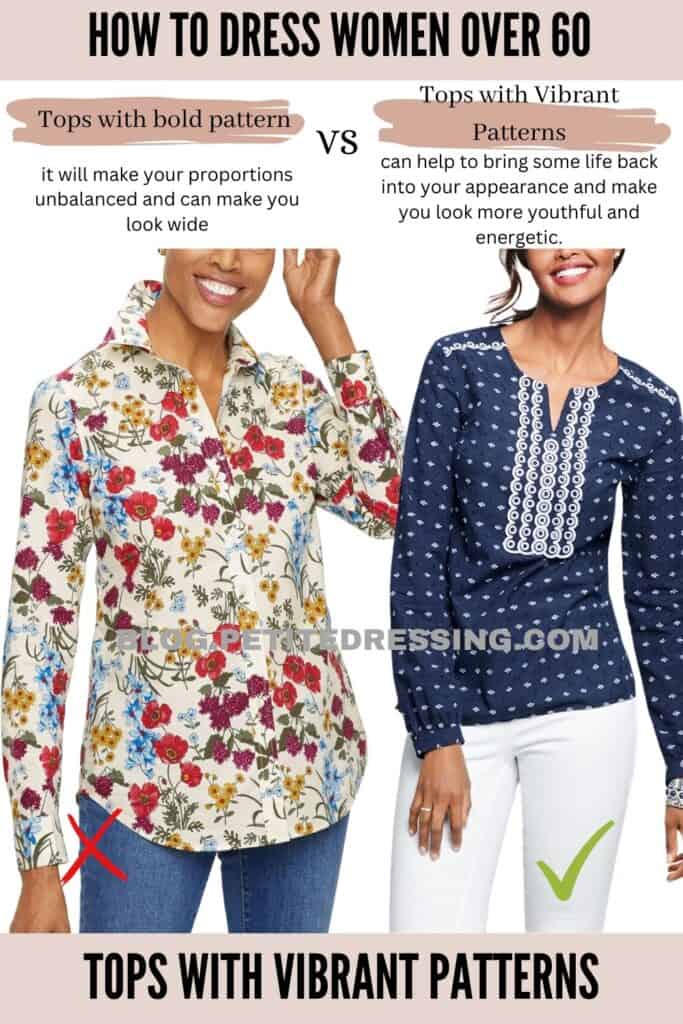 Floral Print Silk Tops
Silk tops are a luxurious and elegant clothing option that offers numerous fashion benefits for women over 60. It's a lightweight and breathable fabric, making it comfortable to wear all year round on whatever occasion.
The comfort silk tops give can be especially important for women who may experience hot flashes or other menopausal symptoms. Silk tops can help to regulate body temperature and keep you feeling cool and comfortable.
Additionally, silk is a high-quality fabric that drapes beautifully on the body. Silk tops have a natural sheen that adds a touch of sophistication to any outfit which is a great style touch for more mature women.
Having your silk tops graced with touches of floral prints can also add more style and femininity to your look. Just be mindful with the floral details by going for subtle designs and try not to go overboard.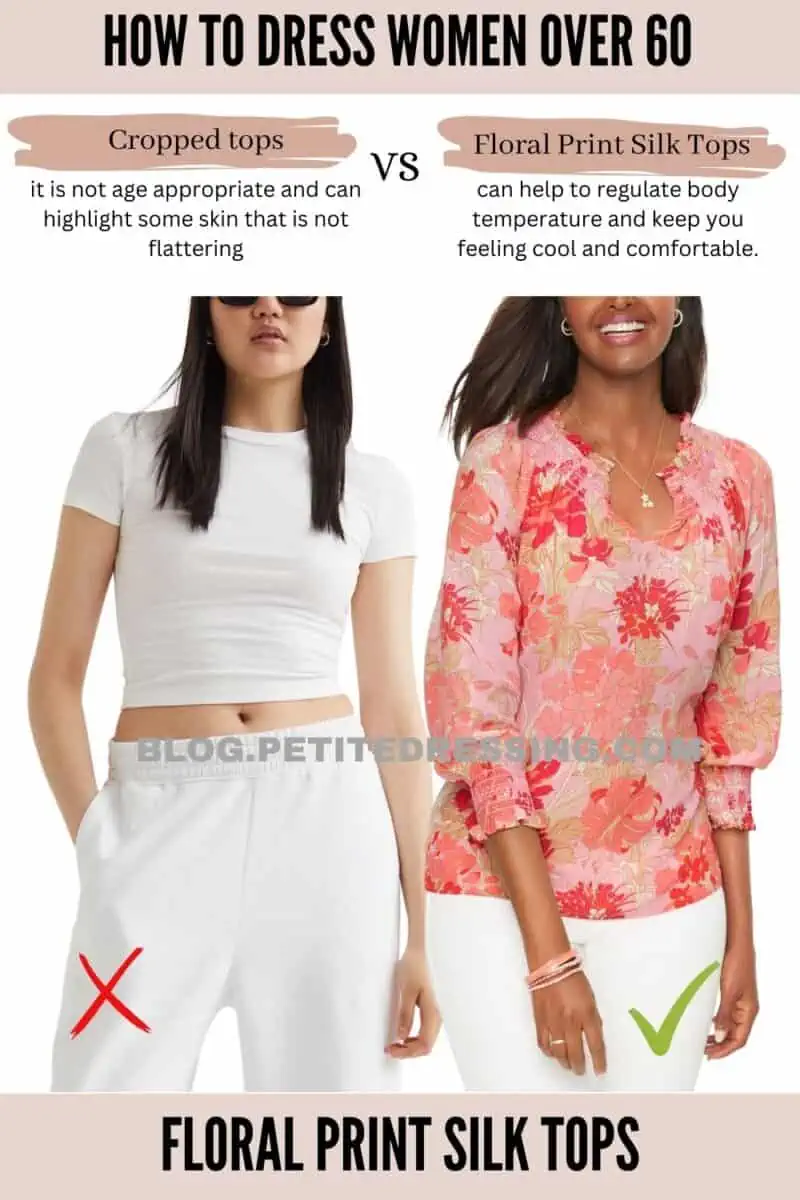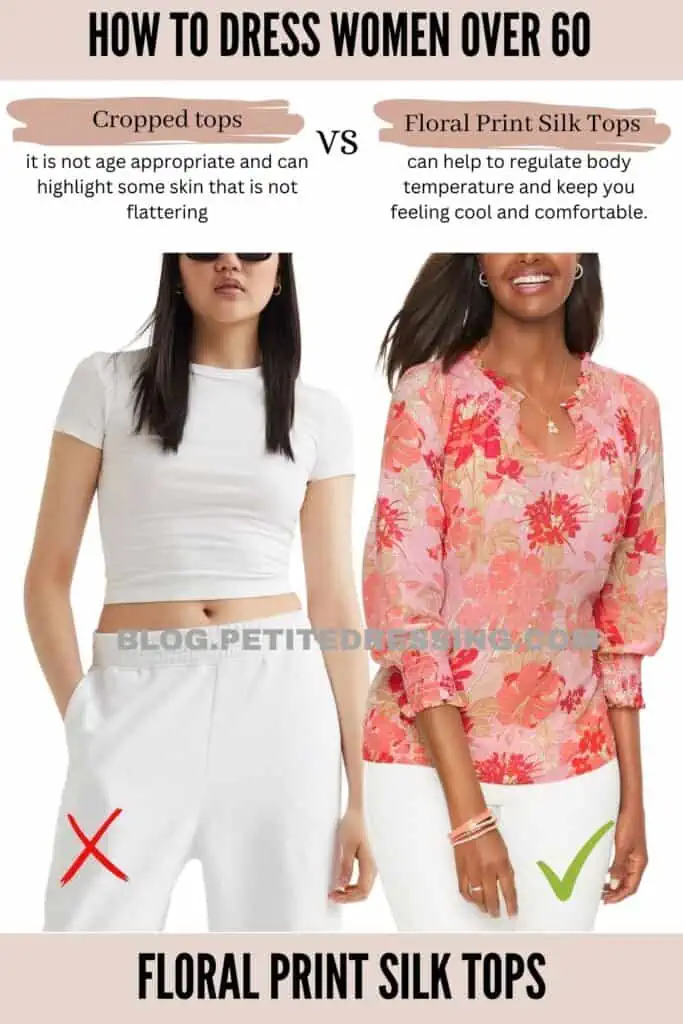 PANTS
Pleated Dress Pants
Dress pants are a type of formal or semi-formal trousers that are typically worn with dressier tops or blouses. They are a popular clothing option for women over 60 because they offer numerous fashion benefits that make them a practical and stylish choice.
As I have mentioned earlier in our "Styling Goal" section, versatility is an important style factor for more mature women. Dress pants are versatile and can be dressed up or down as they can be worn to the office, a dinner party, or even a casual weekend outing.
To be specific with the design, pleated dress pants offer more depth to your look as the pleats offer more structure. Because of its bespoke-inspired structure, pleated dress pants are not just a practical and cost-effective addition to any mature woman's wardrobe, but also a strategic way to visually enhance your proportions.
Additionally, they are a flattering clothing option that can help to elongate the legs and create a streamlined silhouette. This is especially important for women over 60 who may want to accentuate their best features and create a more youthful appearance.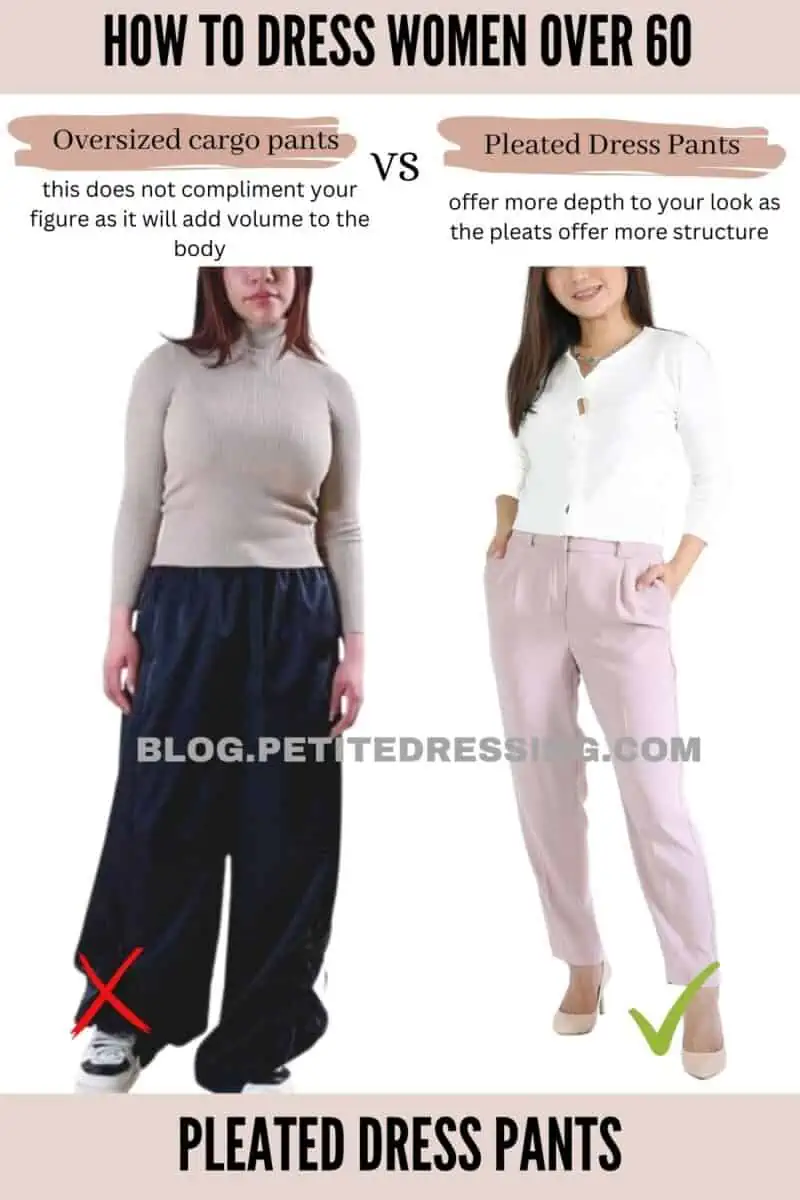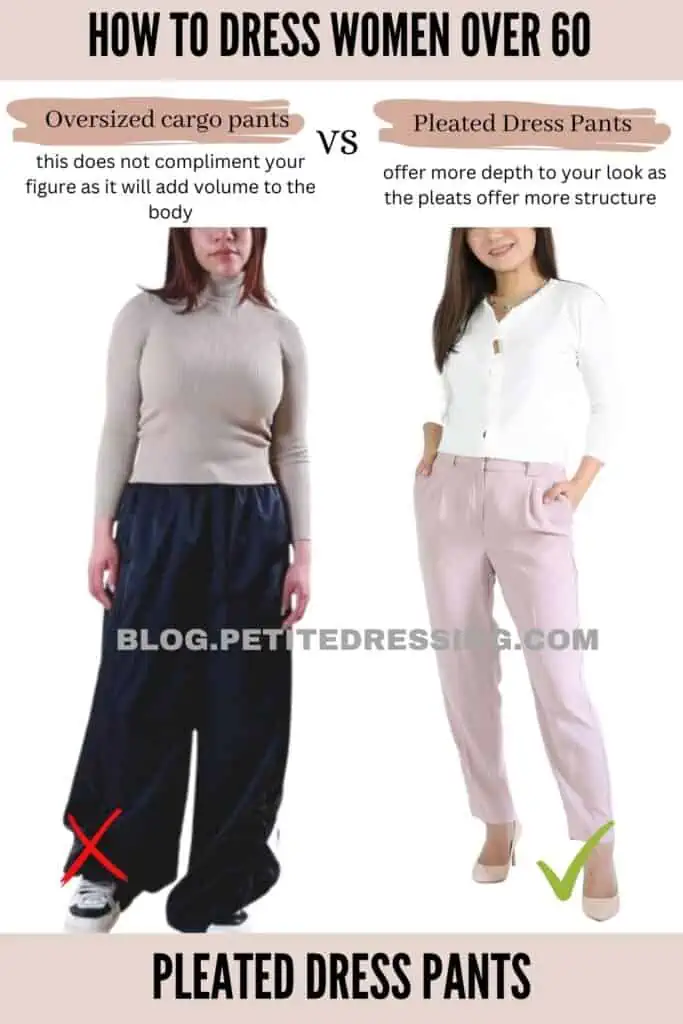 Beige Mid-rise Trousers
Mid-rise waistlines are an excellent choice for women over 60 as they are flattering for a larger percentage of women. Whether you have a petite frame or not, mid-rise pants are sophisticated and age-appropriate.
When choosing your pair of mid-rise pants, it's important to ensure that they are the correct length. Pants that are too short can look unprofessional, especially in a business or office setting so make sure your pants are long enough to avoid any fashion faux pas.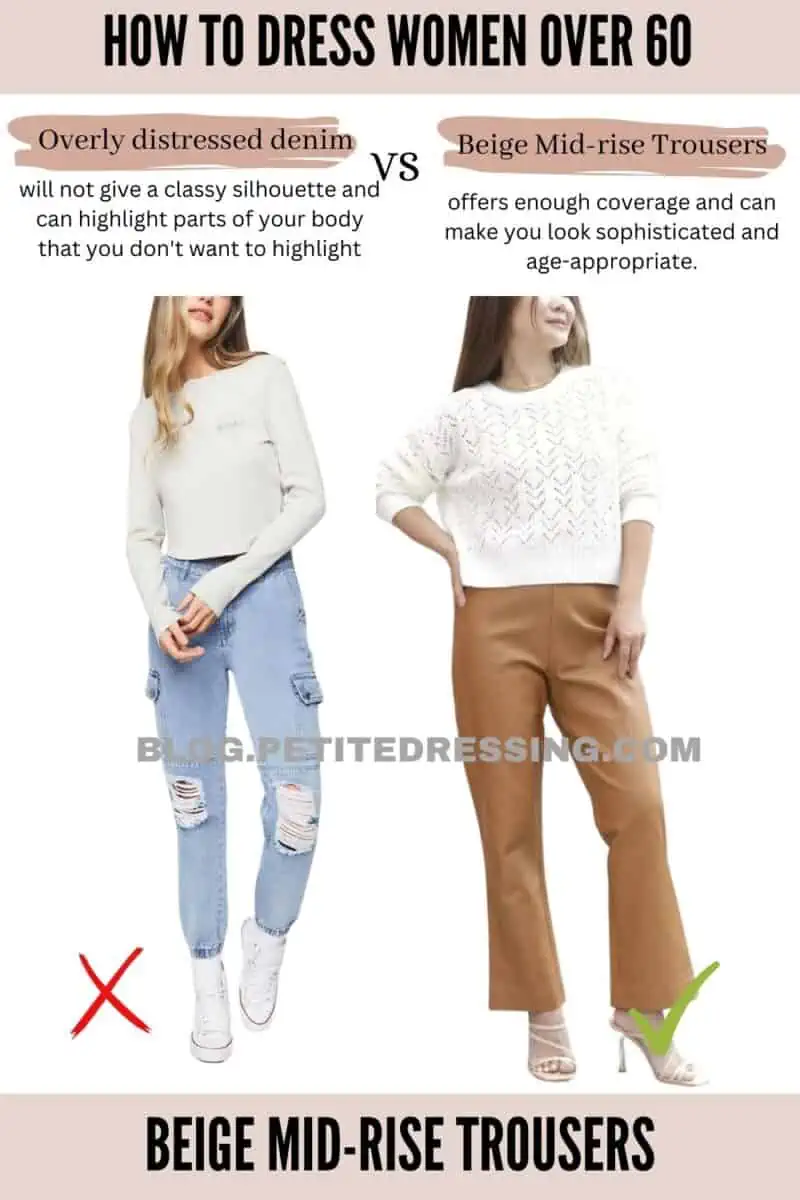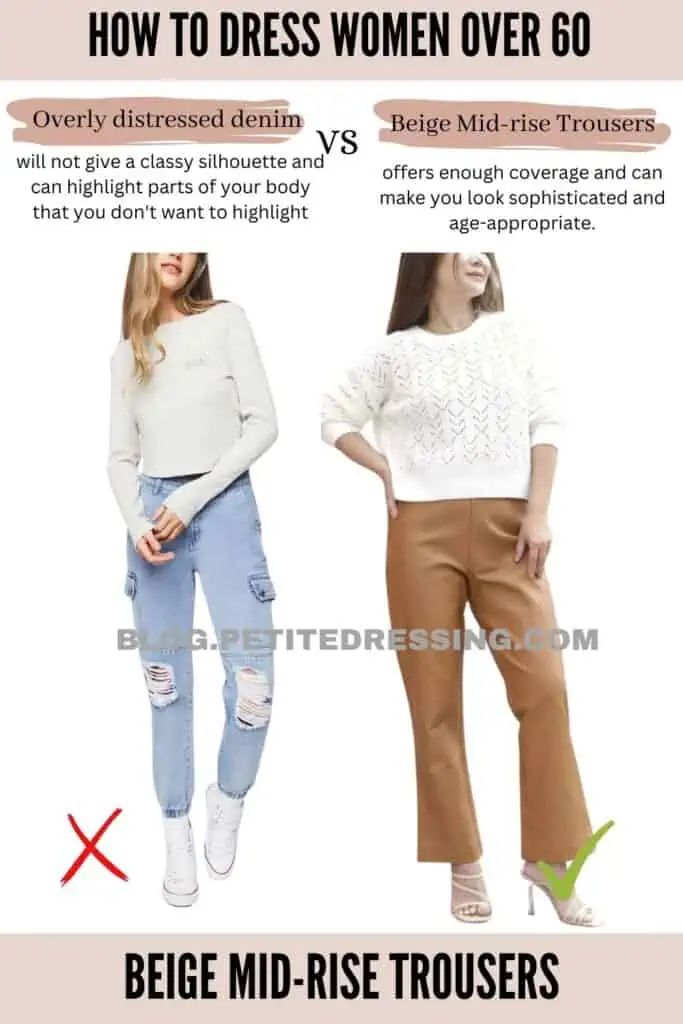 Bright-colored Flare Pants
Flared structure in pants can help balance out the proportions of the body, especially since women tend to have a more imbalanced figure through age. The flare at the bottom of the pants creates a visually elongated leg line, which can make the legs appear longer and leaner.
Bright-colored flare pants can add a fun and youthful touch to an outfit, which can help mature women feel more confident and vibrant. It's important to choose a color that complements the skin tone and is not too overwhelming, such as a rich jewel tone or a bright pastel.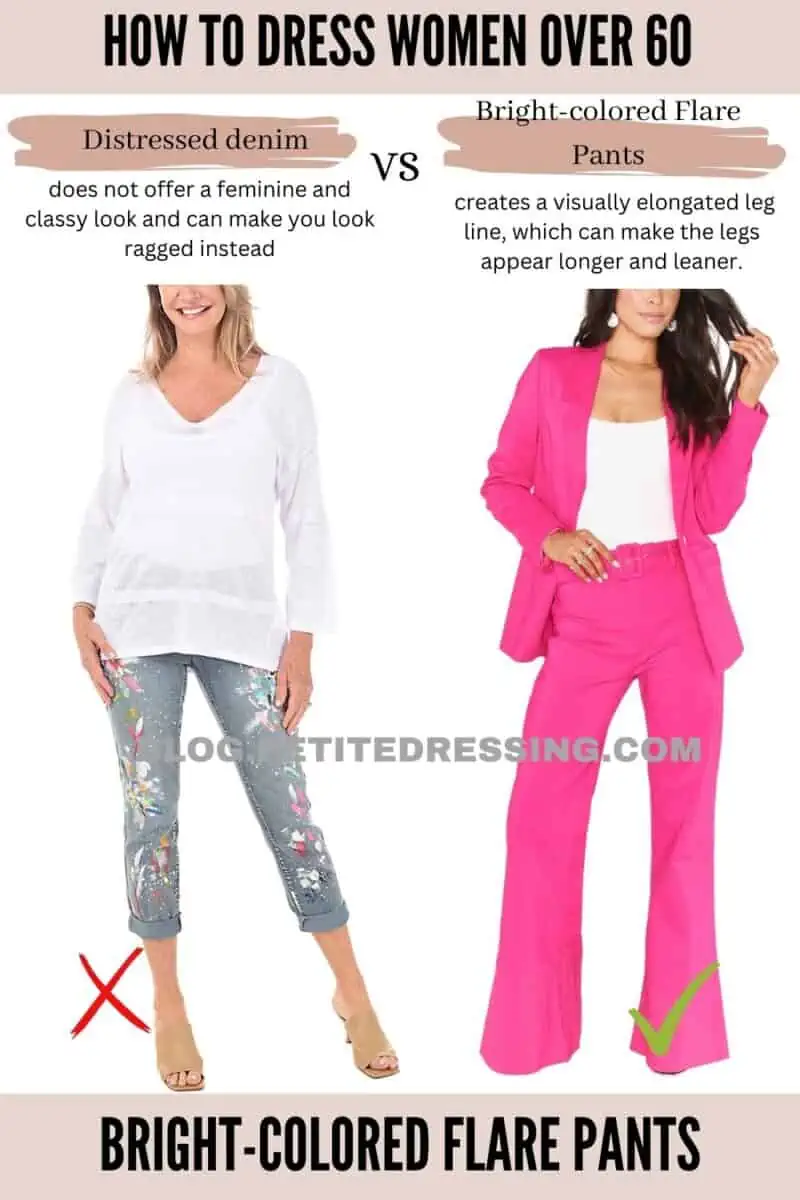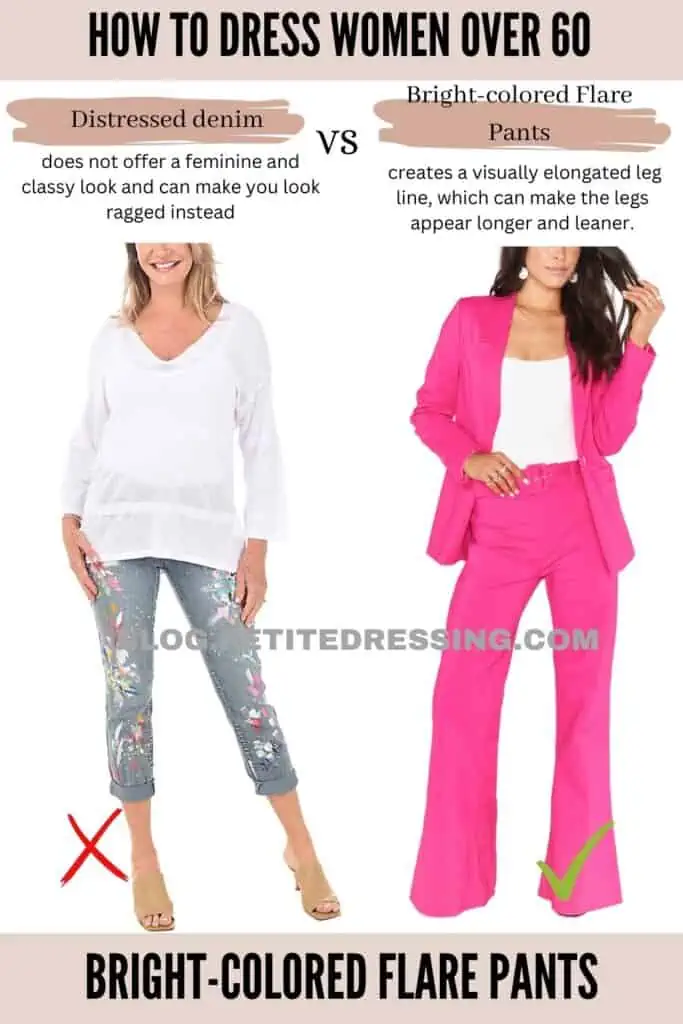 Linen Wide-Leg Pants
Wide-leg pants are the ultimate wardrobe staple for mature women due to their timeless structure. They offer comfort, style, and versatility, all while flattering the figure in a way that makes us feel confident and beautiful at any age.
With the flowy linen fabric and relaxed fit, linen wide-leg pants offer the perfect balance of comfort and style. Unlike tight-fitting pants that can cling to every curve and accentuate any perceived flaws, wide-leg pants drape gracefully on your lower body for a flattering silhouette that is both comfortable and chic.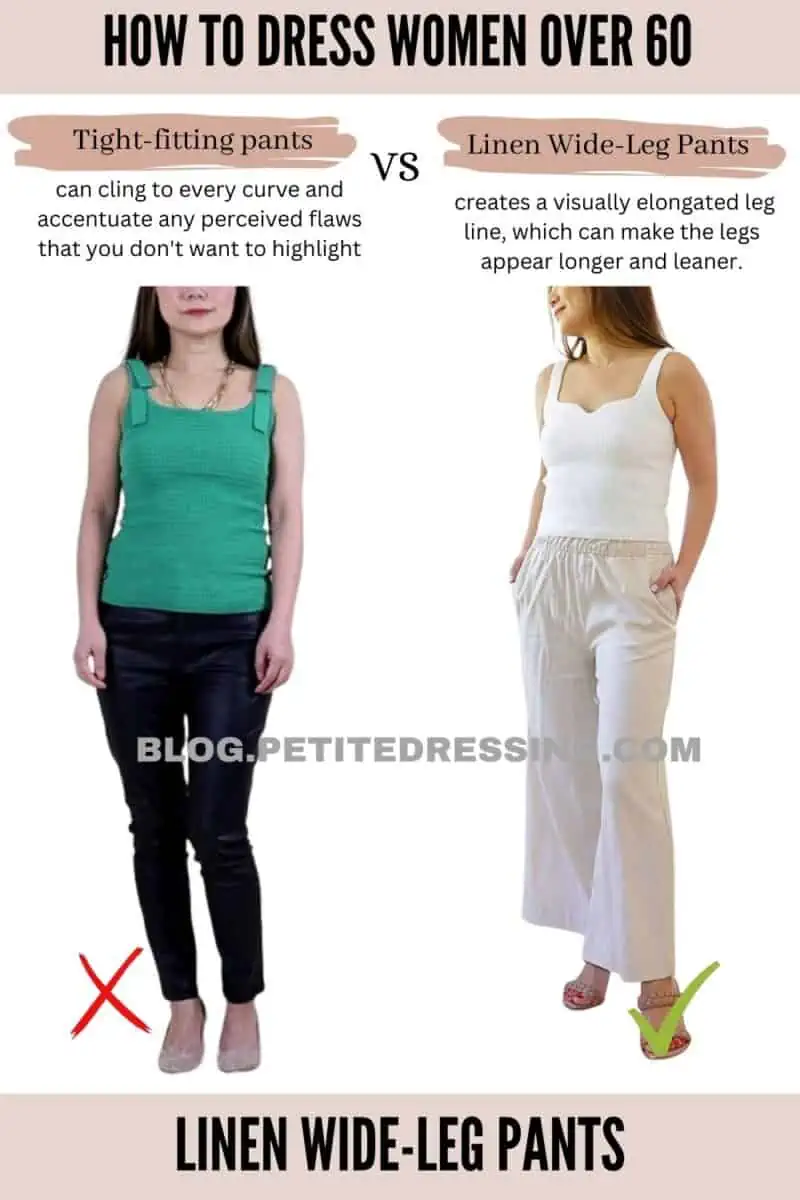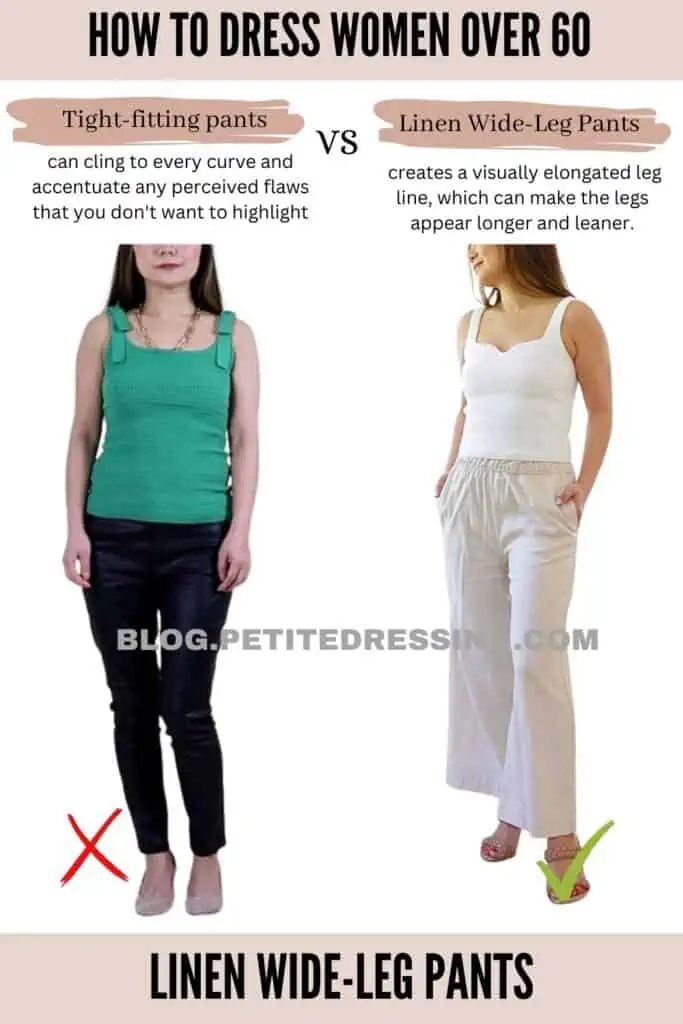 DRESSES
Geo Print Wrap Dresses
One dress style that is universally flattering and sophisticated is the wrap dress. With its timeless silhouette and elegant fit, the wrap dress is the perfect addition to any mature woman's wardrobe.
One of the main benefits of wrap dresses is that they can flatter the figure in a way that is both subtle and sophisticated. The wrap style of the dress creates a cinched waistline, which helps to accentuate the natural curves of the body while also creating a long and lean silhouette.
having them in geo prints would add more elegance and visual interest to your look. This visual style effect is especially helpful for mature women who may be dealing with changes in their body shape due to age.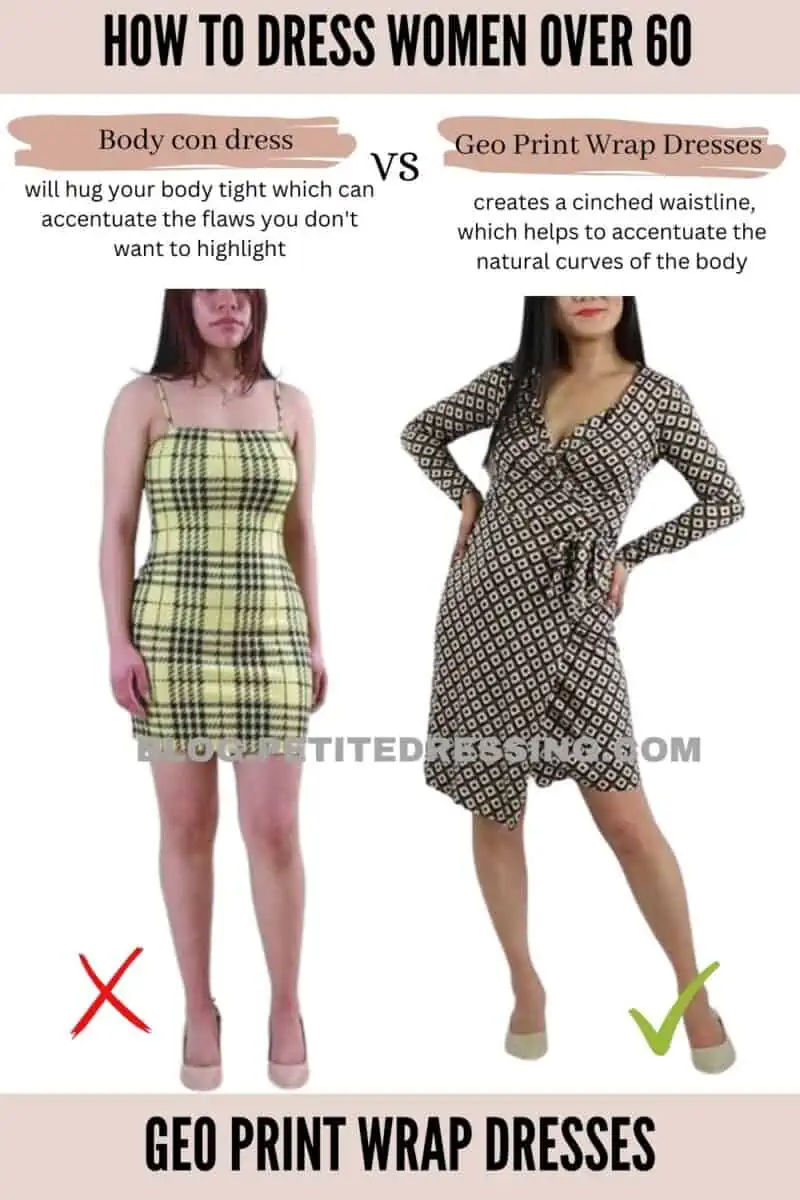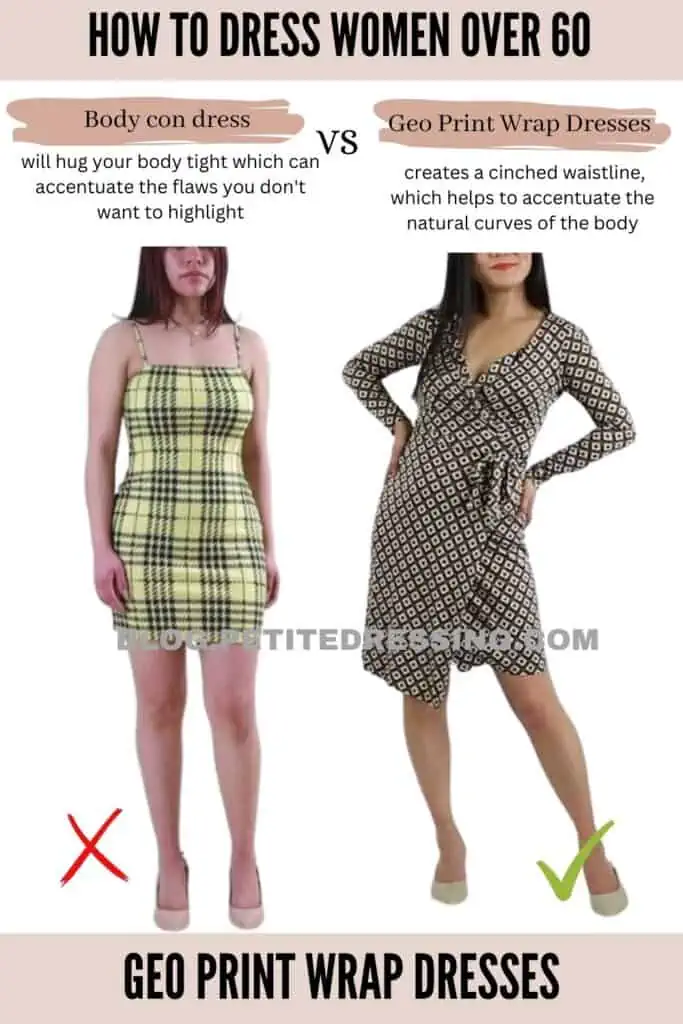 Embroidered Shift Dresses
A shift dress is a simple and classic dress style that typically features a straight cut with no waistline, allowing the dress to hang loosely from the shoulders. This dress style has been popular since the 1960s and remains a timeless wardrobe staple to this day.
Shift dresses are a great option for women over 60 because of the simple, clean lines they create which results in a sleek and modern silhouette that flatters a variety of body types. The lack of a waistline also means that the dress is not constricting, allowing for ease of movement and comfort throughout the day.
To add to that, a touch of embroidery on your shift dresses can be a great choice for mature women who want to showcase their personal style without feeling like they are trying too hard. The classic and understated design of the dress allows the wearer to experiment with different prints, colors, and accessories without feeling overdone.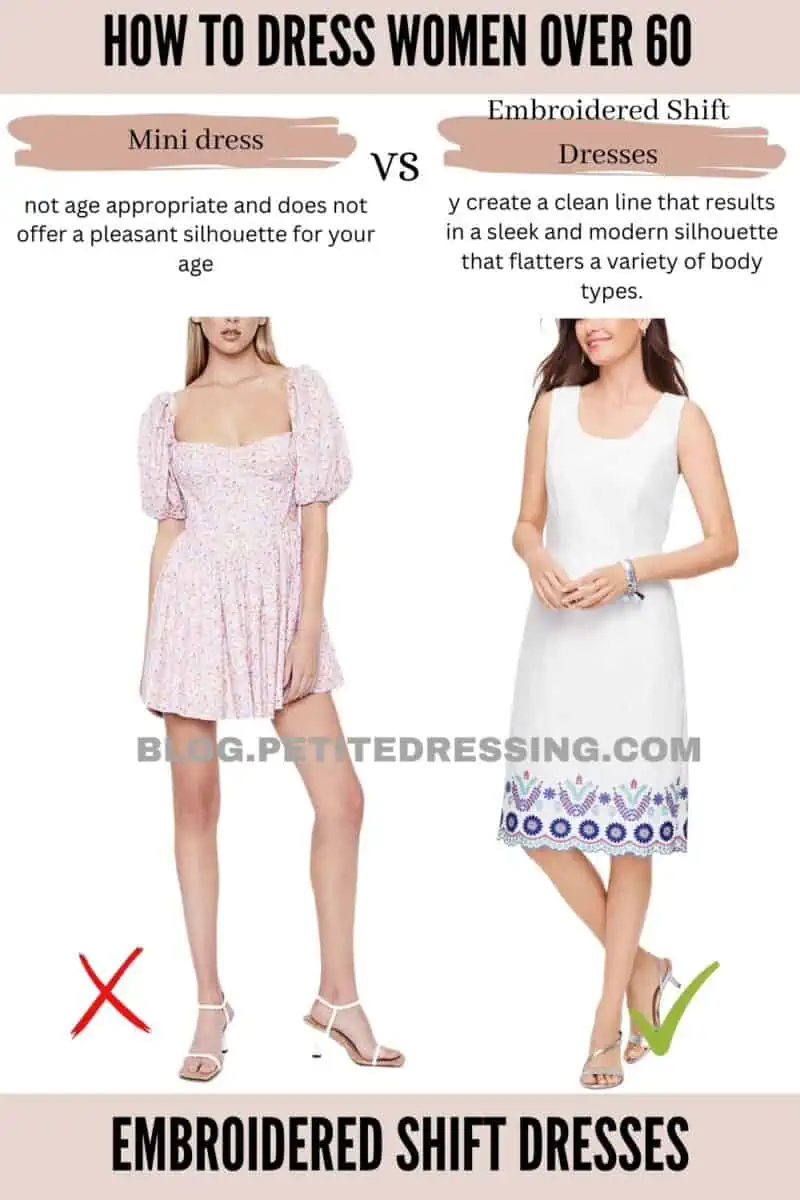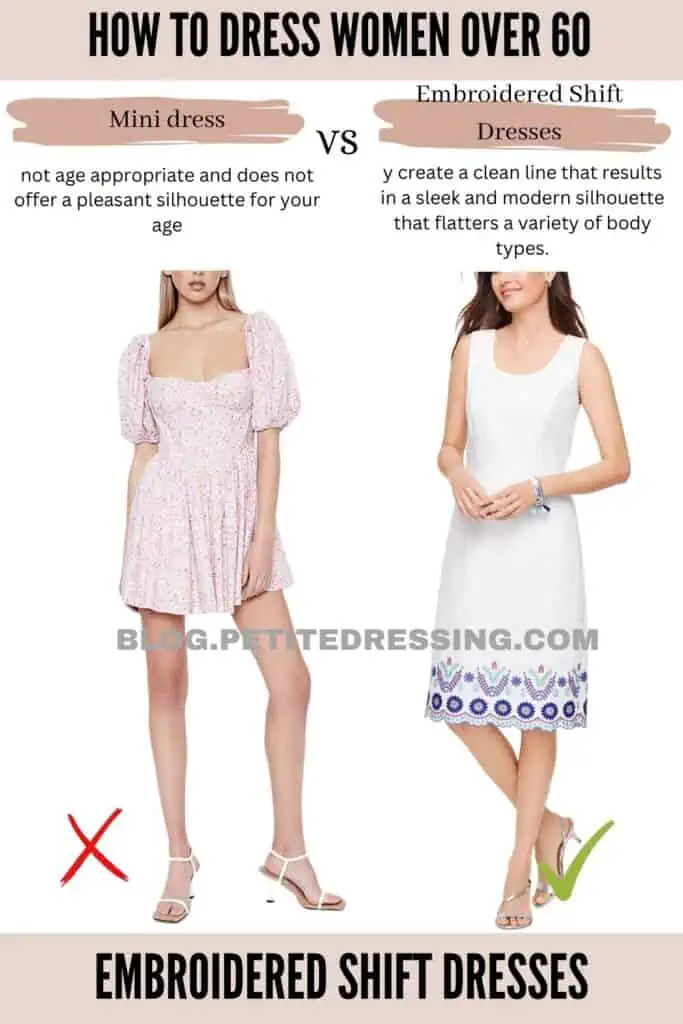 Three-Fourth Sleeve Midi Dresses
Three-fourth sleeve midi dresses are a fantastic option for women over 60 because they provide both coverage and style. There are several ways in which this elegant style of dress is visually flattering for mature women.
The three-fourth sleeve length of the dress provides coverage for the arms while still showing a little skin. This sleeve length can help to conceal any concerns you may have about your arms while still keeping the overall look of the dress light and airy.
In terms of length, midi dresses fall at or below the knee, which can help to elongate the body and create a slimming effect. This length is particularly flattering for mature women because it provides coverage without looking overly conservative, and it can help to balance out the proportions of the body.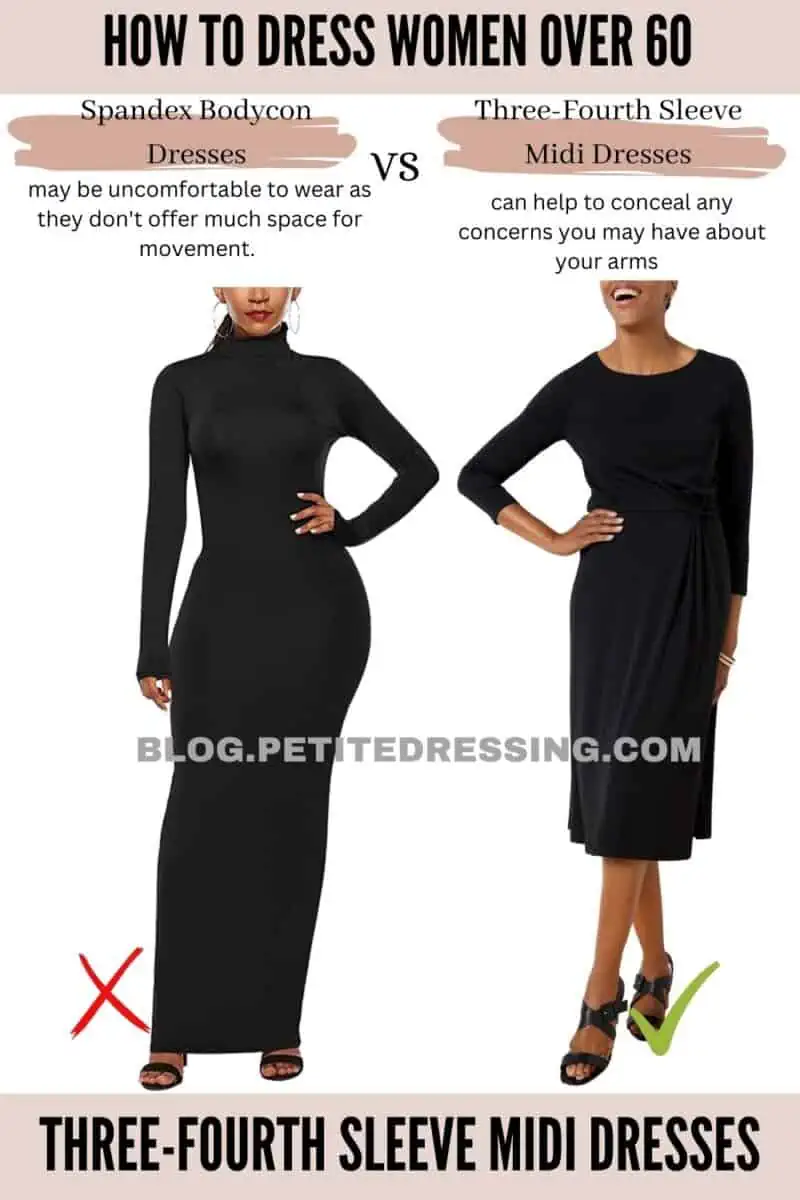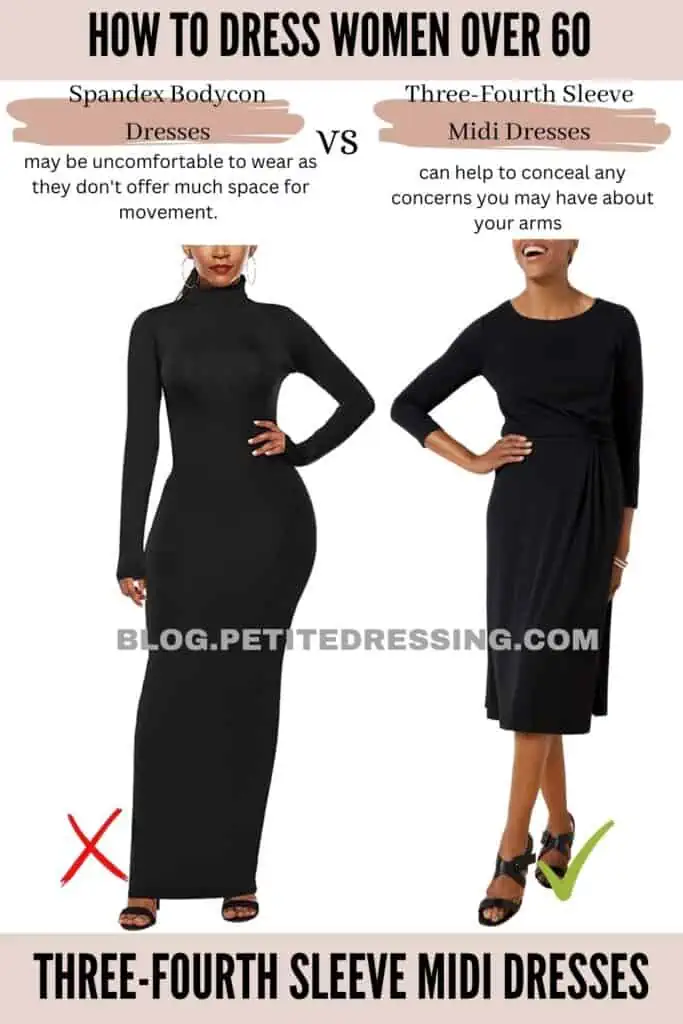 COATS/JACKETS
Classic Trench Coats
The reason why trench coats look so classy on women over 60 is because of their sophistication and elegance. A well-made trench coat can instantly elevate any outfit and give it a polished and put-together look.
The structured and tailored design of the coat creates a flattering silhouette that can enhance a mature woman's natural curves and create a more defined waistline. In addition to its flattering design, the trench coat is also a practical piece of outerwear that can protect you from the rain and cold breeze.
Its iconic details such as its double-breasted style, shoulder epaulets, and belt are great factors that add more depth to your overall look.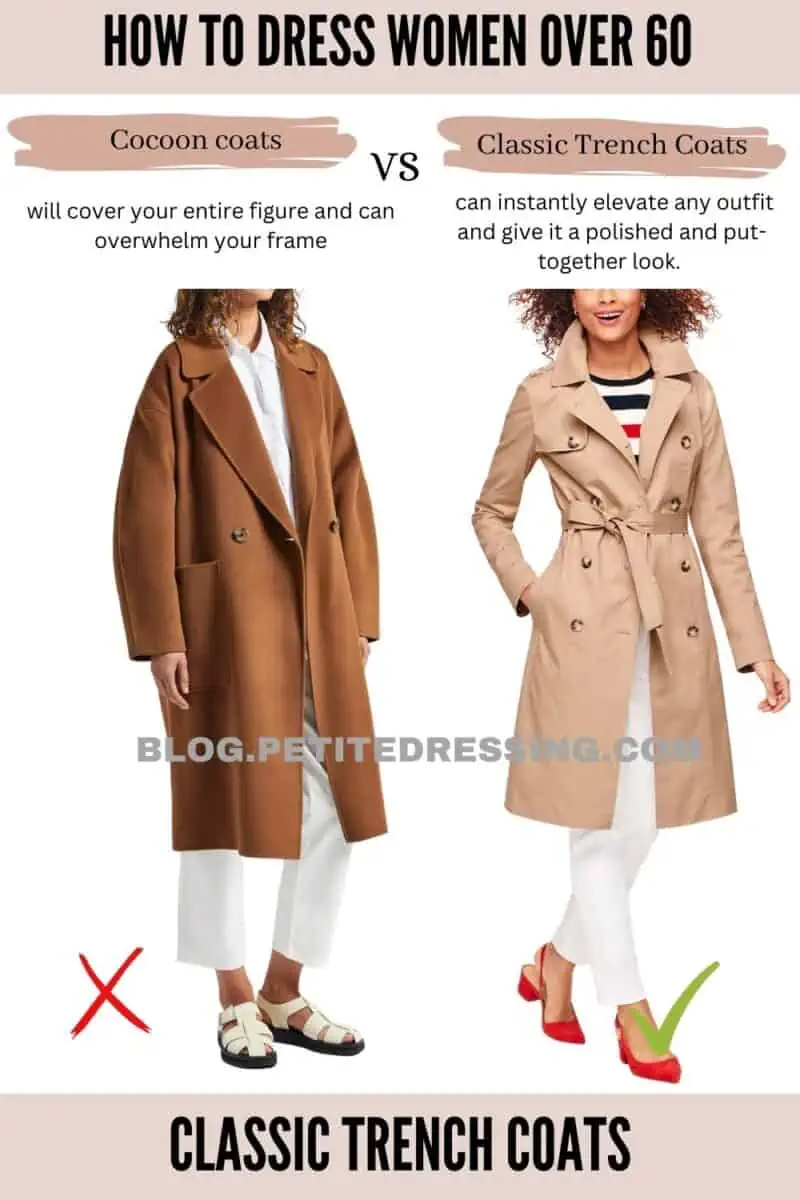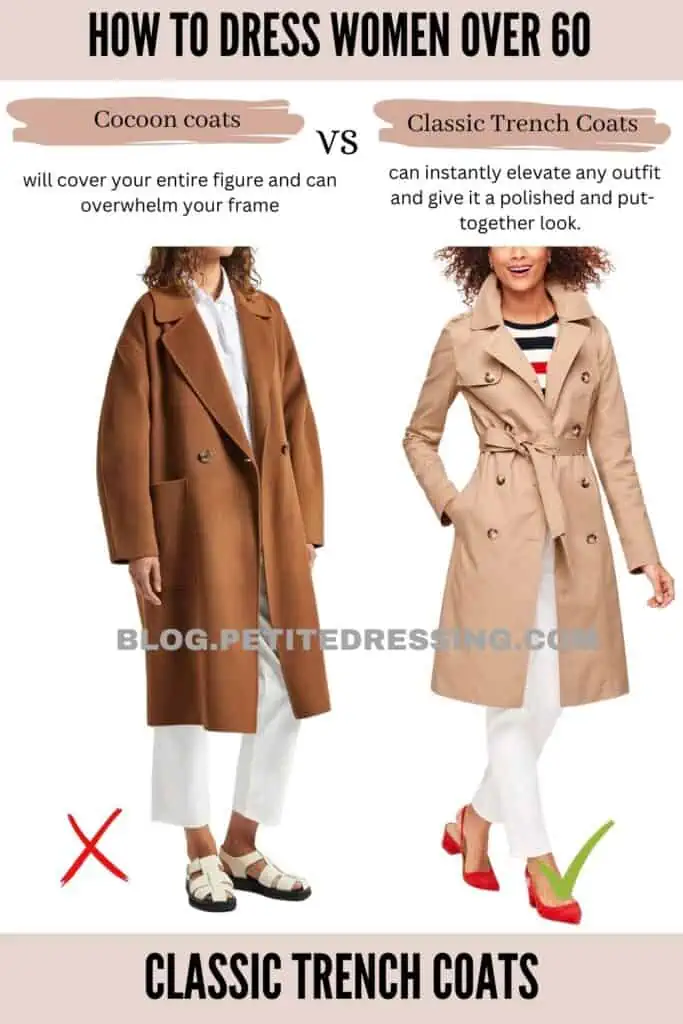 Tweed Jackets
Tweed jackets are very elegant pieces of outerwear that are made from woolen fabric that is woven in a tight twill pattern. They are also well-tailored and structured, which creates a flattering silhouette that can enhance your natural curves.
The texture and pattern of the tweed fabric give the jacket a classic and timeless look that never goes out of style. It is a perfect choice for more mature women who want to look chic and elegant without being too trendy.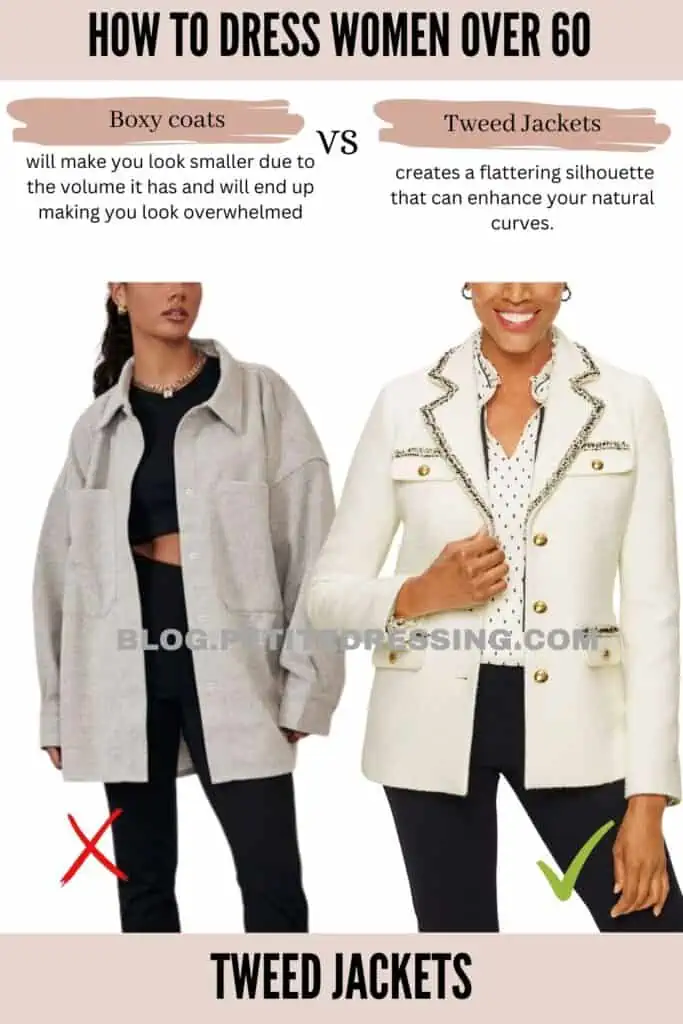 Belted Puffer Coats
Puffer coats are a practical and functional choice for women over 60 who usually prioritize comfort more than anything else. They are often lightweight and easy to wear, which can make them a more comfortable option than heavier wool coats or parkas.
Puffer coats are incredibly warm and cozy, making them the perfect choice for cold winter days. They are usually filled with efficient synthetic materials, which provide insulation and protection from harsh weather.
To add more definition to your chosen outerwear, opt for belted puffer jackets as they cinch the waist to enhance your shape. It also minimizes the volume of the puffer coat as it accentuates the narrowest part of your waist.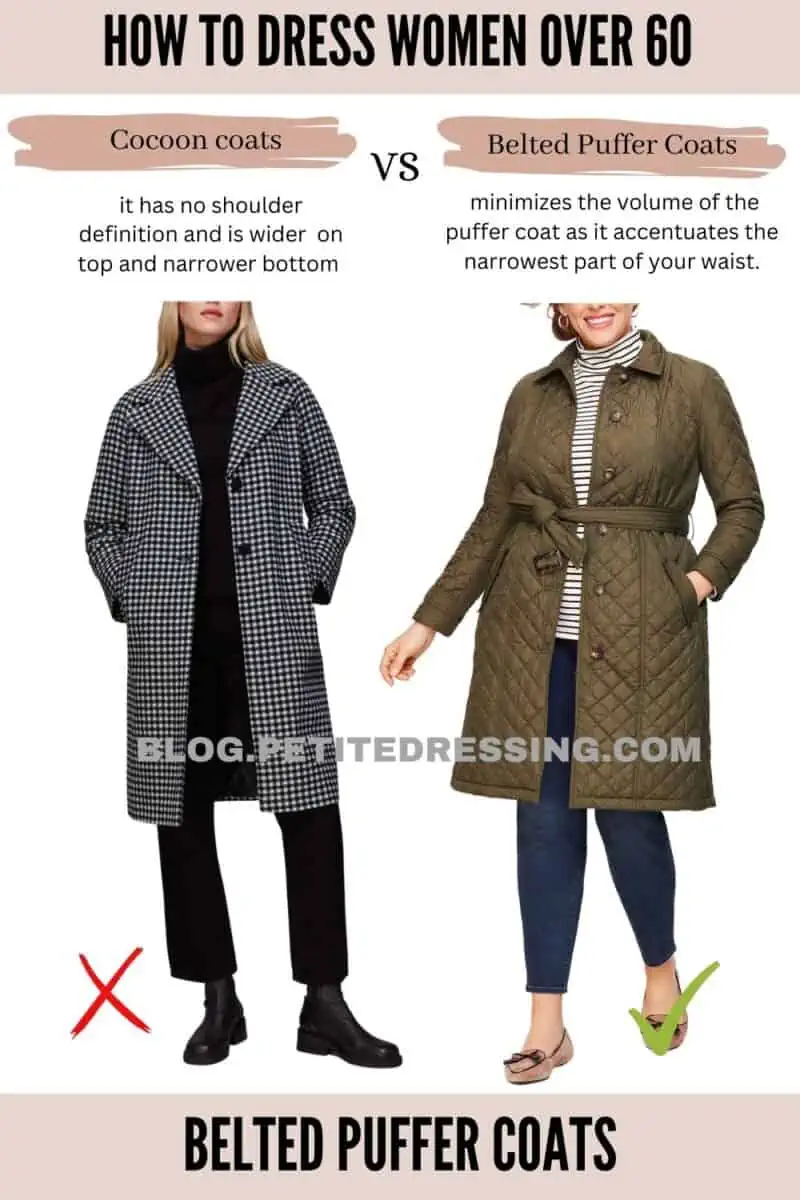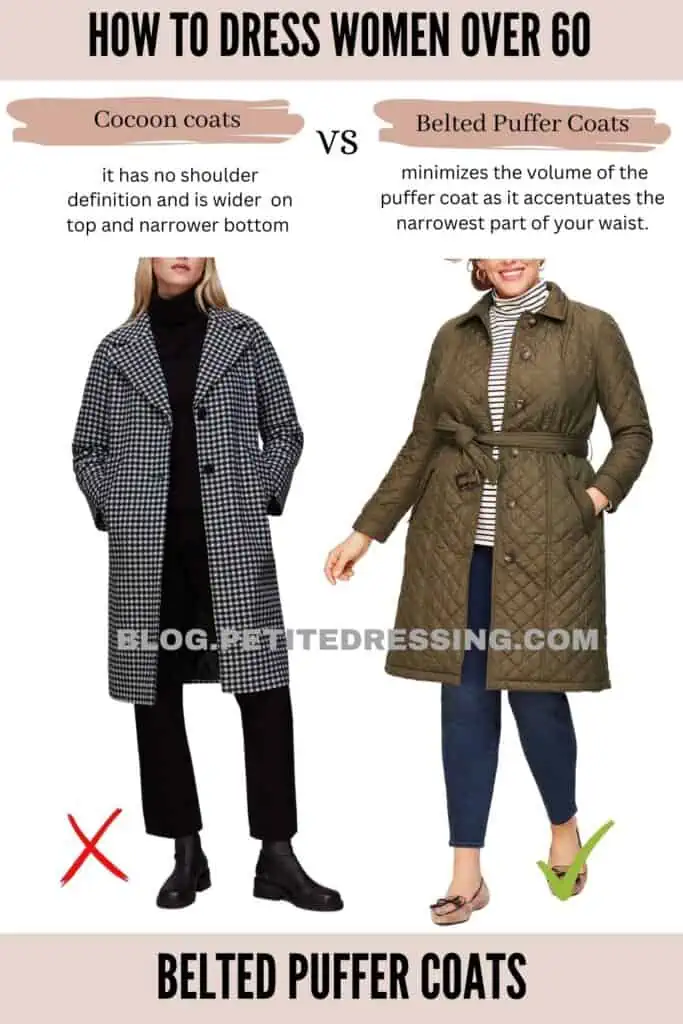 SKIRTS
Flared Midi-Skirt with Colorful Details
Midi-skirts are versatile and comfortable which is why they also make a great choice for women of all ages. The flared silhouette of the skirt can create a flattering silhouette for women over 60 by accentuating the waist and hips while offering ample coverage for the legs.
In addition to its flattering silhouette and length, the colorful details of the skirt can draw attention away from any areas that you may feel self-conscious about, such as the stomach or hips. These details can also add a pop of color to the outfit, making you look more vibrant and youthful.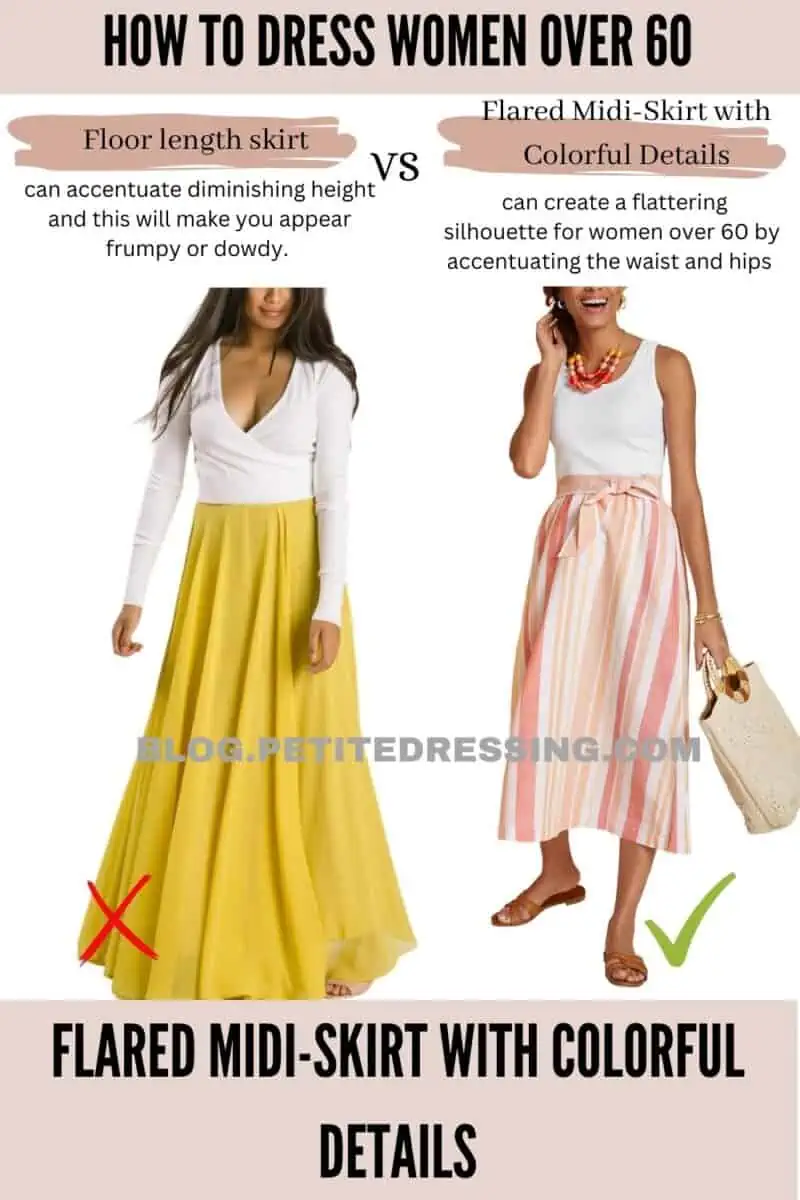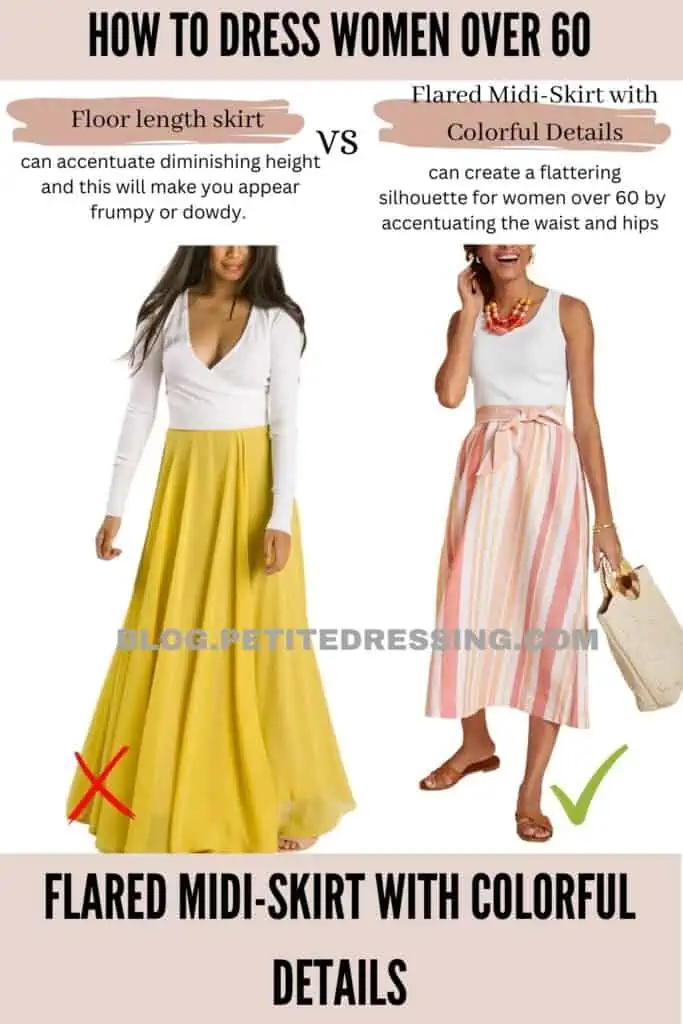 Dark-colored Pencil Skirts
As women age, our bodies go through a natural process of change and our proportions may shift. This is where pencil skirts with a darker hue can help create a slimming effect to visually balance the frame out.
The clean, straight lines of a pencil skirt can also help create a more streamlined look, making it a flattering choice for women over 60. Moreover, they are incredibly easy to style and mix and match as they can be paired with blouses, sweaters, or even t-shirts for a more casual look.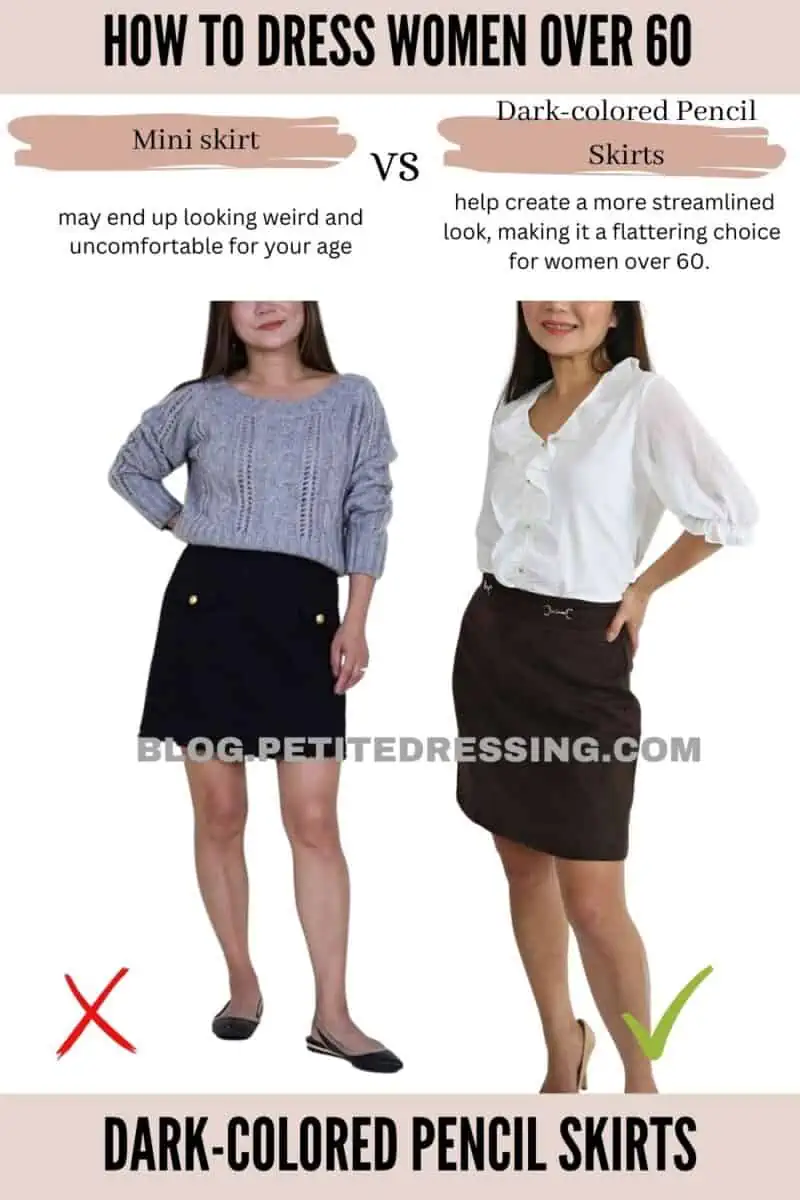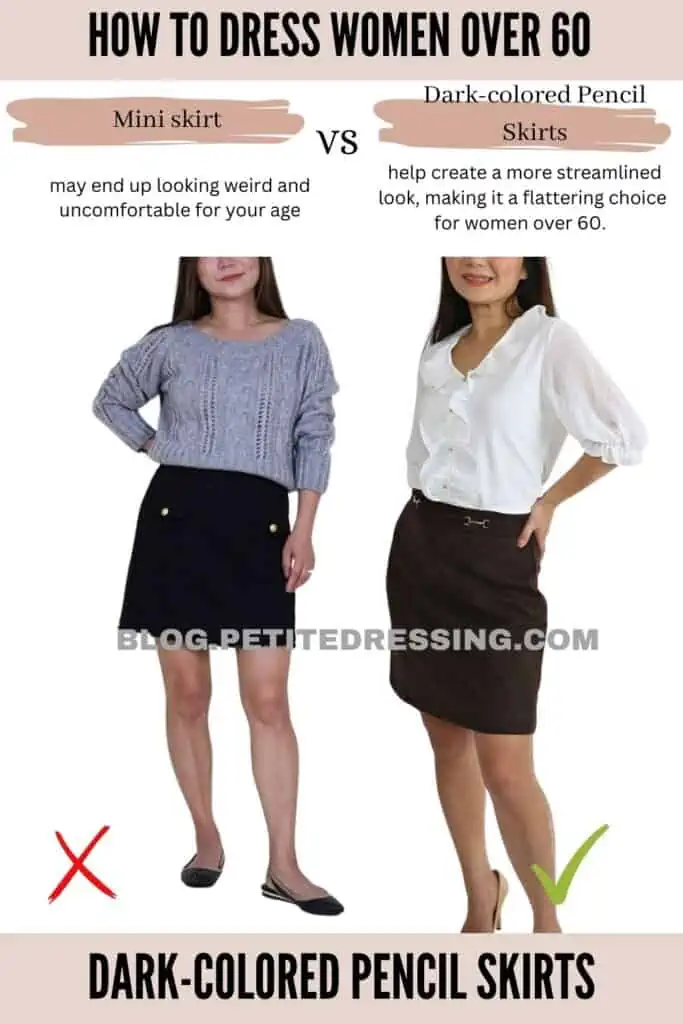 SHOES
Skin Tone Pumps
Skin tone pump shoes are a classic and timeless choice that never goes out of style. They are a great investment piece for any woman's wardrobe because they can be worn year-round and paired with a variety of outfits.
Also, the nude color of the shoe blends in with the skin tone, creating an uninterrupted line from the leg to the foot, making it a great choice for women over 60 who want to appear taller and slimmer.
Leather Loafers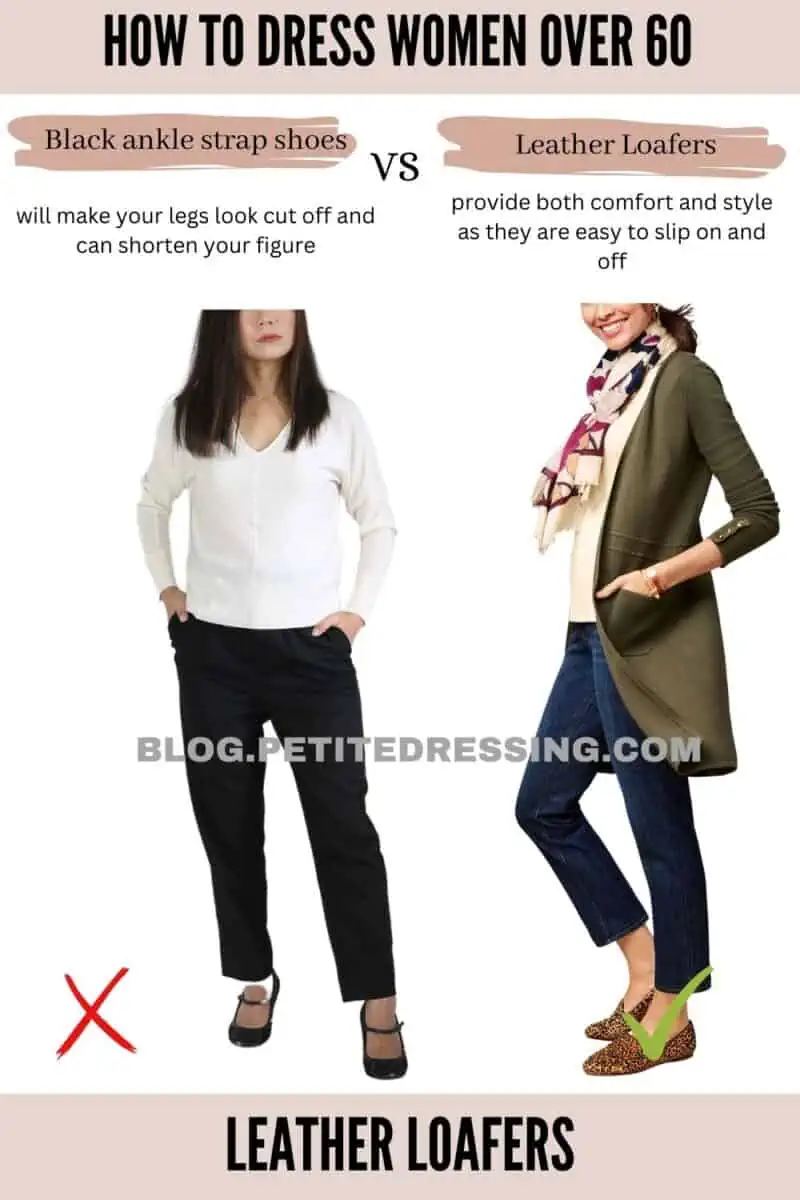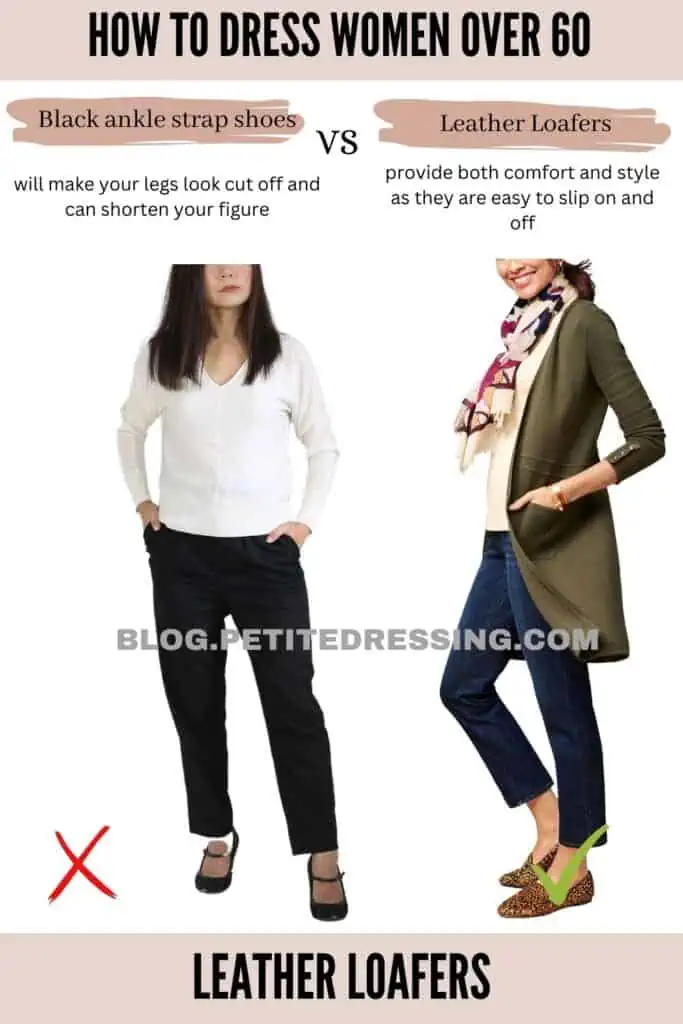 Leather loafers have long been a classic footwear choice for both men and women, and they are a particularly stylish and classy choice for women over 60. They are a great choice for both casual and formal occasions, making them a versatile investment piece for any woman's wardrobe.
Additionally, leather loafers are a comfortable and practical choice for mature women especially because comfort becomes increasingly important in your fashion choices. Leather loafers provide both comfort and style as they are easy to slip on and off, making them a convenient choice for busy women on the go.
Kitten Heels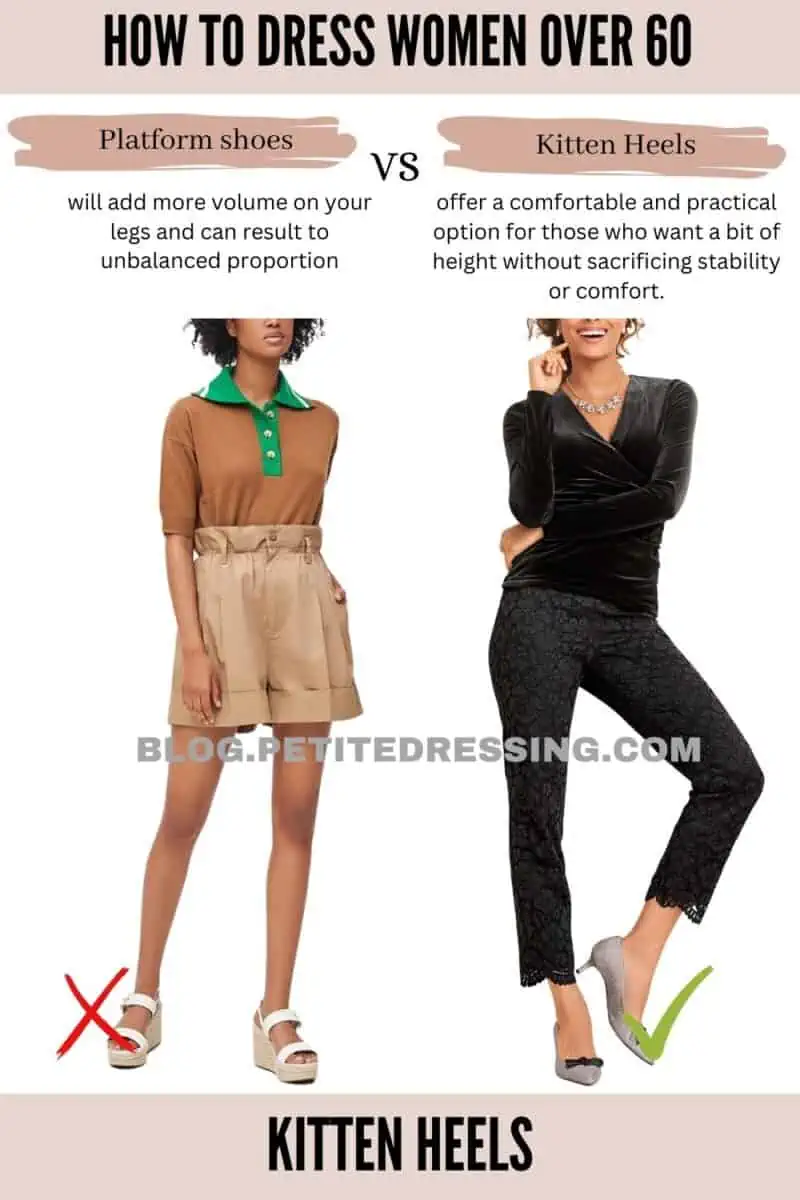 Kitten heels are low-heeled shoes with a heel height of usually 1.5 to 2 inches, making them shorter than traditional high heels. Because of this, they offer a comfortable and practical option for those who want a bit of height without sacrificing stability or comfort.
Unlike high heels, which can be difficult to walk in and put excessive strain on the feet, kitten heels provide a bit of lift while still allowing for ease of movement. They are great with any ensemble – from casual to formal ones!
The Key Takeaway
Never let your age hinder you from expanding your fashion options. As you can tell from this guide, there are tons of different clothing styles that you can still amazingly pull off at 60 and over!