If you are a pear shaped woman, the right skirts can make a big difference in how you look. As a pear, you carry weight in your bottom half, i.e. your hips and thighs, and your shoulders are narrow in comparison. That means you can use the right skirt style to balance out your figure.
Since I have a clothing line for petite women, I hear feedback from thousands of my petite customers on a daily basis. Being petite and having the pear shaped body means you want to be even more selective with your skirts!
I've put together this guide to help you find the most flattering skirt for your shirt, based the feedback from my customers as well as my first hand experinces.
Styling Goal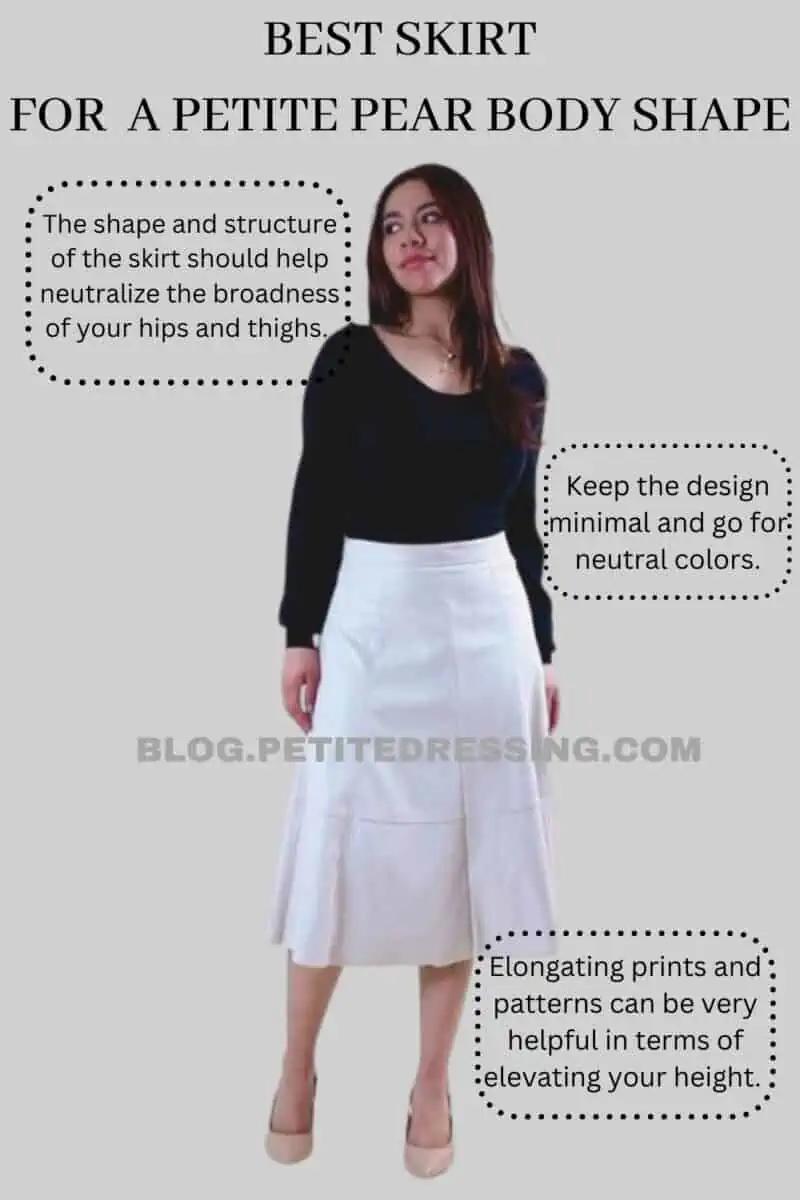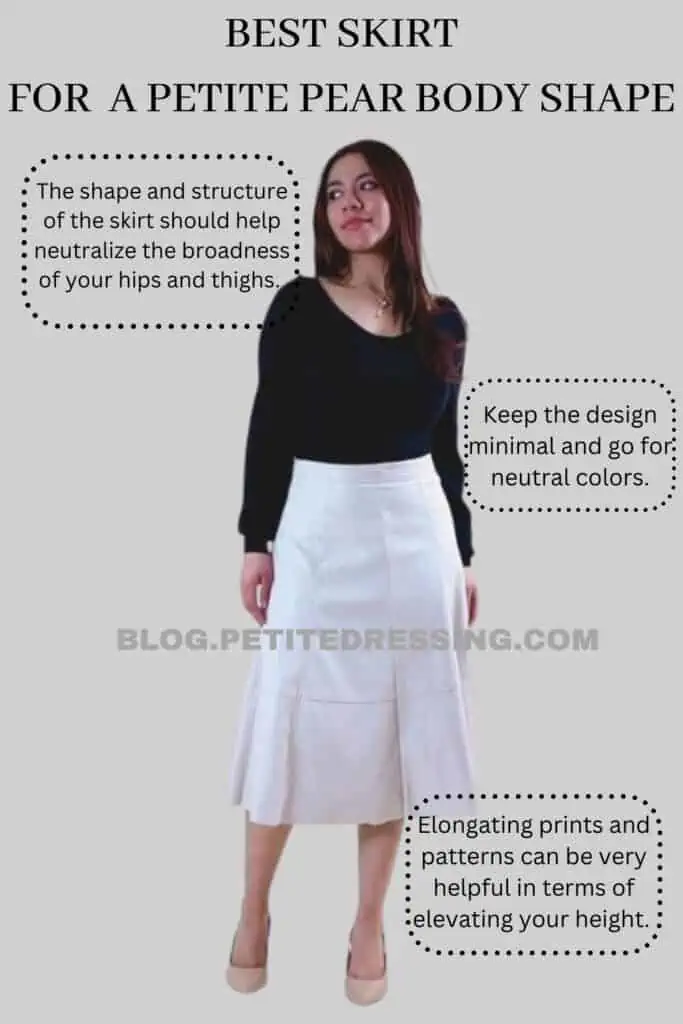 The shape and structure of the skirt should help neutralize the broadness of your hips and thighs. Find ones that can accommodate your wide hips and thick thighs without clinging too tightly.
Elongating prints and patterns can be very helpful in terms of elevating your height. Vertical stripes, pleats, and streamlined seams are some samples of patterns that can give you a taller and leaner frame.
Keep the design minimal and go for neutral colors. Since your area of concern is your lower body, you wouldn't want it to get too much attention, so try to go for simpler designs and avoid heavy or bulky flounces of fabrics.
Choose the right length for your skirt. The goal should be about giving you the illusion of height and not overwhelming your petite stature.
These four styling goals are the key characteristics that you should look for when shopping for skirts. To narrow your choices even further, here are the specific styles of skirts that would flatter your petite pear-shaped body.
A-Line Skirts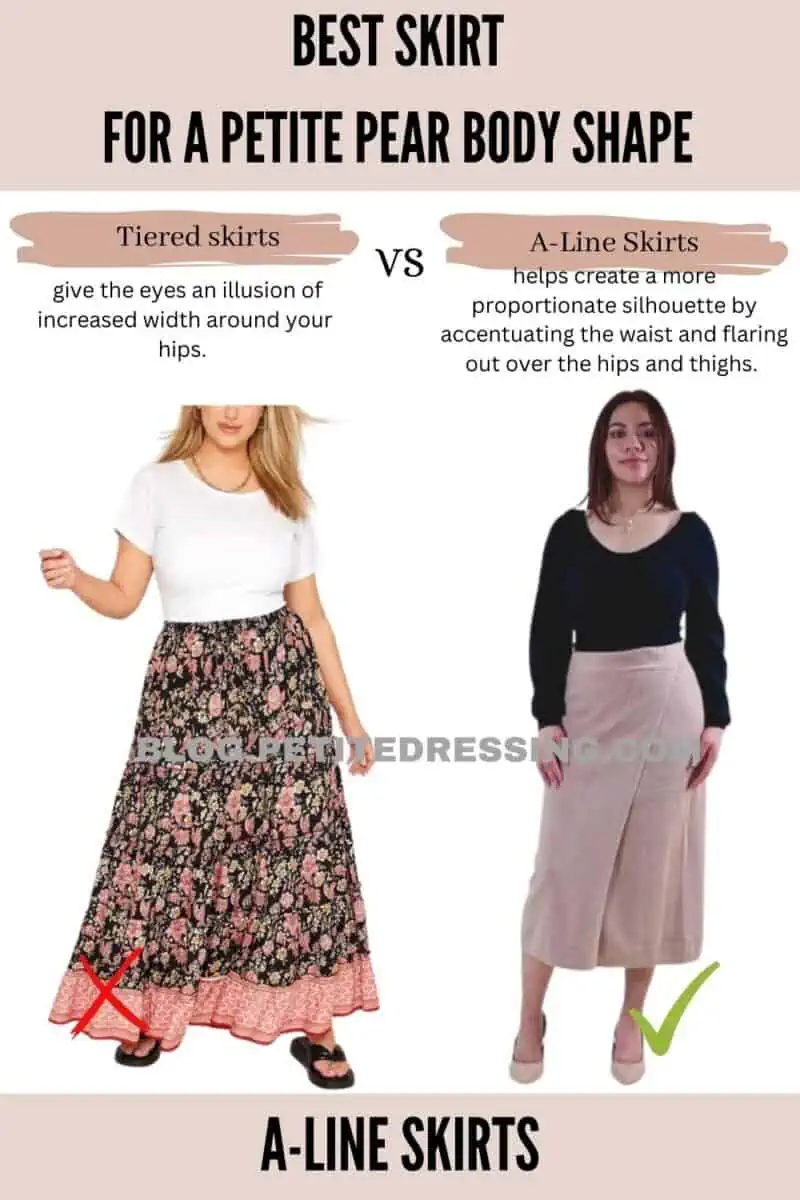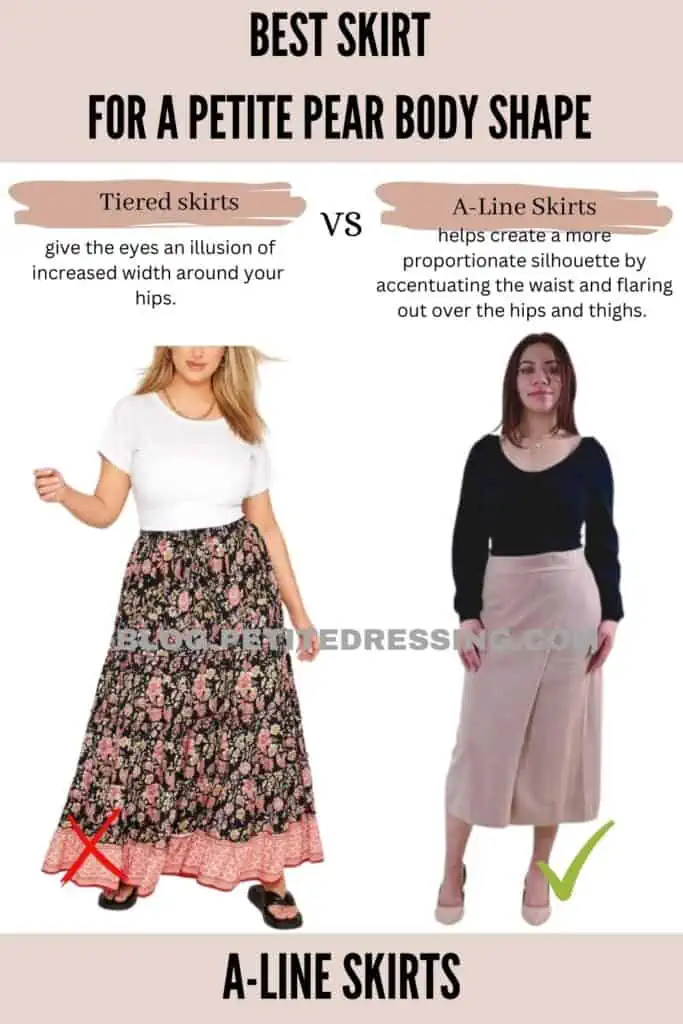 We're starting with the most classic silhouette on the list, which also happens to be universally flattering for most body types – including petite pear shapes of course. A-line skirts are ideal for balancing out the proportions of a pear-shaped body because the cut of the skirt helps create a more proportionate silhouette by accentuating the waist and flaring out over the hips and thighs.
This skirt flares out gradually from the waist for a visually elongating effect on the body. This gives your petite frame the illusion of height, as it gives the appearance of longer legs.
Additionally, the flowy nature of the skirt provides a comfortable and flattering fit for those with a pear-shaped body type. Since the fabric is flowy enough to give some movement, it also tricks the eyes to see a much longer and leaner frame.
Asymmetrical Skirt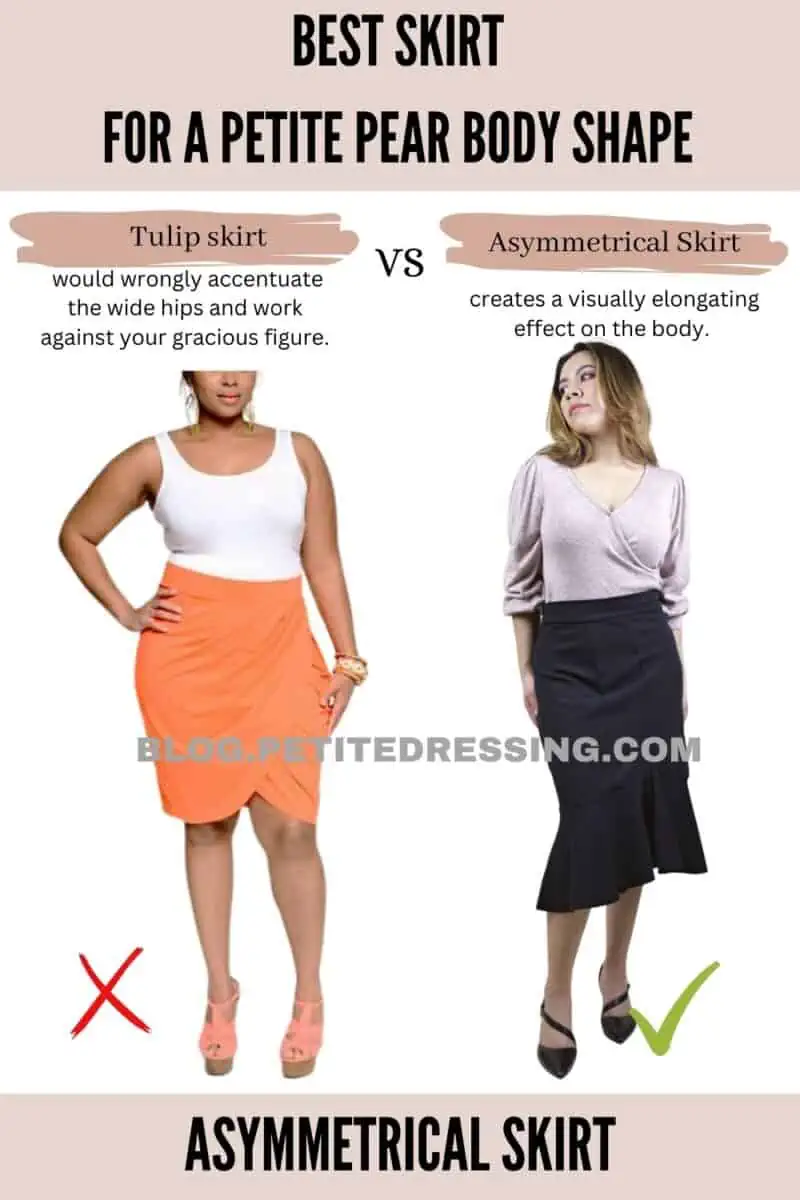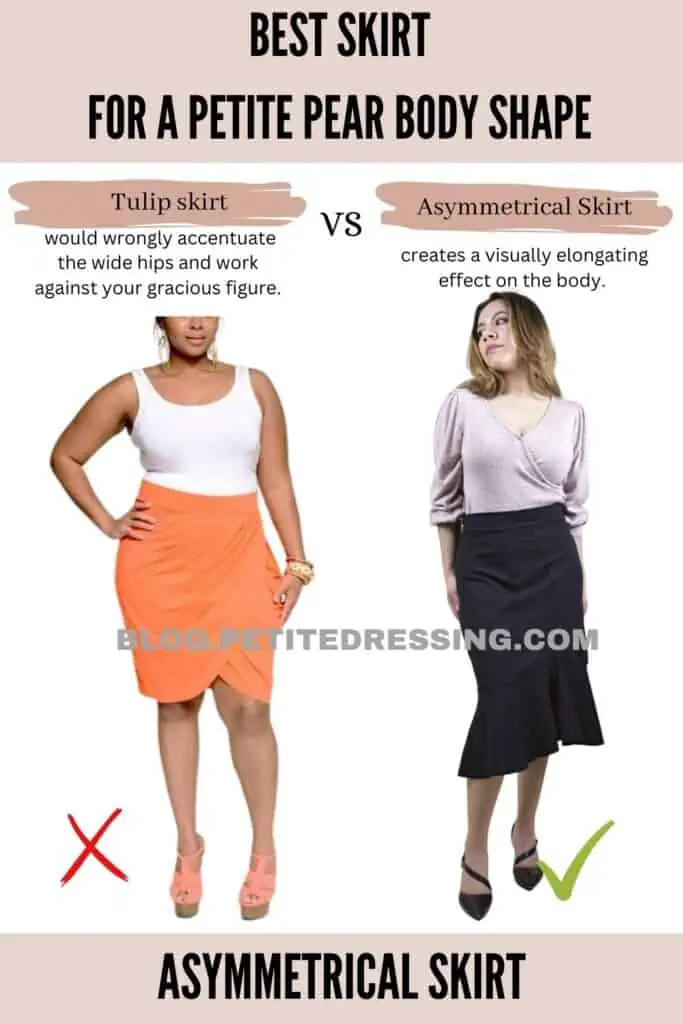 One of the great things about asymmetrical skirts is that they help to disguise the voluminous part of your figure while still highlighting your body frame. It's very flattering for petite frames as well as the skirt is designed to be shorter on one side and longer on the other, which creates a visually elongating effect on the body.
Not only do asymmetrical skirts flatter the pear-shaped figure, but they are also incredibly versatile. Some come in sleek, plain designs while others feature a more trendy vibe that is both fun to style with any formal or casual outfit.
Dark-colored Skirt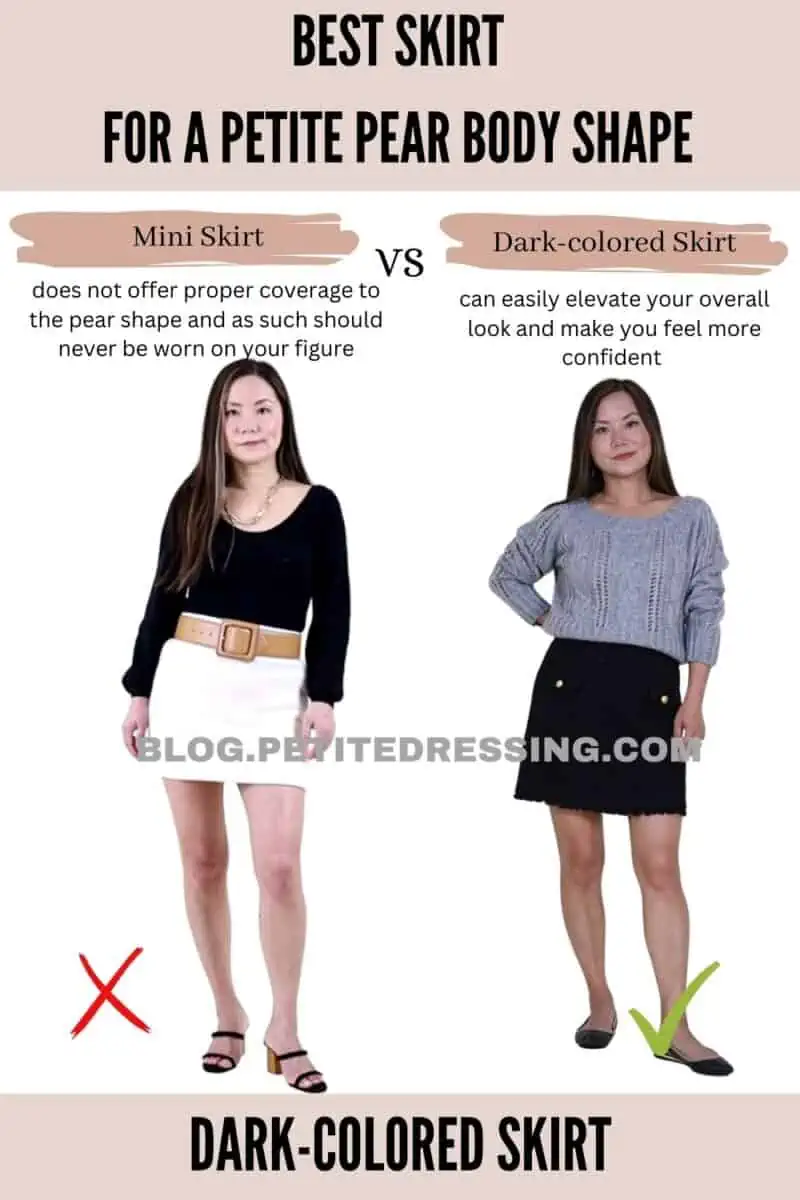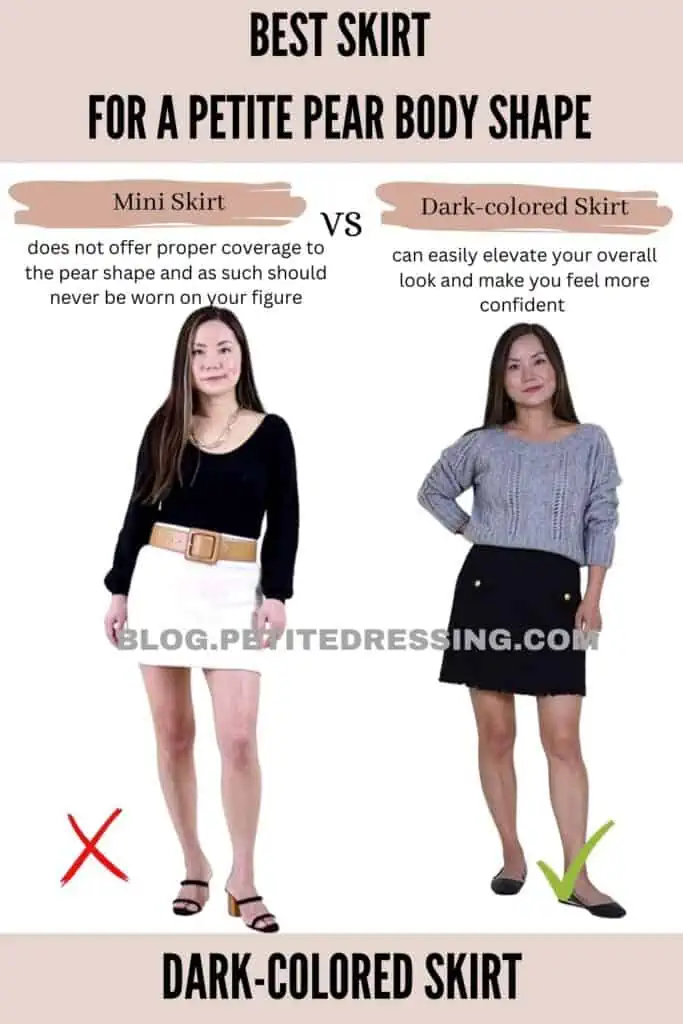 Dark-colored skirts are often considered to be the most flattering choice for petite pear-shaped women because of the fact that dark colors are generally slimming. When worn on the lower half of the body, a dark-colored skirt can help to visually streamline the hips and thighs.
This also gives the illusion of a longer and leaner silhouette. In addition to their visually flattering benefits, dark-colored skirts can easily elevate your overall look and make you feel more confident and put-together because these colors are very easy to work with.
Flowy fabric skirts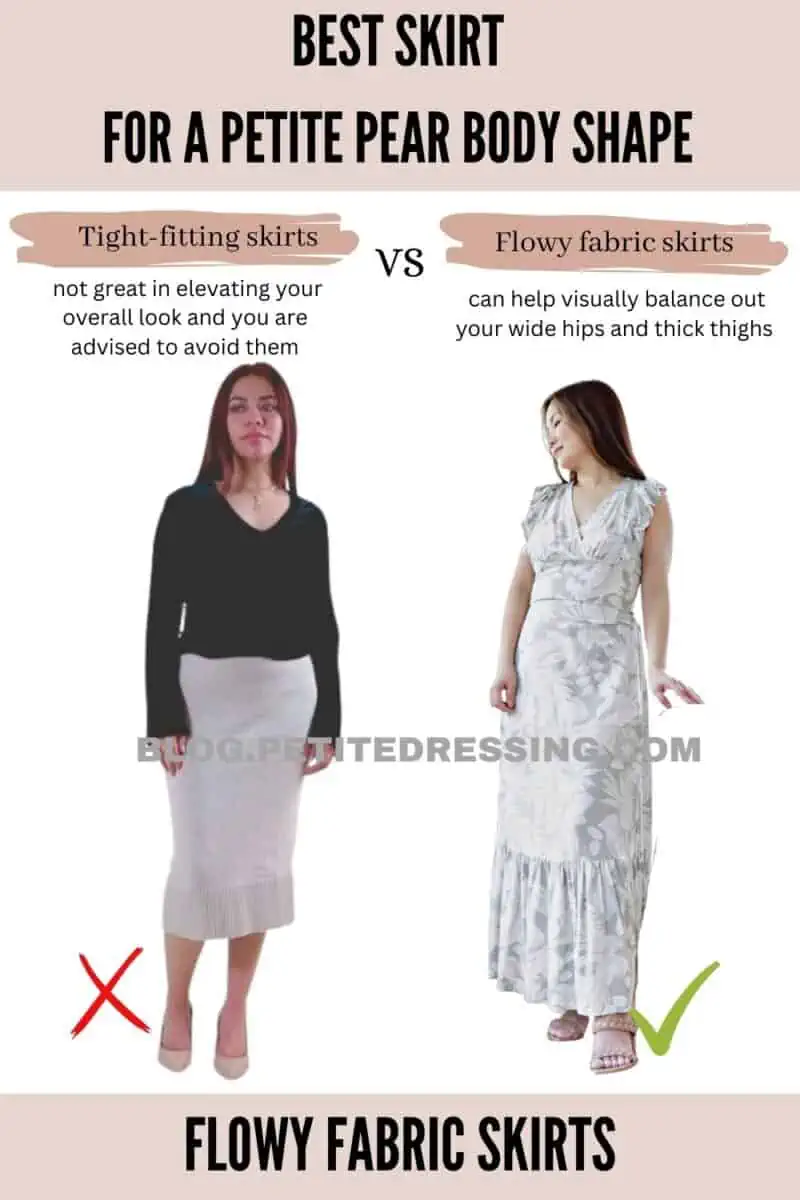 Whether you prefer a floaty chiffon or a soft and breezy cotton, these flowy fabrics have a sense of movement and grace that creates a more feminine silhouette. This sense of movement also creates an optical illusion that allows a vertical straight line to remain unbroken and therefore give you a more balanced frame.
A flowy skirt can help visually balance out your wide hips and thick thighs which are both more prominent in comparison to your upper body. Its structure can create a more streamlined silhouette which is especially beneficial for women who want to create the illusion of longer and leaner legs.
When it comes to choosing a flowy skirt, there are a few things to keep in mind. Look for a skirt that is tailored to fit your body shape. Additionally, you also have to pay attention to the length of the skirt by going for the ones that hit just above the knee or at mid-calf as it is generally the most flattering choice for petite women.
Classic Wrap Skirt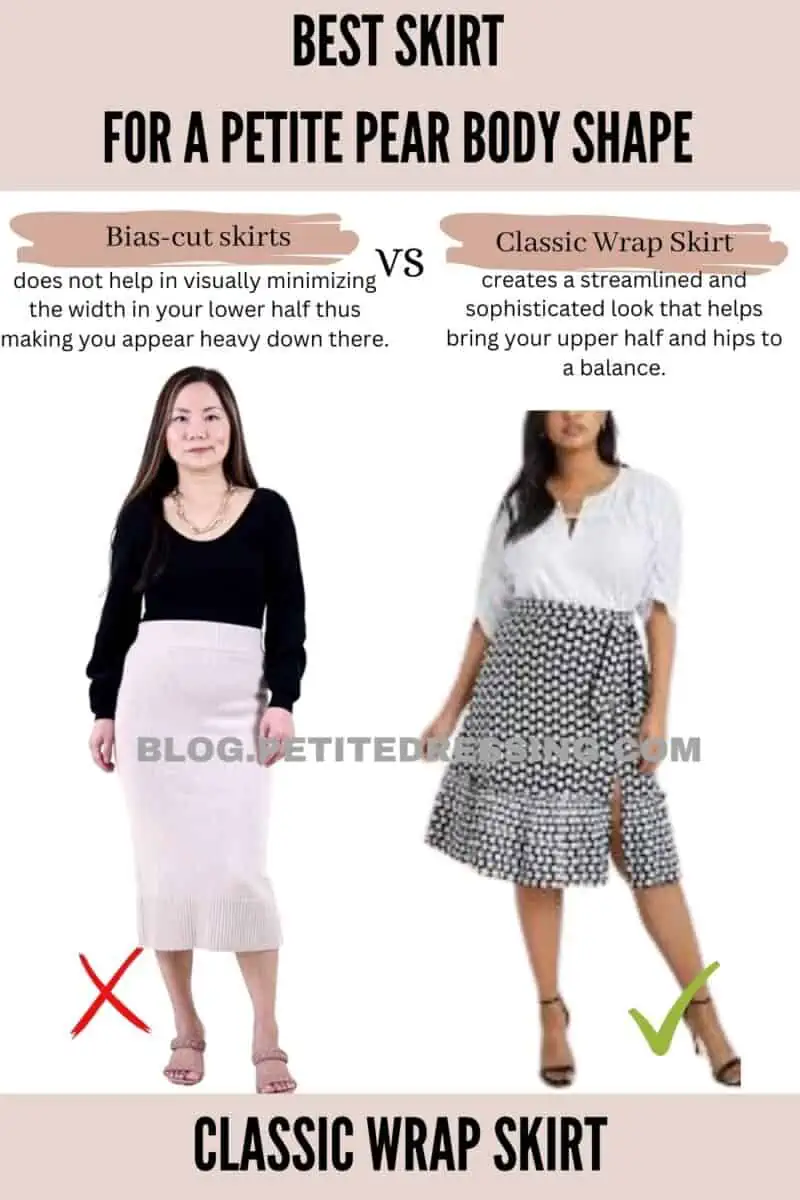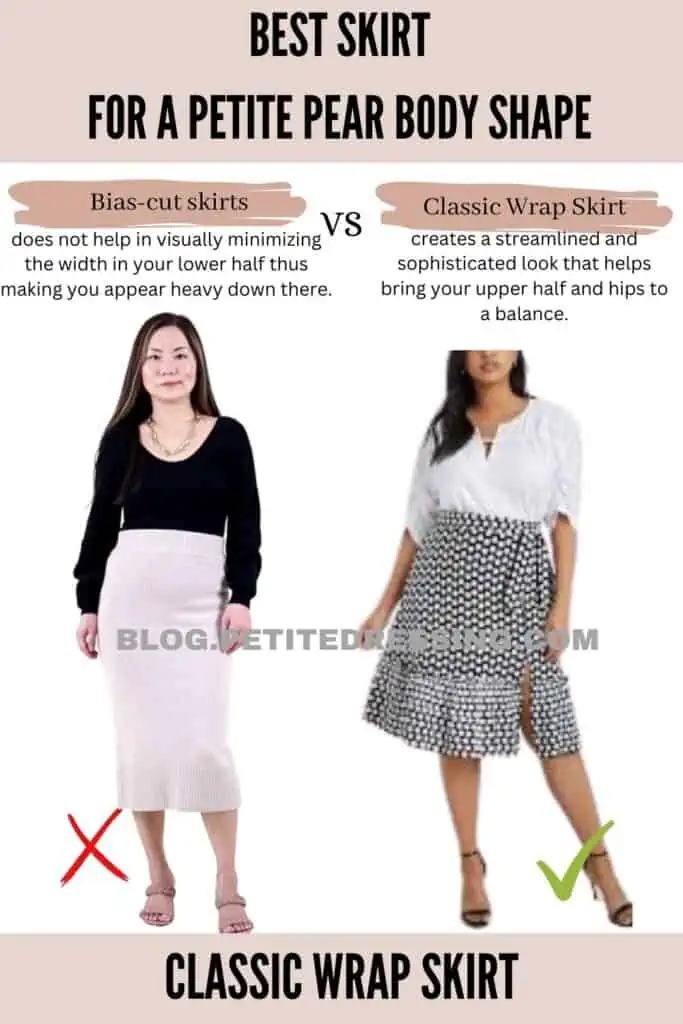 When it comes to flattering fashion choices for petite pear-shaped women, wrap skirts are an absolute game-changer. Not only do they look elegant and stylish, but they also have a unique effect on the lower frame that doesn't interfere with body balance.
The beauty of the wrap skirt design is that it creates a perfect waist definition for petite pear-shaped women, while also eliminating any horizontal lines that may interrupt the flow of the body frame. This creates a streamlined and sophisticated look that helps bring your upper half and hips to a balance.
Another good thing about wrap skirts is their adjustable waist tie that provides a nice cinch on your waist. If you're looking to stay on-trend and make a bold statement with your fashion choices, then a wrap skirt is an essential addition to your wardrobe.
Neutral-toned Midi Skirt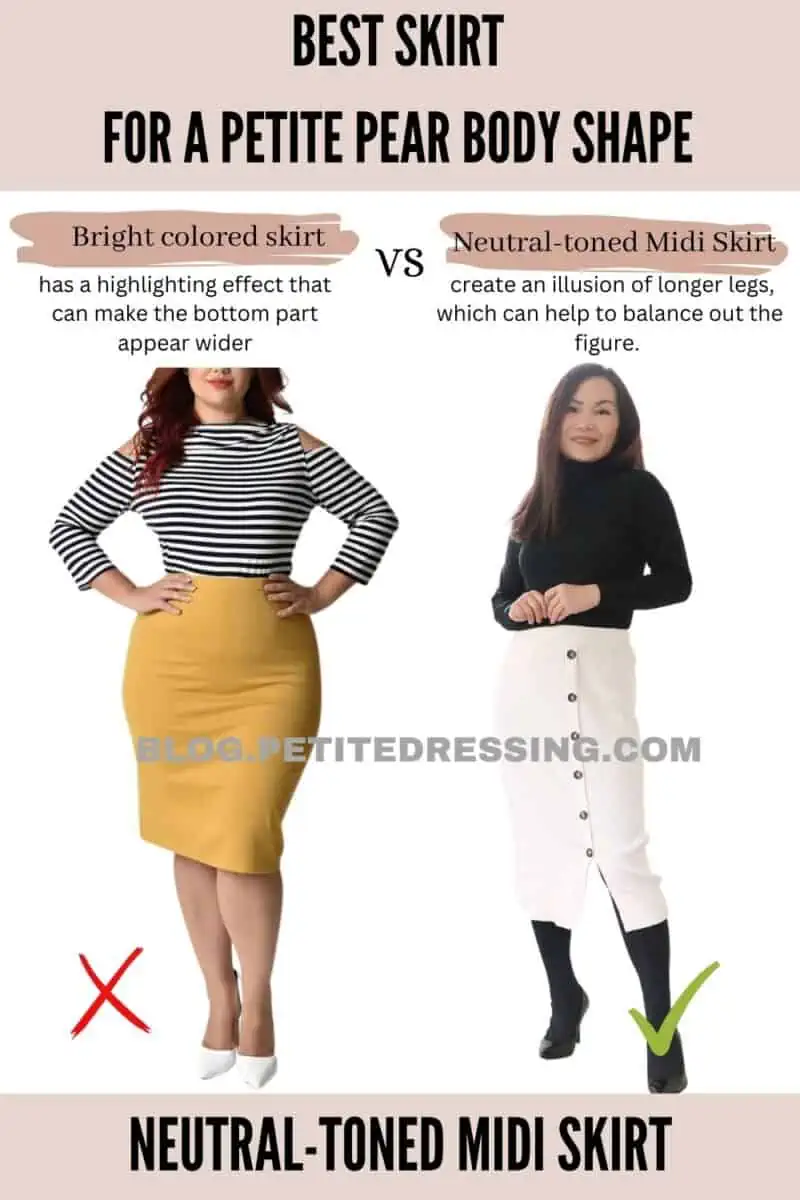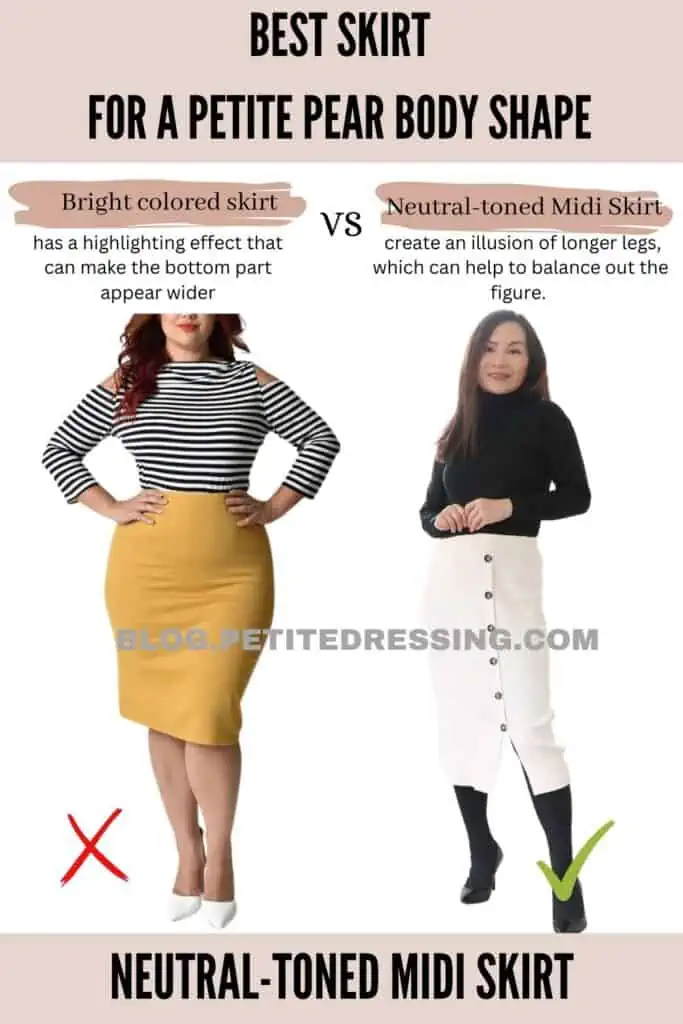 A midi skirt is a type of skirt that falls midway between the knee and ankle. It typically has a length that ranges from just below the knee to mid-calf which is pretty much the most ideal length for petite women.
One of the main reasons why midi skirts in neutral colors are great for petite pear shapes is that the effect of these colors can visually elongate the body. Since these skirts hit at mid-calf, they create an illusion of longer legs, which can help to balance out the figure.
Neutral colors like black, beige, or grey are also incredibly versatile and can be paired with a variety of tops and shoes to create a cohesive and stylish look. Another benefit of neutral-toned midi skirts is that they create a clean and streamlined silhouette.
Neutral colors also have a slimming effect, making them a great choice for anyone looking to create a more toned and lean appearance.
Pleated Satin Skirts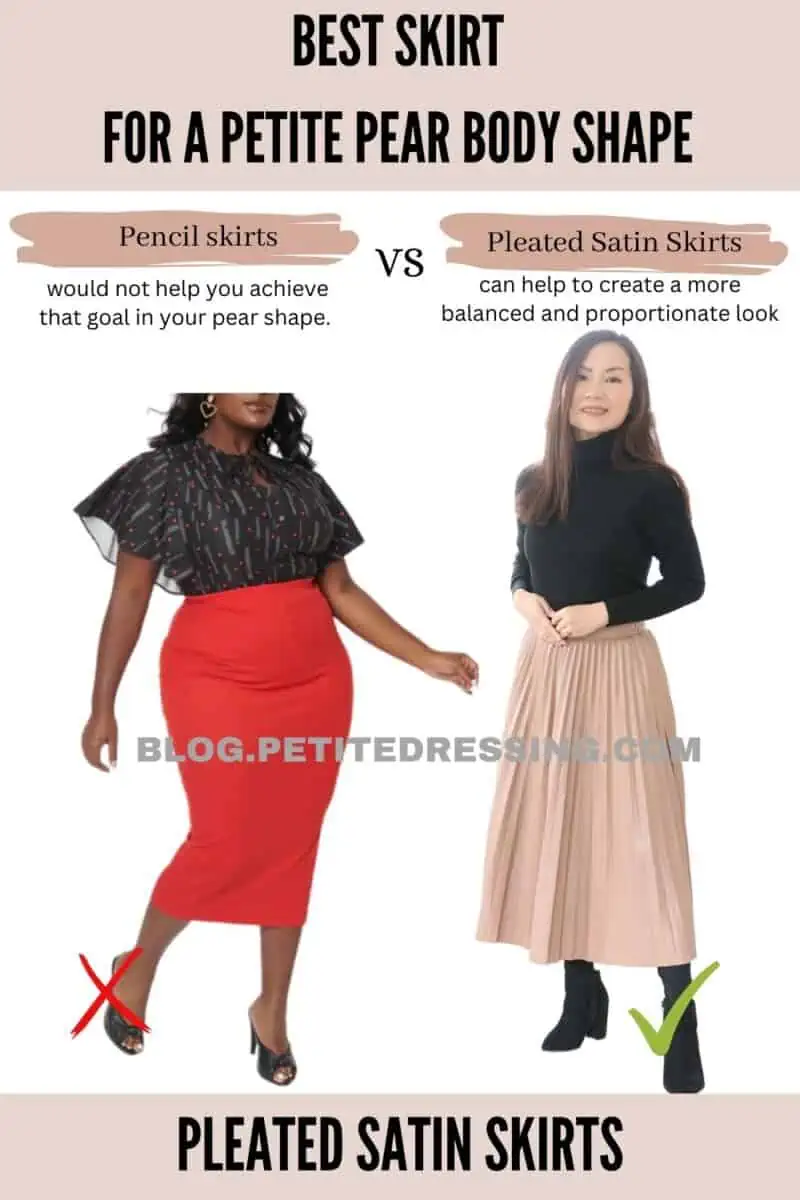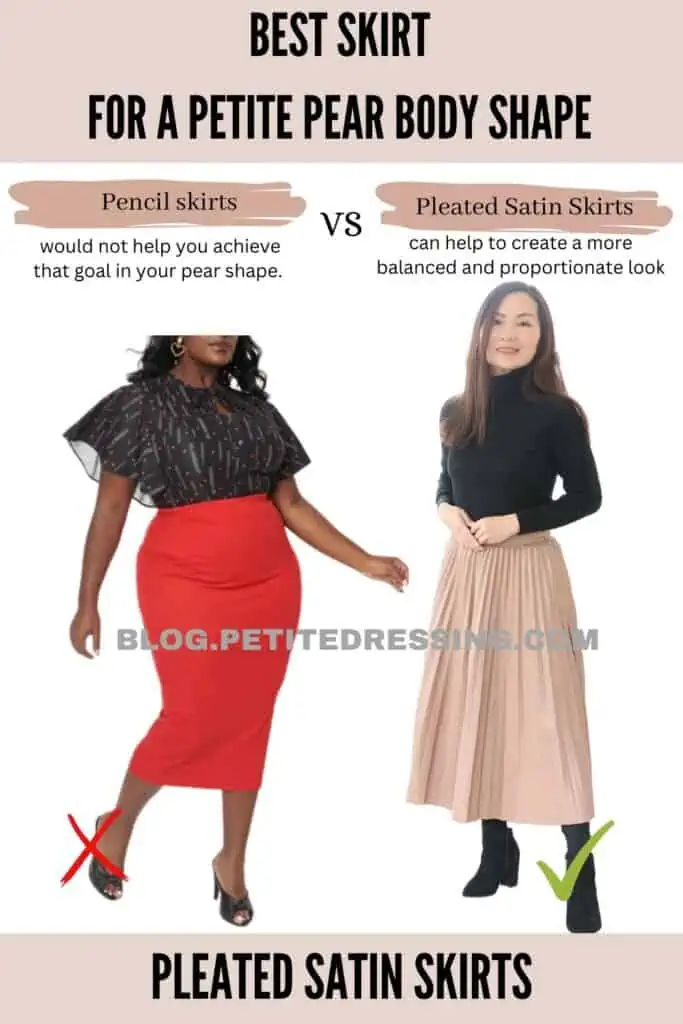 Pleated skirts are great for balancing a petite pear-shaped woman's wide hips and thighs while also giving the appearance of a taller frame. Since pleated skirts typically have vertical lines running down the length of the skirt, they can help to create a more elongated and streamlined look.
Pear-shaped women tend to carry more weight in their lower body and so a pleated skirt can help to create a more balanced and proportionate look by toning the broadness of the bottom half down. This can be more efficiently achieved by pairing the skirt with a fitted top or blouse that accentuates the waist and adds volume to the shoulders.
Avoid Heavy Flounces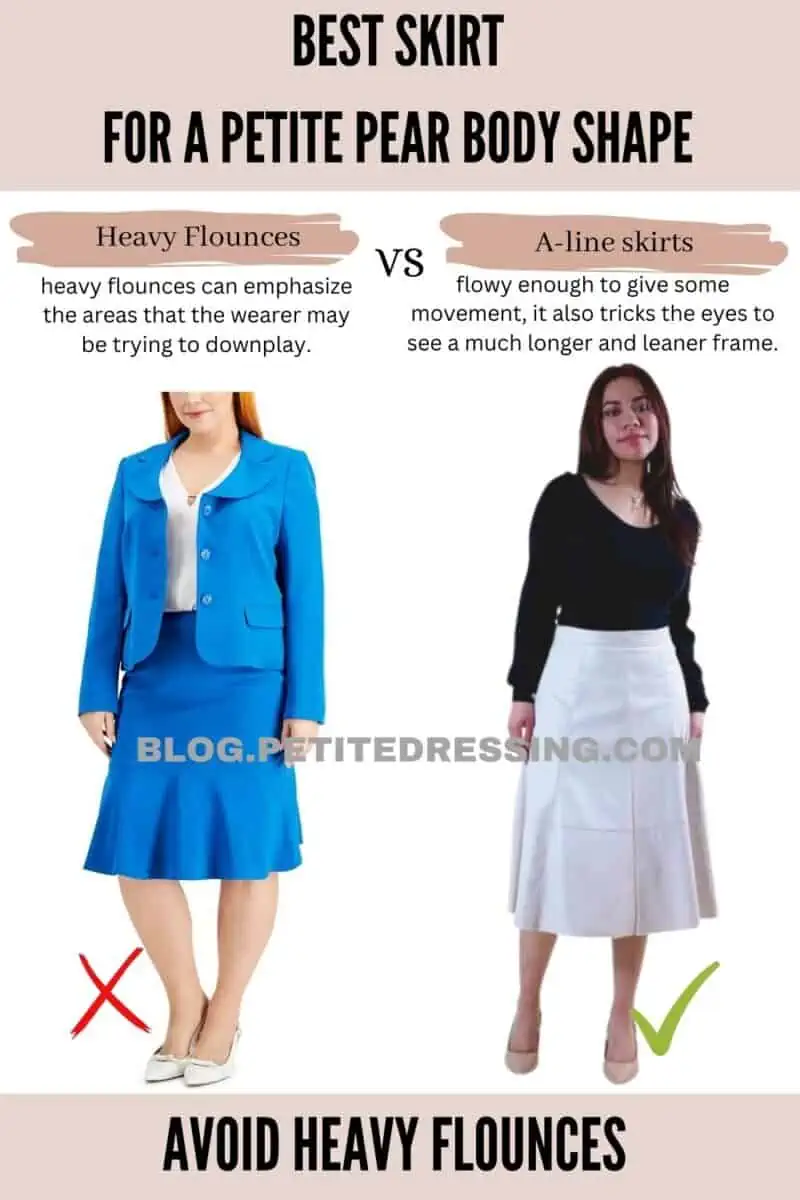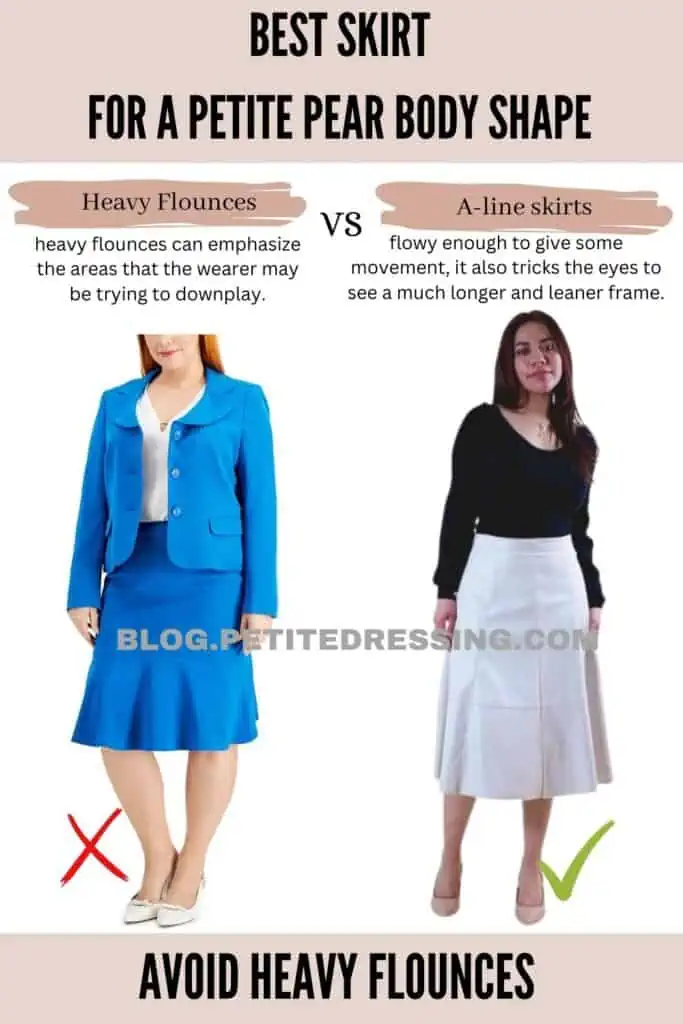 Petite pear-shaped women should avoid skirts with heavy flounces of fabric because they can overwhelm the body and create an unbalanced silhouette. Flounces, which are ruffles or tiers of fabric attached to the skirt, can add volume and shape to the garment and if the flounces are too heavy or large, they can be absolutely unflattering.
When wearing this particular style, the flounces can draw attention to the lower body, which is already a concern for someone with a pear shape. Instead of creating a balanced look, heavy flounces can emphasize the areas that the wearer may be trying to downplay.
Caution with Tight Pencil Skirts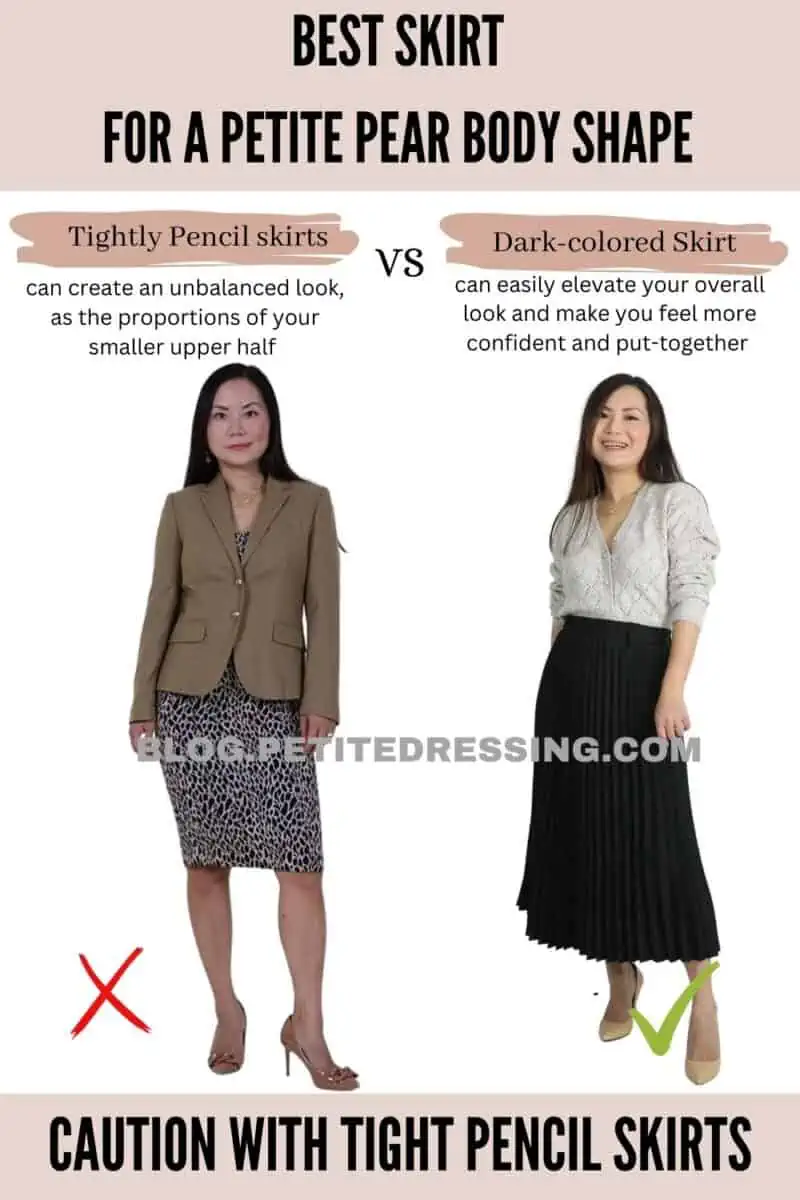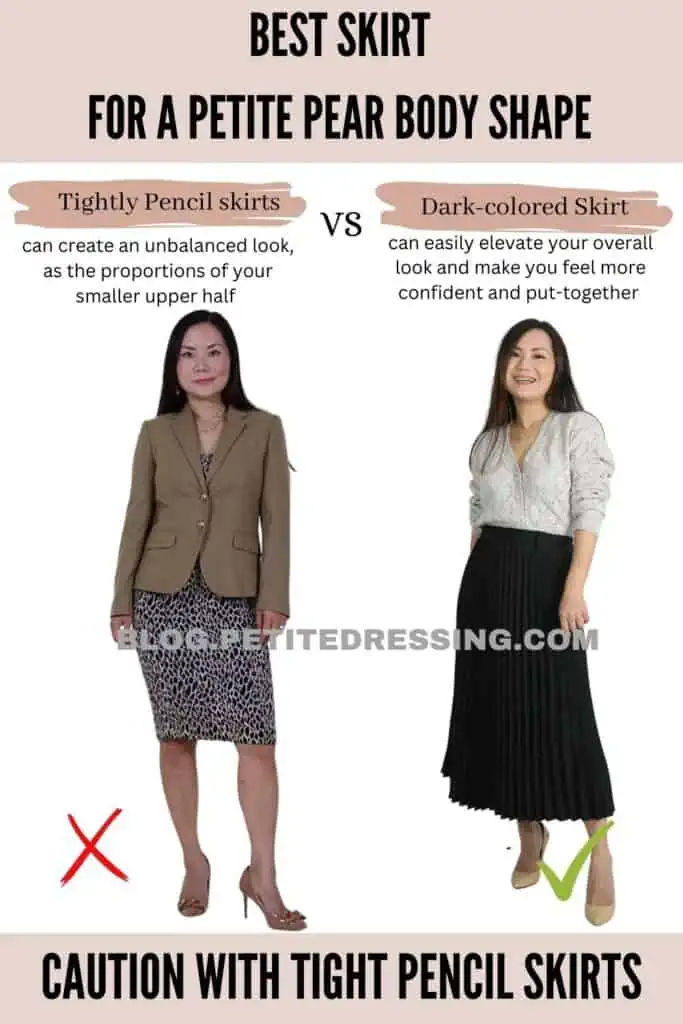 Pencil skirts are typically fitted and straight so they tend to emphasize your wider lower body and draw attention to the hips and thighs. This can create an unbalanced look, as the proportions of your smaller upper half and bigger lower body may not be in harmony.
Additionally, pencil skirts may not be the most comfortable option for petite pear-shaped women. Since the skirt is quite fitted, it can be restrictive and limit movement. This can be especially true for pear-shaped women who may have a fuller lower body and need more room for comfortable movement.
Instead of pencil skirts, petite pear-shaped women can opt for skirts with a flared or A-line silhouette. These styles can help to balance out the proportions of the body and create a more elongated silhouette.
The Key Takeaway
Skirts may seem intimidating for petite pear shapes at first due to the natural volume they tend to give. But everything is doable with the right structure that compliments your pear-shaped body!
By weighing these style factors in, you'll surely create your very own ensemble without worrying about committing a fashion faux pas!