Finding the perfect wedding dress is not easy for anyone, no matter what height and body type. Now, looking for wedding dresses for small busts could bring additional challenges.
The bonus of being flat chested is that your coveted svelte shape lends itself to an array of styles, as you already possess the framework that many ladies crave. So the truth is you could wear almost anything!
STYLING GOAL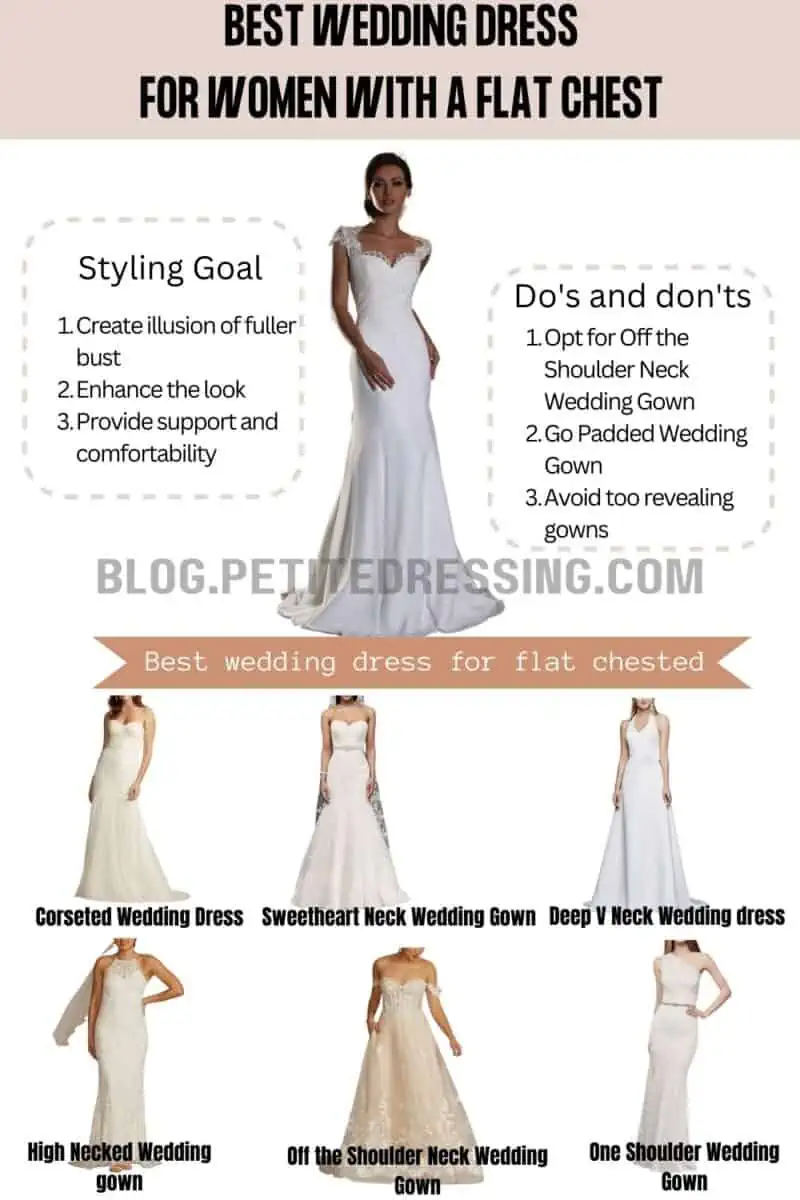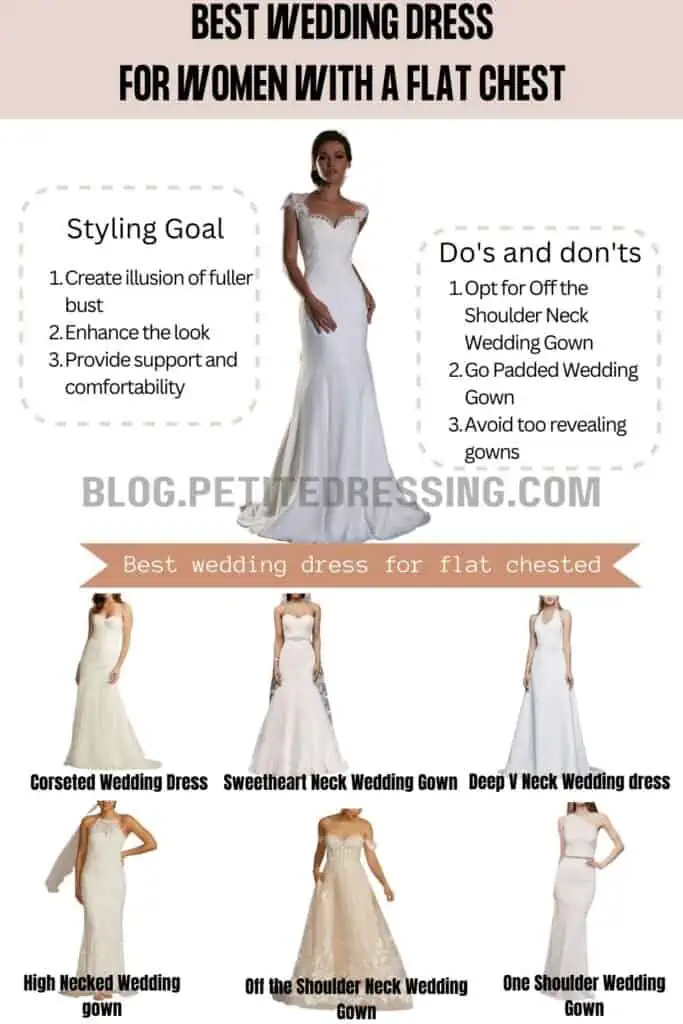 Generally speaking, brides with flat chest tend to have a boyish figure, or in other words, straight up and down.
For you, your focus should be on styles that will soften your look. Since your sportier frames are less inclined to boast a perfect hourglass, your goal here is probably going to boost your bust or highlight your hips.
Now, let's dive right into these best wedding dress styles for flat-chested brides.
Corseted Wedding Dress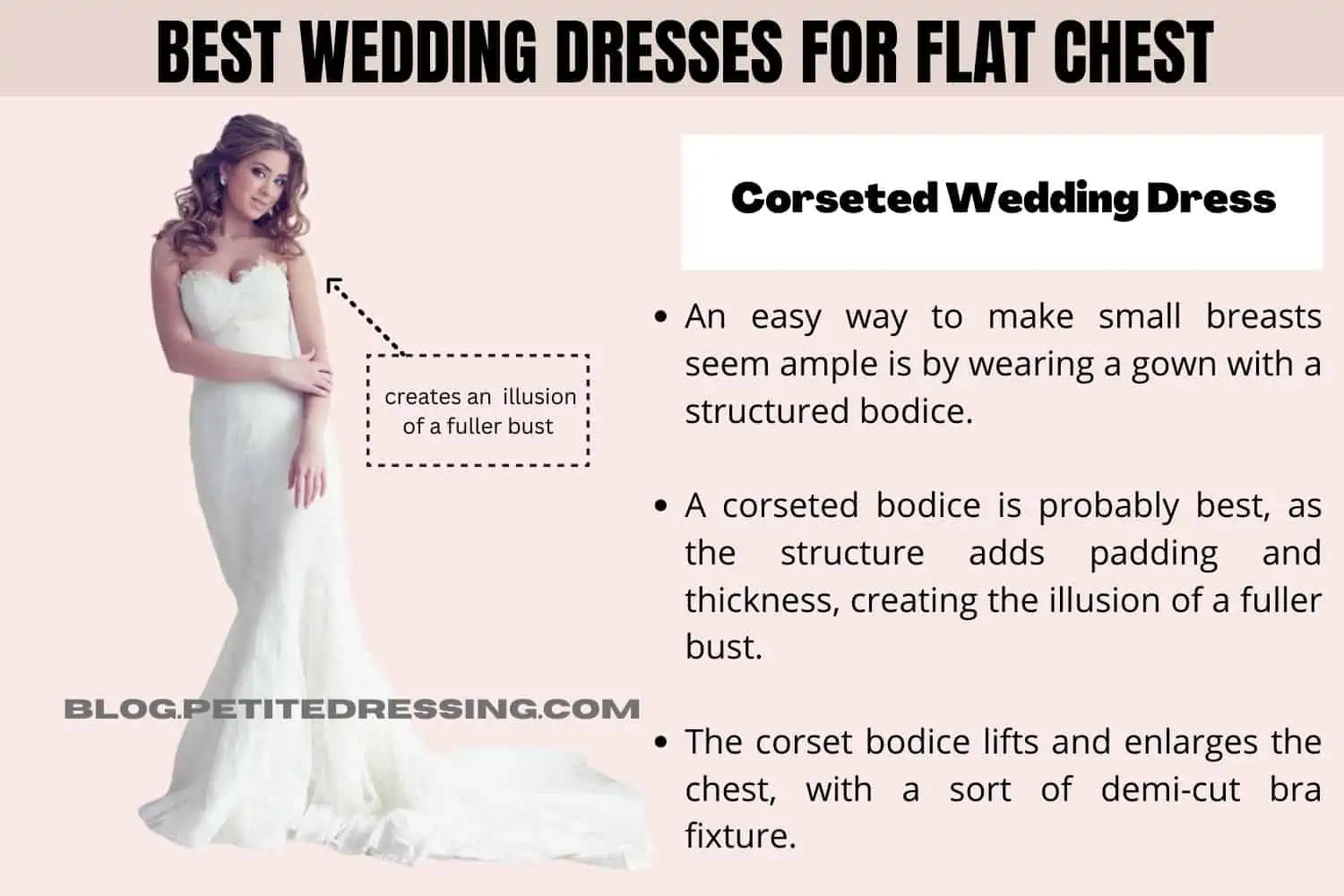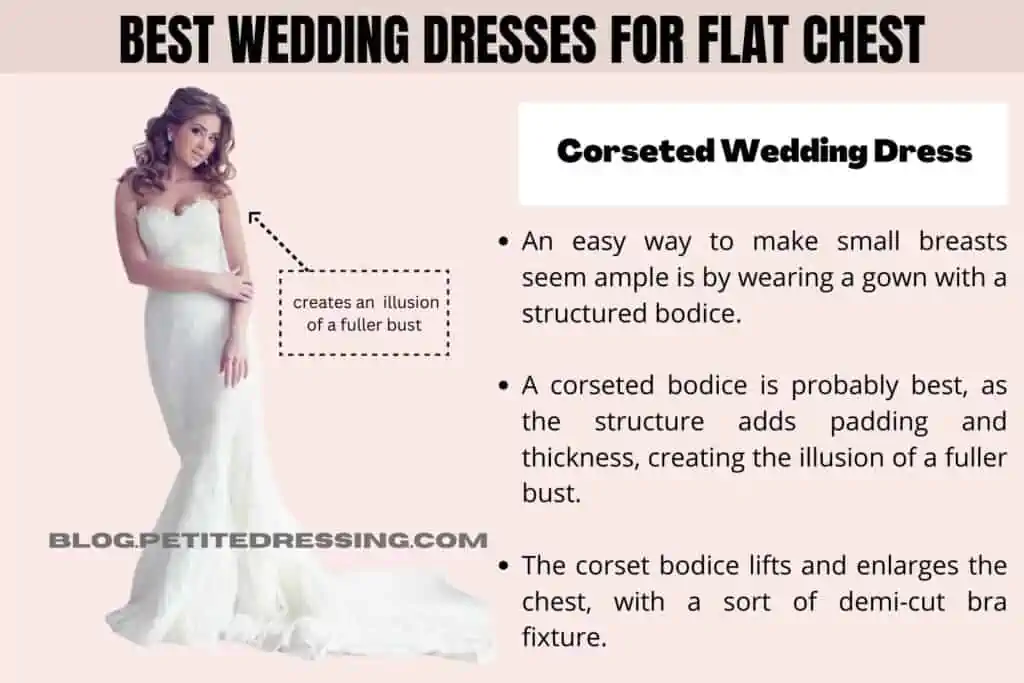 An easy way to make small breasts seem ample is by wearing a gown with a structured bodice. In general, a corseted bodice is probably best, as the structure adds padding and thickness, creating the illusion of a fuller bust. The corset bodice lifts and enlarges the chest, with a sort of demi-cut bra fixture.
Sweetheart Neck Wedding Gown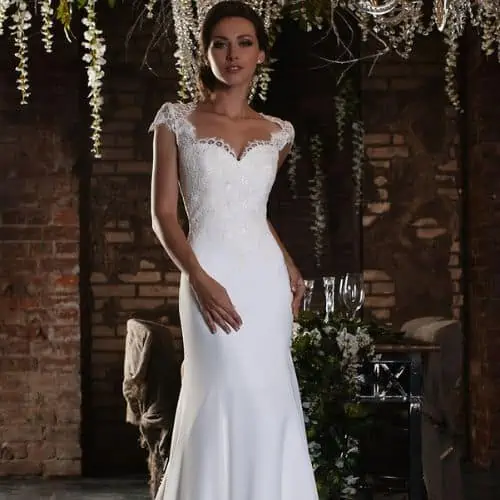 Sweetheart necklines are best for this body shape:
A sweetheart-cut neckline looks great on women with small breasts because the shape of the neckline actually softens the line around the bust.
It, in turn, allows for more flesh to be seen and makes for an enhanced look.
Deep V Neck Wedding dress
At first, the idea of a plunging v neckline might sound intimating to you, is that right? Are you worried that a deep V-neck is something that only works on brides with a full chest?
It's quite the opposite. This is one of the styles that a bride with small bust can pull off much better than someone with prominent curves.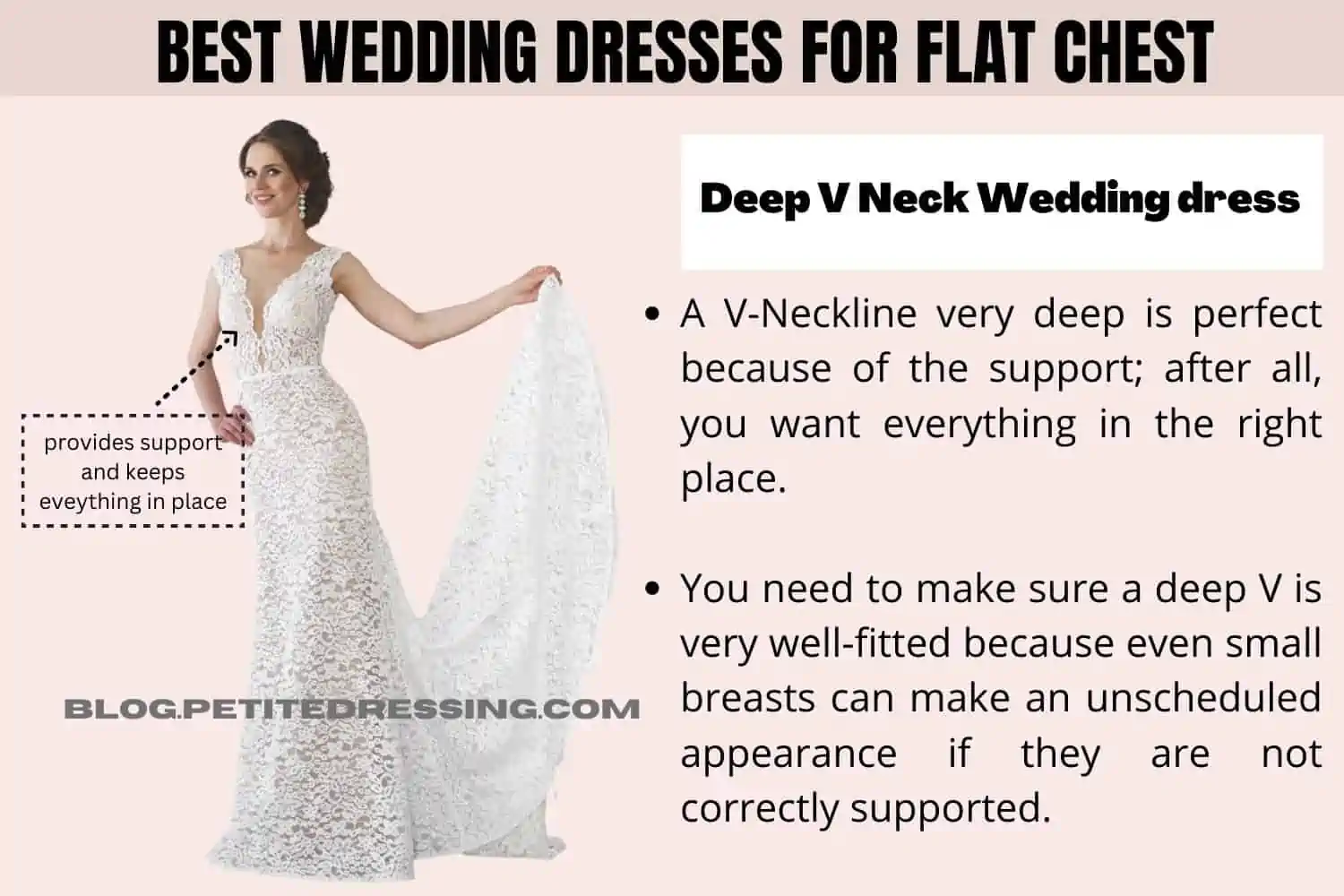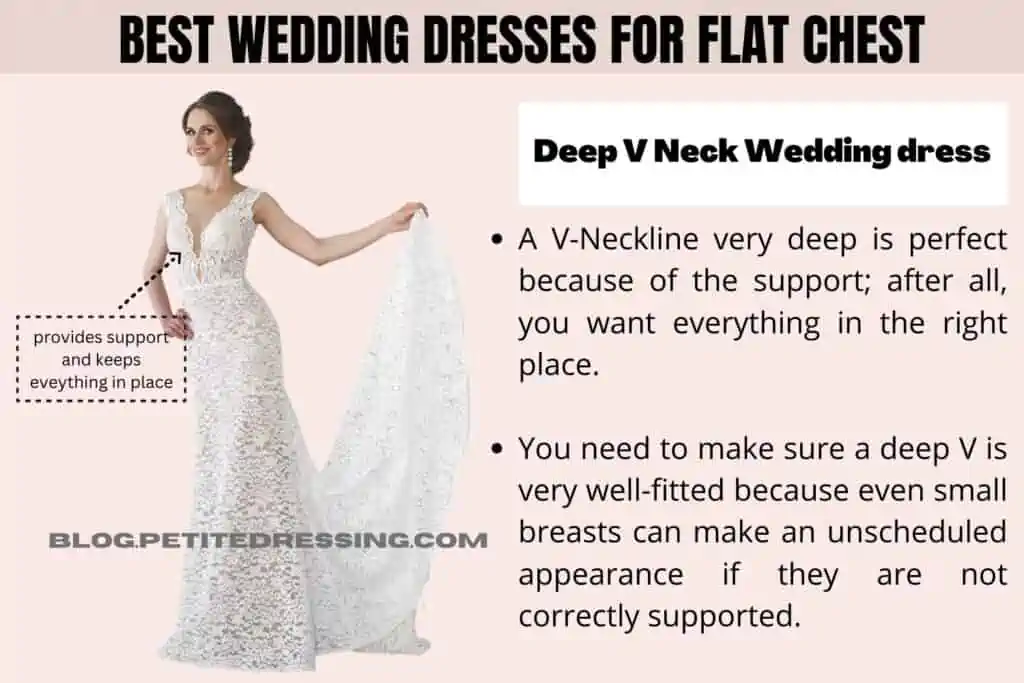 A V-Neckline very deep is perfect for girls who do not have a big chest, because of the support; after all, you want everything in the right place. The low V-neckline is a daring look for a bride – and certainly, one that only small-busted brides can get away with.
You need to make sure a deep V is very well-fitted because even small breasts can make an unscheduled appearance if they are not correctly supported. You may find that a little fashion tape gives you some added security in the absence of a bra.
High Necked Wedding gown
Choosing a gown with intricate lace details on the upper torso also helps bring some well-appreciated volume to the bust.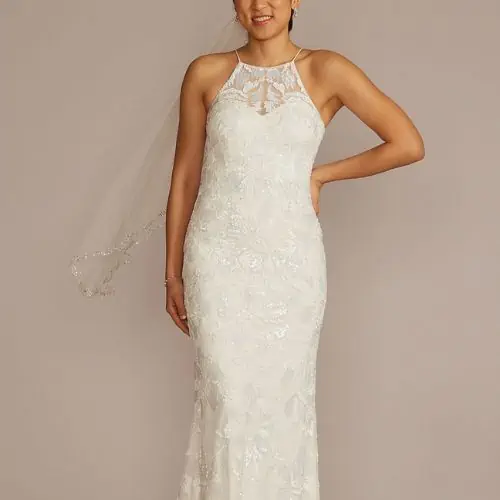 Why opt for a high necked wedding gown?
A high-necked gown brings emphasis to the chest while giving you the illusion of a fuller bust, a desirable effect for our flat-chested brides!
Off the Shoulder Neck Wedding Gown
Off-the-shoulder design is a universally flattering design. However, when you have a small chest, off the shoulder wedding gown is much easier to wear than a bride with full chest.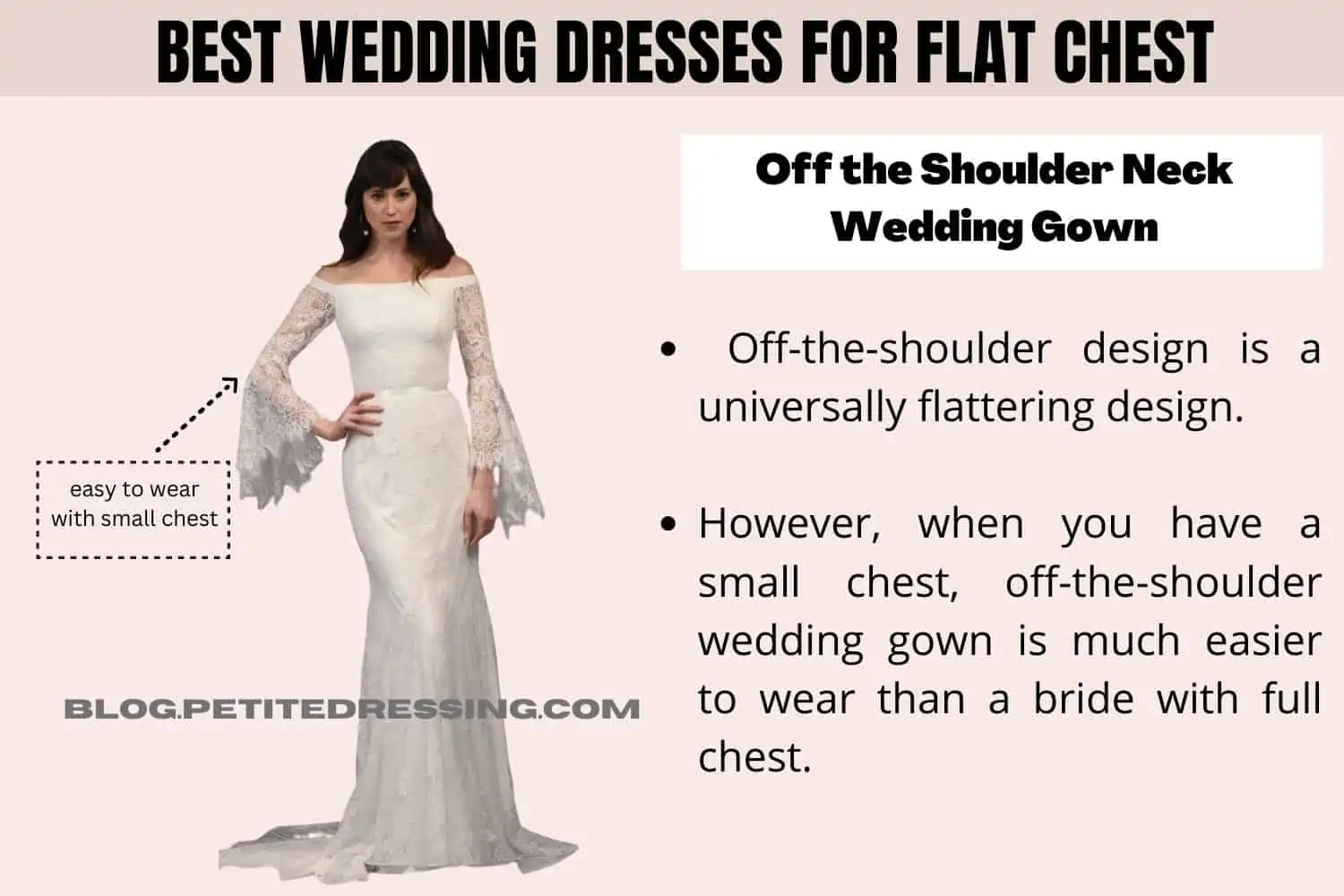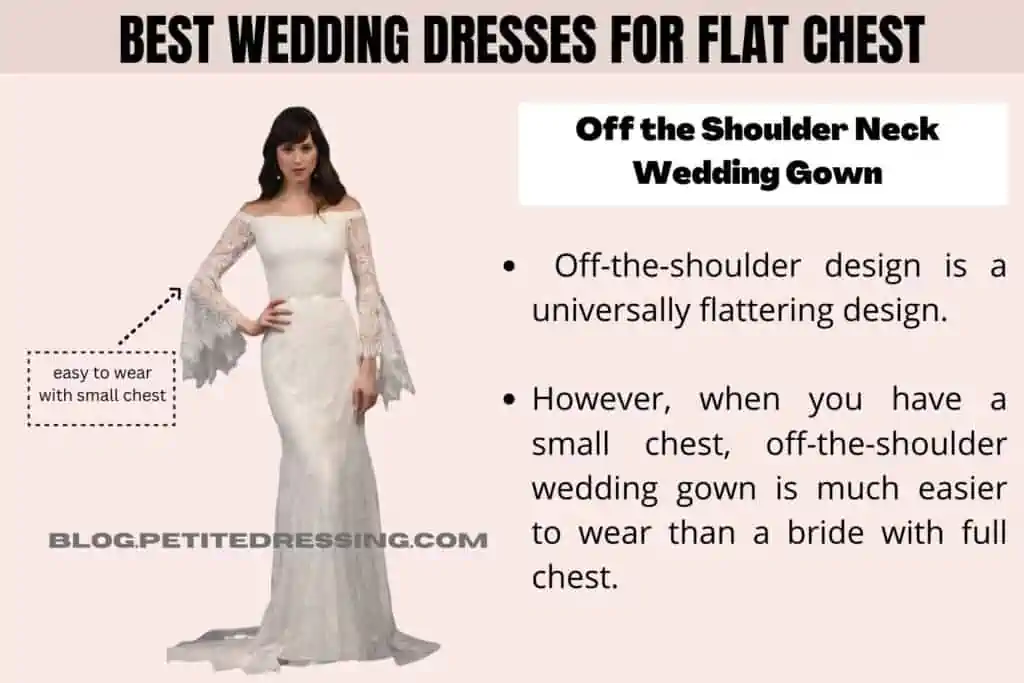 One Shoulder Wedding Gown
One-shoulder dresses is one of asymmetrical necklines that can add drama to your body shape, thus very flattering for women with a flat chests.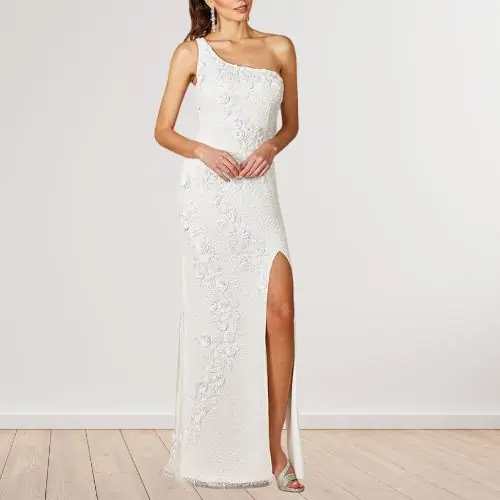 Why is it one of the best wedding gowns for a small chests?
Because women with small chests tend to have straight up and down bodies, anything that adds interesting shapes to your body will look flattering, because it breaks up that natural rectangles shape of yours.
Padded Wedding Gown
This is the most classic and easiest way to make wedding dress look good on brides with small bust!
Fitted, padded bodices encrusted with sequins/diamanté detail add dimension and a bustline.
Dresses with heavier fabrics such as satin, velvet or moiré will visually add a little volume, while a gathered waist and narrow sleeves will have a similar effect.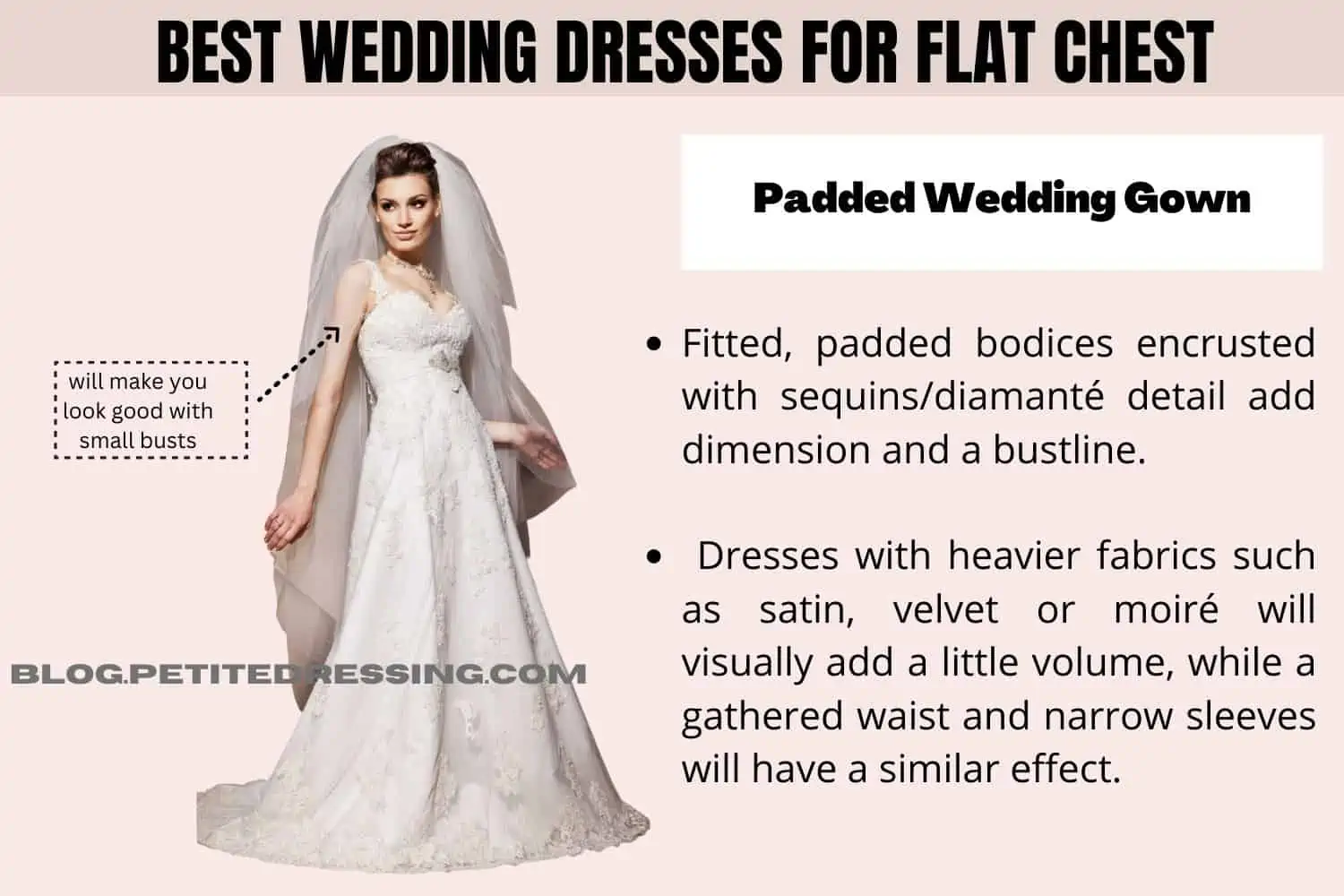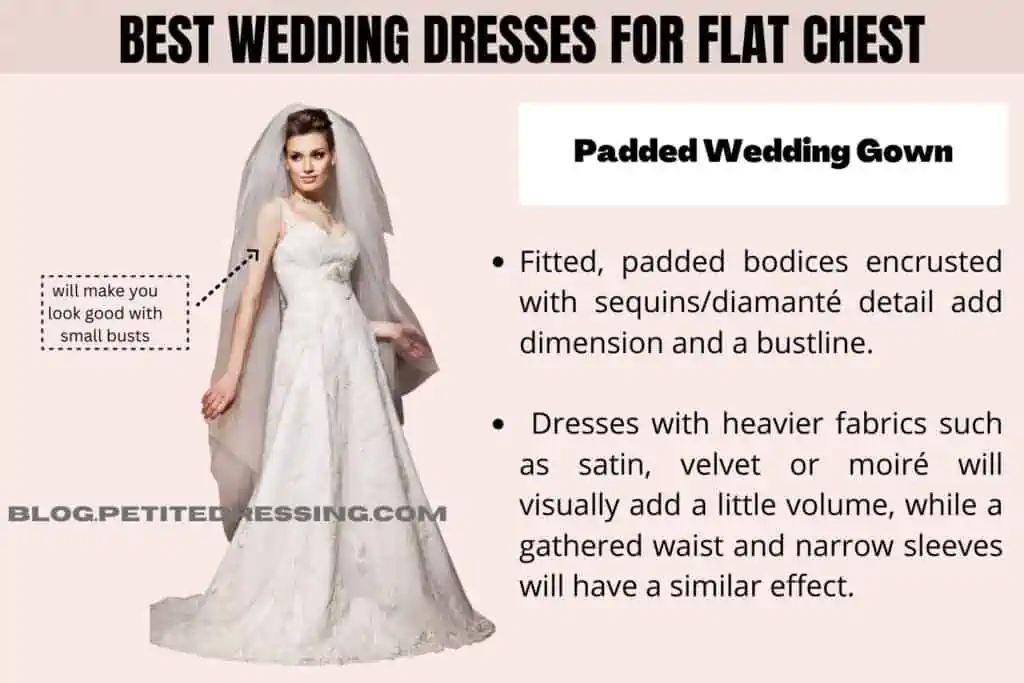 Mermaid Gown
The mermaid Trumpet style emphasizes bust and hip, so they are the best wedding dresses for anyone who wants to show off feminine curves.
Now, you might be wondering are they going to work for brides with small chests who don't have curves or have an athletic build?
The answer is yes!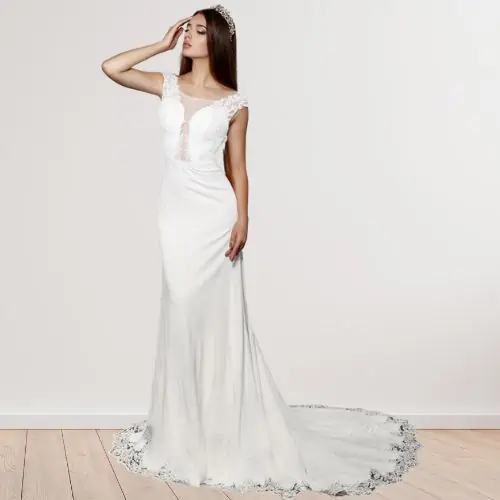 How does the mermaid gown flatter you ?
Mermaid-style gowns will add shape and curves to your boyish figure.
This is the most feminine style that flatters many different body shapes and works perfectly for brides with a small bust.
Look for a silky gown that's cut on the bias with a trumpet skirt. The combination of the curved side seams and the flared bottom will provide you with a sultry silhouette.
The flared skirt has moderate volume, compared with a ball gown style, so it will not overwhelm your frame. Look for an elevated waistline (i.e. above your natural waistline) so that your legs will look longer.
It hugs at the midsection and flares at the skirt like a fishtail. For flat-chested brides who want to ditch the ball gown wedding dresses but still are interested in a little bit of drama, the mermaid style will make you feel glamorous walking down the aisle and give you the moment of a "red carpet" feel.
Fit & Flare Wedding Dress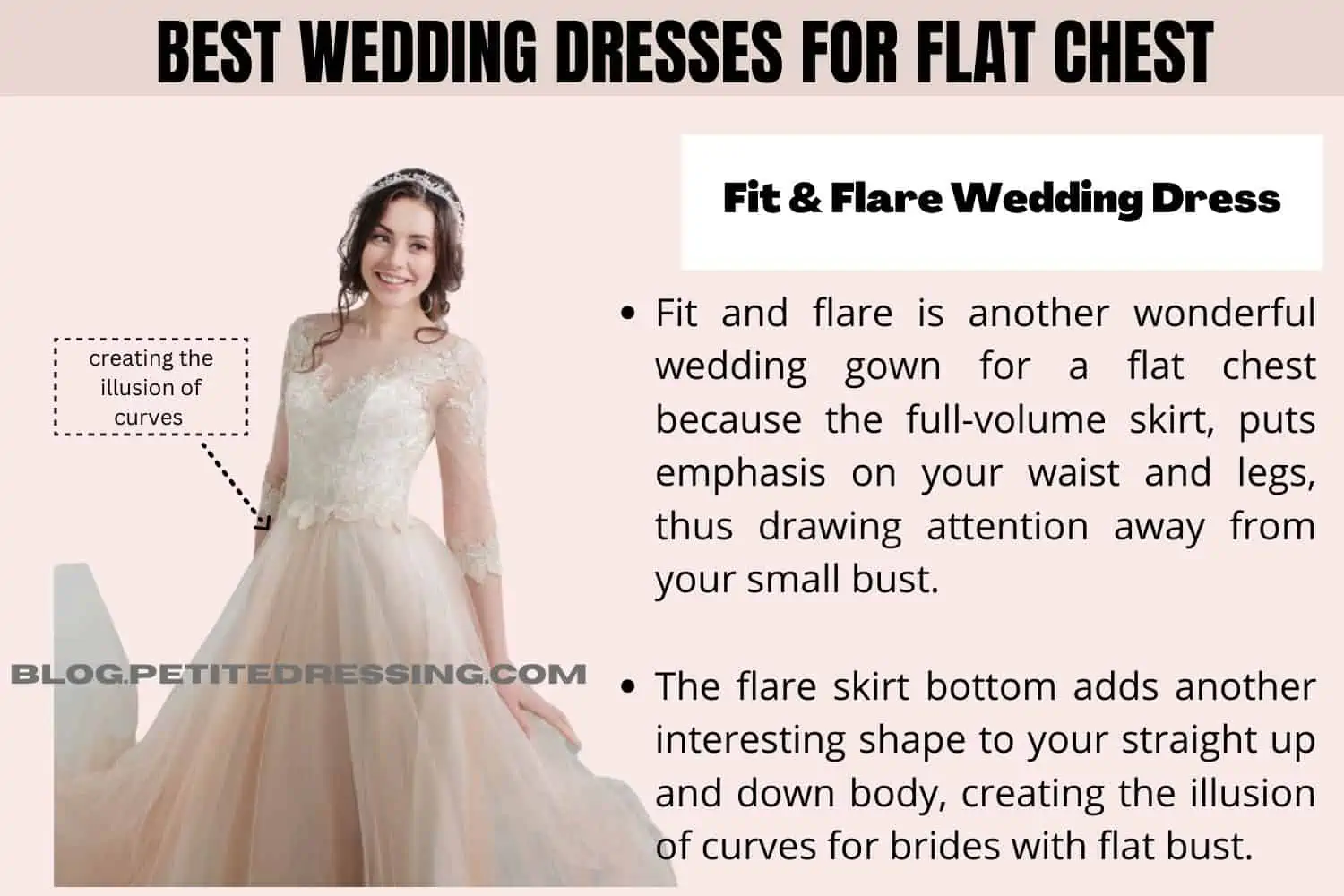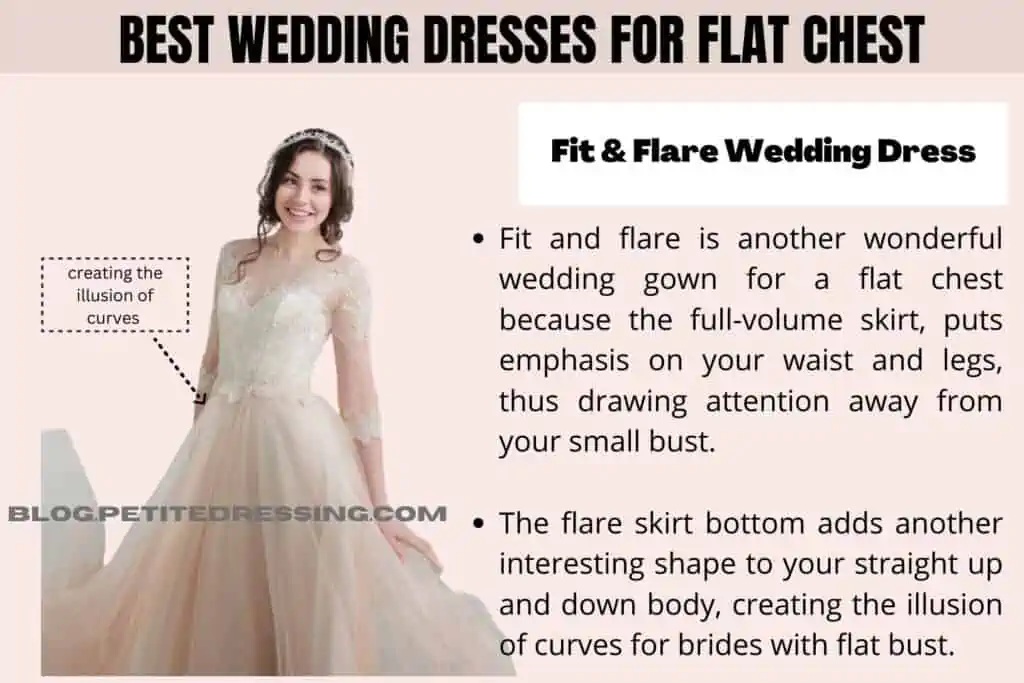 Fit and flare is another wonderful wedding gown for flat chest because with the full volume skirt, it puts emphasis on your waist and legs, thus drawing attention away from your small bust.
The flare skirt bottom adds another interesting shape to your straight up and down body, creating the illusion of curves for brides with flat bust.
Backless Wedding Gown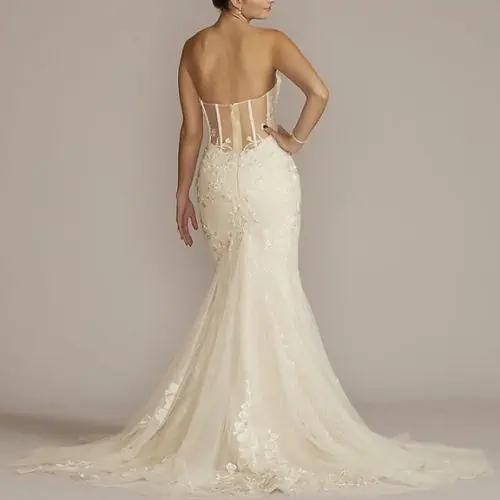 Why opt for a Backless Wedding Gown?
The backless gowns are super chic and sultry, and only the brides with small chests can pull them off with the look they are meant to have! So, take advantage of this and try the backless wedding gown.
Now, we've looked at what are the best wedding gowns for flat chest, I'm also going to mention what won't work so well on your body type.
What to Stay Away from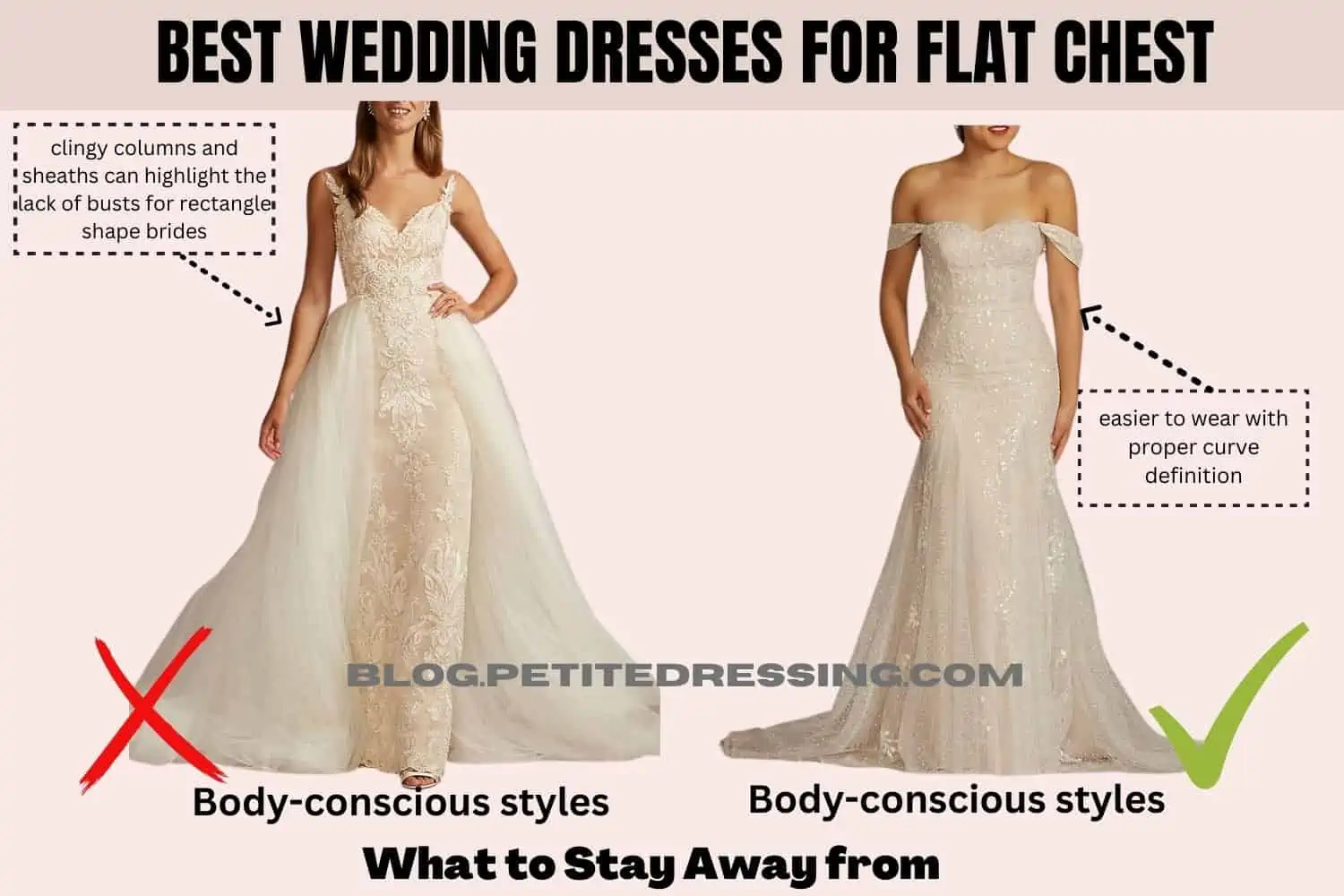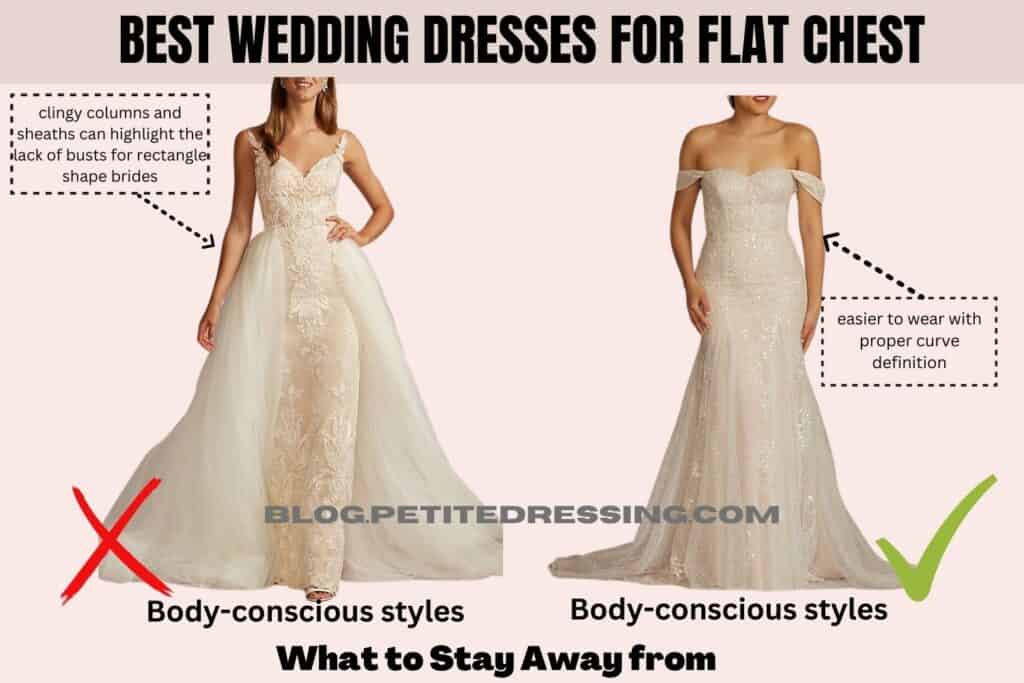 Though body-conscious styles such as clingy columns and sheaths can make you appear fuller, they'll only highlight the lack of a bust in very boyish figures of rectangle shape brides.
Because they echo your natural body type of the rectangle, they do not complement your small chest like the other wedding dresses I mentioned earlier.