Ready to party? Well, you need the right party dresses to flatter your unique body shape, especially if you have a big bum. So, what are the perfect dress styles for you? Stick around until the end of this party dresses guide if you have a big bum and you'll certainly discover some dresses you can rock for your next event.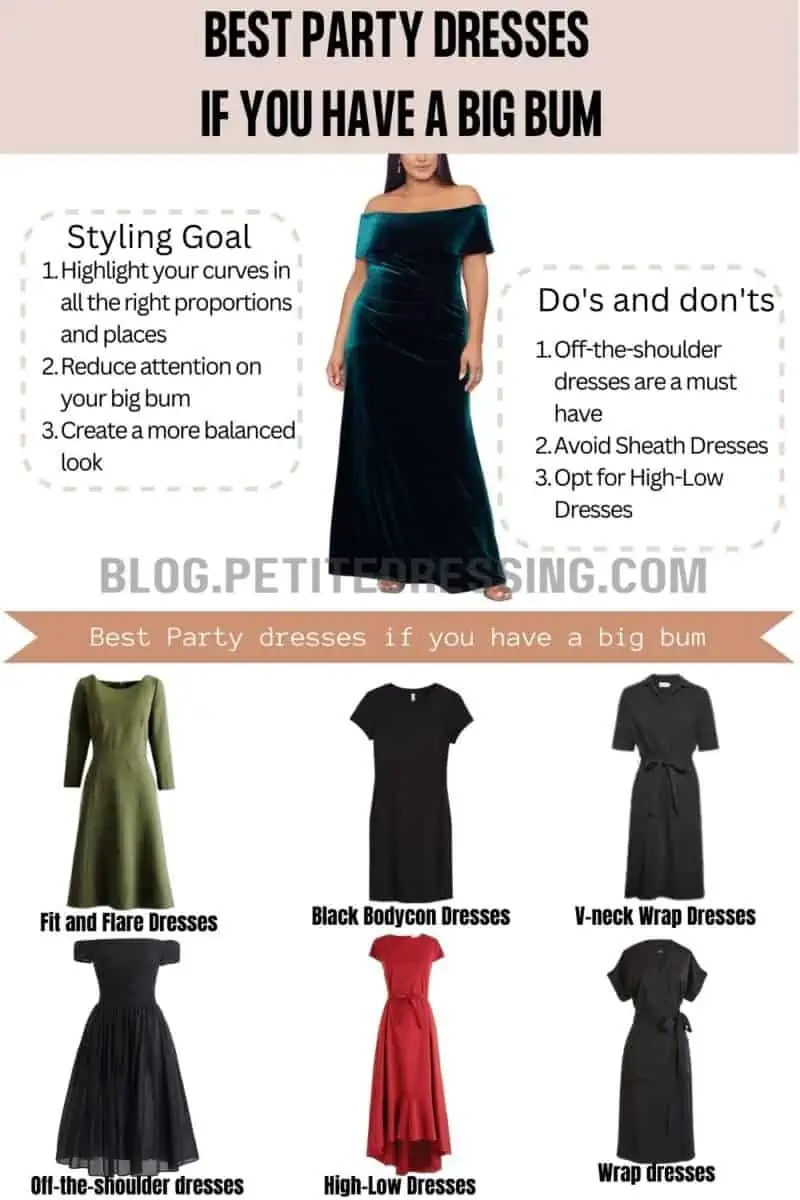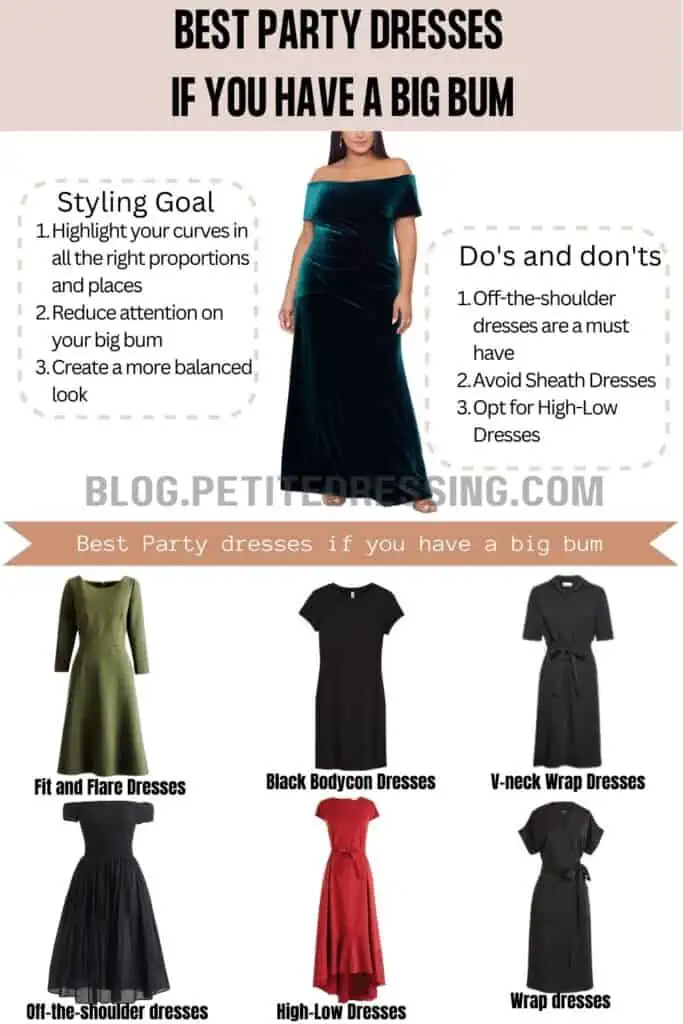 Fit and Flare Dresses
Enjoy the benefits of a dress that creates a feminine silhouette that flatters your body type, including women with a big bum. So, how exactly can you achieve this with a fit and flare dress? Well, the design of this dress is such that it cinches at the waist and then flares out at the bottom.
This simple yet classy style creates a flattering silhouette that emphasizes your hourglass curves at the waistline but minimizes the size of your hips and thighs. Therefore, this style is perfect for women with a big bum as it serves as a balancing mechanism for all proportions of your body while accentuating the waistline stylishly.
Most fit and flare dresses have an a-line style which gives just the right amount of room for your hips and thighs without being uncomfortable. Therefore, you can wear this dress for long stretches without worrying about your comfort level dropping drastically, especially if you have big hips.
The beauty of fit and flare dresses is that this style is not dramatic but still has just the right touch to help you stay elegant all day long.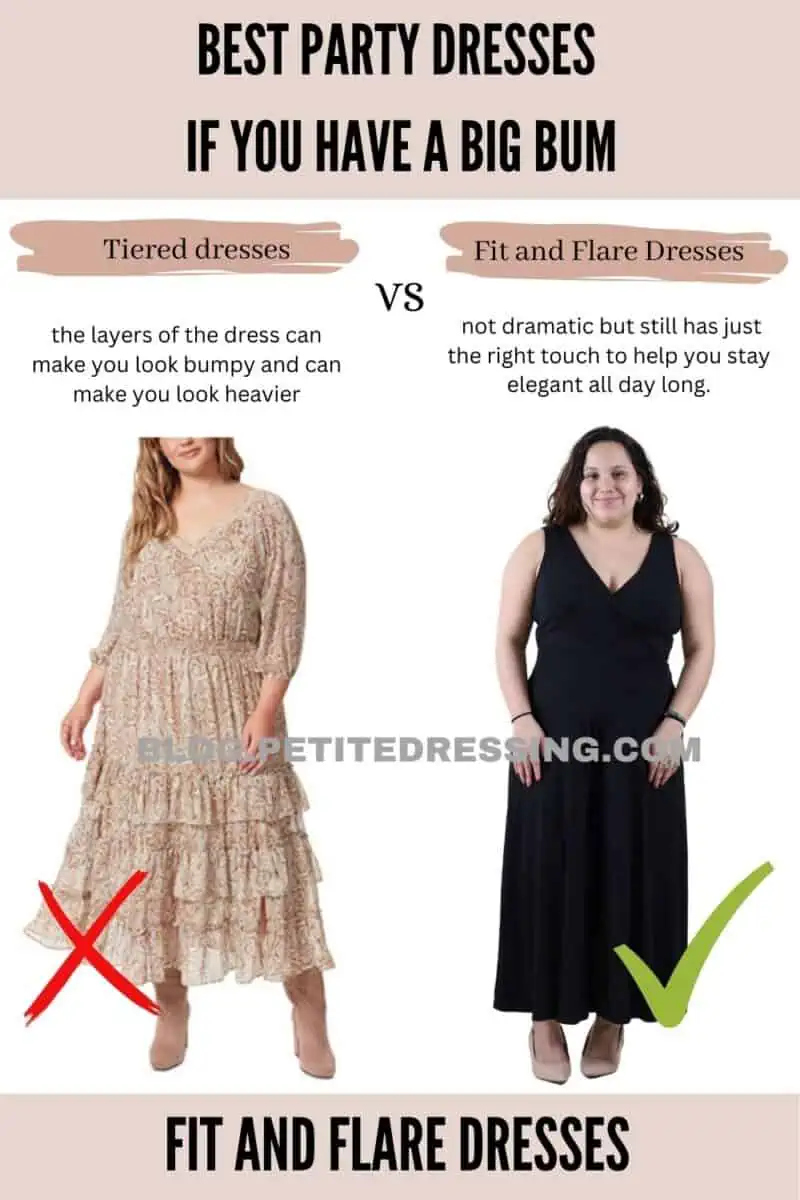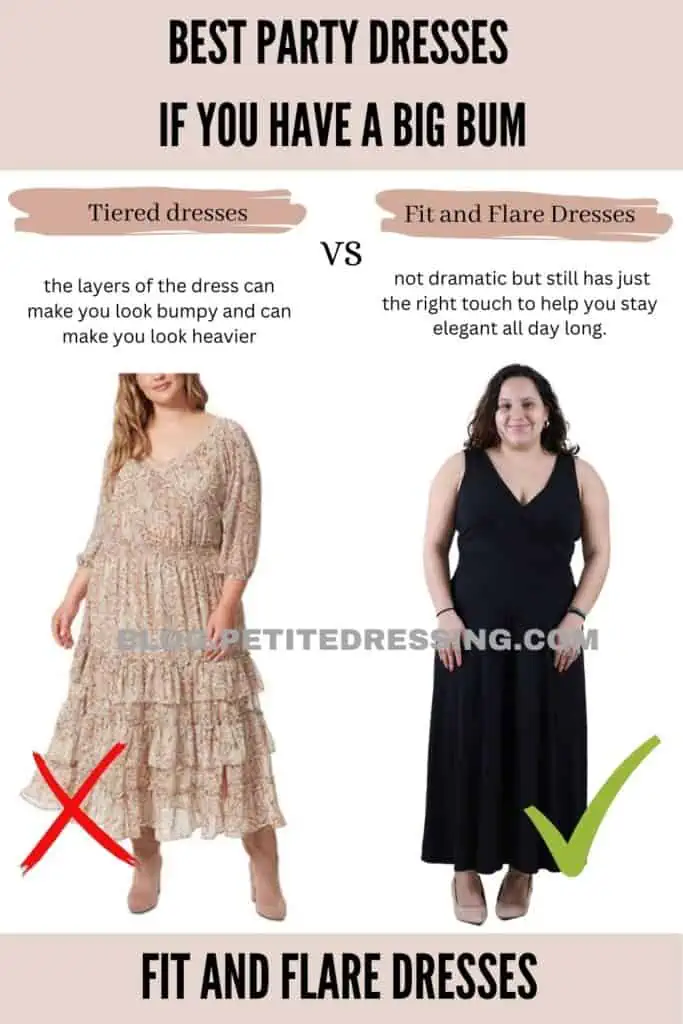 Black Bodycon Dresses
Show off your curves comfortably with black bodycon dresses. This style of dress is designed to fit closely to your body, giving you an overall sexy silhouette that compliments your body type. So, if you're looking to create a sleek feminine outlook, a black bodycon dress will help you get closer to your goal.
For women with a big bum, black bodycon dresses are perfect for accentuating curves on the body and making sure your bum has a flattering look where it's not too conspicuous, drawing attention to your hips.
The color black is also important in this scenario. This is known as a slimming color which is perfect for creating the illusion of a streamlined silhouette on women with big hips. Therefore, a black bodycon dress will create a stylish and flattering look that highlights your curves in all the right proportions and places.
Remember that bodycon dresses come in different cuts and styles that add more to the overall outlook. So, be sure to choose the one that flatters your shape, including the right neckline.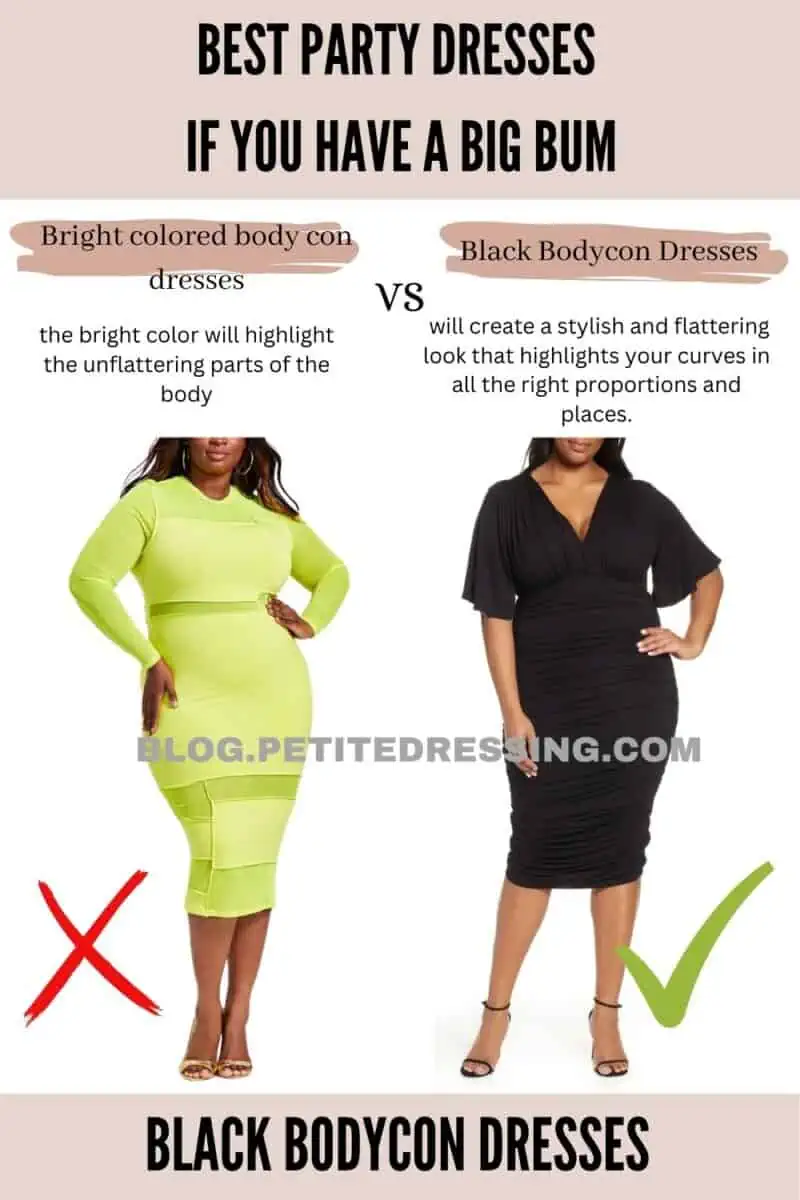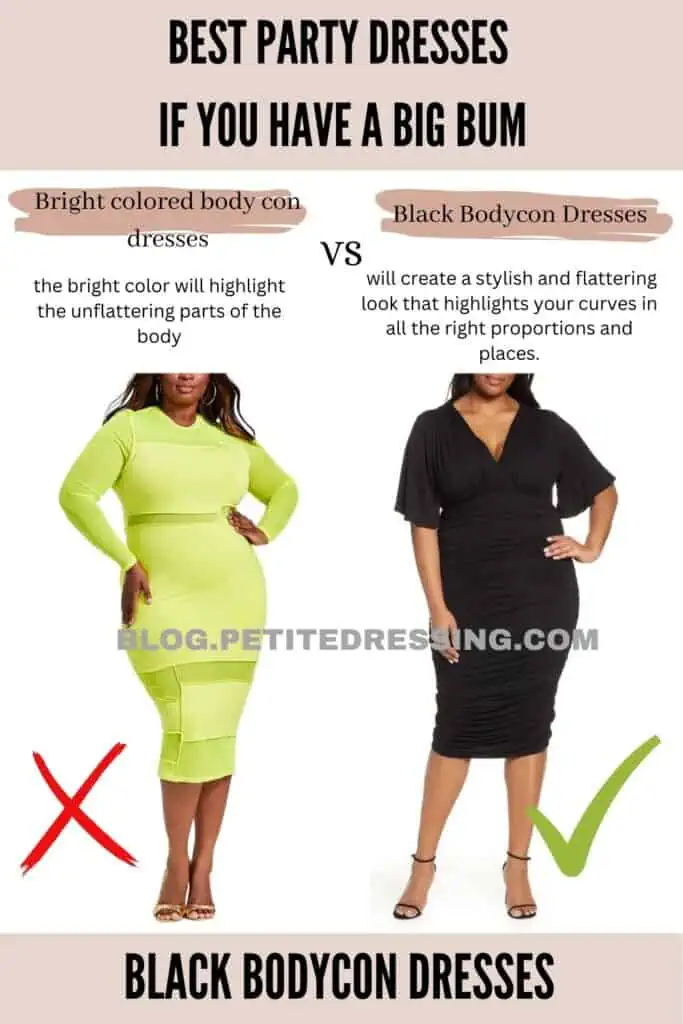 V-neck Wrap Dresses
The beauty of v-neck wrap dresses is that they wrap around the body prettily and cinch at the waist which creates a feminine and flattering silhouette on women with a big bum. This means that the style of this dress draws attention upwards towards the neck and shoulders which is great for reducing attention on your big bum.
V-neck wrap dresses are perfect for balancing out your body proportions, as this is exactly what happens when it draws attention to your upper body. Apart from this, the v-neckline is so special for women with a big bum who also want to give their necks a better look.
This neckline style elongates the neck which in turn leads to the illusion of a more streamlined and longer silhouette. You're also going to love the wrap style, which is great for creating a customized fit, so you can decide just how well this dress should wrap around your body.
It's up to you to make it as flattering as possible, so experiment with a few styles to decide which works best with your personal taste. Overall, this style of dress can naturally create that flattering and balanced look you need to highlight your best features.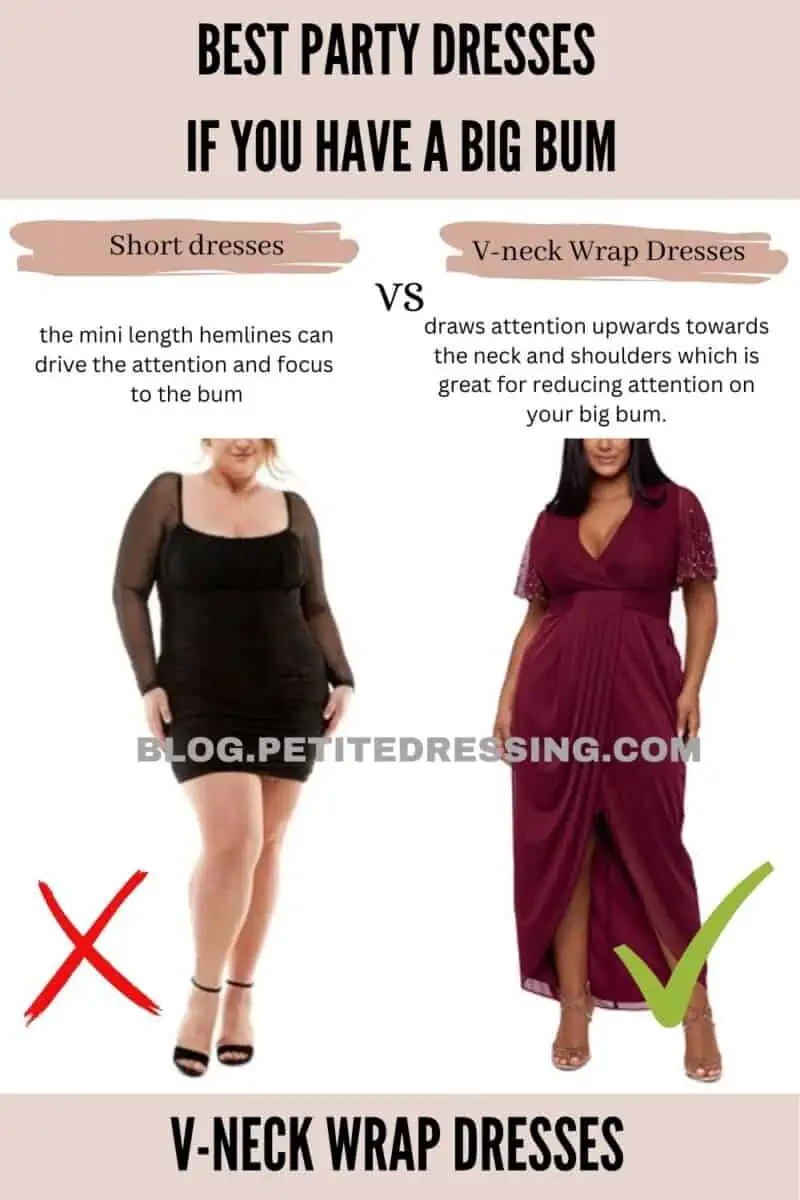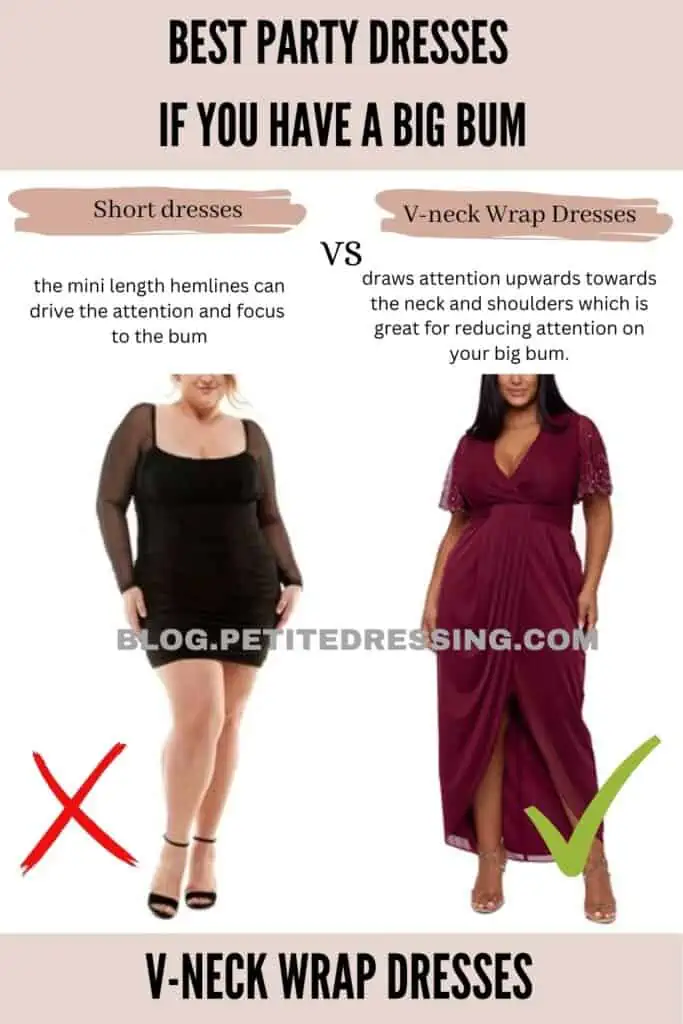 Off-the-shoulder dresses
Give your hips a better visual balance with off-the-shoulder necklines. This is an amazing option for women with big hips who want to make sure it doesn't look bigger or attract a lot of attention.
This will create a more balanced look as there's more focus on your neckline and upper body. The off-the-shoulder neckline highlights your beautiful collarbone and shoulders, which helps in the illusion of a more streamlined silhouette.
Off-the-shoulder necklines can be on wrap dresses, bodycon dresses and even fit-and-flare styles. You're free to customize this to your unique fit and avoid baggy styles. This is because you can balance out the width of your shoulders and hips more when the dress is not so loose. Therefore, this dress creates a feminine hourglass silhouette that emphasizes your delicate waistline.
Choose a dress that fits and flatters your body shape. Also, the length of the dress matters. For off-the-shoulder necklines, you can go for lengths that are below your knee as this will help highlight your best features.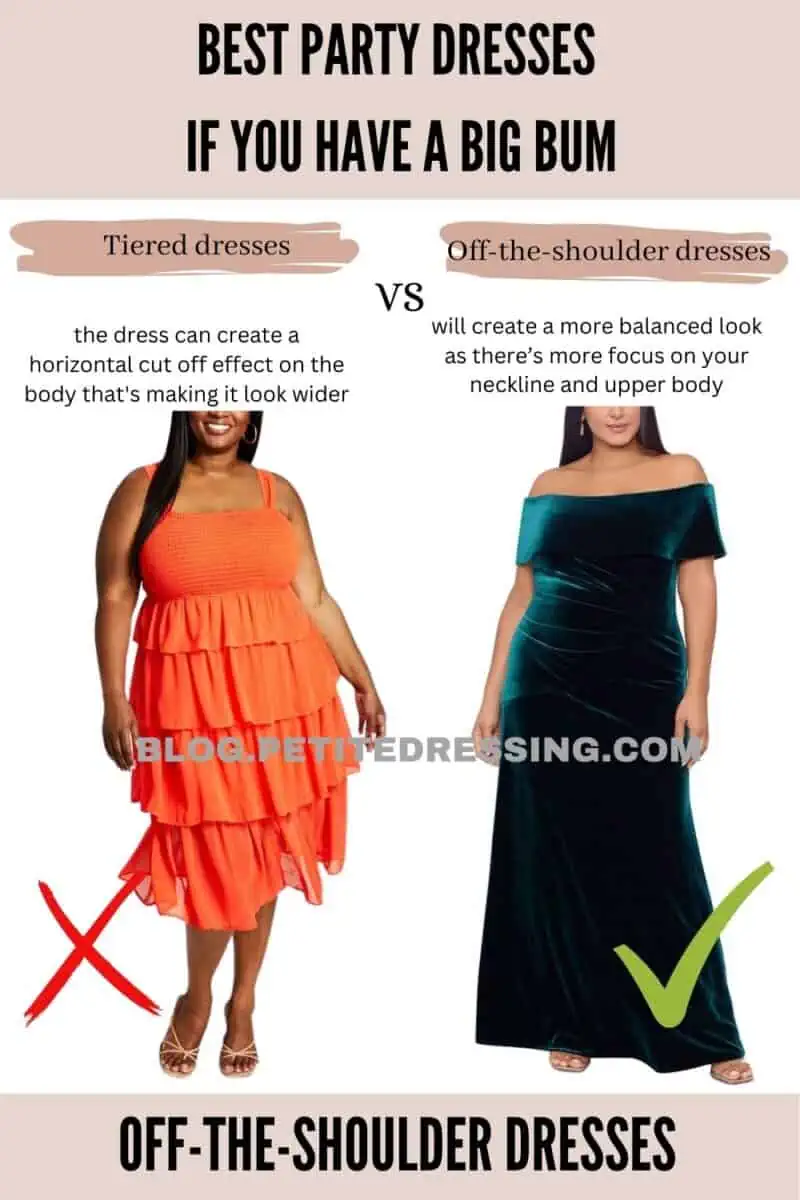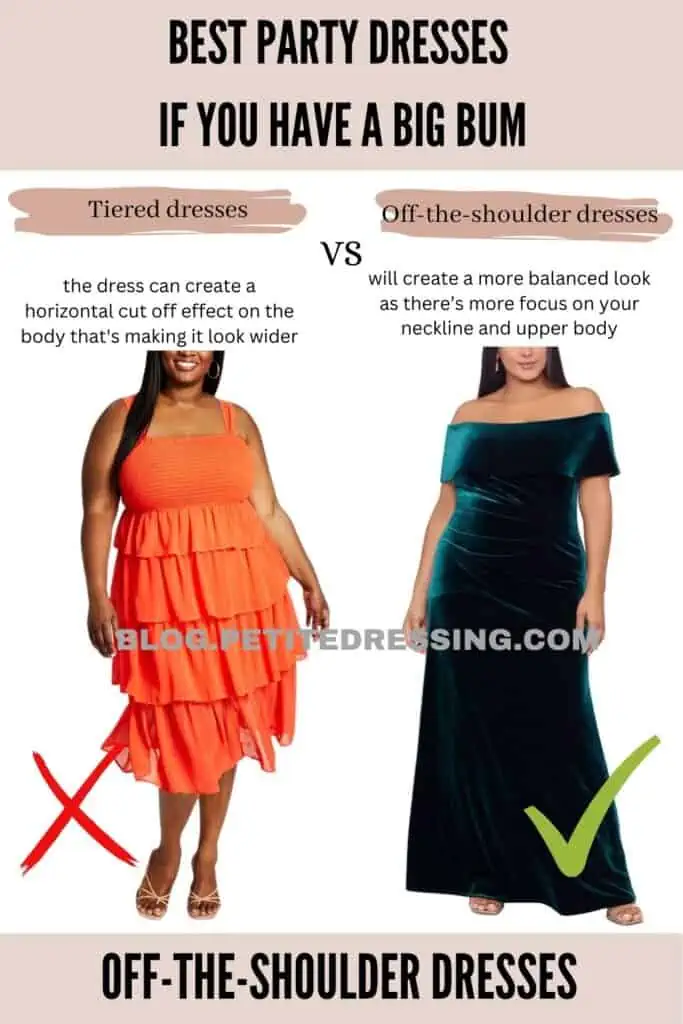 High-Low Dresses
High-low dresses have the unique design of a longer back and shorter front, which corresponds with its name. You can also find it referred to as hi-lo hemline dress or an asymmetrical dress.
Women with a big bum need the high-low dress in their closet as the longer back helps in balancing out their body proportions while drawing attention away from their thighs and hips.
The low hemline at the front also has a corresponding positive effect on your overall outlook. This helps in elongating your legs, and creating a more streamlined silhouette that looks longer. With the flowing and dramatic look from the longer hemline at the back, this gives your overall outfit the right amount of sophistication and a unique touch of elegance to help you stand out beautifully.
Be sure to look out for one that fits your body shape. Most high-low dresses have a fitted top that adds to the defined waistline of the dress. However, some also have a flowy top which gives a more relaxed fit. It is okay to go for either but be sure to avoid baggy styles.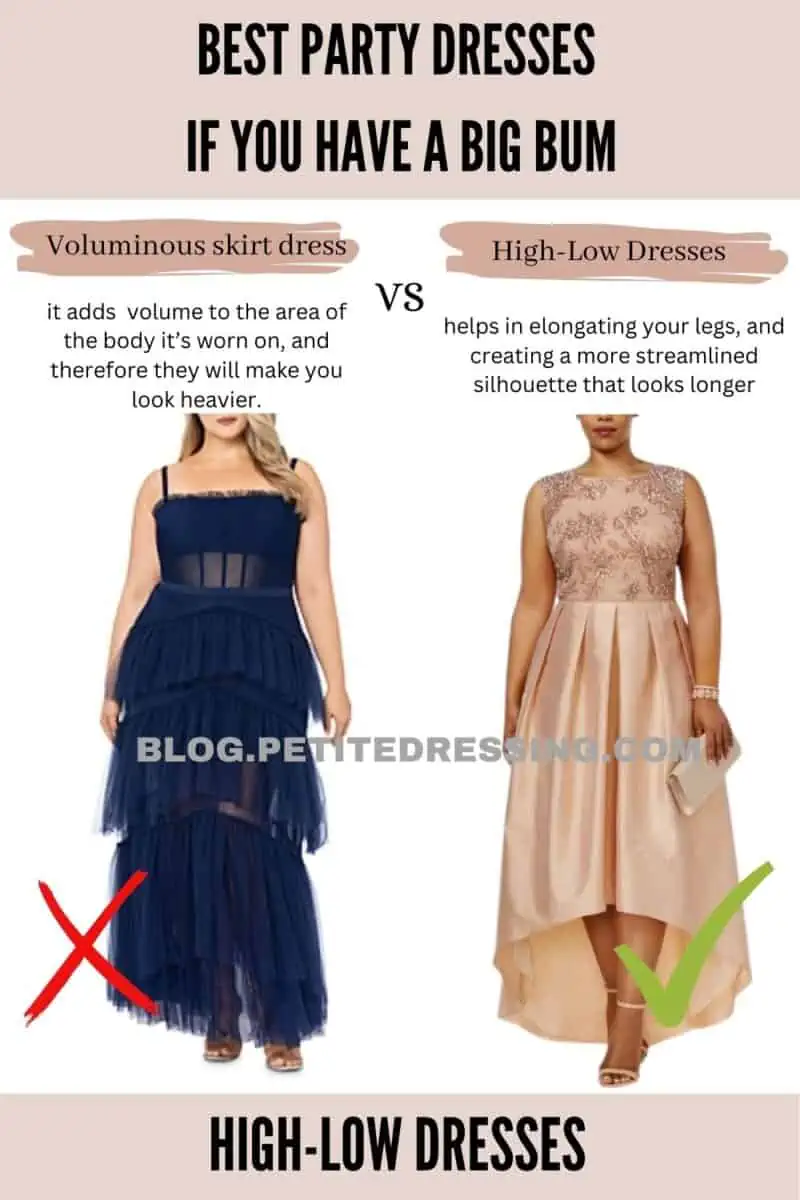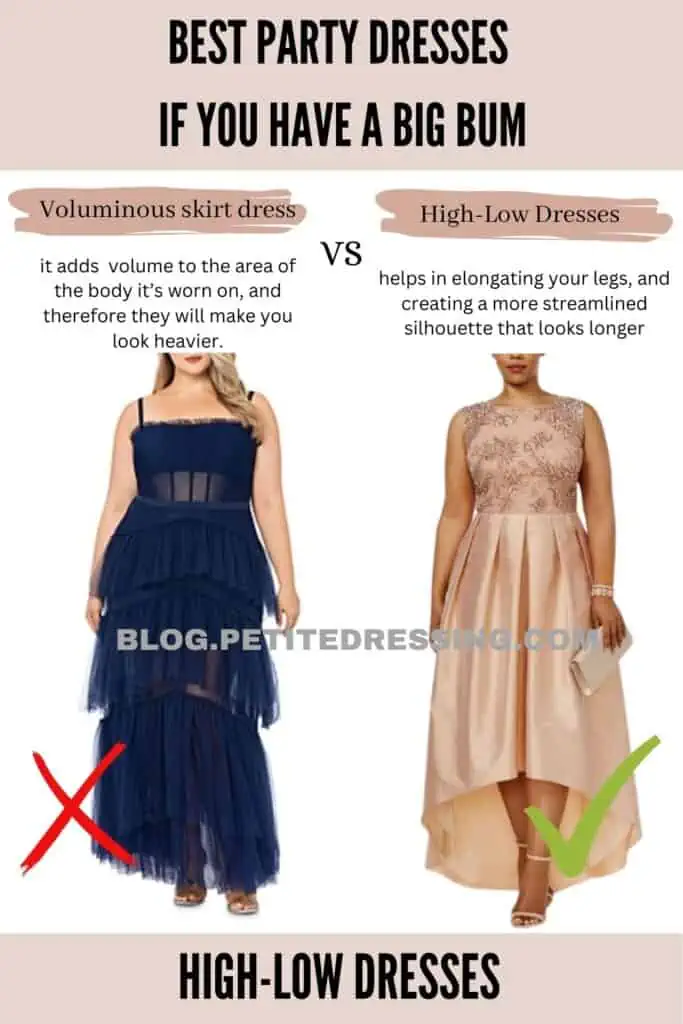 Avoid Sheath Dresses
Sheath dresses are too straight and that makes them a bad choice for women with big hips. This versatile and classic type of dress is known for being fitted as it strictly follows the curves on the body. Although there's no denying how flattering this dress can be on various body types, it's not a great option for women with a big bum.
Instead, the sheath's dress straight style accentuates the hips and thighs so much that it creates a disproportionate look. This form-fitting look is obvious in women with a big bum as it emphasizes areas that you don't want attention drawn to. Instead, it creates a tight fit that accentuates the size of the bum.
You should look out for form-fitting styles that don't force out curves but flow naturally on your body shape like the stretchy bodycon dress. Sheath dresses can also give the impression of a muffin top by highlighting tummy bulges as they are too tight.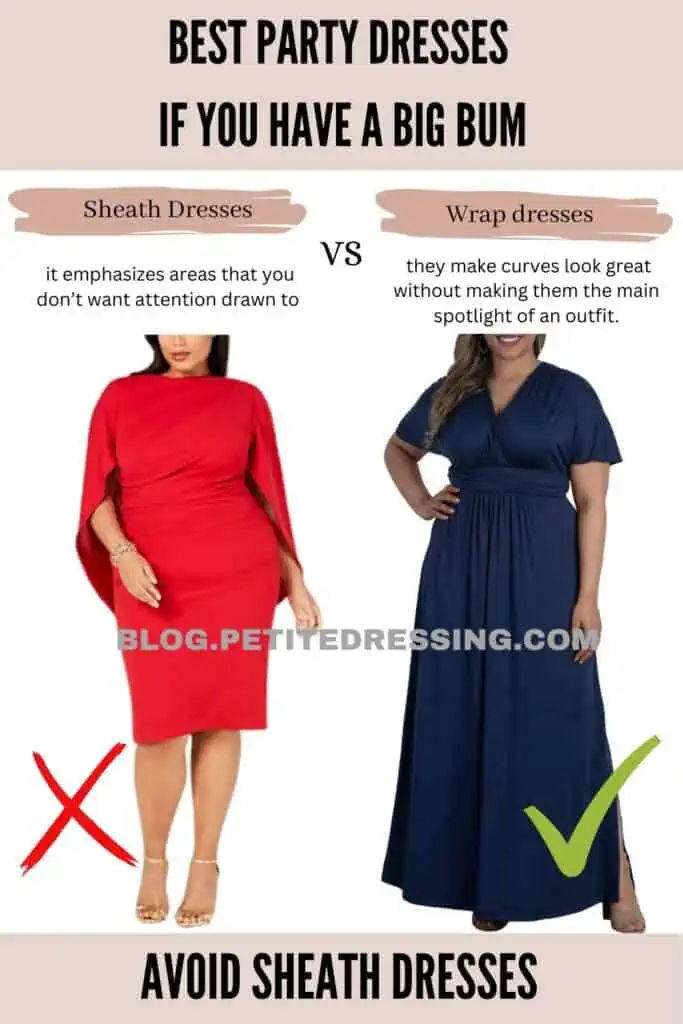 Empire waist dresses
For women with a big bum, wearing empire waist dresses can be a perfect way to flatter your body structure and have a more balanced proportion overall. Empire waist dresses on women with big hips help in making the bum look rounder and adds to a more streamlined silhouette.
This style works in tandem with your hourglass body shape by cinching at the waist. If you want your bum to look perkier, empire waist dresses will give a flattering result. You can make this even better by pairing with a pair of stiletto heels.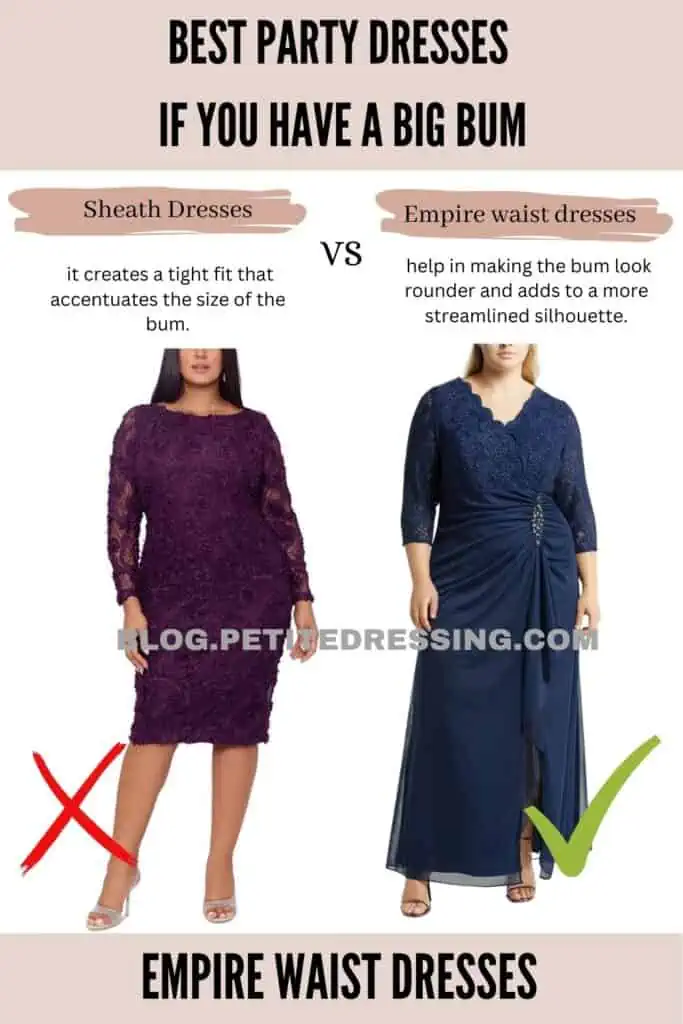 This style of dress has that flowy look that doesn't emphasize your bum, and that's what you would love to achieve with your party dresses.
It's time to party!