Having a petite inverted triangle shape means you are under 5'4″, and have broader shoulders and narrow hips. Being 5'2″ myself, I always understand how much effort petite women have to put into, in order to find clothing that fits. Besides, I also have a petite clothing line, so that give me first hand experience of styling petite models of all sizes and body shapes.
Based on feedback from thousands of my petite customers, I've put together this denim guide for petites who have an inverted triangle body shape.
Styling Goal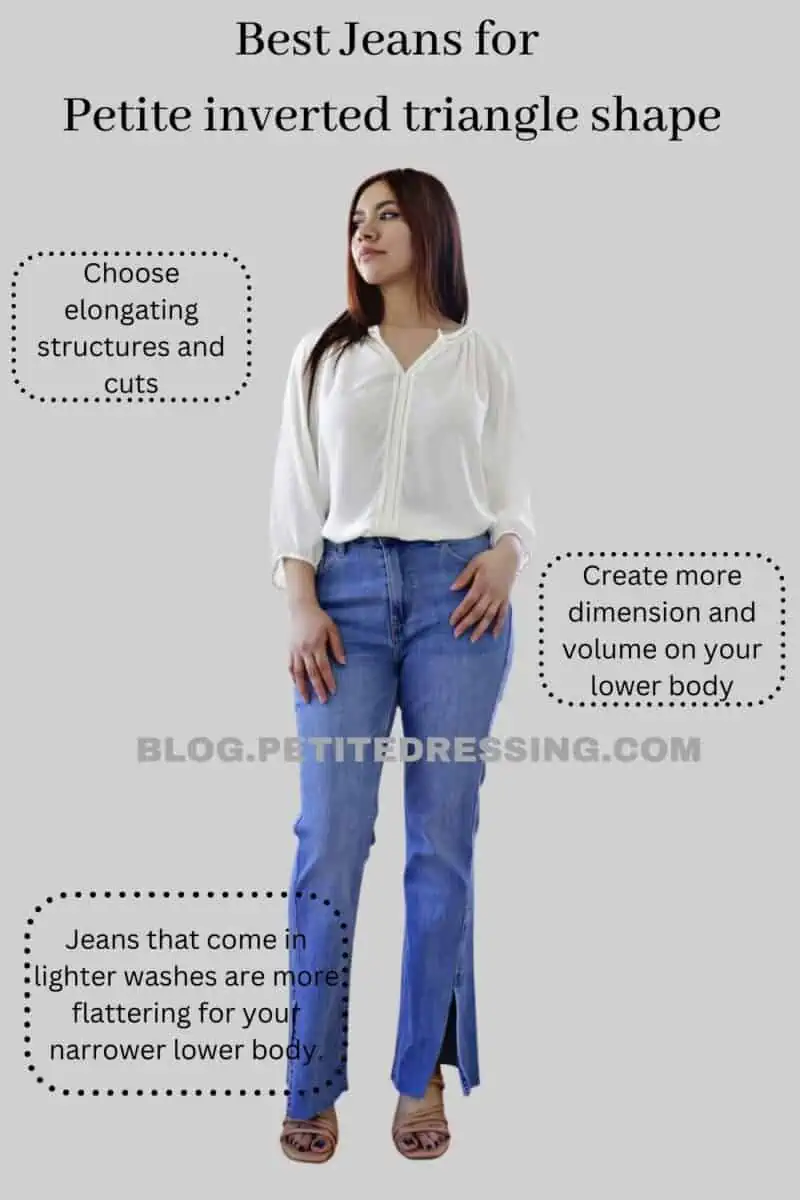 Choose elongating structures and cuts. Since we're petite girls, it's already a given that our height could use a little bit of elevation and the right pattern and structure can be of huge help on this.
Create more dimension and volume on your lower body. Opt for a comfortable fit by avoiding jeans that are too tight but instead, allow a bit more space for your legs.
Jeans that come in lighter washes are more flattering for your narrower lower body. This is because lighter colors can help steer the attention away from your legs and give them the illusion of more depth compared to wearing darker colors.
Boyfriend Jeans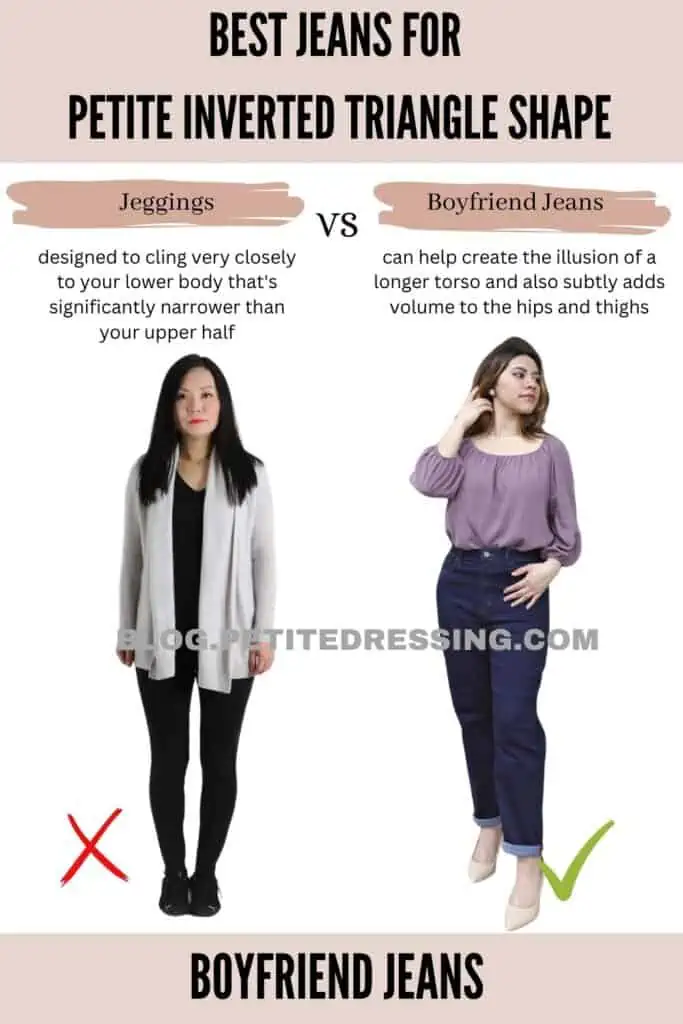 Boyfriend jeans, as the name suggests, are jeans that are inspired by the relaxed and effortlessly stylish fit of men's jeans. They're typically loose-fitting, with a straight or slightly tapered leg, and a low-rise waist which is all flattering factors for petite inverted triangle-shaped figures.
The relaxed fit of the jeans means that they're not too tight in the hips or thighs, which are usually the key concern of most petite women with an inverted triangle shape. Additionally, the low-rise waist of the jeans can help create the illusion of a longer torso and also subtly adds volume to the hips and thighs resulting in a nice balance between the upper and lower body.
Boyfriend jeans are also incredibly versatile so you can definitely think of so many ways to style them on your petite inverted triangle body shape.
Light-colored Jeans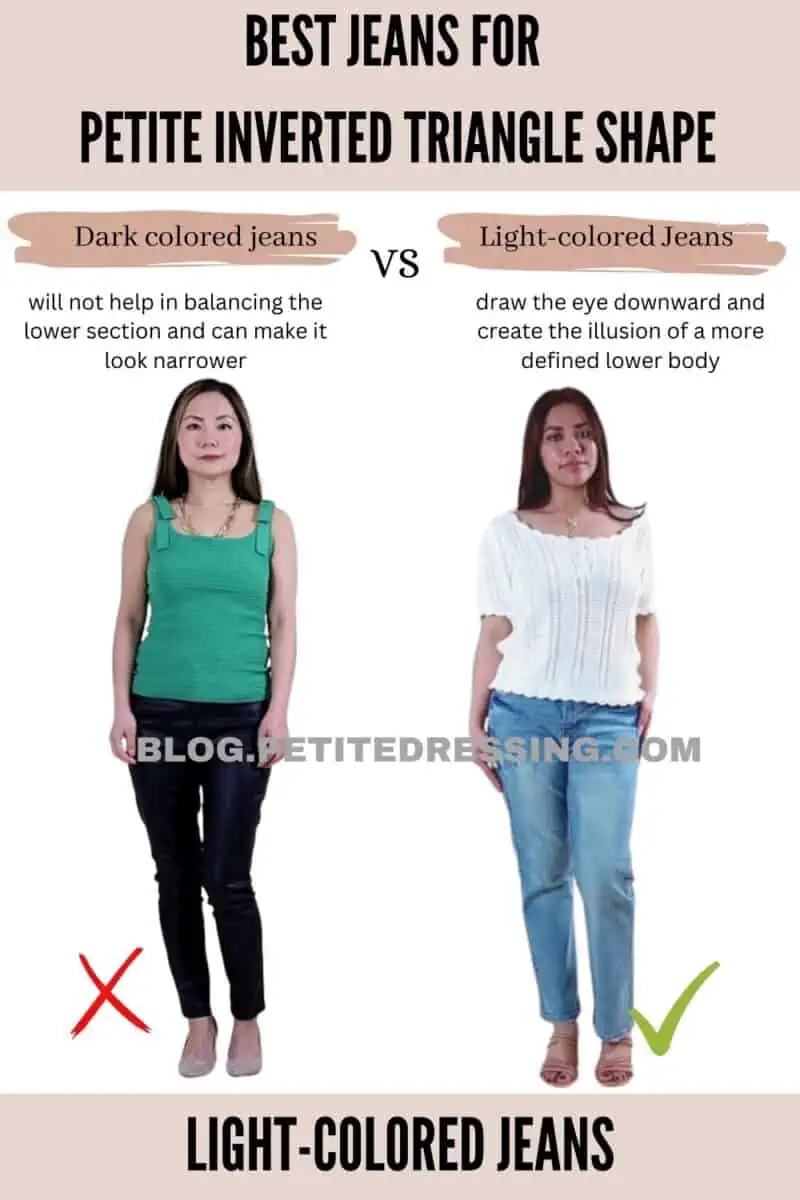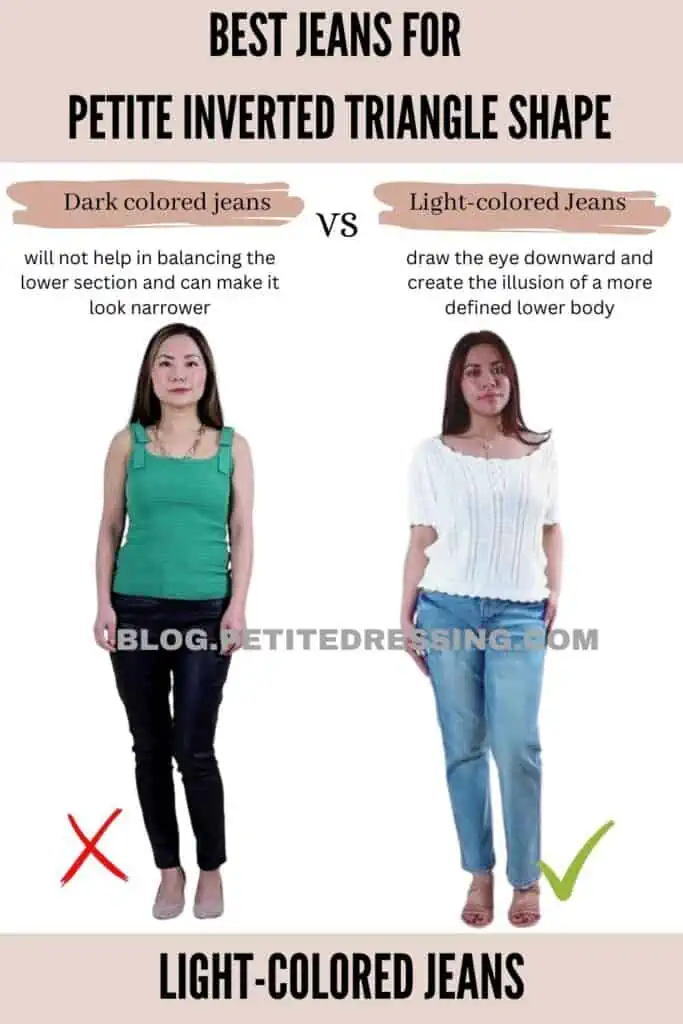 Lighter-colored jeans draw the eye downward and create the illusion of a more defined lower body, which can help balance out the broader upper body. Since your legs are already naturally slim, lighter colors can help emphasize that even visually stretch the length of your legs vertically to make you appear taller.
In contrast, darker colored jeans can sometimes make the upper body look too heavy by making the legs appear way slimmer. Since dark colors absorb light, they can slim down your legs even more and make them significantly smaller than your upper body, and further exaggerate the inverted triangle shape.
While dark jeans can be slimming and elongating, they may not be the most flattering choice for petite inverted triangle body shapes who are looking to balance out their proportions.
Avoid Low-rise Jeans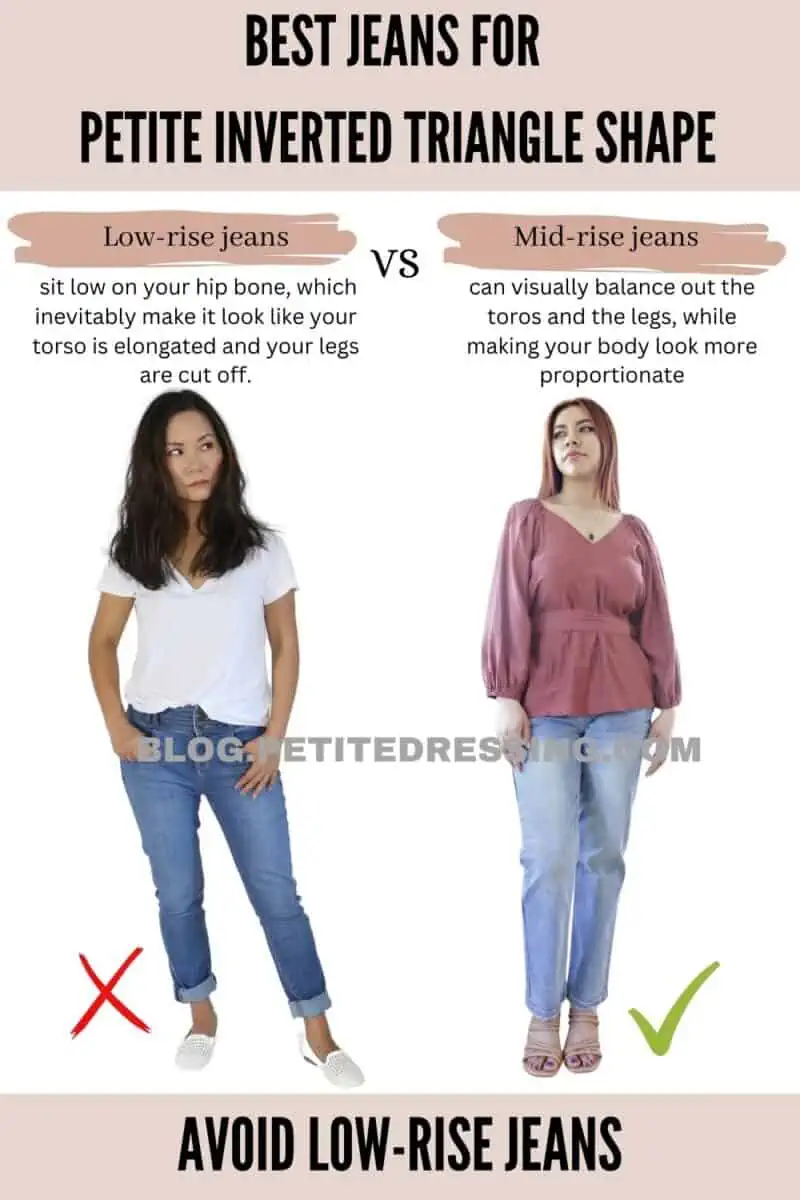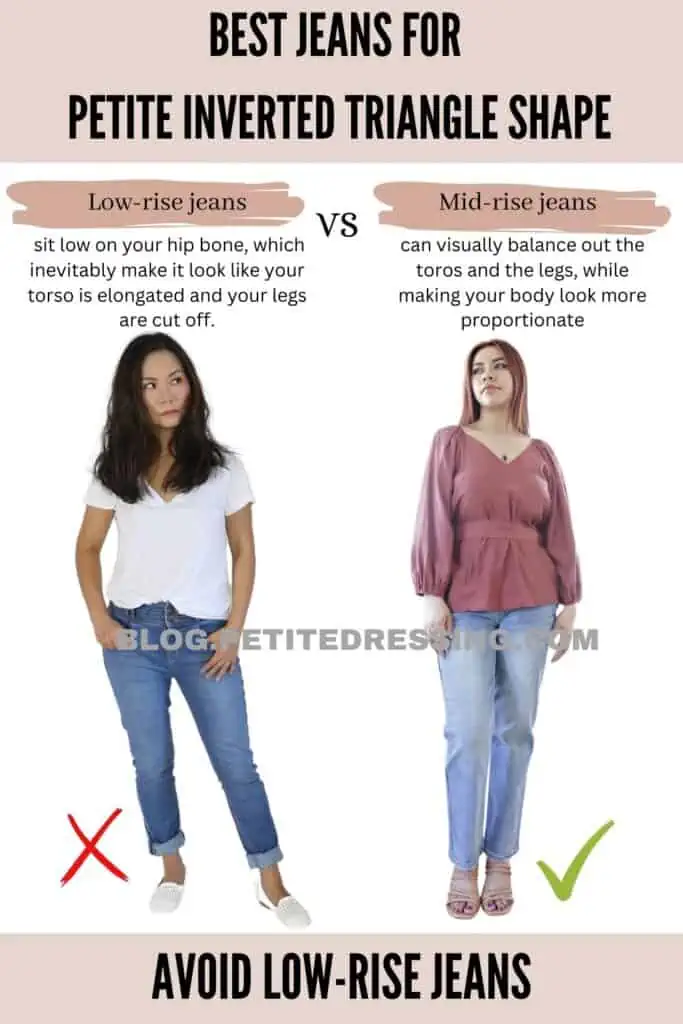 Low rise jeans is a big trend, but if you are petite, please use caution and you are probably better off to skip this trend.
The reason is low rise jeans sit low on your hip bone, which inevitably make it look like your torso is elongated and your legs are cut off.
Even though low-rise jeans can give you that "cool girl" vibe, they are not the most flattering for any petites.
Retro Flared Jeans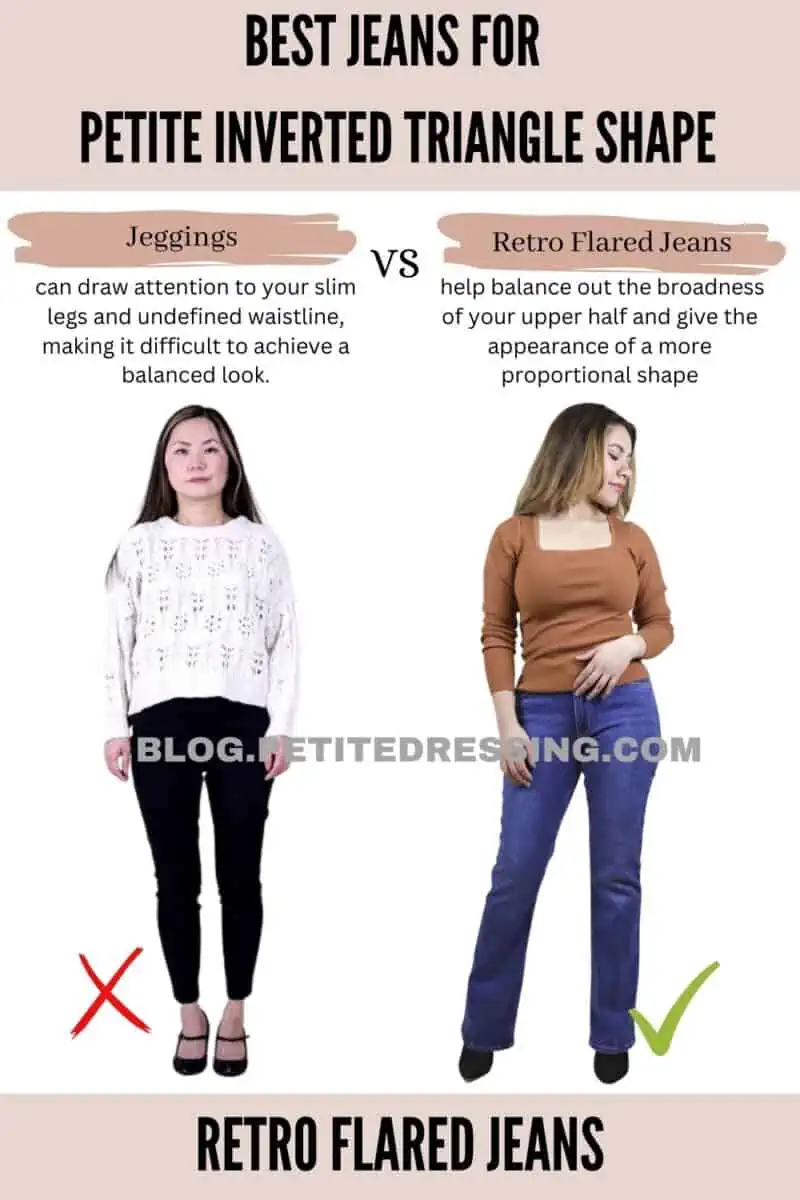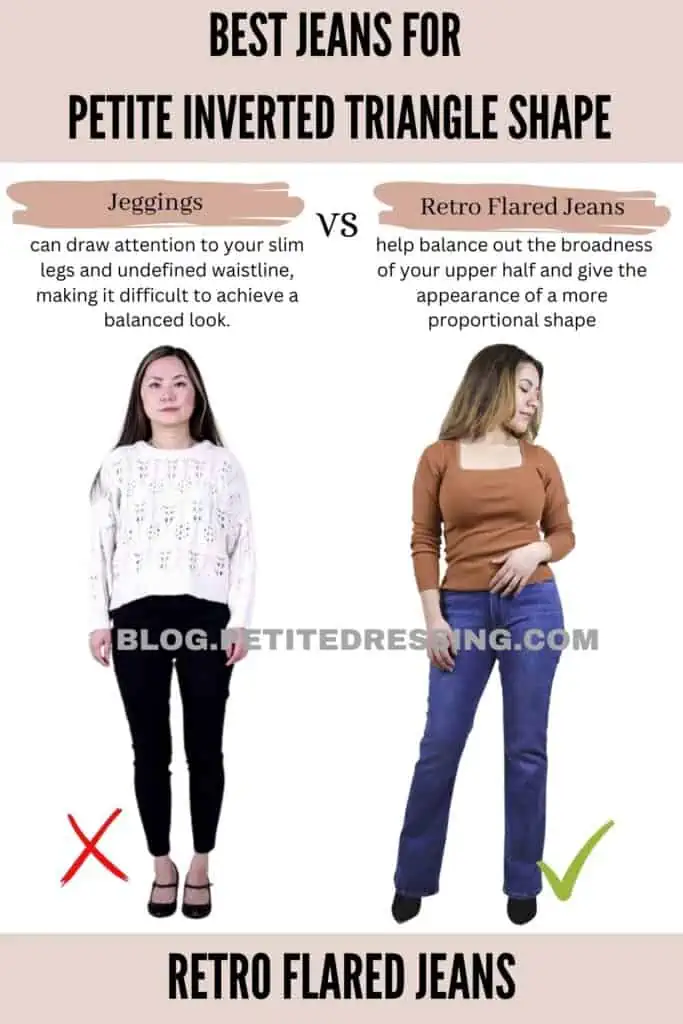 For those with an inverted triangle figure, flared leg jeans are a fashion-forward option that can do wonders for your silhouette. These jeans are snug at the knee before cascading out in a playful flare at the hem, creating a fun and flirty look that accentuates the shape of your legs.
By adding volume to the lower part of your body, these jeans help balance out the broadness of your upper half and give the appearance of a more proportional shape. And let's not forget the comfort factor – flared jeans are known for their relaxed fit and cozy fit, making them a great choice for everyday wear.
Of course, when choosing flare-leg jeans, it's important to keep your height and body shape in mind. While a bit of volume in the flare can be flattering, too much can overwhelm your feminine figure so again, always be extra mindful of the right fit!
Streamlined Straight Leg Jeans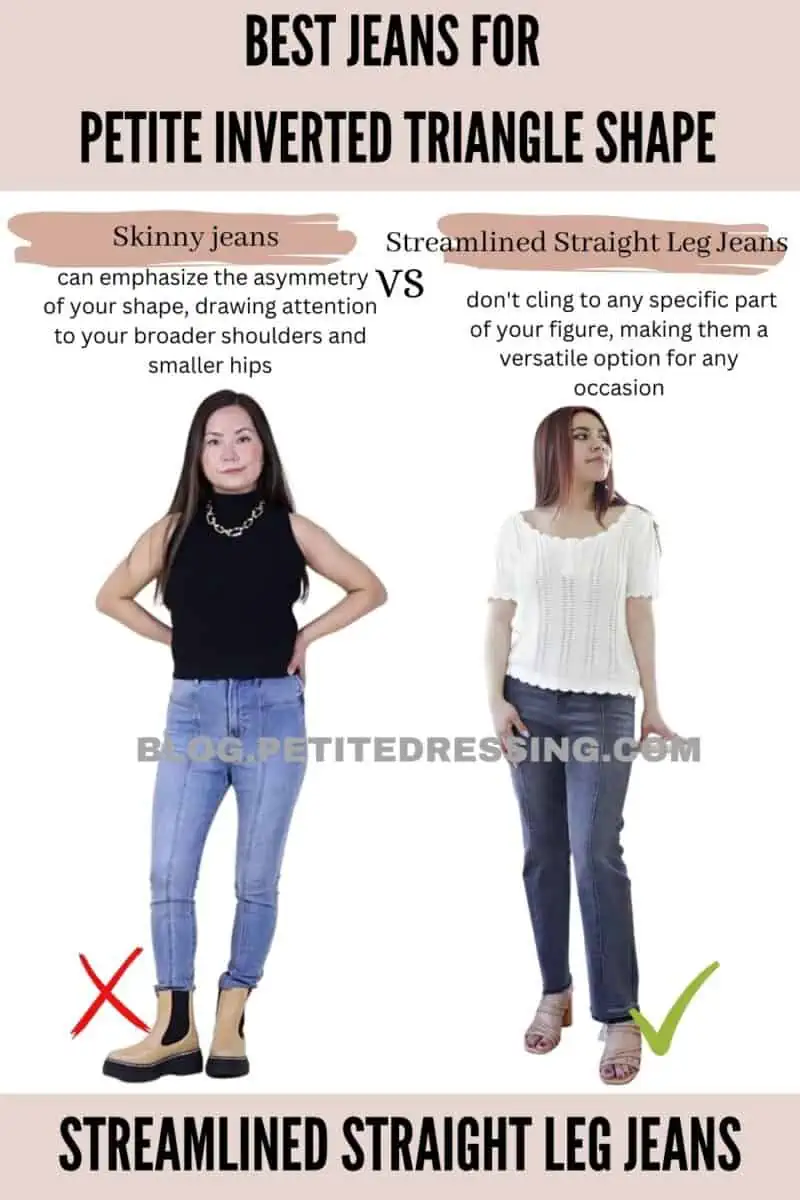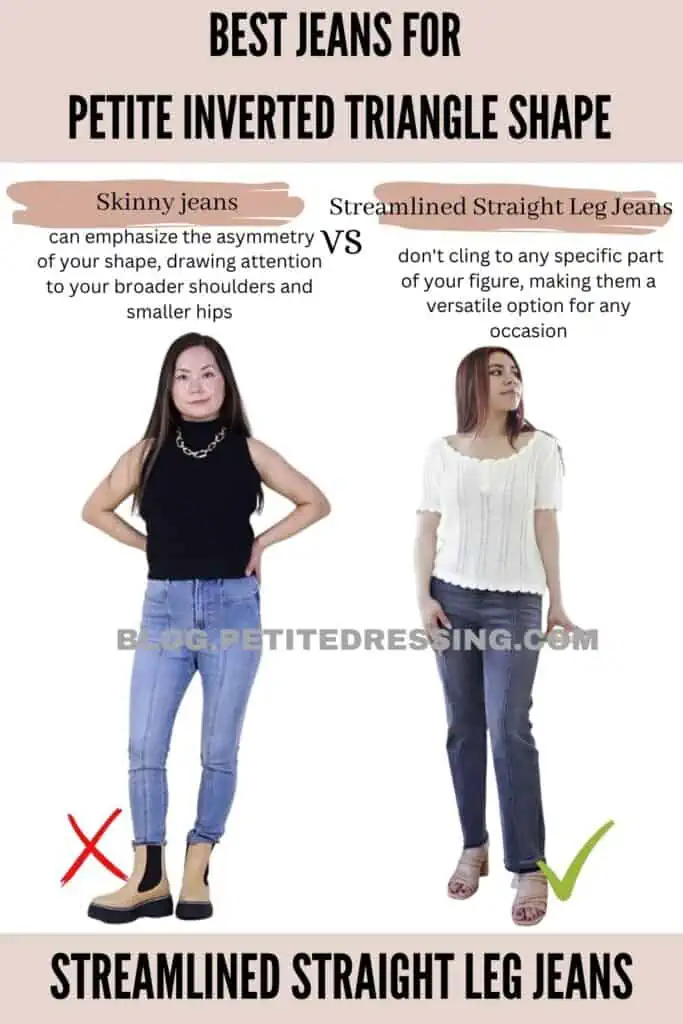 Unlike skinny or tight-fitting styles, straight-leg jeans offer a more relaxed and comfortable fit that aligns perfectly with the natural imbalance of a petite inverted triangle-shaped body.
With a straight cut that runs straight down from the waist to the hem, these jeans are the perfect choice for creating a flattering, elongated silhouette. And best of all, they don't cling to any specific part of your figure, making them a versatile option for any occasion!
So, whether you're looking to disguise your unstructured shape or simply want a chic and stylish look, straight-leg jeans are the way to go. With a range of washes, cuts, and designs to choose from, there's a pair out there that's perfect to flatter your beautiful frame.
Well-constructed Wide-Leg Jeans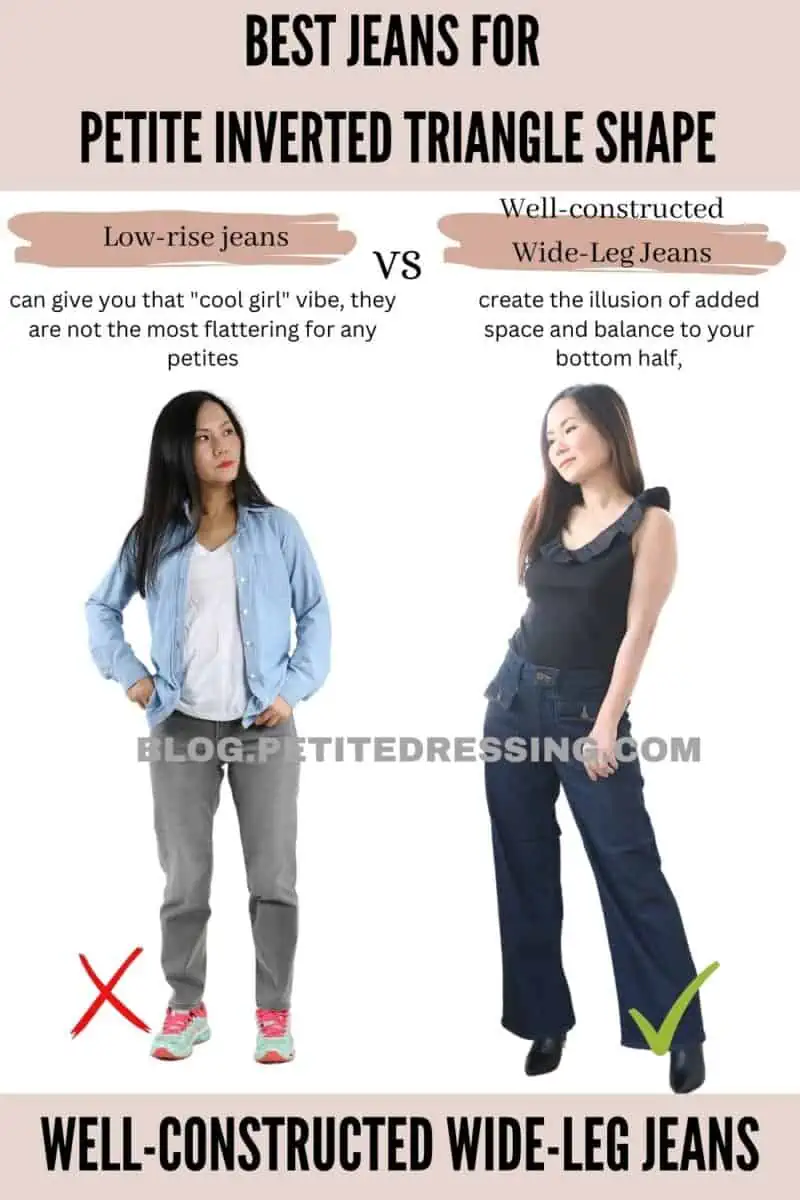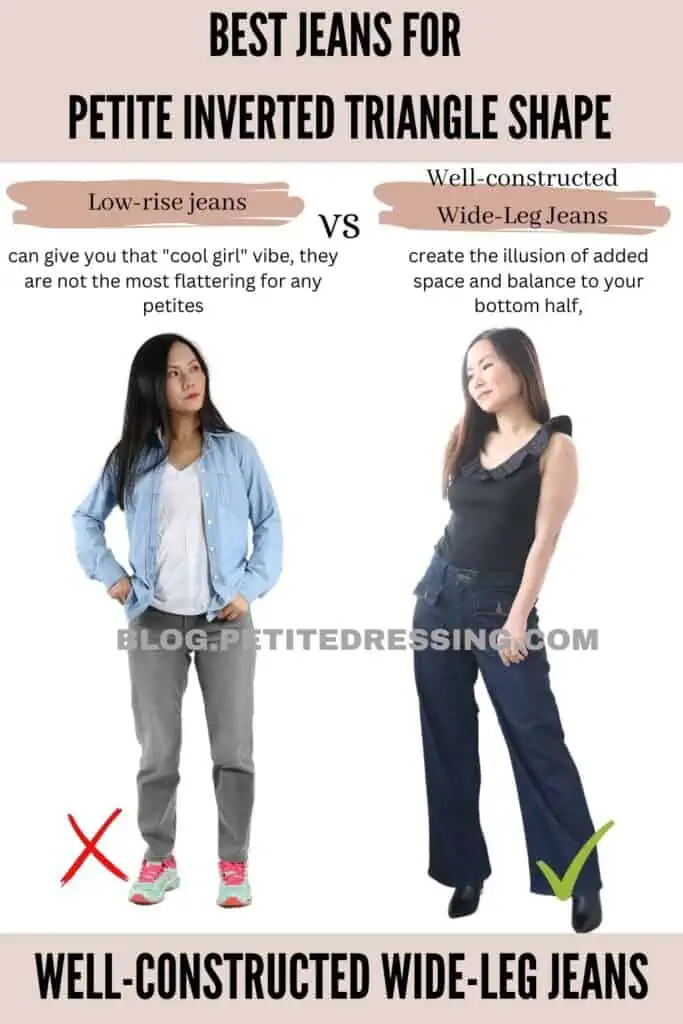 For petite ladies with inverted triangle figures, wide-leg jeans are a fantastic option to add to your denim collection! With their voluminous cut, these jeans create the illusion of added space and balance to your bottom half, helping to achieve a more proportional and flattering figure.
Not only do wide-leg jeans add volume, but they also work wonders in creating curves for your lower half to have your lower body be in proportion with your broad upper body. Unlike tight-fitting styles that hug your frame, wide-leg jeans offer a more relaxed fit that visually widens your hips and enhances your overall look.
So, if you're looking for a comfortable and stylish option that complements your inverted triangle shape, wide-leg jeans are the way to go. With their flowing silhouette, they sit comfortably on your figure, disguising any unstructured areas and drawing attention to your best assets.
Avoid Skinny Jeans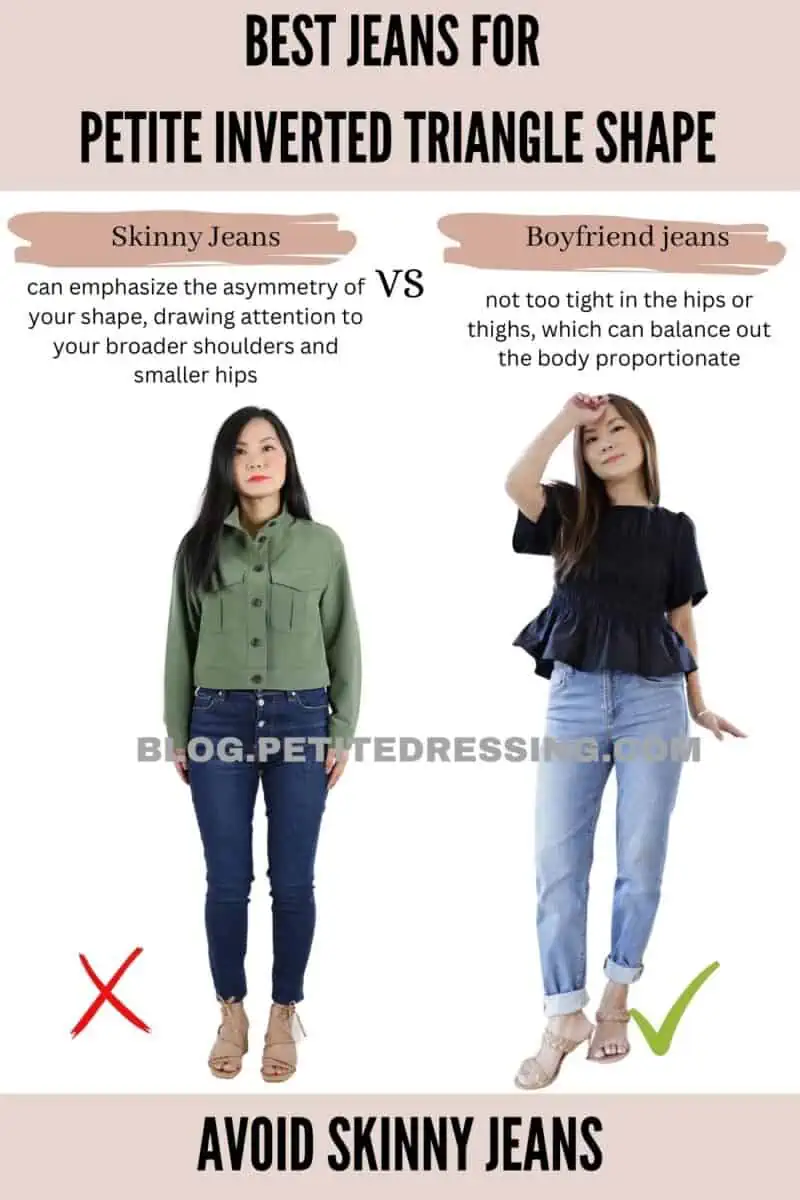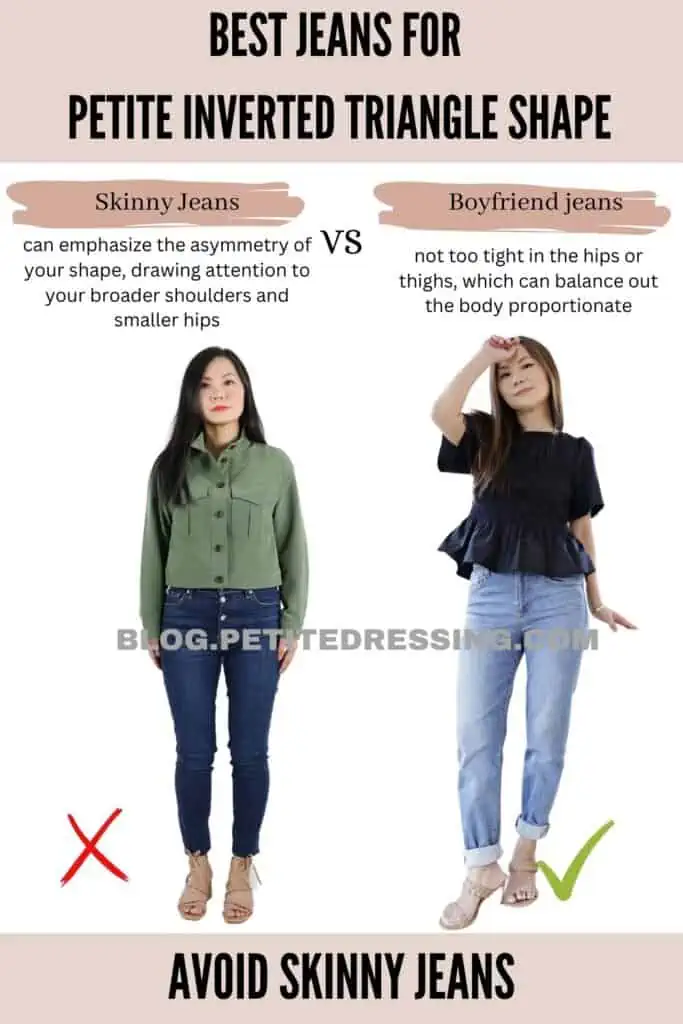 Tight-fitting bottoms should be something you always need to stay away from and one of them is a pair of skinny jeans. Skinny jeans are designed to cling very closely to your lower body that's significantly narrower than your upper half so this can instantly create an awkward, unbalanced look.
Rather than balancing out your figure, skinny jeans can emphasize the asymmetry of your shape, drawing attention to your broader shoulders and smaller hips. In addition to the lack of balance, skinny jeans can also be uncomfortable for those with an inverted triangle figure.
Avoid Jeggings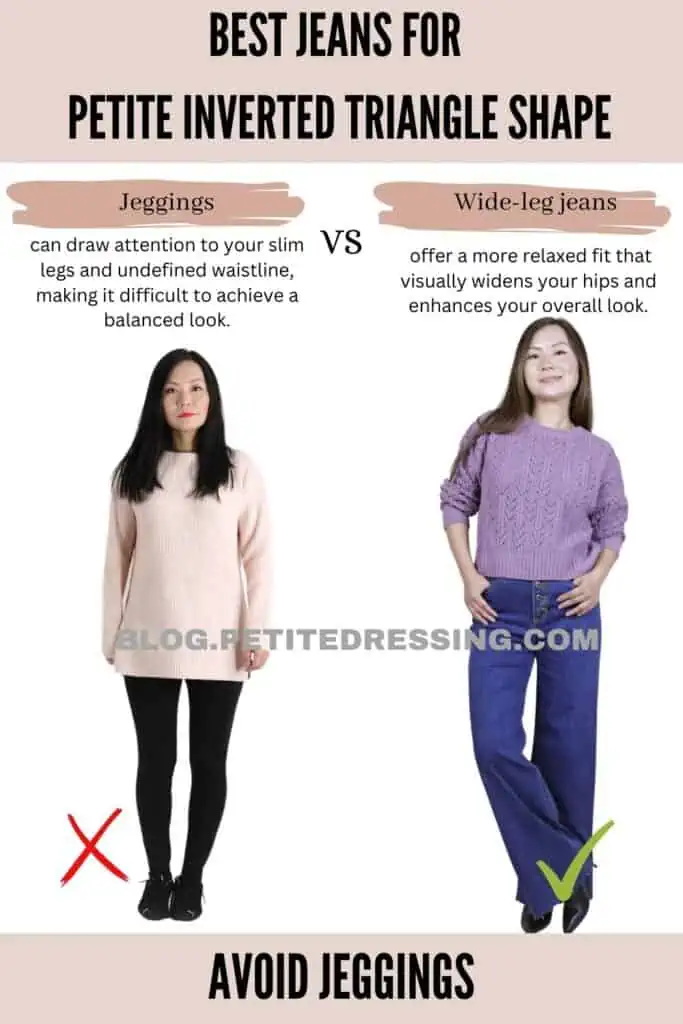 If you have an inverted triangle body shape, jeggings are also not a flattering option for your figure due to the same factor of being "too tight". With their body-clinging and snug style, jeggings can draw attention to your slim legs and undefined waistline, making it difficult to achieve a balanced look.
Just like skinny jeans do, this will only highlight your main concern by making your wide shoulders and big bust way too prominent compared to your bottom half.
Rather than offering a unique and stylish option, jeggings can be limiting and unflattering for those with an inverted triangle shape. By emphasizing your concerned area, they can create a visual imbalance that detracts from your overall look.
The Key Takeaway
Choosing the right pair of jeans that flatters your petite inverted triangle body shape is more important than you think! It's because it's quite easy to commit a fashion faux pas considering the natural imbalance of your frame.
But then, if you know what your body shape is looking for, the right pair of jeans can absolutely make any ensemble of your choice completely stunning!