It's every girl's essential to load her wardrobe up with a nice line-up of cocktail dresses. Cocktail dresses will accompany you to a number of semi-formal occasions, even ones that were set impromptu!
With that said, you should have ones that nicely flatter your busty figure. Choosing a dress that looks good on women with large busts is not always easy as it can be quite tricky to style.
Since cocktail dresses should be your easy go-to pieces to take you to every party, they should be something that you don't really have to put too much effort into styling. In this blog post, we'll guide you with the types of cocktail dresses that will perfectly flatter your busty frame.
Styling Goal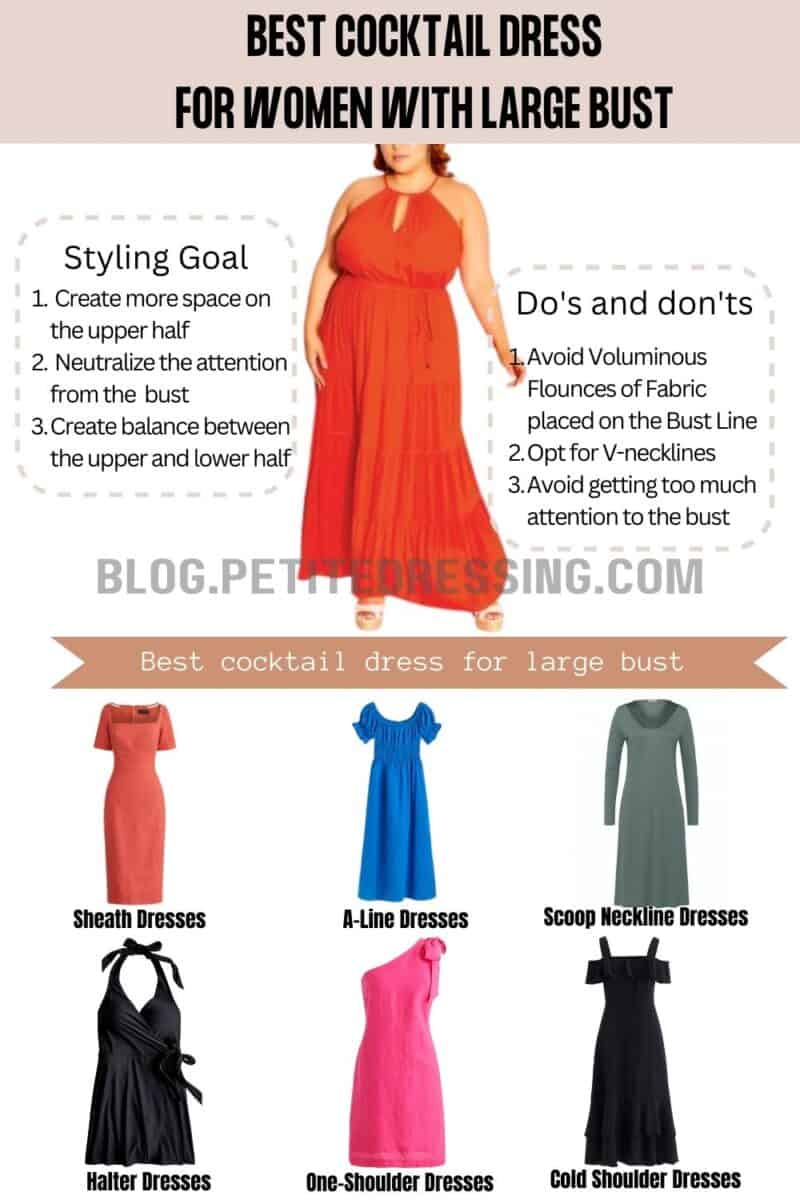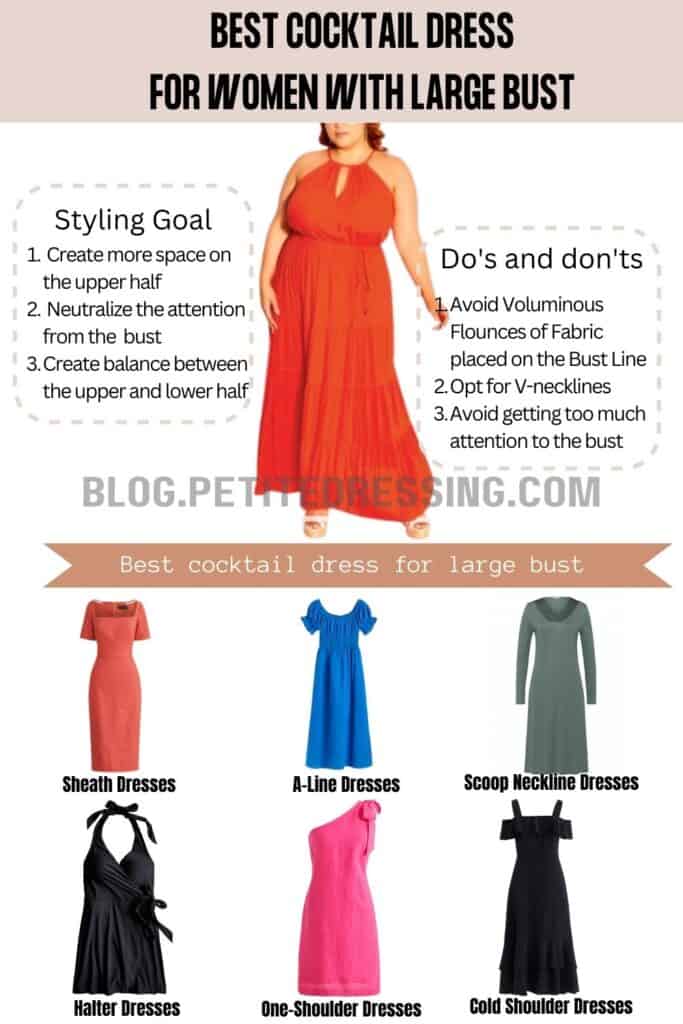 The key to having your cocktail dress look flattering on your large bust is to create more space on the upper half of your body by going for certain necklines. Some of the best neckline styles for someone with big breasts would be the V-neckline, scoop neckline, square neck, and asymmetrical neckline.
The right balance between the upper body and lower body is very important to neutralize the attention that your large bust gets. When you have large breasts, the eyes tend to be drawn to the upper half portion of your body, making your top look much heavier and bigger compared to your lower body.
Intricate details are nice to have on cocktail dresses for them to look more sophisticated and eye-catching. However, you need to be extra mindful of such details because embellishments that are too bulky or voluminous may only make your bust look even larger.
Now let's delve into the different types of cocktail dress structures that will nicely flatter your large bust.
Sheath Dresses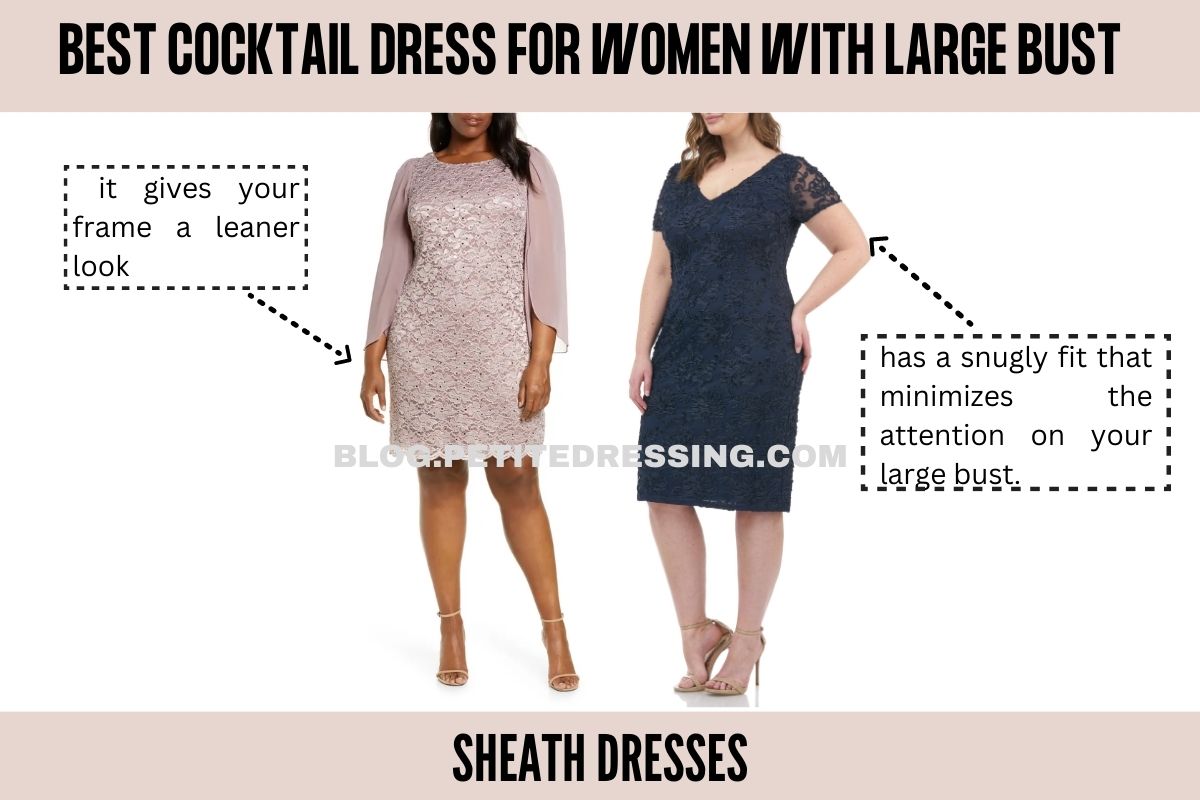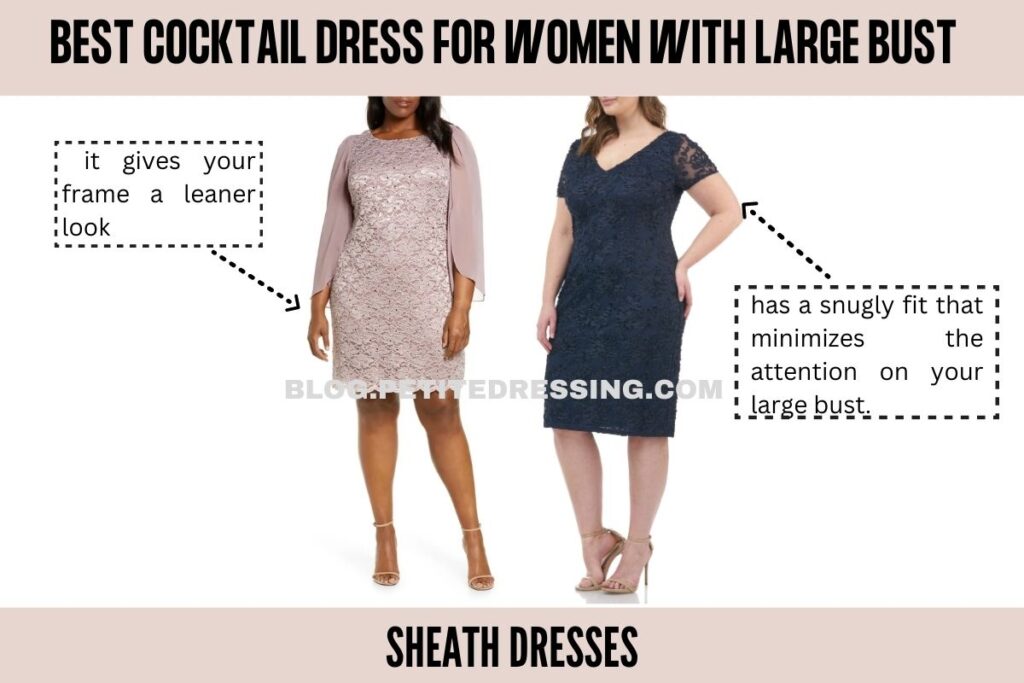 A sheath dress has a structure that is designed to fit closely to the body, typically without a full skirt. Because it often has a straight or slightly flared shape, it gives your frame a leaner look and at the same time minimizes the attention on your large bust.
They are also usually made from lightweight materials such as silk or cotton, and are often sleeveless or have short sleeves. If you're a busty girl who likes tailored and minimalist structures, this is something you'll definitely love for your cocktail dresses.
Sheath dresses are great for busty ladies as long as you keep the proper fit in mind. It's important to find a dress with a bodice that fits snugly (but not extremely tight) around the bust, rather than a loose-fitting one that looks too boxy.
A-Line Dresses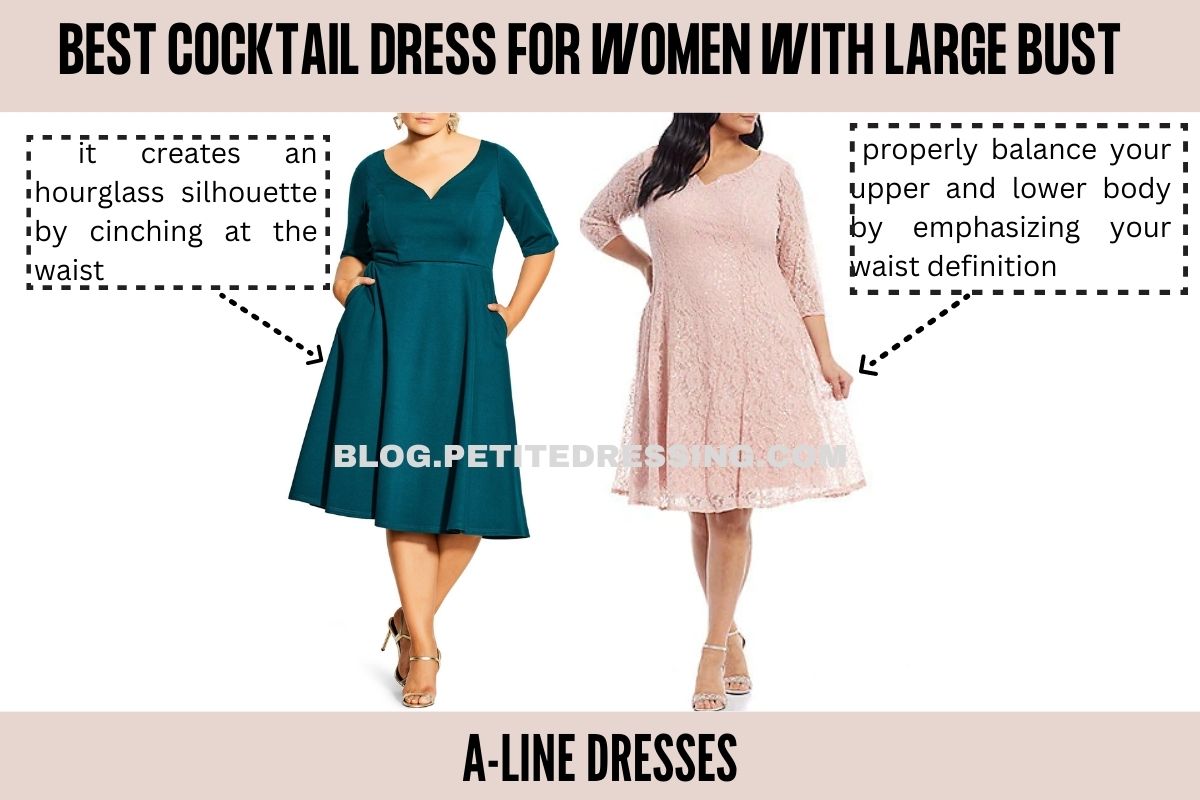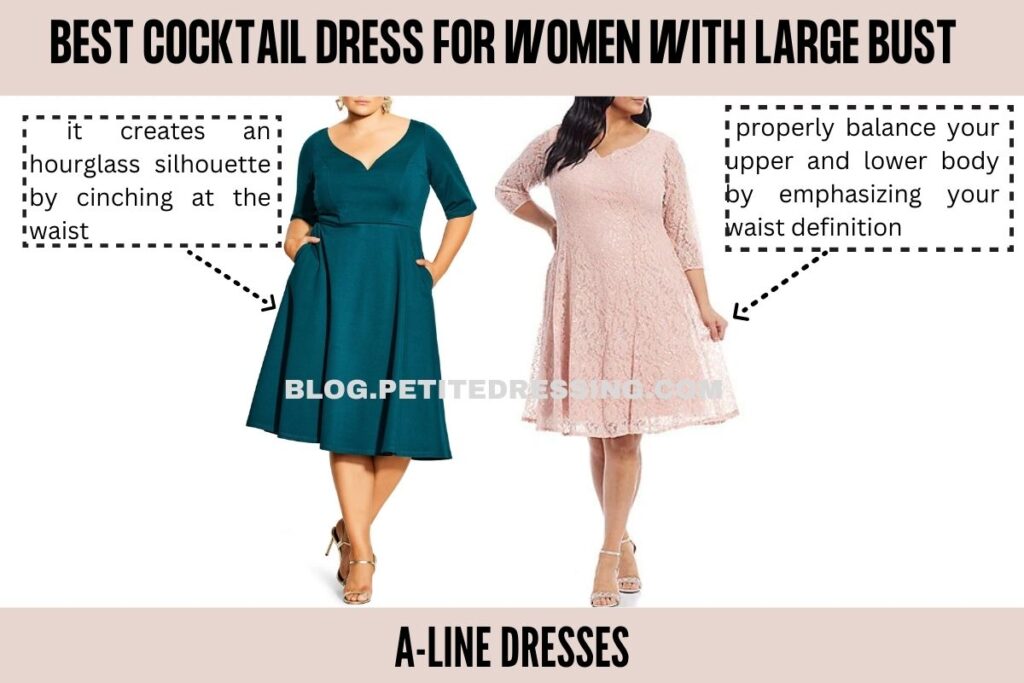 A-Line dresses are usually fitted at the bodice and gradually flare out from the waist to the hem. This dress style is quite flattering on many body types, including those with large busts, as it creates an hourglass silhouette by cinching at the waist and flaring out at the hips and thighs.
The silhouette it features helps properly balance your upper and lower body by emphasizing your waist definition and therefore enhancing your best features – including your beautiful large bust line.
Scoop Neckline Dresses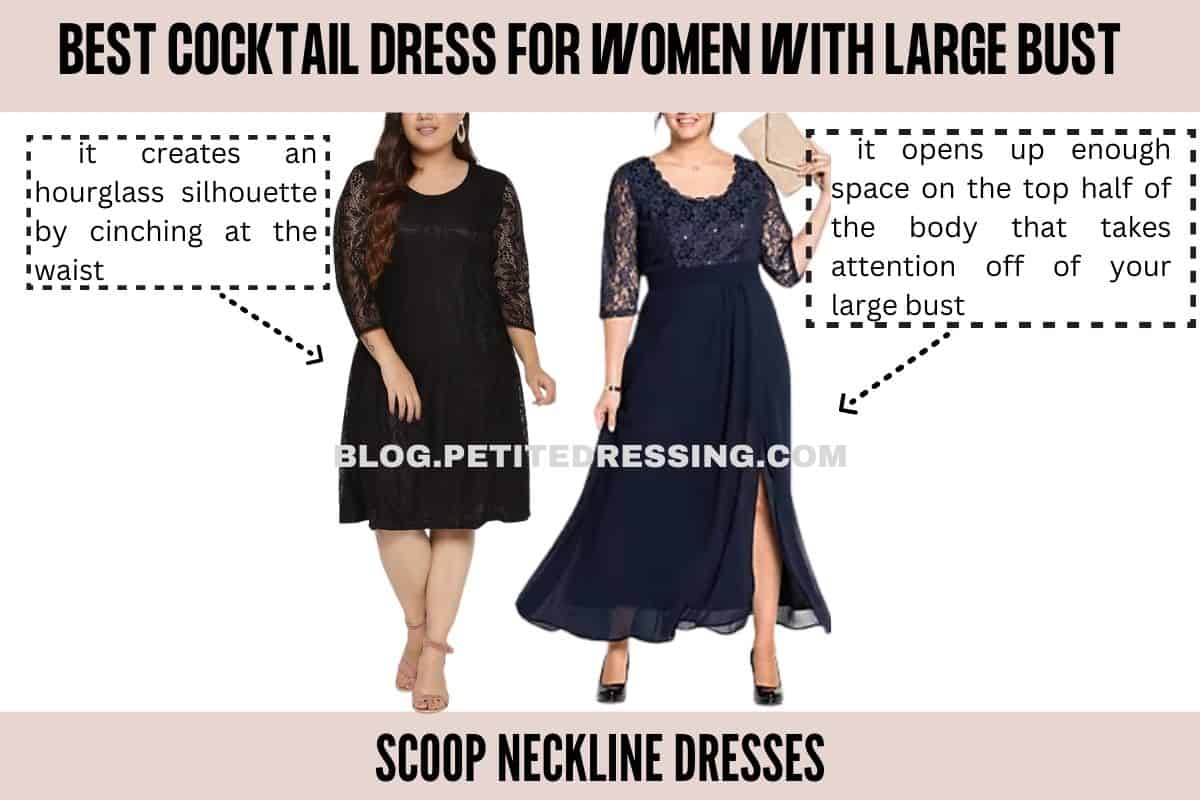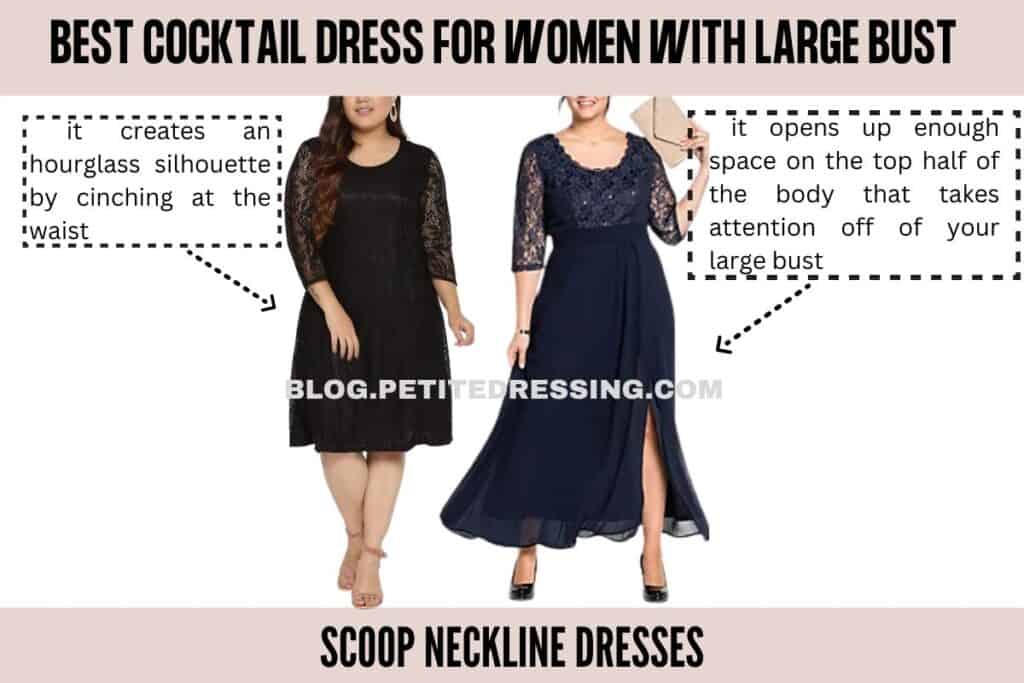 Cocktail dresses that have scoop necklines are also deemed very flattering for ladies with large busts because it opens up enough space on the top half of the body to take the sole attention off of your large bust. The ample room at the neckline can help to balance out the proportions of the upper body.
It's important to note that the overall fit and support of the dress, as well as the fabric and weight of it, as a scoop neckline that's too low can expose too much cleavage or a cocktail dress that's too tight may not provide enough support.
Halter Dresses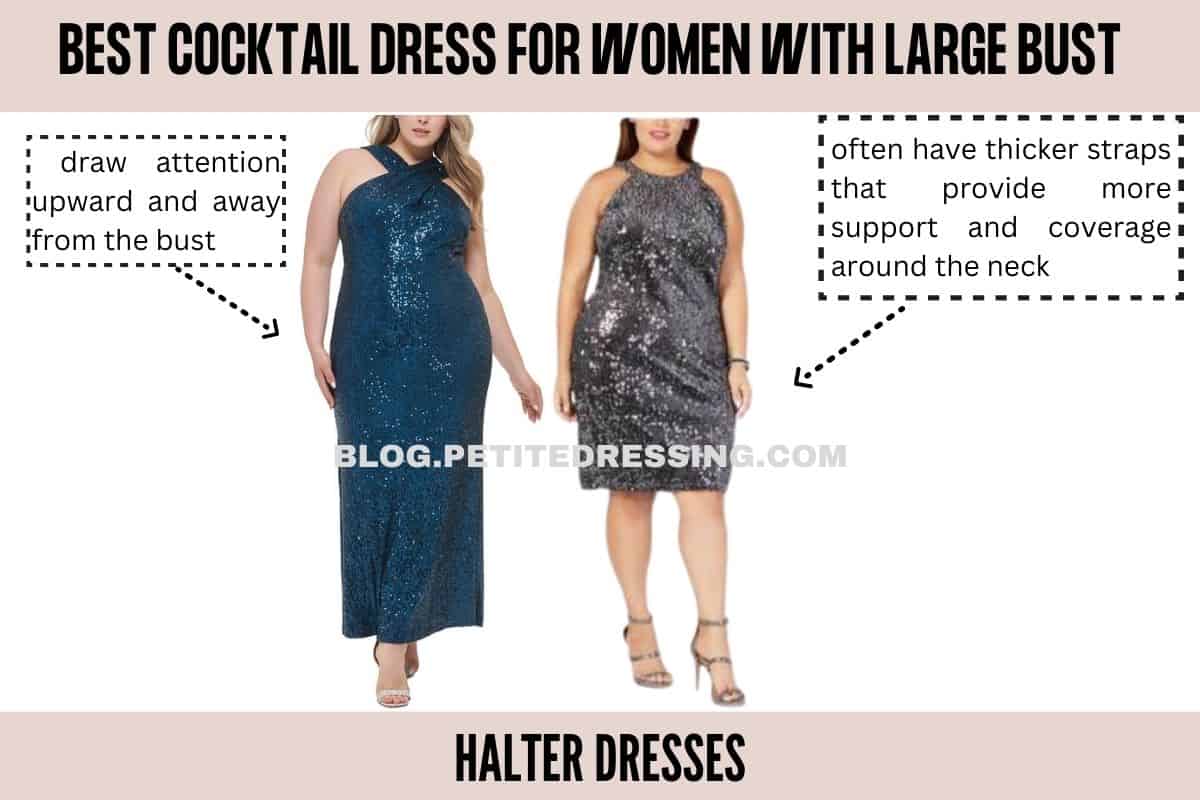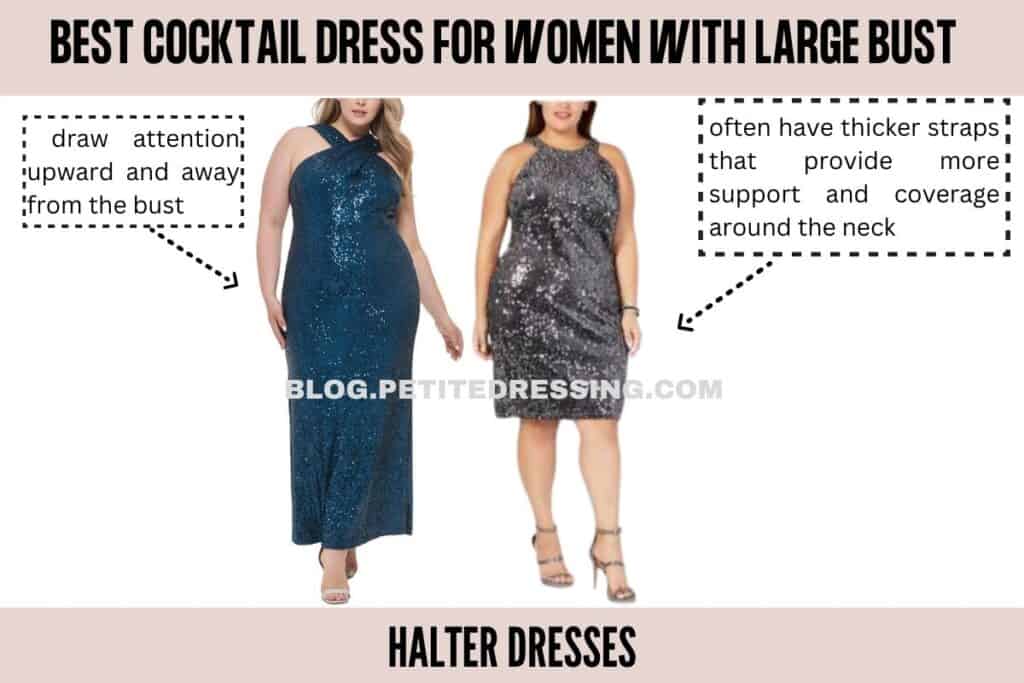 Halter-type cocktail dresses can be a flattering choice for women with big busts because they often have thicker straps that provide more support and coverage around the neck. Halter necklines can also draw attention upward and away from the bust because it exposes a larger area on the shoulders.
However, it's important to consider the overall fit of the dress and the type of fabric it's made from, as some fabrics may not provide enough support. Halter dresses come in different styles and designs, so you should try on different types of halter dresses to find the one that flatters your body shape and provides the level of support you need.
One-Shoulder Dresses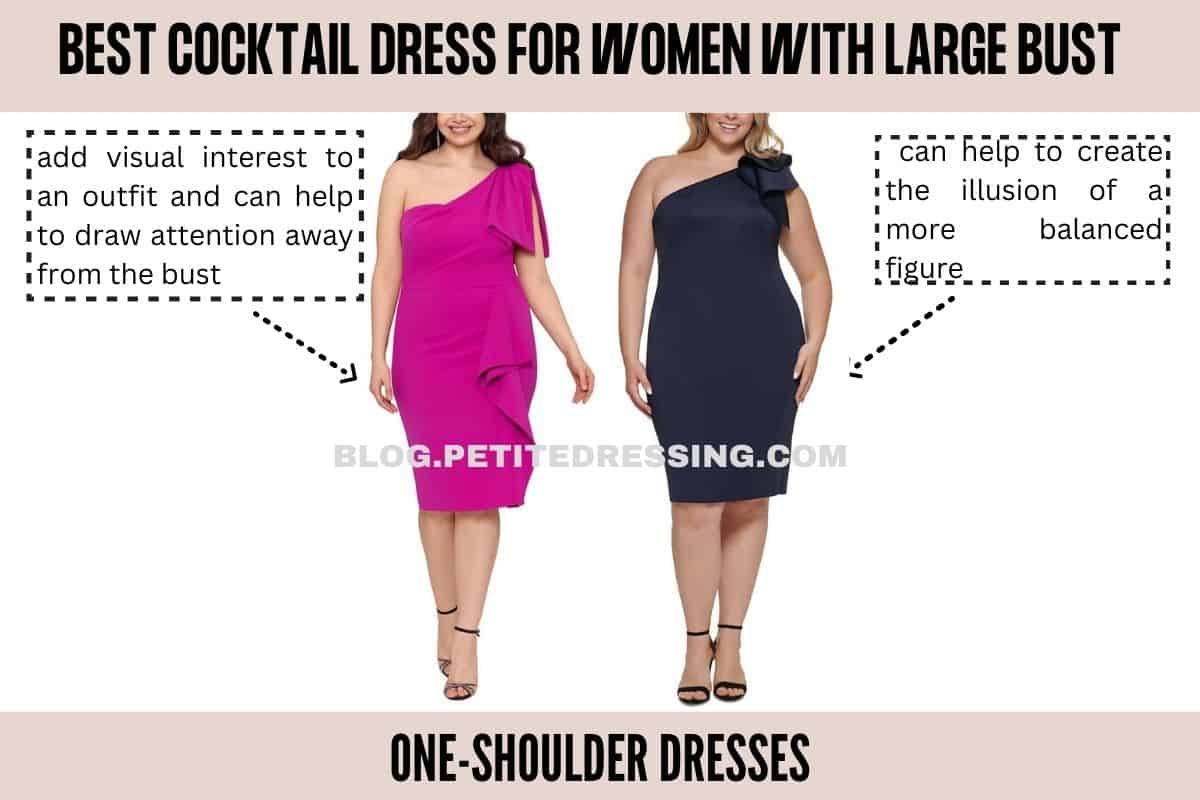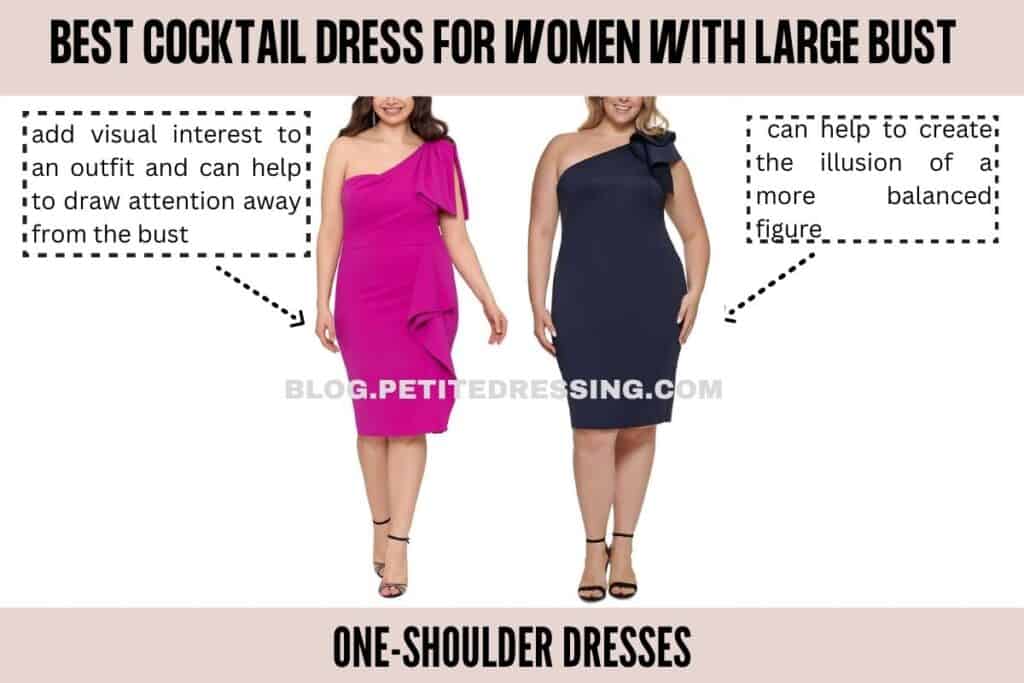 Asymmetrical necklines are generally flattering for women with larger busts as they can help to create the illusion of a more balanced figure. One-shoulder cocktail dresses are just some of the examples that feature asymmetrical necklines so they make a safe option for those with bigger busts.
One-shoulder dresses can also add visual interest to an outfit and can help to draw attention away from the bust. Since it bares a significant area of the upper half, it attracts the eyes to look not only at the bust area but also at your prominent shoulder line.
Just like scoop necklines, this type of style also elongates the neck to make you look slimmer and taller.
Cold Shoulder Dresses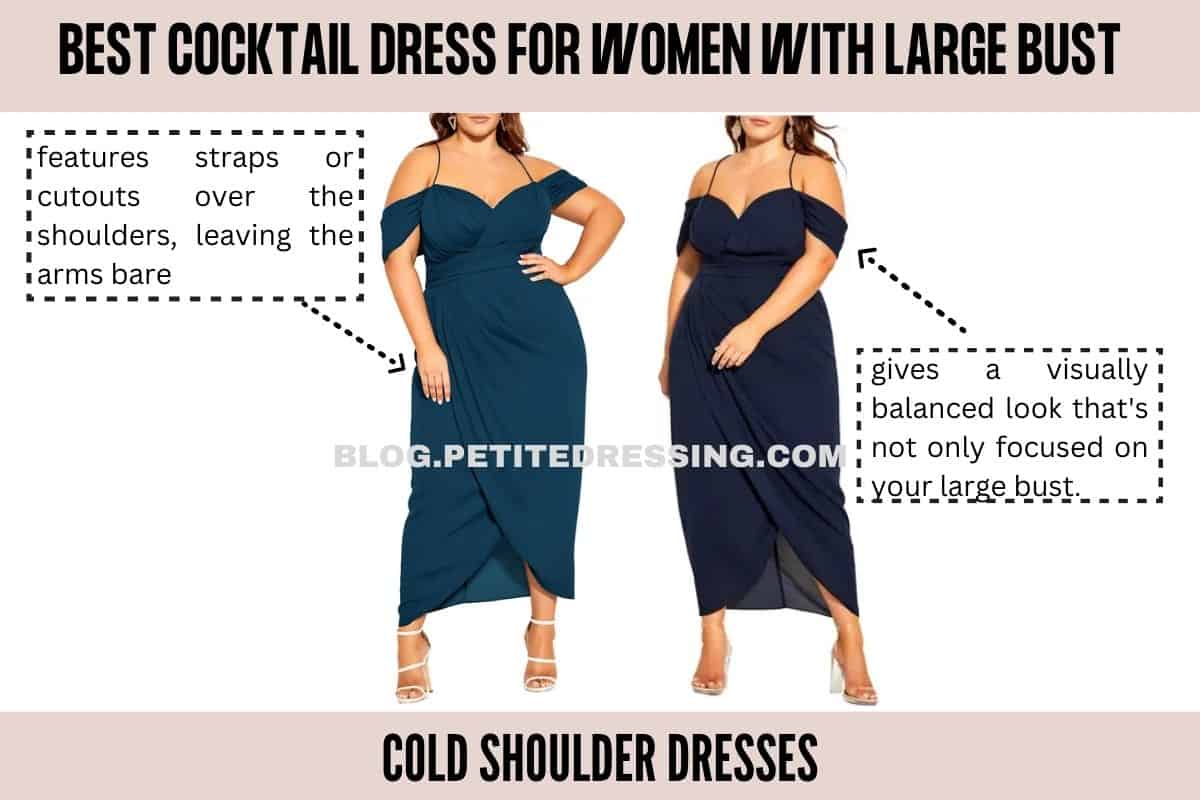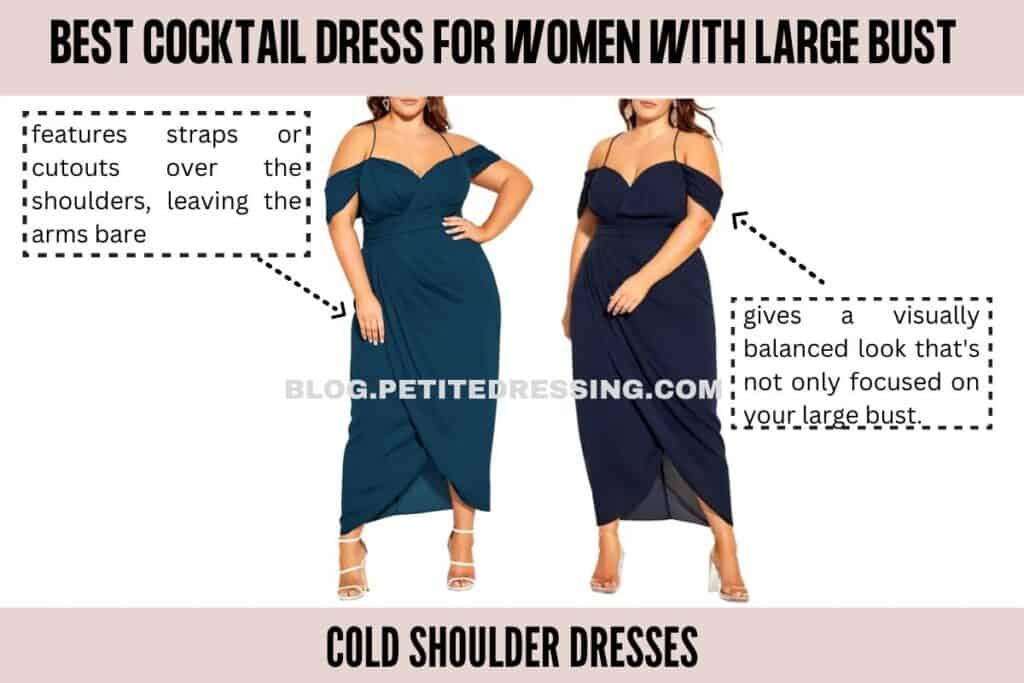 If you like the structure and bust fit of one-shoulder dresses but wish to show less skin, cold shoulder cocktail dresses should be a great option for you.
This type of dress features straps or cutouts over the shoulders, leaving the arms bare. Unlike off-the-shoulder dresses that leave your entire shoulders bare, cold shoulder dress styles feature straps on both sides which is also helpful in providing more support for your large bust.
It comes in a wide variety of trendy designs which can totally suit the occasion you'll need it for. The effect of the shoulder cutouts also contributes to opening up more space on the upper body and therefore giving a visually balanced look that's not only focused on your large bust.
V-Neck Dresses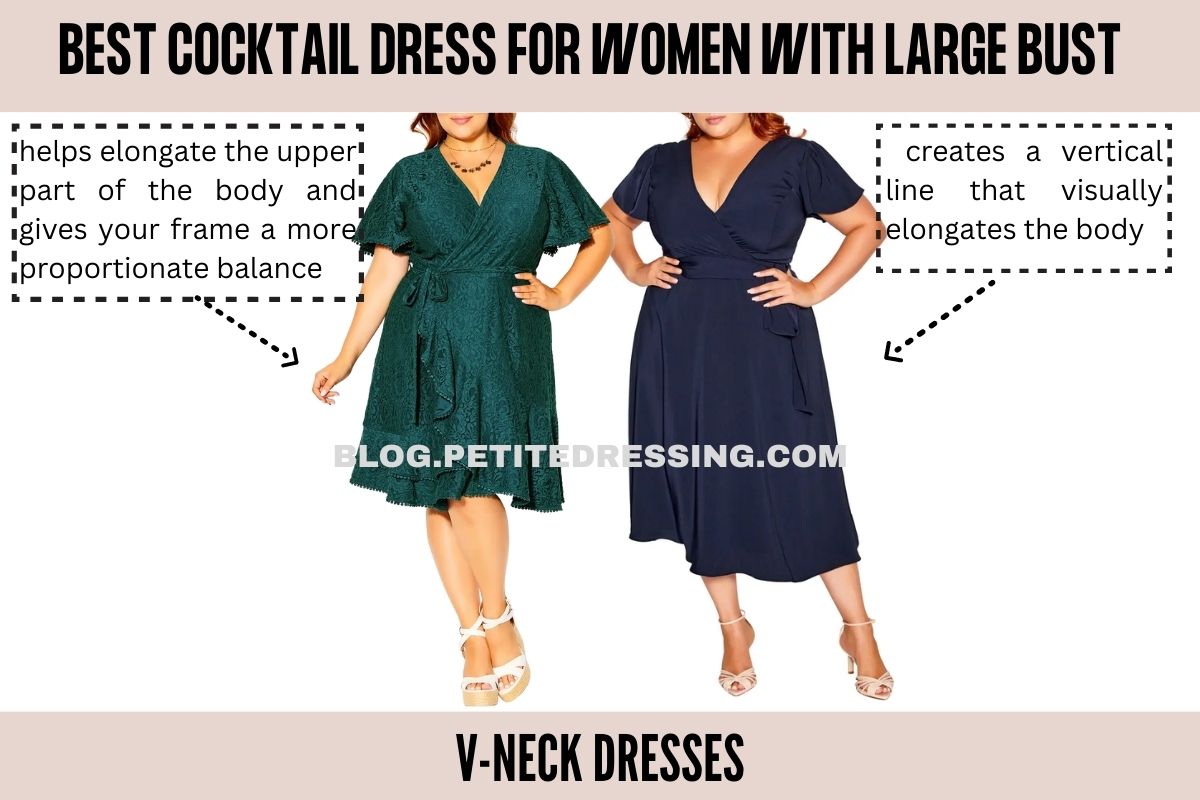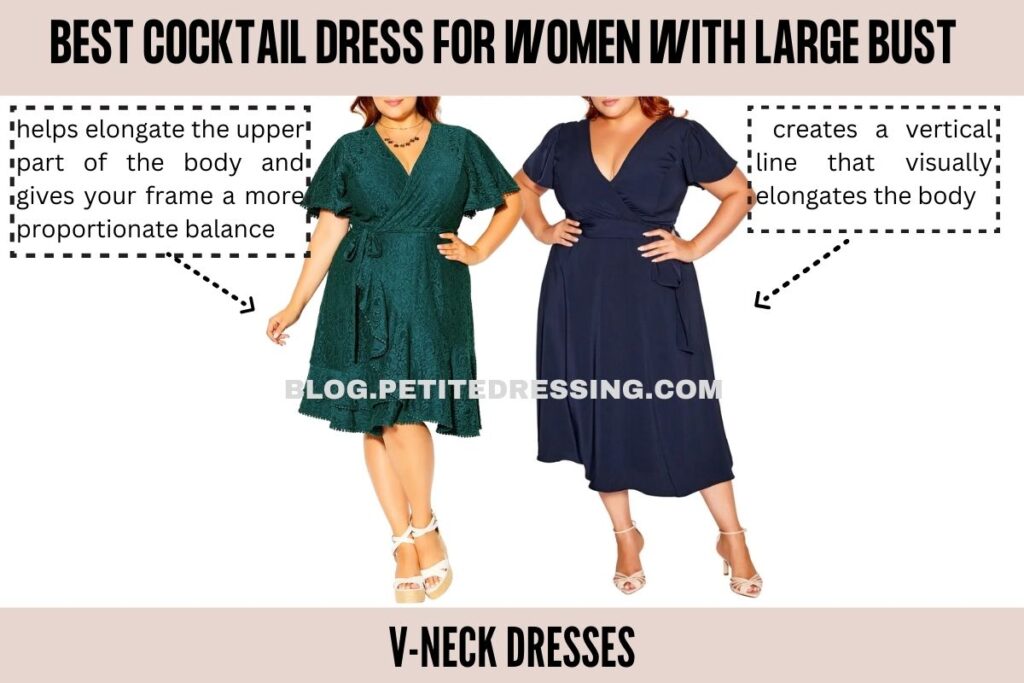 V-Neck cocktail dresses will always be an easy and safe style option for ladies with large bust sizes. The V-shaped neckline helps elongate the upper part of the body and gives your frame a more proportionate balance as it neutralizes the attention that your large bust automatically draws.
The V-neckline also creates a vertical line that visually elongates the body and can help to create a more balanced and leaner silhouette. However, just like choosing any other type of cocktail dress, the fit of the bodice is very important as your large bust would require better support and coverage.
It's also worth noting that a deep V-neck might not be the most appropriate for all settings, depending on your comfort level with showing cleavage. You may risk yourself to exposure if you choose to go for deep plunging necklines that are not well-fitted.
Wrap Dresses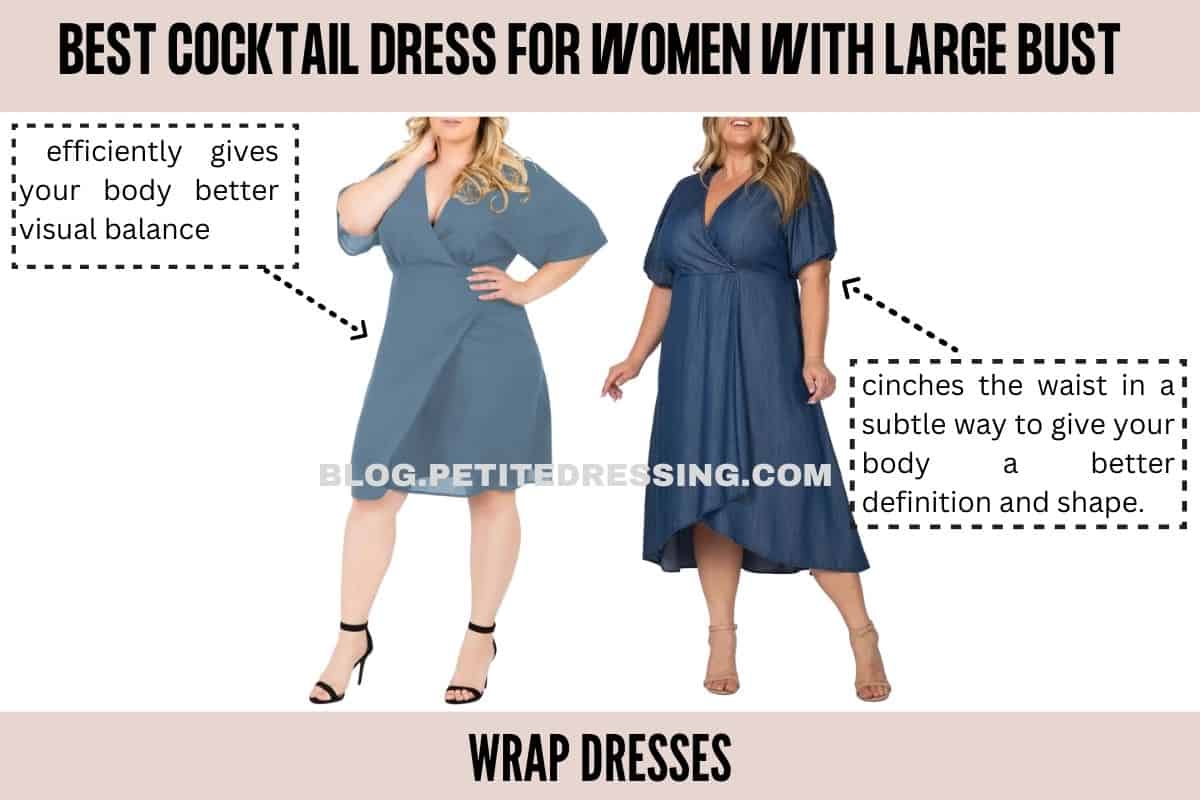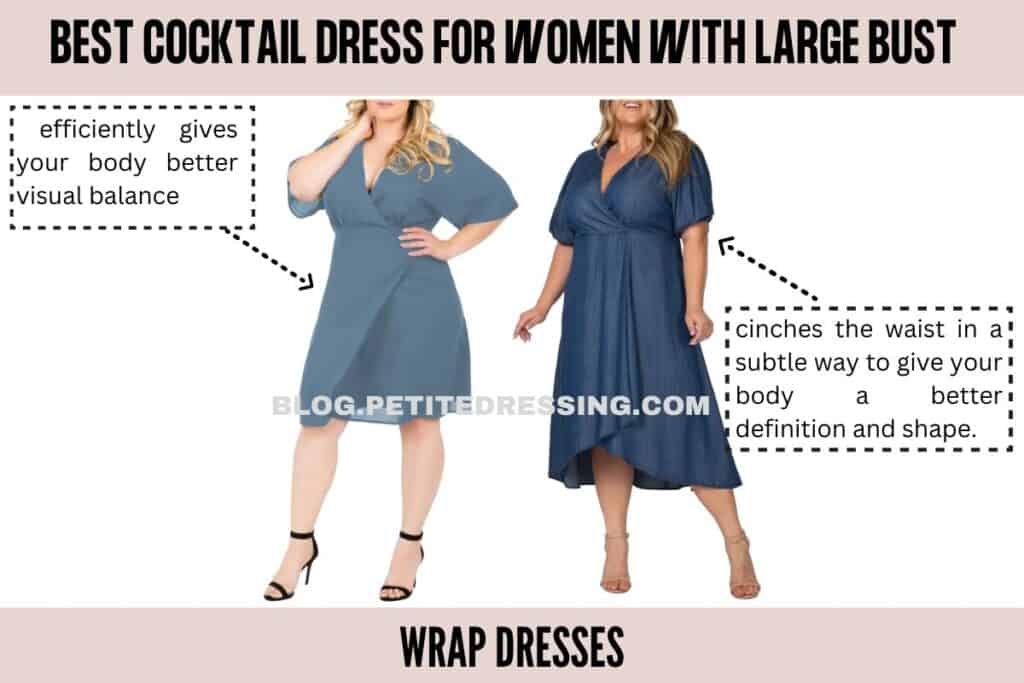 The universally flattering silhouette of wrap dresses is always a great style to go for if you have a large bust because it's not only easy to pull off but also efficiently gives your body better visual balance. They're known for the signature waist tie that cinches the waist in a subtle way to give your body a better definition and shape.
Wrap dresses come in different types of designs and necklines but they usually come in V-neckline styles. As we have previously mentioned, V-necks are generally pleasing to look at on bust ladies as it draws balanced attention to the upper body.
Apart from its visually advantageous silhouette, the waist tie that wrap dresses have features a customizable fit, allowing for more control over the level of coverage and support for the bust area. The adjustable ties or sashes of a wrap dress can allow for a tighter or looser fit, providing more or less coverage depending on the level of comfort you desire.
Avoid Voluminous Flounces of Fabric placed on the Bust Line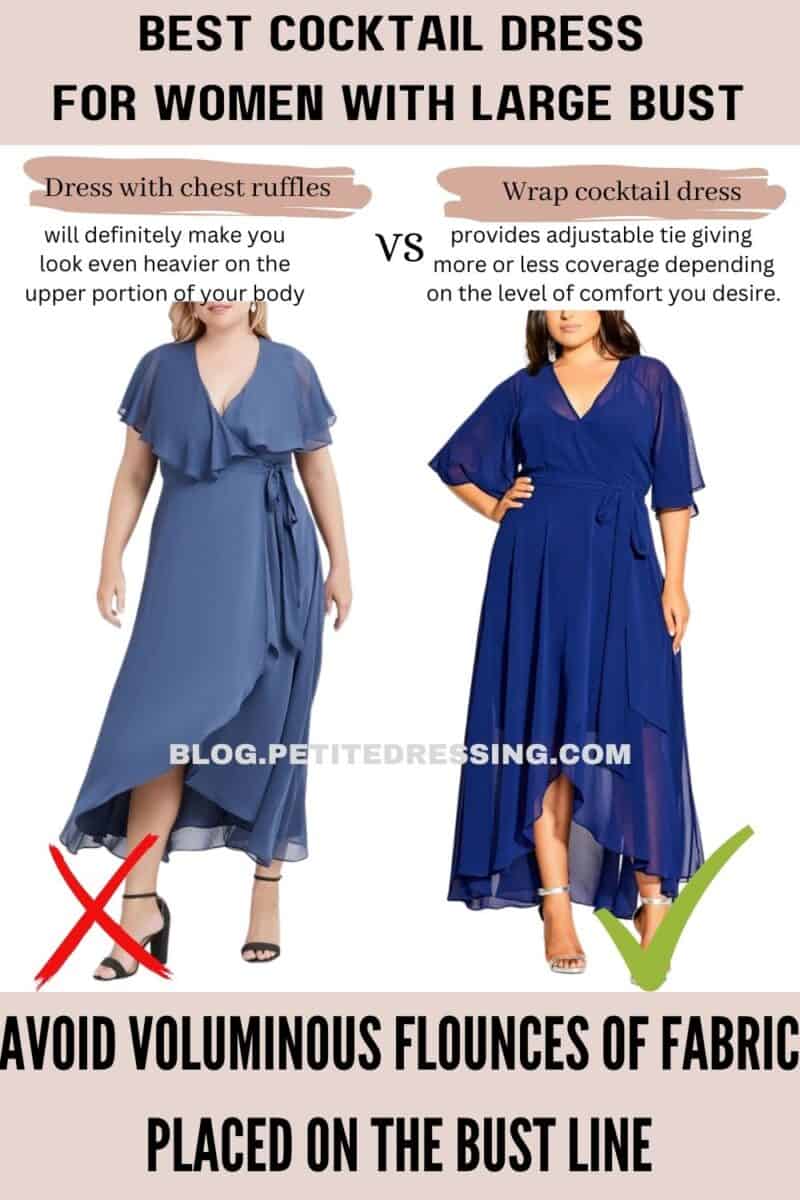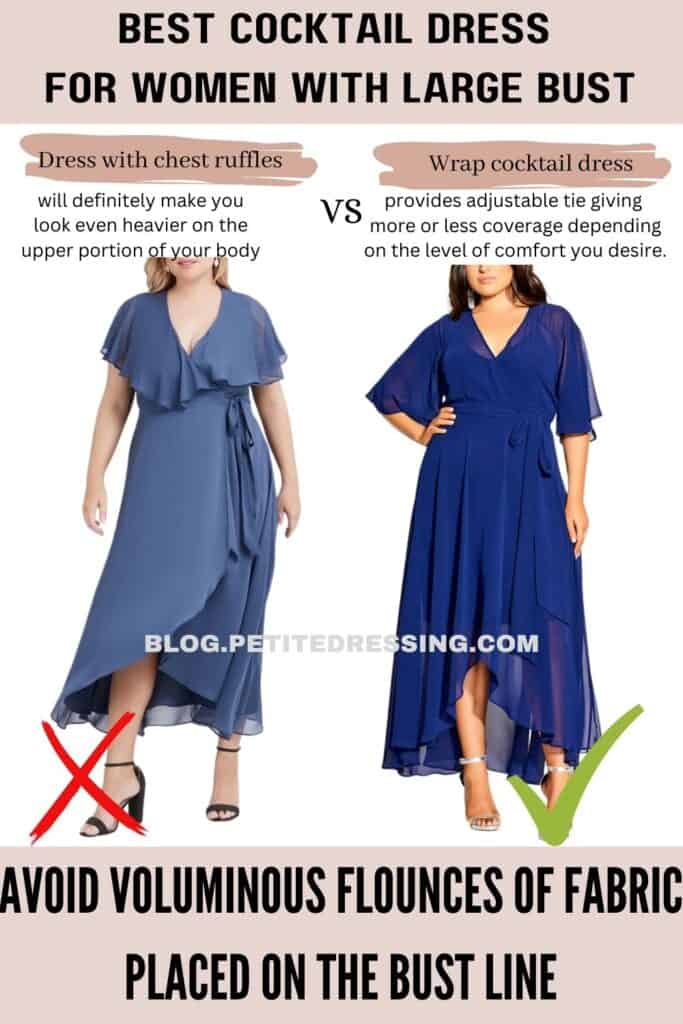 You wouldn't want to add more weight to your large bust because this can only drown your natural bust shape and also make your overall frame quite unproportioned. Wearing dresses that feature dramatic ruffles on the bust line will definitely make you look even heavier on the upper portion of your body.
If you go for voluminous flounces of fabric placed on the bodice, this may look too overwhelming and will also make your upper body look way heavier and bigger compared to your lower body.
However, this doesn't mean that you're not free to go for fancy details for fear of not flattering your body shape. You can definitely still go for such details as long as you consider their placement and as long as you keep them minimal.
The Key Takeaway
You should never hide your naturally voluptuous body shape! Your large bust is never a flaw so it really all just goes down to proper styling in order to bring a more visually balanced silhouette.
Minimalist cocktail dresses are more versatile so it's better to go for simple designs so you can easily wear them without too much planning. Of course, you can always mix things up with fancier designs as long as they don't look too overwhelming, especially for your large bust.