For women with broad shoulders, choosing the right tops is critical. The right styles will not only accommodate your figure, but also create a visual balance for your shoulders and make them look more in harmony with your outfit. The wrong styles do exactly the opposite.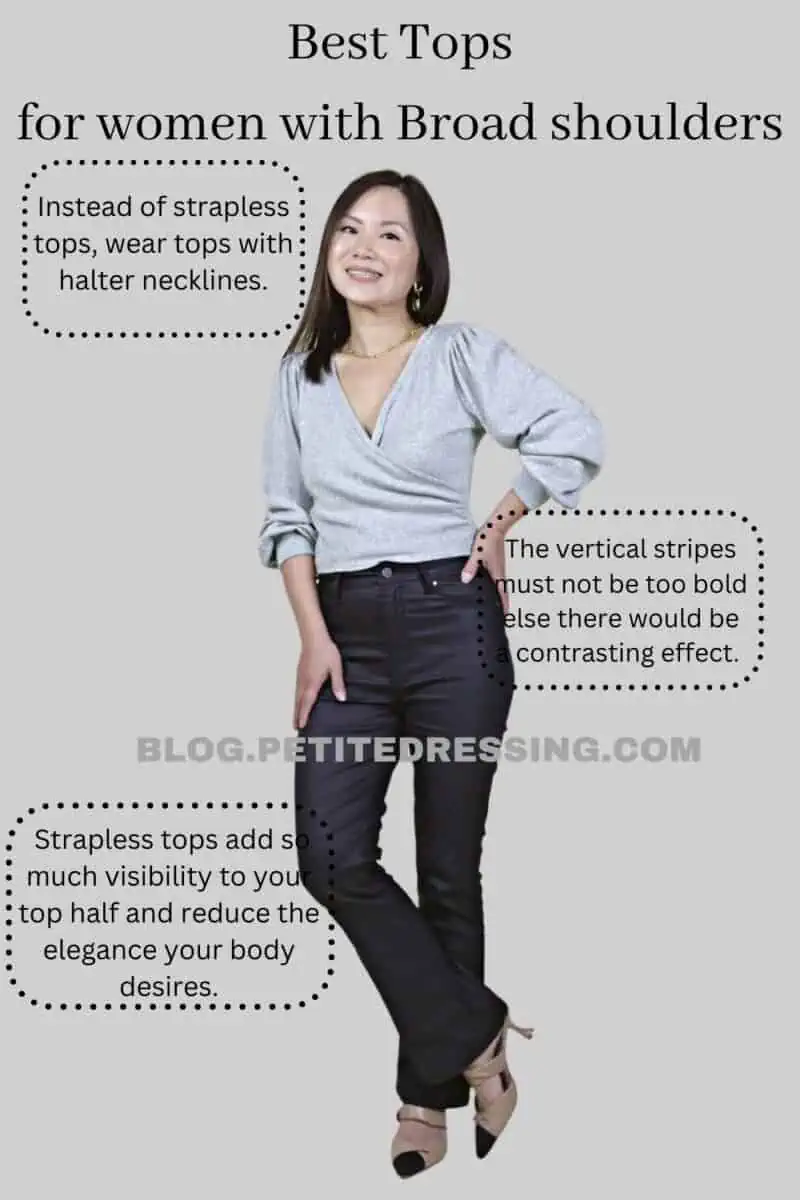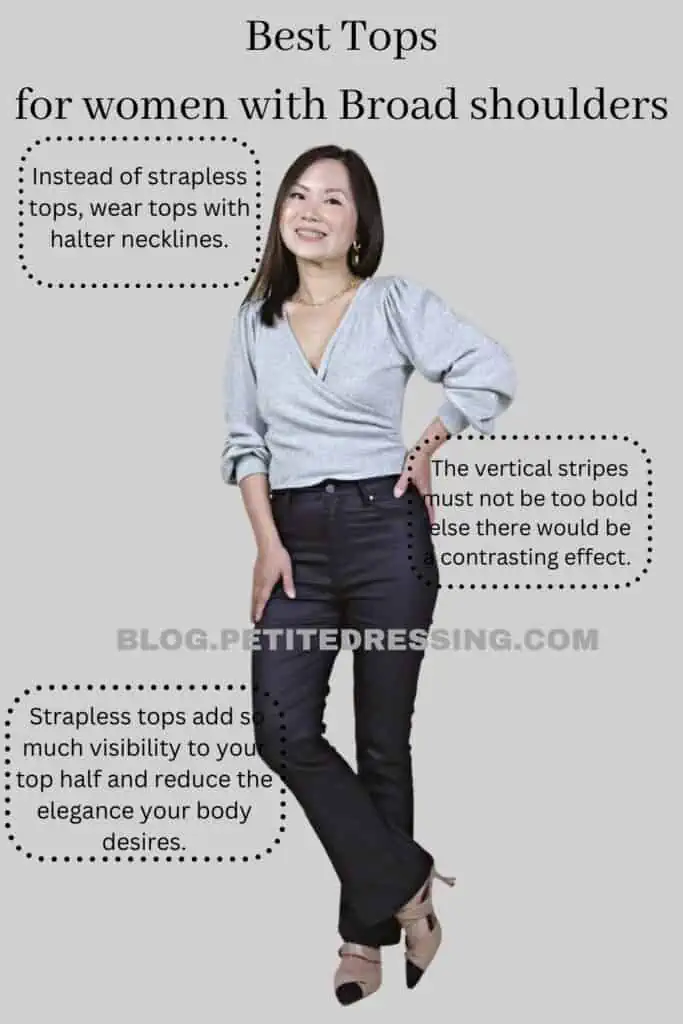 Below is a complete guide with 9 best types of tops for broad shoulders, and 4 styles of tops you should avoid or be cautious about.
Tops with V-neckline
One way to create a more balanced silhouette is simply to opt for tops with a V-neckline because they are universally flattering on broad shoulders. They conceal the concerned region and divert focus to the chest region.
Tops with V-necklines are very stylish and create a vertical line that aligns with the rule of reduction efficient for your broad shoulders. These types of tops disguise your broad shoulders and remove any form of a horizontal line that could highlight the broad shoulders.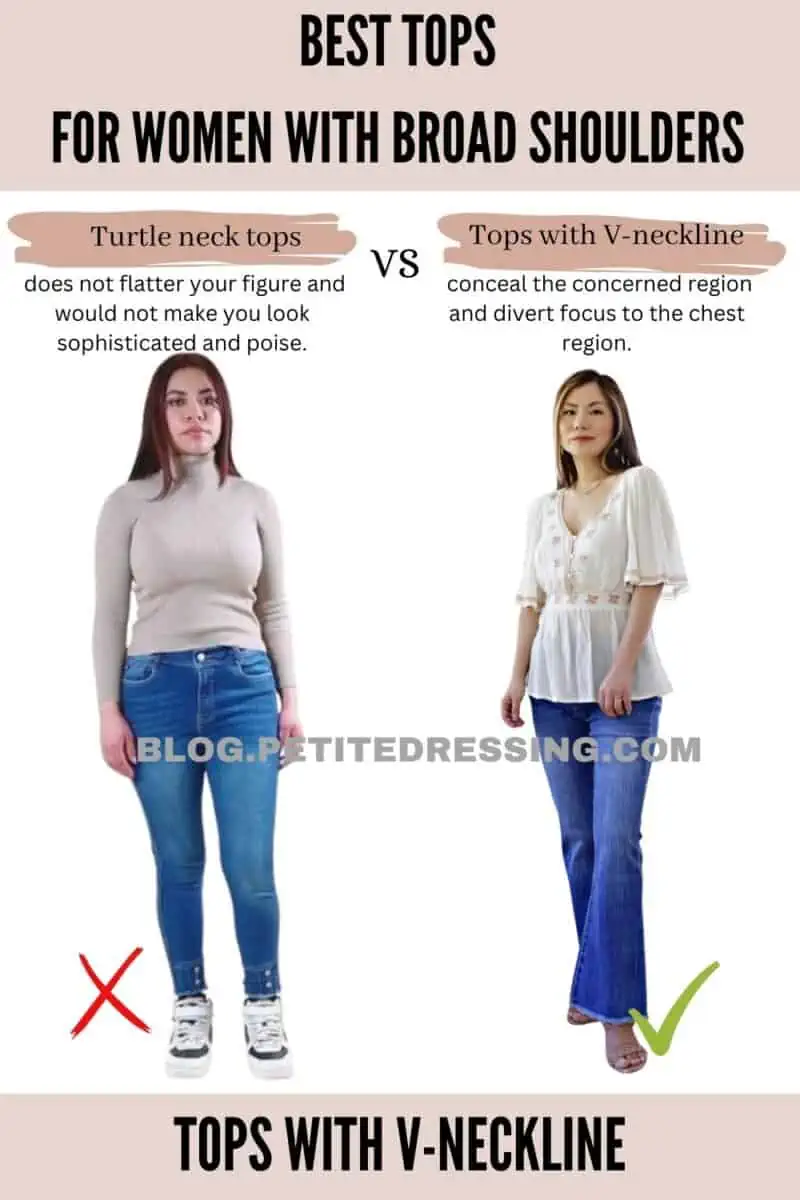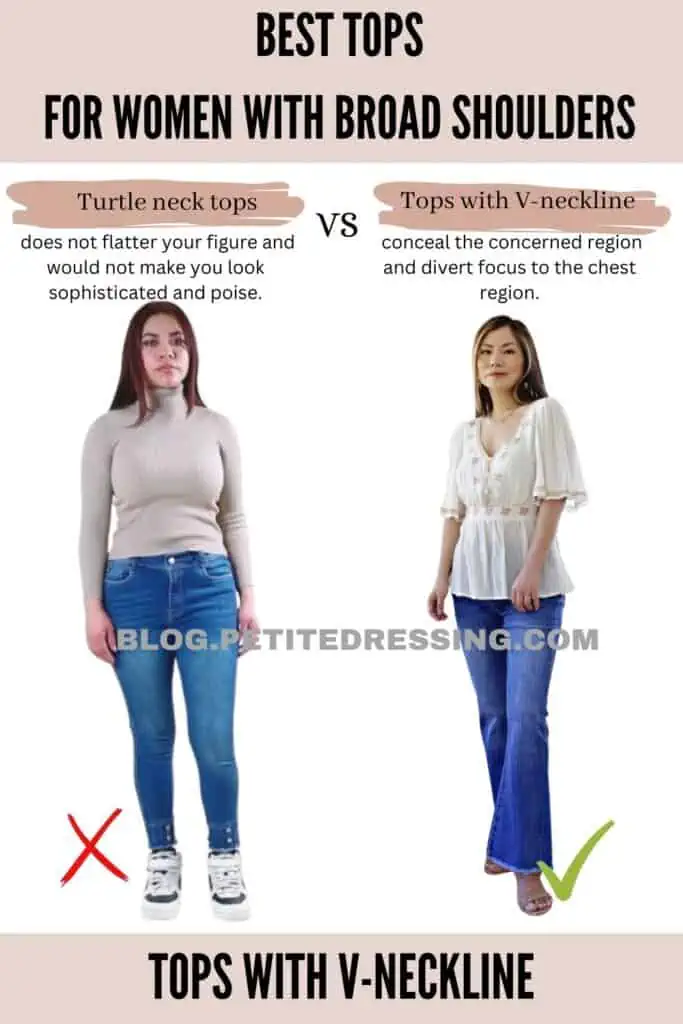 V-neckline tops are best for broad shoulders because they elongate your figure instead of adding so much width to it. They're suitable for a woman with broad shoulders to have them as a wardrobe essential for an edgy and stylish appearance.
Tops with halter necklines
Instead of strapless tops, wear tops with halter necklines because they provide your broad shoulders with more coverage. They flatter your figure and help balance your proportions by canceling out the broadness of the shoulder.
The halter neckline top is great for women with broad shoulders because it elongates your figure and minimizes the broad shoulders.
Tops with halter necklines also draw the eyes inward rather than keep a focus on just the shoulders. They are incredibly stylish top that gives a sexy and feminine aesthetic to your outfit.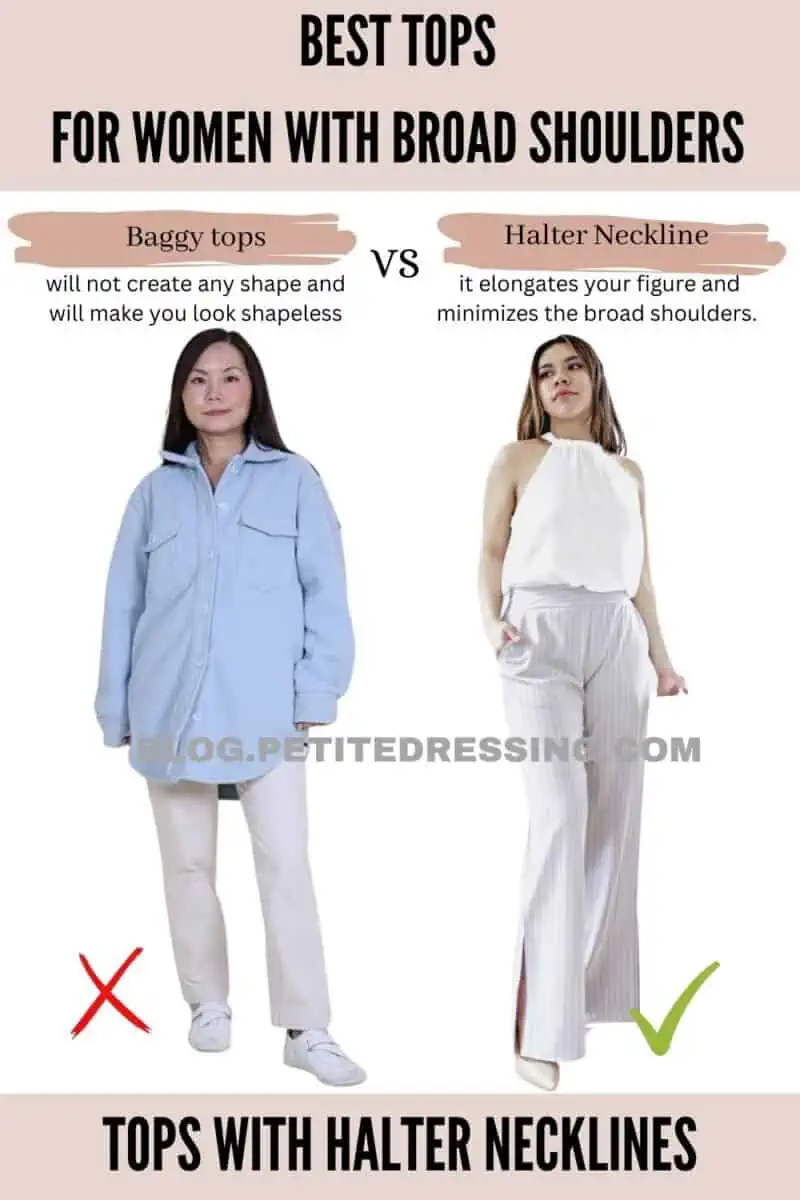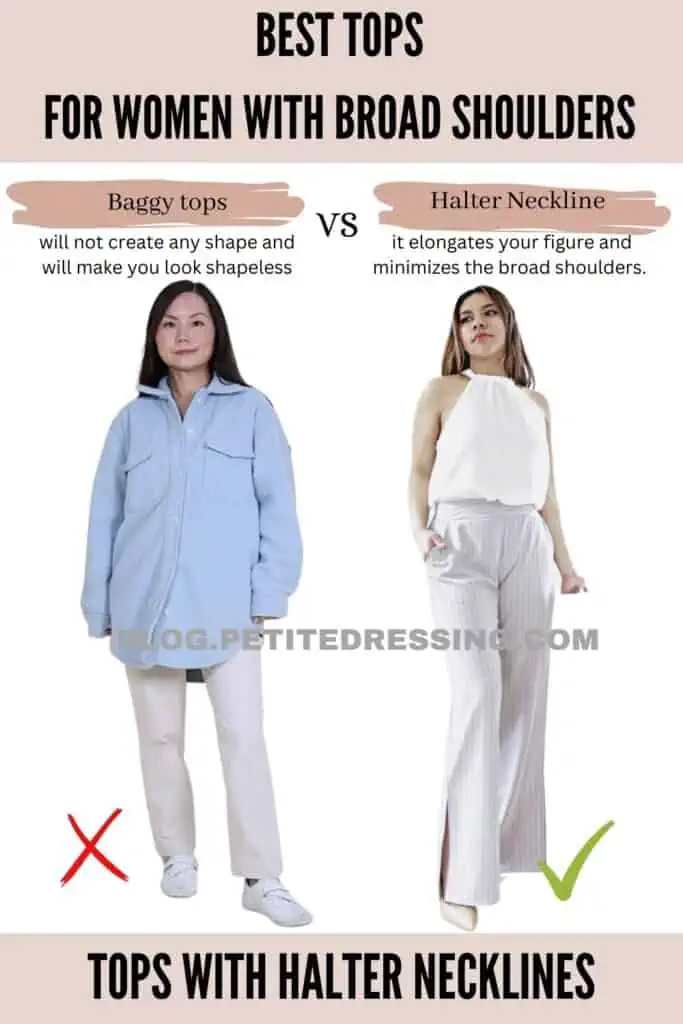 Peplum tops
Peplum top steers away focus from the shoulder area by adding waist definition to your figure. This way there is more focus on the slimmest part of your waist and less on your broad shoulders.
It nips in the waist and flares out at the bottom to help balance out the shoulder. Peplum tops generate more volume from the waist downwards and give the shoulders the feeling that they are not too wide.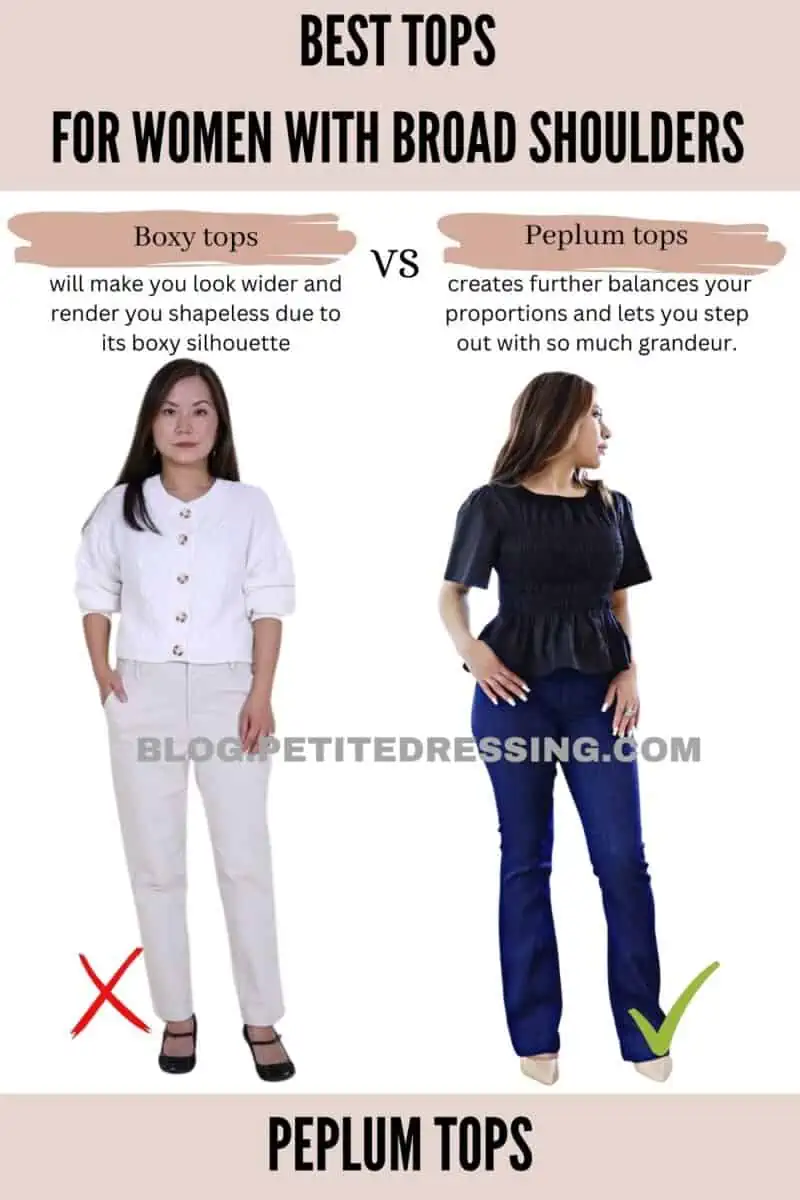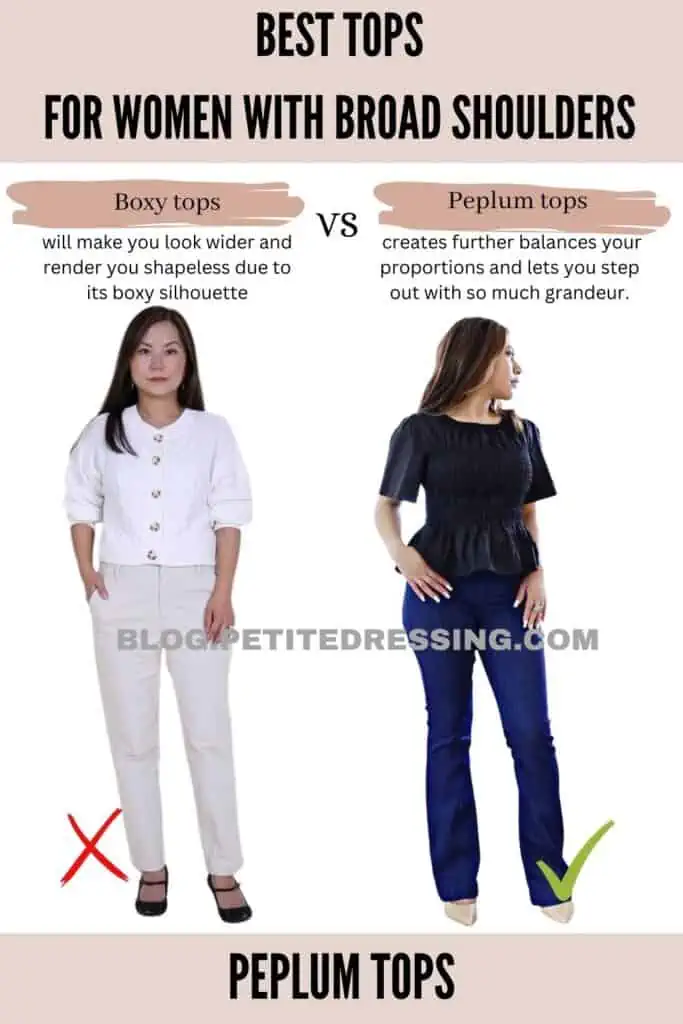 They are a must-have for every woman with broad shoulders because it offers more balance and draws attention away from your upper half. The extra volume this top creates further balances your proportions and lets you step out with so much grandeur.
Tops with fitted sleeves
Tops with fitted sleeves reduce the volume in the top half of your body by flattering your broad shoulders and giving you confidence in your figure. They are ideal for making the shoulders look smaller in size and reduces the emphasis on the broad shoulders.
Fitted sleeves are very pretty on the figure of a woman with broad shoulders because they uplift your general appearance. Sleeves with so much volume would make your shoulders noticeable so never wear them on your figure.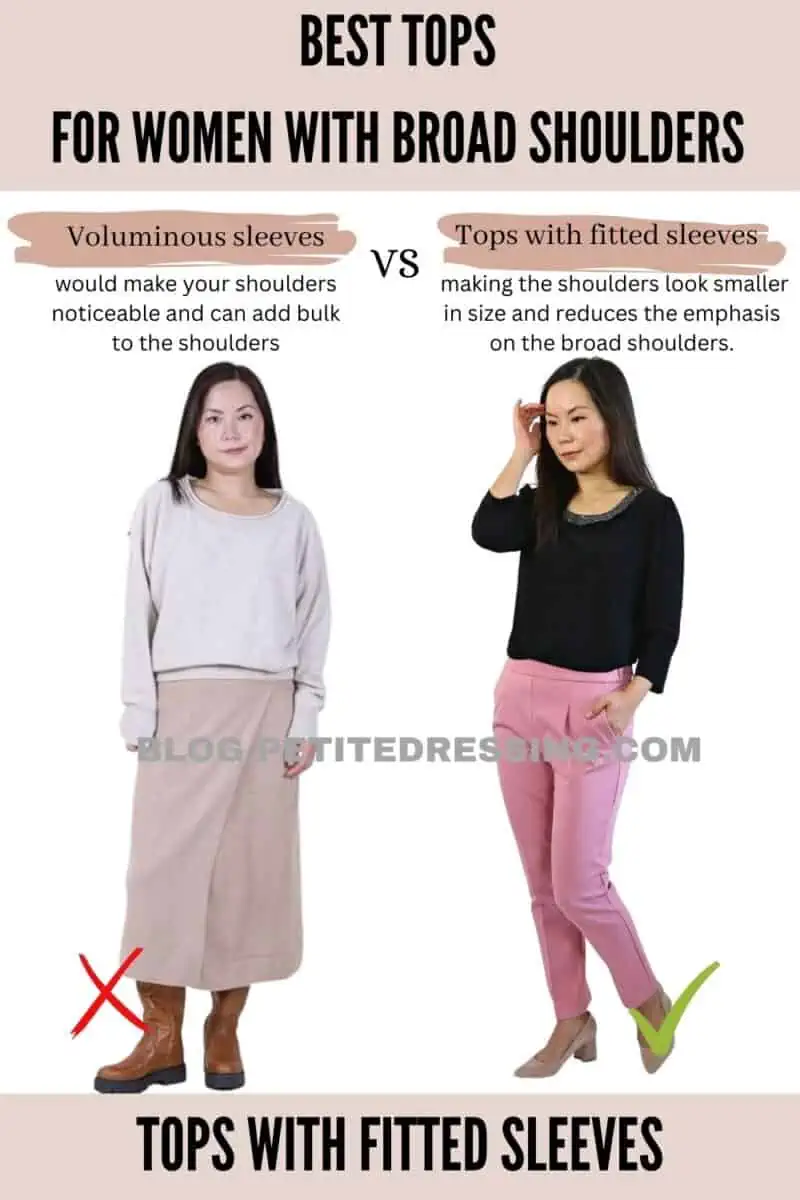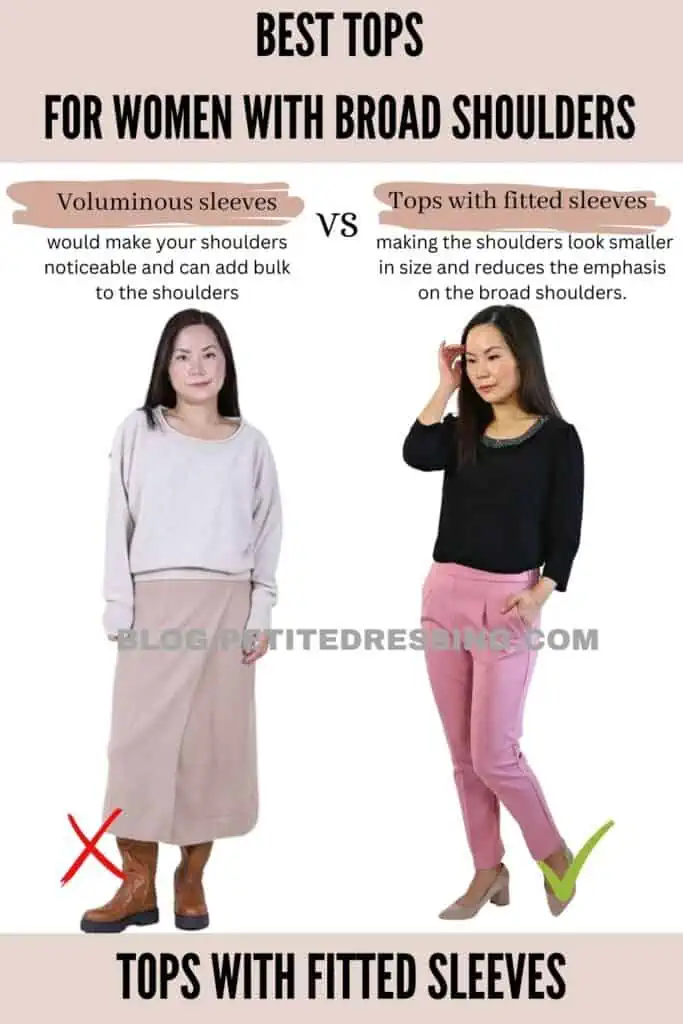 One shoulder tops
Break up your broad shoulders by wearing asymmetric top like the one shoulder pattern because they make the shoulders less prominent. This pattern of top would allow you to appreciate your figure because they do not exaggerate the shoulders.
One shoulder tops are a very pleasing style for your broad shoulders and are good in diverting attention from the shoulders and creating room for balance within your body shape. They look ultra-chic and are a good way to complement your figure.
One-shoulder tops are a go-to option for broad shoulders so style them to suit your figure for a more improved appearance. They make you look elegant and poise in any occasion.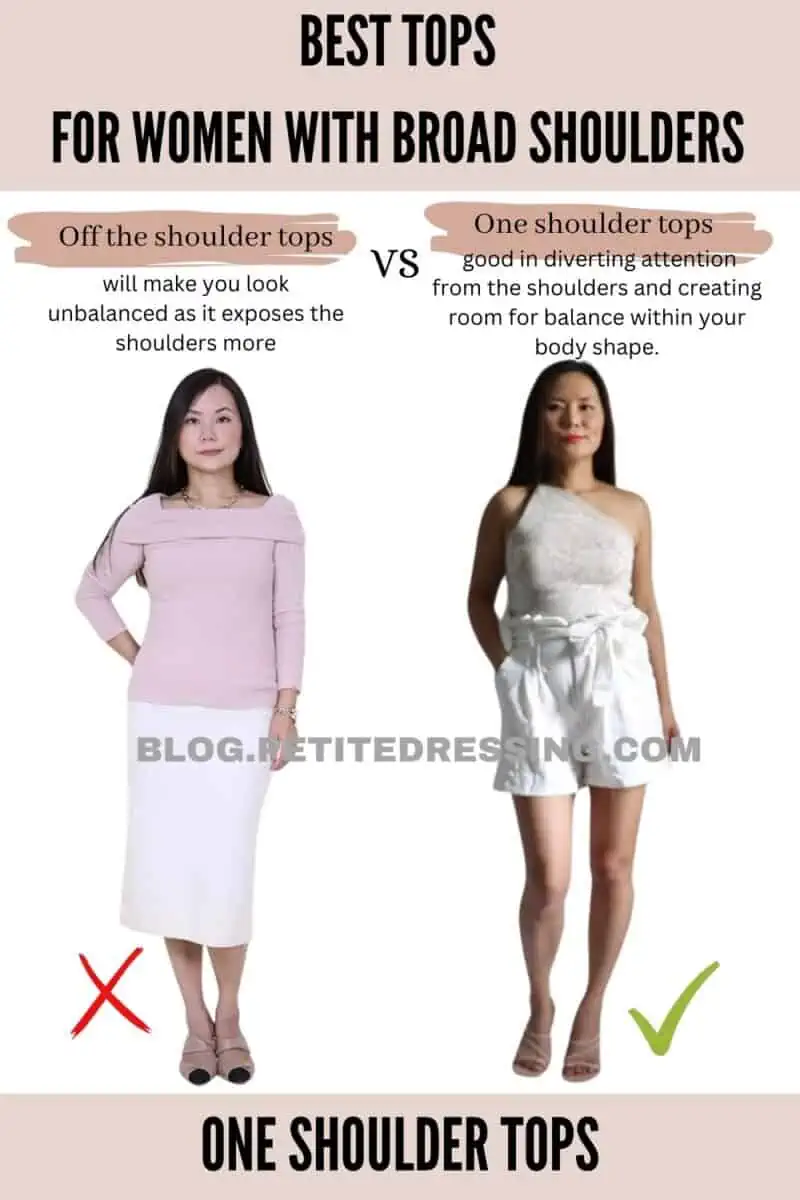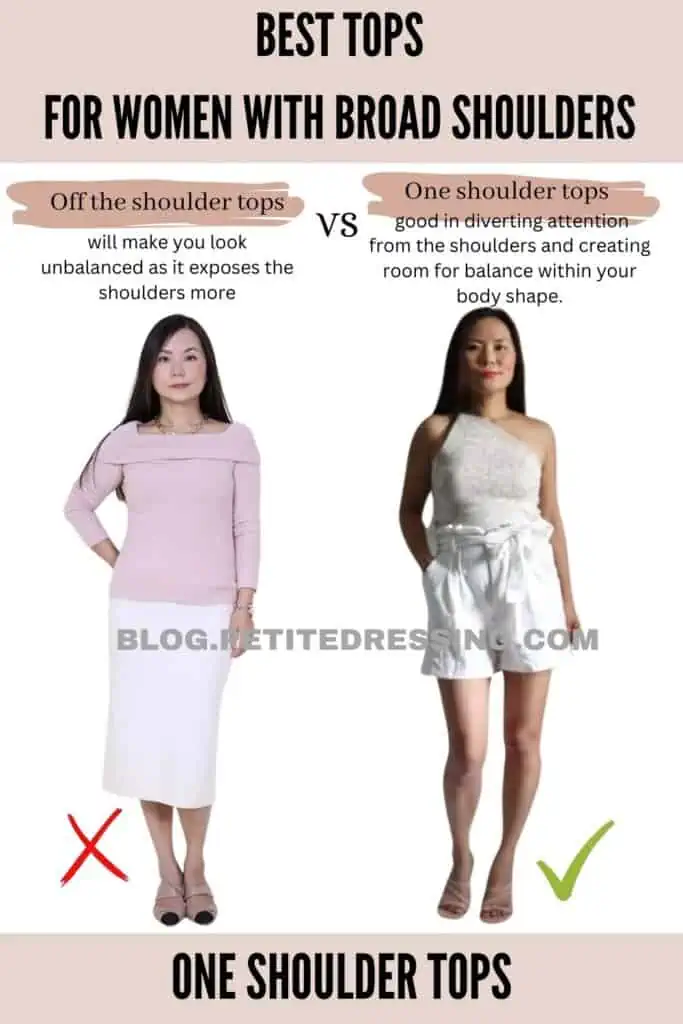 Tops with Dolman sleeves
Sleeves look great on the figure of a woman with broad shoulders and one of those few designs is the dolman sleeve. Tops with this design can make your shoulders appear slimmer because the structure does not define the shoulder neckline.
Tops with dolman sleeves do not make you feel too conscious about your shoulders because they are made to help automatically shift attention from your concerned area. They help downplay broad shoulders by softening the sharp edges in your shoulders.
Dolman sleeves are very stylish, and comfortable and look great on your figure. Choosing them instead of puffy sleeves is an excellent idea to make your shoulders seem narrower.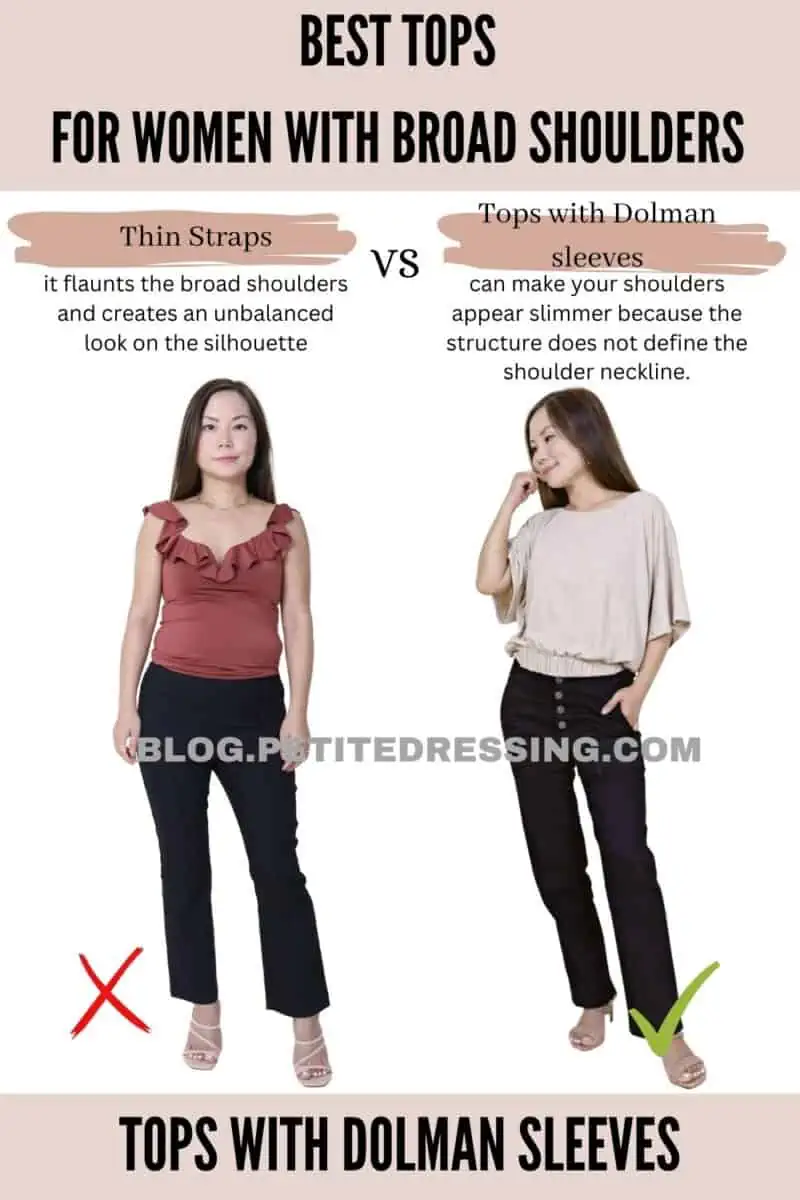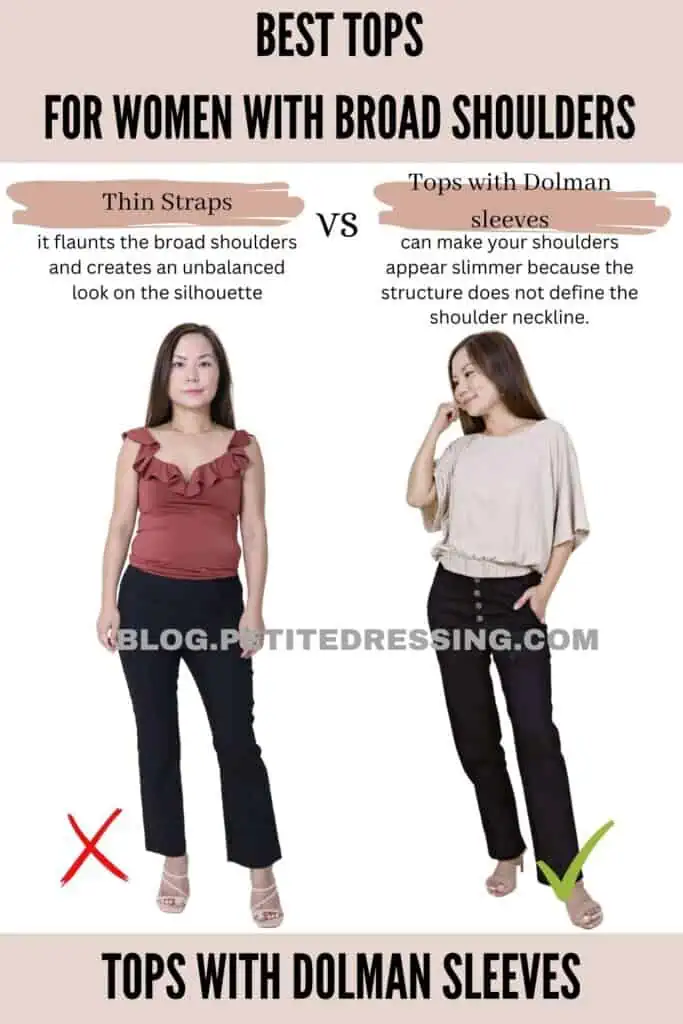 Tops with small prints and patterns.
If you love statement tops with prints, then you should consider the size of prints and pattern on the tops because they have an effect on your figure. Smaller prints and patterns are most preferred for broad shoulders.
It is more appropriate to pair tops of smaller prints and patterns with wide print bottom to balance out both halves of the body. Wider prints on bottoms would divert attention away from the shoulders.
Small prints and patterns on tops will give the eyes the illusion that your shoulders are smaller than normal. Stay away from tops with wide prints and patterns because they are not flattering on your figure.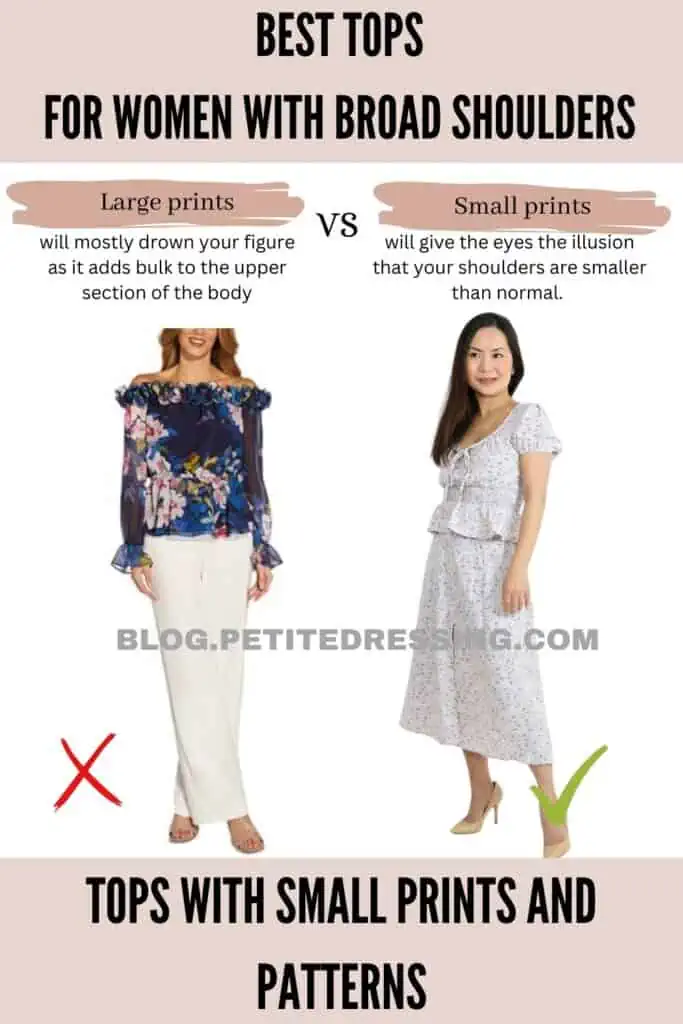 Wear tops with vertical stripes
You should comfortably own and rightly appreciate your figure and this can easily be done wearing tops with vertical stripes. They offer a feel of reduction in width to the broad shoulders and the entire body figure.
Tops with vertical stripes are very simple and flattering on a woman with broad shoulders so you are never wrong in making it a choice for your figure. They do not unnecessarily exaggerate your shoulders but keep the eyes focused on the assumption of length in your shape.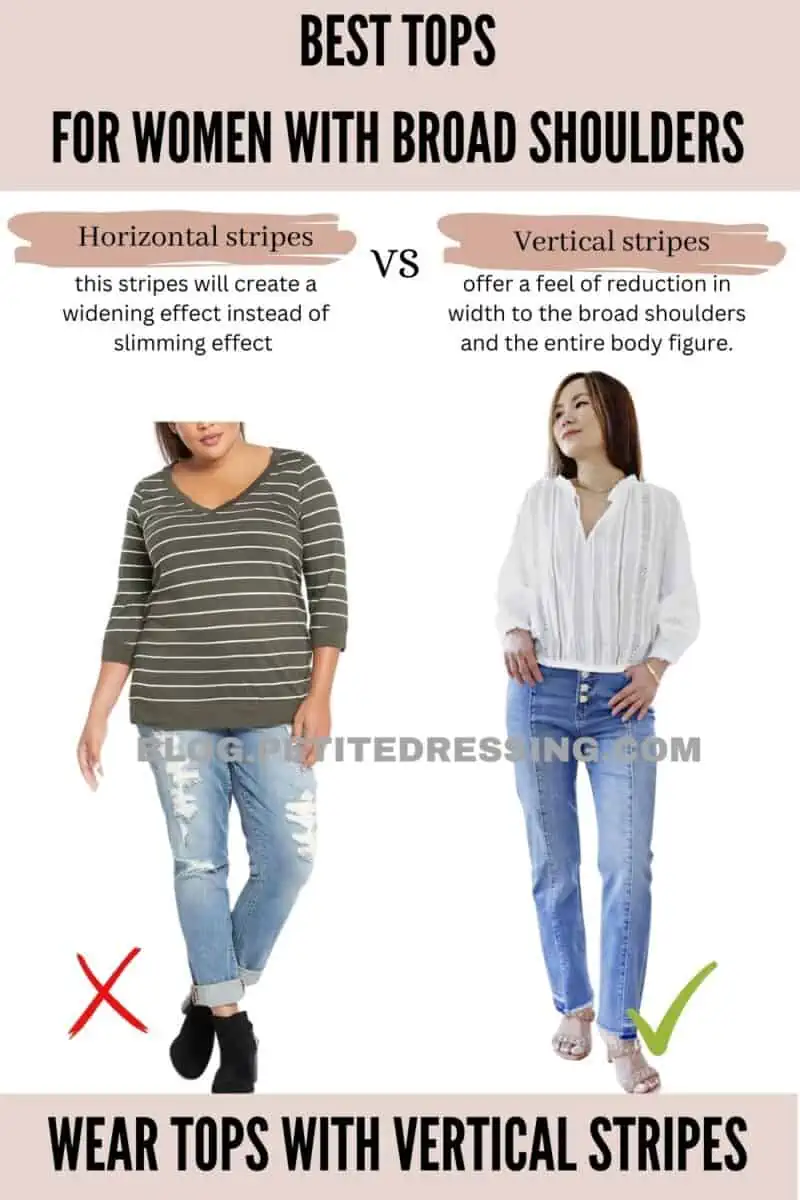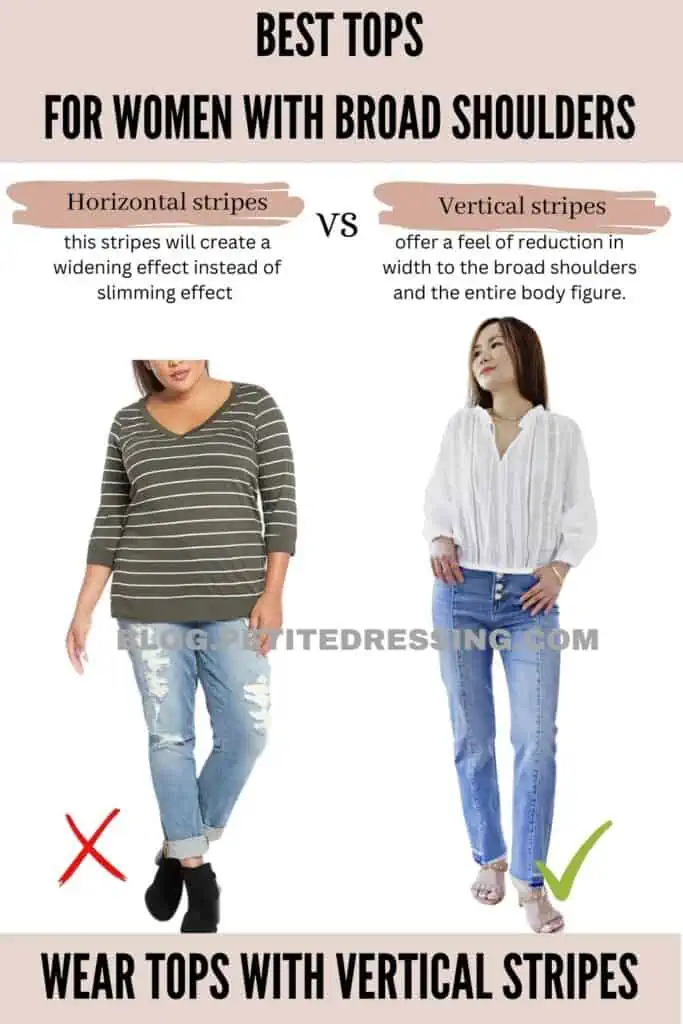 The vertical stripes must not be too bold else there would be a contrasting effect. Also, horizontal stripes should not be worn as tops for a woman with broad shoulders.
Raglan sleeves
Tops with raglan sleeves would comfortably accommodate the broad shoulders and not attract the attention of the eyes towards it. This top design is effective in making the shoulders appear minimal and are more fashionable than the unstructured patterns.
Compared with tops that have structured shoulders, raglan sleeves will feel less restrictive in your shoulder area and give you much more comfortable especially when you are moving your arms around.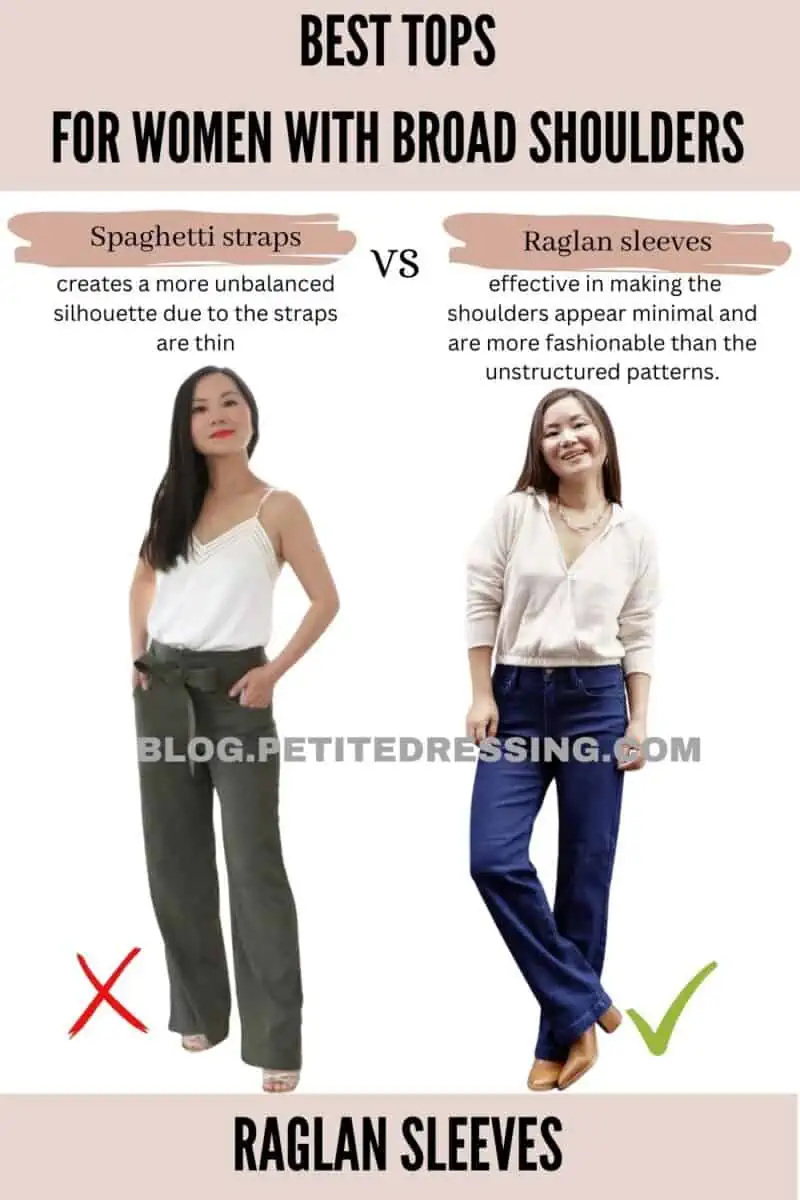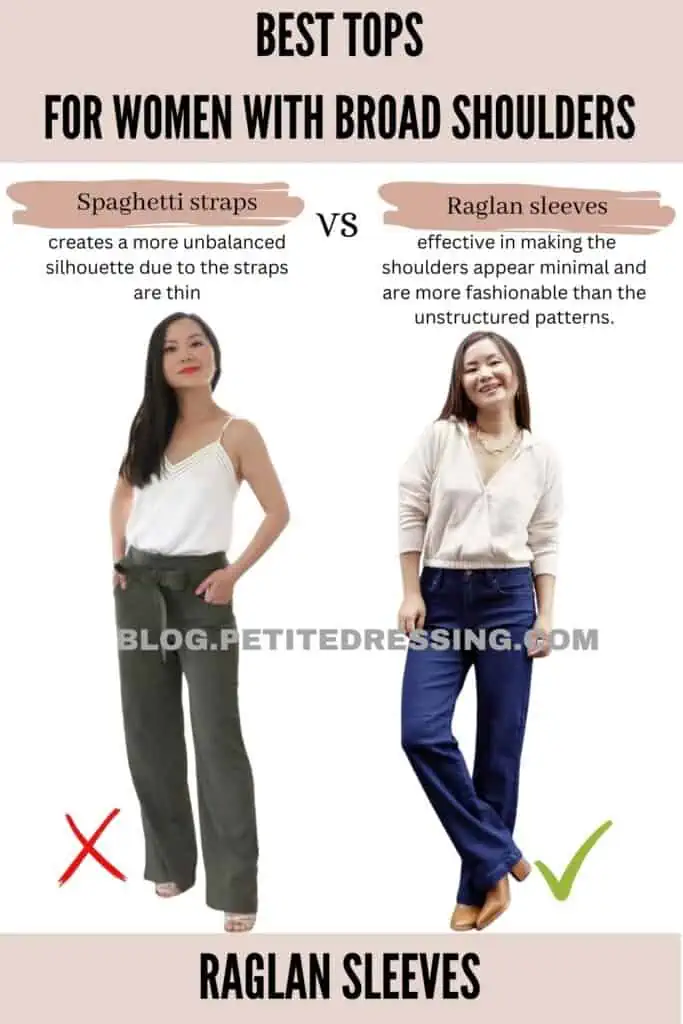 Avoid tops with spaghetti straps
Straps on tops are very important for a woman with broad shoulders as they would help to reduce exposure around your shoulders. Tops with spaghetti straps do not work well on broad shoulders so do not fancy them nor purchase them.
They may look pretty stylish but are not also comfortable and unique on the figure of a woman with broad shoulders. They do not flatter your shoulders and would show so much in the top half of your body.
Spaghetti straps would create a contrast with your broad shoulders and this could throw off the balance in your overall figure. Scrap out tops with spaghetti straps from your wardrobe as they would not make your broad shoulders look slim.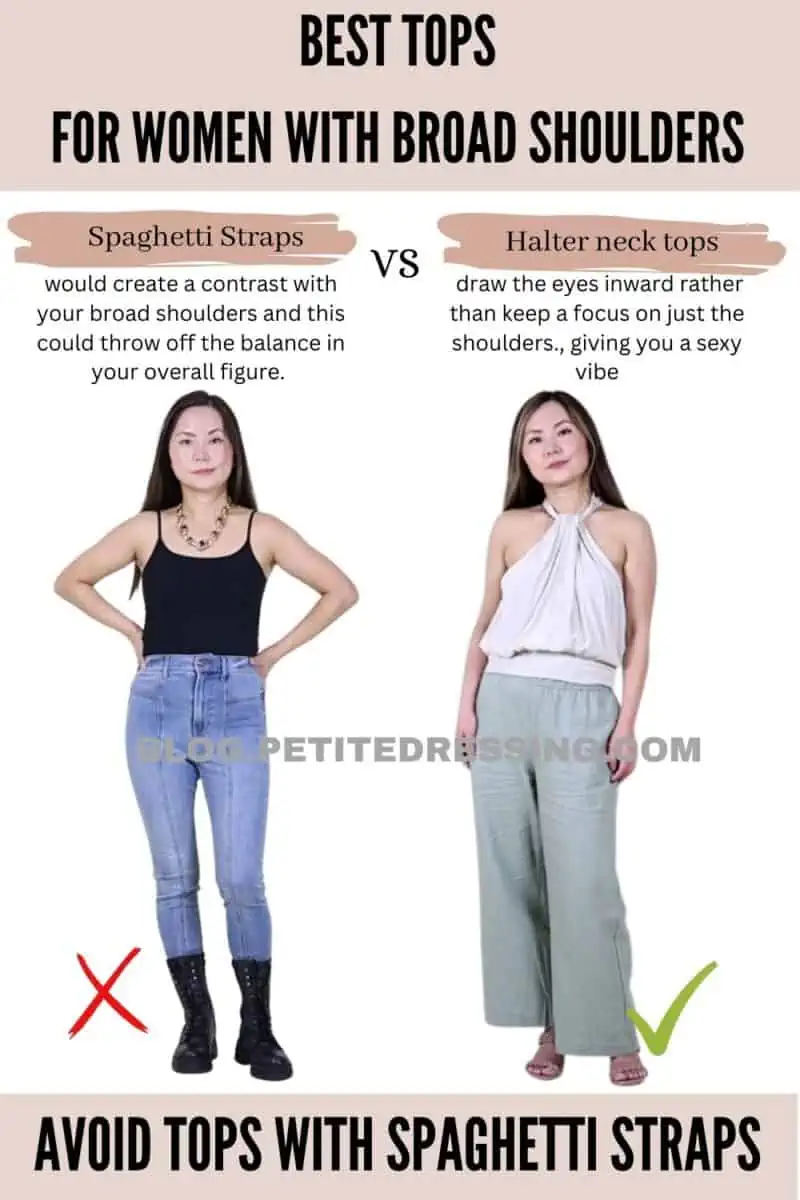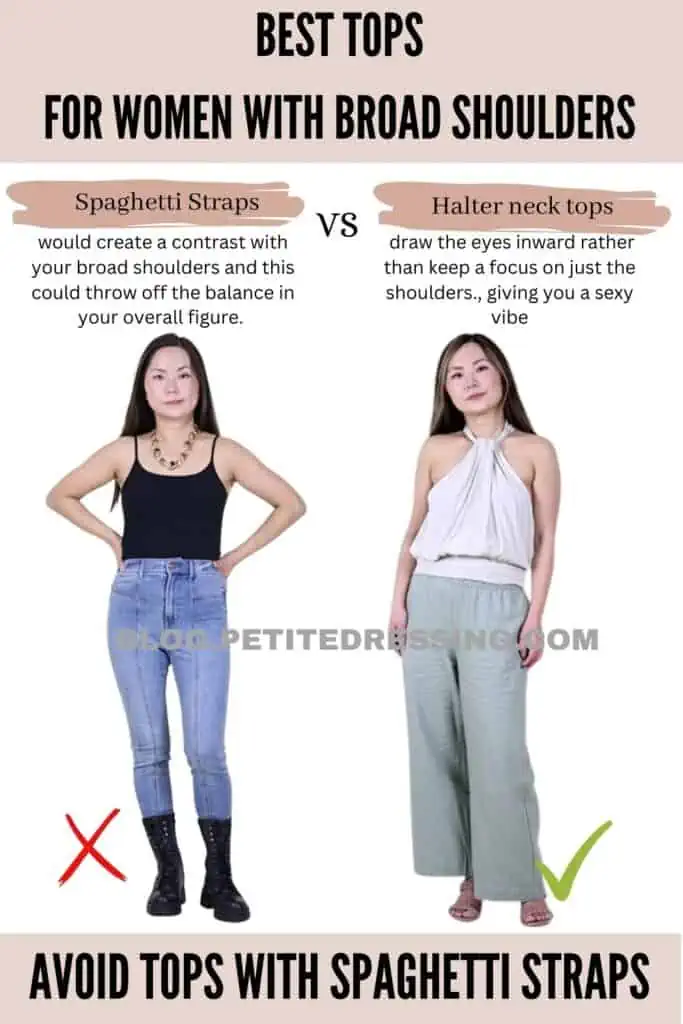 Avoid boat neck tops
Boat neck tops are not pleasing and subtle on the figure of a woman with broad shoulders so avoid them. They do not break up the line in the shoulder but end up making them appear too wide.
They give the eyes a visual effect that makes it assume the illusion of width around the shoulders. They do not flatter your figure and would not make you look sophisticated and poise.
You have an amazing shape so do not send the wrong message by wearing clothes that would beautify your shape. Boat neck tops are not the best designs for a woman with broad shoulders, so wearing them should not be an option for you.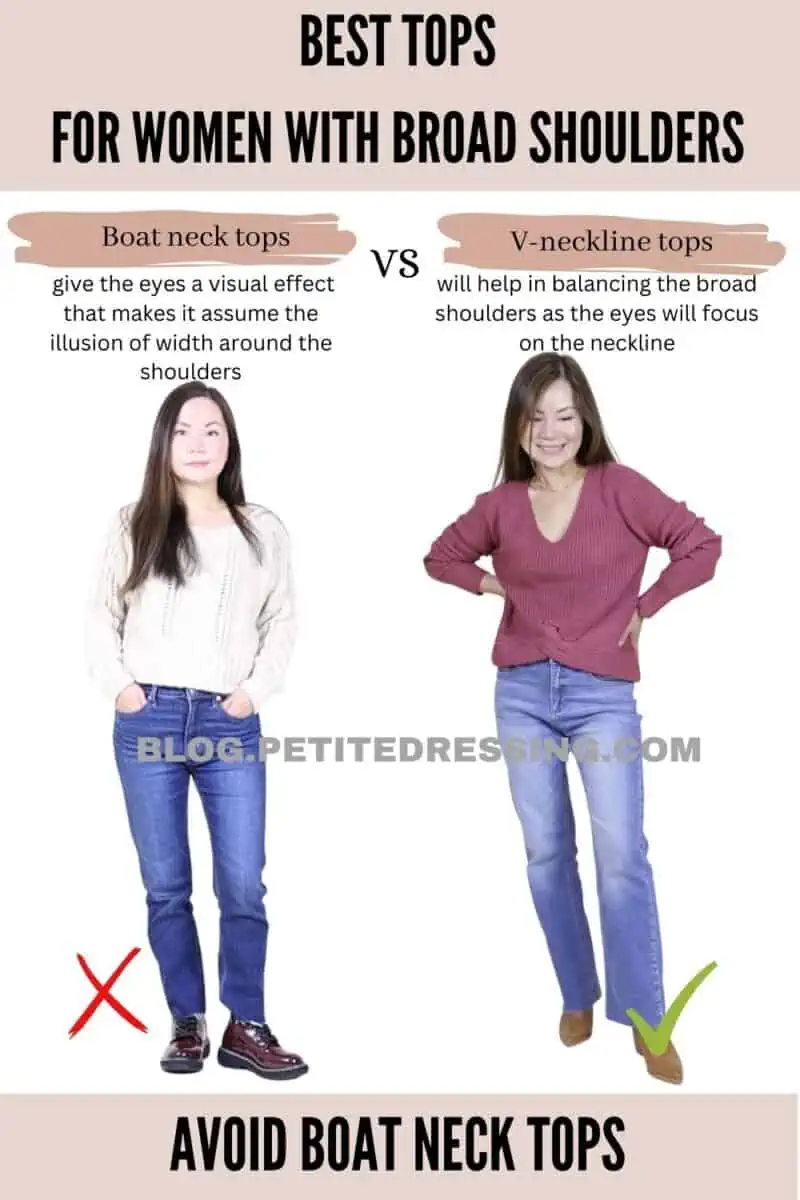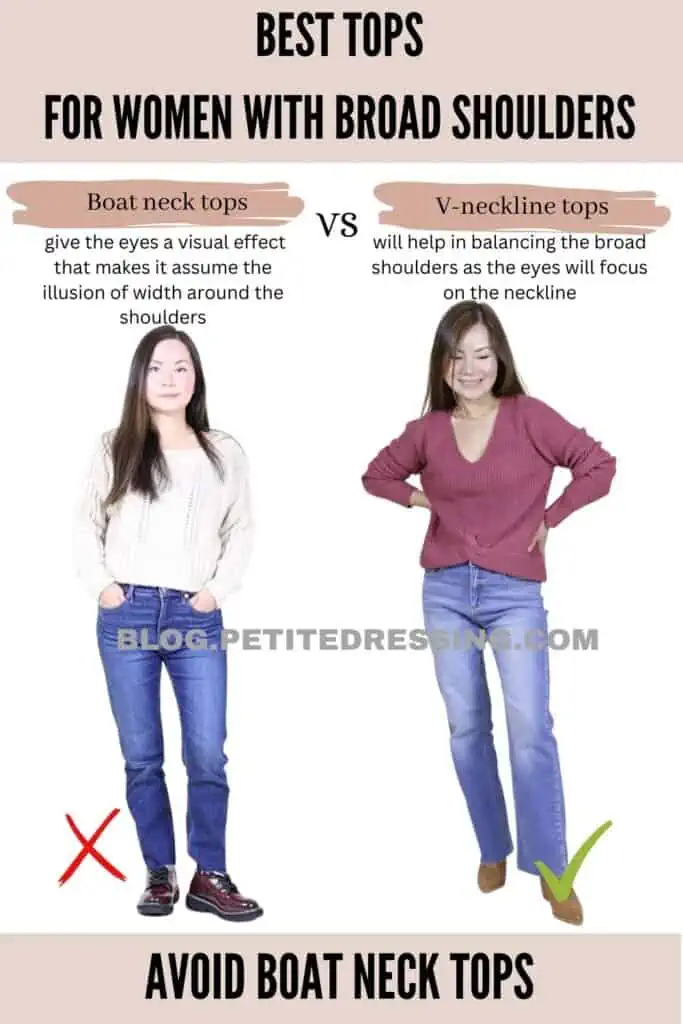 Avoid off-the-shoulder tops
The choice of necklines on your tops should not define your shoulder neckline else they would add more width to your broad shoulders. Though off-the-shoulder tops may appear to be stylish on some body shapes, they are not the best neckline design to wear on the figure of a woman with broad shoulders.
They would expose so much skin around your shoulders and make you appear less feminine and elegant. Off-the-shoulder tops were not specially designed for women with broad shoulders so it is best to avoid wearing them.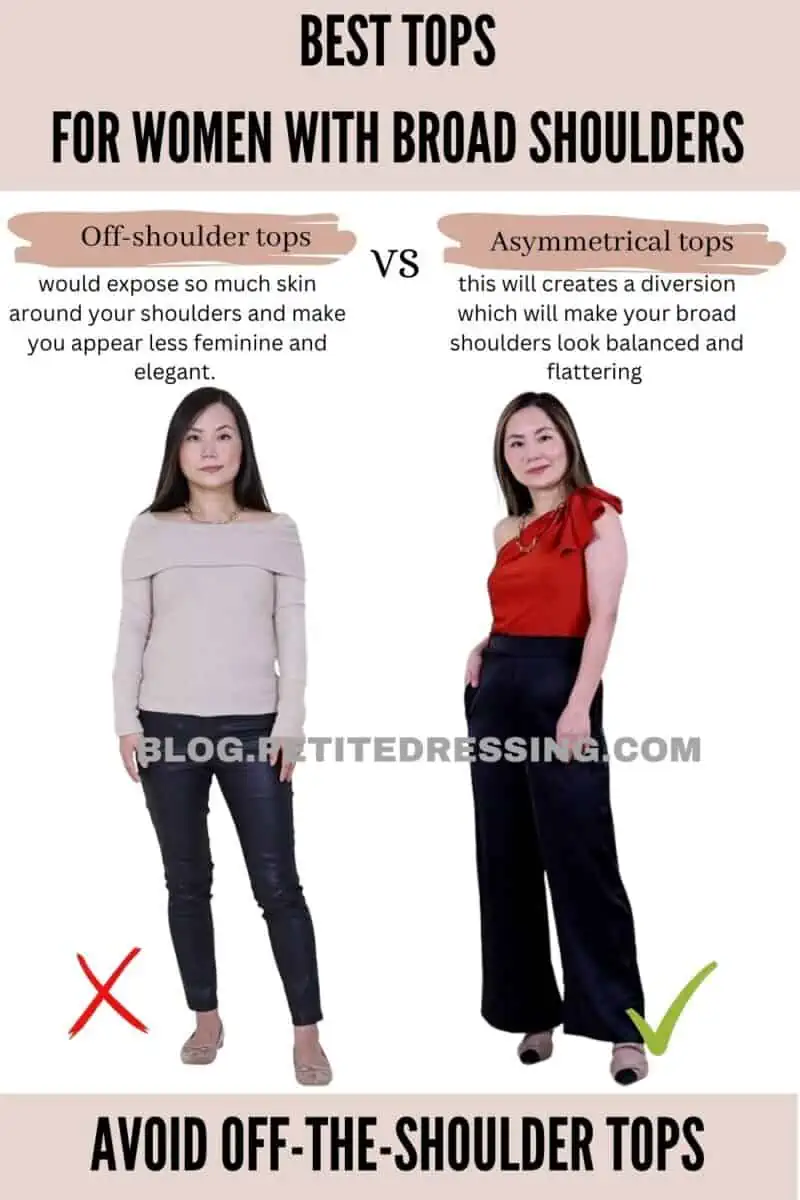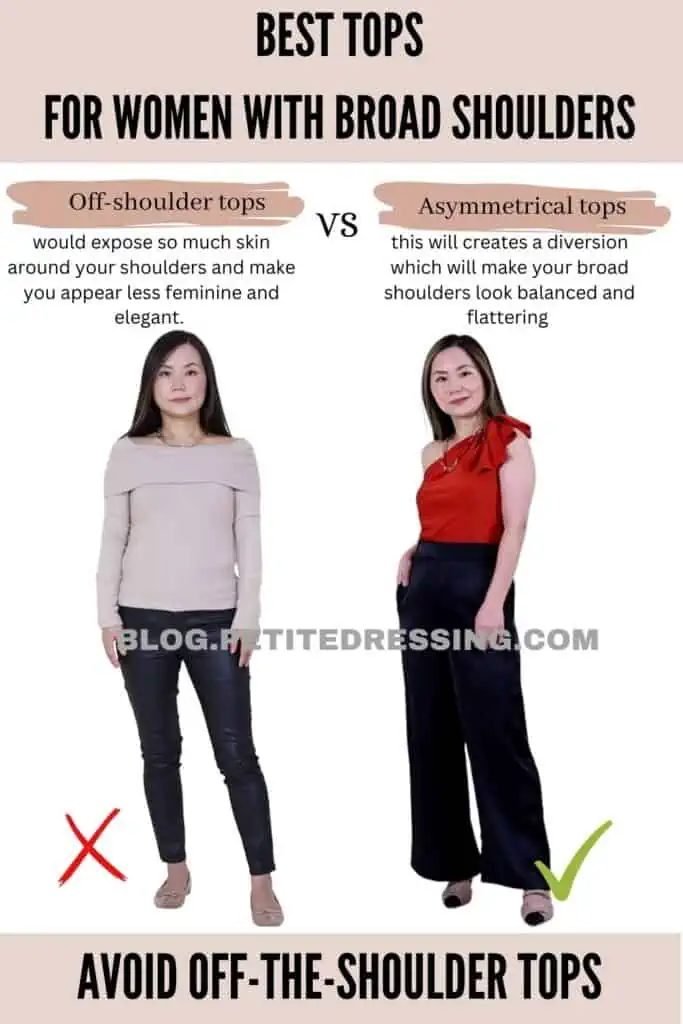 Your figure needs all the confidence it can get so it is best to not wear an off the shoulder dress because it does not flatter your shape. They are not fashionable and are not a great top style for a woman with broad shoulders.
Avoid strapless tops
Tops without straps are not flattering on a woman with broad shoulders and could make you appear disfigured. They would allow the eyes notice the width of the shoulders and visualize them to be wider than they are.
They would highlight and exaggerate your shoulder necklines and create an imbalance in the top half of your body. Strapless tops add so much visibility to your top half and reduce the elegance your body desires.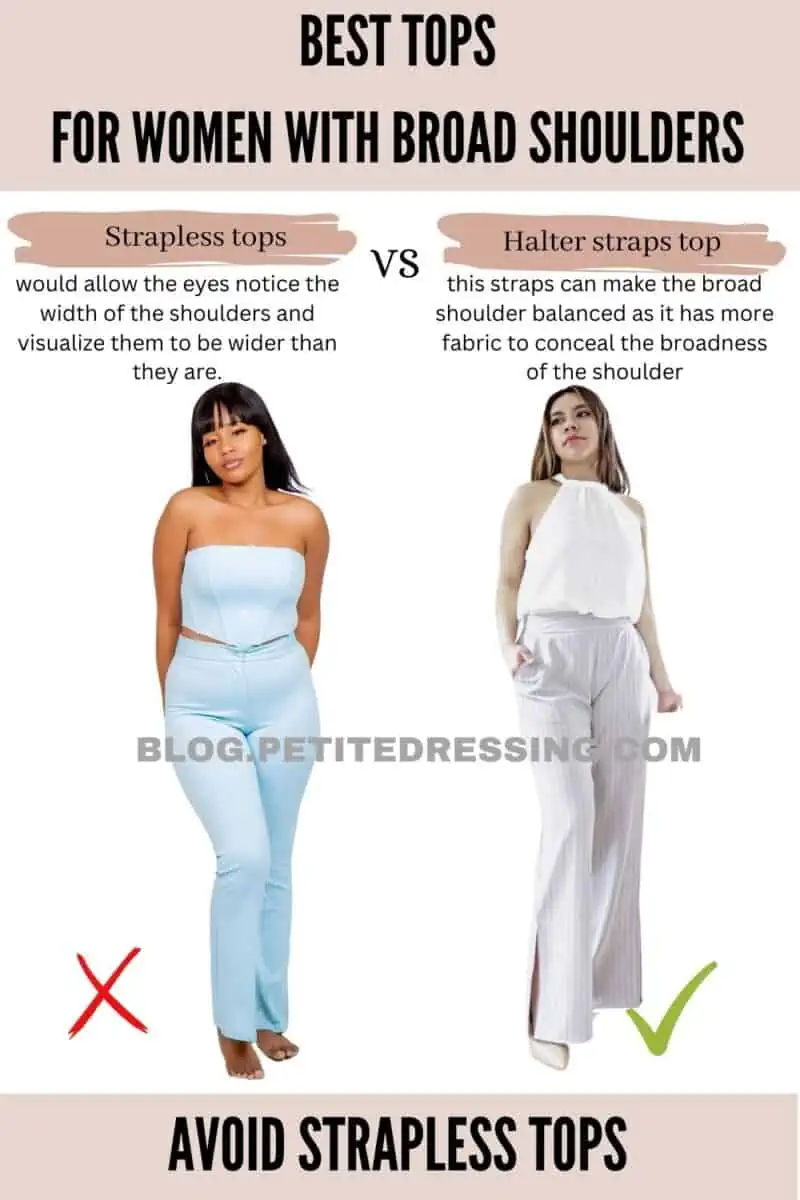 It is better to wear tops with straps especially those with wider straps that could provide more coverage to the top half of your figure. For your broad shoulders, tops with straps should be chosen in preference to those without straps.