As winter draws near, there's a certain excitement in the air as we get ready to exhibit our style, cozying up in chic coats that not only keep us warm but also make a style statement. However, if you are just like me who is on the shorter side, you might be wondering how to flaunt a proportionate and elongated look without getting drowned in big winter coats!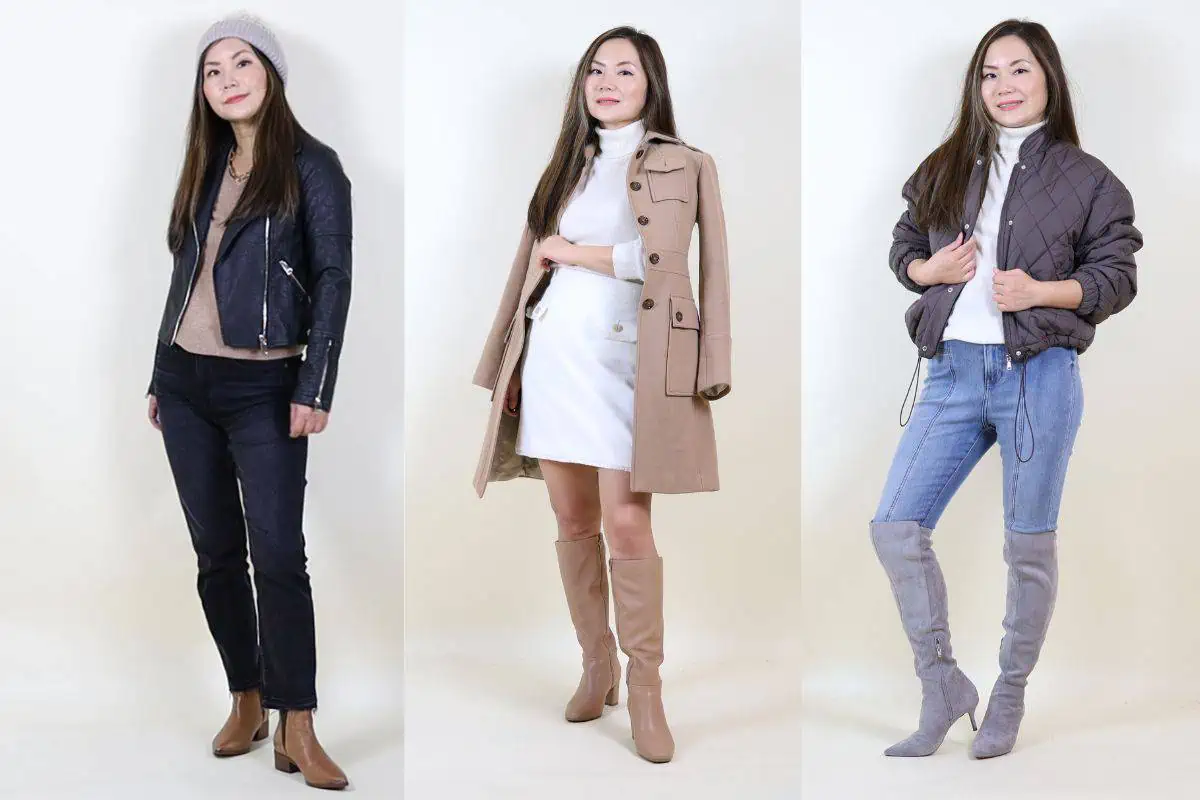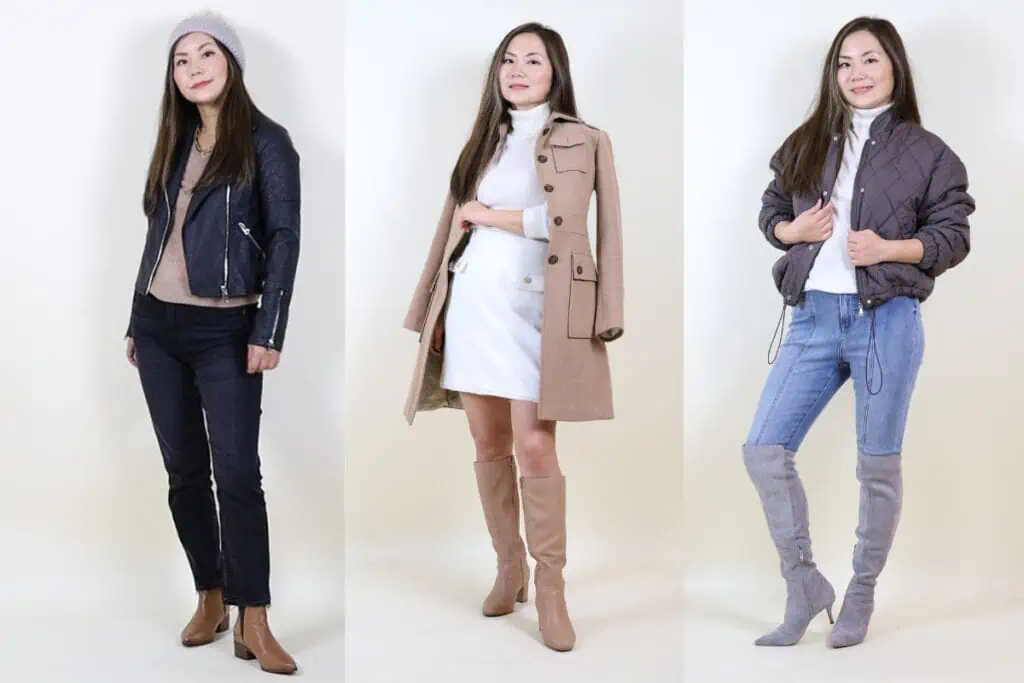 I'm 5'2, so believe me when I say that I know your winter coat struggles! So here in this thorough style guide, we'll explore easy and useful coat-styling tips and tricks that will help you strut your stuff with confidence, turning heads while staying cozy throughout the winter season!
Cropped Coats
Cropped coats are like our style confidant and I personally find coats in cropped length to effortlessly help me in achieving a well-balanced, elongated silhouette that's both stylish and super comfy.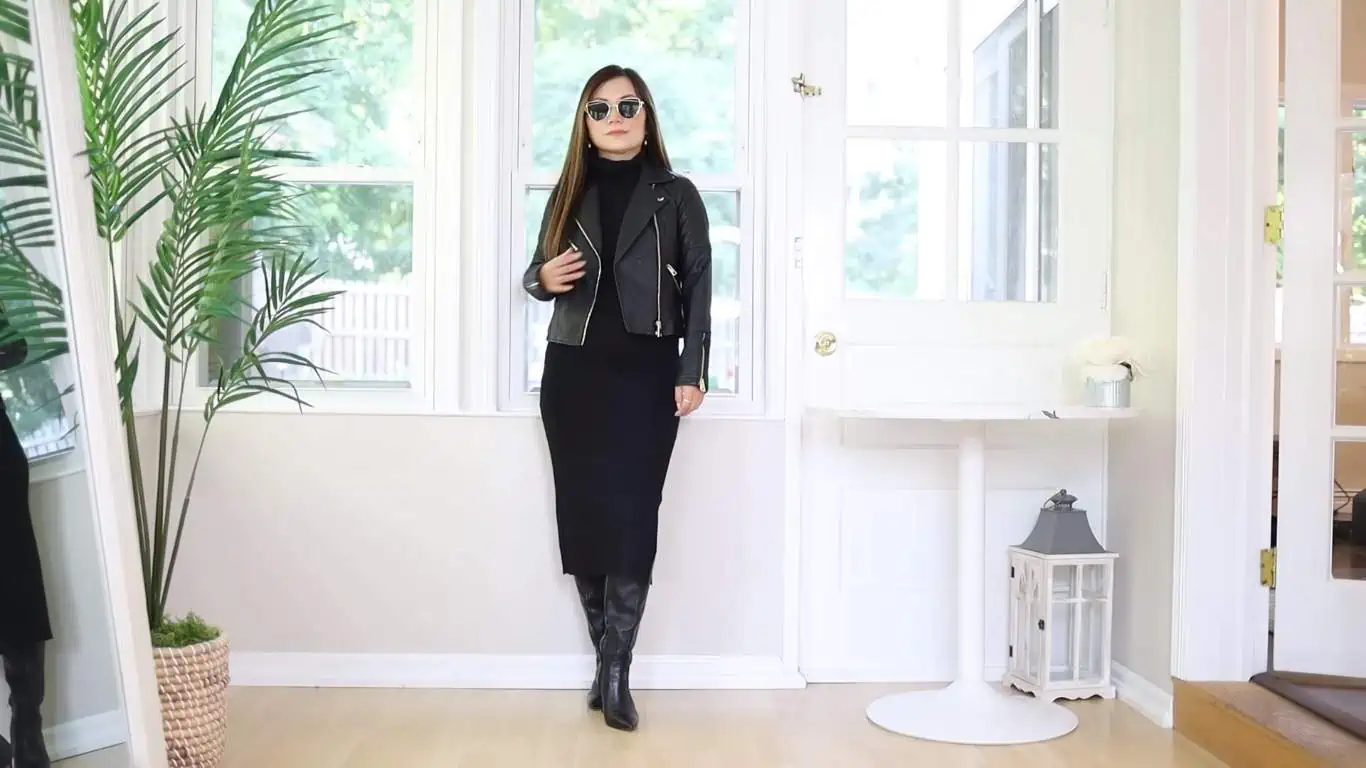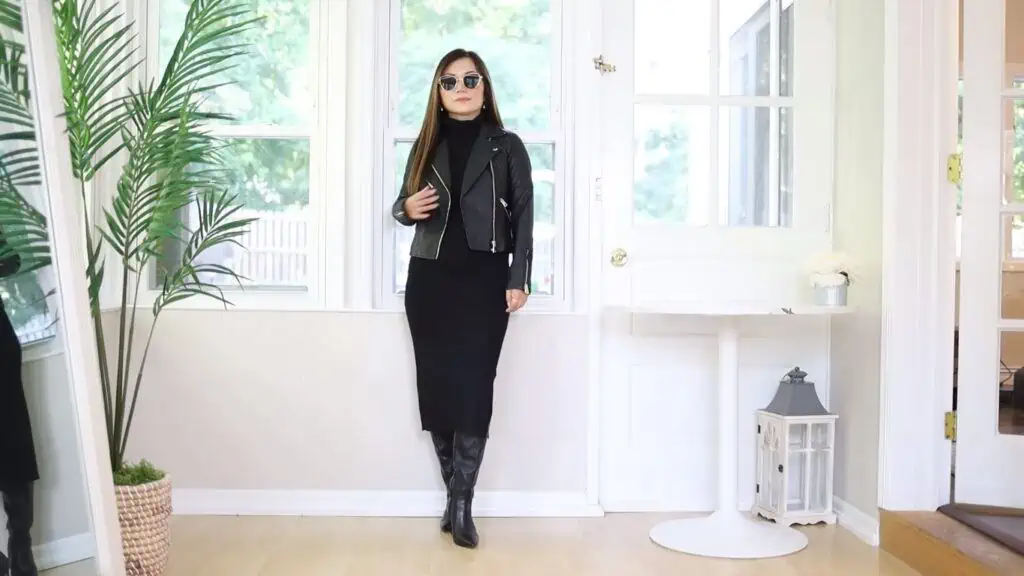 If you've ever had those moments of thinking you might be just too short for this trend, worry not! Cropped coats are here to shatter that notion and welcome everyone to this winter-style club.
What's incredible about the cropped coat is that it doesn't aim to hide your entire dress. Instead, it elegantly covers just the upper third of your body, creating a stunning, well-proportioned look.
Wear with OTK boots
One of my favorite outfits in the winter is to pair a cropped coats with jeans and over-the-knee boots! Not only the tall boots add warmth, but also they elongate your legs!
Because your coats are shorter, you want a pair of knee-high boots or OTK boots to balance out the length. This is one of the best ways to flatter a short girls when you are wearing winter layers!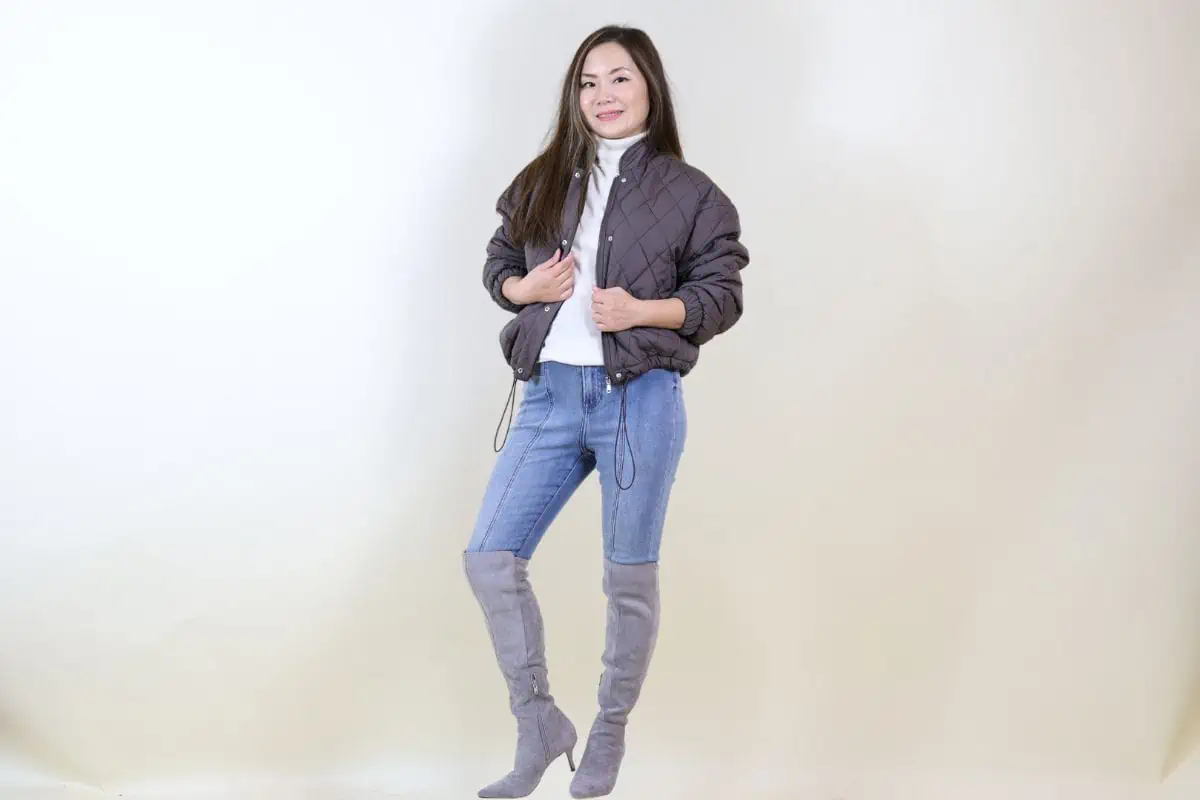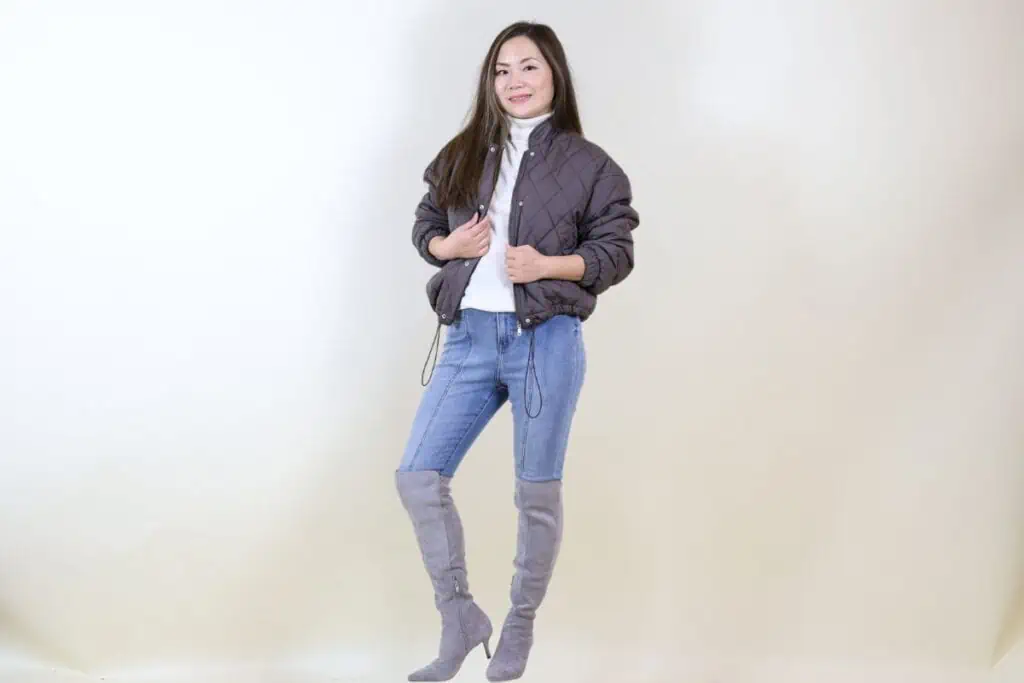 Wear with wide-leg jeans
Wide-leg jeans can be a styling challenge due to their increased volume. Thankfully, a crop-length jacket is a godsend when paired with wide-leg jeans because it effectively brings the perfect balance to their wide-leg shape.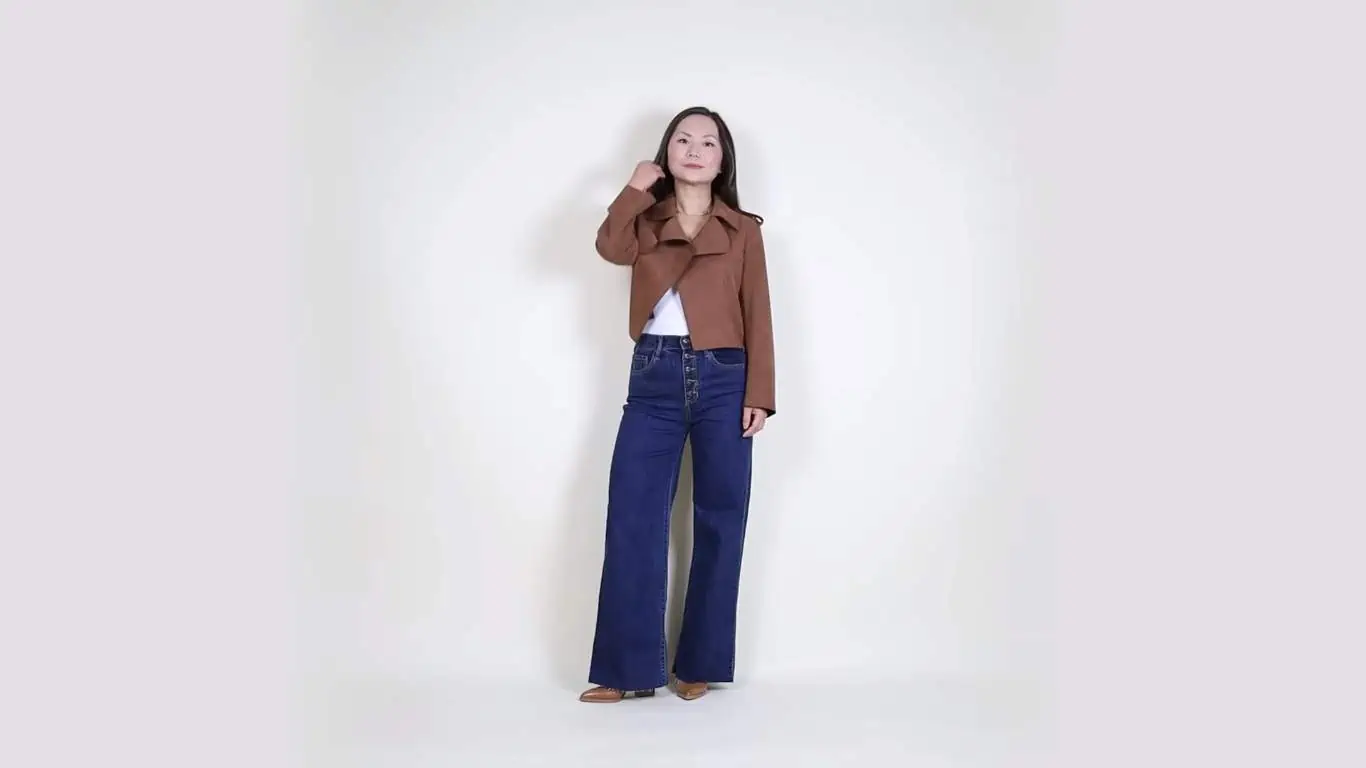 However, although most types of wide-leg jeans would work well, I suggest going for ones with a high waist. The high waist makes all the difference by creating this sweet little division just slightly higher than your natural waistline, which means that the cropped coat sits perfectly on top while making your legs look more elongated.
Once you wear your cropped coat, make sure it hits just above your waist or at the hipbone. The idea is to have a coat that doesn't drape too far down because it should match the high-waisted style of wide-leg jeans.
Avoid bottoms that are too tight
Here's the caveat: Make sure that you don't wear something too tight at the bottom like skinny jeans or leggings. Given the shorter and wider nature of cropped-length coats, a bit of volume in the lower half of your outfit is your ally in maintaining that in-sync balance in your overall look.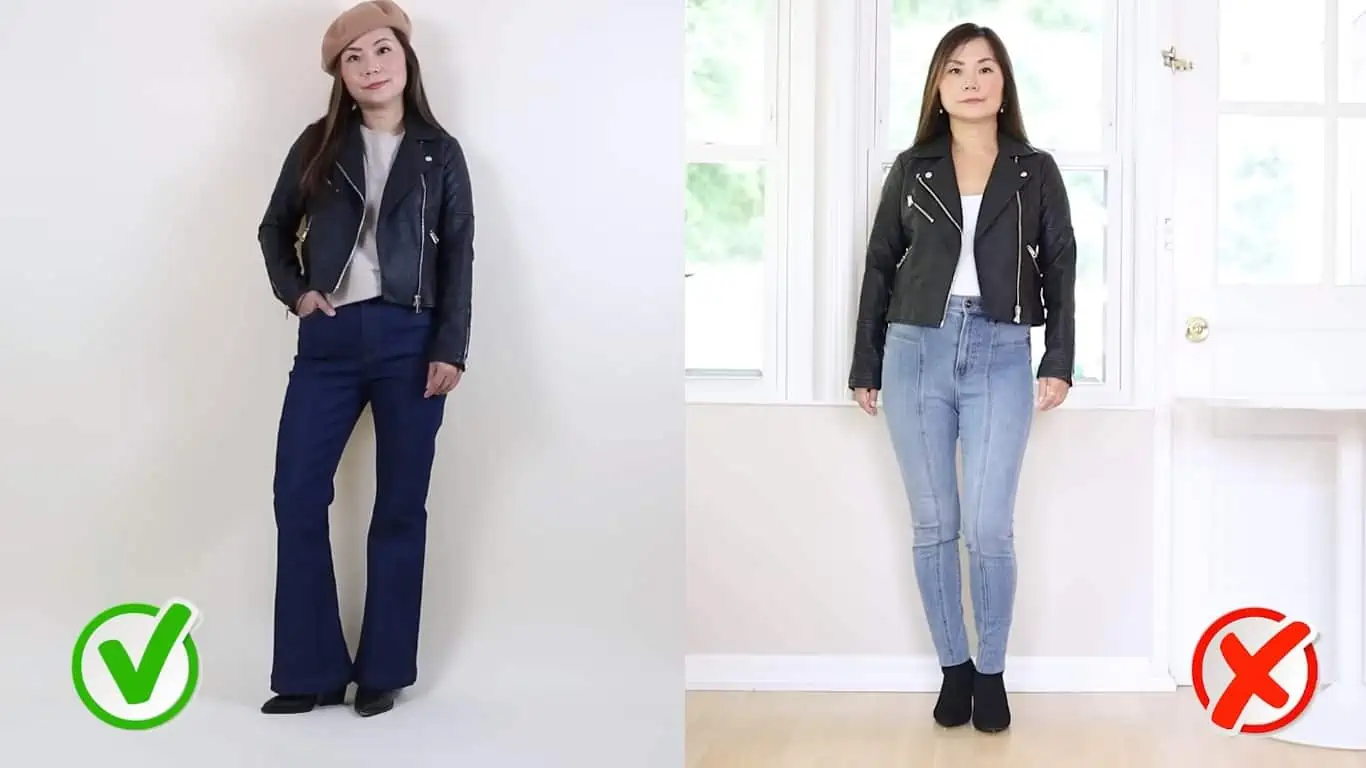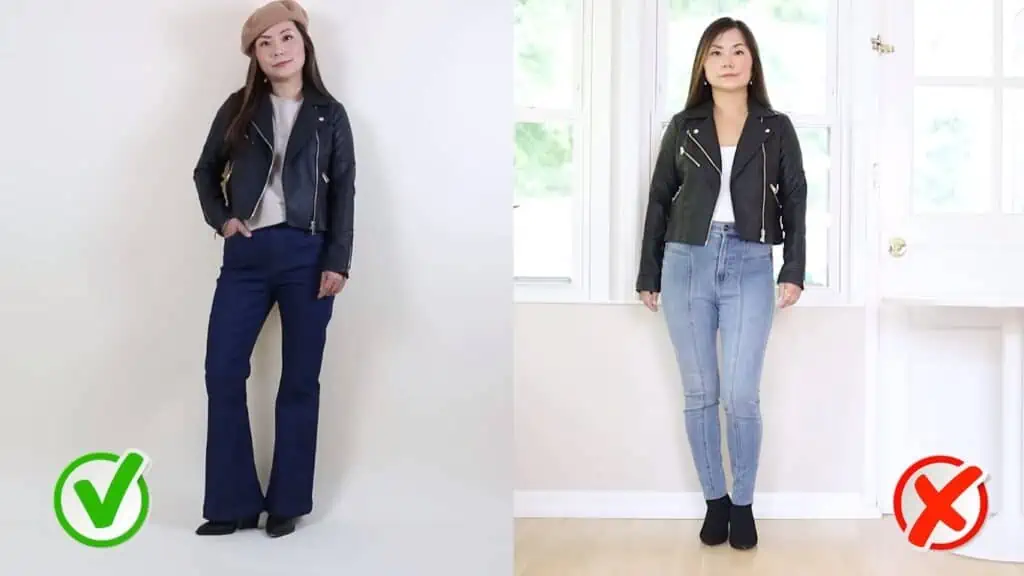 Cropped coats will only work like a charm if you pair them with bottoms that have a little more volume to create a streamlined effect. Whether it's wide-leg pants or straight-leg jeans, a touch of volume in your lower outfit can do wonders by keeping you comfortable, proportionate, and effortlessly stylish.
Mid-length Coats
I have to say, mid-length coats are a classic and one of my top choices for winter fashion. They offer that perfect balance of coverage without ever making me feel like I'm drowning in fabric.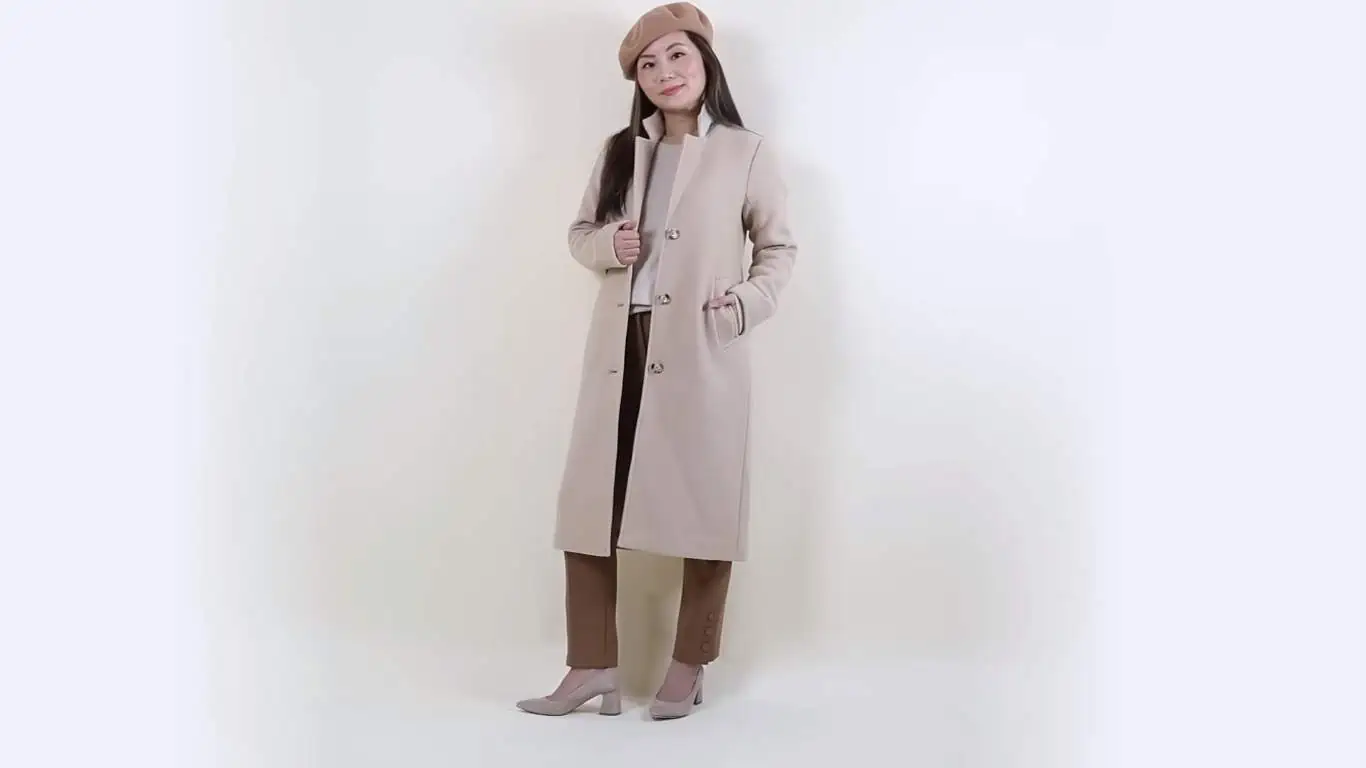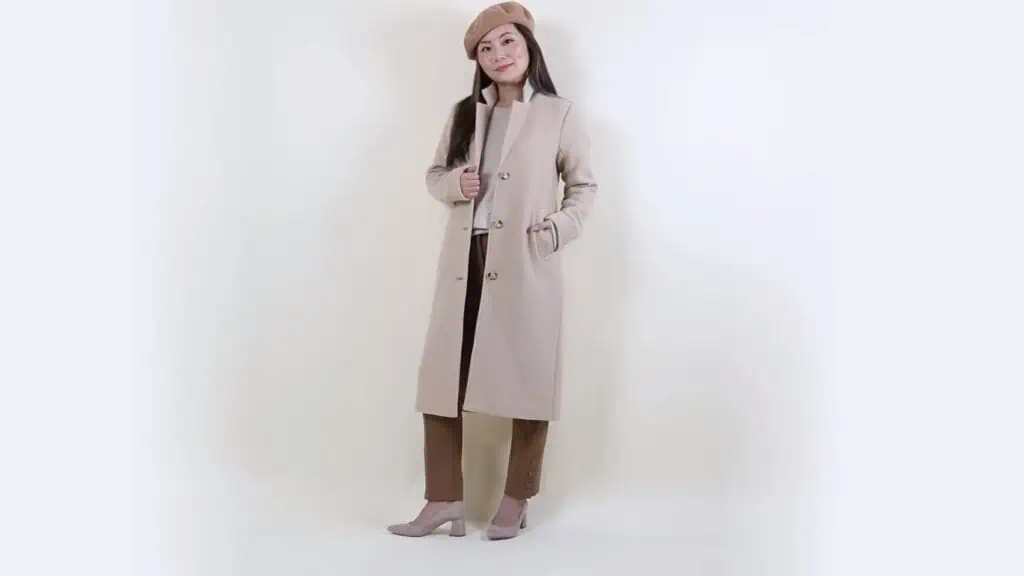 Let me tell you, mid-length coats are just perfect because they hit that sweet spot for us short girls, usually landing around the mid-thigh or knee. They craft this seamless, vertical line that effortlessly draws the eye up and down, creating the visual trick of longer, perfectly balanced legs – an instant height boost for sure!
Furthermore, mid-length coats hold a special place in the hearts of fashion-conscious short women as they are quite easy to pair with. These coats strike a perfect balance, offering versatility and style that's effortless to pull off.
Monochromatic underlayer
Mid-length coats are extremely popular but not always the easiest to style, especially when it comes to oversized, slouchy coats. But fear not, there's a simple way to make them work – wear them with a monochrome underlayer.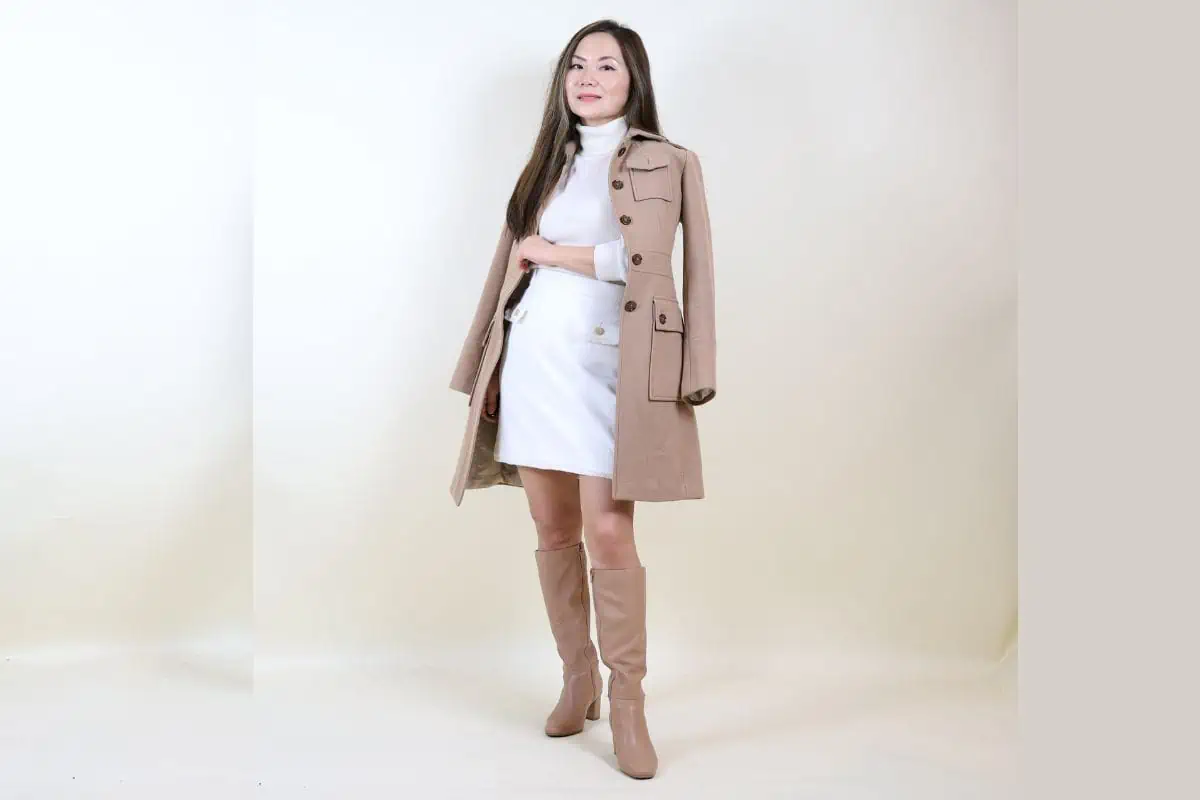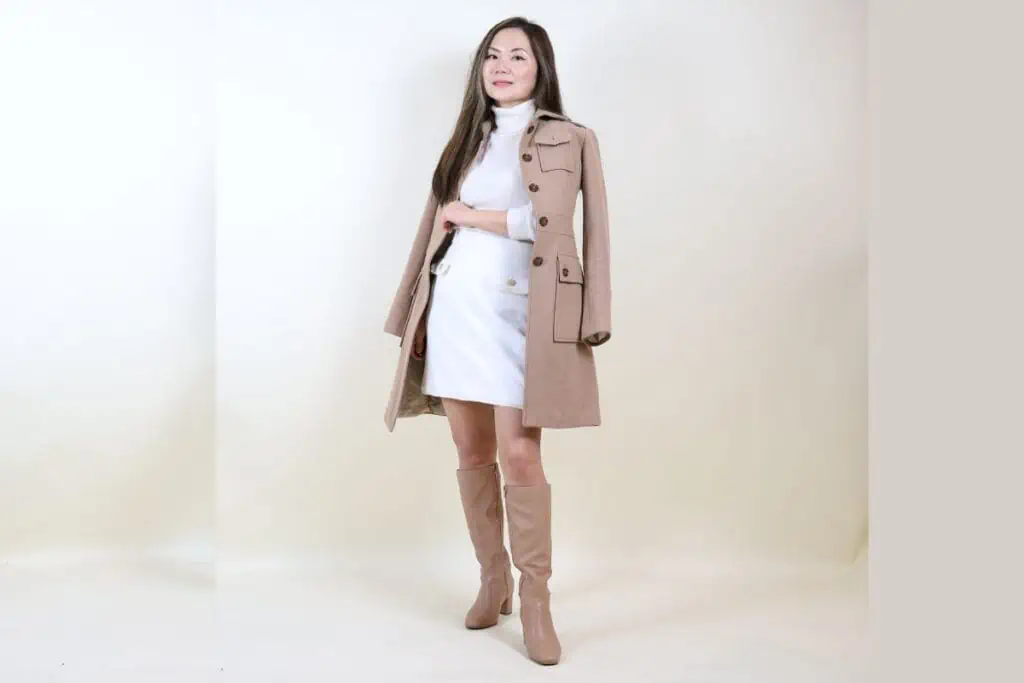 One color combination that I find particularly appealing is camel and white; it exudes a gentle, winter-friendly charm. This delightful pairing has transformed my summer skinny jeans into versatile winter whites, allowing me to rock them throughout the seasons.
Monochrome ensembles wield remarkable power, and when you pair these coats with high-waisted pants or jeans, they work pure wonders in lengthening your legs beneath the coat. This clever trick ensures you won't appear overwhelmed by your outfit, particularly if you are on the shorter side.
High-waisted bottoms
When I'm styling mid-length coats, especially the slouchy, oversized ones, I've got a trick up my sleeve to achieve that desirable balance: high-waisted pants or jeans to add extra height. It's a simple trick, but it will surely work wonders for your petite frame!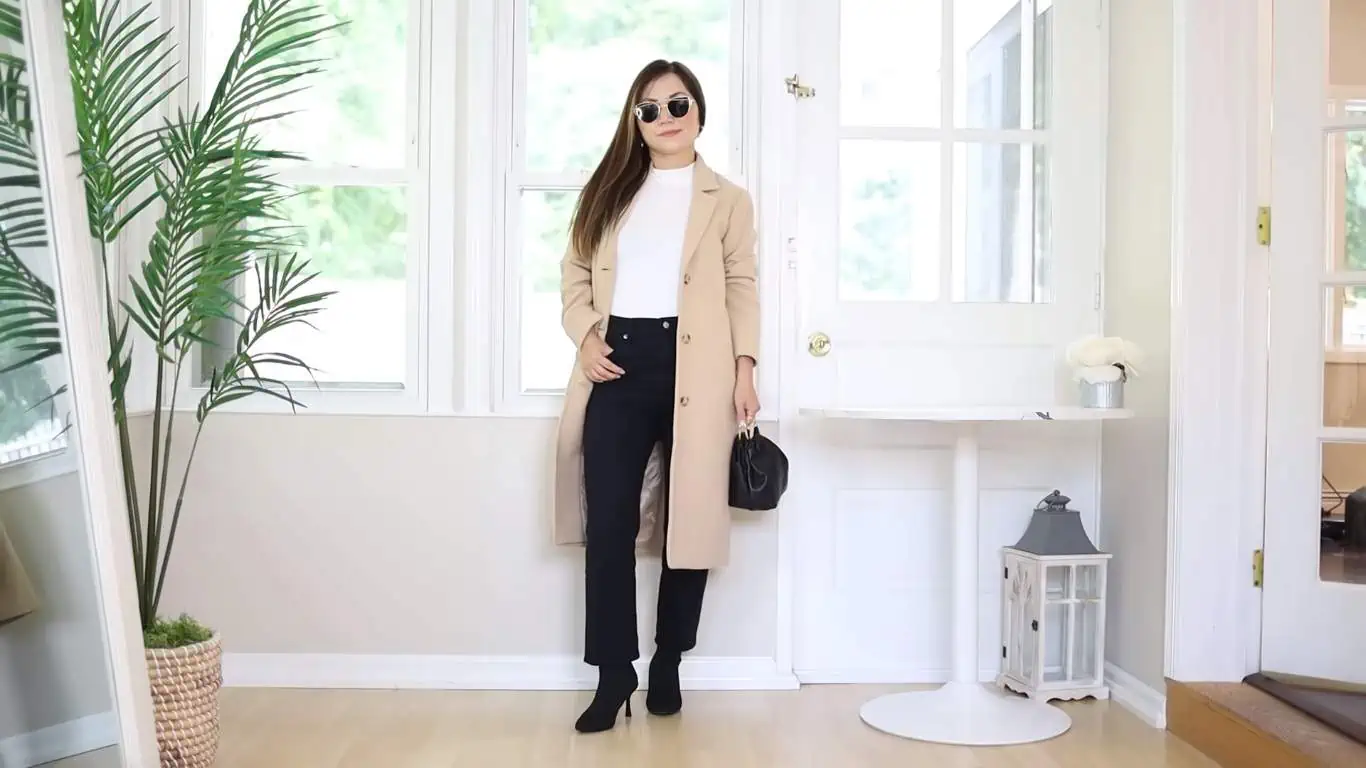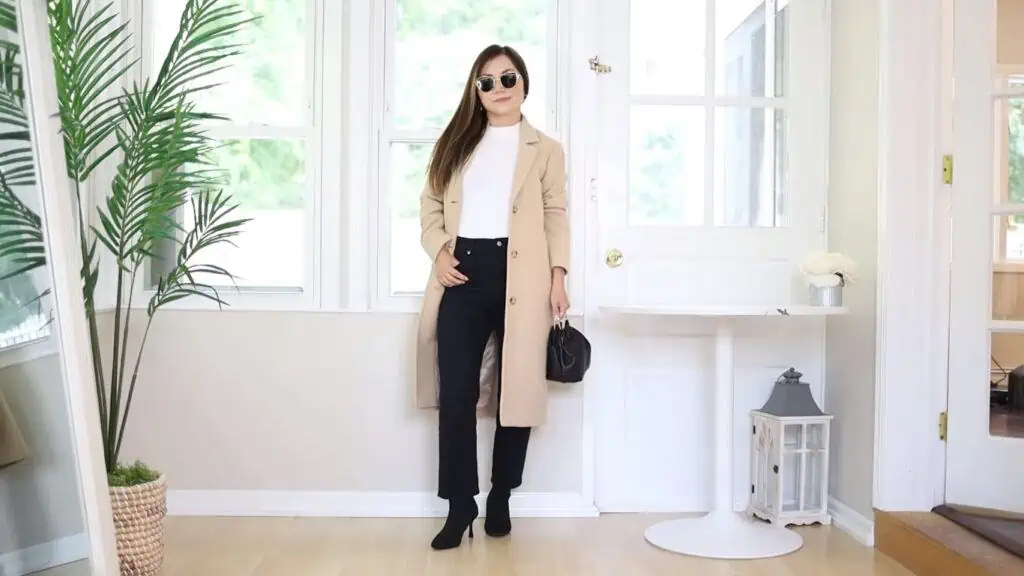 Mid-length coats, in nature, can bring some extra volume to the party, which, if you're on the shorter side, can be a bit much. Fortunately, high-waisted pants or jeans create a fantastic leg-lengthening effect under the coat, making sure you don't get swamped by all that fabric.
Avoid long skirts
Layering dresses or skirts that extend beyond the length of your mid-length coat might seem a tad tricky at first glance but trust me, it's all about playing up with your proportions. A little bit of your skirt or dress, whether it is short or long, peeking out from underneath your mid-length coat can be that chic detail you need.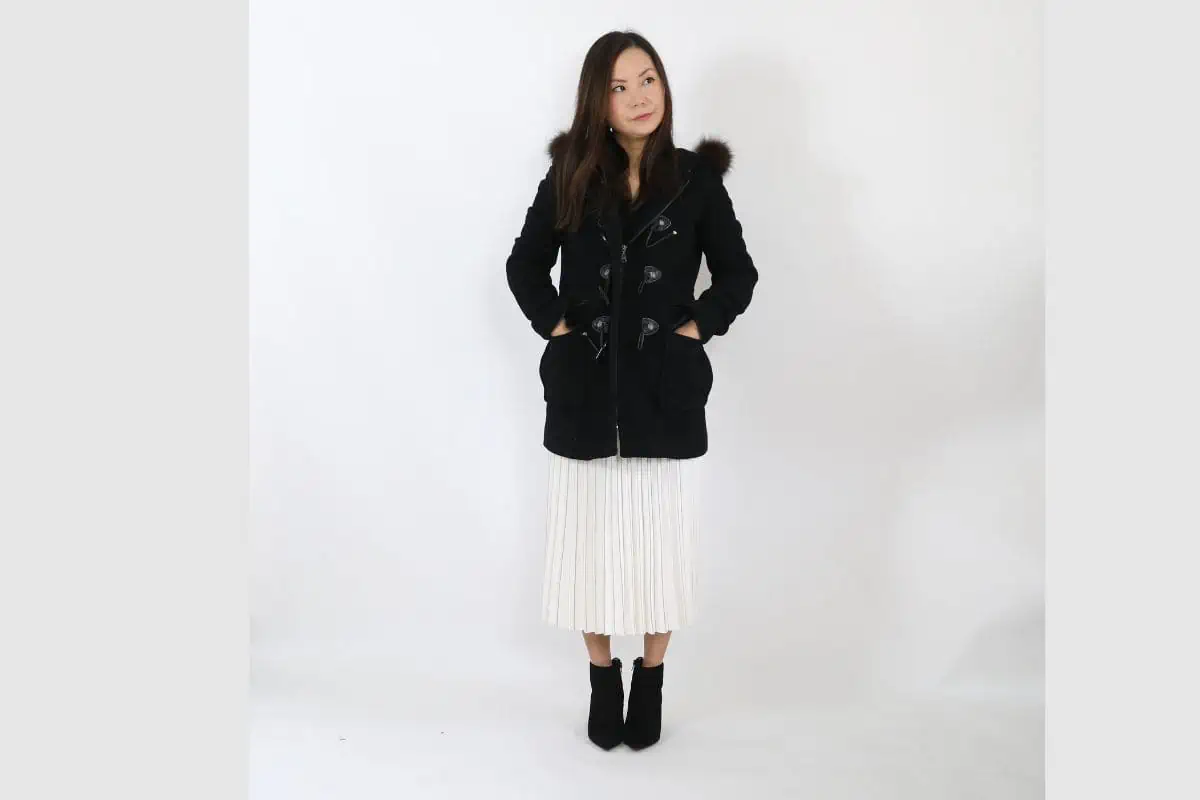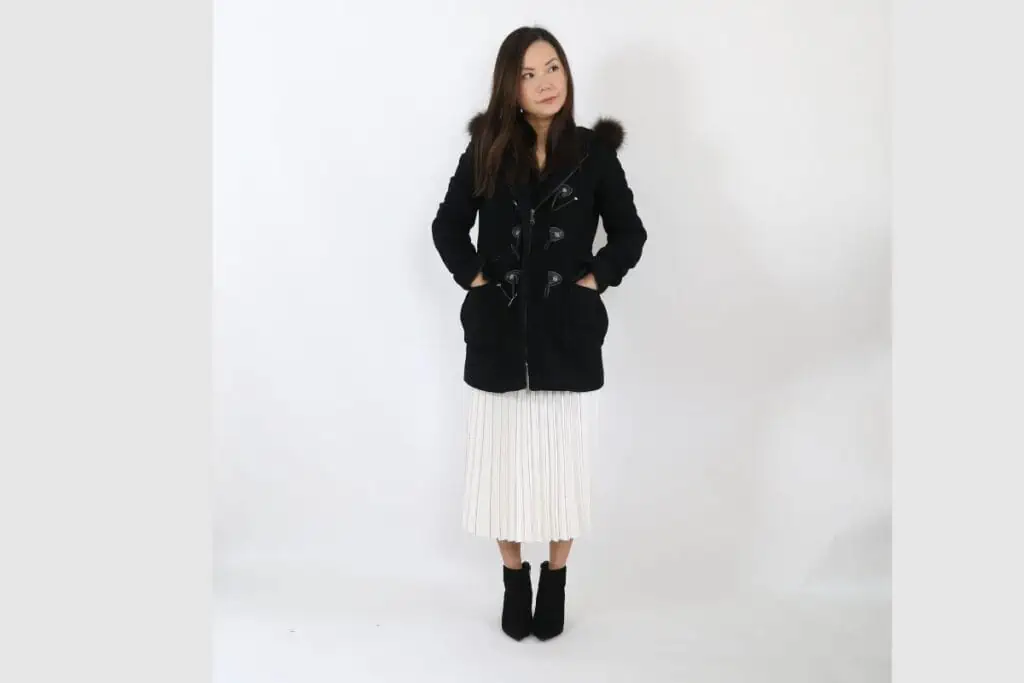 Now, here's the secret ingredient to keep this look streamlined and oh-so-stylish: black tights and black booties are your best friends. By slipping into black tights and pairing them with matching booties, you're effectively eliminating any distracting horizontal lines, which is not only chic but also the most flattering way to rock this length coat with a longer skirt or dress.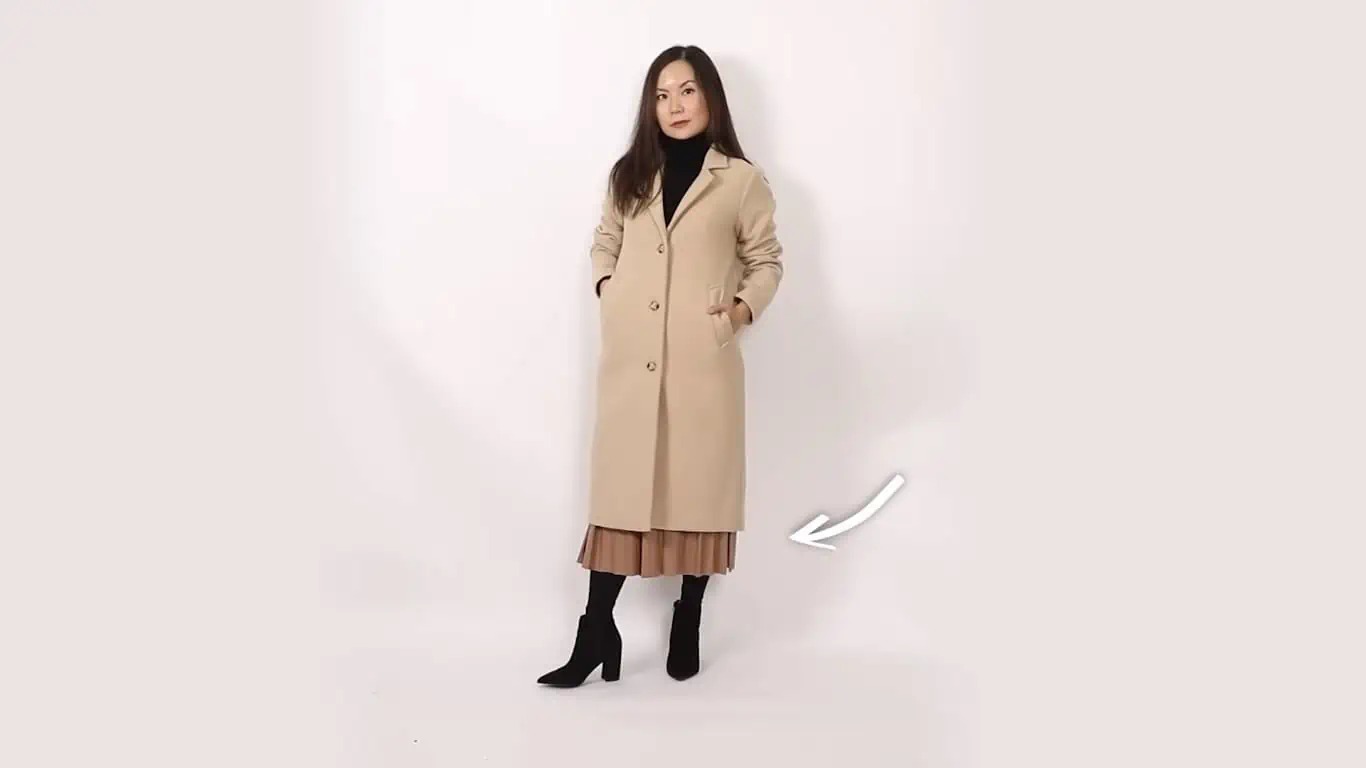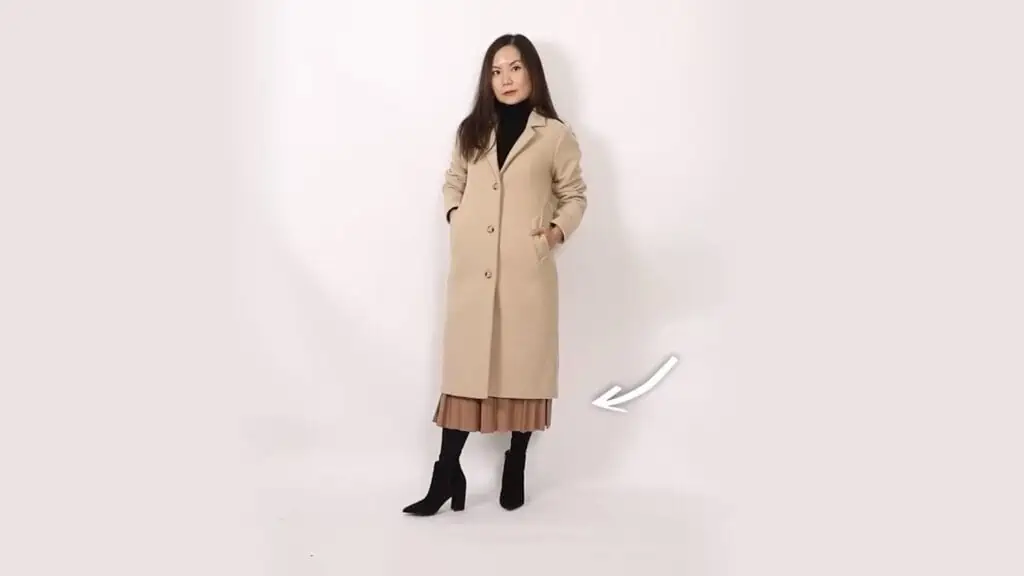 For those residing in warmer climates, consider going with shorter skirts. When your skirt hem falls shorter than your mid-length coat, it creates an effortlessly balanced appearance, so it is a win-win choice that lets you stay stylish and comfortable in milder temperatures.
Visual Continuity is Key
However, if you choose to wear a long skirt, you have to avoid appearing disproportionate, and you can do that by establishing a sense of visual continuity between the mid-length coat and the longer skirt or dress. Without this continuity, the outfit can look a bit disjointed, and that's not what we want.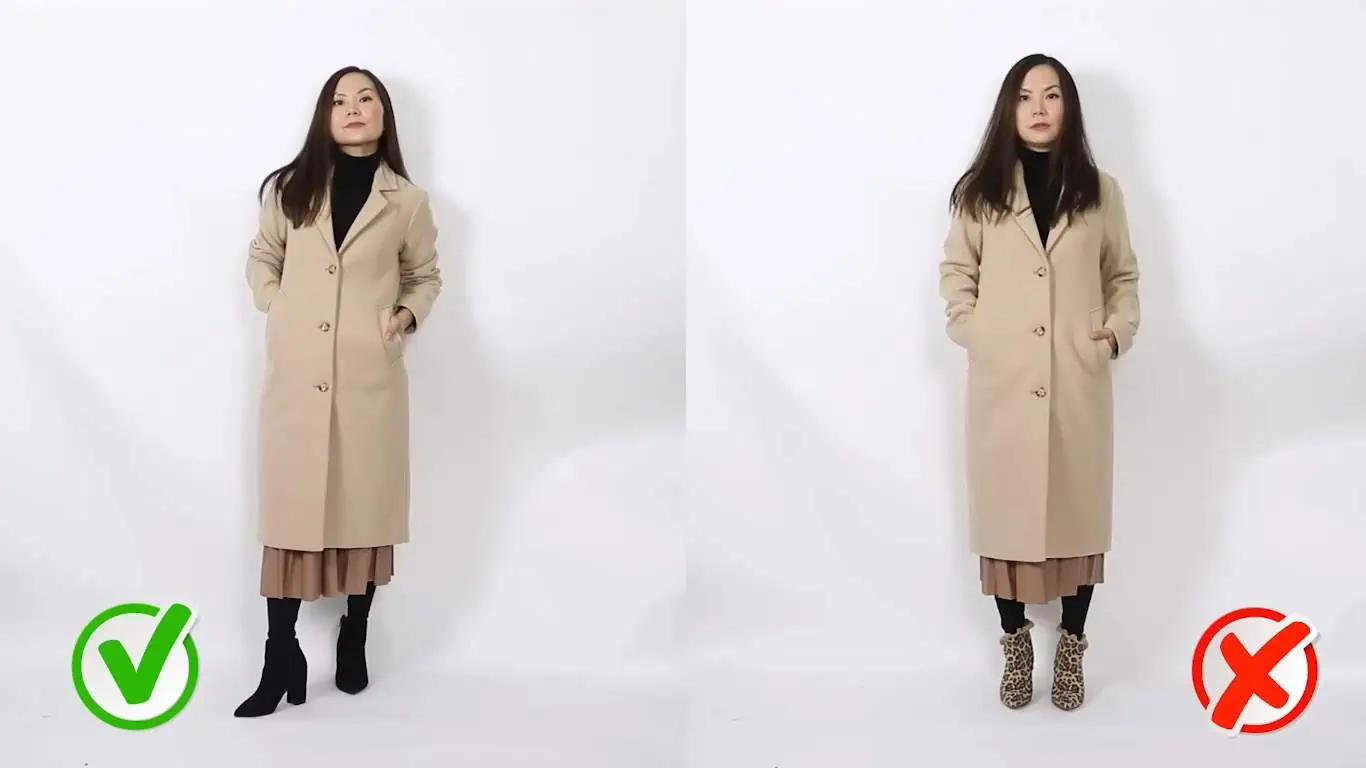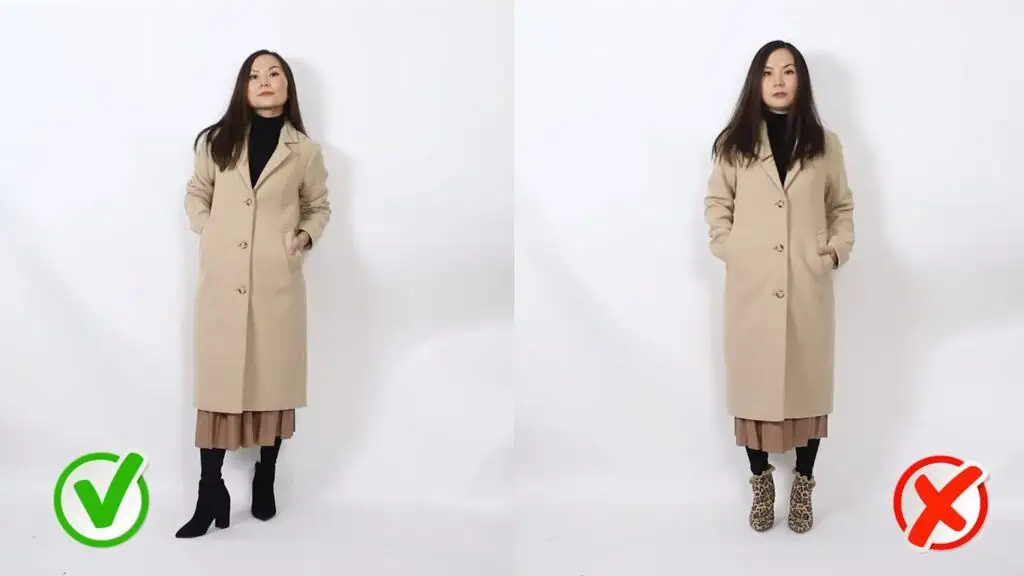 The tricky part about pairing a mid-length coat with a longer skirt or dress is the potential for creating a "cutoff" effect as it visually splits your body into two distinct sections – the upper body wrapped in the coat and the lower body revealed by the skirt. This can give off the illusion of being shorter than you actually are.
Long coats
Do you know why long coats can still be an incredible option for us shorter women? They've got this remarkable superpower – creating a seamless, uninterrupted line from your shoulders all the way down to your ankles that serve as the main foundation of their flattering effect!
Definitely, I'm all about long coats for the winter season as they've got the magic touch when it comes to staying cozy and stylish, even in freezing temperatures. However, as mentioned earlier, these coats go way down to your ankles, thus they might seem like a lot of fabric to handle, especially if you're not super tall.
But believe me, they can be your best friend when chosen and styled just right. In fact, one of the best things about long coats is their ability to accommodate just about any dress or skirt underneath, especially during the holiday season.
Wear with same color underlayer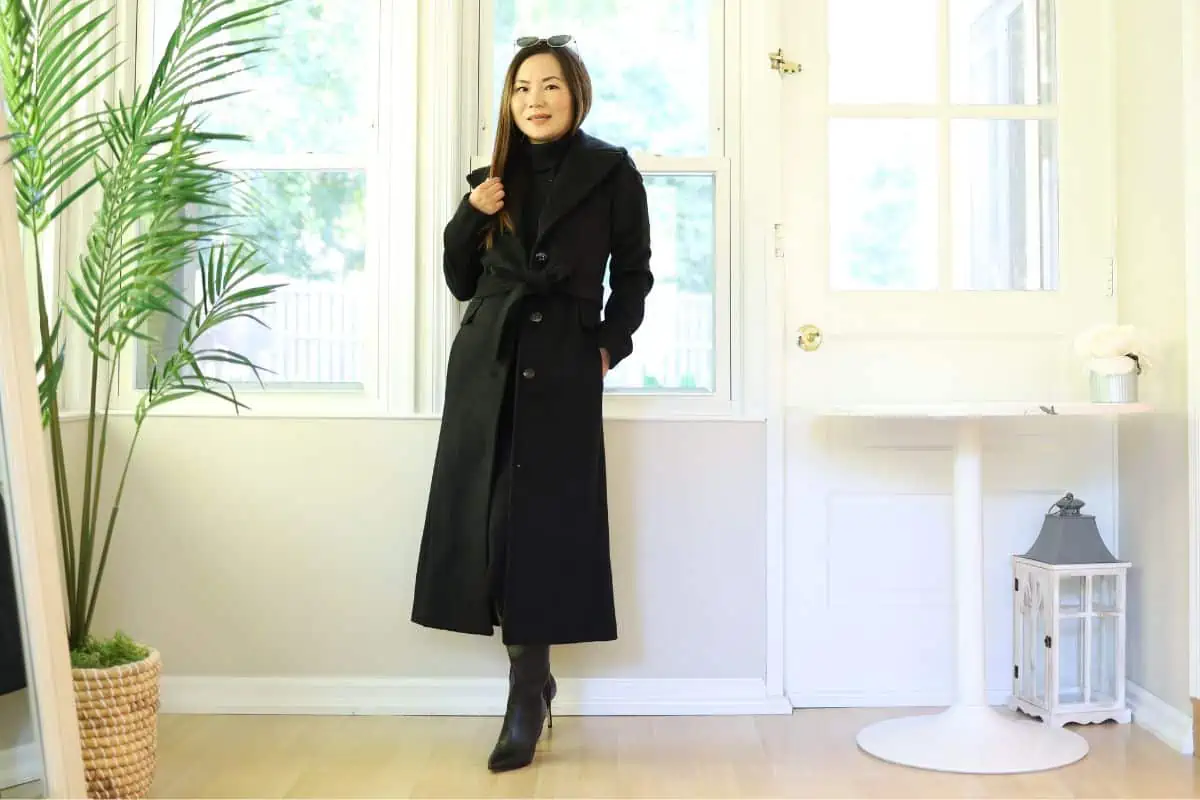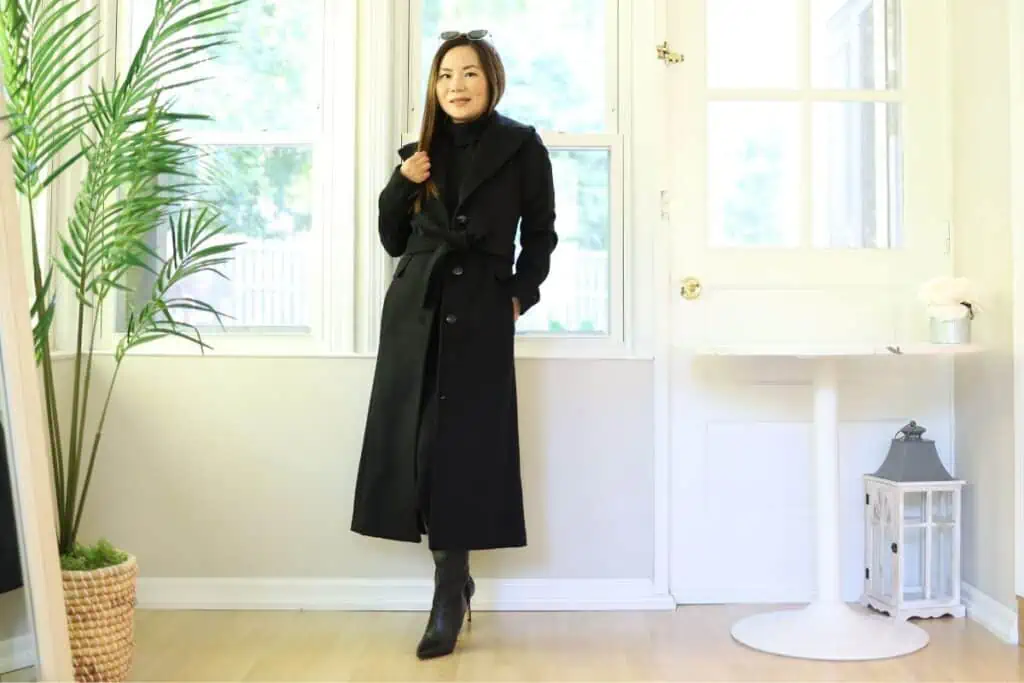 When your coats are long, you need to make sure your underlayers are not too complicated. What I found always works the best is to keep your underlayers the same color as your coats, especially when your coat is black.
This vertical line tricks the eye into seeing a longer silhouette. As someone on the shorter side, I can say that this is pure gold as it adds an illusion of height and a slimmer frame!
Wear belted maxi coats
Long coats are quite elegant, flowing canvases that can make a fashion statement. But here's the deal – when you're on the shorter side, it's easy to feel like you're drowning in all that fabric.
These long coats love to play with lots of fabric, which is cool unless it takes over your entire frame. So, here's my secret – always look for long coats that offer waist definition.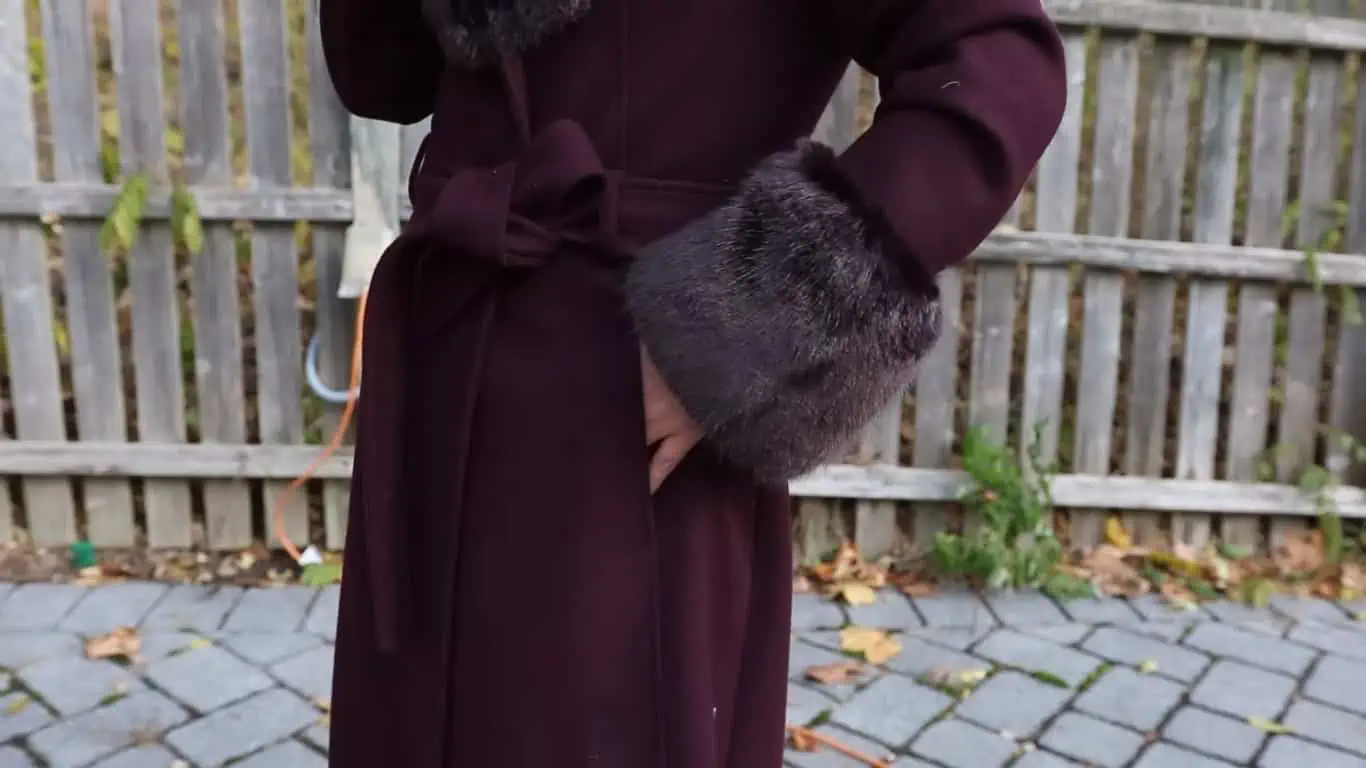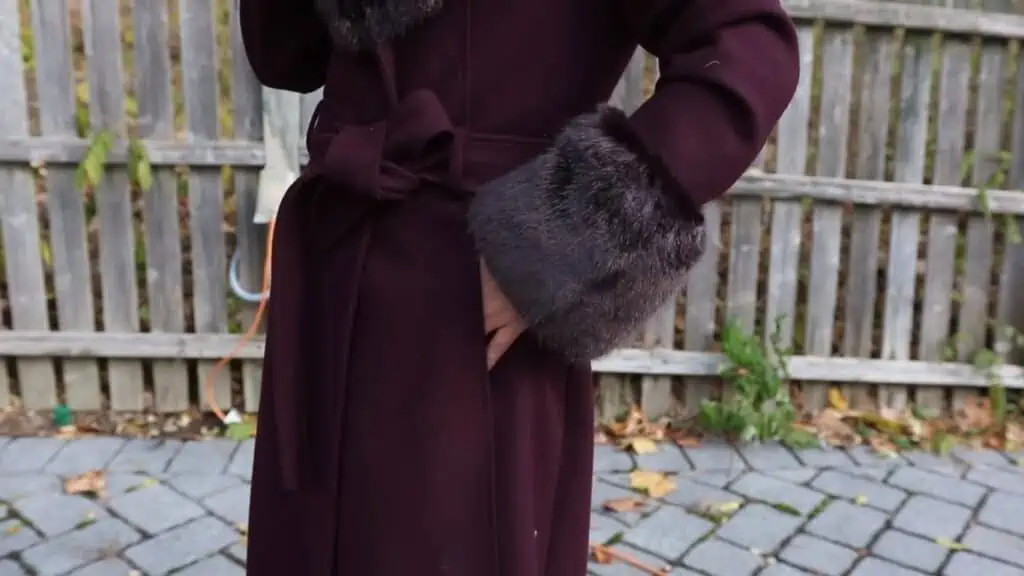 Picture this: without that waist-cinching magic, the coat's loose, flowy shape can create an optical illusion of extra bulk. And no one wants that because as short women, we're all about enhancing our look, not adding visual pounds.
Now, when you find a long coat with a belted or tailored waist, you'll observe that it cinches in at just the right spot, creating that sexy hourglass shape. It magically prevents you from looking shorter or wider; instead, your silhouette becomes elongated, and everyone's eyes naturally gravitate towards your waist and legs, giving you a stunning and elegant appearance.