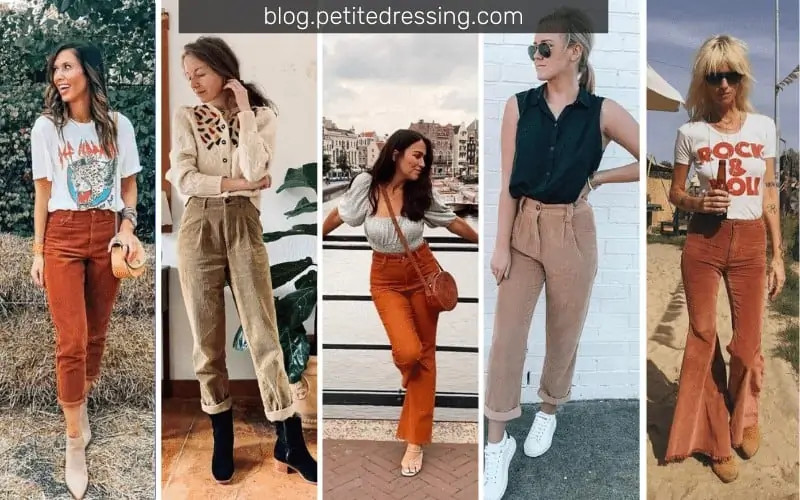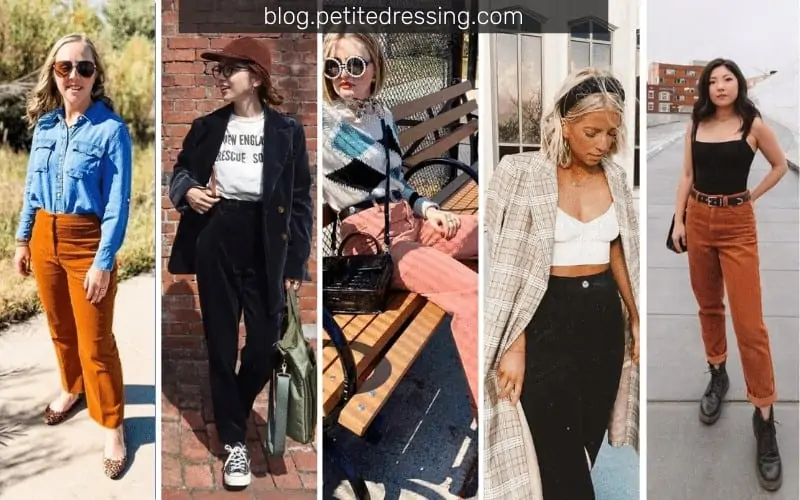 Corduroy pants aside from being incredibly comfortable, are stylish and can really give you a more interesting look and a break from jeans or khakis. They're available in different colors and styles so you can be sure you'll get one that suits you. Meanwhile, here are some ideas on what to wear with corduroy pants: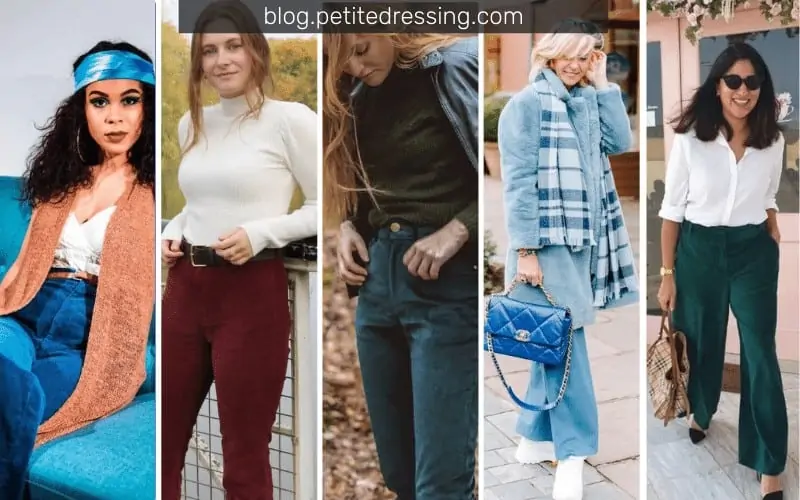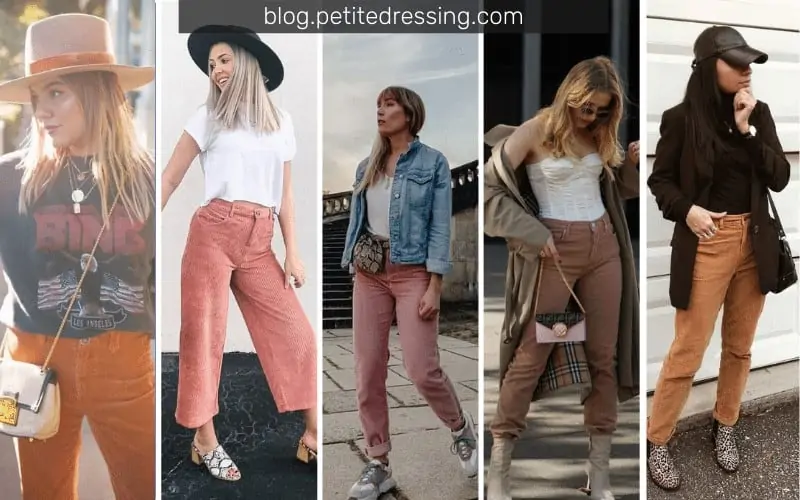 Graphic t-shirt
Graphic t-shirts are great for people who like to stand out in a crowd. They give you the comfort of any other t-shirt but go a long way in helping you express yourself too. Graphic t-shirts can be worn with different bottoms including corduroy pants for a great casual look.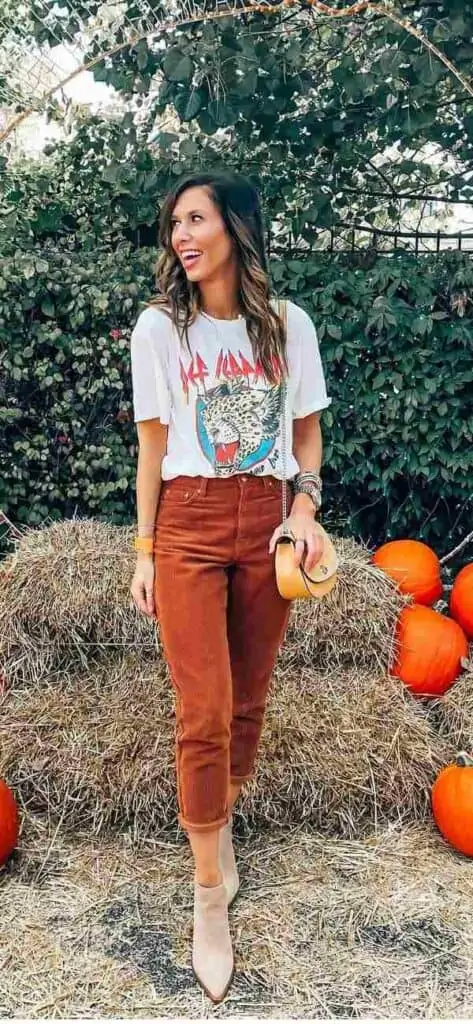 Joanna (above) styled her white graphic t-shirt with some corduroy pants and ankle boots. It's a no-brainer look that could take you from errands to hanging out with your friends and is so easy to wear. You can always switch the ankle boots with some sneakers.
With a cardigan
Cardigans are cute and cozy and were previously meant to give you a preppy look but fortunately today, they are available in different designs that are cute, chic, and fashion-forward and with each passing day, even top designers create them in more lovable styles.
You can wear a pair of corduroy pants with a pair of boots and an embroidered sweater with some colors on it. Leave it tucked in your sweater, or you can always leave it unbuttoned and untucked if you're wearing something underneath it.
With a girly top
While t-shirts are great for those days when you just want to be comfortably dressed it's worth having a few or a number of girlie tops as they let you look nice and feminine whether you wear them with jeans, skirts, tailored pants or even shorts. These tops can also be styled with your corduroy pants to dress them up.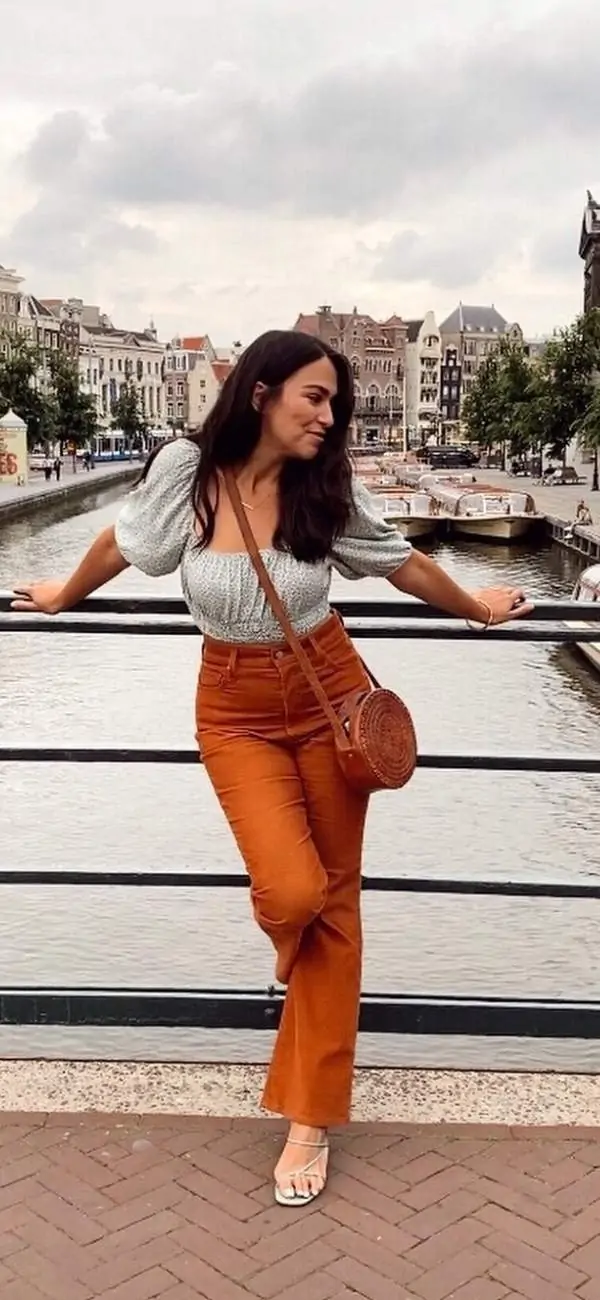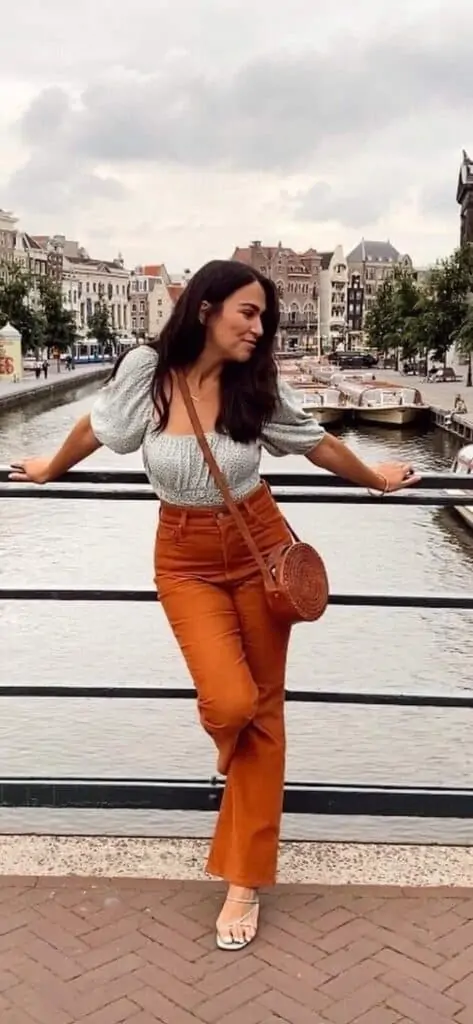 Thedamfoodie (above) wore a pair of brown corduroy pants with a girlie top that has puffy sleeves and some strappy heels. It's a simple combination and you can always switch up the strappy heels with some sandals if you prefer a more laid back look.
With a sleeveless button-down shirt
If it's hot outside and you want a bit of a smart casual look then your best bet is a sleeveless button-down shirt tucked into your pants. While jeans are common for smart-casual looks, corduroy pants can also work for this considering their fabric.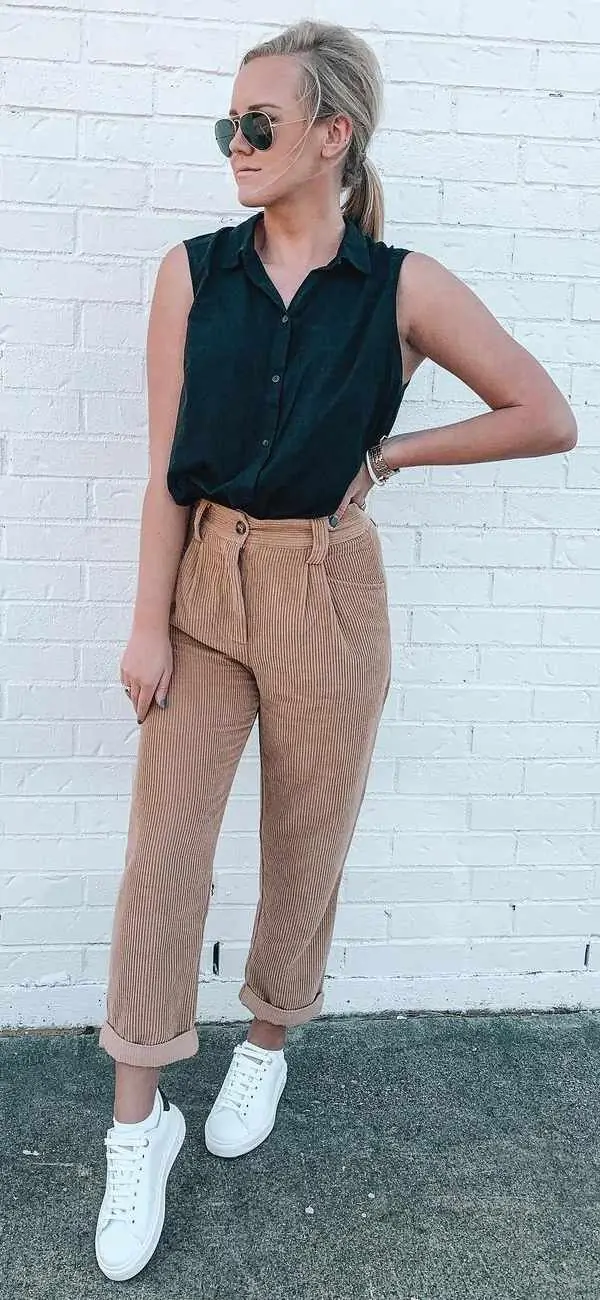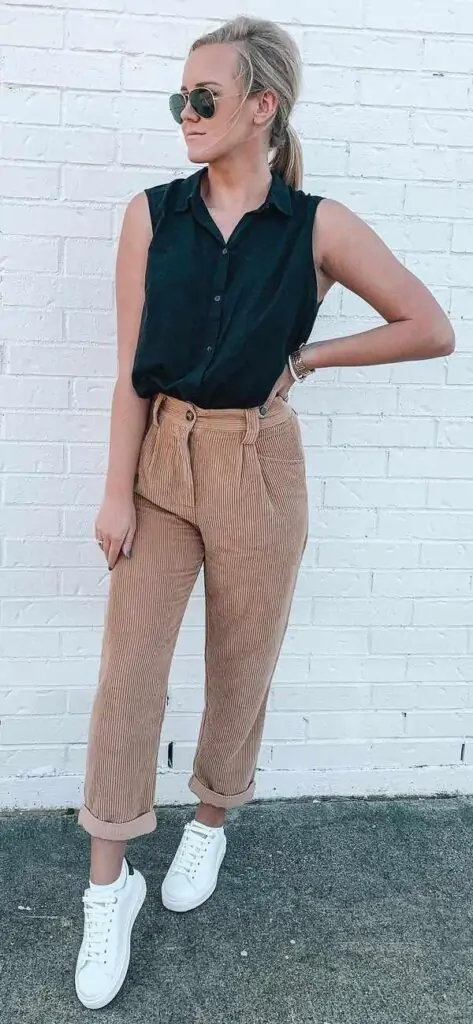 Taylor (above) styled her brown corduroy pants with a sleeveless black button-down and a white pair of sneakers. You can always swap the sneakers with some brogues or loafers for the same smart casual look.  You can have your pants all the way down but rolling them up at the bottom gives a more interesting look.
With a message t-shirt
Just as the name suggests, message t-shirts communicate. They are a way of expressing those things you strongly believe in through clothes. Being t-shirts, they go well with corduroy pants just as long as you pick a message t-shirt whose color and the color of the graphics go well with the color of your corduroy pants.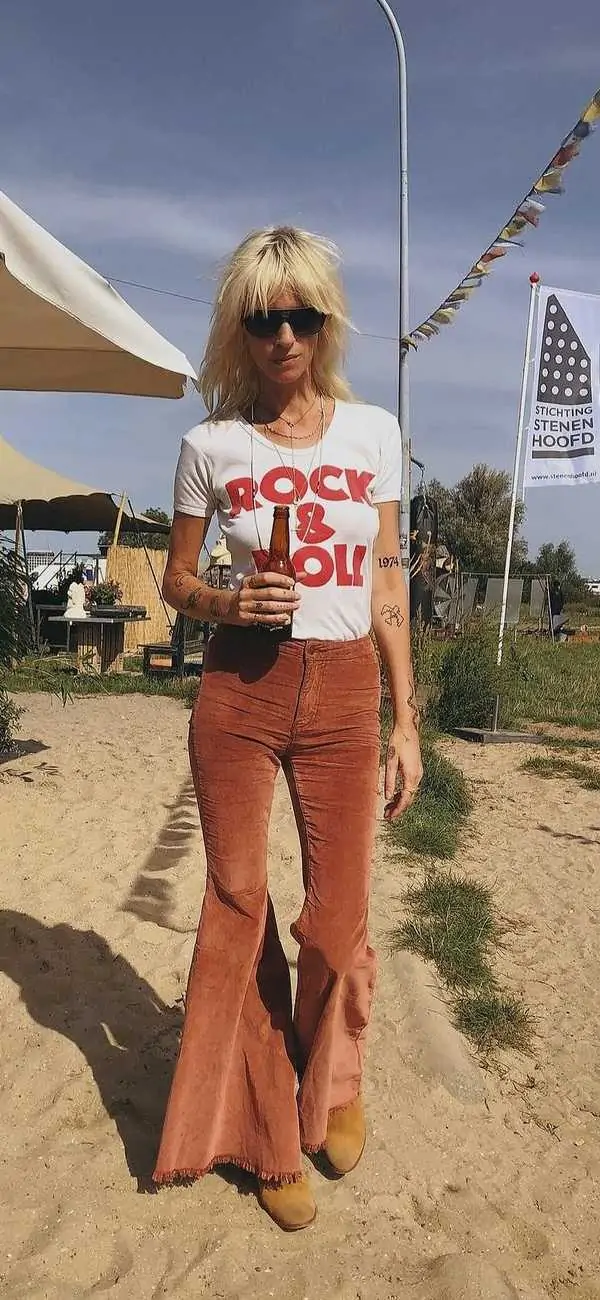 Cindy (above) wore her Rock & Roll message t-shirt with some flared corduroy pants and shoes in a different shade of brown. If you choose to wear flared pants it's important to get a message t-shirt that's a good fit to balance with the wide leg of the pants.
With a denim shirt
Denim shirts are comfortable and are universally popular because anyone can wear them and look great regardless of their age or even figure. They can be worn throughout the year and styling them with corduroy pants is a great idea because of the contrast between the two fabrics.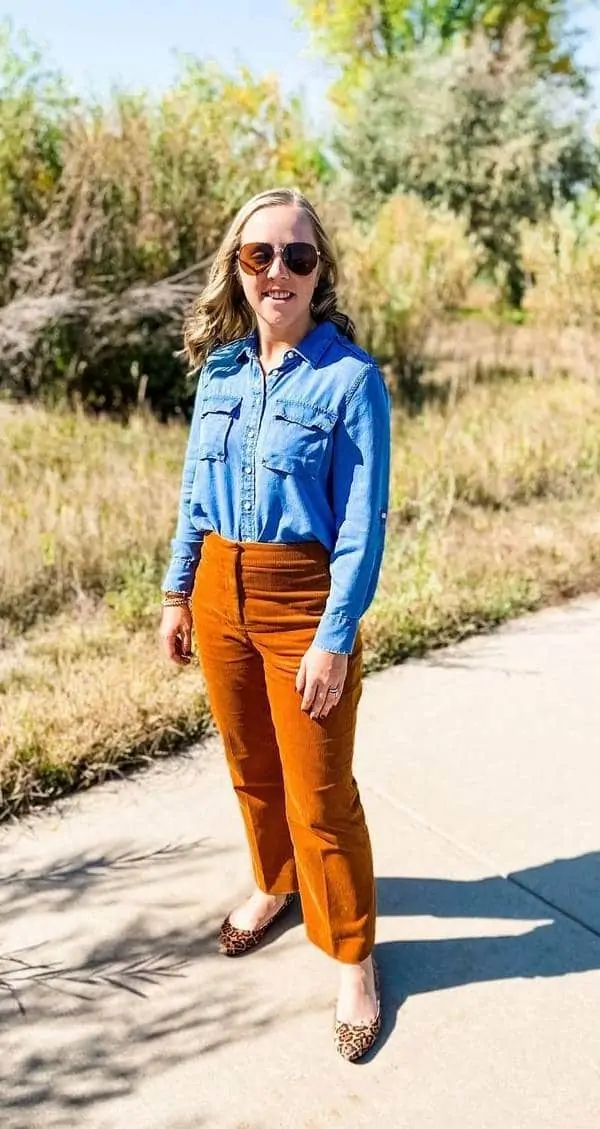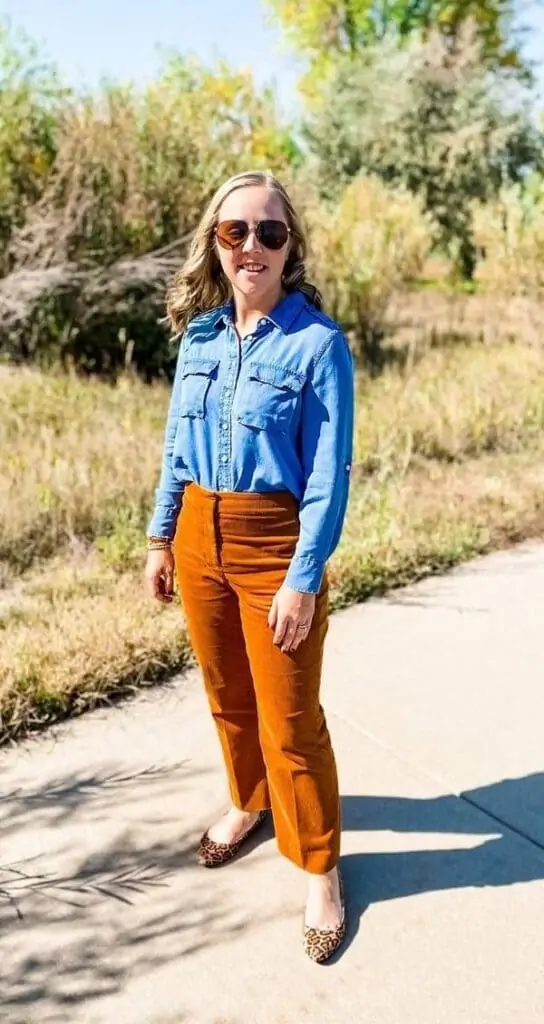 Darcy (above) wore a denim shirt with a pair of corduroy pants and some leopard print flats. You could always go for a plain pair of shoes if you don't like printed shoes or you can go for heels instead of flats to dress up this combination.
With a matching corduroy blazer
A matching blazer is a great option for you if you're going to be wearing corduroy pants because with this you get a suit. A corduroy suit is chic and easy to style because you don't need to think too much about what else to wear with the outfit. A tank, cami or t-shirt will do underneath the matching corduroy blazer.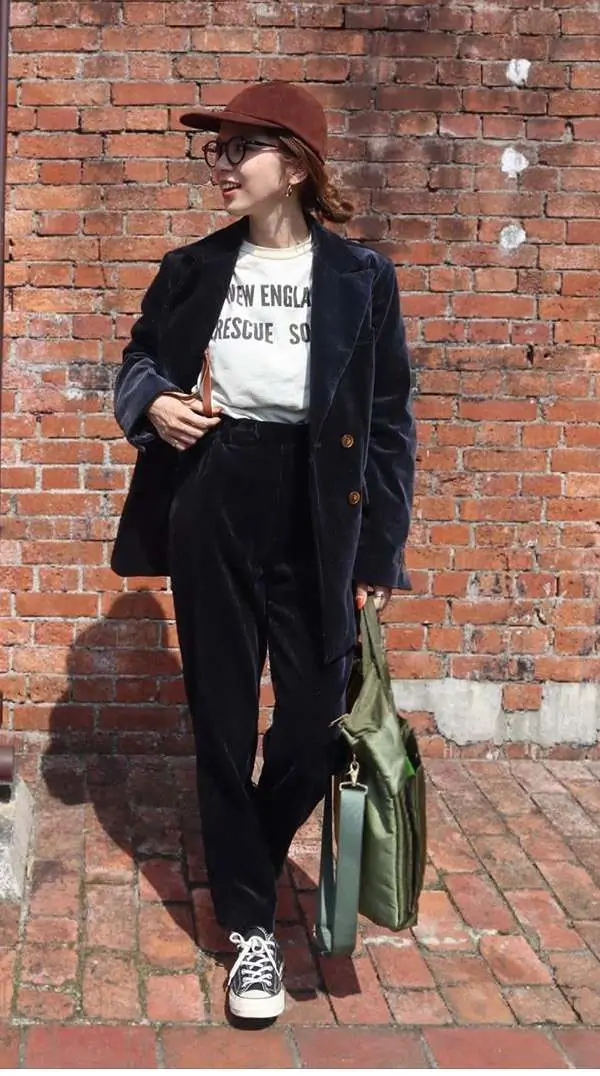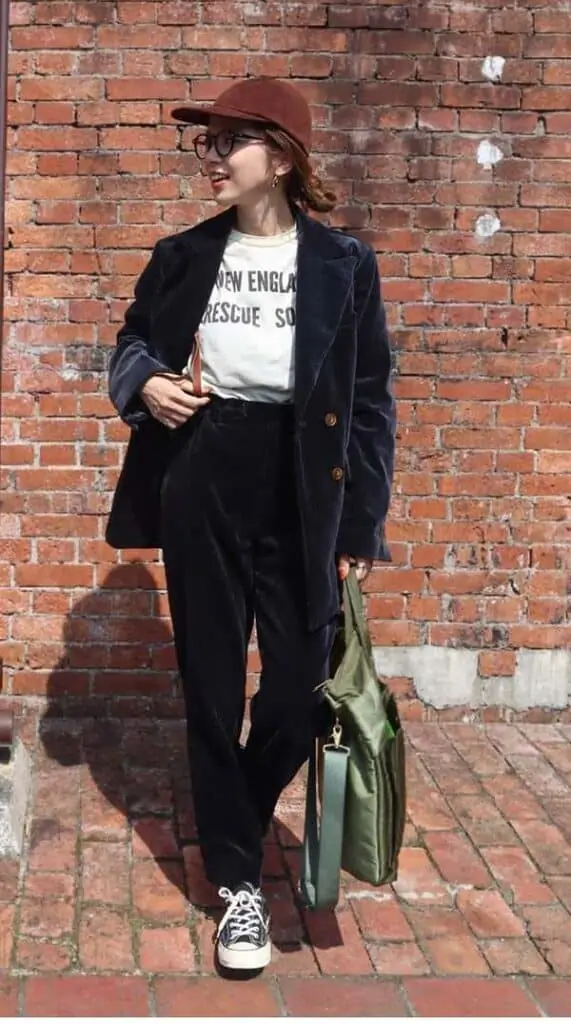 Misuzu (above) styled her corduroy suit with a message t-shirt, converse shoes and a hat. It's a simple and fun casual look but you could dress the combination up by switching the converse with a pair of heels and then the t-shirt with a cami or a plain tank top. You would also have to lose the hat for a chicer appearance.
With a pullover
Just like a cardigan, a pullover is one of those comfortable knits that keep you warm on colder days but when styled right, these cute pieces can also be really stylish. The best part is that when you wear them with your corduroy pants, they make your outfit more feminine especially if you style the pants and pullover with more girly or feminine pieces like heels, sandals, stilettos or even mules.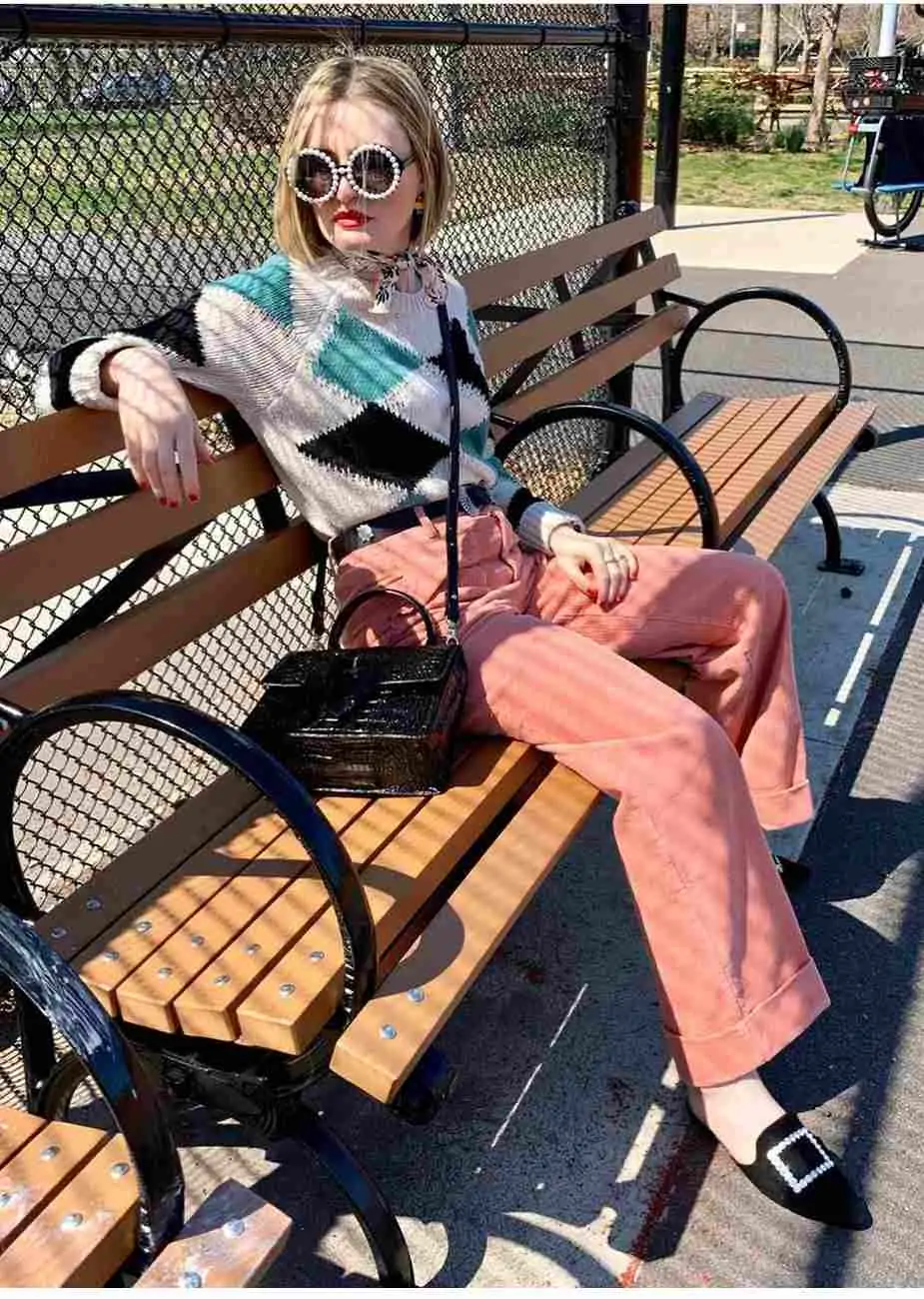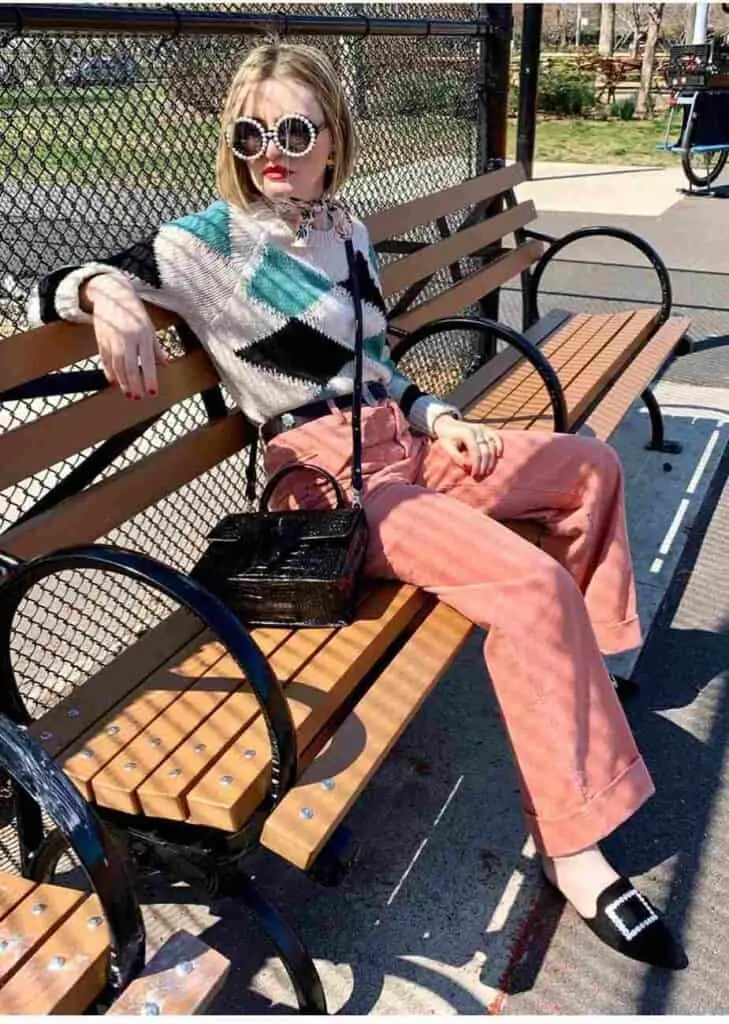 Elle (above) wore her pullover with a pair of corduroy pants and some mules. She accessorized with a structured bag and a scarf. Other ways to accessorize include wearing some statement jewelry. You can pick a plain sweater or go for one with patterns.
With a coat
Coats are chic and will usually elevate any outfit on colder days. With coats you can always choose shorter ones or longer ones but one thing's for sure, whichever you go for will look great with corduroy pants.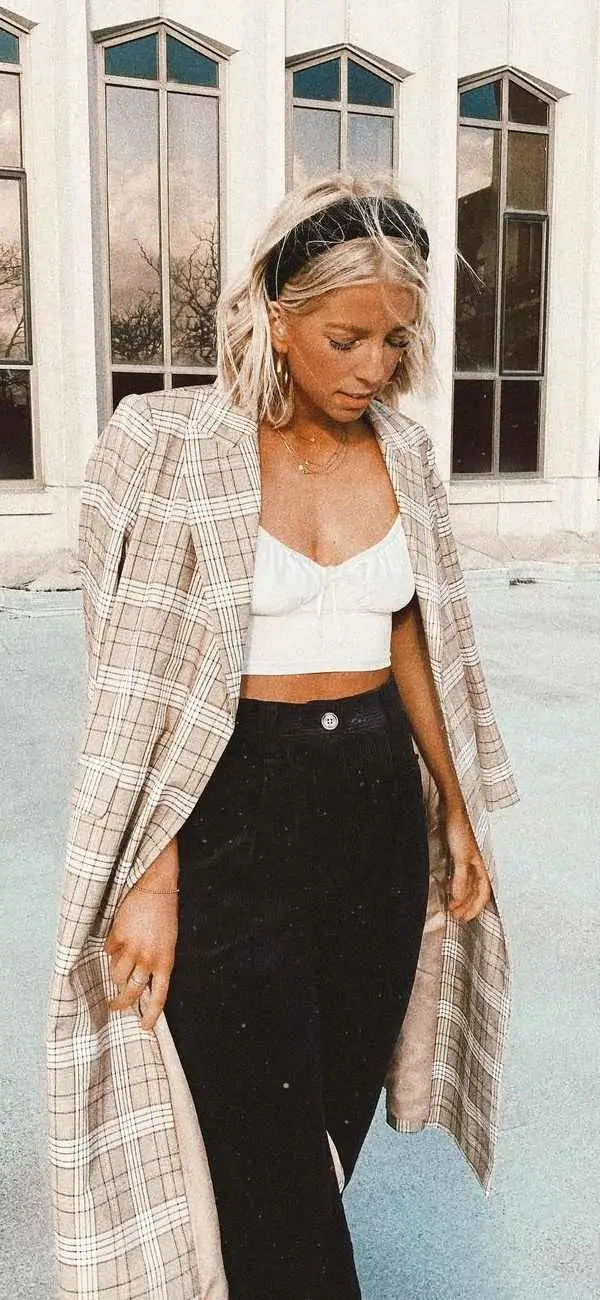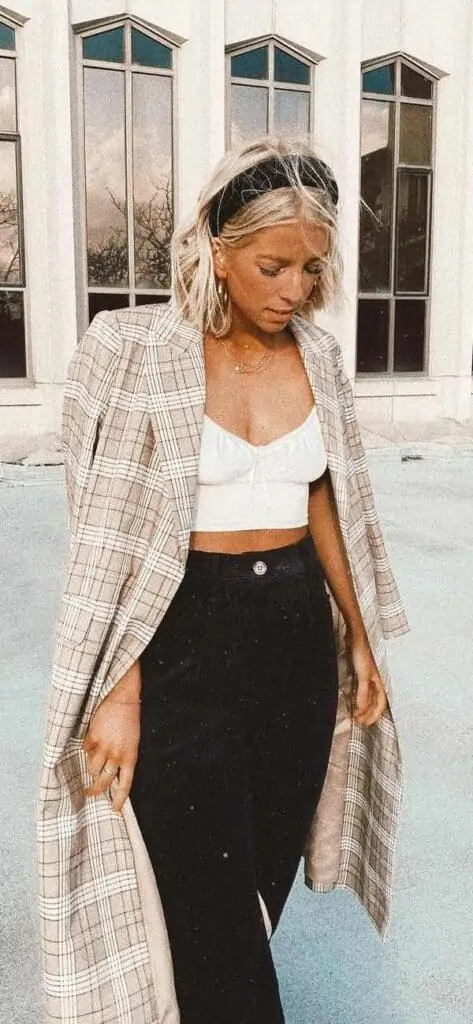 Anita (above) styled a plaid coat with a white crop top and a pair of dark corduroy pants. It's a chic pairing but you could always wear a full tank top if a crop top is not exactly your cup of tea. You can also wear your pullover under your coat instead of a tank top especially if it's colder outside.
With a bodysuit
Bodysuits are great because they give you a clean look, in other words, they do not untuck. As a result you can be confident that every time you sit down and stand up, your outfit will still be well put together.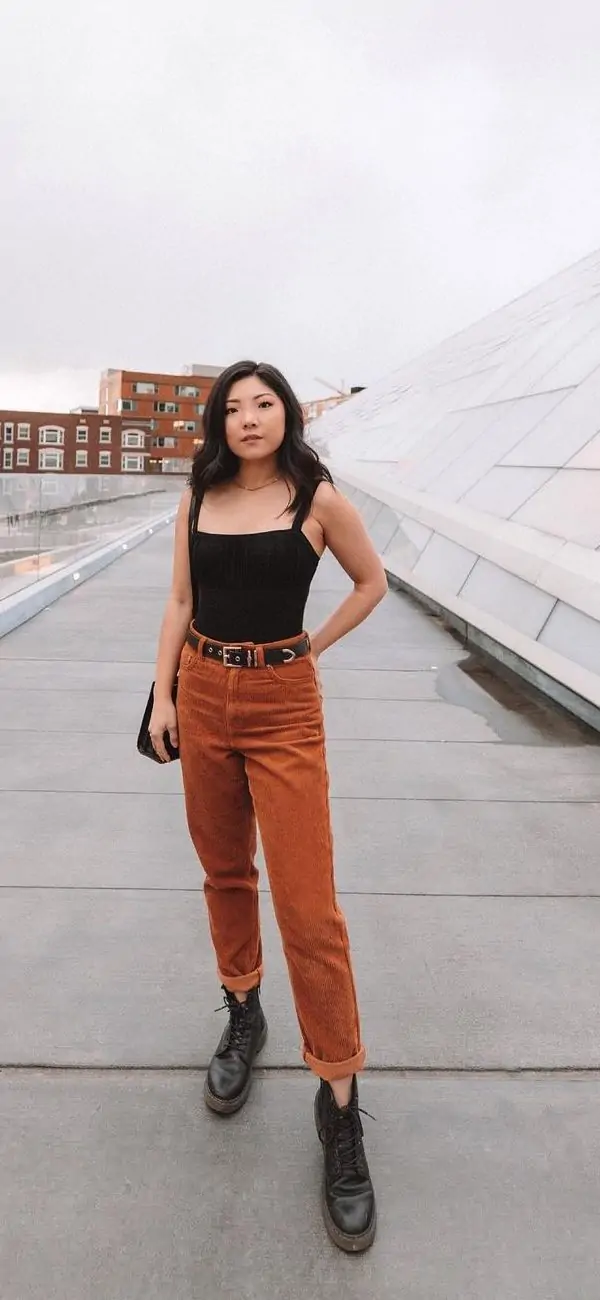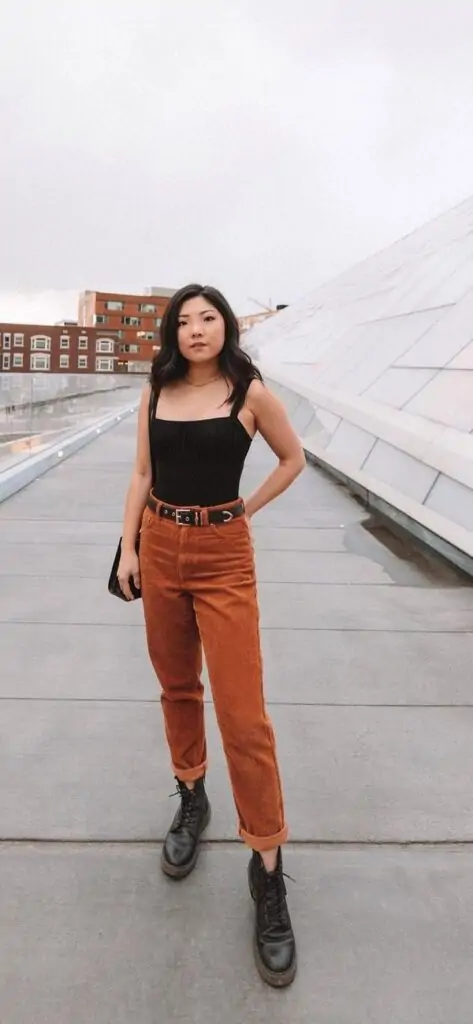 Anita (above) paired her bodysuit with corduroy pants and a pair of ankle boots. Pulling off a pair of corduroy pants with a bodysuit is just as easy wearing your bodysuit with jeans. Accessories such as a belt make it look better.
With a sweatshirt
Sweatshirts are great for those lazy days indoors but you know, you could style them outdoors too. They can actually be dressed up. You can tuck your sweatshirt into a pair of corduroy pants for a great casual look.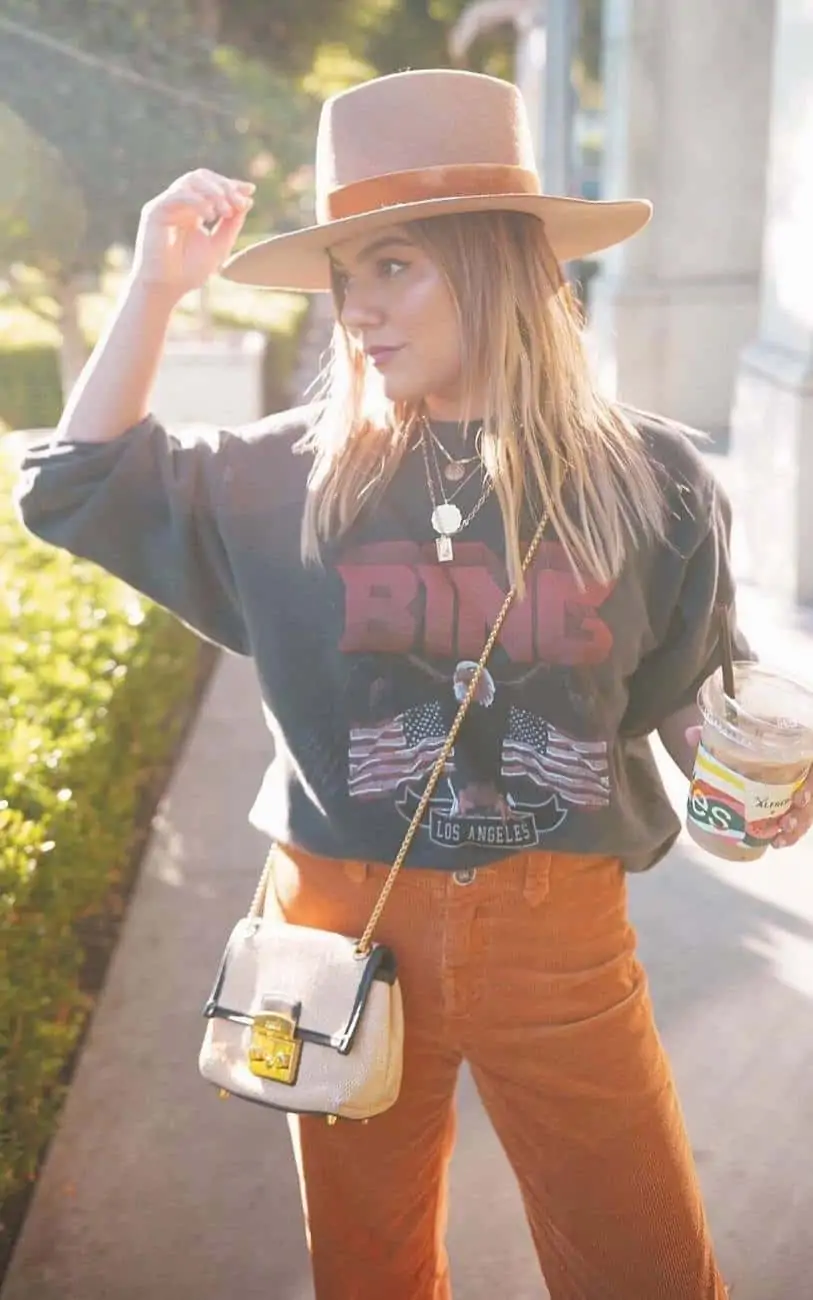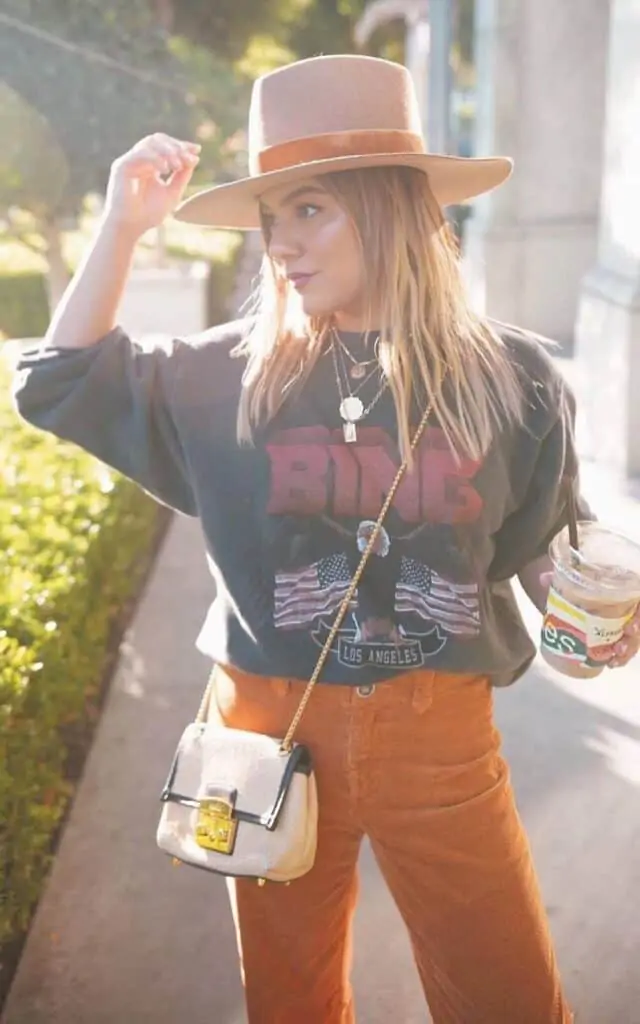 Beatriz (above) styled her brown corduroy pants with a sweatshirt. She finished her look off with a hat and some necklaces. Just because a sweatshirt is often considered a piece for lazying around does not mean it can't be elevated with a few accessories.
With a white tee
It's hard to recommend tops for skirts, pants, or shorts without including a white t-shirt considering a white t-shirt can be styled with everything you have in your closet. This includes jeans, and pants of different fabrics such as corduroy.
Since both your t-shirt and the pants are plain, you can easily style a printed pair of shoes or go for some statement accessories.
With a denim jacket
A denim jacket, just like a denim shirt is versatile, comfortable and can also be worn throughout the year. It's also easy to wear a denim jacket anywhere without feeling self-conscious because denim jackets flatter everyone.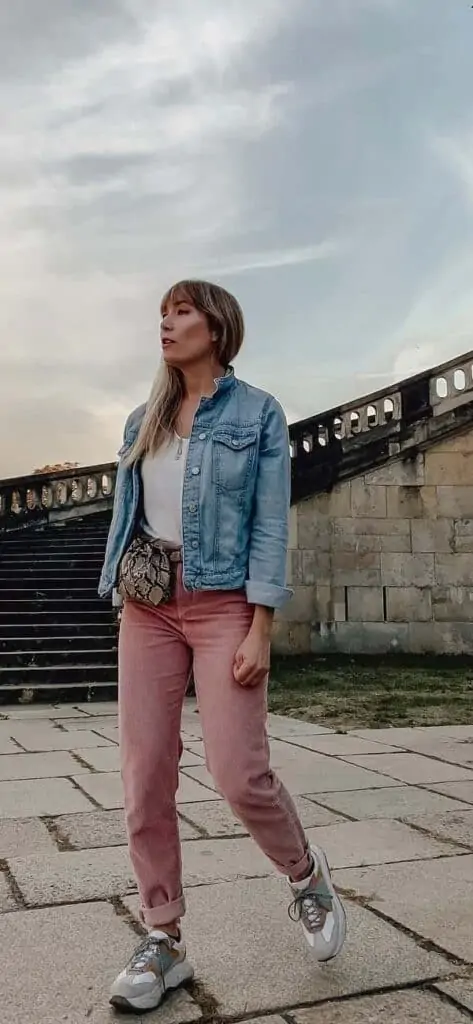 Lisa (above) wore a pair of pink corduroy pants with a white top and sneakers. It's another easy look considering the colors are simple and once again, because of the simplicity of this combination, you can always go for printed accessories whether it's a bag or some statement jewelry.
With a blazer
Blazers are also great if you're thinking of elevating a casual look or adding that last touch to your formal outfit. They come in different designs but the safest way to go is for a simple neutral colored one as it can be worn with different colors. You can style your blazer with corduroy pants for a casual smart look.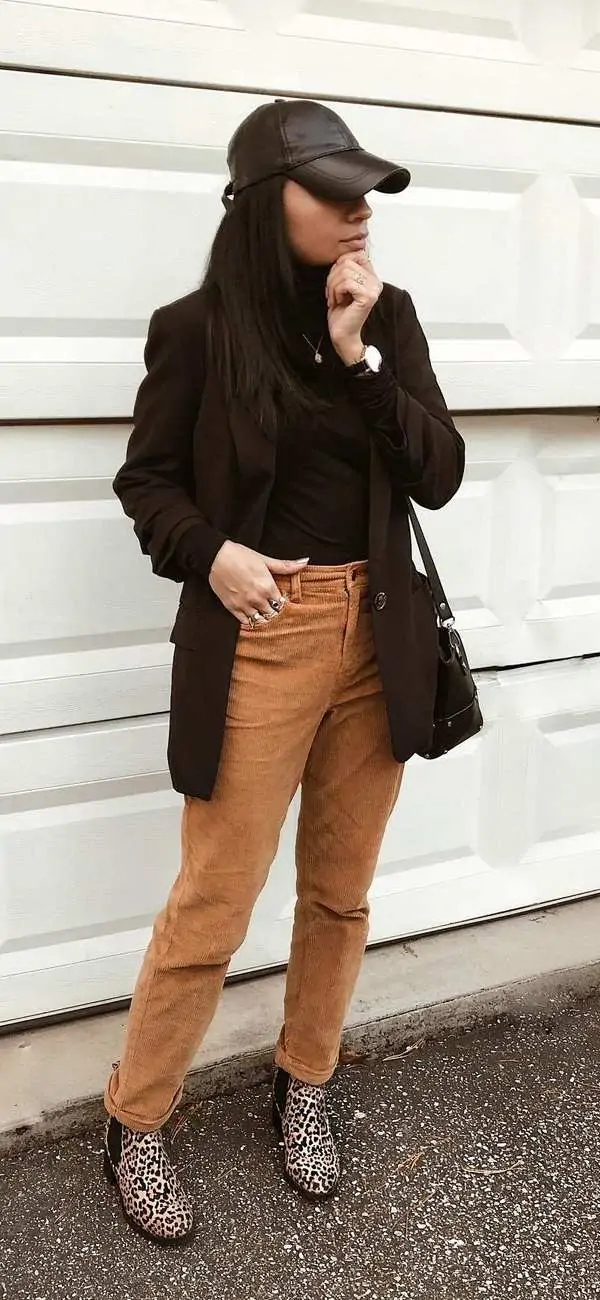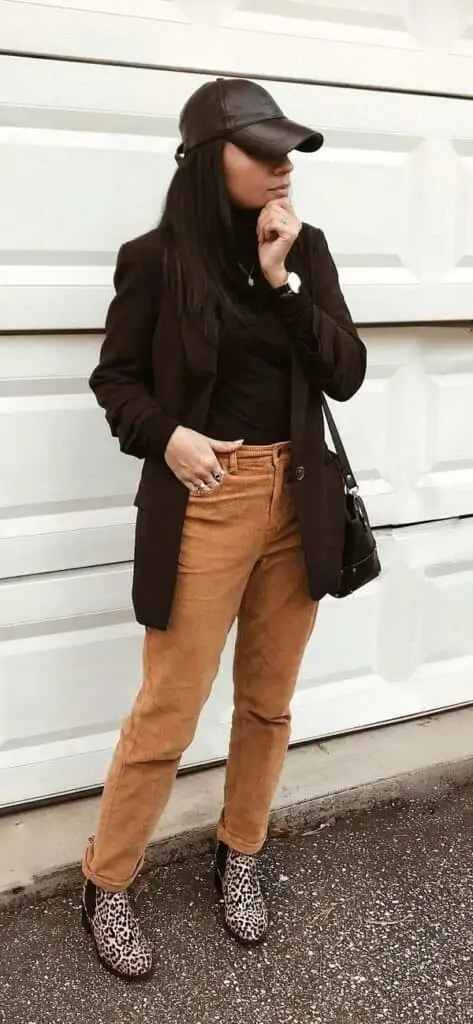 Jenny (above) wore her corduroy pants with a black top and a black blazer. To make the look a bit more casual, she styled the outfit with a hat and a pair of animal print shoes.  You can always lose the hat and boots and wear a pair of closed heels instead, for a smarter look.
With a trench coat
Trench coats are a great way to stay stylish and warm at the same time. They are available either long or short and they also dress up a pair of corduroy pants in the fall.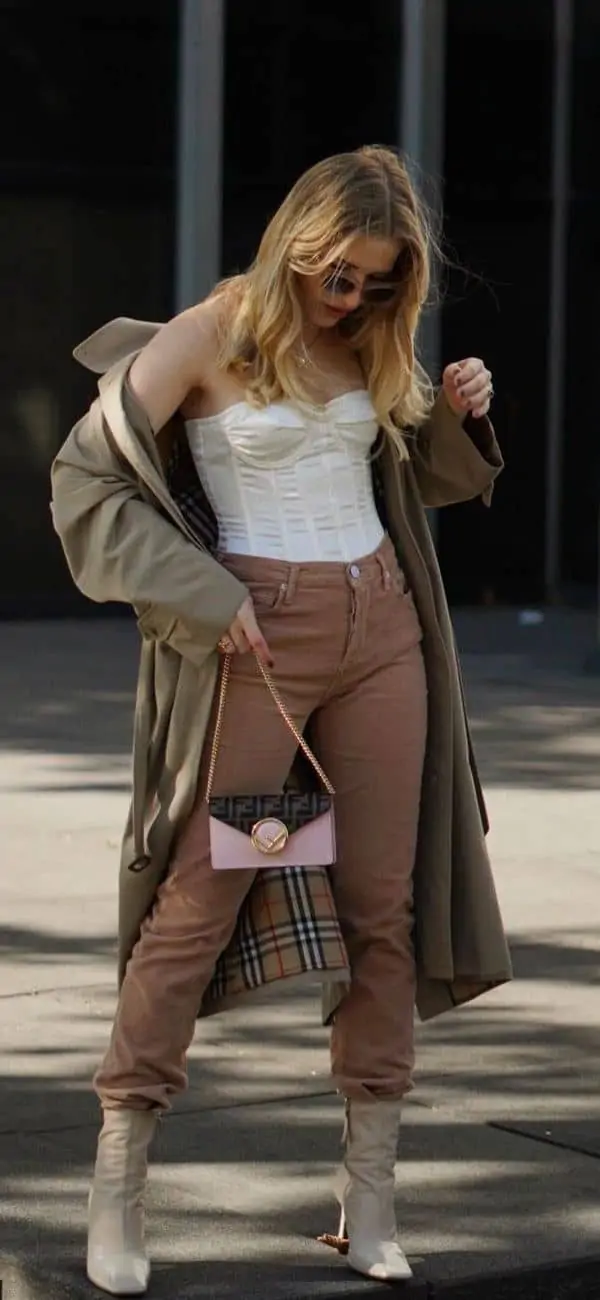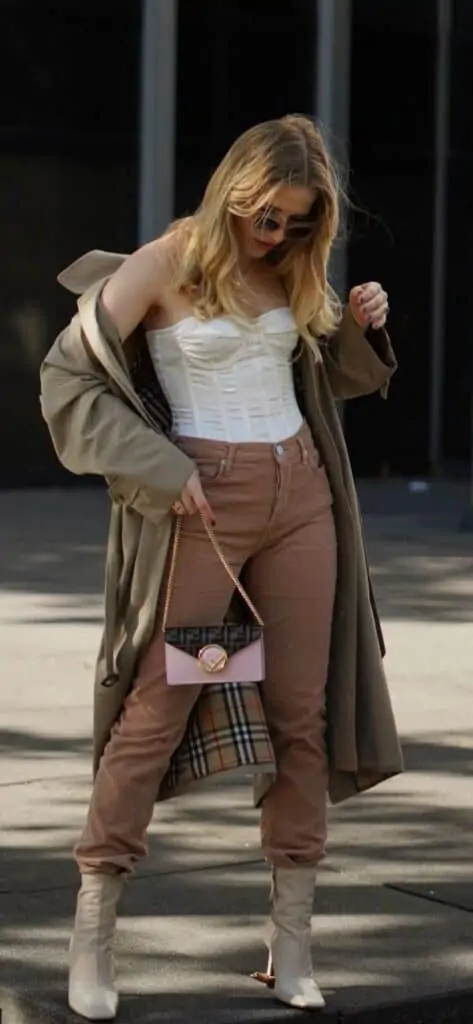 Nicola (above) styled her trench coat with corduroy pants and went for a corset which makes her look more interesting, although a tank top or a cami would also work.
With a white button-down
A white button-down is a must-have piece considering how versatile it is. You can wear it with every single bottom you can think of and that includes a pair of corduroy pants. It actually makes your corduroy pants look dressier.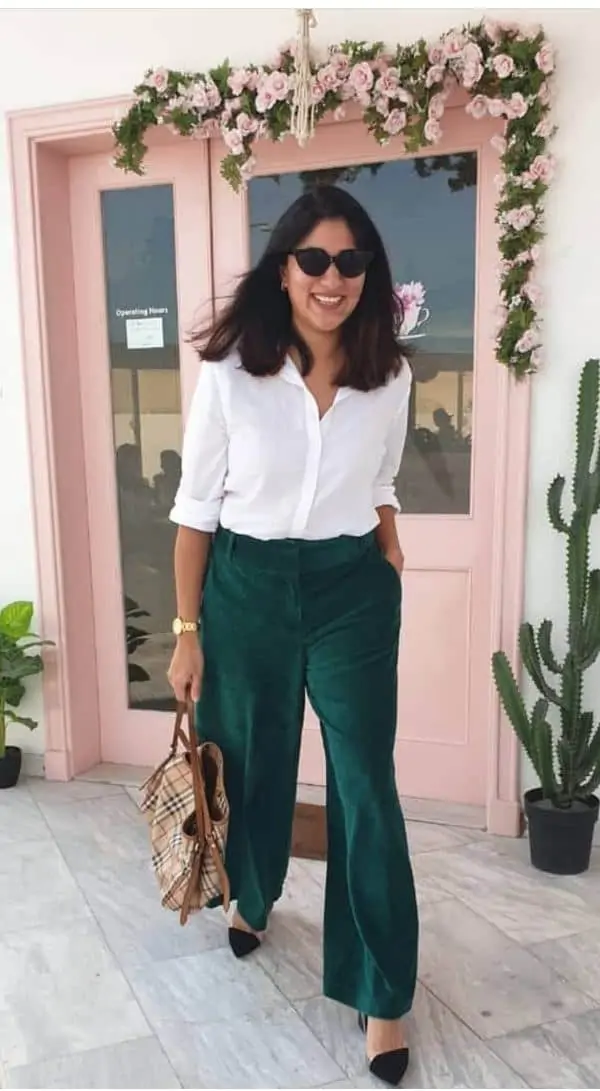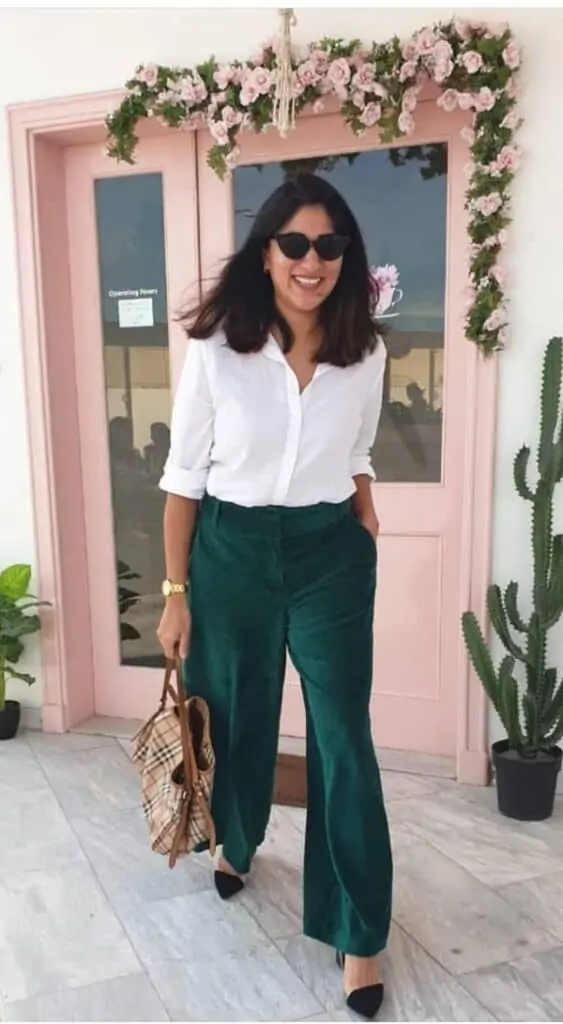 Kajal (above) styled her corduroy pants with a white button-down and some closed toe heels. You can switch the closed toe heels for a strappy pair if you're headed to a date or a brunch.
With a vest
The best thing about a vest is that it can be that final piece you add to your outfit whether casual or dressy that will make it stand out. Vests come in different types, with some looking like blazers, some like dusters, others like cardigans and then there are vests that resemble puffer jackets, although all of them have no sleeves. They are great with just about anything including corduroy pants.
With a turtleneck top
Turtleneck tops, especially those that follow the shape of your body are great as they give you an opportunity to show the top part of your body that you're proud of but in a more covered up way. They can be styled with jeans, skirts, tailored pants, and many others. Styling your turtleneck top with corduroy pants is also a great way to go and if you love a fitted look you can go for skinny corduroy pants. However, if you prefer something even more comfortable, a loose fit or flared pants will be great.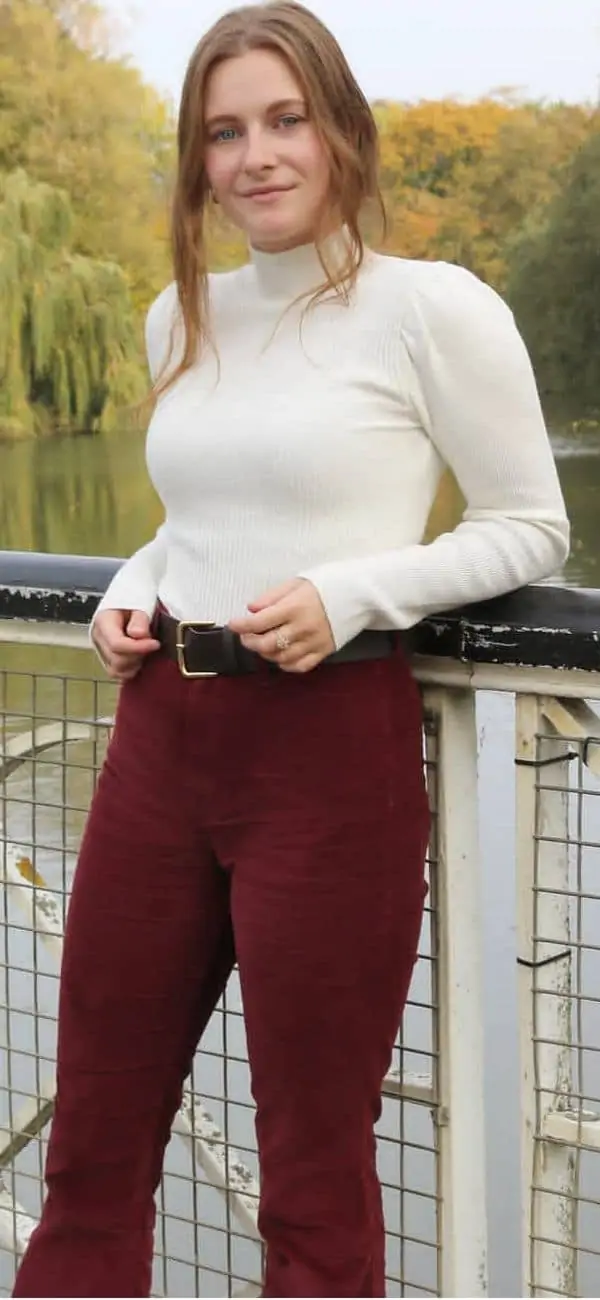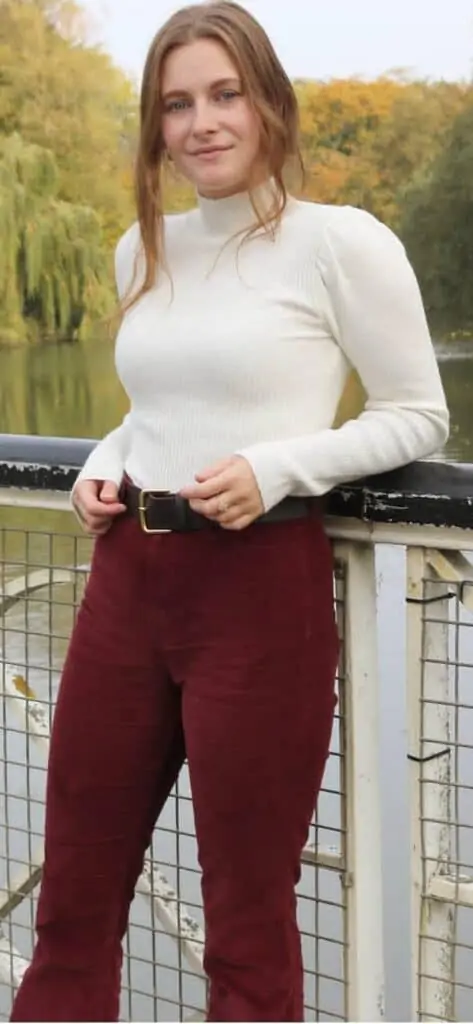 Leonie (above) styled her turtleneck top with burgundy corduroy pants. If you're not too much into prints, you can go with a plain turtleneck top like this one.
With a leather jacket
A leather jacket is that one outfit piece that you can be sure will be here to stay for years to come. It is a classic and timeless piece that goes with everything you can think of, including corduroy pants. Leather jackets add that extra edge to your corduroy pants just like they do with other pants around.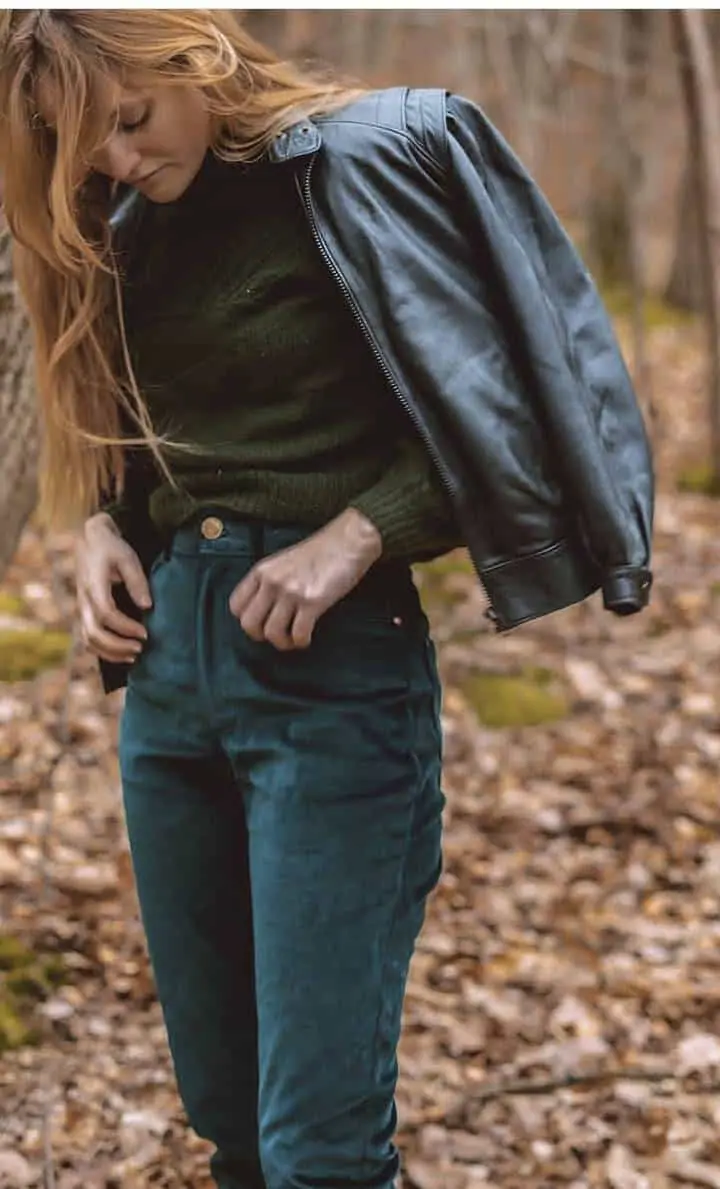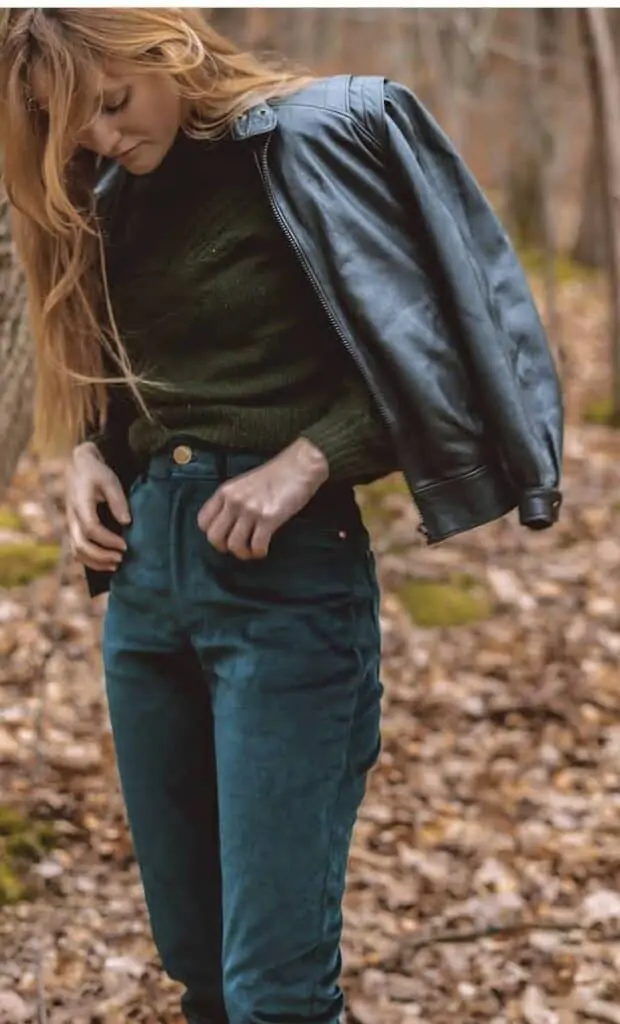 Lauriane (above) styled a pair corduroy pants with a pullover and a black leather jacket. It's a great combination that works so well with boots although you can always go for sneakers too with the look.
With faux fur
Faux fur is always chic whether you pick a coat or a vest which would explain why they are very common during fashion shows and other fashion events. They keep you warm and can be worn with other different fabrics such as denim, velvet and even corduroy. They dress corduroy pants up easily.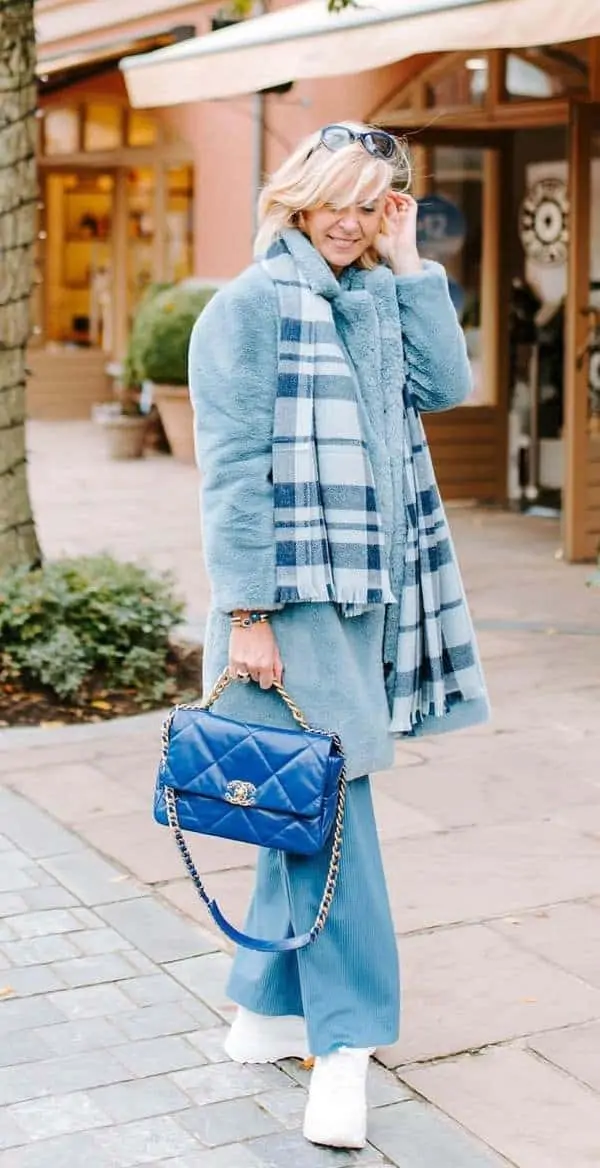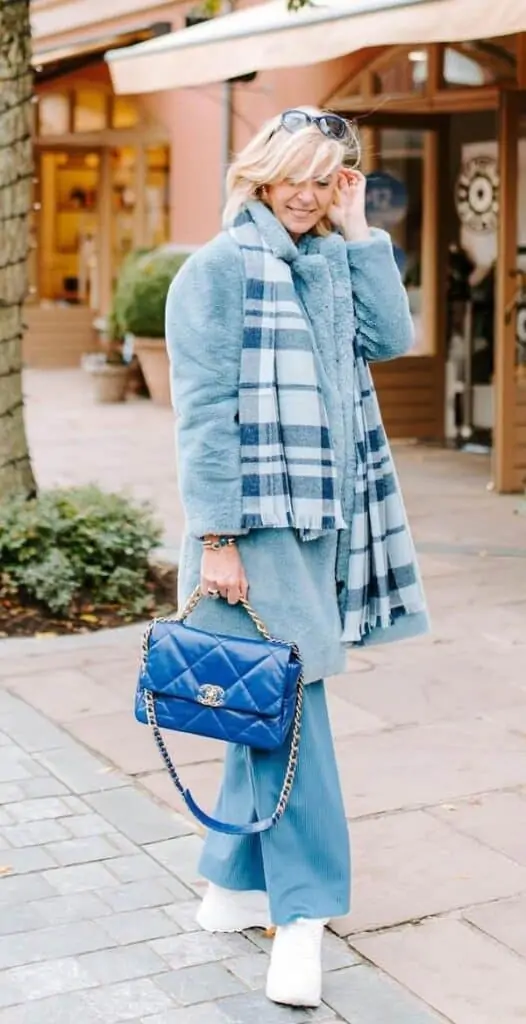 Sophie (above) styled her corduroy pants with a faux fur coat. The faux fur coat is in an almost similar color as her pants so it's more of a monochromatic look but with such a combination the key is to always pick colors that go well together and also in finding the right balance by buying the right fit for you.
As you can see, corduroy pants come in different colors and designs and they are definitely worth a try.