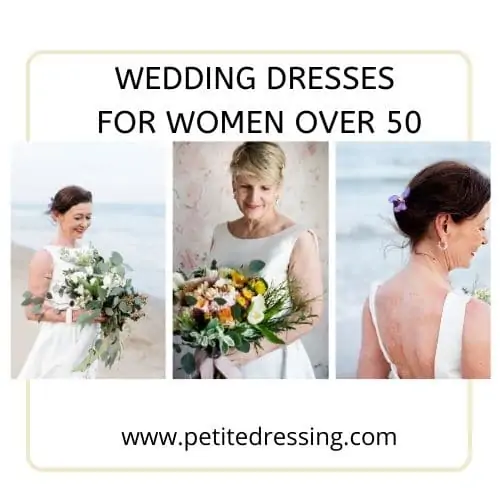 Brides at all age are beautiful, but that doesn't mean brides in their 50s and above should choose similar styles as brides in their 20s. Just like all the other clothing we wear! Chances are you're not wearing the same clothes or silhouettes over 50 that you were wearing when you were in your twenties.
Over the years as we age, we may no longer have the slender waist we had in 20s, and we may have concerns over flabby arms or bulging mid section. All these should be taken into consideration in order to find the best wedding dress that makes you feel confident and beautiful.
Best Silhouette
A general rule of thumb for brides over 50 is to keep it classic and minimal. Skip any silhouettes that are overly structured, overly voluminous or overly anything else for that matter.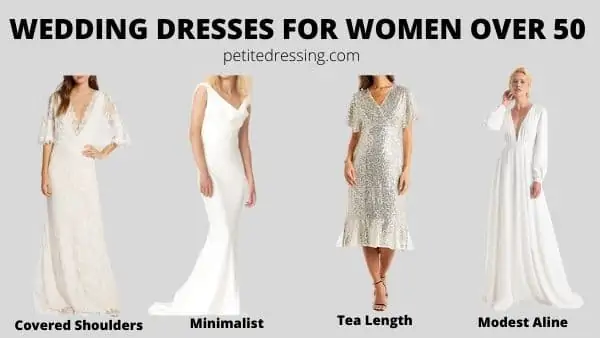 Fit & flare
Simplicity in key.
Fit and flare wedding gowns offer a more classic, simplistic aesthetic are going to give a bride over 50 a modern feel that is in line with your age and still provide a modern appeal.
Column
Column wedding dresses are another great option for over 50 brides because its classic, simplistic silhouettes are universally flattering for women after 50.
When you have a wedding dress silhouette that fits to the body, without too much structure or stiffness, it's incredibly flattering on every body shape.
The key to maintaining figure flattery with these types of silhouettes is ensuring that the dress(es) show your body shape, but keeping in mind that they don't have to be SKIN TIGHT.
Empire waist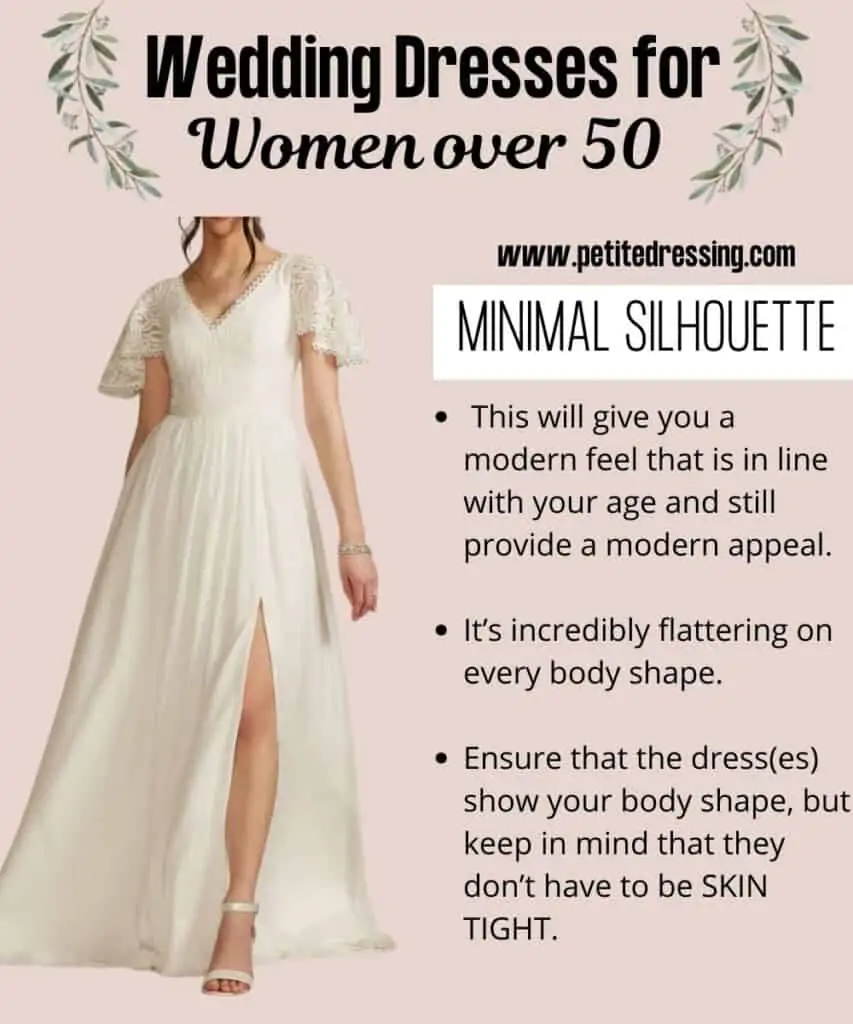 Empire waist simply means the waistline of the wedding gown sits higher than your natural waist.
This is a universally flattering design for women of any age, especially for brides over 50.
The reason is because they can create an illusion of a smaller waist.
Since most of us tend to gain weight in our midsection as we go through life, empire waist is a fabulous design to flatter your figure.
Skip the princess gown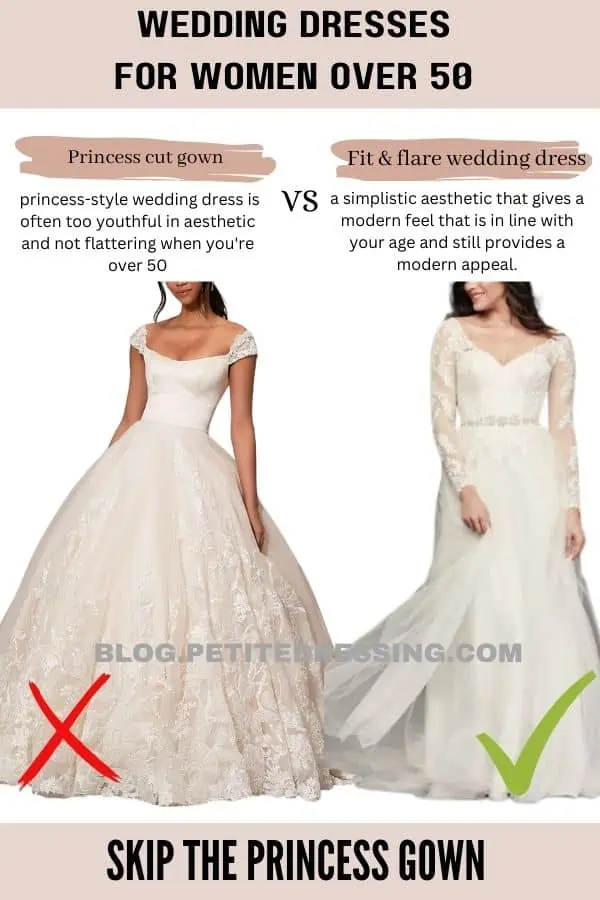 While a lot of women love the over-the-top princess-style wedding dresses, they're not the best option for a mature bride – for a few reasons. One of those reasons is simply because that princess-style wedding dress is often too youthful in aesthetic, but not necessarily in a flattering youthful manner for a bride who's over 50.
Think about it this way: there was probably a trend you were in LOVE with when you were in college. You may have worn it all the time, it looked amazing on you and you felt amazing in it. Now that you're over 50 wearing that EXACT trend would likely age you because it's a trend that's youthful.
Keep that concept in mind as you begin trying on different wedding dresses, it's a huge factor to consider to find the best wedding dress for a mature bride.
Best Necklines
We've established the best wedding dress silhouettes and lengths for you to consider as a bride over 50. Now, there's one more key attribute in a wedding dress that you'll need to make sure you're paying attention to: the neckline.
Since there are quite a few great neckline options for you to try out, it really comes down to your personal style and how you want to look/feel on your wedding day.
In general, classic and minimalistic necklines are going to be your best friend as a mature bride.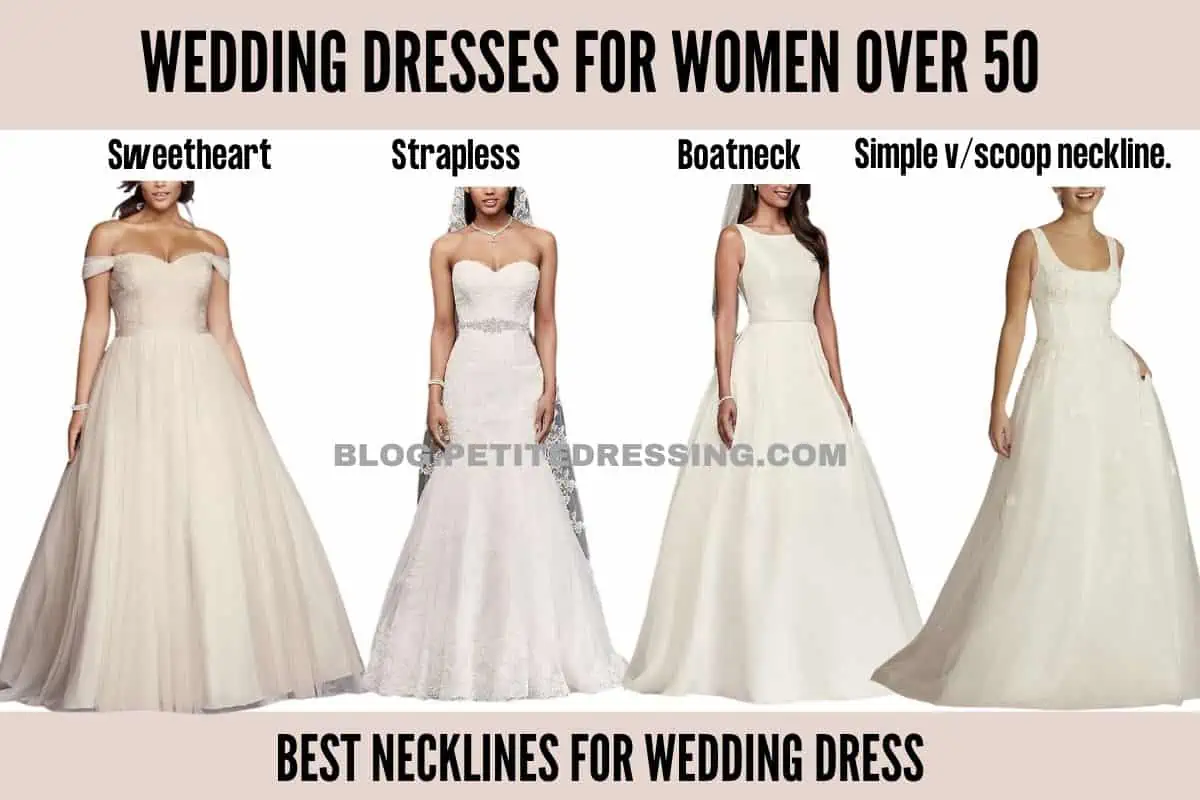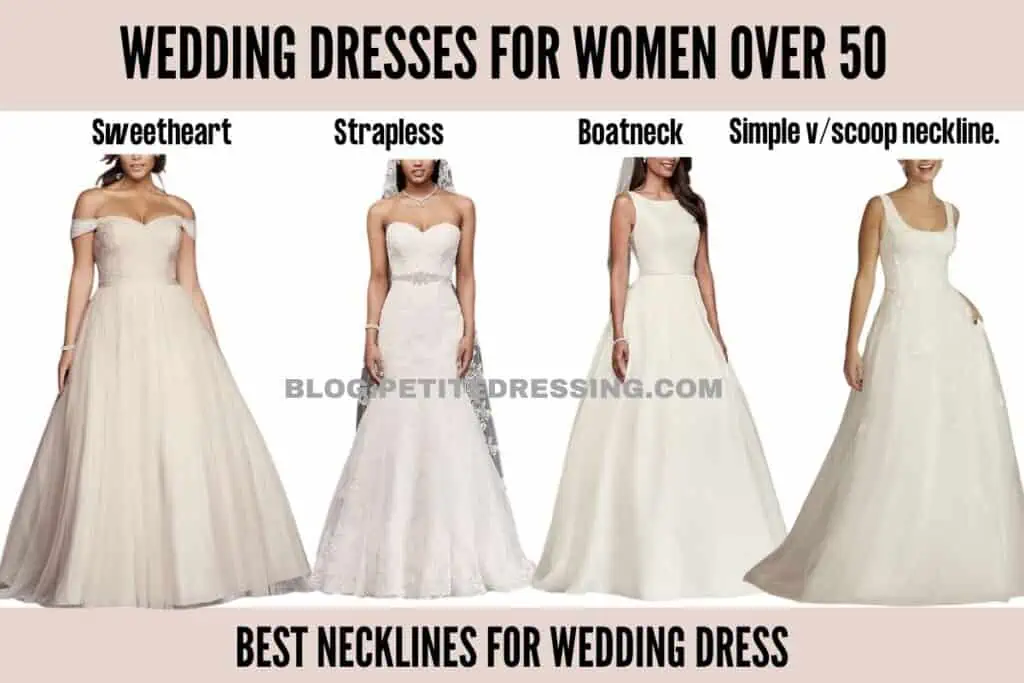 Lower necklines
Some incredibly flattering necklines for mature brides are the classics like
Sweetheart
Strapless
Boatneck
Simple v/scoop neckline.
Off the shoulder
If you want to encompass a romantic aesthetic with your wedding dress, an off-the-shoulder neckline is a beautiful option that really hones in on that vibe.
On the flip side if you're more into a sexy bridal look you may prefer more of a sweetheart neckline.
Avoid too plunging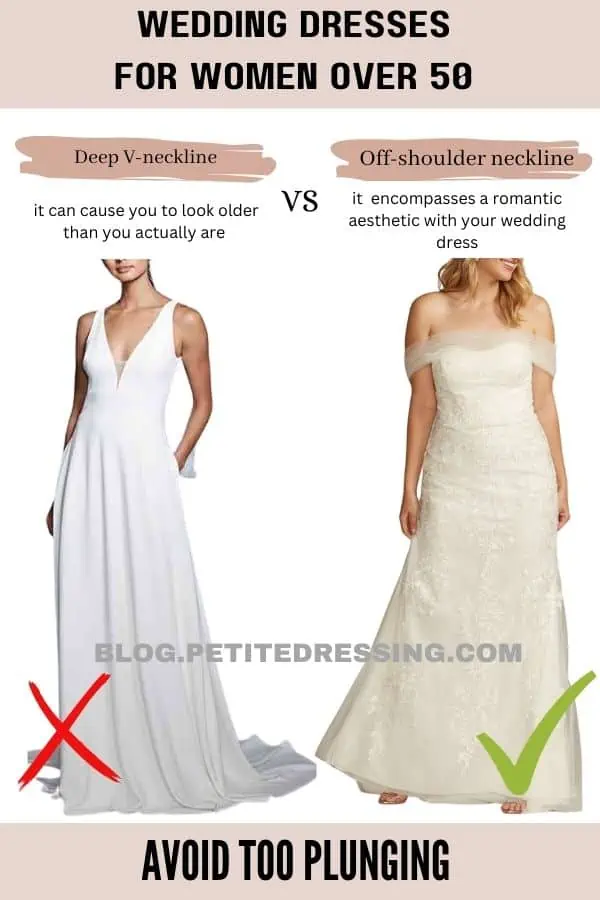 Avoid wedding dresses with necklines that are TOO low or plunging.
I want you to look and feel your best and if you feel great showing off your body – that's amazing! The problem with a wedding dress that's extremely low cut, when you're over 50, is it can have a reverse flattering effect.
In other words, it can cause you to look older than you actually are – and we don't want that to happen. This isn't to say you can't show a bit of cleavage (if that's your thing), but just make sure you're mindful of just how much cleavage you're showing in your wedding dress.
Best Fabrics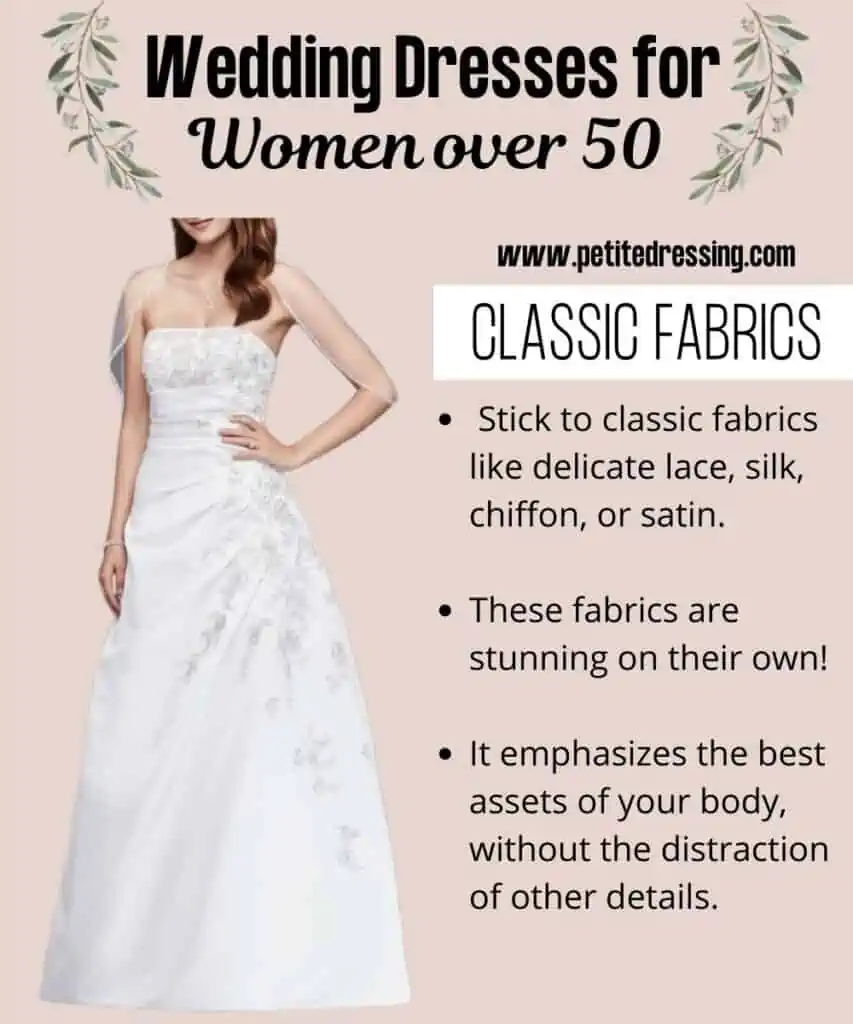 Before we get into the rest of the wedding dress tips for women over 50 that you should keep in mind along your search, let's chat really quickly about dress materials for mature brides.
Honestly, keep it simple here just like with the silhouette.
I suggest staying away from a lot of over-the-top details and fabrics. Instead, stick to classic fabrics like delicate lace, silk, chiffon, or satin. These fabrics are stunning on their own and fortunately, look even better when they're paired with classic dress silhouettes.
Notice a theme here?
At this stage in your life, you ALREADY know what matters to you and what works for you, so the wedding dress for you are one that emphasizes the best assets of your body, without the distraction of other details.
Best Length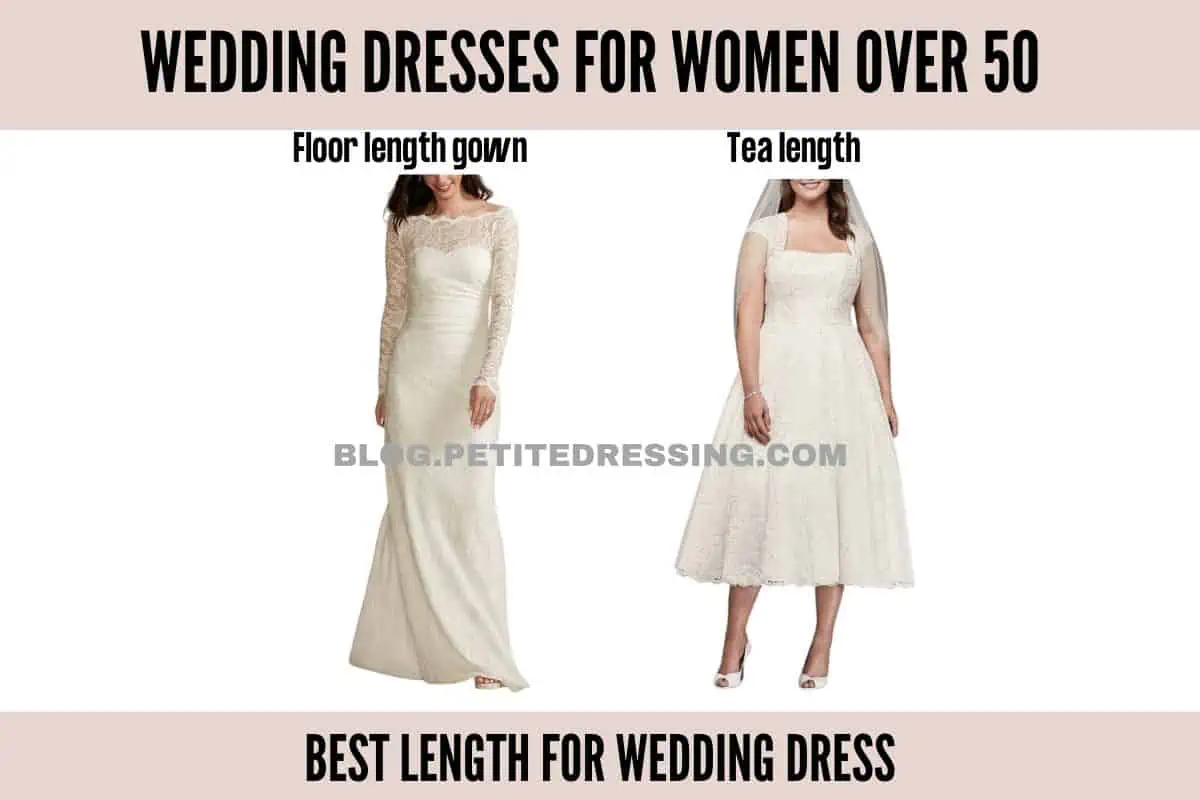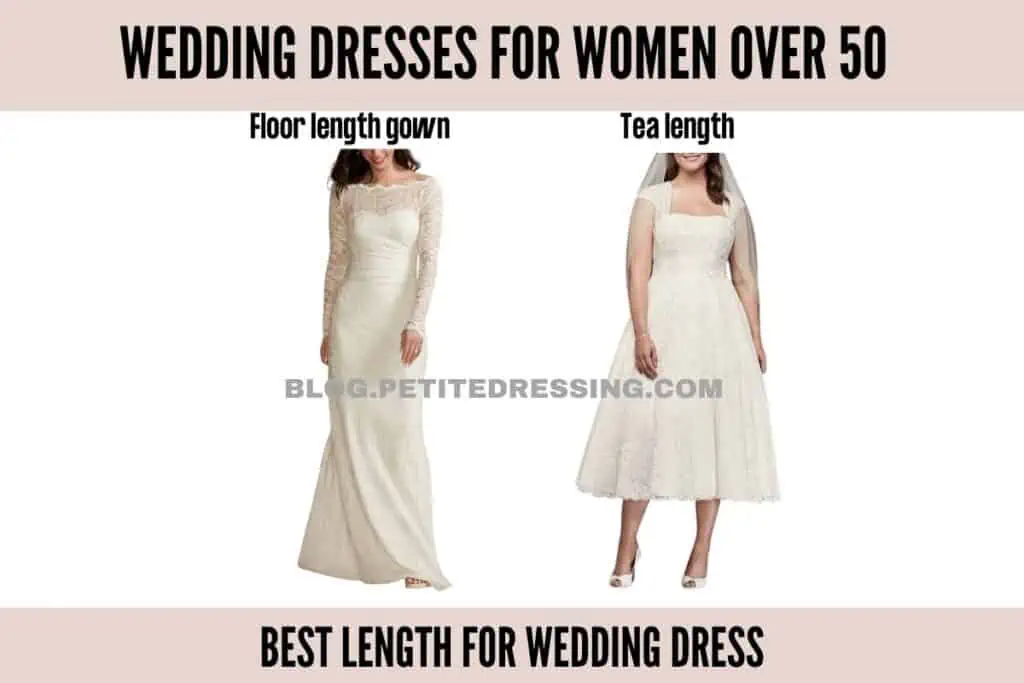 Now that we've established the best types of silhouettes you should be considering as a mature bride, let's get into another incredibly important factor: length!
I'm sure you're well versed in the fact that wedding dresses come in a WIDE variety of different lengths. Just like silhouettes, not all lengths are going to be flattering for a bride over 50.
There are two wedding dress lengths that are the best options for mature brides to consider.
Floor length gown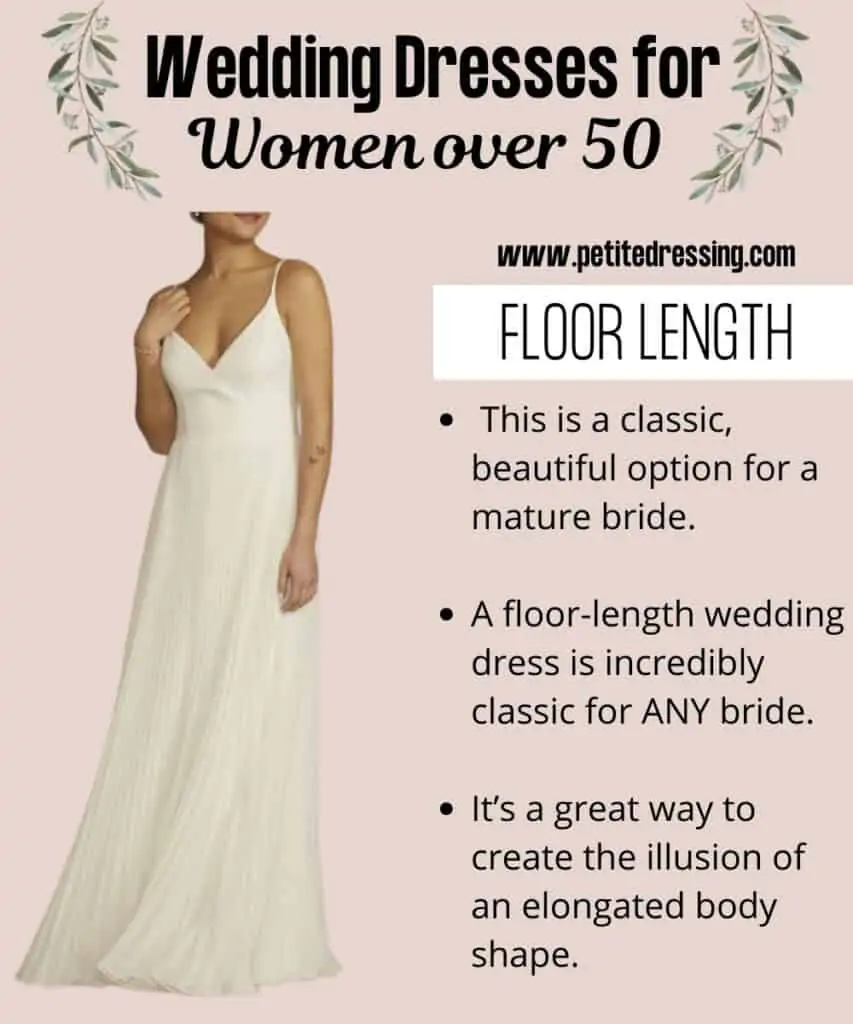 The first dress length to consider is floor length. This one is pretty straightforward.
This is a classic, beautiful option for a mature bride for a few reasons.
One of the reasons I suggest this length to brides over 50 is because of the timelessness of a floor-length dress. There's no denying a floor-length wedding dress is incredibly classic for ANY bride.
And as I mentioned in the silhouette section, classic style is key for mature brides. Another reason I love a floor-length wedding dress is that it's a great way to create the illusion of an elongated body shape.
Whether you're petite or not, I think one thing we all strive for is creating the look of a longer, leaner body shape.
Tea length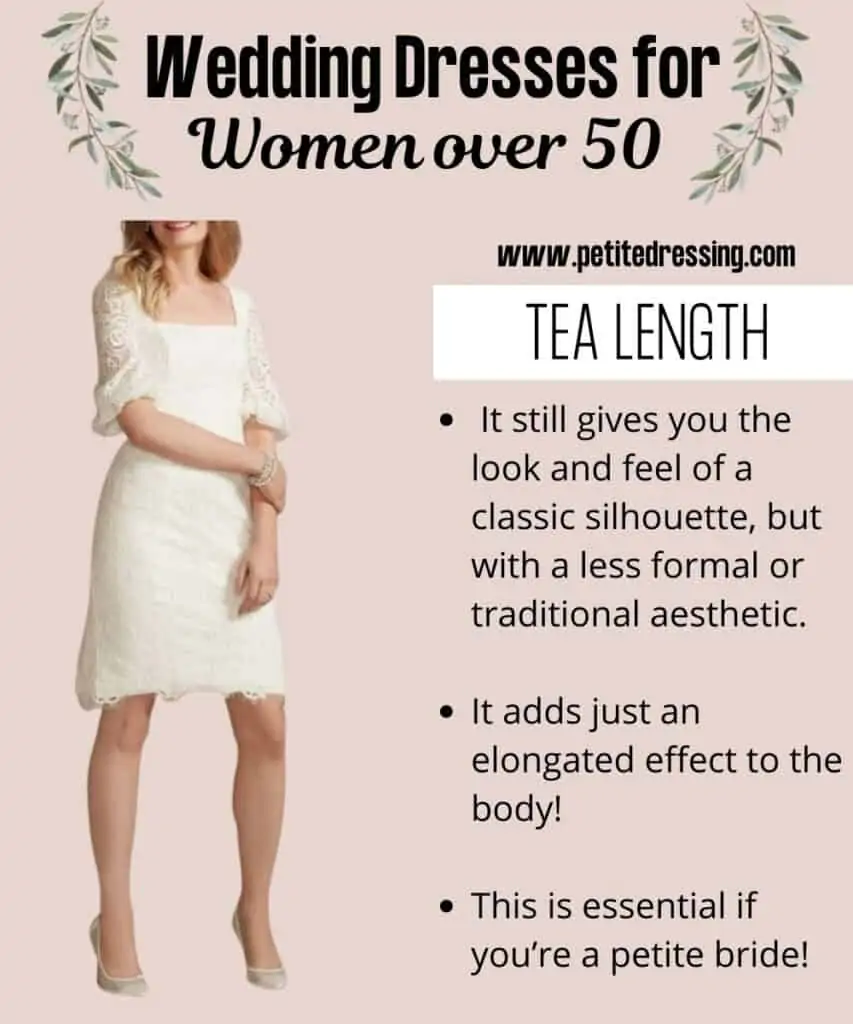 The second wedding dress length I suggest brides over 50 consider is knee length. Yes, you read that correctly I said KNEE length wedding dress.
This one may have thrown you for a loop, it's ok, I'll explain.
Many brides over 50 opt for a less traditional wedding dress, like the ball gown wedding dresses we've seen on young brides. If you're a bride who wants to go the less traditional route, a knee length option may be best for you!
Knee length (or just about the knee, rather) still gives you the look and feel of a classic silhouette, but with a less formal or traditional aesthetic.
The key to making sure a knee-length wedding dress is flattering to your figure is to pay attention to where exactly the dress is laying around the knee area.
Generally speaking, just above the knee is the most flattering length because it adds just an elongated effect to the body – this is essential if you're a petite bride!
Final Thoughts
As a bride, you're probably being faced with more decisions than you ever could have imagined. Deciding on your wedding dress is one of the many, but tends to be a decision that provides a lot of stress for brides to be, no matter your age.
Make sure that you're always keeping YOUR preferences in mind when wedding dress shopping. It's likely that a lot of your friends and family will be giving their opinions on the matter, and while they're well intentioned just make sure you're taking their thoughts with a grain of salt and choosing a wedding dress because it's what you feel most confident and excited about. It's your day after all!
Keep these tips and tricks in mind as you begin your search to find the perfect wedding dress for your special day. With these concepts in mind you're well on your way to finding an incredibly stunning wedding dress that will stun your soon-to-be husband!