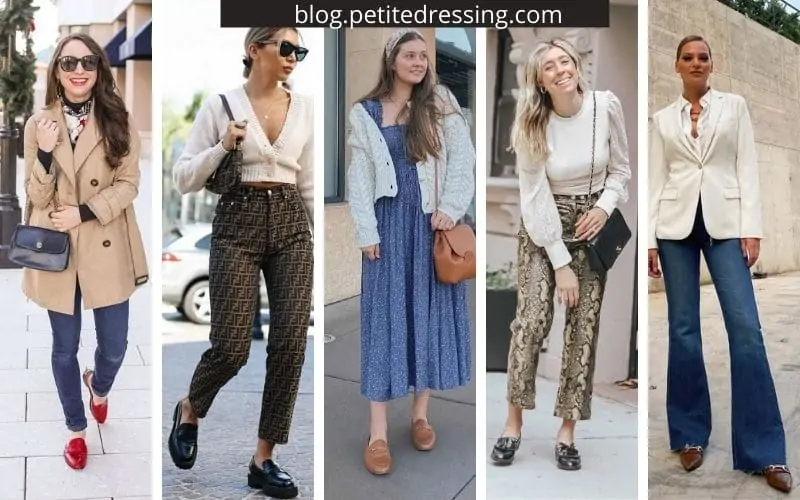 Loafers are a great option if you are looking for comfortable shoes. Compared with other flats, loafers are quite versatile. They can be both dressy and casual.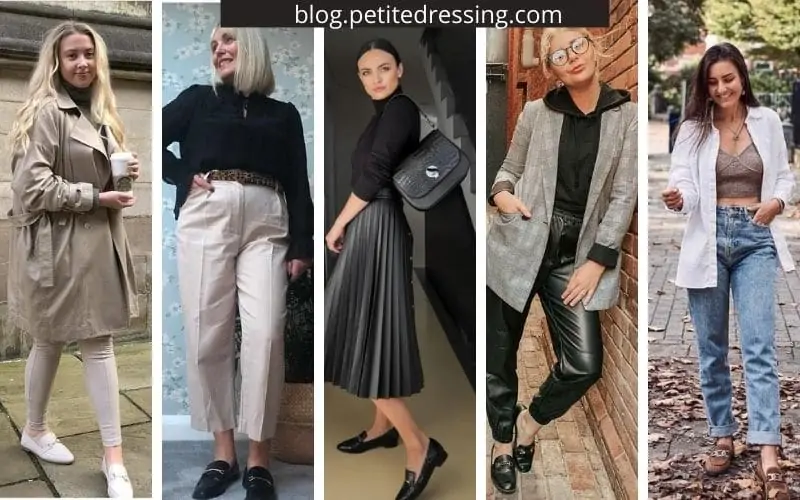 Here are some of the best ways to wear your loafers: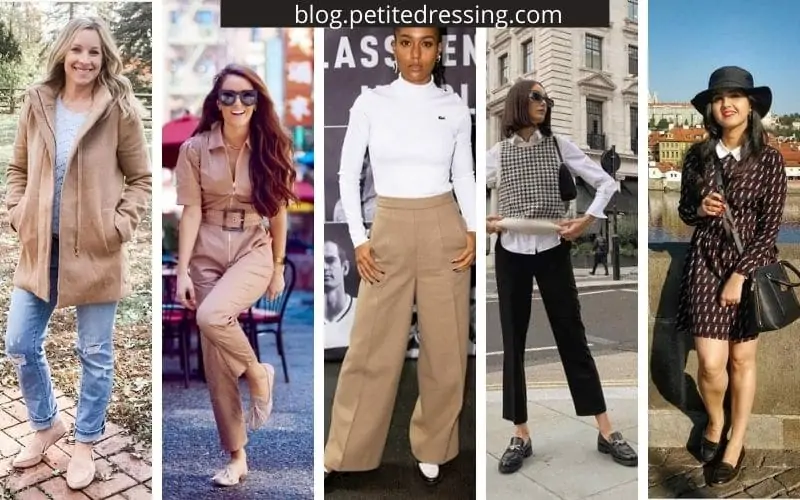 With some leather leggings
Leather leggings are great if you like to wear an edgy pair of leggings. Styling such leggings with a pair of loafers is great for a simple look.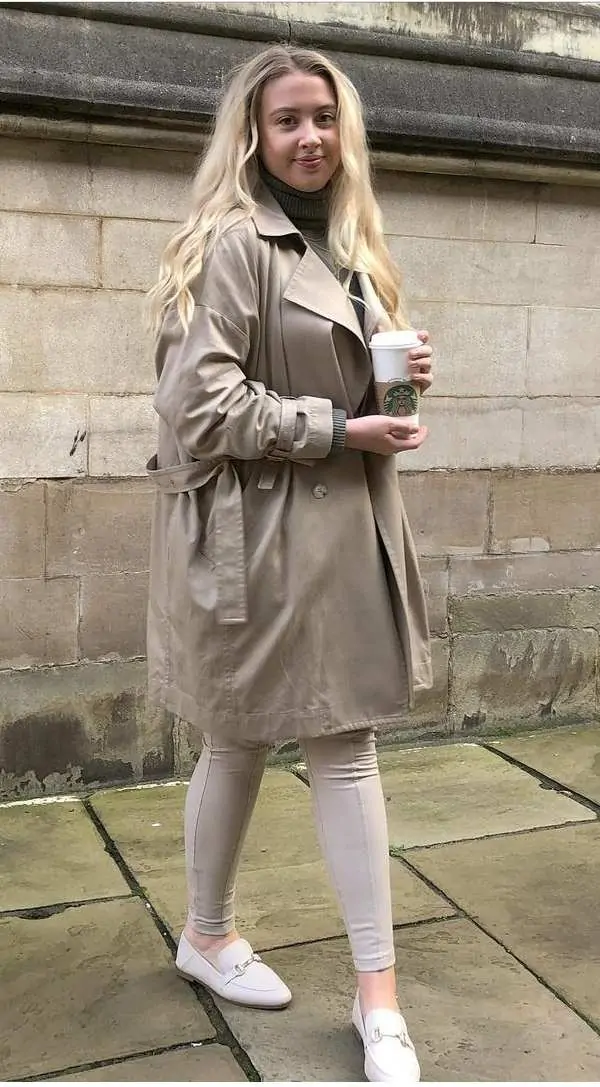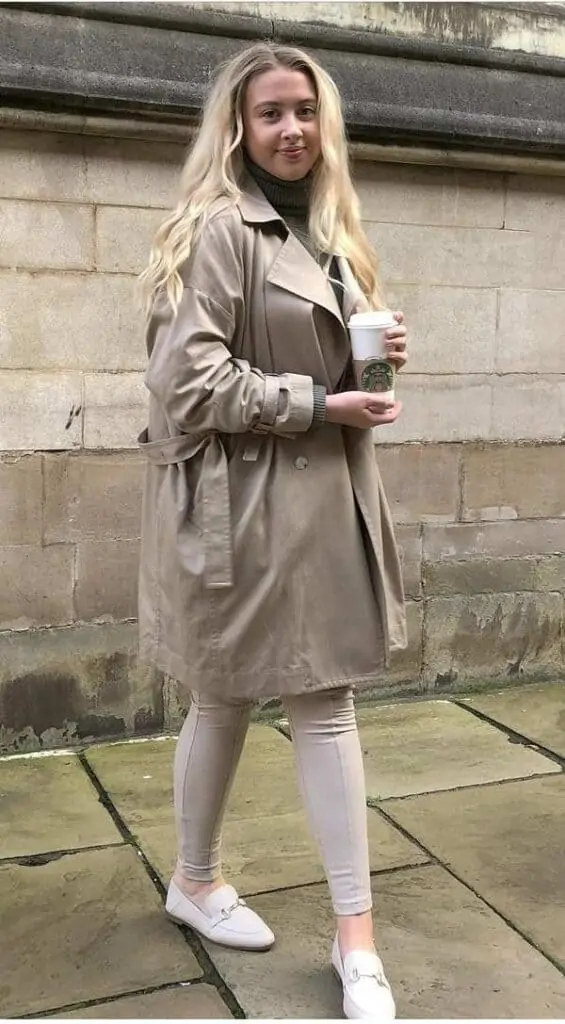 Beth (above) styled her nude leather leggings with a trench coat and a pair of white loafers. The loafers will ensure you remain comfortable.
While black ones usually draw much attention because they appear shinier, you can choose colors such as brown or nude for a more subtle look.
With skinny jeans
It's really hard to come across a woman who doesn't own a pair or several of skinny jeans, but many are wondering what are the best shoes to wear with skinny jeans. Styling them with loafers ensures you look both stylish and comfortable at the same time.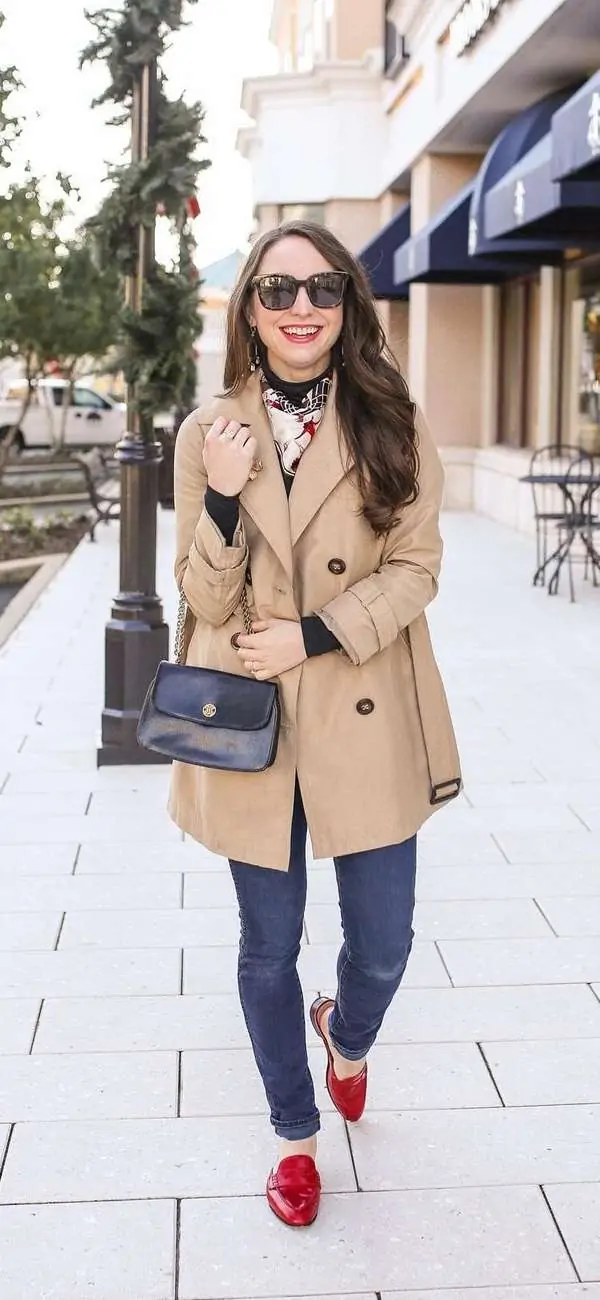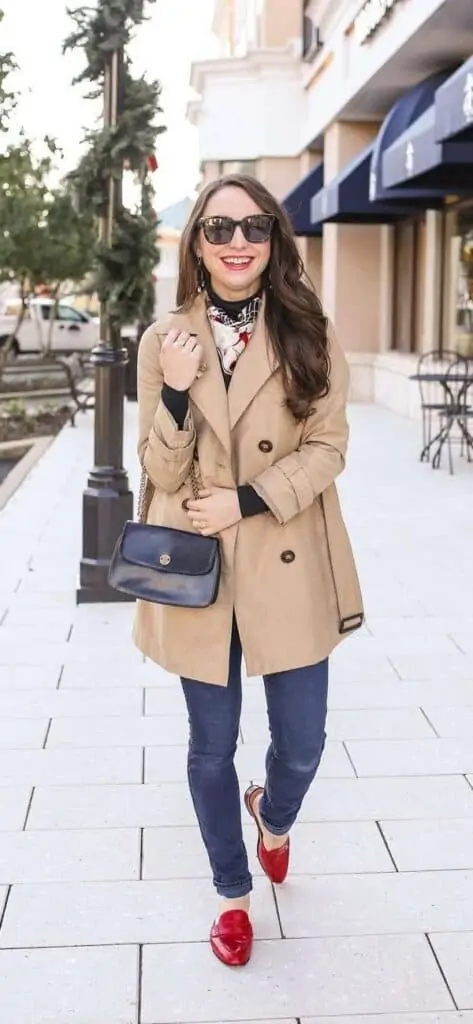 Cara (above) styled her skinny jeans with a pair of red loafers and a trench coat. It's a simple combination that works for anyone and in any season, although when it's warmer outside you can lose the trench coat.
This look is both versatile and flattering, considering it suits women of different body shapes and sizes.
With high waisted pants
High waisted jeans or pants always give the illusion of longer legs and a smaller waist. If you happen to be a petite woman, these are one of the most flattering pants to make you look taller.
Whether you go for printed ones or plain ones, you get to have a great look, regardless of whether you go casual or dressy. One of the pairs of shoes you can go for with this look is some loafers.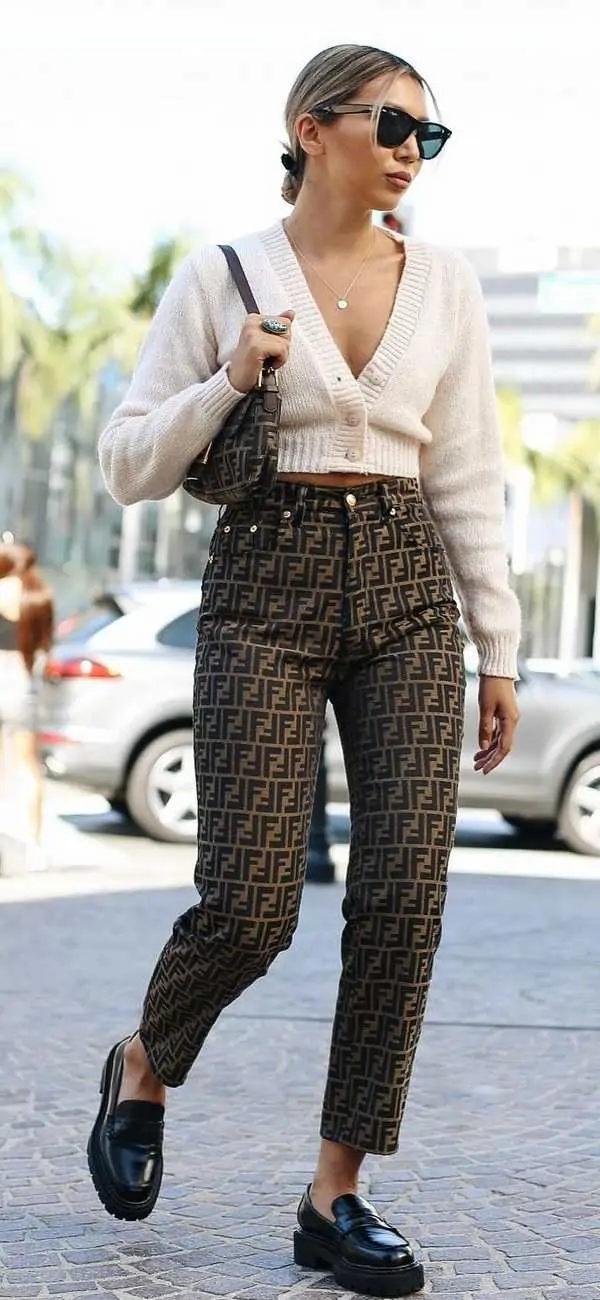 Bibi (above) styled her printed high waisted pants with a cardigan and a pair of black loafers. You can really go with just about any top as loafers are mostly minimalist so just make sure your top goes with the pants.
With a midi dress
Midi dresses are great if you are looking for a feminine look that's more conservative. They come in different designs and all you have to do is pick the one that works best for you. While heels will look great with your midi dress, loafers are another great option if you want something more casual.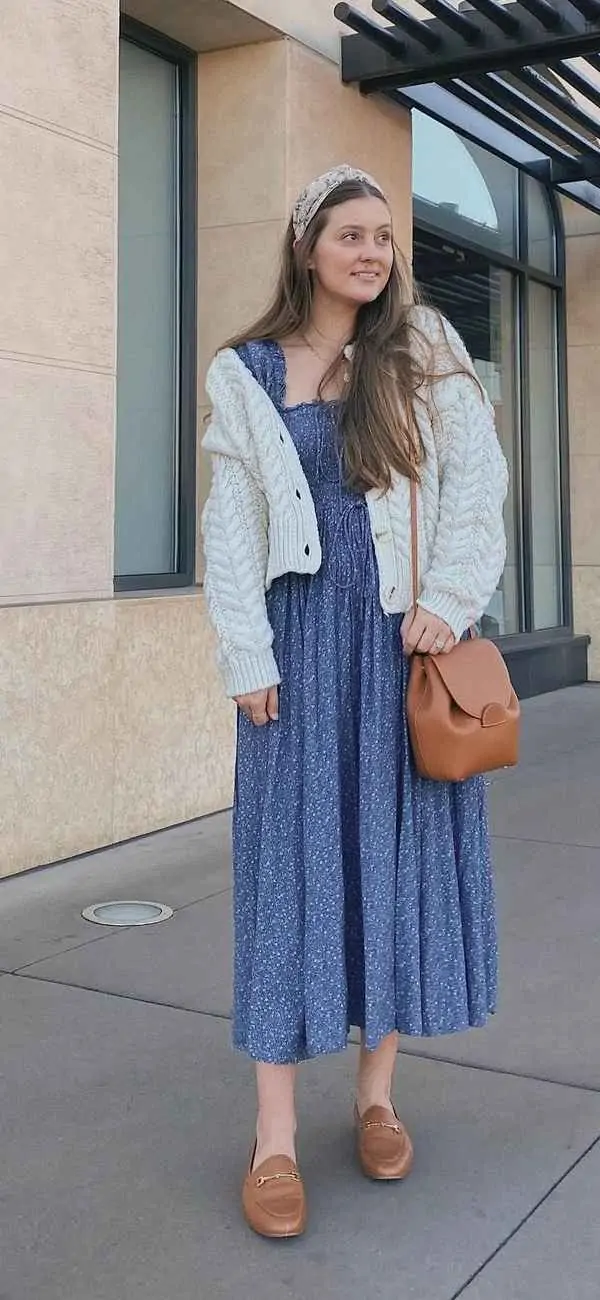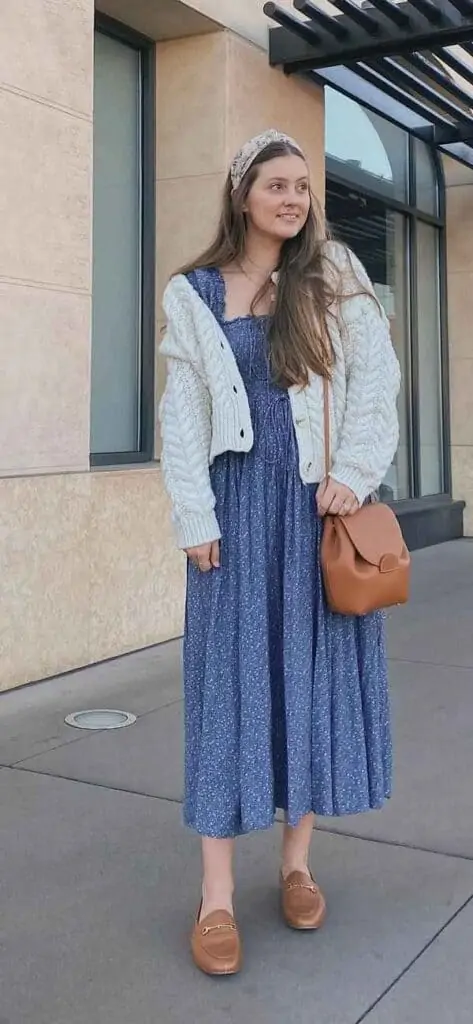 Haleigh (above) wore her midi dress with a sweater, a pair of loafers and a bag matching the loafers. Most midi dresses will go with your loafers. All you need to do is pick colors that go well with the loafers.
With straight leg pants
Loafers look great with a pair of straight leg dress pants.
Straight leg pants have a way of hiding big hips and balancing out your body. Whether you go for printed ones or choose denim, straight leg pants are often very flattering.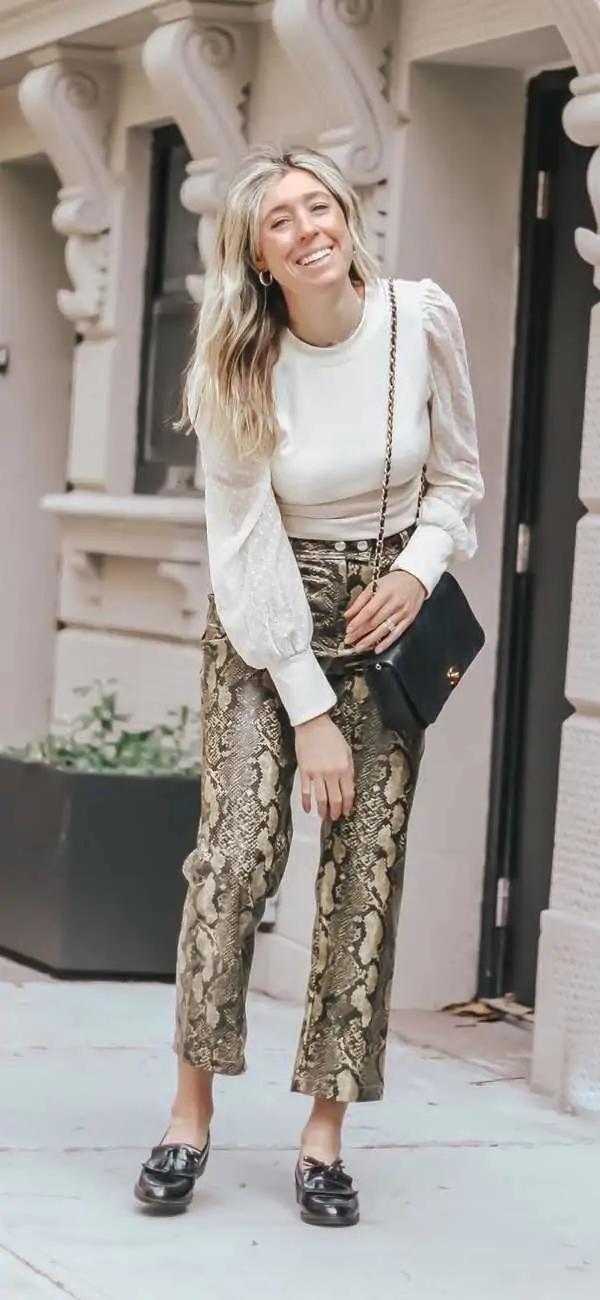 Kristin (above) wore some snake print straight leg pants with a plain top and some loafers. Plain straight leg pants will also work.
With flared jeans
A nice pair of loafers will finish off your flared jeans outfit kin a stylish way.
Flared jeans may have been an 70s trend but they remain stylish even today, with many women appreciating the silhouette. They can be both dressed up or worn in a more laid back style. Either way, they give you an illusion of a nice hourglass figure and they are one of the best jeans for petite women as they elongate your legs and make you look taller.
You can styled your flared jeans with a white blazer, a white button-down and some loafers. It's more of a business casual look that would work on a casual Friday.
You can also wear something more casual with your flared jeans and loafers, like a graphic t-shirt or a denim jacket.
With khaki trousers
Khaki trousers are a great option if you don't want o wear jeans or other tailored trousers. They usually look all dressy, which is great especially if you like an effortless but dressed up look. With a pair of loafers, you get a comfortable combination.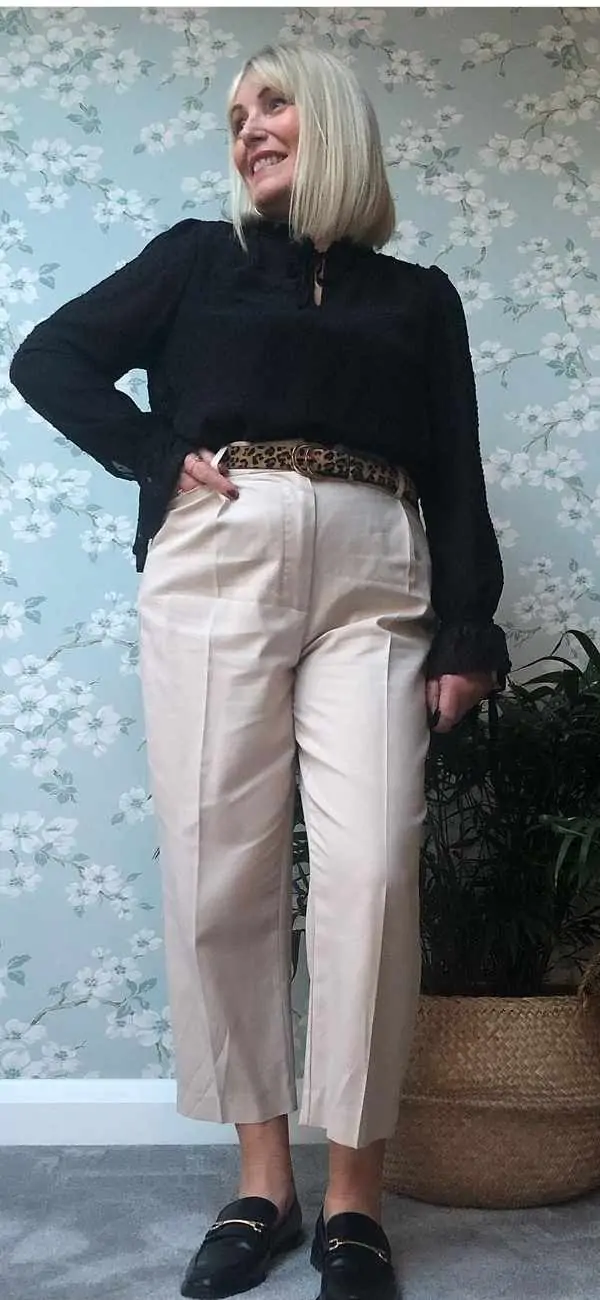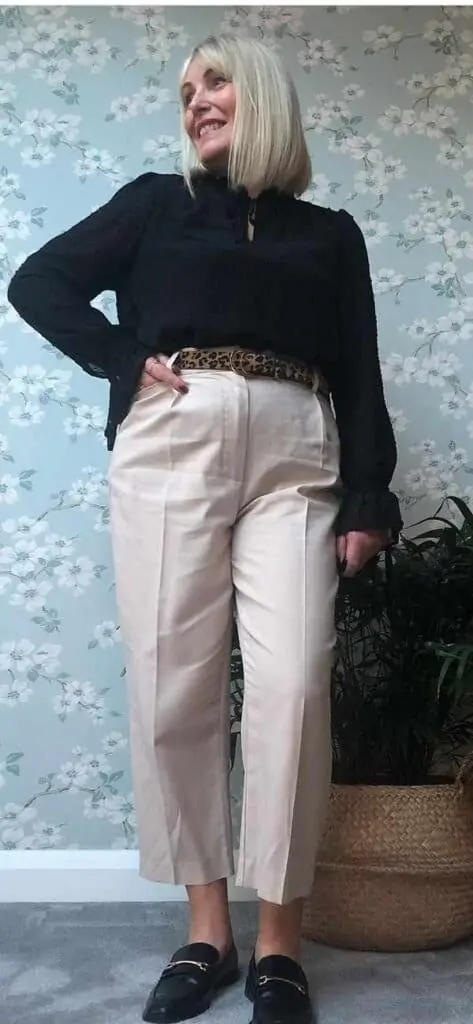 Sam (above) wore a pair of khaki trousers with a black blazer and black top then finished off the look with a black pair of loafers. This is a combination that can easily be pulled off by just about anyone as you can't go wrong in it.
With a pleated skirt
Pleated skirts ,whether long or short, will always be classic pieces that will make you feel more ladylike. They are also very forgiving in terms of the silhouette. The best thing about a pleated skirt is that you can wear the pleated skirt with different shoes such as loafers.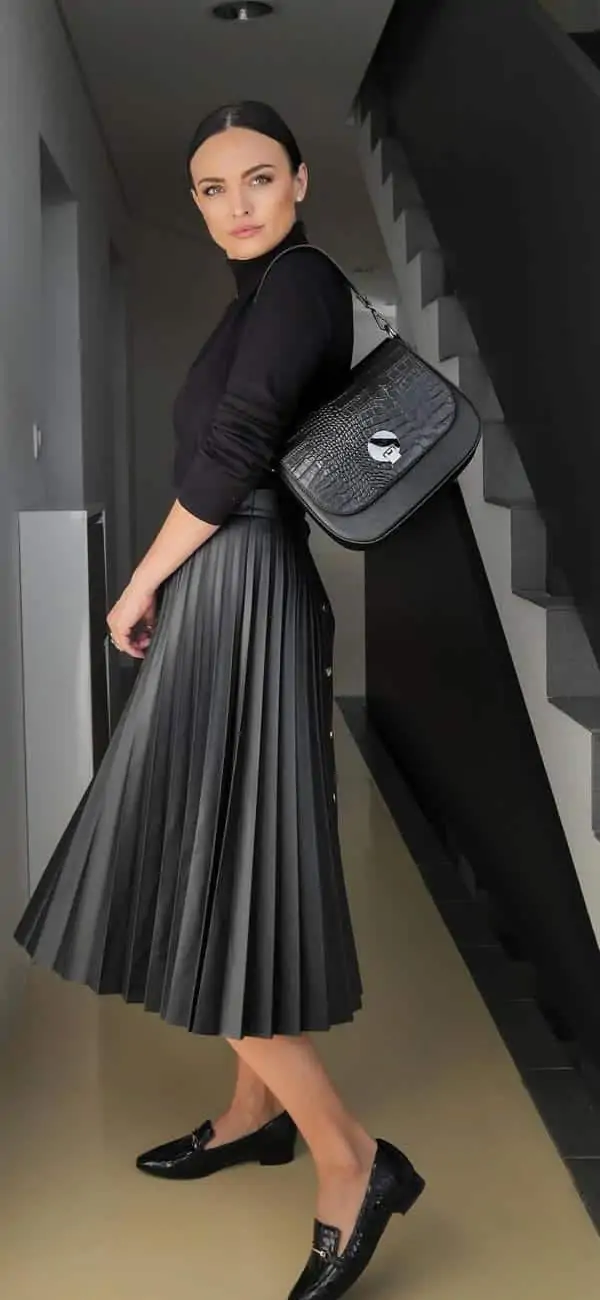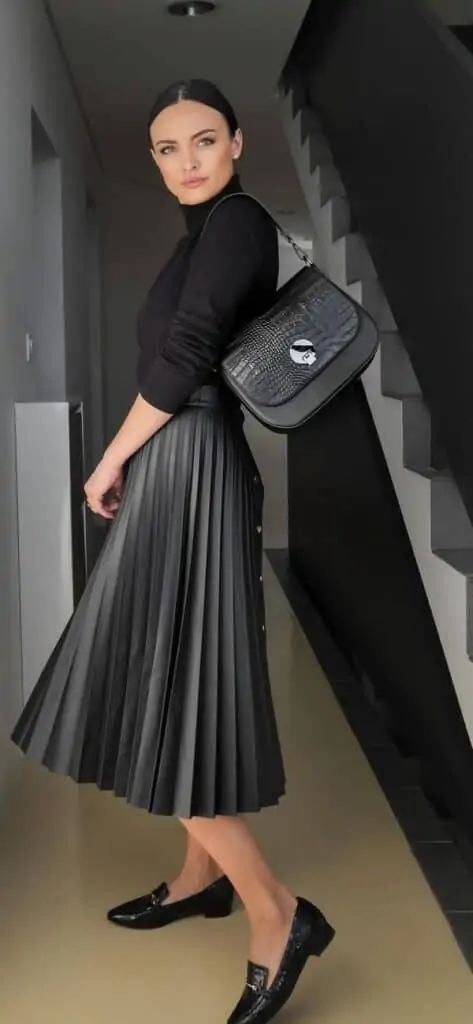 Mirka (above) styled her pleated skirt with a black turtleneck top and then finished off the look with a pair of black loafers. Going for all black with this outfit makes the look even classier. This look is great particularly if you love an elegant look.
With sweatpants
You can wear sweatpants with loafers to dress them up a bit.
Sweatpants were initially meant for lounging around, considering just how comfortable they are. They can however serve more than just that purpose as you can style them and wear them outdoors.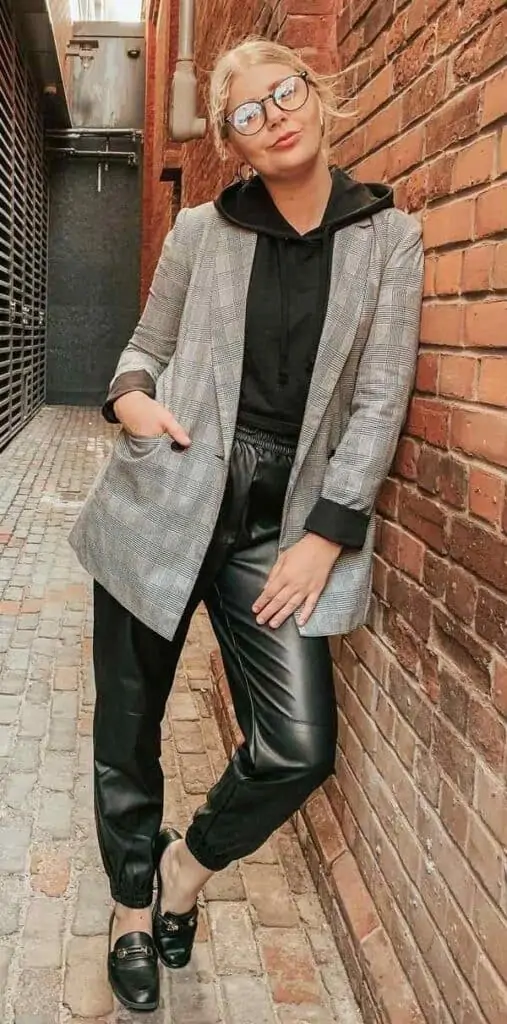 Sarah (above) styled her sweatpants with a hoodie and a blazer. She finished the look off with a pair of loafers. Today, you can get sweatpants that look like leather pants which will have you looking more dressed up.
With mom jeans
Mom jeans are the go-to pieces for people who are fans of the 90s trend. They are comfortable and give you a nice model-off-duty look. They also look great when styled with a pair of loafers.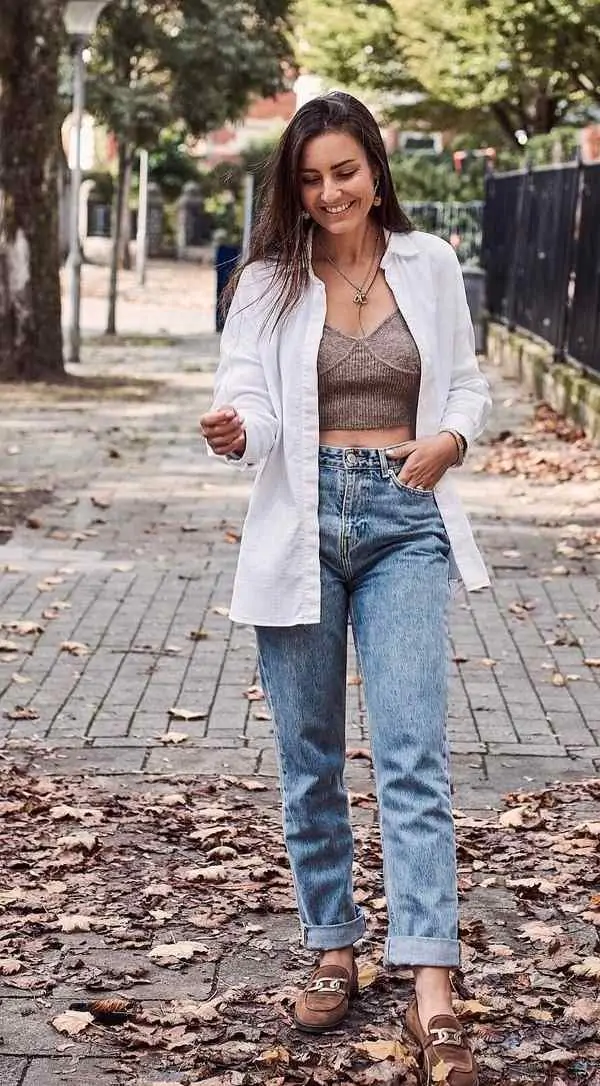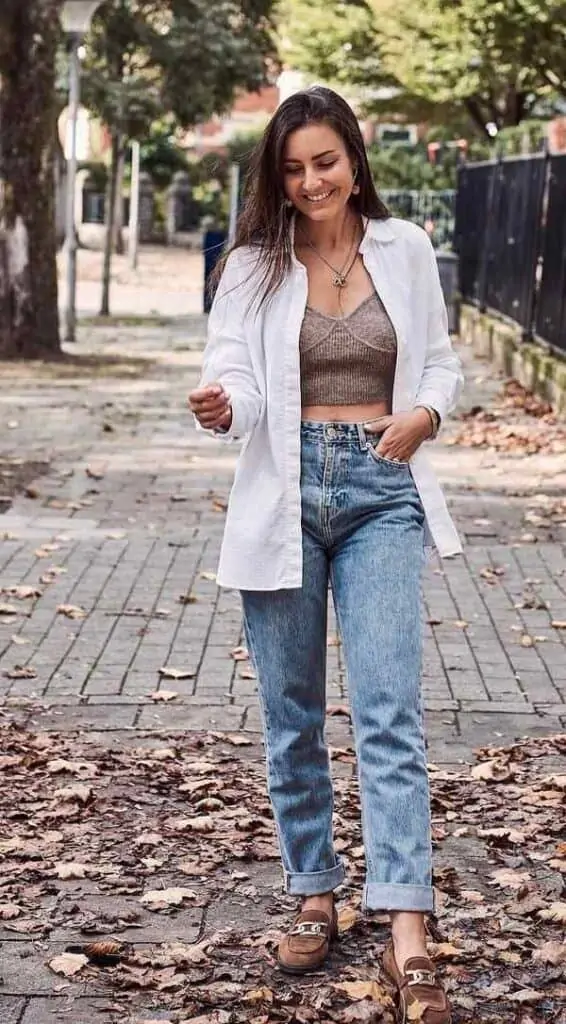 Allsaintseve (above) wore a pair of mom jeans with a crop top, a button-down and some brown loafers. It's a simple look that's great for a day outdoors. Anyone can pull it off.
With ripped jeans
Ripped jeans are great for an edgy outfit and they're also fun to wear. They give off a great casual look, and can be worn with your boots or sneakers. However, you can also wear your ripped jeans with simpler shoes such as loafers.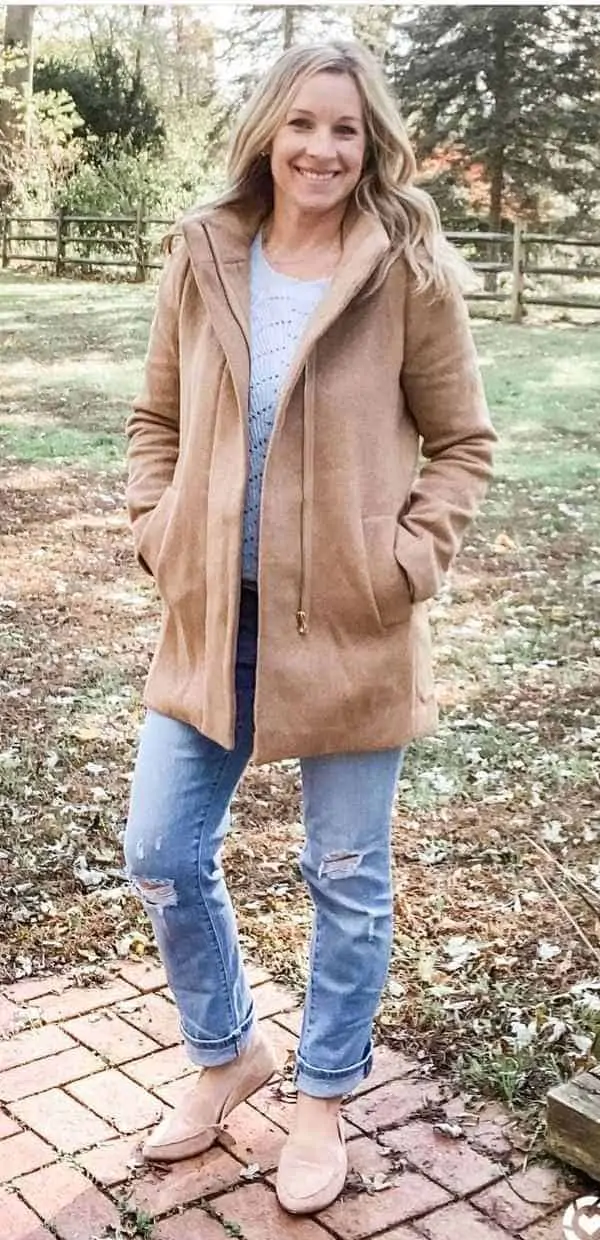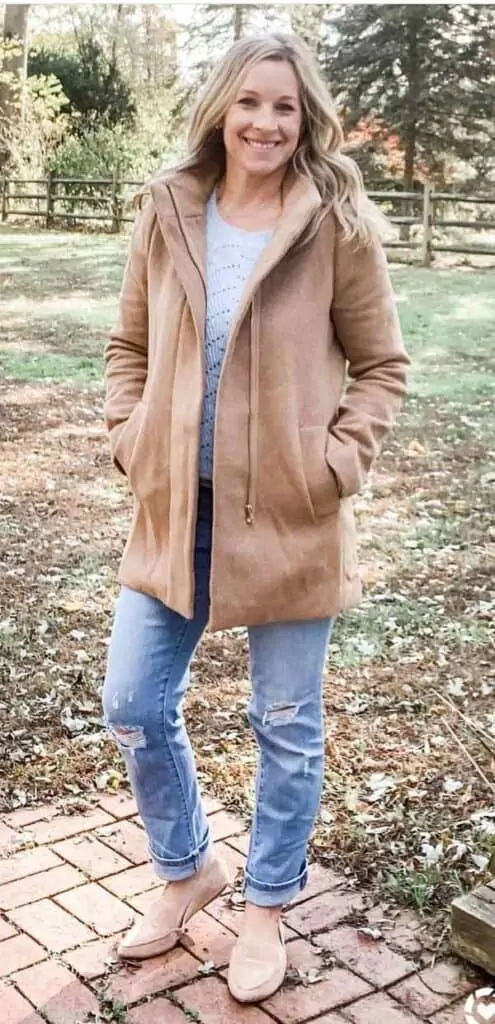 Kelli (above) styled her ripped jeans with a camel jacket and then she wore a nude color loafer similar to the coat. If you like a more interesting jeans outfit, this is a great way to go about it.
With a jumpsuit
A good shoe option that will work well with your jumpsuit is loafers.
Jumpsuits are great one-pieces to have, as they allow you to look elegant and dressed up within a short time. They make work easier as you only have to think of the right shoes for the jumpsuit.
It's a simple look to put together considering it's a plain jumpsuit in white which is a color that goes with every other color of shoes. If you go for a printed jumpsuit, you can wear a simple pair of black loafers as it's the most universal color.
With wide leg pants
Wide leg pants are great for a comfortable look because of their loose fit. They can be worn with different pieces that will give you a sophisticated outfit. If you want an office-friendly outfit, then a pair of loafers would be great for this look.
The loafers give the pants a good balance since they are simple.
With tailored pants
Wearing dress pants with loafers gives you a more business friendly look.
Tailored pants often look smart which is why they are highly preferred for the office environment. They can also make for a casual outfit, depending on what you choose to wear them with. When you would like to take a break from stilettos or closed heels, loafers is a great option.
If you're not into this corporate look, you could still style the outfit with a plaid shirt, denim vest or jacket, leather jacket and more casual pieces.
With a skater dress
If you want a preppy type of look, wearing your skater dress with some loafers should do the trick.
A skater dress is one of the most flattering types of dresses you can have out there. Skater dresses cinch you around the hips and then flare out towards the bottom. They can be worn with a variety of shoes such as loafers, boots, or sneakers.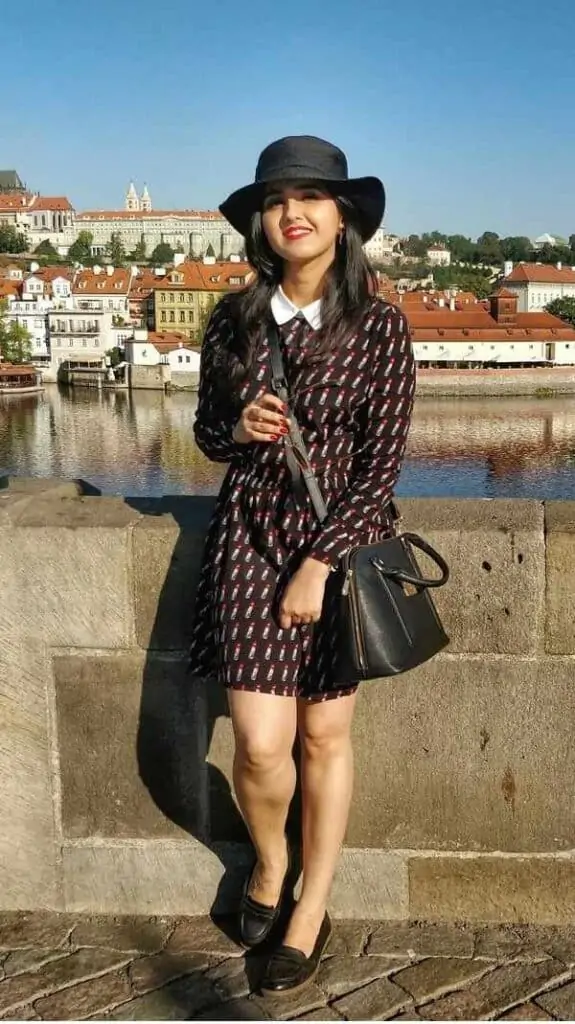 Aastha (above) styled her Peter Pan collar dress with a pair of loafers. Her look is made even preppier with the peter pan collar but you can go for a different type of dress for the look.
With paperbag waist pants
For a fashion forward look, wear loafers with paperbag pants.
Paperbag waist pants are great if you like an interesting waist design that makes your waist look even more cinched. They are self tie pants, which in most cases look really dressed up. They are available in different prints and can also be styled with loafers.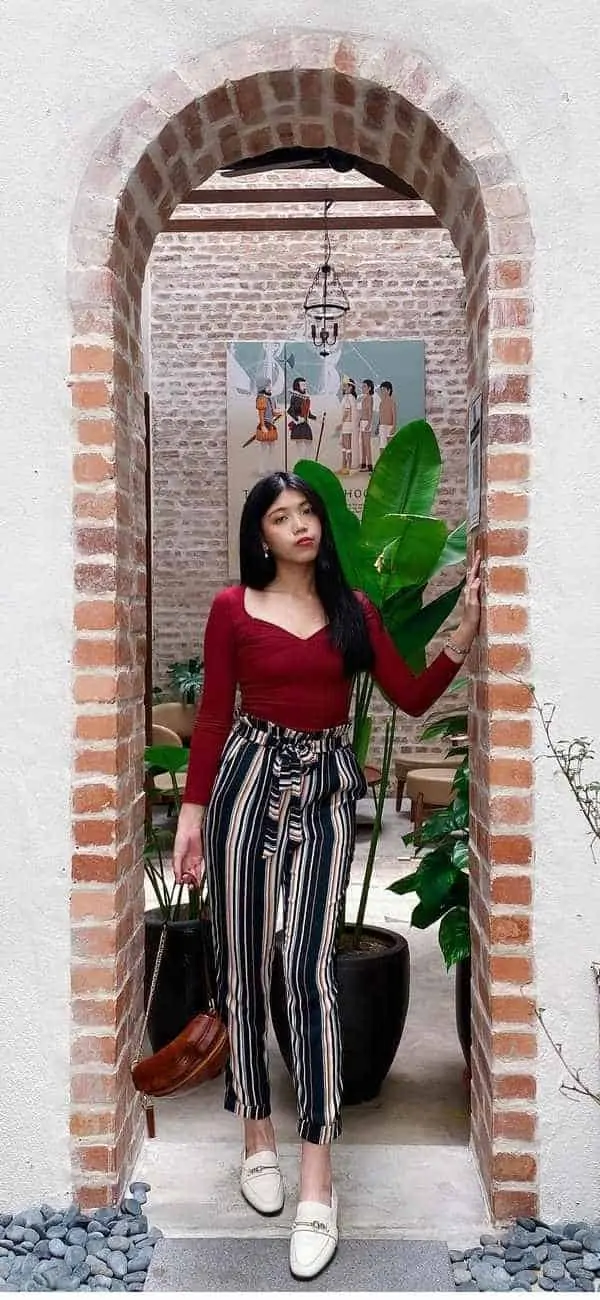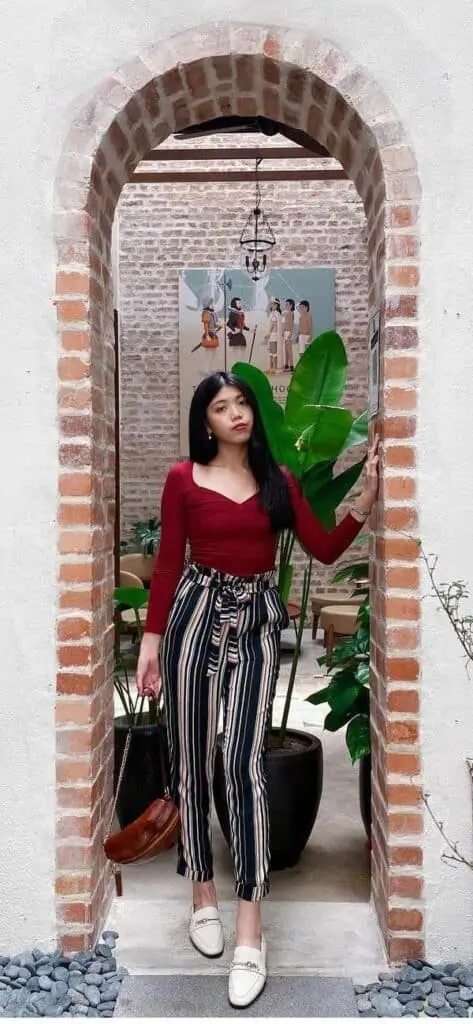 Akina (above) styled her paperbag waist pants with a burgundy top and some white loafers. This is a combination that works well with some loafers. You can wear the pants with the loafers and a shirt for a smart look.
With a mini skirt
Wearing a shorter skirt is a good way to show off your legs, regardless of the design you pick. Whether it's an A-line skirt, pencil or any other design, make sure it's flattering. These can also be worn with your loafers.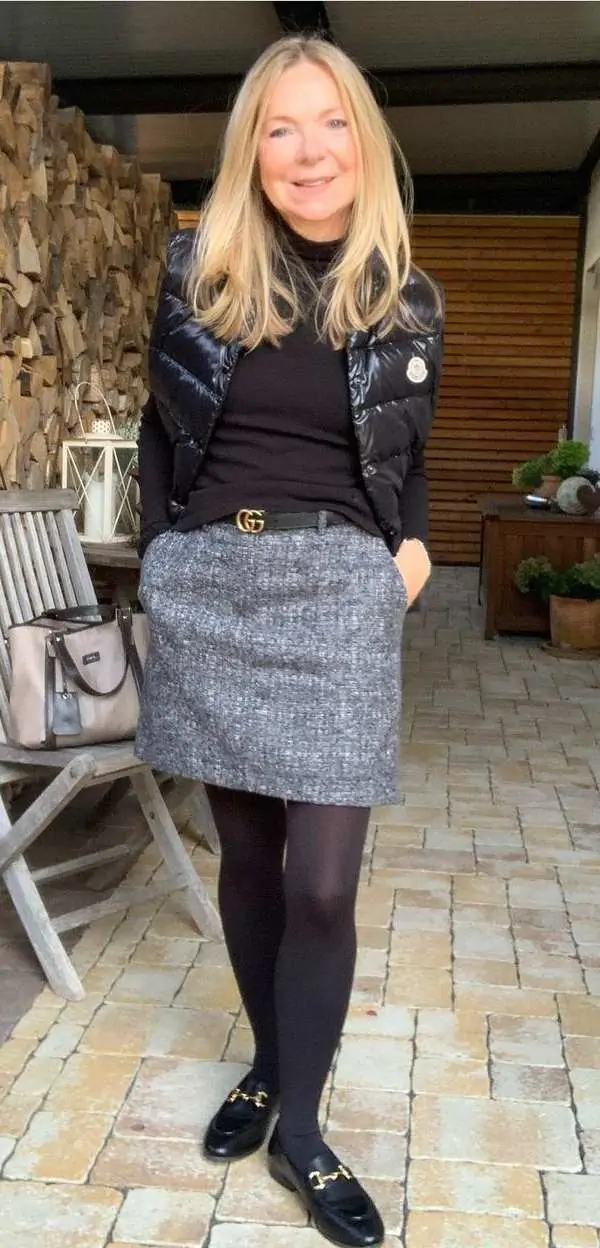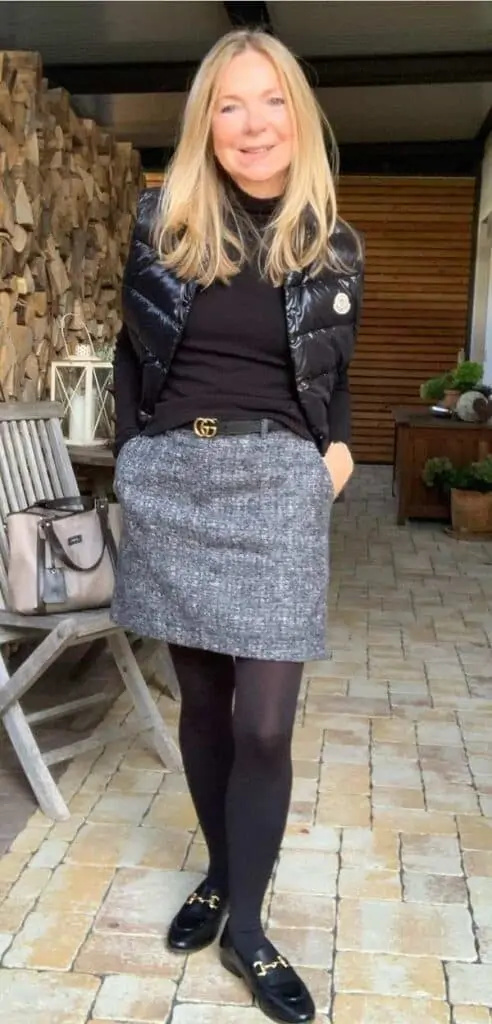 Margit (above) styled her short skirt outfit with some tights and a pair of black loafers.
During cooler seasons, wearing tights with a mini skirt is a great option. They keep you warm but at the same time, they make your legs look leaner, and in cases where they match your loafers, they make your legs look longer.
With some shorts
A great way of showing off your legs is by wearing a nice pair of shorts. Shorts are great especially during summery months, but can still be transitioned into the fall season depending on how you choose to wear them. These shorts can also be styled with loafers.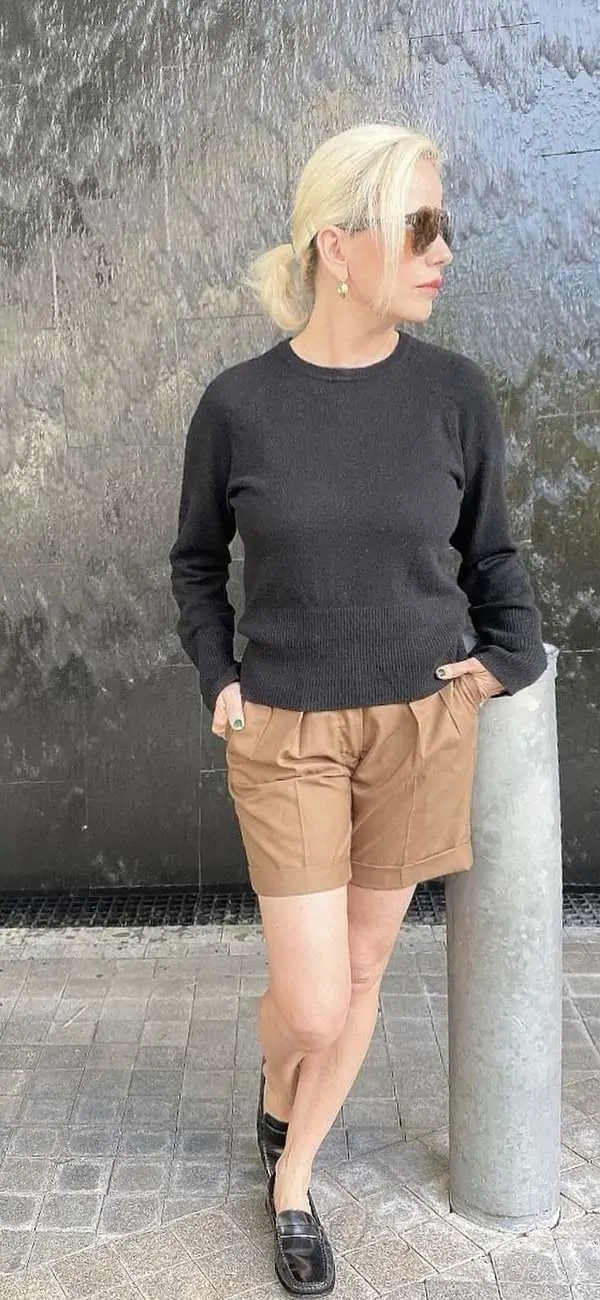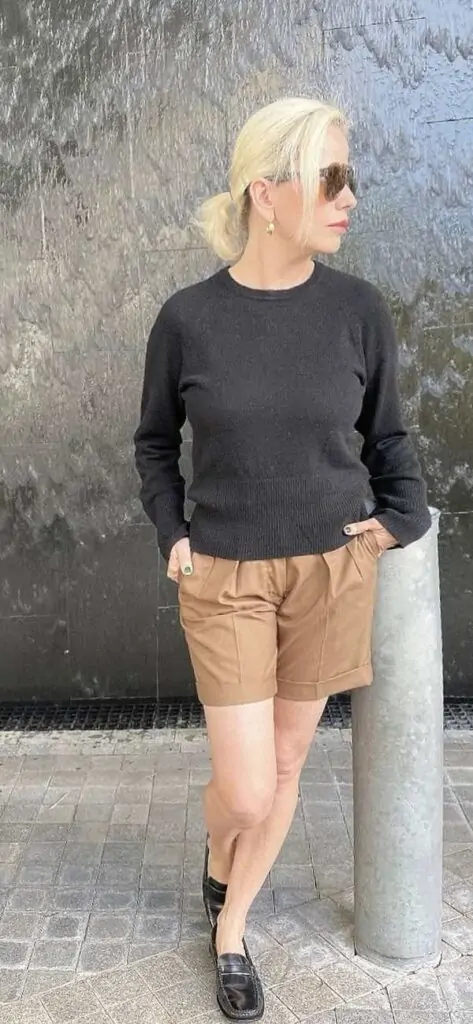 Jo (above) styled a brown pair of shorts with a sweater and finished off the look with a pair of black loafers. This is a great way to go if you value simplicity or a laid back outfit that does not necessarily involve jeans.
With a pencil skirt
A look featuring a pencil skirt and a pair of loafers will have you office-ready.
Pencil skirts are very flattering to women of different shapes and ages, since they are very smart-looking. Loafers work just as great as heels if you need to dress up for the office except they are more comfortable.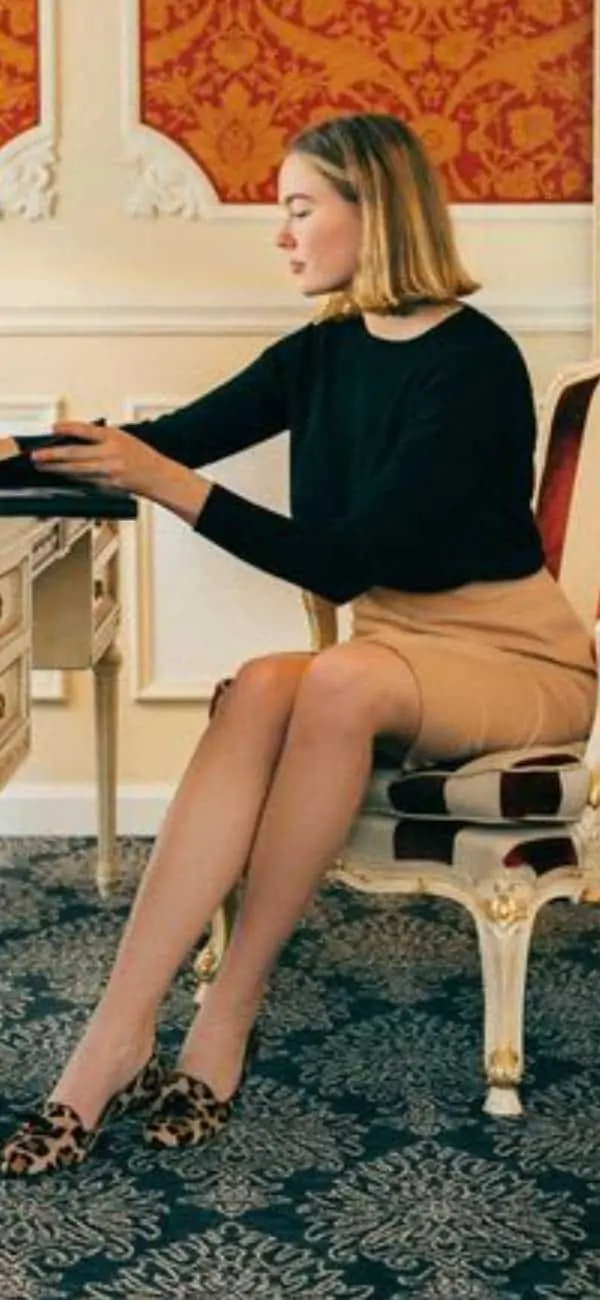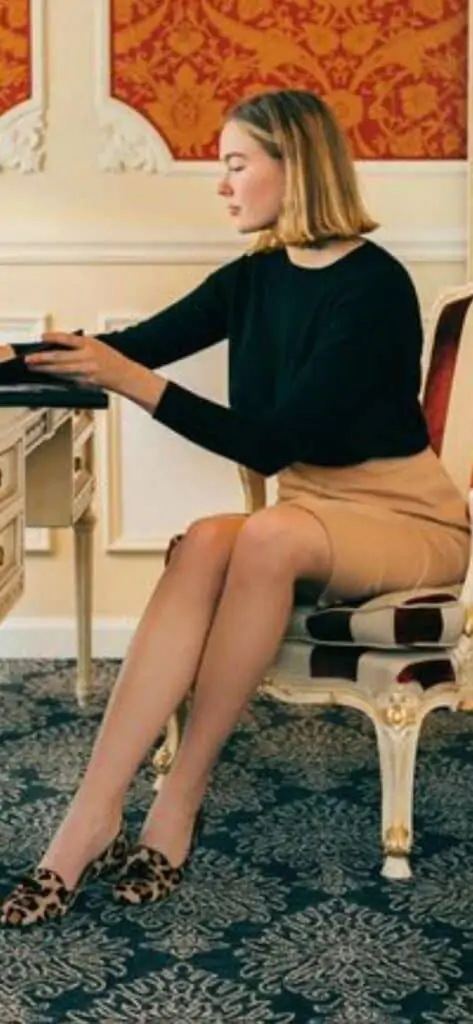 Bellas (above) shows how easy it is to get a corporate look by wearing a pencil skirt with some loafers. You can really choose loafers in different prints and not necessarily plain ones, just s long as the print does not clash with what you are wearing.
With a midi skirt
A midi skirt is ever so classy. While it may seem hard to style, it really doesn't have to be, as long as you pay attention to the proportion. All you need is a simple top and simple outerwear, in case it's cold. For footwear, you can wear loafers for a casual yet polished look.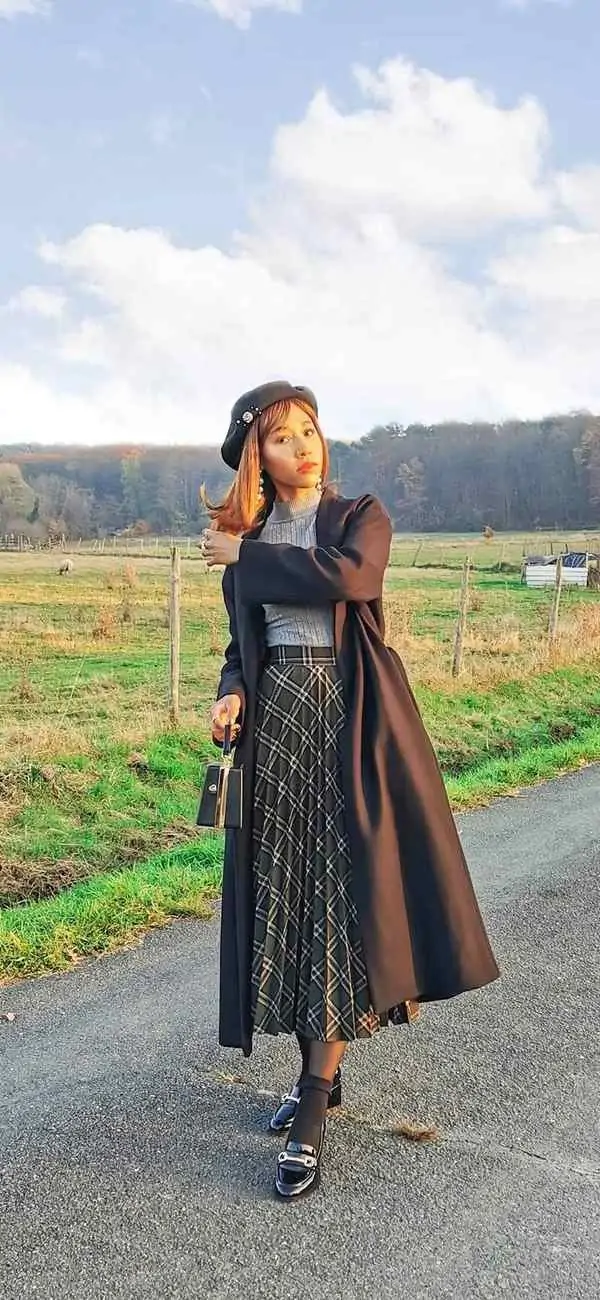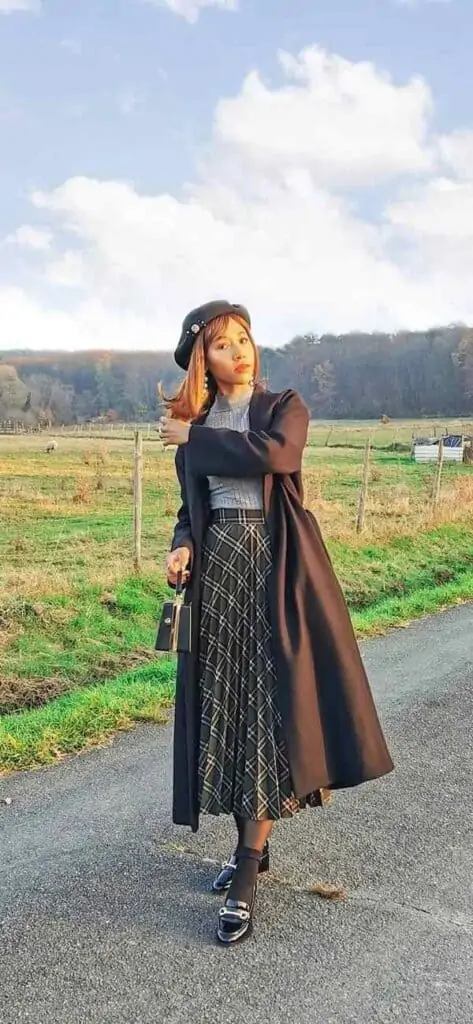 Yasmin (above) styled a pleated midi skirt with a top, a trench coat and a pair of loafers. It's a classy fall combination but in warmer times you can get rid of the coat.
As you can see from these 20 looks, loafers are a great pair of shoes to have especially if you are looking for maximum comfort but would still like to keep your outfit stylish.