Spoon body type women are known for generous curves, especially when it comes to your hips and thighs. If you are a spoon with short legs, it is important to find styles that balance your shape and elongate your legs.
The spoon shape typically has these traits:
Relatively wider hips and thighs
Shoulders are relatively narrow
Additionally, you also carry extra weight on your upper thighs.
Below is a comprehensive guide to walk you through how to look the best for your body type.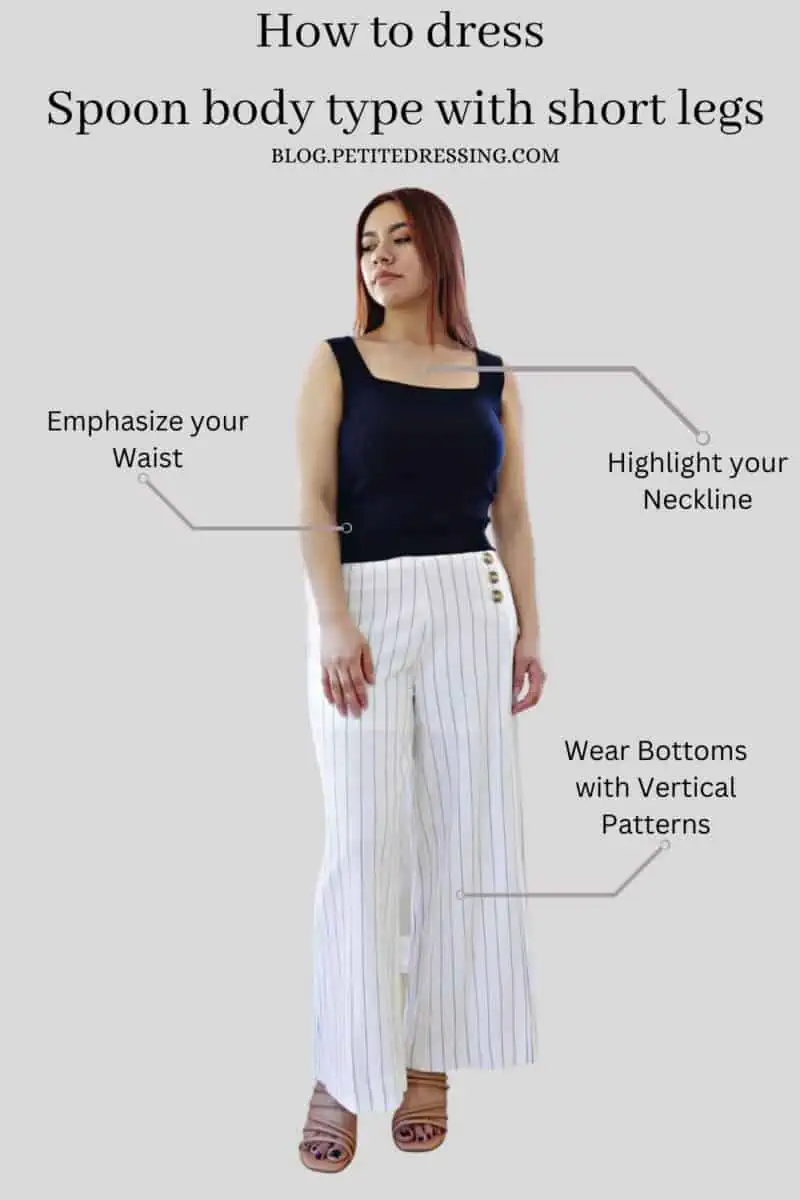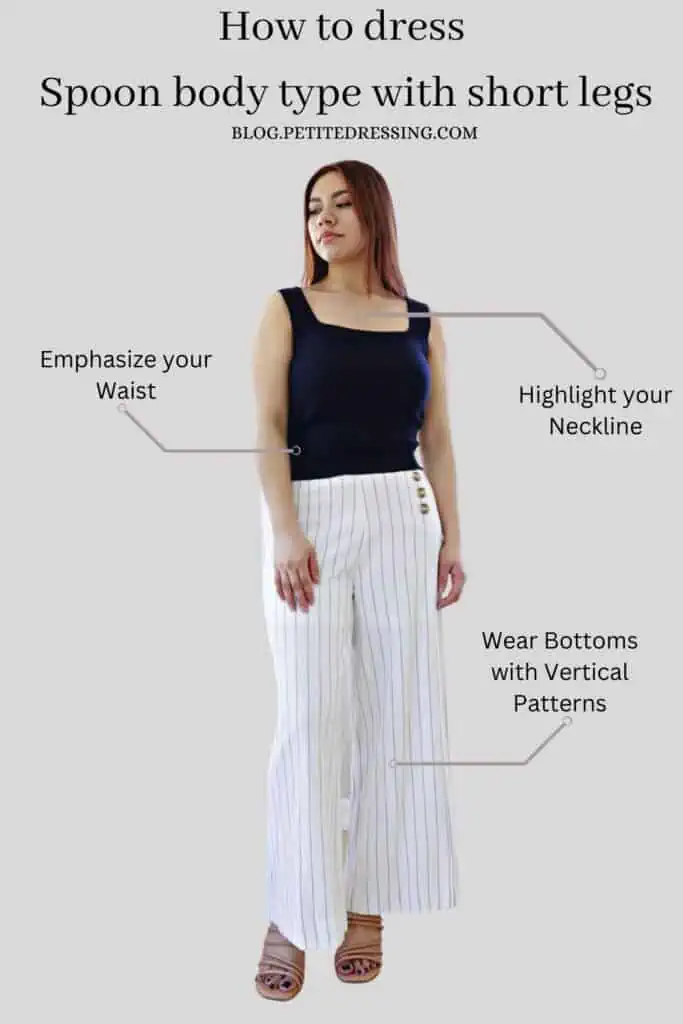 Wear Tops with Shoulder Pads
As spoon body shapes typically lack shoulder definition, shoulder pads can help create the illusion of broader shoulders to enhance your less prominent upper half. This can also visually detract the attention from your wider hips to make your overall look more even and balanced.
Not only do shoulder pads add an edgy vintage vibe to your outfit, but they can also enhance your posture and provide structure to your frame. This structure helps bring more definition to your upper body and minimize the overwhelming appearance of your hips and thighs.
In terms of elevating your height, broad shoulders give a better sense of height. This is why wearing shoulder pads can also help make you look taller than you actually are.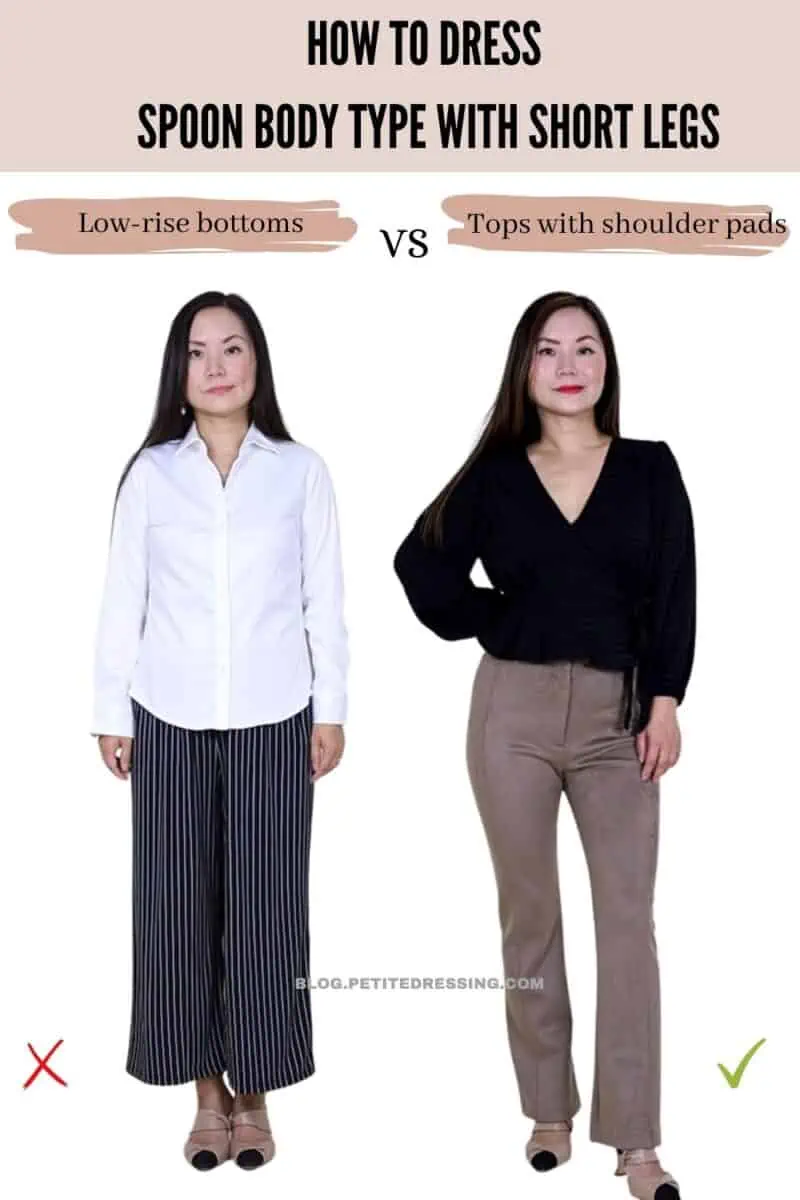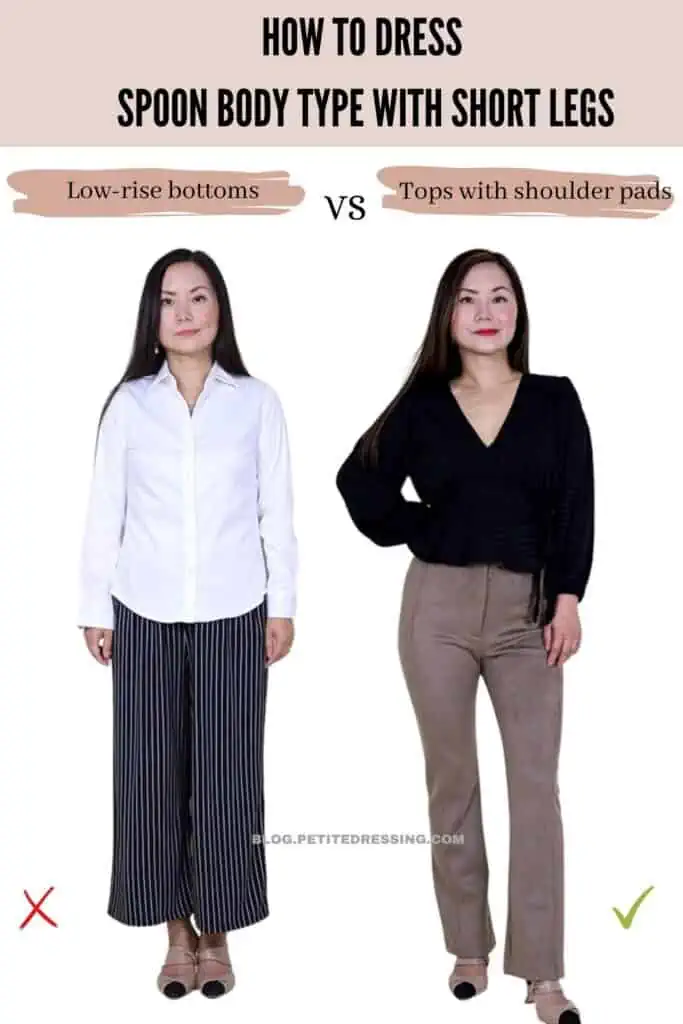 Wear Puff Sleeves
Here's another fantastic way to bring enhancement and definition to your narrower shoulders and smaller bust. Wearing tops and dresses featuring puff sleeves can give your upper half that instantly lifts to bring balance to your figure.
Due to the volume puff sleeves create, you'll be drawing attention to the shoulders and creating width in the upper body to help neutralize the size of your wider hips and thighs. This will also erase the angular, shapeless lines on your torso and therefore highlight your exquisite waist definition even more.
Just a quick tip: considering the proportion and size of your puff sleeves is very essential. Opt for sleeves that are not excessively oversized since too much volume may overwhelm your frame and look too bulky.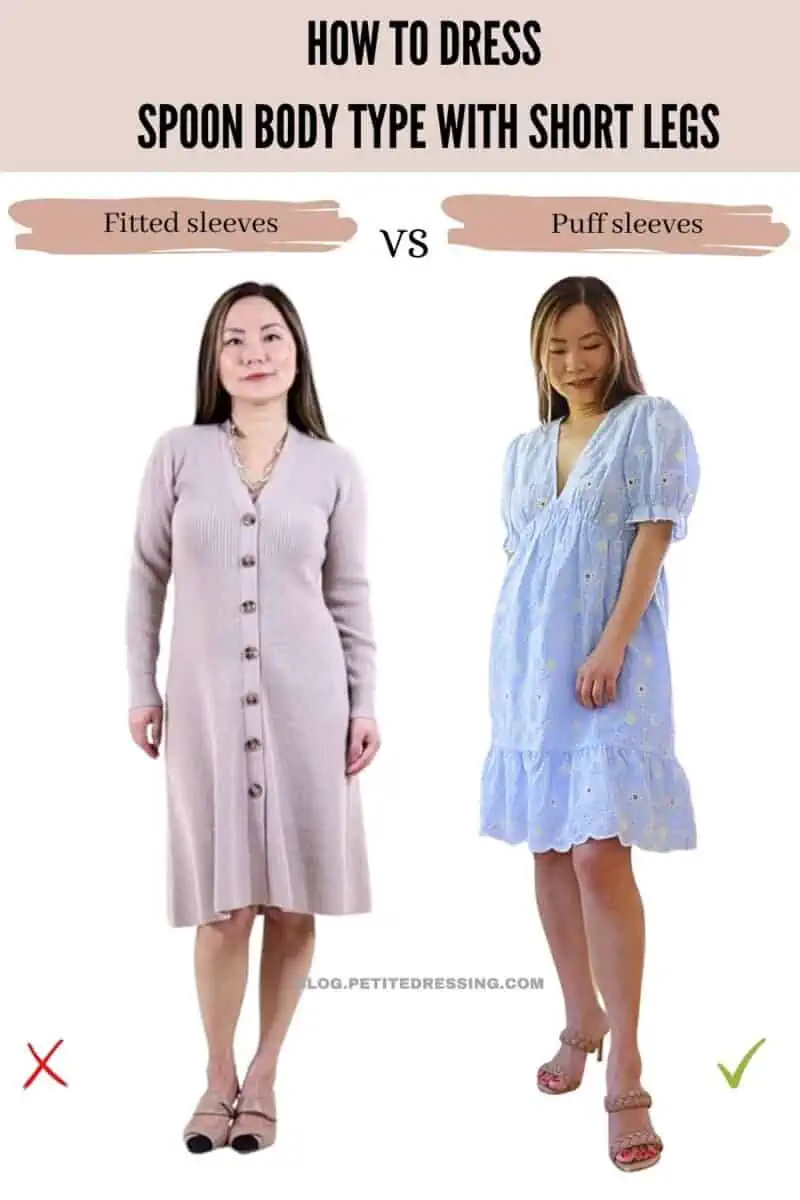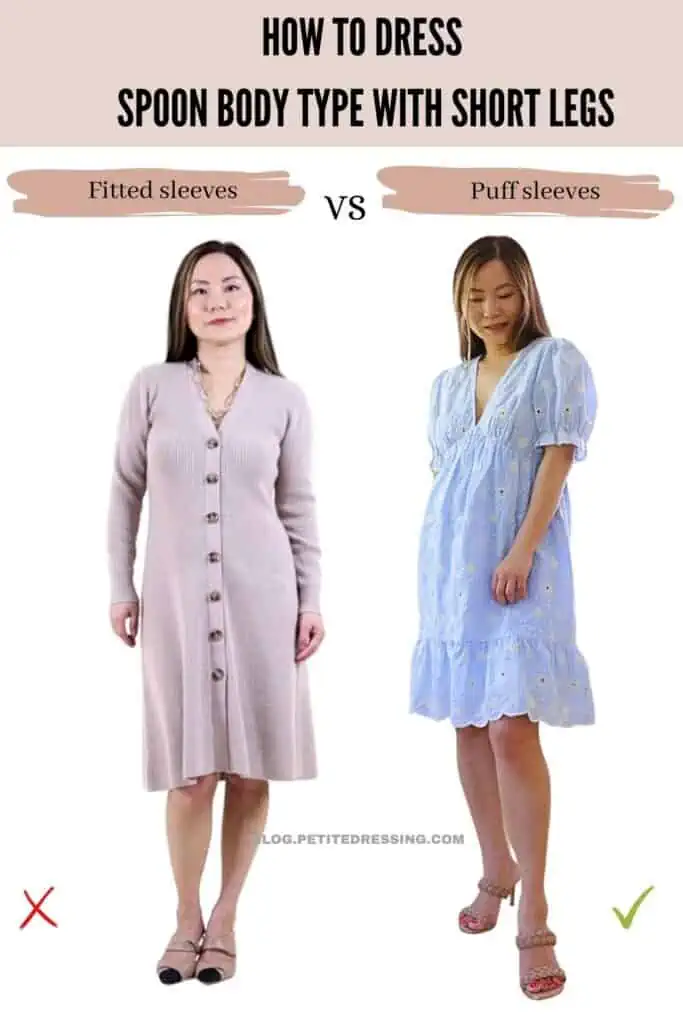 Try Butterfly Sleeves
The wide and flowing nature of butterfly sleeves is another way to add a nice amount of volume to the upper body. Just like the first two styling tips, this also helps balance out the proportions of a spoon-shaped body.
Butterfly sleeves lead the eyes onto the shoulders and create the illusion of width in the upper body, and away from your areas of concern. Since they draw the attention upward, it's also an effective way to make your short legs less noticeable.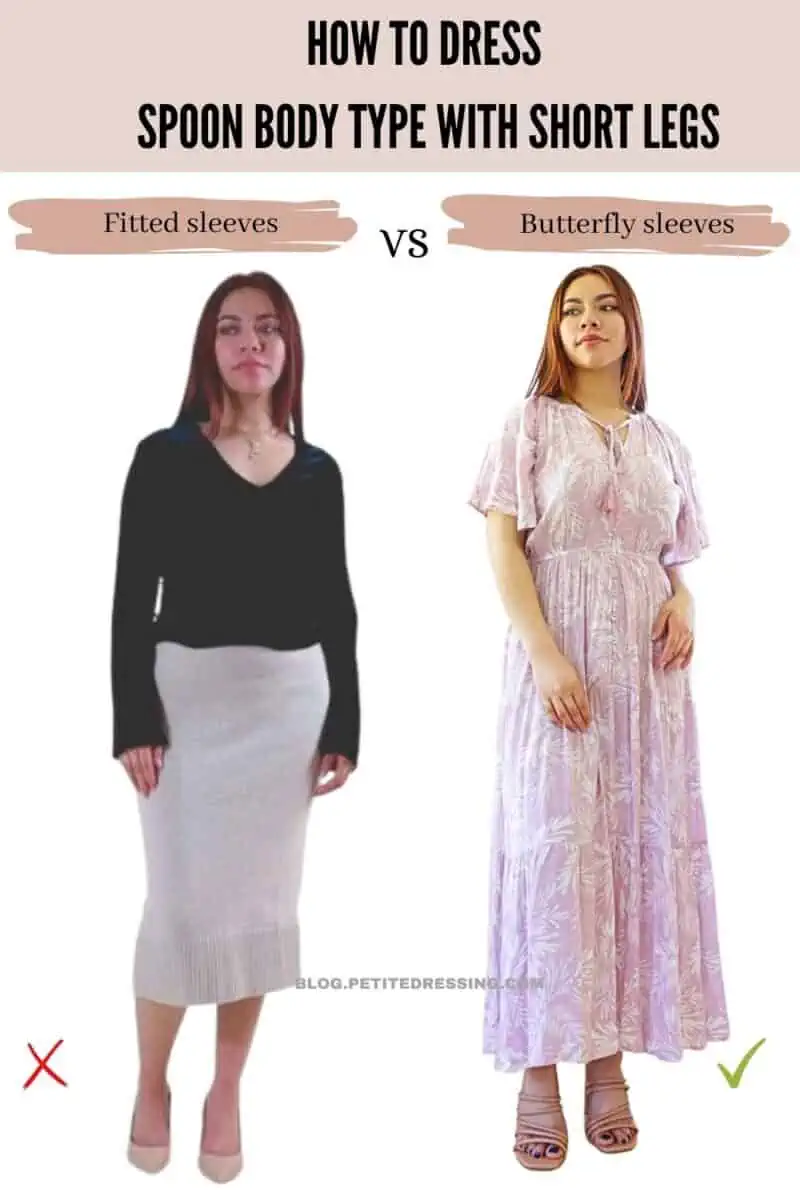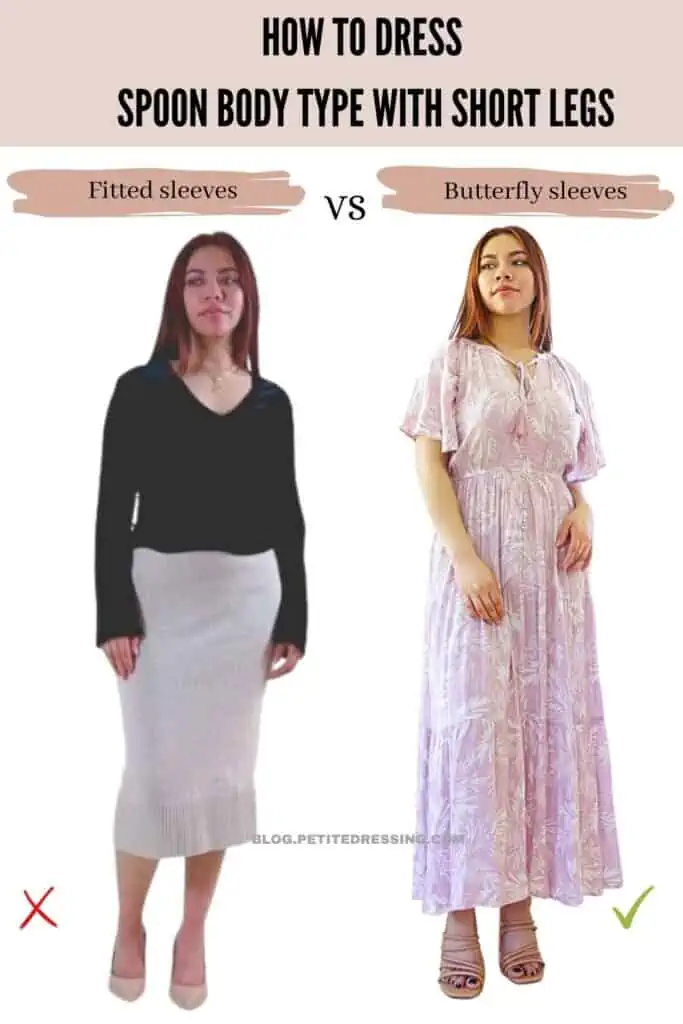 Highlight your Neckline
There are various techniques you can do when it comes to highlighting your neckline and drawing the eyes upward in order to flatter your spoon body shape while also complementing your short legs. You can do this efficiently by going for cuts and styles that specifically draw attention to your neck and decolletage to create the illusion of broader shoulders.
Some flattering neckline samples are those that offer a wider and more open space like V-necks, boat necks, off-the-shoulder styles, or scoop necklines. These necklines expose a generous portion of your collarbone and upper chest, which effectively directs the focus on this area rather than your wider hips and short legs.
These types of necklines also make your neck look longer, which can be particularly helpful in elongating your frame. This results in a visually taller appearance.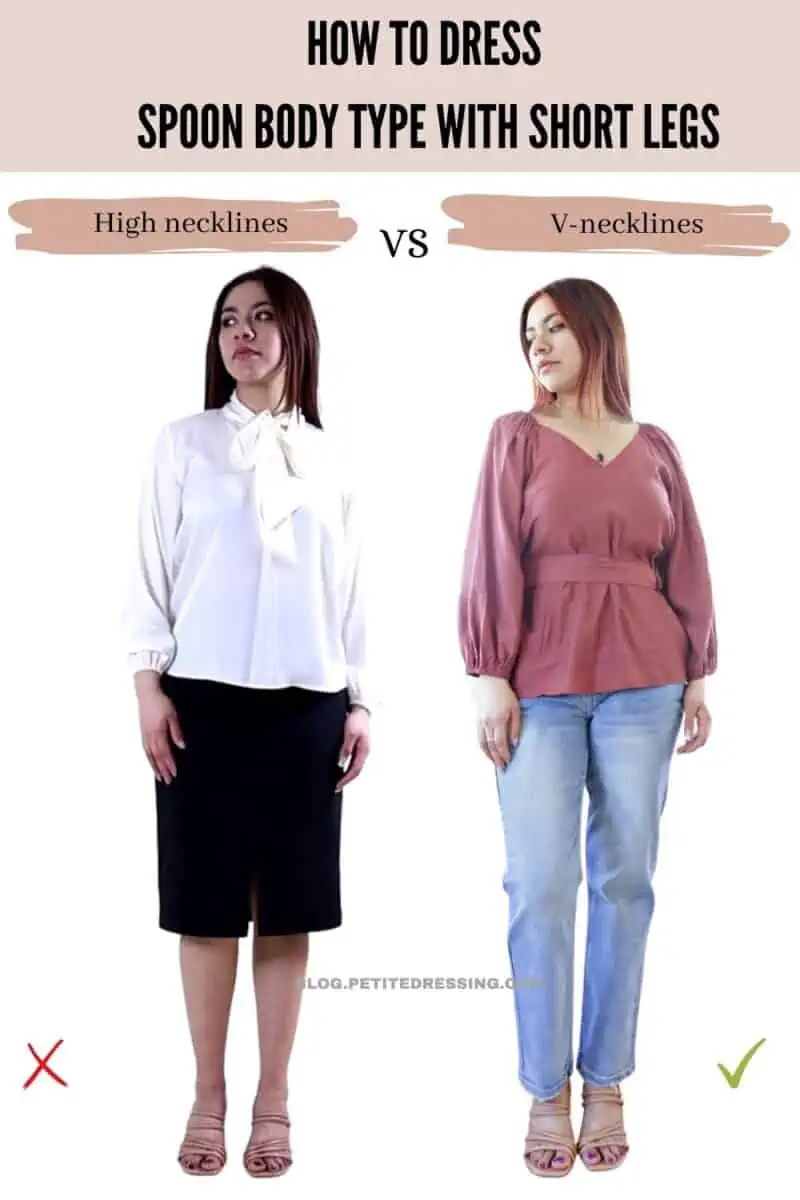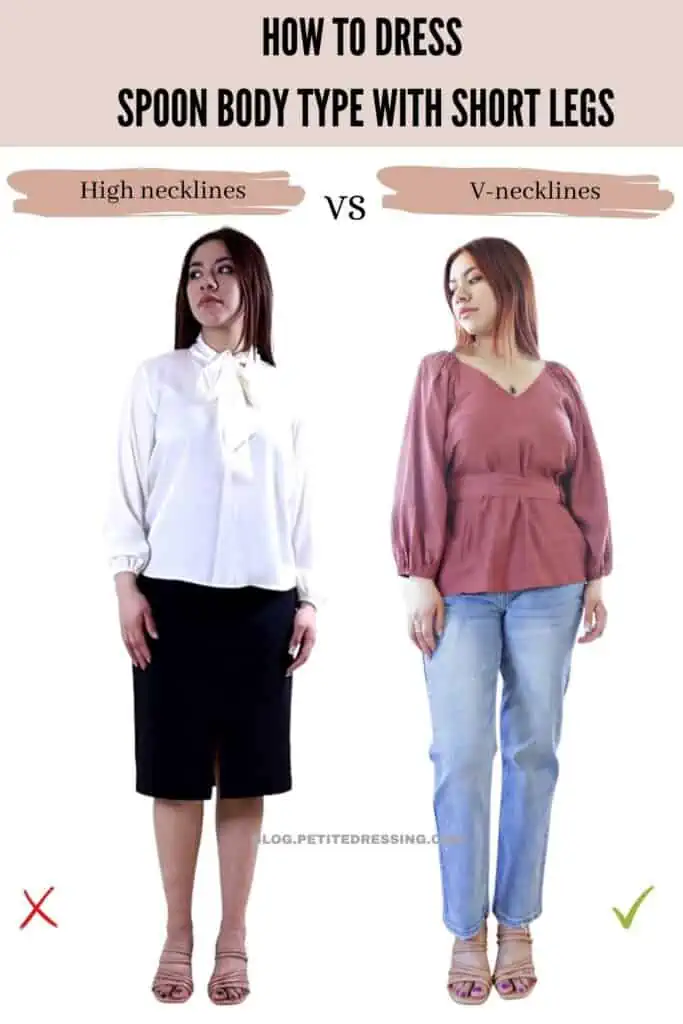 Wear Tops with Ruffles
As a short girl with a spoon body shape, you may struggle a bit with enhancing the shape of your bust. As you typically have a smaller bustline that's almost in similar width to your shoulders, you would obviously need some type of volume on your chest area to look more proportionate.
This is where tops with ruffle details can be especially helpful. Ruffles add texture, movement, and visual interest which helps draw attention to the upper body and therefore create a more balanced silhouette.
The added volume and detail of ruffles can divert attention away from the lower body, where your wider hips and thighs may look too apparent on your short stature. Shifting the focus upward through the eye-catching movement of ruffles, help give your figure a more harmonious overall look.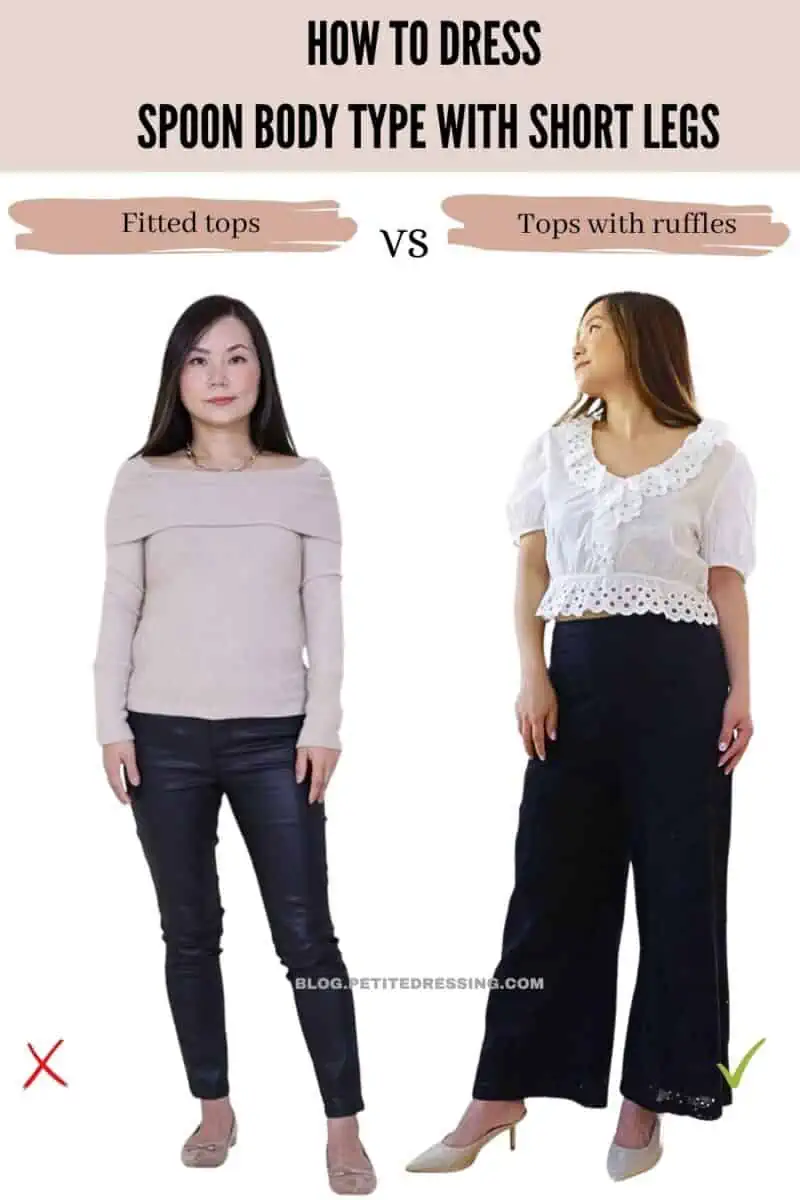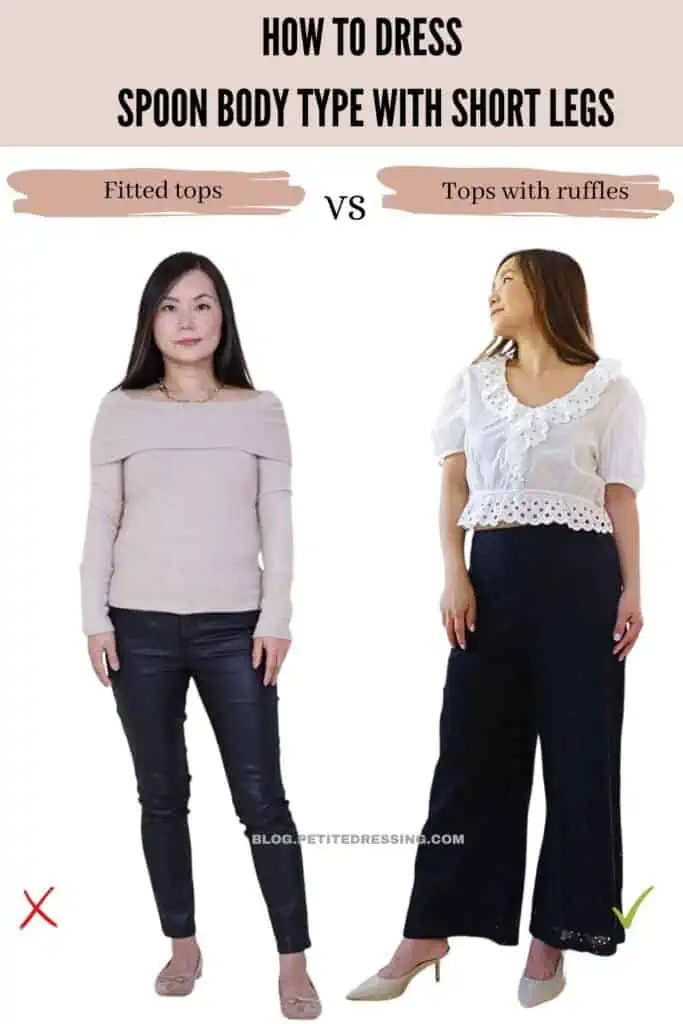 Favor High-Waisted Bottoms
Your well-defined waist is one of your figure's biggest strengths so you always have to go for clothing pieces that will perfectly highlight that. High-waisted bottoms feature a waistband that sits slightly higher than your natural waistline, which means it hugs the narrowest part of your body.
They accentuate the waistline to help create the illusion of an hourglass curve. Apart from its ability to define your waist, high-waisted bottoms feature a structure that elongates your legs which can absolutely be helpful if you have short legs.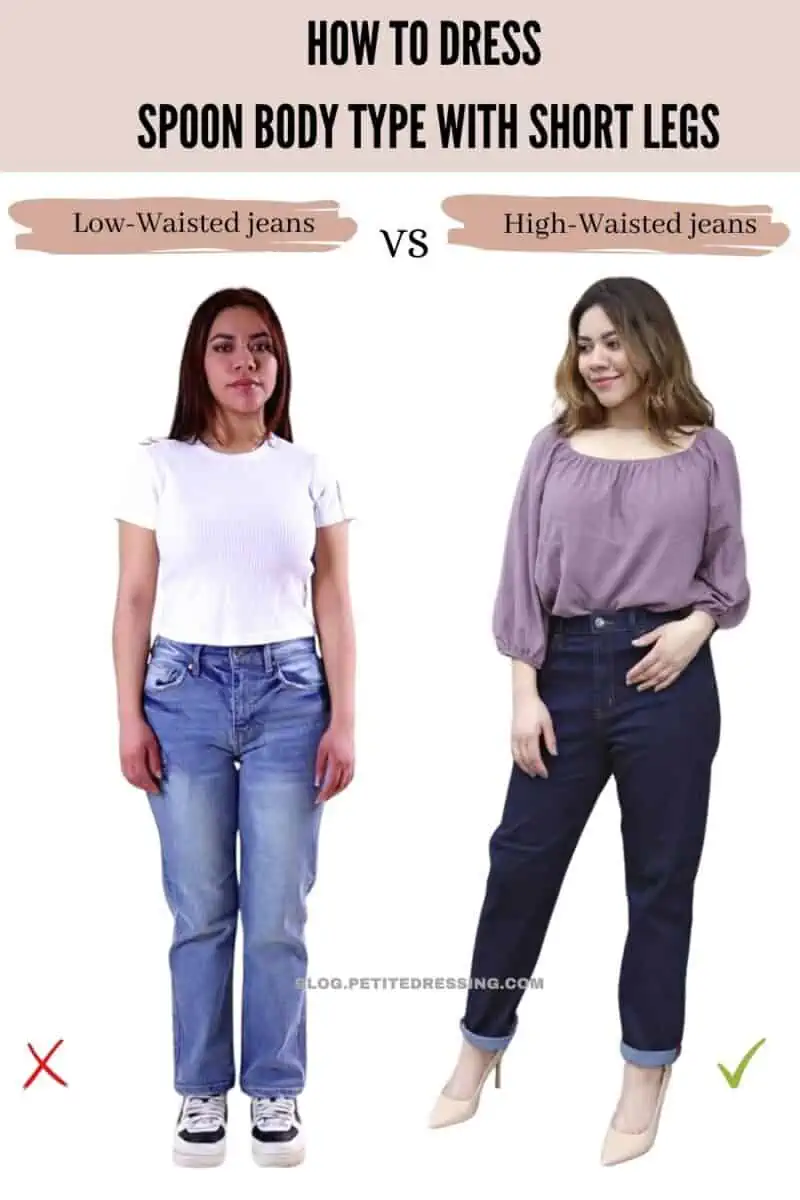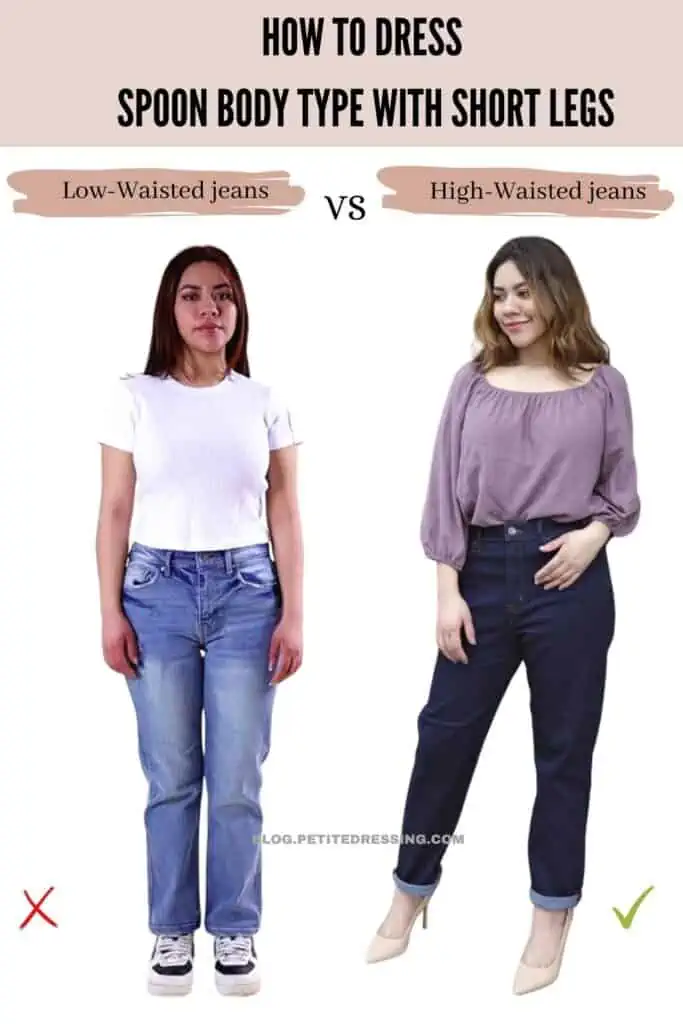 Wear Wide Collars
Dresses and tops with wide collars give your shoulders and bust more definition as this type of detail also helps divert the eyes from your wider hips and thighs. Wide collars like notched or lapel collars create a horizontal line across your shoulders to help broaden your upper half for better balance.
In addition to this, wide collars can also bring attention to your collarbone and neckline, which can be quite helpful if you want to visually extend the length of your frame. Wider collars frame and highlight these sophisticated areas to add a touch of femininity and grace to your overall appearance.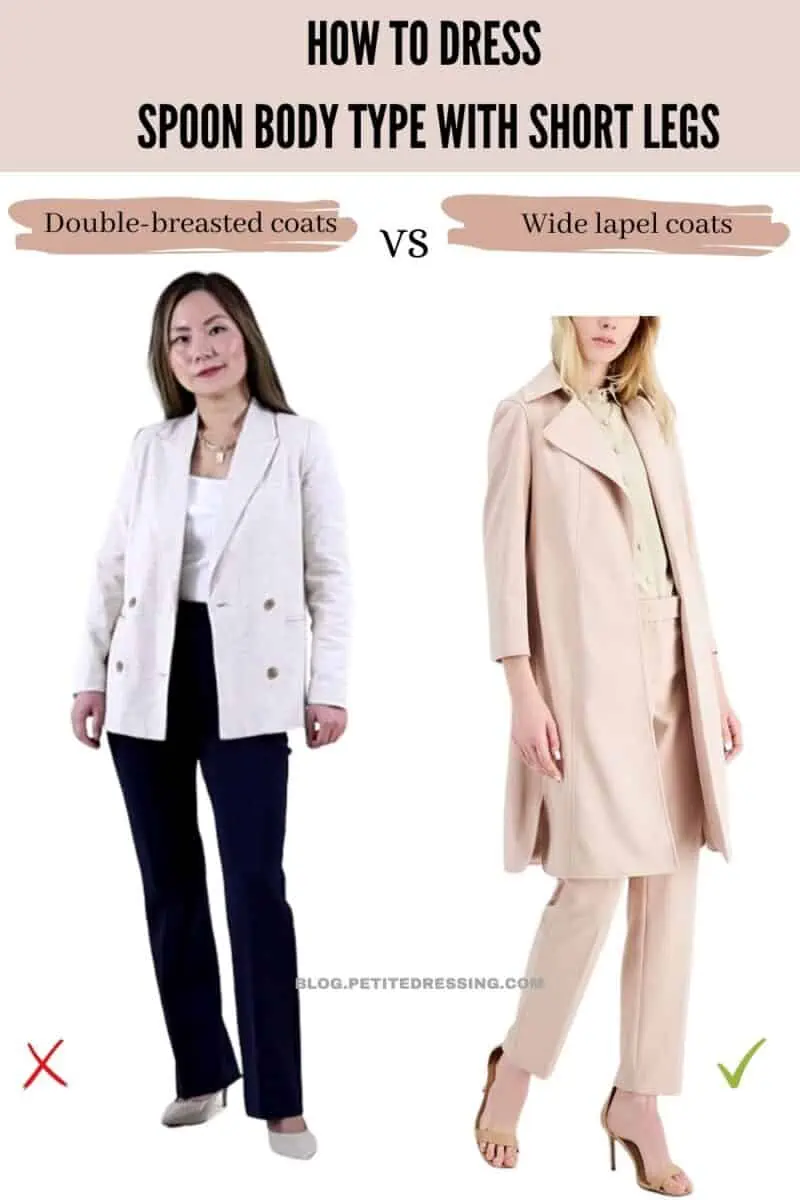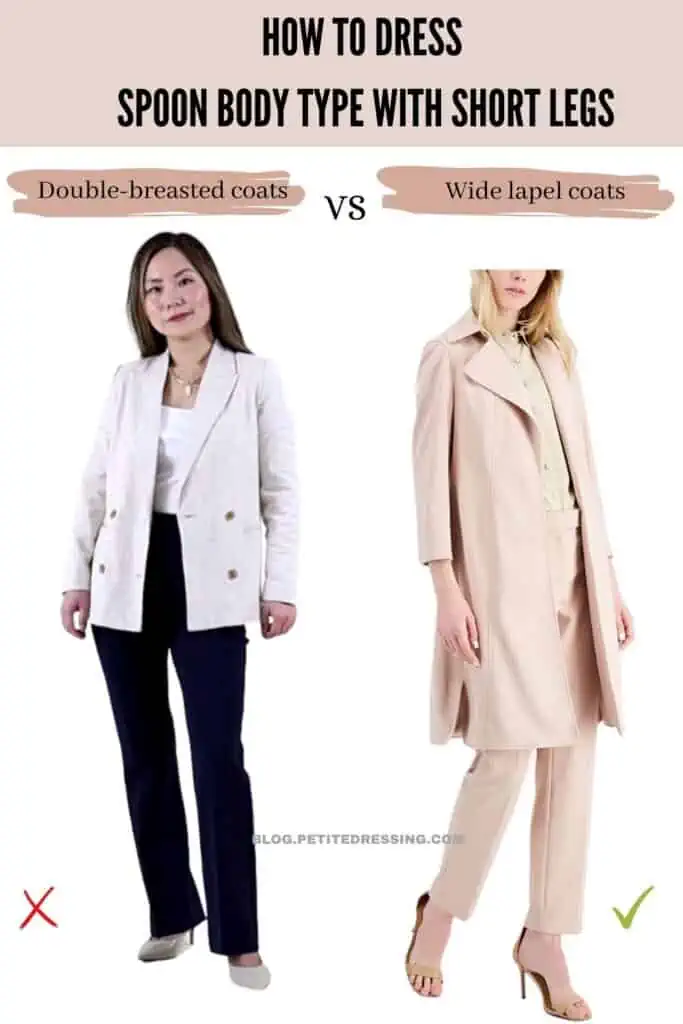 Wear Bottoms with Vertical Patterns
One of the things you'd like to neutralize if you have a spoon-shaped body and short legs would be the presence of your wider hips and thighs. Of course, it's nice to embrace the prominence of your curvy hips but they can be quite overwhelming as they are relatively bigger than your upper body.
This is why wearing bottoms with vertical patterns can help slim this area down to create a better balance between the upper and lower body. Vertical patterns like pleats, pinstripes, or vertical prints can instantly make your wider hips more toned down while also giving your legs a much longer appearance.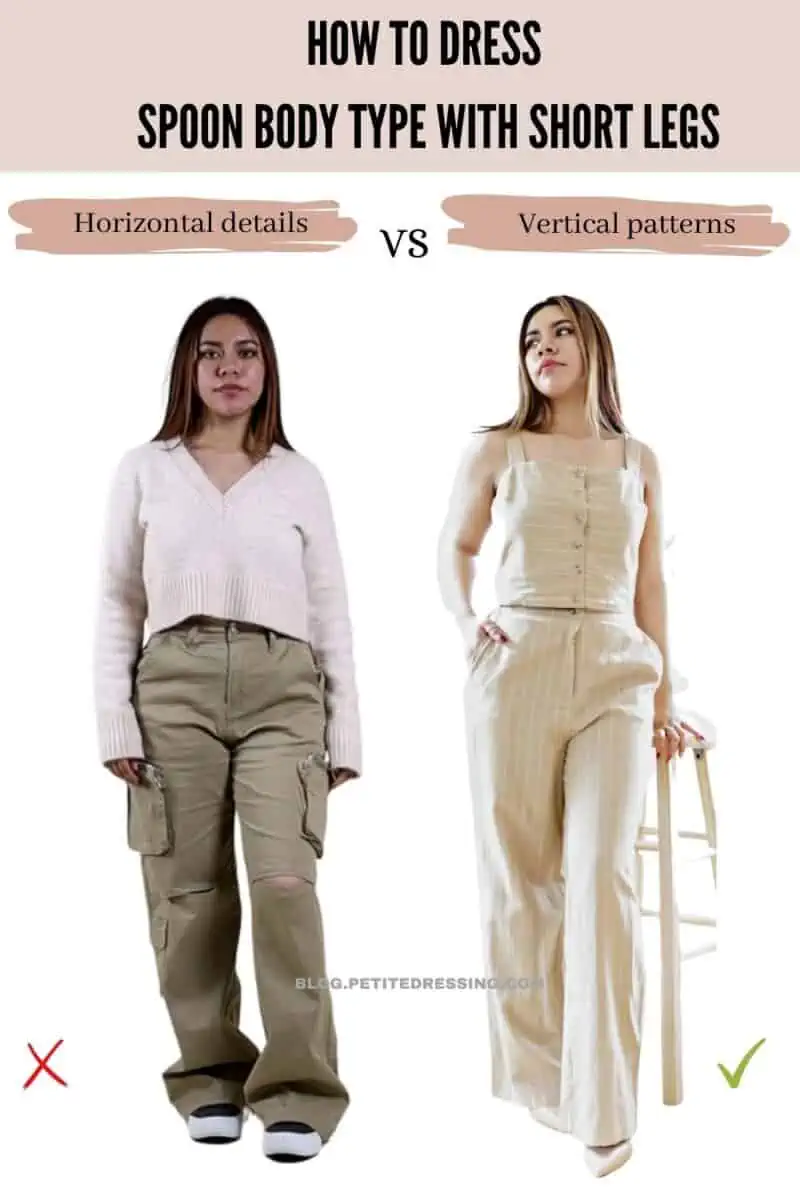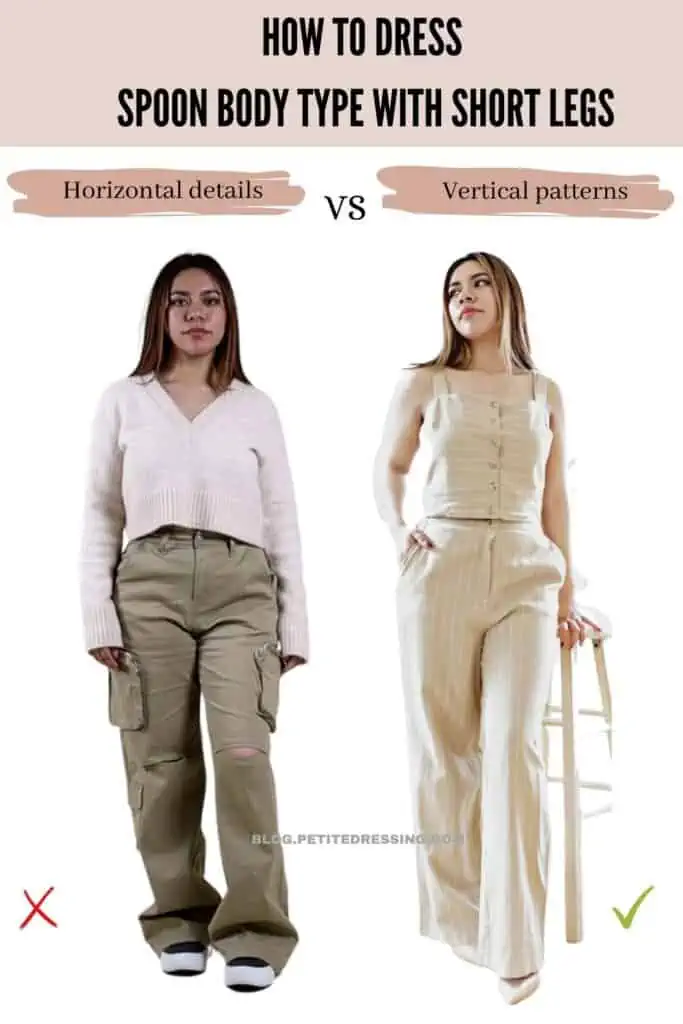 Emphasize your Waist
As mentioned earlier, your well-defined waist is one of your body shape's key strengths so you always have to keep it enhanced. You can do this by opting for clothes that cinch the waist such as fit and flare dresses, belted tops, or wrap dresses.
When you define your waist, you create a focal point that attracts the gaze to the narrowest part of your body, and therefore visually balances out the wider hip area. These types of waist-defining clothing pieces help create the look of an hourglass body shape, which accentuates your curves for a more proportional appearance.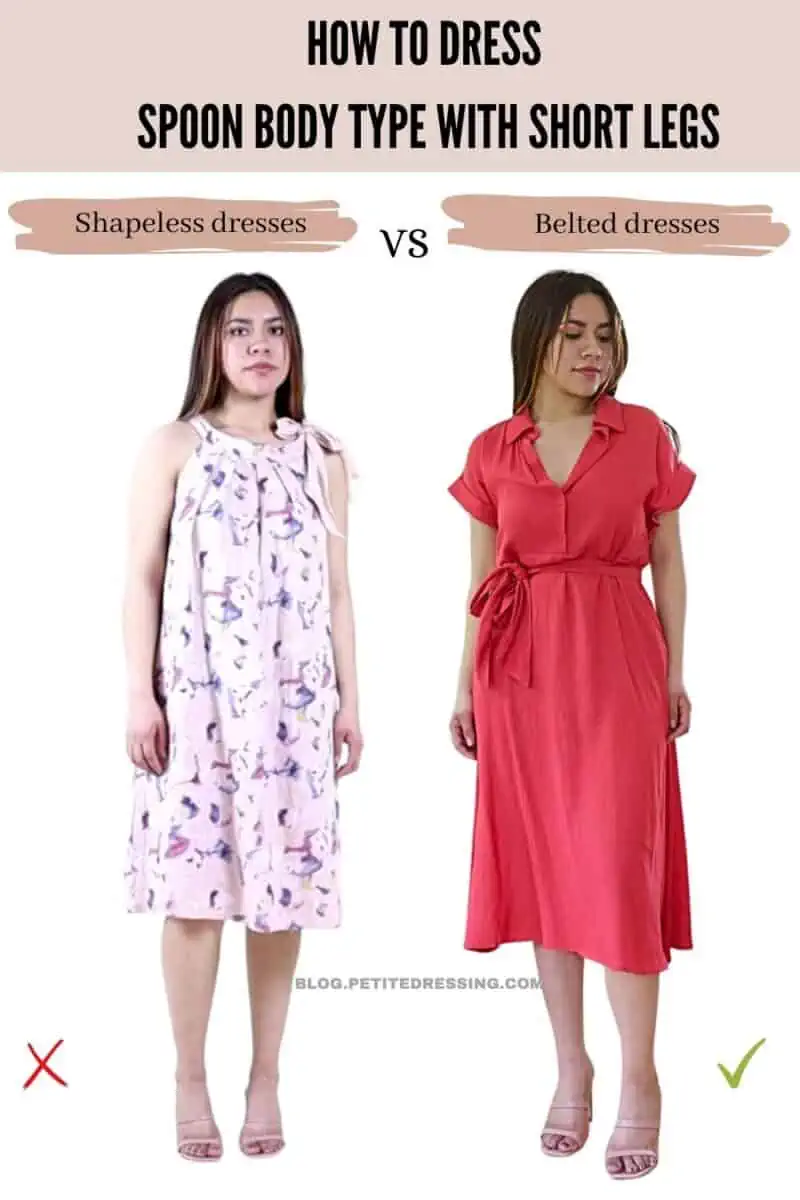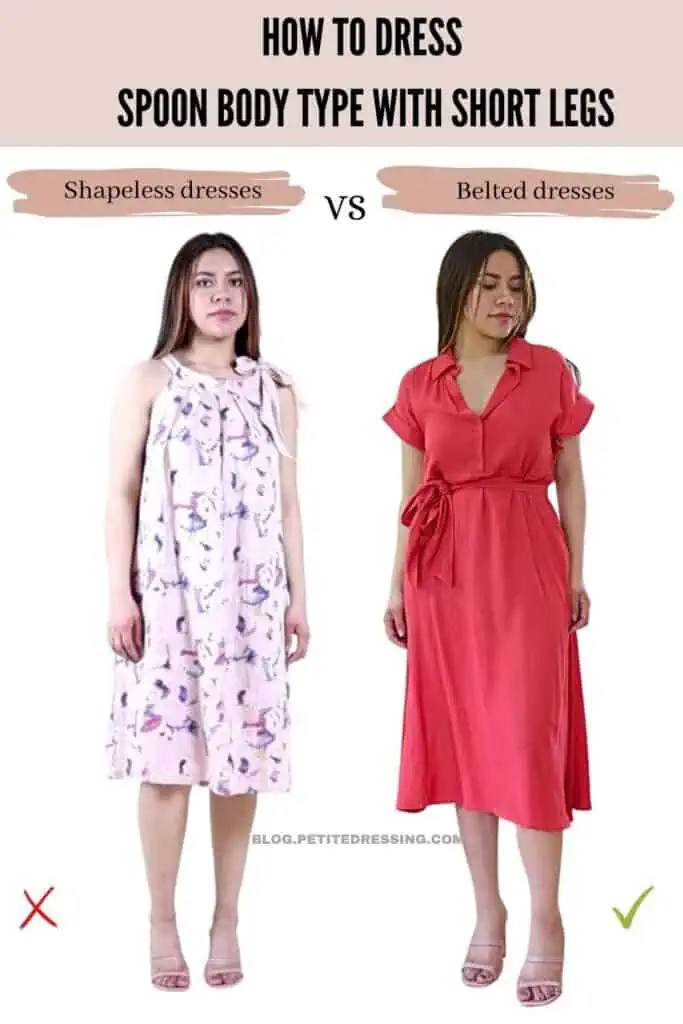 Wear Strapless Dresses
Wearing a strapless dress is one perfect way to enhance your upper half and showcase your neckline and collarbone. The structure of strapless dresses draws the eyes upward to veer the gaze away from areas you may be concerned about, such as your wider hips and short legs.
In addition to this, strapless dresses can give you the illusion of broader shoulders, which balances out the wider hip area of spoon body shapes. The horizontal line created by the dress across the shoulders adds width to the upper body and therefore creates visual symmetry that enhances the overall silhouette.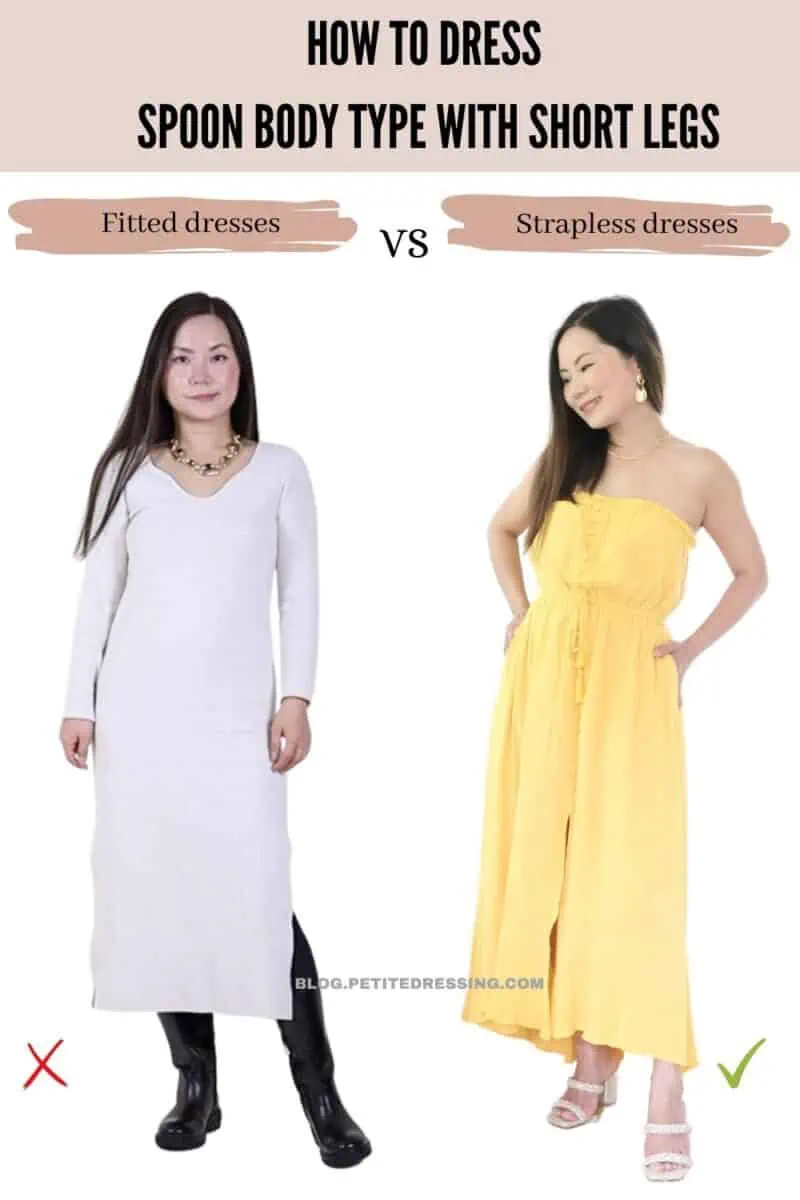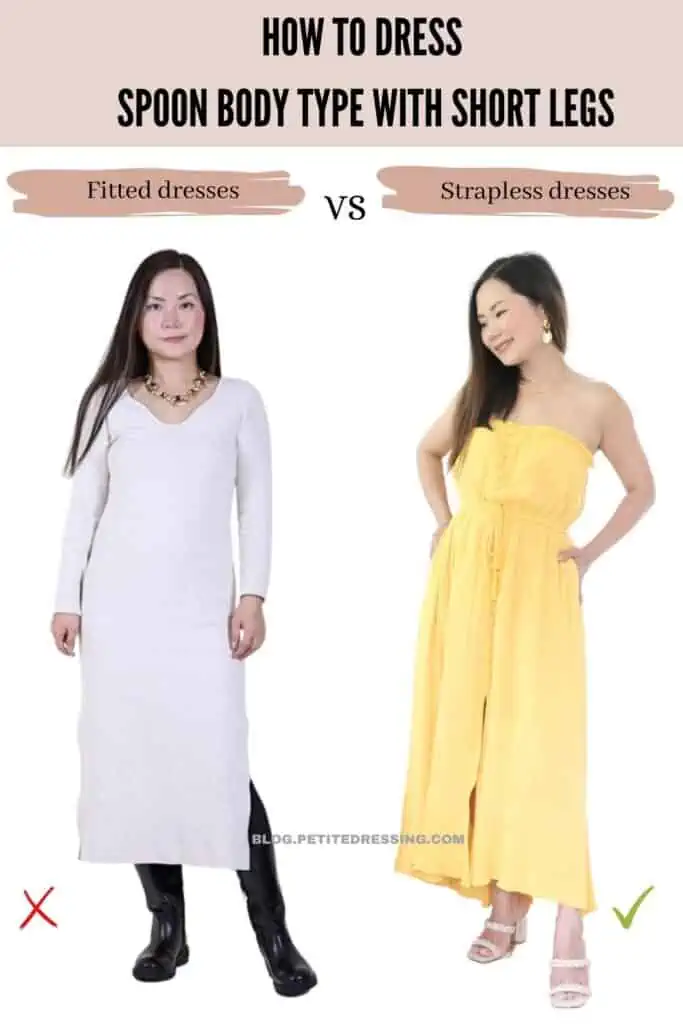 Go for Structured Coats
Structured coats are designed to provide shape and definition to your figure in which their tailored construction and defined lines create a sense of structure that balances out the curves. When you go for structured coats with details placed on the area of the torso, it helps add depth to your relatively smaller upper half.
The clean lines and streamlined silhouette of a structured coat instantly lead the eyes upward to create a vertical flow that visually lengthens the lower body. This effect is further enhanced when paired with heels or ankle boots, which can provide an additional boost in height.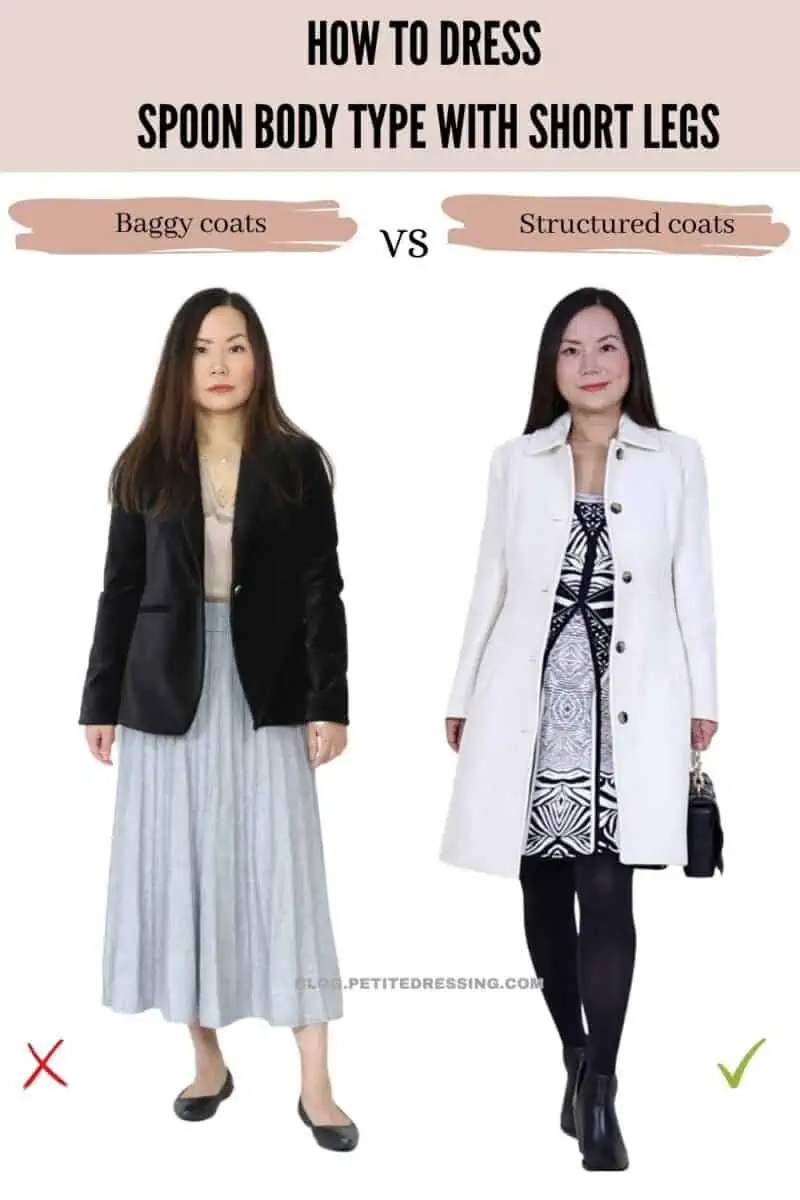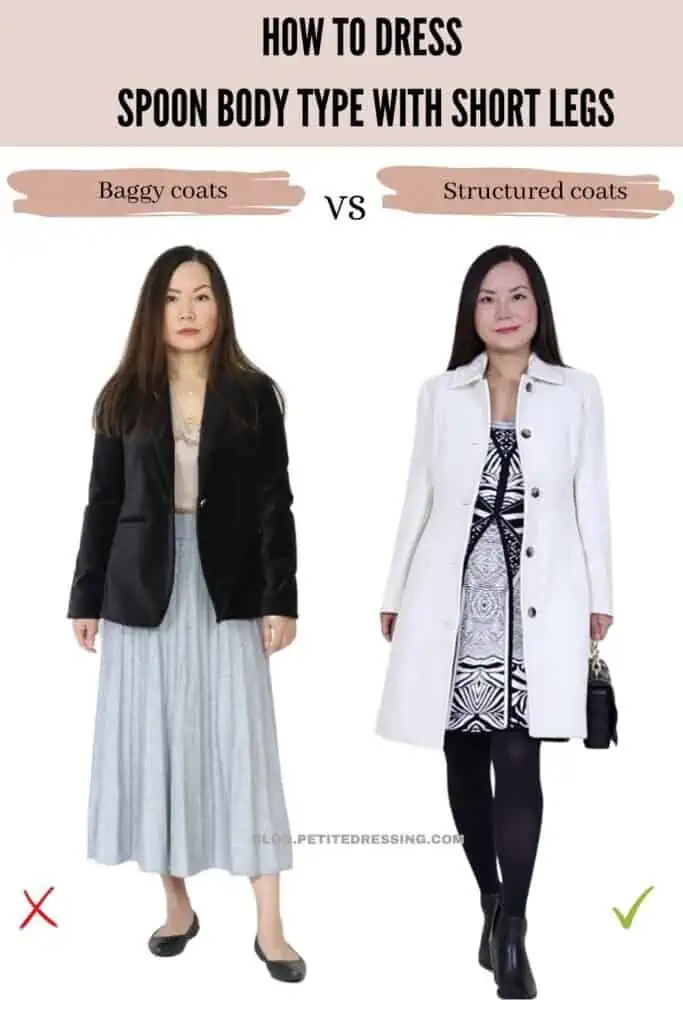 Caution with Tight Sleeves
Fitted sleeves can only highlight the fact that you have a significantly smaller upper half in comparison to your heavier lower half. This makes the size difference very obvious, leading to an unbalanced silhouette.
They can also cancel the horizontal line on your shoulders which makes them less prominent. When opting for clothes with sleeves, go for something with more room and volume.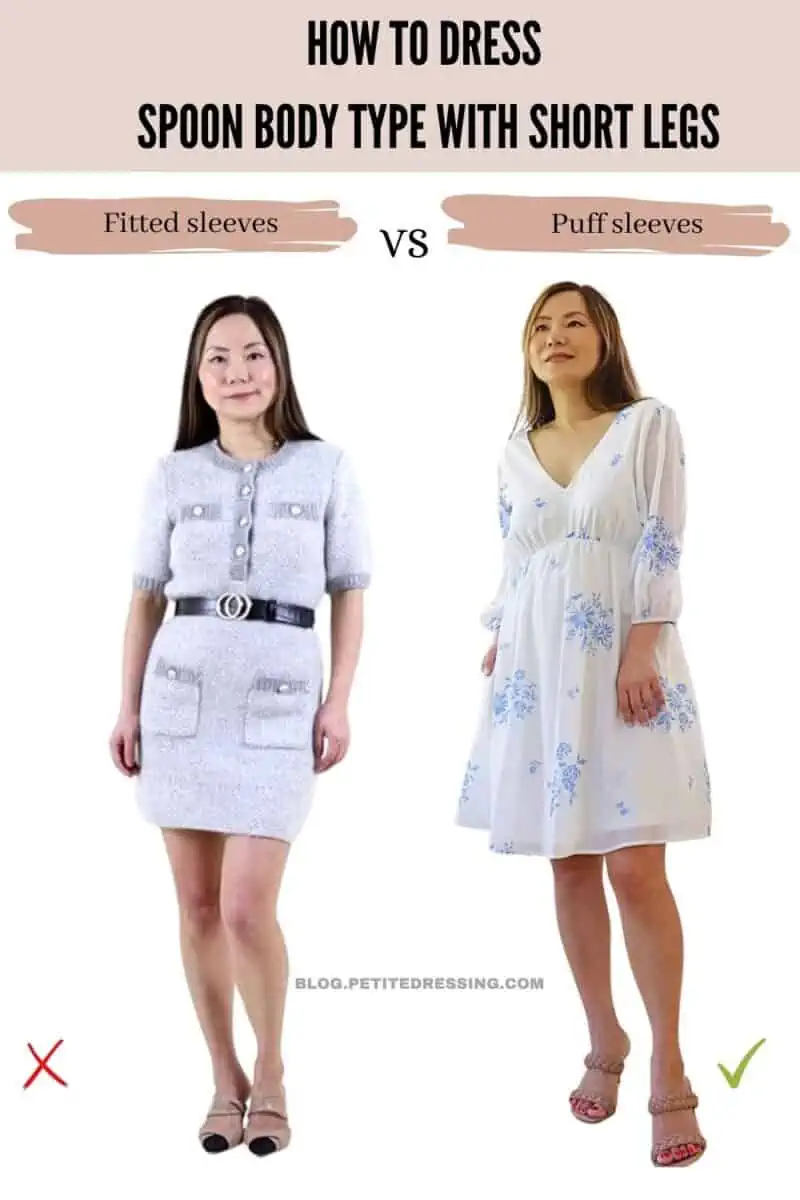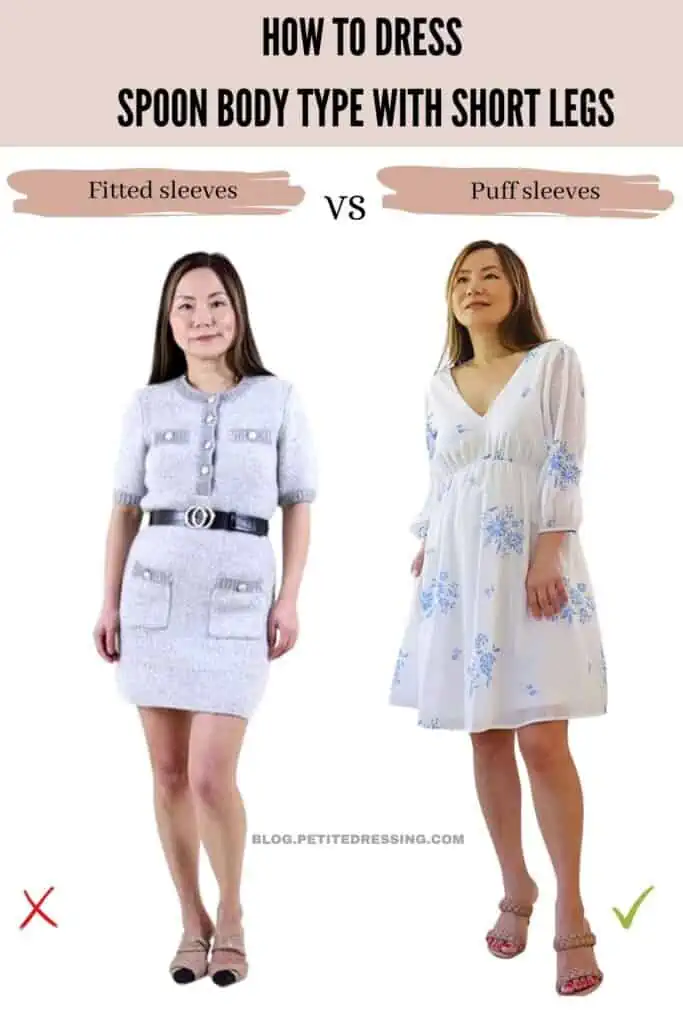 Don't wear Turtlenecks
Turtlenecks cramp up the upper body which greatly contradicts one of the key styling goals of spoon-shaped bodies with short legs: to highlight your neckline. Since turtlenecks tend to look too closed and tight, they make the size difference between your smaller upper half and wider lower half more apparent.
Turtlenecks also tend to create horizontal creases that may add so much bulk to your figure. Not only does this make you look wider and heavier, but also looks shorter in height.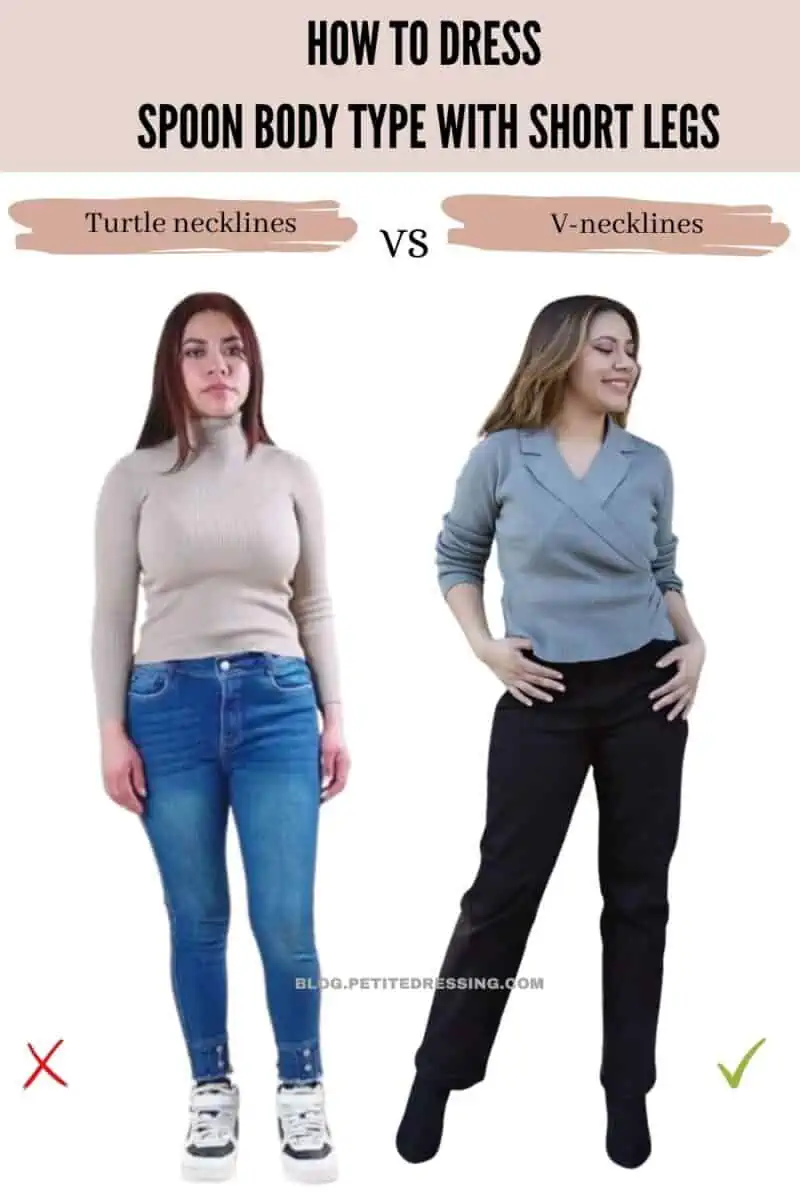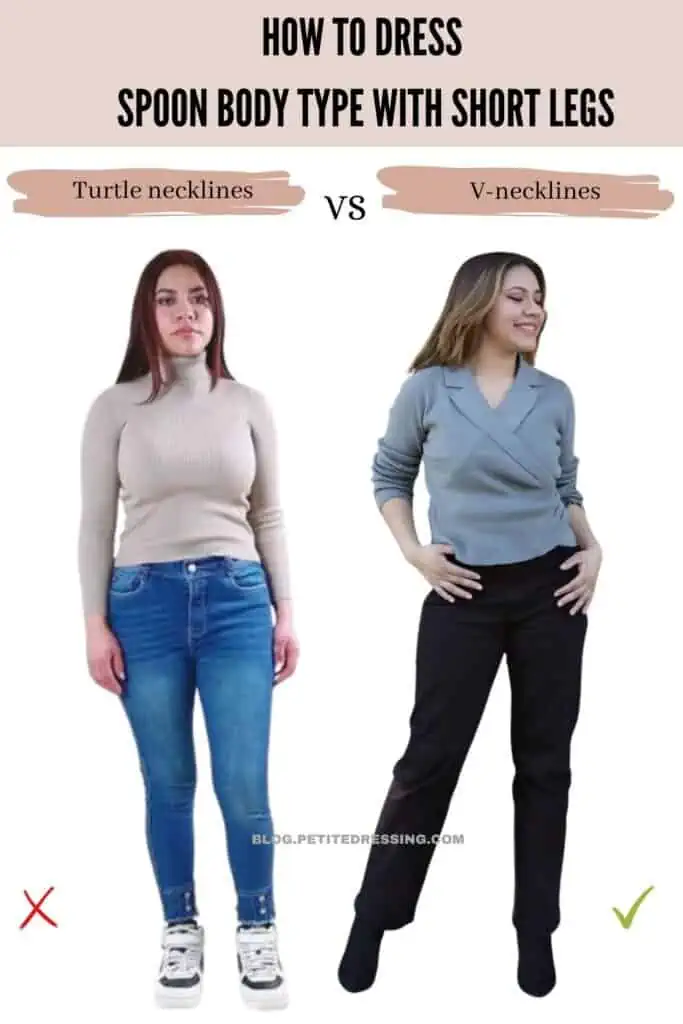 Avoid Shapeless Dresses
Shapeless garments lack definition and structure and so this can significantly erase the natural curves and proportions of your spoon-shaped body. As your hips and thighs tend to be wider, shapeless clothes can further exaggerate this width, resulting in an unflattering boxy appearance and shorter height.
Additionally, you're missing the chance of showcasing your beautifully defined waist. Without any cinching or tailoring at the waist, shapeless clothes may fail to highlight the narrowest part of the body and therefore make it quite difficult to create a well-defined silhouette.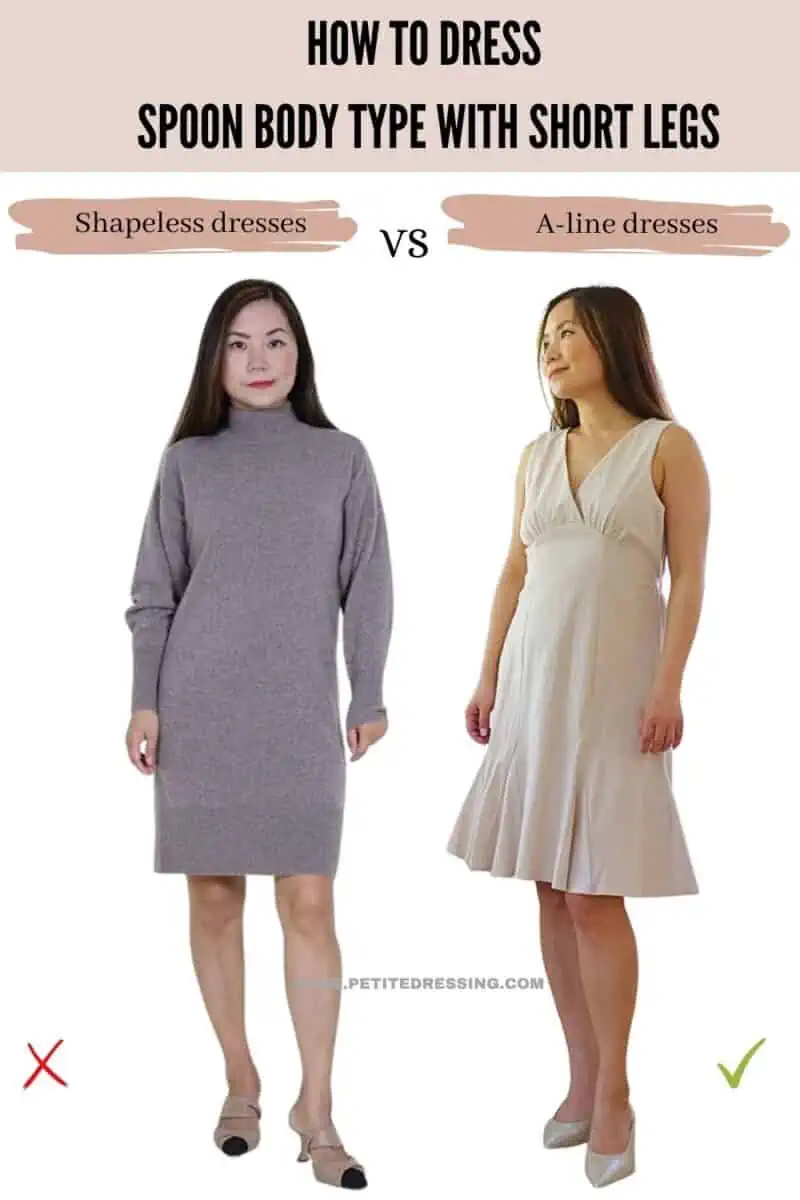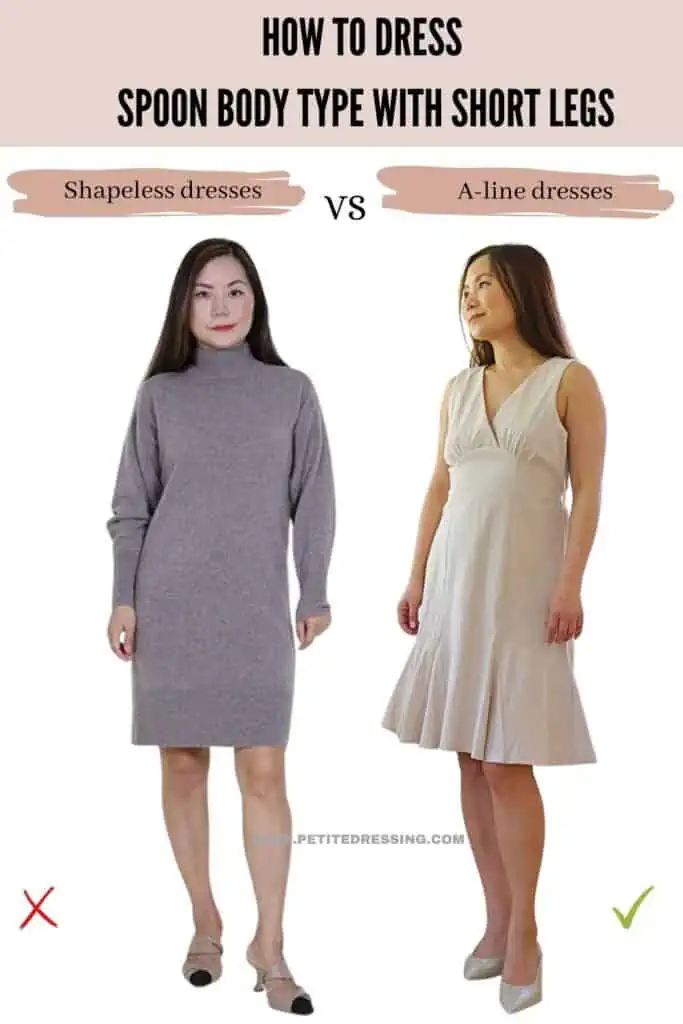 The Key Takeaway
Spoon body shapes are not always the easiest to style because of the fact that your figure is not the most well-balanced. This is why strategically choosing your clothing styles and accessories can enhance your natural features and work around this imbalance.
It's all about creating balance and proportion to bring the best out of your body shape! Most importantly, flaunt your ensembles with full confidence because that's the key to perfecting your overall look.