If you are over 40 (like me), you probably realize it is important to be selective when it comes to your fashion choice. Women over 40 value quality over quantity, and class over trends, when it comes to their wardrobe. Meanwhile, you probably also understand that not everything looks equally good and therefore it is key to find what really flatters your particular shape.
Since I have a petite clothing line for women 5'4″ and under, I receive a ton of feedback on a daily basis, from my customers, many of whom are in their 40s and beyond.
Based on many of my own trial and error, as well as feedback from thousands of my customers, I've put together this detailed guide for you.
Styling Goal
Invest in high-quality basics and never settle for wardrobe pieces that aren't good enough. Think of basic pieces that are made with top-tier material and go for designs that are timeless.
Always go for the right fit that embraces your natural body shape. The right fit will give a classy, bespoke vibe that will surely exude a more elegant look.
Speaking of fit, opt for a bra that fits perfectly. The breasts would need more support as we age so the best-fitting bra is essential.
Dynamic colors are your friends so don't let fun hues intimidate you! Bright colors make you look more youthful and lively so don't hesitate to incorporate them into your fashion ensembles.
Put extra thought into the way you accessorize your ensembles. Don't go overboard with your accessories because they can make you look tacky.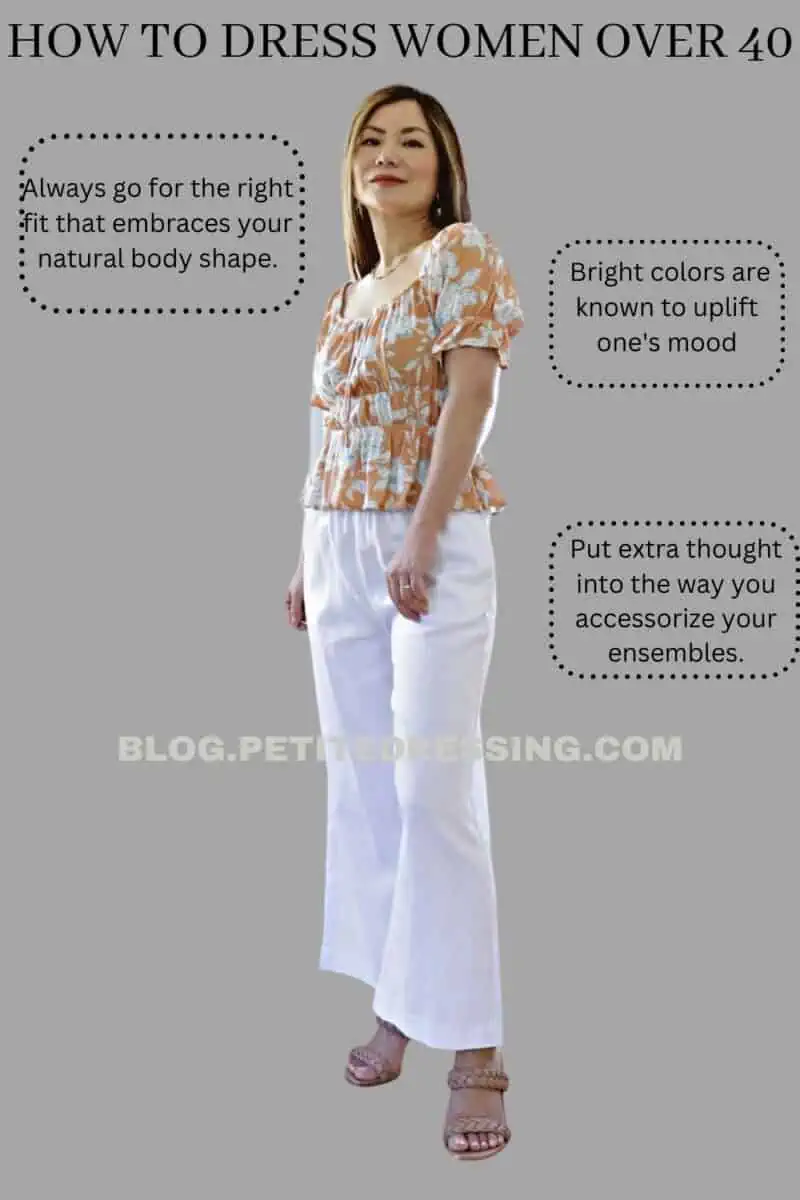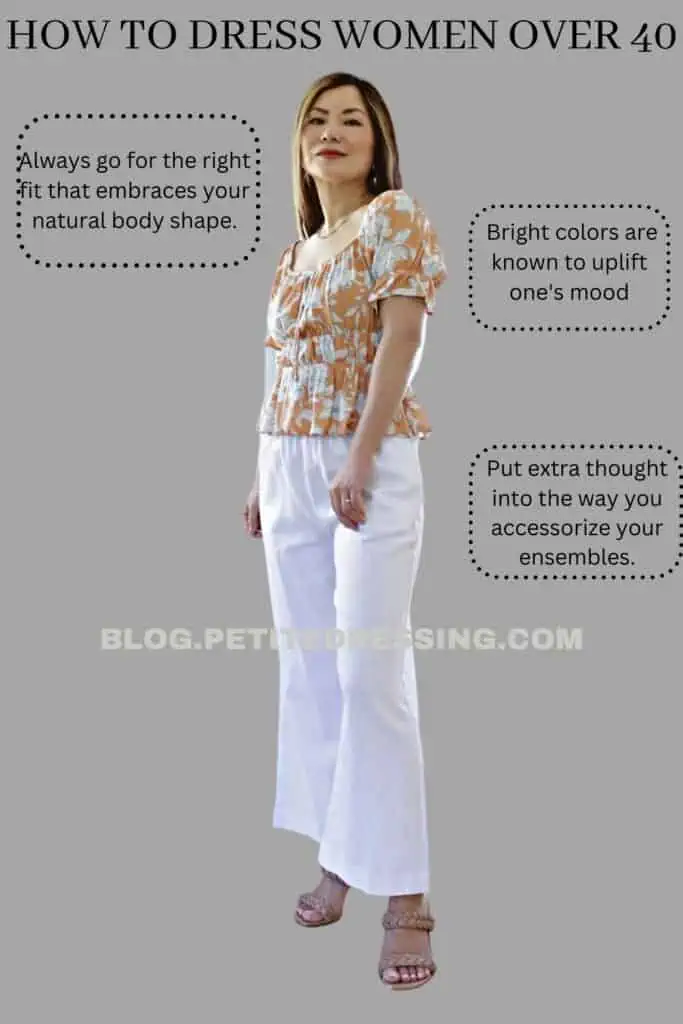 Once you're over 40, you have to pay more attention to the quality, fit, and timelessness of your fashion pieces. In this comprehensive style guide, I'll share tips on how to look your best at 40 and over!
TOPS
Button-down Shirt
Button-down shirts are considered classic pieces because they have been a staple in fashion for decades and are known for their timeless style and versatility. Due to these characteristics, they will always be deemed flattering for women over their 40s.
Button-down shirts are designed to fit the body well, creating a tailored and flattering silhouette – something that would perfectly go well with more mature women. They can be tucked in to accentuate the waist or left untucked for a more relaxed look.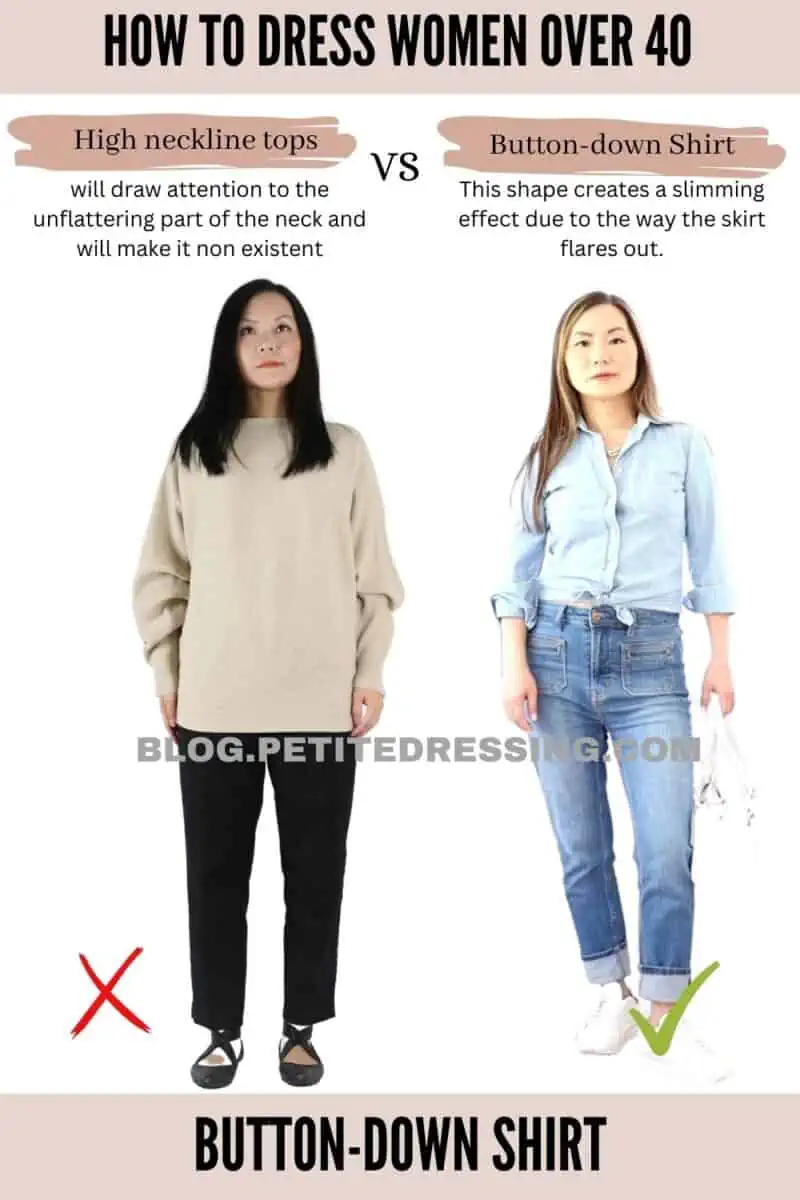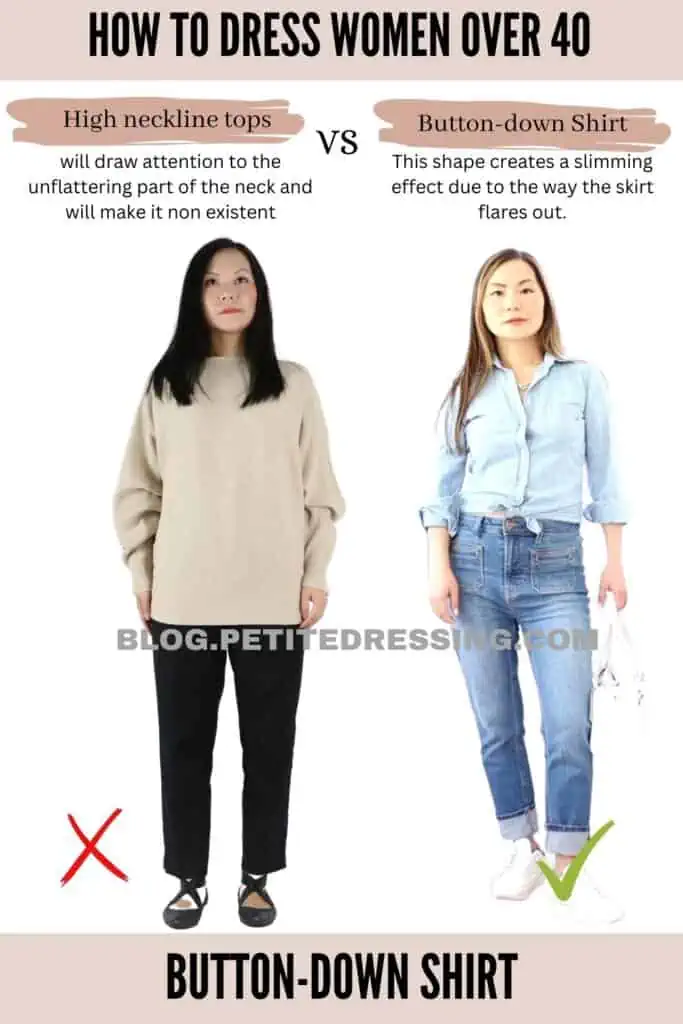 Flowy Silk Blouse
A flowy silk blouse is a type of women's top made from lightweight, sheer fabric with a soft, flowing texture. They are versatile wardrobe essentials and are often worn for semi-formal to formal events such as weddings, dinners, and cocktail parties.
For women over 40, this can be a great choice for your top. Silk blouses have an elegant, dressy look that makes them perfect for any occasion and can be paired with dress pants or skirts and heels for a polished, sophisticated look.
Despite their dressy appearance, flowy chiffon blouses are actually quite comfortable to wear. The fabric is light and breathable, which makes them a great choice for warmer weather.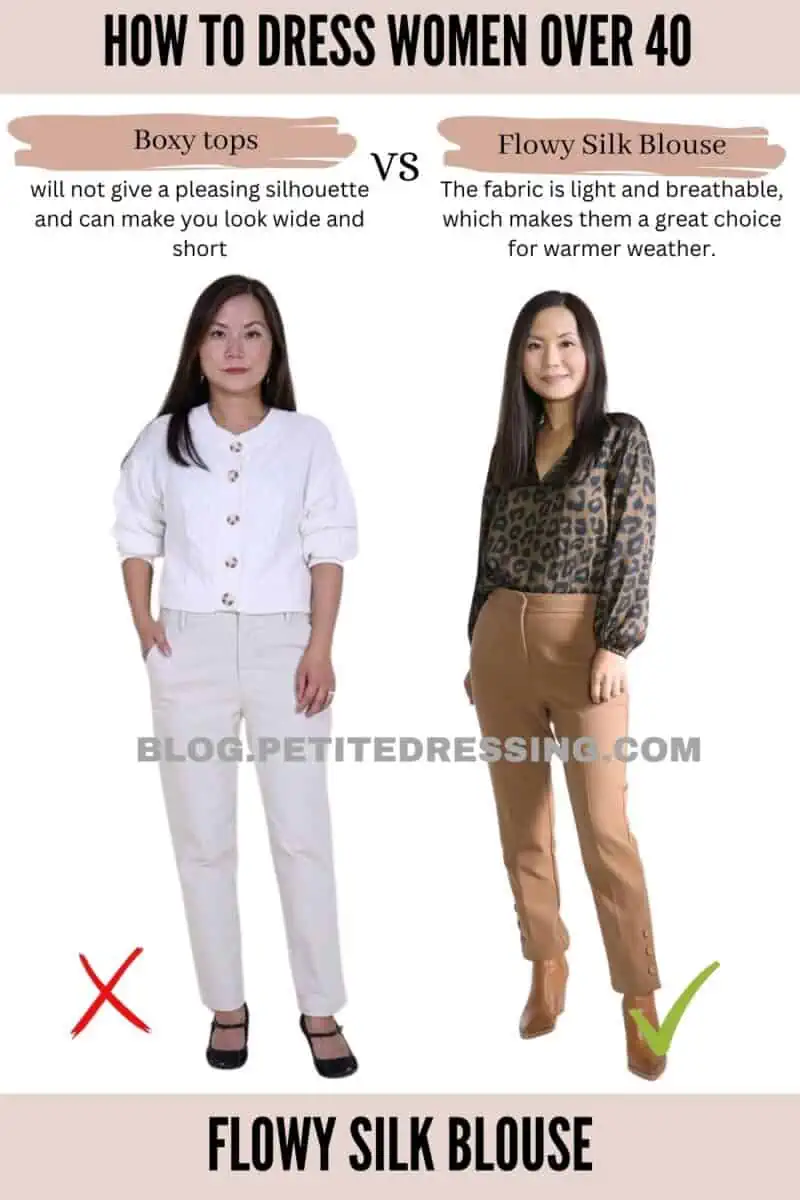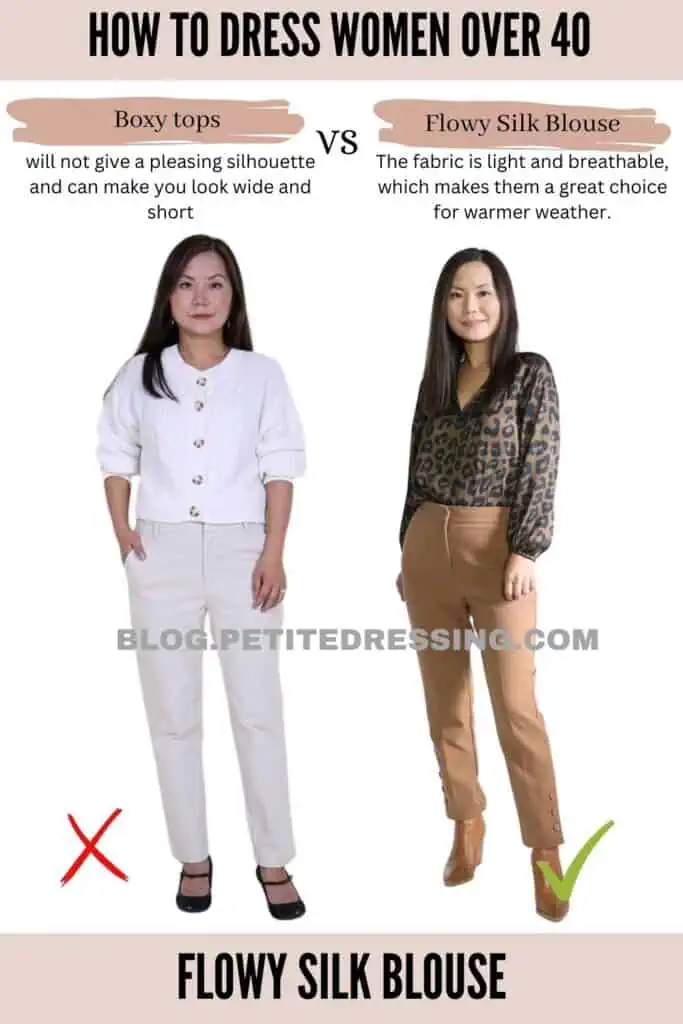 Classic White T-Shirt
A crucial aspect of a well-rounded wardrobe is having a top that can complement a variety of outfits effortlessly. A timeless classic that fits this description perfectly is the iconic white shirt!
This wardrobe staple is an essential item that every woman over 40 should consider owning because you can never go wrong with it! It gives a chic yet youthful vibe due to its relaxed overall look.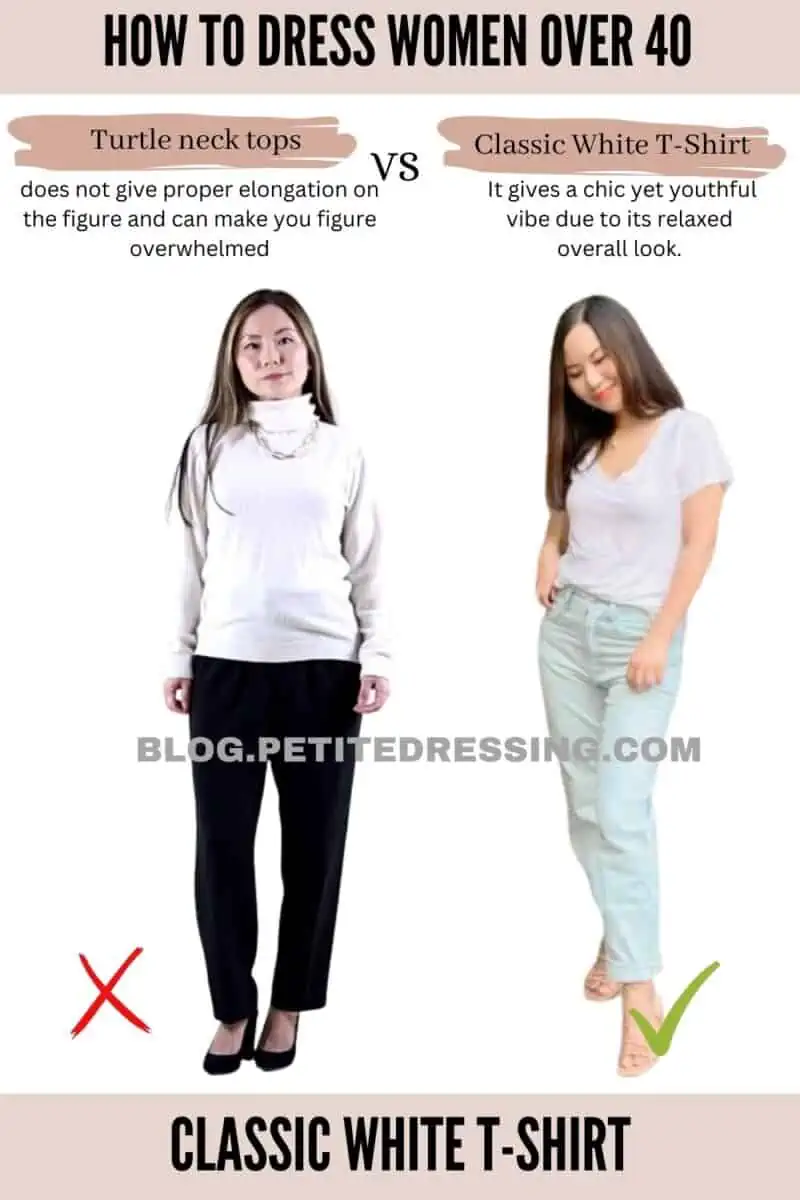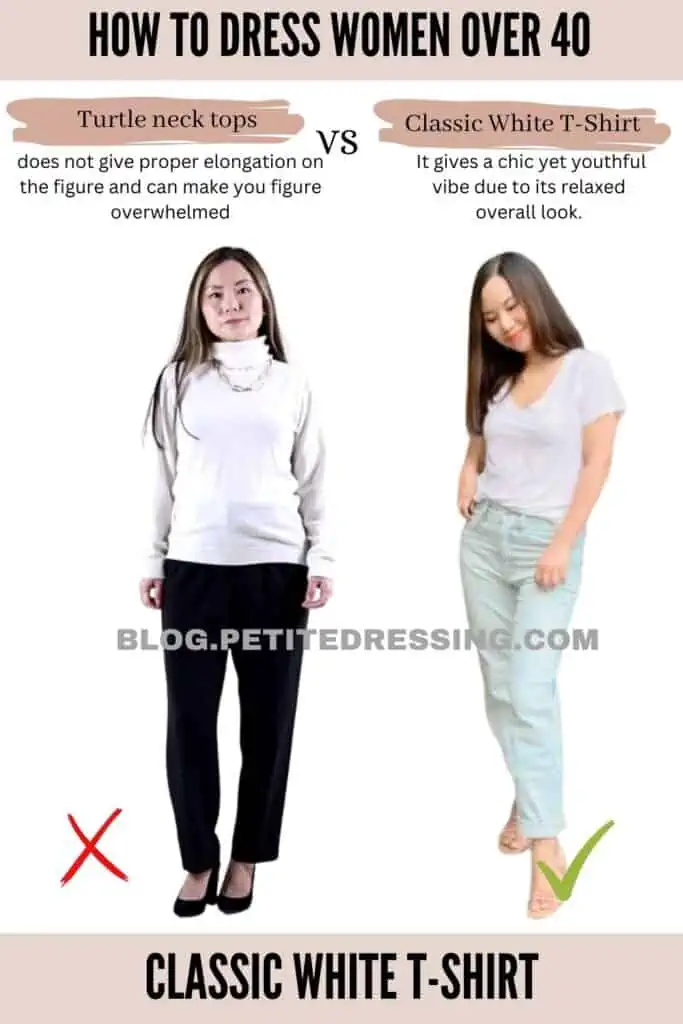 Tops with a touch of bright colors
As we mature and grow more confident in our own skin, it's essential to embrace our individuality and express it through our clothing choices. One way to do this is by incorporating tops with brighter colors into their wardrobe.
These vibrant hues not only add a pop of color to an outfit but also exude positivity and confidence. Bright colors are known to uplift one's mood, making you feel more cheerful and self-assured.
As women age, we often fall into the trap of sticking to neutral colors, assuming that they are more sophisticated and appropriate. However, by doing so, they are missing out so much on more fun colors so try to look for tops that feature dynamic hues.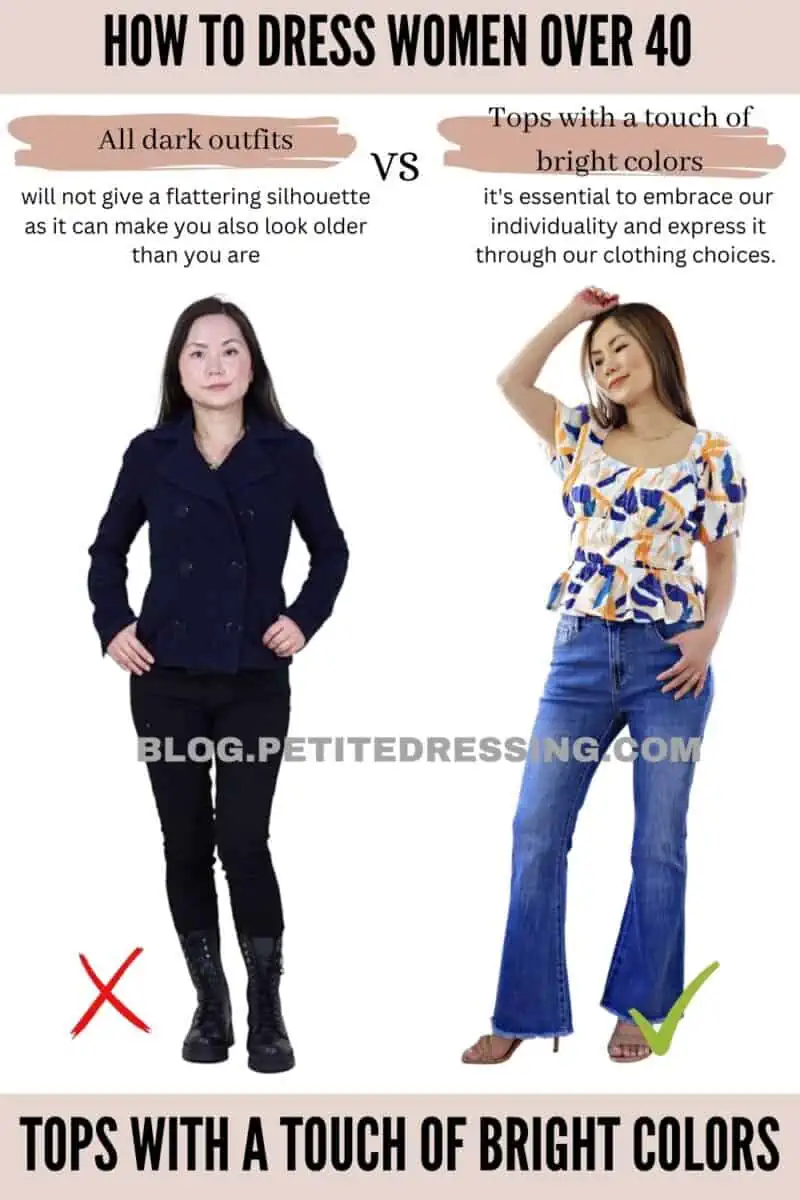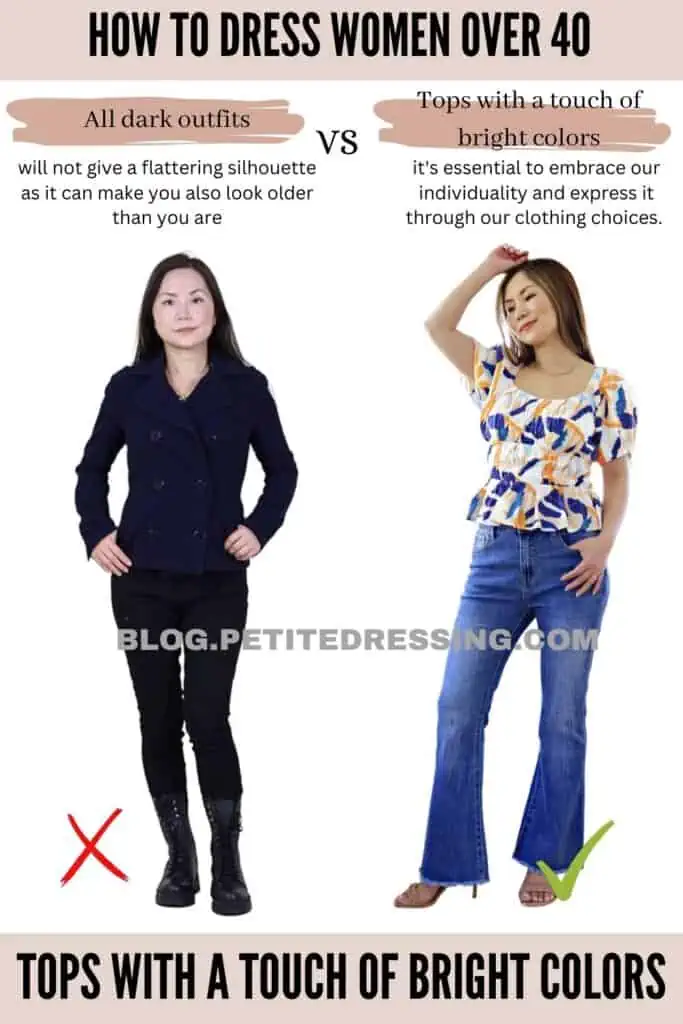 PANTS
Pleated Suit Pants
Pleated suit pants are dress pants that have a fold or crease at the front, which runs down the length of the pant. The pleats are created by folding the fabric inward and then securing it with stitches or buttons. These pants are commonly worn as part of a suit or paired with a dress shirt.
Pleated suit pants are an excellent choice for women over 40 because of the fact that the pleats add a touch of elegance and sophistication to the pants, making them suitable for formal events and for work. They can be more forgiving than flat-front pants, especially for women who may have a slightly larger midsection.
Additionally, pleats also help create a relaxed and comfortable fit, providing room for movement and flexibility.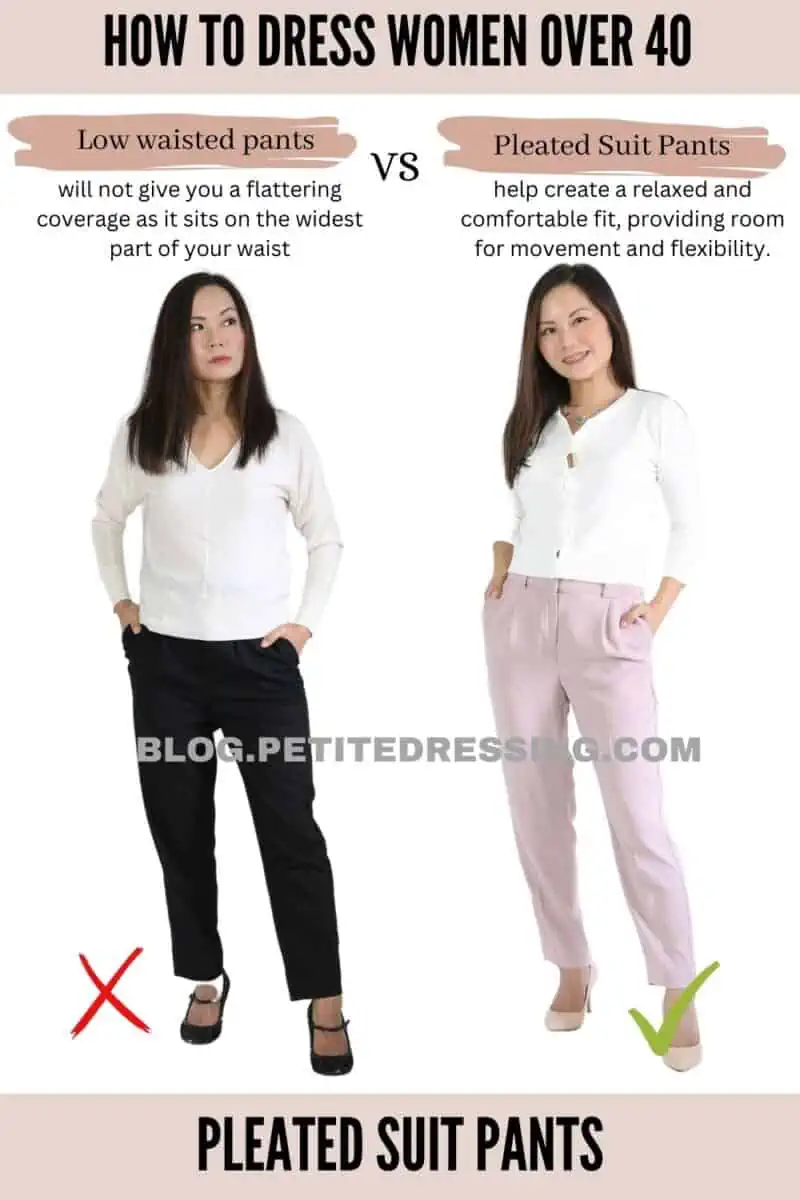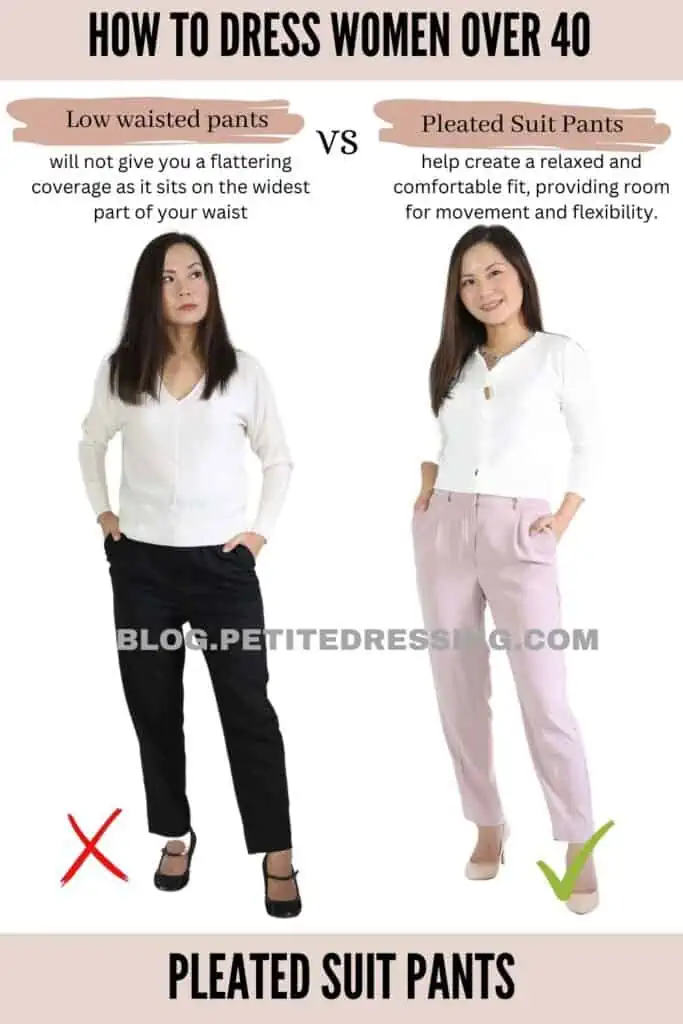 Plaid Pants
One of the primary reasons why plaid pants can be a classic choice for women over 40 is their versatility. They can be worn with a simple white tee and sneakers for a casual look, or dressed up with a blouse and heels for a more formal look.
Moreover, they can also be available in various colors, sizes, and patterns, making them an excellent option for women of different body types and styles. They can help accentuate the legs and create a slimming effect, which is particularly useful for women over 40 who may be looking for a more flattering fit.
Plaid pants offer a refreshing break from the standard solid-colored pants that can be seen everywhere. Plaid pants can add some texture, dimension, and visual interest to your outfit to make you stand out!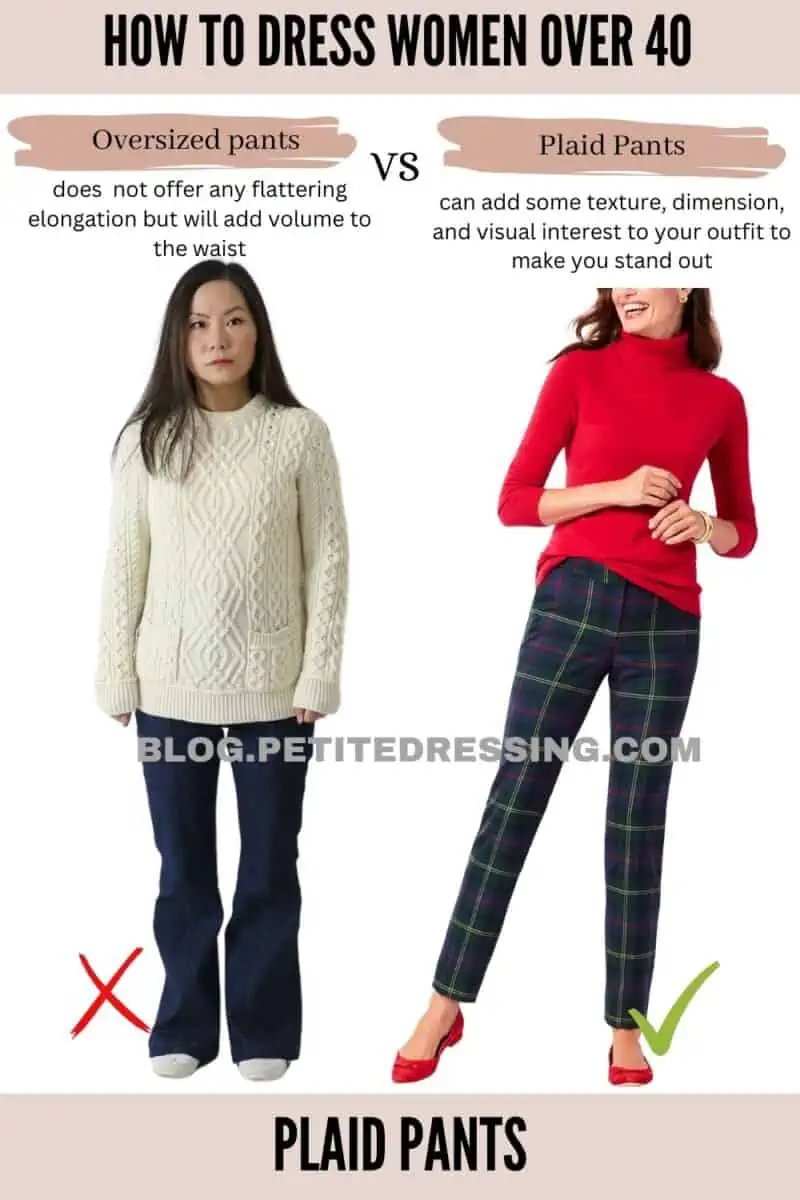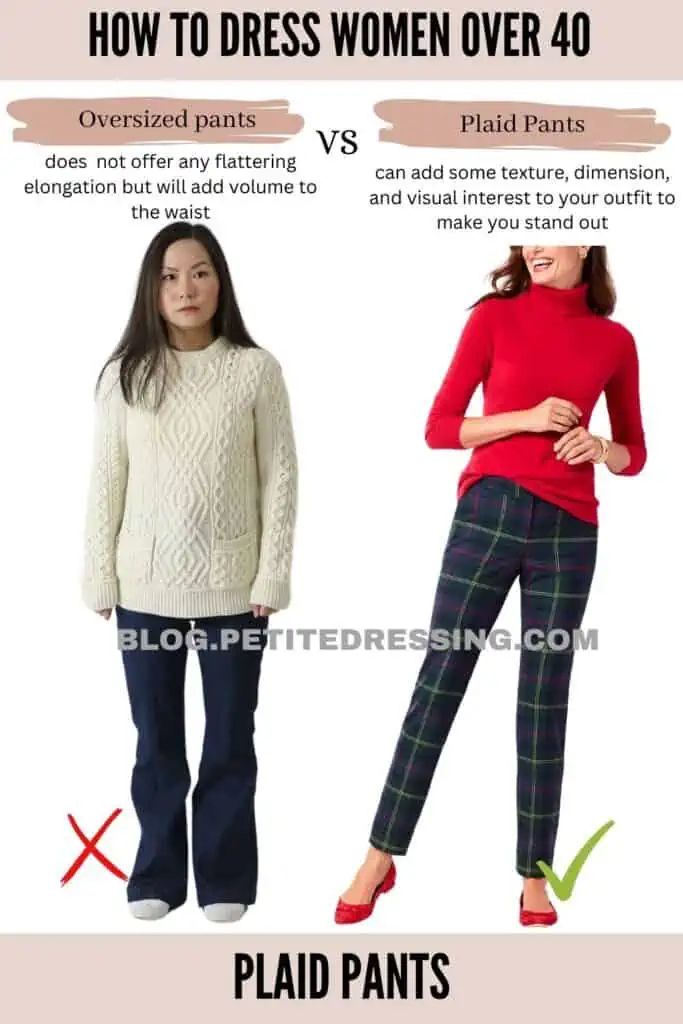 Structured Wide-Leg Pants
Structured wide-leg pants are a flattering and versatile option for women over 40. They provide a streamlined and elongated silhouette, are comfortable to wear, and be a classy company for your chosen fashion ensemble!
With their timeless style and practical design, structured wide-leg pants are an excellent investment for any fashion-conscious woman looking for a flattering and comfortable addition to her wardrobe. It's something women over 40 value more in comparison to just being "trendy".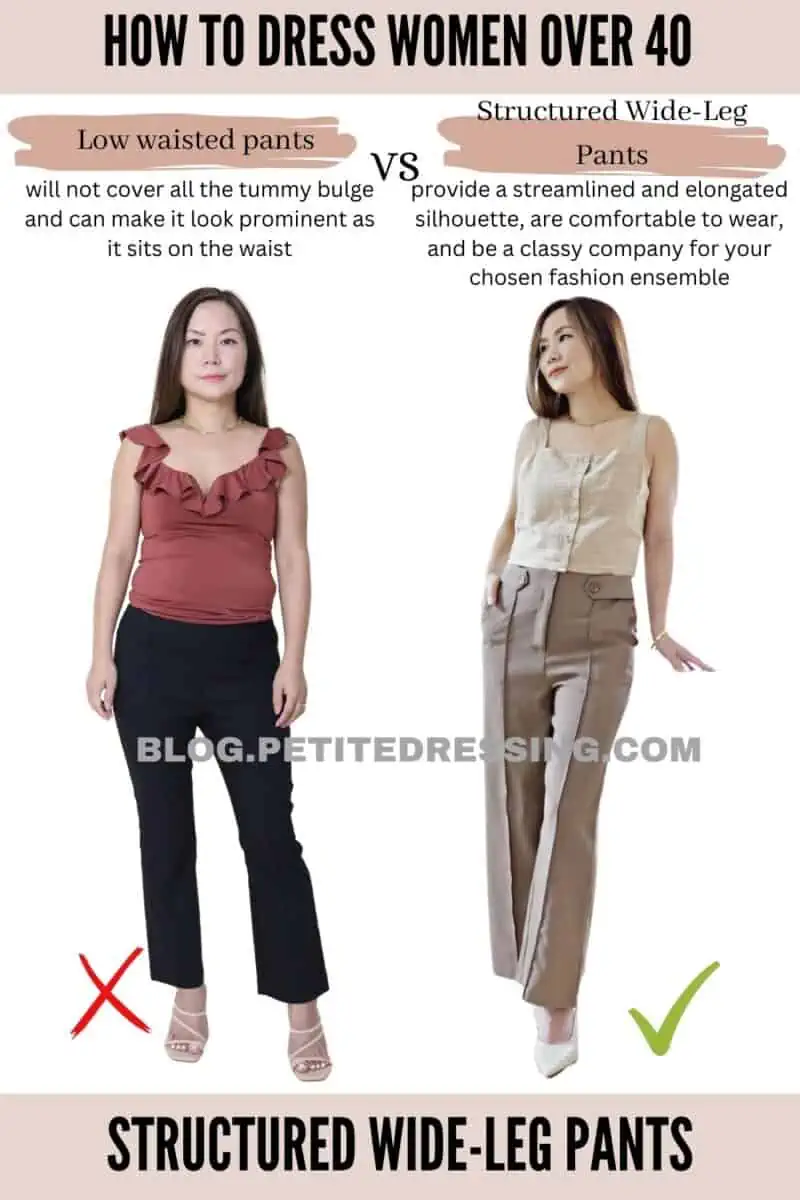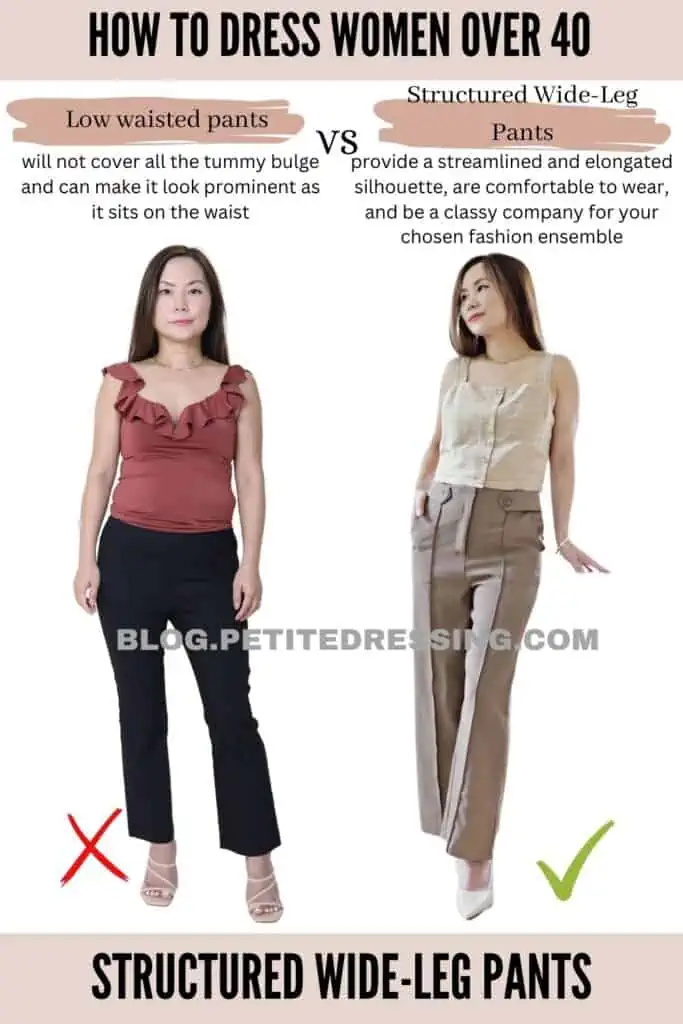 Flowy Palazzo Pants
Flowy palazzo pants are a type of loose-fitting trousers that are wide-legged and flared, creating a flowing and breezy silhouette. As I have previously mentioned, women over 40 tend to value comfort and sophistication first before everything else and this is why flowy palazzo pants tick the box.
One of the primary advantages of wearing flowy palazzo pants is the comfort they provide. These pants are loose-fitting and allow for unrestricted movement, making them ideal for everyday wear or when traveling.
They also have a very flattering fit, particularly for women over 40. The wide-legged design can help to balance out the hips and thighs, creating a slimming effect and a longer, leaner silhouette.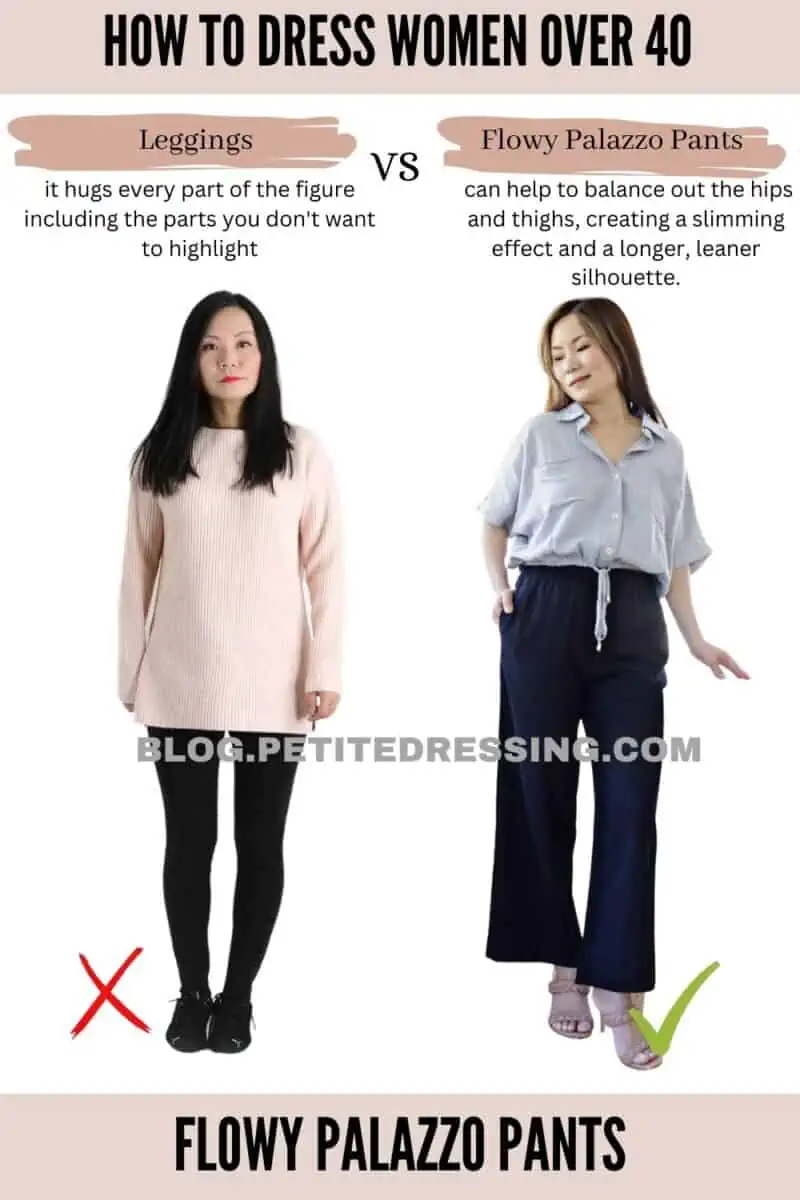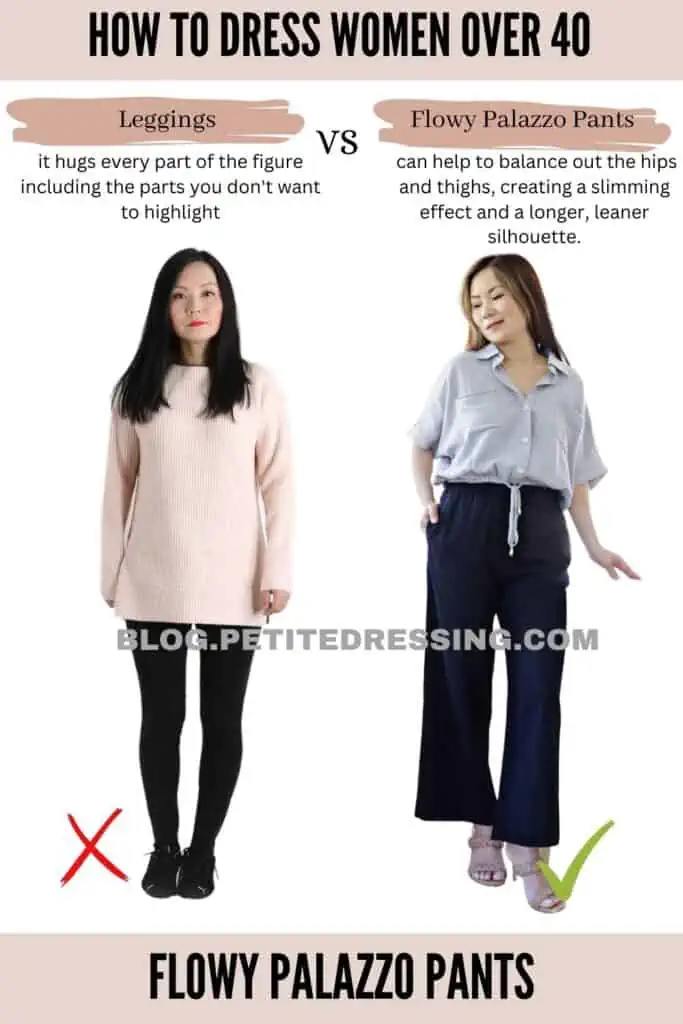 JEANS
High-rise Jeans
Troubling over short and thick legs? Then high-rise jeans are a type of denim that would help you out as they sit above the waistline and typically covers the belly button.
A heavier midsection can be a common problem for women over their 40s and so opting for high-rise jeans can solve this problem. Additionally, they will always be a timeless fashion statement as they are a classic wardrobe staple that can be worn season after season, making them a practical and long-lasting addition to your closet.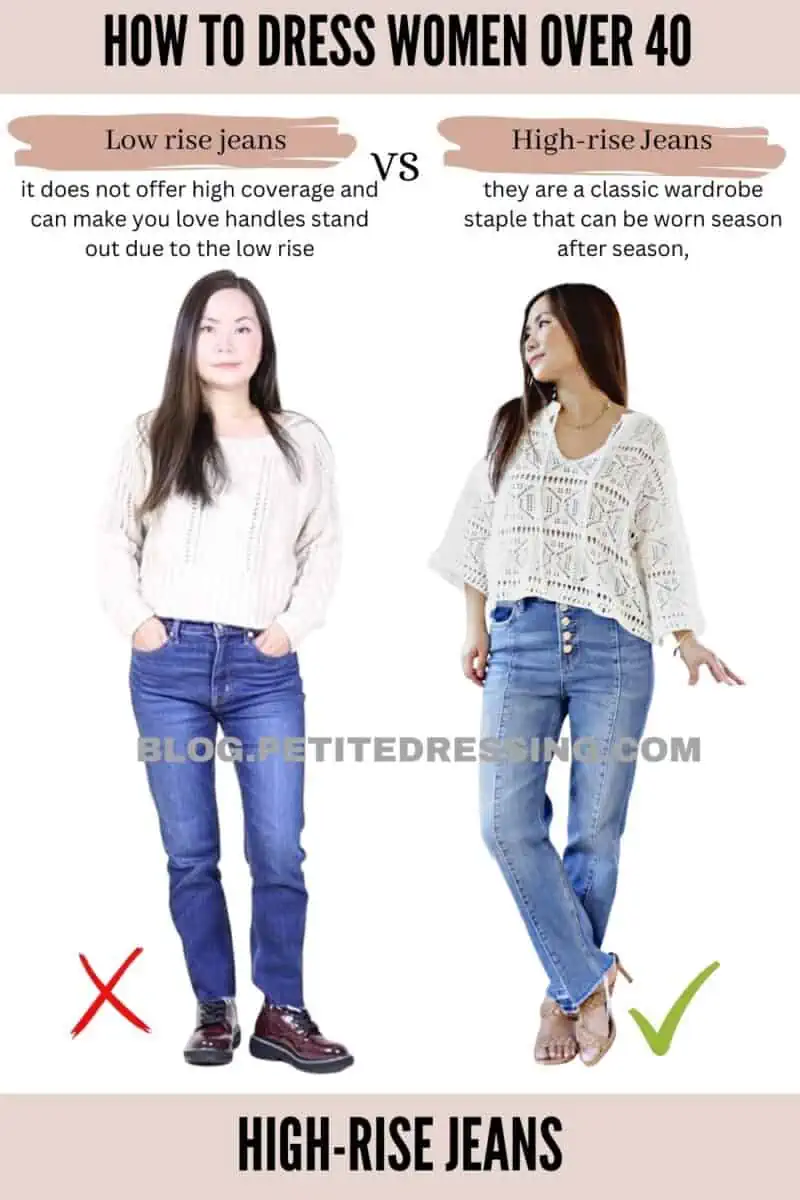 Mid-rise Jeans
Now what if you've got a shorter torso? Then it's pretty obvious that high-rise jeans may not be the best option for you.
The alternative to this would be mid-rise jeans. Women over 40 would find comfort in a nice-fitting pair of mid-rise jeans because it features a waistband that offers enough support and a structure that enhances your lower body's natural shape.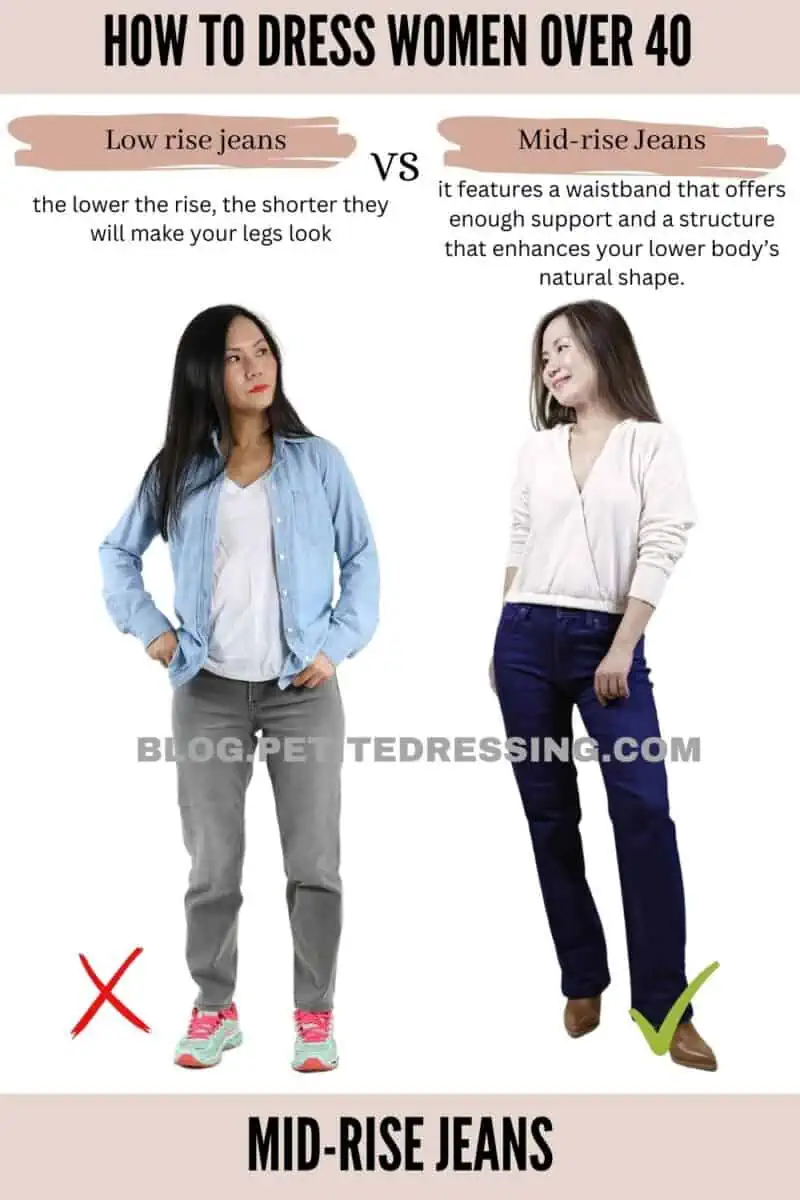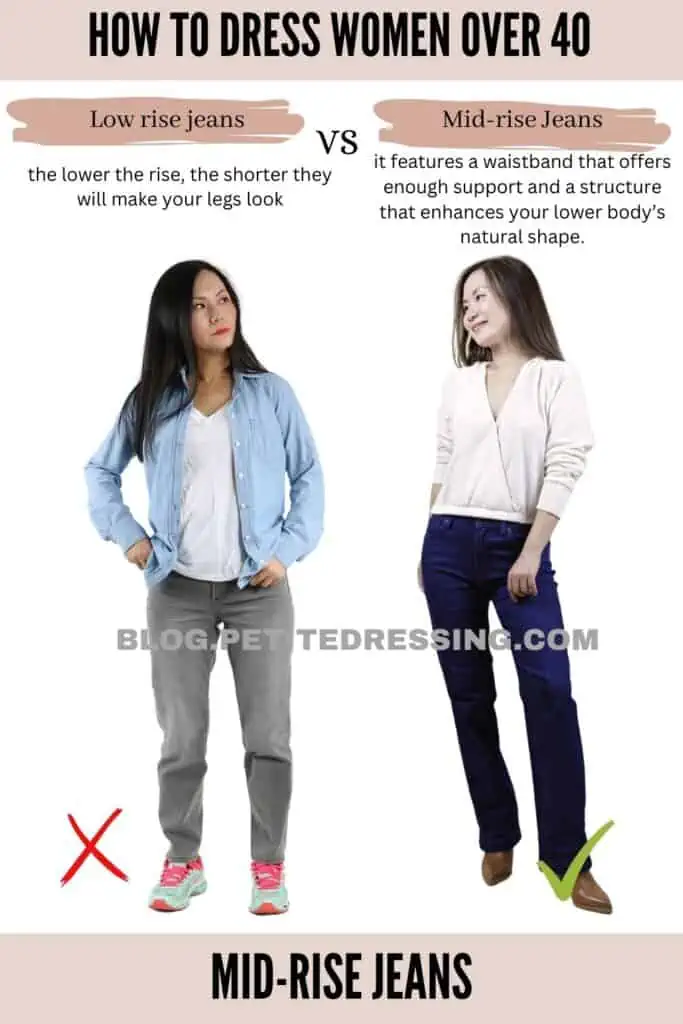 Dark Wash Flare Jeans
Flare jeans have always been a fashion staple, but they are particularly well-suited for women over their 40s. These jeans are incredibly versatile and can be worn for a wide variety of occasions, making them an excellent choice if you're a modern woman who wants to look fashionable and put together.
They are also incredibly flattering, as they hug the waist and hips while flaring out at the bottom, creating a slimming effect that can help you feel more confident with your body shape. For women over their 40s, flare jeans are an excellent choice because they are age-appropriate and incredibly comfortable.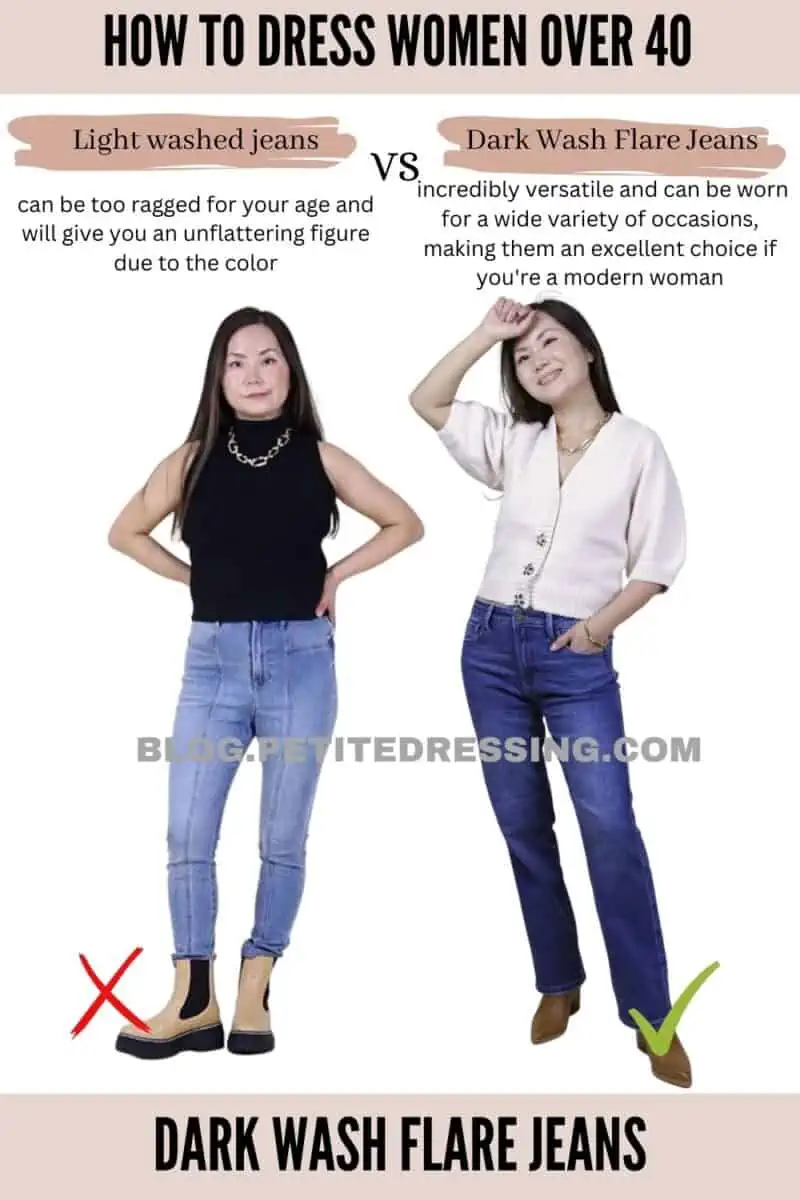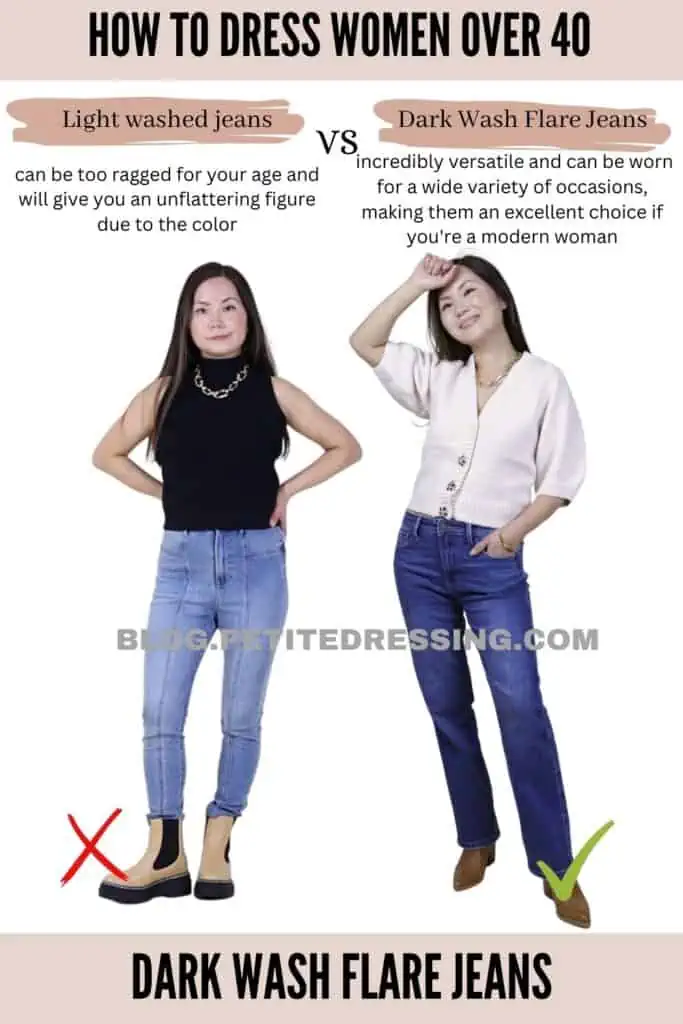 DRESSES
Sheath Dress
For women over 40s, a sheath dress is an excellent choice because it is a classic style that is both flattering and appropriate for their age. These dresses are designed to show off a woman's curves in a tasteful and sophisticated way, without being too revealing or clingy.
A sheath dress is a timeless and elegant style of dress that is a must-have for your wardrobe. This type of dress is typically form-fitting and tailored, with a hemline that falls just above or below the knee.
Sheath dresses are also incredibly versatile, as they can be worn with a blazer or cardigan for a more professional look, or with some accessories and heels for a night out!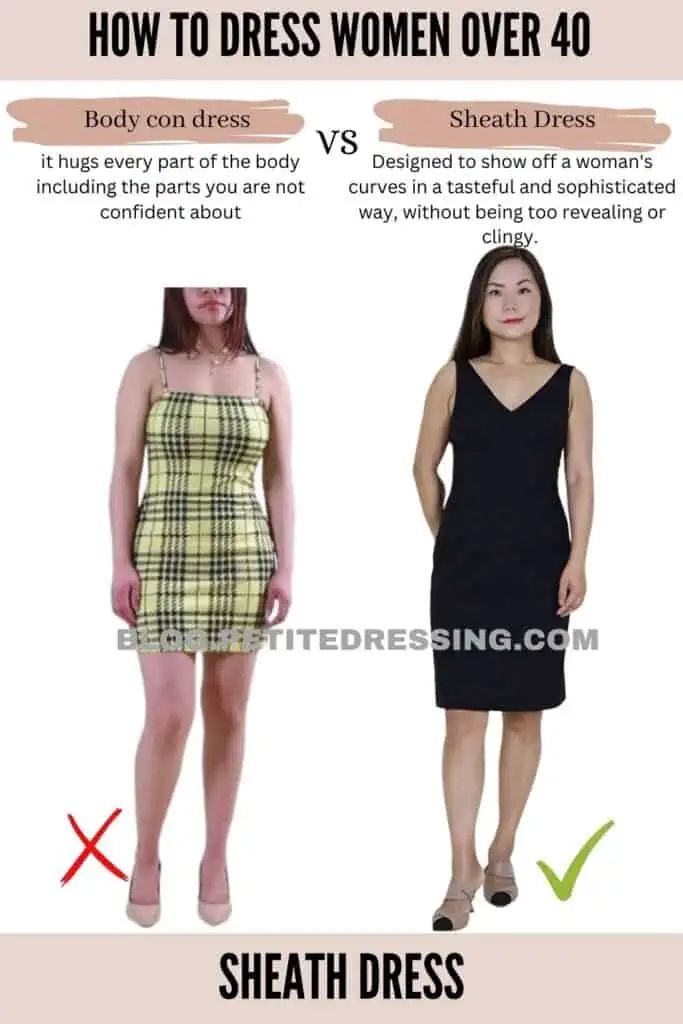 Fit and Flare Dress
Fit and flare dresses are a popular style of dress that are incredibly flattering for women over 40. This style of dress is designed to hug the body, cinch at the waist and flare out at the bottom to create a flattering silhouette that accentuates your natural curves.
Fit and flare dresses are also incredibly comfortable to wear, as they allow for ease of movement just as long as you make sure that the ones you get are made from high-quality fabrics that feel soft and luxurious against the skin. This makes them a great choice for women over 40 who want to look and feel their best without sacrificing comfort.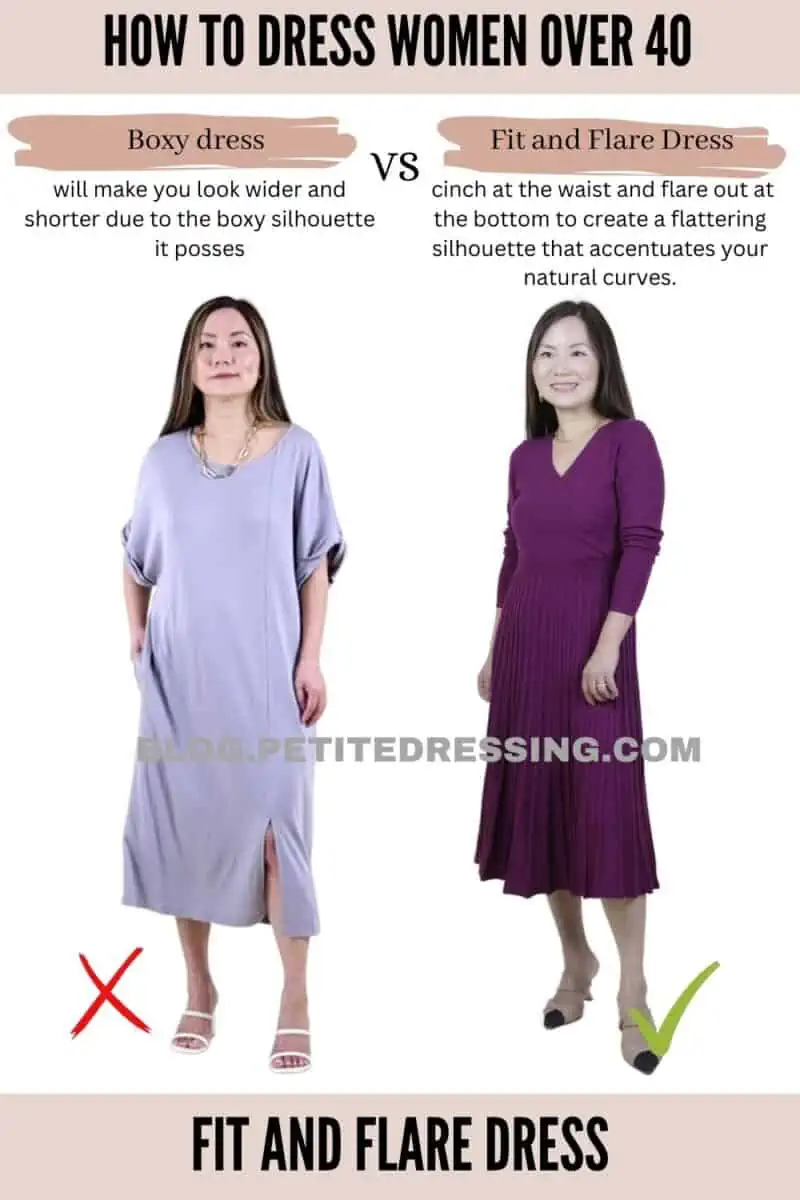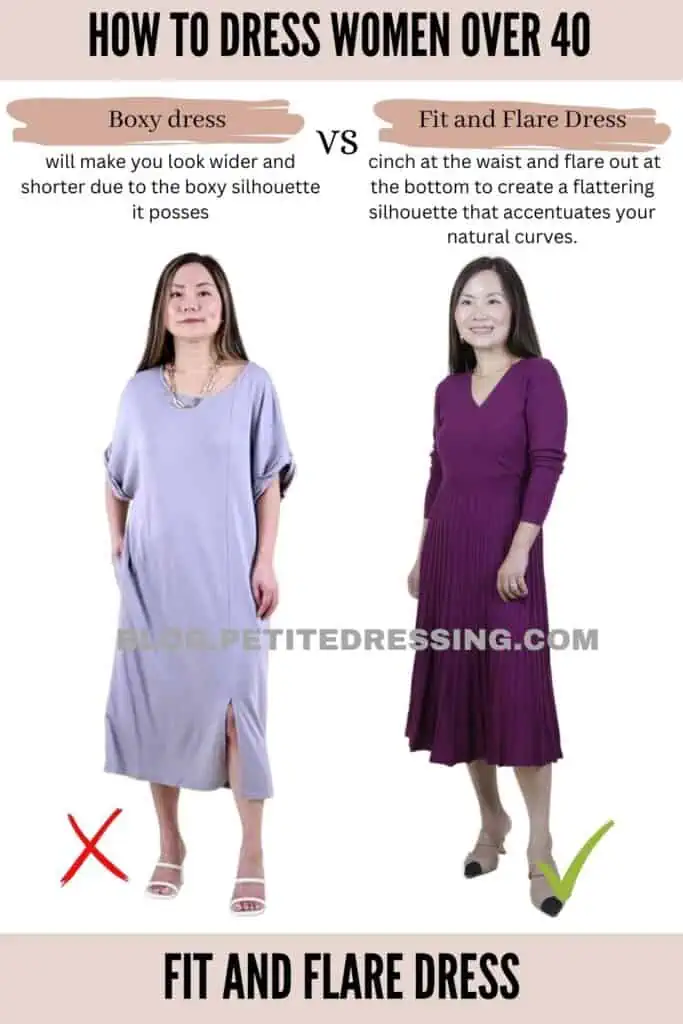 Wrap Dress
Wrap dresses are actually quite universally flattering so it's safe to say that it's a dress style than can look good on you regardless of your age. The dress is designed with a V-neckline and a wraparound waist, creating a flattering silhouette for all body types.
One reason the wrap dress is such a popular choice for women over 40 is its ability to flatter a range of body shapes. As we age, our bodies change, but then the flexibility of the wrap dress hugs the body in all the right places, so the way it fits won't ever be a problem.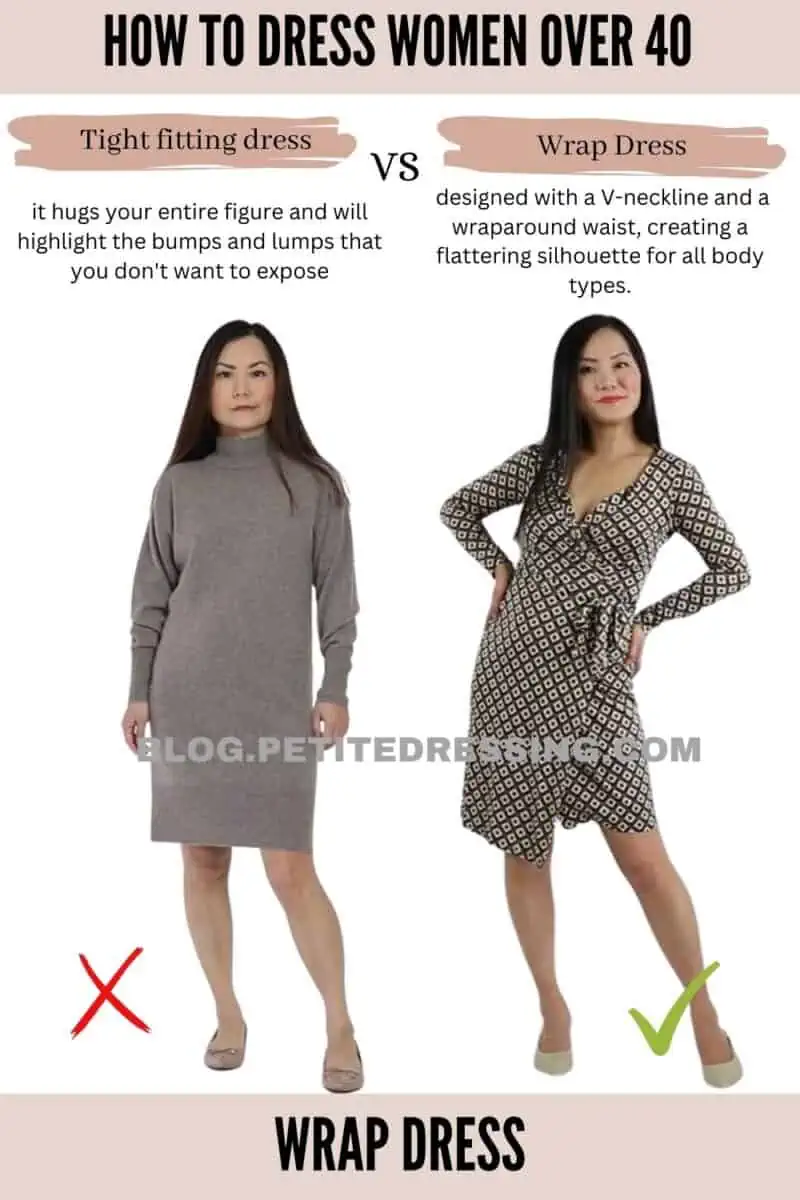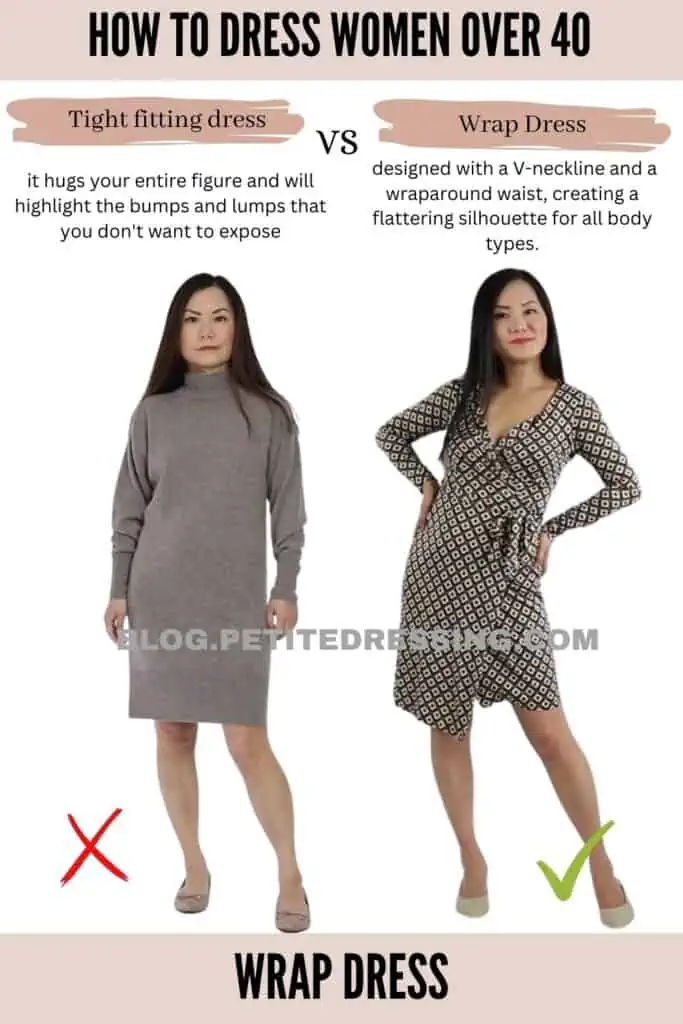 COATS
Sophisticated Wrap Coat
A sophisticated wrap coat is a stylish and versatile outerwear piece that features a wraparound design with a belt or tie closure. This type of coat is usually made from high-quality materials such as wool or cashmere, and it comes in a range of colors and styles to suit different tastes and occasions.
With these features mentioned, there's no doubt that a wrap coat makes an elegant choice for women in their 40s. It offers a timeless and elegant look that never goes out of style which is important for women who want to look fashionable and stylish without feeling like they are trying too hard to follow the latest trends.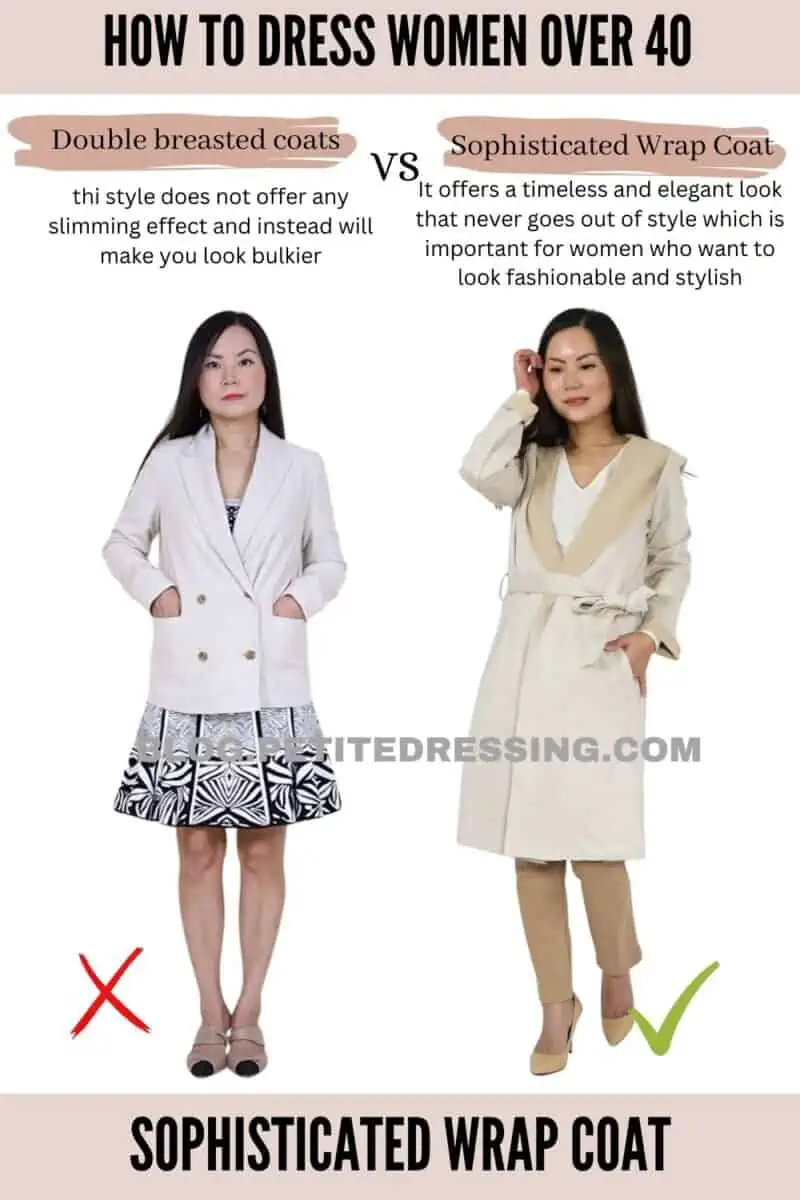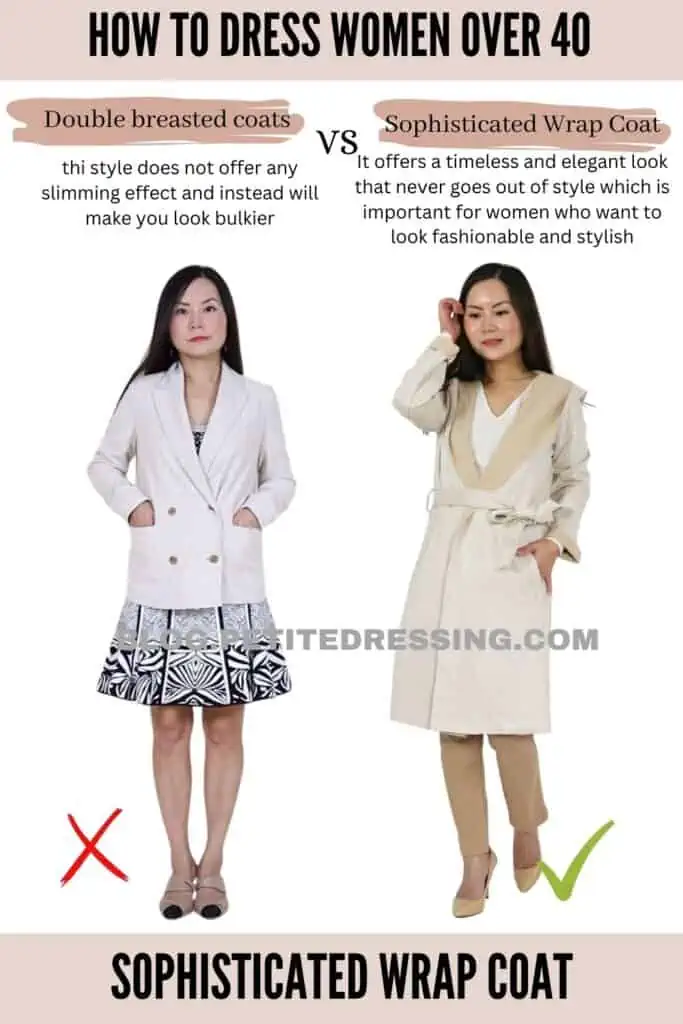 Edgy Leather Coat/Jacket
The world of leather coats is vast and varied, catering to those who embrace bold styles. The length of the coat plays a significant role in determining its overall aesthetic most particularly in the ensemble of women over their 40s.
Leather coats come in a range of colors, with black being a timeless classic that never goes out of style. However, a bit of more dynamic colors may seem more fitting for mature women as the colors would bring more life and youth to your look.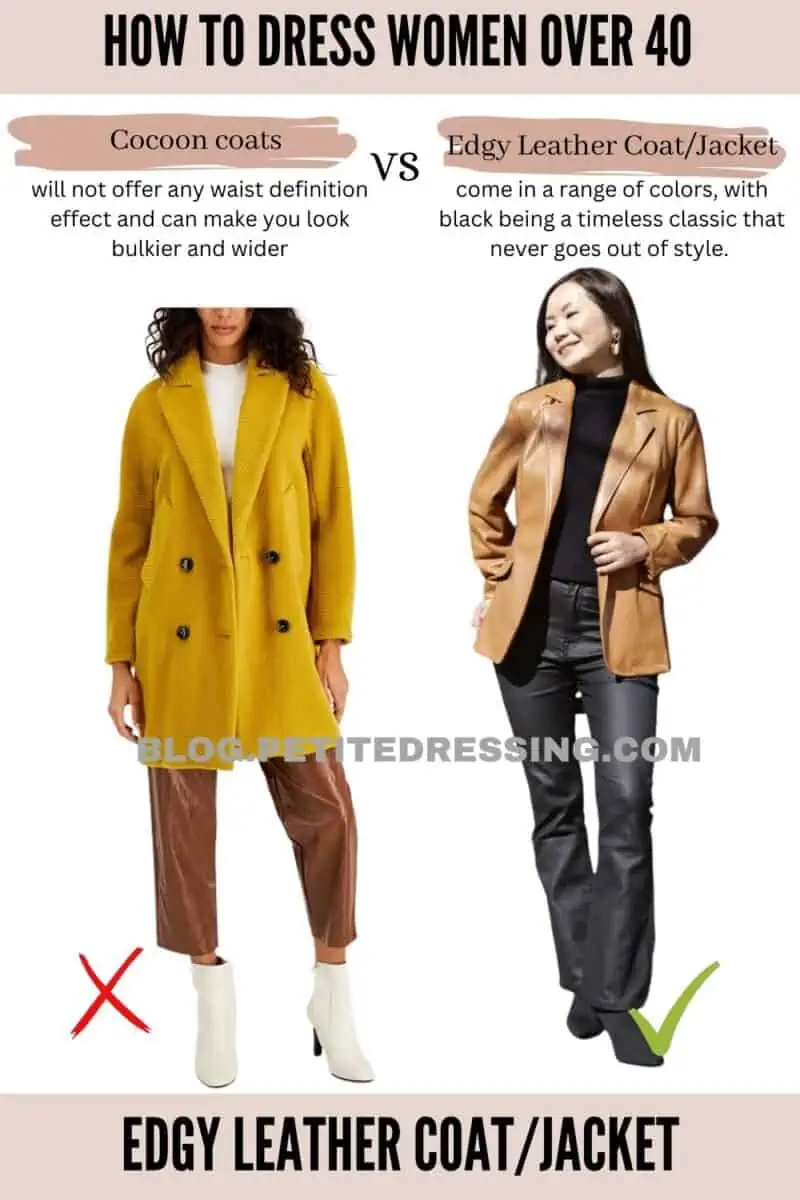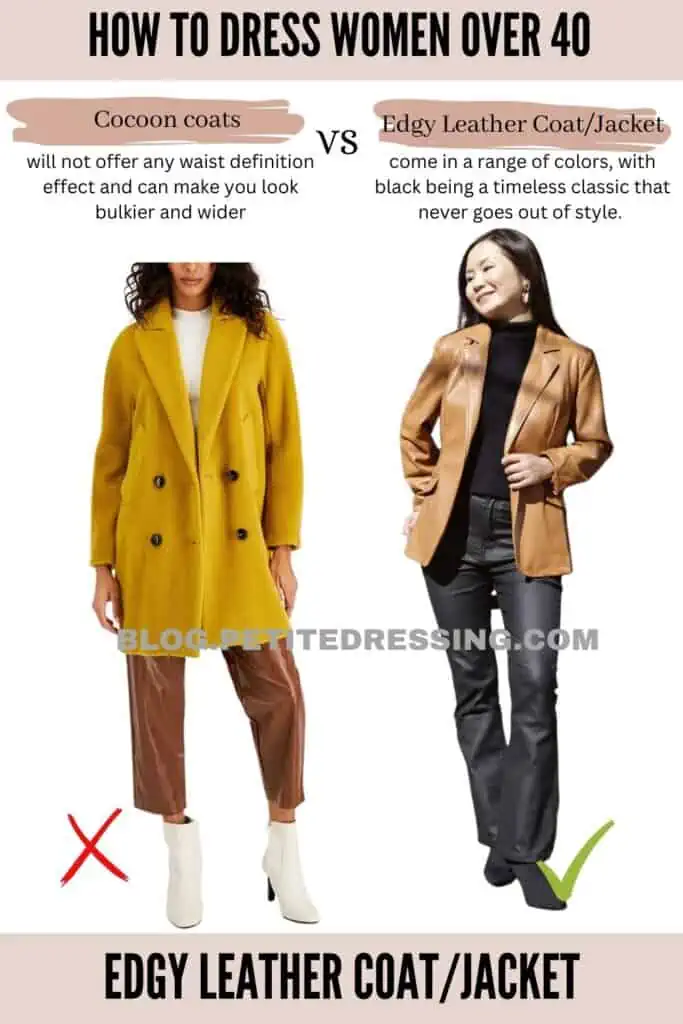 SKIRTS
Denim Skirt
Denim skirts are an absolute classic when it comes to casual wear. Many would associate denim with the younger generation, but you can definitely pull this off even if you're over 40.
They are comfortable and practical, making them ideal for women over 40 who are always on the go as they are easy to move in and can be worn all day without feeling constricted or uncomfortable. This is important for women who have busy schedules and need clothes that can keep up with their active lifestyles.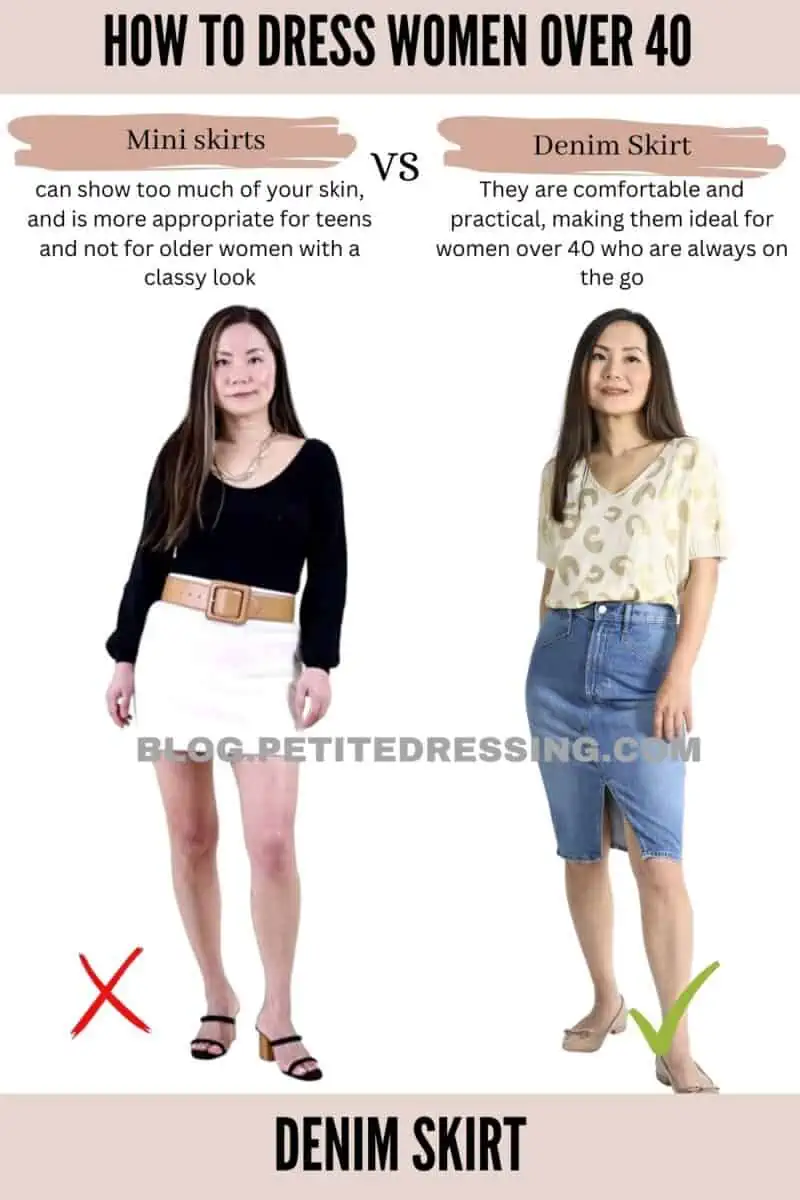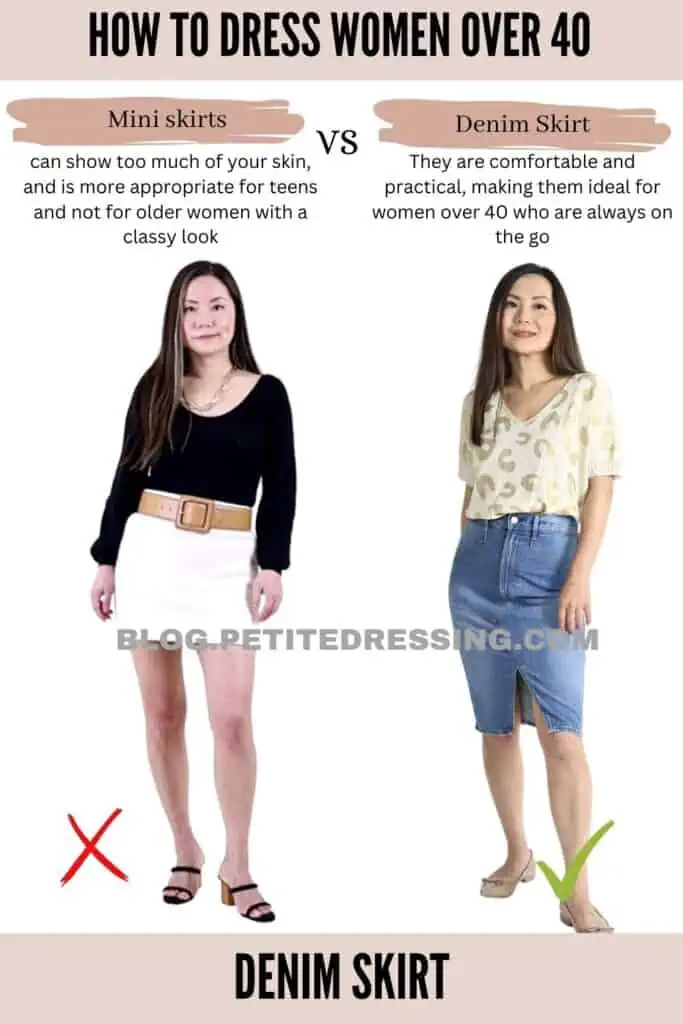 A-Line Skirt
An A-line skirt is a classic silhouette that flares out from the waist and creates an "A" shape. This style of skirt can be visually advantageous when it comes to fashion for women over 40.
The shape of the skirt helps to create a slimming effect, as it nips in at the waist and flares out over the hips and thighs. This can help to create a more streamlined silhouette and make you look more balanced.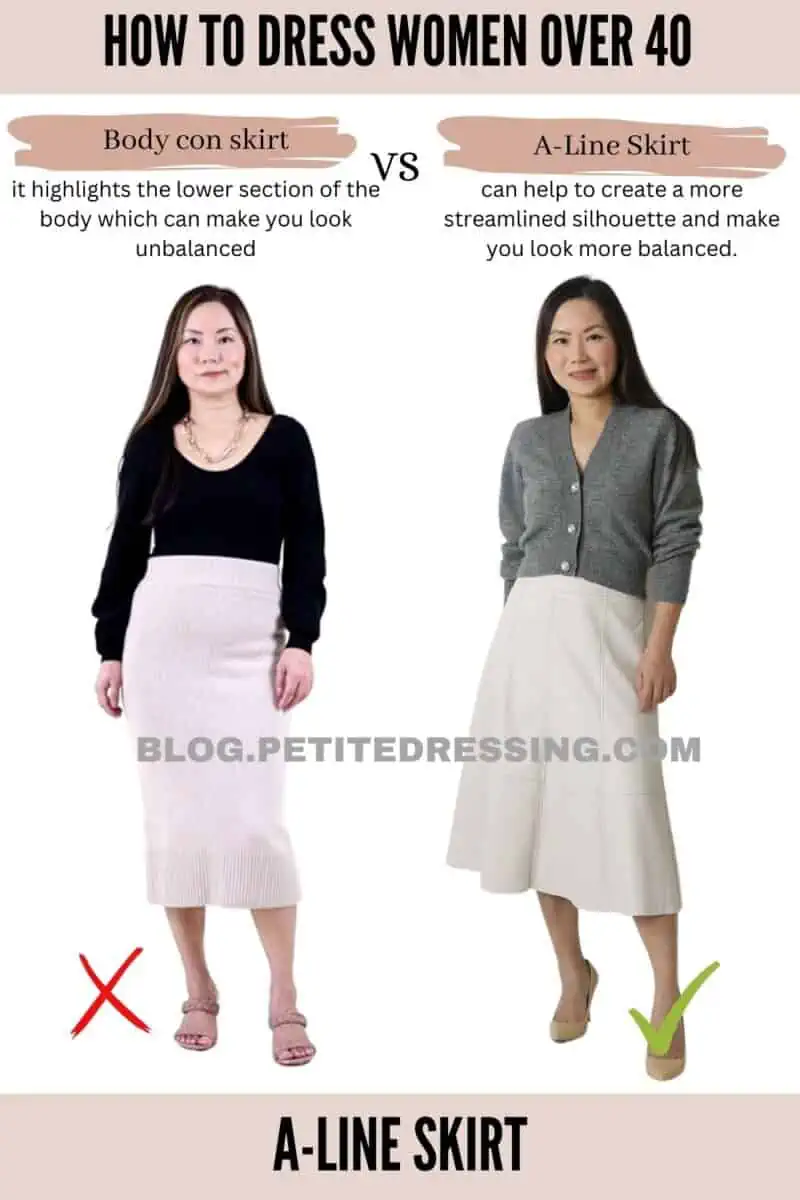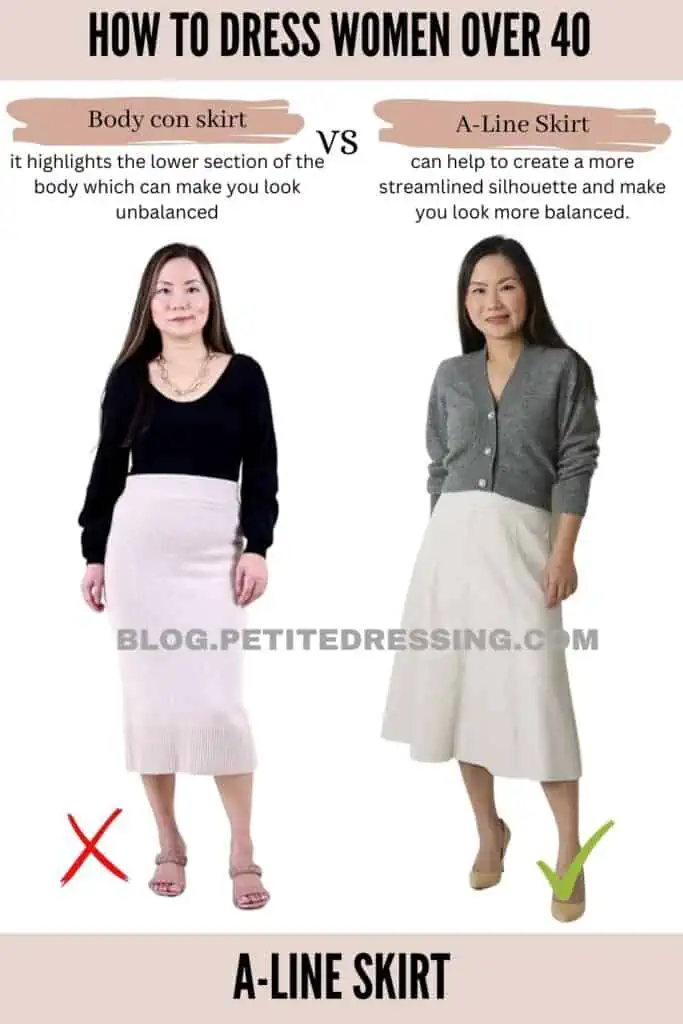 The Key Takeaway
Age is something we should embrace with style and grace! And without a doubt, one of the best ways to do it is to dress in the best and the most elegant way possible.
Remember that timeless pieces and classic silhouettes will always be in style, so invest in quality pieces that will stand the test of time. And most importantly, being 40 shouldn't stop you from wearing what makes you feel good and confident, as true style comes from within.